Nanyang Dao has legit Malaysian food in Serangoon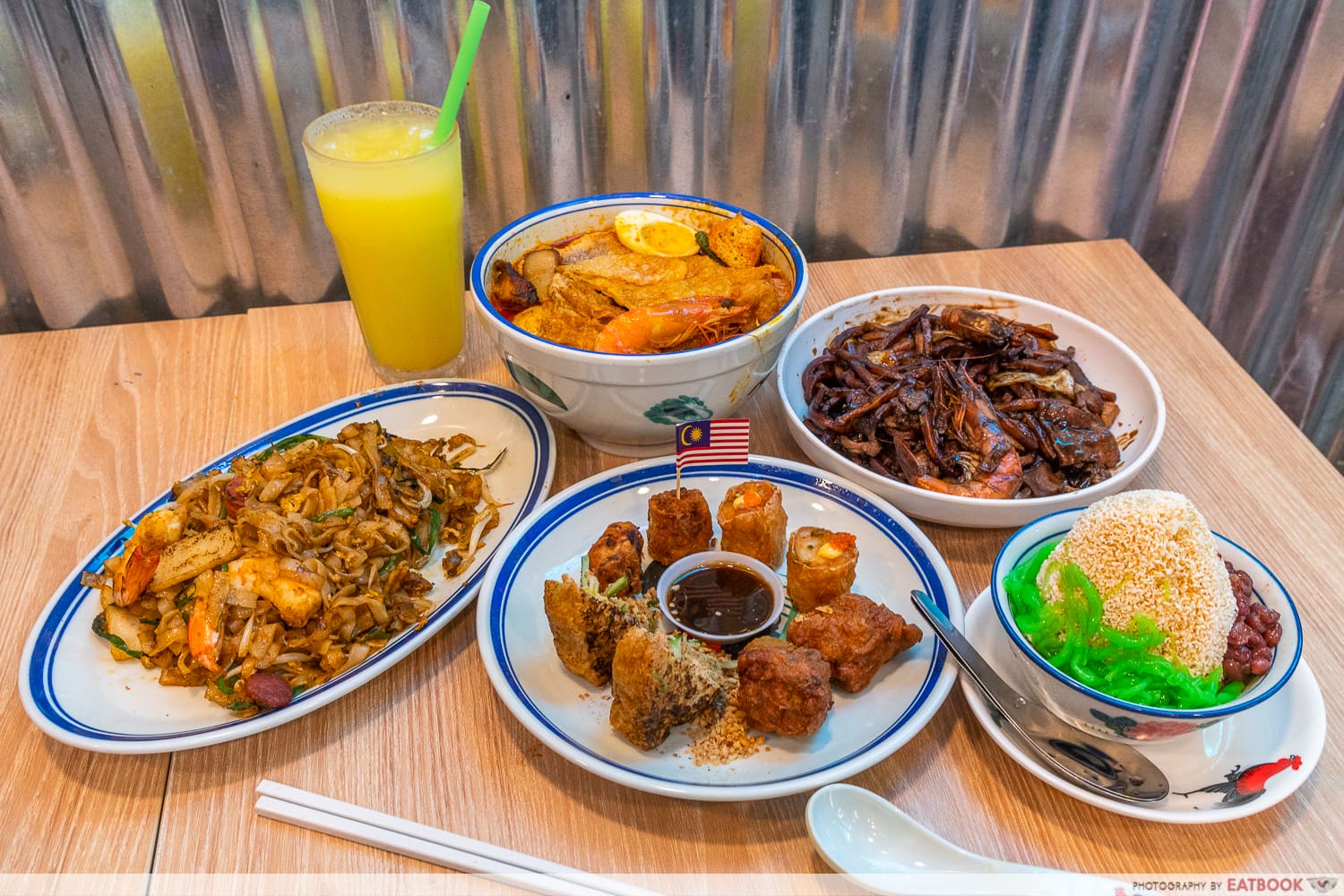 We recently wrote about EatAlley, a new food court featuring famous KL eateries, that's set to open at Orchard Gateway this June. Although Malaysia is not that far away from us, I'd be kidding myself if I said that I didn't wish to go over every day for my fix of Malaysian food. If you're like me, the good news is that there's a new restaurant in town, Nanyang Dao, which specialises in Malaysian food. I decided to head down to try it for myself!
Food at Nanyang Dao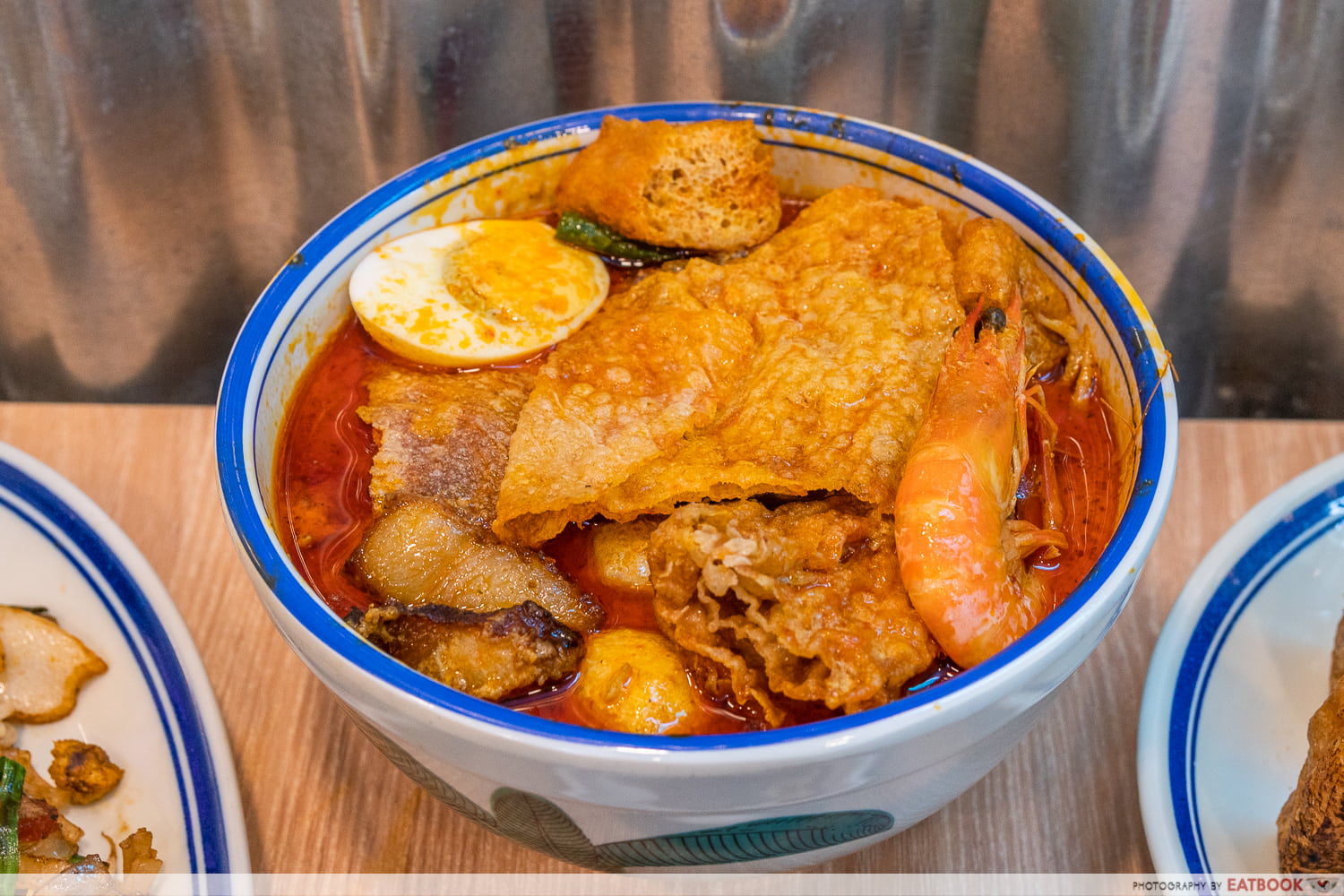 Nanyang Dao has a pretty extensive menu so there's always something different for everyone to enjoy. We started with their Big Bowl Curry Noodle ($9.90+). This came with chock full of ingredients sitting in the thick curry gravy, including beancurd skin, half a boiled egg, tau pok, long beans, fish balls, fried pork belly, and prawns, sitting atop a generous portion of yellow mee, mixed in with bean sprouts. 
I liked that the prawns had a good bite, along with the chewy, gravy-soaked fishballs, tau pok, and beancurd skin. The fried pork belly slices that I occasionally discovered had tender meat, with a gelatinous layer of fat, making the dish quite shiok.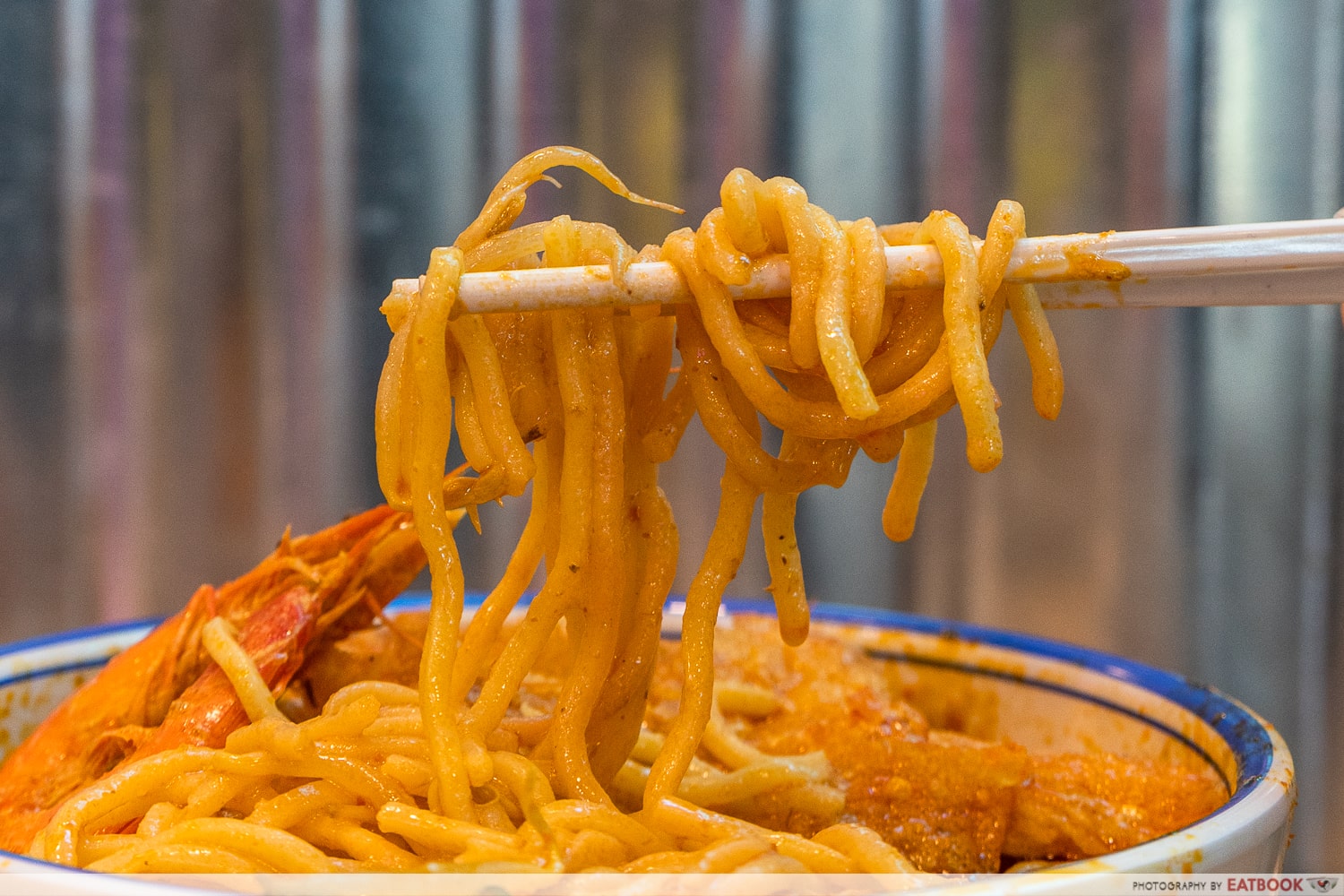 As I slurped up the curry, the first thing that registered was how greasy it was. This was before the spice shot up my nose and made me cough. It paired well with the al dente noodles due to how flavourful it was, though I wished that the curry was more creamy and lemak. Also, I felt that the dish was quite jelak after a while. I'd recommend that you skip this dish if you're not a fan of oily food.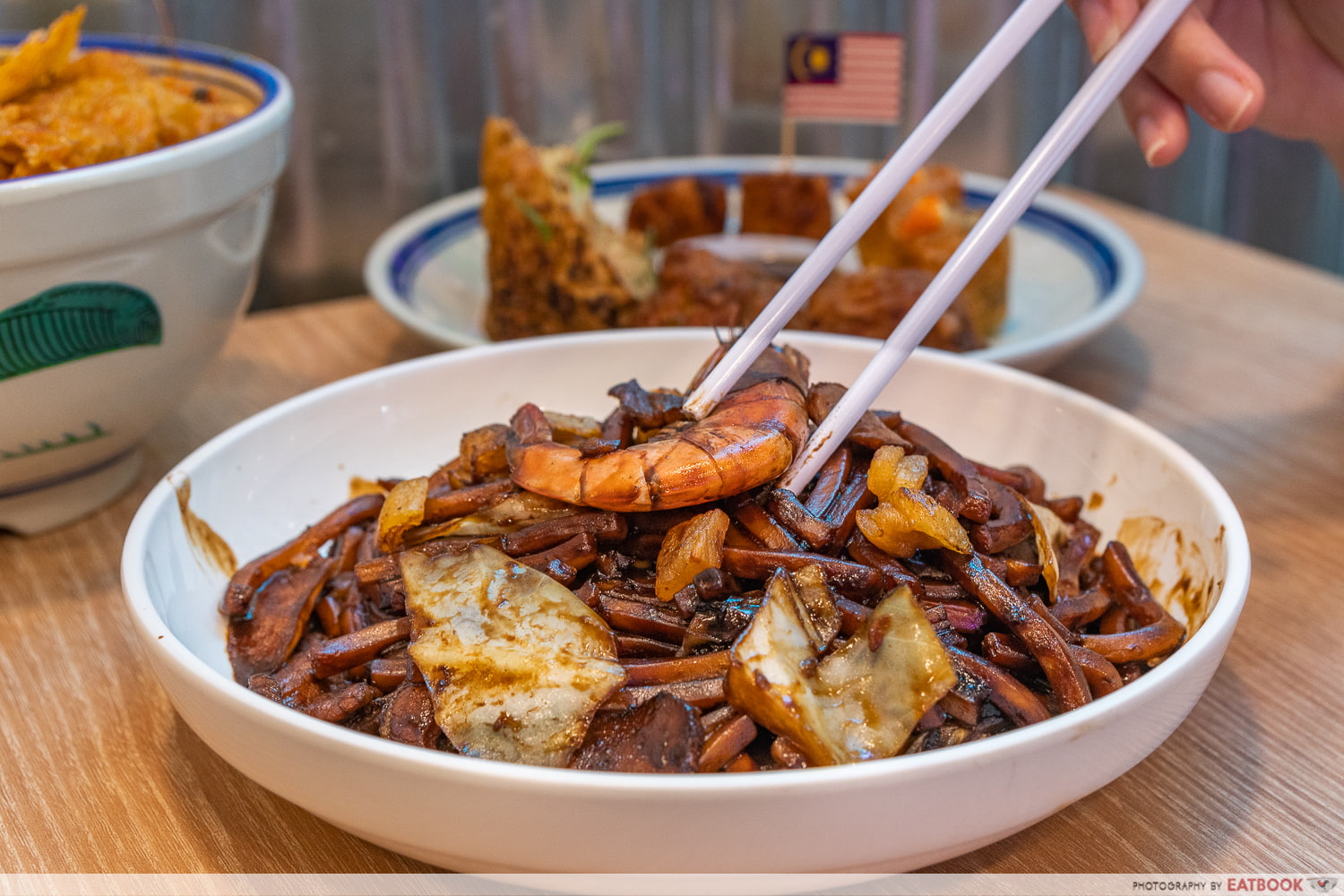 We moved on to the KL Hokkien Mee ($7.80+), which came with the expected thick yellow noodles, stir-fried with cabbage, fish cake, pork slices, and two big prawns. Unfortunately, the dark sauce only had a hint of savouriness, and just as I suspected, the noodles weren't particularly flavourful either. However, some online reviews suggest that the dish has a rich flavour and strong wok hei, so maybe we were just here on the wrong day. 
The textural variety of the crunchy cabbage and tender pork slices did help a bit when I became bored with the dish. I also enjoyed the bouncy noodles, the springy fish cake, and the well-cooked prawns.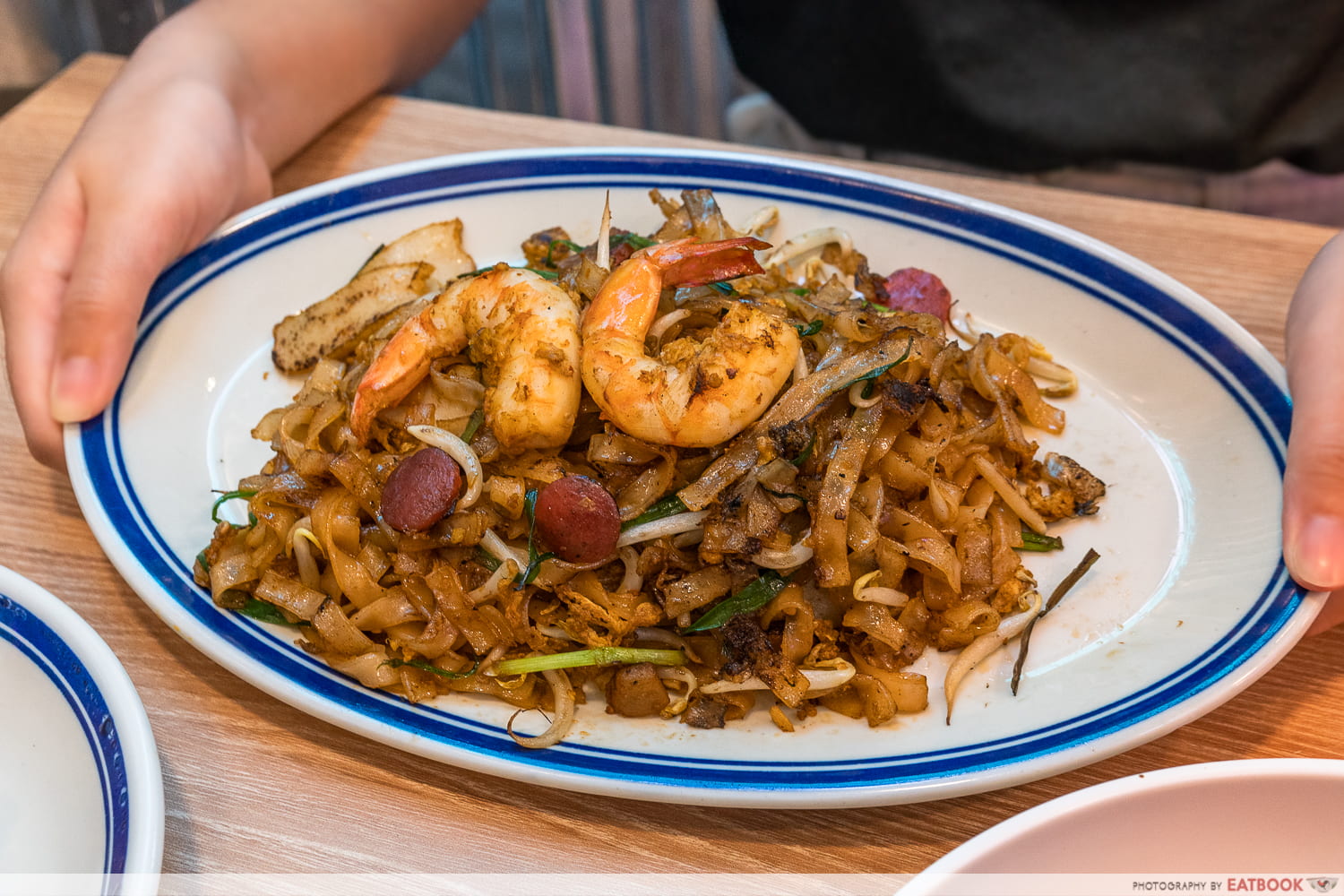 Then, we tried their Penang Fried Kway Teow ($6.80+), stir-fried with bean sprouts, plump prawns, slices of fish cake and Chinese sausage. It was full of wok hei, which is essentially what I'm looking for in any char kway teow. The noodles were mildly spicy, though you can request that they cook this without the chilli.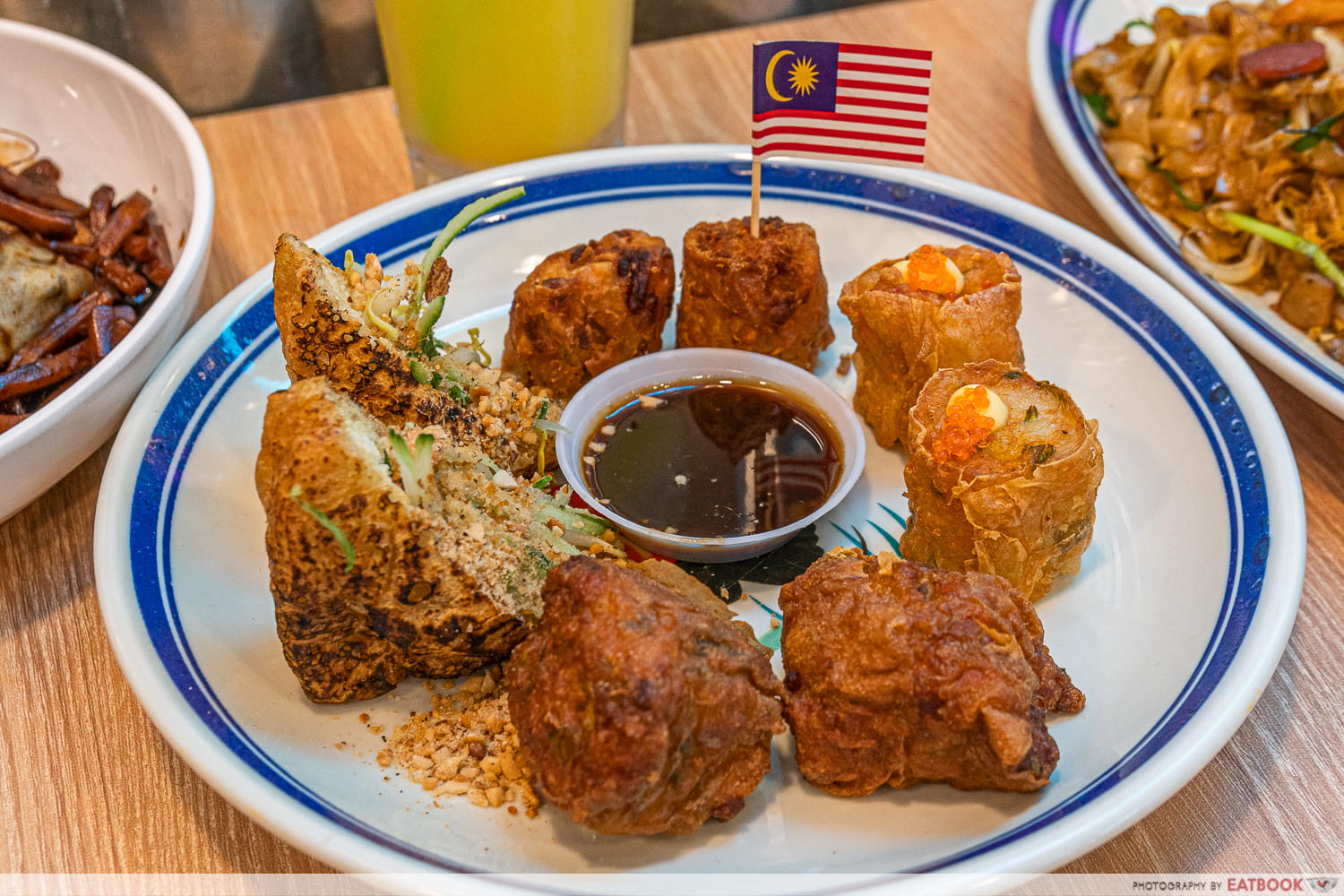 If you're here with your friends, you can also share the Nan Yang Deep Fry Platter (from $8.90+). There are four types of fried offerings here, including Fried Wu Xiang Ball and Yam Roll.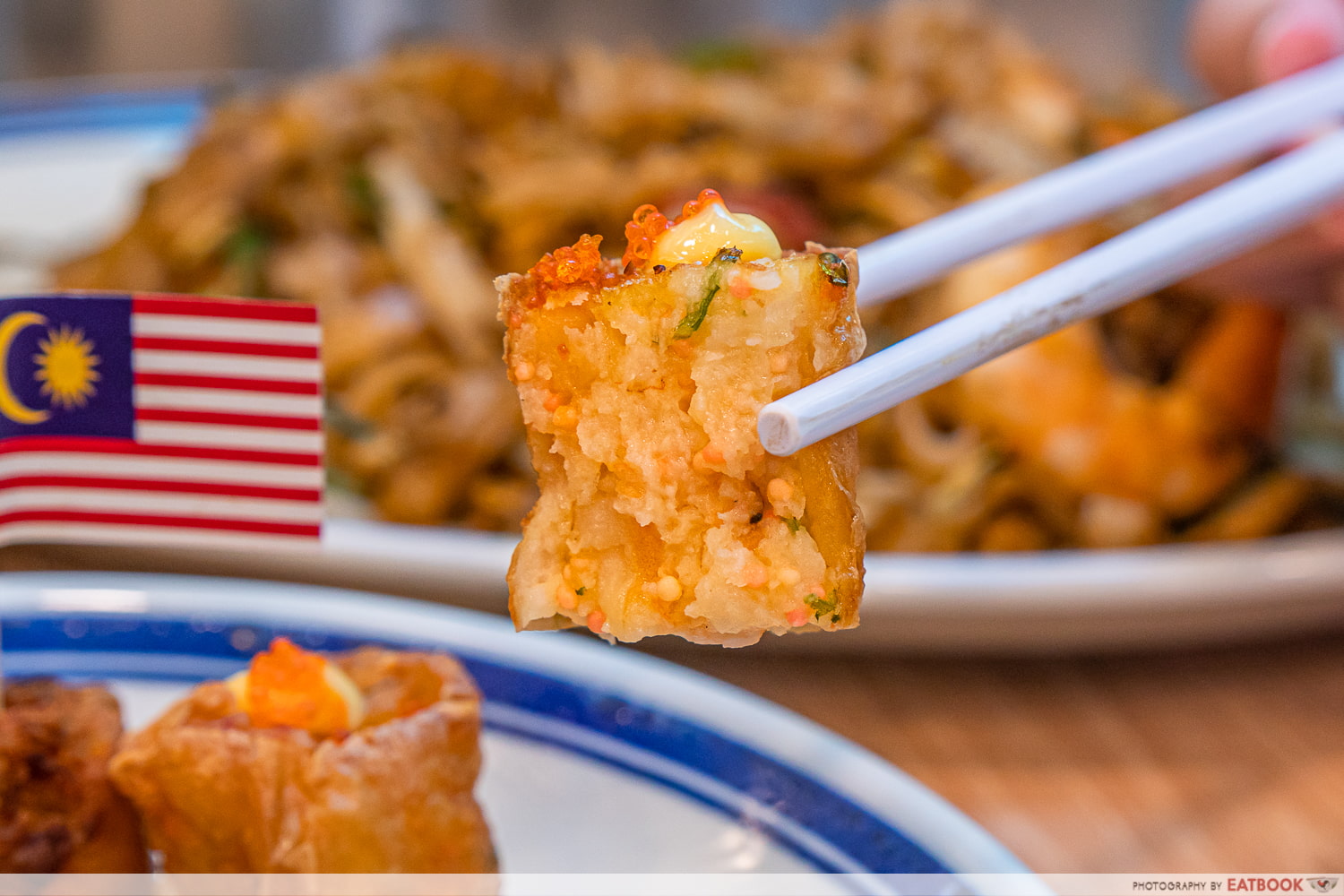 Included in the platter was the Crispy Golden Fish Roe, which I felt could be more flavourful and crispy. I was also pretty disappointed with BBQ Tofu, as the tau pok was too burnt and tasted bitter. It was packed with shredded cucumber and bean sprouts, which unfortunately didn't help to distract from the ashy flavour. Thankfully, the nutty-sweet rojak sauce served on the side made this snack more palatable.
For dessert, we had the classic Chendol ($3.50+), which came loaded with coconut milk and sweet gula melaka.  I quite enjoyed this refreshing dessert, which was a nice break from all the savoury dishes we've had. If you want something even lighter, I'd recommend getting their sweet and tangy Lime Juice ($3+).
17 Malaysian Food Places In Singapore For Curry Chee Cheong Fun And Famous Nasi Lemak
Ambience at Nanyang Dao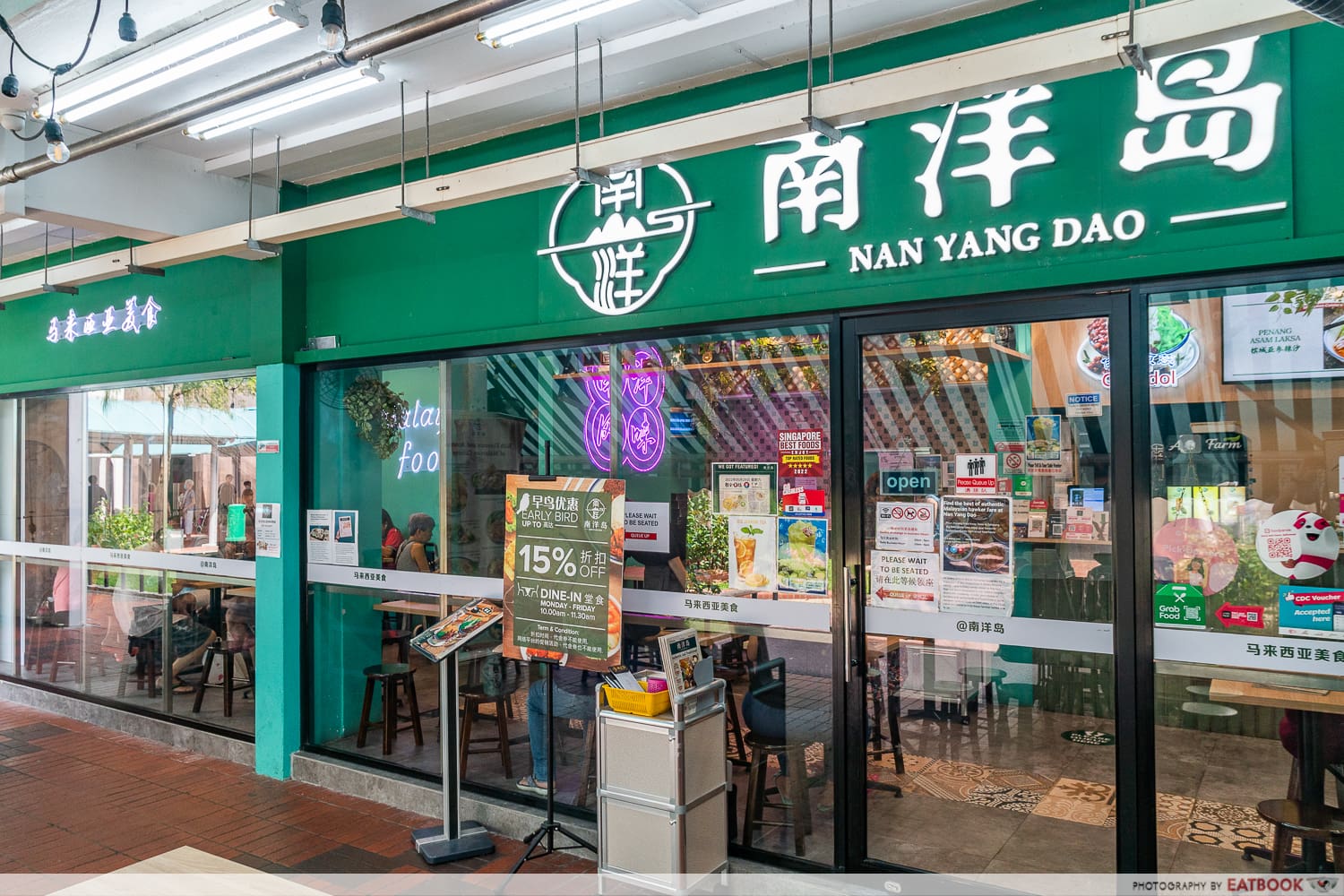 Nanyang Dao is a five-minute walk away from Serangoon MRT Station. We were here at 11am where there was a comfortable crowd. You might want to visit between 3pm and 5pm if you're avoiding crowds, as we were told that it's relatively quiet during that duration. There was also a surprisingly short waiting time for our food, despite the many dishes we ordered.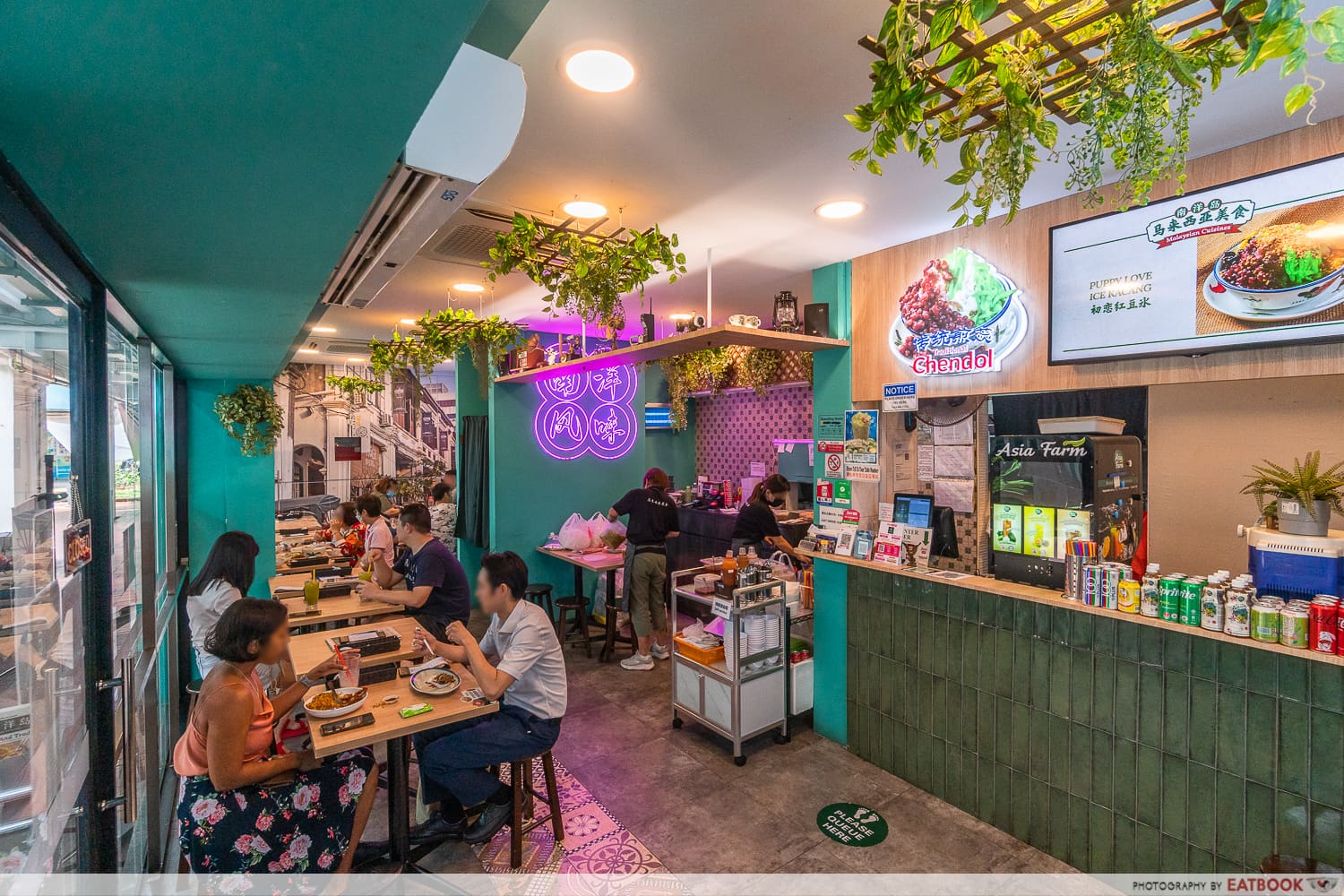 The cosy cafe is decked in vibrant colours and neon lights, making it look fresh and modern. The friendly staff here also contributed to a pleasant dining experience.
The verdict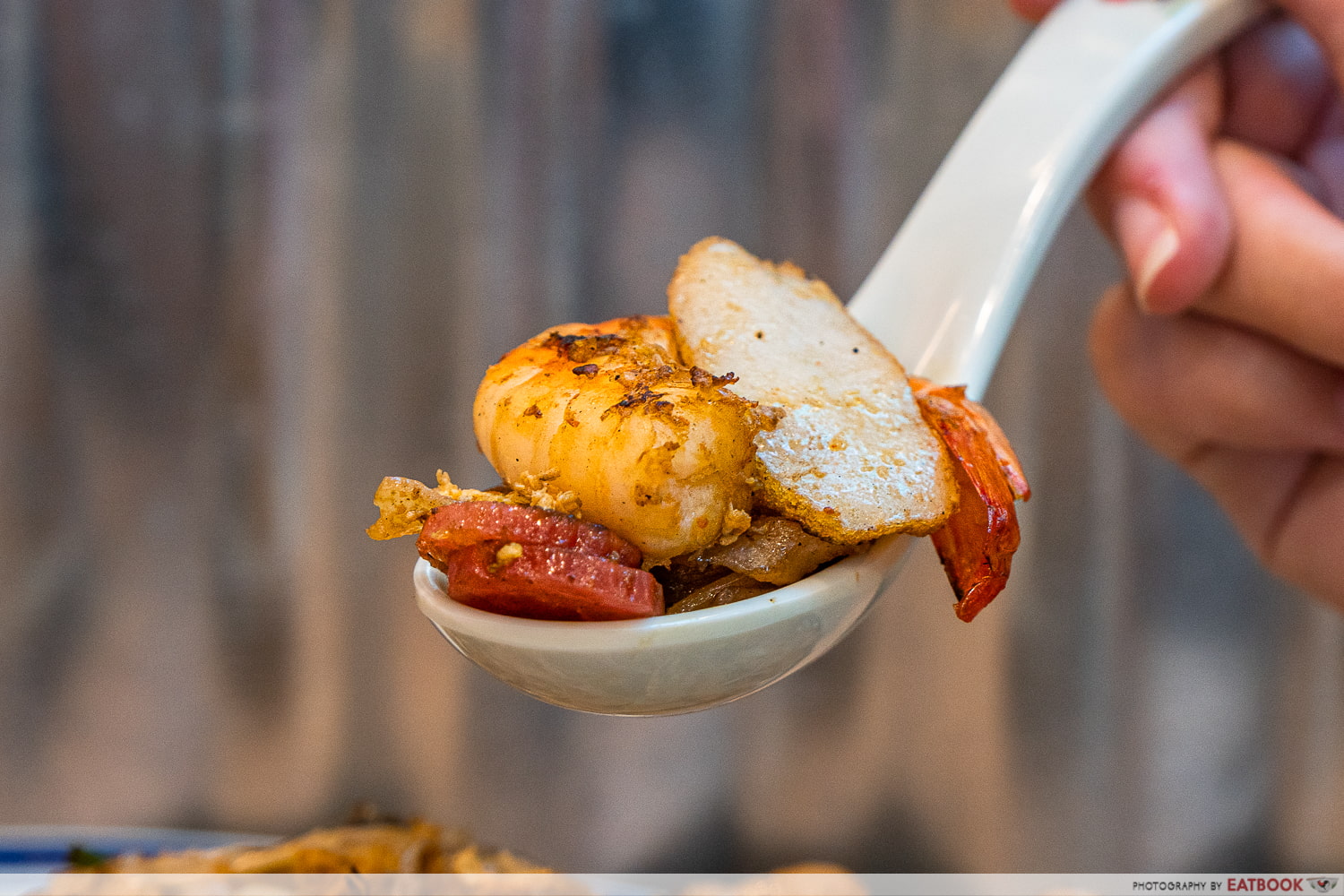 I liked the restaurant's ambience, along with how generous the food portions were. However, I don't foresee myself dropping by again if I'm not in the area, since some of the dishes were slightly too rich for me. I'd still recommend the place to my Malaysian friends though!
If you're not hopping over the Causeway anytime soon, read our guide to the best Malaysian food places in Singapore, for curry chee cheong fun and famous nasi lemak! Otherwise, for more food options in the same area, check out Bread First Everyday for their cheap all-day brunch!
Website | Full list of outlets
Nanyang Dao is not a halal-certified eatery. 
Get Cheap Rosti, Fried Chicken On Waffles And More At This Serangoon Hawker Stall
Photos taken by Aldrich Tan.
This was an independent review by Eatbook.sg
Nanyang Dao Review: Legit Penang Fried Kway Teow And KL Hokkien Mee In Serangoon
Nanyang Dao Review: Legit Penang Fried Kway Teow And KL Hokkien Mee In Serangoon -

7/10
Summary
Pros
– Extensive menu variety
– Generous portions
– Convenient location
Cons
– KL Hokkien Mee and BBQ Tofu were not that flavourful
– Big Bowl Curry Noodle was too oily
Recommended dishes: Penang Fried Kway Teow ($6.80+), Chendol ($3.50+)
Opening hours: Daily 10am to 9pm
Address: Block 262 Serangoon Central, #01-85, Singapore 550262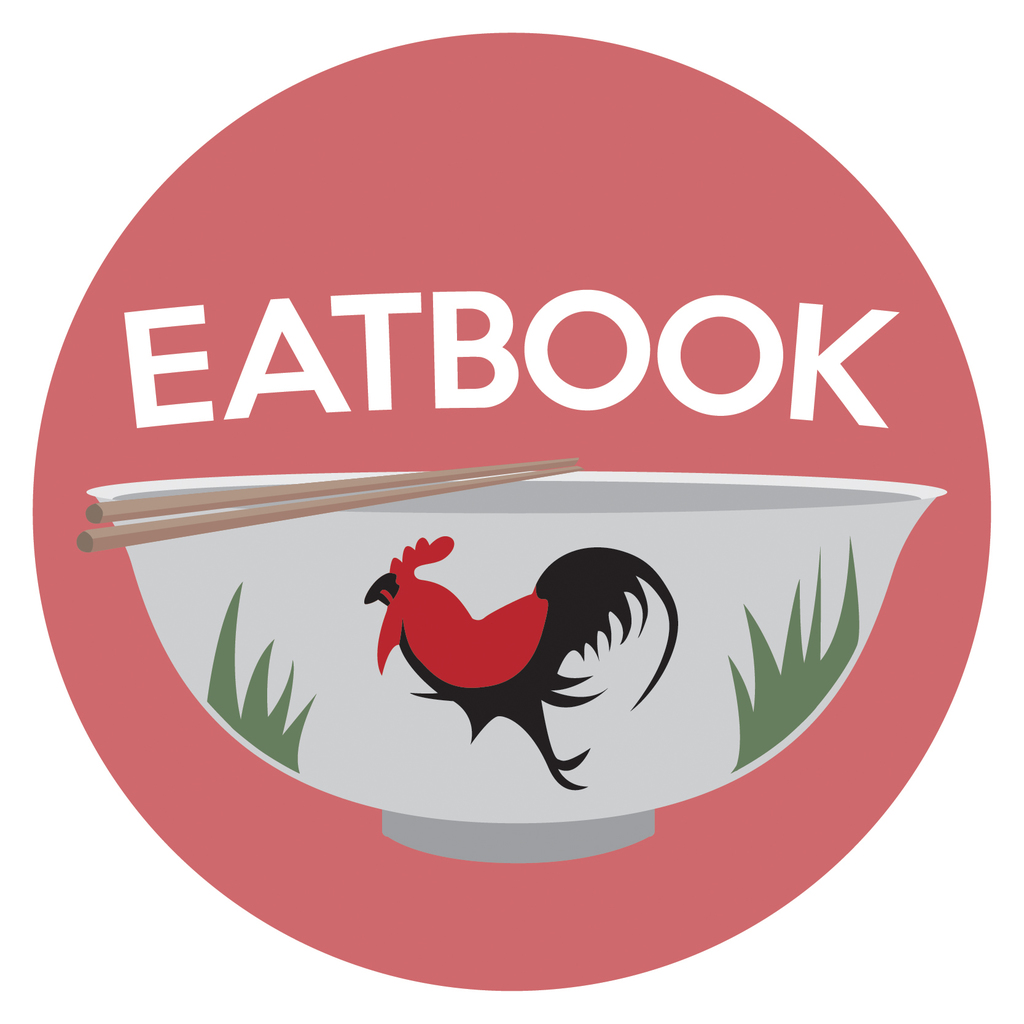 Drop us your email so you won't miss the latest news.