Srisun Express serves unique prata and drink towers all day
Update: Srisun Express' Kovan outlet has closed down, but you can still find them at 56 Serangoon Garden Way, Singapore 555952.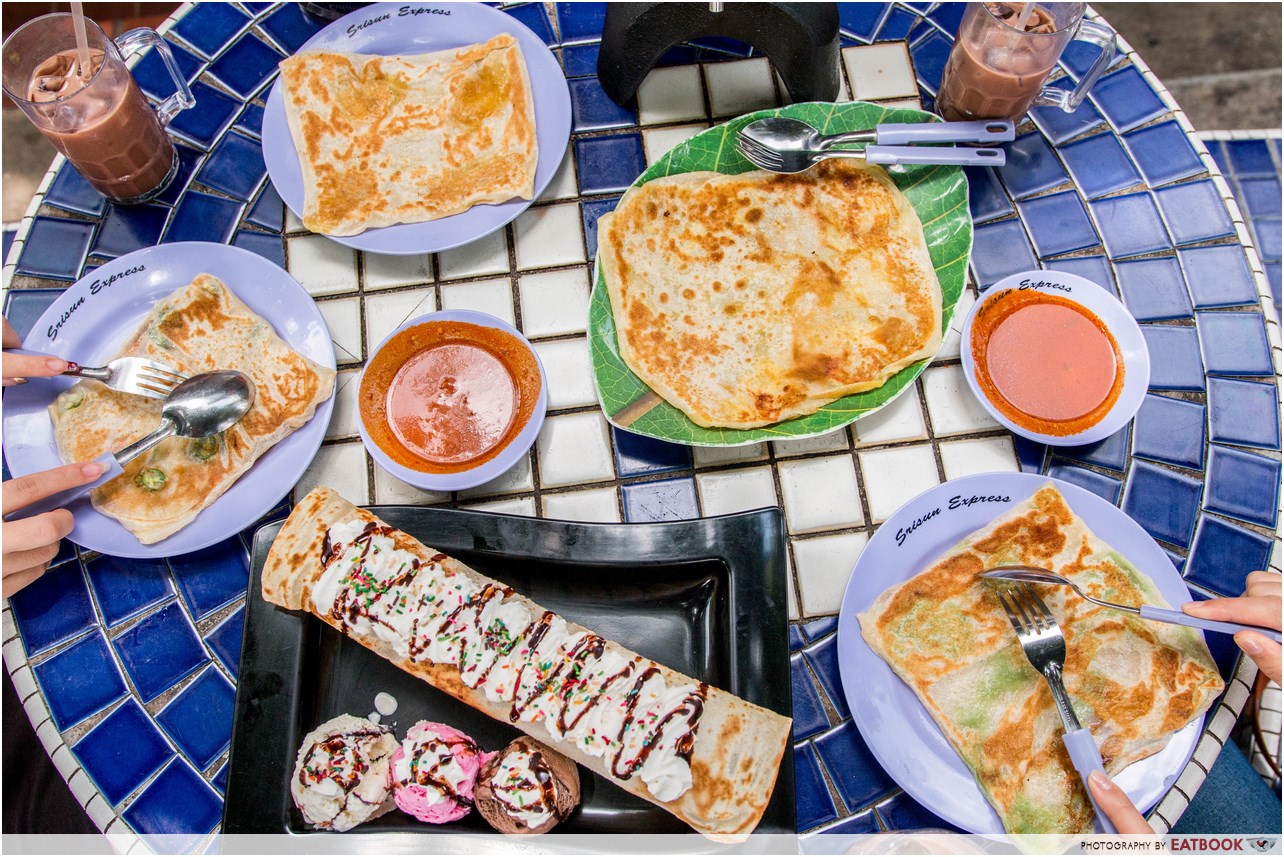 Sometimes it's hard to decide on where to eat with a big group of friends, especially when you're out late and every food place in mind is closed. But don't fret, Srisun Express is a great solution to your late night cravings. With over 50 prata flavours and massive drink towers available at any hour of the day, this is a prata joint that can satisfy a group of any size at any time.
Food at Srisun Express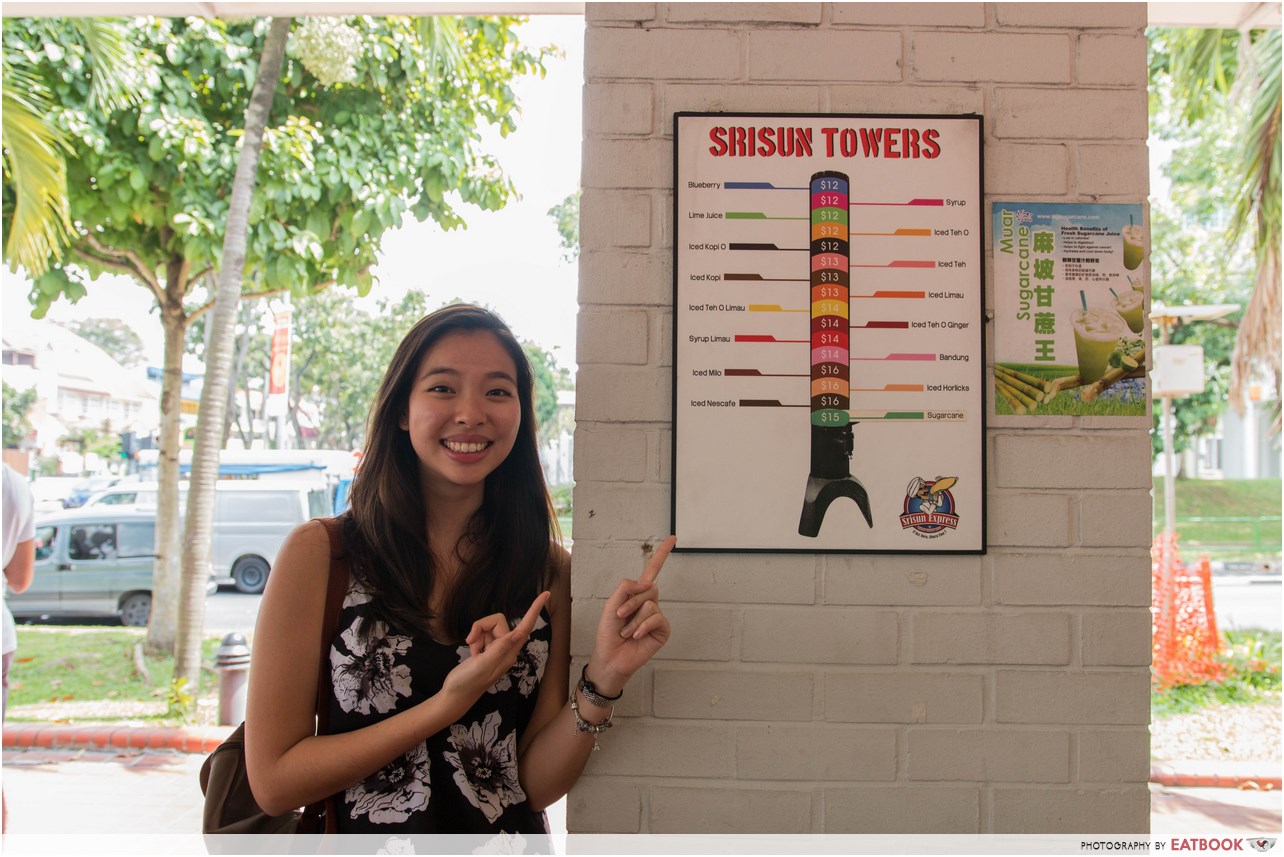 Forget beer towers, Srisun Express offers drink towers that hold up to three litres of kopitiam-favourites including iced Milo, bandung, iced teh-si and more!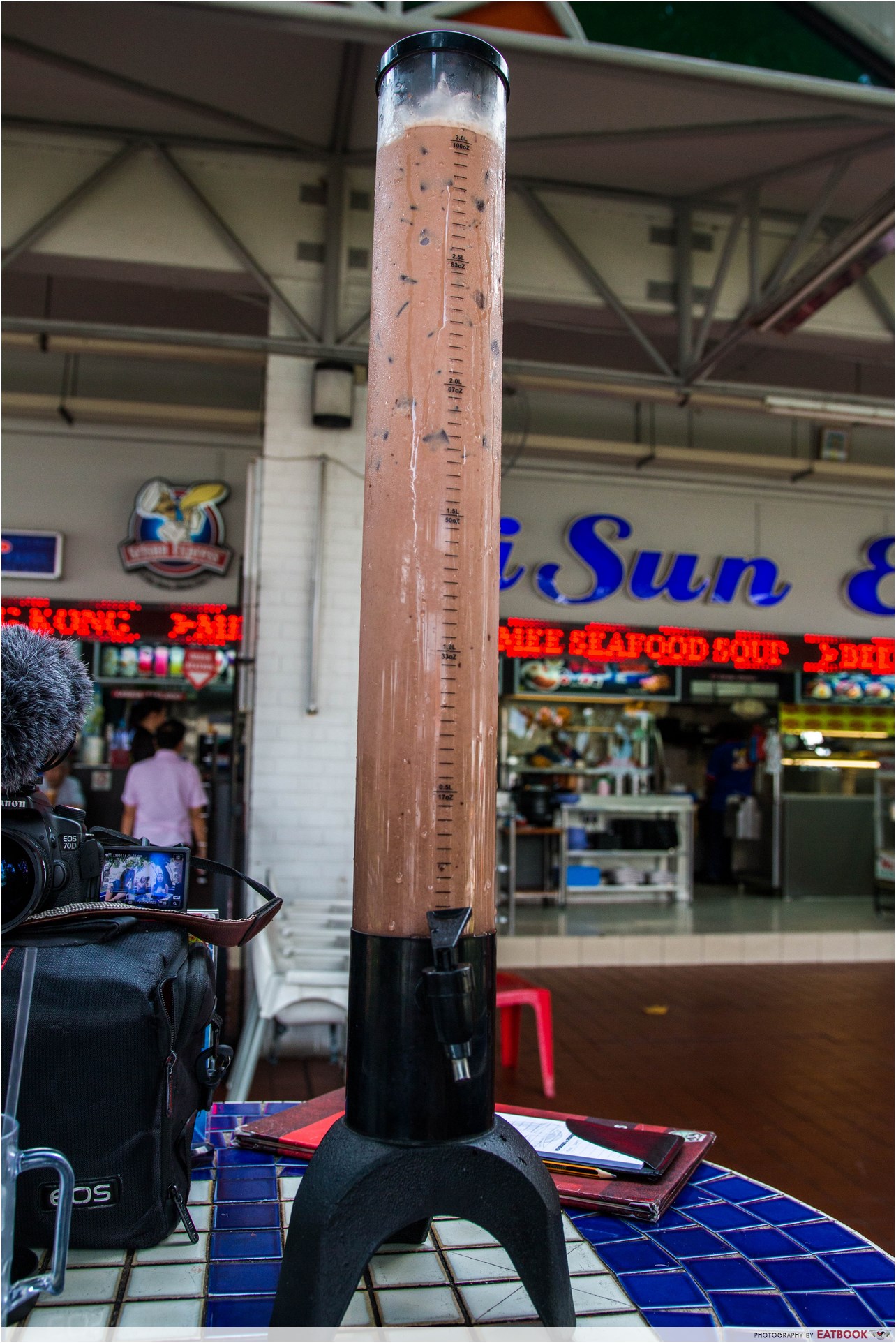 A tower can fill ten or more cups, perfect for either a large group or a small, overly ambitious group like us. We ended up getting an Iced Milo Tower ($16+) to share and I was pleasantly surprised by how the Milo was not watered down at all.
After a couple of cups, the effects of gravity were inevitable and the Milo started to separate, with the bottom of the tower being super concentrated. Shaking this three litre tower myself was too daunting but thankfully, the waiters at Srisun Express were very accommodating and helped us shake the tower when we asked. This ensured that all that Milo goodness was spread out evenly.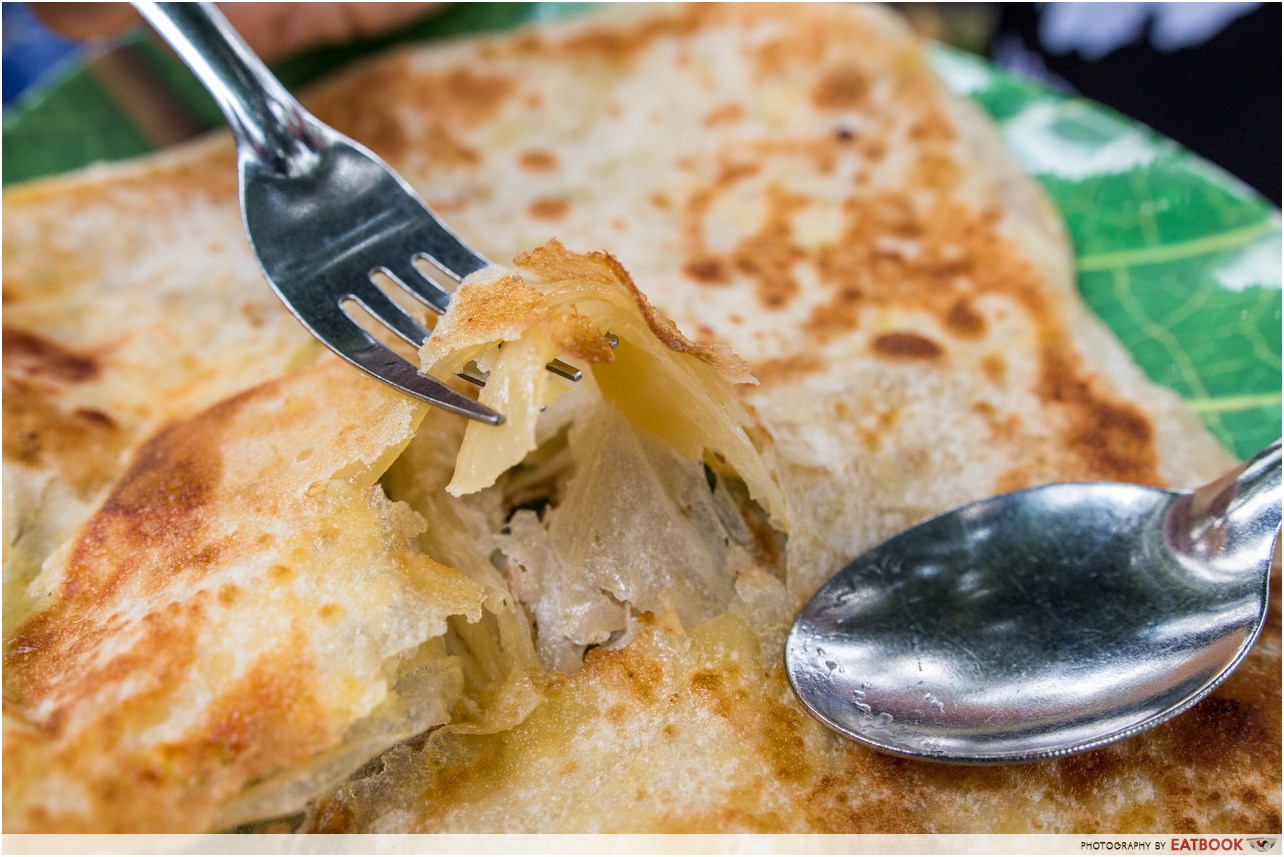 Prata Bom with Cheese ($4.50+) is the perfect prata for all cheese lovers out there. Prata bom is made with condensed milk, giving the prata a sweeter, richer flavour. This combined with the savoury, stretchy cheese made for a unique prata.
It reminded me of those sweet, sugared buns with toasted cheese on top that you can buy at old-school Chinese bakeries – super comforting! If you're not into the whole sweet-salty flavour combination and would prefer your prata to be strictly savoury, I suggest you pass on this.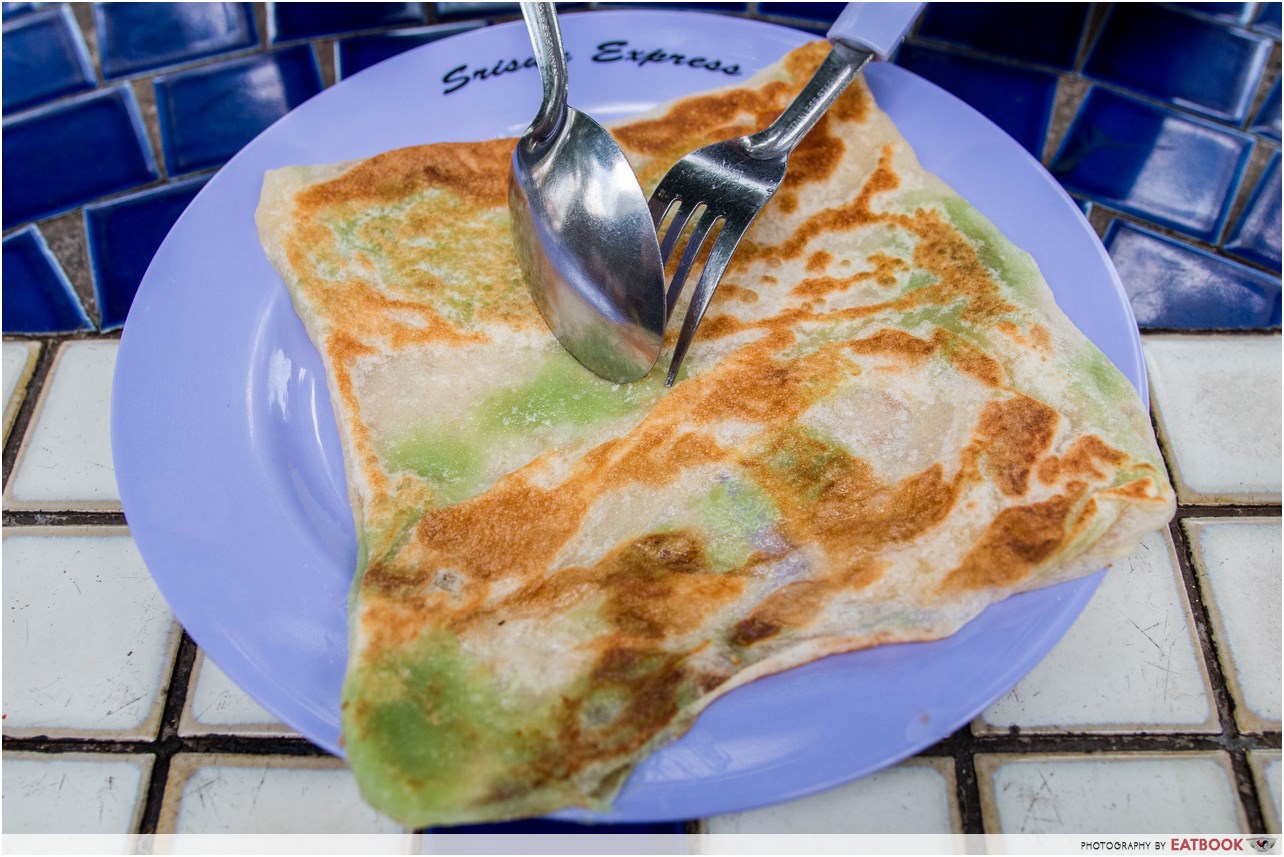 Kaya Prata ($2.50+) was the most intriguing of the lot. The green kaya peeking through the translucent prata it was folded into was an interesting sight. This was one of my favourites, especially since it resembled warm kaya toast. The slightly oily, crispy prata made a great vessel for the sweet coconut custard. If only they served soft boiled eggs on the side…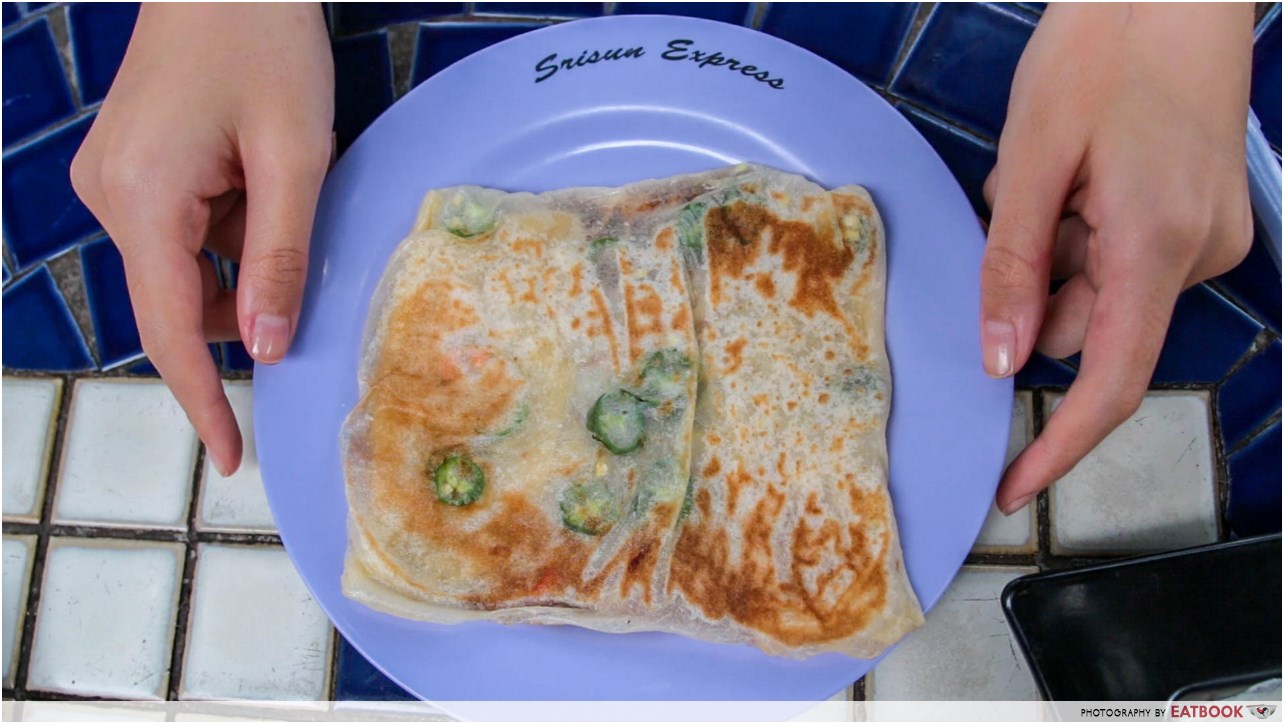 Another unique option we ordered was Chilli Prata ($2+). We were pretty underwhelmed when the dish arrived, especially because we had assumed it would be a prata with a rich chilli paste or sauce folded into it. Instead, it was prata that contained thick slices of green chilli and some thinner slivers of red chilli.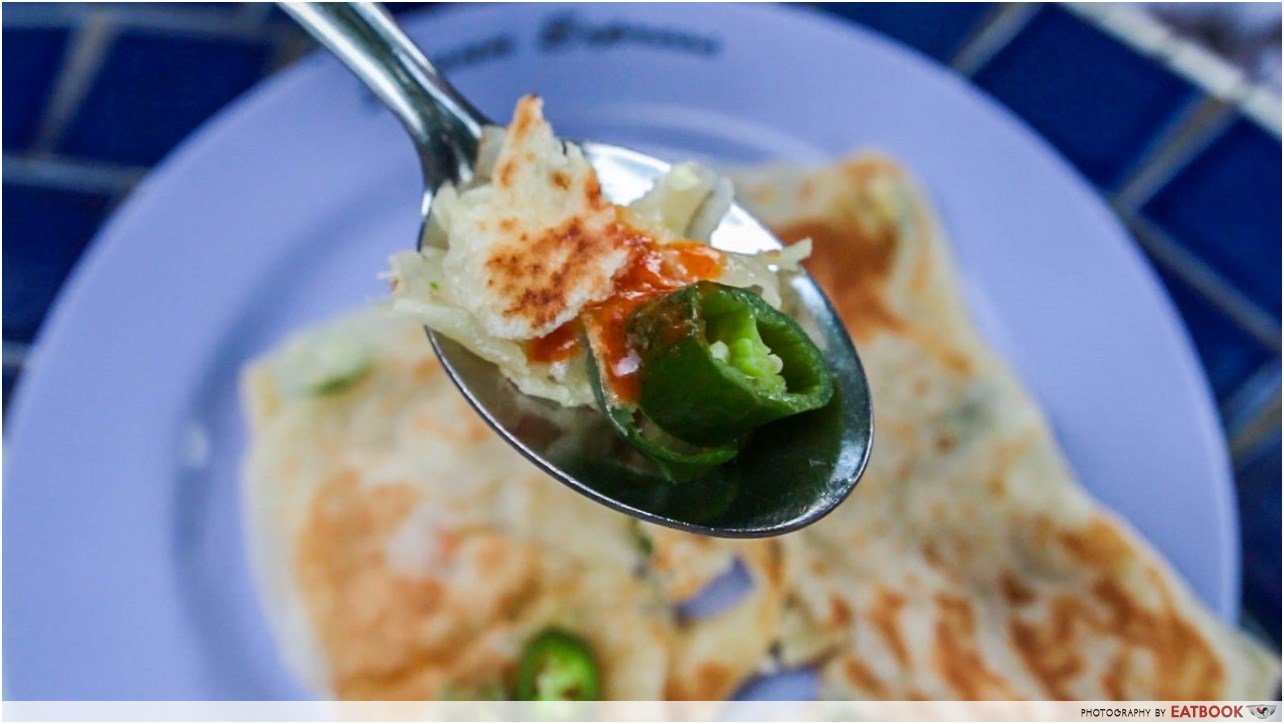 The prata was crisp without being too oily while the green chilli had a more capsicum-like flavour so it was not overly spicy. Thankfully, the rich curry that came on the side was enough to compensate for the otherwise plain prata. The curry was surprisingly tangy and had a spicy kick to it. It was also thick enough to cling onto and coat the prata without being jelak.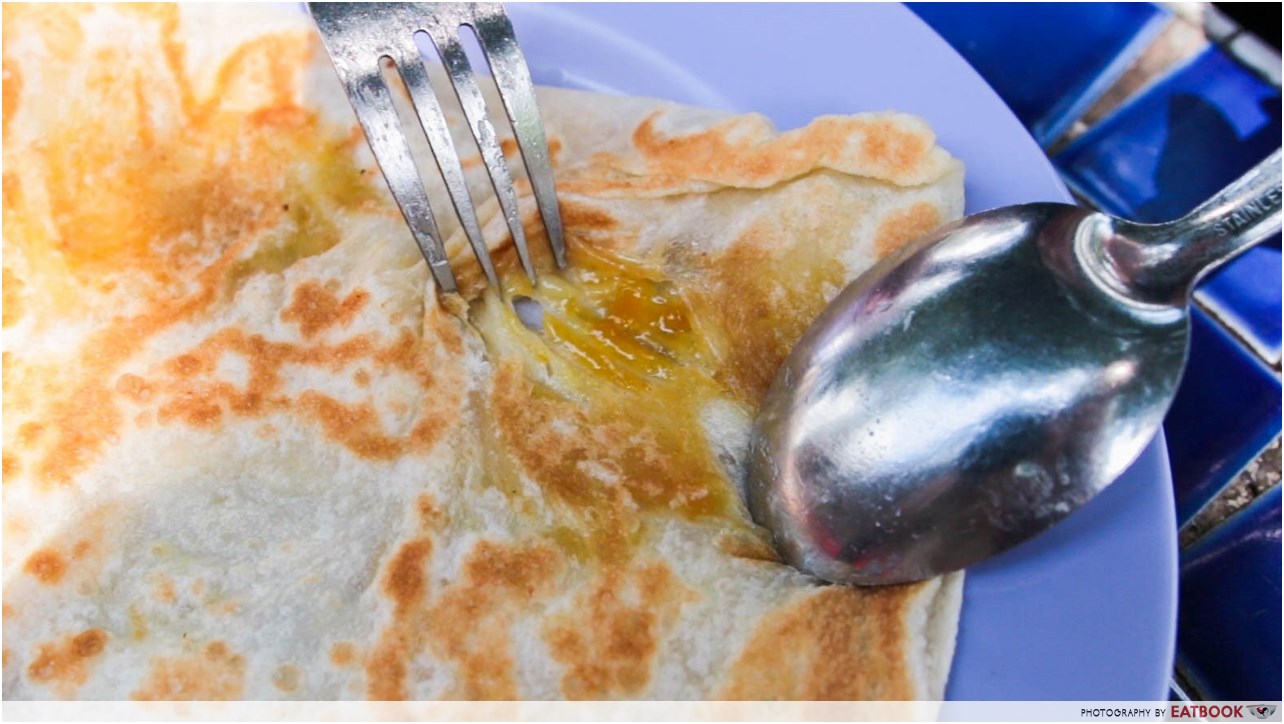 Like the chilli prata, the Mango Prata ($2.50+) was also a disappointment. Instead of real mango slices, the prata only had syrupy mango jam folded into it. The simple, one-dimensional sweetness from the mango jam complemented the prata decently, but I don't think this is worth ordering again.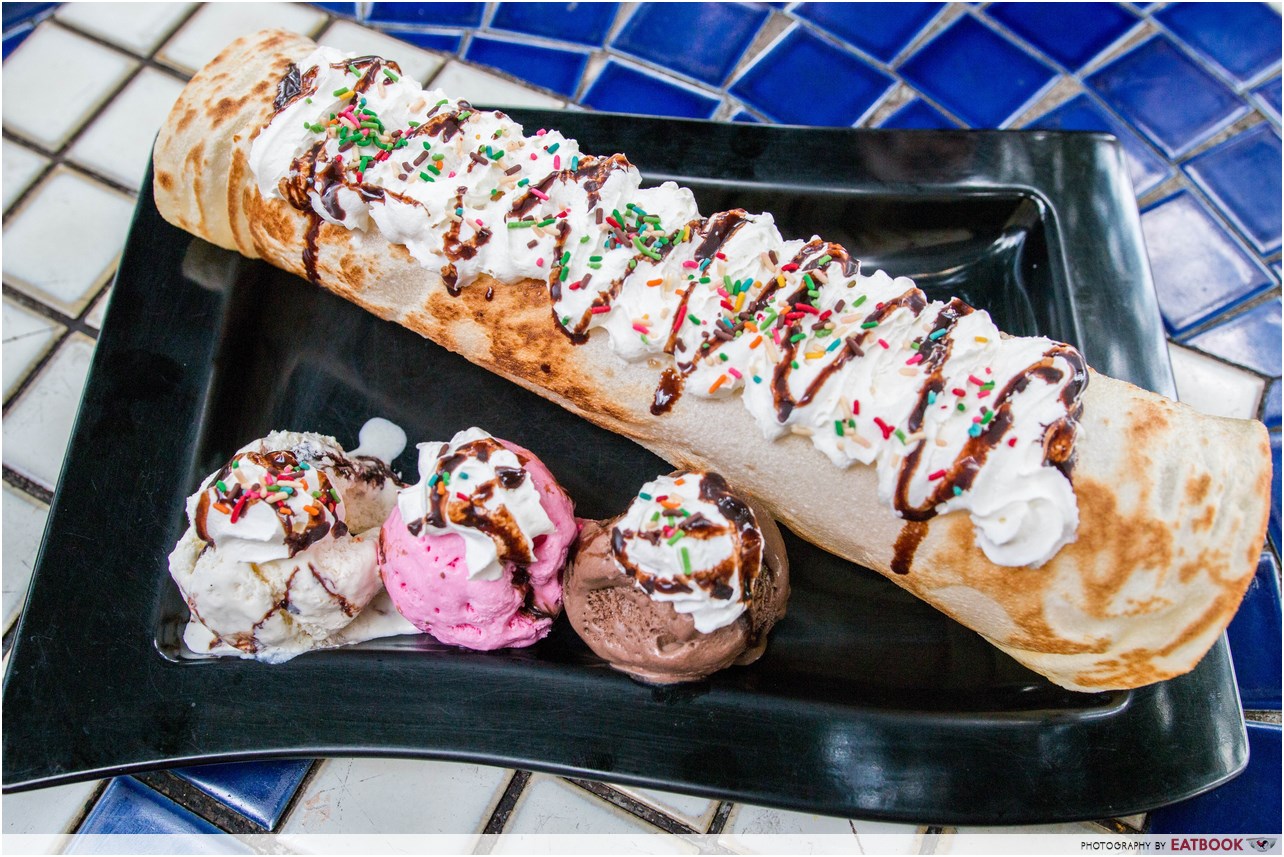 Ice Cream Paper Prata ($7+) is sure to excite the inner child in everyone. This is one sugar-loaded dessert and I don't even want to think about the number of calories in one serving, but it was worth it nonetheless. The cold scoops of vanilla, chocolate and strawberry ice-cream complemented the warm, crunchy paper prata. The rainbow sprinkles and swirls of whipped cream were great finishing touches. Just be sure to finish this fast so that the tissue prata doesn't get too soggy from the melting ice-cream.
Ambience at Srisun Express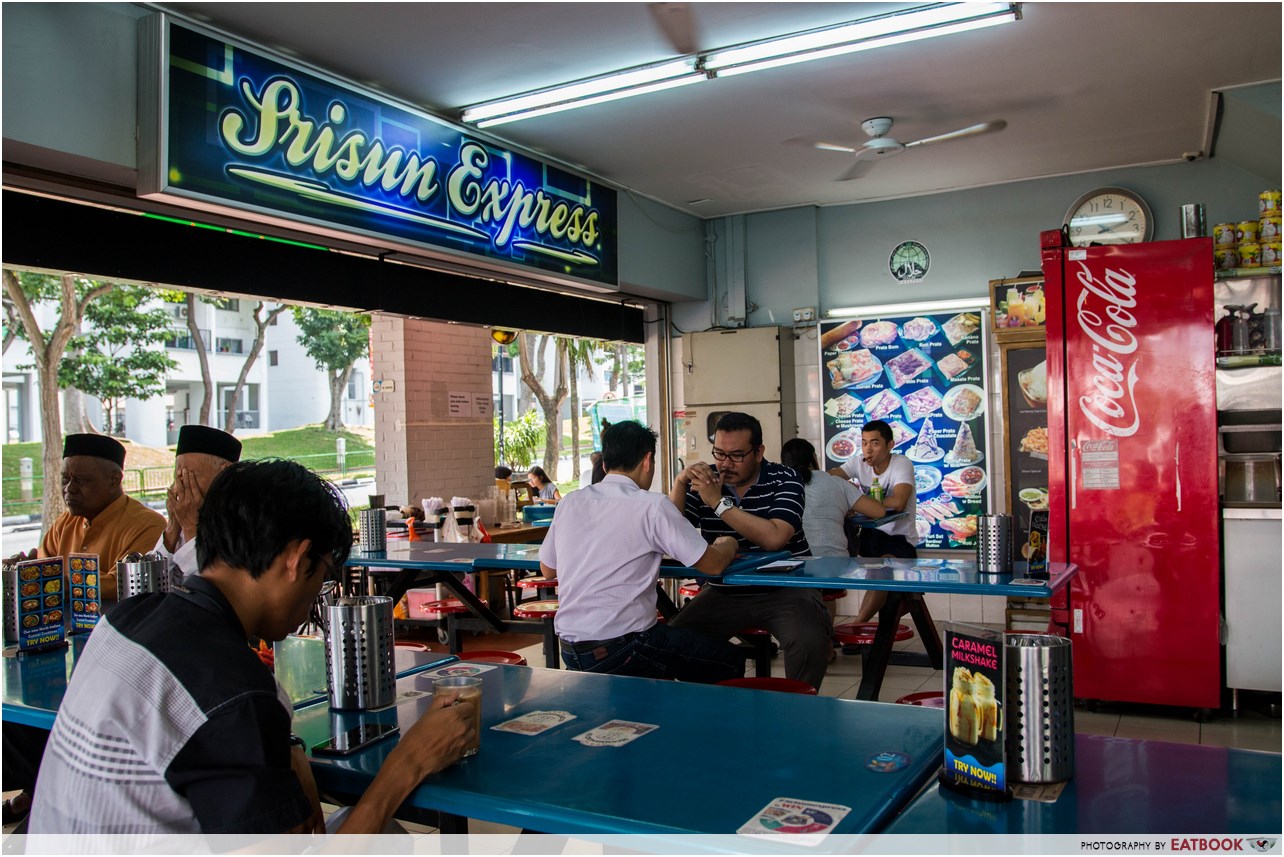 This corner store can get pretty humid in the afternoon, so be sure to grab a seat along the sheltered walkway. Though it can get pretty crowded during dinner time, there are many tables available since the store spans over a few units, so don't worry about waiting too long if you can't find seats. Don't be fooled by its neighbourhood kopitiam interior, they do have service charge so take that into consideration before you visit them.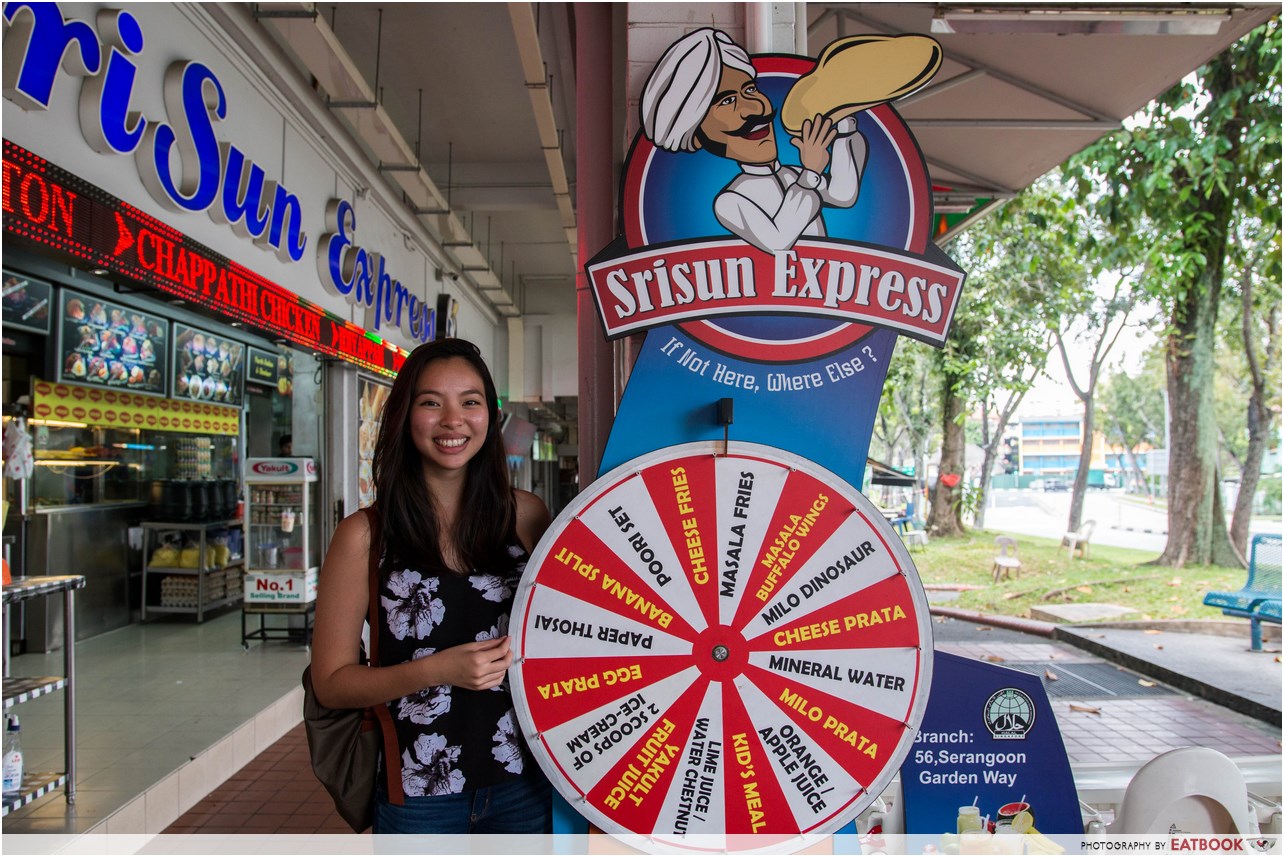 Another bonus of dining here is that when you spend over $30, you get to spin their "wheel of fortune". You stand a chance to win a free dish or drink, such as Paper Thosai or Yakult Fruit Juice. Since our total bill made the requirement, we spun the wheel and managed to win a bowl of Masala Fries for ourselves at the end of the meal!
The verdict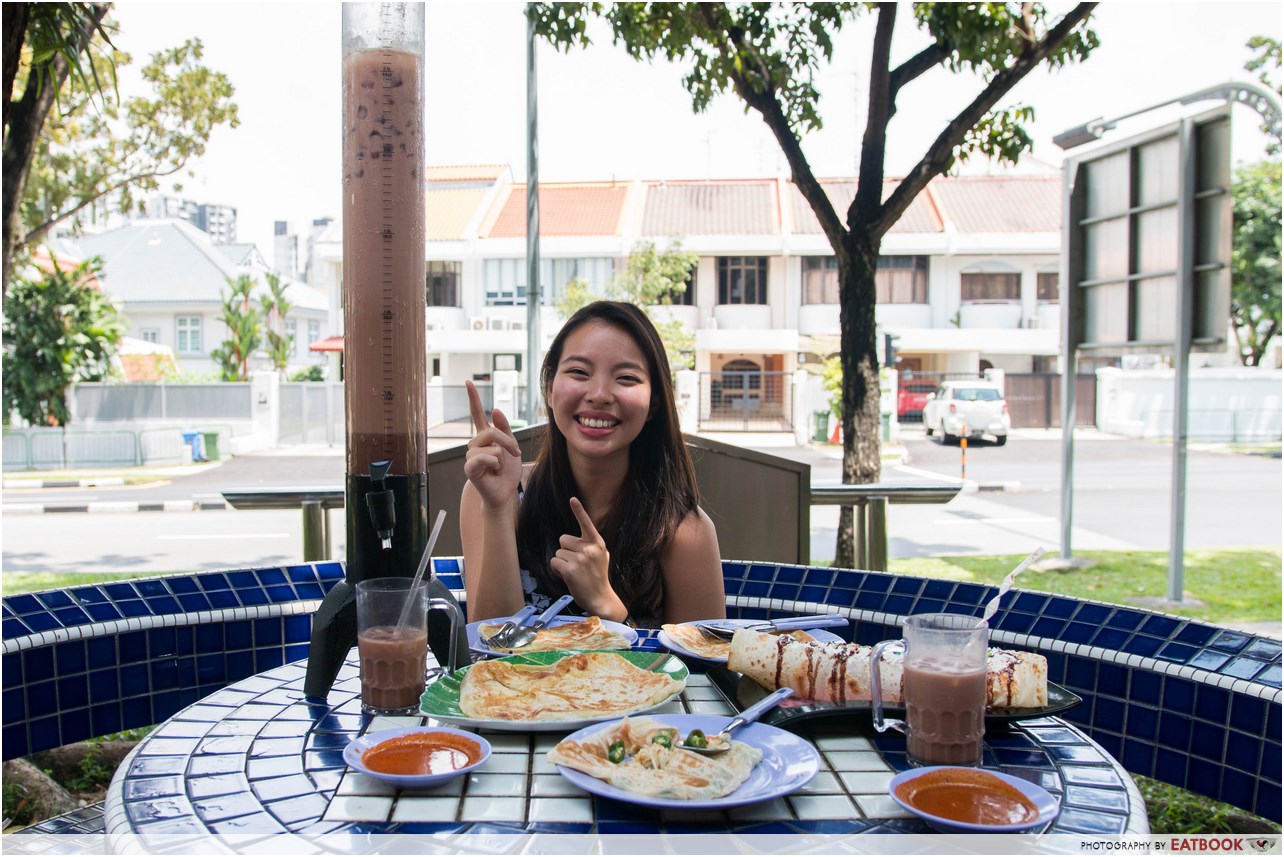 Overall, Srisun Express is a good prata joint that can accommodate groups of different sizes at any time of the day. Though their unique prata flavours can be a hit or miss, you can't go wrong with the usual prata and iced Milo combi!
This is an independent review by Eatbook.sg.
Summary
Summary
Pros
– Can accommodate large groups
– Unique prata flavours
Cons
– Hits and misses
– May be difficult to find a parking spot
Recommended Dishes: Iced Milo Tower ($16+) , Prata Bom with Cheese ($4.50+), Kaya Prata ($2.50+), Ice Cream Paper Prata ($7+)
Operating Hours:
24 hours daily
Tel:
6288 5747
Address: 212 Hougang Street 21, #01-343, Singapore 530212