SimpleBurger Inc at Maju Avenue
Although I write about food for a living, my brother has always been the food enthusiast in our family. So it was not out of nature when he came gushing about a new burger joint, SimpleBurger Inc, located in the basement of myVillage shopping mall. When I asked him why he felt the stall is worth a visit, he emphasised on the joint's unique customisable burger concept and free, unlimited vegetable toppings. Feeling convinced, I headed down to SimpleBurger Inc to sample the burgers myself.
Food at SimpleBurger Inc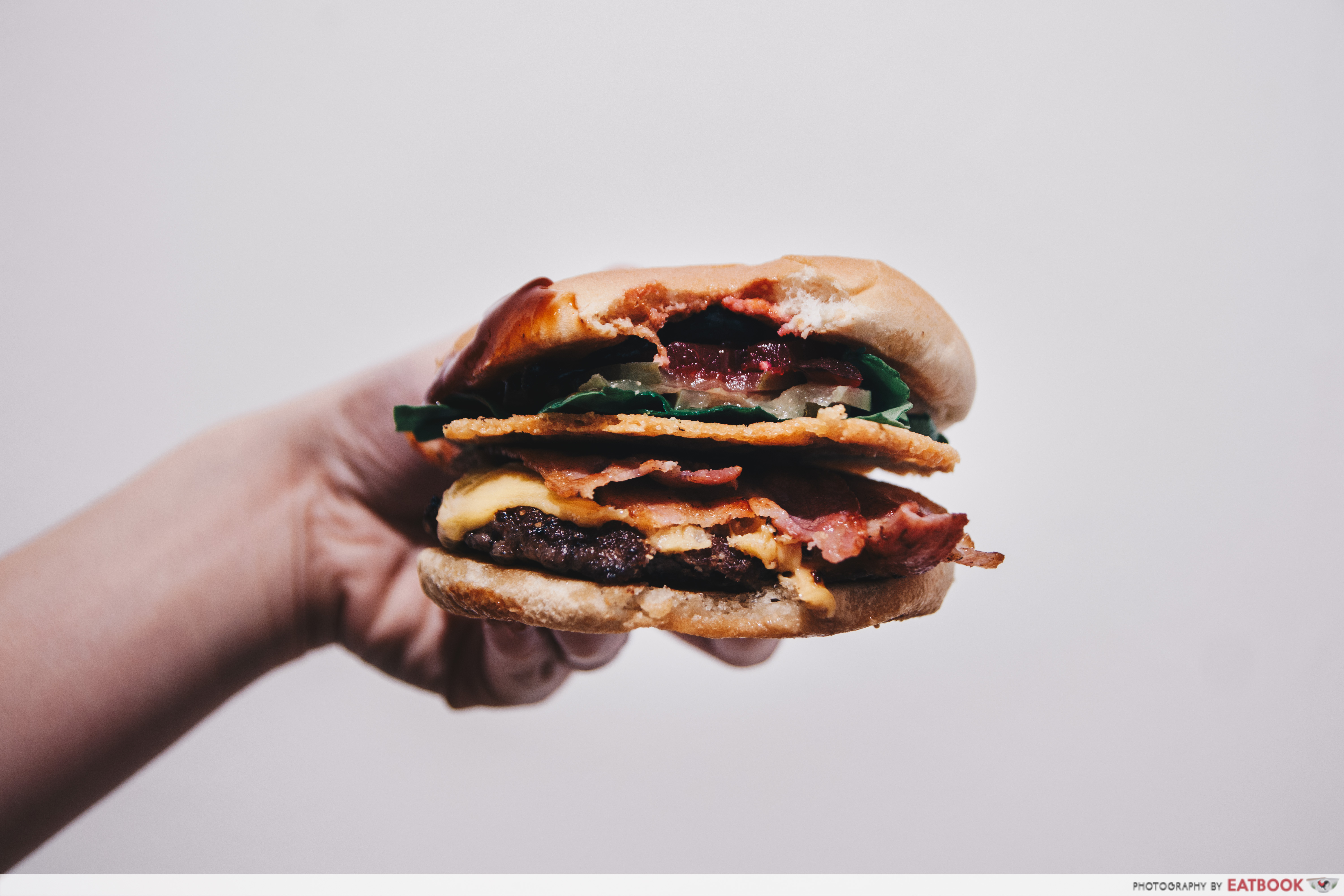 Out of the three different burgers we got, I was most eager to try the Natural Beef Patty Burger ($11). What makes this special and unlike their regular beef burger, which costs $9, is the Natural Beef Patty that is not seasoned and contains a mix of two cuts – ribeye and striploin. I enjoyed the smokey, grilled beef patty immensely, as it was tender and not at all tough. The burger buns holding it were warm and delectably crisp too, from being toasted. There was also a dollop of bacon jam included beneath the patty for an extra sweet punch; I came to find out that this special house-made sauce is featured in all their burgers.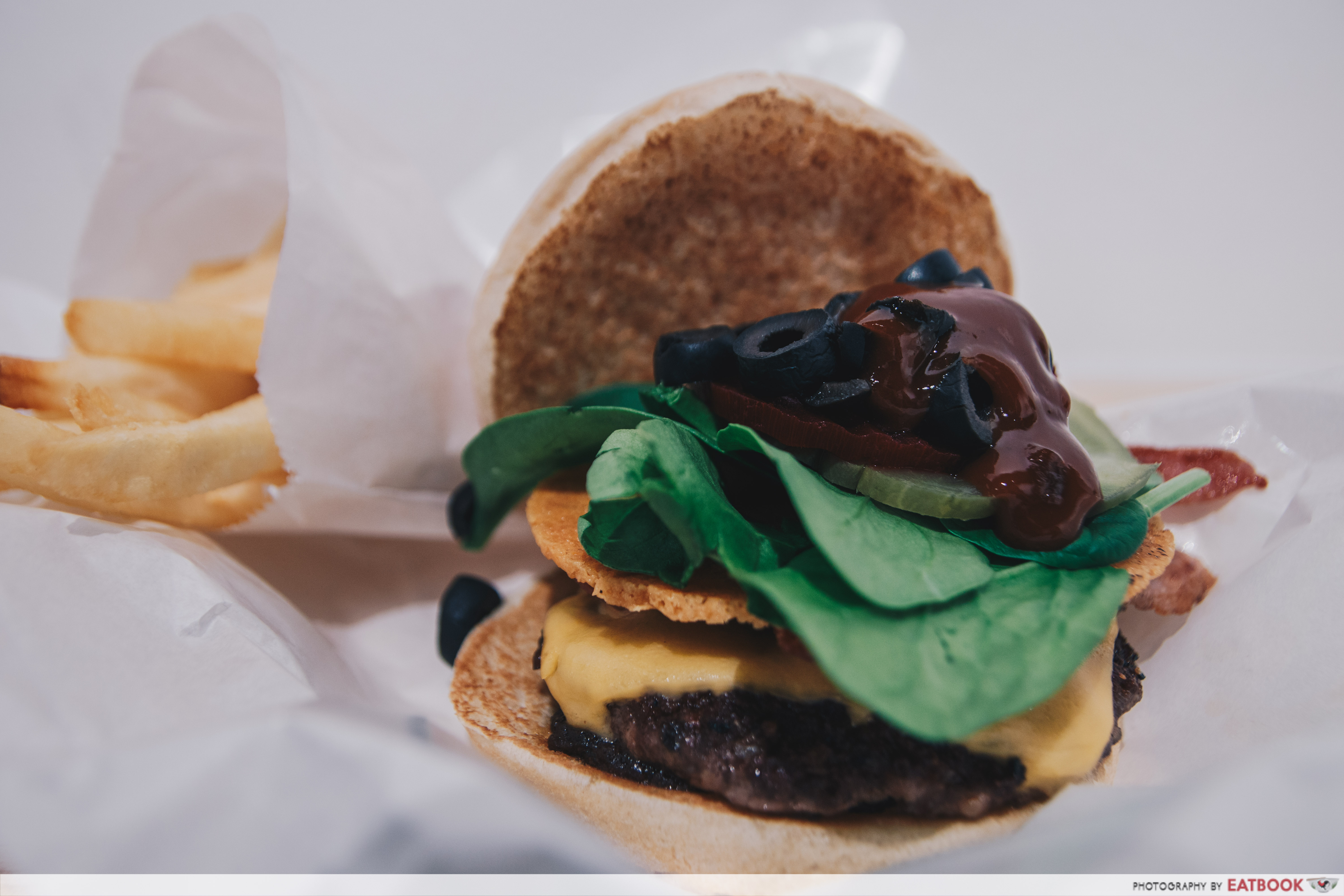 Enhancing the umami flavour were my chosen add-ons of crispy Bacon Strips ($1) and Parmesan Cheese ($1), which gave the beef a nice salty touch. Since it was free, I helped myself to the spread of vegetables, throwing in some greens, pickles, beetroot, and black olives to cut through any heaviness of the meaty burger. Finally, I topped it all off with a drizzle of BBQ sauce.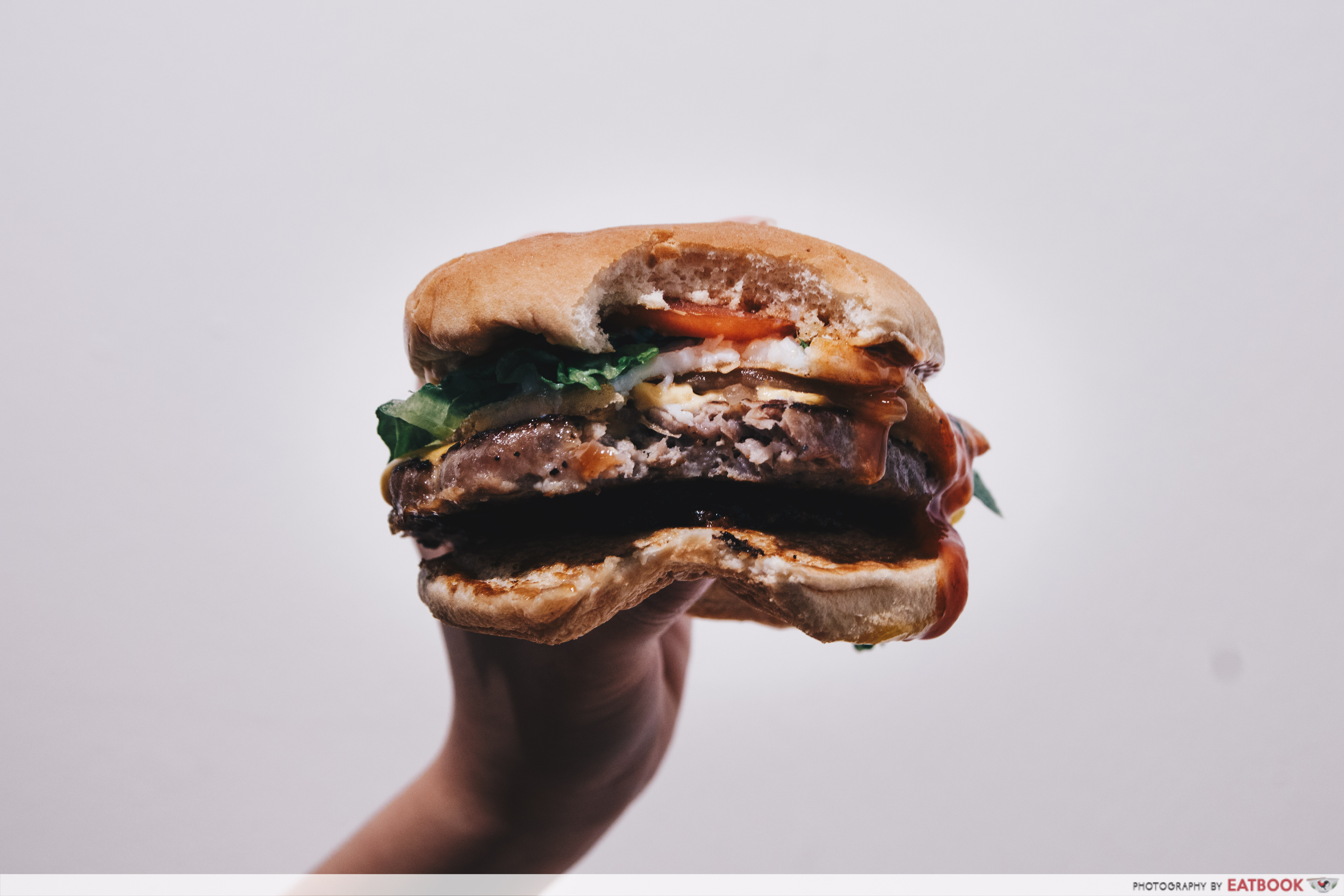 Next up was the Pork Patty Burger. Without any add-ons, the burger costs $9. However, I ended up paying $11, as I included a Sunny Side-up Egg ($1) and Sauteed Onions ($1).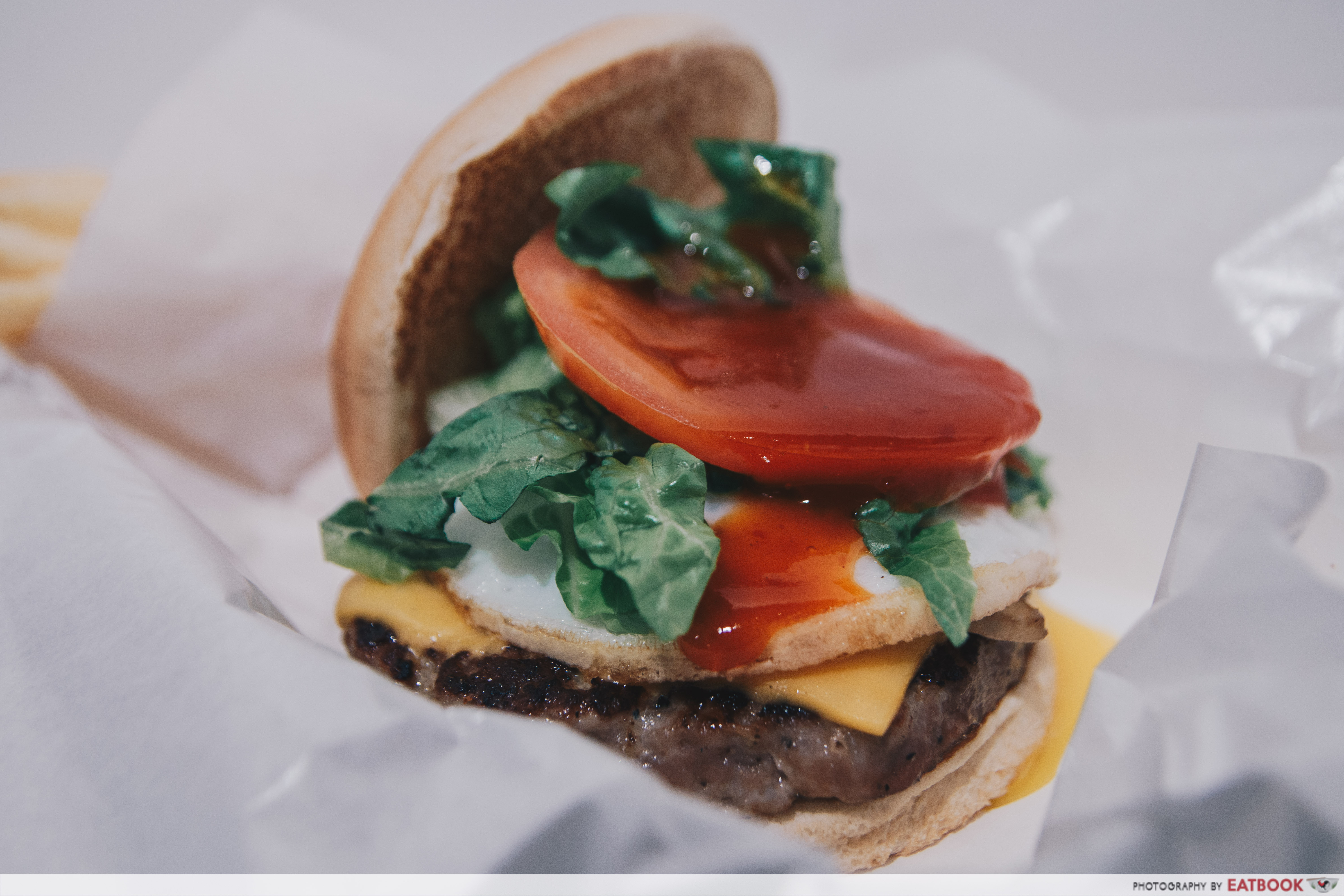 I had to eat this burger quick, as the egg yolk was already beginning to ooze out of the buns. The pork patty itself was juicy and succulent, and the caramel taste of the sauteed onions complemented it perfectly. I also loved how fresh the tomatoes and lettuce were.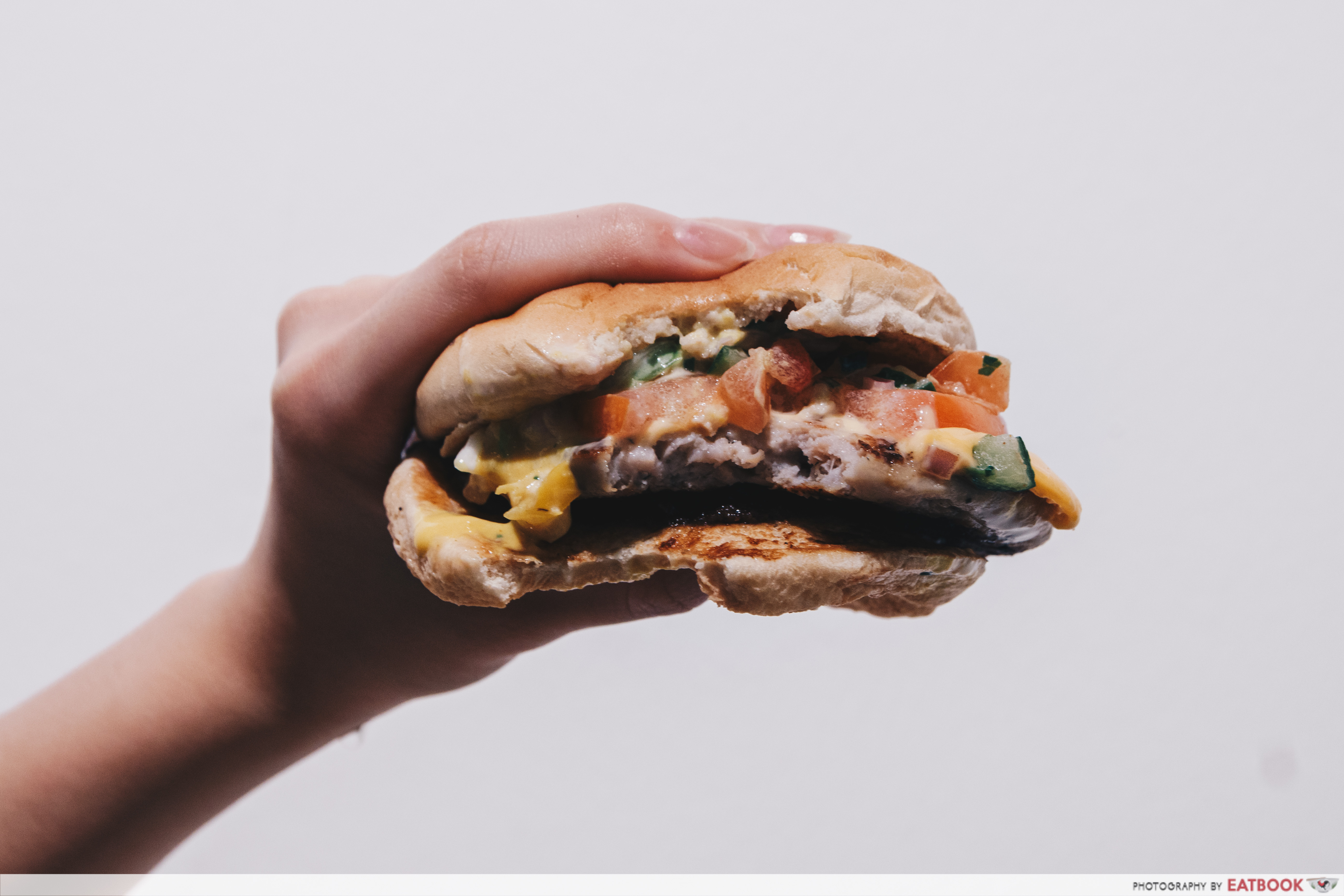 Finally, I sunk my teeth into the Chicken Patty Burger ($8). This time round, I decided not to add anything extra and let the free veggies do the talking instead. From the vegetable selection, I scooped up some relish and coleslaw salad, as well as a slice of tomato.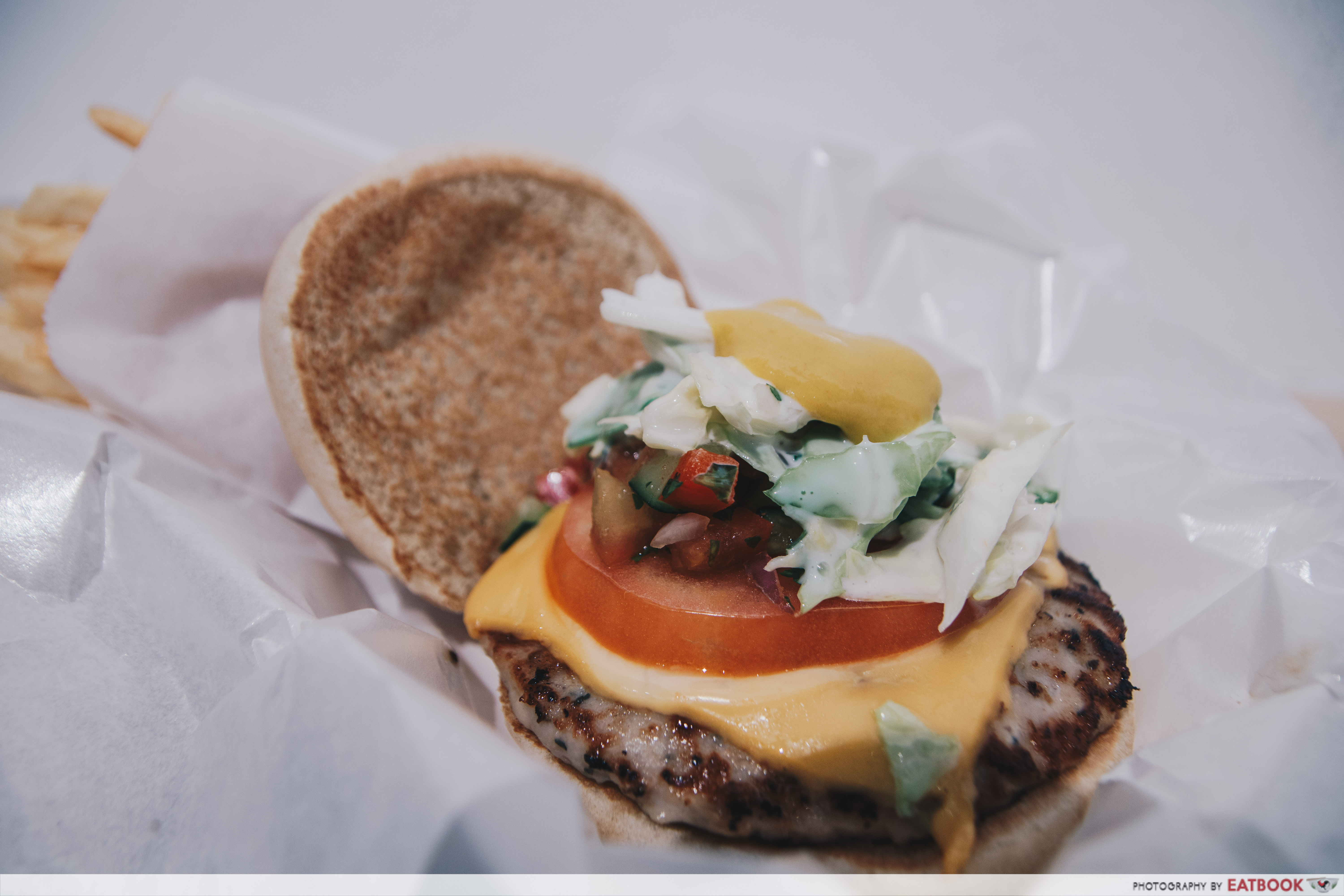 Being the cheapest burger on the menu, I dove in without much expectations. Fortunately, I wasn't let down at all. The chicken patty was super soft and very savoury, and its taste, not texture, reminded me a little of the sausage patty in McDonald's McMuffin. The flavourful vegetable toppings also added some moisture to the burger, as well as a refreshing, tangy finish.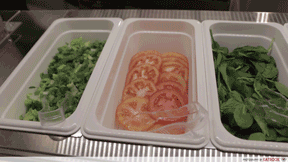 What really caught my attention at SimpleBurger Inc was the buffet spread of vegetables on display. As mentioned earlier, they are free for you to take, so you can stuff them into your burger to your heart's content. Personally, I recommend the relish, beetroot and coleslaw salad. 
There are also a variety of sauces to choose from: BBQ, Yellow Mustard, Tomato Ketchup and Chilli. A word of caution: you might have to exert some strength when pumping out the sauce. Each burger also came with a side of fries. The fries were nicely salted and crisp, and definitely not a mere afterthought to the burgers.
Ambience at SimpleBurger Inc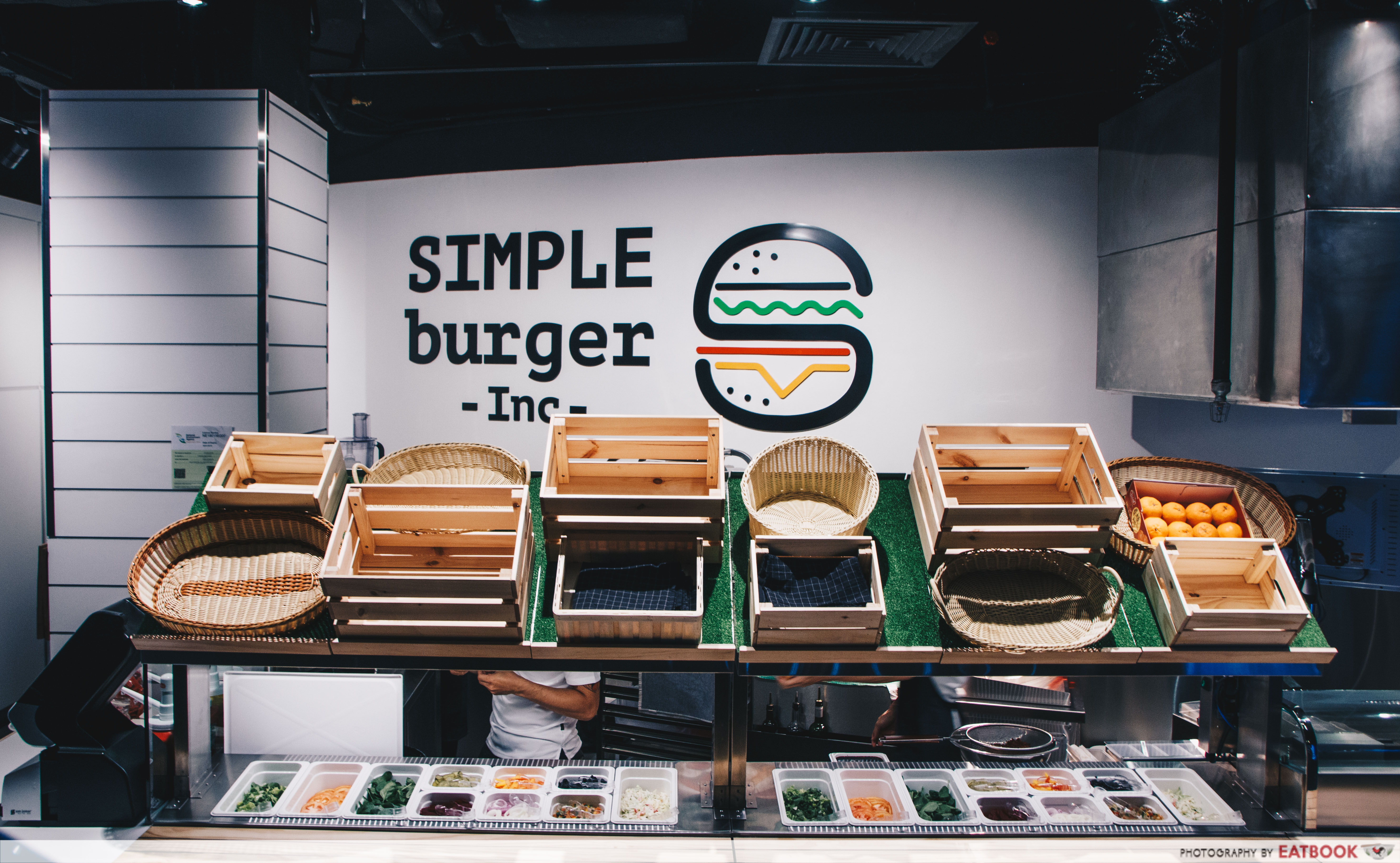 I was impressed by the stellar service at SimpleBurger Inc. I was assisted by one of their staff members, Terence, who made sure I knew how to go about building my burger. Terence mentioned that many visitors asked him if SimpleBurger Inc is a salad bar, having been misled by the veggie spread lining the store's entrance. Hence, he felt it was his duty to guide customers along.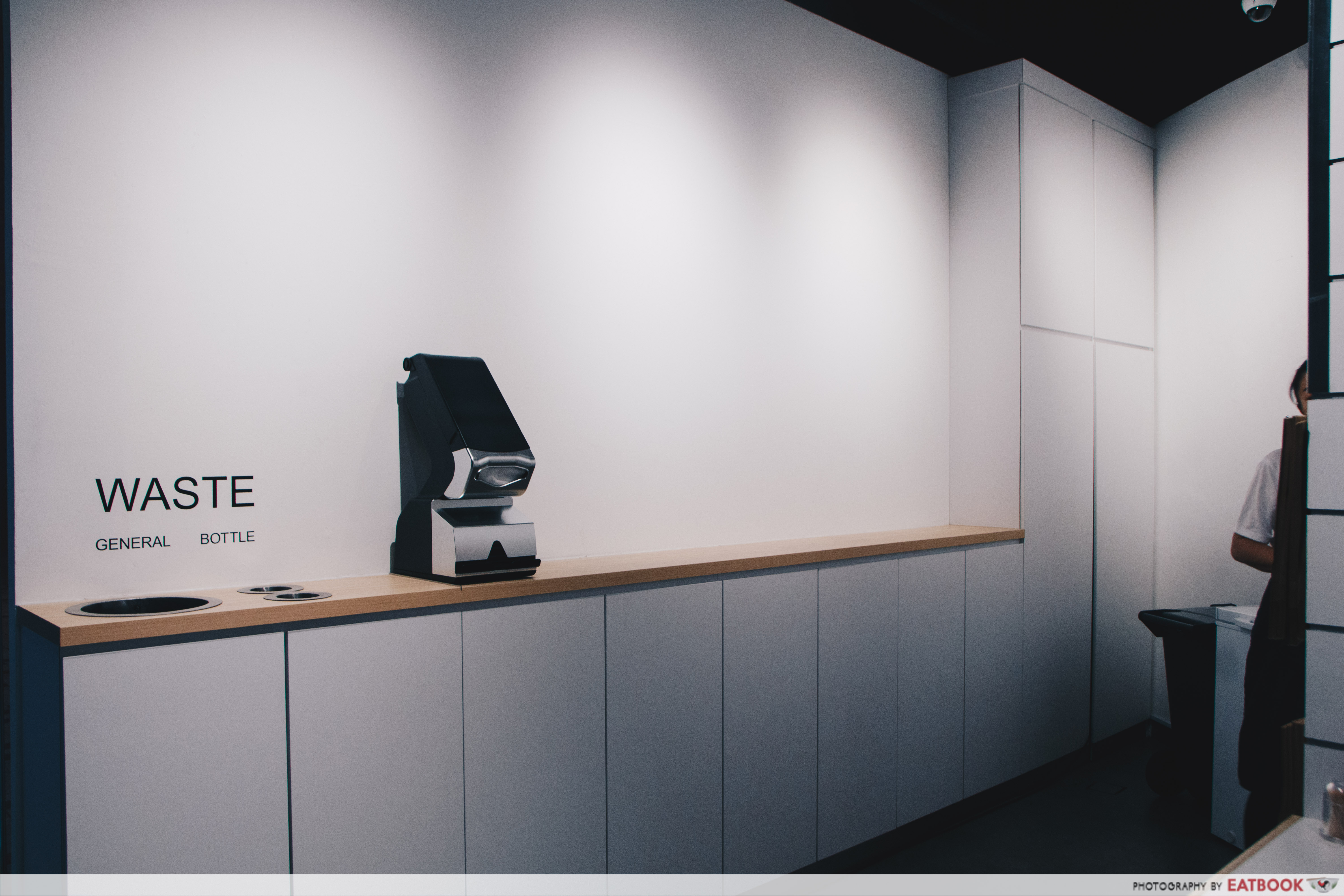 Influenced by similar burger bars in the USA, SimpleBurger Inc has no seats; it's actually a stand-up burger joint. So if you're looking to grab a quick bite and go, SimpleBurger Inc. will be an ideal spot.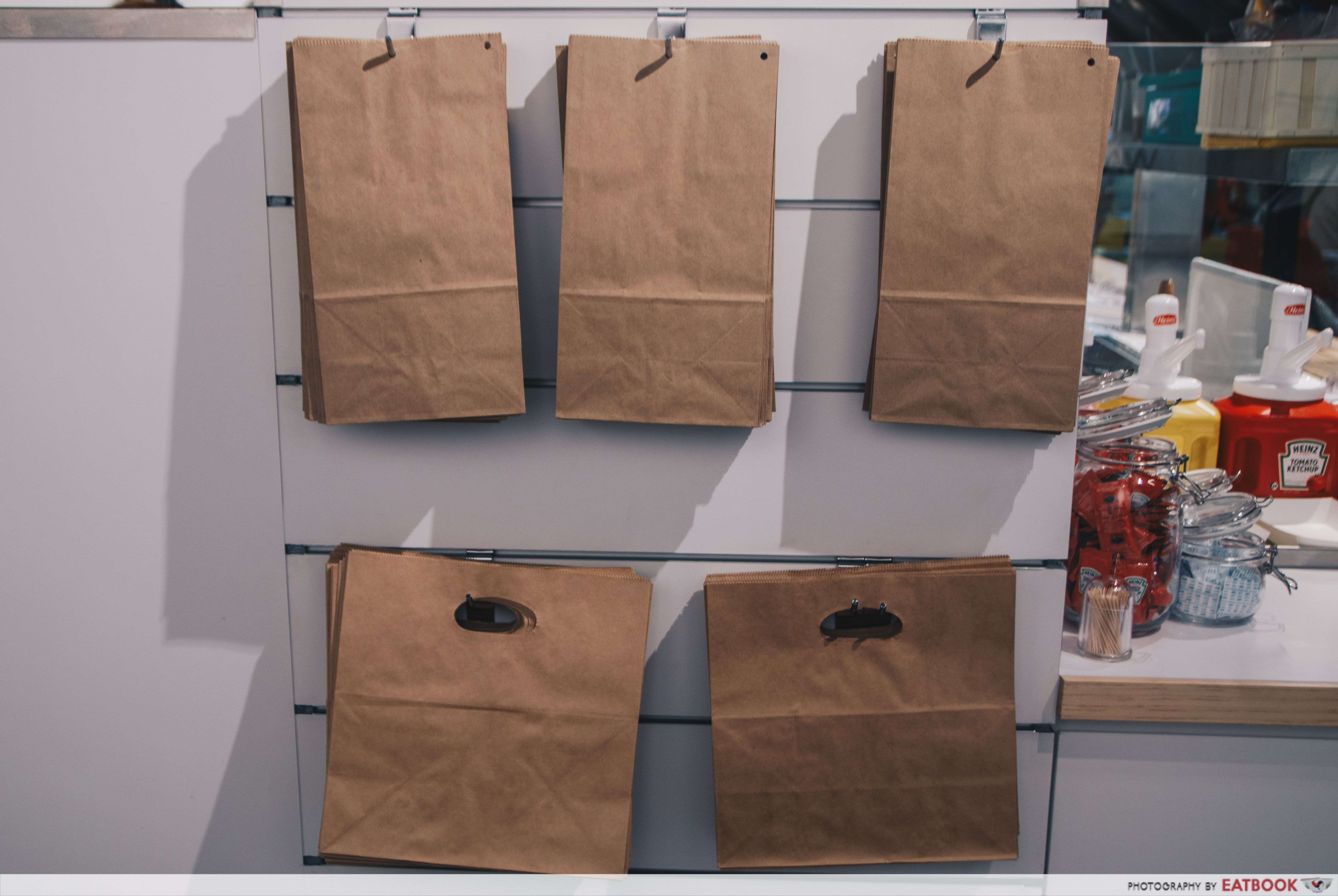 Everything is self-service here, and there are several brown paper bags of different sizes hung up for you to pack your burger with.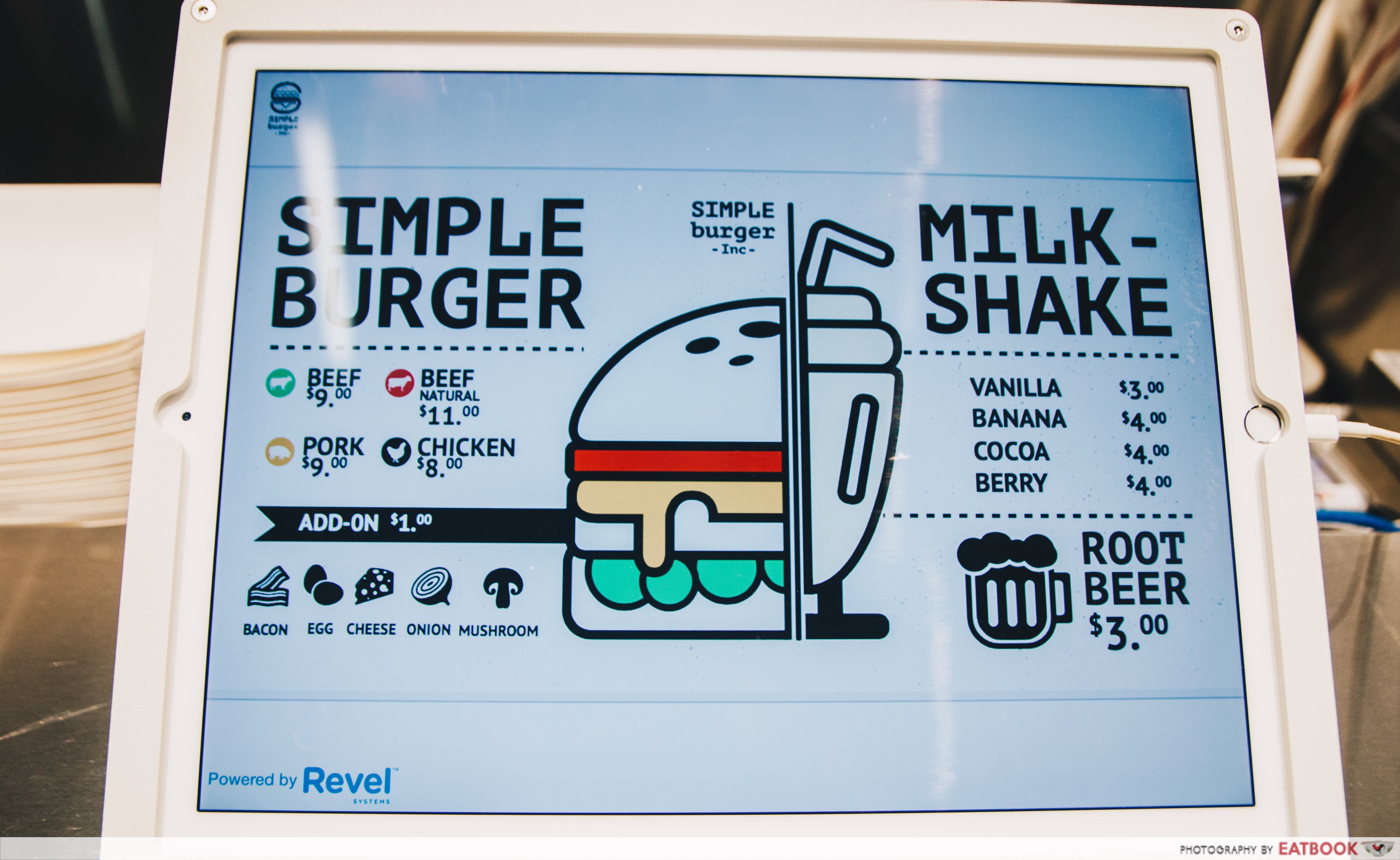 Apart from burgers, the store also sells soft-serve milkshakes and a sugarcane-based root beer, should you decide to add some sweetness to your meal.
The verdict
For a burger joint with the word 'simple' in its name, I wasn't expecting the level of quality I received in terms of service and taste. However, I'll probably be dining here once in a blue moon, as the burgers aren't exactly the cheapest. Nonetheless, despite the burgers appearing small, one serving – coupled with the fries – was pretty filling! I left the joint feeling very satisfied.
For more delicious and value-for-money burgers, check out Burgernomics' buttermilk chicken burger and Foodsmith's truffle beef burger!
Address: 1 Maju Avenue, #B1-21/22, myVillage, Singapore 556679
Opening hours: Daily 10am to 10pm
Tel: 6634 2526
Website
This is an independent review by Eatbook.sg.
Summary
Pros
– Good service
– Tasty patties
– Decent variety of free-flowing vegetables
– No GST and service charge
Cons
– No seats available
Recommended Dishes: Natural Beef Patty Burger ($11), Pork Patty Burger ($9), Chicken Patty Burger ($8)
Opening hours: Daily 10am to 10pm
Address: 1 Maju Avenue, #B1-21/22, myVillage, Serangoon Gardens, Singapore 556679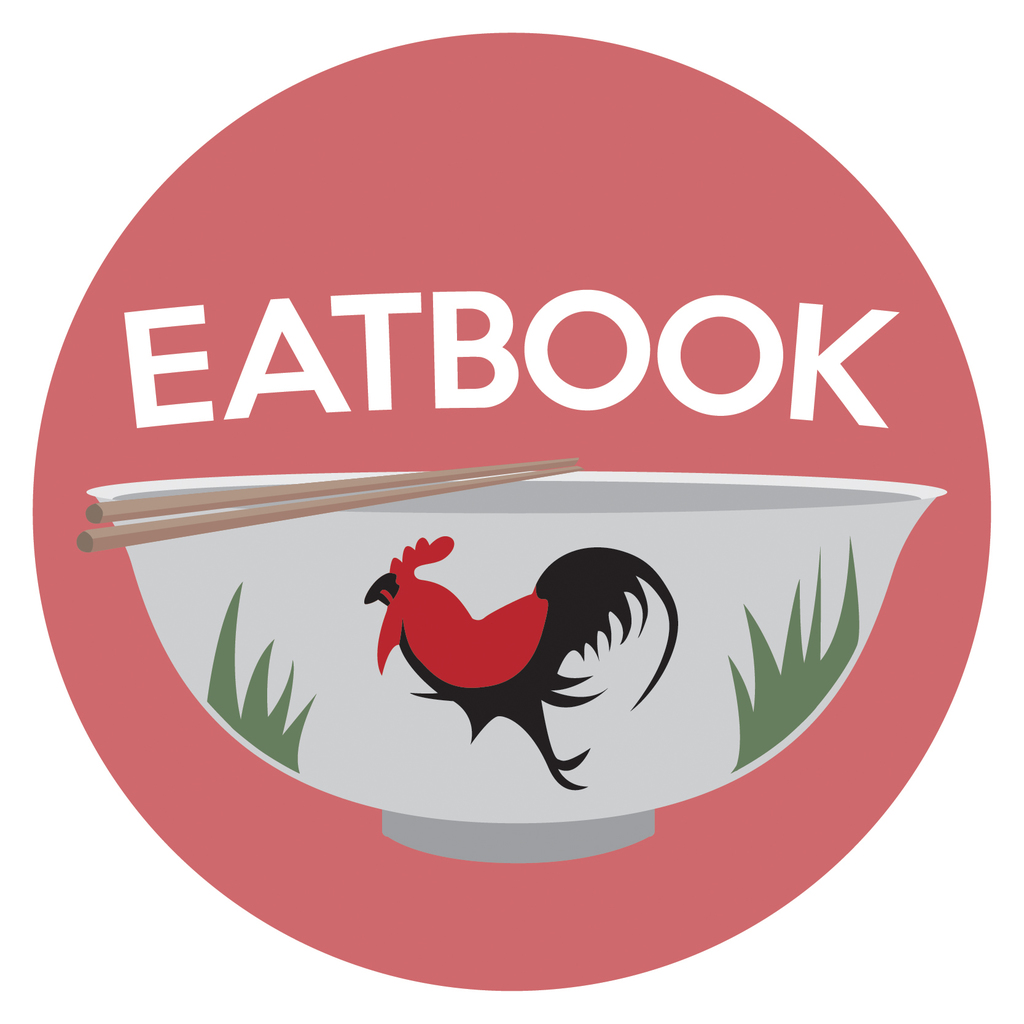 Drop us your email so you won't miss the latest news.