Burgernomics offers affordable and quality burgers at Pasir Ris
Update (Mar 2020): Burgernomics is now permanently closed.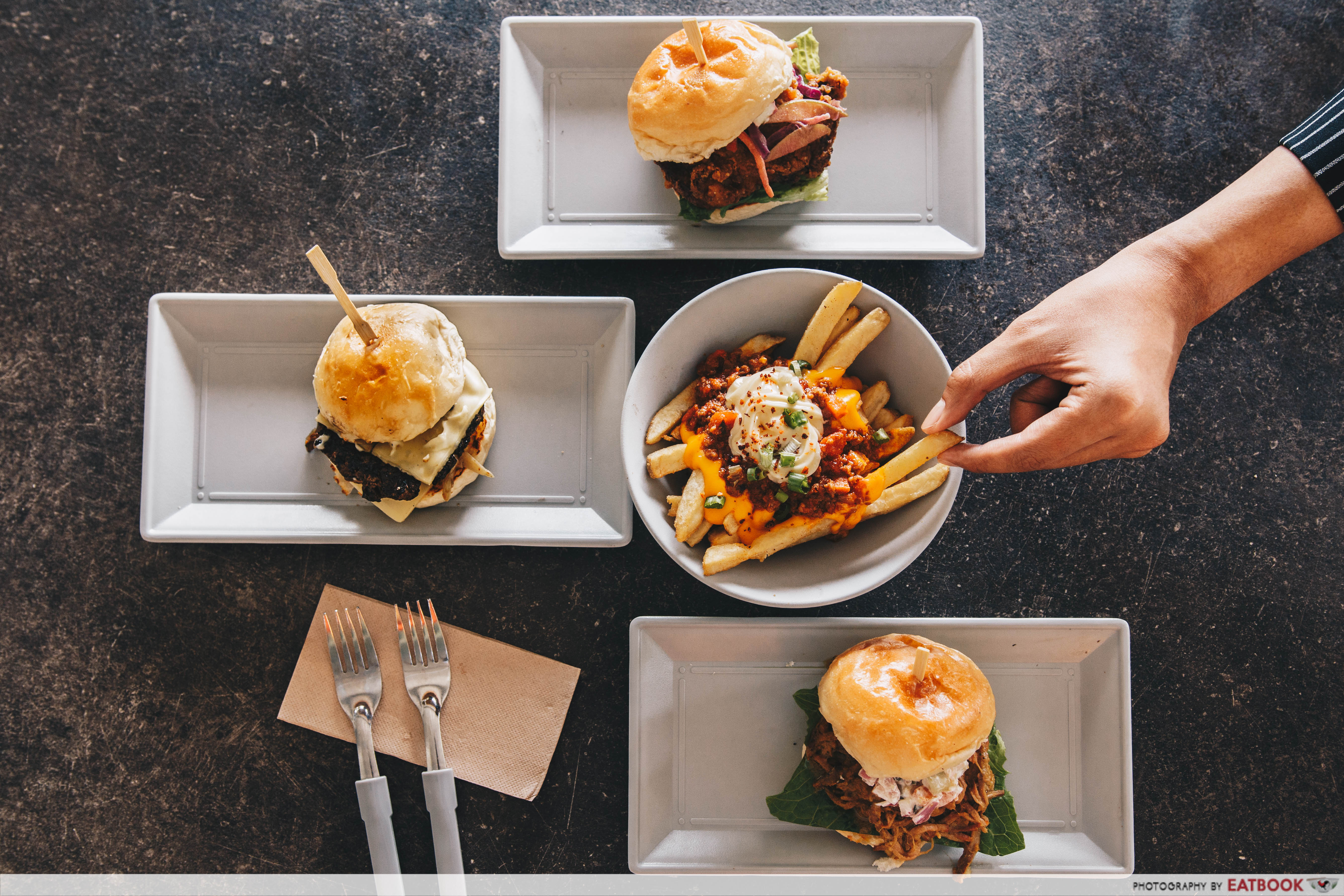 After much anticipation and delay, I am glad Pasir Ris Central Hawker Centre has finally opened its doors to the public on 25 Jan 2018. Unlike typical hawker centres, this new addition is one of a kind. Pasir Ris Central Hawker Centre has two storeys; the first houses traditional hawker fare, whereas the second, called The Fareground, is home to plenty of hipster hawker food. When I first heard about Burgernomics, I knew I had to head down because burger is life. Much to our surprise, customers were already waiting even before the stall opened.  
Food at Burgernomics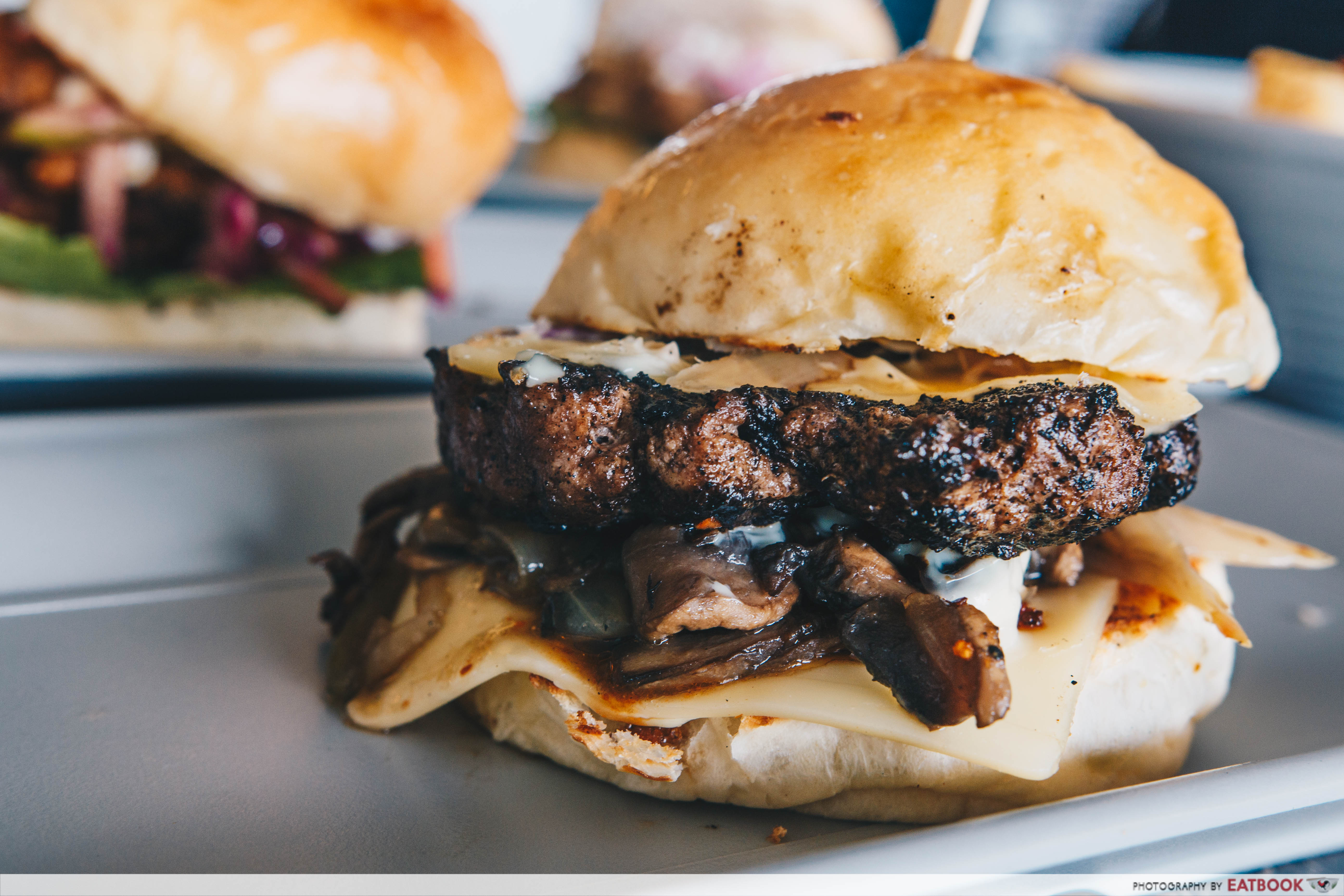 We began our feast with their Deluxe Burger ($6.50). In between the slightly toasted buns was a beef patty blanketed with slices of blow-torched cheddar cheese. The buns were slathered with truffle aioli and slabbed with a considerable amount of caramelised onions and sauteed mushrooms.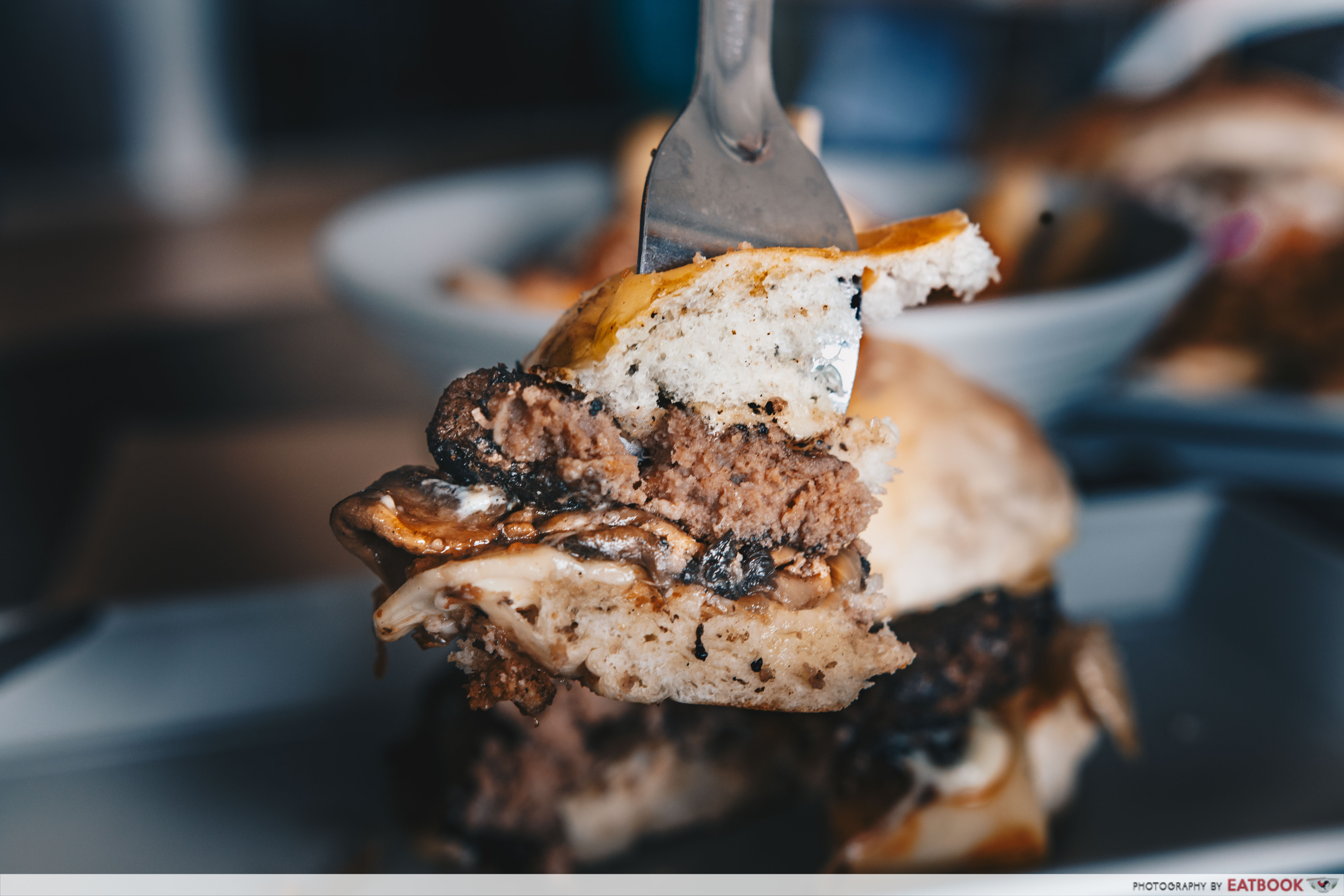 Juices spattered out from the patty as I plunged my knife into the burger. I am not a huge fan of the buns but boy, my first bite was filled with a burst of flavours. The savoury umami from the sauteed mushrooms and the sweet caramelised onions sang in unison. The tender beef patty had a nice amount of char which added a faint bitter aftertaste. Overall, the burger encompassed every aspect of what a good burger should be.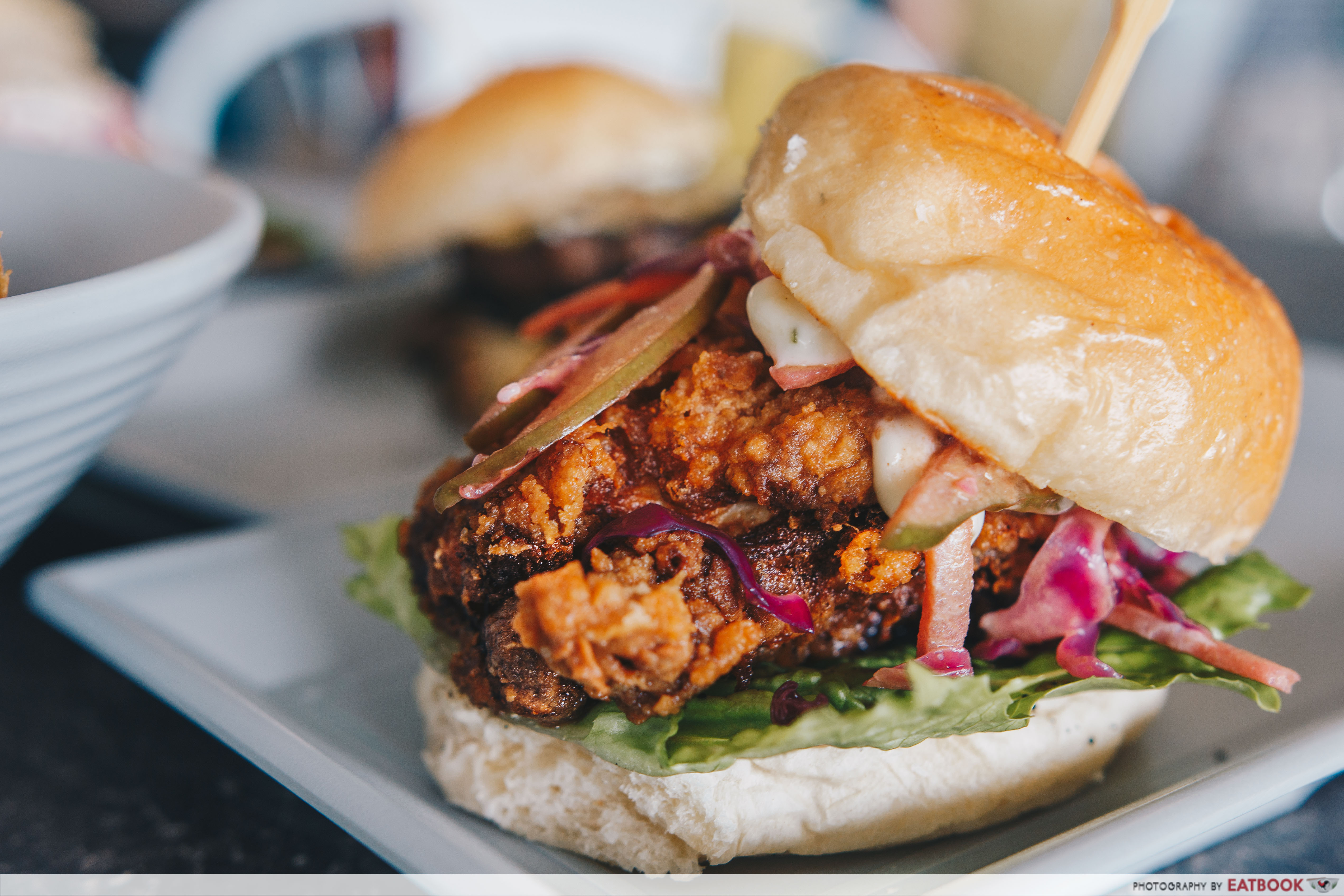 Their Crispy Chicken Burger ($6.50) was next. A piece of chunky deep-fried chicken sat atop a piece of lettuce, and was topped with a beautiful mess of apple and red cabbage slaw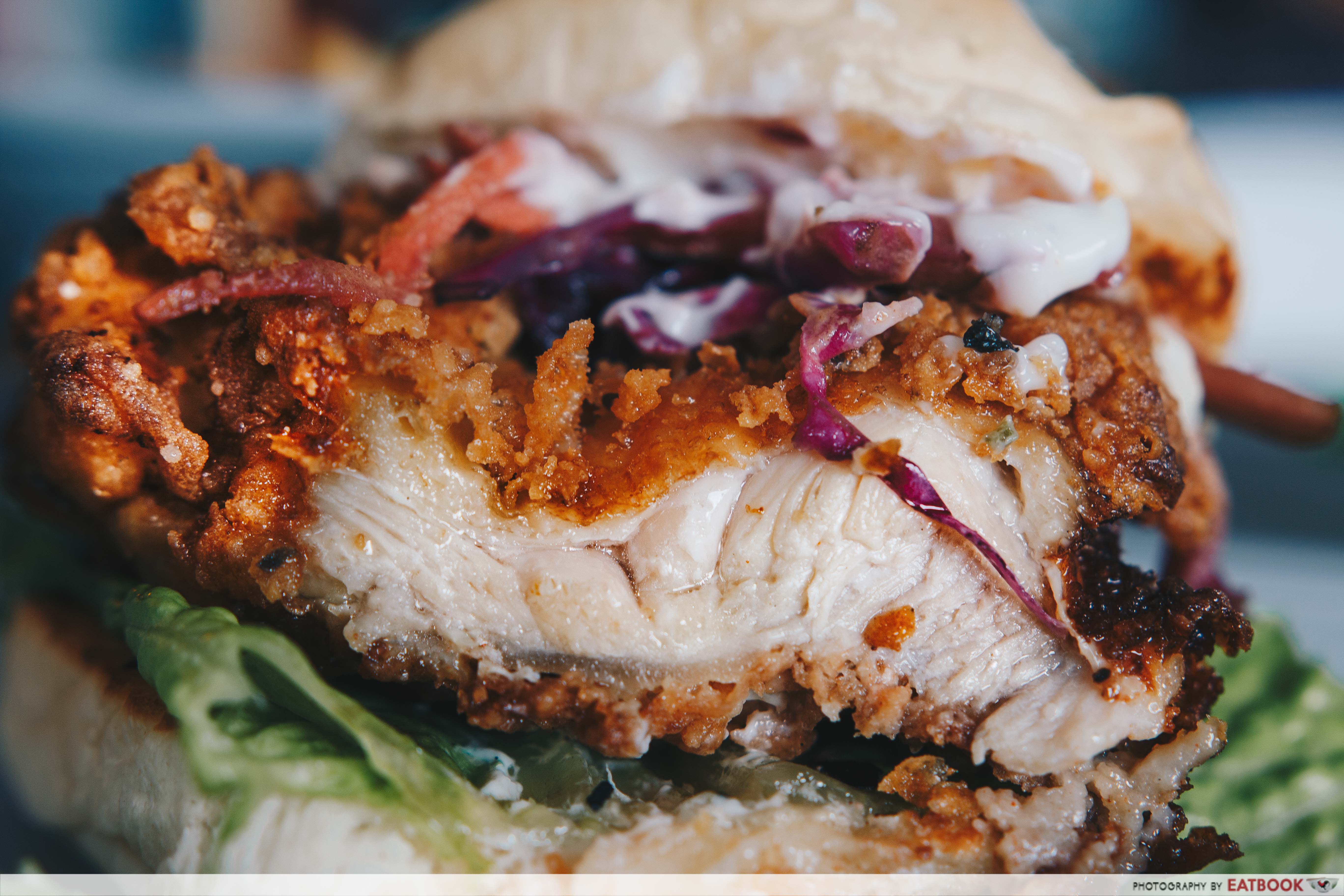 Just as its name suggests, the thick and succulent chicken had a super crispy exterior which I really loved. As my teeth sunk into the burger, it gave off a distinct crunch. The batter was flavourful, and complemented the sweet and crunchy slaw. As it was marinated in buttermilk, the chicken managed to retain its tenderness and juiciness. I took a moment to appreciate the glistening chicken which had the perfect meat-to-fat-ratio. This burger easily sealed the deal for me.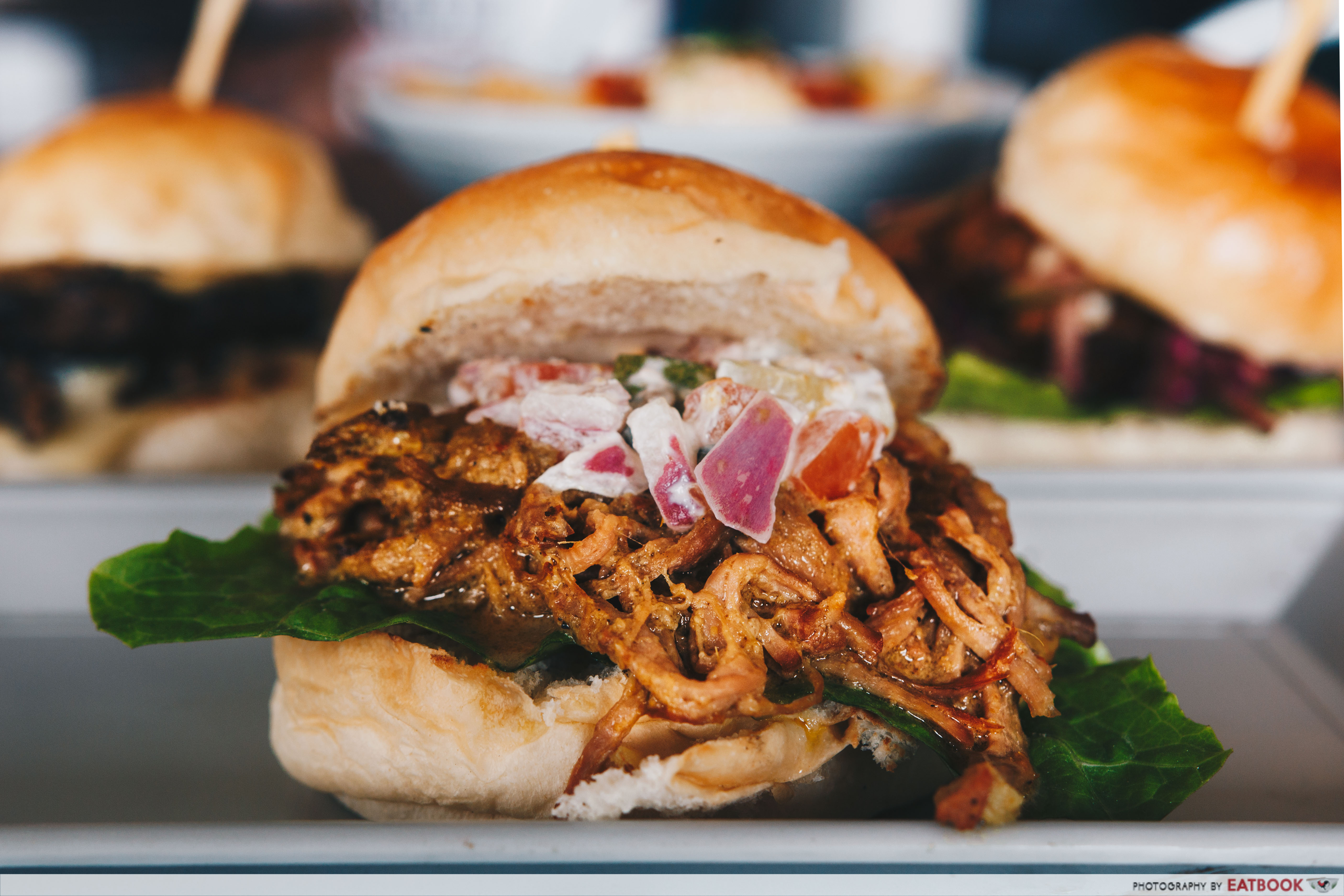 For $7.50, we got their highly raved Beef Rendang Burger. A pile of braised brisket along with cucumber raita rested on a bun. Despite being marinated in rendang spices, the well-shredded beef lacked a depth in flavour. I took another bite hoping to give it another chance, but I still couldn't taste the full-bodied rendang flavour coming through. The cucumber raita, however, was interesting as it added tartness.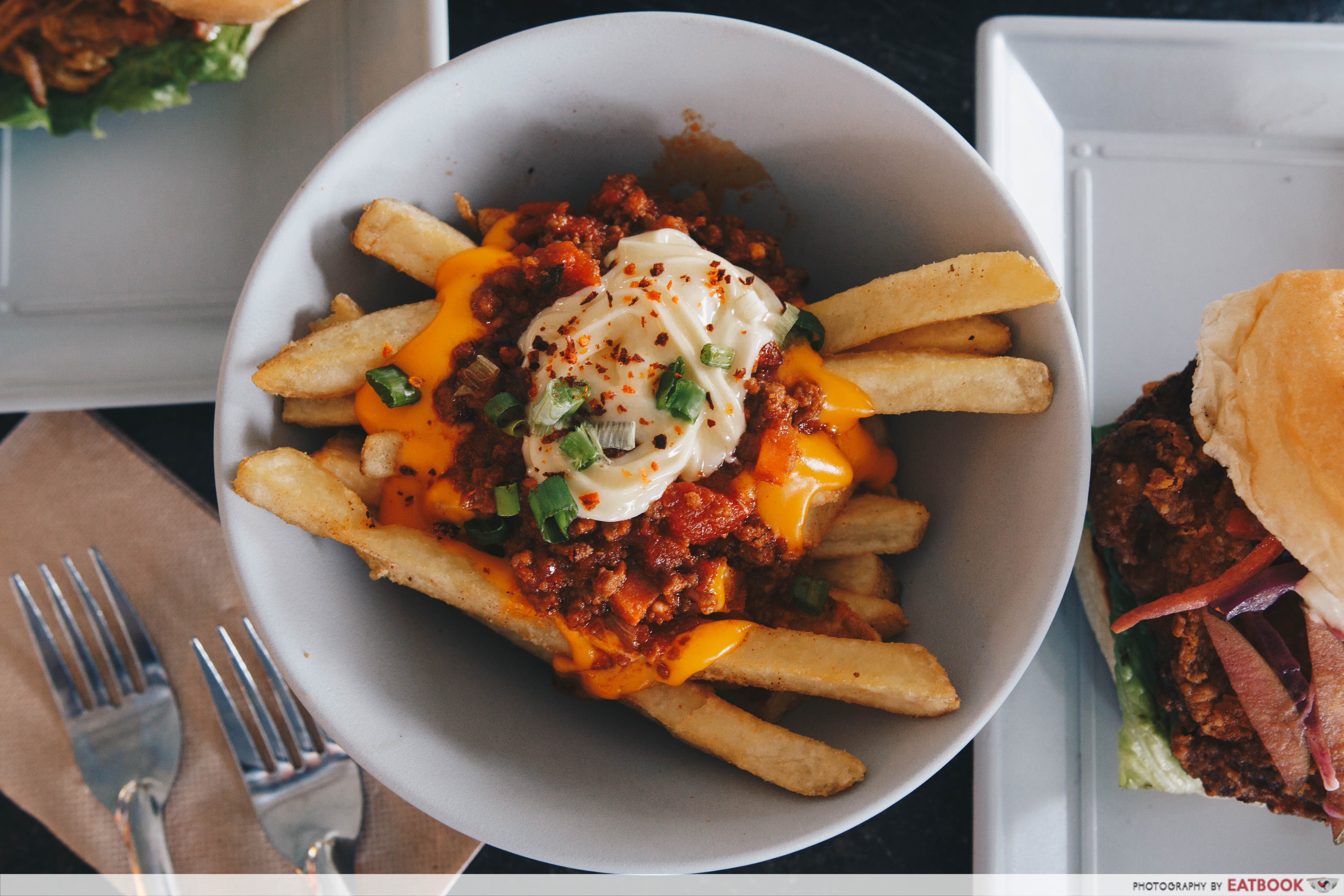 Chilli Cheesy Beef Fries ($4) easily stole the spotlight for me. The long, thick-cut fries were smothered in three sauces – nacho cheese, tomato ground beef, and mayonnaise. Their fries had a crispy exterior, yet was soft on the inside – how I like my fries to be. The combination of the sauces and fries was a matrimony of flavours. Every bite brought me a step closer to a blissful food coma.  
Ambience at Burgernomics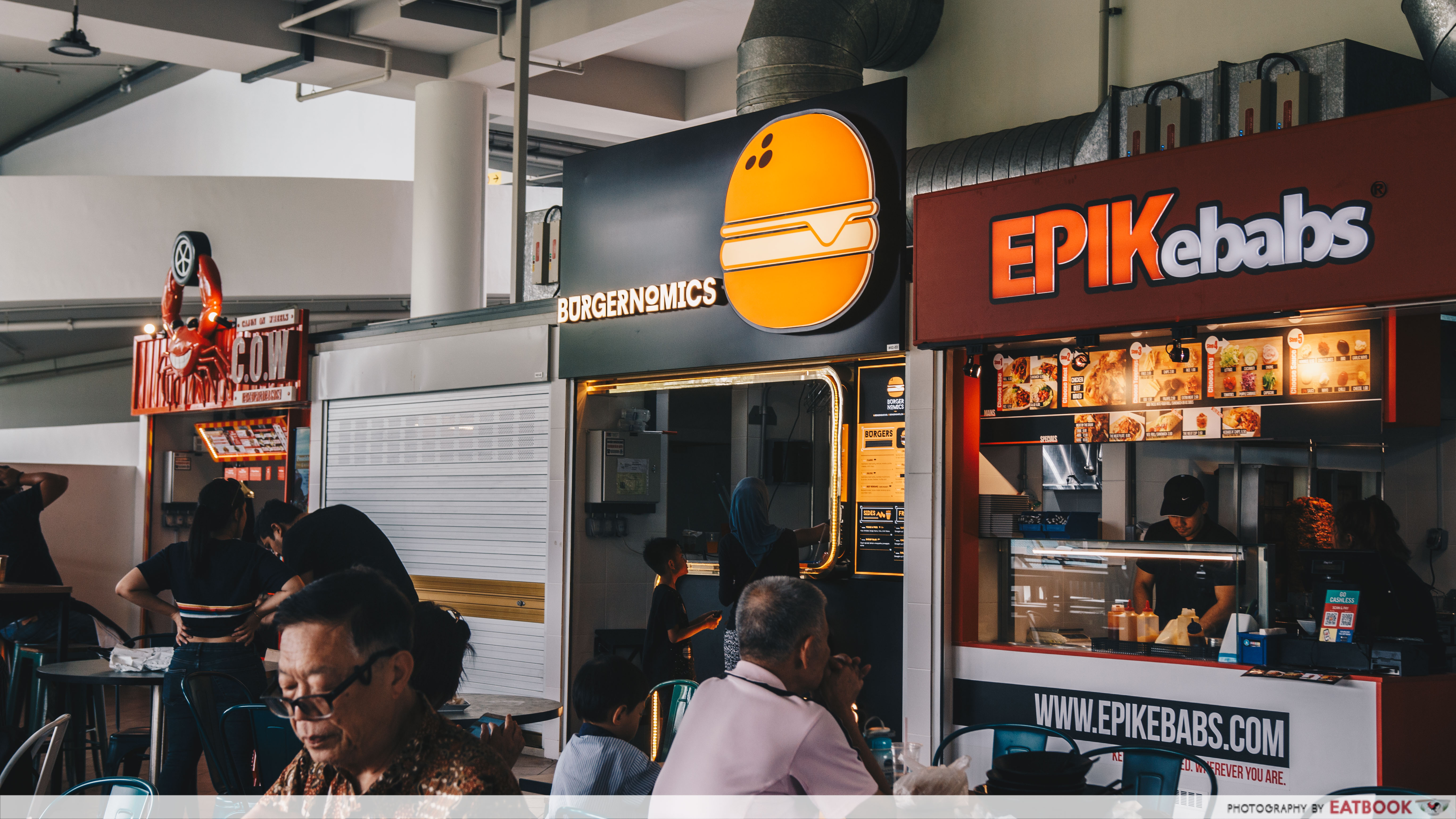 At The Fareground, the halal and Muslim-owned food stalls are all located in one corner. It's hard to miss Burgernomics with its huge burger signboard perched atop the stall. The staff members were very friendly and attentive to every customer. I liked that The Fareground has a variety of seats available. You can choose to sit at a regular round table or a tall table with bar stools. Expect a long queue if you're planning to drop by during peak periods, and note that they take a break between 4pm to 5pm before resuming for dinner service.
The verdict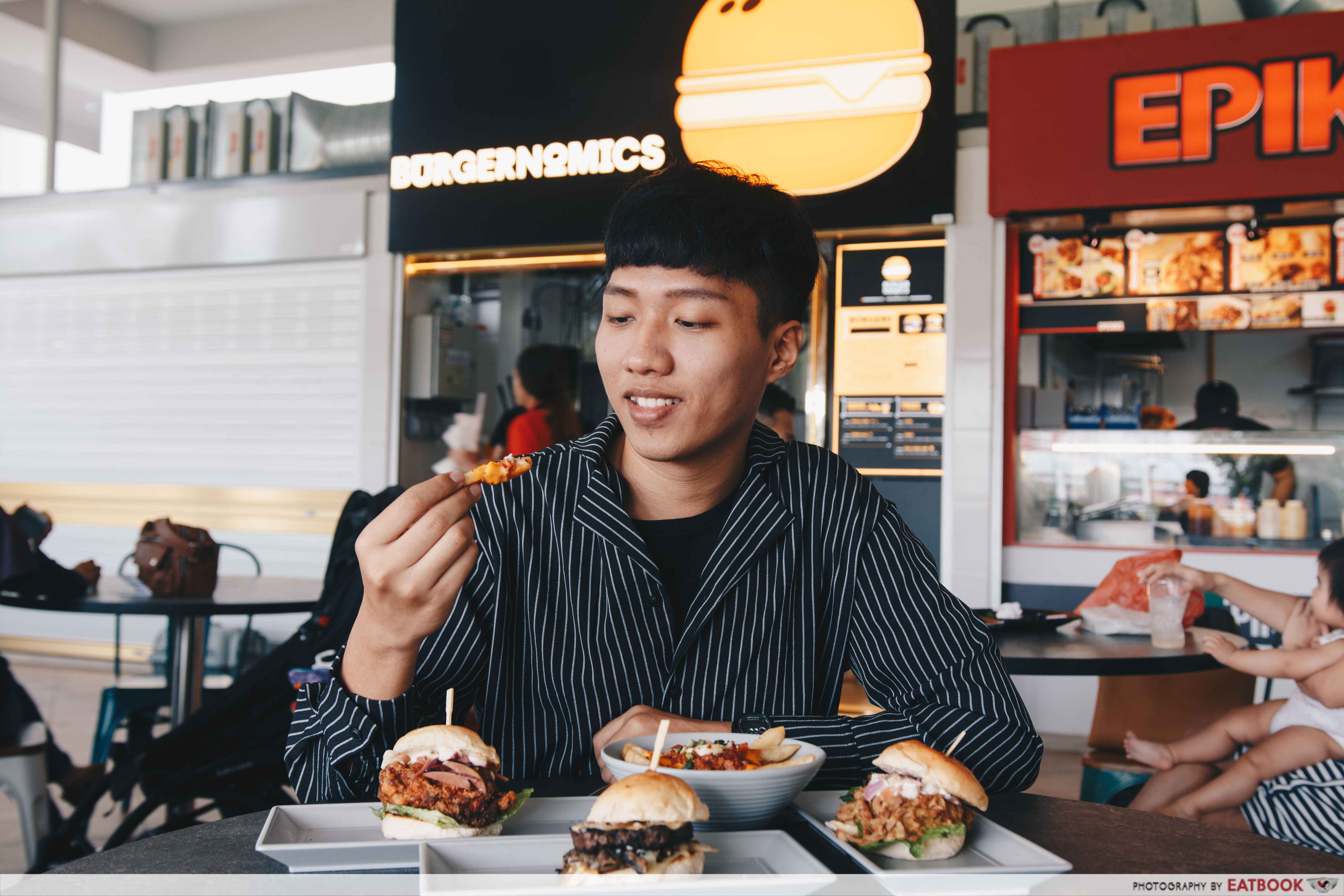 Overall, I was very satisfied with my meal at Burgernomics. For cafe-quality burgers at reasonable prices, they are definitely on my go-to list for days when I crave for a good burger that doesn't damage my wallet. For more satisfying burgers, check out our list of affordable burgers as well as Hambaobao!
Address: 110 Pasir Ris Central, #02-03, Pasir Ris Central Hawker Centre, Singapore 519641
Opening hours: Daily 12pm to 3pm, 6pm to 9pm
Tel: 9151 8134
Website
Burgernomics is a Muslim-owned eatery.
This is an independent review by Eatbook.sg.
Summary
Pros
– Stellar crispy chicken burger
– Delicious cheesy chilli beef fries
– Affordable prices
Cons
– Underwhelming beef rendang burger
– Burgers don't come with fries
Recommended Dishes: Chilli Cheesy Beef Fries ($4), Crispy Chicken Burger ($6.50)
Operating Hours: Daily 12pm to 8pm
Address: 110 Pasir Ris Central, #02-03, Singapore 519641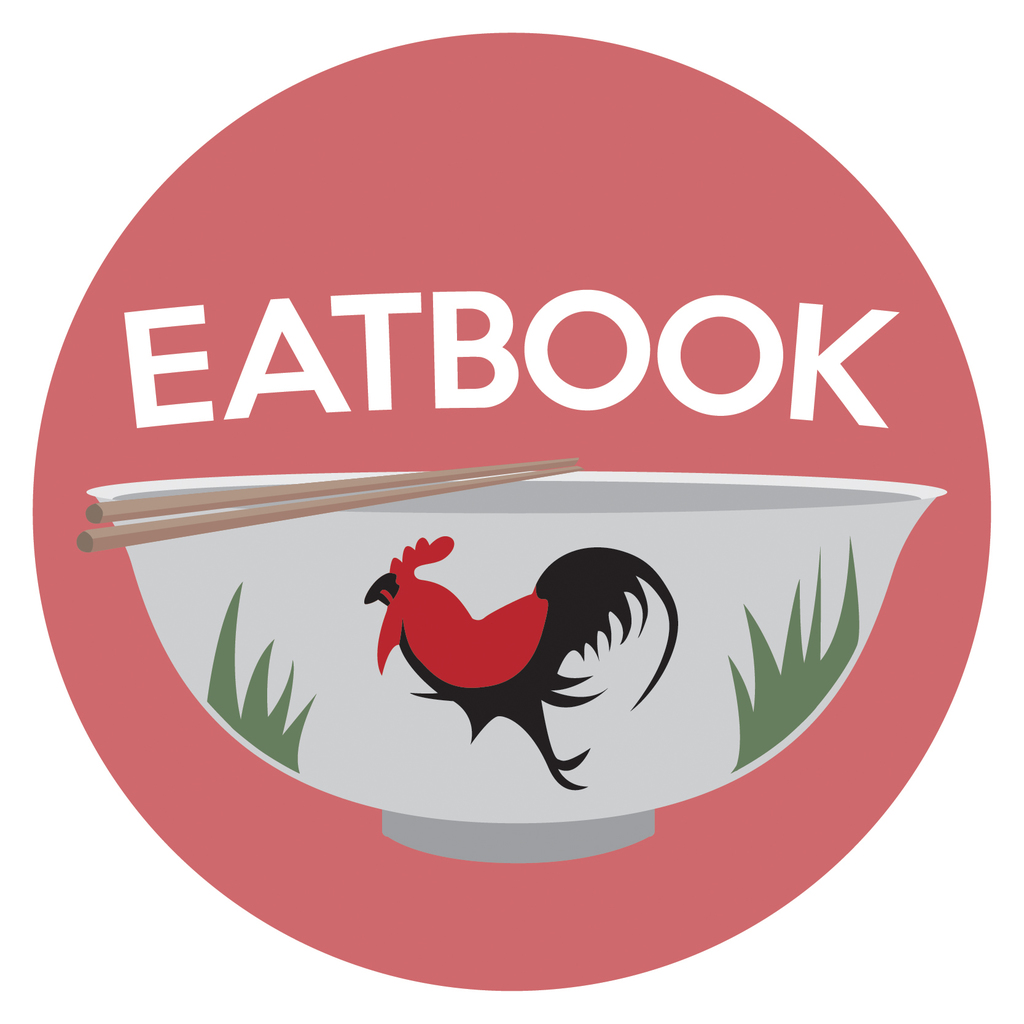 Drop us your email so you won't miss the latest news.