---
Affordable burgers to satisfy your hunger
---
At the mention of burgers, two kinds of it come to mind – the cheap but common ones from fast food joints, and the ridiculously overpriced ones from fancy restaurants. If you are a burger lover like me and are sick and tired of those two typical types of burgers, here are seven places that serve delicious and affordable burgers at less than $10!
---
1. Corner Burger
---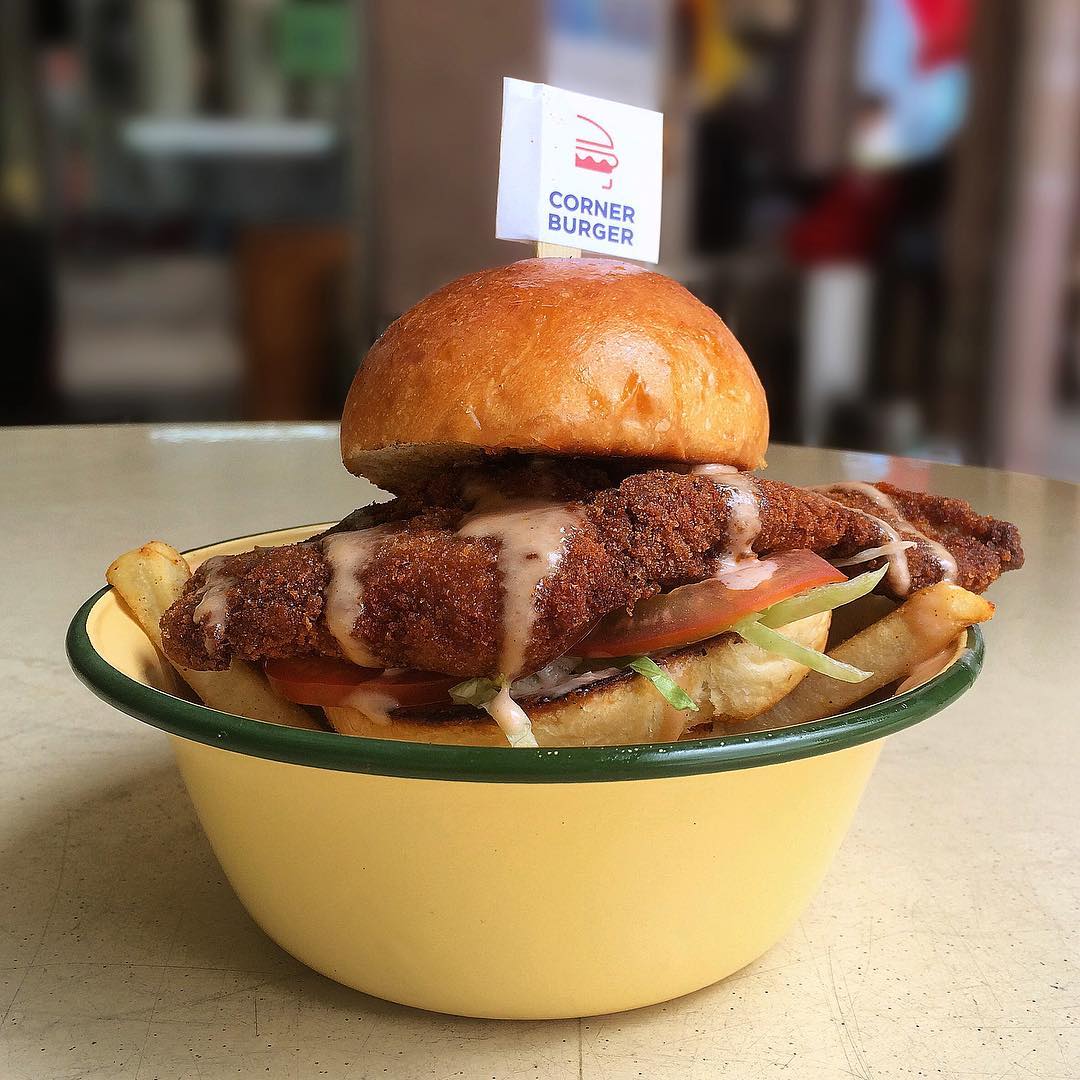 Image credit: @sir.fried.chicken
Update (13 Apr 2018): Corner Burger has since been replaced by Meet 4 Meat.
Corner Burger was opened last October by 29-year-old Silas Lee, who aims to spread his love for burgers by serving cafe-style burgers at affordable prices. The stall serves burgers including Nan Ru Tonkatsu Burger ($8), Luncheon Meat & Egg Burger ($6), and daily specials such as Otah-Otah Burger ($7). Each burger comes with thick-cut fries and if you are craving for more, you can also order a Bowl of Fries for $3.
Address: 228 East Coast Road, Brunners Coffeeshop, Singapore 428925
Opening hours: Fri-Wed 8am to 3pm, 5:30pm to 9pm
Tel: 9827 4562
Website
---
2. Burgs by Project Warung
---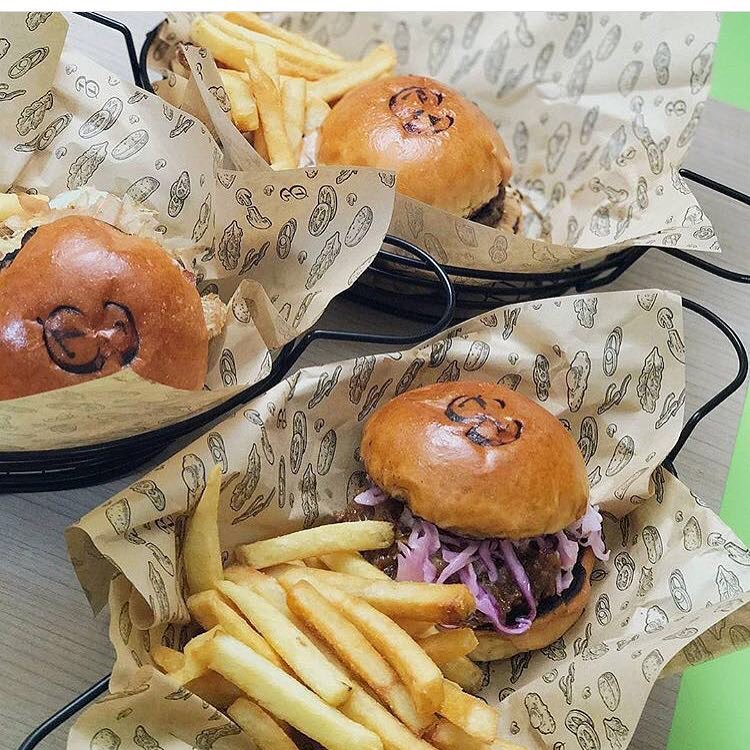 Image credit: @projectwarung
Found in Golden Mile Food Centre, Burg by Project Warung is a halal eatery that serves cheap and good burgers. For as low as $4.50, you can get The Classic, a beef burger with caramelised onions and American cheese. The most expensive burger of the six that they offer, Burg's Breakfast Burger, is a mere $6.50, and another interesting choice would be Nacho Fish & Chips Burger ($4.90). Each burger comes with a side of thick-cut fries, and you can also go for their Honey Soy Fried Chicken Wings ($4.90) if you're looking for a side to share. Be sure to visit the stall early, as they are known to finish selling the burgers about an hour before their closing time!
Address: 505 Beach Road, #B1-24, Golden Mile Food Centre, Singapore 199583
Opening hours: Daily 11am to 1:30pm, 5pm to 6:30pm
Tel: 9154 4038
---
3. Wolf Burgers
---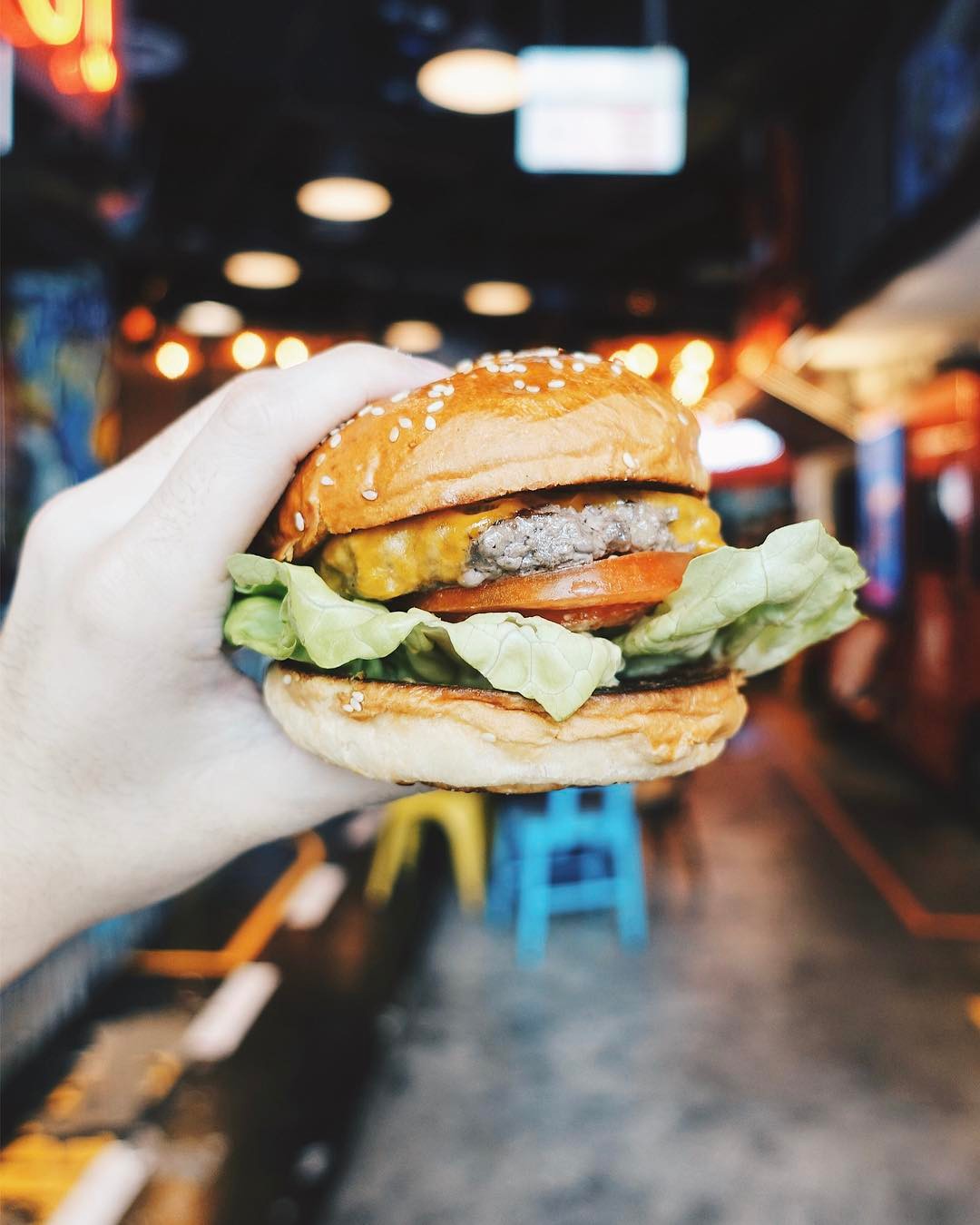 Image credit: @wolfburgersg
Starting with their first branch in Pasarbella at Suntec City, Wolf Burgers specialises in burgers, fries, and milkshakes. At nett prices, you can indulge in their Sausage Bacon Egg Cheese Muffin ($9.90), Buttermilk Fried Chicken Burger ($9.90), and Strip Poker ($9.90), a slow-cooked Coca-Cola pulled pork burger. At a slightly higher price of $14.90, hungry ones can also go for The Alpha, which is a burger made of double beef patties and double cheese. Fries of various flavours including s'mores, truffle, and kimchi cheese are also popular sides to round off your meal with!
Address: 3 Temasek Boulevard, #459-461, Suntec City, Singapore 038983
Opening hours: Daily 12pm to 9:30pm
Website | Full list of outlets
---
4. DOJO
---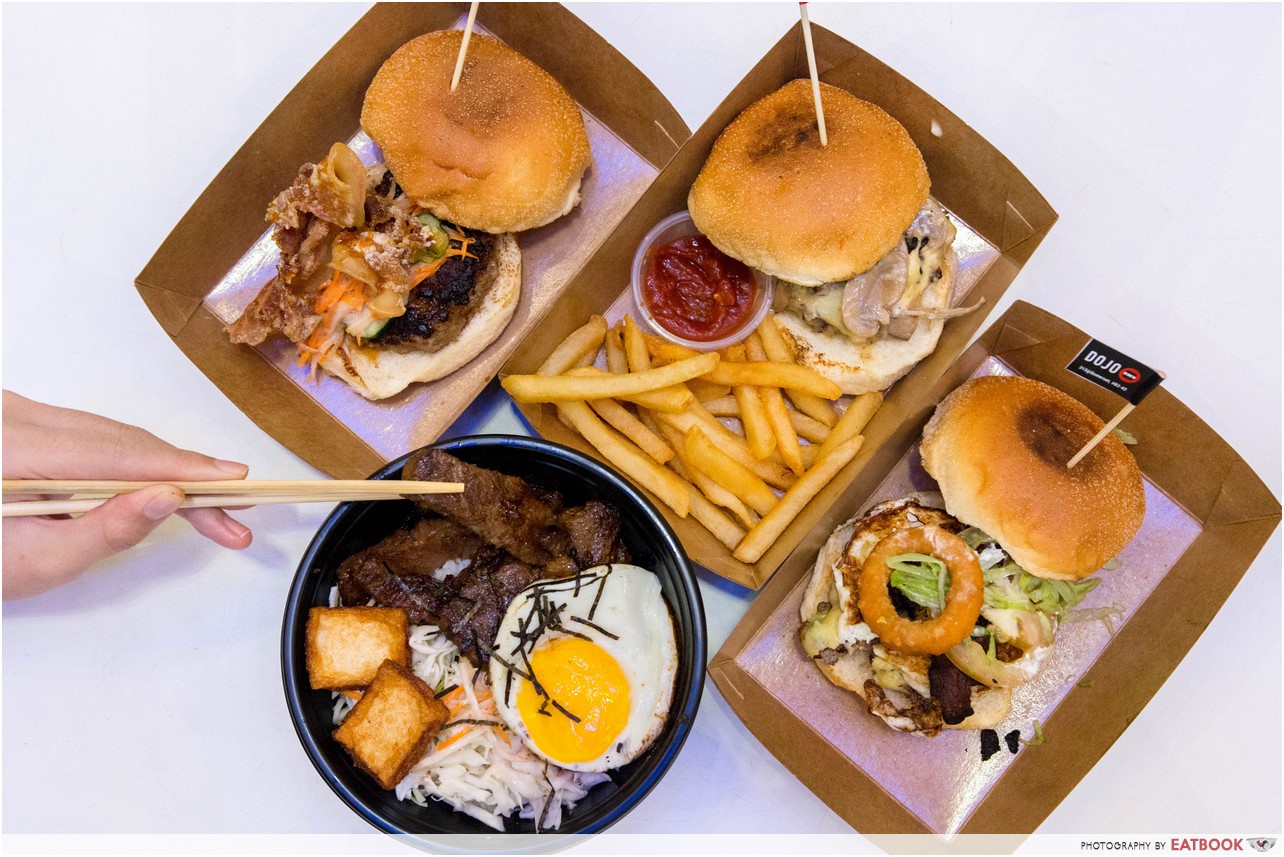 DOJO is a burger joint that specialises in pork burgers. First opened along Circular Road, the eatery relocated to a more central area, at 313@Somerset just this year to cater to its growing business. Two of their bestsellers are Kaiju ($8), a pork burger topped with sauce made from shiitake, champignon and paddy straw mushrooms, as well as Little Dragon ($8), a grilled pork steak burger with melted cheese and grilled onions. For those who prefer other meats, DOJO also serves burgers like Fowl Play ($8), which is made of fried chicken fillet. If you are not feeling up for a burger, you can also go for affordable rice bowls like their Chicken Katsu ($9)!
Check out our full review of DOJO!
Address: 313 Orchard Road, #B3-43, 313@Somerset, Singapore 238896
Opening hours: Daily 11am to 10pm
Tel: 6835 7606
Website
---
5. Hambaobao
---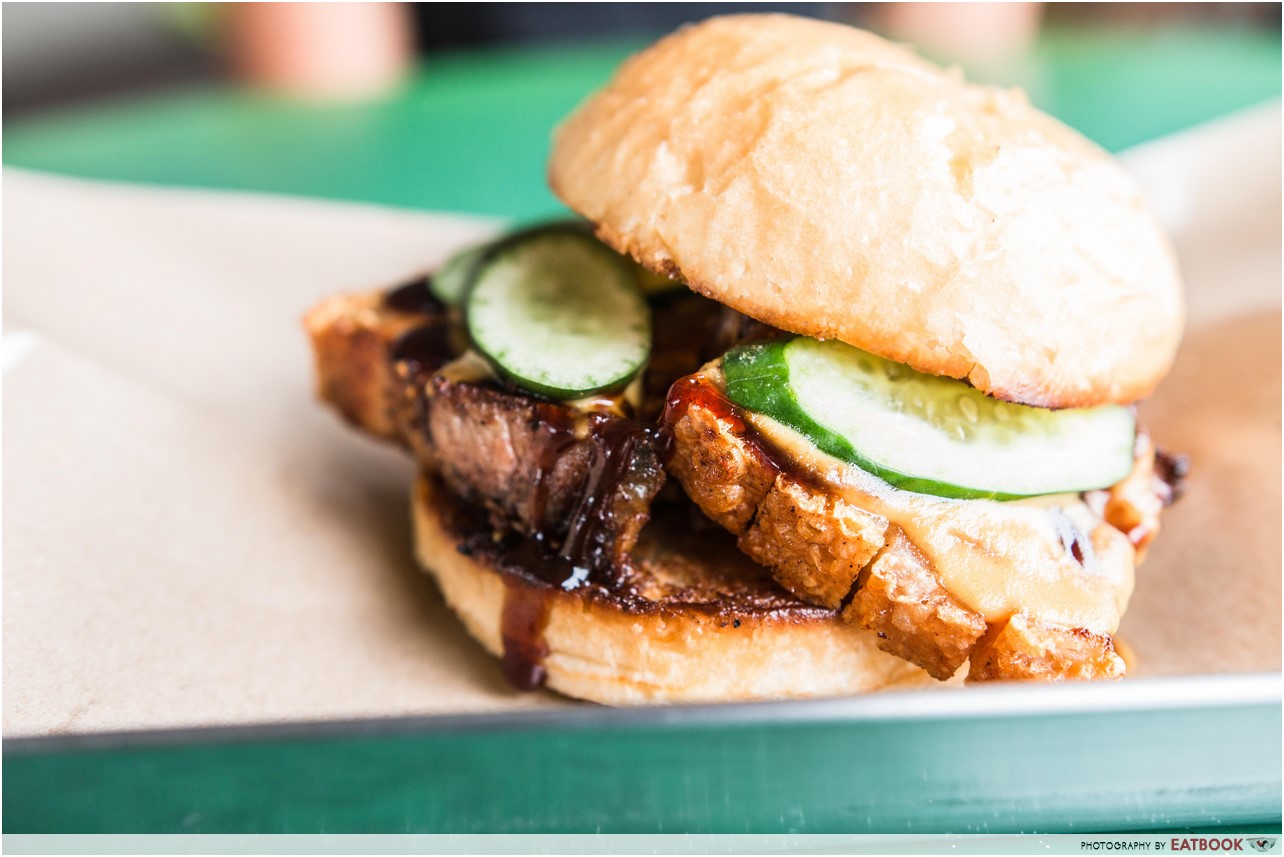 Just earlier this year, many stalls in Beauty World Food Centre, including Hambaobao, ceased operations due to rumours of the hawker centre closing down. In April, however, fans of Hambaobao's cheap and good burgers rejoiced as the young couple running the stall returned to continue business. So for those who have yet to try their burgers, you can still lay hands on their Crispy Pork Belly Burger ($5.50), The Classic Beef ($5), and Buah Keluak ($5), a burger comprising of minced chicken, rempah and chap chye. Hand-cut Fries ($1.50) can also be ordered but it is limited to one portion per burger. While they are back for business, the future of the hawker centre is still uncertain so check out their Facebook page for updates before making your way down!
Check out our full review of Hambaobao!
Address: 144 Upper Bukit Timah Road, #04-49, Beauty World Food Centre, Singapore 588177
Opening hours: Wed-Fri & Sun 12pm to 6pm
Tel: 9667 5254
Website
---
6. Veganburg
---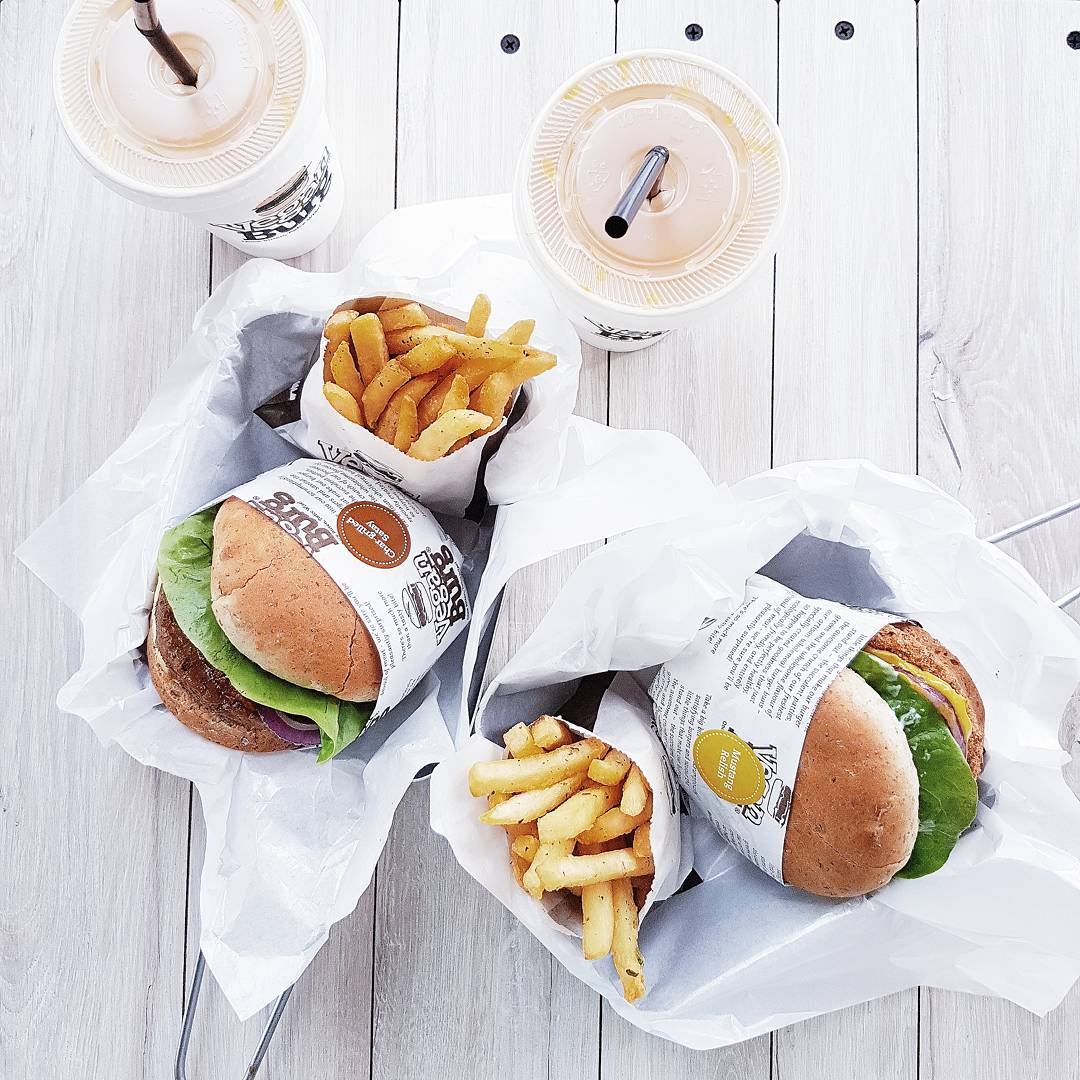 Image credit: @lollipopcandybear
Veganburg is a burger joint that sells only vegan burgers. With prices at $9.90 and below, Veganburg offers various burgers, including Smoky BBQ ($9.90), Tangy Tar Tar ($7.90), and Char-grilled Satay ($9.90). For an addition $3.90, the burger can be upgraded into a set meal with a choice of either Seaweed Fries or Sizzlin' Broccoli and one of their drinks.
Address: 44 Jalan Eunos, Singapore 419502
Opening hours: Daily 11:30am to 10pm
Tel: 6844 6868
Website
---
7. nomVnom
---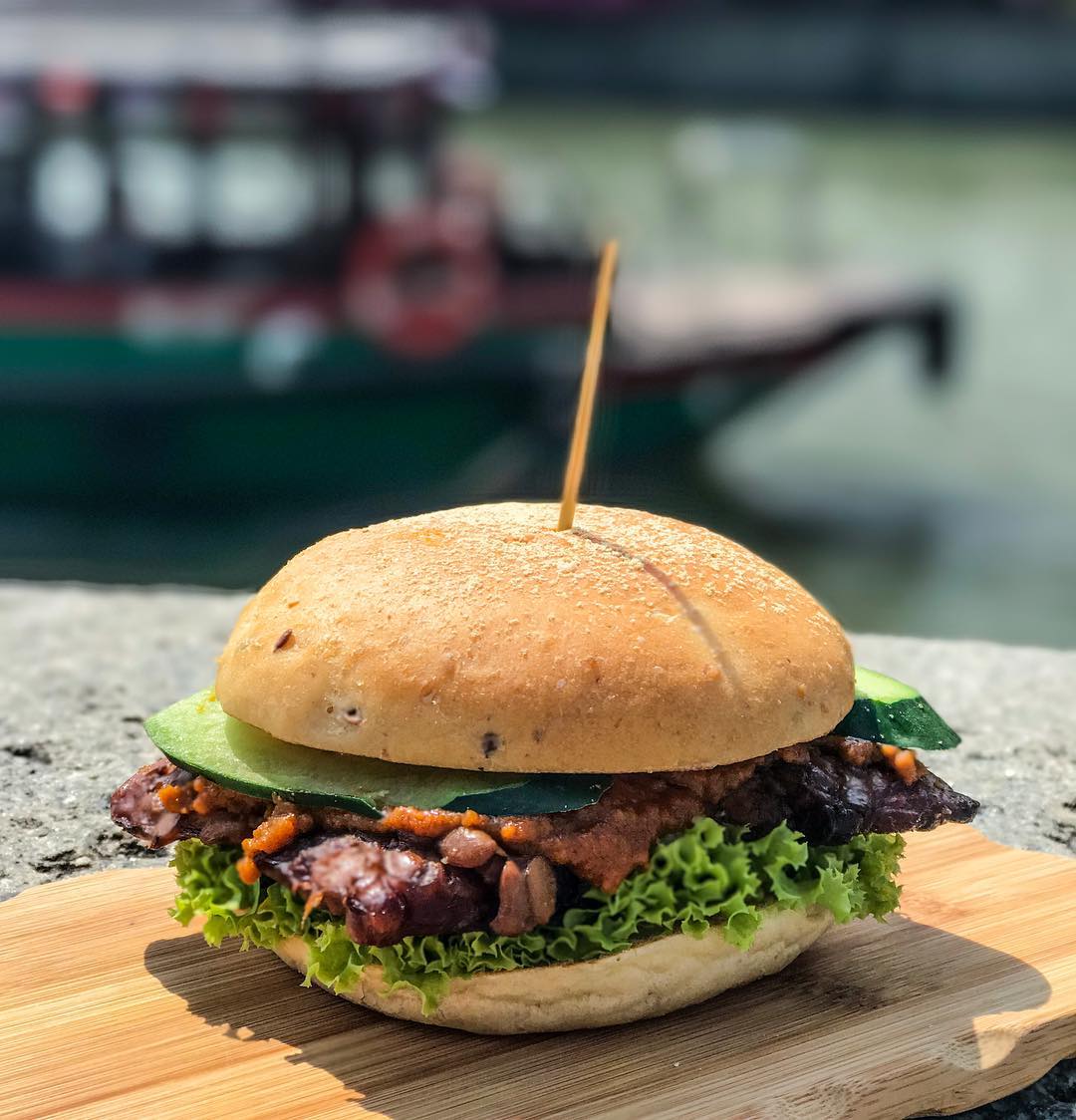 Image credit: @nomvnom_sg
With branches in Clarke Quay and Tai Seng, nomVnom is a vegan burger eatery which focuses on serving healthier burgers at affordable prices. Some of their more popular burgers include Beetroot Hummus ($8.90) and Temptation Satay ($8.90), which is made of marinated tempeh patty. Besides burgers, the eatery also has an extensive list of side dishes such as fries, mushroom fritters, and soups. You can also choose to customise your burgers by replacing the bun with lettuce or adding an additional patty for $3.
Address: 6 Eu Tong Sen Street, #B1-44, Central Clarke Quay, Singapore 0591817
Opening hours: Daily 10am to 10pm
Tel: 9752 6125
Website | Full list of outlets
---
Loading up on carbo
---
The decadent set of good old burger with fries never fails to satisfy me at any time of the day, but if you are not feeling these typical patty-and-bun burgers, we also have a list of crazy creative burgers for the adventurous ones!
---
Featured image adapted from Instagram user @sir.fried.chicken's post.