Hambaobao gives gourmet burgers a good price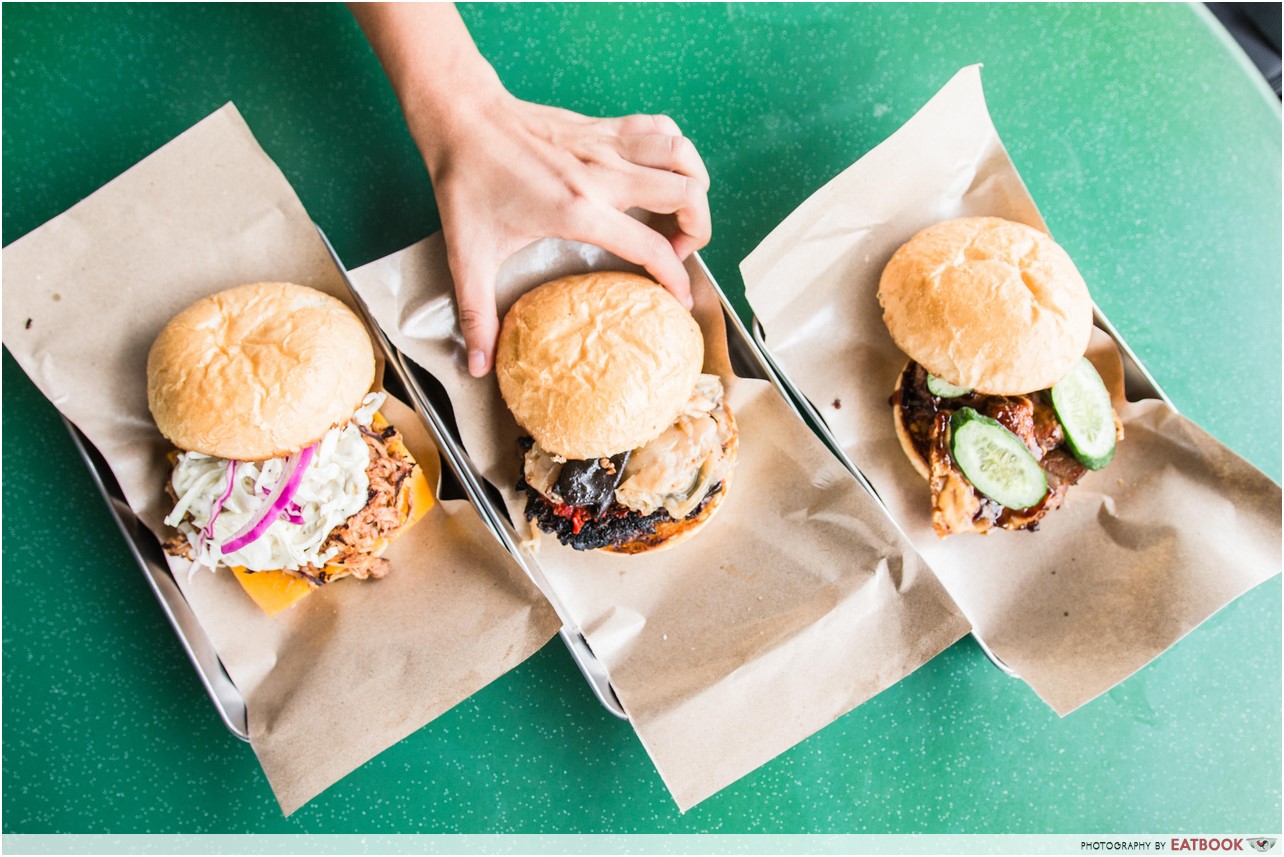 Whenever I'm craving for burgers, Macs comes to mind. But there's only so many times one can have a McSpicy without getting sian. Of course, there are loads of restaurants out there with all sorts of crazy creative burgers, but spending $20 every time I want a burger is going to make me broke before Christmas.
So my excitement was real when I found out about Hambaobao, directly translated from Mandarin as 'burger', at Beauty World. They sell burgers I would consider quite atas but at $5 only. Now this is what I call a broke adult's happy meal.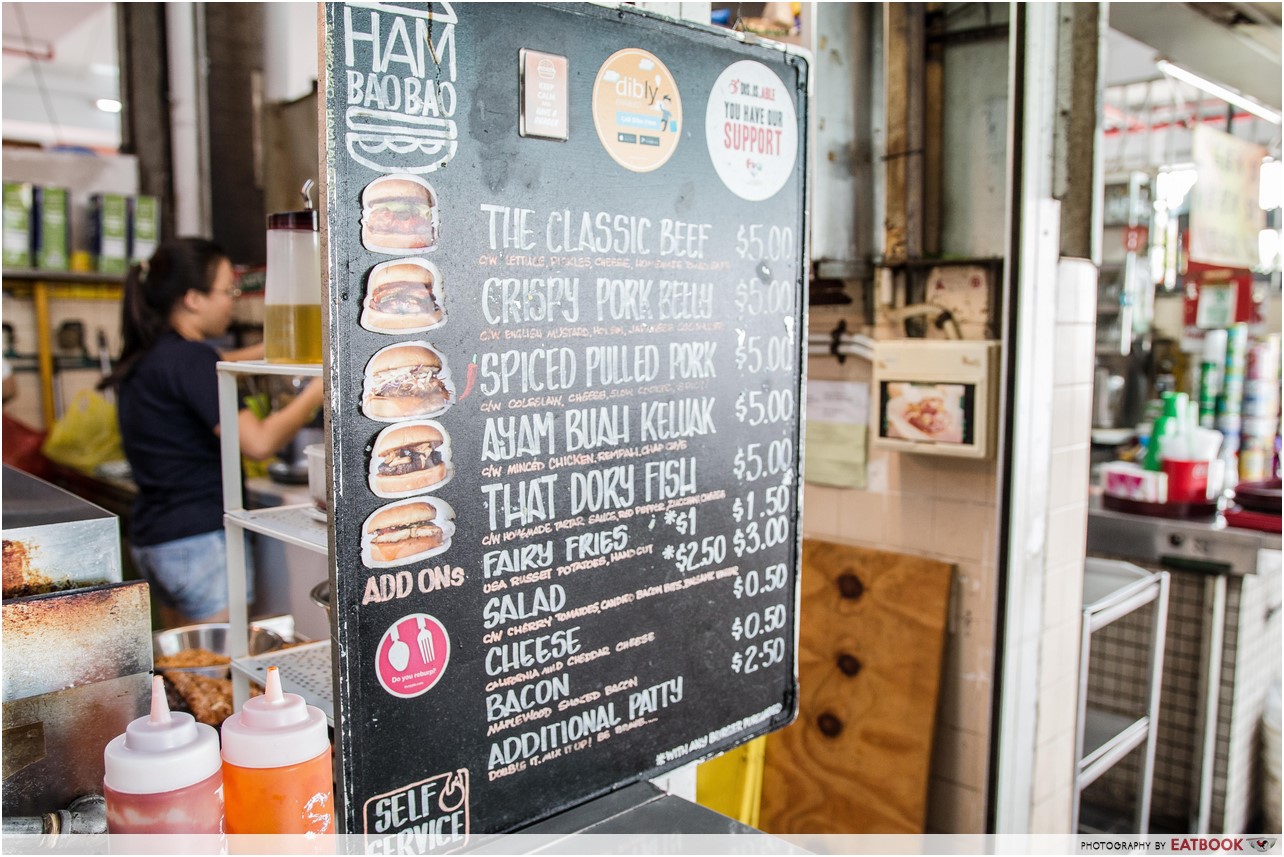 Instead of dishing out mainstream burgers like fish burgers or cheeseburgers, Hambaobao's menu comes with a local twist. Think ingredients and components like buah keluak (a nut used in Peranakan cuisine) and my favourite sio bak. Some may find it weird, but I love trying everything new when it comes to food, so steady lah!
Food at Hambaobao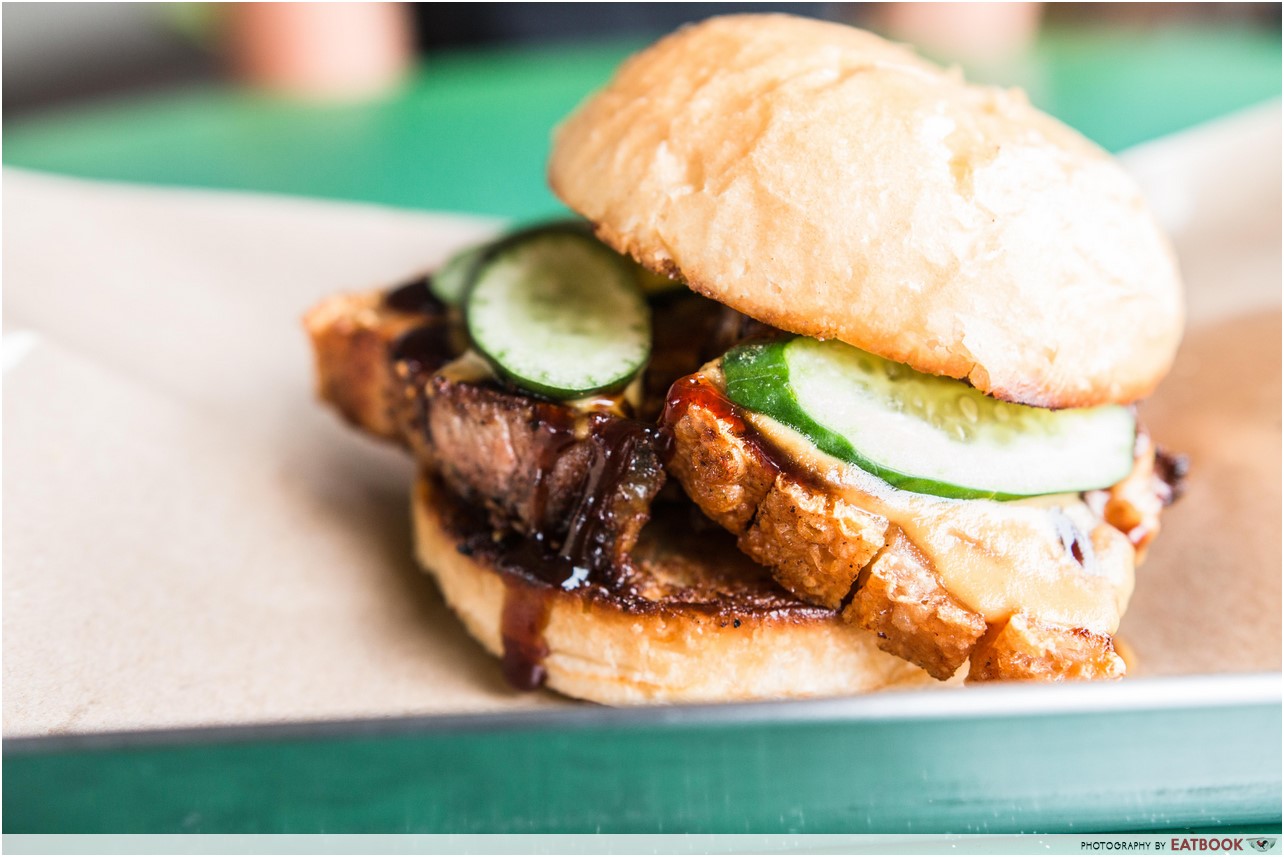 Sio bak usually goes with rice, but I'm not gonna complain about this Crispy Pork Belly Burger ($5). Two thick cuts of sio bak glazed with hoi sin sauce and topped with English mustard are sandwiched between cucumber slices and two grilled buns.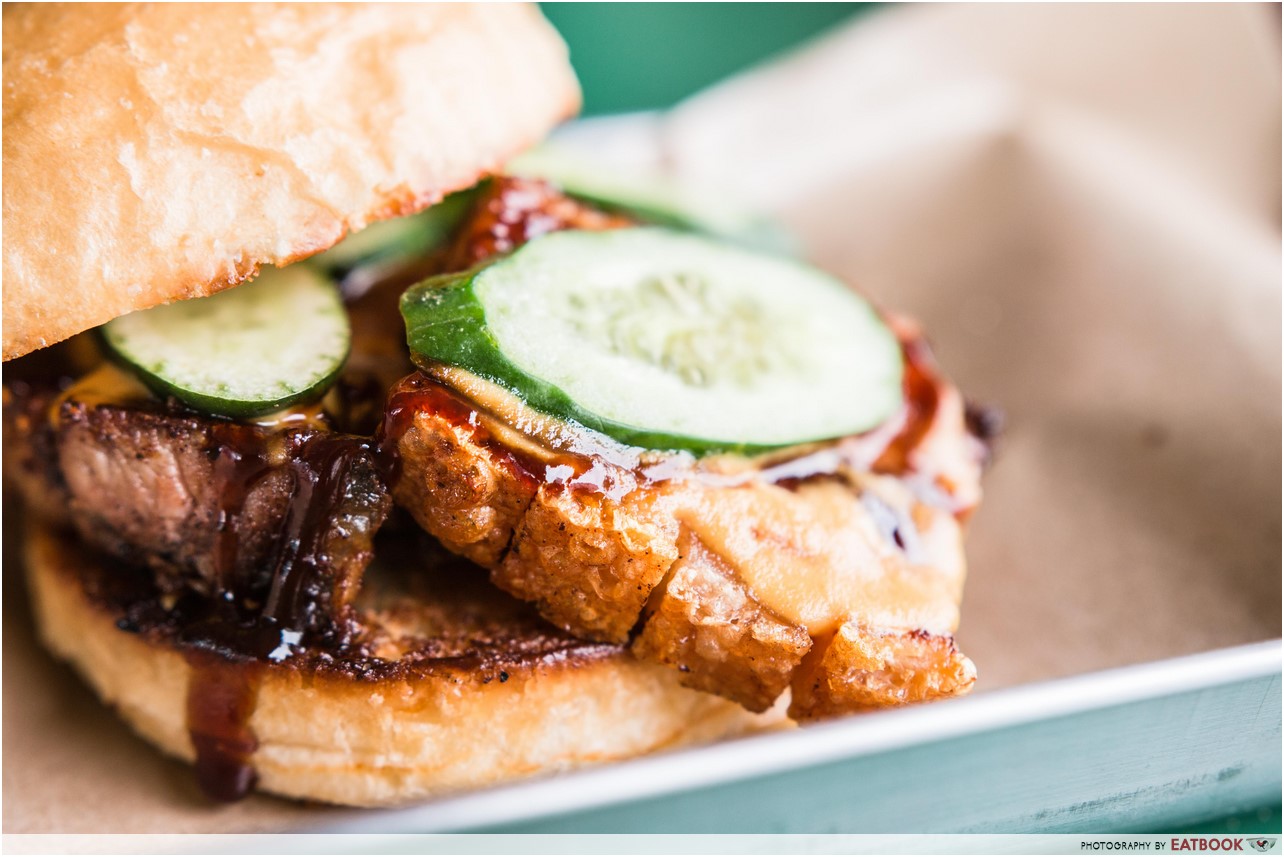 The sweet and salty hoi sin sauce tastes like the sauce on my usual sio bak rice, and was nothing surprising for my taste buds. However, the English mustard added a sharp kick of spice to the burger. To be honest, I wasn't a fan of the mustard initially but it grew on me. The extra kick made this burger less jelak than it would have been. Also, the succulent pork belly was incredibly crispy on the outside, creating a satisfying kiak sound with every bite.
As thankful as I was to have non-soggy buns despite the amount of sauce, they were pretty greasy and average.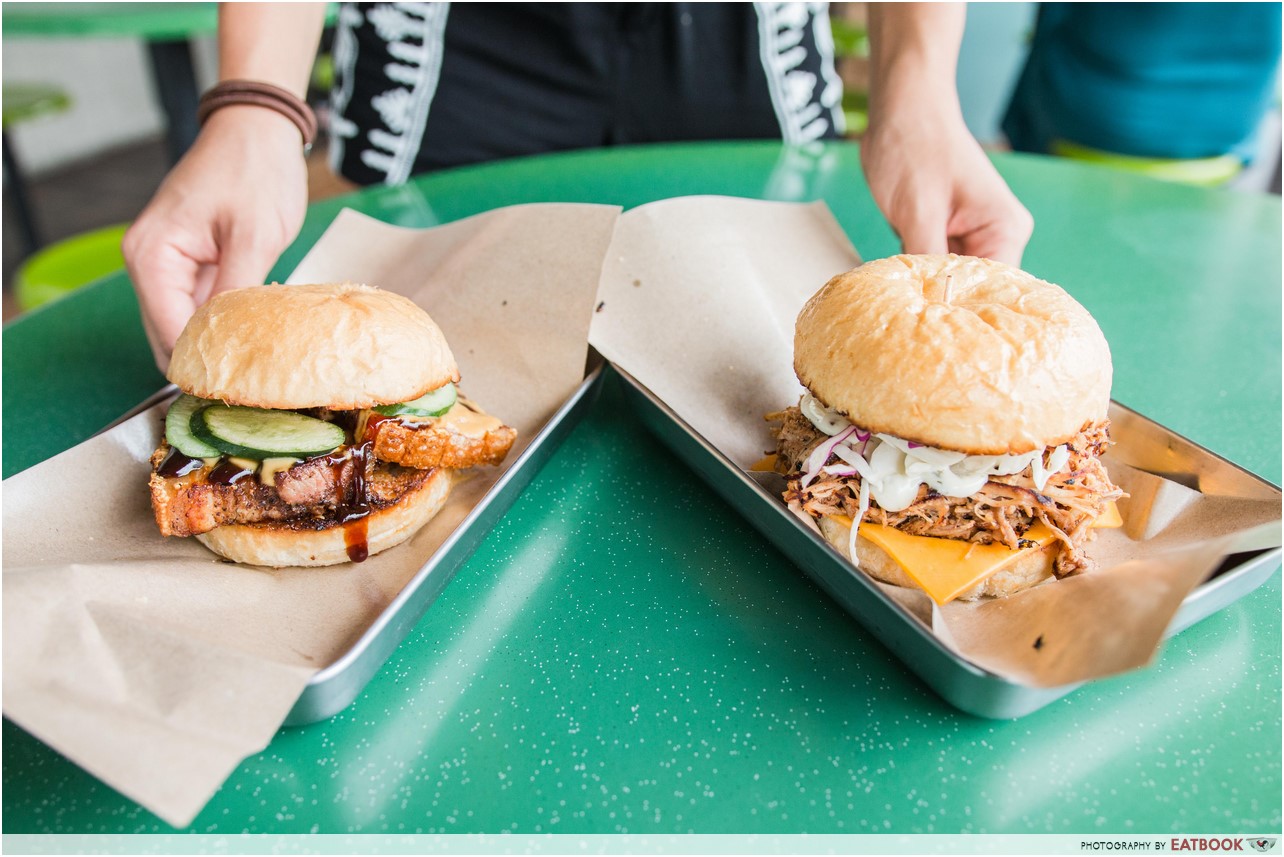 The Crispy Pork Belly Burger was a hit and just when I thought it couldn't get any better than that, the next burger proved me wrong.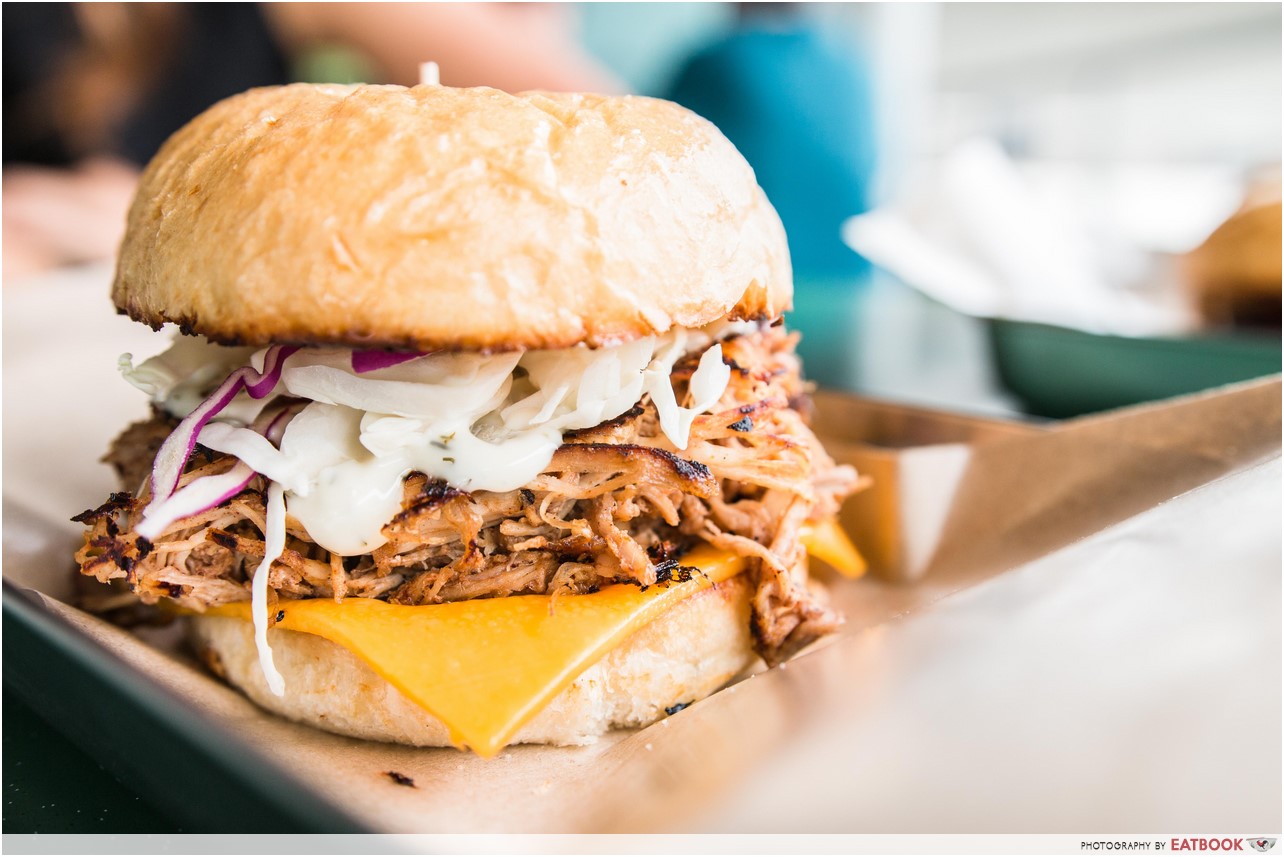 If there's one thing you have to try, it'll be this Spiced Pulled Pork Burger ($5). For the price, you get a generous pile of spiced pulled pork, cheddar cheese and homemade coleslaw between two grilled buns. It was packed with just the right amount of spice and what makes this a winner is how it achieves a perfect balance out of all the strong flavours.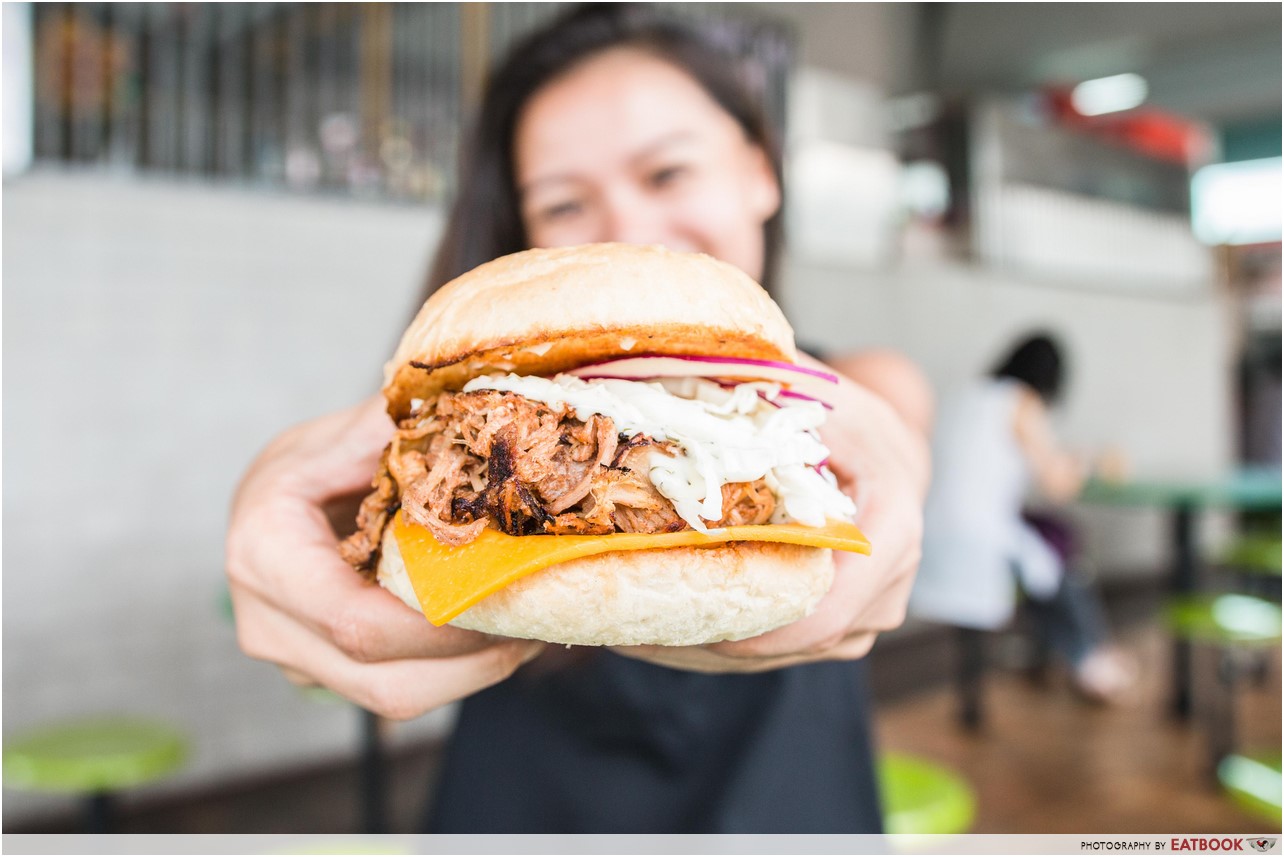 Grilled right before it was served, the pulled pork was a little charred on the surface but remained delightfully soft and juicy within. I'd choose whipped potato over coleslaw any day at KFC but this coleslaw was THE bomb. It was creamy yet light, and tamed the spice from the pulled pork without stealing the show. My only disappointment was the cheddar cheese that didn't melt into the bun or pork.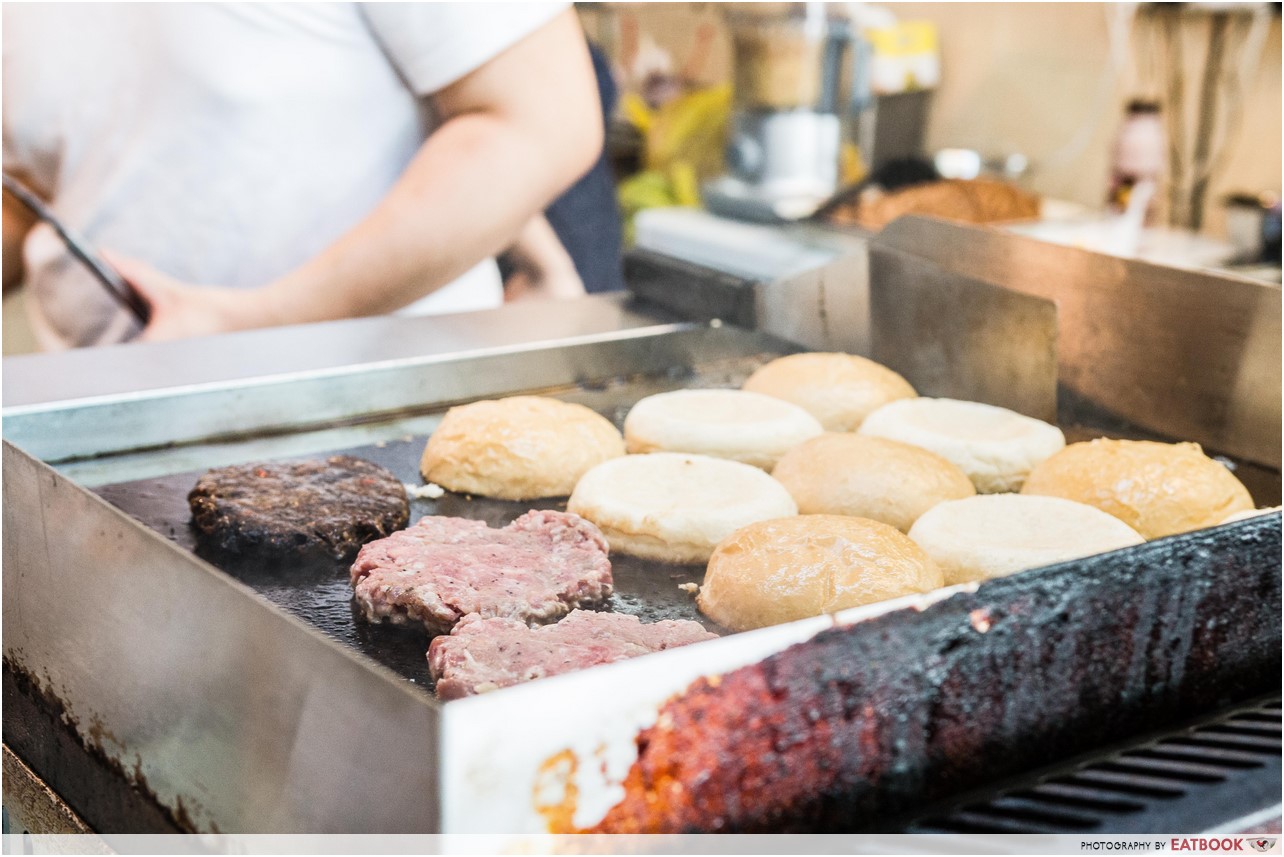 As if having sio bak in a burger wasn't local enough, we ordered Ayam Buah Keluak Burger ($5). Upon ordering, we were told that this burger is one that people either LOVE or hate. That actually got me pretty pumped up, so I waited by the grill as it was being prepared, feasting on its smell before anything else.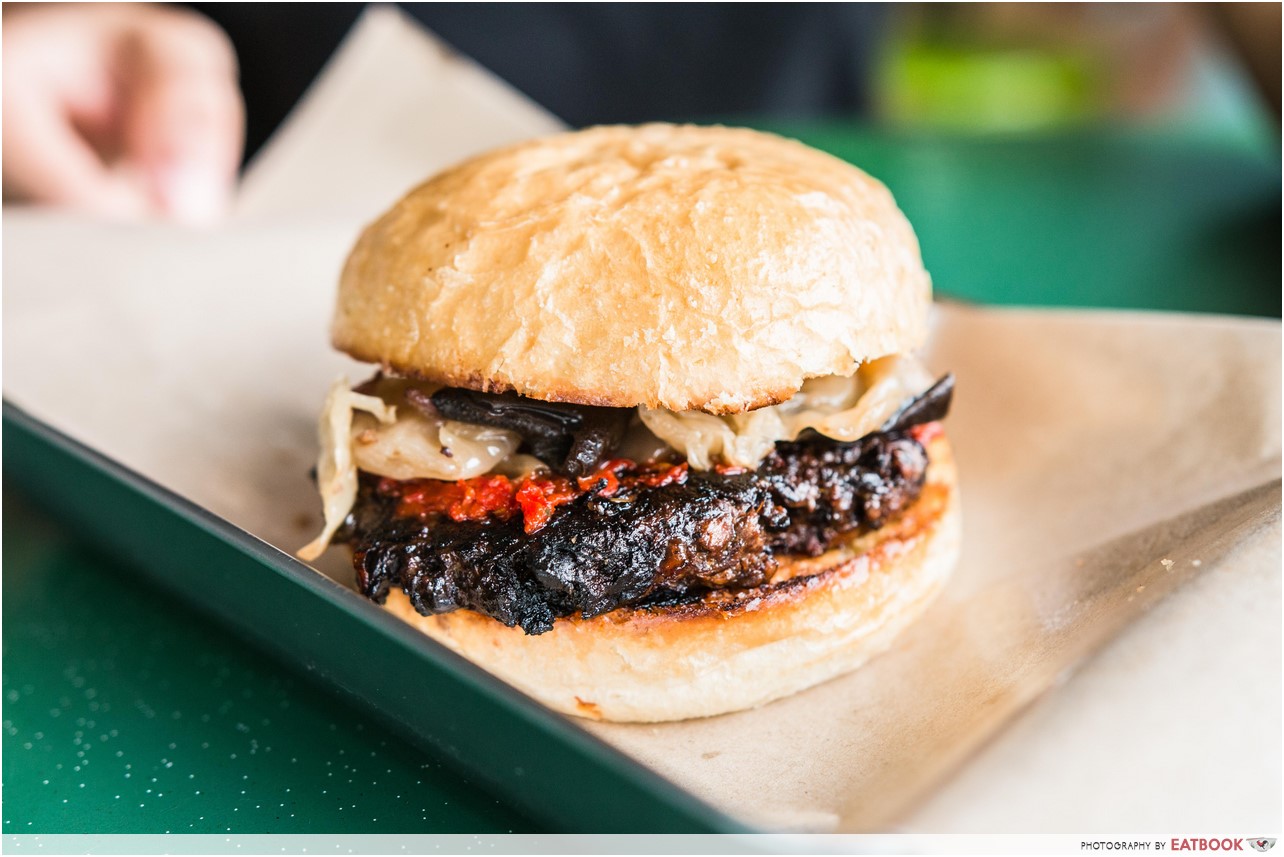 The burger itself consists of minced chicken patty, rempah (spicy paste) and chap chye (mixed vegetables). The minced chicken patty marinated in buah keluak, an indispensable ingredient in Peranakan cuisine, was bitter yet mellow. Slabbed right on top of that was rempah that reminded me of belacan minus the savouriness – it was just plain spicy.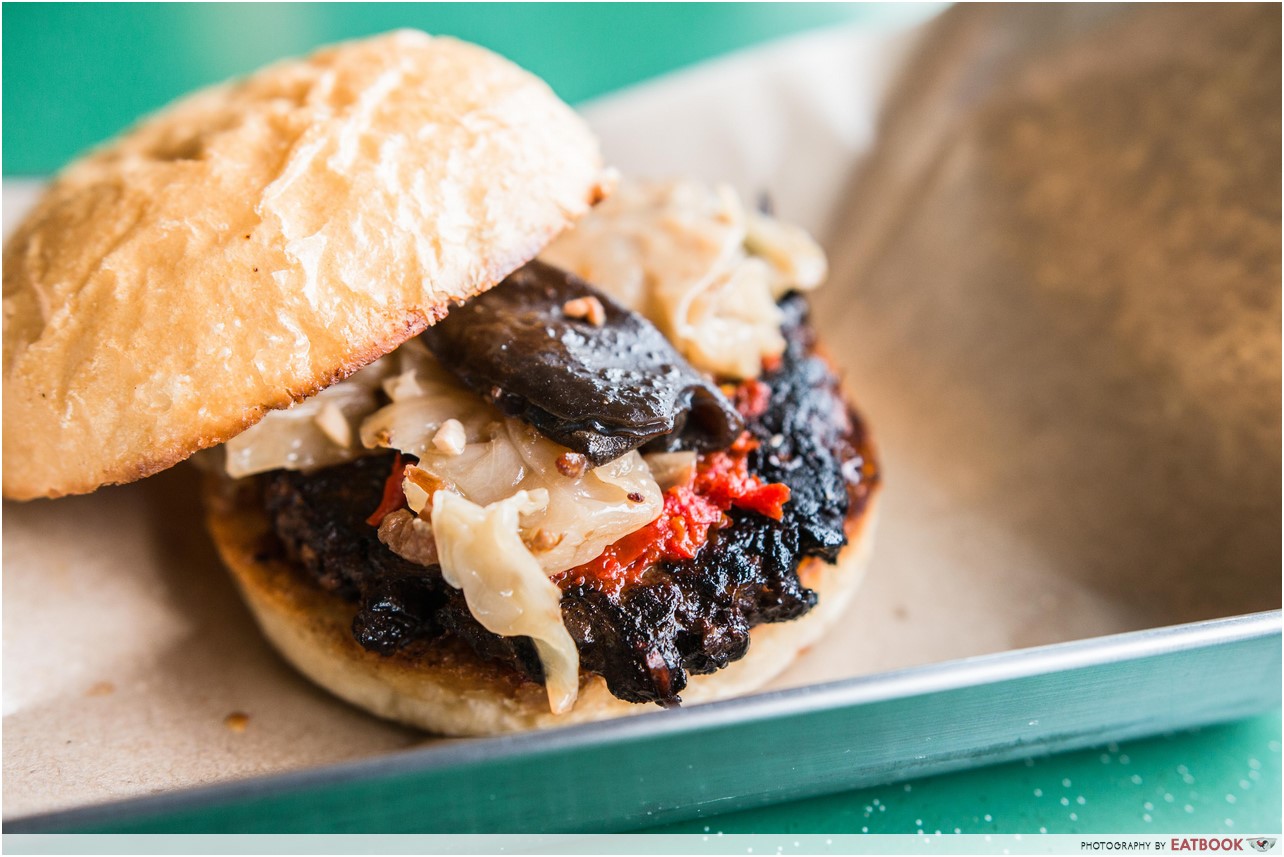 Having two unfamiliar ingredients – buah keluak and rempah – in one burger didn't really make me fall in love with this, so it was comforting to chomp on the chap chye. The sweetness of the chap chye managed to cut across the harsh flavours by giving the whole burger a better balance. This is definitely not the most popular kid in town, but if you like buah keluak then this will be right up your alley.
Ambience at Hambaobao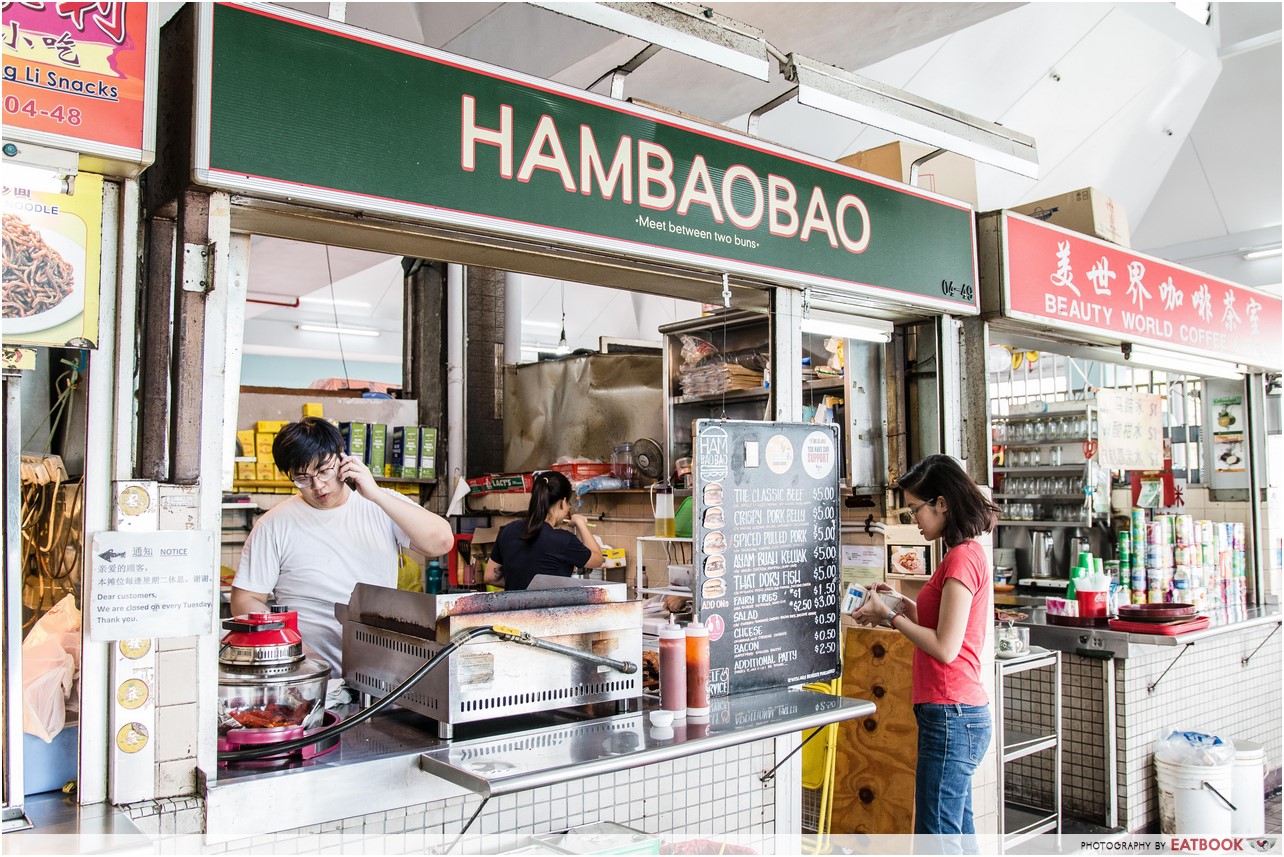 I know how hot it can be to have lunch at hawker centres but Hambaobao's location at Beauty World Centre might be a blessing in disguise. I mean, where else can you eat burgers with your bare hands without people staring at your mustard-stained lips? Just remember to choose a seat further away from the stall if you don't want to smell like a hambaobao afterwards.
The verdict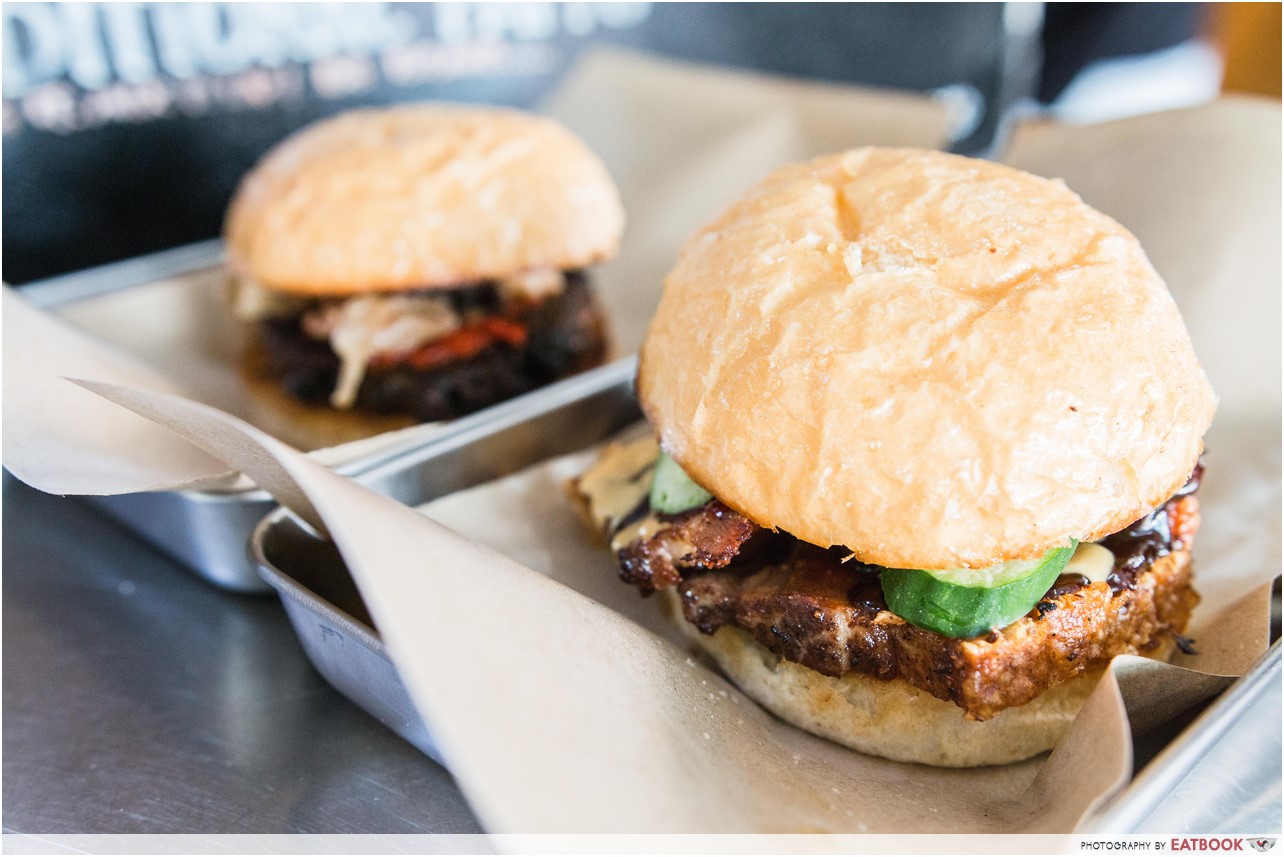 On days you are craving for burgers but not the usual McSpicy, drop by Hambaobao to grab one of their cheap yet delicious burgers. As unusual as buah kuluak and sio bak may sound in a hambaobao, I can assure you that the burgers here are really quite shiok.
This is an independent review by Eatbook.sg. 
Summary
Pros
– Affordable
– Unique burgers
Cons
– No air-conditioning
Recommended Dishes: Spiced Pulled Pork Burger ($5), Crispy Pork Belly Burger ($5)
Operating Hours:
Wednesday – Sunday 12pm to 8pm
Address: 144 Upper Bukit Timah Road, #04-49, Beauty World Food Centre, Singapore 588177