---
Things to eat at Pasir Ris Central Hawker Centre
---
The east side of Singapore is foreign land to me; my knowledge of Pasir Ris was basically Wild Wild Wet and the now-demolished Escape Theme Park. That is until Pasir Ris Central Hawker Centre opened. What made me excited about this place was the second floor of the building, known as The Fareground, which houses stalls run by mostly young hawkerpreneurs cooking up IG-worthy hawker dishes! Head there fast and check out these 10 Pasir Ris Central Hawker Centre stalls before it gets too crowded.
---
1. Prawnaholic
---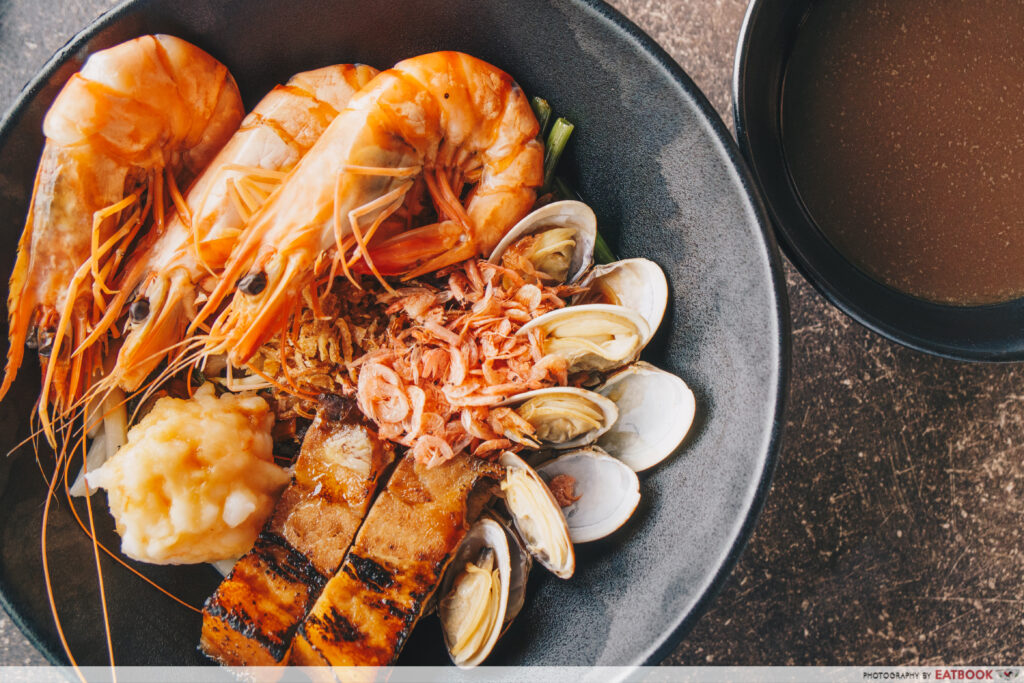 I've had my fair share of prawn noodles, but Prawnaholic had me shook with the flavours of their dishes! The King Prawn Udon Dry ($12.50) was worth every single penny. The udon had a boing boing texture and they were generous with their ingredients. Though the prawns were not as large as the menu boasted, I knew that freshness was guaranteed from the way the shells peeled right off. Their house-made prawn ball – packed with a whole load of flavour – was rather addictive, and I wished we had more than one piece. Each strand of noodles was coated with a special concoction – a mix of aromatic lard and secret ingredients that gives this bowl an extra oomph. Accompanying this bowl of noodles is a small and unassuming bowl of prawn soup. In a dark shade of brown, the umami flavour of this prawn broth blew me away!
Unit number: #02-12
Opening hours: Tue-Sun 12pm to 3pm, 5pm to 9:30pm
Website
---
2. Siap Lah! Thai Boat Noodles
---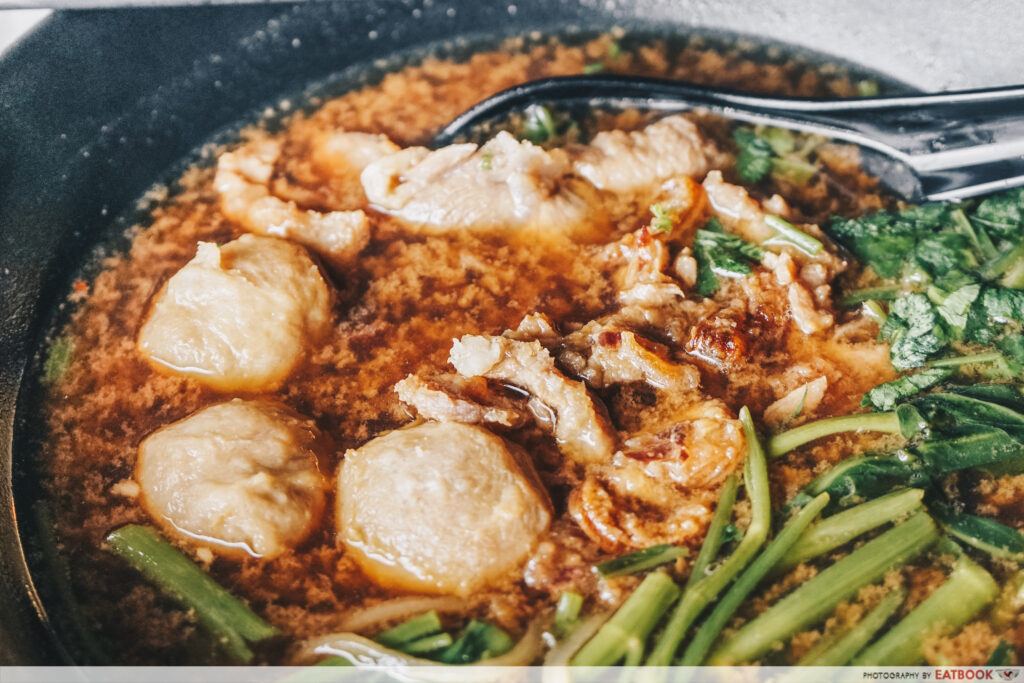 The familiar aroma of Thai boat noodles invaded my nose as I walked past Saap Lah! Thai Boat Noodles,  and before I knew it, I was carrying a bowl of Beef Boat Noodles ($5) back to my table! Thai boat noodles captured my heart ever since I tried it along the rivers of Bangkok, and I daresay, this is a great place to go to satisfy your cravings for this Thai dish. The springy rice noodles absorbed the flavourful and slightly herby broth, and are topped with a few beef slices, beef balls and a handful of kangkong. Pork and chicken versions are available too! While queuing for the food, I found out that the boss actually went all the way to Bangkok to pick up the skill of cooking Thai noodles!
Unit number: #02-09
Opening hours: Daily 10:30am to 9:30pm
---
3. Fins & Feathers
---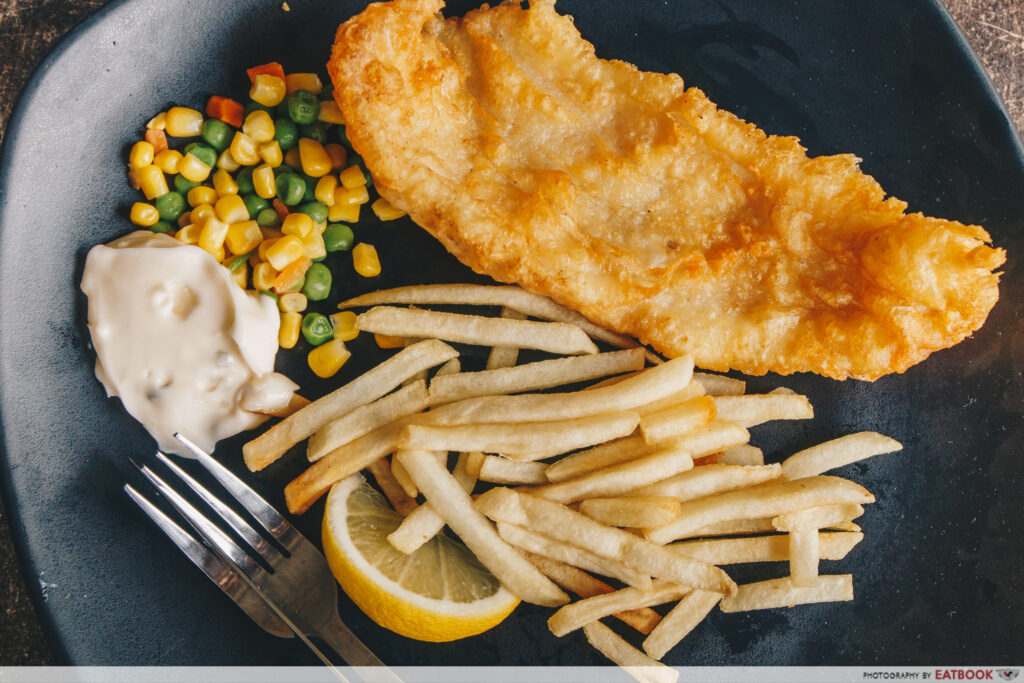 The owners of Fins & Feathers decided to open a stall here in Singapore, after experiencing success in both of their bistros in Hong Kong. While I was slightly disappointed by the sight of their Cream Dory Fish With Chips ($6.20), the small portion was quickly overlooked when I dug into this beer-battered goodness! The fish was fresh and flaky, which made a good contrast to the initial crunch from the batter. This simple-looking dish spoke volume through its flavours.
Unit number: #02-13
Opening hours: Tue-Sun 7am to 2pm
---
4. The Humble Burger
---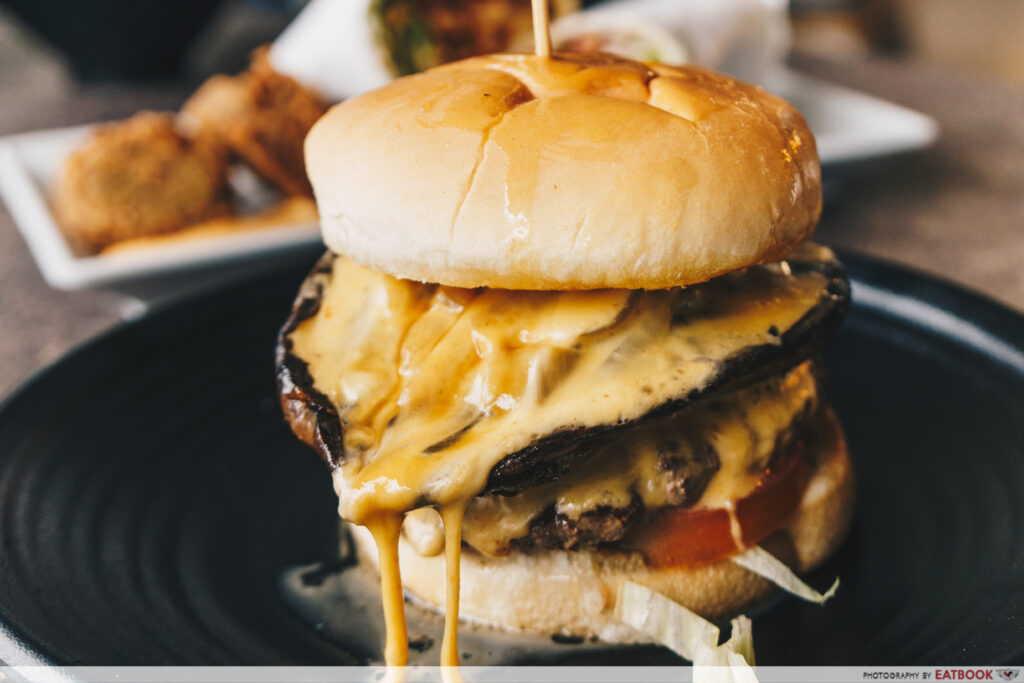 The aroma from this stall alone was enough for me to patronise it. The Humble Burger serves up different types of hearty options, including The Stack Burger ($7). The idea of portobello – my favourite mushroom in the world – paired with a beef patty got me drooling. Though the beef patty was on the dry side, the portobello made up for it. A bite into the burger and the juices of the meaty mushroom gushed into my mouth. Eating this burger will be a mess; the bottom bun turned soggy due to an overload of sauce. Try their Sio Bak Burger ($5.50) and Chicken Rice Burger ($5.50) as well for a change from mundane beef burgers!
Unit number: #02-22
Opening hours: Wed-Mon 12pm to 9pm, or until sold out.
Website
---
5. Tasty Street
---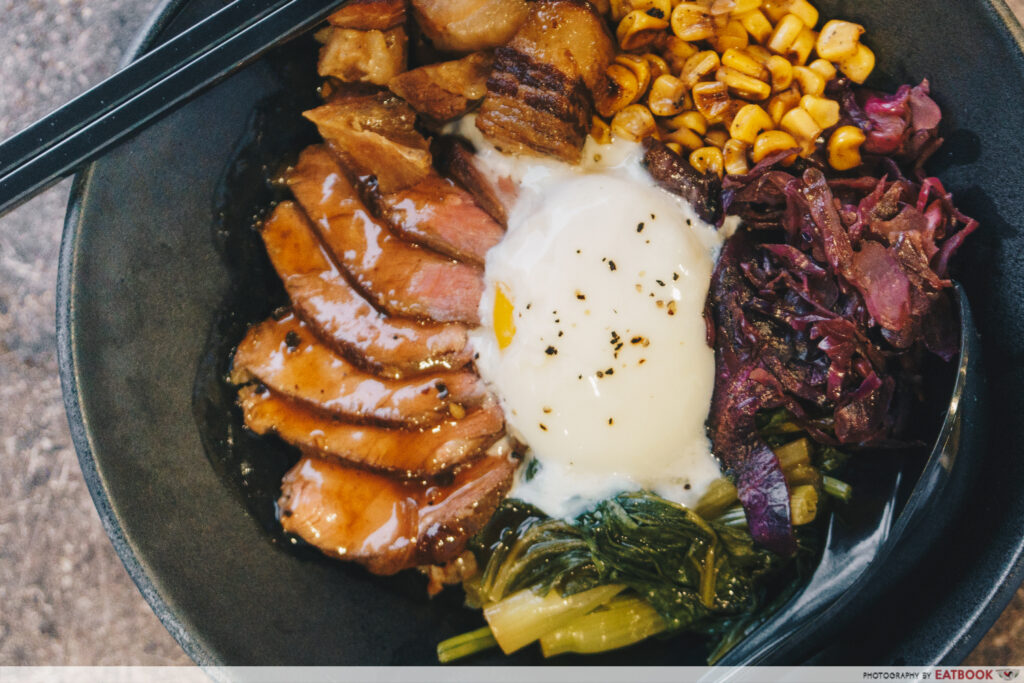 Having missed lunch service, I had to wait a good three hours for Tasty Street's dinner service to start – and boy was I glad I waited! Their Wagyu Beef Bowl ($6.50) will feed both you and your Instagram page. Sitting on a mixture of brown and pearl rice that's peppered with purple cabbage, greens and corn, was a substantial amount of wagyu, which melted like butter in my mouth. A rather healthy and scrummy meal I would say. Get your camera ready for some #eggporn-worthy shots as you break into an almost-perfect onsen egg. Dip the medium-rare meat in the yolk and slurp it up!
Check out our full review of Tasty Street!
Unit number: #02-16
Opening hours: Thur-Tue 12pm to 3pm, 6pm to 9pm
Website
---
6. EPIKebabs
---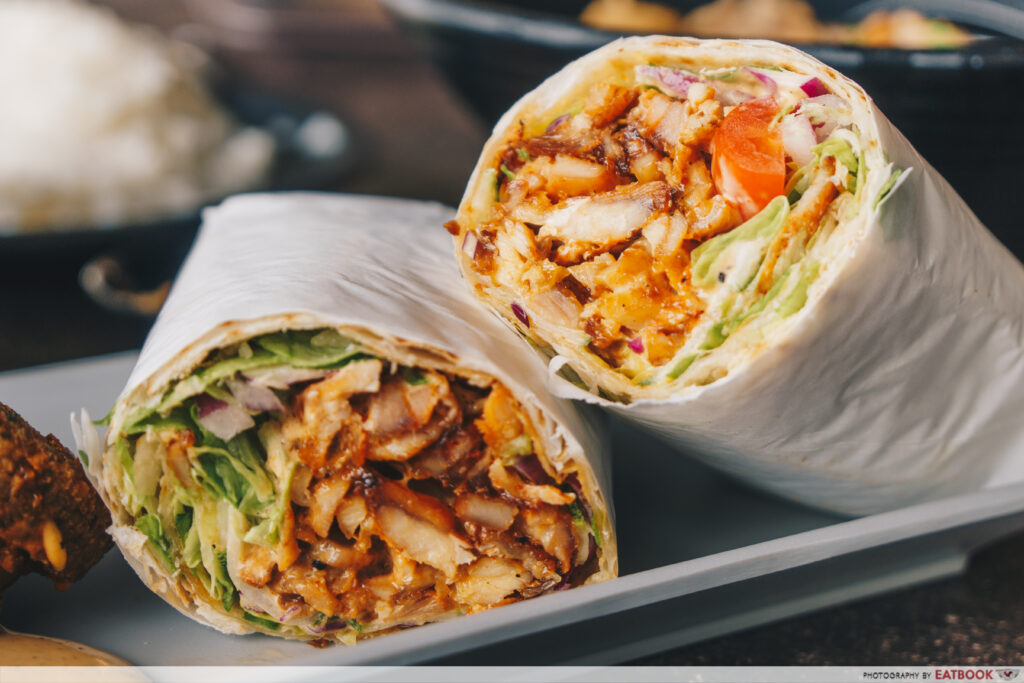 Kebabs have always been my guilty pleasure and watching someone skillfully slice a huge chunk of meat is always satisfying. Some may know EPIKebabs, as they have another outlet at Wilkie Edge Shopping Mall. They serve up affordable customisable kebabs from $6. For all you kebab lovers who pick out the onions one by one, you don't have to here, as you get to pick your greens! They only have chicken during lunch service, but #noragrets. The chicken, slightly charred at the ends, was both succulent and tender. The smokiness of the meat was further enhanced when paired with their signature EPIK sauce. They also serve their meat in the form of sandwiches as well as with rice and salads.
Unit number: #02-04
Opening hours: Daily 11am to 8:30pm
Website
---
7. Seoul Shiok
---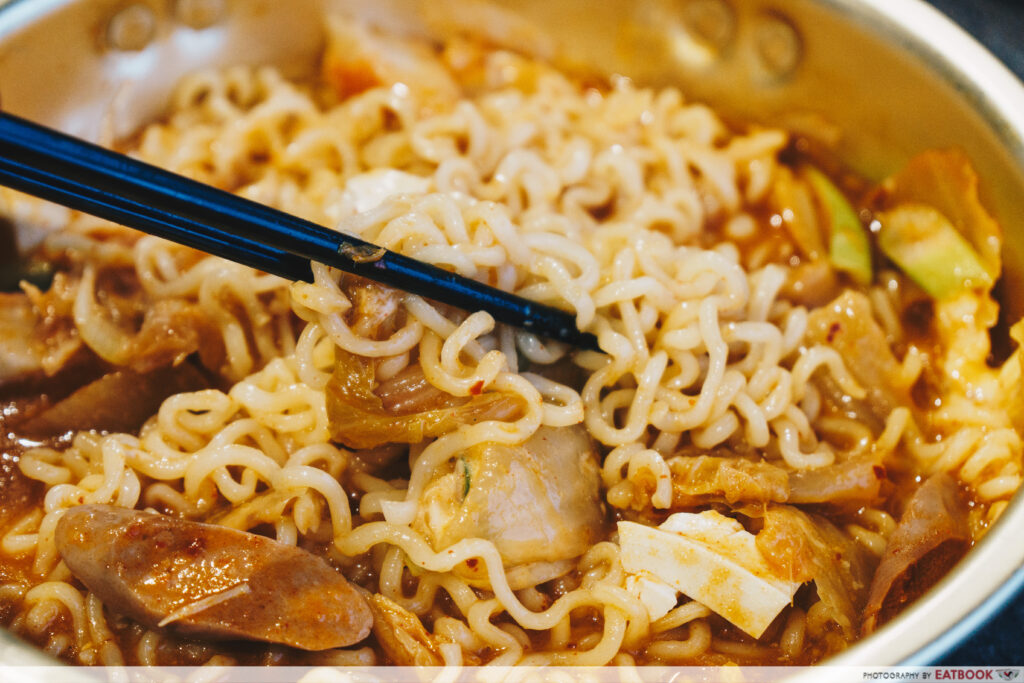 Run by a young group of hawkers, Seoul Shiok serves a variety of Korean dishes, including army stews which are more commonly found in restaurants. If you can never find a friend to share Korean army stew with you, Seoul Shiok's Mini Army Stew ($7.90) is made for you! Some hot dogs, vegetables, meat and tofu were floating in the fiery-looking broth, which wasn't all that spicy despite its red appearance. It had just the right amount of heat – enough for me to slurp it up without grabbing a glass of water. They offer other Korean delights as well such as Fried Chicken Wings ($3.90 for two, $11.50 for six, $22.90 for 12 pieces) in four different flavours.
Unit number: #02-20
Opening hours: Tue-Sun 12pm to 3pm, 6pm to 10pm
---
8. Wild Olives

---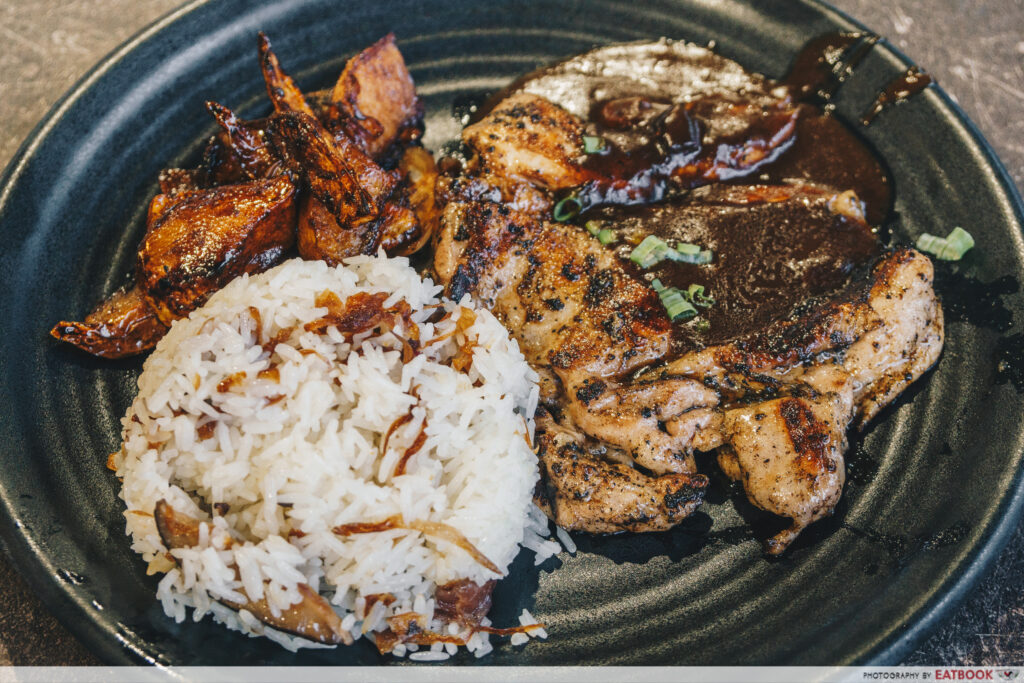 This was the only stall that had a queue even before they opened for dinner service! Turns out, Wild Olives isn't all that new; they use to have a stall in Changi Airport's Terminal Two but closed due to change of operators. The reopening of this stall drew many of their loyal regulars over. Chicken Chop with Teriyaki Sauce paired with Grilled Herb Potatoes and Wild Olives' Signature Mushroom Rice ($5.90) is a crowd-favourite and I can understand why. My knife slid right through the chicken, and it exploded with flavours in my mouth. The simple piece of grilled chicken was cooked wonderfully. The sides were outstanding as well! Mushroom lovers will fall in love with their signature mushroom rice. The rice was bursting with an earthy fragrance which envelops your tongue. The grilled potatoes had a slightly sweet glaze that made it even more appetising.
Unit number: #02-23
Opening hours: Tue-Sun 11am to 10pm
---
9. The Stew House
---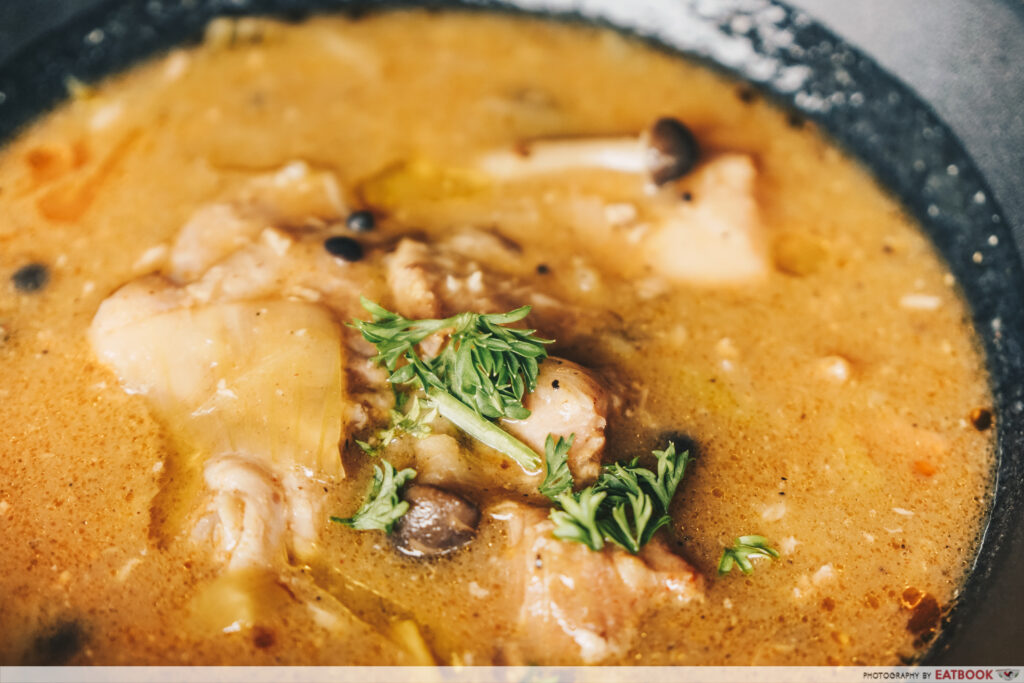 I'm usually more of a smooth soup kind of girl, but I think The Stew House may have converted me. Their Chicken and Mushroom Veloute with Rice ($5/$7) had a curry-like appearance, but tasted like a thick, soothing bowl of chicken broth – something I would crave for on a chilly day. Skip this if you are not a mushroom lover and go for the Beef Bourguignon with Rice ($6/$8). Apart from their selection of soups, they serve salads such as Chicken Caesar Salad ($6.50) and Smoked Duck Salad ($7) as well.  
Unit number: #02-07
Opening hours: Tue-Sun 11am to 9pm
---
10. Muljigae Bingsu

---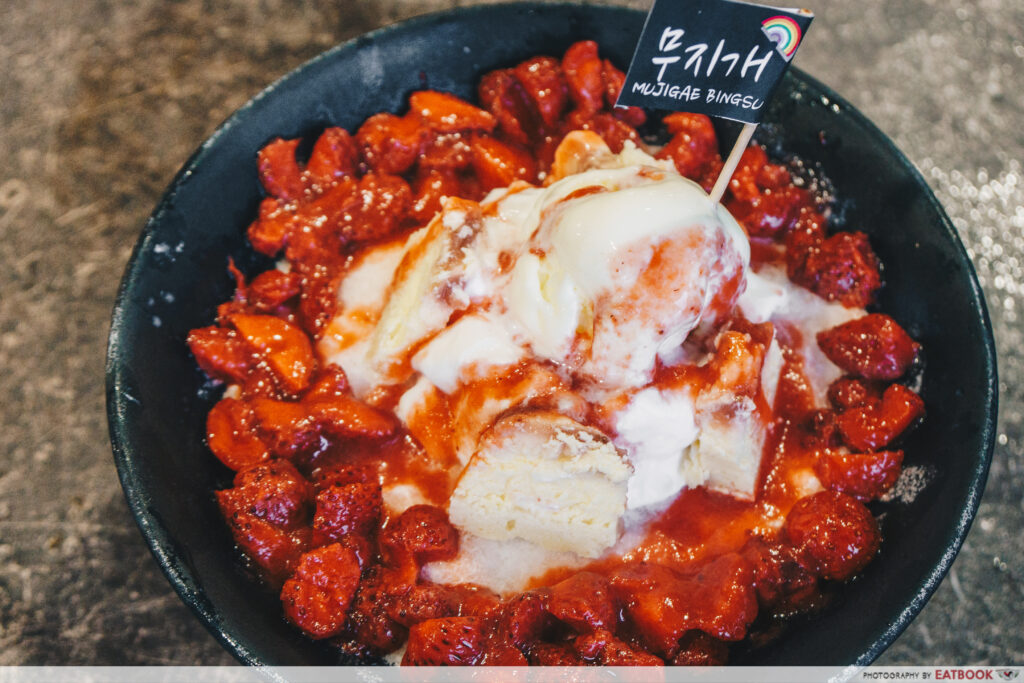 Get some bingsu to wrap up your hipster meal! Offering about nine different types of bingsu, Muljigae Bingsu's Strawberry Cheesecake Bingsu ($8.50/$10.50) was the one that caught my eye. The fine milky ice shavings topped with bits of glazed strawberries, small slices of cheesecake, and a ball of vanilla ice-cream was a delight to have. After speaking to the owner, she promised a spread of 20 different types of bingsu after Chinese New Year, one of which is Rainbow Bingsu!
Unit number: #02-23
Opening hours: Tue-Sun 11am to 10pm
---
Pasir Ris Central Hawker Centre is the new chill-out spot for all Easties
---
Pasir Ris Central Hawker Centre is one more reason to go down to the far end of Singapore. Do note that many of stalls sell out fast and may close earlier than the stated timings. To discover more good hawker food in Singapore, check out Old Airport Road Food Centre and Newton Food Centre as well.
Address: 110 Pasir Ris Central, Singapore 519641
Nearest MRT Station: Pasir Ris