---
Serangoon Gardens' food choices are more than you think
---
Known for housing the popular Chomp Chomp Food Centre, Serangoon Gardens is a go-to for foodies who need some chow at night. But residents around the area will know Chomp Chomp is not its only gem. Be it breakfast, lunch, dinner or desserts, the cluster of eateries here will have your tummy and taste buds feeling satisfied.
---
1. Lad & Dad
---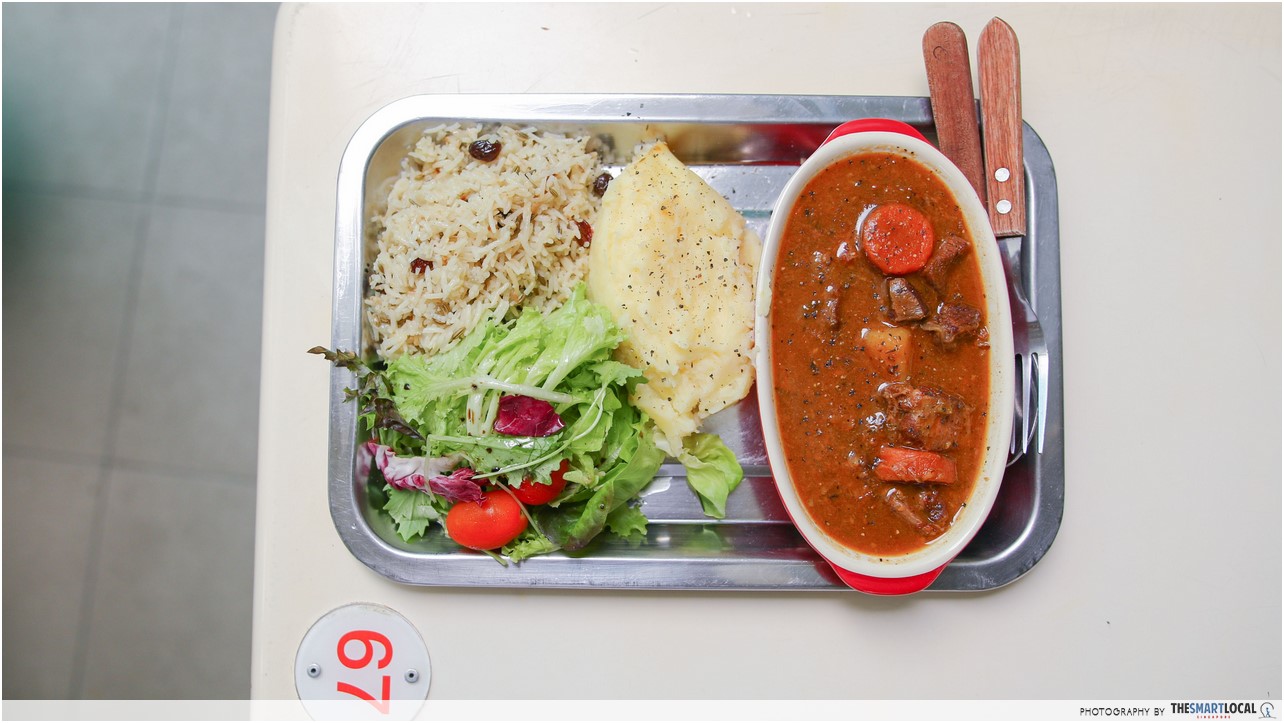 Update: Lad & Dad has moved to Maxwell Food Centre (stall 79).
Lad & Dad is a hawker stall set up by a father-son duo that takes pride in serving affordable British-inspired cuisine. A set of The Lad ($12) comes with beef or mutton stew and three sides of your choice, whereas The Dad ($8) gives you just the stew. Those who have space in their tummy should definitely go for the former and pick their golden brown Yorkshire pudding and smooth mash as sides.
Updated address: 1 Kadayanallur Street, Stall 79, Maxwell Food Centre, Singapore 069184
Updated opening hours: Mon-Thur 11am to 2pm, Fri-Sat 11am to 2pm, 5pm to 9pm, Sun 11am to 3pm
Tel: 9247 7385
Website
---
2. PLONK
---
If you're looking for a chill and cosy place to have drinks at, check out PLONK. You'll be pleased with their list of alcoholic drinks, which includes draft beers, ciders, rose wines and champagne, as well as a late-night menu that comes with a series of pizzas and small bites. Brunch lovers can come before 3pm to enjoy items such as Plonk's Buttermilk Pancakes & Canadian Maple Syrup ($14++).
Address: 7 Maju Avenue, Serangoon Gardens, Singapore 558685
Opening hours: Mon-Fri 11am to 1am, Sat-Sun 9am to 1am
Tel: 6286 4688
Website
Food menu | Drinks menu | Late-night menu
---
3. Little Wimbly Lu
---
Dessert-loving kids of Serangoon Gardens probably heaved a sigh of relief when Little Wimbly Lu opened at MyVillage. This small outlet lets you get your hands on most popular items available at the original Wimbly Lu without a 20-minute hike from Serangoon MRT Station. My personal favourite here is Crepe w. Ice Cream ($7.50); the pairing of soft and warm French pancakes with smooth ice-cream never gets old. If you're not a crepe person, you can choose to have your ice-cream with pancakes instead, or add $1 to replace the crepe with a fluffy waffle.
Address: 1 Maju Avenue, #01-09/10, MyVillage, Singapore 556679
Opening hours: Sun-Thur 11am to 11pm, Fri-Sat 11am to 12am
Tel: 6289 1489
Website
Menu
---
4. Dessert Bowl
---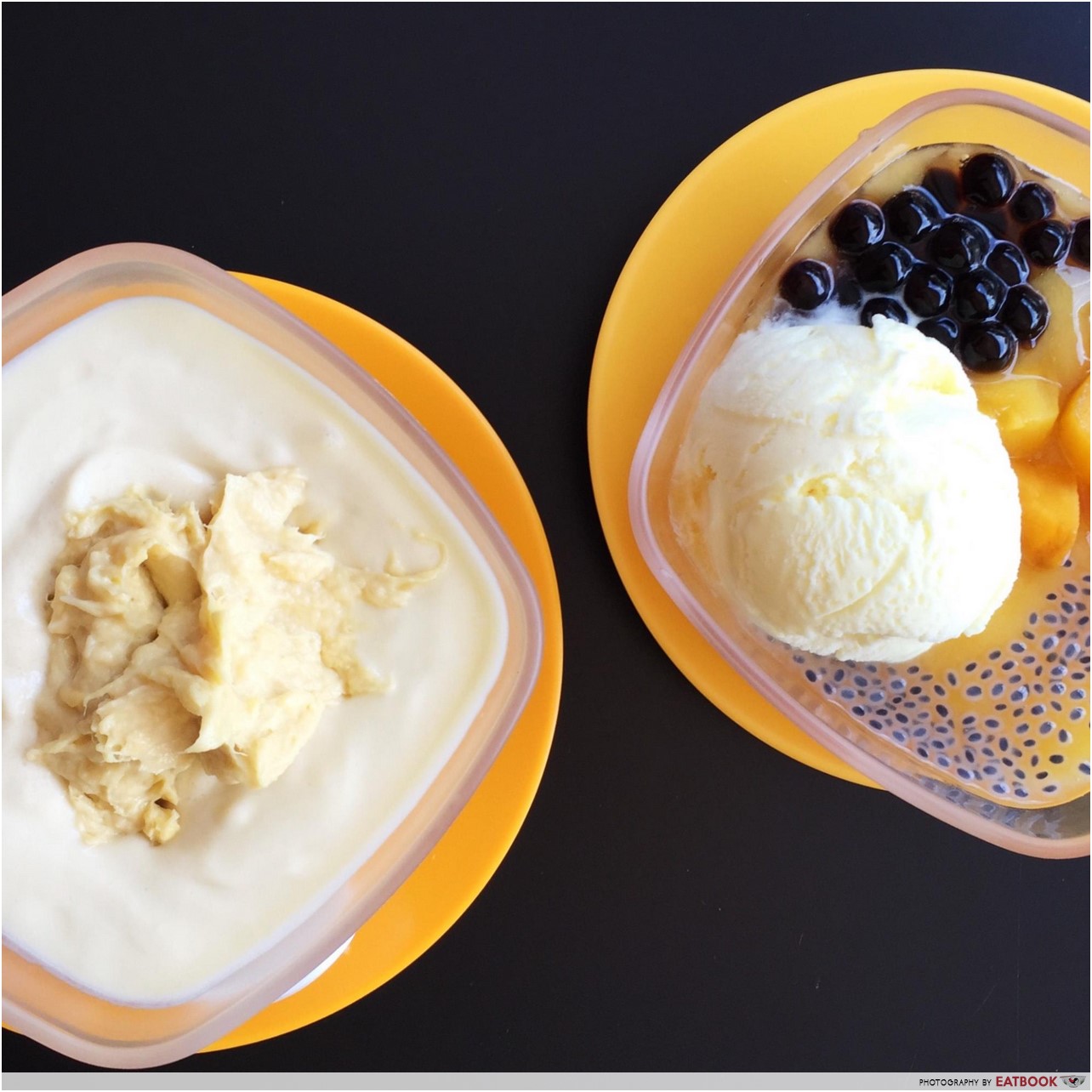 A journey to Gardens would not be complete without a stop at Dessert Bowl. This Hong Kong-style dessert shop's wide array of cold and hot selections will have you spoilt for choice. Durian lovers gotta try their deliciously creamy and thick Durian Mousse ($5), and remember to add $1 for an extra scoop of fresh durian pulp. Those who can't stand durian can go for a refreshing bowl of Mango Pomelo Sago ($4.20) instead.
Address: 80 Serangoon Garden Way, Singapore 555976
Opening hours: Tue-Thur 1pm to 10:30pm, Fri-Sun 1pm to 12am
Tel: 6285 1278
Durian lovers, find out where else to get affordable durian desserts in Singapore!
---
5. Grazie

---
Update: Grazie is now a cafe at Blk 34 Whampoa West, #01-79, Singapore 330034.
Every time my craving for Western food comes up when I'm at Gardens, I hit Grazie up. The ingredients here are fresh and all dishes are MSG-free, so I have no problem indulging in Seafood Aglio Olio ($8) that comes with loads of prawns and squid. Ordering a side of thick-cut Truffle Fries ($4 for small, $5.50 for large) is a must as it's a steal for the price you pay.
Address: 49A Serangoon Garden Way, Stall 1, Singapore 555945
Opening hours: Tue-Sun 12pm to 9pm
Tel: 8462 4720
---
6. Serangoon Garden Bakery and Confectionery
---
Nothing makes me happier than bread, and that's exactly what Serangoon Garden Bakery and Confectionery offers. This hawker stall sells Chinese bakery buns, cream puffs and butter cakes, and they're mostly under a dollar! The buns have a strong taste of egg, and encase generous fillings of peanut, red bean or even savoury stuff such as tuna. They usually finish selling everything at about 1pm on weekdays, so be sure to head down early to grab your buns.
Address: 49A Serangoon Garden Way, #01-45/46, Serangoon Garden Market, Singapore 555945
Opening hours: Tue-Sun 7:30pm to 5pm, or until sold out
---
7. Two Tall Trees

---
Two Tall Trees literally has two tall trees standing in the middle of its dining area, making this one of the most interestingly decorated cafes I've stepped foot into. Decor aside, they serve usual cafe fare such as pastas and brunch staples. Try Maple Glazed Chicken Bites ($8) for something unconventional, or go for a generous plate of Fish and Fries ($16). No matter what you choose, be sure to get a cuppa to go along with it. Their special Brew Bar Coffee ($8) lets you select from a variety of brewing methods, and you're invited to watch a barista craft your cup of joe at the bar.
Address: 14 Kensington Park Road, Singapore 557265
Opening hours: Tue-Fri 12pm to 10pm, Sat-Sun & PH 9am to 10pm (last order 9pm for food, 9:30pm for drinks and dessert waffles)
Tel: 6281 1286
Website / Menu
---
8. Steam Box

---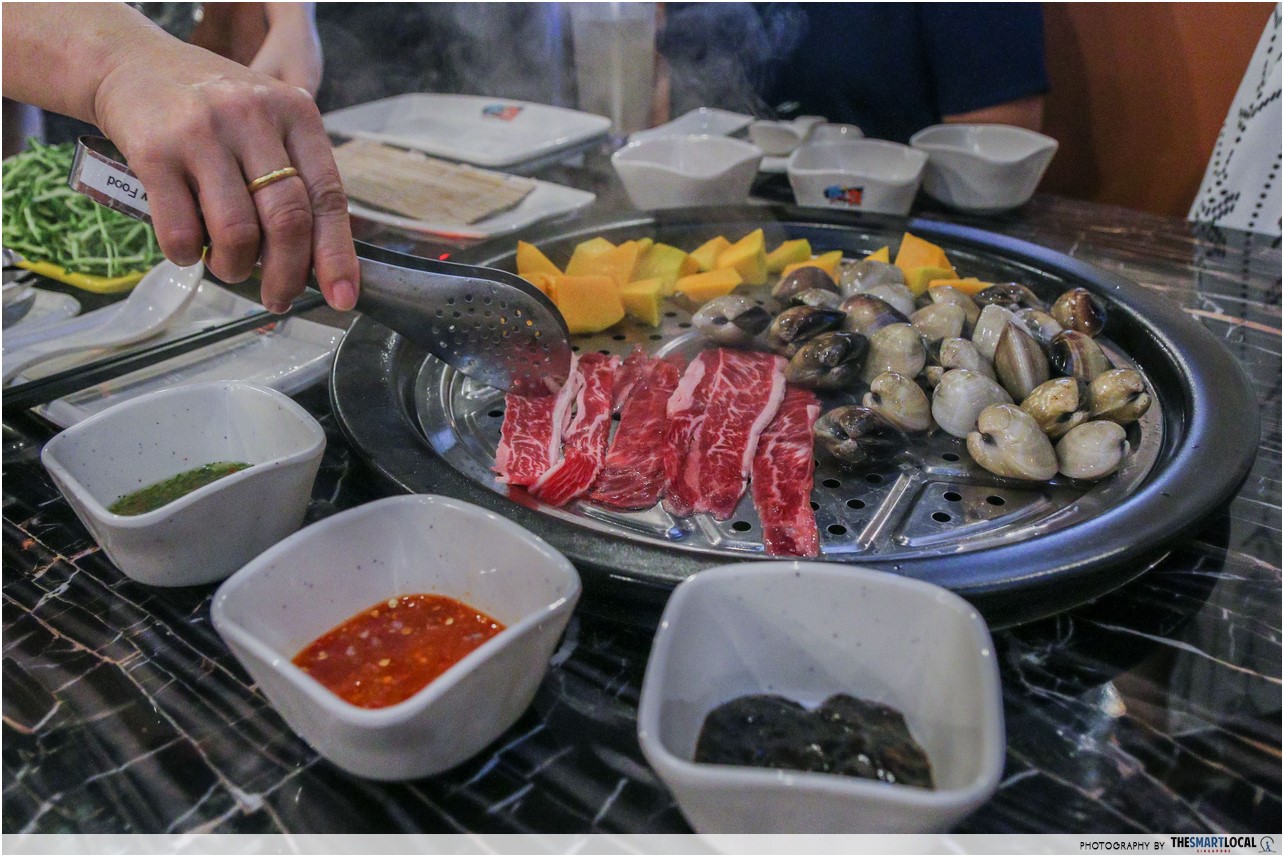 For those who have pledged to #eatclean this year, make Steam Box your new BFF. This steam-potting restaurant lets you steam raw ingredients in a high-speed steamer placed over a pot of porridge. This means you'll be able to stuff yourself with meats, seafood and veggies before enjoying a bowl of porridge that has collected all the natural juices of whatever you've eaten. Prices range from $4 for a plate of corn to $28 for three flower crabs.
Address: 68 Serangoon Garden Way, Singapore 555964
Opening hours: Tue-Fri 11am to 3pm, 6pm to 11pm
Tel: 6281 6939
Website
---
9. iSteaks
---
We may not have Astons, but we've got iSteaks. The two are close competitors, but the latter offers slightly lower prices. For $9, you can get a plate of Barbeque Chicken with two sides of your choice. Steak lovers can opt for a 200g slab of NZ Striploin for $16, or add a few dollars for a ribeye. What you must try here, however, is Fried Chicken ($9). The huge piece of fried chicken I had was sticking out of its plate and its thick, crispy batter and juicy meat left me looking forward to my next visit.
Address: 1 Maju Avenue, #02-03, Singapore 556679
Opening hours: Sun-Thur & PH 11am to 11pm, Fri-Sat & eve of PH: 11am to 12am
Tel: 6285 8839
Website
Menu
---
10. Soi Thai
---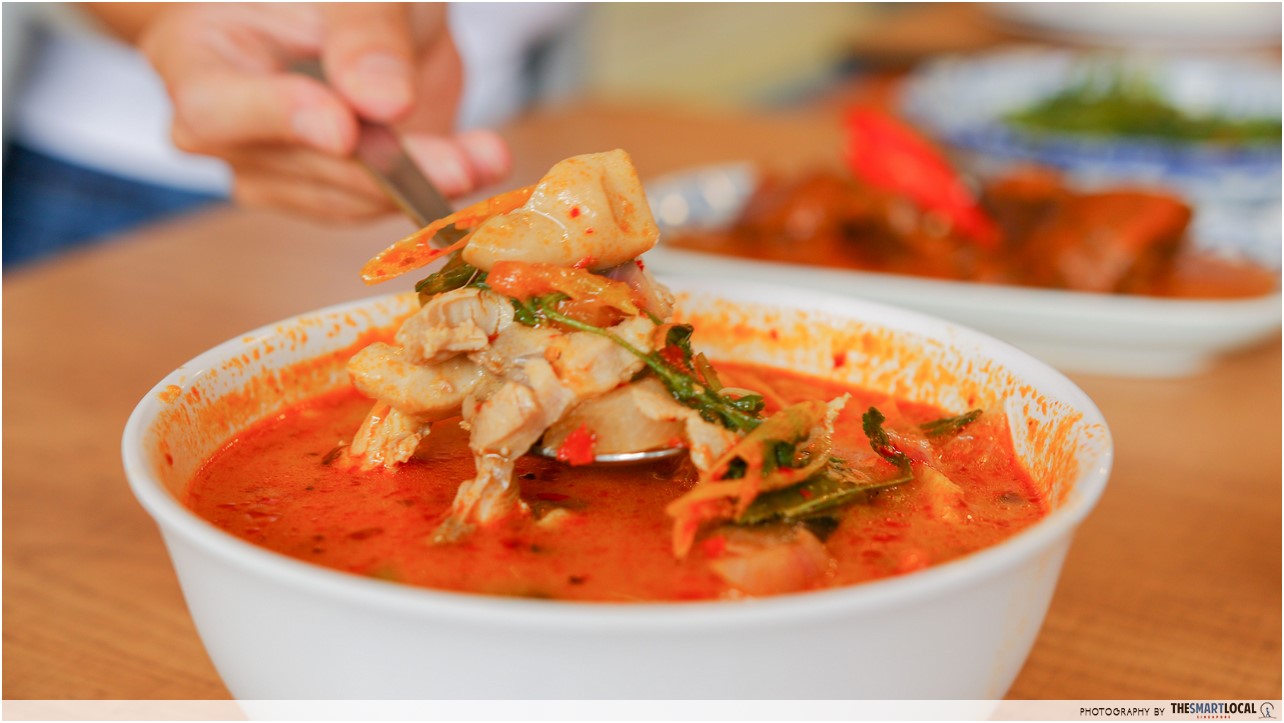 It's hard not to be attracted by Soi Thai's colourful interior, but what's even more compelling is its prices. Thai staples like Thick Tom Yam Soup Chicken ($7), Pandan Chicken ($8) and Mango Salad ($6) are all priced affordably, so you and your kakis can enjoy a Thai meal without going over budget. Something interesting to order here would be Beef Panaeng ($11), which is curry that comes with tender chunks of stewed beef.
Address: 58 Serangoon Garden Way, Singapore 555954
Opening hours: Daily 12pm to 3pm, 6pm to 10:30pm
Tel: 6282 3788
Website
---
Other stars of the show
---
Sure, a visit to Chomp Chomp is a given whenever you're at Serangoon Gardens. But if crowds put you off, you know where else to hit up. Let us know of other places you love visiting whenever you're in the area!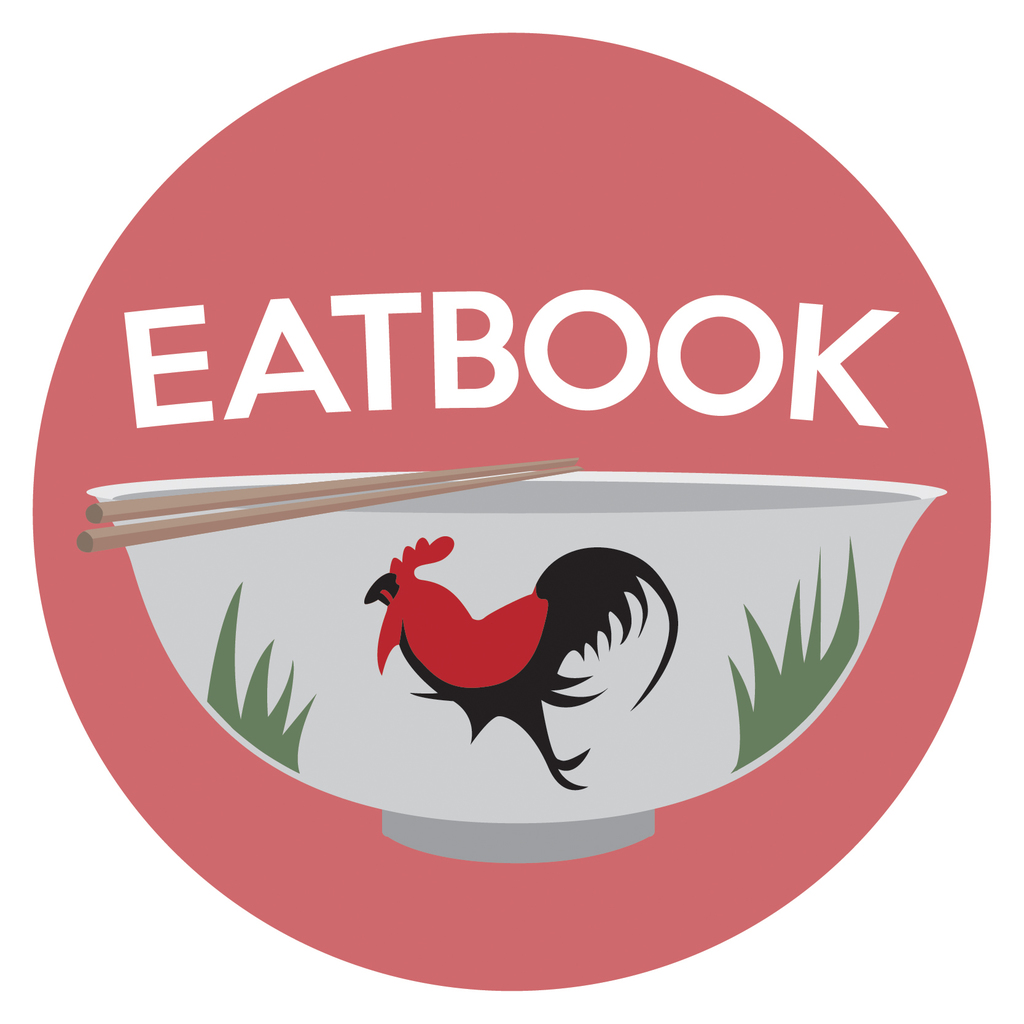 Drop us your email so you won't miss the latest news.