Clay pot mania at Lau Wang Claypot Delights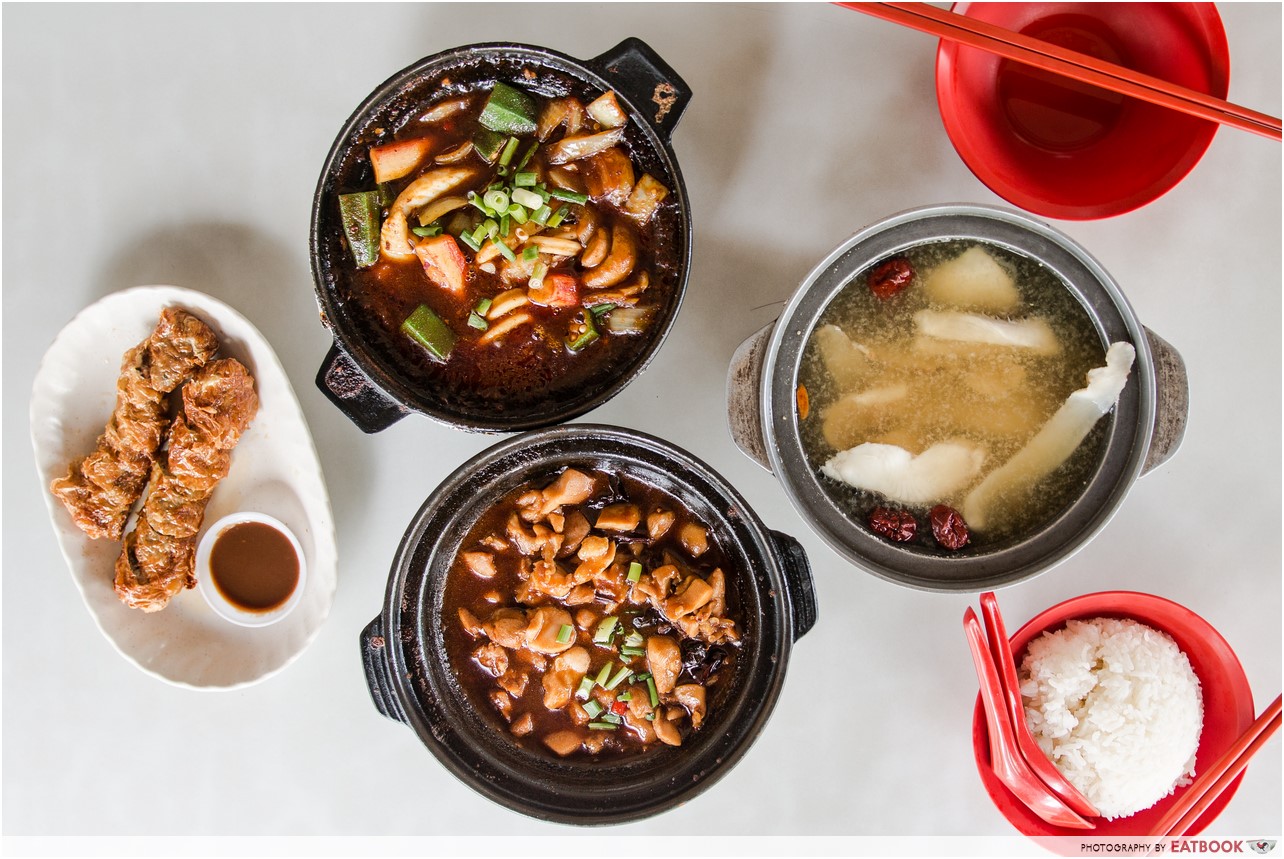 Every visit to NEX Shopping Centre is an exercise in jostling and patience. Crowds fill practically everywhere and there are snaking queues at every possible location. For those in the neighbourhood seeking a quick, fuss-free meal, head over to Lau Wang Claypot Delights, which is just a short walk away from the mall, for a warm and satisfying feast.
Food at Lau Wang Claypot Delights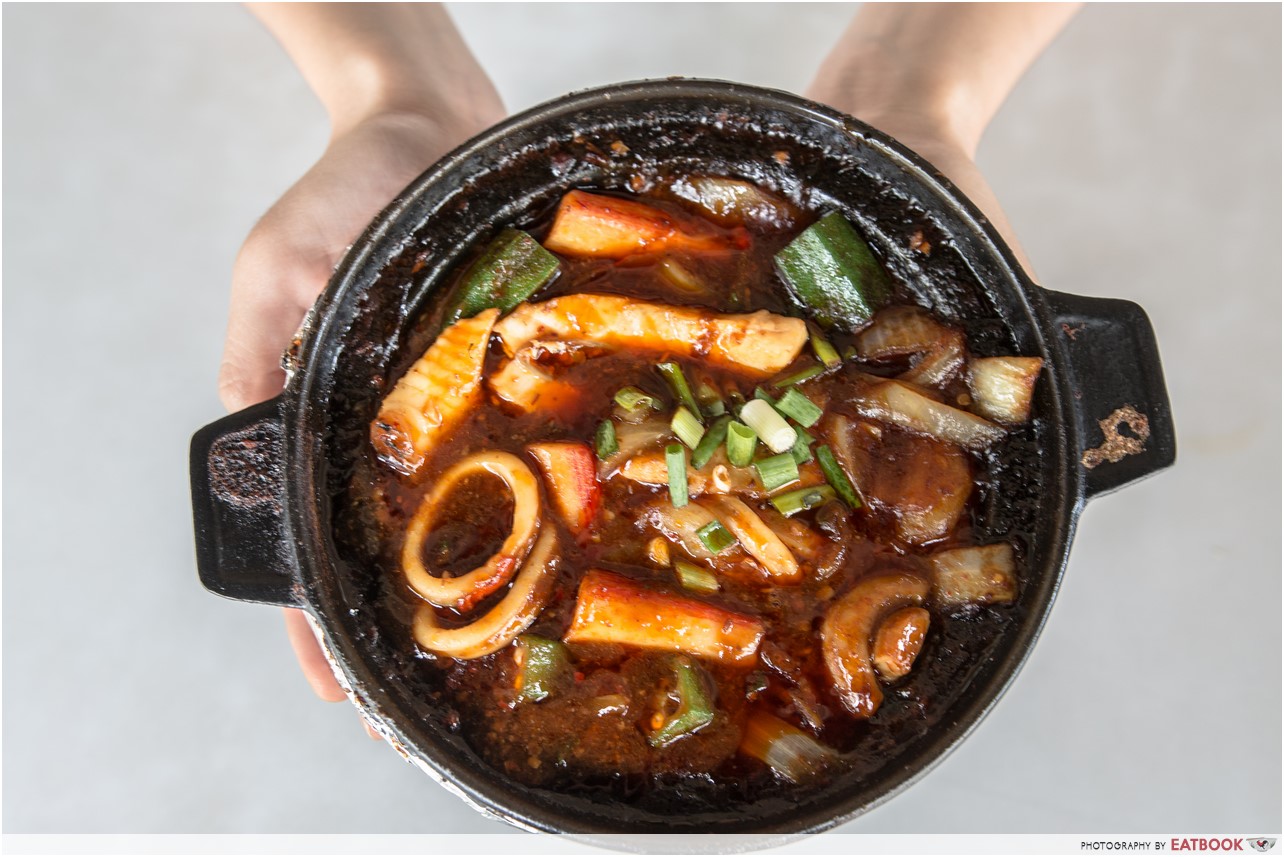 I love spicy food, especially when it is of the savoury and fragrant sort. So when Sambal Seafood ($7) was brought to our table, with slices of fish, squid rings, crabstick, and lady's finger peeking through the bubbling gravy, I was incredibly excited.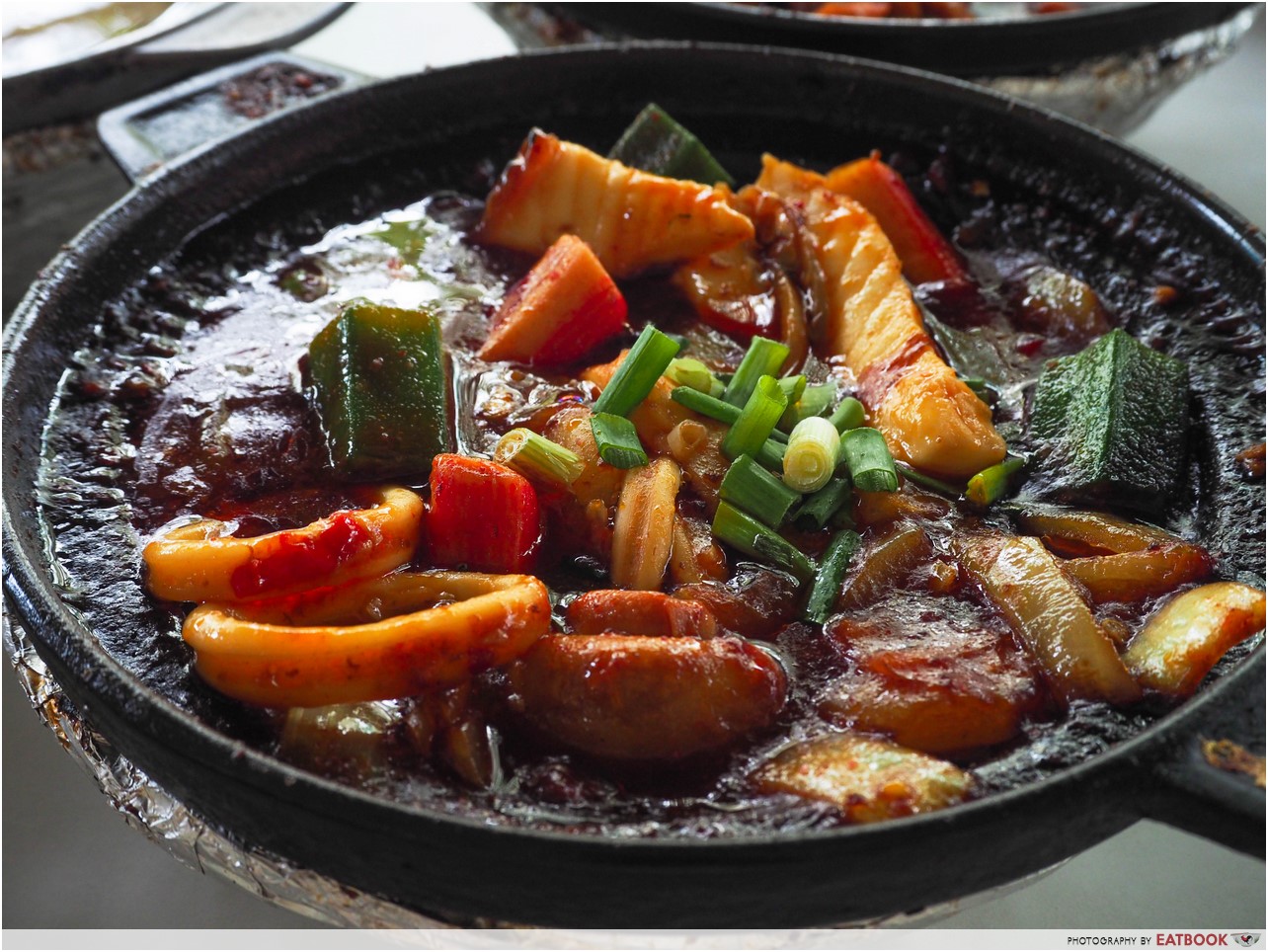 The gravy's spiciness, as expected of sambal, was a slow heat that crept up to me rather than one that hit on first taste. While the gravy was sufficiently salty and spicy, I wished the distinct savoury flavour of belachan was stronger.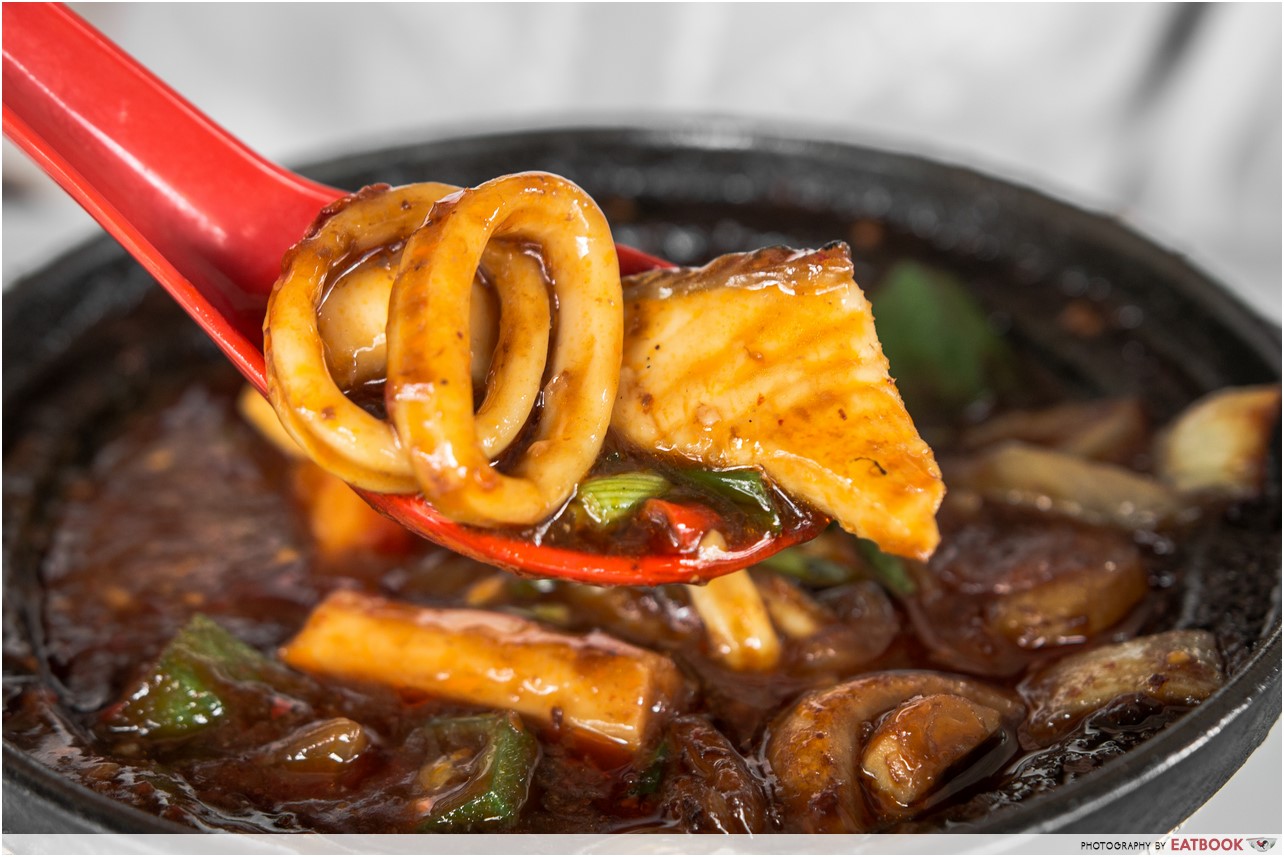 There was a good amount of ingredients. I especially liked the chewy sotong rings and firm slices of fish. The lady's fingers are worth a mention too. Stewed for a short while, they retained a crunch without any hint of the slimy centre you'd usually associate with stir-fried lady's fingers.
We also ordered Sesame Chicken ($4.80/$6.80), a crowd favourite at Lau Wang. It is an unassuming dish with small chunks of chicken soaked in a glossy, dark gravy.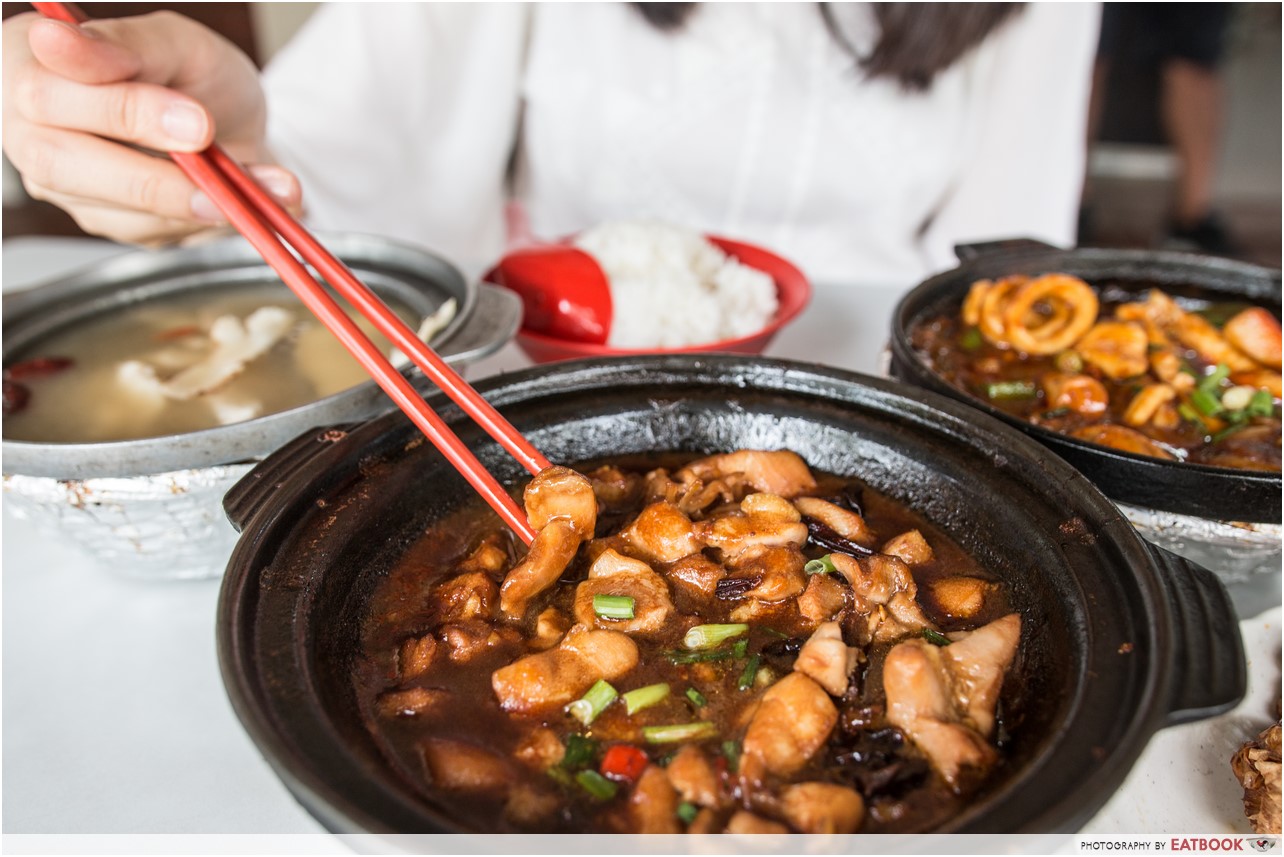 We opted for the spicy version so our pot had speckles of bright red bird's eye chilli and pieces of dried chilli littered throughout the gravy.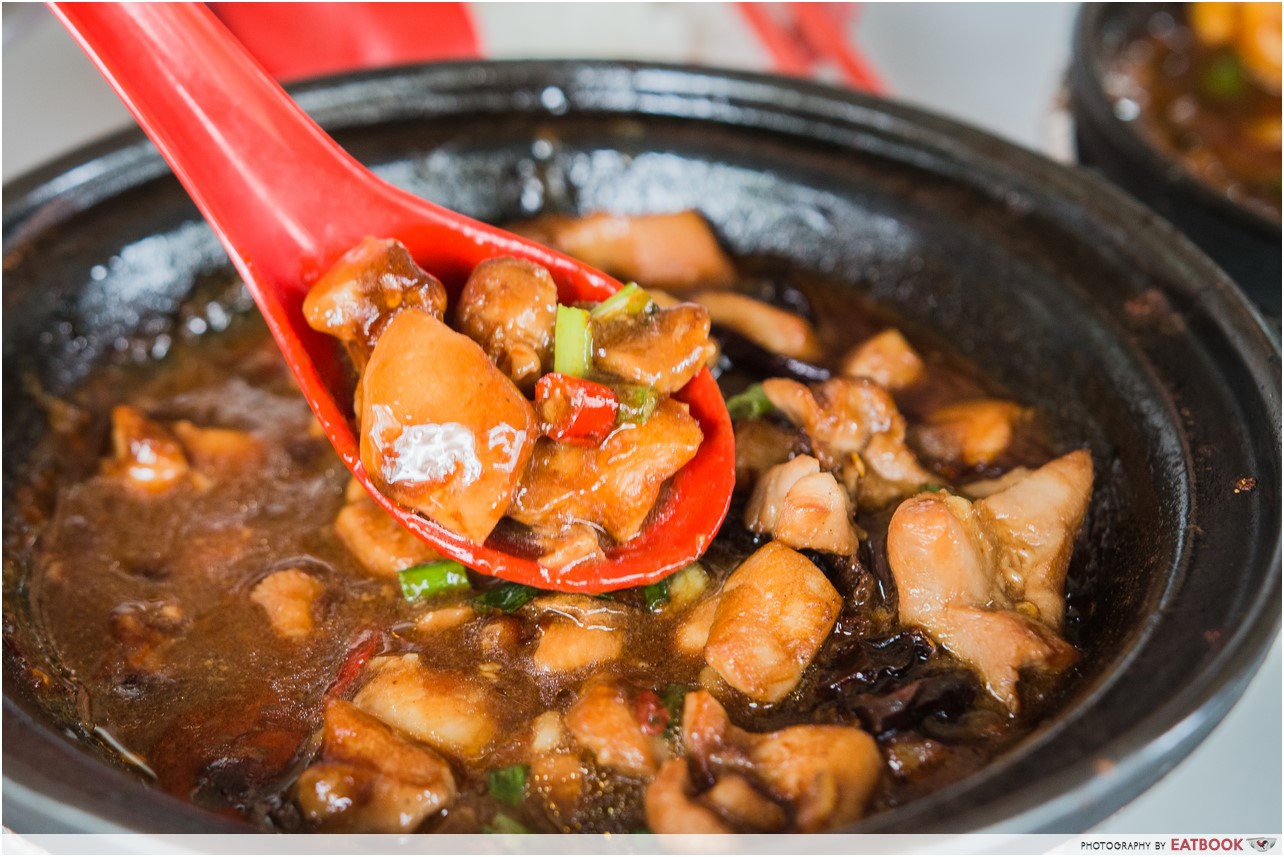 Digging in, it became apparent why this is one of the restaurant's best sellers. Each piece of chicken burst with the nuttiness of sesame oil and was very tender. The heat was pretty manageable, so spicy food lovers seeking a thrill should request for an extra-spicy version. The thick gravy is best savoured over a bowl of white rice.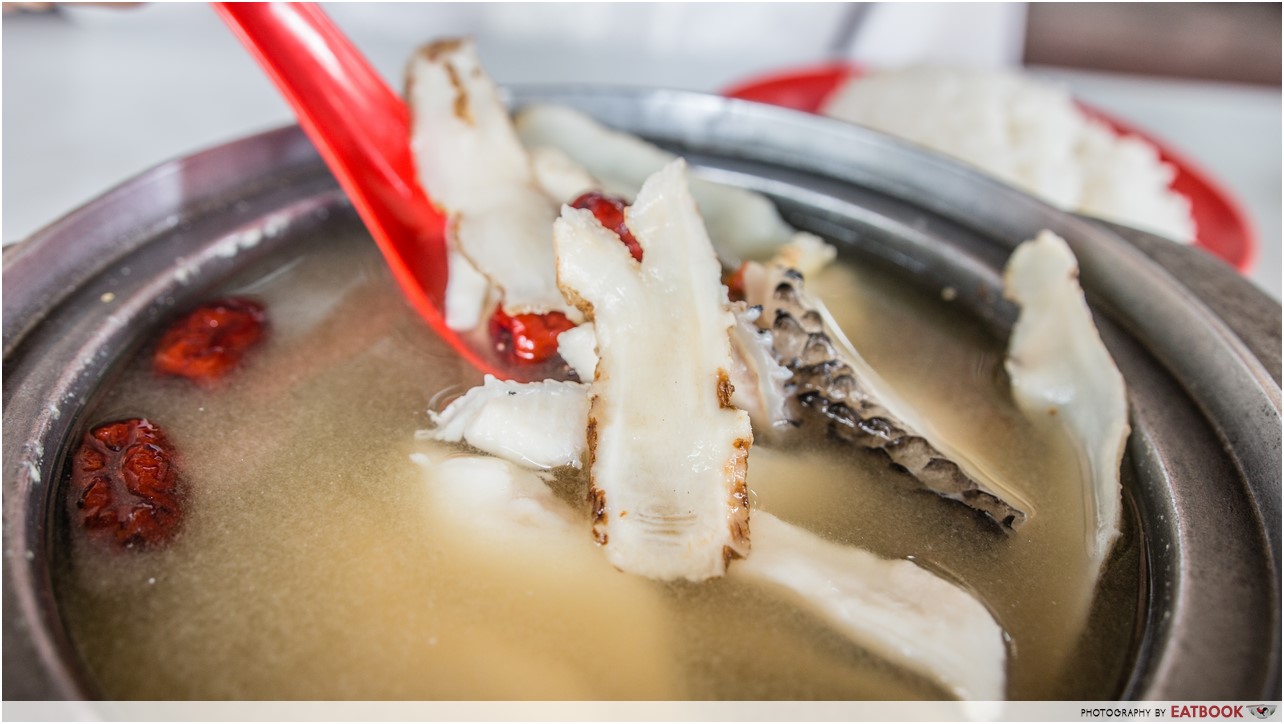 To refresh our palate we sipped at some Herbal Fish Soup ($5.50), a clear soup with the usual Chinese herbs and a substantial serving of fish slices. Though the soup was intensely flavoured and slightly bitter, it was refreshing and even somewhat energising. The muted sweetness of goji berries grew more apparent as I drank more of the soup, rounding off each gulp on a pleasant note.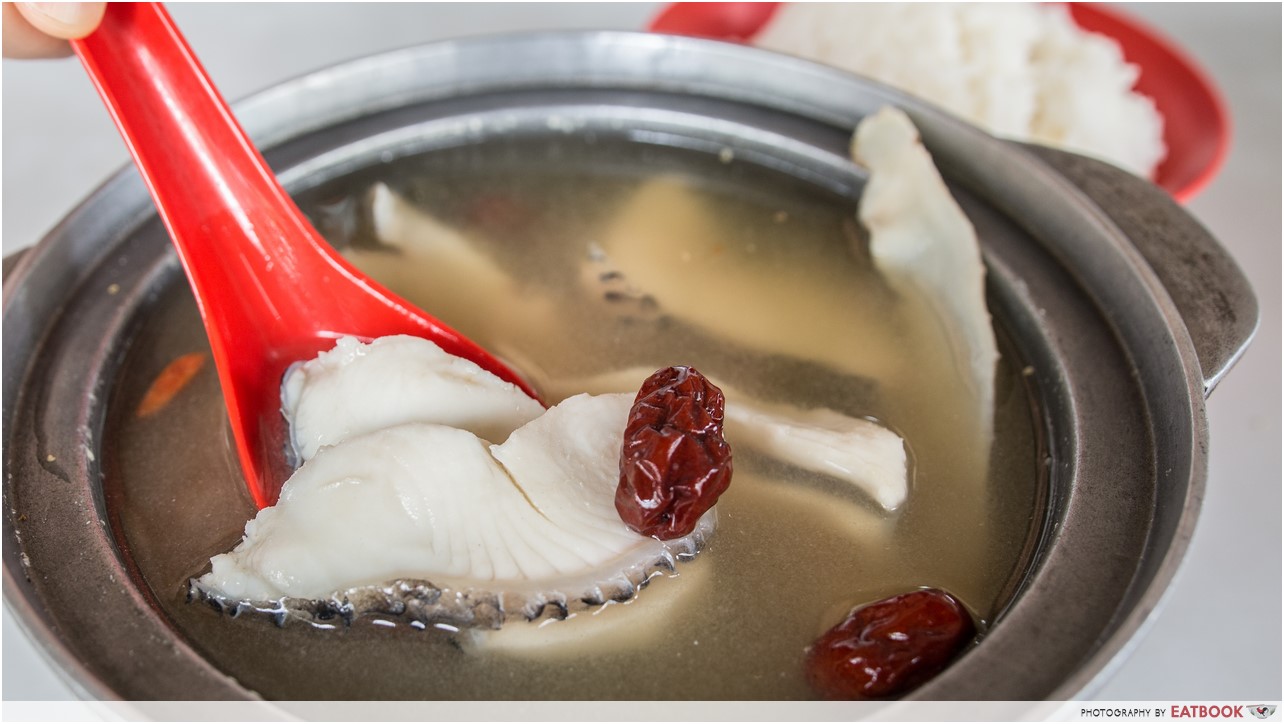 Depending on how soft and flaky you like your fish to be, you may find those served in the soup to be a bit tough. However, I enjoyed the chewiness and kept reaching for more pieces, especially since they absorbed the herbal flavour of the soup.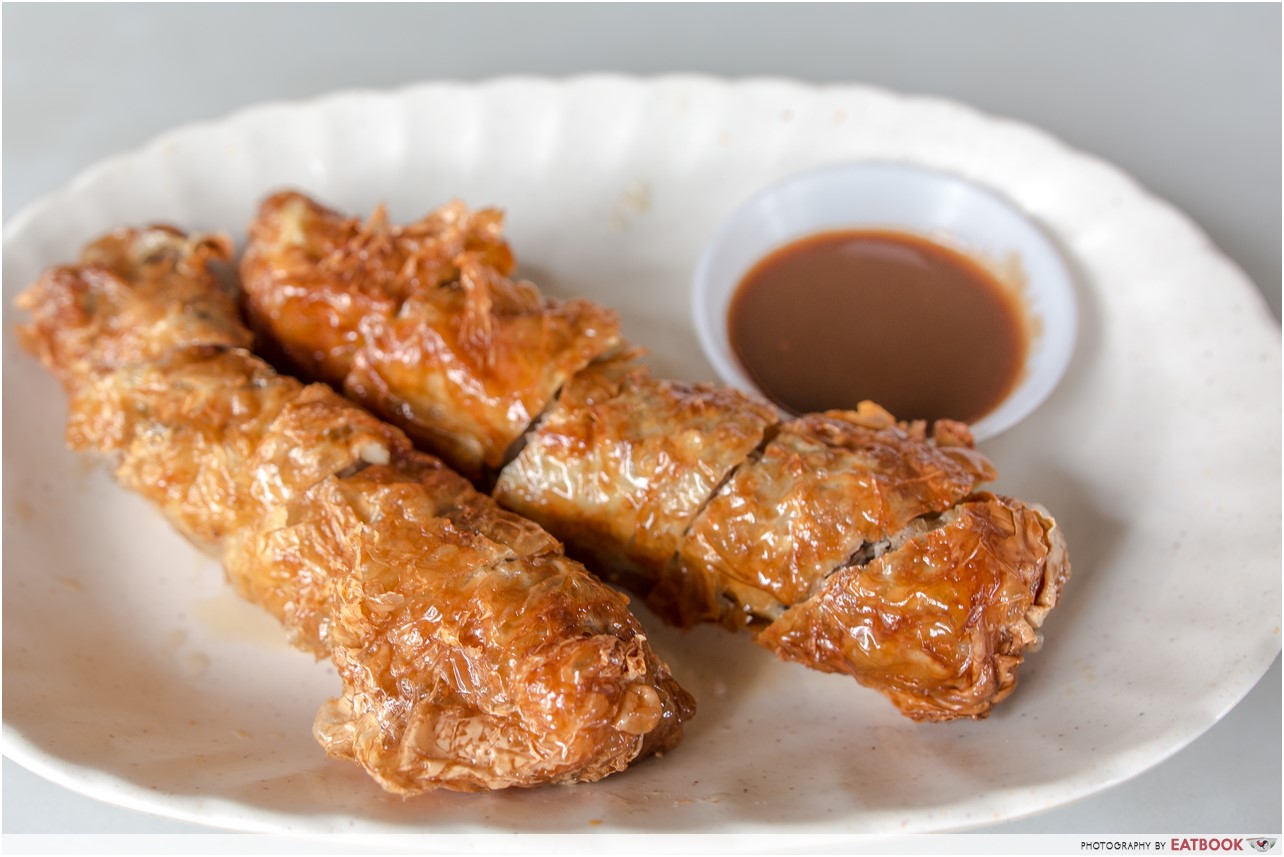 Accompanying our mains was a plate of ngoh hiang ($4.50 for two rolls). These five-spice pork rolls were meaty and aromatic.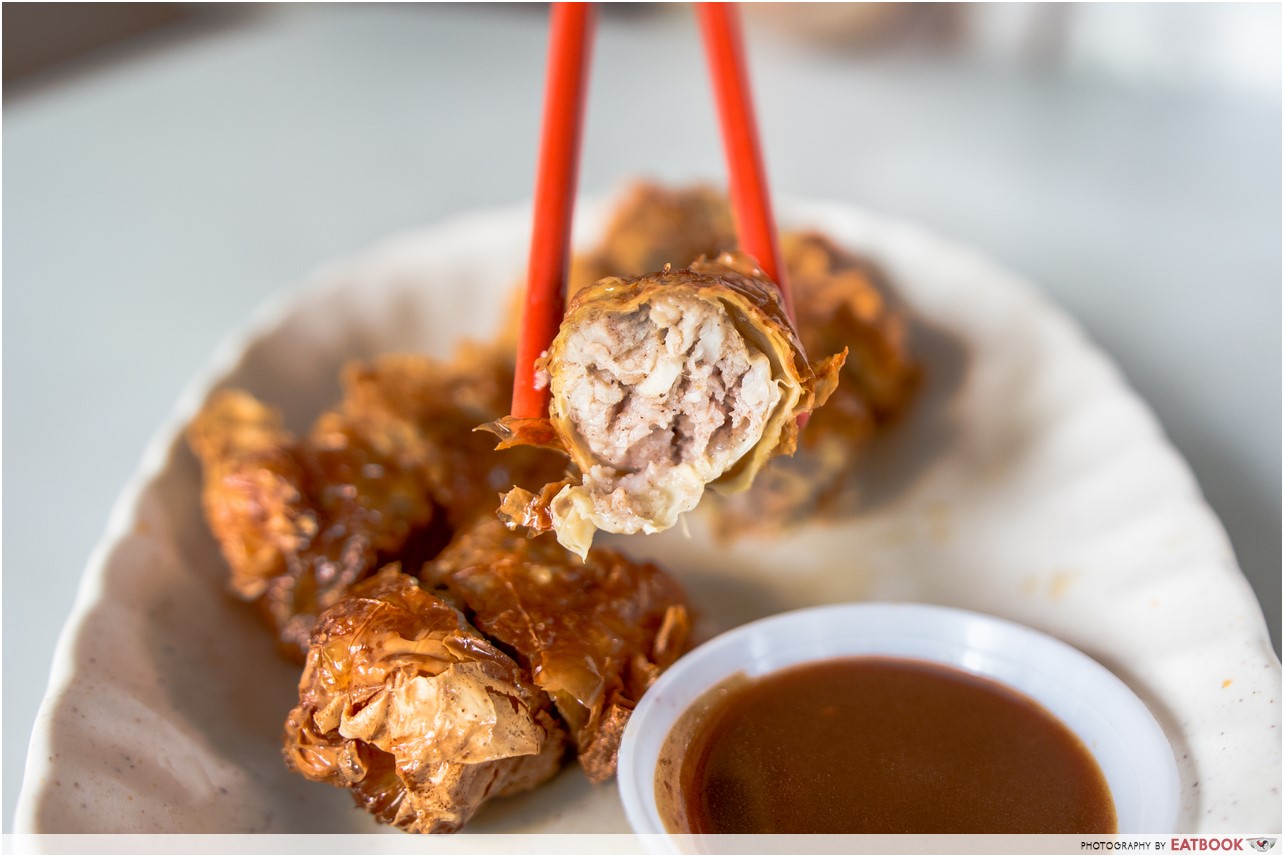 The minced meat filling had a lovely bouncy texture, which was enhanced by juicy water chestnut pieces that added a crunch to each bite. My one gripe would be that the dried beancurd skin could have been crispier, but these were tasty nonetheless.
Ambience at Lau Wang Claypot Delights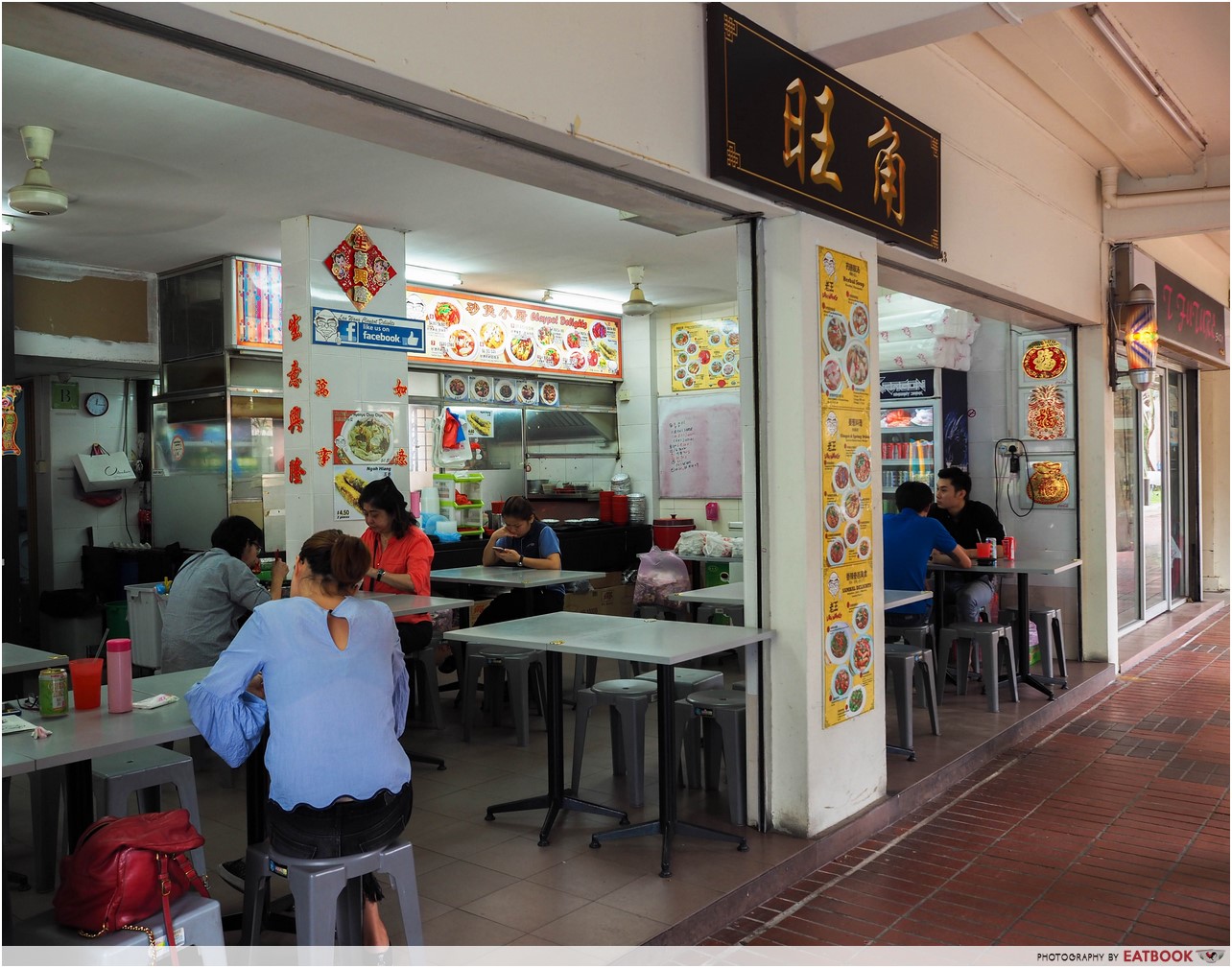 Located just a few minutes away from NEX, Lau Wang Claypot Delights is furnished like a typical kopitiam. There are quite a few tables available, though we heard there can be some waiting during dinner time. We were greeted by friendly staff members who served us our food quickly with bright smiles, making our meal a great experience.
The verdict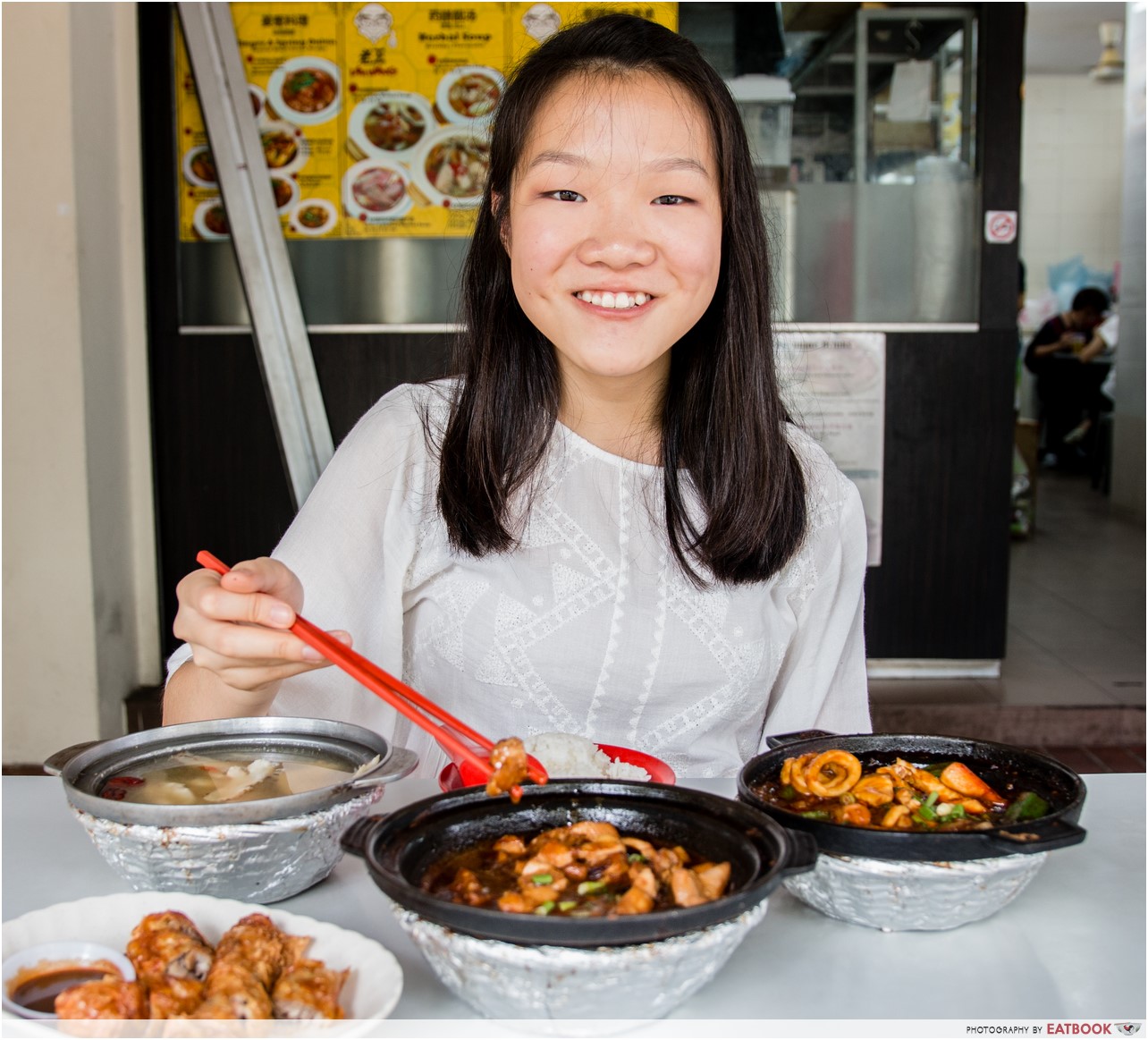 For a no-frills meal with friends or family, Lau Wang Claypot is a decent choice. The food here may not be especially noteworthy, but it is comforting and fixes clay pot cravings in a pinch.
Address: 263 Serangoon Central Drive, #01-43, Singapore 550263
Opening hours: Daily 11am to 9:45pm
Tel: 9001 0814
This is an independent review by Eatbook.sg.
Summary
Pros
– Affordable
– Convenient location
– No GST or service charge
Cons
– Dishes are not outstanding
Recommended Dishes: Sesame Chicken ($4.80/$6.80), Herbal Fish Soup ($5.50), Ngoh Hiang ($4.50 for two rolls)
Operating Hours:
Daily 11am to 9:45pm
Tel: 9001 0814
Address: 263 Serangoon Central Drive, #01-43, Singapore 550263