---
A guide to cafes in the West
---
When it comes to cafes, many people flock to the East because they believe that the East is home to far more cafes than the West. Well, here are 18 cafes in the West worth your breakfast and hangouts with friends. 
---
1. Dewgather
---

The Star Vista has recently welcomed a new addition with Dewgather, an Australian-themed cafe with brunch, mains, and desserts. The classic French Toast ($18++) comes with a twist—swirls of grape-flavoured cotton candy perch daintily on a slice of brioche, drenched in berry compote, ice cream, and brown sugar crumble. For something on the healthier side, go for the Dew Harvest Bowl ($22++), a harmonious plate of fuschia pickled cauliflowers, kale, rocket leaves, and slices of smoked salmon. 
Check out our Dewgather review!
Address: 1 Vista Exchange Green #01-46, The Star Vista, Singapore 138617
Opening hours: Daily 8am to 10pm
Tel: 8043 8398
Website
Dewgather Review: New Cafe At The Star Vista With Cotton Candy French Toast And Fried Chicken And Waffles
---
2. Atlas Coffeehouse
---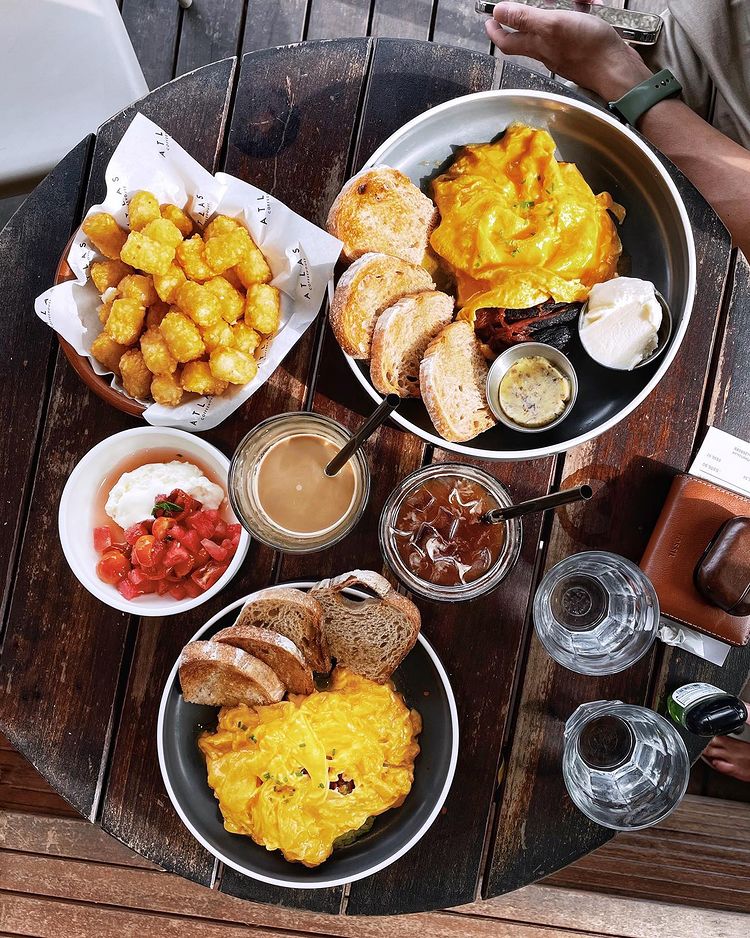 Image credit: @jianzhongthegreat
Atlas Coffeehouse is more than a short walk away from Botanic Gardens MRT Station, but that doesn't stop people from queuing up. If you do manage to get a seat, don't hesitate to try their Smashed Avo and Watermelon ($20.90++), which comes with creamy smashed avocado hidden under a luscious layer of scrambled or jammy eggs and diced basil watermelon and fresh cream on the side. 
Address: 6 Duke's Road, Singapore 268886
Opening hours: Tue-Sun 8am to 7pm
Tel: 6314 2674
Website
---
3. Simple Cafe
---

Update: Simple Cafe is ending its operations at NEWest, and moving to a new location by July. We will be updating this post with the new location.
If full breakfasts are enough to send you into a food coma, Simple Cafe might have the light treats you need. Go straight for the Mont Blanc ($9), which hides layers of whipped cream, chestnut puree, and berry compote beneath its thin swirls of chestnut cream. The Hazel ($8.50) is a chocolate lover's dream—its glistening chocolate glaze and fudgy layers of praline and chocolate mousse look good but taste even better. 
Check out our Simple Cafe review!
Address: 1 West Coast Drive, #01-87, NEWest, Singapore 128020
Opening hours: Tue-Sun 9.30am to 6pm
Tel: 9618 1572
Website
Simple Cafe Review: New Minimalist Cafe Hidden At West Coast With IG-Worthy Cakes
---
4. FoodBarn
---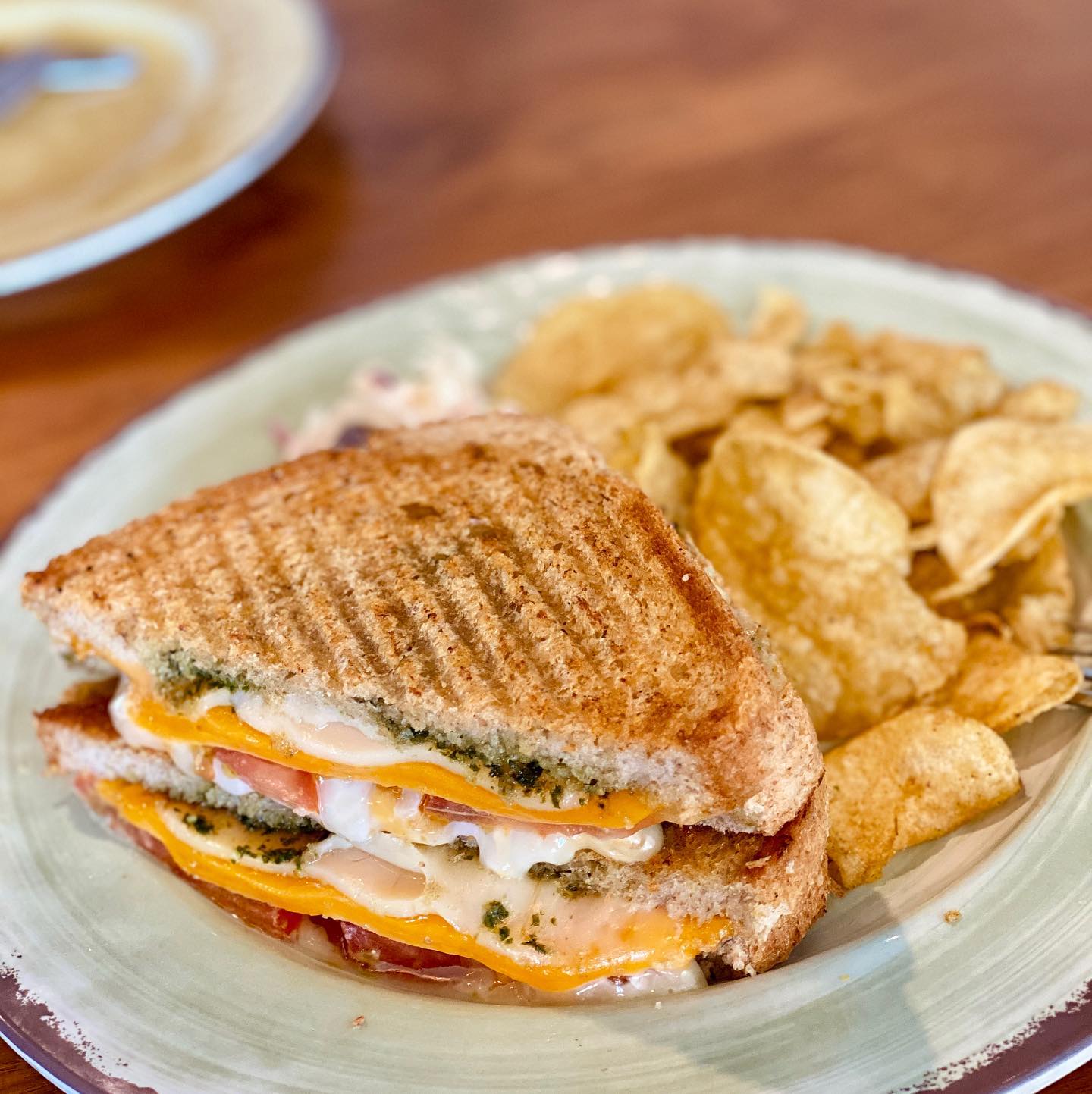 Image credit: @tabemonosu
Though FoodBarn has a breakfast menu, many people go straight for their sandwiches. It's cheese galore with the Grilled 4-Cheese ($12+), which is loaded with slices of provolone, Monterey Jack, Colby Jack, mozzarella, and a smear of pesto sauce. The Chix Avocado ($12+) will give you a more balanced breakfast with its fillings of grilled chicken breast, creamy avocado, lettuce, and tomatoes. 
Address: 1 Fusionopolis Place, #01-13, Galaxis, Singapore 138522
Opening hours: Mon-Fri 8am to 9pm, Sat 10am to 8.30pm
Tel: 6804 6473
Website
---
5. Coexist Coffee Co 
---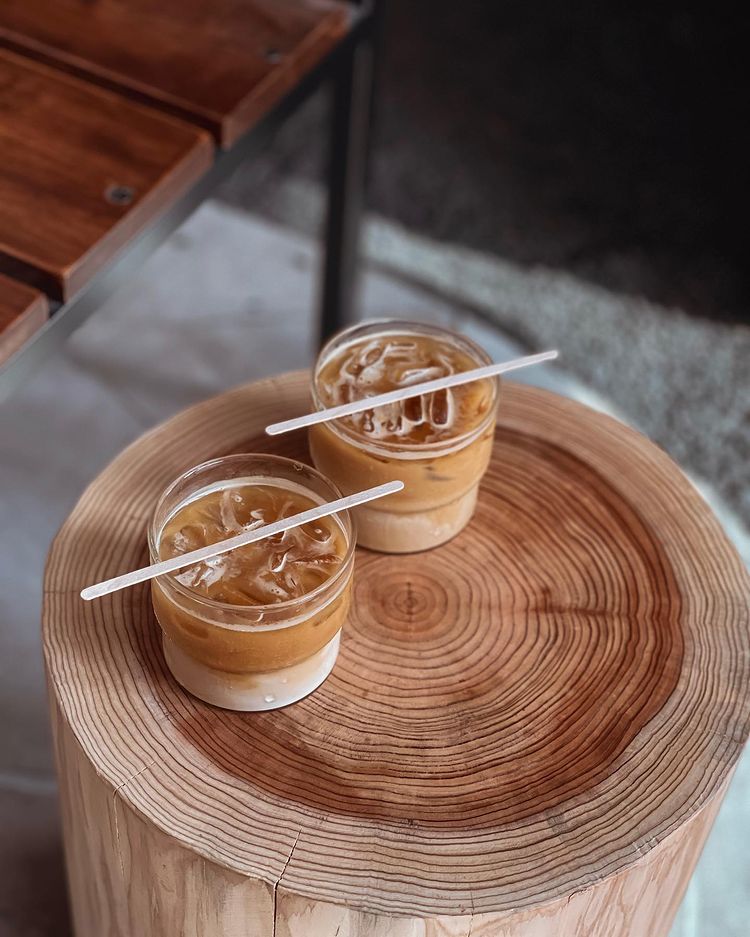 Image credit: @rachrx
Sandwiched between Little Guilin and Bukit Batok Nature Park is one of Coexist Coffee Co's first cafes in the West, at Hillview. Though their menu is more scaled-down as compared to their Paya Lebar and Keong Saik outlets, you'll still get to enjoy your fix of coffee after a morning hike. Take your pick from cups of Piccolo ($4.50++) and Nitrobrew ($8++), and even non-coffee options such as Dirty Hojicha ($6.50++) and berry-flavoured Kombucha ($7++). 
Address: 48 Hillview Terrace, #08-00, Hillview Building, Singapore 669269
Opening hours: Daily 9am to 6pm
Website
---
6. Burnt Cones
---

No judgement if you wanna start your day off with a scoop of ice cream, but we would recommend having it with the Buttermilk Waffles ($6) at Burnt Cones. With a crispy, caramelised crust, and buttery fluffiness within, these baked treats are sure to pair well with whichever ice cream flavour you choose, be it the roasted nutty Pistachio ($6), creamy Scamorza ($6) AKA smoked cheese or Strawberry Basil ($5) sorbet. 
Check out our Burnt Cones review!
Address: 105 Clementi Street 12, #01-02, Singapore 120105
Opening hours: Mon-Fri 11am to 12am, Sat-Sun 9am to 12am
Tel: 9711 1097
Website
Burnt Cones Review: New Clementi Cafe Open Till 12am For Waffles And Gelato Such As Yam And Pistachio
---
7. Prairie by Craftsmen
---

Image credit: @fgyumx
Near the Botanic Gardens is Prairie by Craftsmen, a casual cafe you can stop at after taking in the flora and fauna at the Gardens. If you happen to visit before 11:45am, you'll get the chance to enjoy a plate of Rustic Mushrooms ($18++)—earthy mushrooms and scrambled eggs lay atop a sourdough spread with aromatic truffle porcini butter. No worries if you're visiting around noon though, as Prairie offers mains, burgers, and pasta after 11:45am. 
Address: 501 Bukit Timah Road, #01-05C, Cluny Court, Singapore 259760
Opening hours: 6972 9142
Tel: Daily 9am to 9pm
Website
---
8. MADLYGOOD
---

Though MADLYGOOD is best known for their crispy buttermilk waffles, they have recently expanded their menu to include more variations of waffles. Now, you can also get Mochi Waffles ($14.50), which come with a gooey, chewy centre, and sinfully flaky Nutella, Biscoff, and Blueberry Oreo Croffles, at $13.50 for the price of four.  
Check out our MADLYGOOD review! 
Address: 2 Jurong East Central 1, #03-12, JCube, Singapore 609731
Opening hours: Mon-Thurs 12pm to 9:30pm, Fri 12pm to 10:30pm, Sat 11am to 10:30pm, Sun 11am to 9:30pm
Tel: 6694 3235
Website
MADLYGOOD Review: New Cafe With Cream Cheese Gelato And Peanut Butter Waffles At JCube
---
9. The Living Cafe
---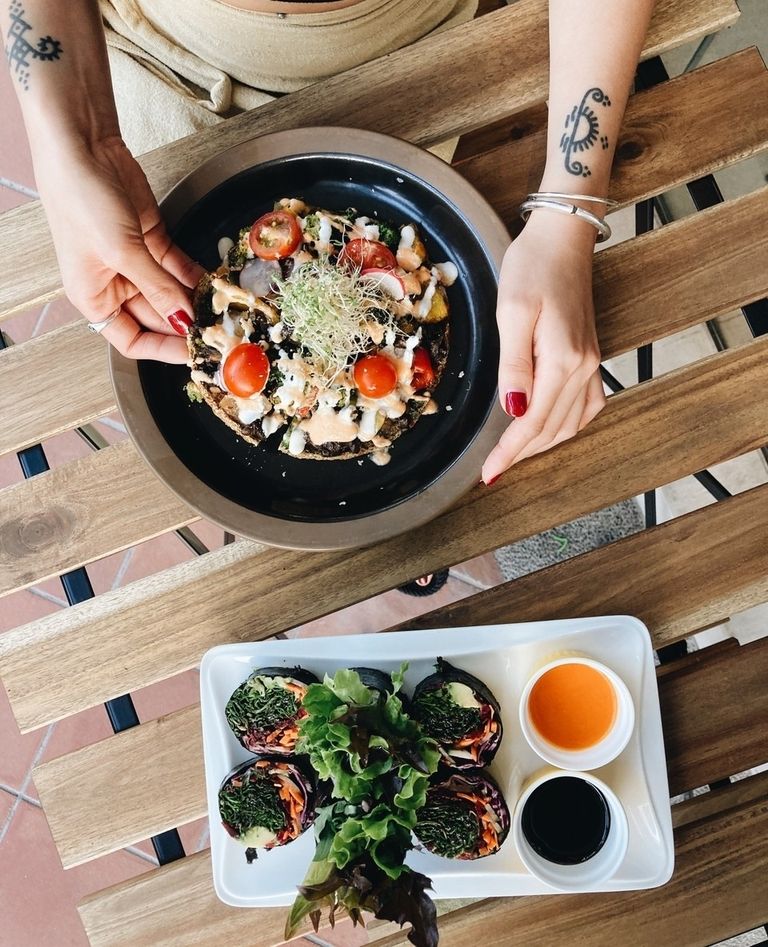 Image credit: @livingcafesg
The Living Cafe, located just a stone's throw away from Sixth Avenue MRT Station, breaks the notion that healthy food can't be delicious with its sprawling menu of vegan, vegetarian and gluten-free options. Start your day off with a Breakfast Burrito ($20++), which is packed with protein from spinach, eggplant 'bacon', truffle mushrooms, and organic eggs. Alternatively, try a Turmeric Tropiciana ($9++); this mango and pineapple smoothie is infused with turmeric, an antioxidant that also helps to lower cholesterol. 
Address: 779 Bukit Timah Road, Singapore 269758
Opening hours: Tue-Sat 10am to 7pm, Sun 9am to 7pm
Tel: 9735 9404
Website
---
10. Flagwhite
---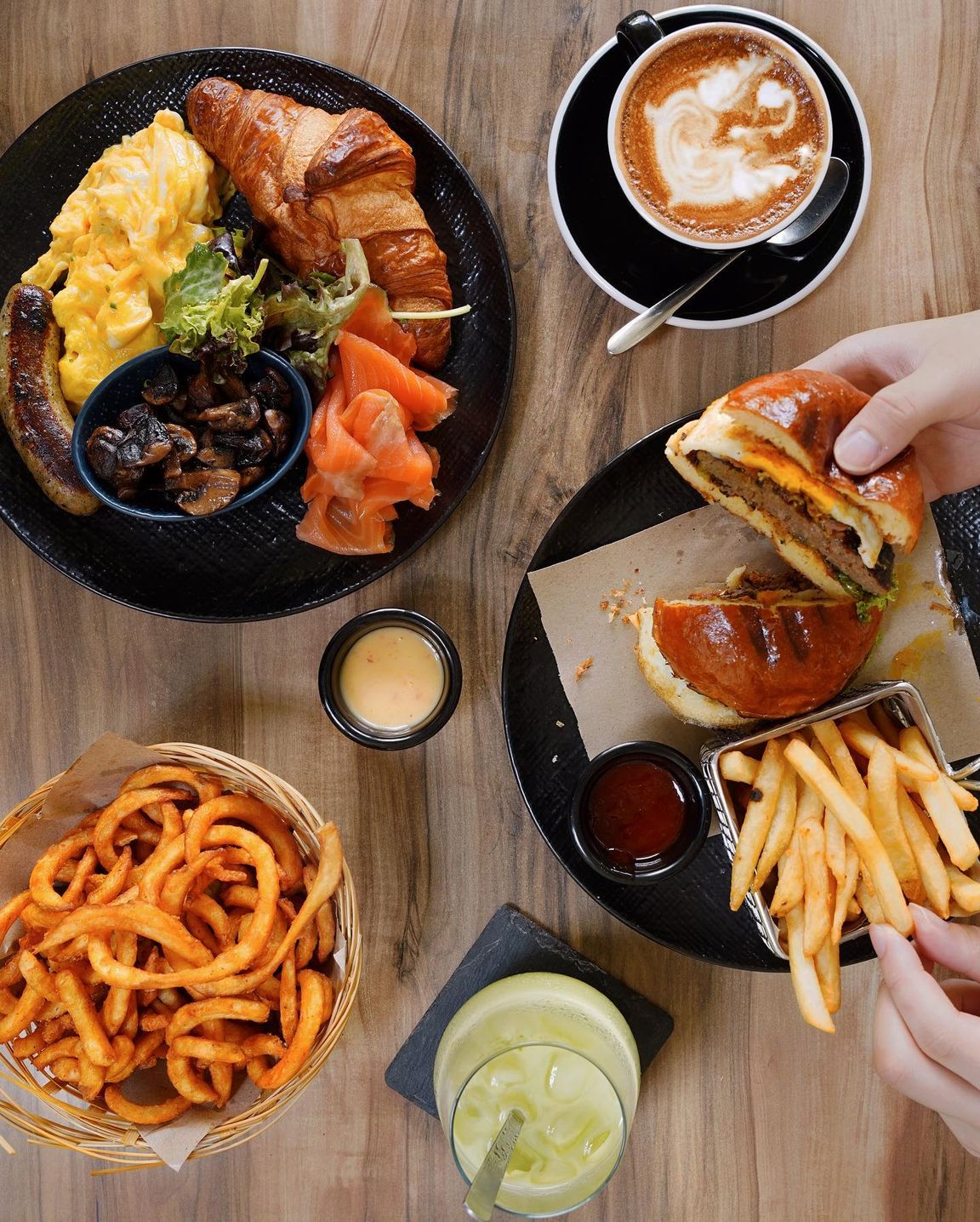 Image credit: @chewwwie
FlagWhite's most popular item by far is their All-Day Flag Your Brunch (from $6+), which is an entirely customisable brunch plate. This way, you can enjoy your eggs just the way you like them—Scrambled ($4+), Sunny ($4+), or 63 Degrees ($2+), and paired with other items, including Sauteed Mushrooms ($4+), Streaky Bacon ($4+), and Smoked Salmon ($5+), and three choices of bread—Sourdough ($3+), Brioche ($3+), or Croissant ($4+). 
Address: 106 Jalan Jurong Kechil, Singapore 598604
Opening hours: Mon, Wed-Fri 10am to 8.30pm, Sat-Sun 9am to 8.30pm
Tel: 9894 9882
Website
---
11. Carpenter and Cook 
---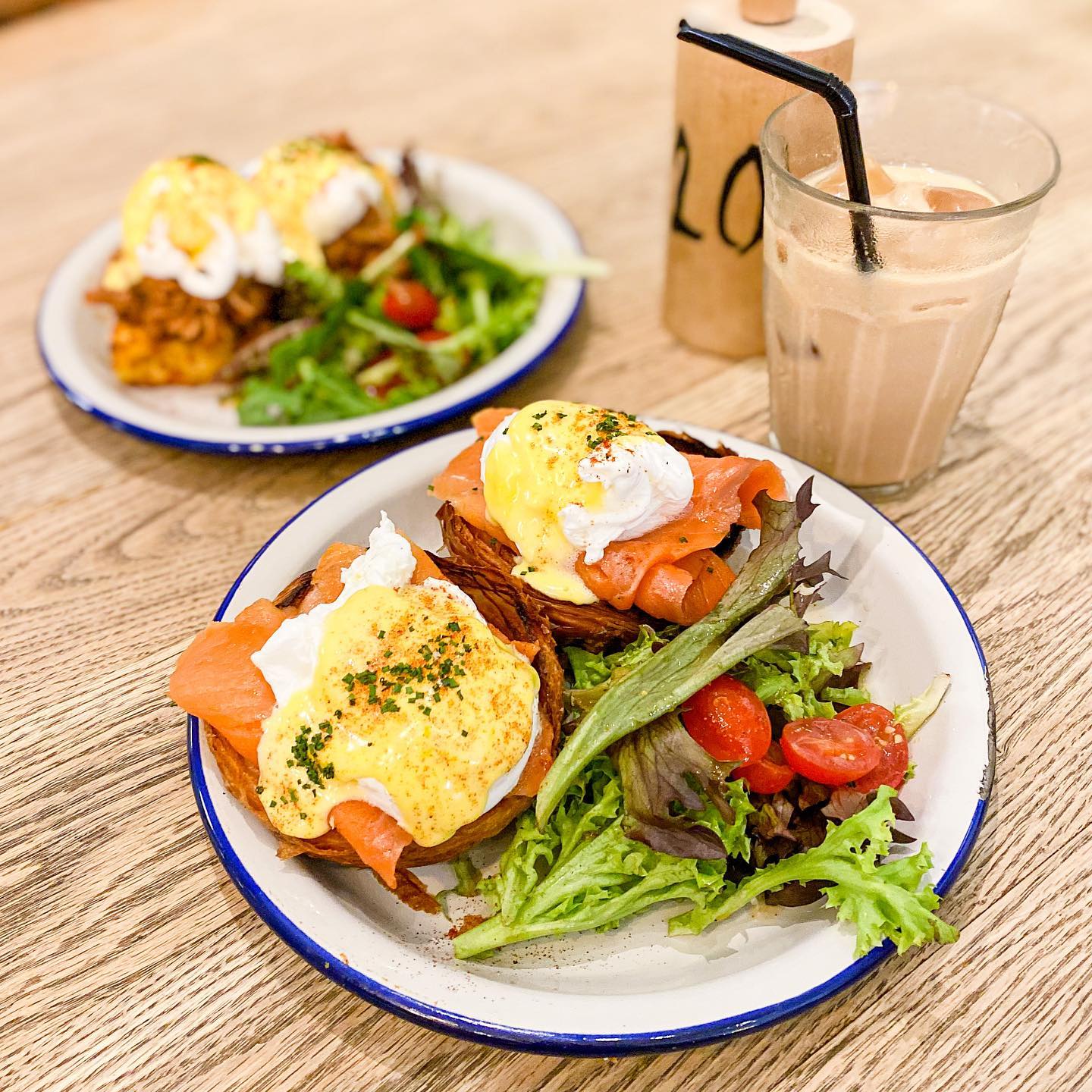 Image credit: @goodfomood
Just down the street from Flagwhite is Carpenter and Cook. Though they don't serve brunch on Wednesdays and Thursdays, visit on the rest of the days from 9am to mid-afternoon on weekends to enjoy their slow-braised barbecue pork shoulder and house-made cornbread in the Pulled Pork Eggs Benedict ($22+). If you're looking for a quick munch, an Almond Croissant ($5.50+), Yuzu Basil Tart (from $3.50+), or a slice of Raspberry Lychee and Rose Chia Seed Cake ($8.50+) will do just the trick. 
Address: 19 Lorong Kilat, #01-06, Singapore 598120
Opening hours: Daily 8am to 6pm
Tel: 6463 3648
Website
---
12. Choupinette
---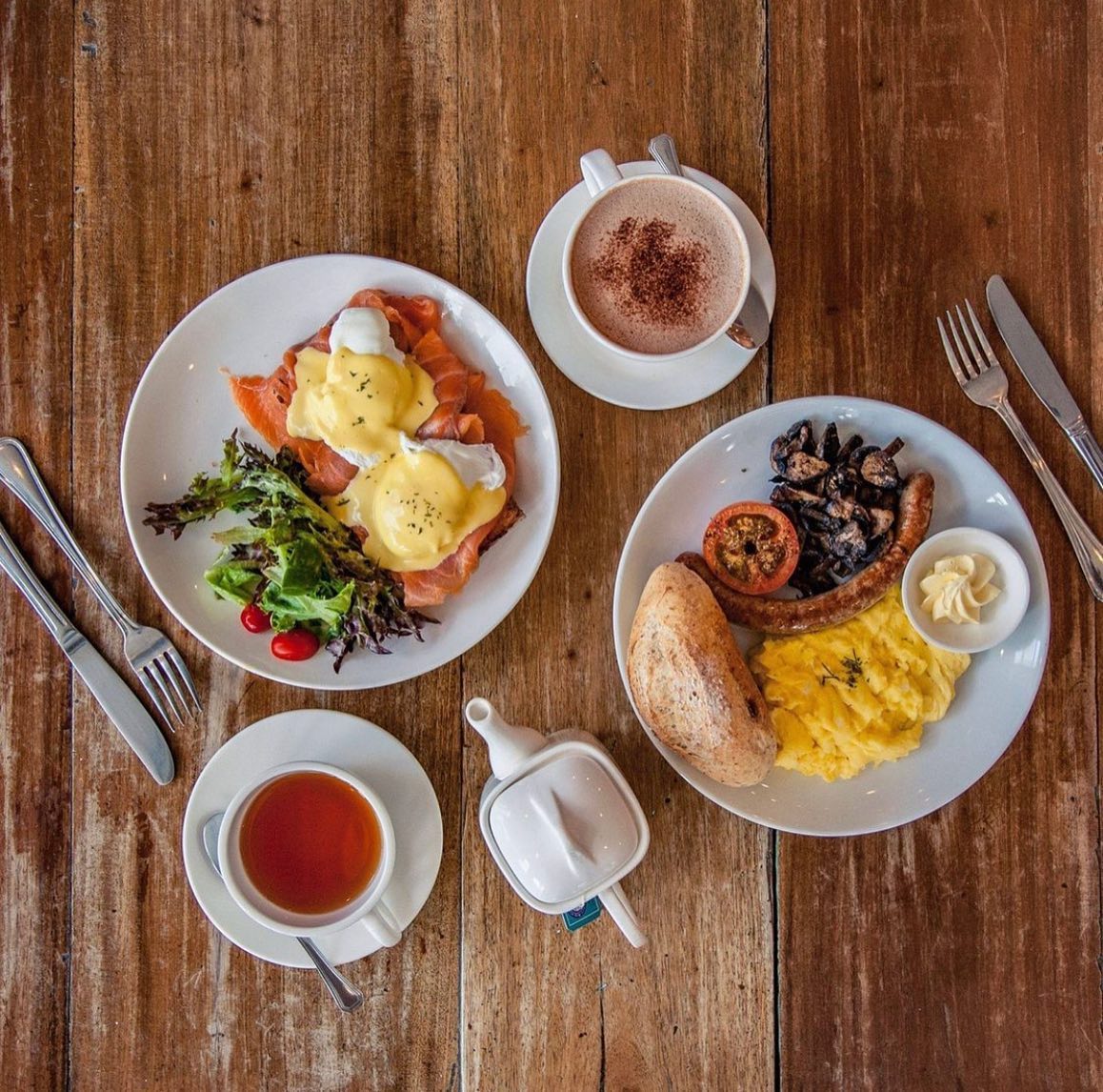 Image credit: @tokotown_asia
Choupinette is a French restaurant located at the heart of Bukit Timah. Go straight for their all-day brunch plates such as the Eggs Benedict's ($19+) and Eggs Royal's ($19+), which swaps out the ham for smoked salmon. Alternatively, the scrambled eggs, pork sausage, and mushrooms in The Tristan's ($19+) are equally delicious. 
Address: 607 Bukit Timah Road, Singapore 269708
Opening hours: Mon 8am to 4pm, Tue-Sat 8am to 10.30pm, Sun 8am to 5pm
Tel: 6466 0613
Website
---
13. Daily Ground
---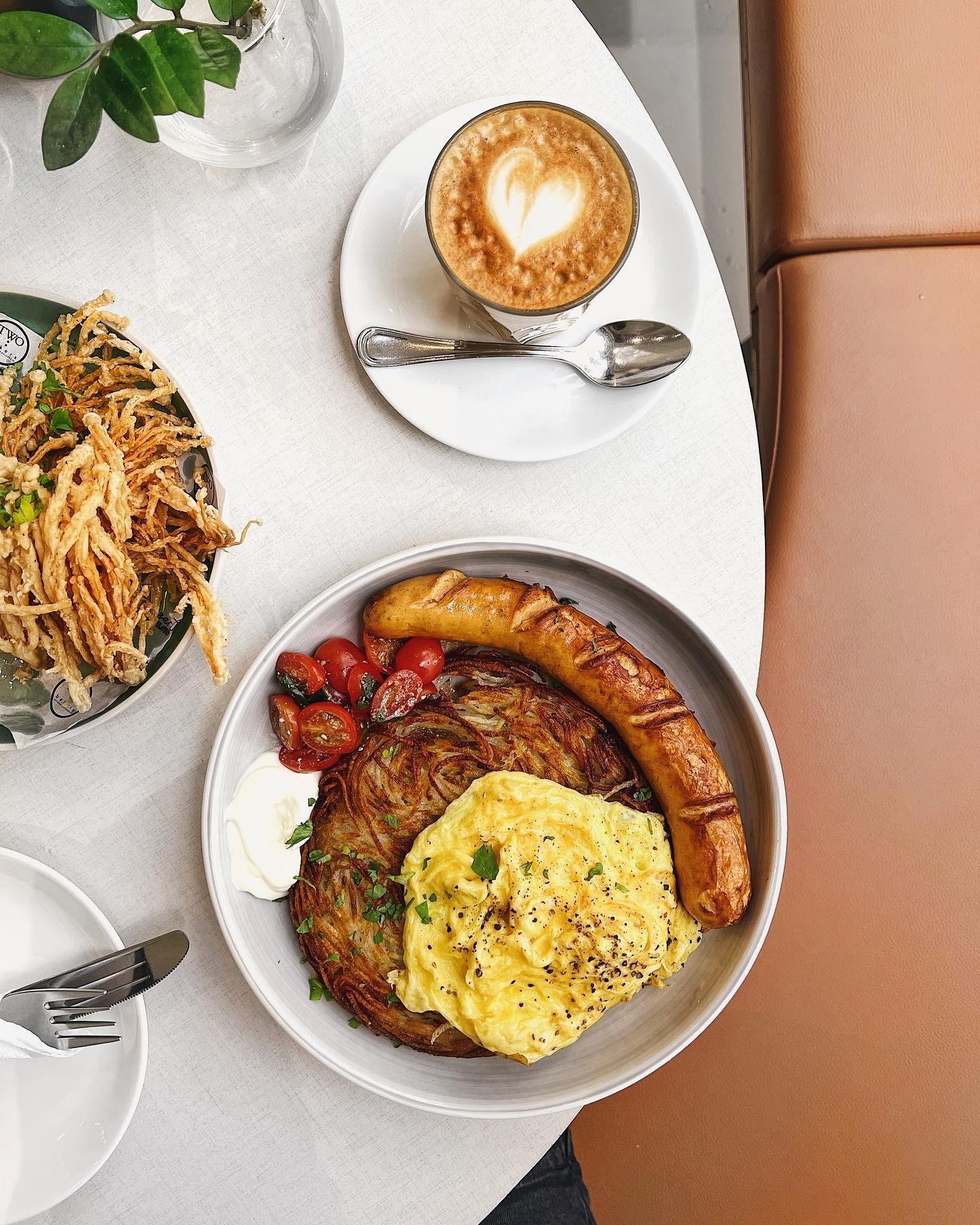 Image credit: @jacqsowhat
A few shops down from Choupinette is Daily Ground, where you can find crispy rostis and other brunch plates. Splurge on the Ultimate Rosti ($28+), which comes with 180g of juicy Ribeye and fragrant truffle hollandaise sauce. Otherwise, a simple Rosti Eggs Benny ($20+) or Rosti and Sausage ($24+) is more than enough to fill you up. 
Address: 619D Bukit Timah Road, #01-01, Singapore 269724
Opening hours: Tue-Thurs 8.30am to 6pm, Fri-Sat 8.30am to 9pm, Sun 8.30am to 5pm
Tel: 8518 0587
Website
---
14. Belly Good Bakehouse
---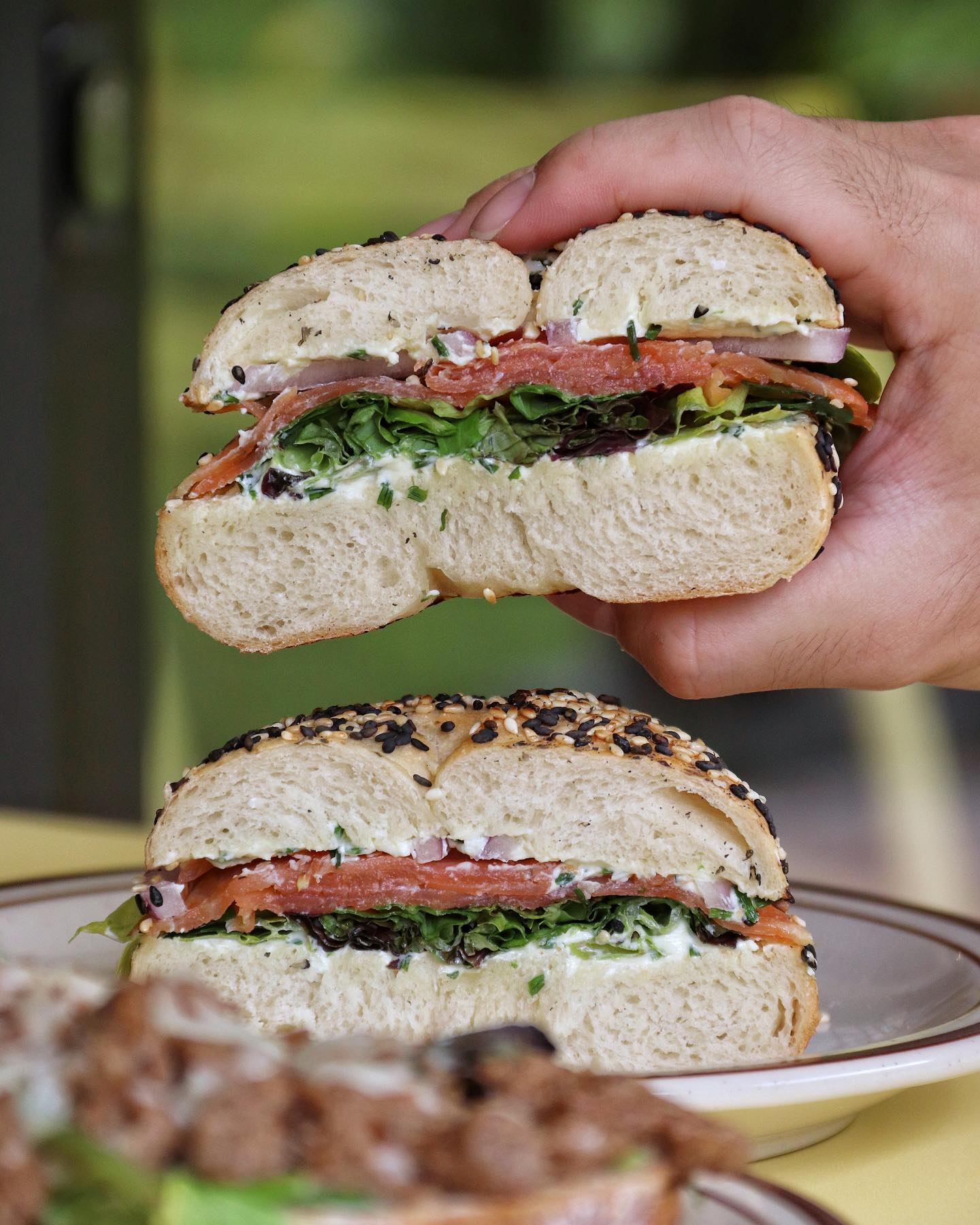 Image credit: @yongweikai
One of the newer cafes in the West that has opened, Belly Good Bakehouse sells indulgent cupcakes and pastries, but the showstopper is definitely their bagel sandwiches. Stick to the good ol' Salmon And Chives ($15), or switch it up with their Monte Cristo ($14), which comes with smoked ham and raspberry cream cheese for a contrasting tanginess. 
Address: 2 Pandan Valley, #B1-204C, Acacia Court, Singapore 597626
Opening hours: Wed-Sun 9am to 5pm
Tel: 8366 5992
Website
---
15. Surrey Hill's Grocer
---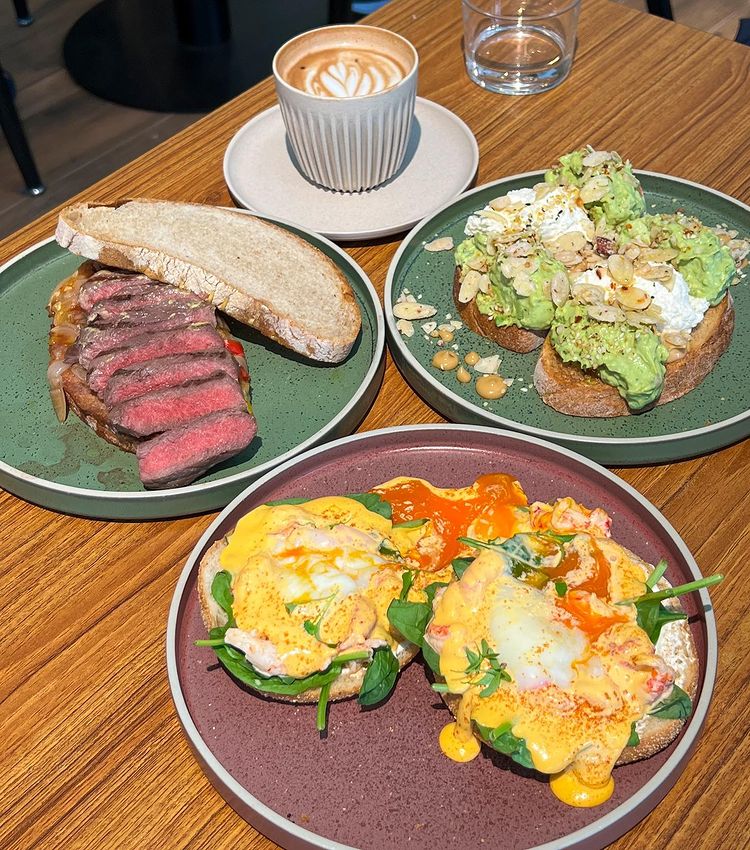 Image credit: @thegluttonproject
Doubling up as a grocery store and cafe is Surrey Hill's Grocer. Take note that their brunch menu is only available from 11am to 3pm, so plan your trip wisely if you're set on ordering a plate of Avo ($19+) with whipped ricotta and a vegemite emulsion or enjoying the marinated crayfish, molten eggs, and toasted English muffins in the Crayfish Benny ($24+).
Bonus: the cafe is dog-friendly too!
Address: 511 Upper Jurong Road, #01-01, Arena Country Club, Singapore 638366
Opening hours: Tue-Sun 10am to 9pm
Tel: 8831 3765
Website
---
16. W39 Bistro And Bakery
---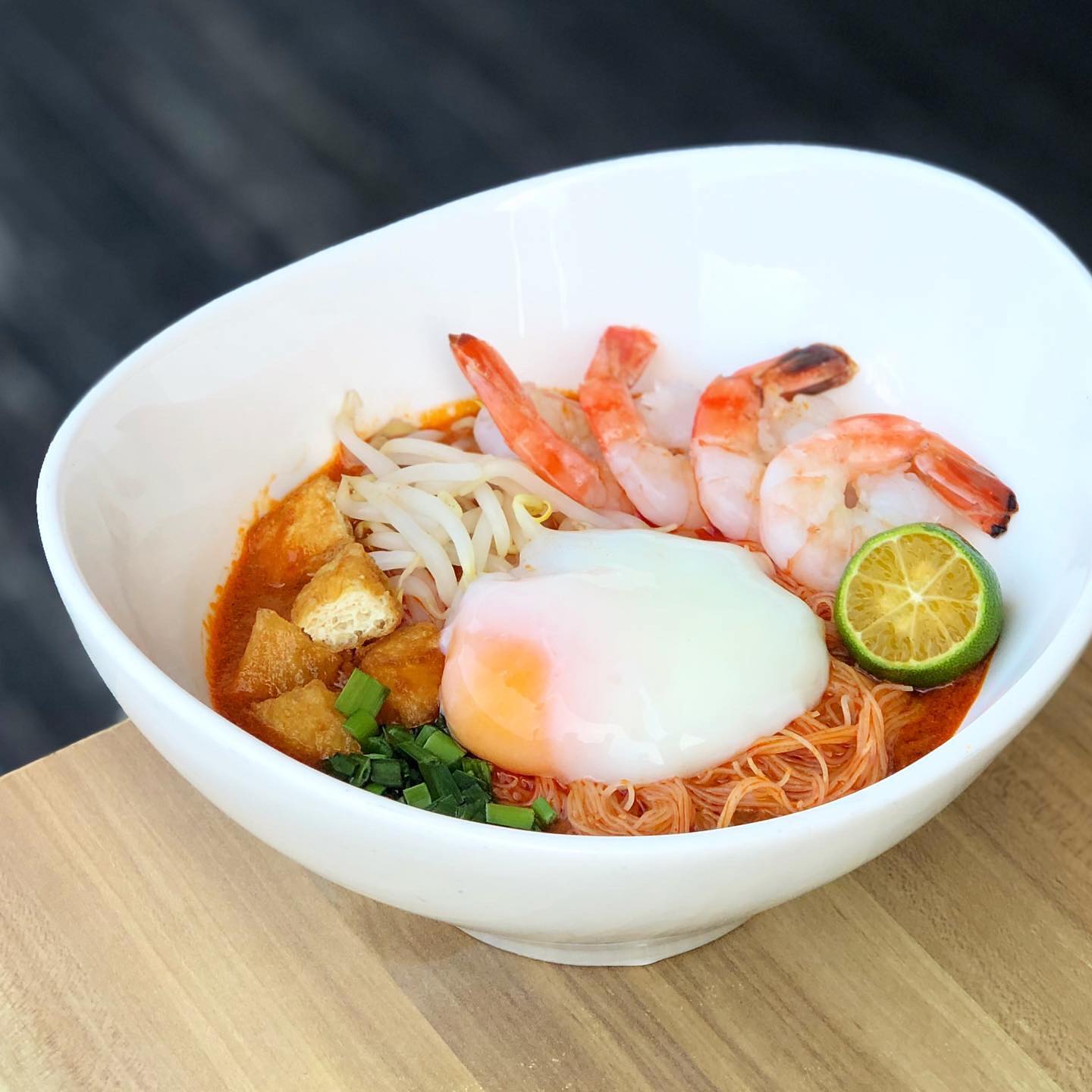 Image credit: @w39bistro
If you're craving something more local, visit W39 Bistro And Bakery for spruced up Singaporean favourites. Dishes you can expect include a Nyonya Mee Siam ($14+) that comes with a perfect sous-vide egg, as well as sourdough breadsticks to be dipped into house-made mango kaya with desiccated coconut and gula melaka with sea salt flakes in the W39 Atas Egg Toast Set ($13+). 
Address: 39 Jalan Mas Puteh, Singapore 128637
Opening hours: Tue-Fri 11.30am to 9.30pm, Sat-Sun 9am to 9.30pm
Tel: 9646 5372
Website
---
17. Yeast Side
---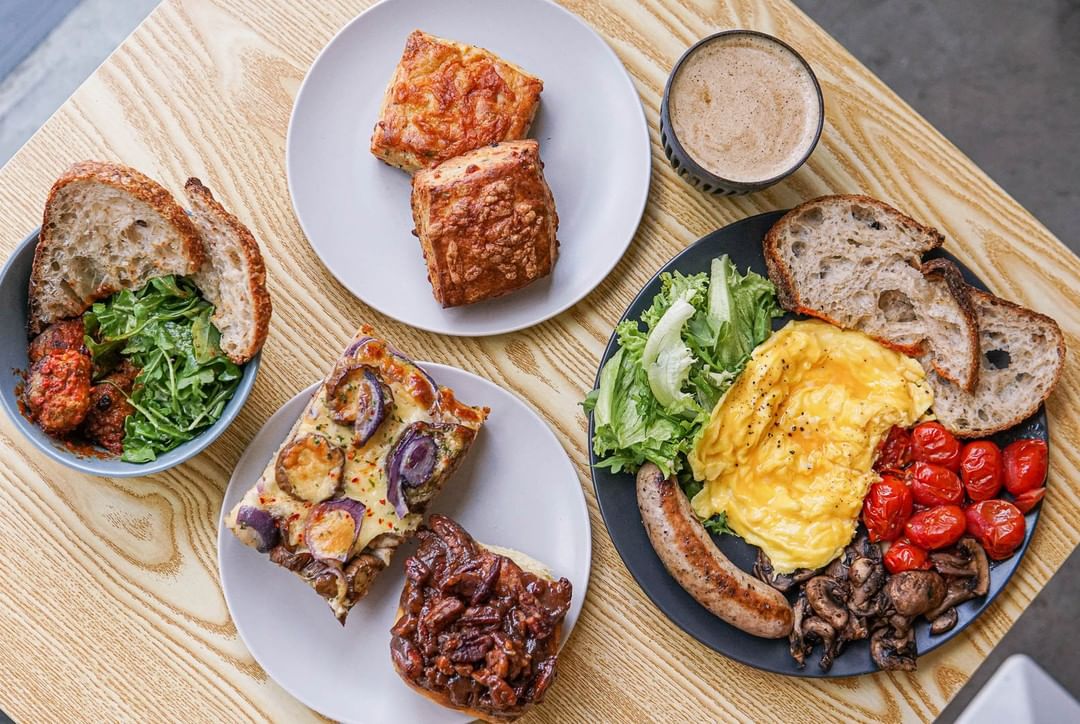 Image credit: @themakanpolice
Specialising in sourdough bakes, Yeast Side's menu is all things sourdough—from toasts to brownies and even pizzas. Try the Grilled Cheese Toastie with Tomato Dip ($16++)—an ooze fest of gruyere, Leicester, and mozzarella between slices of sourdough toast. Other sourdough features include the Egg-ciutto ($17++)—a combination of scrambled eggs, prosciutto, arugula and parmesan atop a sourdough brioche toast, and a variety of sourdough pizzas. 
Address: 9 King Albert Park, #01-09, KAP Residences, Singapore 598332
Opening hours: Wed-Sun 9am to 11pm
Tel: 8891 0525
Website
---
18. Elixir Boutique Roasters
---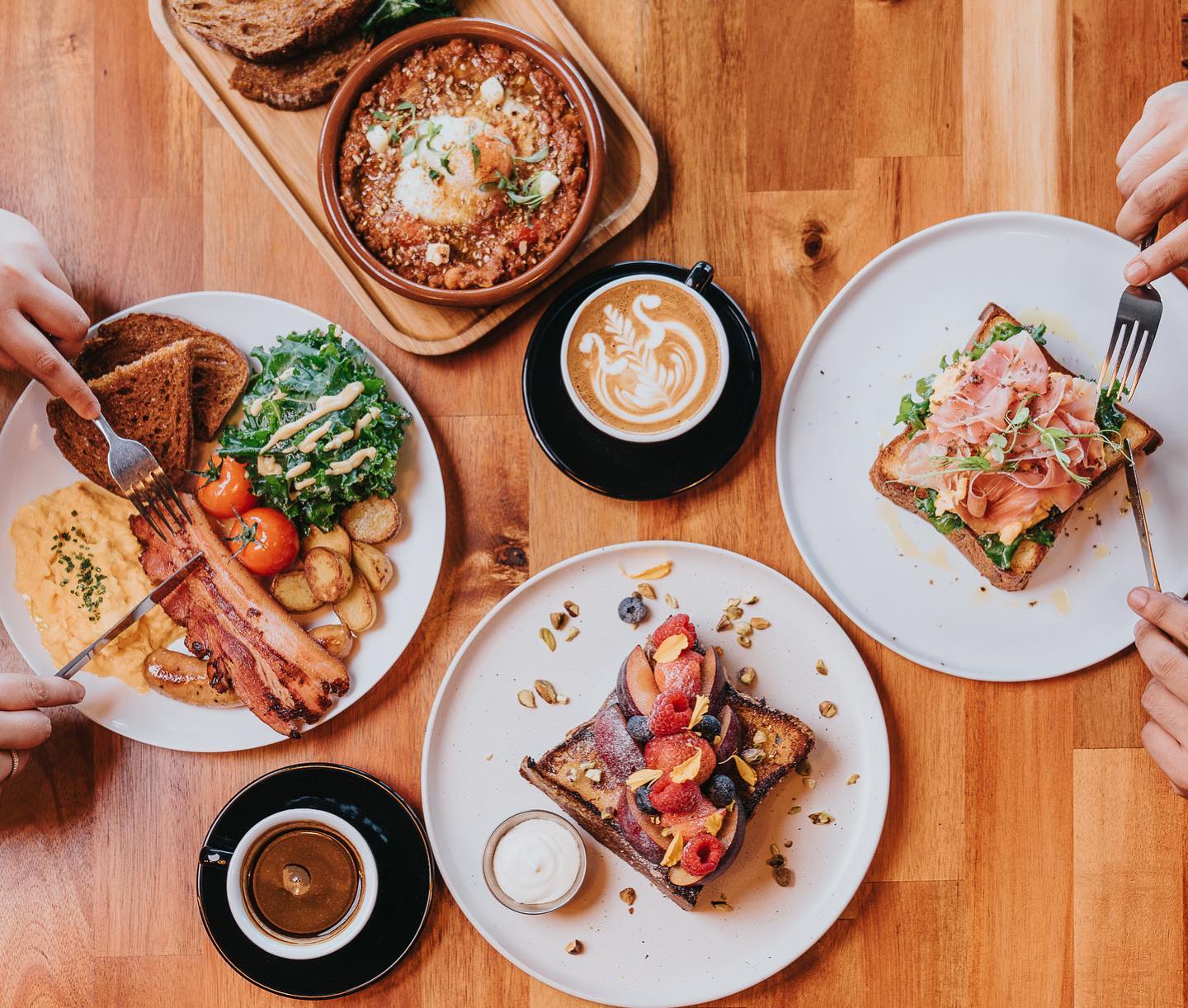 Image credit: @elixir.boutiqueroasters
Hidden in Serene Centre is Elixir Boutique Roasters, a double-identity cafe that serves brunch plates by day, and rice bowls by night. Be sure to make your way here before they close at 4pm if you wish to indulge in a Brûlée French Toast ($18++) that conceals a wonderfully fluffy brioche interior amidst fresh strawberries, peaches, and berries that sit atop the crunchy torched sugar layer. 
Check out our Elixir Boutique Roasters review! 
Address: 10 Jalan Serene, #01-03A, Serene Centre, Singapore 258748
Opening hours: Thurs-Tue 8.30am to 4pm
Tel: 6314 2247
Website
Elixir Boutique Roasters Review: Dual Identity Cafe Serving Wagyu Rendang With Free-Flow Blue Pea Nasi Lemak
---
Cafes in the West to have breakfast at
---
The West boasts a myriad of options for your breakfast and hangouts, just pick one of these cafes in the West to bring your friends and family to. 
If you are looking for more cafes to frequent, check out our list of cafes for brunch and desserts. 
We also have guides to the best cafes in every other Singaporean district! Here are our guides to the best cafes in the East, best cafes in the North-East, and best cafes in the North.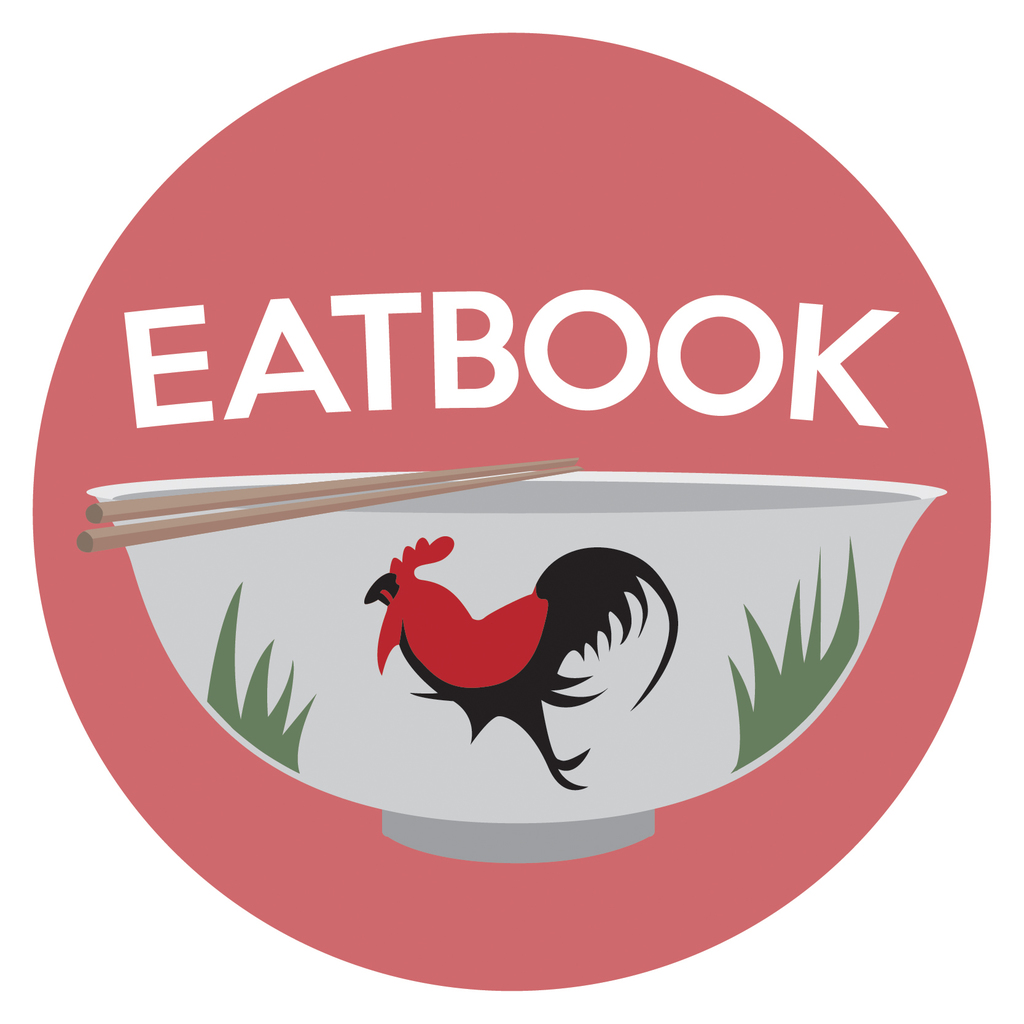 Drop us your email so you won't miss the latest news.