Dewgather at The Star Vista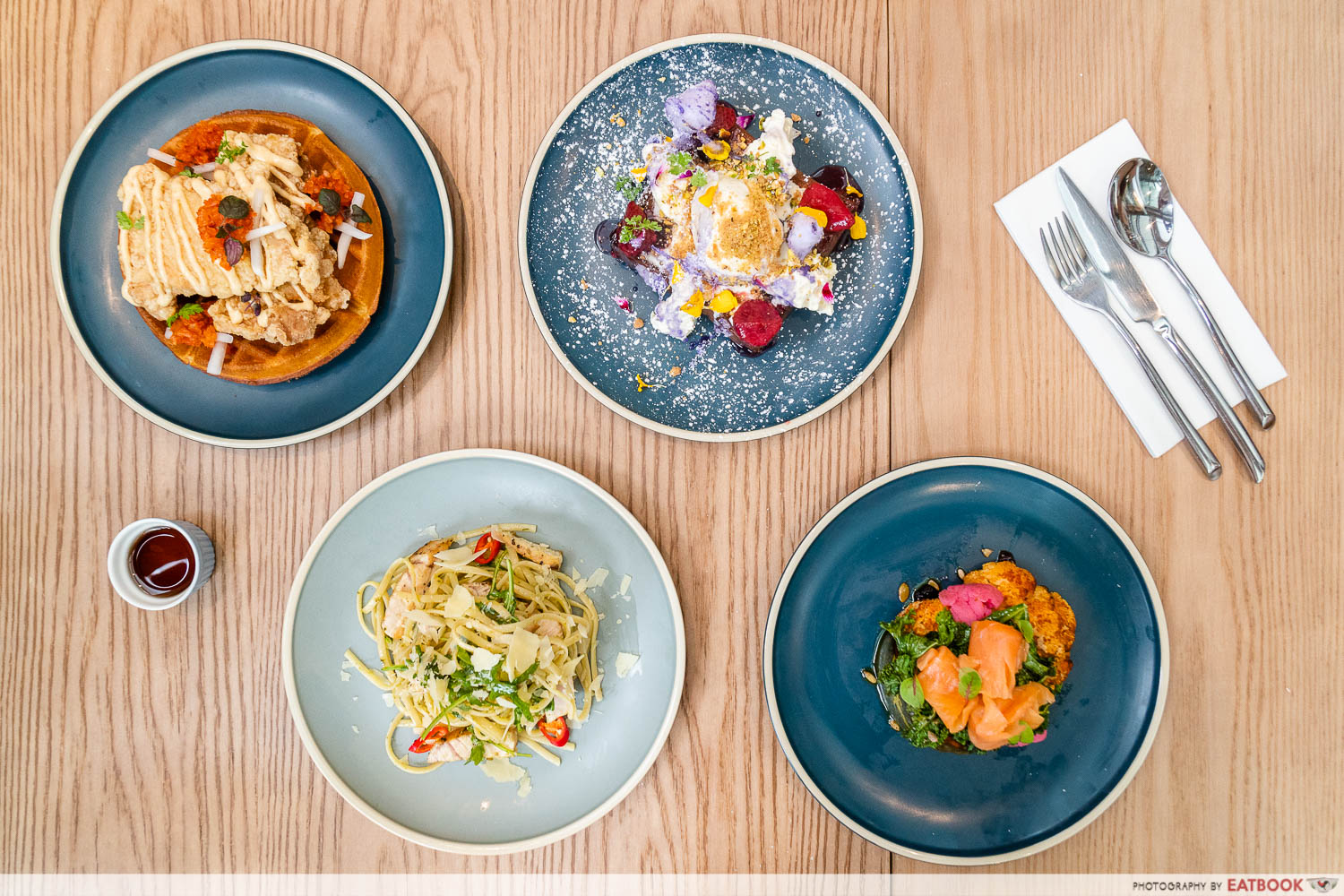 As somebody who has studied in the land down under, I am awfully familiar with the high quality of the cafes there. Hence, I was stoked to find Dewgather, a new Australian-themed cafe, that opened at The Star Vista.
To retain authenticity to their name, they import a good variety of coffee beans and various ingredients directly from Australia.
Food at Dewgather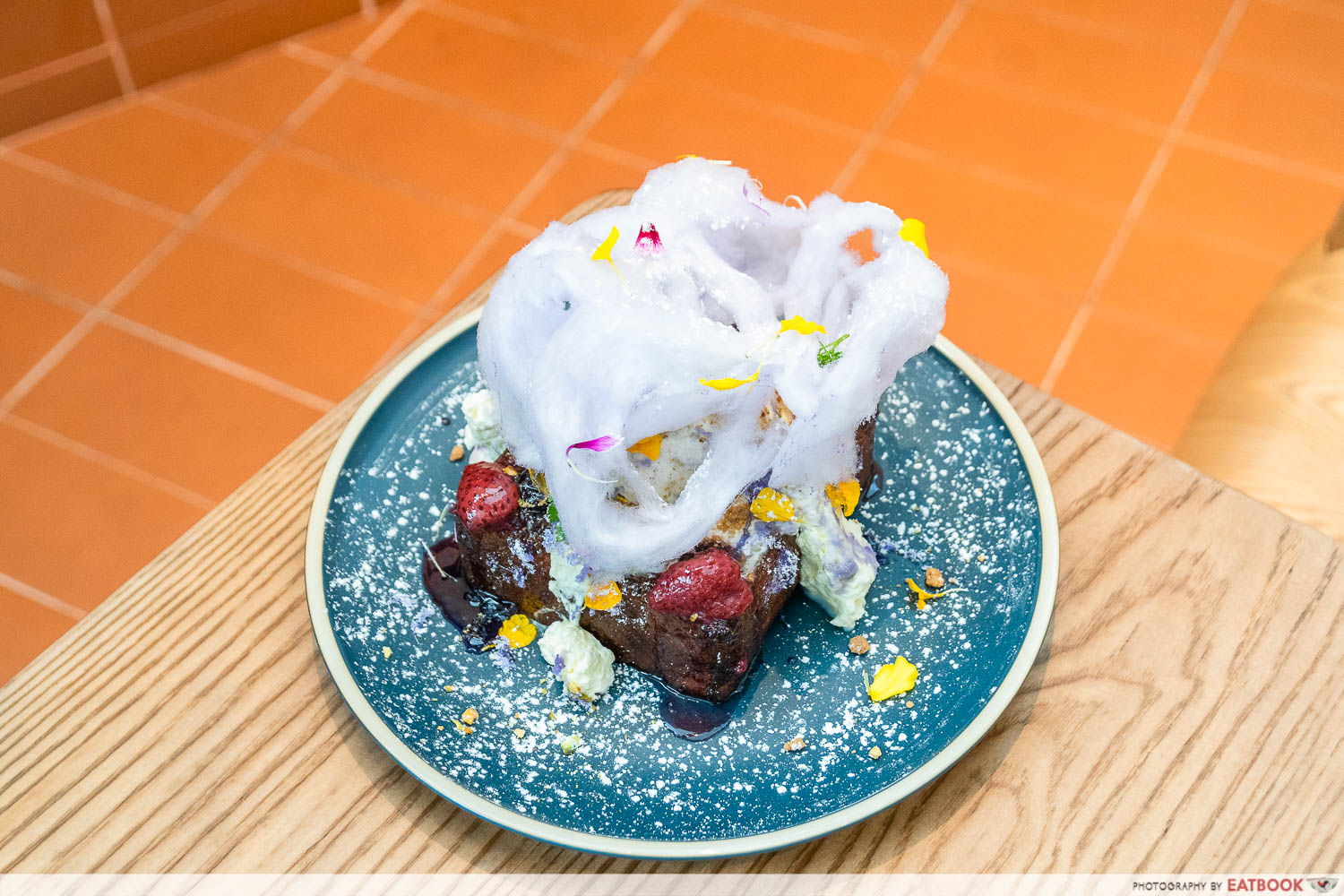 We started off with their best-selling French Toast ($18++) that features cotton candy, a tangy berry compote, ice cream, brown sugar crumble, all atop a thick slice of brioche bread. This was definitely the most IG-worthy dish on the menu, with the pastel purple grape cotton candy embellished with colourful edible flowers.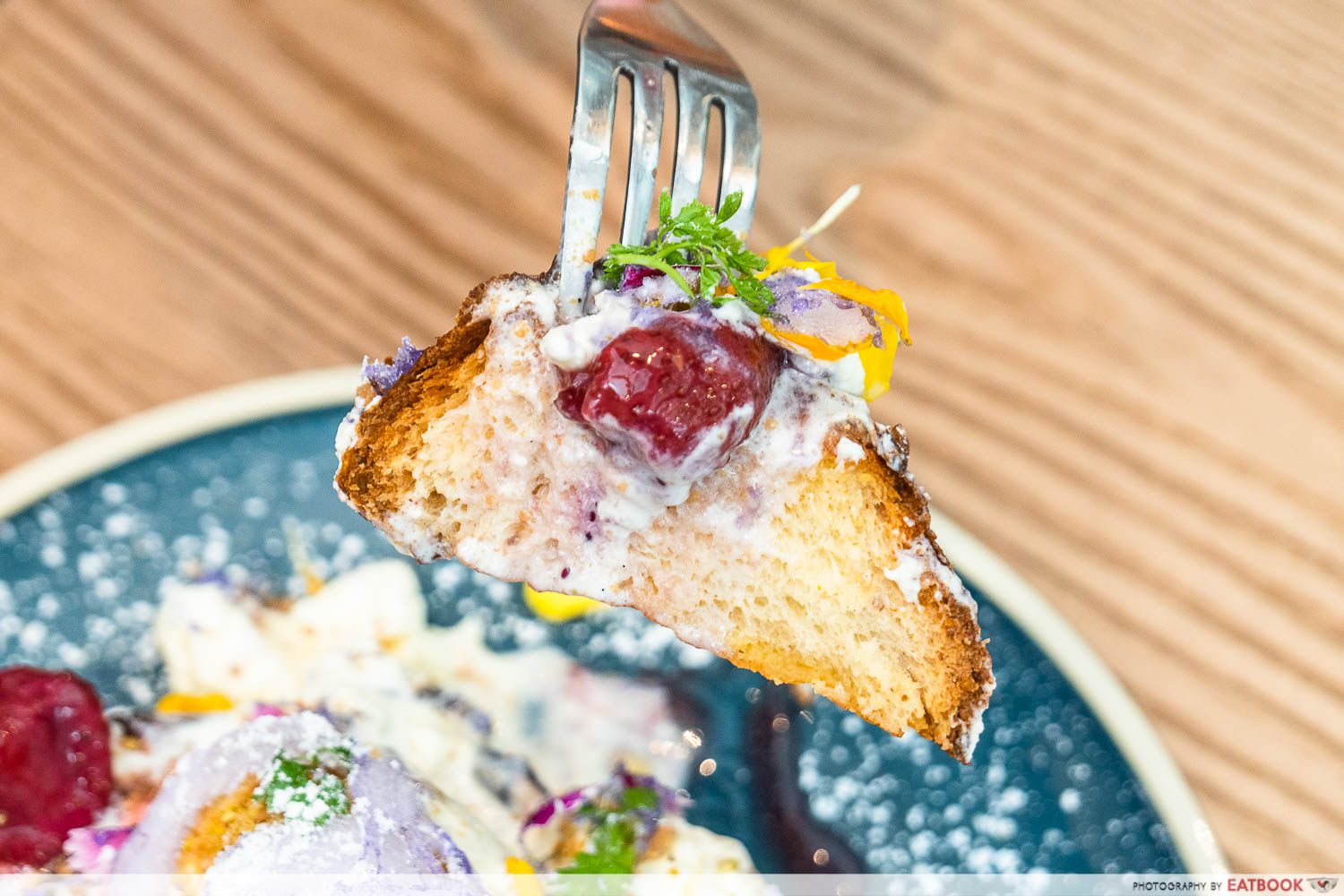 The brioche bread saw a soft and fluffy texture, with a well-toasted crust on the outside. The cold ice cream was a pleasant contrast against the slightly warm toast, while the grape-flavoured cotton candy added a kick of tanginess to keep the dish from being too jelak.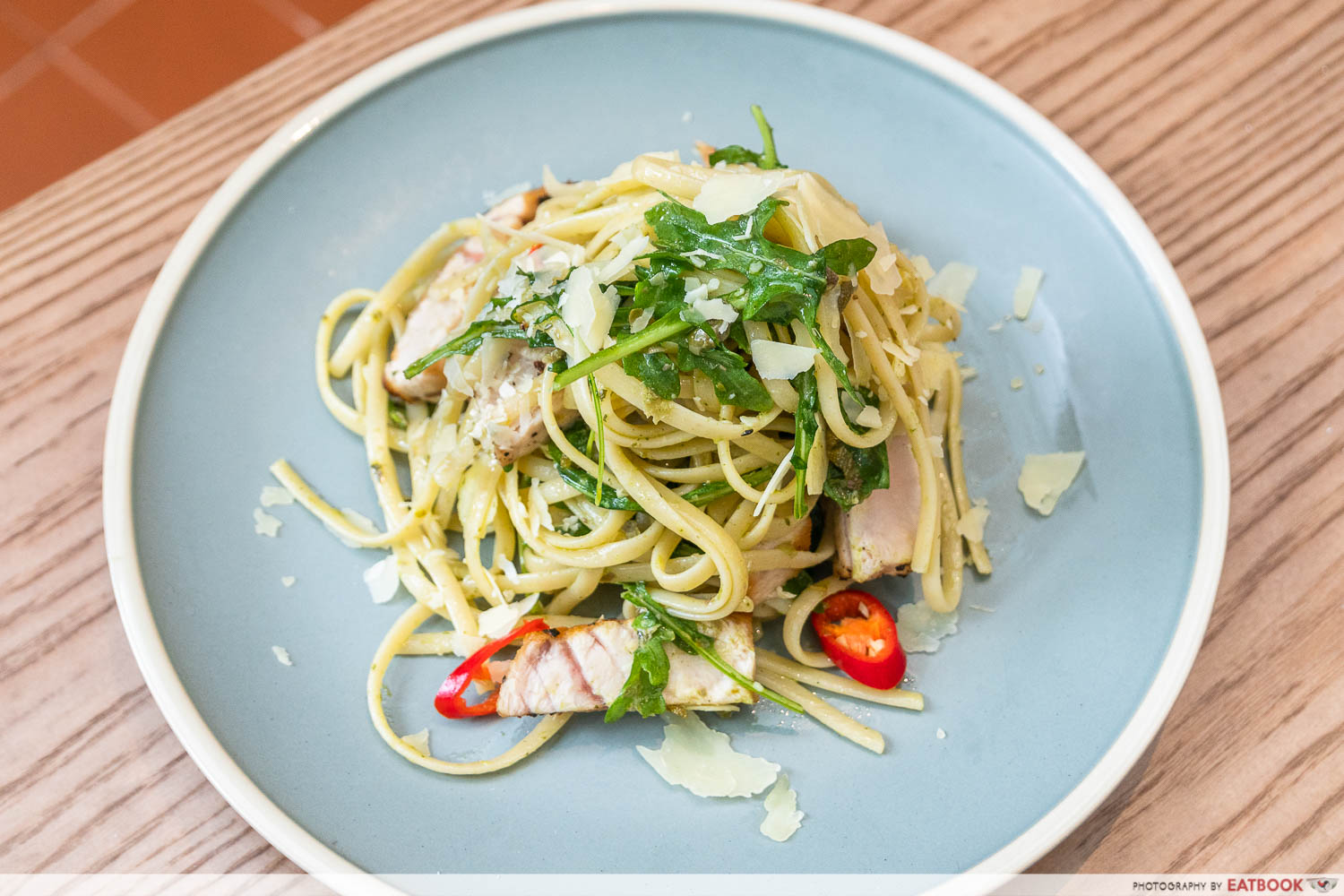 Moving on to their savoury dishes, I went for the Dew Swordfish Pasta ($22++), which came with a portion of linguine pasta topped with chunks of swordfish pieces, parmesan cheese, rocket leaves, and red chillies. Up till then, I had never heard of this swordfish and pasta combination, and hence was excited to give this dish a go.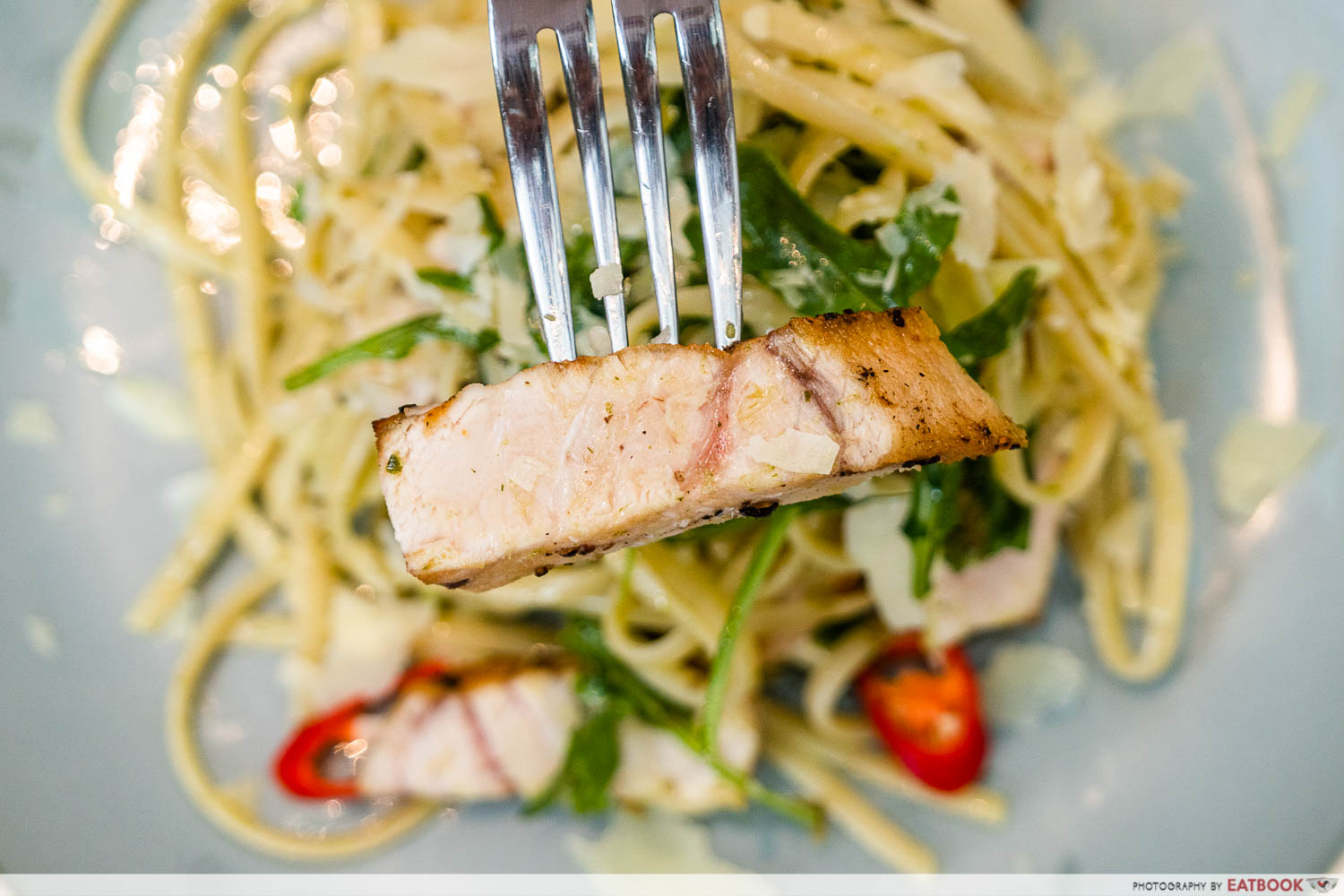 To my slight disappointment, the swordfish hefty chunks were a little too tough for my liking. They were also a bit dry, with a consistency similar to that of chicken breast. The seasoning of the pasta was also a tad bit too sour. However, I might be biased as I am not a fan of sour-tasting dishes. 
Overall, this is not something I would order again, but is a unique dish that is worth a try.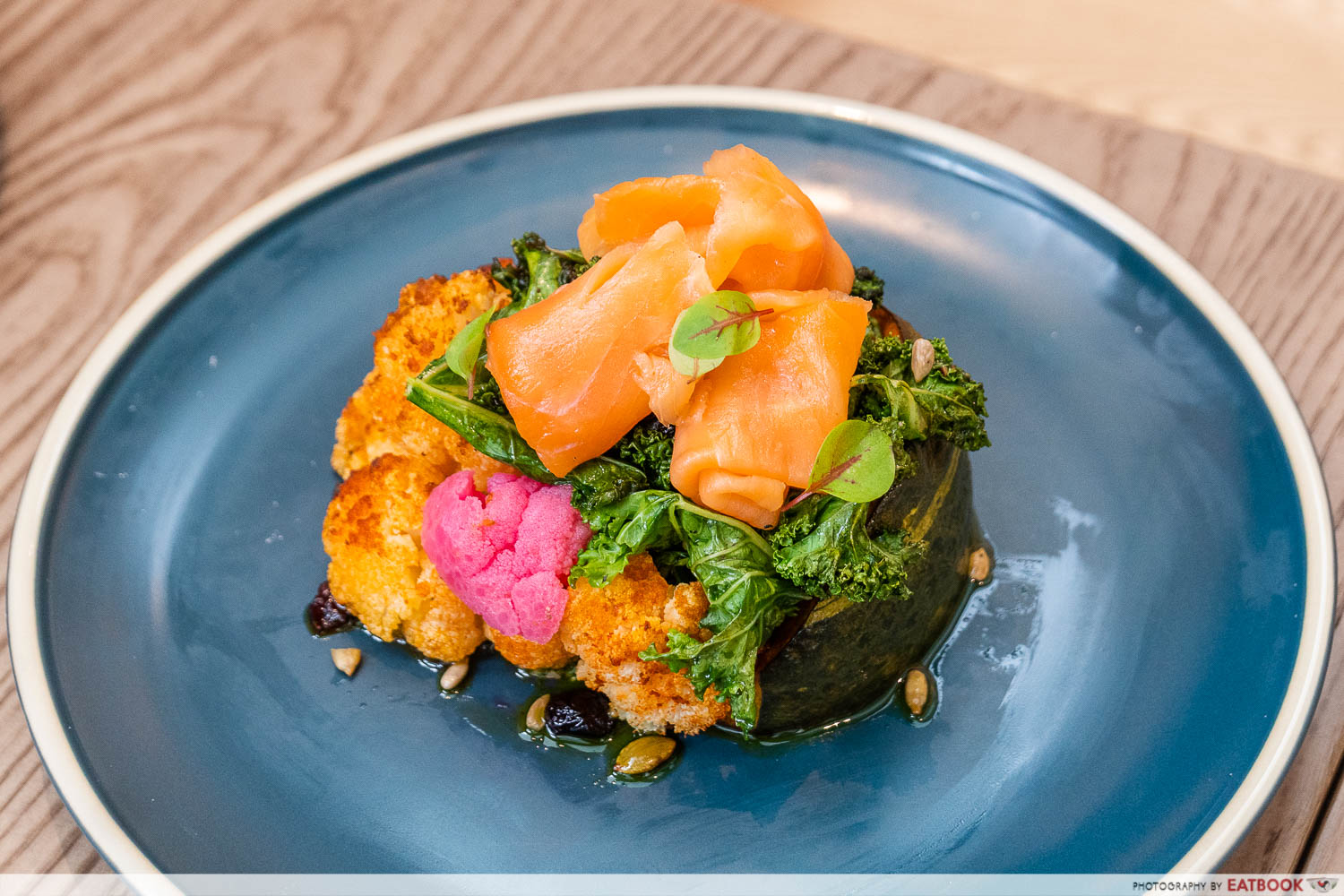 Going for something on the healthier side, I went for the vibrant-looking Dew Harvest Bowl ($22++). Formed nicely on a flat plate, this dish came with both roasted and pickled cauliflowers, thick slices of smoked salmon, kale, and Japanese pumpkin. It is finished with sunflower seeds and a unique cashew nut pesto.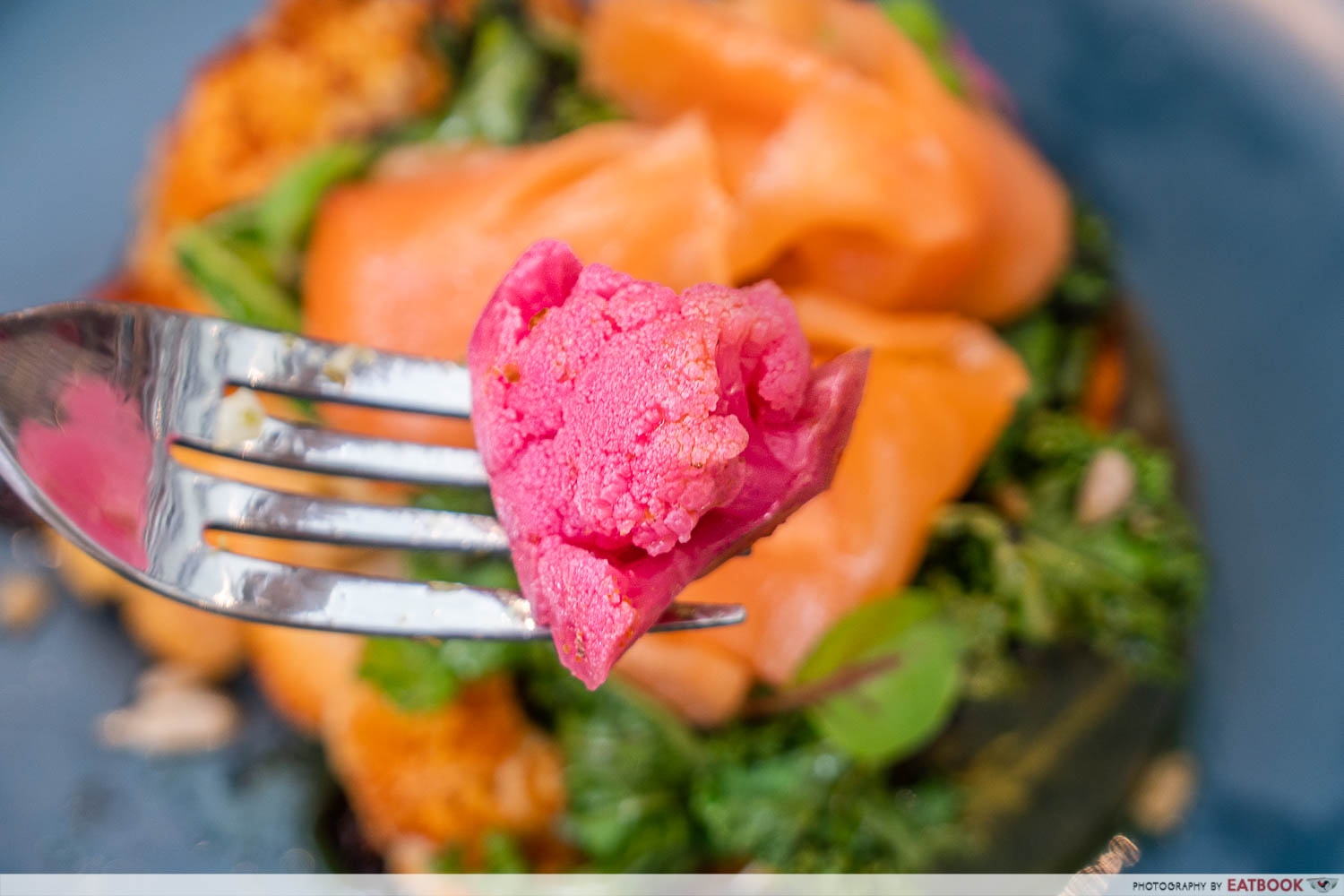 What really caught my eye was the fuchsia pickled cauliflower that peeked out from the bowl. It had a strong sourish flavour, with a subtle hint of sweetness at the end. The roasted cauliflowers had a slight kick of spice, which I suspect to be from the chilli powder in the marinade. 
The kale and rocket leaves added an extra crunch to this clean-tasting dish, and I highly recommend this for those who are looking to try out a healthier diet. 
Finally, I went for their Waffles & Fried Chicken ($20++), which features a whole buttermilk waffle topped with fried chicken, kimchi, garlic aioli, pickled daikon, and maple syrup. 
I didn't really enjoy the combination of kimchi and waffles, however, having it with the chicken alone was rather satisfying. The fried chicken saw a crispy and savoury batter, which contrasted well with the decadent maple syrup. The waffles were fluffy and fragrant, with a hint of acidity from the buttermilk. 
Ambience at Dewgather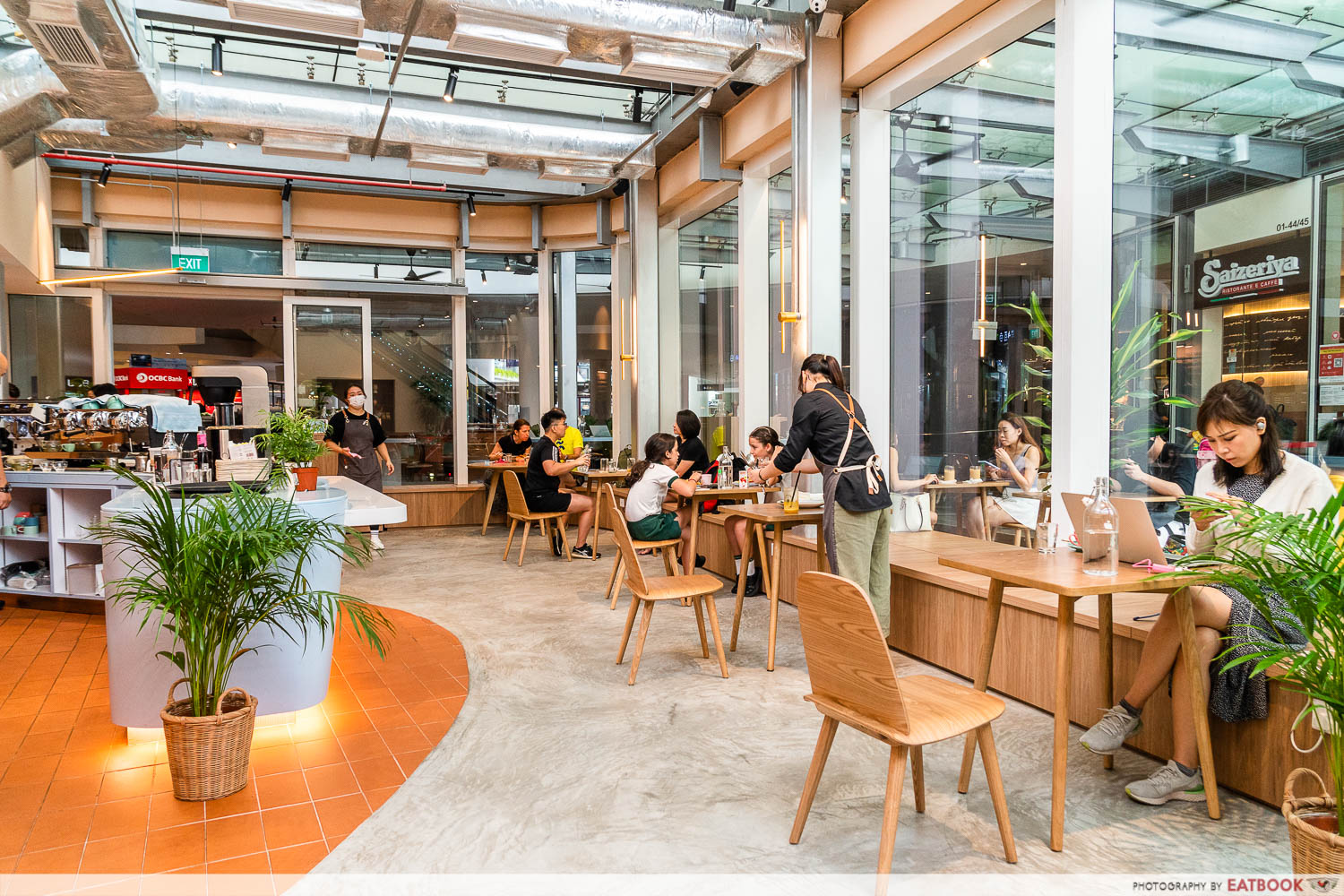 Situated in The Star Vista, you can get here very easily via Buona Vista MRT Station. You will definitely not miss this cosy cafe, which has both outdoor and indoor seatings. This place tends to get quite crowded during lunch and tea break hours, so do head down early if you want to get good seats! 
The verdict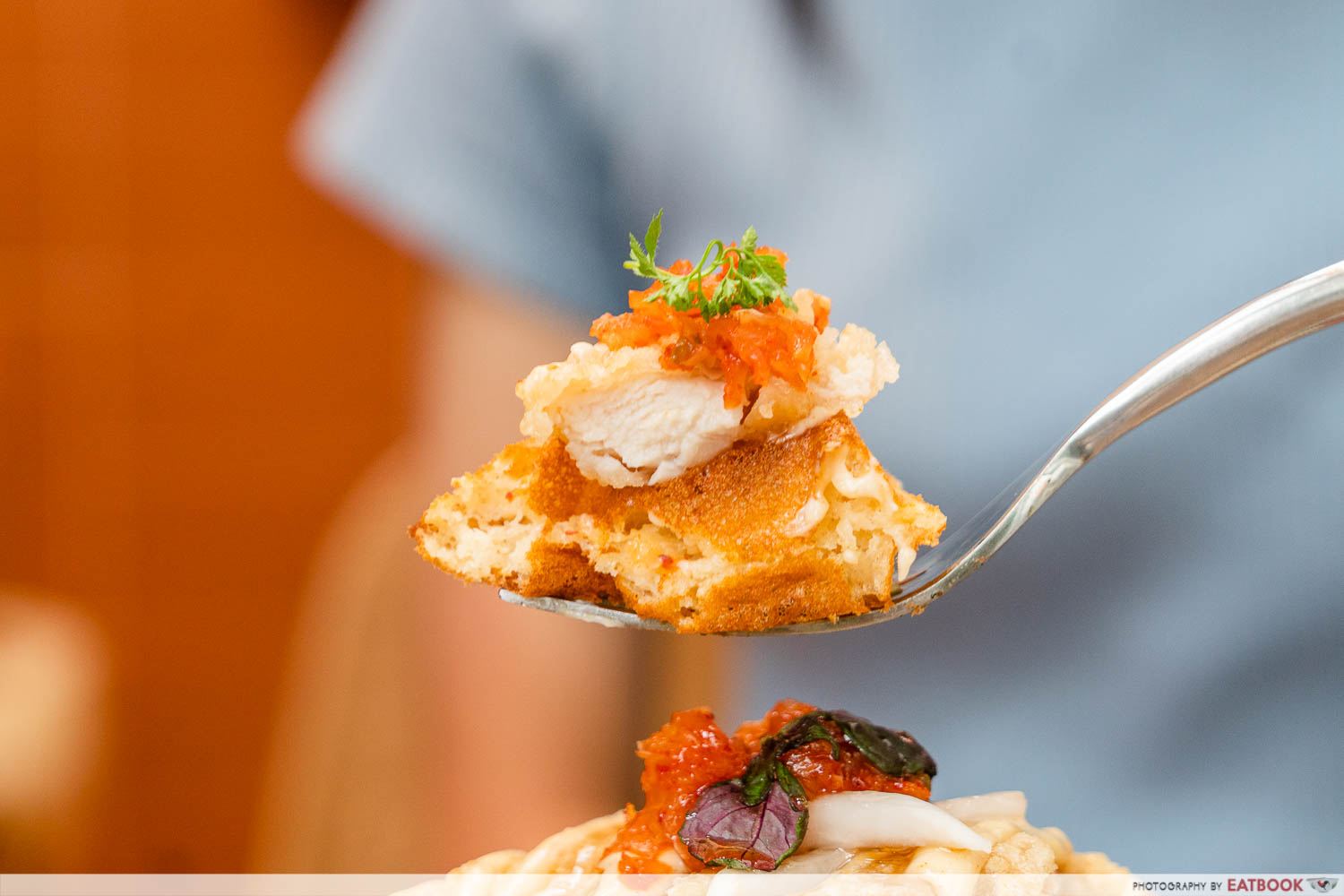 I definitely see myself returning to Dewgather, especially for their delicious french toast alongside a cup of aromatic coffee. It is a chill cafe that is perfect for studying, or for a relaxing tea break with friends and family.
Although not all the dishes sat well with me, it was a very nostalgic experience that reminded me of my time in the land down under. 
For more food in the area, check out our Chen's Mapo Tofu review for aromatic mapo tofu, suan la tang and more! If not, there is also Monki Cafe that recently opened at The Star Vista, serving affordable Taiwanese food under $10.
Address: 1 Vista Exchange Green #01-46, The Star Vista, Singapore 138617
Opening hours: Daily 8am to 10pm
Website
Dewgather is not a halal-certified eatery.
Photos taken by Tan Zi Hui.
This was an independent review by Eatbook.sg
Dewgather Review: New Cafe At The Star Vista With Cotton Candy French Toast And Fried Chicken And Waffles
Dewgather Review: New Cafe At The Star Vista With Cotton Candy French Toast And Fried Chicken And Waffles -

7/10
Summary
Pros
– The brioche bread was fluffy and soft
– Generous portions of food
Cons
– The swordfish was a little too tough
– Prices are a little steep
Recommended dishes: French Toast ($18++)
Opening hours: Daily 8am to 10pm
Address: 1 Vista Exchange Green #01-46, The Star Vista, Singapore 138617