Two Cranes at Hougang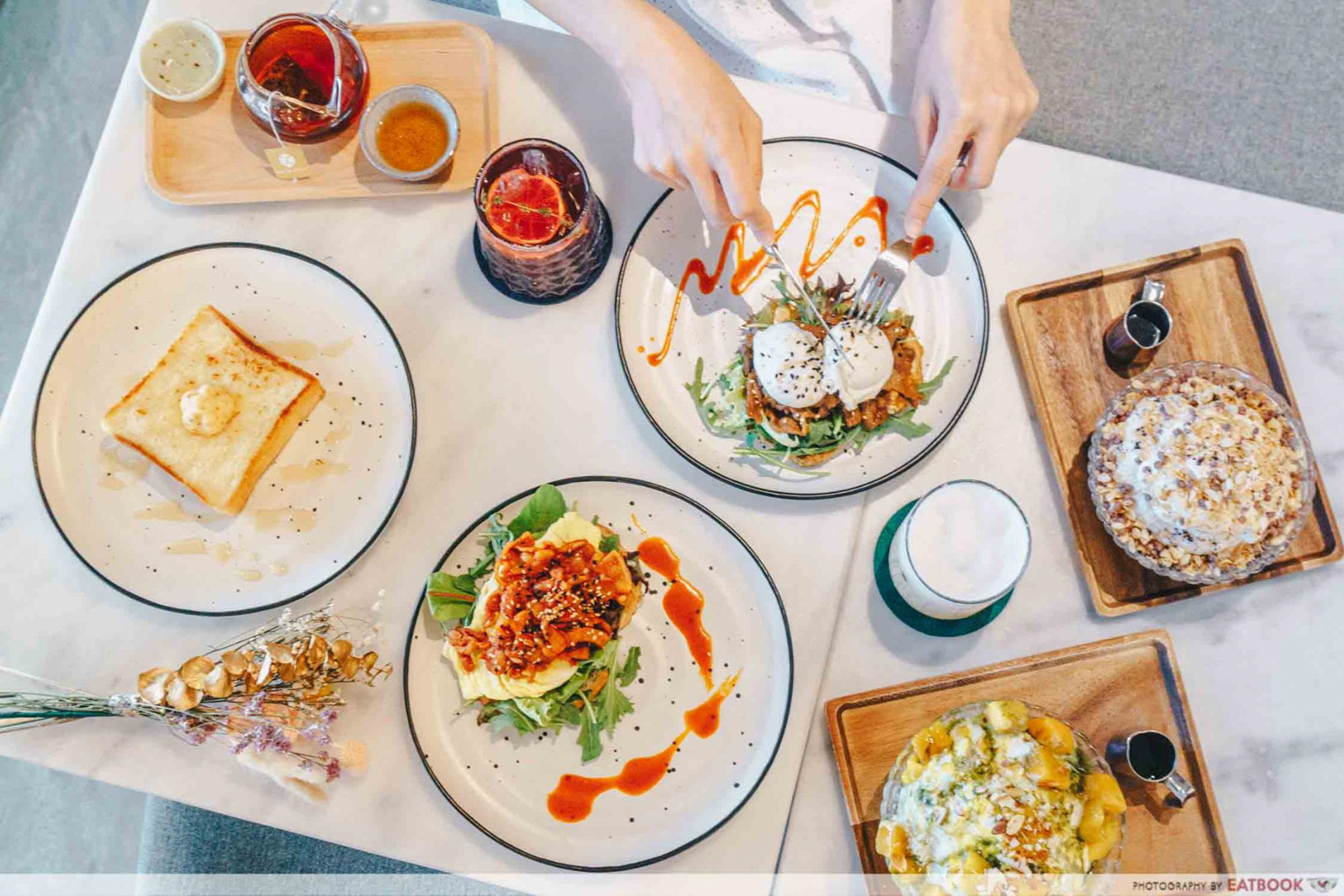 Minimalist cafes have a certain aesthetic that basic girls, such as myself, are attracted to. The effortless design is a vibe on its own, where you'll automatically feel calm once inside. As a cafe-hopper, I was pretty excited when Two Cranes invited us down to visit their Korean-fusion cafe at Hougang.
9 Minimalist Cafes In Singapore That Spark Joy For Your Weekend Brunch Dates
The cafe's fun name pays homage to Korea's art culture and auspicious number two. In line with supporting local, they've worked with a Singaporean illustrator to conceptualise the cute logo. This features two children, playfully named Wonda and Fu, in crane costumes.
Food at Two Cranes
You can look forward to brunch favourites, such as eggs Benedict, with a Korean twist at Two Cranes. The straightforward menu aligns with their minimal theme, so you won't get overwhelmed by a plethora of savoury and sweet choices. 
I decided on Spicy Dakgalbi with Scrambled Eggs ($13.50) to start the meal.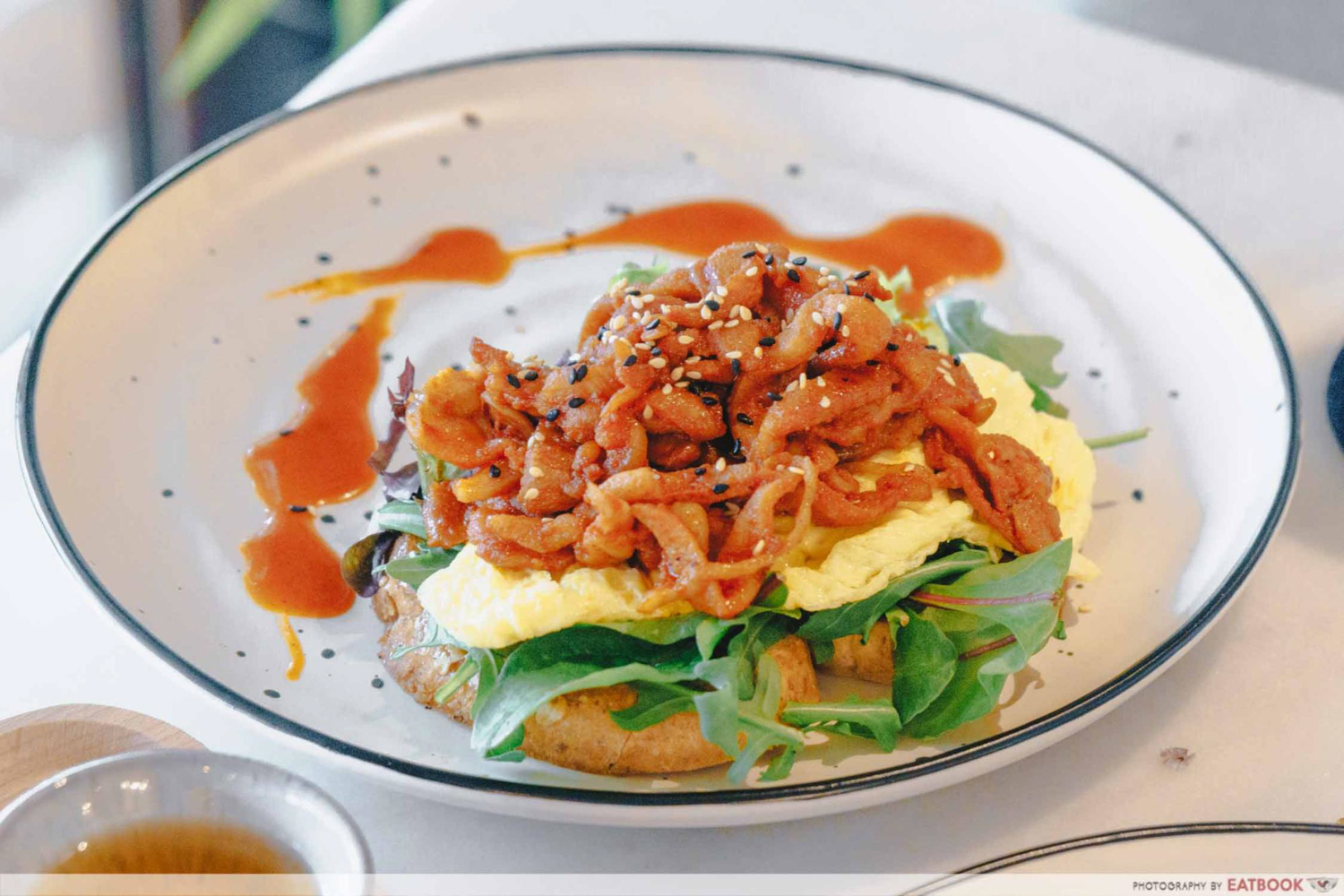 I'm used to having scrambled eggs toast served with avocados or smoked salmon. But Two Cranes gives a twist to this classic brunch dish by replacing those usual toppings with Korean spicy stir-fried chicken and a sprinkle of sesame.
Everyone knows Korean cuisine for their intense spice game, so the bright red hues from these chunks of meat seemed like a warning.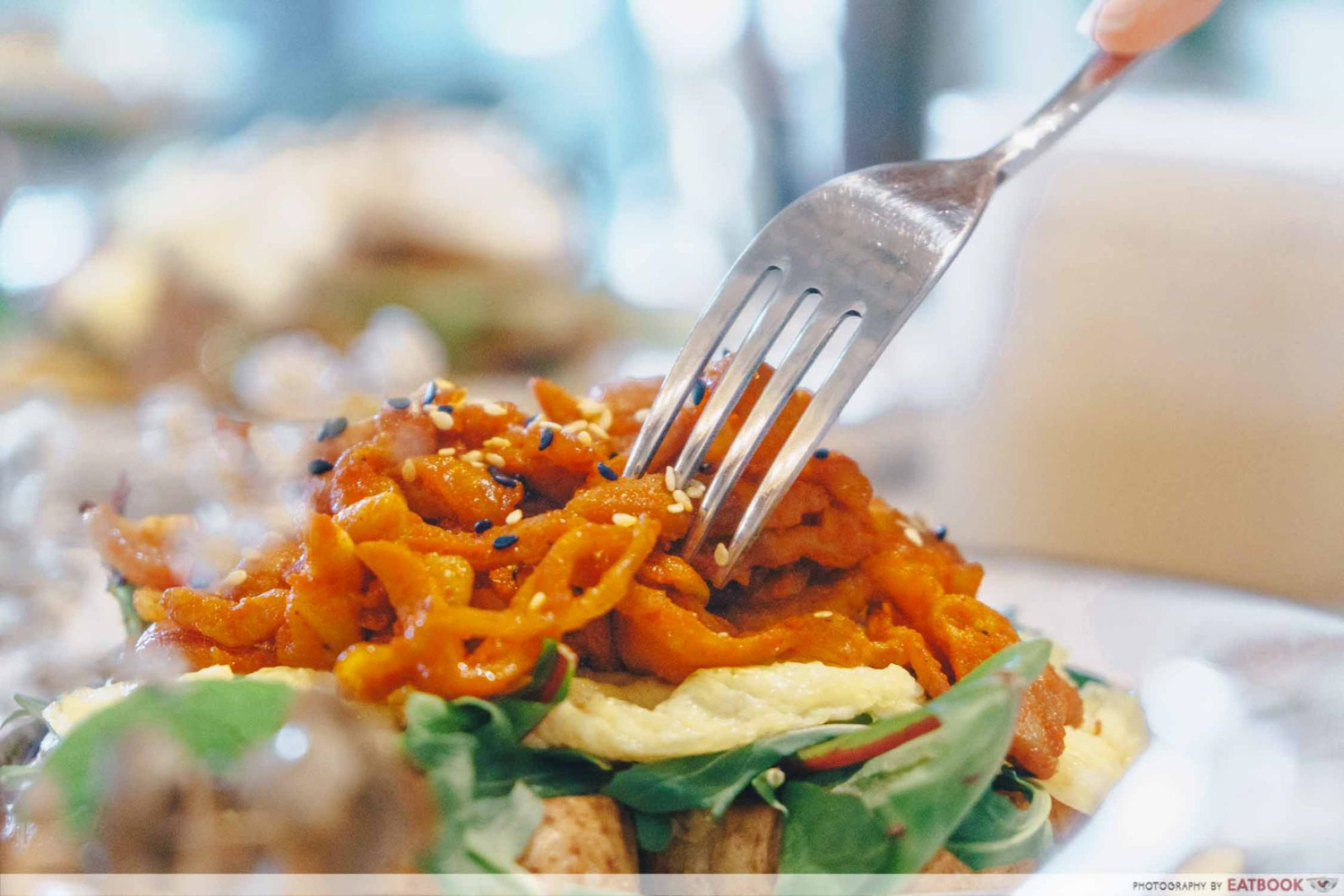 With a glass of water on standby, I took a mouthful of this chunky toast. It was a breeze biting through the tender chicken slices. Surprisingly, this well-seasoned meat was on the sweet side with a mild spicy kick. Instead of going heavy on the gojuchang sauce, which is a popular Korean red chilli paste, Two Cranes sweetened this marinade to suit our local taste buds.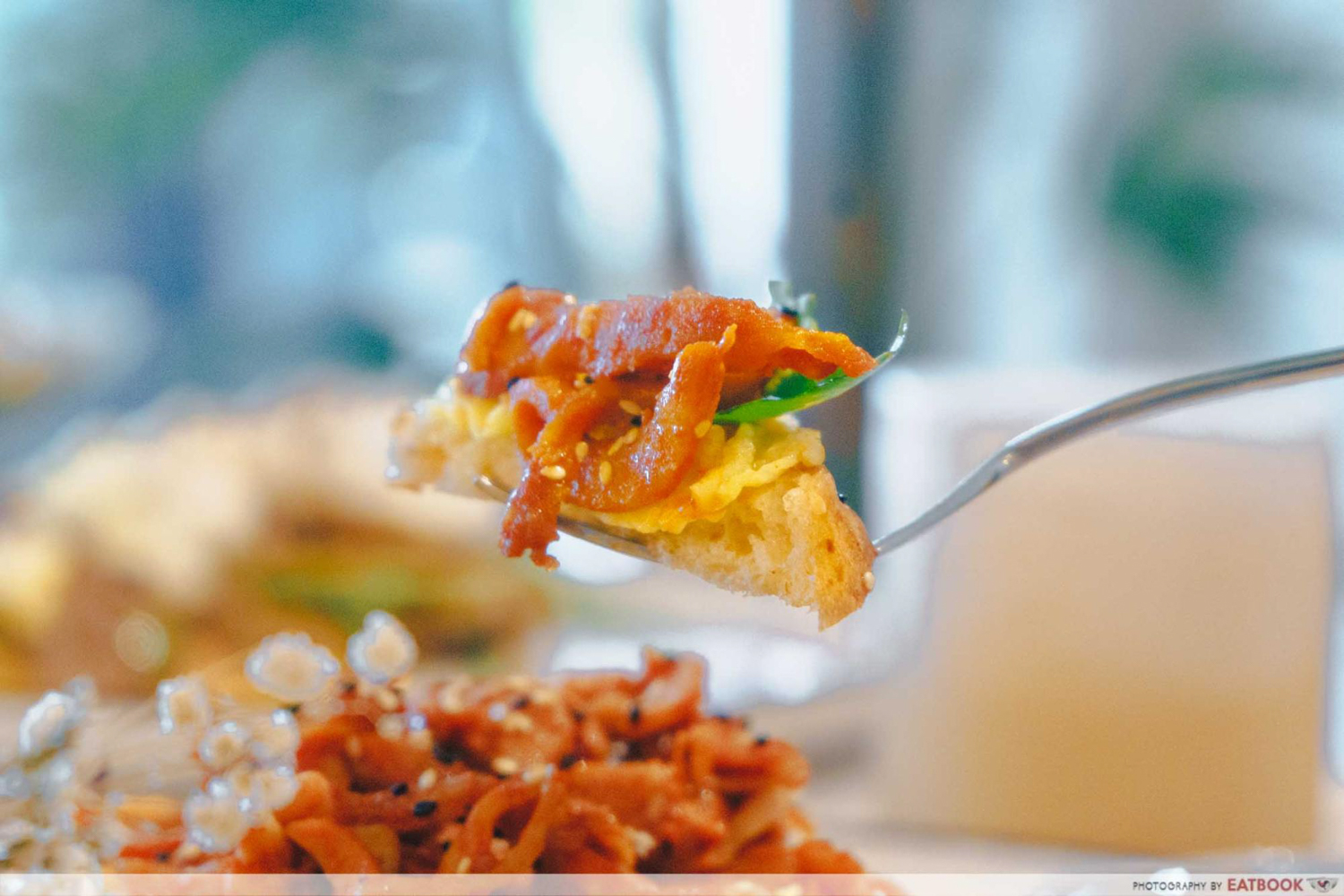 The creamy scrambled eggs added textural contrast to the chewy toast. Plus its butteriness helped to cut through the heat of the spicy marinade.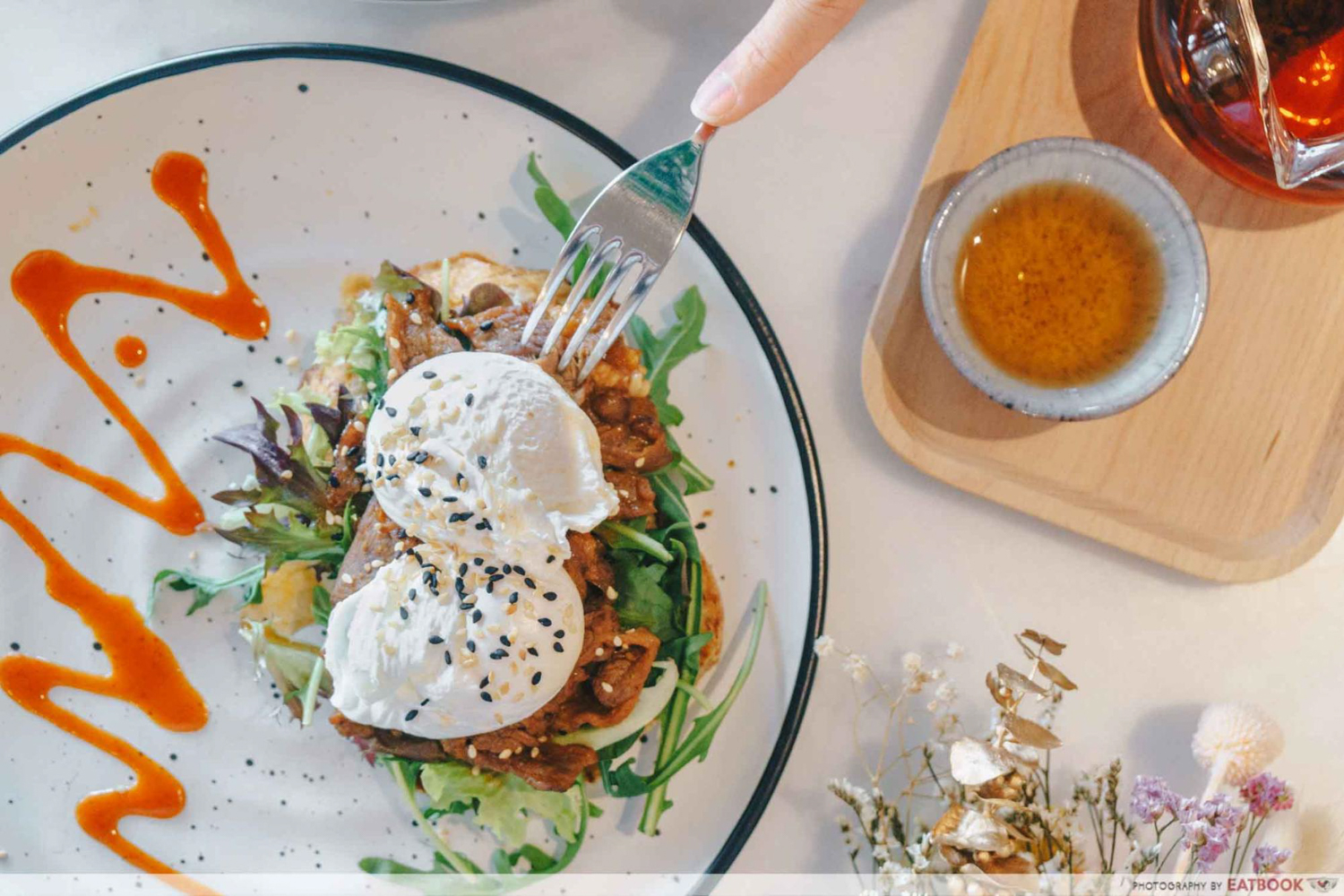 For those who absolutely cannot tolerate spicy food, there's the option of 2 Cranes Boeuf Benedict ($15), which features stewed Korean beef slices.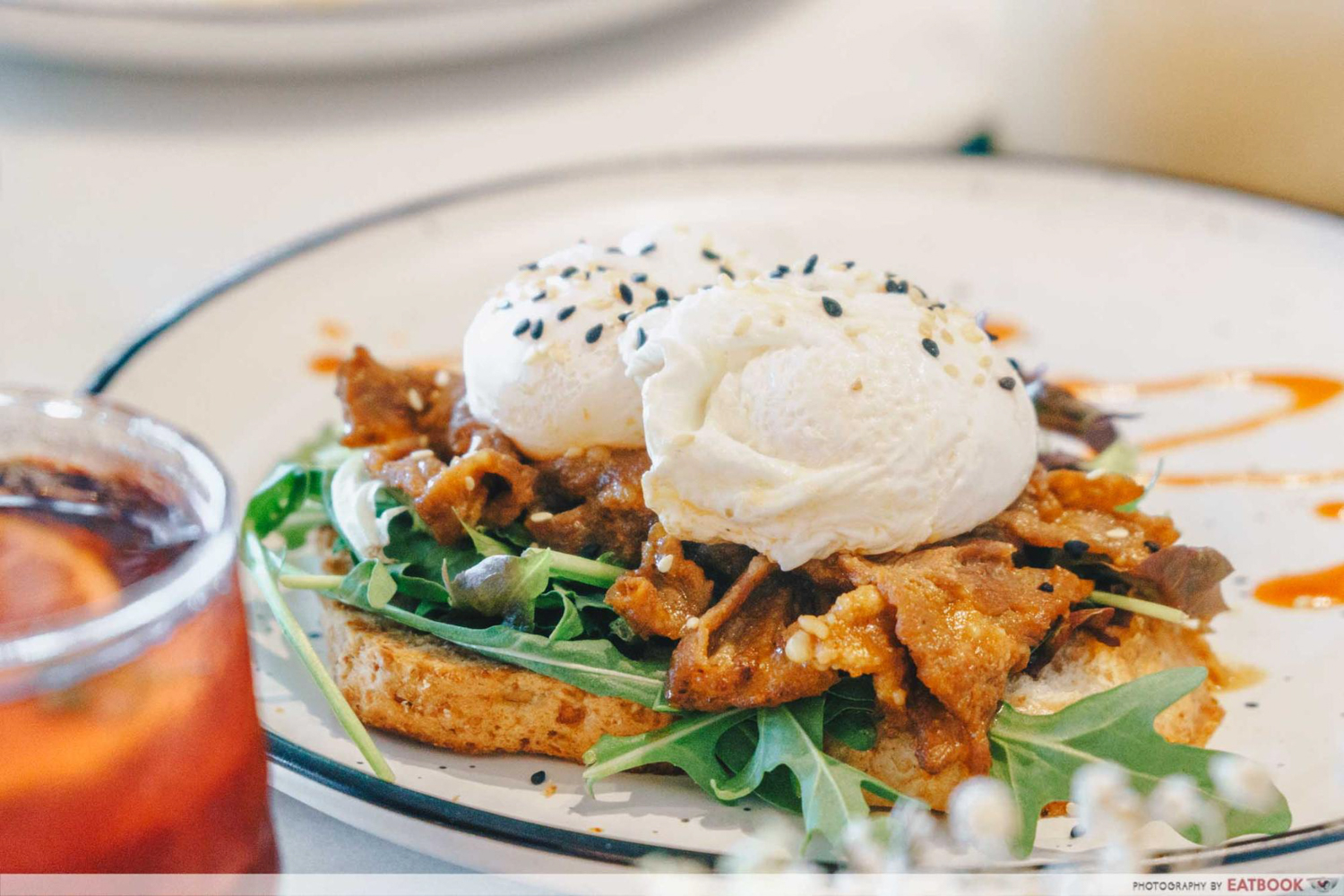 This stunning open-faced sandwich stacked crispy rocket leaves and aromatic beef slices on a buttered piece of toast, with a finishing touch of two jiggly poached eggs.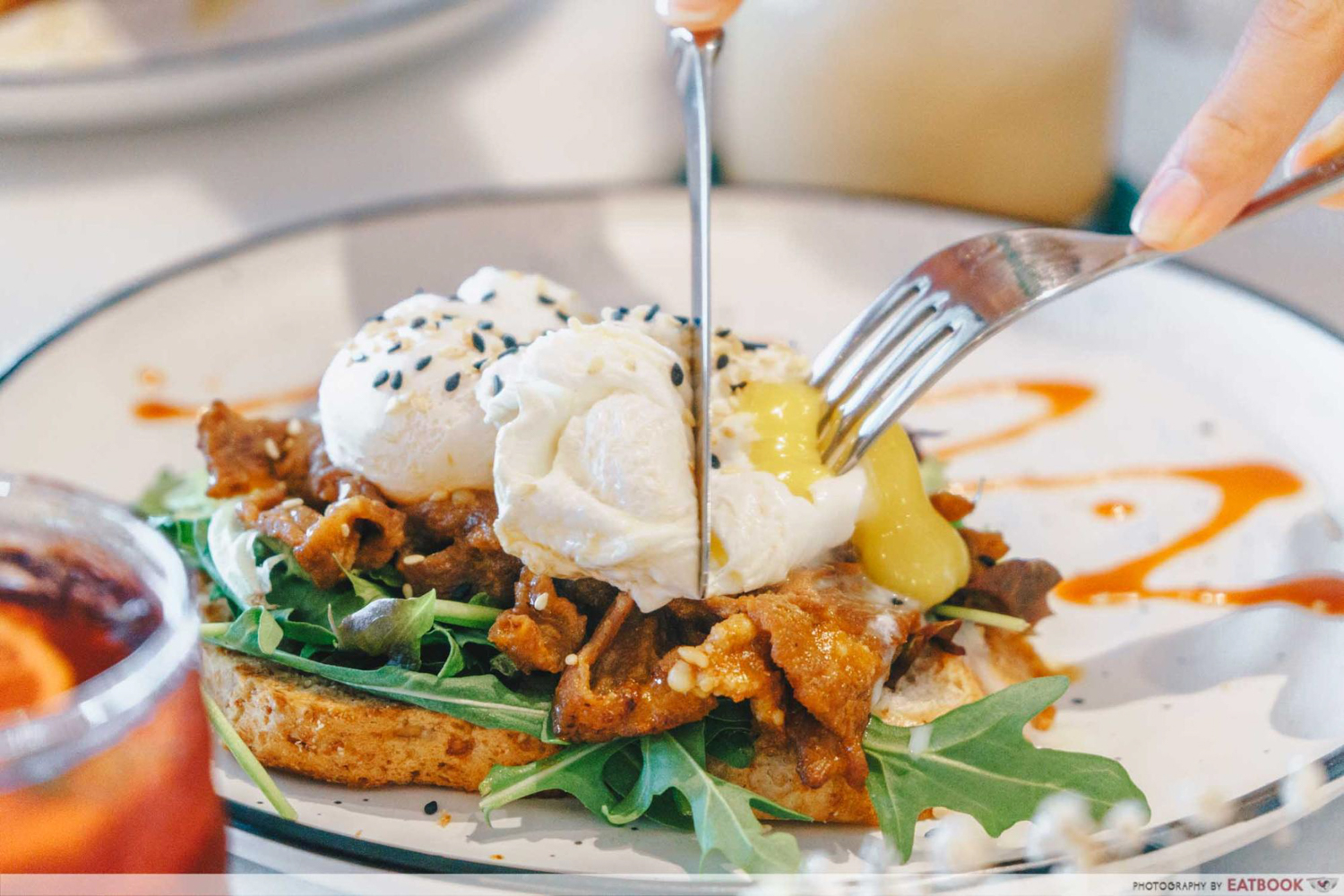 These delicate poached eggs were cooked just right, with the yolk being neither too watery nor hard; you'll get that satisfying #eggporn shot. Cutting through the firm egg white gave way to a velvety yolk which ran down the sides of this toast.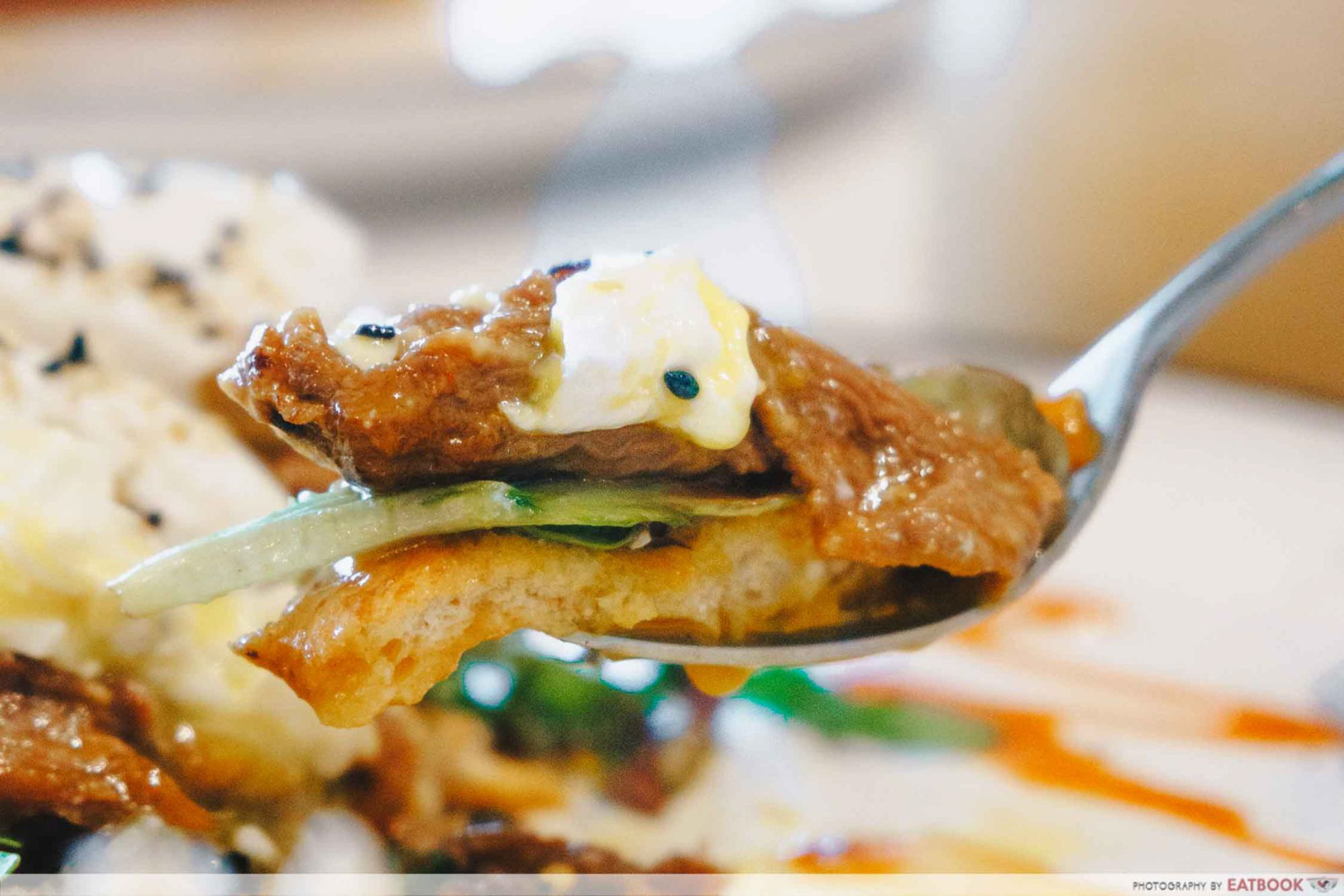 This stacked toast may have lavish beef slices, but biting them won't be a jaw work out as these tender chunks of meat easily glide between your teeth. The marinade mixture made of gojuchang and fruits helped to highlight the meat's deep beefy flavour with a tinge of sweetness.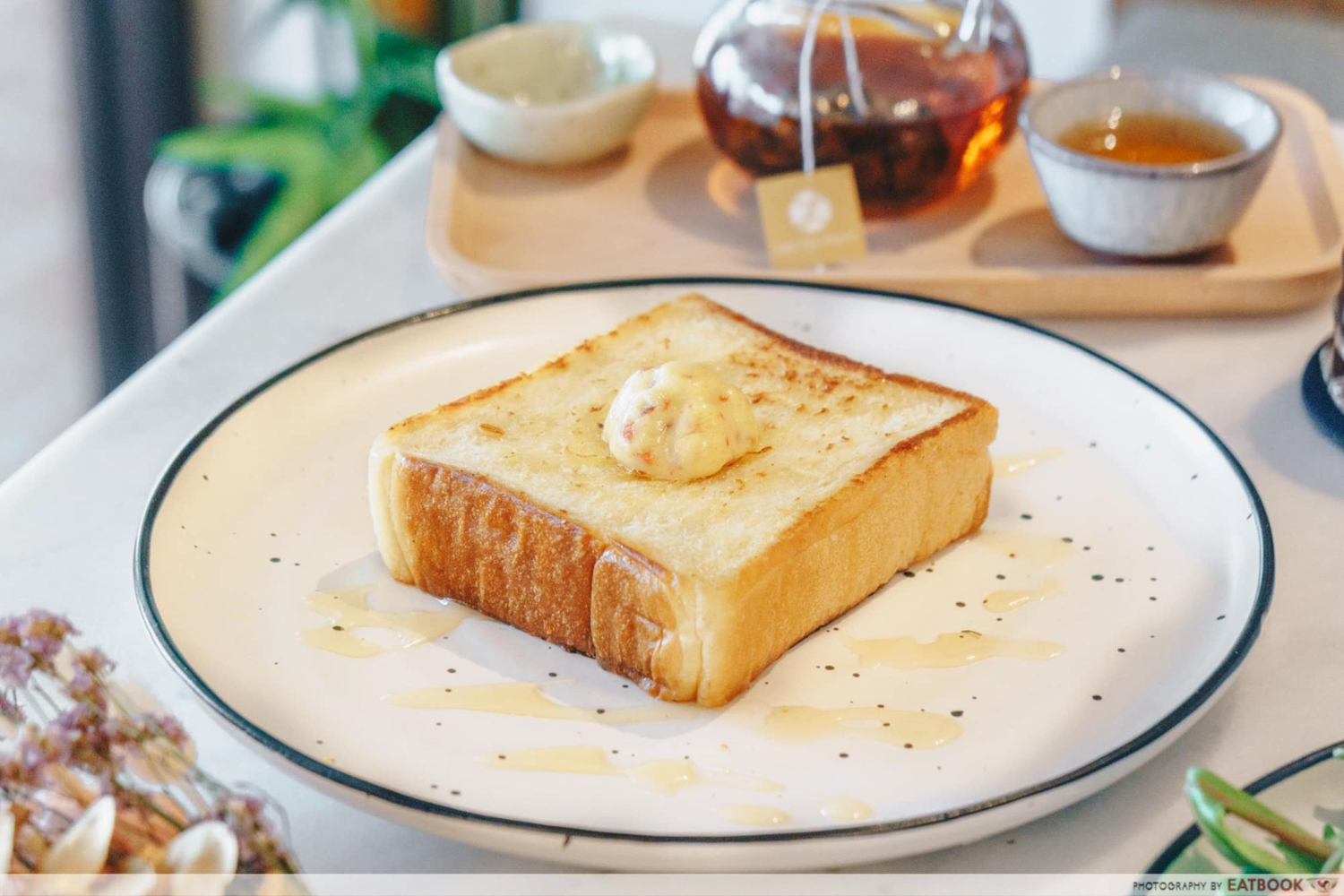 If you're a bread fanatic, don't miss out on Fu's Favourite ($3.50). You'll get to choose an in-house flavoured butter—such as espresso, maple soy bacon, and orange blueberry—to have along with their grilled toast.
This thick toast was drizzled with honey and topped with a dollop of maple soy bacon butter.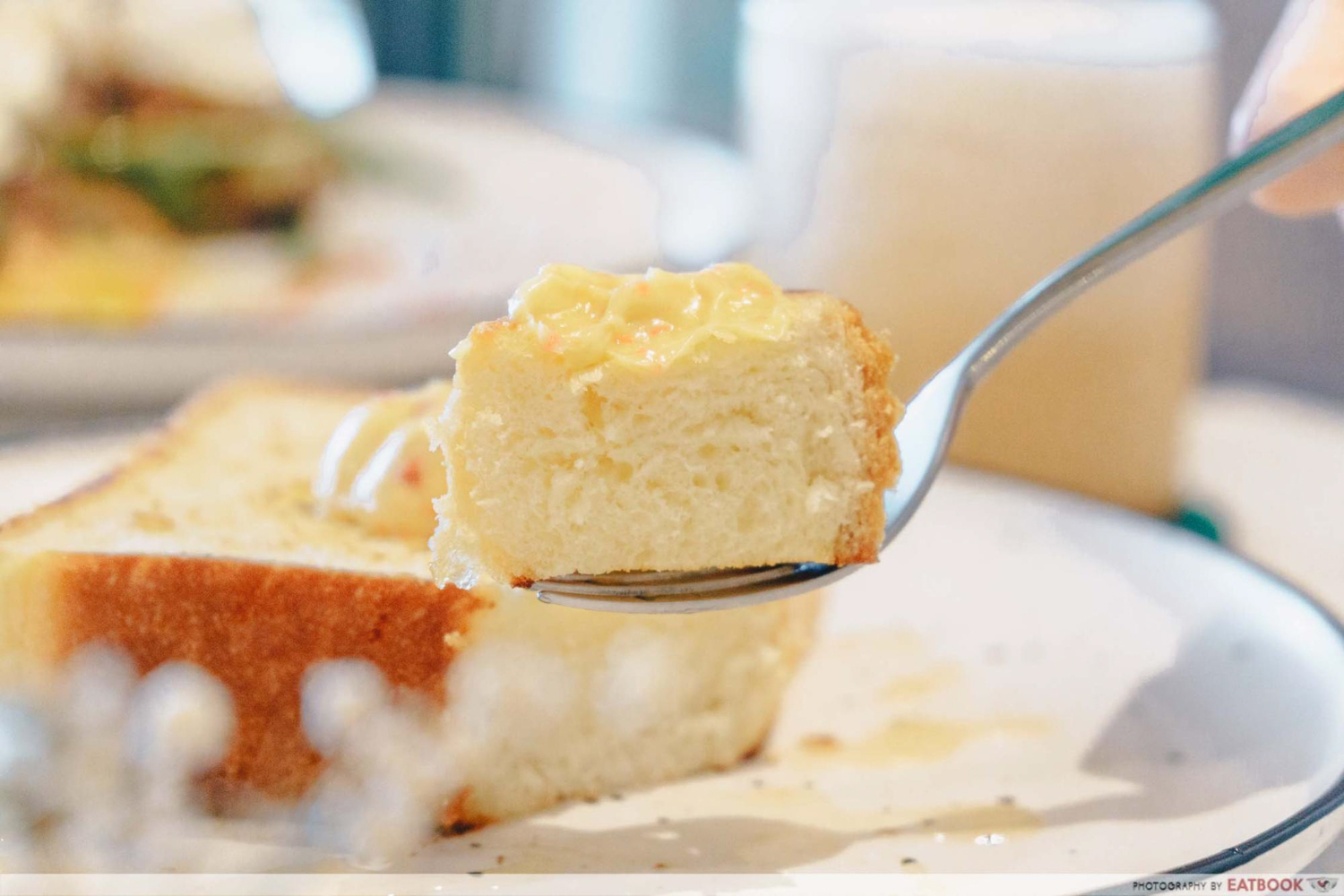 This dense toast was crispy and slightly charred on the outside, while airy on the inside. Do spread the butter evenly on this bread, as it makes for a great sweet and savoury partnership. 
Mixed with maple syrup, the rich butter has woody and vanilla flavours, with the bits of bacon adding some smokiness.
As someone with a sweet tooth, I look forward to wrapping up my meal with desserts. True to their Korean theme, Two Cranes offers a variety of bingsu to fill up that extra stomach we have for sweet treats. I couldn't resist and ordered two flavours, starting with Mango Matcha Bingsu ($12).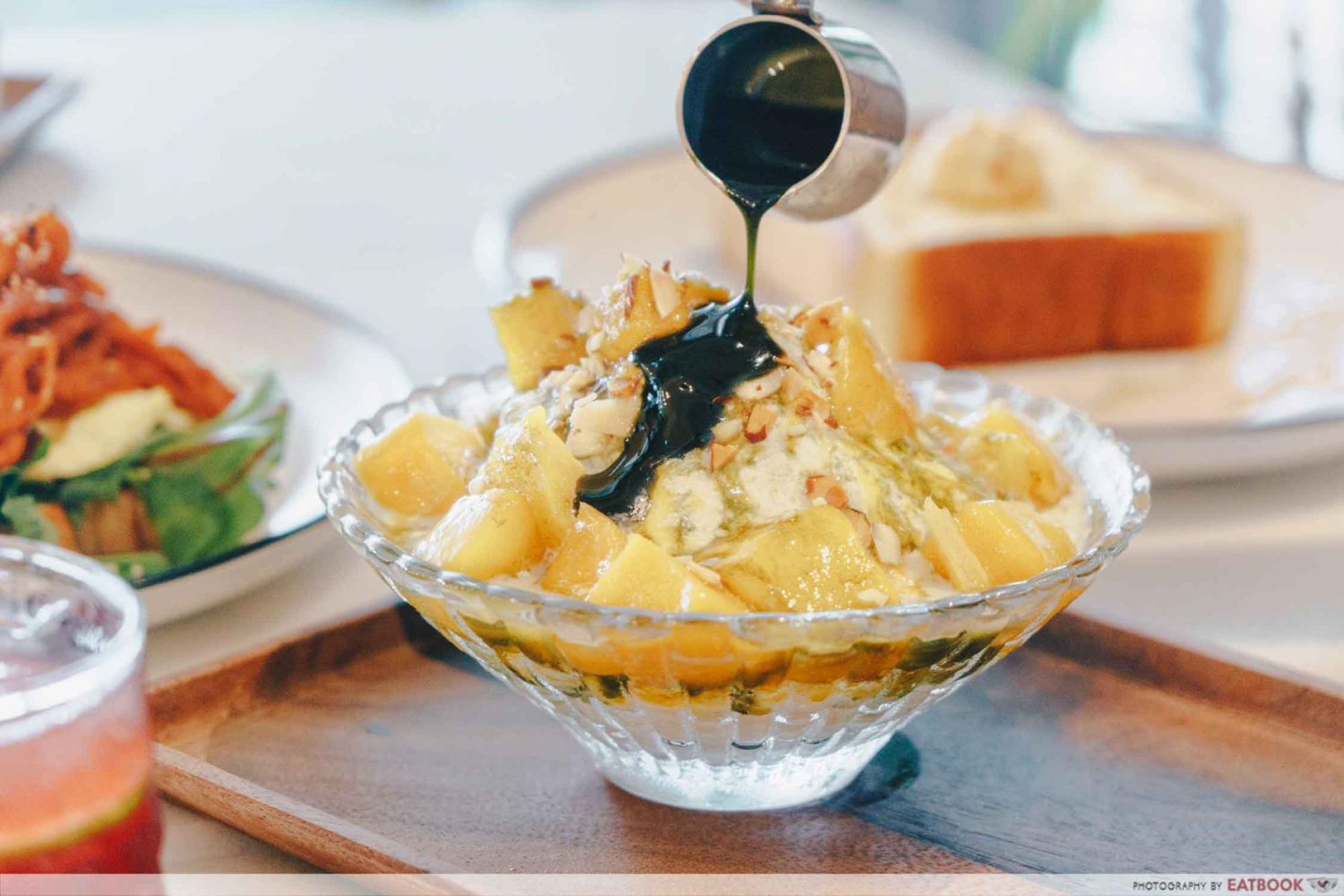 Their house-made bingsu is decorated with fresh mango chunks and a heavy-handed dusting of matcha powder. This comes with a small pot of matcha syrup that they make in-house, great for when you want to amp up that green tea goodness.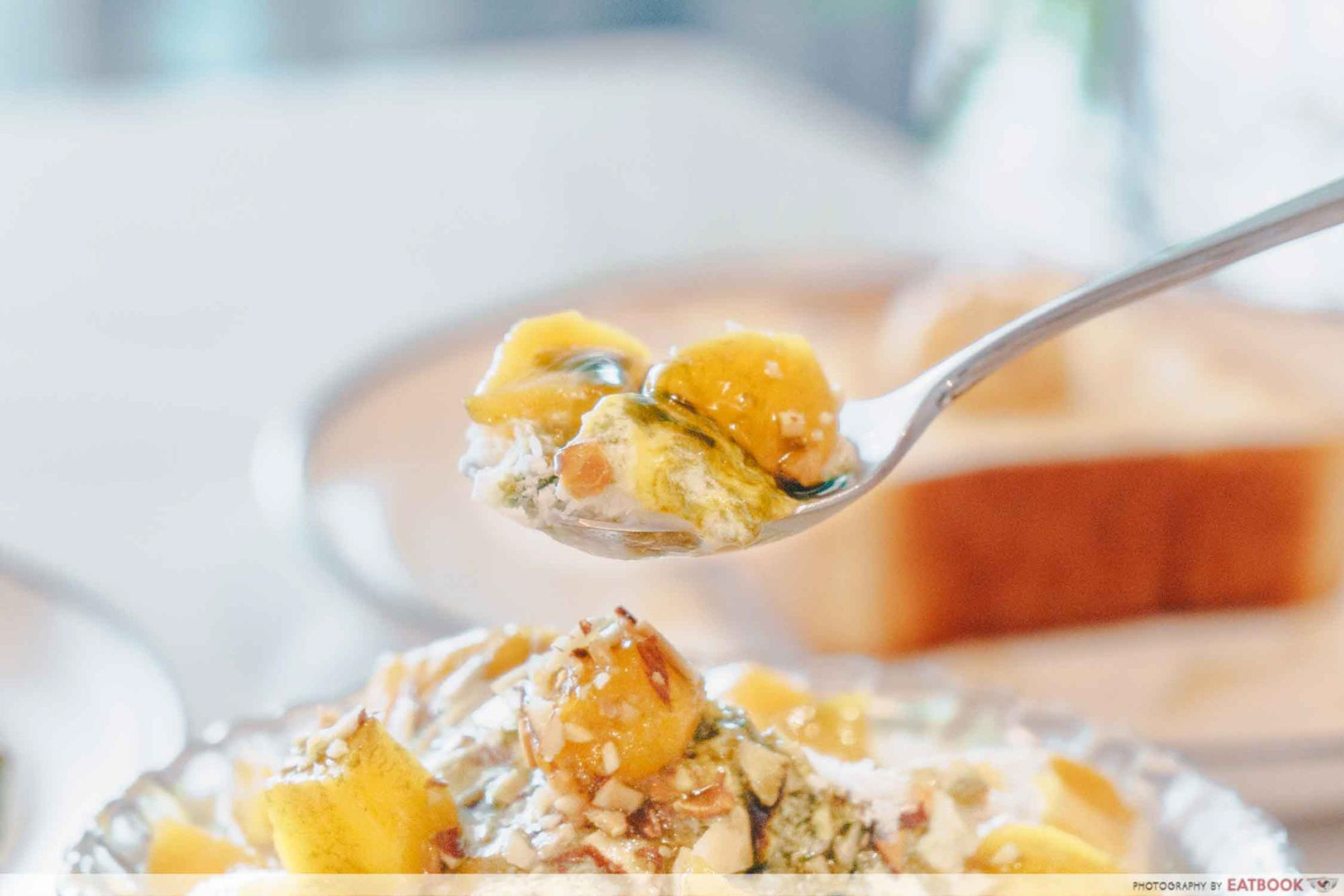 As I'm used to sweet bingsu, I was surprised that their iced shavings were not cloying. The juicy chunks of mango stole the spotlight with its natural sweetness. However, this overpowered the matcha's bitterness.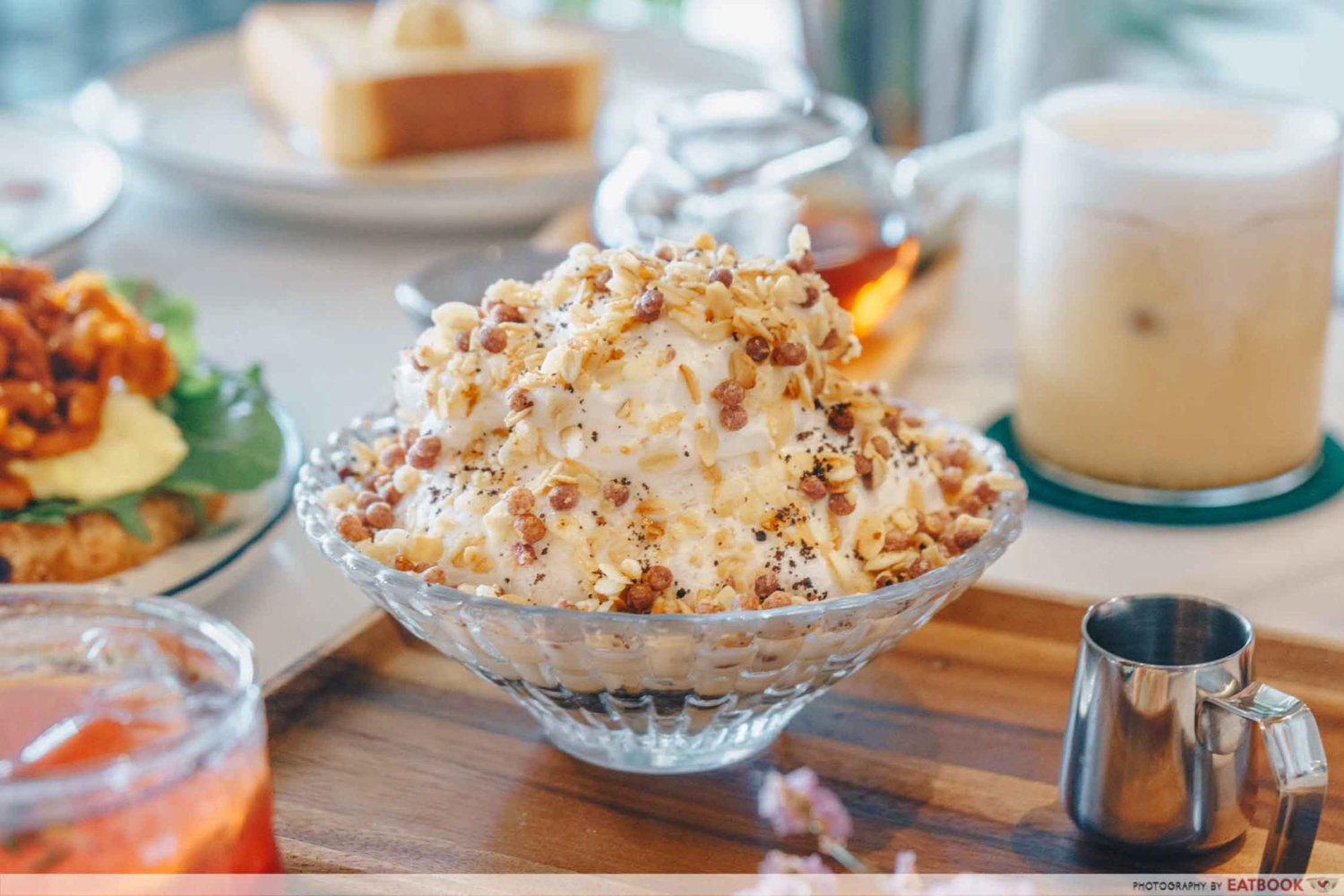 My basic self had to get an order of their Caramel Macchiato Bingsu ($13.50). This dessert is like a caffeinated, Korean version of our local ice kacang. The bingsu is drizzled with condensed milk, topped with a pillowy layer of caramel whipped cream, and sprinkled with coffee biscuits and crushed almond bits.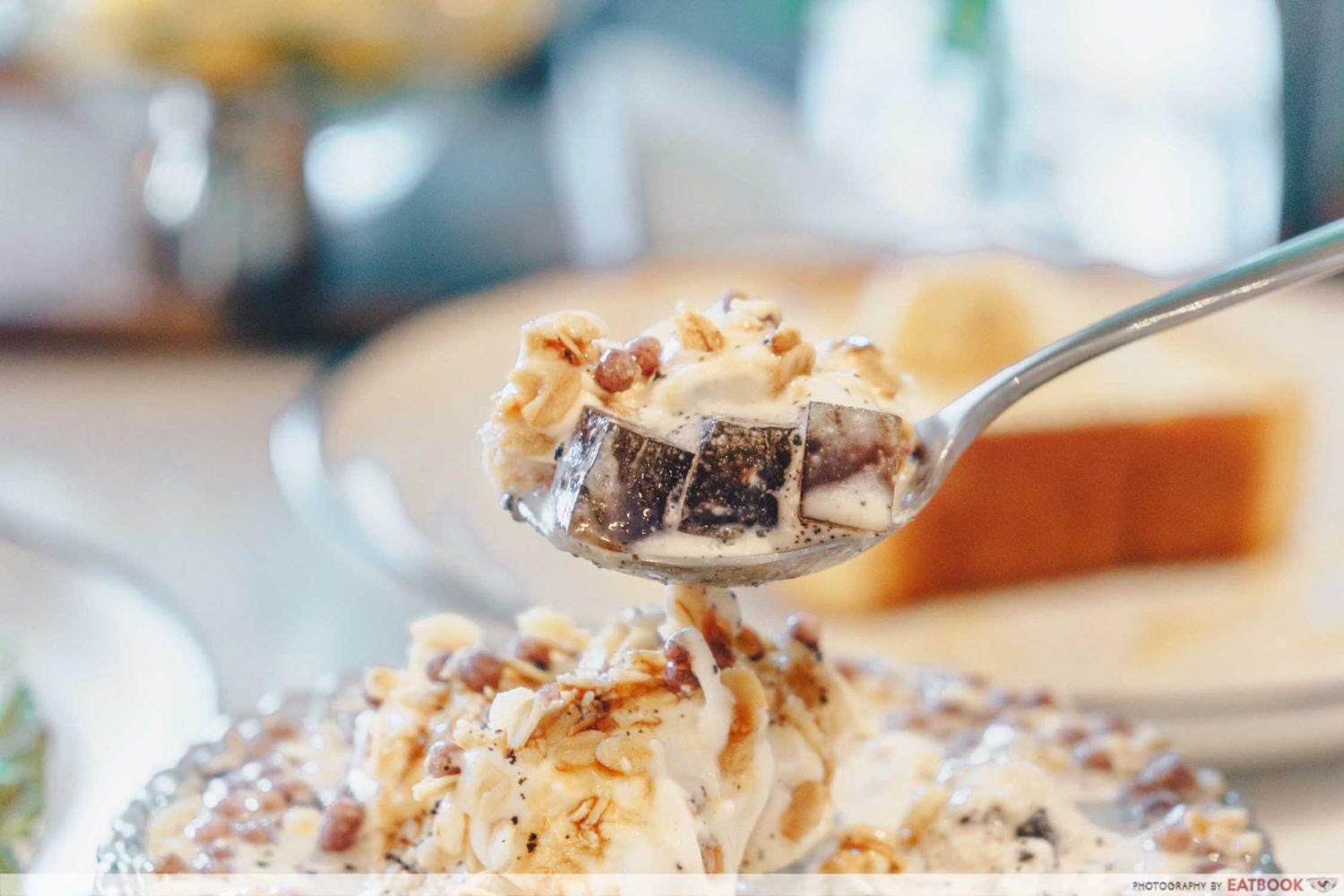 Dig into this mountain of ice shavings and you'll find chunks of coffee jelly. These bitter-tasting jiggly lumps are actually made with Two Crane's coffee blend. This acidity is balanced with sweet and subtle burnt notes from the fresh caramel whipped cream.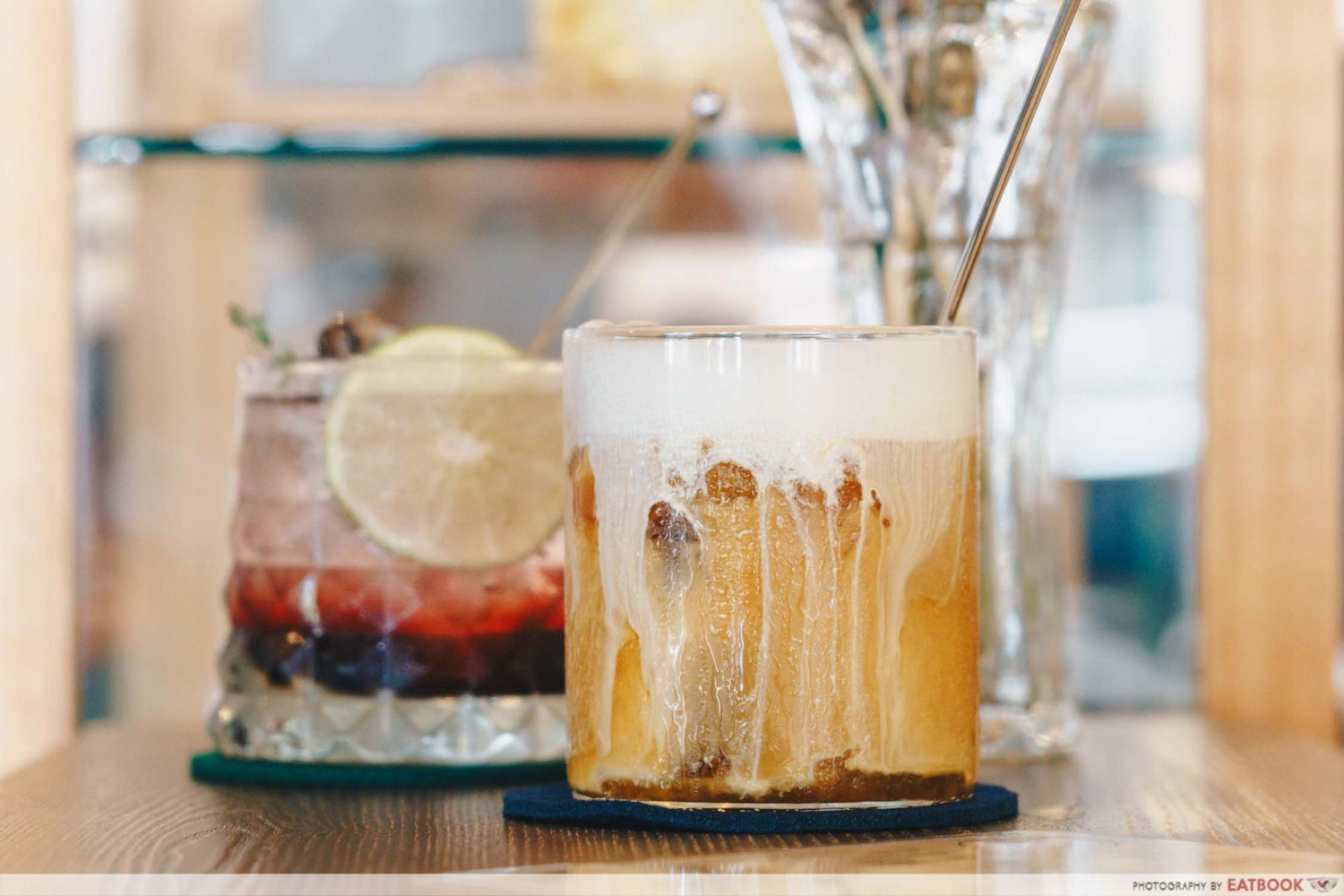 Those who require caffeine to function can turn to Two Crane's coffee and tea menu. Besides serving the usual espresso and latte, this Korean-fusion cafe crafts their own Wonda-Fu creations such as Yuzu Cold Brew Cream ($6).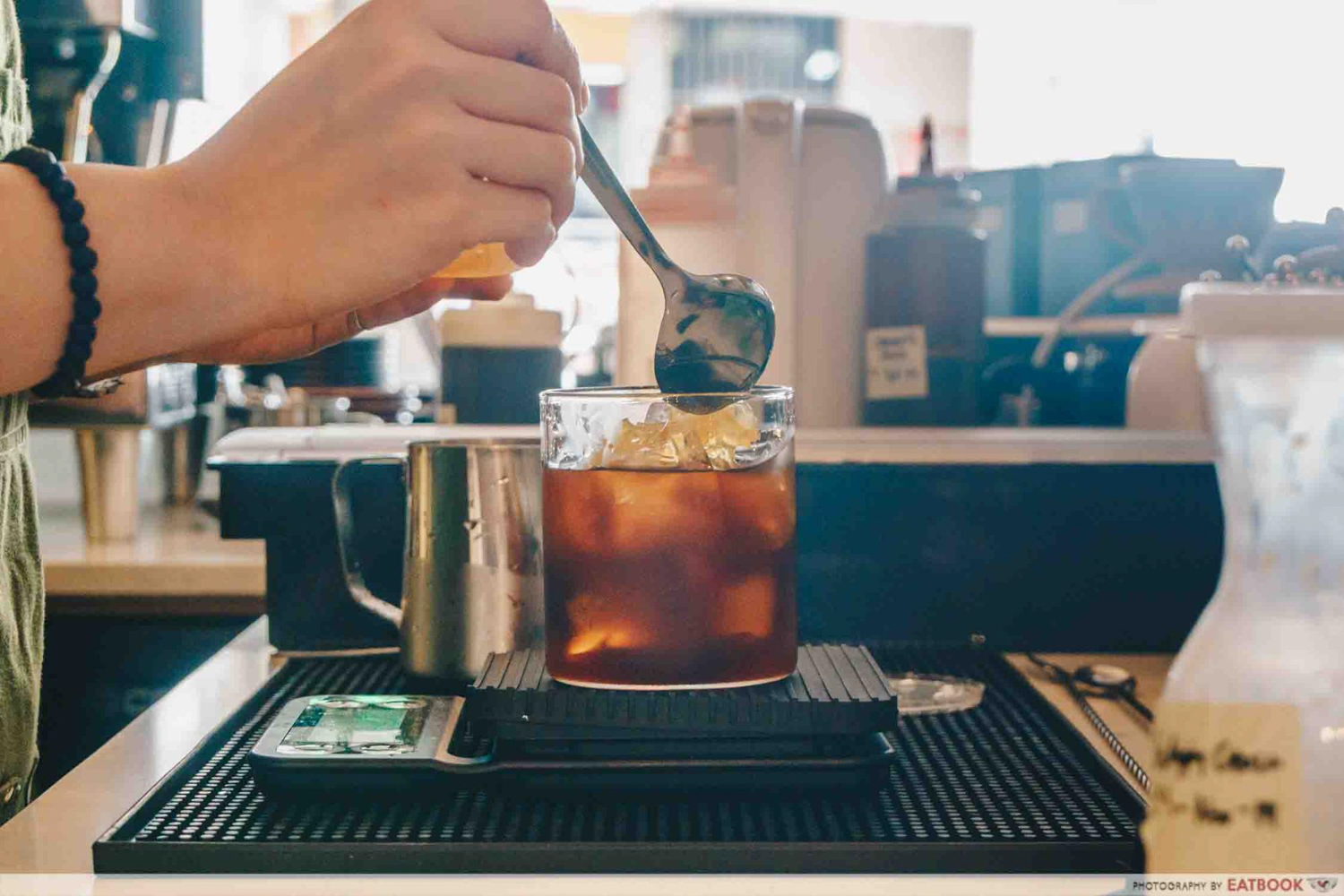 A medium-dark espresso roast blend is brewed overnight for 14 hours with cold water to achieve intensity in their concentrated coffee. A spoonful of yuzu jam is added, followed by a thick layer of fresh whipped cream. 
The best way to enjoy this drink is to sip it before mixing the layers. Once stirred, the natural bitterness of the cold brew is softened by the rich whipped cream. The tangy bits of yuzu were refreshing and interesting on the palate.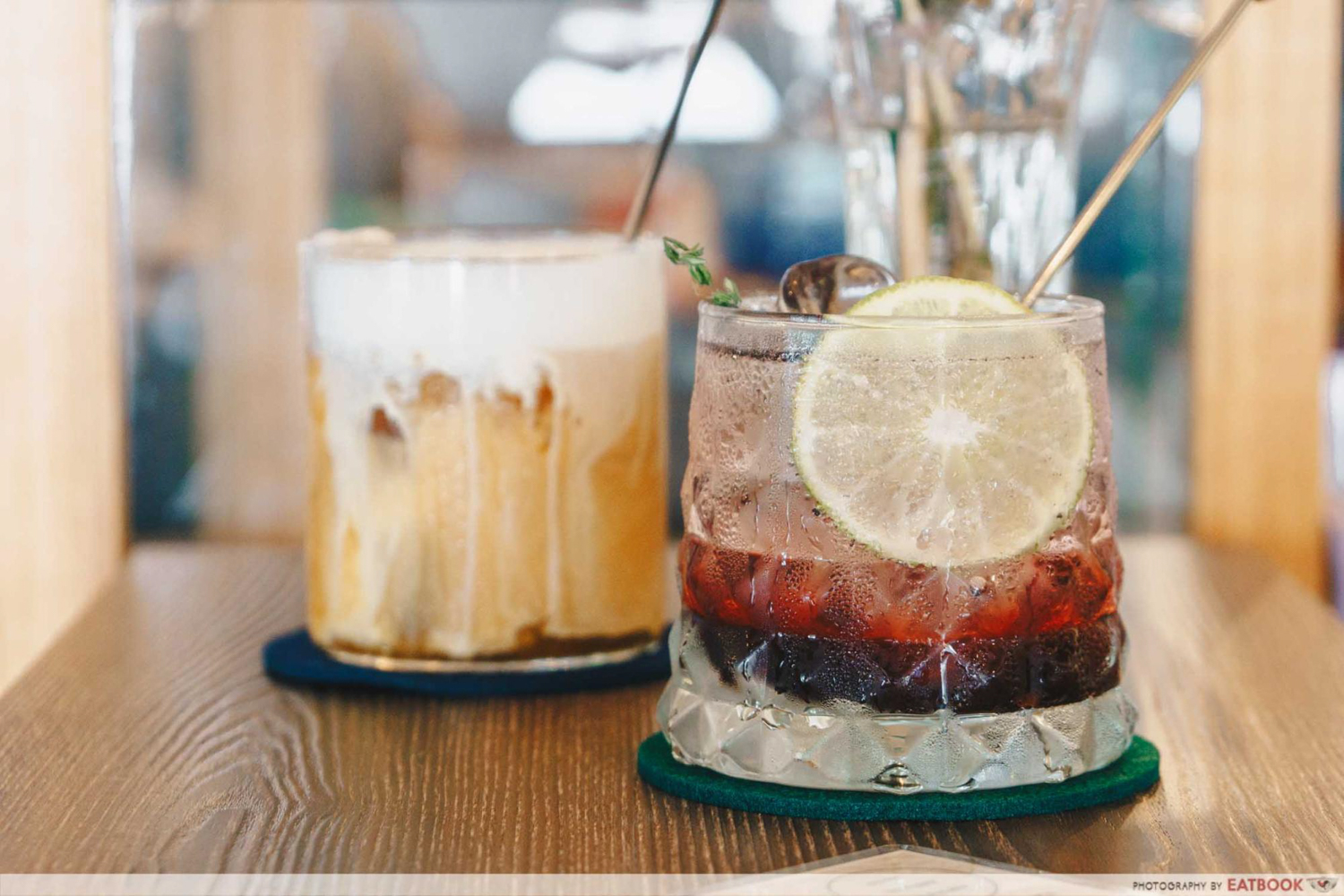 Another refreshing beverage is the Fruits & Thyme Ade ($6). The base of this drink is a concentrated tea blend that is infused with thyme. Fresh lime and soda water are added for some fizziness and tart notes. The addition of syrup made with muscovado sugar deepened the earthy and fruity flavour profiles of this iced tea.
Ambience at Two Cranes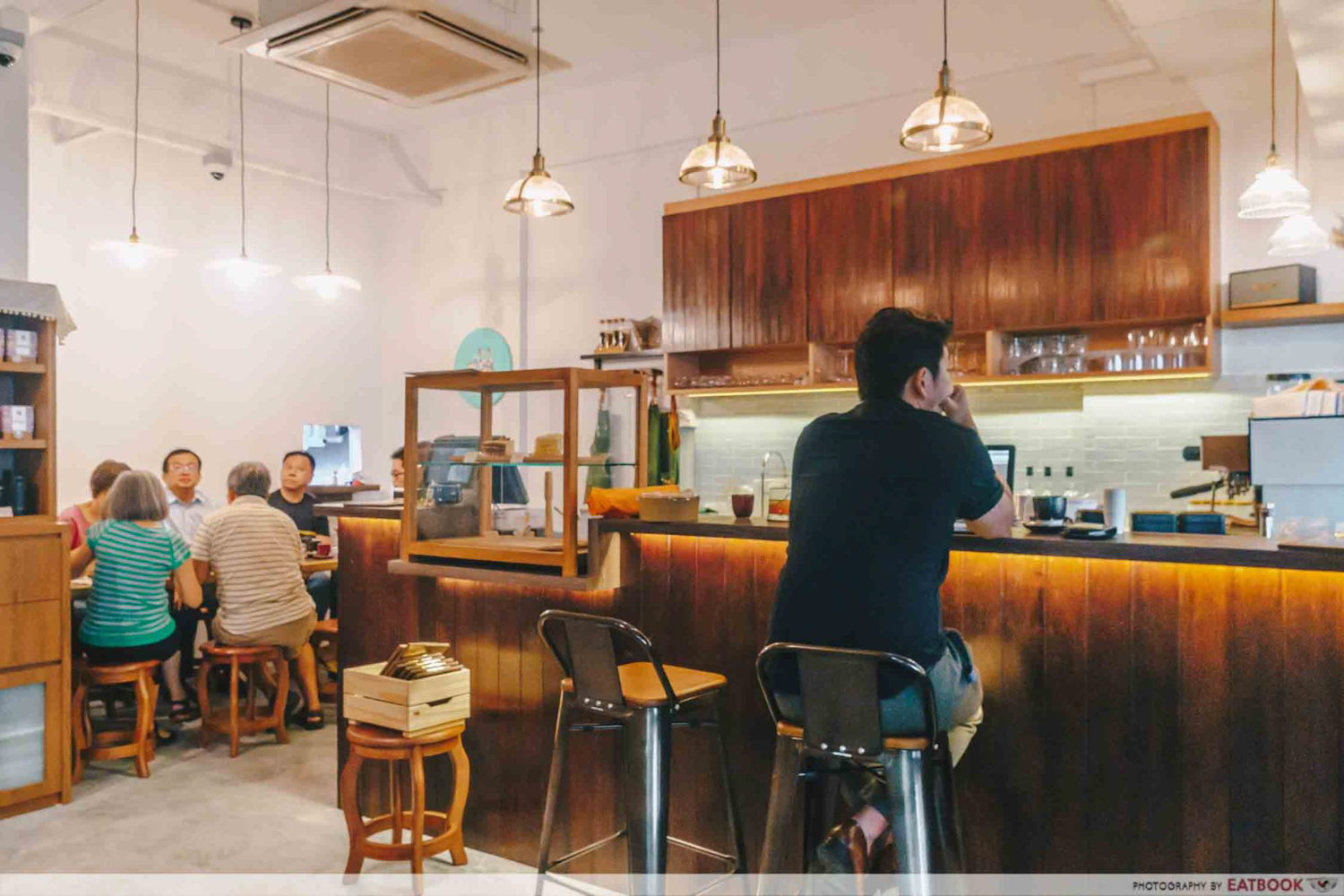 Two Cranes is nestled at the bottom of a HDB block, providing a charming and cosy space to the heartlands of Hougang. Seating may be limited at this minimalist cafe, but it is this intimacy which makes it quaint.
Natural light illuminates this space with warmth through the floor-to-ceiling windows. With chill indie songs softly humming in the background, this cafe oozes calming Hygge vibes.
The verdict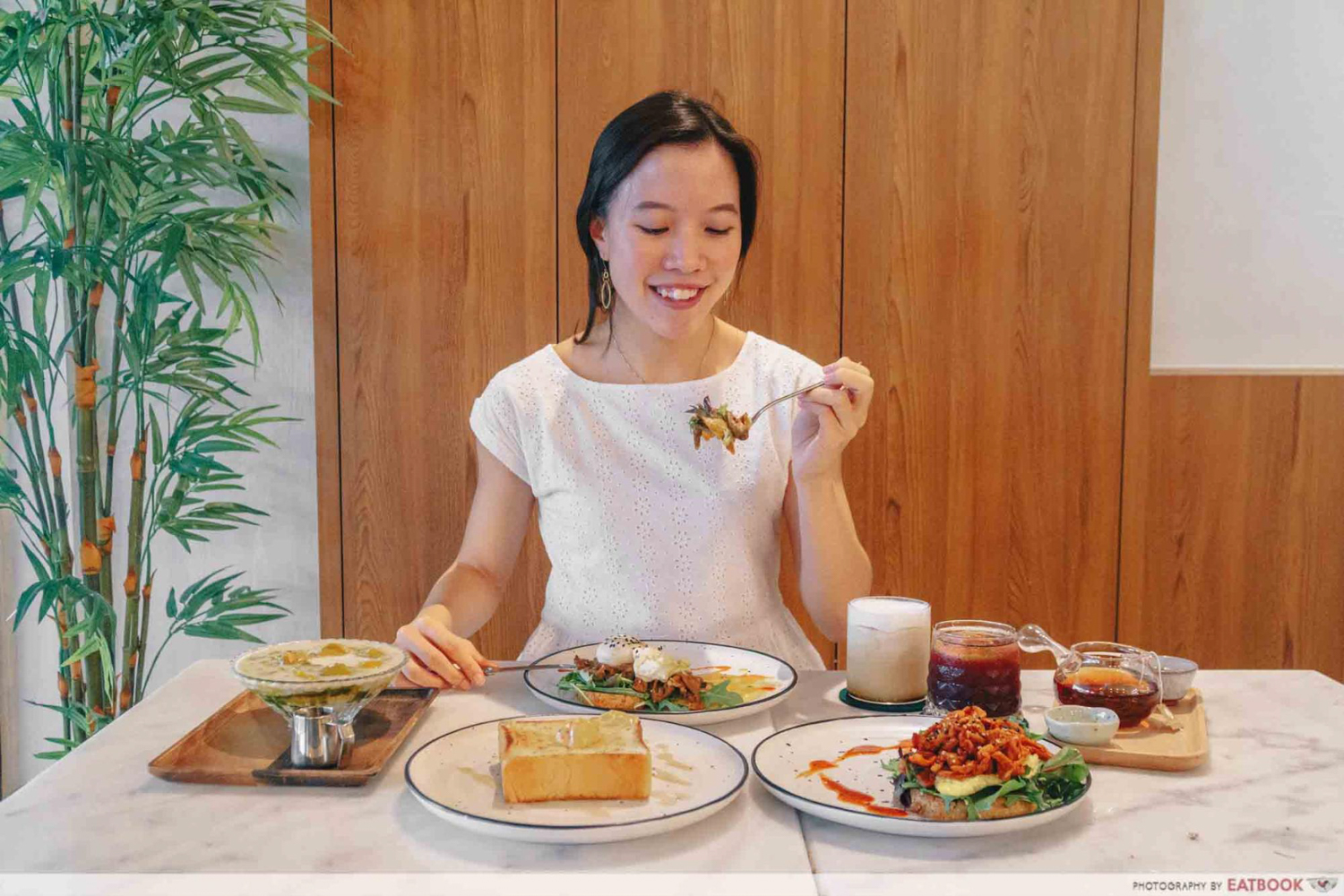 I'm relieved that Two Cranes didn't fall in the category of aesthetic cafes with overpriced and mediocre food. In fact, they cater to residents living in the area with affordably priced cafe fare without any hidden GST or service charge. Their Korean-fusion dishes are a welcomed refreshing change to the local cafe scene.
Hidden cafes tend to be out of the way, but thankfully Two Cranes is just a short walk away from Kovan MRT Station. This makes it convenient for a Westie like me to check them out whenever I'm in the area.
If you're looking for more minimalist cafes in the heartlands, check out our full review of Lee's Confectionery!
Address: Blk 211 Hougang Street 21, #01-291, Singapore 530211
Opening hours: Wed-Mon 8:30am to 10pm
Website
Photos taken by Reynard Lee.
This was a media tasting at Two Cranes.
Summary
Pros
– Wallet-friendly prices
– Savoury brunch-style dishes
– Quaint vibes
Cons
– Limited seating
Recommended dishes: Spicy Dakgalbi with Scrambled Eggs ($13.50), 2 Cranes Boeuf Benedict ($15), Caramel Macchiato Bingsu ($13.50)
Opening hours: Wed-Mon 8:30am to 10pm
Address: Blk 211 Hougang Street 21, #01-291, Singapore 530211