---
Minimalist Cafés for that perfect Instagram shot
---
This new wave of Marie Kondo minimalism really sparks joy for me. I love how minimalism is now at the forefront of our national conversation, spawning aesthetic minimalist cafés across our island.
If you enjoy taking IG pictures as I do, this list of nine Minimalist Cafés will totally speak to you. They span from mid modern minimalist chic to an entirely whitewashed interior. Not to mention, all the food here are totes legit too.
---
1. Lee's Confectionery
---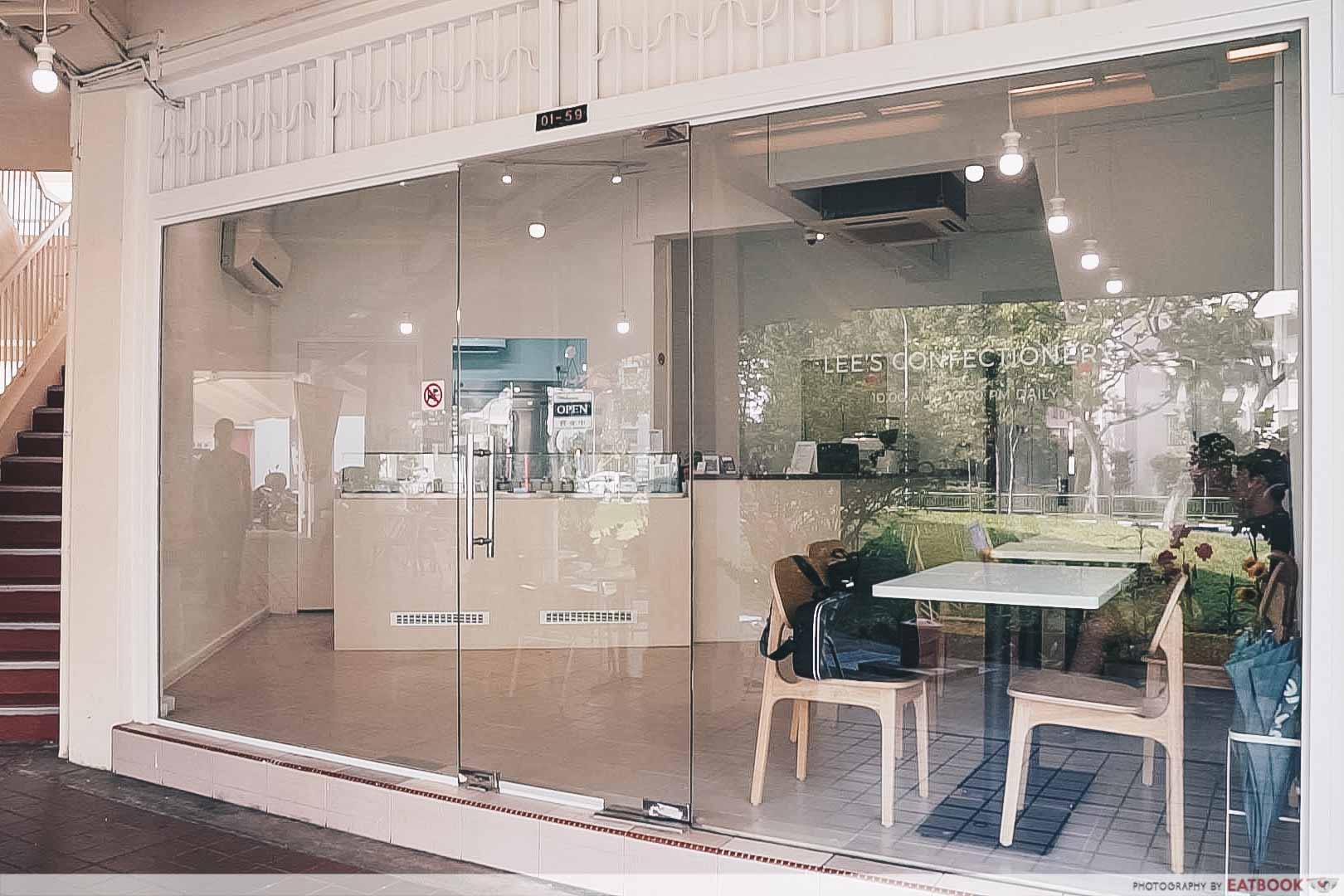 At Lee's Confectionery, there's a white minimalist theme running throughout the entire café, from the bare walls to their monotone furniture. Small white bulbs also hang from the ceiling, further brightening the interior.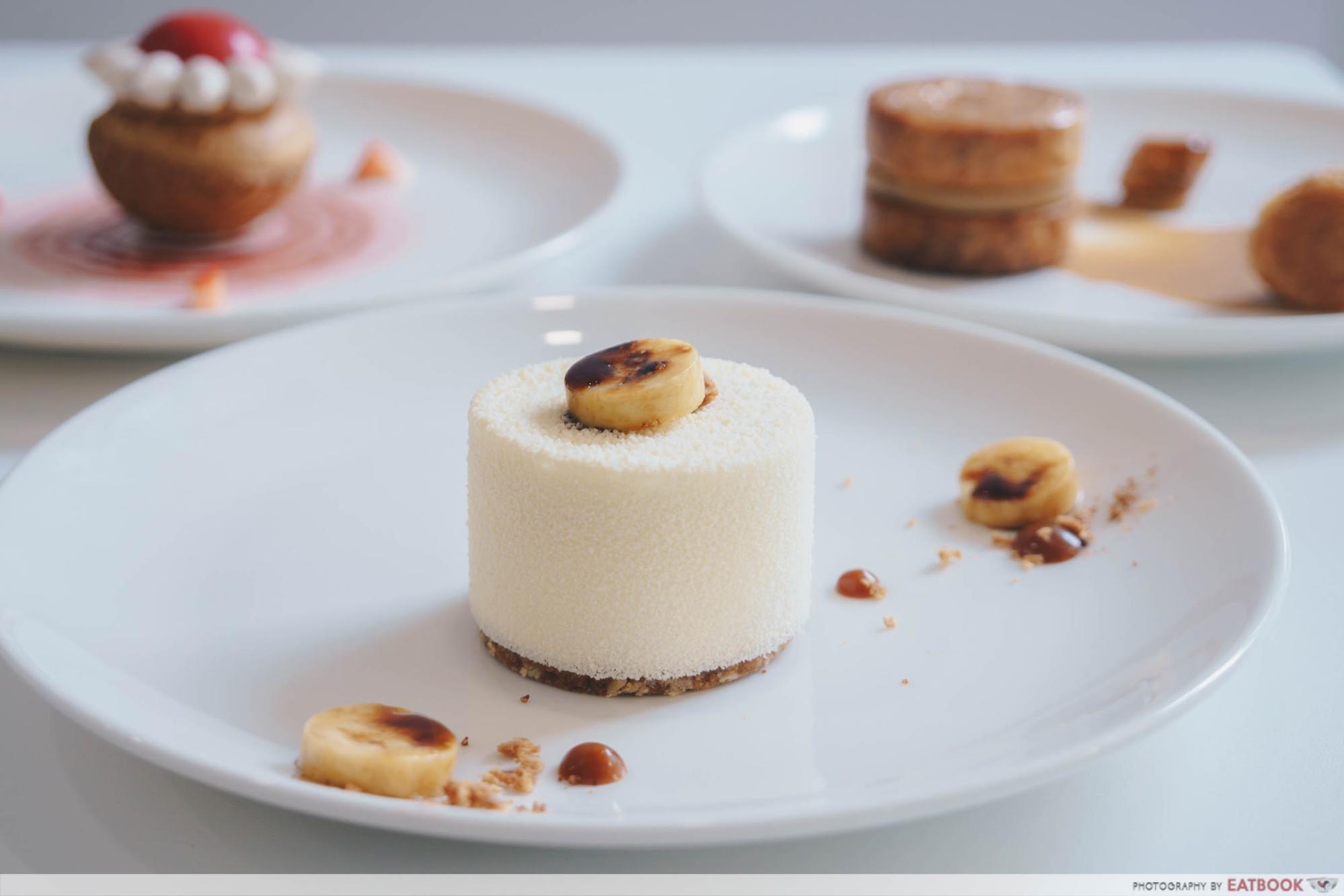 Jiāo ($8) is a noteworthy pastry to try here. This dish features a banana sponge that's filled with banana compote and mascarpone. It is then throned on an oatmeal tart and sprayed with white chocolate to achieve that matt look. There is also the Beri ($8) – choux pastry piped full of fresh Korean strawberries and berry tea-infused cream.
Check out our full review of Lee's Confectionery!
Lee's Confectionery Review: Minimalist Jurong Cafe With Beautiful Desserts That Can Rival Janice Wong's
Address: 343 Jurong East Street 31, #01-59, Singapore 600343
Opening hours: Daily 10am to 10pm
Tel: 9183 8447
Website
---
2. Boufé
---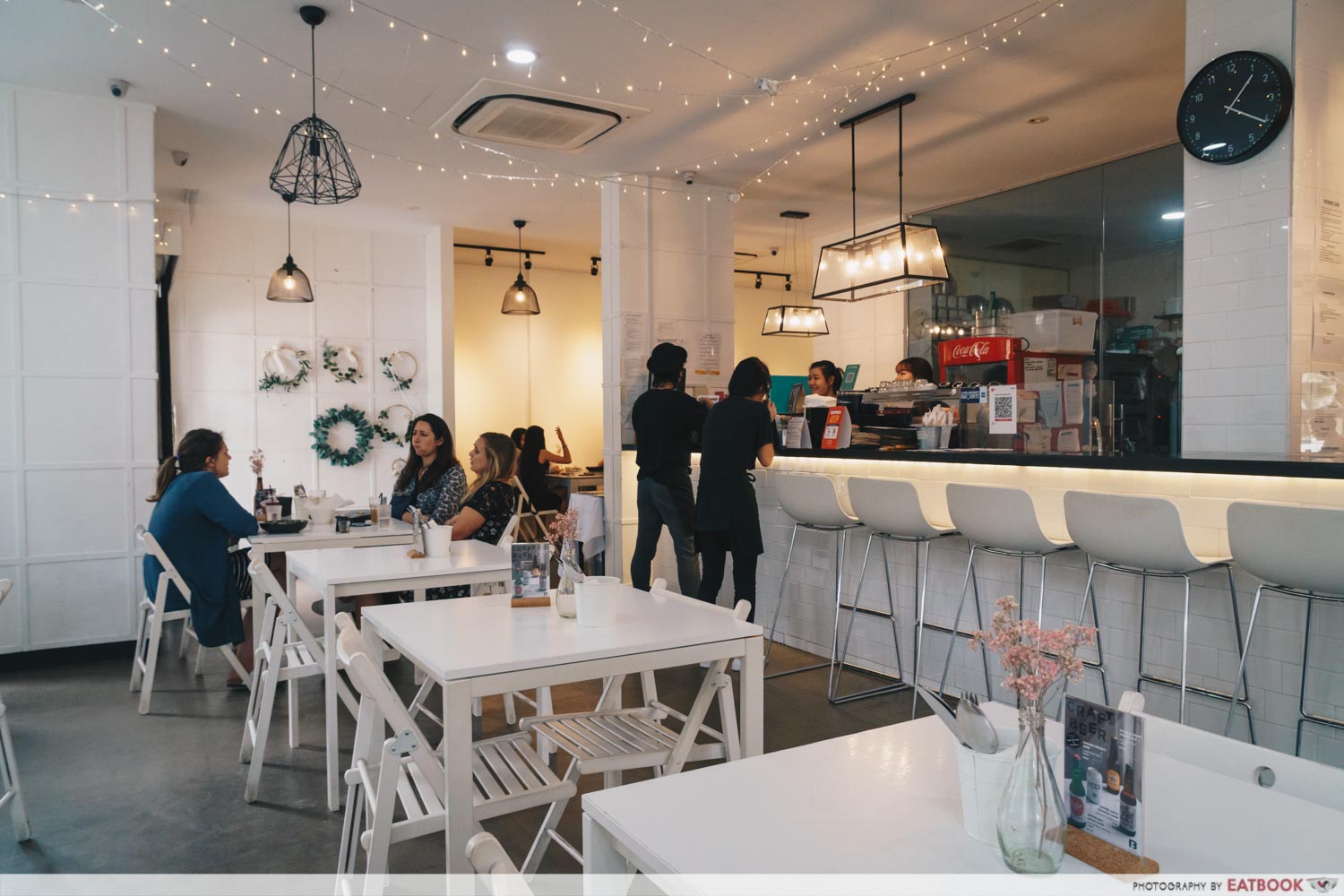 Chic is probably the most apt word to describe Boufe's ambience. With fairy lights decorating the ceiling, it has a certain boho vibe that is weaved into a minimalist style; only accentuated by the flower wreaths and vases of baby's breath.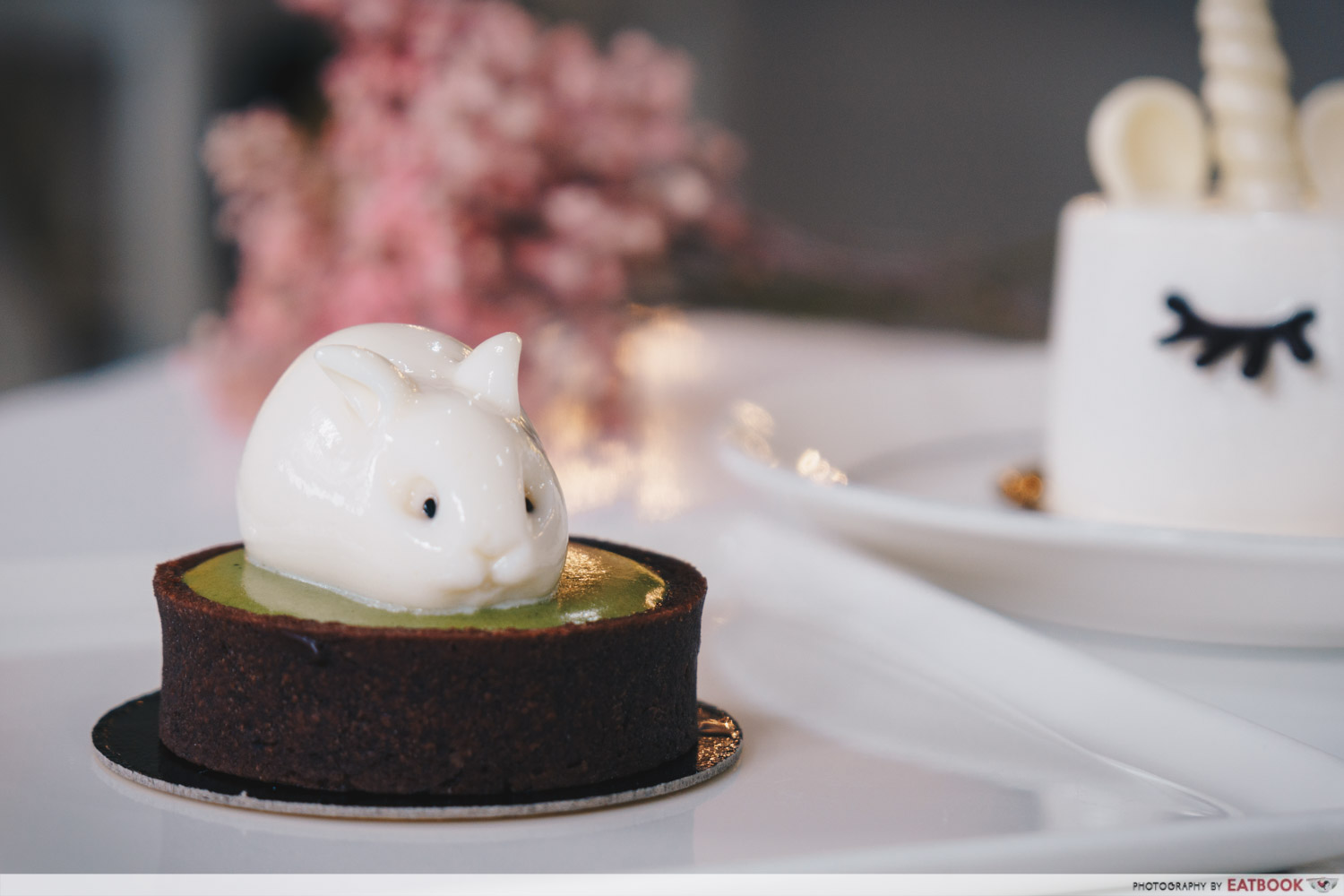 Get their super adorable Jiggly Bunny Tart ($8.50++), which features a super wobbly bunny soy pudding sitting atop a dense matcha mousse. This aesthetic dessert makes for the perfect 'gram and Boomerang.
Another white girl treat worth mentioning is the Unicorn Cake ($9++). It features a mango crémeux resting above a moist vanilla sponge. Its tastes very much mirrors the mango sago desserts you'd get in a Hong Kong cha chaan teng.
Check out our full review of Boufé!
Boufé Boutique Has A New Jiggly Bunny Tart That's Sold Out Everyday
Address: 308 Tanglin Road, #01-01, Phoenix Park, Singapore 247974
Opening hours: Daily 9am to 8pm
Tel: 6734 7656
Website
---
3. Atlas Coffee
---

Image credit:@atlascoffeehouse
Atlas Coffeehouse really is the poster boy for striking a good balance between industrial and minimalist style. Their concrete walls and large teak tables defining the space provides a timelimess, clean look.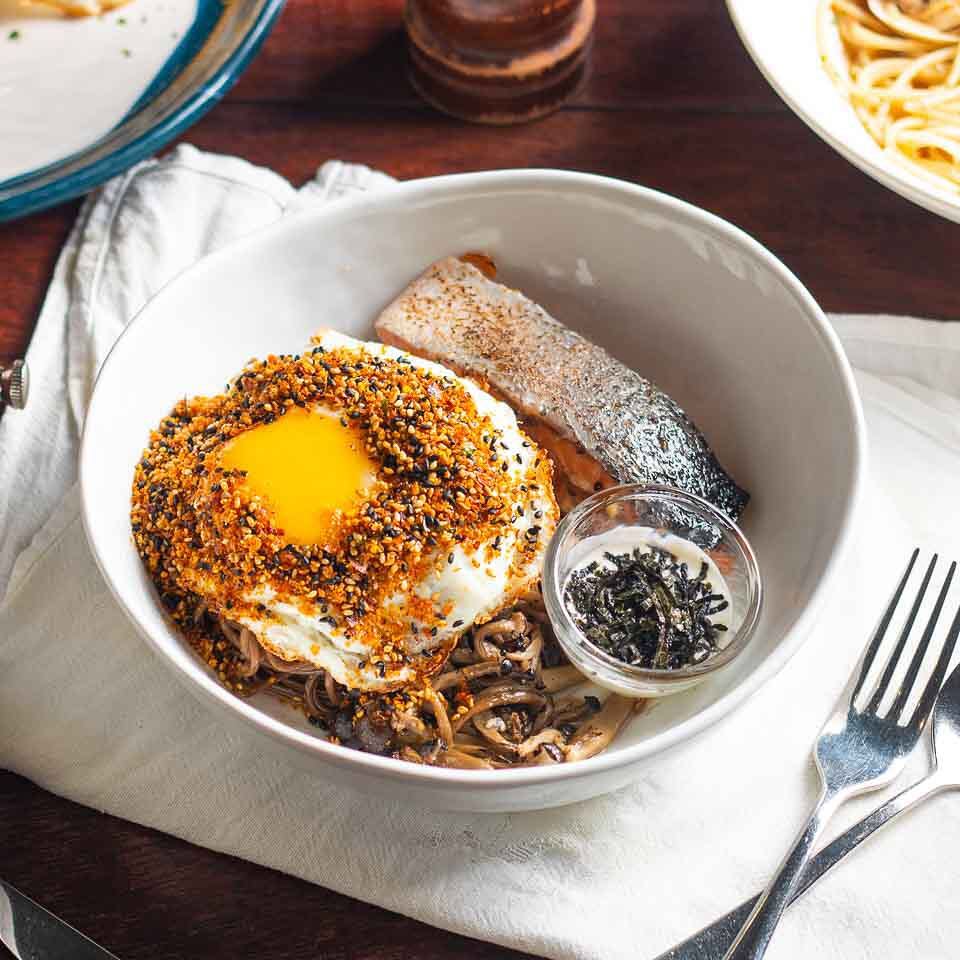 Image credit:@atlascoffeehouse
Here, I would get the Salmon Soba ($18+). It's such a wholesome yet tasty dish – perfect if you're on a diet. The slab of juicy salmon with crispy skin offers a nice contrast to the mushroom soba's strong earthiness.
Butterscotch Banana Pancakes ($18+) would be a slightly naughtier dessert, perfect for treating yourself after that intense spin class. A fluffy pancake soaks in a rich savoury-sweet butterscotch sauce, topped with bananas and decadent ice-cream.
Address: 6 Duke's Road, Singapore 268886
Opening hours: Mon-Sat 8am to 7pm
Tel: 6314 2674
Website
---
4. Grids and Circles
---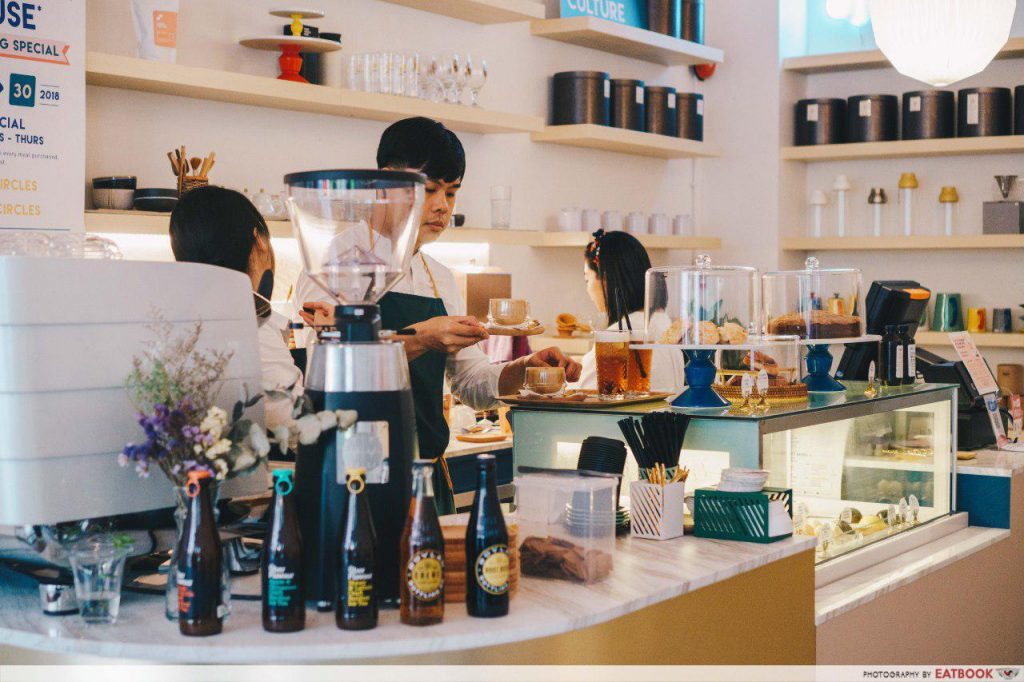 Grids and Circles takes up two levels of a three storey shophouse. The setting isn't elaborate, sporting just wooden tables and chairs ,whitewashed walls and a counter displaying their different coffee.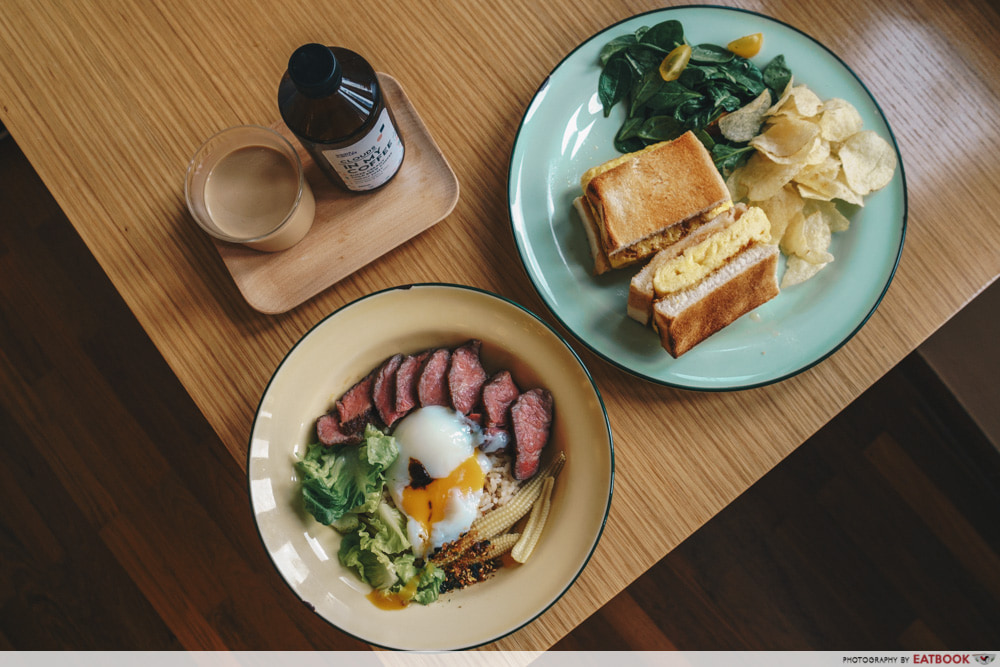 Fans of wagyu will be pleased to note that they offer a Wagyu Beef Bowl ($20++). A special Kinmemai brown rice is used, crowned by medium-rare wagyu that spots a nice sear. An onsen egg is also thrown in the middle, providing a creamy mouthfeel to the rice when mixed in.
Any meal would be amiss without dessert. Order their Strawberry Wonderland ($16++). Sweetened whipped cream and a thick strawberry compote blankets two thick slabs of pancakes.
Check out our full review of Grids and Circles!
Address: 200 South Bridge Road, Singapore 058749
Opening hours: Sun-Thur 8:30am to 6:30pm, Fri-Sat 8:30am to 12am
Tel: 6935 3546
Website
---
5. Pluseighttwo
---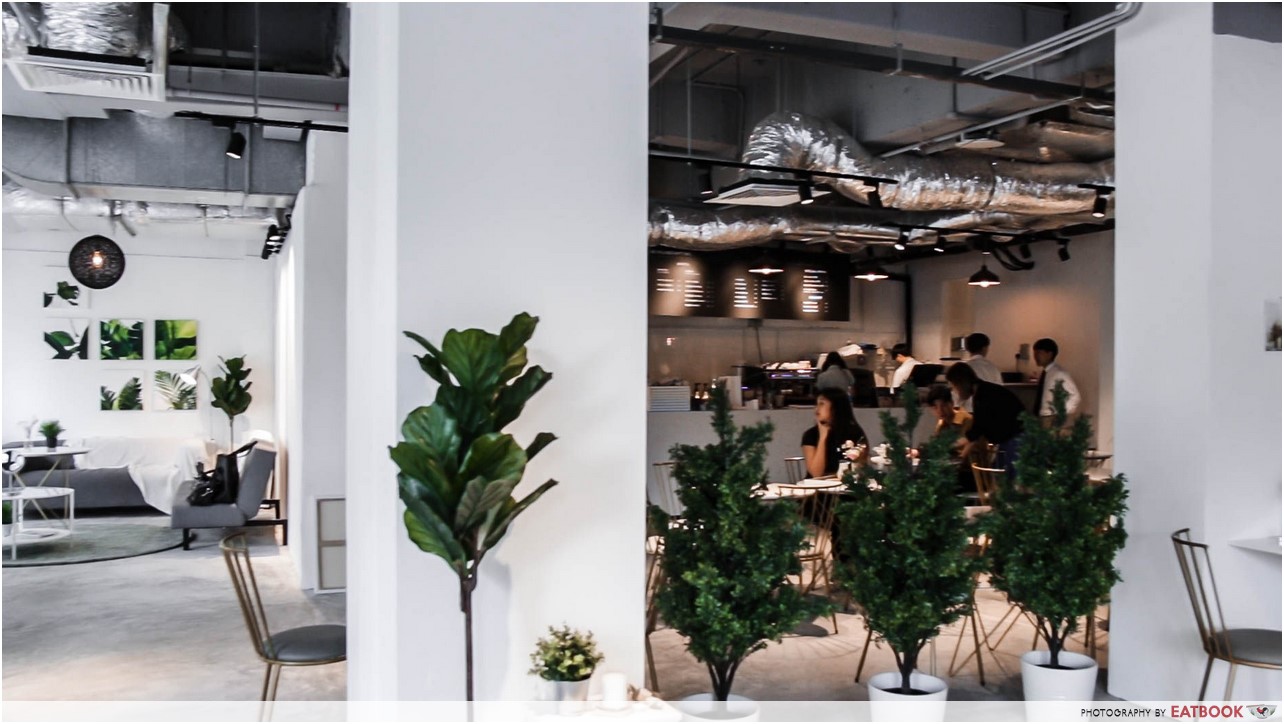 Co-founded by BTOB's Seo Eunkwang, Pluseighttwo is aesthetic, looking like a sceneout of a K-drama. Plants are great when paired with minimalist design philosophy, and you will find splashes of greenery throughout the café.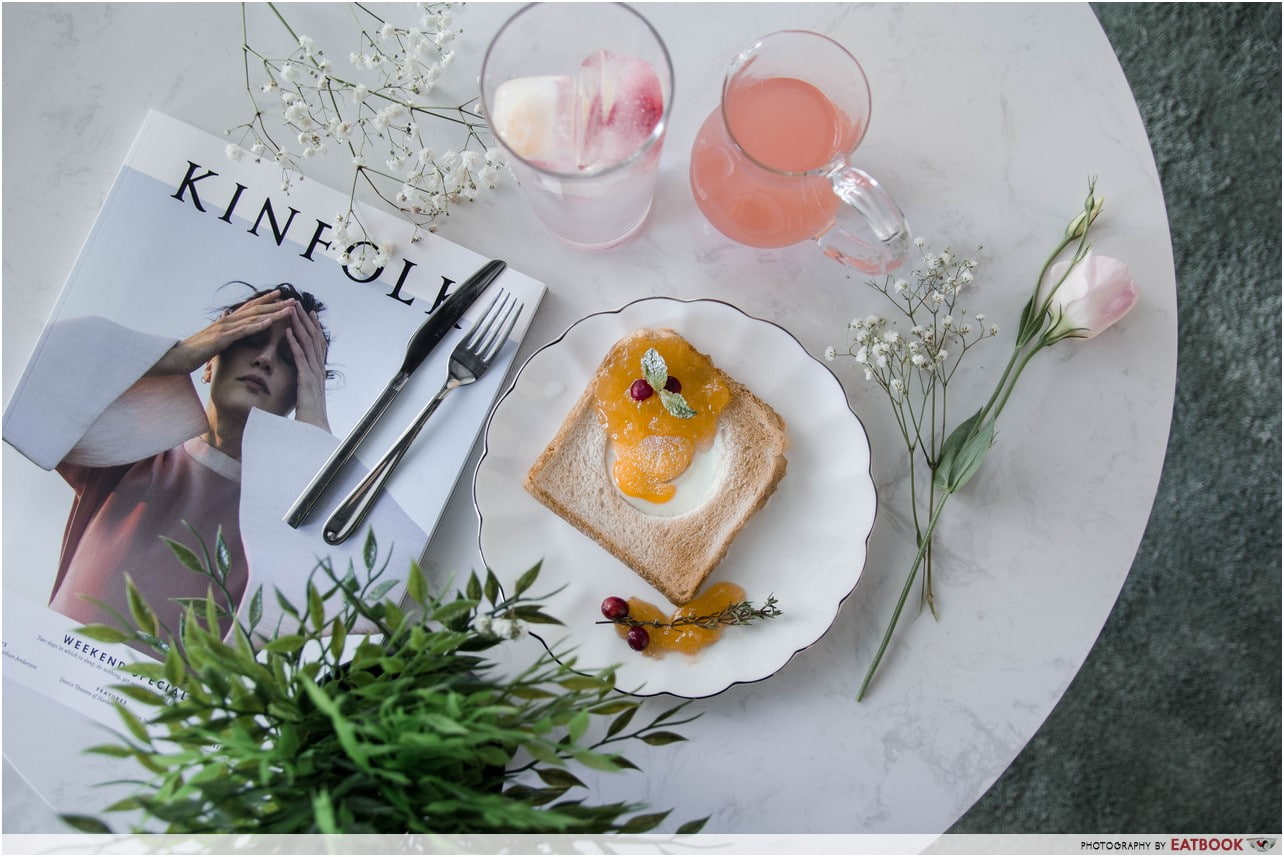 You can order a Strawberry Snow Flake Bingsu ($18.90). The milk shavings taste milky and are pleasantly sweet on their own. The dessert is topped with slices of strawberries that pack an intense berry flavour, so there's no need to add condensed milk.
Another dish to try is the uber aesthetic Palette Toast ($8.50). Jams are slopped onto a transparent palette, which you can then paint onto your toast.
Check out our full review of Pluseighttwo!
Pluseighttwo Review: BTOB's Eunkwang's Korean Dessert Cafe At Dhoby Ghaut
Address: 9 Bras Basah Road, #01-02, Rendezvous Gallery, Singapore 189559
Opening hours: Daily 11am to 11pm
Website
---
6. Ninja Cut
---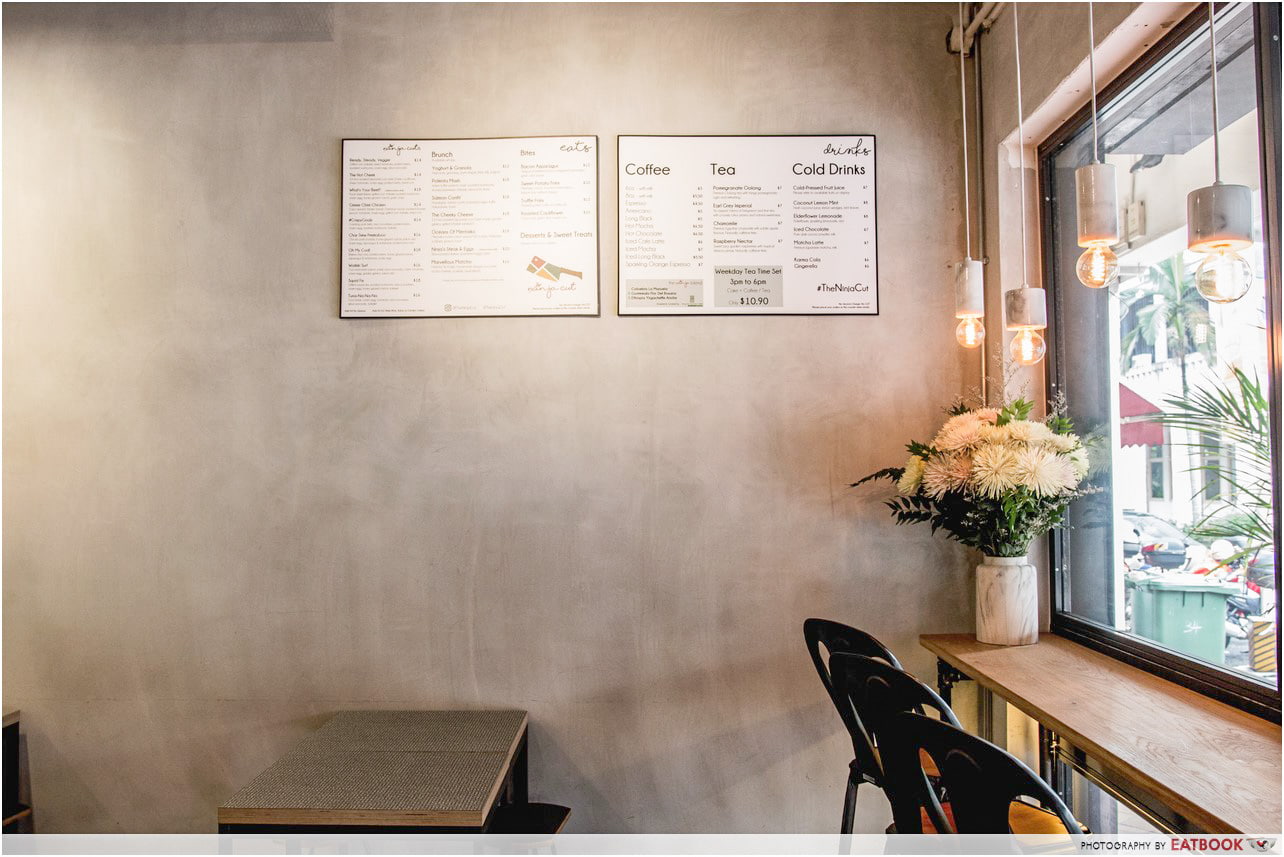 Ninja Cut presents the same industrial-minimalist vibe, complete with concrete walls, hanging Edison pendants, clipboard menu and brass hangers for magazines. I absolutely adore how simple, yet intentional everything is styled.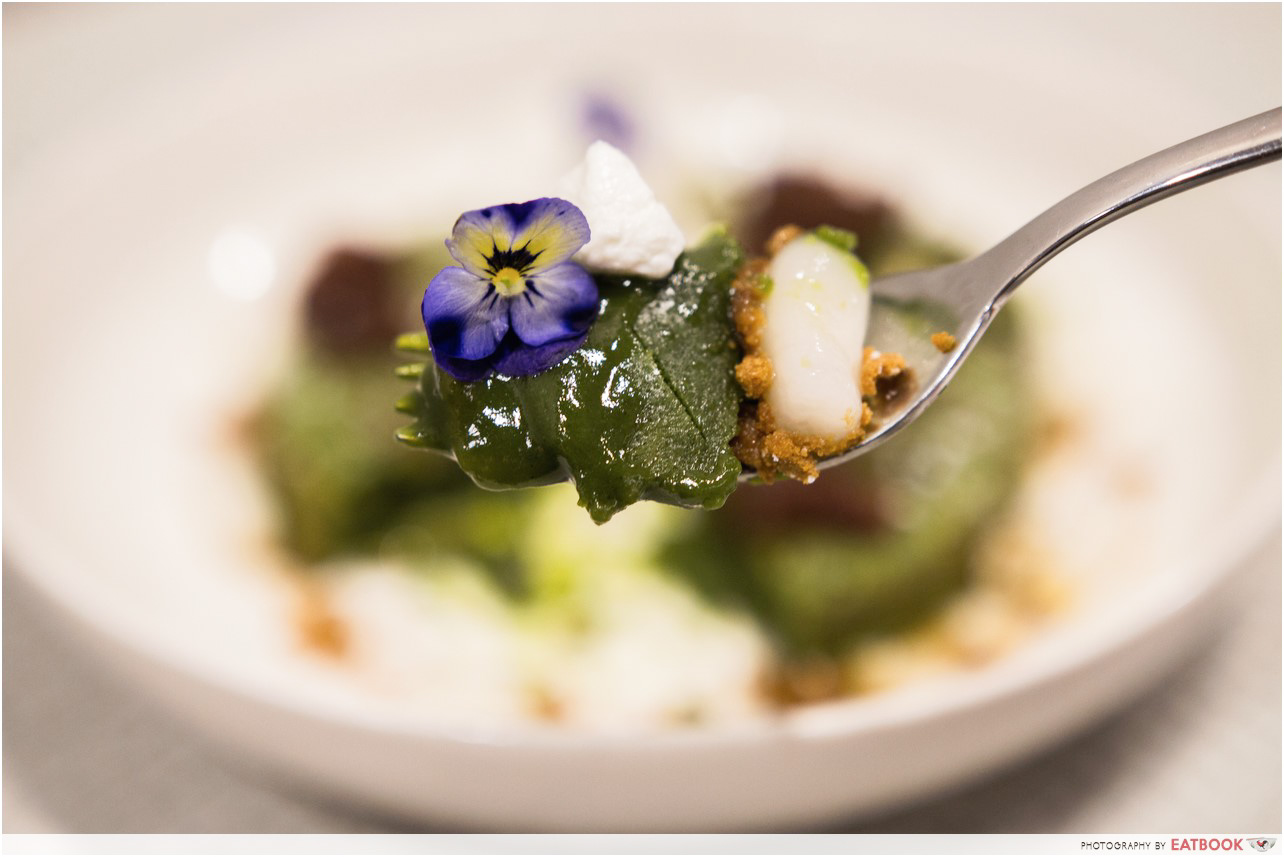 Give this Marvellous Matcha ($18) a shot. It has a crispy exterior with a gooey, matcha interior. It's then gorgeously styled with blooms of pretty blue flowers, finished with crumbles of yuzu peel that provide a zesty kick.
Those who desire something savoury can opt for their Unagi Burger ($22). Unagi that has been grilled to a nice char is topped with a perfectly cooked poached egg and rests between a brioche bun.
Check out our full review of Ninja Cut!
Ninja Cut Review: Hipster Japanese Cafe For Mentaiko And Matcha Lovers
Address: 32 Seah Street, Singapore 188388
Opening hours: Mon-Fri 9:30am to 9:30pm, Sat-Sun 9am to 6pm
Tel: 6264 7727
Website
---
7. Café Miligram
---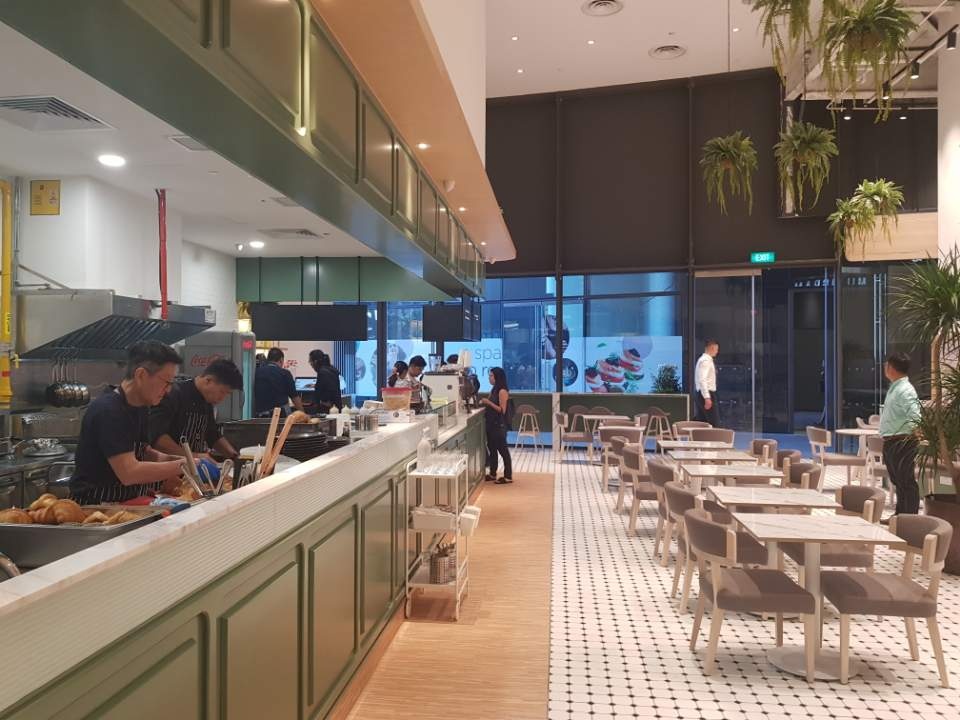 Image credit:Cafe Miligram
Opened in Marina One, Café Miligram boasts a contemporary chic. The checkered tiles and olive green wall furnishings further provide a classy elegance that vaguely feels like a Tiffany & Co.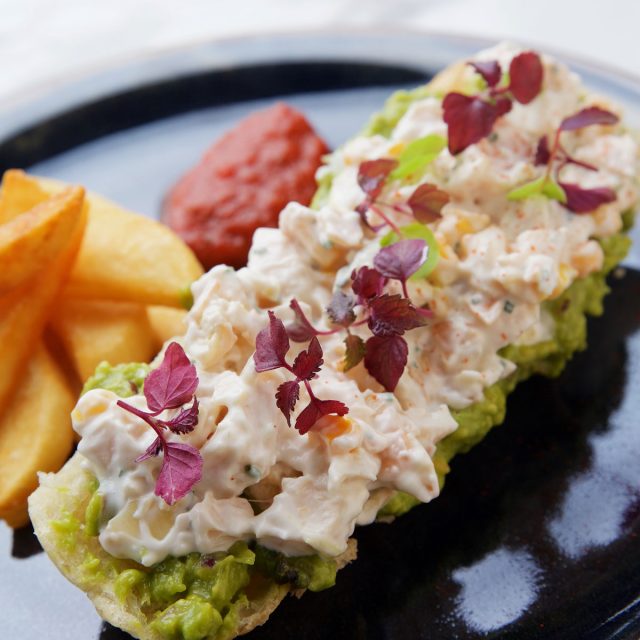 Image credit: Cafe Miligram
Something healthy yet tasty will be their Avo Corny Chicken ($17.50++). Mashed avocado and corn are dressed above a chicken sandwich, served with a handful of sweet potato fries.
A dish more indulgent will be the Spaghetti Boscaiola ($19.90++). Expect al dente spaghetti tossed in a creamy alfredo sauce, topped with egg yolk.
Address: 5 Straits View, #01-11, Marina One, Singapore 018935
Opening hours: Mon-Fri 7:30am to 9pm
Tel: 6282 9611
Website
---
8. Baristart
---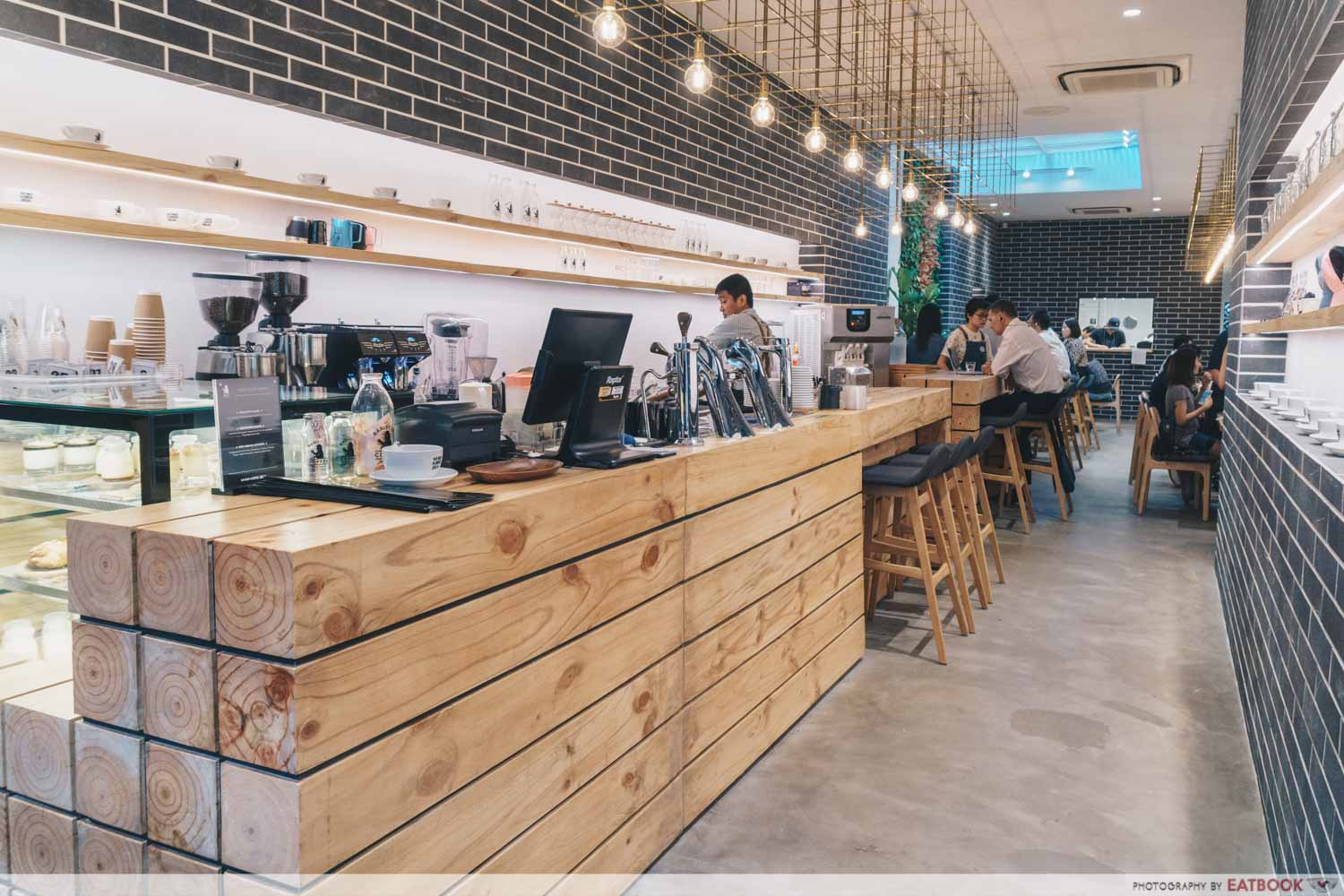 At Baristart, I absolutely adore the brass filament bulbs hanging from the ceiling and quaint black brick tiles that give a chic barn house vibe. Complement that with the cute Japanese barista and great service, this spot is such a gem.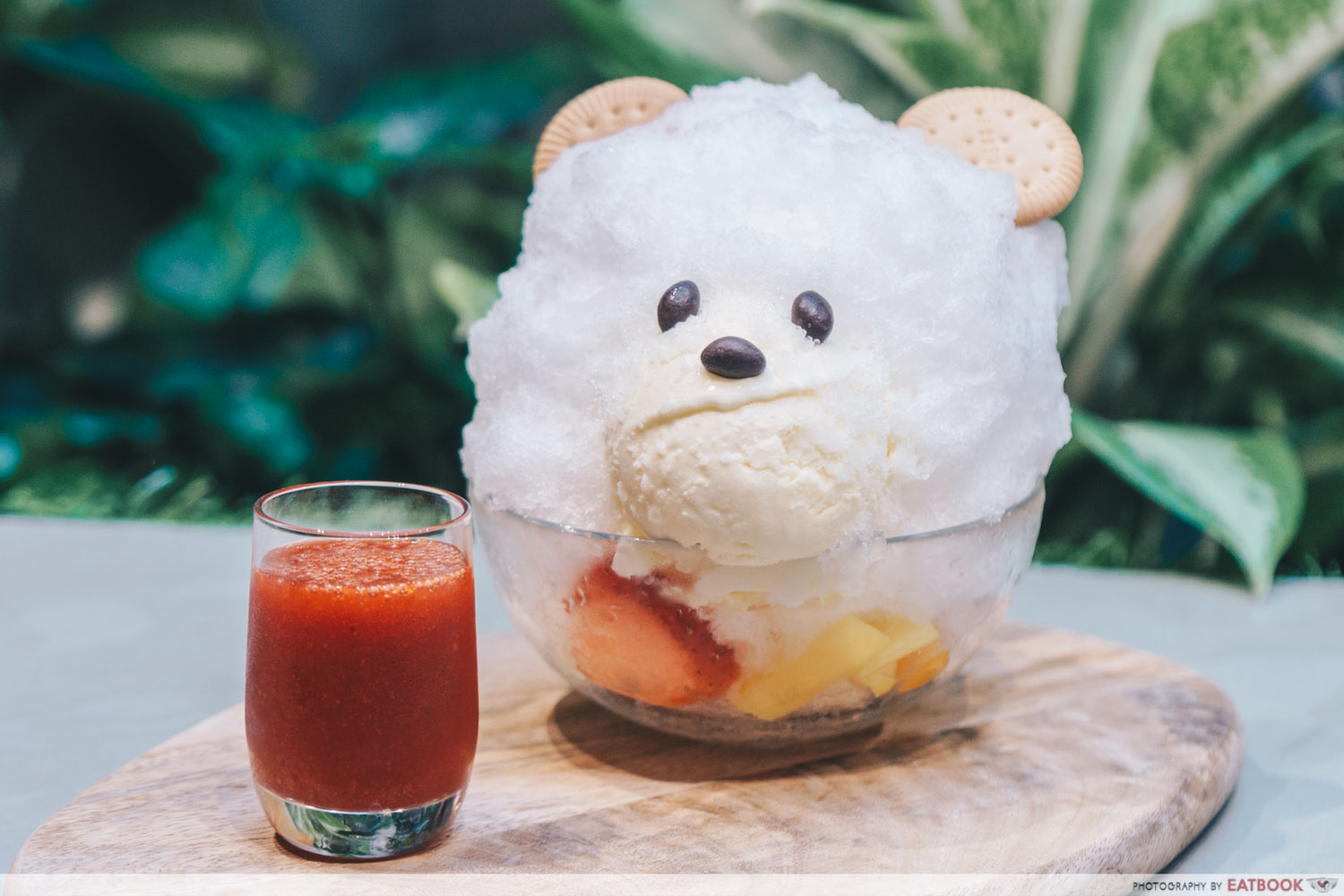 Consider getting the adorable Shiro Kuma Shaved Ice ($9.80) that's moulded into a kawaii bear. It is an amalgamation of cut fruits, Biei ice-cream, shaved ice, and a syrup of your liking.
I would also recommend the Butadon ($18.90++) when you dine here. Tender pork is draped in a sweet layer of reduced shio-mirin marinade. What ups the anté are the spikes of char that gave it a satisfying smoky flavour.
Check out our full review of Baristart!
Baristart Coffee Review: New Japanese Cafe With Kawaii Dessert And Pork Cutlet Sandwich
Address: 65 Tras Street, Singapore 079004
Opening hours: Daily 10am to 10pm
Tel: 6904 3169
Website
---
9. Columbus Coffee Co.
---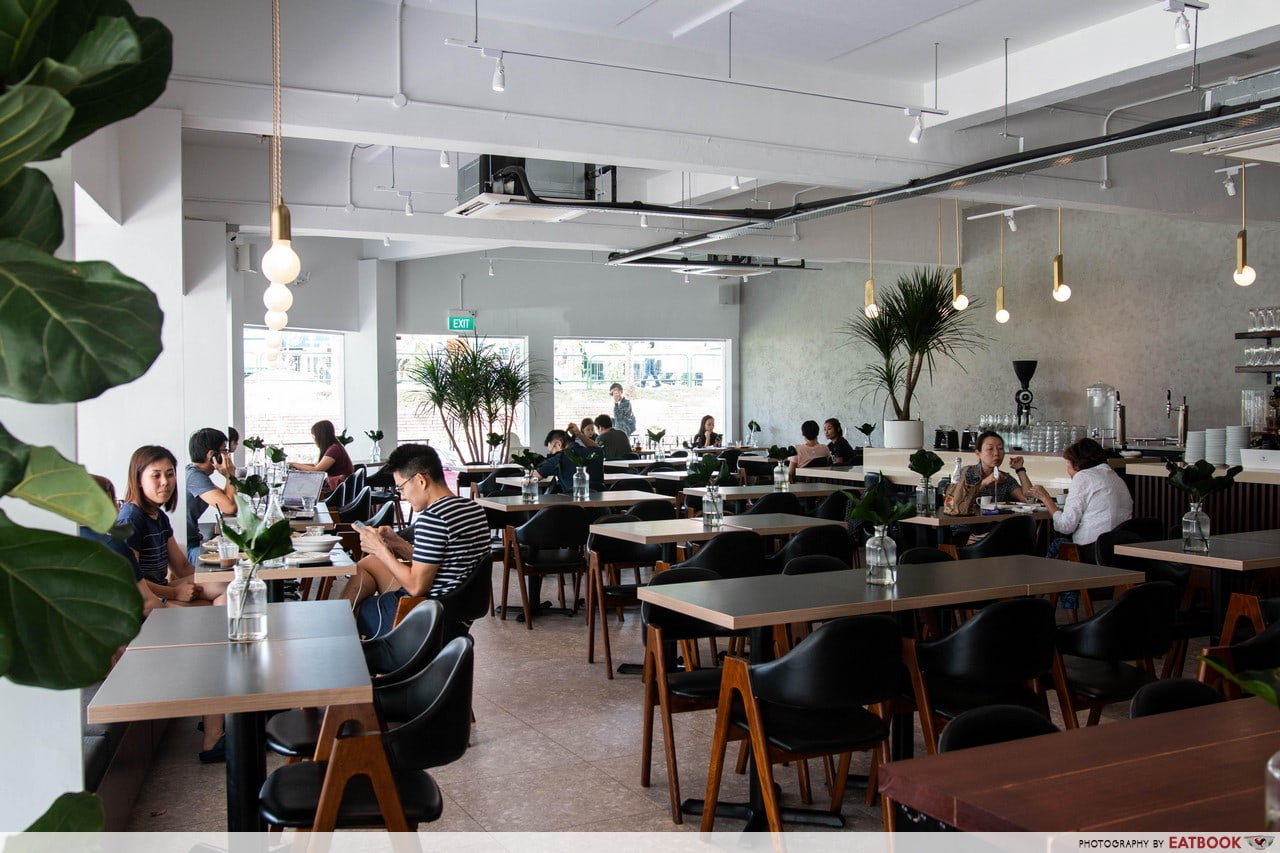 You might be thinking that Columbus Coffee Co. has some sort of interior design semblance to Atlas coffeehouse. And you'd be right; they are both run by the same group of people.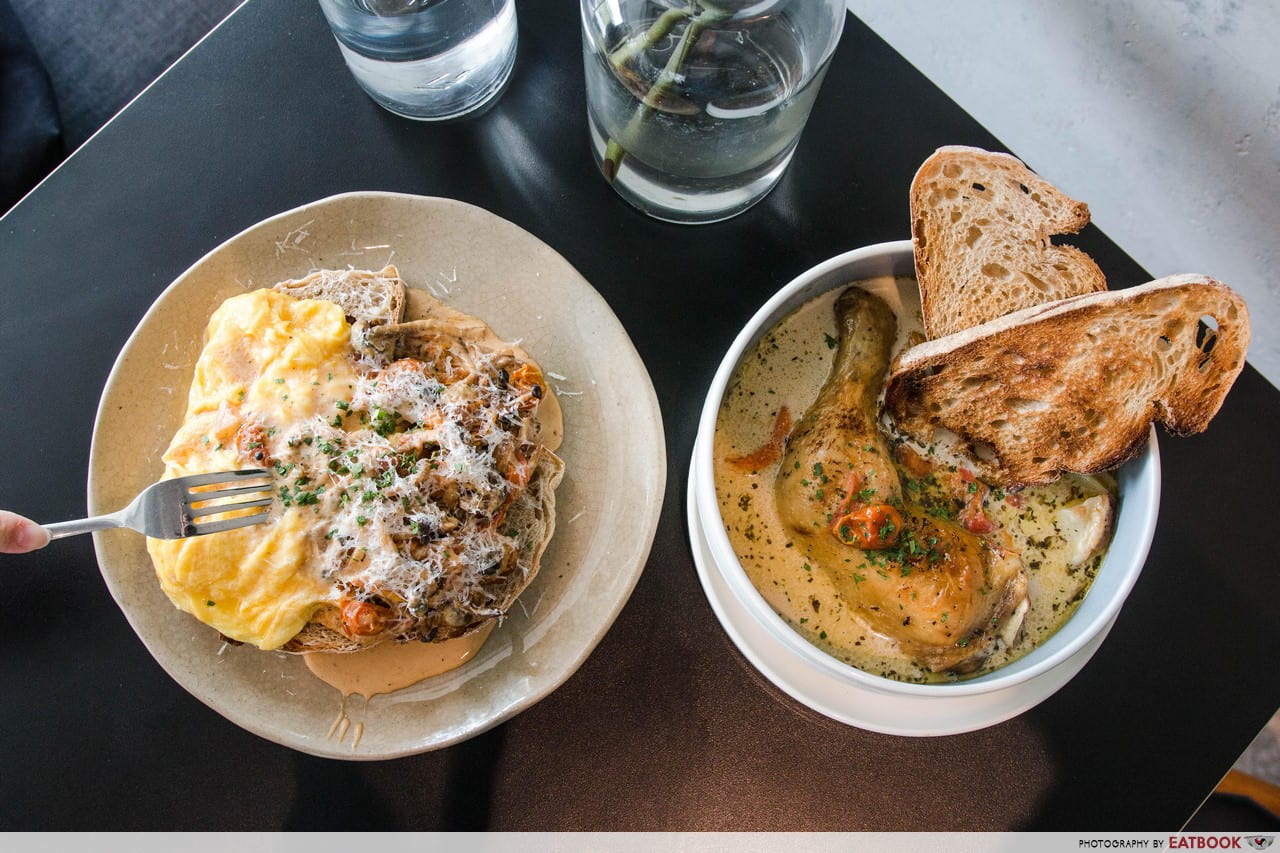 Consider their Creamy Mushrooms on Toasted Sourdough ($14+), with an add-on of Scrambled Eggs (additional $3+).  Sourdough bread is drenched in a cream sauce that's packed with a rich meatiness from sauteed shimeji mushrooms. The scrambled eggs are great too, providing a velvety, creamy mouthfeel.
Also available is the huge bowl of Summer Chicken Stew ($18+). Sun-dried tomatoes impart a strong umami kick to the sauce, only accentuated by the meaty, slow roasted chicken.
Check out our full review of Columbus Coffee Co.!
Columbus Coffee Co. Review: Atlas Coffeehouse's Sister Cafe With Good Brunch Dishes
Address: 220 Upper Thomson Road, Thomson Garden Estate, Singapore 574352
Opening hours: Tue-Sat 9am to 10pm, Sun 9am to 7pm
Tel: 6253 6024
Website
---
Minimalism is bae
---
From affordable $4.50 tarts to atas $20++ beef bowls, there's something for all high and low-ses minimalists. Also, while I love minimalism, I'm a maximalist for likes and shares. So be sure to share this article with your friends and let them know where your next minimalist hangout spot will be!
For those who think minimalism is but a dying fad, check out these 11 Bugis cafés. It has everything from cotton candy coffee to tempura ice-cream.
9 Bugis Cafes For Cotton Candy Coffee, Tempura Ice-Cream And Souffle Pancakes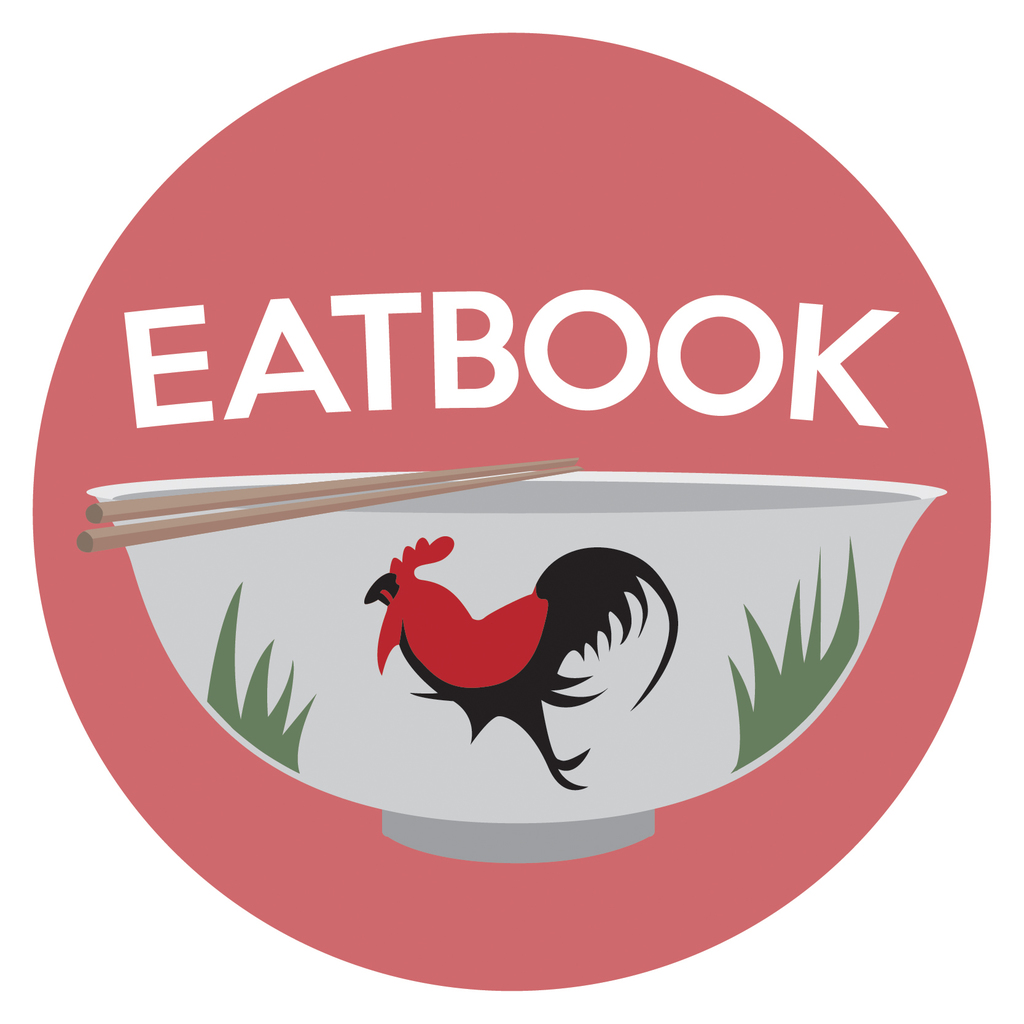 Drop us your email so you won't miss the latest news.