Grids and Circles is your new quiet place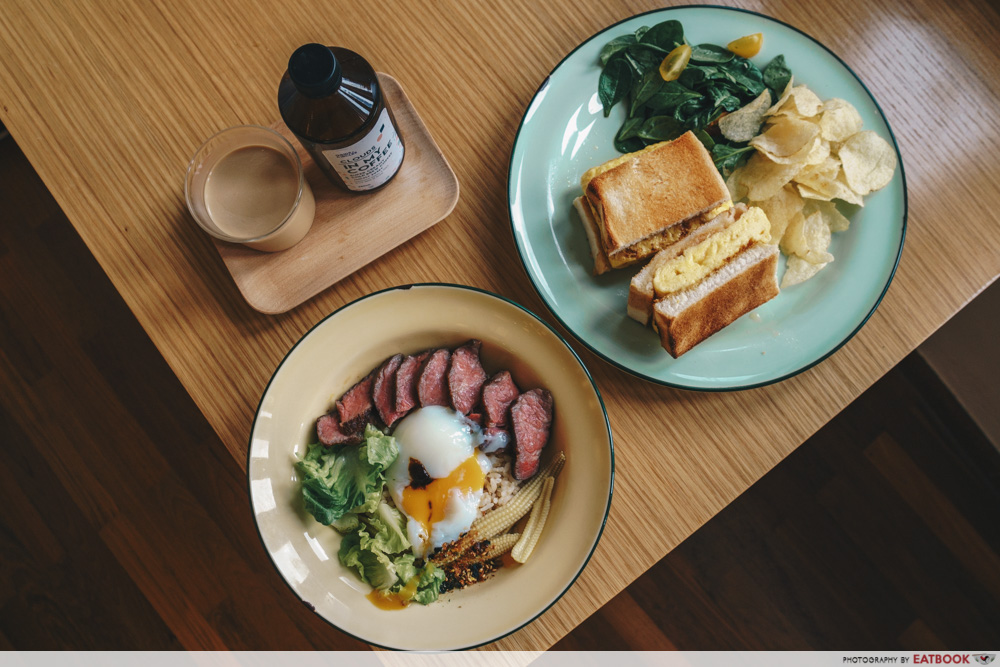 At the risk of sounding like a basic b*tch, I'm gonna say that I love cafes. The combination of good coffee, chill vibes and delicious food just can't go wrong. But the cafe scene in Singapore has honestly been pretty stale for a while, until I came across Grids and Circles.
A new addition to Chinatown, this minimalist hangout is started by Sando, a design agency located just above the cafe. It's managed by siblings, which perhaps explains the cafe's homely feel.
Food at Grids and Circles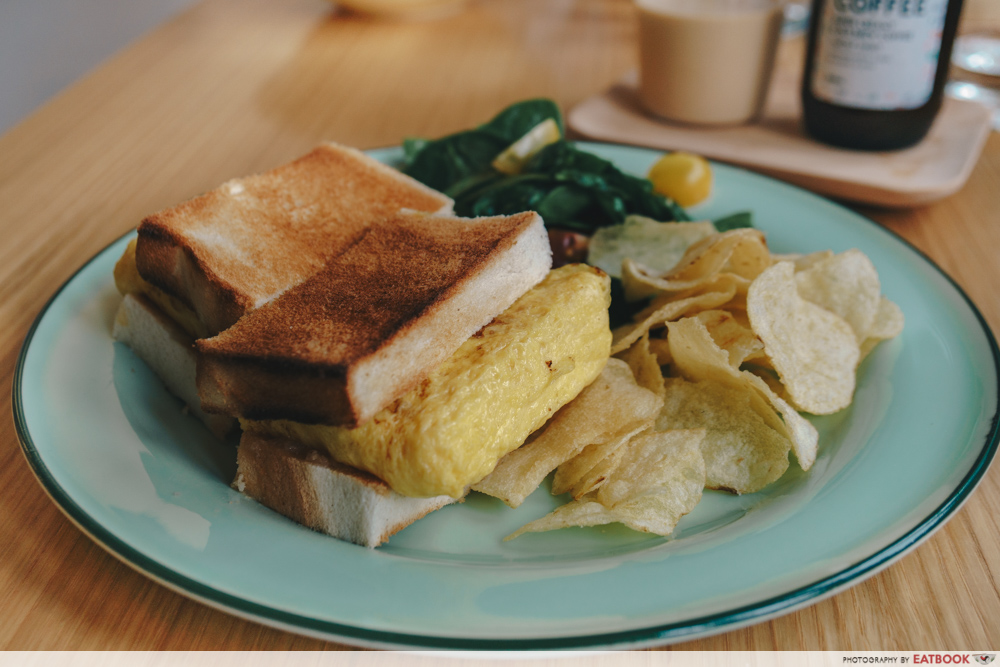 Their lunch menu focuses on pasta and rice bowls, whereas their dinner menu is for tapas-loving folks. We popped by for the former, and the first thing we tried was their Tamago Sando ($12++).
Though it doesn't look fancy, this turned out to be my favourite. Hidden between soft bread and an insanely thick omelette is a thin layer of house-made pear sauce and konbu mayo.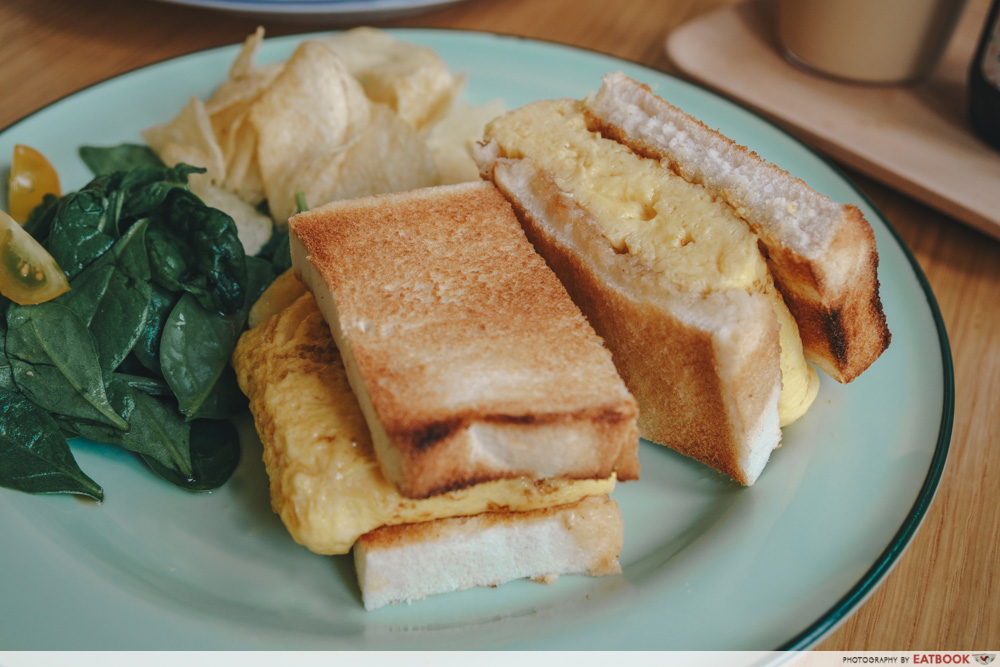 The pear sauce held a light sweetness, while the konbu mayo added umami to the dish. And when eaten with the creamy egg, the combination revealed a harmony of sweet and savoury flavours that I never thought would work so well together.
The dish comes with chips and a simple spinach salad, but just half of the sandwich, without all that frills, was enough to fill me up.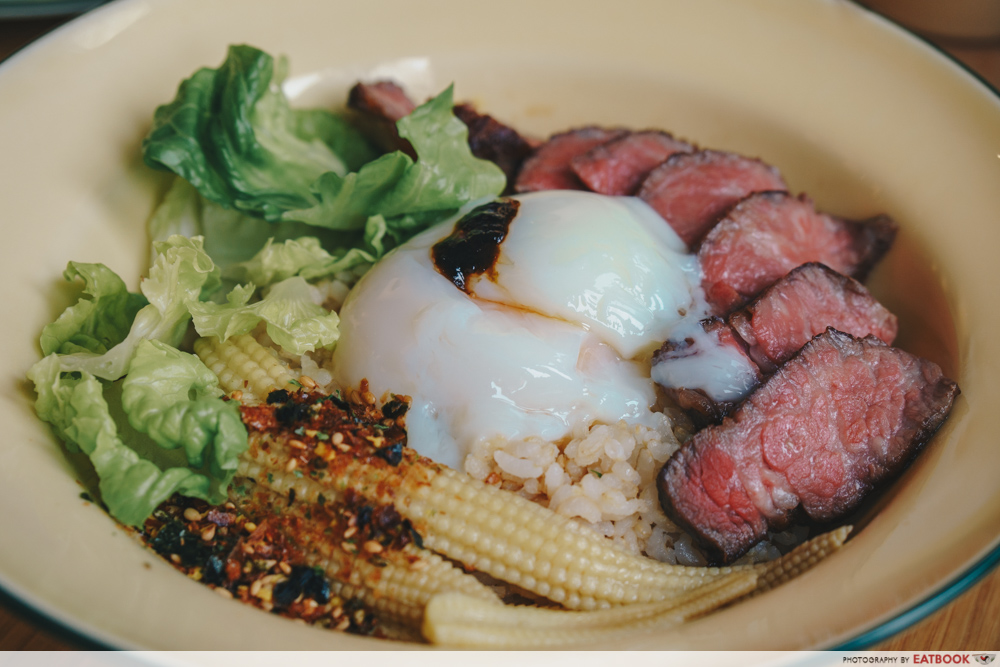 The other dish we had was the Wagyu Beef Bowl ($20++). We had high hopes for the most expensive item on the menu, and thankfully weren't disappointed. Our bowl came with Kinmemai brown rice, baby corn with furikake, butterhead lettuce, and thick strips of medium-rare wagyu.
If you don't already know, Kinmemai is also known as the most atas rice out there. It's said to contain more fibre and vitamins than average rice, and even reduce problems such as bloating. I'm not sure if I need such expensive rice in my cafe food, but I was quite interested to try it. The verdict? Like that lor. I will, however, keep a lookout to see if my skin starts shining tomorrow.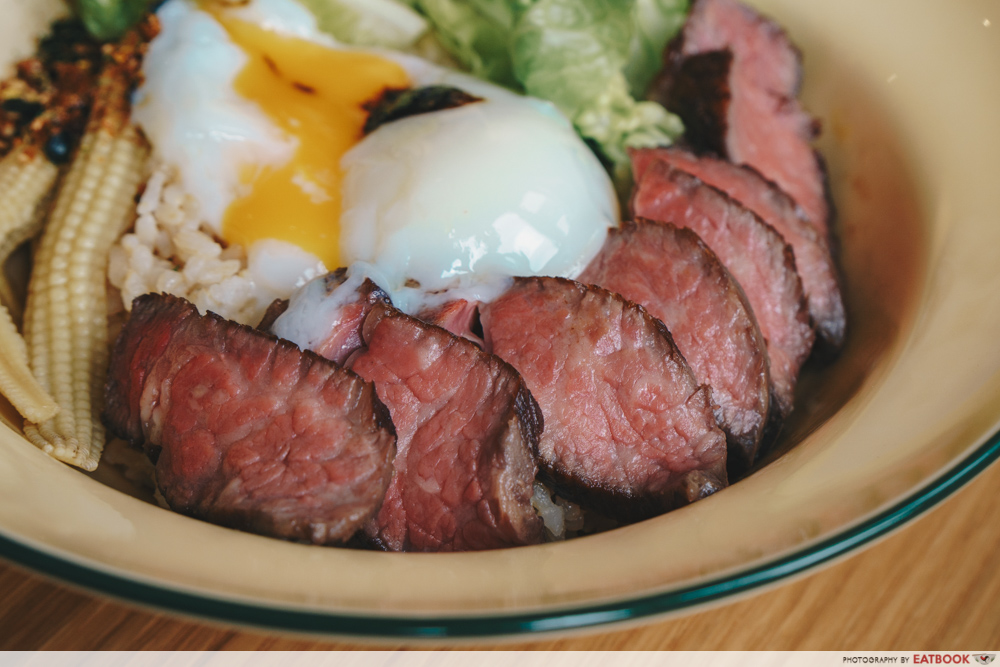 What I did enjoy was the subtle taste of truffle oil laced throughout the rice. The beef was good too, as it oozed with juices with each bite. While I quite liked the clean-tasting dish, those who prefer stronger flavours might find this bland.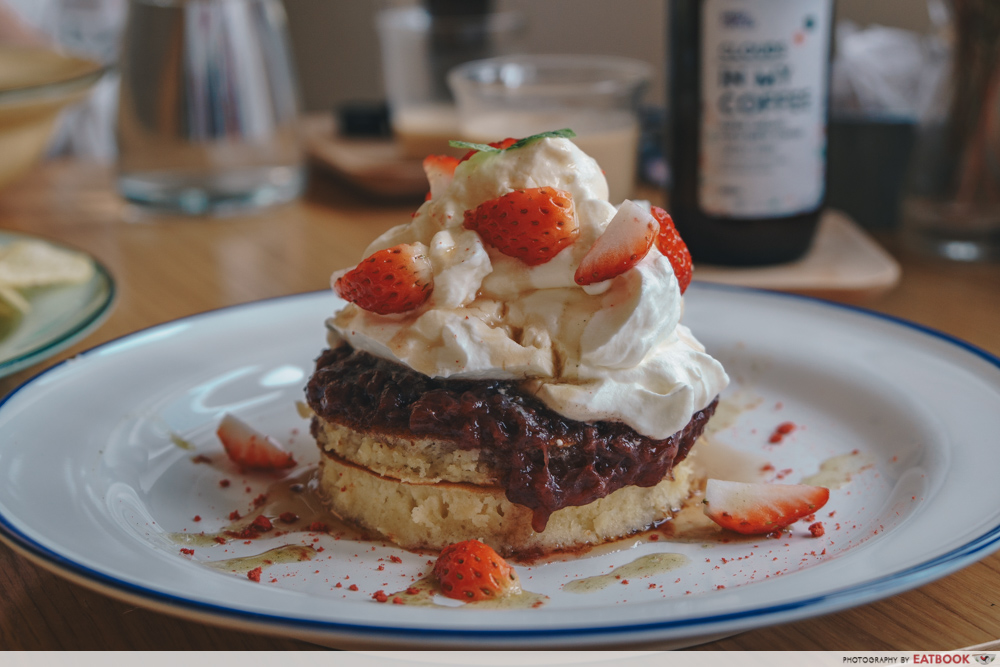 We also got their Strawberry Wonderland ($16++) to share. The pretty dessert looked too good to be eaten, with two pancakes as a base, and strawberry compote, sweetened whipped cream, and fresh strawberries topped on it. Basil mint sauce was drizzled all over the plate.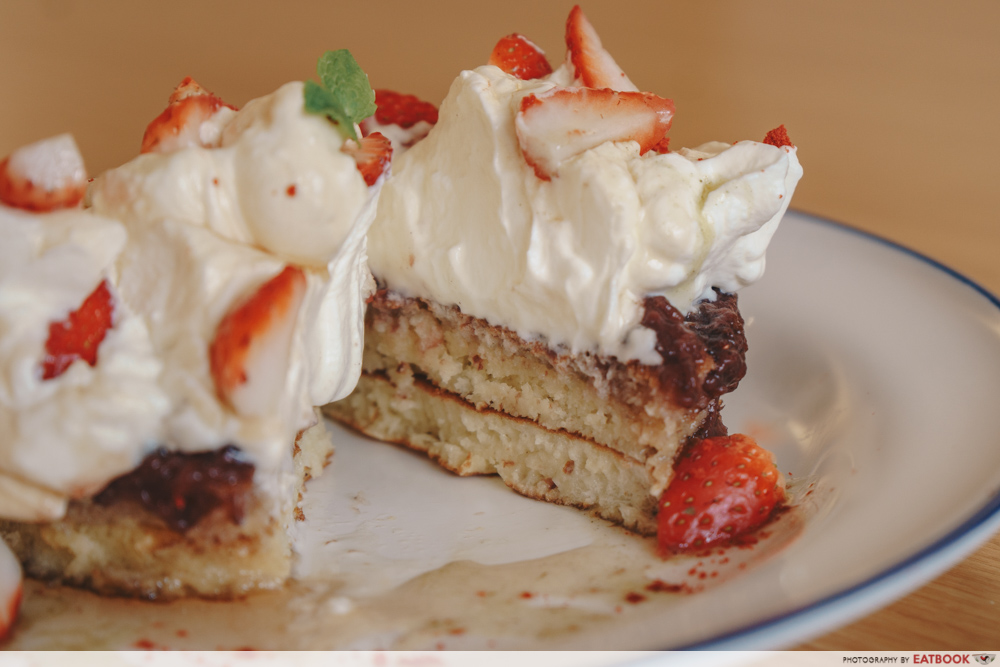 I usually steer clear of strawberry desserts, because the strawberries in Singapore tend to be sour AF. So this surprised me by offering well-balanced flavours. The buttery pancakes soaked up the sugary sweet compote, and the whipped cream created that cloud-like texture in my mouth. The tart strawberries did their part by preventing this from being cloying and jelak.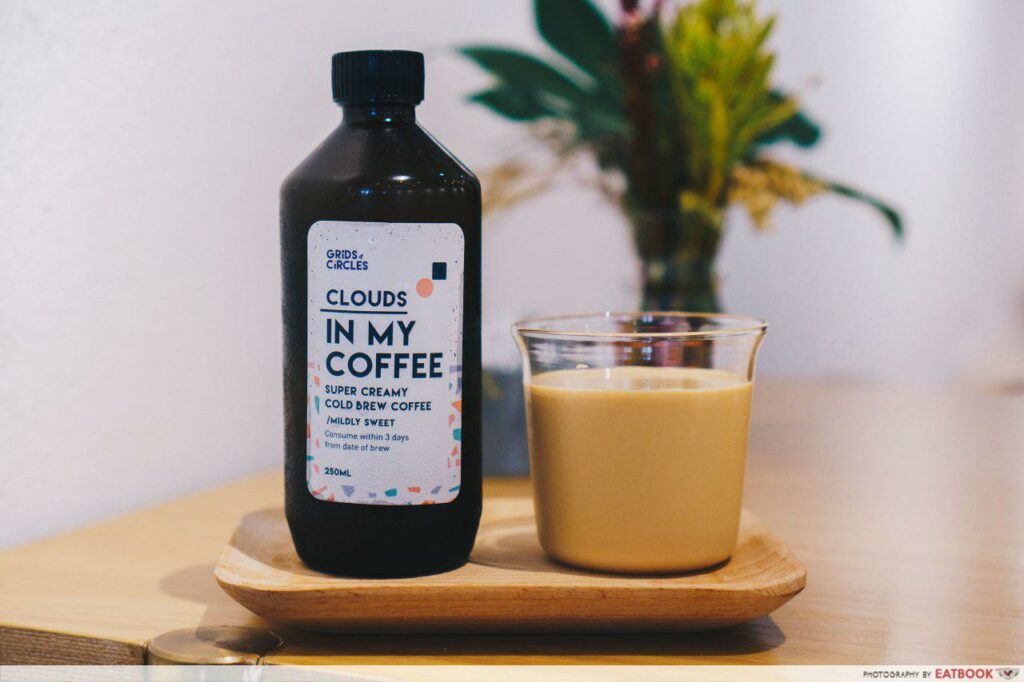 Elegantly named Clouds In My Coffee ($7.50++), their white cold brew was comparable to the ones from famous cafes. The ratio of milk to coffee was just right, resulting in smooth sips that still had that caffeinated kick.
It wasn't too sweet either, unlike some white cold brews that taste more like coffee milk than coffee with milk. But be sure to give it a good shake before you pour it out each time, because I found some milk clumps in my glass towards the end.
Ambience at Grids and Circles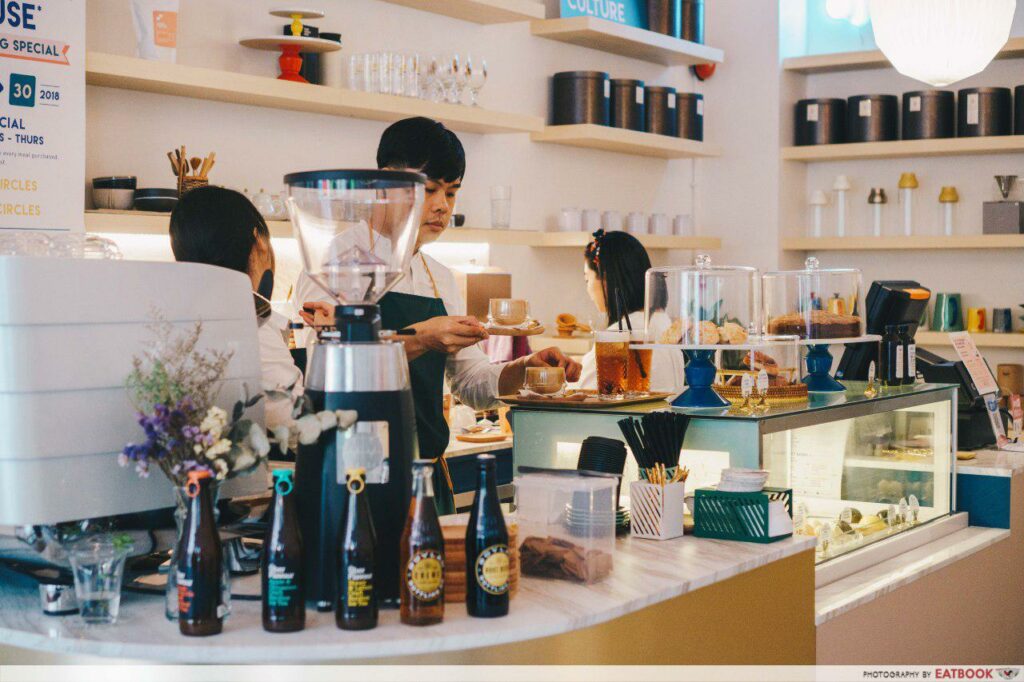 Grids and Circles takes up two levels of the shophouse it's in, and Sando occupies the third. The cafe's decor isn't elaborate, with level two being almost bare except for wooden tables and chairs. Yet it's this simplicity that I find charming, and I would love to return to soak in the serenity. Their wall plugs and free Wi-Fi make it easy for freelancers or students to do some work too.
The verdict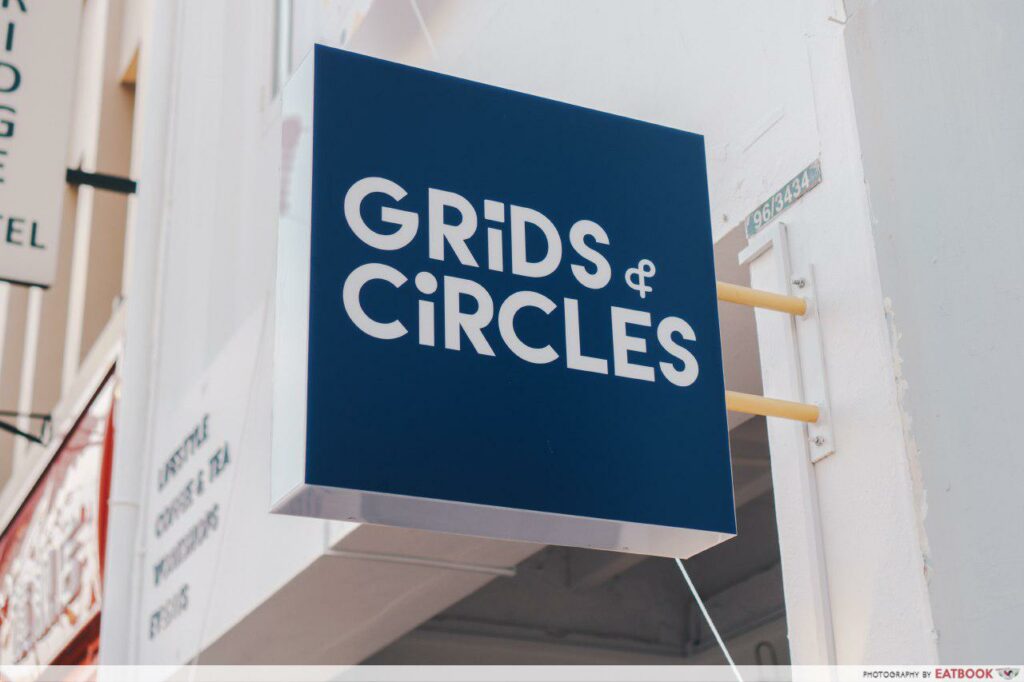 There just something about Grids and Circles that intrigues me. It could be the Japanese menu that not many cafes offer, or the refreshingly unembellished interior. Whatever it is, this is a cafe I would come back to whenever I want to unwind, or if I need a space to work at. With the delicious Tamago Sando, cold brew, and my laptop, I can easily picture myself spending an entire afternoon here.
For more cafes to check out, bookmark this list of beautiful cafes or head over to these Johor Bahru cafes that offer value-for-money nosh.
Address: 200 South Bridge Road, Singapore 058749
Opening hours: Daily 8am to 6pm
Tel: 6935 3546
Website
Grids and Circles is not a halal cafe.
Photos taken by Koh Huiqing.
This is an independent review by Eatbook.
6 Romantic Cafes With Classy Ambience And Good Food That Bae Will Love
Summary
Pros
– Unique dishes
– Convenient location
– Relaxing space
Cons
– Expensive
Recommended Dishes: Tamago Sando ($12++), Strawberry Wonderland ($16++), Clouds In My Coffee ($7.50++)
Opening Hours: Sun-Thur 8:30am to 6:30pm, Fri-Sat 8:30am to 12am
Address: 200 South Bridge Road, Singapore 058749