Ninja Cut has brunch for you and your Insta-feed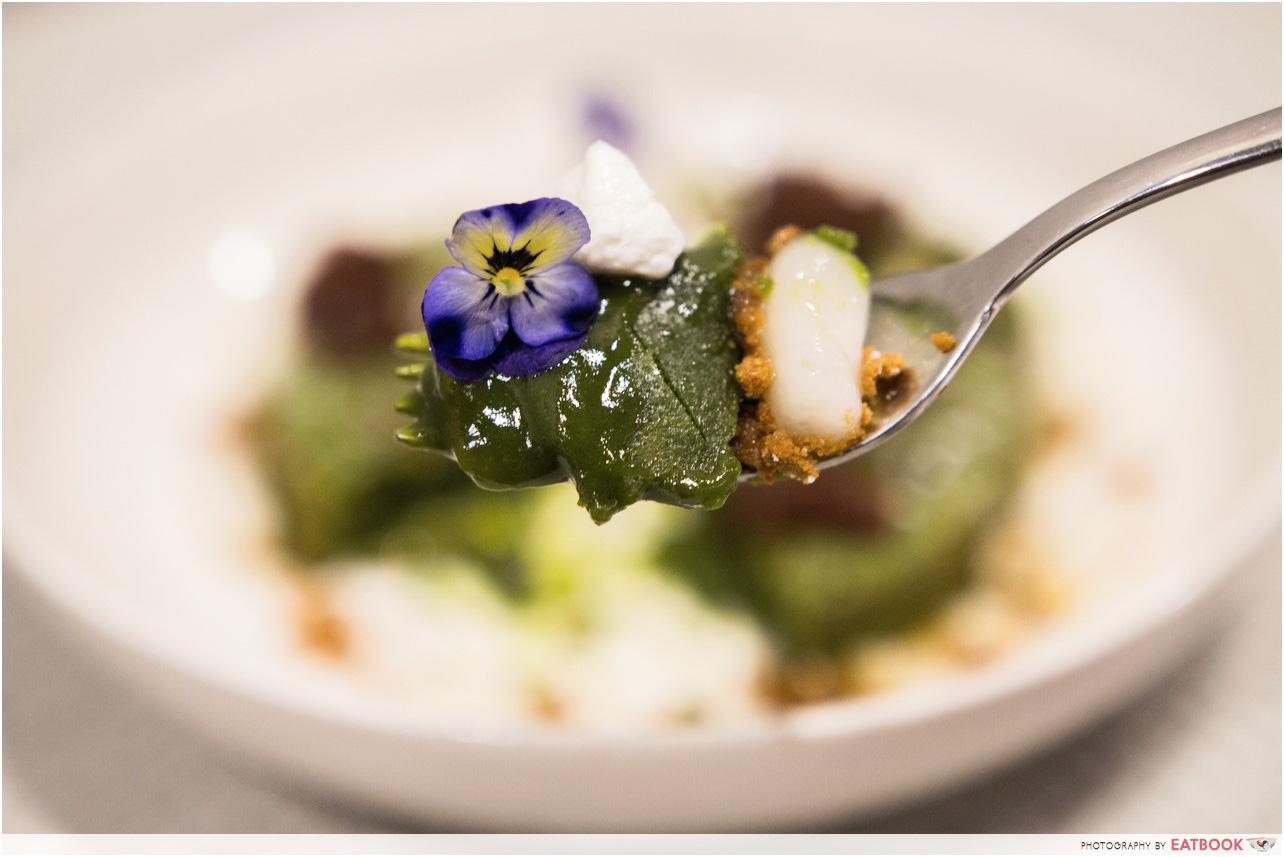 When it comes to food nowadays, you're not the only one that needs feeding. In fact, at most places, you'll find smartphones and cameras getting the first bite. Ninja Cut, the sister cafe of Ninja Bowl, gets this. With an array of photogenic all-day brunch dishes, this new cafe lets both you and your Instagram feed feel satisfied after walking out.
Food at Ninja Cut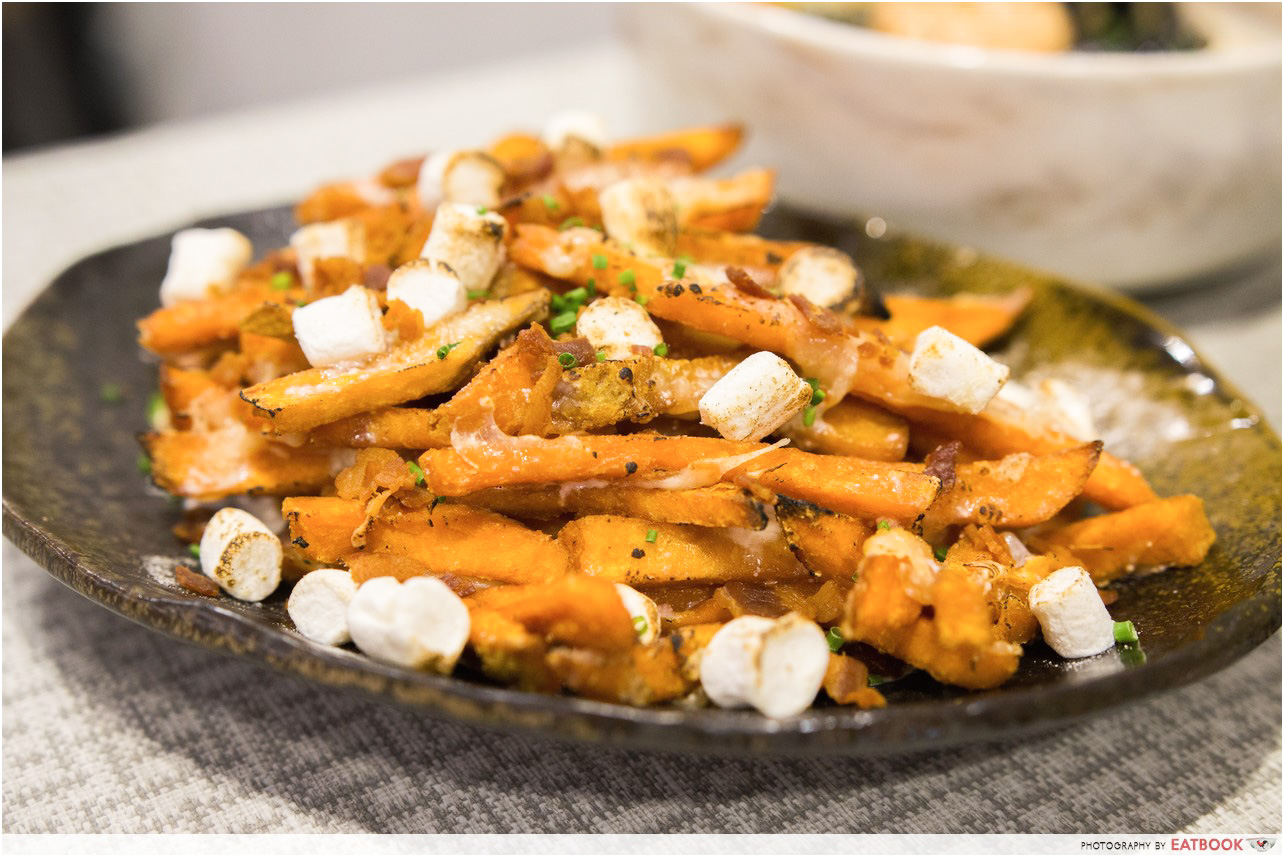 One of the more interesting sides is Sweet Potato Fries ($10) topped with mentaiko cream, torched marshmallows, bacon bits and melted cheese. A strange combination that might make you raise an eyebrow, but lo and behold, it works!
Like a lure for the hungry, the plate arrived to the table with a rush of steam, exuding a warm, salty air that reminded me of a pizzeria. Tempted, I immediately pulled some fries from the plate and watched the melted cheese stretch and snap before popping it in my mouth.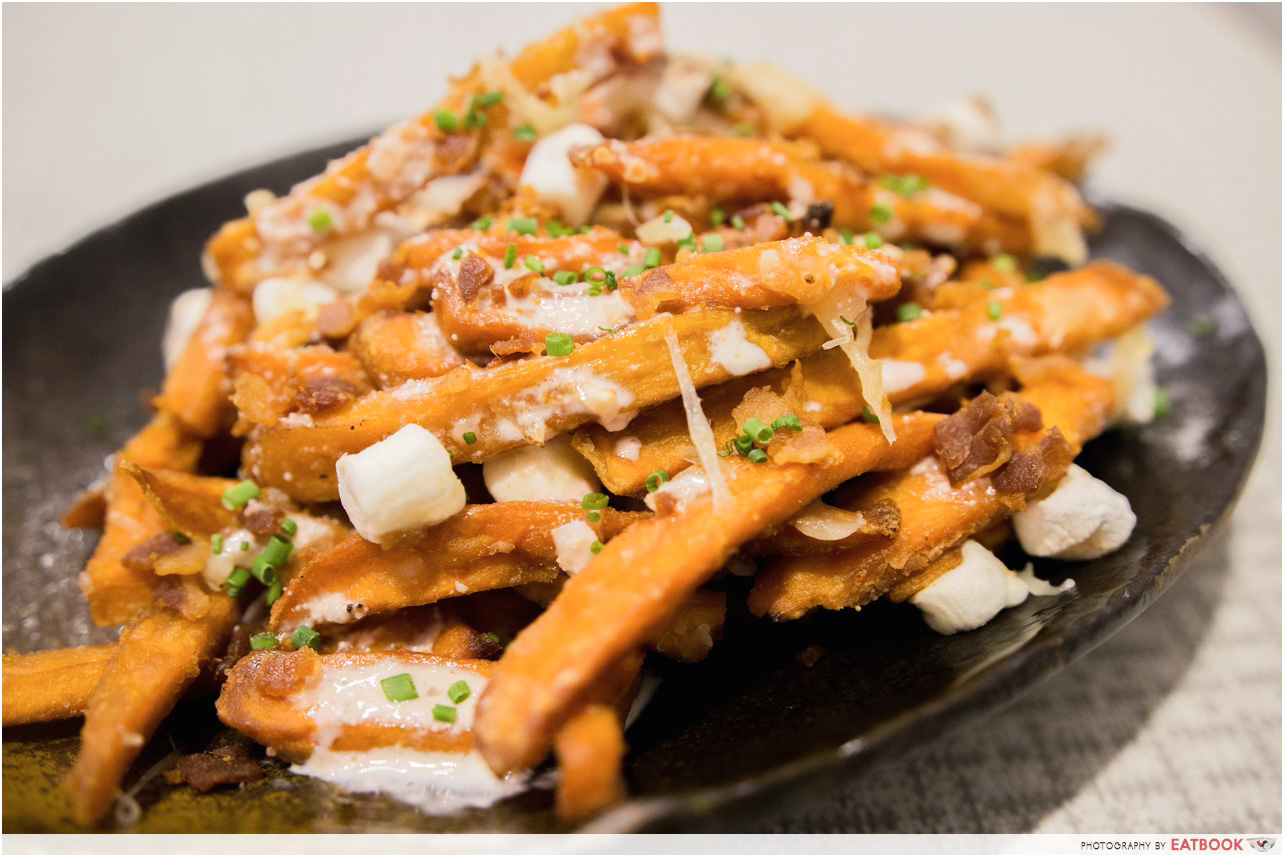 Although the fries were quite soft despite having been just served, the burst of natural sweetness from the sweet potato instantly won my heart. The mini marshmallows were slightly torched, adding a charred flavour amplified by the smokiness of the fries and saltiness of tiny bacon bits. Include all the different components in one mouthful to get layers of warm, sweet and smokey notes at once – #foodgasm.
The most disappointing component was the mentaiko cream, or the lack of it, as compared to photos I saw on Instagram before dropping by. I found myself scraping the bottom to get some precious cream on my fry.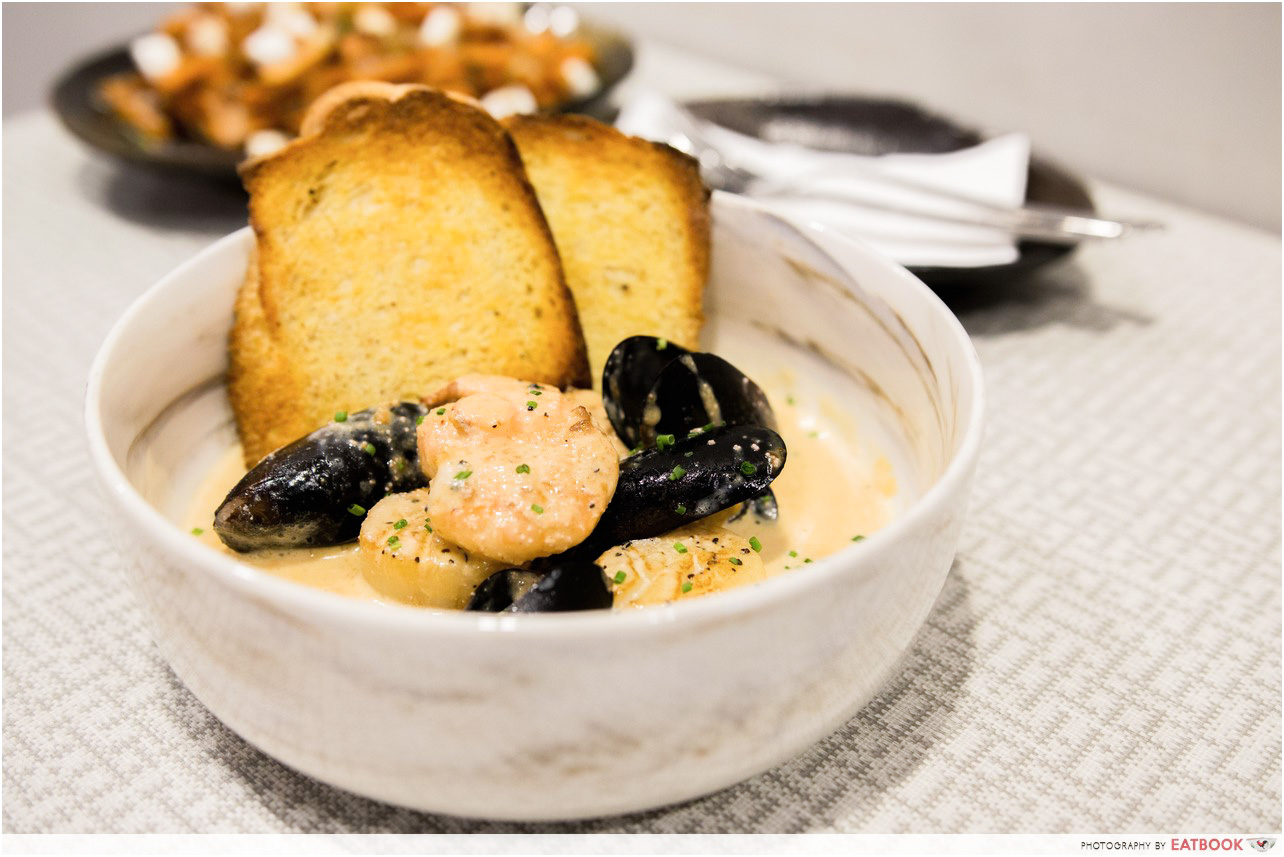 Oceans of Mentaiko ($18) is a reinterpretation of Ninja Bowl's Ebisu Stew, which is topped with fat Hokkaido scallops, New Zealand mussels and two slices of slightly chewy toast. Although both are priced the same, Ninja Cut throws in a couple of prawns to accompany the rich mentaiko butter cream sauce, a change from Ninja Bowl's miso cream base.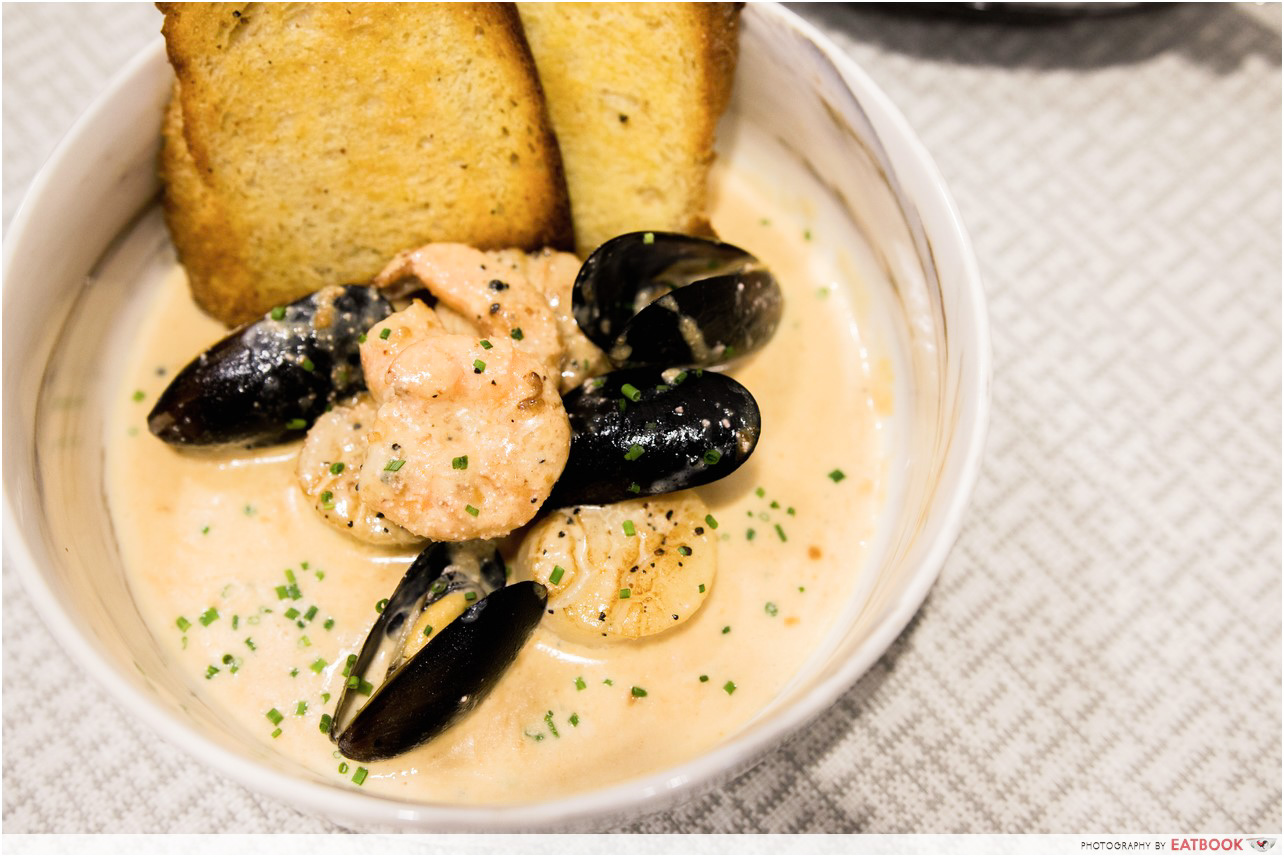 Each ingredient in this umami-packed bowl of crustaceans was cooked well, but I loved the prawns the most. The lining of the prawn was tight, but the meat remained soft as it exploded in my mouth. The scallops were plump and juicy despite being less pan-seared than I hoped for. That being said, the scallops greatly overshadowed the mussels, which had a slight bitterness in the meat.
There's something immensely comforting about mopping up every ounce of creamy sauce with every inch of crusty, golden-buttered sourdough that I got. It's a shame there was barely an inch of broth around the bowl as I'd have loved to shamelessly slurped it up like soup.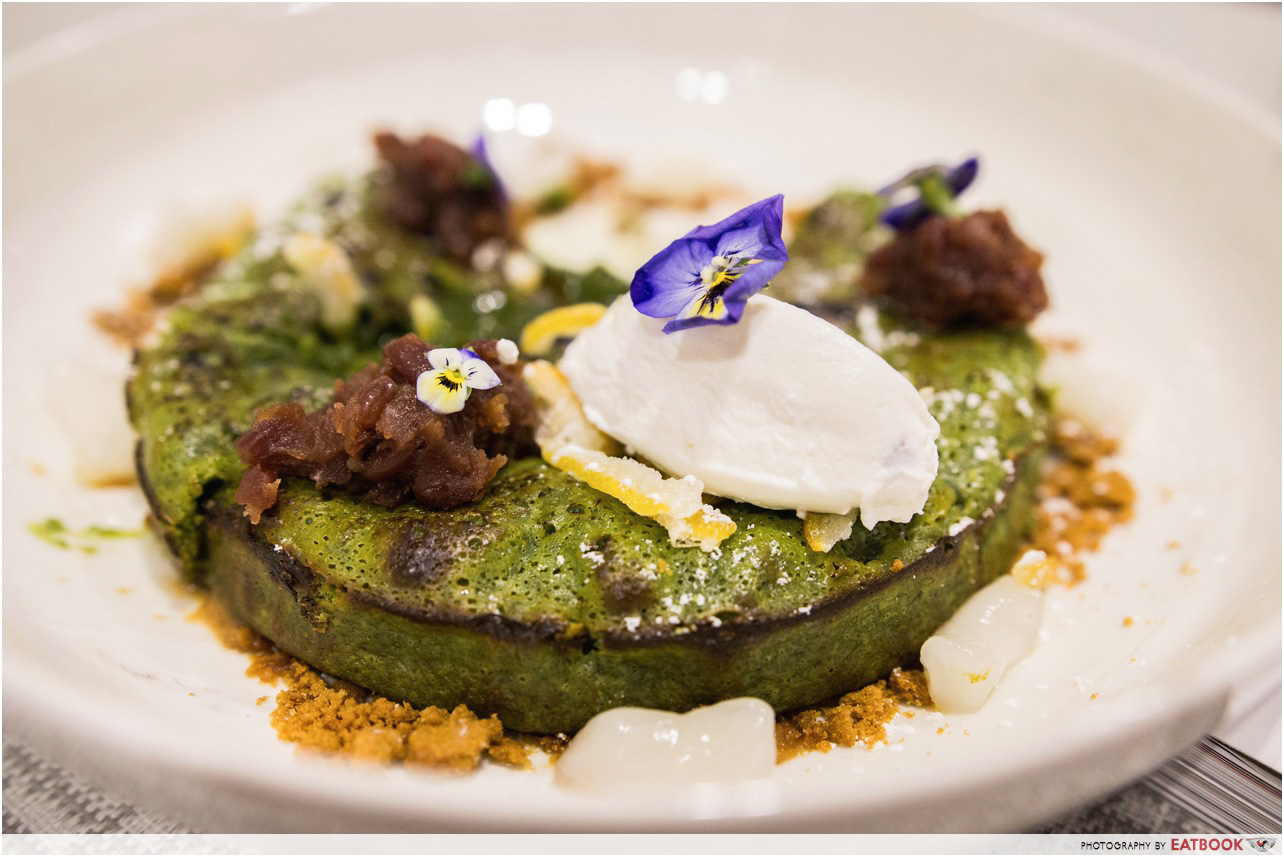 Although Marvellous Matcha ($16) is listed under brunch, I was given the option of having it served later like a dessert. This matcha hotcake comes with a crusty exterior and an oozy, bittersweet molten lava inside. Around it, crystallised yuzu peel added a citrus fragrance, while the slightly sweet and sour dango reminded me of pink and white tang yuan (glutinous rice balls) served during special occasions.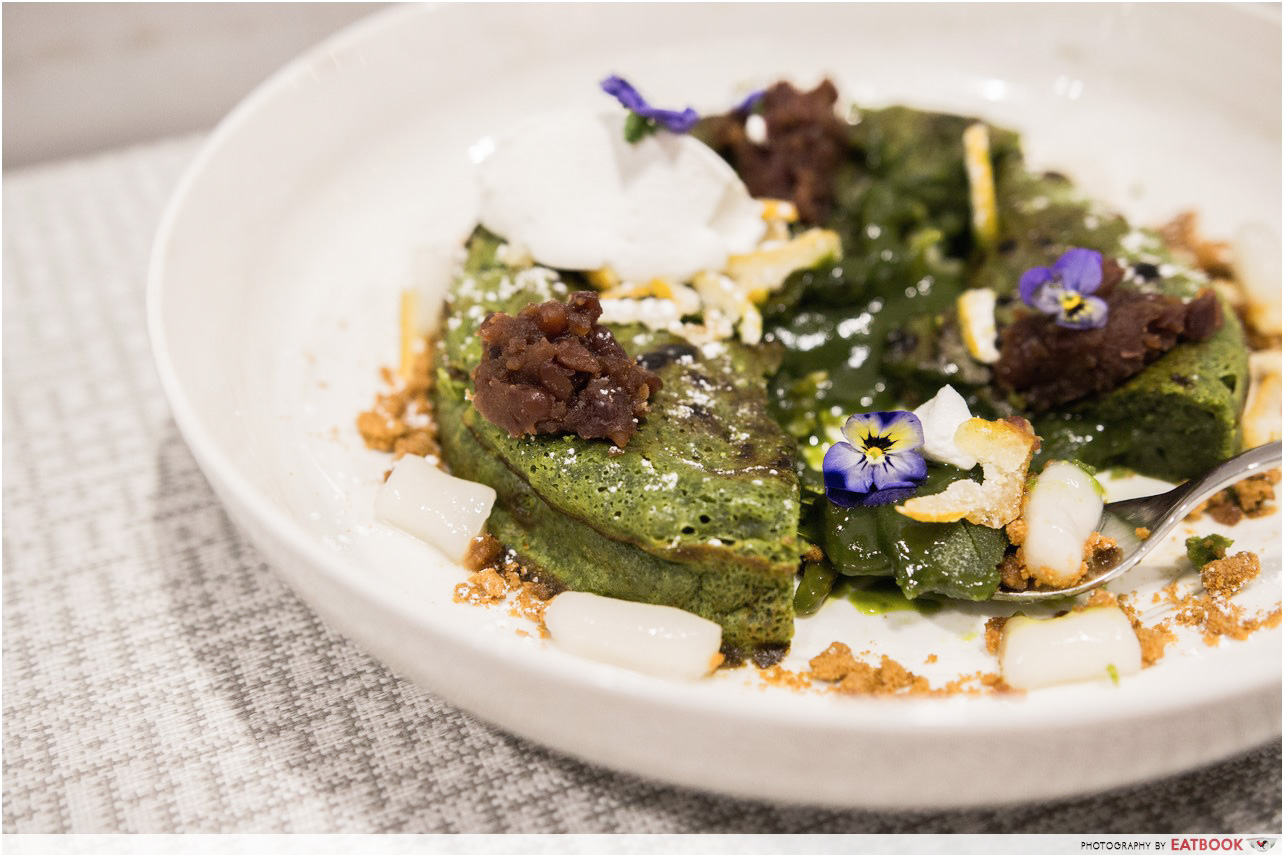 Like the filling inside a Japanese doriyaki, the adzuki bean paste added a depth of sweetness to the hotcake, as did the cinnamon-tinged speculoos crumble. As a die-hard matcha lover, the hotcake itself really was the winner of the show and I'd gladly pay to break it open once more and watch the matcha stream flow.
However, the dish was quite confusing on my palate, as each flavour of citrus, matcha, speculoos and red bean was strong, and I'd much rather have it one component at a time. The ricotta cheese dollop also made the dish drier. As a rich dish that can be too jelak for 1, I'd recommend it shared between 2 to 4.
Ambience at Ninja Cut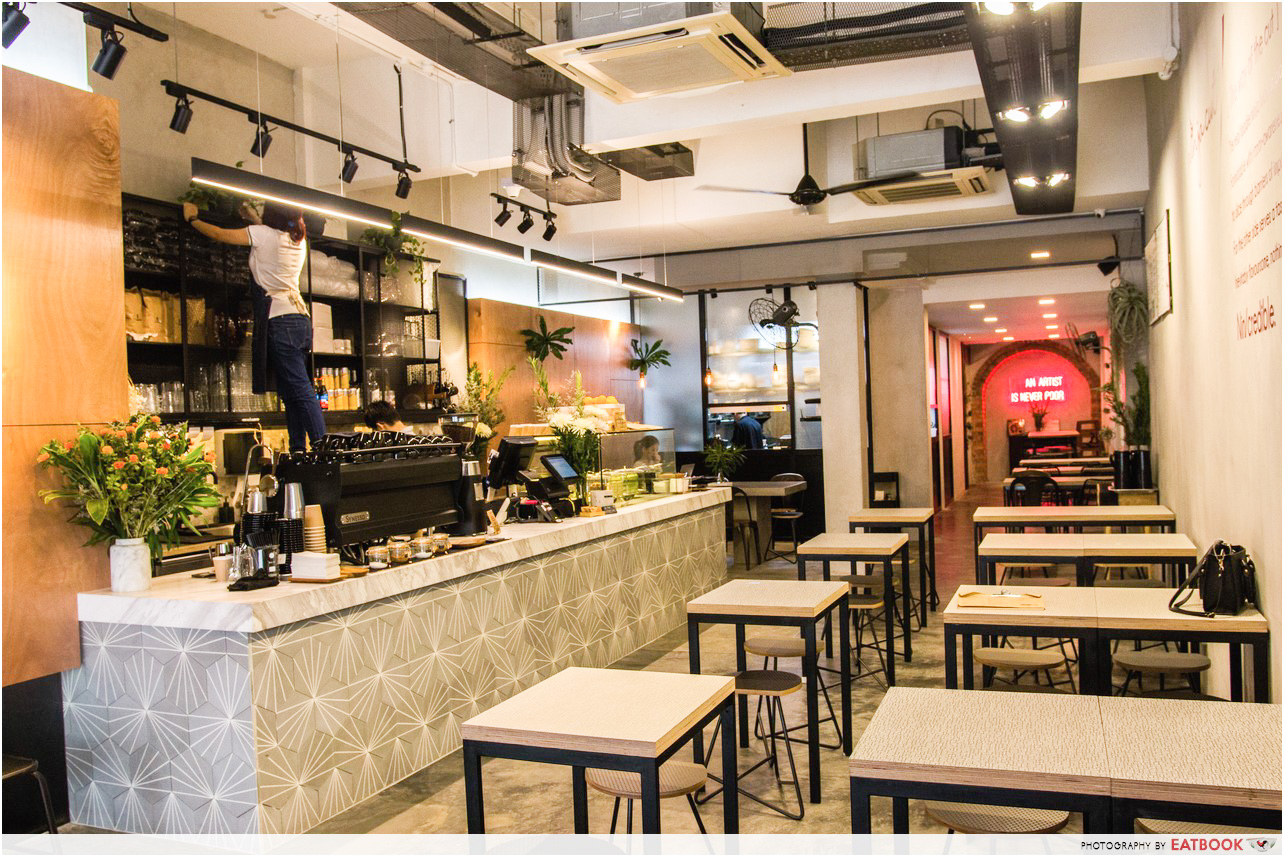 Similar to Ninja Bowl, Ninja Cut presents the same industrial-minimalist vibe complete with concrete walls, clipboard menu and even throwing in some brass hangers for magazines.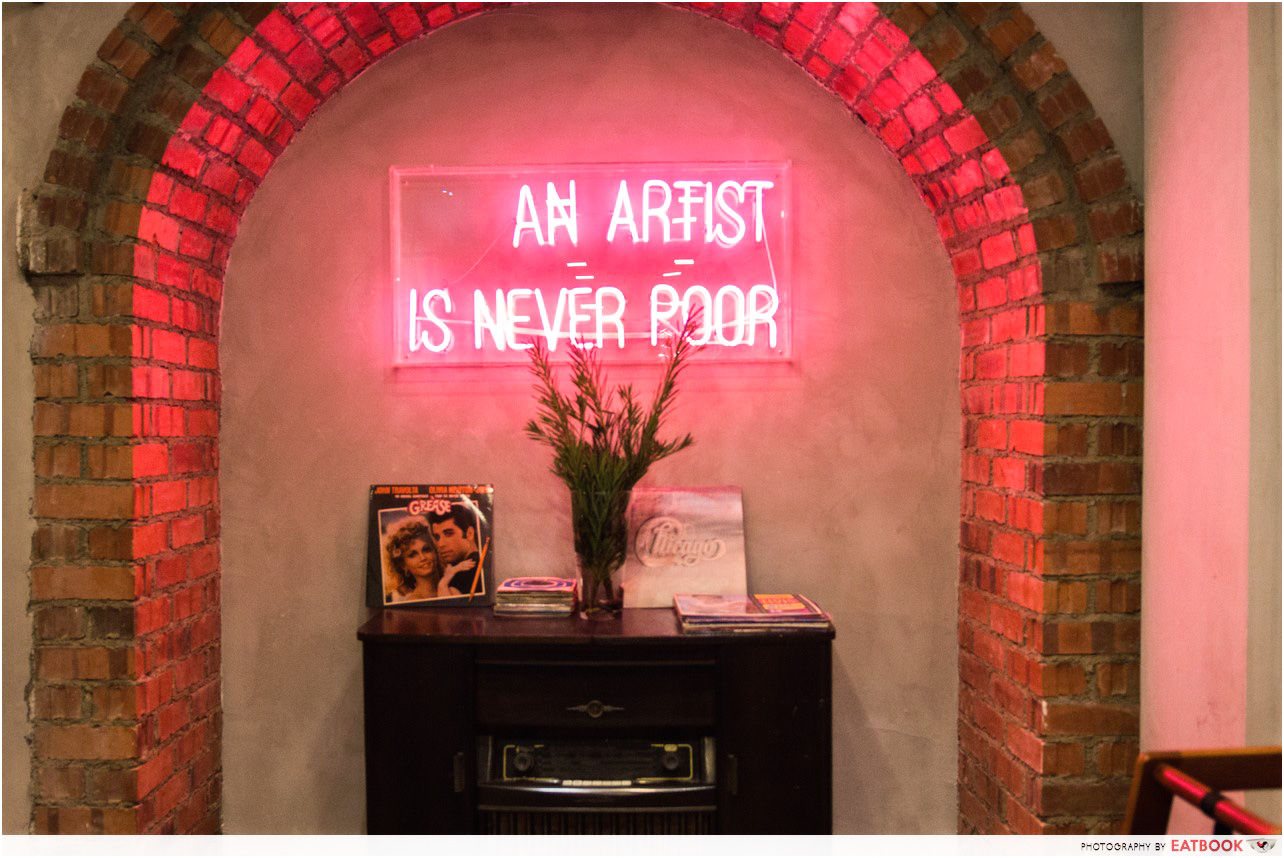 Down the corridor, a pink neon sign flashes the words, "AN ARTIST IS NEVER POOR", emitting a typical hipster vibe.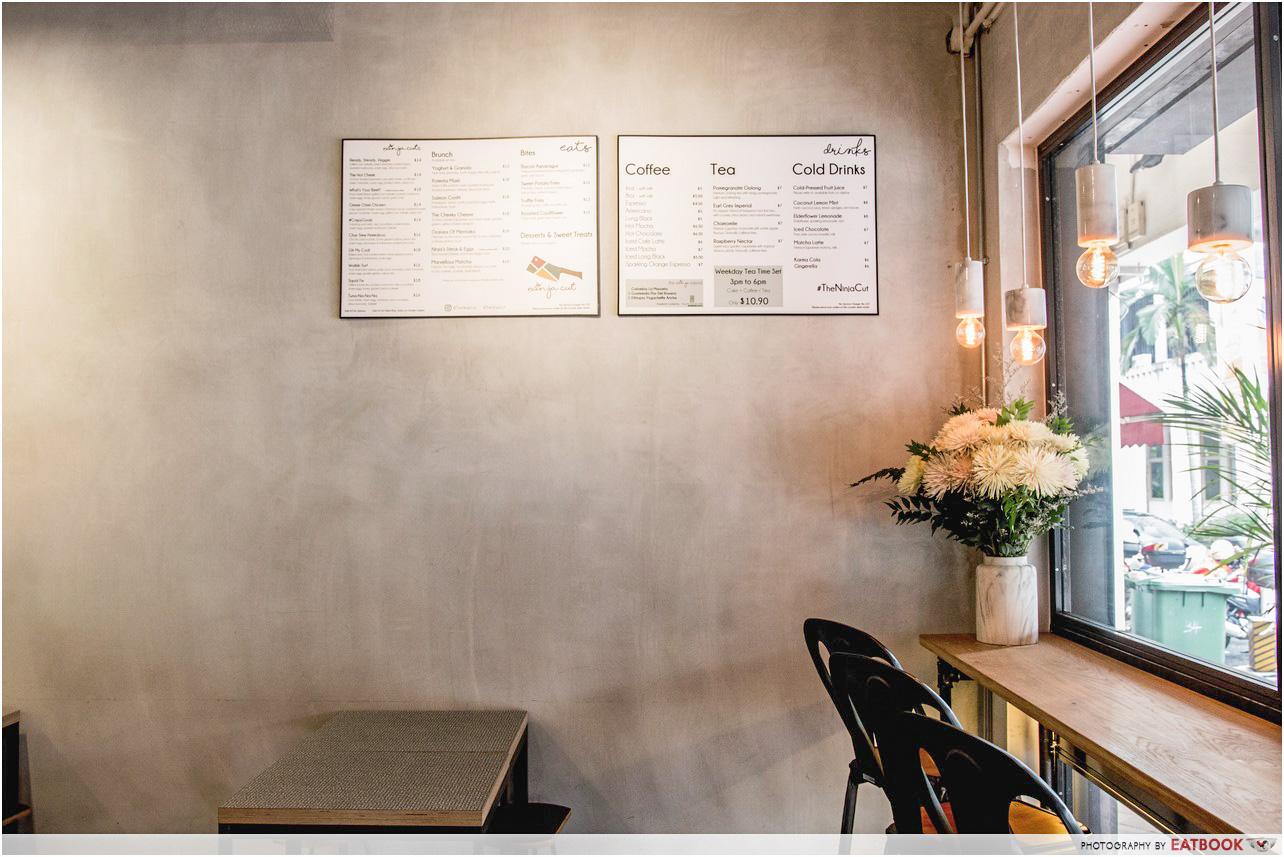 From food to service, the Japanese influence felt real. The moment I entered, all the staff immediately chirped, "Hi, welcome!" before approaching me with a menu and an open hand to guide me to a table.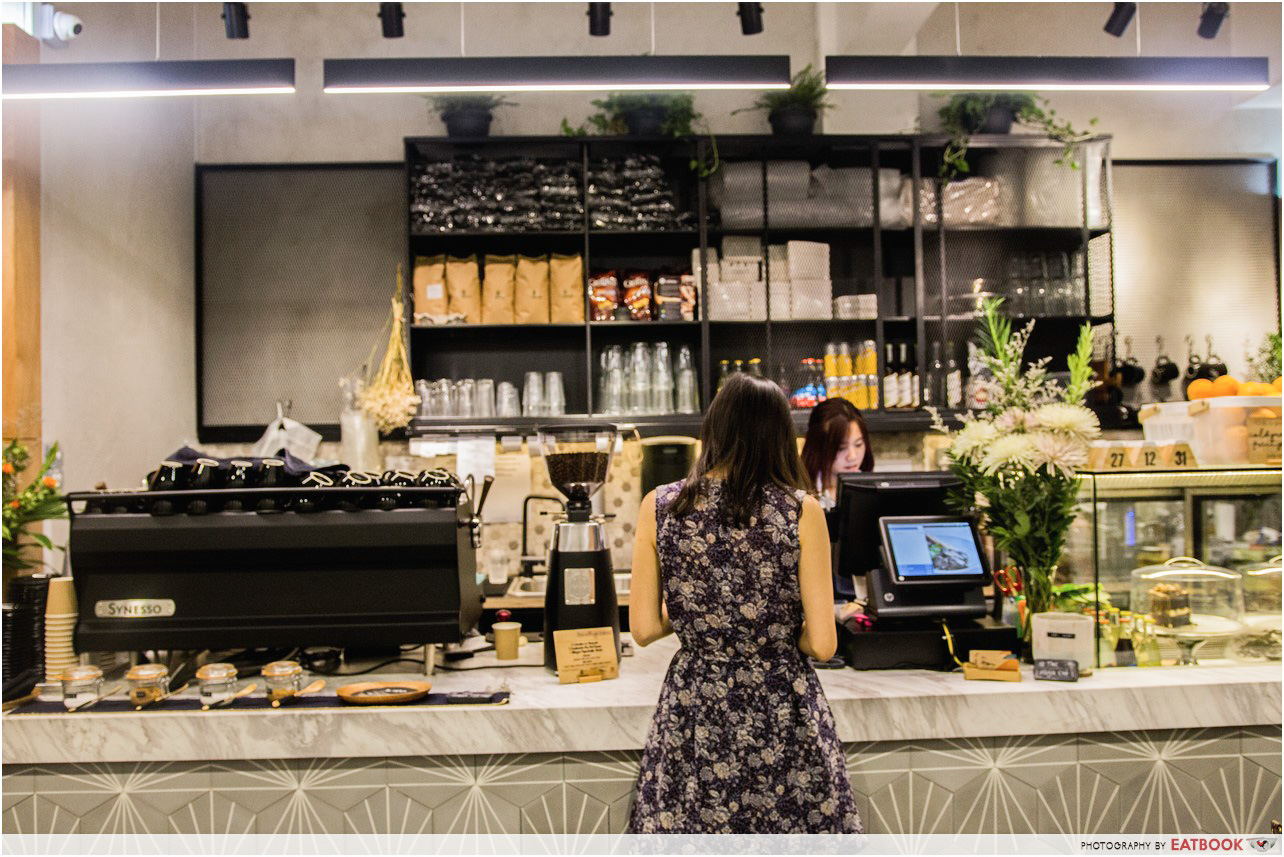 This was definitely a refreshing change as respect and attentiveness is something I've learnt not to take for granted at many cafes. At the end of my meal, they were also more than happy to help me take-away my leftovers, keeping it by the counter until I was ready to leave.
The verdict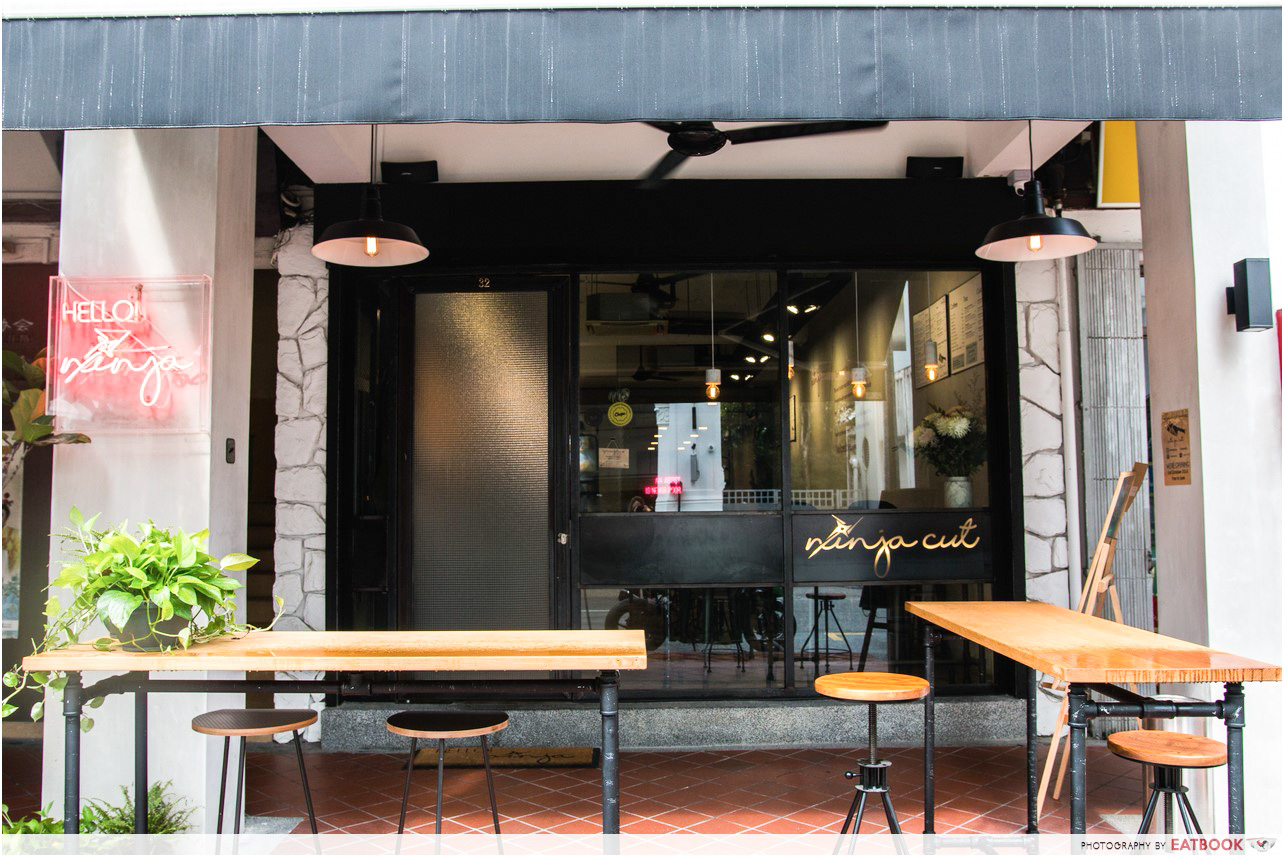 Ninja Cut's menu takes the best of what works in the brunch world and revamps it with Japanese influences.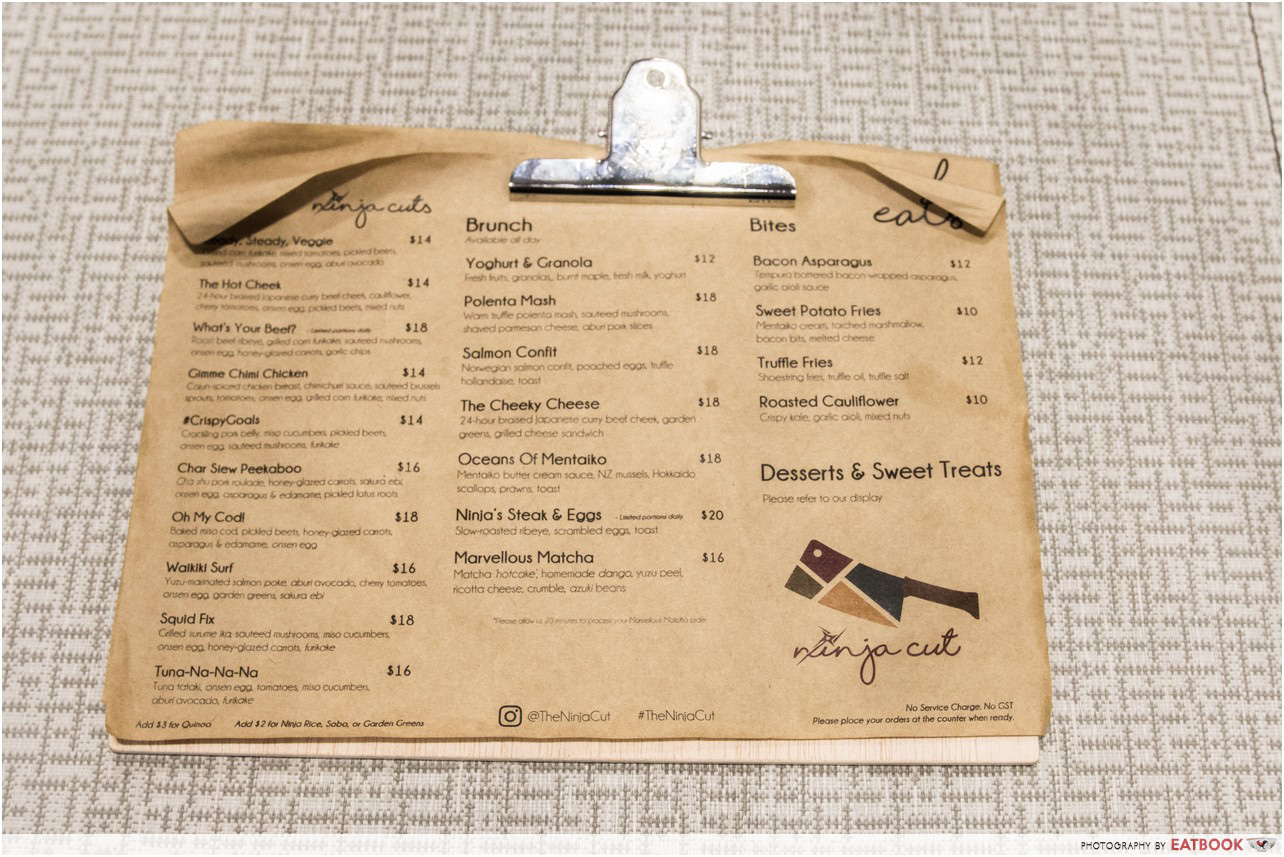 Stretching across different types of protein and seafood, they also offer healthy options such as Waikiki Surf ($16) with yuzu-marinated salmon poke, onsen egg and sakura ebi. If you've decided to treat yourself, opt for Char Siew Peekaboo ($16), a cha siew roulade with honey-glazed carrots, or The Cheeky Cheese ($18), which features 24-hour braised Japanese curry beef cheek served with a grilled cheese sandwich. Cakes are also available if you prevent something more conventional for dessert.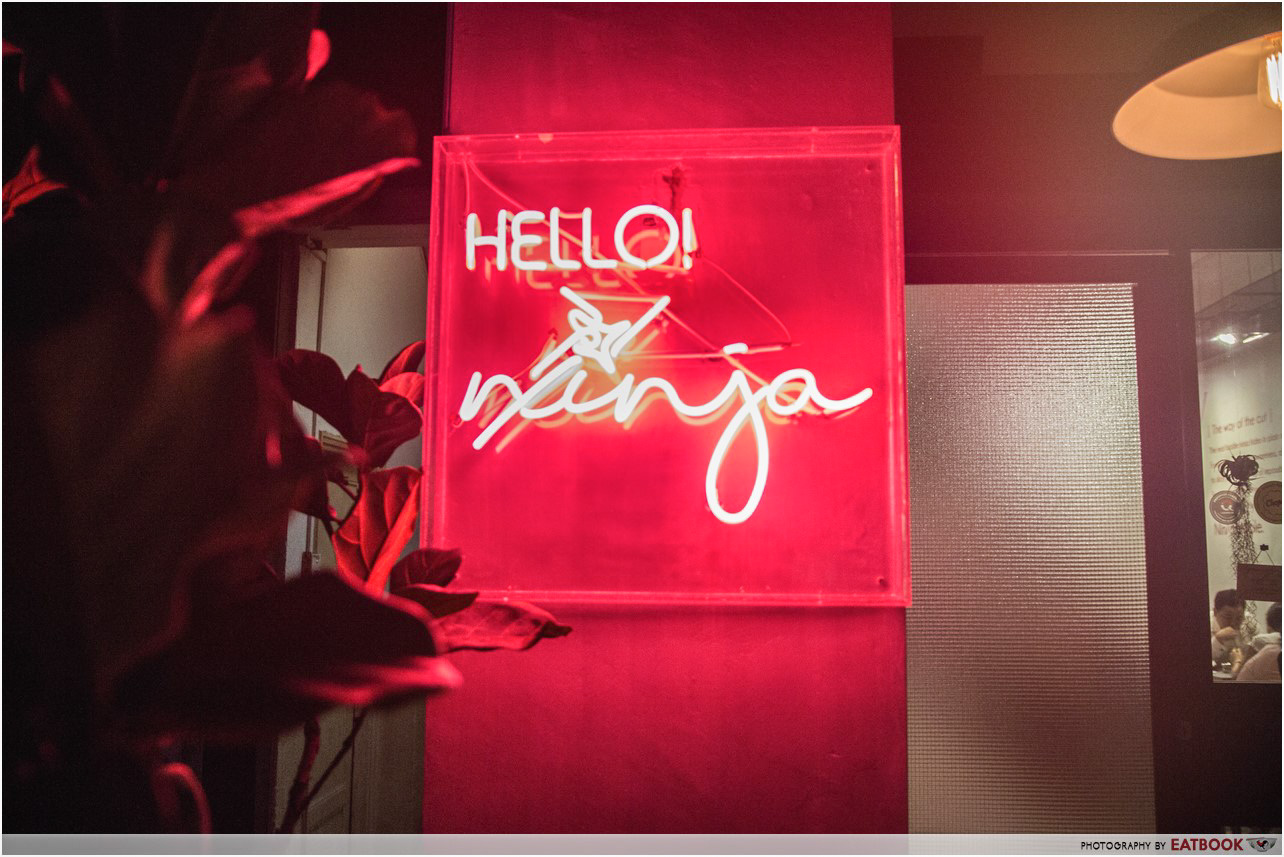 If Japanese fusion dishes are your thing, then Ninja Cut is the place to be. With its location at Seah Street, they definitely make the cut for your next catch-up sesh as well!
This is an independent review by Eatbook.sg.
Summary
Pros
– Nothing over $20
– No GST or service charge
– Convenient location
Cons
– Closes early
– Crowded during peak hours
Recommended Dishes: Marvellous Matcha ($16), Oceans Of Mentaiko ($18), Sweet Potato Fries ($10)
Operating Hours:
Monday – Friday 9:30am to 9:30pm
Saturday – Sunday 9am to 6pm
Tel:
6264 7727
Address: 32 Seah Street, Singapore 188388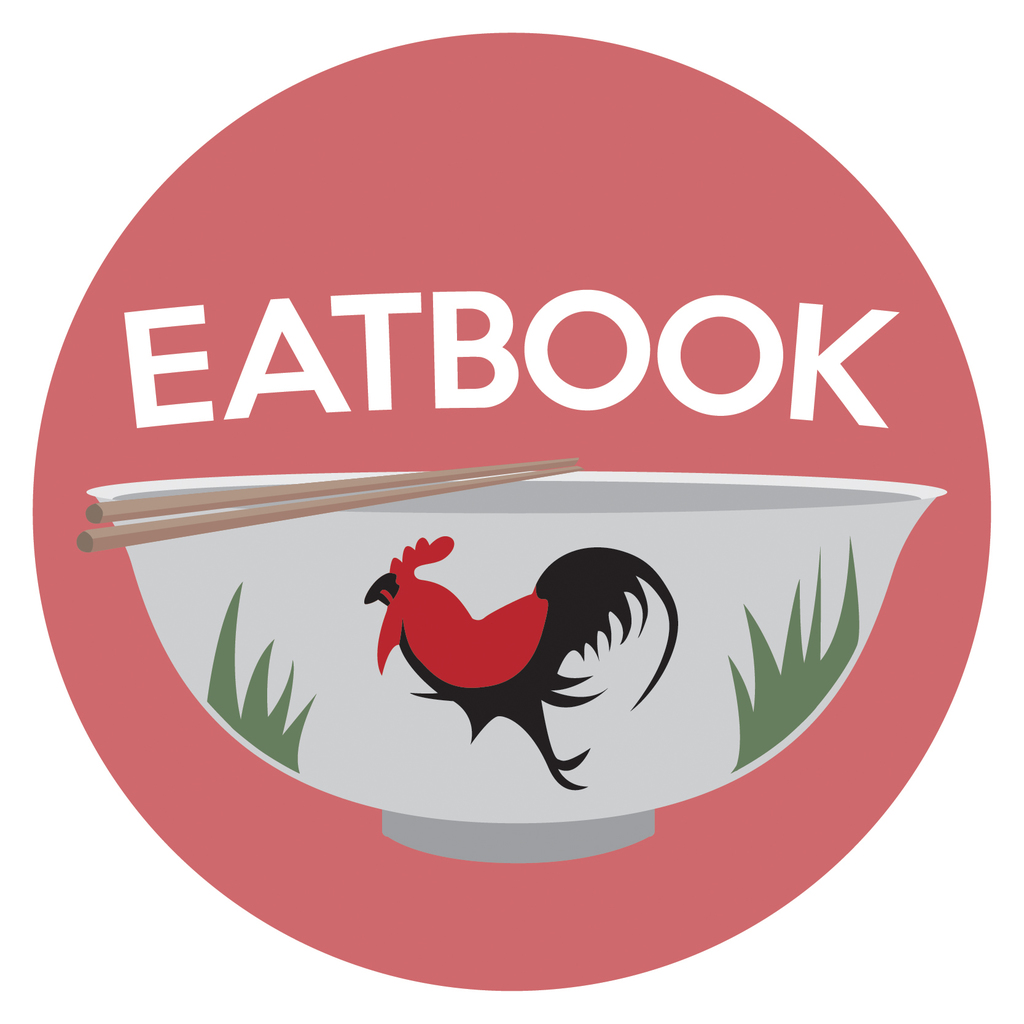 Drop us your email so you won't miss the latest news.