Celebrate with Cantonese food at Tonny Restaurant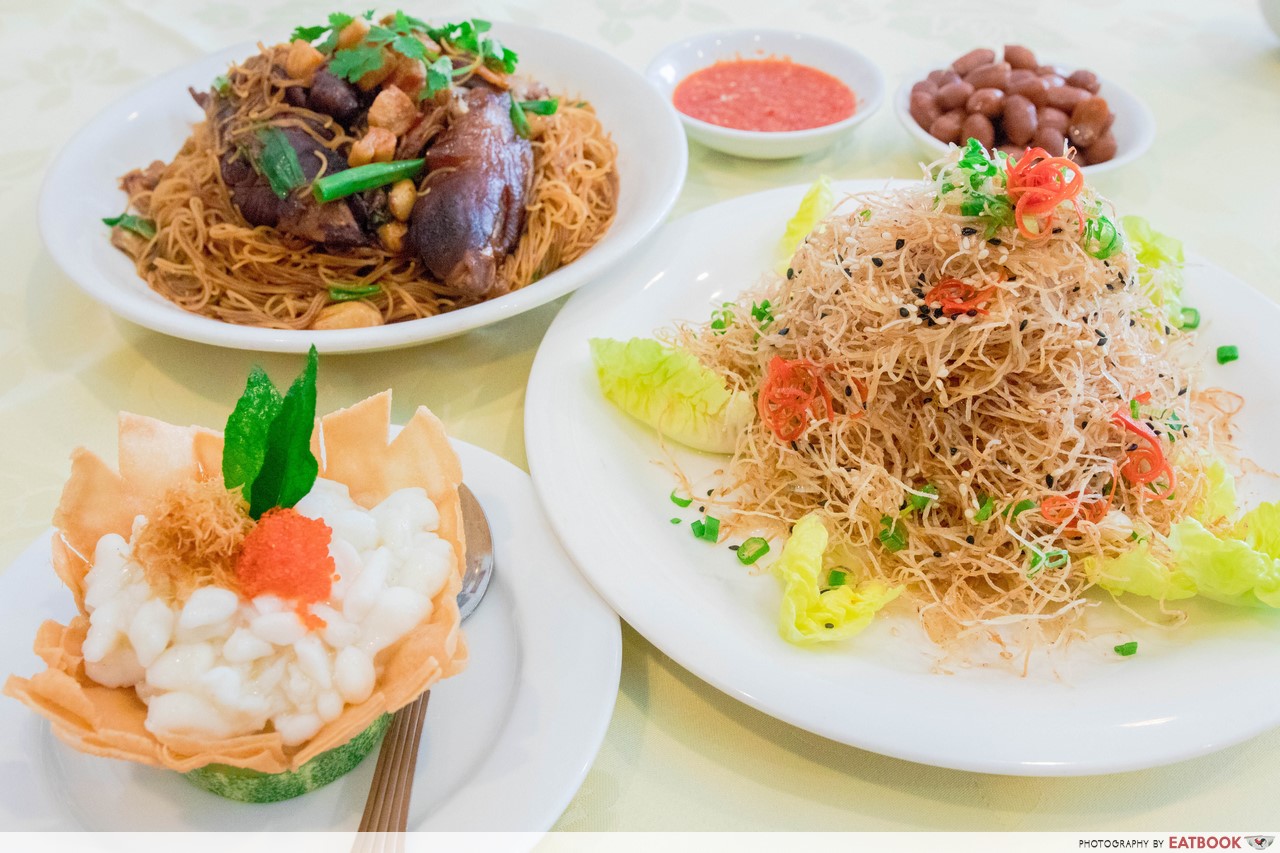 I have an eye out for Chinese eateries that are suitable for the fam to gather around. Although we come together just a few times a year, yum cha time and again has been getting too predictable. Even double orders of salted egg crispy fish skin don't motivate me nearly as much for the travel from the far West to the North.
For new dishes for a banquet-style splurge, Cantonese Tonny Restaurant might be worth a special trip. It's helmed by Chef Tonny Chan who has over 30 years of experience, and has been featured in the media many times. The restaurant boasts homely flavours that have gained him a loyal following.
Food at Tonny Restaurant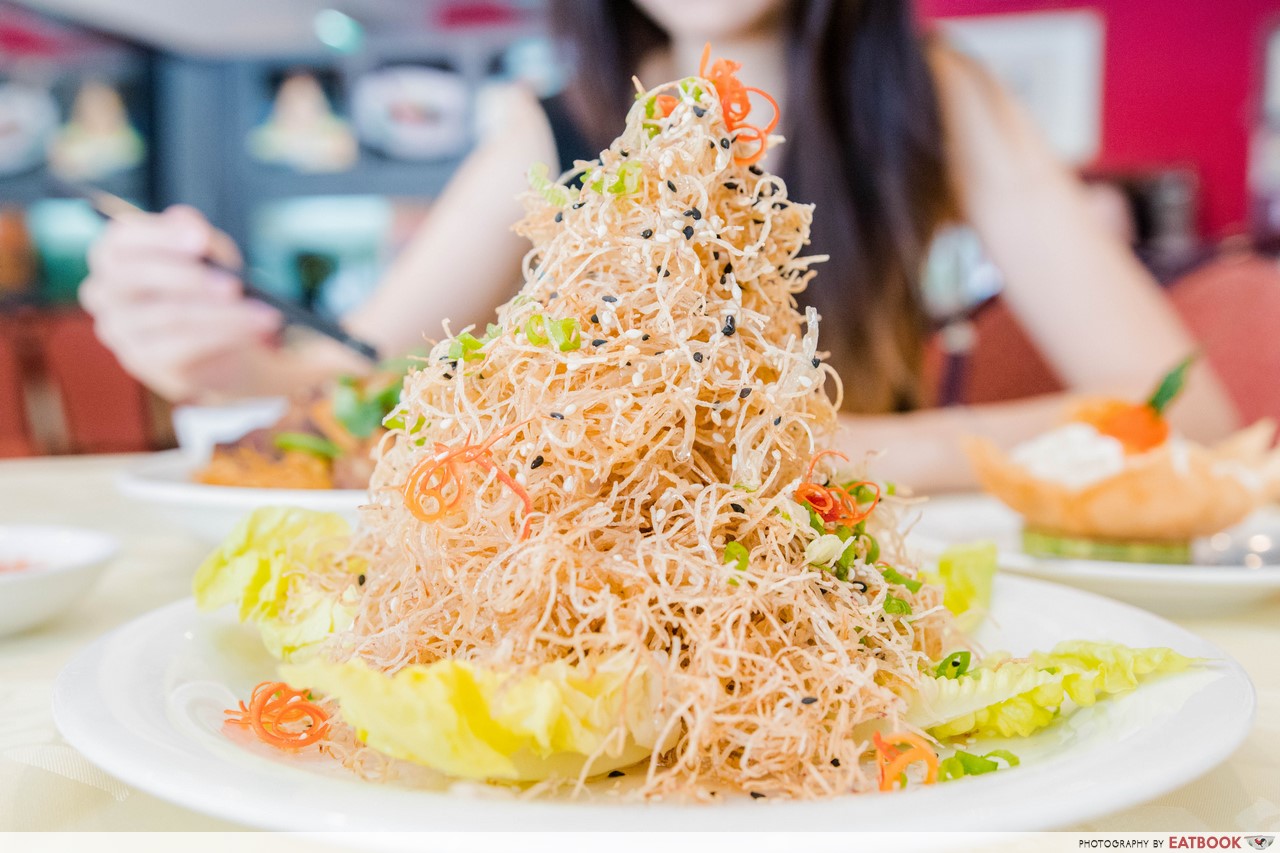 When I enter an eatery that sells truffle oil anything, the fragrance hits me with an urge to order it on impulse whether or not we can finish the dish. Crispy Yam with Truffle Oil ($16++) is a blessed relief from the usual potatoes and grease. Yam imported from Thailand was sliced into super fine shreds and lightly deep-fried till just crisp. It is then splashed with house-made sauce and truffle oil. Like a Christmas tree, it's garnished with sesame seeds, spring onions, and red chilli. Fresh lettuce decorated its base, fanning out around it. If you want pictures, don't take too long, because it'll start to collapse from the sauce after a few minutes.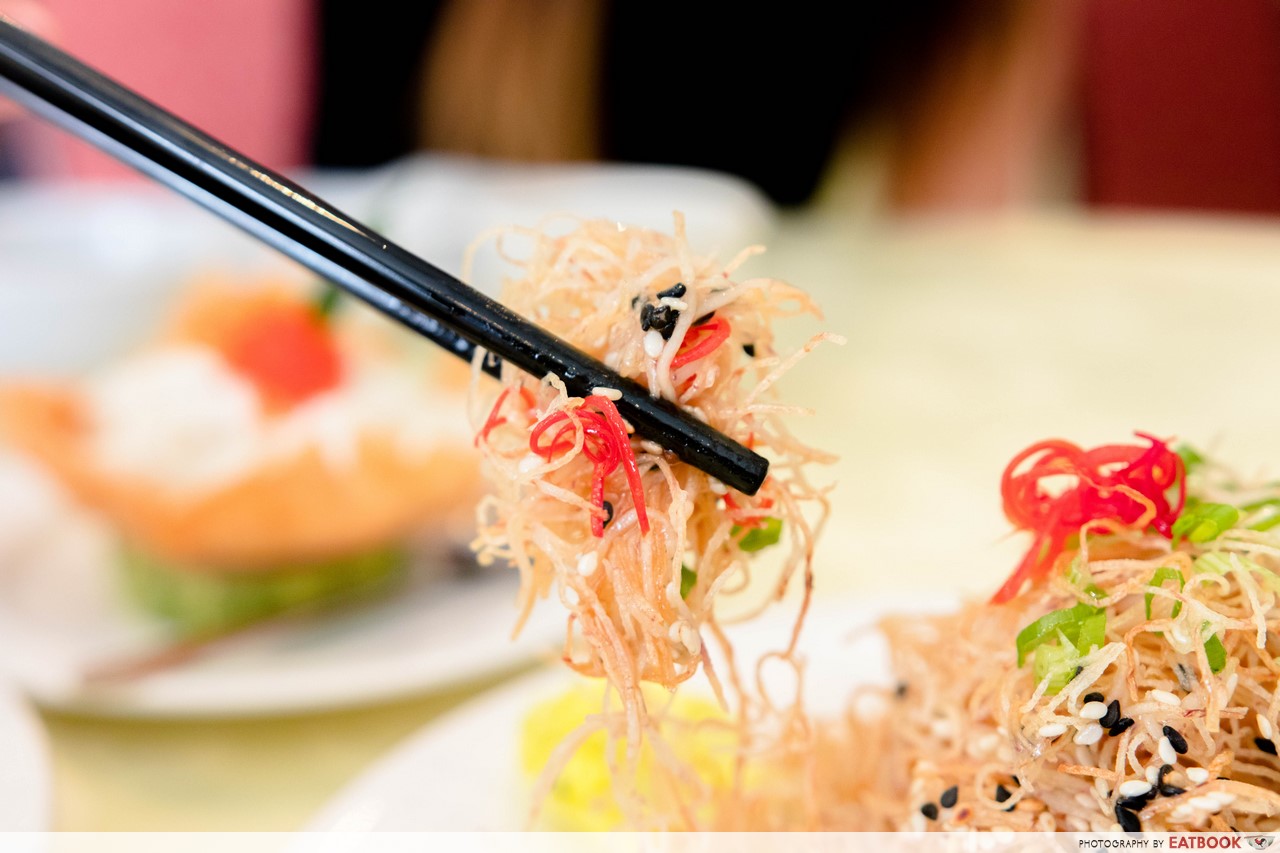 The yam shreds looked like a tower of light and crispy bee hoon, and once this appetiser was set down, truffle fragrance filled the air around till it completely disappeared into our bellies. A tangled mouthful was cold and crunchy with herbaceous texture, reminding me of a salad but tasted nothing like that. A sweetish taste from the sauce weighed on my tongue as balmy truffle fragrance rushed upwards. Bits of black and white sesame seeds occasionally broke between my teeth. This dish was light and innovative and it set the benchmark for the next two plates.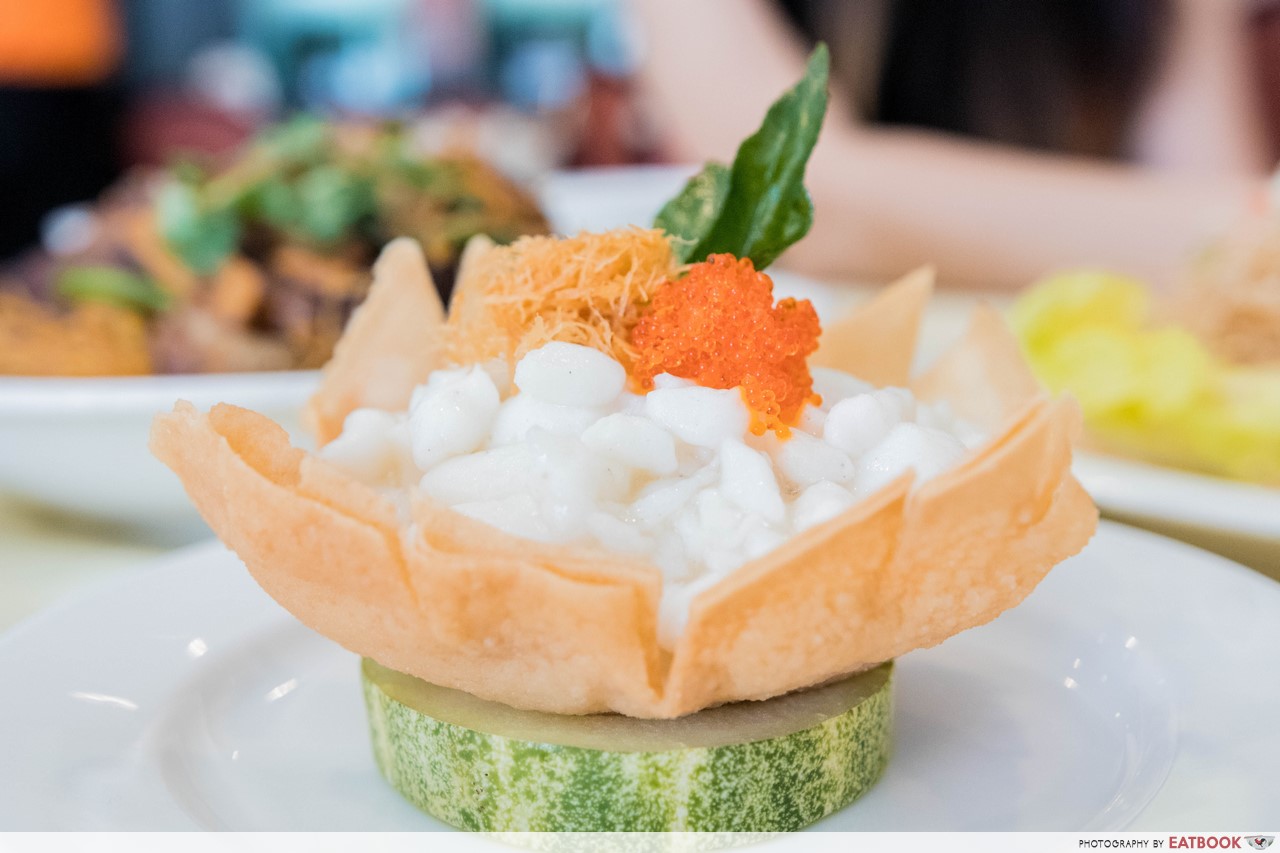 Pay attention to Crouching Tiger, Hidden Dragon ($9++) despite its dainty size because it's Chef Tonny's award-winning signature. A white mix of scallops and egg white was cradled in crackly wanton skin before being topped with ebiko and decorated with two crispy curry leaves. A thick round slice of cucumber formed its pedestal. Its name is a mouthful for what sounds like a simple dish but this creation is both a challenge for your palate and a delightful surprise.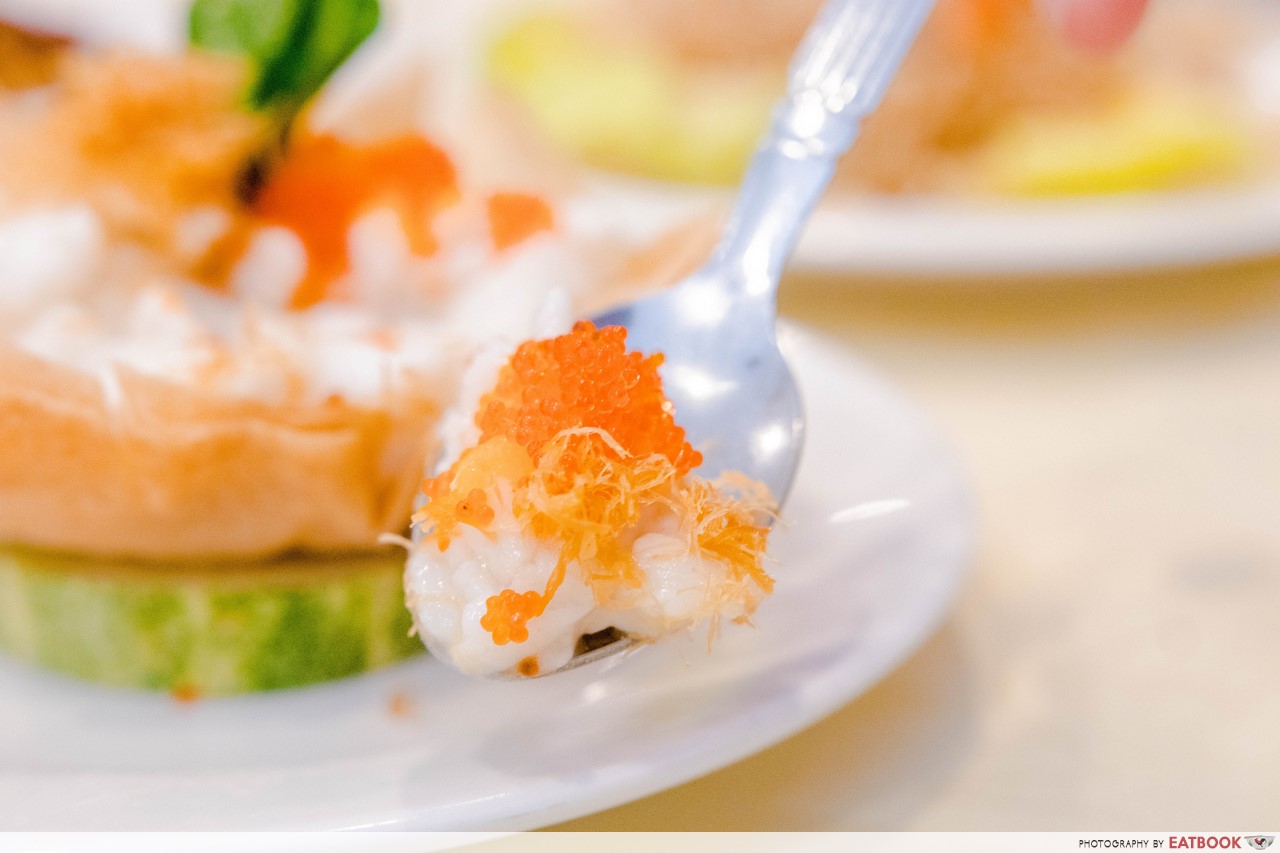 The mousse looked delicate but it was slightly firmer than bean curd, so I could distinguish between the textures of the scallop and egg white before chewing it into mush.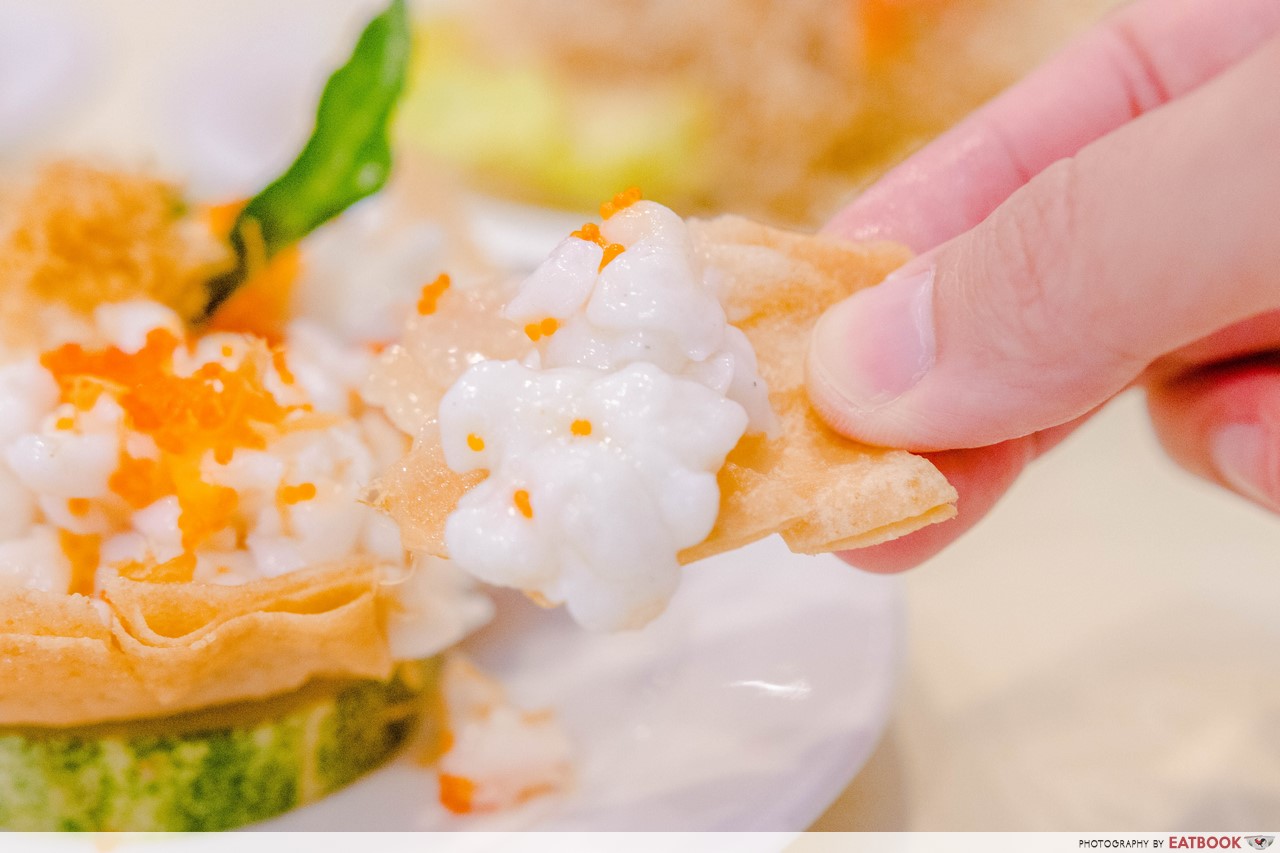 It was savoury, for what looked light and bland, and I cracked off a wanton skin petal to scoop more. Its deep-fried flavour enveloped the white contents and crunching into it mixed it into a slick for a mouthful of textures.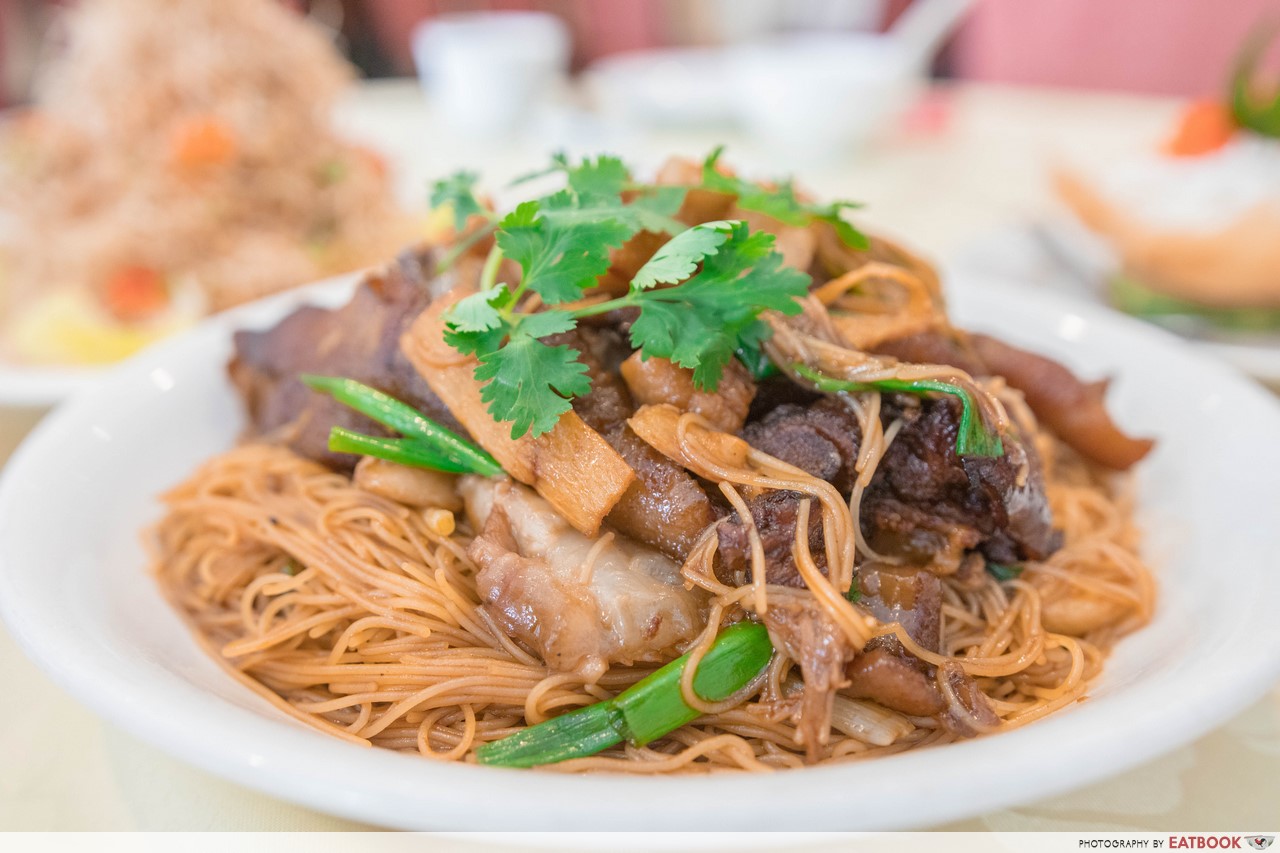 We eyed the wobble of gelatinous fats when our order of Pig Trotter Vermicelli ($20++) arrived and was pushed to the centre of the table. It was a wide dish of braised bee hoon loaded with pig trotter skin, pork lard, and garlic cloves.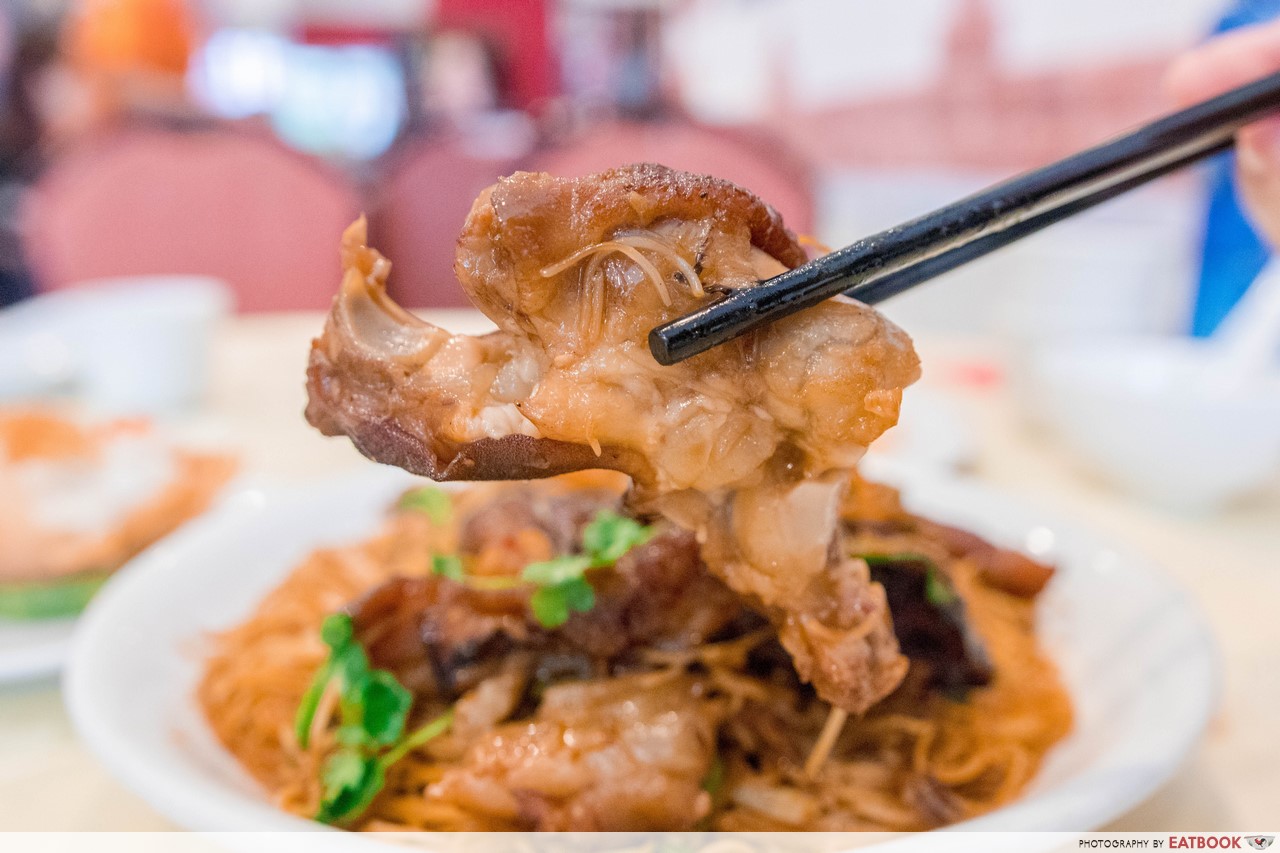 The soft noodles were well-braised but didn't go soggy and I gave them a light toss as there was some gravy pooled at its base. I bit through the moist individual strands, and the fats added chewy bounciness, which was more suitable than a melting texture.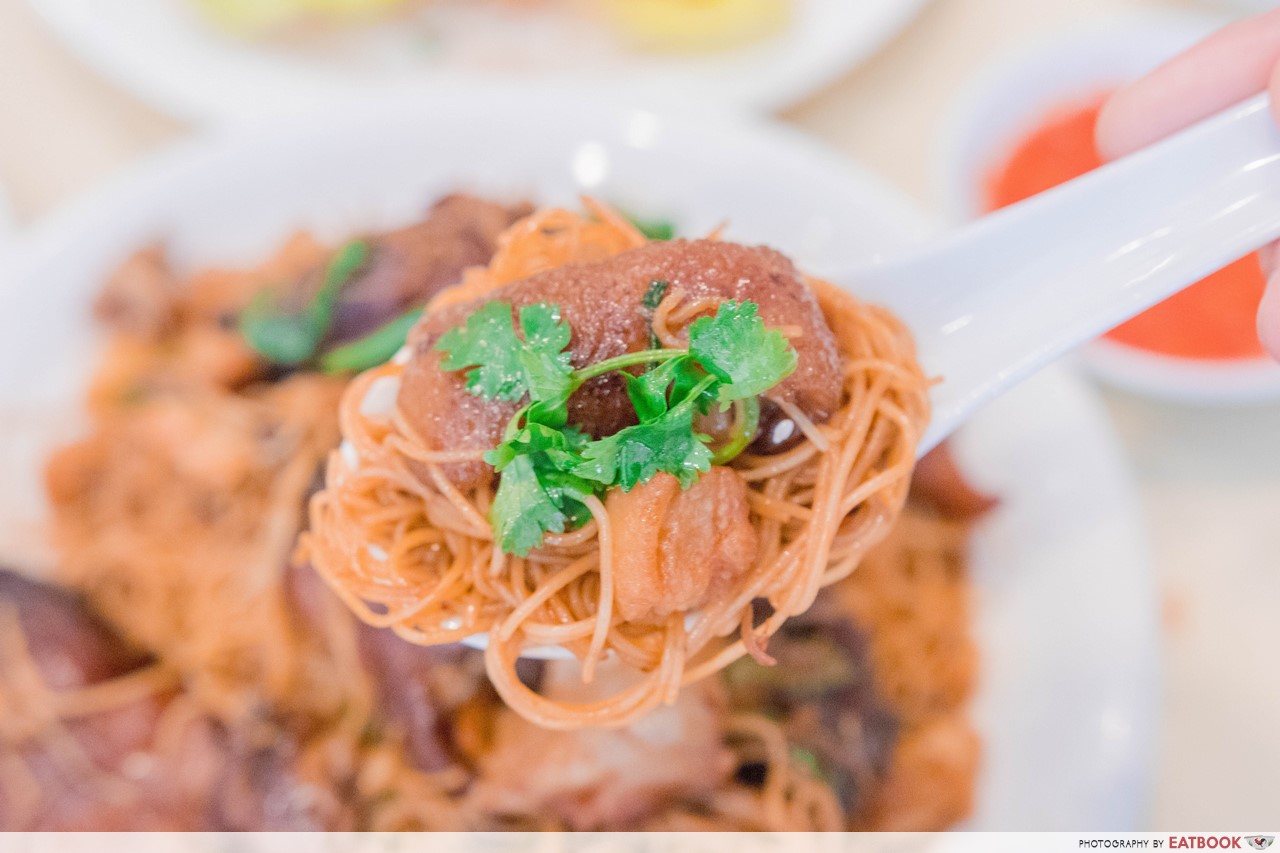 I arranged most of my spoonfuls with some of each ingredient. The flavours from the crispy lard cubes broke over and mixed in, while the garlic wasn't pungent so it didn't overwhelm. The pig trotter was mostly made up of skin and fats, so the Crouching Tiger, Hidden Dragon met my minimal need for protein.
Aside from the lack of dim sum, Tonny Restaurant has a wide menu selection with an array of popular dishes for whatever textures or tastes you're craving. Their Double Boiled Black Chicken Soup with Almond Juice ($32++) is a nutritious choice and you can give their Boiled Fish Noodles with Dried Scallop ($16++) a try for something atypical. For more deluxe choices you can get Crab Porridge ($7++ per 100g) or even their Wagyu Steamboat ($32++) if you have at least two people.
Ambience at Tonny Restaurant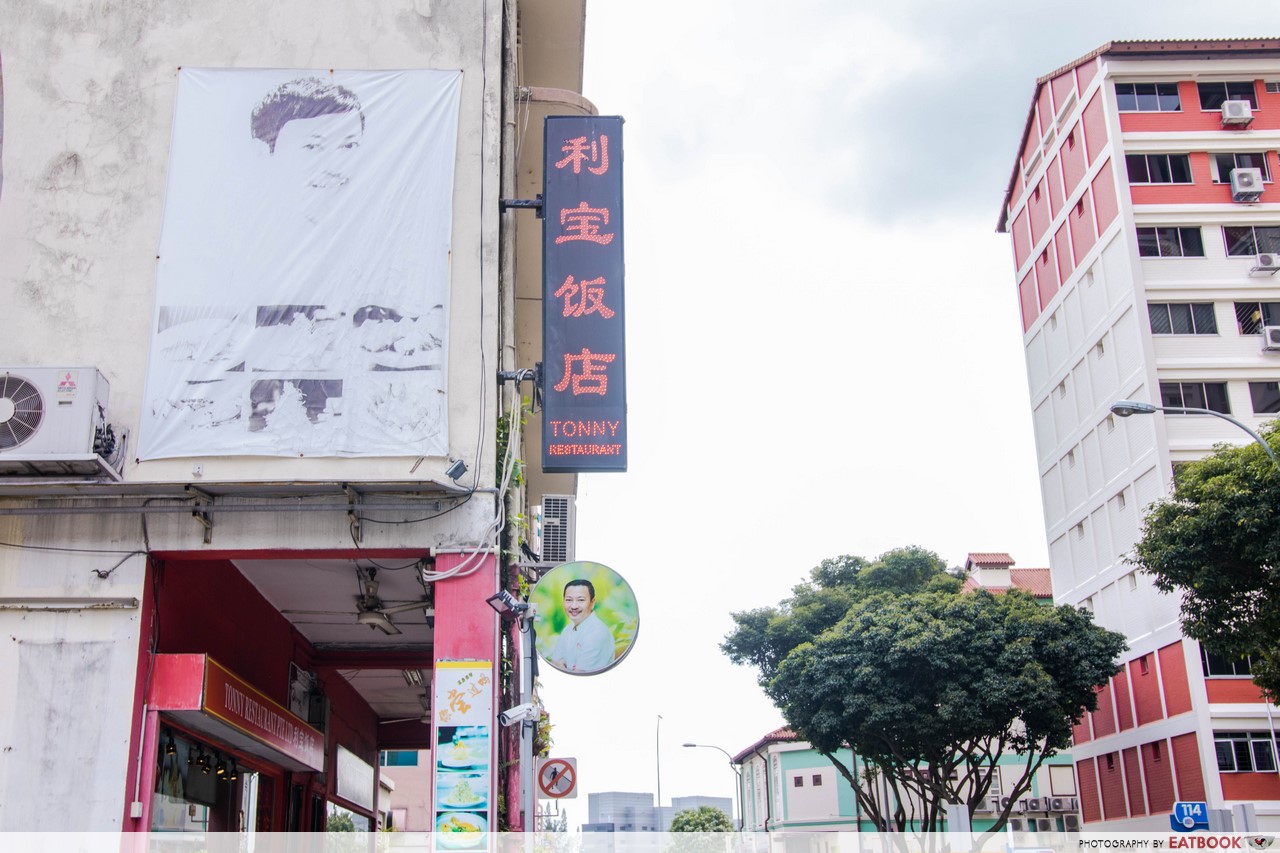 Tonny Restaurant is a five-minute walk from Kallang MRT Station and easy to spot as there's a huge poster of mustachioed Chef Tonny on the side of its building. The inside is sectioned into three areas. Two of them are main dining areas with tables for four to 10, whereas the innermost section is a private room that's divided by a glass wall, and available for groups that spend $500 and above.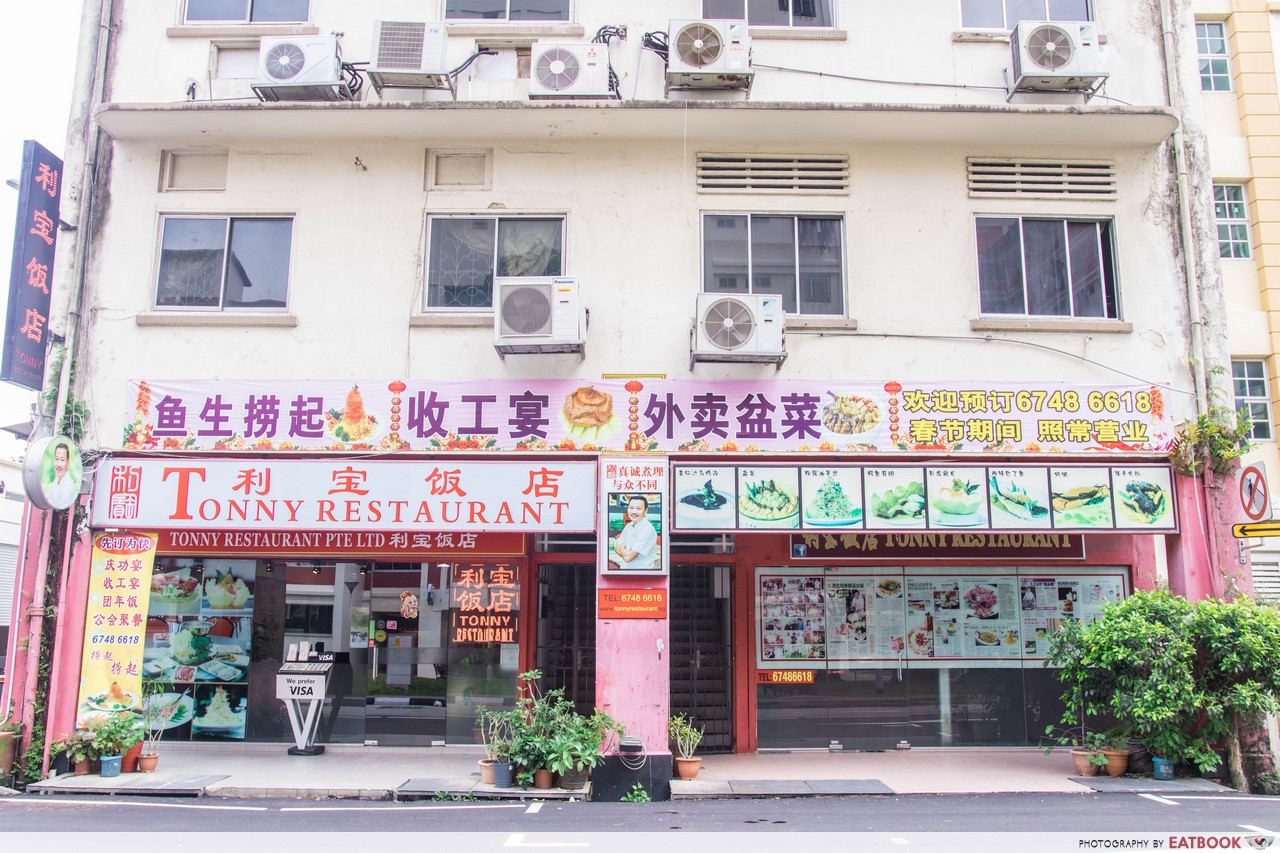 They're already almost fully booked for Chinese New Year but on other days, they have a special menu that they update daily. Their customer base are mostly families who are their regulars, so those familiar with them sometimes ring up for them to draft a menu based on an estimated budget and number of guests.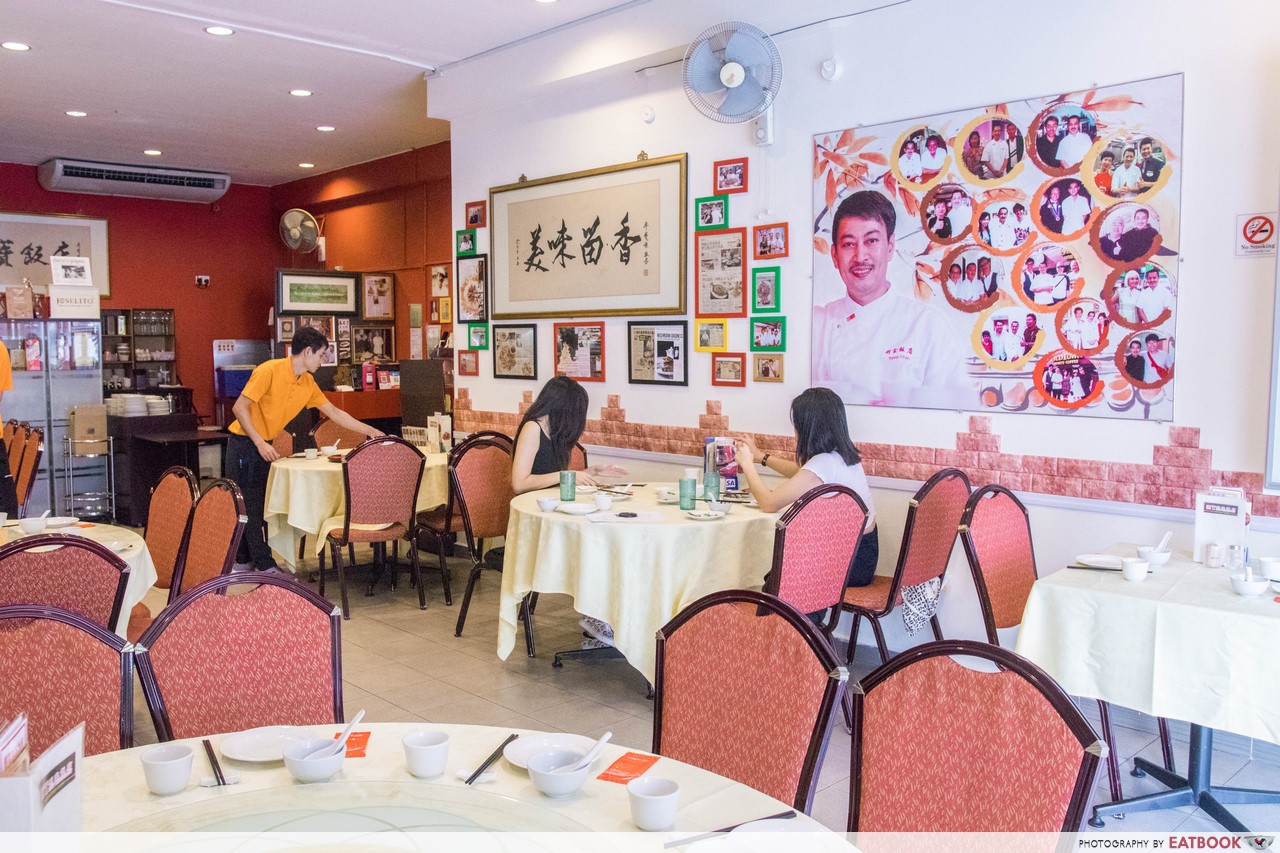 The place is small but doesn't feel cramped. It's lit by dim lighting and the walls are decorated with framed newspaper articles that talk about Chef Tonny's delicacies, as well as pictures of their signatures. Since they mostly cater to regulars who come in during dinner time as a family crowd, it was quiet when we visited on Wednesday during lunch hour.
The verdict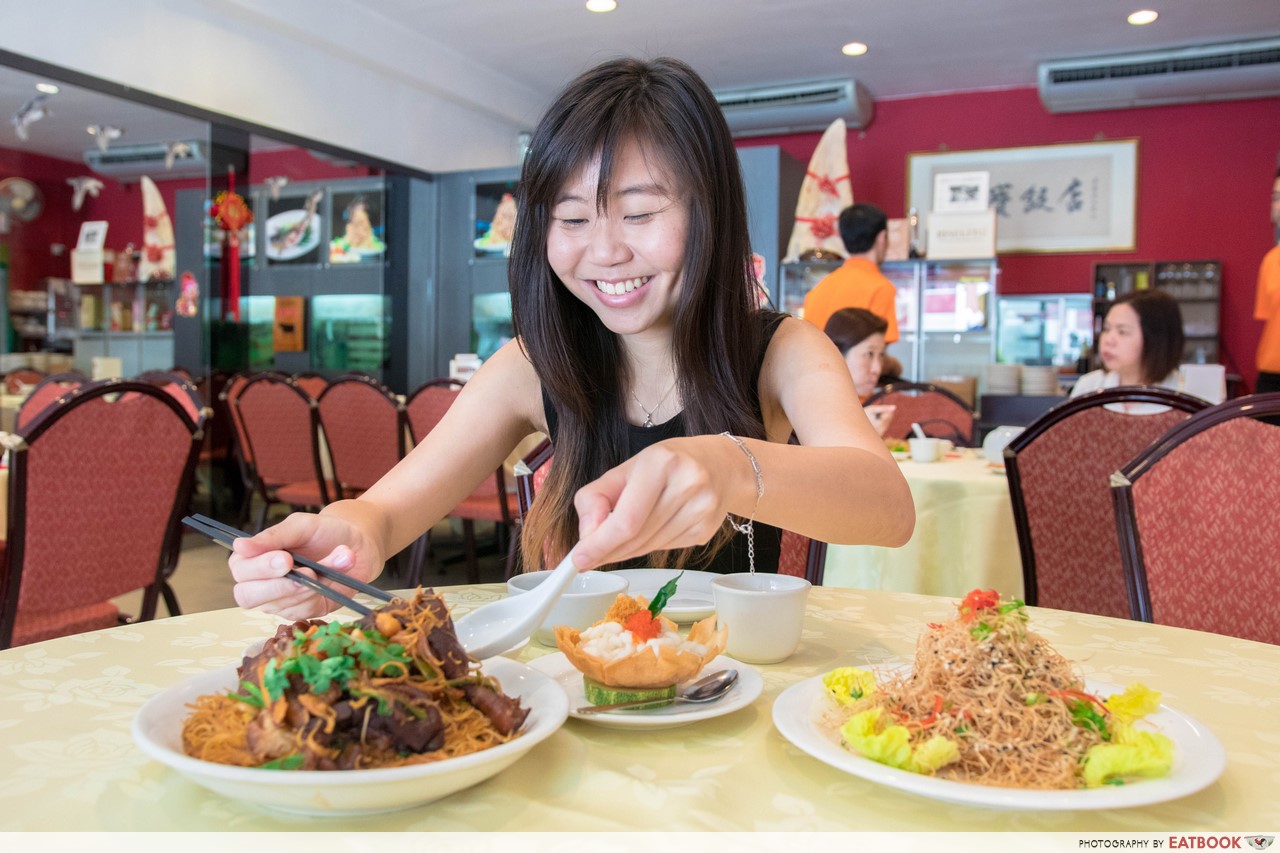 I couldn't quite find fault with the food we tried since my taste buds were pleased. Prices, though, are still on the steep end compared to average Chinese restaurants. This is a place I'd wistfully think of till the next time my extended fam feels like having high-end restaurant-quality food at more affordable pricing. At the same time, the dishes have a homely flavour and are suitable for multi-generational family gatherings. For more old-school Chinese restaurants, check out East Bistro and De'Beer Seafood Restaurant!
Address: No. 8-10 Lorong 3 Geylang, Singapore 388862
Opening hours: Tue-Sun 12pm to 2pm, 6pm to 10:30pm
Tel: 6748 6618
Website
Menu
This is an independent review by Eatbook.sg
Summary
Pros
– Suitable for multi-generational parties
– Innovative and delicious dishes
– Flexible in catering a menu to groups
– Mostly hits than misses
– Attentive service
Cons
– No portion sizes for solo diners
– Prices may be steep for casual gatherings
Recommended Dishes: Crispy Yam with Truffle Oil ($16++), Crouching Tiger, Hidden Dragon ($9++), Pig Trotter Vermicelli ($20++)
Operating Hours:
Tue-Sun 12pm to 2pm, 6pm to 10:30pm
Address: No. 8-10 Lorong 3 Geylang, Singapore 388862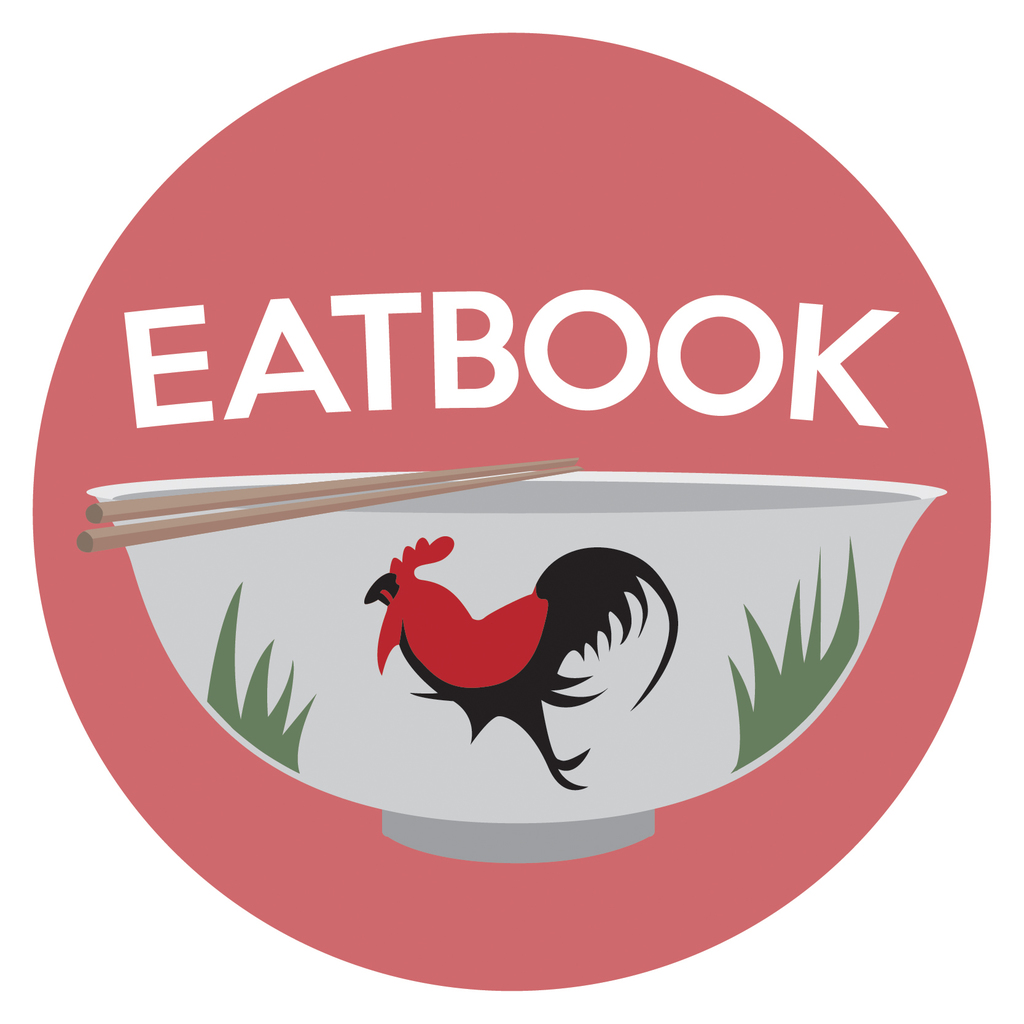 Drop us your email so you won't miss the latest news.