East Bistro is a dim sum and zi char gem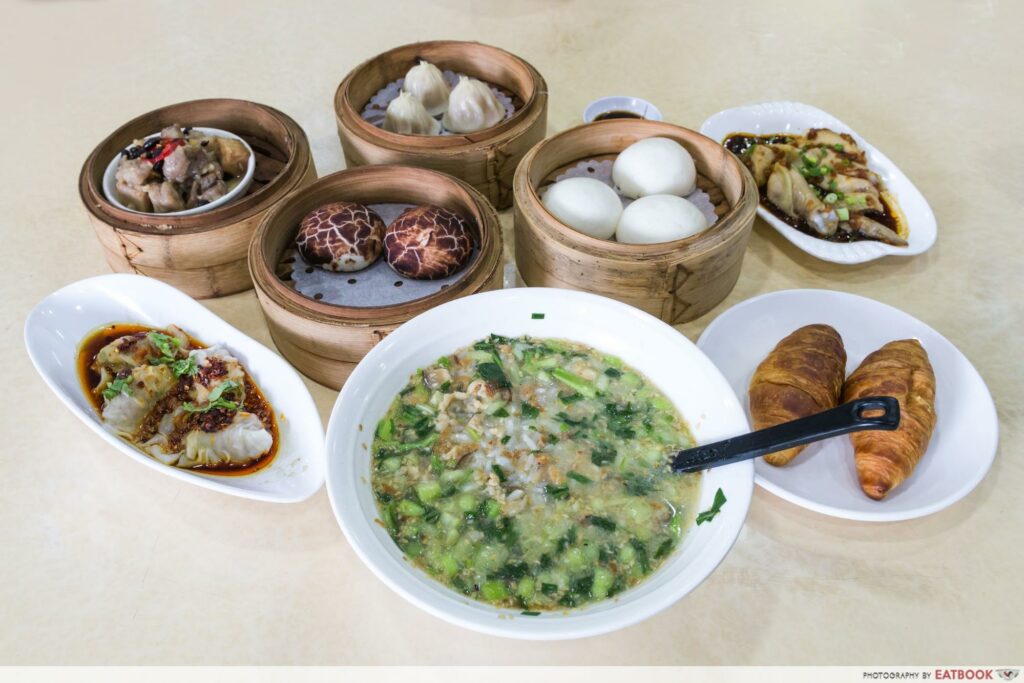 It's hard getting my mum to attempt new things, and even encouraging her to try a different hawker stall is a challenge. My dad usually laments how food doesn't taste like "last time one" so he's just as tough to satisfy. When my fambam gathers, we settle for either zi char at the kopitiam across the street or dim sum at our usual go-to eatery. Whether I'm hankering for both or just for Instagrammable items to shout about, I usually just don't bother suggesting another eatery.
East Bistro is a hidden gem selling Hong Kong cuisine with a wide choice of dim sum and zi char. Come November will be the restaurant's third anniversary and it fazes me how they slipped through social media all this while. I knew about them by word-of-mouth and found them tucked away in the corner of a street that's not far from Sembawang Shopping Centre.
Food at East Bistro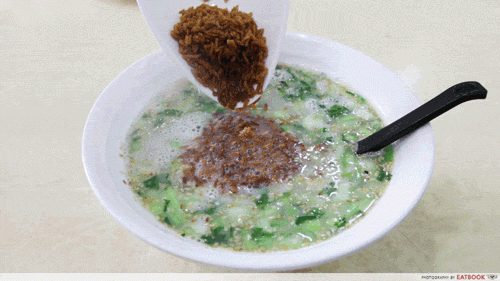 You can't say you've tried East Bistro without having had their unique Chef Special "Pao Fan" ($6.80/$13.60). For a small order, we got a generous bowl that was enough to make a full meal for two and more.
A waitress tipped in a side of crispy rice into chicken broth with chopped greens, chicken, and plain rice, generously garnished with sesame seeds. The grains instantly crackled when they touched the soup in an Instagrammable moment. I salivated as the aroma of the crispy rice wafted up in a mix with the mellow fragrance of the chicken broth.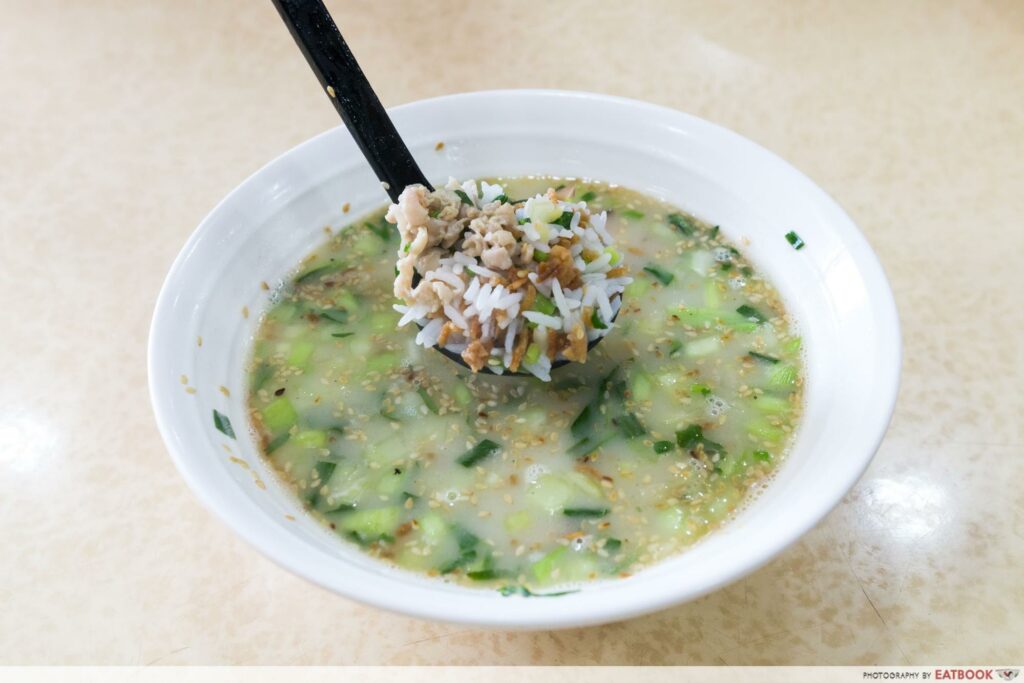 Their crispy rice is made by drying steamed rice then frying it. It was like stirring in guo ba (rice crust) that created a colourful porridge. The savoury soup that was simmered with chicken feet and bones for at least four hours had a slight sweetness. It felt like a filling home-cooked meal that would whet my appetite even if I was ill.
Combined with lots of crunchy veggie stems and firm plain rice, each mouthful was a jumble of textures. The broth easily took on the flavours of the ingredients which enhanced its depth of flavour.
For a celebration though, you could splurge on Stewed Crab with Crispy Rice/Rice Noodles in Superior Soup (market price). It's essentially Pao Fan with a crab, and it can easily feed five bellies.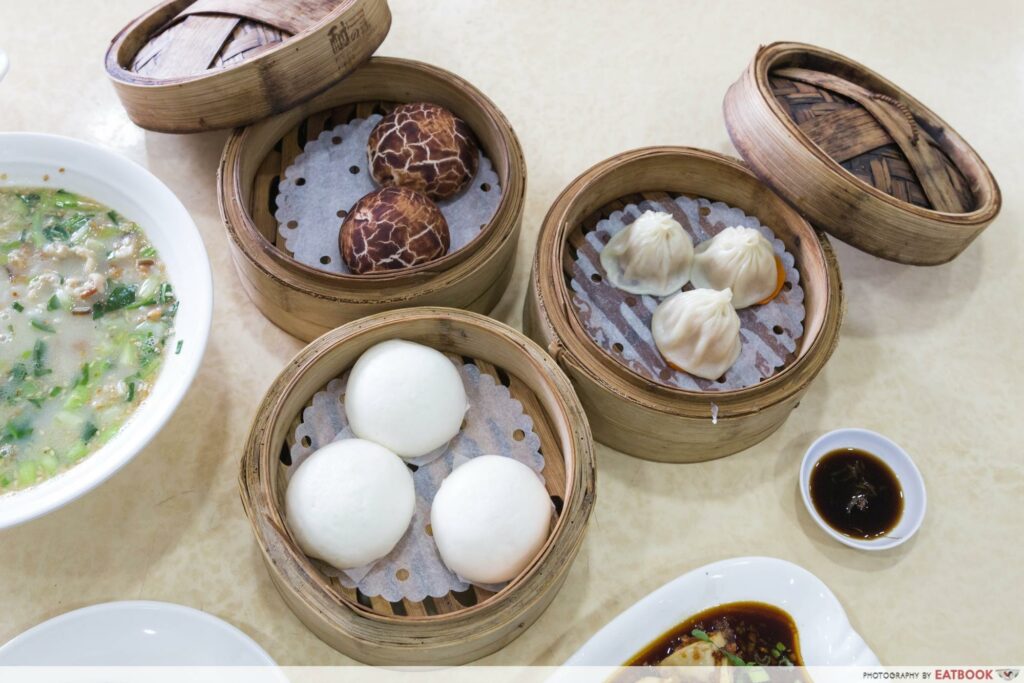 Other than zi char, they have a slew of dim sum choices like "Mushroom" Char Siew Bao ($3.60 for two pieces). This dish gets its name from how it resembles the cap of a dry dark brown mushroom.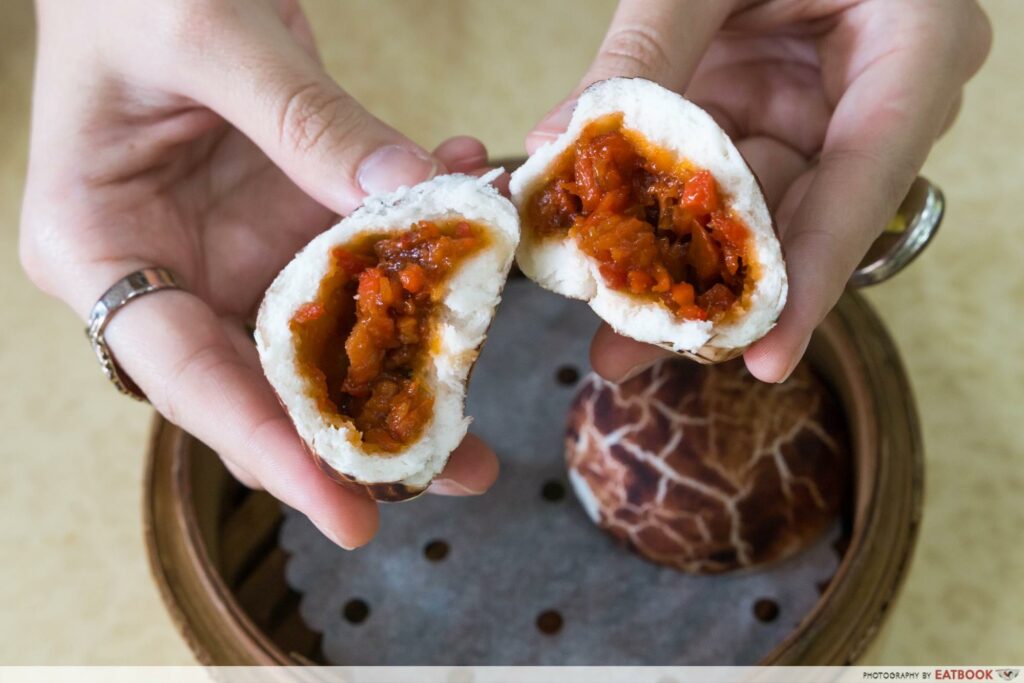 Tearing the bun apart revealed moist red pork which seemed to melt in my mouth in sweetness. Its dough felt surprisingly fine and soft, and the small chunks of meat gave it a satisfying chewiness.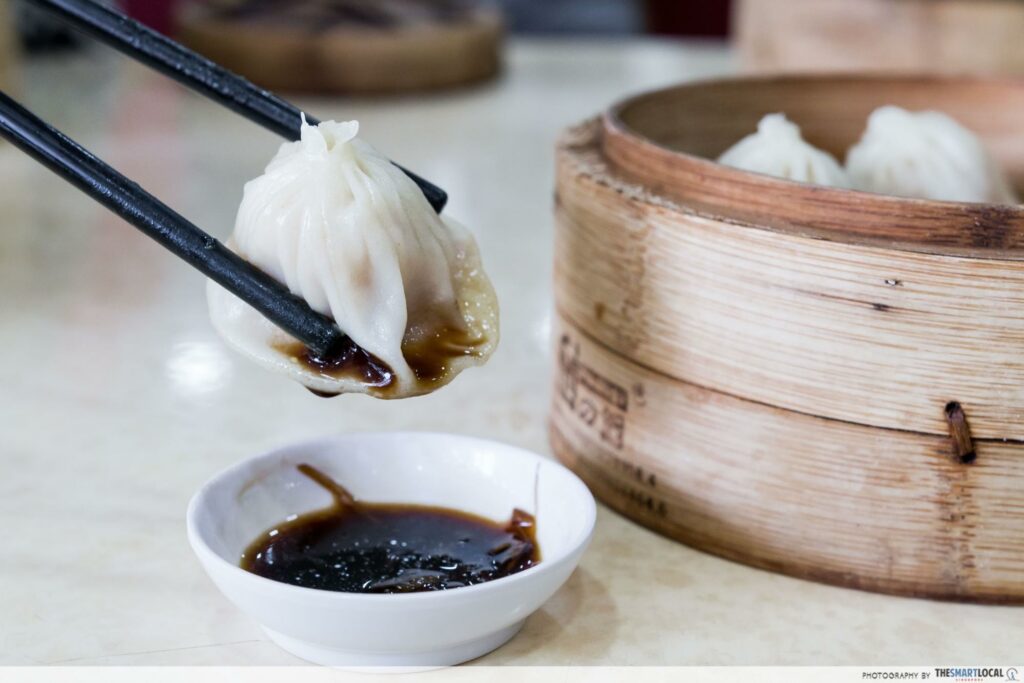 Picking up a piece of Xiao Long Bao ($4.20 for three pieces) was when I realised that each one was sitting on a thin slice of carrot. The dumpling didn't burst with juice like I expected but its skin had just the right amount of thickness. Its pork filling could've been seasoned more as its flavour felt muted.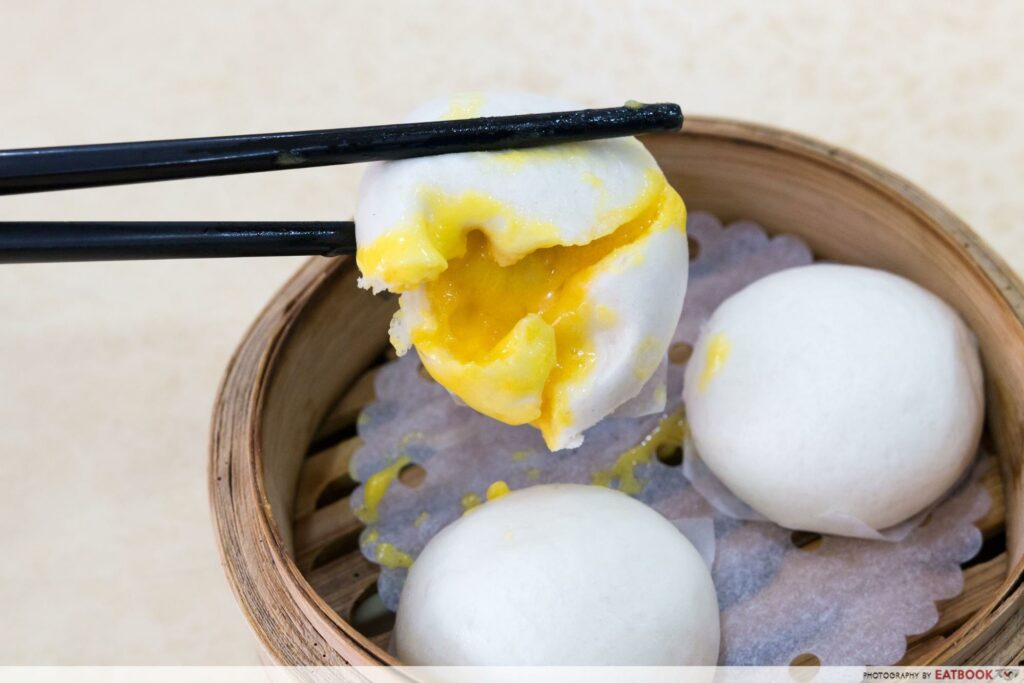 Their Steamed Egg Yolk Custard Bao ($4.20 for three pieces) gave way to a small river of yellow lava as I split it open. It wasn't packed with savoury salted egg yolk flavour like I expected. Instead, the custard was sweet and smooth, and it didn't get soaked into the bun.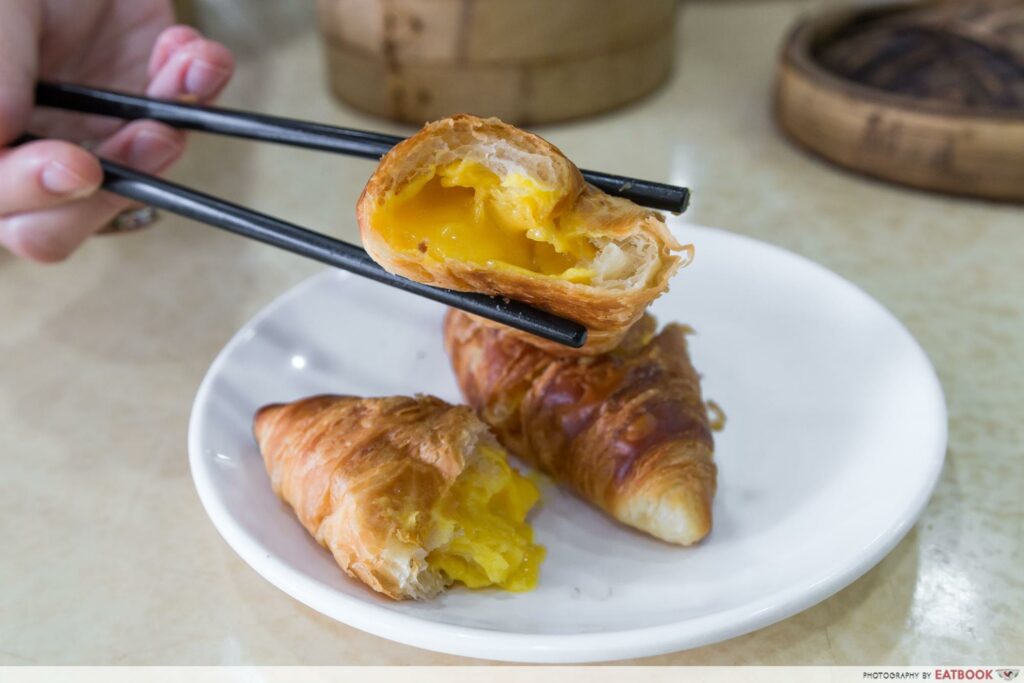 I preferred their Egg Yolk Custard Croissant ($4.20 for two pieces) to their bao as soon as I bit into its pastry. Warm custard flowed and mixed with the crispy croissant that flaked apart when I chewed. I would easily order at least two plates of this if the salted egg yolk flavour was more pronounced.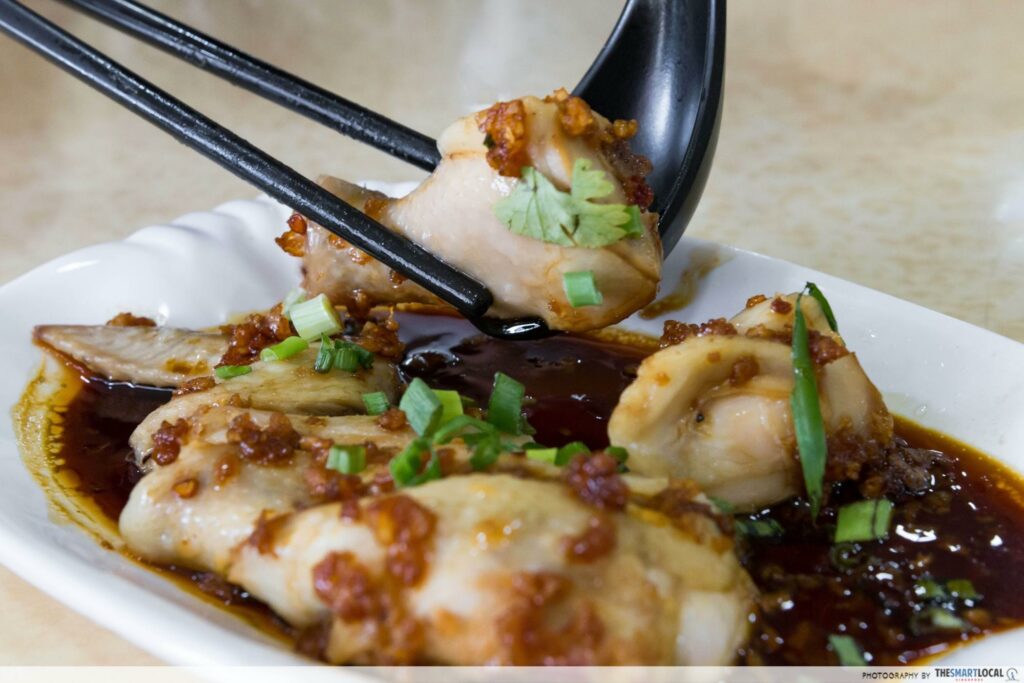 Also known as 'Saliva Chicken', their Chilled Chicken In Spicy Sauce ($6) sat in a shallow plate of sauce. The chicken was tender and juicy, tasting savoury when I ate it with its soft skin. Sichuan spices that the dish was tossed in made it piquant, sweet, with a slightly numbing zing on my tongue. A thin coat of chilli oil and chilli flakes added to its depth of flavour.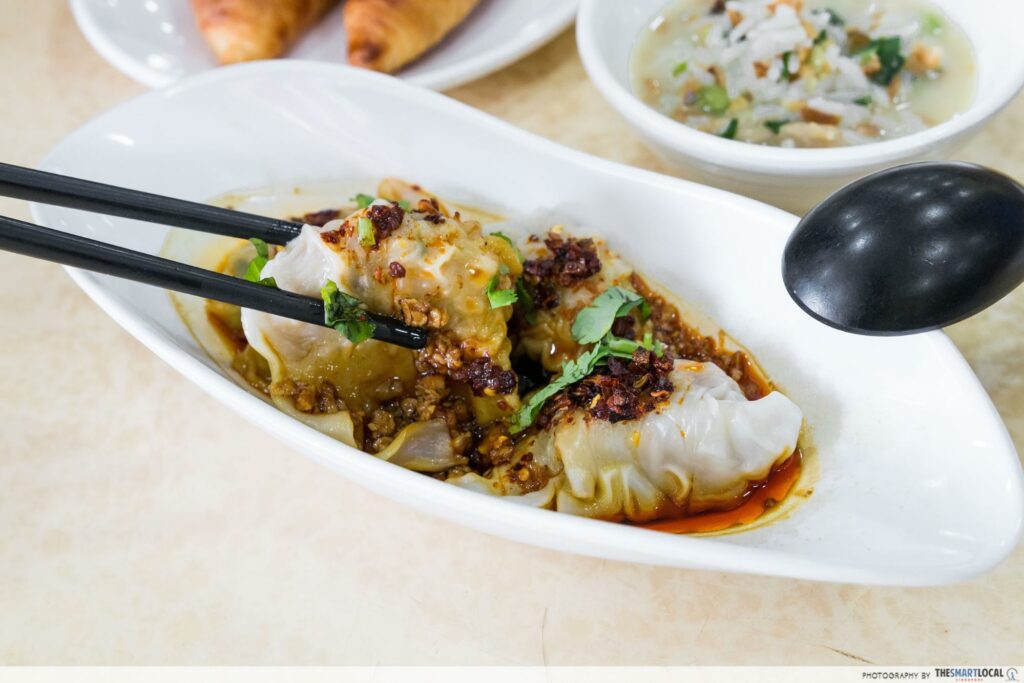 Their Sichuan Chilli Oil Wanton ($4.50 for four pieces) was served in dark sauce, chilli oil, and generous amounts of chilli seeds and flakes. Delicious pork wantons were wrapped in a thin skin, and the sauce gave it a distinct taste of black vinegar and an enjoyable spiciness.
The chicken and wanton dishes started a debate between us on which was better. The 'Saliva Chicken' is so compelling that I miss it even though I'm not a fan of sweet mains. Still, I prefer the wantons mostly because I can never feel quite satisfied without savoury dishes.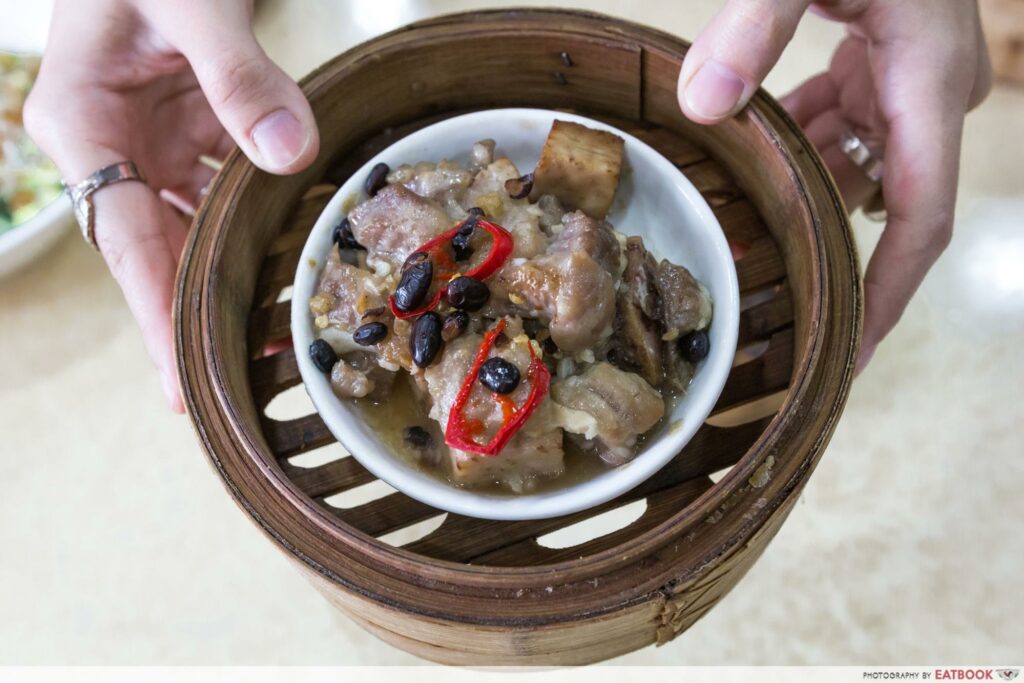 We also tried Steamed Pork Rib ($4) which was garnished with black beans and two thin slices of red chilli. The pork ribs had the right balance of fatty bits and meat, making them springy when chewed into. The dish came with yam cubes that were soft but didn't add much flavour so this wasn't particularly impressionable.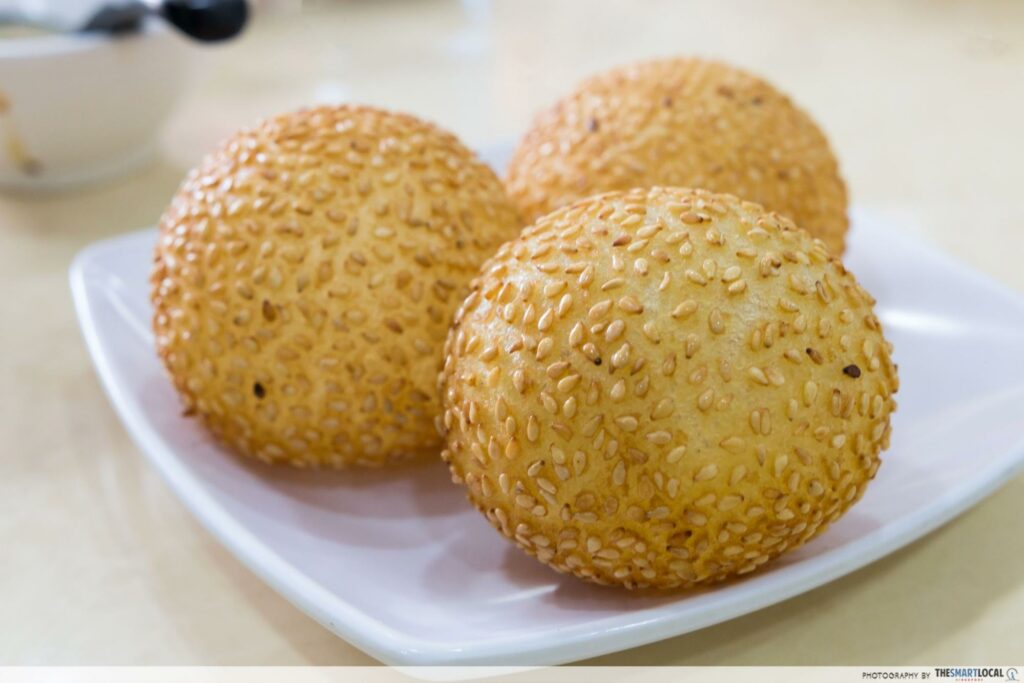 Towards the end of our meal, Chef Wang, the owner of East Bistro emerged from the kitchen with a tray of Jin Deui ($4.20 for three pieces). We were told that random dishes are given to customers on weekdays whenever the kitchen is less busy. Although I was disappointed that their Crispy Egg Tarts ($3.60 for two pieces) were only available on weekends, this ended up being a good substitute. They're fried sesame balls made with glutinous flour and we each received two. They were crispy on the outside and chewy on the inside.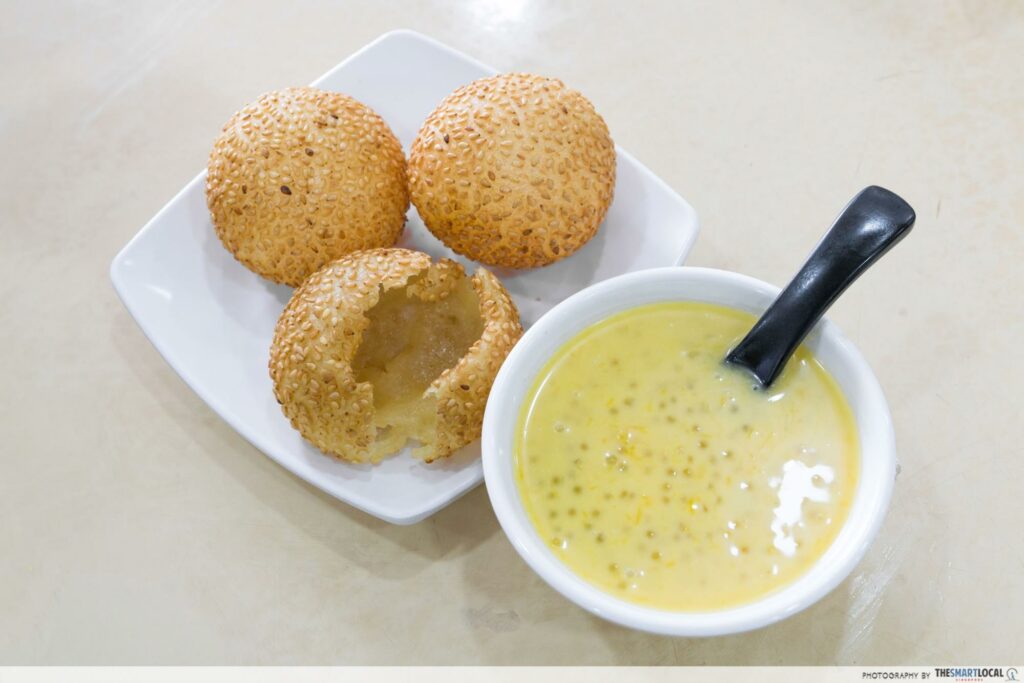 I usually struggle to pull away from the table if I haven't had orh ni (taro paste) to end a dim sum feast. At that moment, Chef Wang returned with Pumpkin Sago which we didn't see on the menu. It was a thick dessert that made a super satisfyingly sweet ending with a rich taste of coconut milk, textured with pumpkin pulp.
Ambience at East Bistro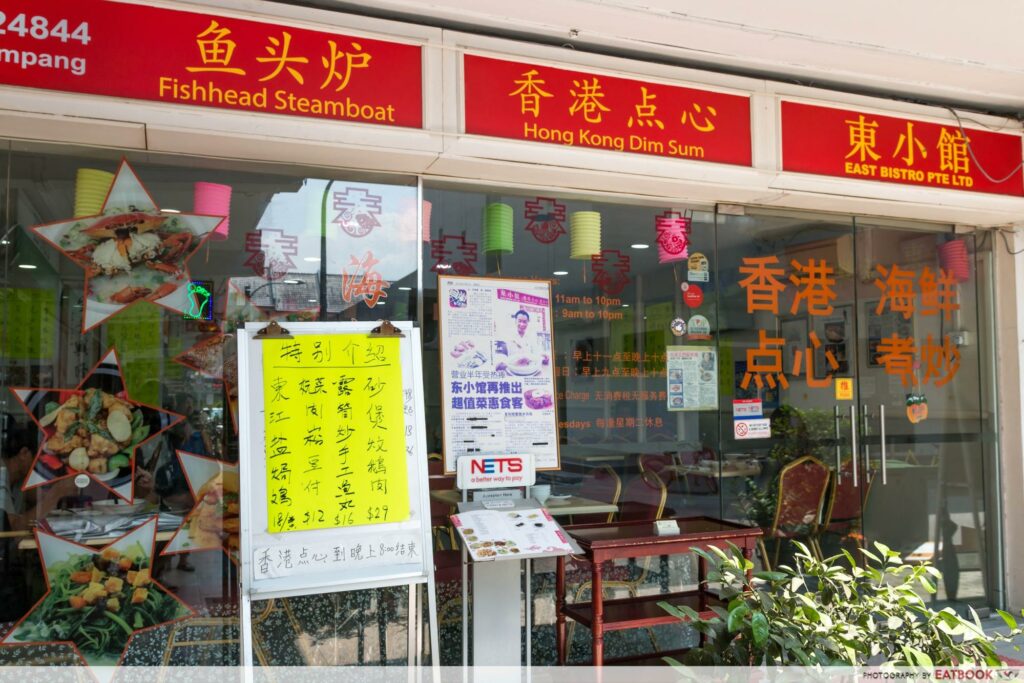 We had to take a short walk from Sembawang Shopping Centre before finding East Bistro's red shop front at the corner of a road. The area felt quiet but there were already customers when we arrived soon after they opened. By 1pm on a Wednesday, it was almost a full house.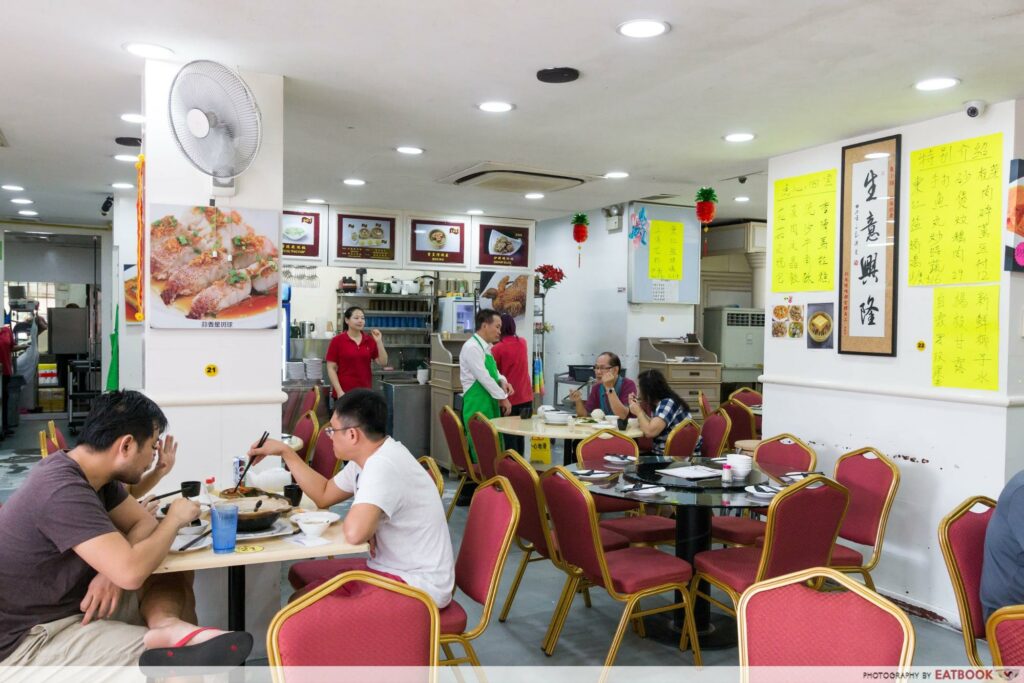 The restaurant had a subtle old-school design that reminded me of restaurants in Hong Kong dramas. It was filled with the aroma of food which made my taste buds prick with anticipation.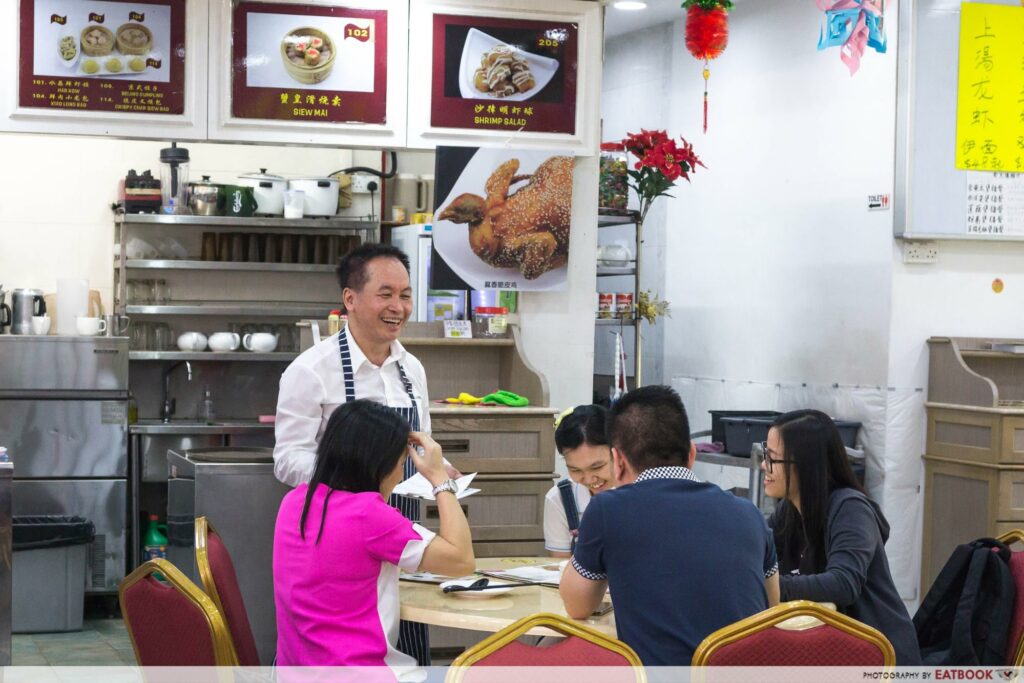 I liked the laid-back vibe there. It was hard to miss Chef Wang and his brimming enthusiasm. Although he was formerly Lei Garden's head chef, he served and attended to tables personally.
The verdict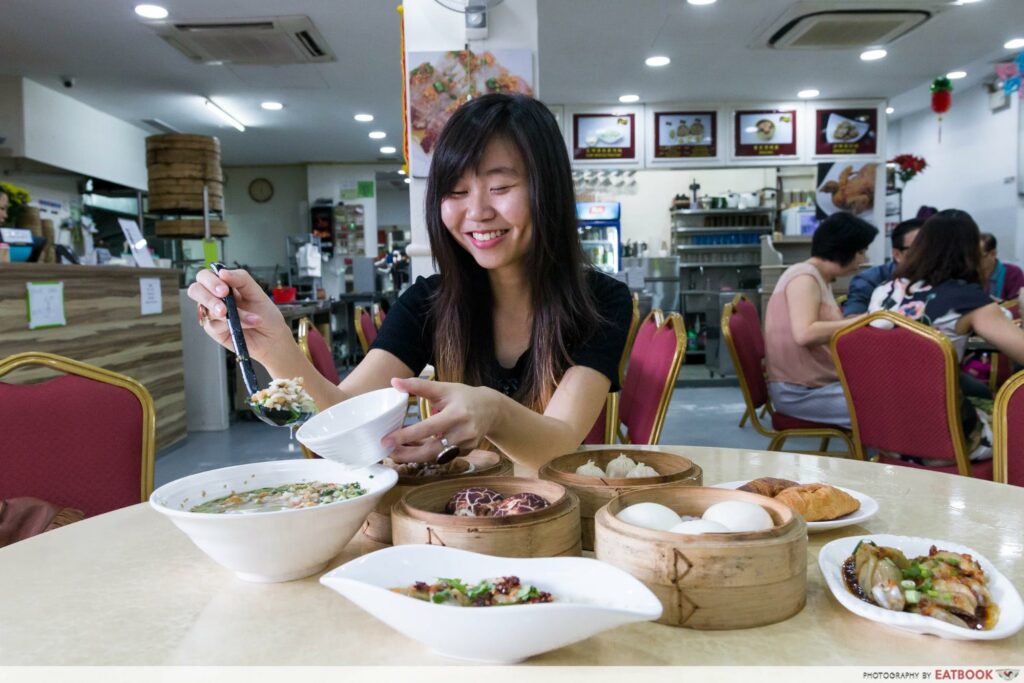 East Bistro is one of those finds I almost wish I could keep hidden. But sharing about good food gratifies me knowing that I helped encourage others towards a memorable experience. The scrumptious dishes stole my heart and gave me a full belly. It's tough choosing an affordable restaurant that would also please my fussy parents but this time, I went home and said, "Ma, we go here next time". For more dim sum feasts, check out these late-night dim sum spots or these dim sum buffets under $35++!
Address: 10 Jalan Tampang, Singapore 758954
Opening hours: Mon & Wed-Fri 11am to 3pm, 5:30pm to 10pm, Sat-Sun 9am to 10pm
Tel: 6752 4844
Website
Menu
This is an independent review by Eatbook.sg
Summary
Pros
– No GST and service charge
– Friendly service
– Interesting dishes
– Suitable for families and large groups
Cons
– $0.60 charge for plain water
– Slightly inconvenient location
– Online menu prices not updated
Recommended Dishes: Chef Special "Pao Fan" ($6.80/$13.60), "Mushroom" Char Siew Bao ($3.60 for two pieces), Chilled Chicken In Spicy Sauce ($6), Sichuan Chilli Oil Wanton ($4.50 for four pieces)
Operating Hours:
Mon & Wed-Fri 11am to 3pm, 5:30pm to 10pm
Sat-Sun 9am to 10pm
Address: 10 Jalan Tampang, Singapore 758954