---
Dim sum buffets that won't break the bank
---
At buffets, most of my friends compare me to No Face from the movie Spirited Away – 'cept that I swallow legit food, not humans or talking animals. As much as I agree with them, they haven't seen me at a dim sum buffet where I transform from No Face to the strongest vacuum cleaner ever.
The sweet and savoury morsels at a dim sum feast make it way too easy to wipe out everything without feeling overly full until you're down to the last bite. Plus, these buffets are all less than $35++ per person, so you'll leave the restaurant with not only a satisfied belly, but a relatively full wallet too!
---
1. Yum Cha

---
Tucked within Chinatown, Yum Cha offers traditional Cantonese dim sum. Order your favourite bite-sized delicacies off their dim sum menu during their Dim Sum Buffet, which consists of over 60 items. If dim sum is not your thing, they offer seafood dishes such as Chilled Mini Octopus with Sesame, and my favourite Yum Cha Prawn Dumpling.
Address: 20 Trengganu Street, #02-01, Singapore 058479
Price: $23.80++ for adults, $16.80++ for children
Buffet hours: Mon-Fri 3pm to 6pm (last order 5:30pm)
Buffet is not available on public holidays.
Tel: 6372 1717
Website
---
2. Peach Garden    
---
Enjoy dim sum from a push cart at Peach Garden's Weekend Hi-Tea Buffet. Expect a variety of classic items including egg tarts and siew mai, along with other sides such as sashimi and fried Hong Kong noodles. Be sure to keep your ears alert for the ring of a bell, because that's when the waiters start serving old-school ice-cream biscuit sandwiches!  
Address: 301 Upper Thomson Road, Thomson Plaza, #01-88, Singapore 574408
Price: $23.80++ for adults, $16.80++ for children
Buffet hours: Sat-Sun 3pm to 5pm
Tel: 6451 3233
Website
---
3. Ban Heng

---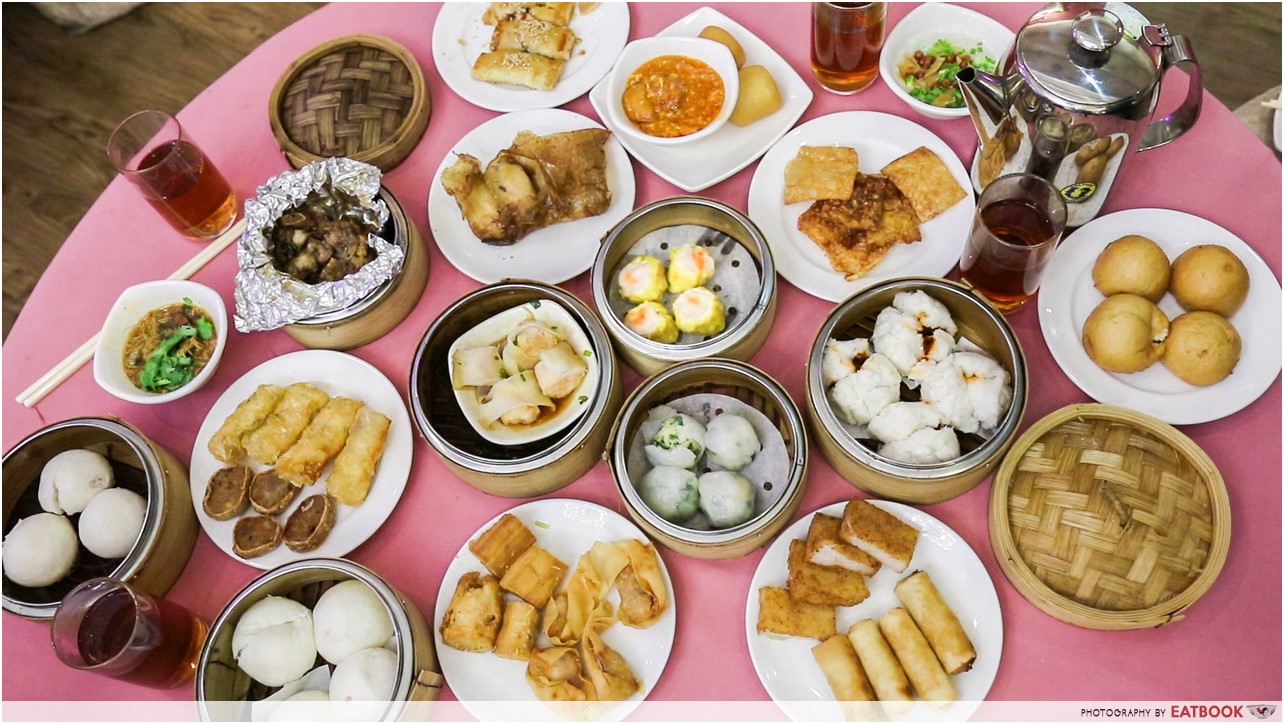 As much as gorging on over 35 dim sum items during an All You Can Eat Dim Sum Buffet sounds like a good plan, Ban Heng charges extra for food wastage, so order only what you can stomach! Expect a wide range of dim sum items such as Deep-fried Egg Plant coated with Chicken Floss, as well as Baked Mini Egg Tarts and Steamed Barbecued Pork Buns. Self-service items include porridge, soup, soft serve ice-cream, and beverages.
Check out our full review of Ban Heng!
Address: 1 Maritime Square, #04-01, HarbourFront Centre, Singapore 099253
Price: $19.80++ (weekdays) and $22.80++ (Saturdays) for adults, $13.80++ for children between 100cm and 140cm. Children below 100cm dine for free, and a minimum of three adults per table is required.
Buffet hours: Mon-Sat 11:30am to 2:30pm
Tel: 6278 0288 / 6278 1354 / 6278 1361
Website
Menu
---
4. Lao Beijing

---
Lao Beijing offers both Northern and Southern Chinese dishes in their Weekends Hi-tea Buffet. Help yourself to a variety of noodles and sides on top of the handful of dim sum choices they offer. Come in a group of four to enjoy their special Lao Beijing Popiah, which is limited to one serving per table.
Address: 238 Thomson Road, #02-11/12, Velocity@Novena Square, Singapore 307683
Price: $18.80++ for adults, $13.80++ for children
Buffet hours: Sat-Sun 3pm to 5pm (last order at 4:45pm)
Tel: 6358 4466
Website
Buffet menu
---
5. Swatow Seafood

---
One might think seafood would be the specialty of Swatow Seafood Restaurant, but they are more commonly known for dishing out affordable dim sum. Drop by for their Dim Sum Hi-Tea Buffet that's available daily. Plus, each diner also gets one serving of Shark Fin's Soup with Crab Meat. The dim sum items are wheeled around in a push-cart, so be quick and grab your favourite items before they get snatched up by others!
Address: Blk 181 Lorong 4 Toa Payoh, #02-602, Singapore 310181
Price: $24 for adults, $17 for children on weekdays, $27 for adults, $20 for children on weekends
Buffet hours: Daily 3pm to 5pm
Tel: 6363 1717
Website
Menu
---
6. TungLok Seafood

---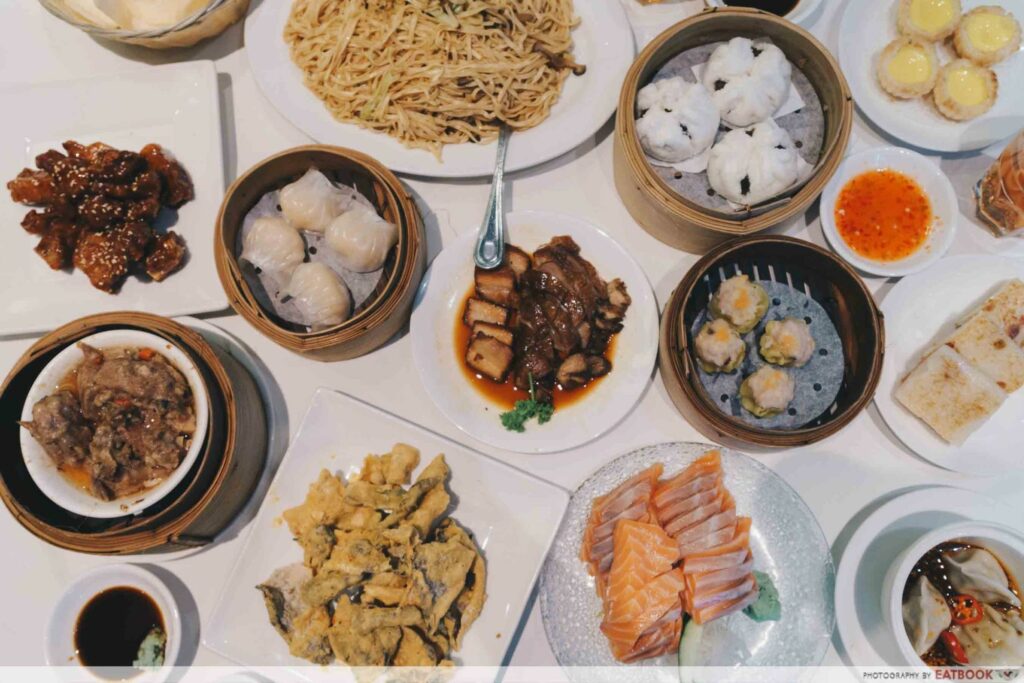 If you're on a budget and having TungLok Seafood's Laksa Crab Bee Hoon ($65++/kg) would bust it, go for their Ala Carte Dim Sum Lunch Buffet instead. Available only at their Upper Jurong outlet, this weekend buffet can fill you up even better at a much lower price. Expect a variety of dishes that aren't just limited to dim sum; think Fish Maw Broth with Four Treasures, sashimi, and ice-cream puffs.
Check out our full review of TungLok Seafood!
Address: 511 Upper Jurong Road, The Arena Country Club, Singapore 638366
Price: $28.80++ for adults, $18.80++ for children. A minimum of four adults per table is required.
Buffet hours: Sat 11am to 3pm, Sun & PH 10am to 3pm
Tel: 6262 6996
Website
Menu
---
7. Dragon Bowl

---
If you're not in the mood for iSteamboat's Teochew porridge buffet, another buffet you can enjoy in Marina Square is Dragon Bowl's Dim Sum Buffet Lunch. Choose from a wide variety of a la carte dim sum items, which includes bestsellers such as Steamed Truffles Dumpling with Black Pepper and Steamed Spare Ribs with Plum. The menu also includes the usual xiao long bao and char siew bao.
Address: 6 Raffles Boulevard, #01-129A, Marina Square, Singapore 039594
Price: $32.80++ for adults, $19.80++ for children on weekdays, $35.80++ for adults, $21.80++ for children on weekends. A minimum of three adults per table is required.
Buffet hours: Daily 12pm to 2:15pm
Tel: 68581588
Website
Full list of outlets 
---
Dim sum buffets even your grandparents will enjoy
---
It's time to put on those wide mom jeans or a forgiving flare dress and head down to one of the dim sum buffets mentioned above with your family or a group of pang yao (friends)! Drop us a comment if you know of other affordable dim sum buffets worth trying.  
---
Featured image adapted from Instagram user joeltkl's post.