Ban Heng offers dim sum buffet below $20++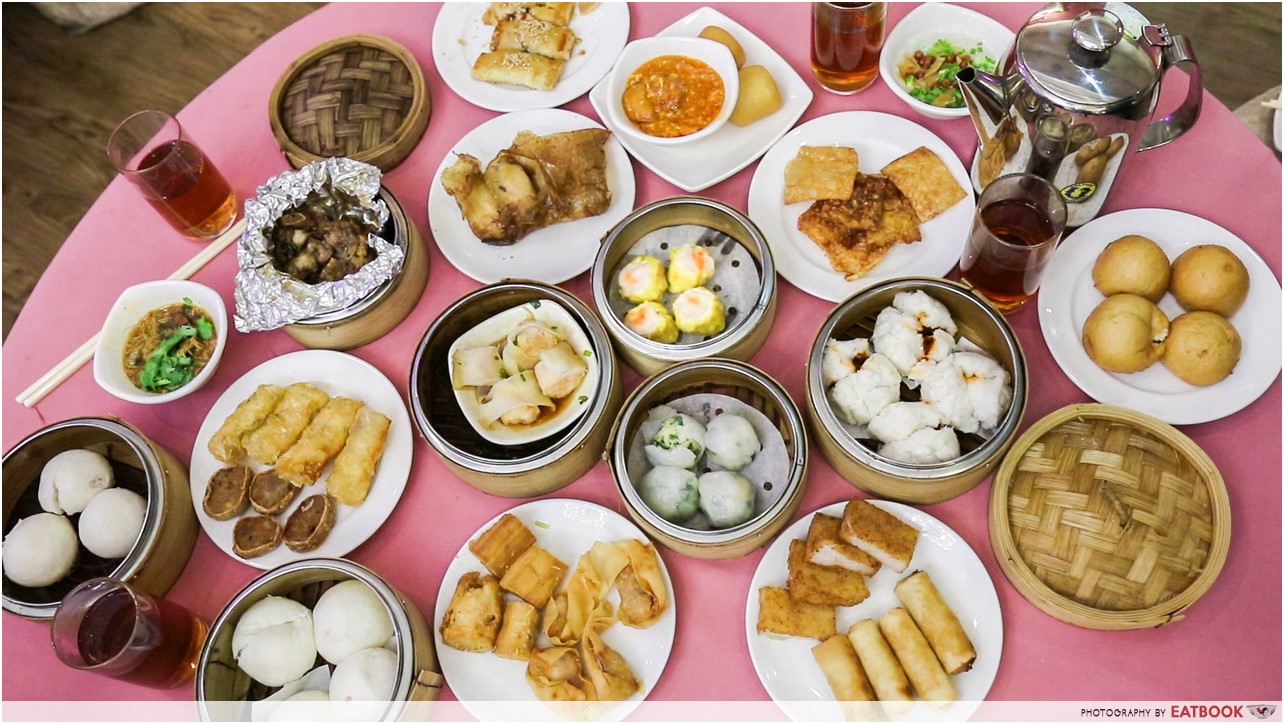 Just like mookata or steamboat, dim sum is one of those meals you have to enjoy with a group of friends. Ordering plate after plate of dumplings and bao just doesn't feel the same when you're scarfing them down by yourself. And to maximise the number of dim sum your squad can get, check out Ban Heng's Dim Sum Buffet Lunch ($19.80++ on weekdays).
The price gets bumped up to $22.80++ on Saturdays, and children between the height of 100cm and 140cm dine at a fixed price of $13.80++ every day. Children below the height of 100cm can dine for free. The lunch buffet starts at 11:30am and ends at 2:30pm, with a last order at 2pm. This dim sum lunch buffet is only available at their HarbourFront Centre outlet, and they require a minimum of three adults at each table.
From 2 May to 31 July 2017, you'll be able to enjoy a promotion on weekdays and Saturdays that lets the fourth person dine for free with every three paying adults at their Dim Sum Buffet Lunch!
If dim sum isn't your thing, Ban Heng also has a Chinese Dishes Ala Carte Buffet (from $22.80++ on weekdays, $25.80++ on weekends) available for lunch and dinner daily.
Food at Ban Heng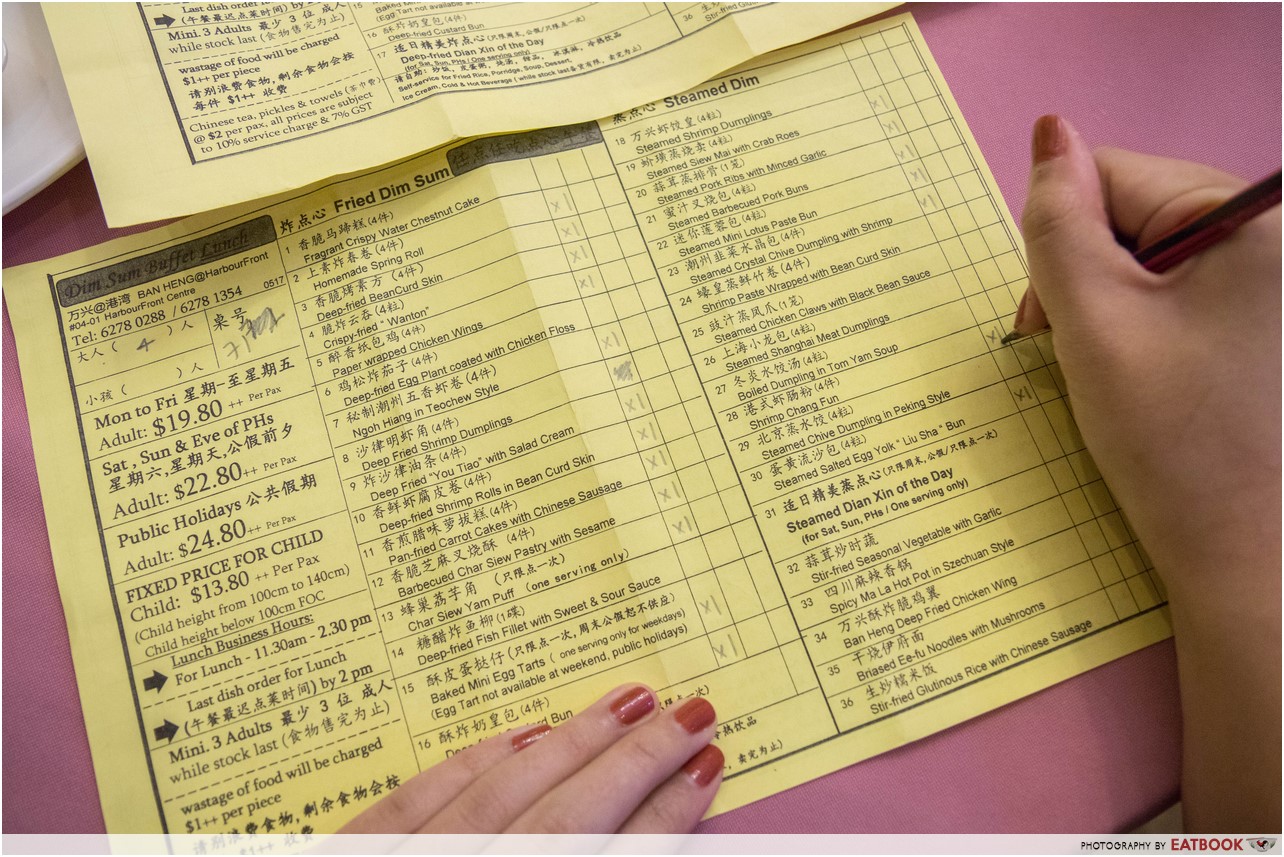 Once you get to your table, you can start looking through their order sheet that lists over 30 different dishes.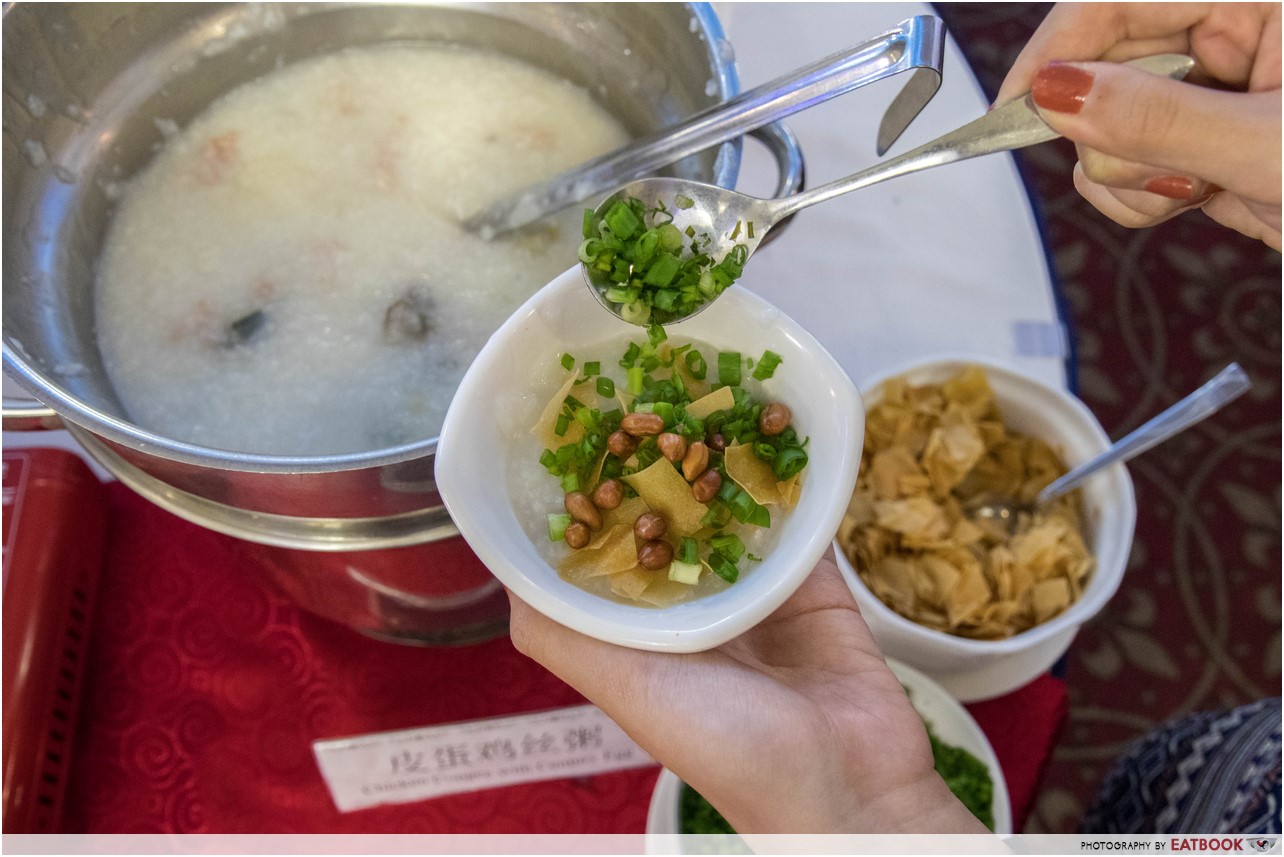 After you submit your order sheet, you can visit their self-service stations to kick-start your meal. We went for their porridge first and added as many toppings as the bowl could handle. The Cantonese porridge had bits of century egg running through it. Though it was tasty enough on its own, the addition of crunchy peanuts, deep-fried pastry pieces, and spring onion made it more flavourful.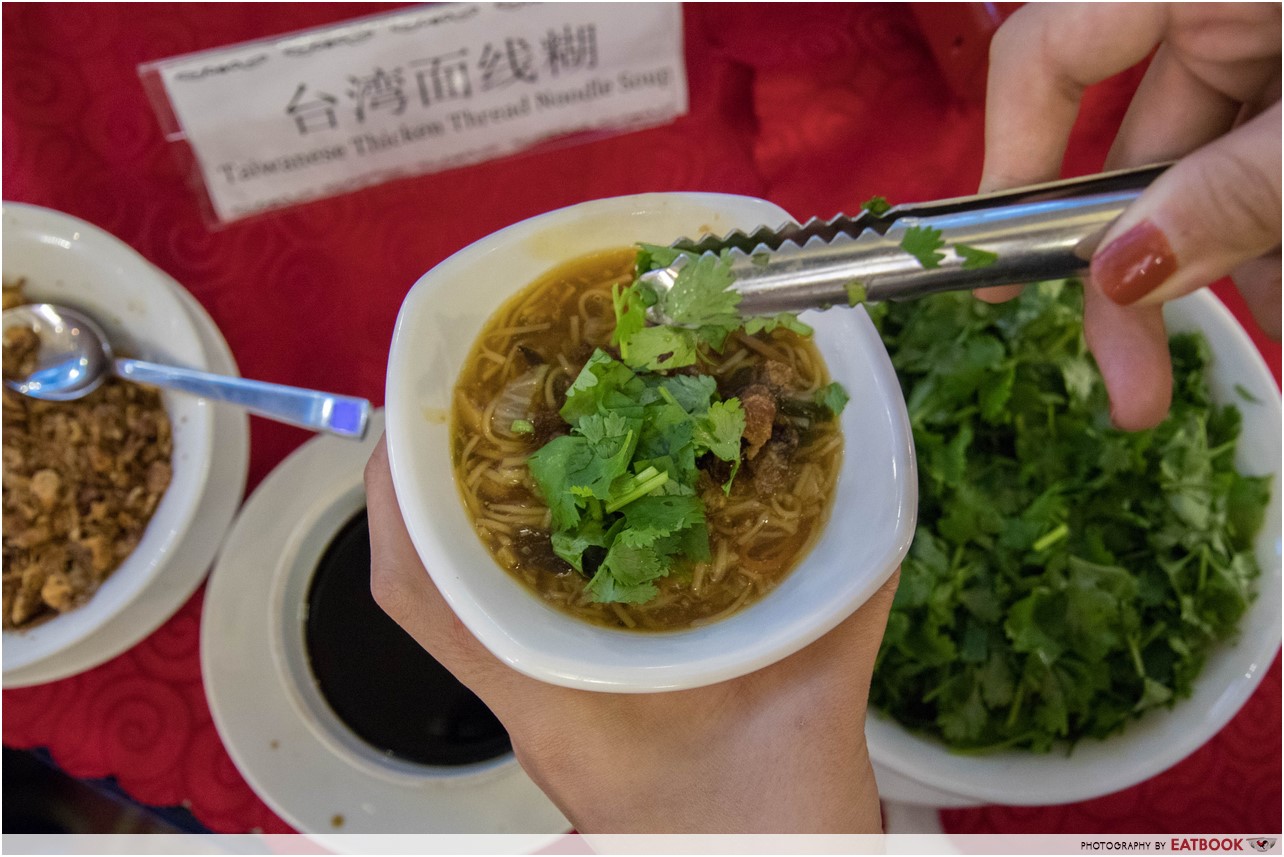 They had two different soups: Double-boiled carrot with pork ribs soup and Taiwanese thicken thread noodle soup. We went for the latter, which was actually Taiwanese mee sua, and added a splash of vinegar and fresh parsley to it. The soup reminded me of shark's fin or fish maw soup, especially since the thin noodles strands added some texture to the soup.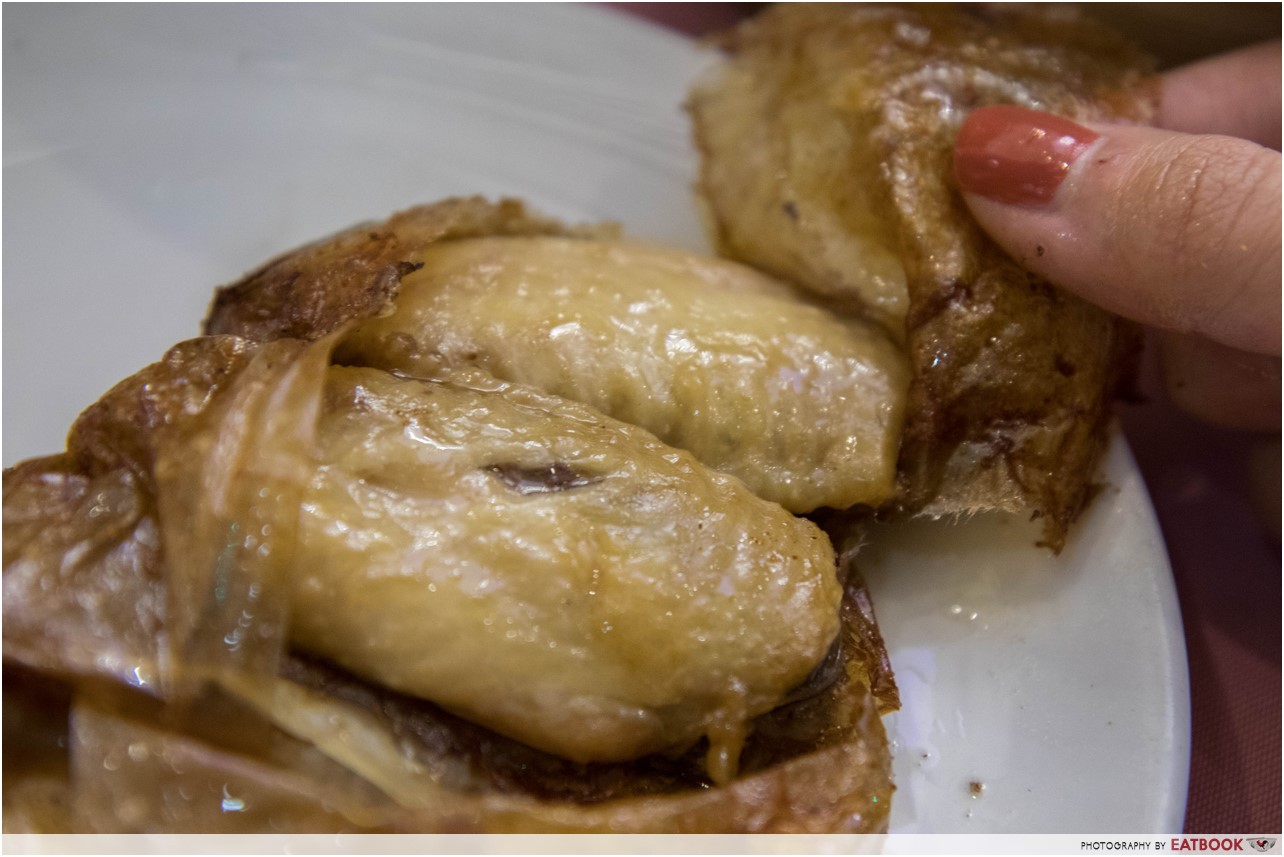 When our dim sum orders arrived, we tucked into the Paper-wrapped Chicken Wings first. If you're not a fan of using your hands, this may be quite a hassle to eat, but it's worth it. Tearing into the paper pouch, I could already see how juicy the chicken wings were.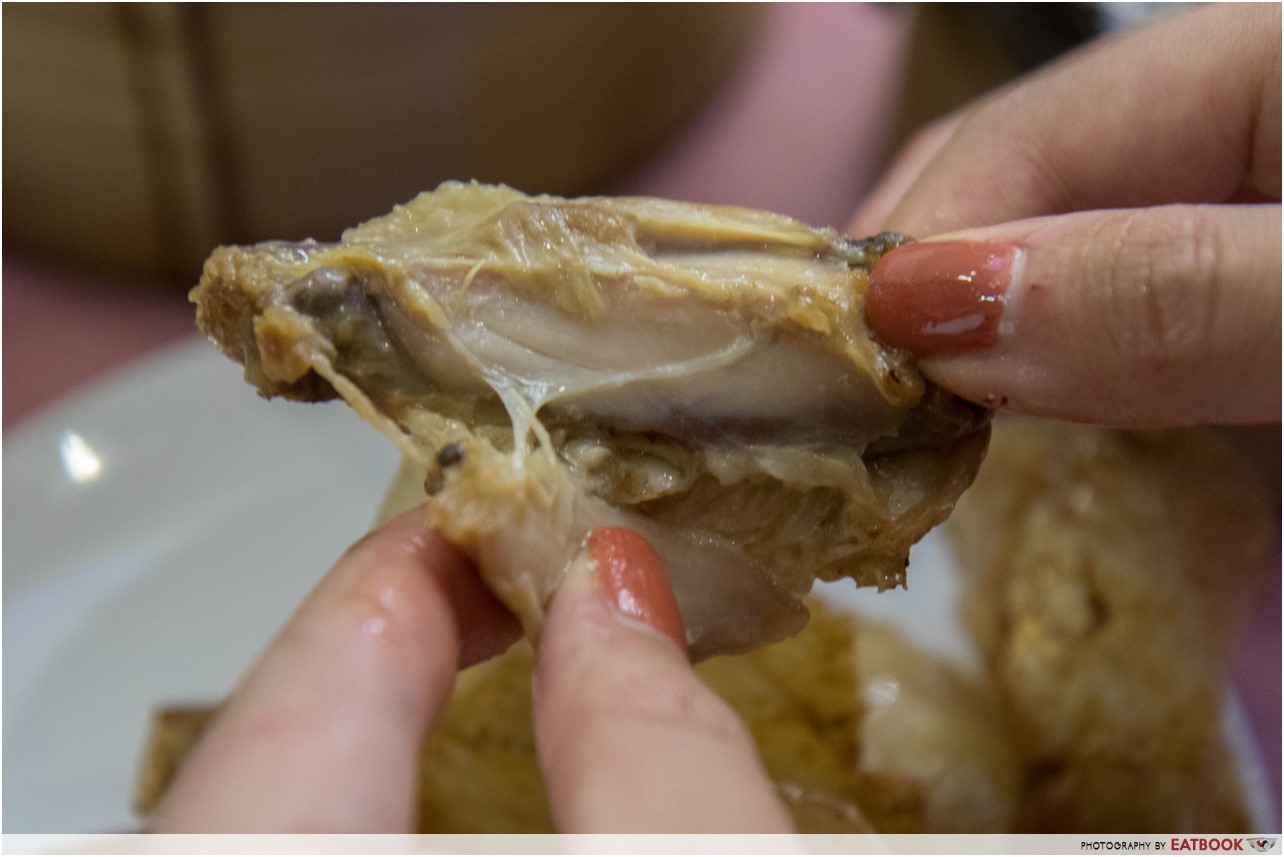 The meat was tender and could be pulled away from the bone easily. Though it was on the oilier side, it was marinated well and had flavour running through the entire piece. If you can't stand grease, however, you may have to give this a pass.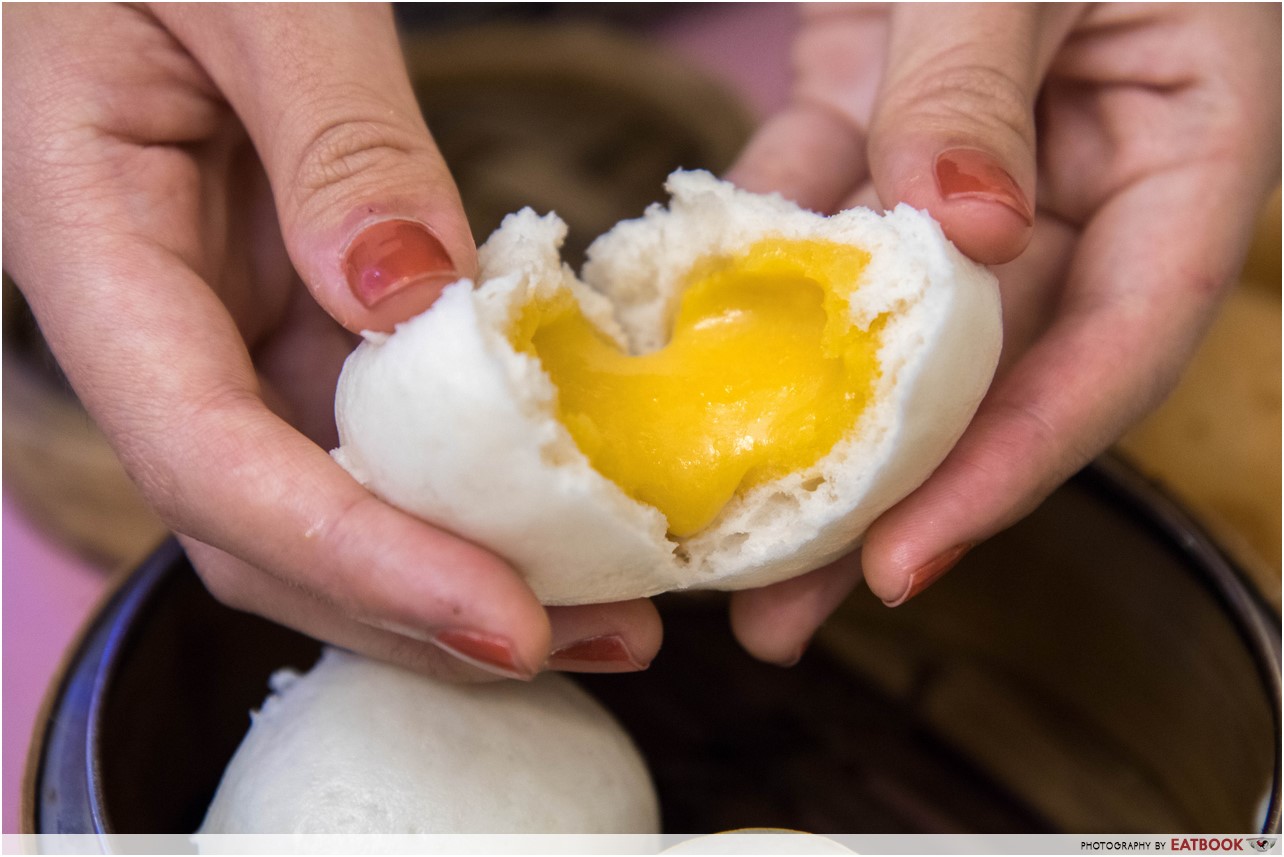 Of course, no dim sum experience is complete without the ubiquitous Steamed Salted Egg Yolk "Liu Sha" Bun. These were noticeably smaller than their other buns. The soft outer layer was easy to tear into, revealing a warm, lava-like filling. Remember to exploit this Instagrammable #foodporn moment before the oozy goodness seizes up.
The custard filling made me think of melted white rabbit candy. I'm not a big fan of how sweet and milky this was, but then again, liu sha bao was never my thing. If you're a hardcore liu-sha lover, you'd probably enjoy this dish more.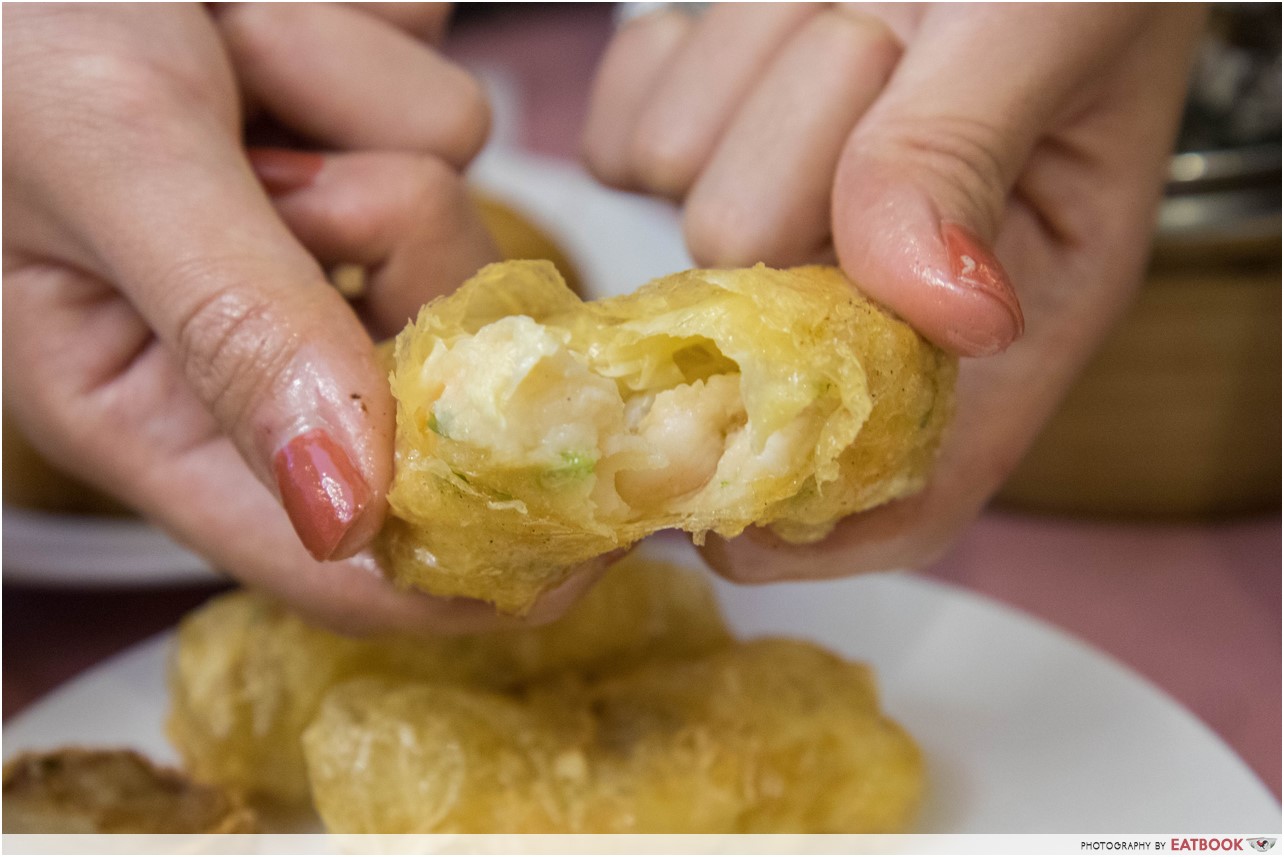 One of my favourites was their Deep-fried Shrimp Rolls in Bean Curd Skin. This was made with fish paste and whole pieces of shrimp. The filling was wrapped in thin bean curd skin before being deep-fried.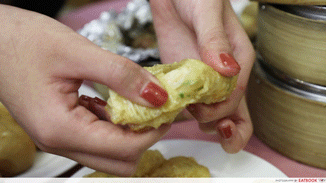 The bean curd skin was crunchy without being too oily thanks to the thin layers. This went well with the soft, juicy filling that had a light soy sauce flavour to it.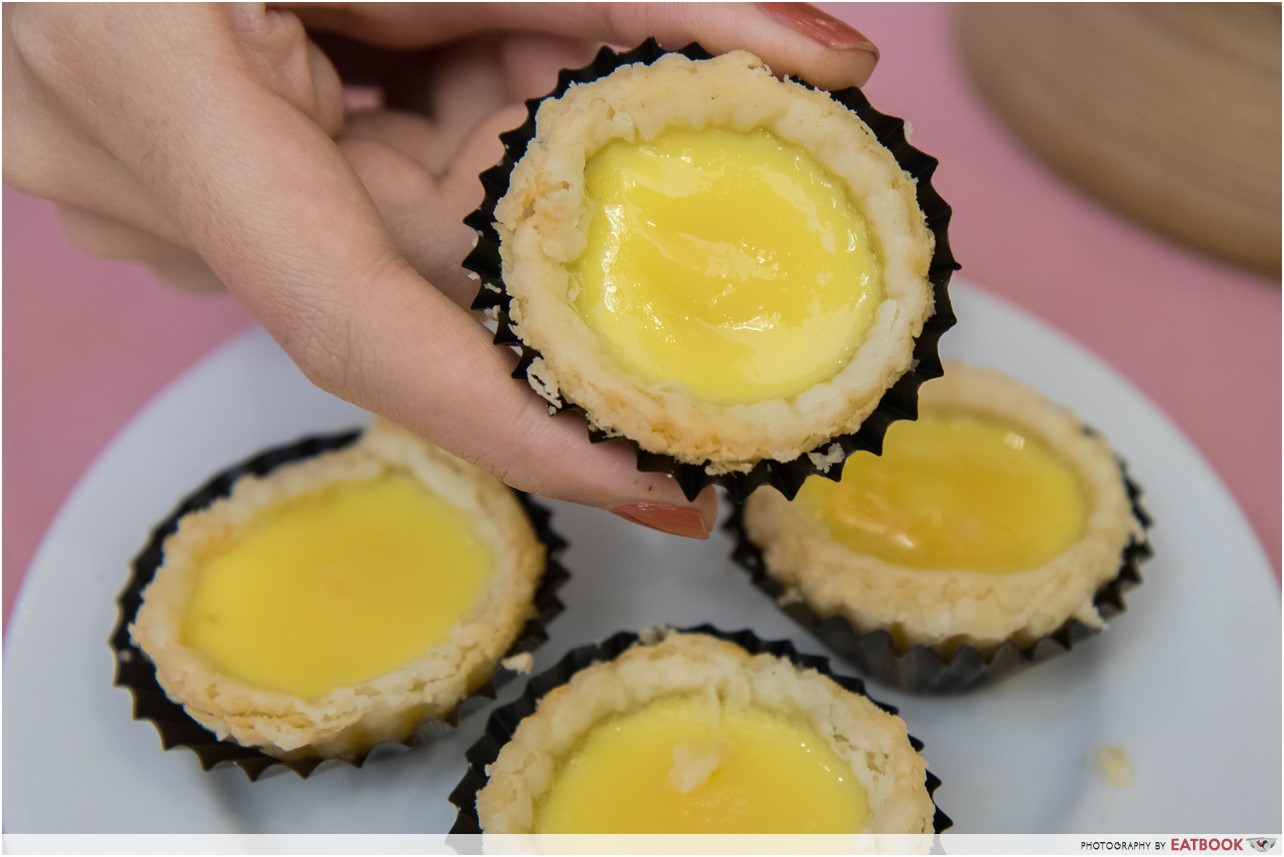 Whenever I go to a dim sum place, getting a plate of egg tarts is always on the top of my list. Their Baked Mini Egg Tarts, which are only available on weekdays, did not disappoint. The buttery crust complemented the smooth, sweet egg custard filling. These were pretty much standard egg tarts and weren't anything special, but I was satisfied nonetheless. Just note that you'll be limited to one plate of four pieces per table.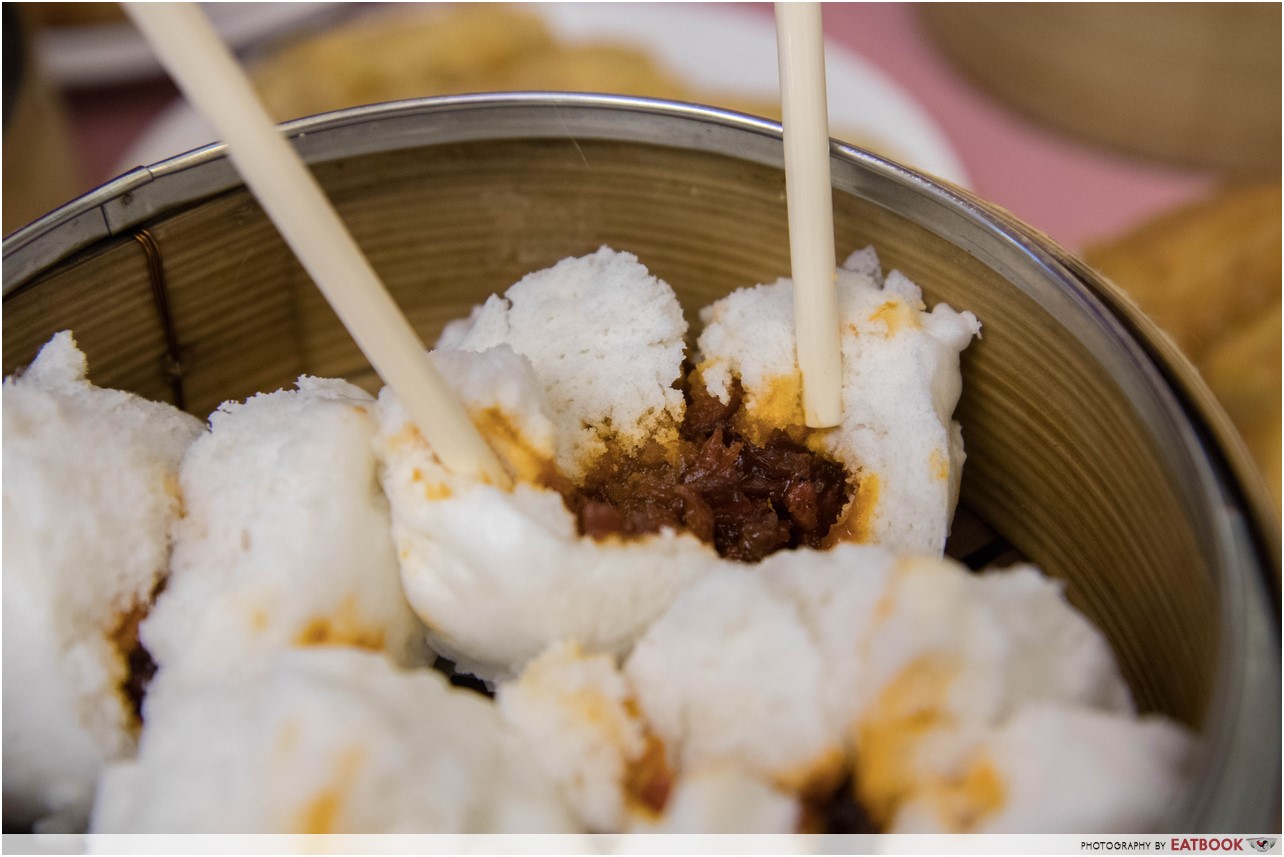 Another dim sum classic they had was Steamed Barbecued Pork Buns. Each bao was fluffy and pillowy soft, and broke open easily to let the juicy char siew filling peek through. The bits of tender barbecued pork and the slightly sweet sauce went great with the otherwise plain buns.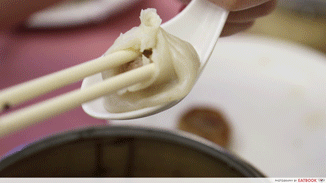 Ban Heng also dishes out a crowd-favourite: Xiao Long Bao. These dumpling skins were on the softer side and I had to take extra care in making sure these babies didn't rip open during the precarious journey from the bamboo steamer to my spoon. The broth and minced meat filling were on the plainer side, so make sure you add a little vinegar on top.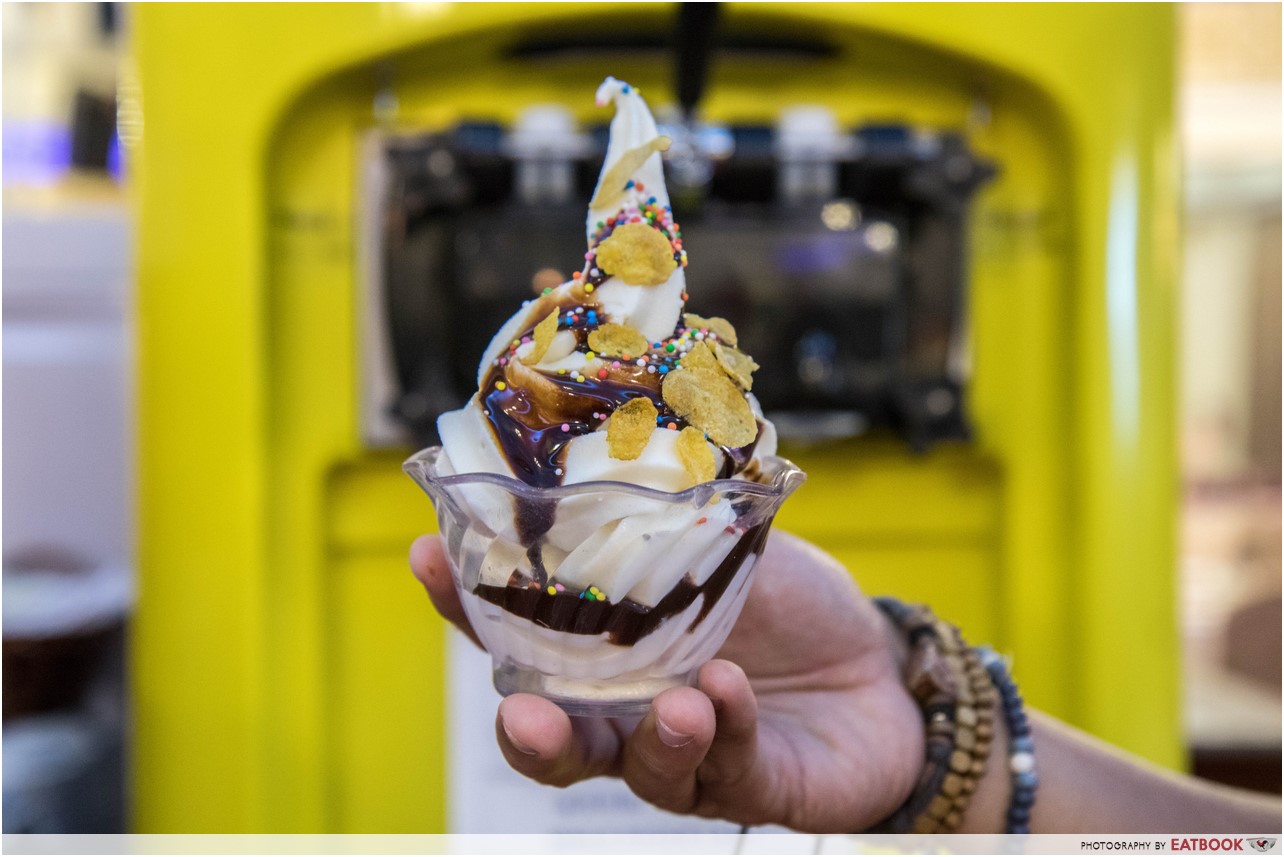 You wouldn't think to find decent ice-cream in a Chinese restaurant, but Ban Heng can prove you wrong. If you still have room for dessert after your dim sum marathon, head to their Soft serve ice-cream station.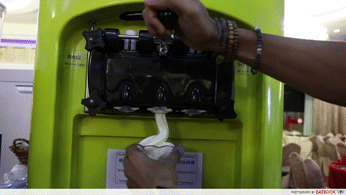 This ice-cream had a consistency that was closer to frozen yogurt rather than ice-cream, but it worked out great since you probably wouldn't want something jelak after having so much dim sum. We added a drizzle of Hershey's chocolate sauce, cornflakes, and sprinkles to top it all off.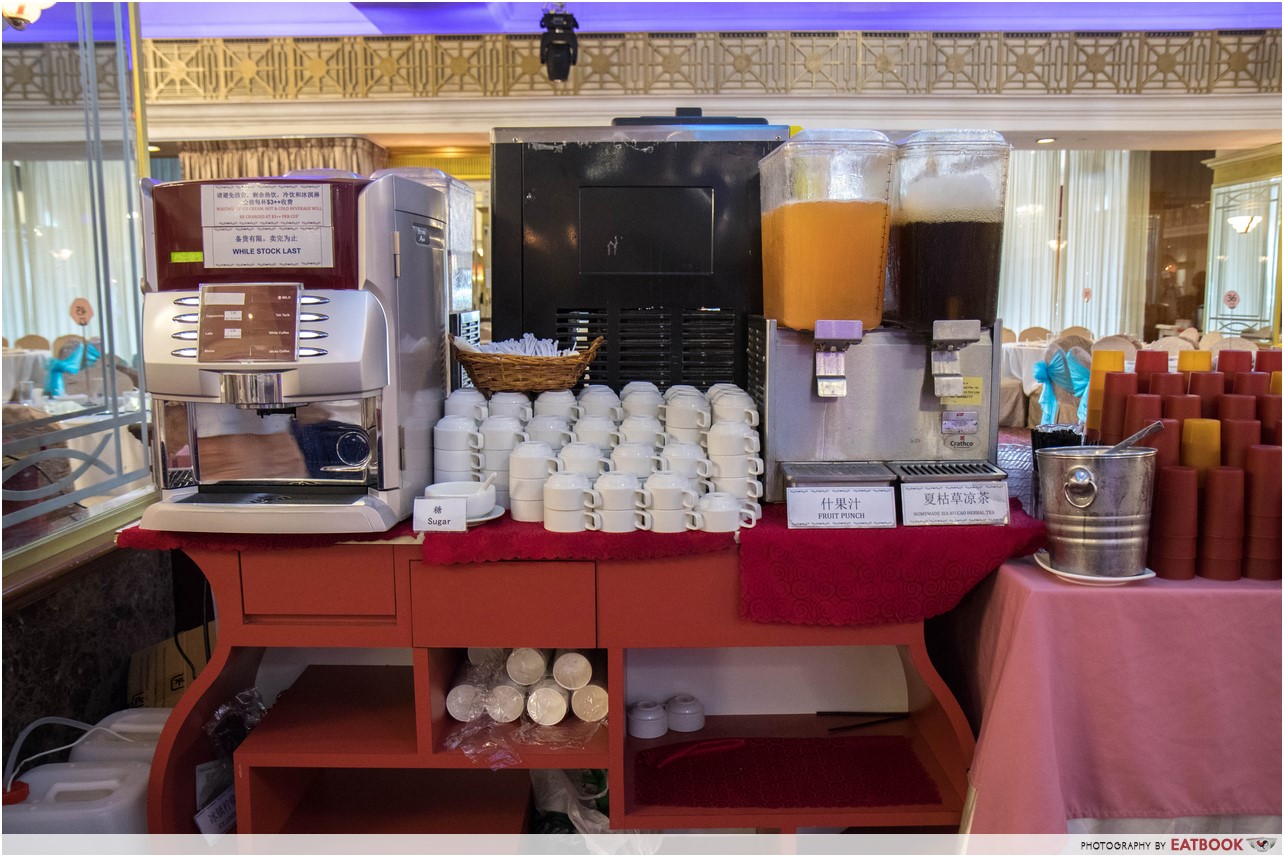 Though they serve Chinese tea, you can also get your hands on drinks such as coffee, Milo, and orange juice.
Ambience at Ban Heng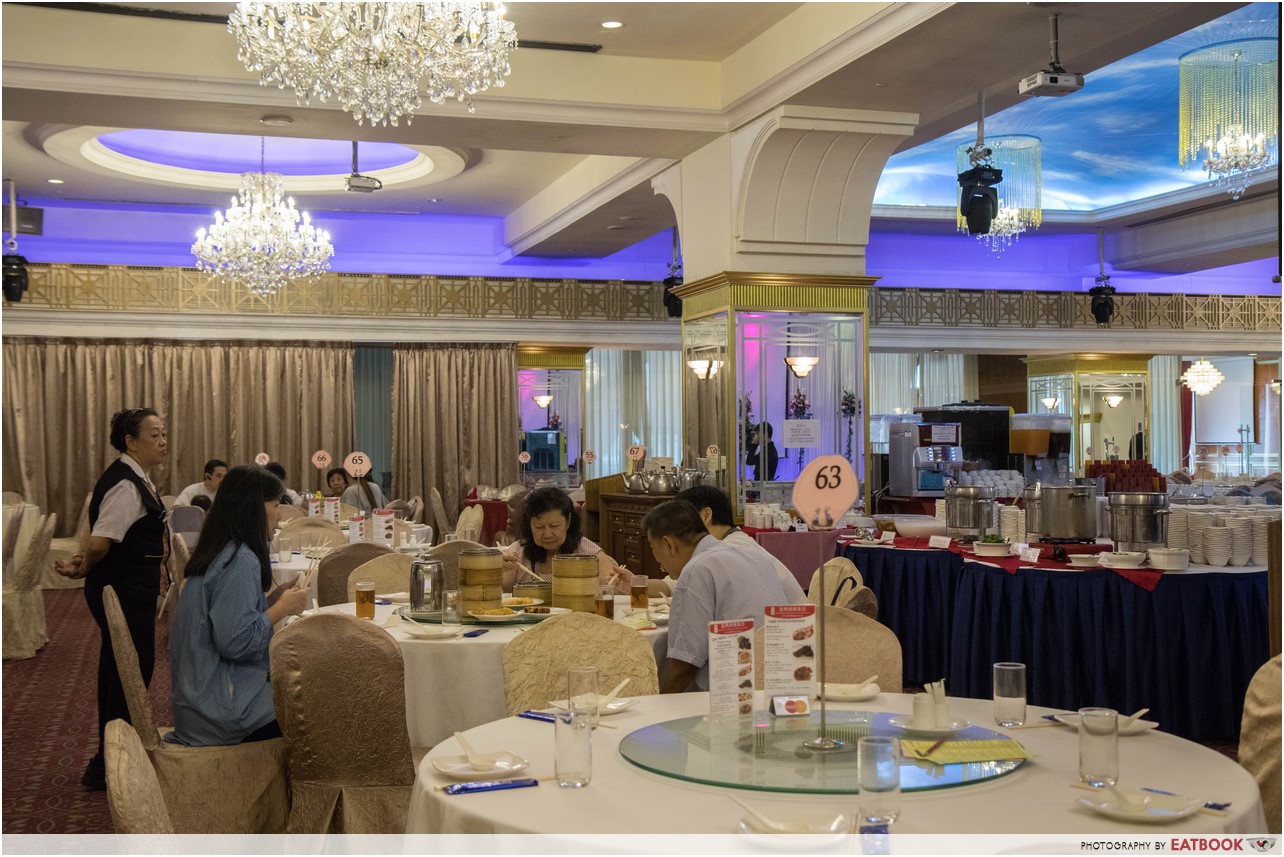 Ban Heng is a huge Chinese restaurant that has over 120 tables to accommodate special events such as wedding banquets and reunions. Decked out in glass chandeliers and old-school decor, it was hard to believe we could snag such a reasonable dim sum deal in a place as fancy as this.
The verdict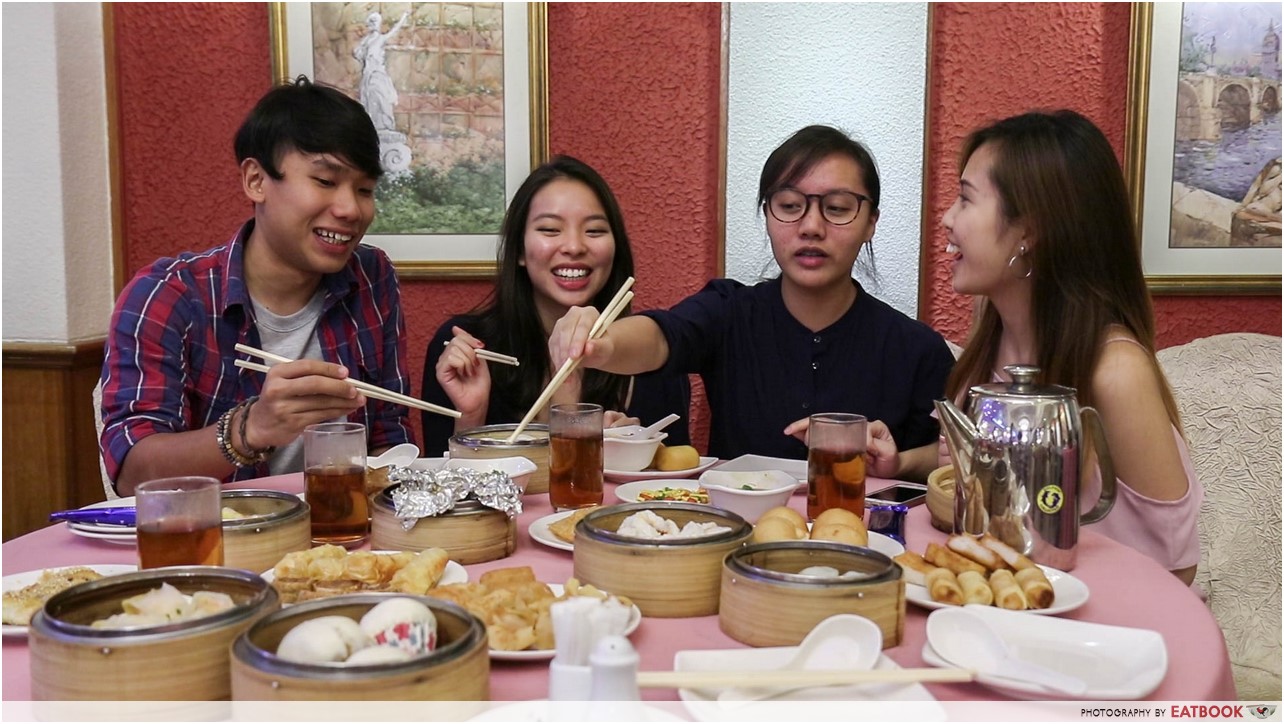 Though this place is on the fancier side, it's a great restaurant to bring family and friends to. The wide variety of dim sum dishes and pleasant ambience makes the price you're paying more worth it, especially if you love dim sum. The four-for-three promotion is even more reason to pay this Ban Heng outlet a visit soon. If buffets are not your thing, check out these cheap and good dim sum eateries around Singapore!
Address: 1 Maritime Square, #04-01, HarbourFront Centre, Singapore 099253
Opening hours: Daily 11:30am to 2:30pm, 6pm to 10pm
Tel: 6278 0288
Website | Full list of outlets
Menus
Ban Heng Review: Dim Sum Buffet Lunch At $19.80++ At HarbourFront Centre
Summary
Pros
– Wide variety of dim sum
– Pleasant ambience
– Good for groups
– Value for money
Cons
– Some dishes are only available on certain days
– Limited servings for some dishes
Recommended Dishes: Paper-wrapped Chicken Wings, Deep-fried Shrimp Rolls in Bean Curd Skin, Baked Mini Egg Tarts, Steamed Barbecued Pork Buns, Soft serve ice-cream
Operating Hours:
Daily 11:30am to 2:30pm, 6pm to 10pm
Tel:
6278 0288
Address:1 Maritime Square, #04-01, HarbourFront Centre, Singapore 099253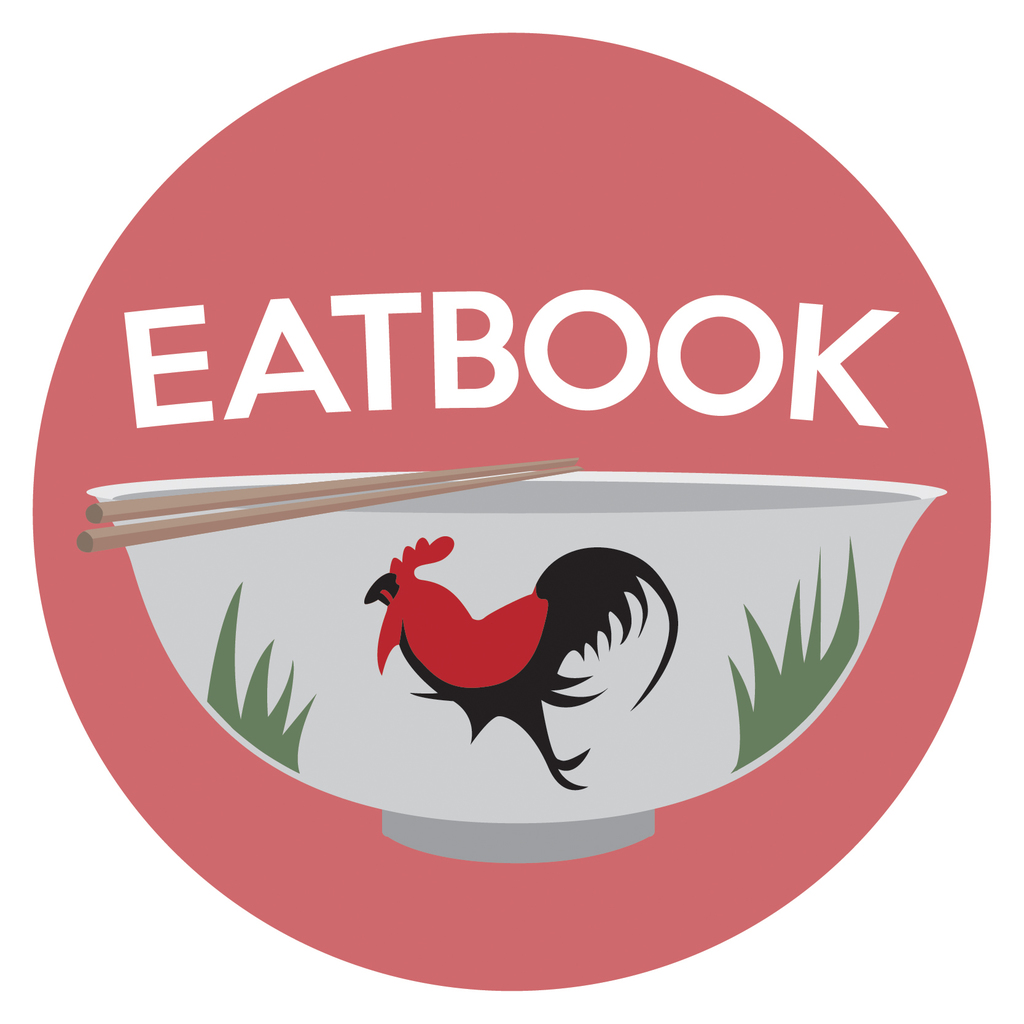 Drop us your email so you won't miss the latest news.