Yum Cha spoils you with a large variety of dim sum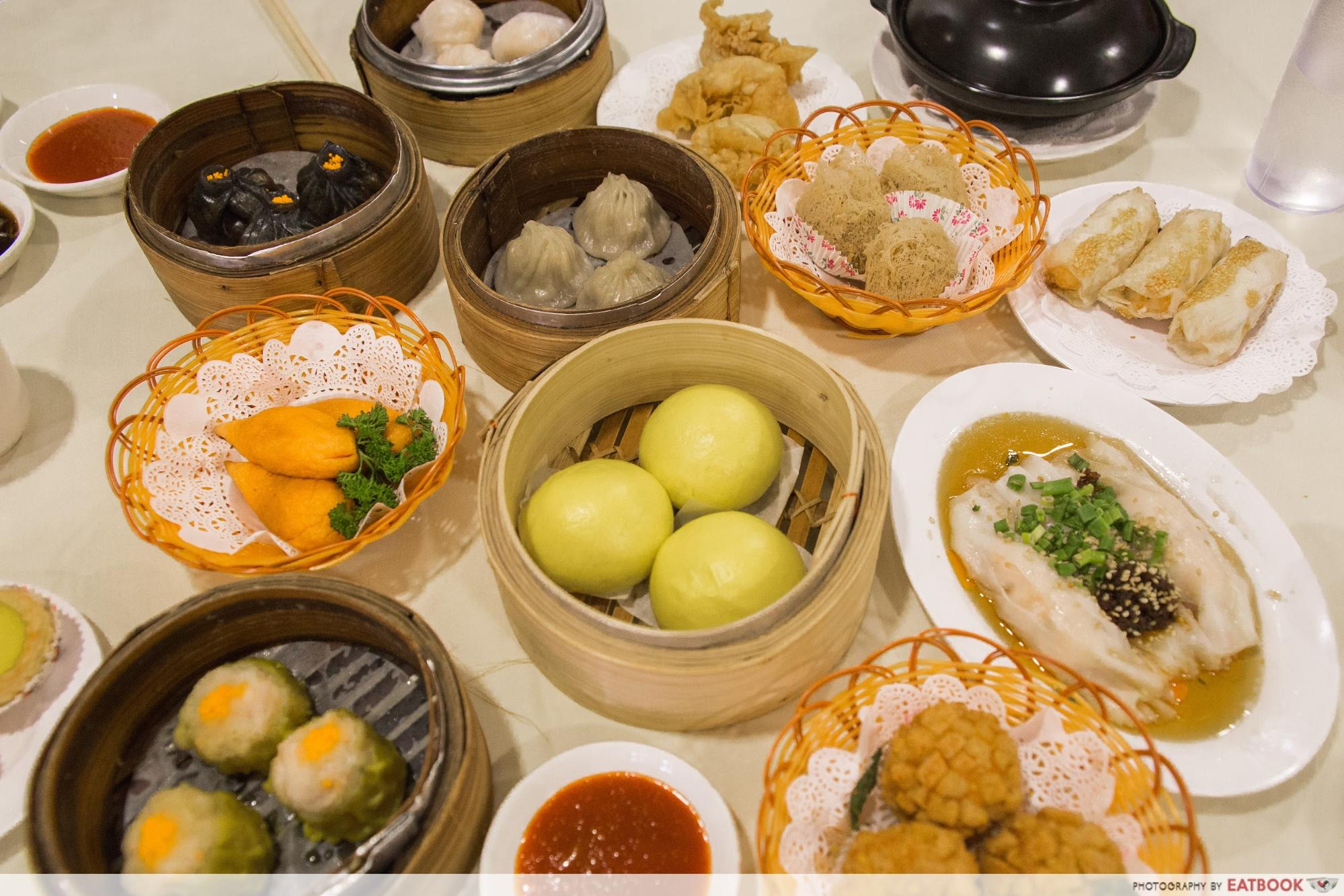 I weaved in and out of the bustling crowd at Chinatown, my eyes trained to keep a lookout for Yum Cha. My stomach grumbled – a reminder that I skipped lunch for their buffet – but I mentally kept it quiet with thoughts of my soon-to-be food coma. It's inevitable, since there would be a whopping 50-over dishes I could stuff my face with.
Entering Yum Cha was similar to entering a dim sum place in Hong Kong. Its location at Chinatown helped set the scene even before you've stepped into the restaurant, and its interior was that of an old-school Chinese restaurant, but the detail that won me over was their dim sum carts.
Dim sum buffet at Yum Cha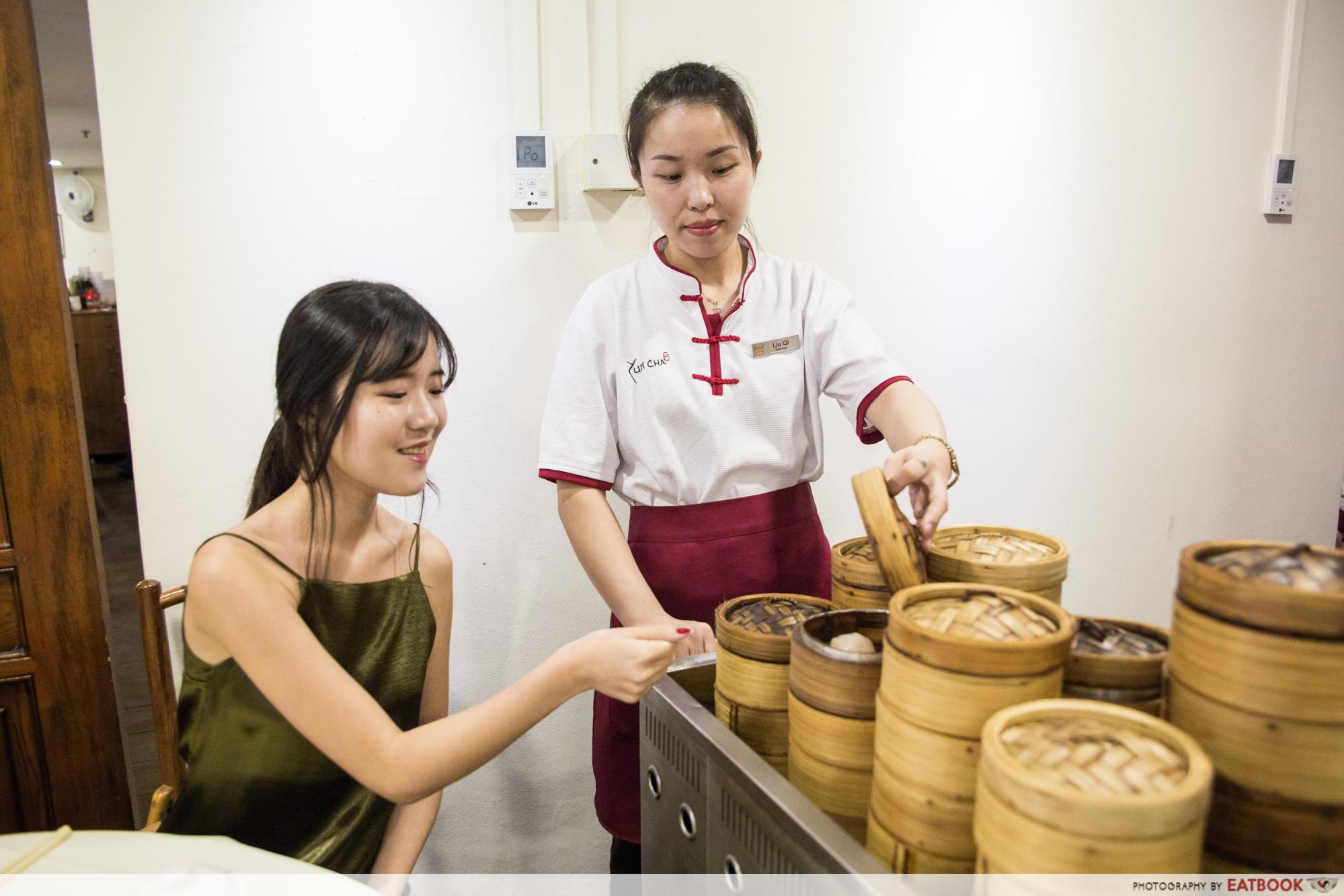 The carts make their appearance at Yum Cha's Weekday High Tea Buffet ($23.80++ for adults, $16.80++ for children above four years-old), which runs from 3pm to 6pm from Monday to Friday. You can also spot these dim sum trolleys during regular service time on weekends. Each cart is loaded with different categories of dishes such as steamed dim sum, fried dim sum, side dishes, and more. All you have to do is pick your dishes from the cart, and it'll be served immediately.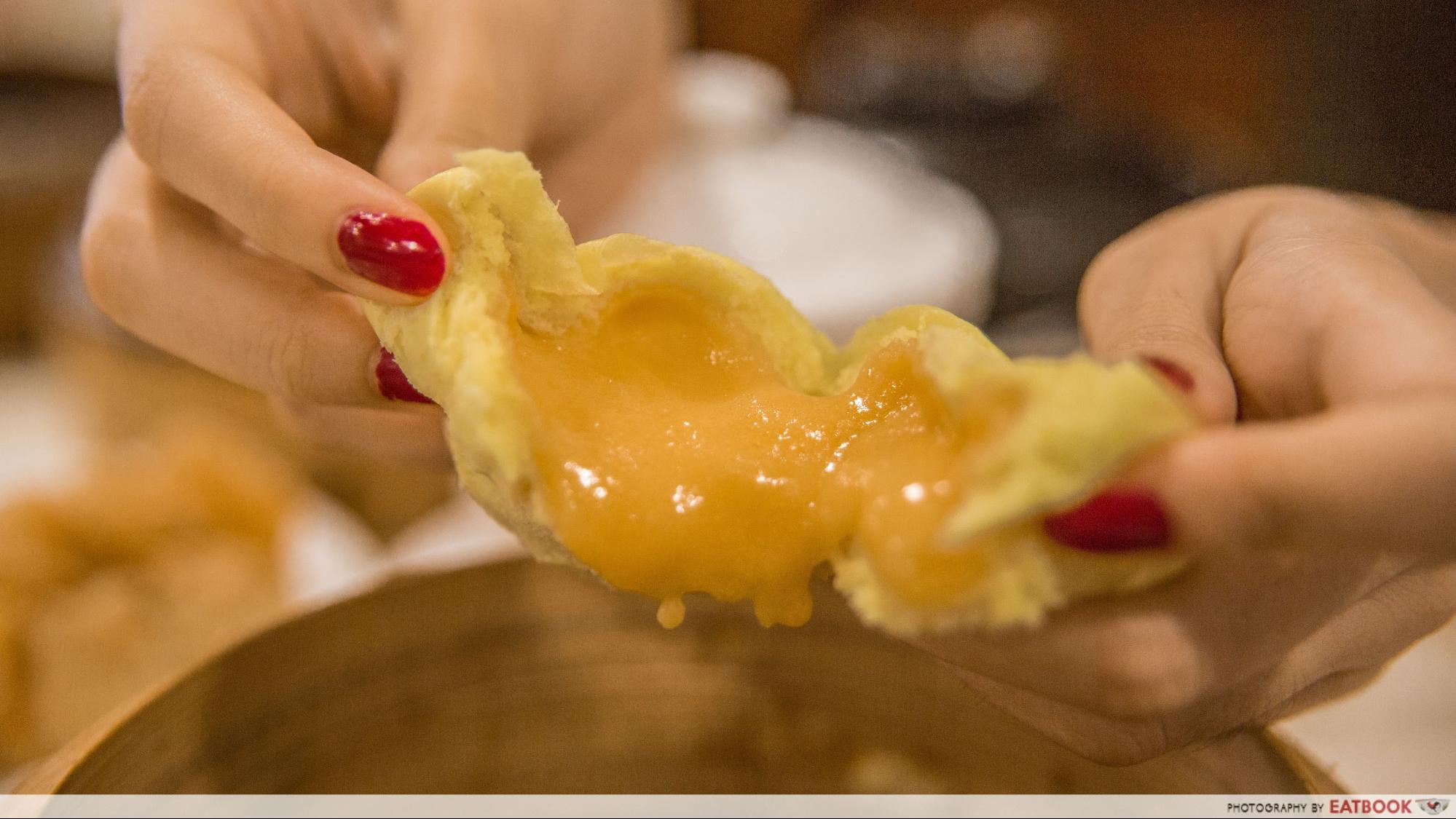 We started things off on a great note with their Custard Bun with Salted Egg Yolk ($4.50++ for three pieces, a la carte). A viscous, thick custard hid inside the pillowy bun. This bun had the perfect balance of sweetness and savouriness to me, and I liked how they used a good amount of salted egg yolks to achieve this flavour and texture.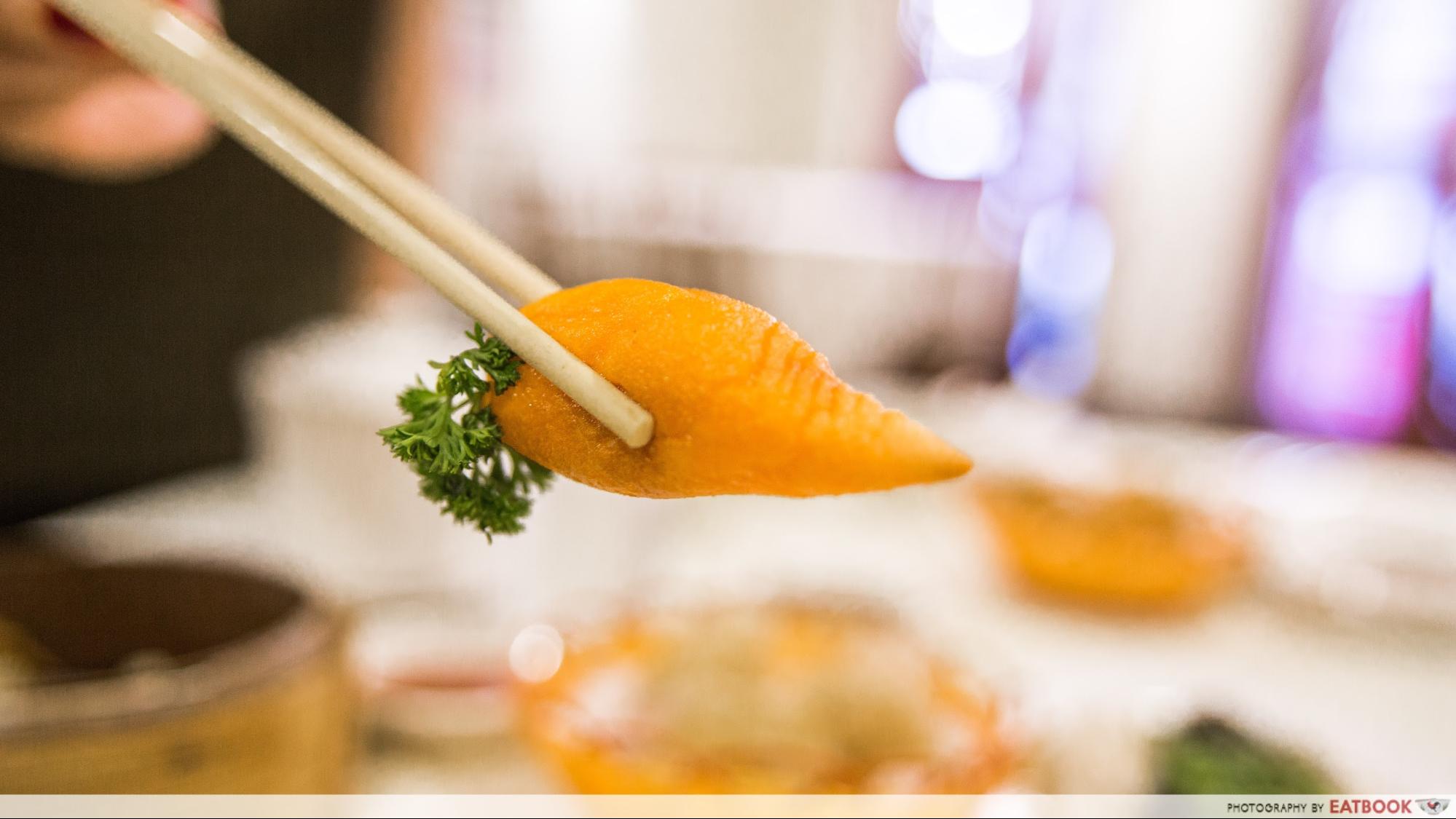 Shaped to resemble a carrot is the adorable Baked Puff Pastry with Turnip ($3.80++ for three pieces, a la carte). Filled with shredded carrot and turnip, the flavour reminded me of popiah filling, but much sweeter – it could've passed off as a dessert. I have a sweet tooth, so I found these rather enjoyable, plus the presentation was 100/100.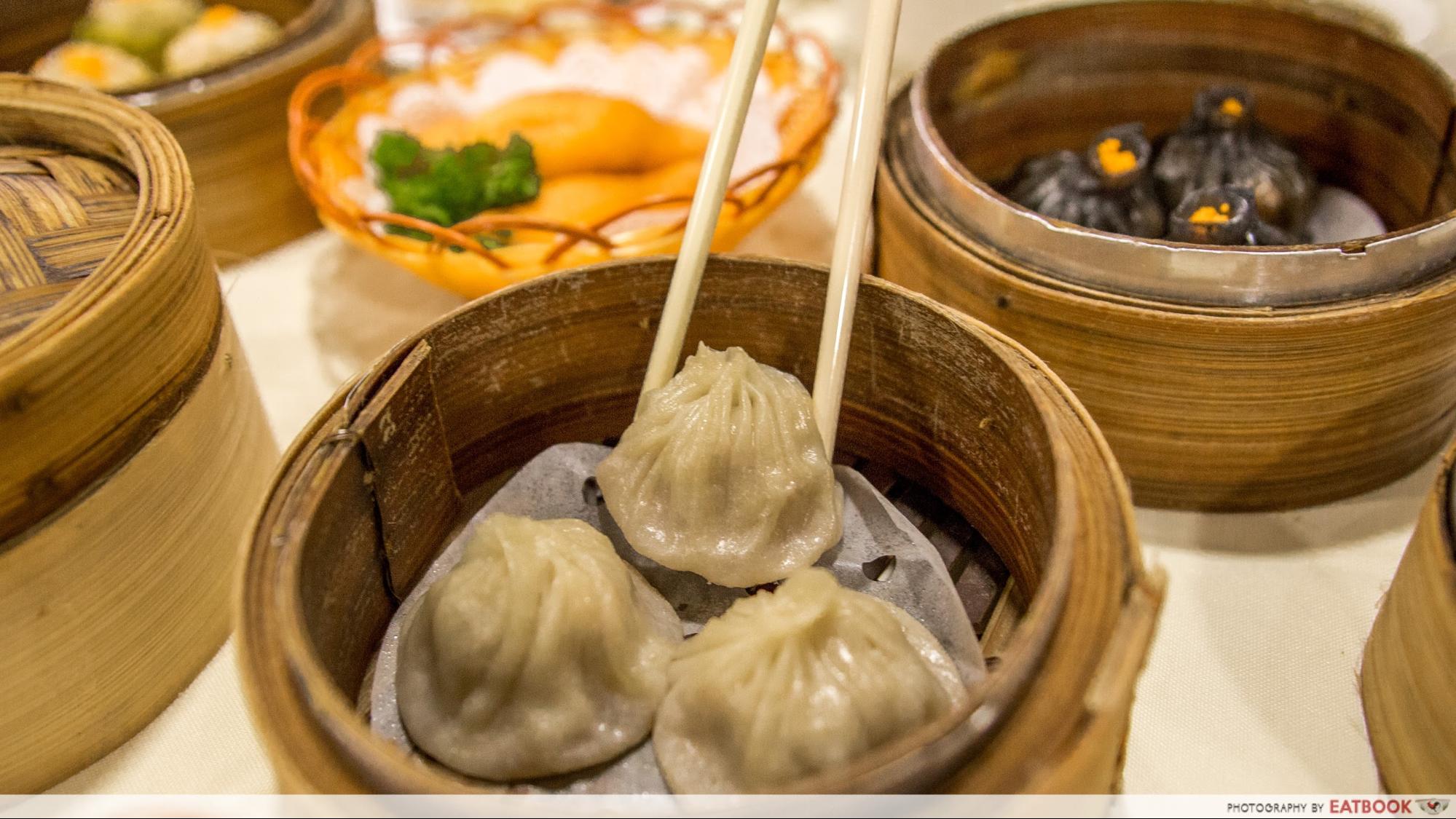 Their Xiao Long Bao ($4.80++ for three pieces, a la carte) fared well across the table. We left them out for some time, but these still burst with juices when we bit into them, and their skins remained soft. They were also packed with a meat filling that had little bits of fat, lending a slight creaminess to the soup dumpling.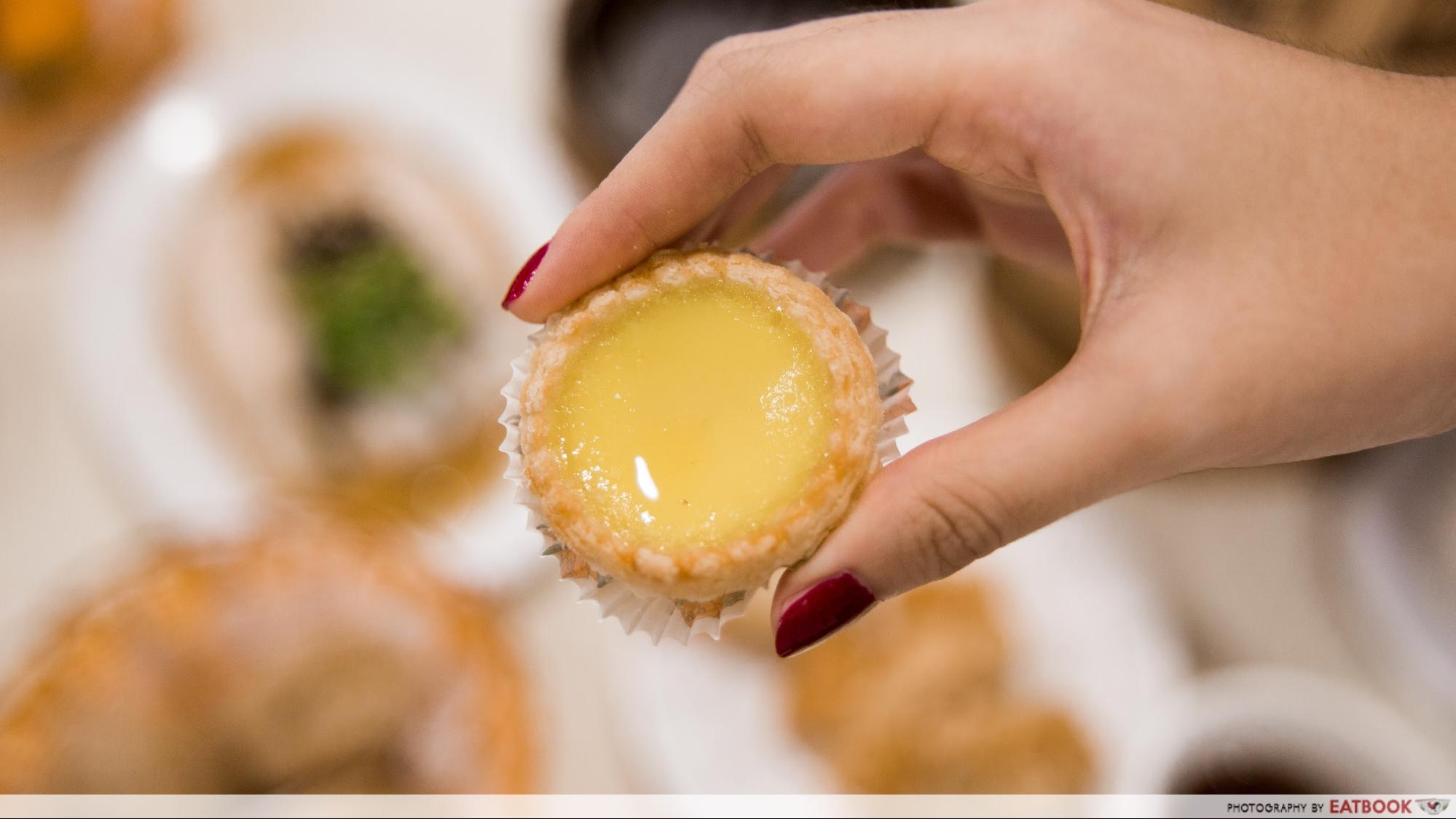 You can't leave a dim sum place without trying their egg tarts, so we had a Baked Mini Egg Tart ($3.20++ for three pieces, a la carte) each. Sweet custard filled the flaky pastry that fell apart once we bit into it, with the former carrying a light eggy taste.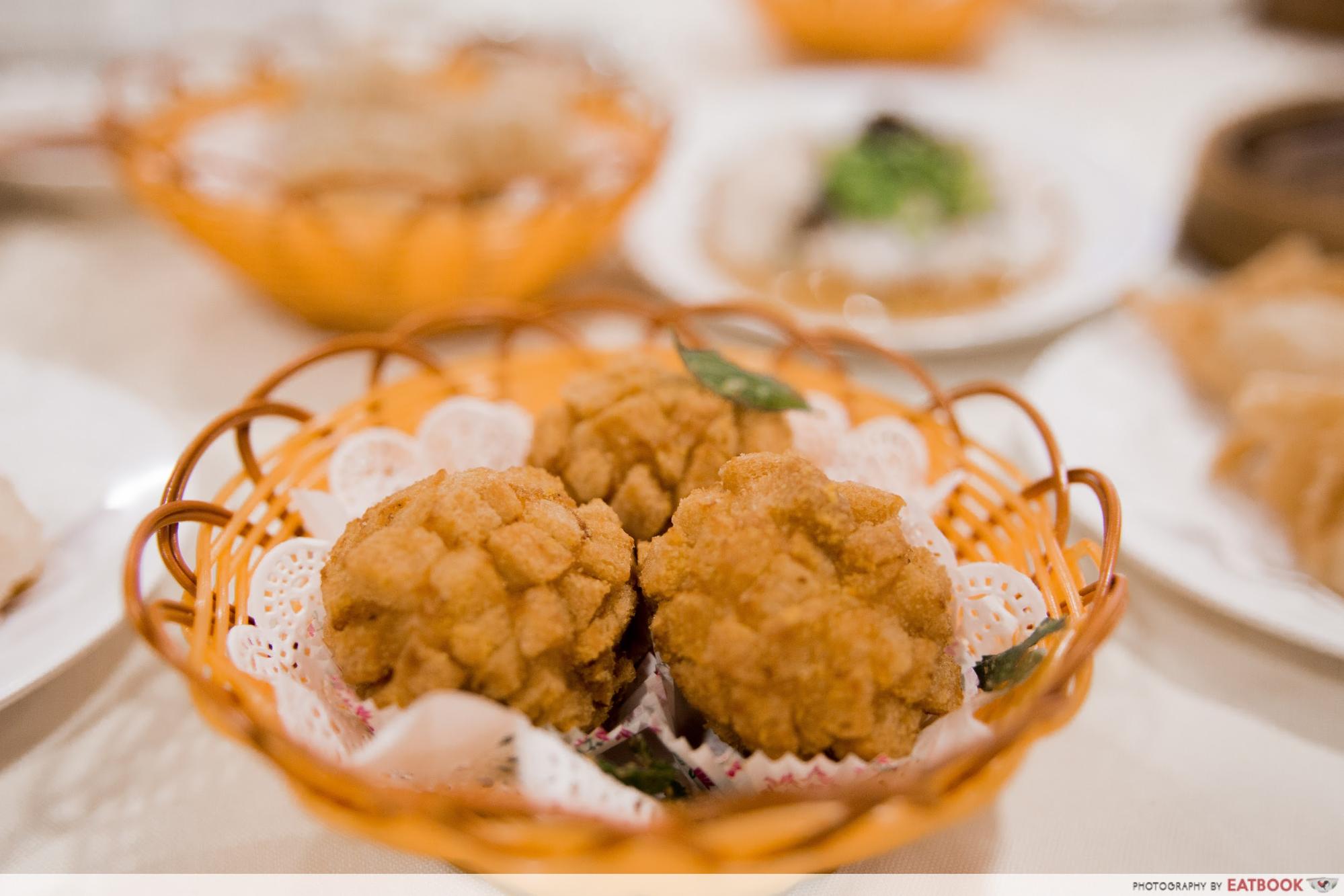 While we were there, we got to try their newest addition to the menu – Salted Egg Prawn Ball ($4.20++ for three pieces, a la carte). These were rolled in chunky breadcrumbs, and were addictively crunchy.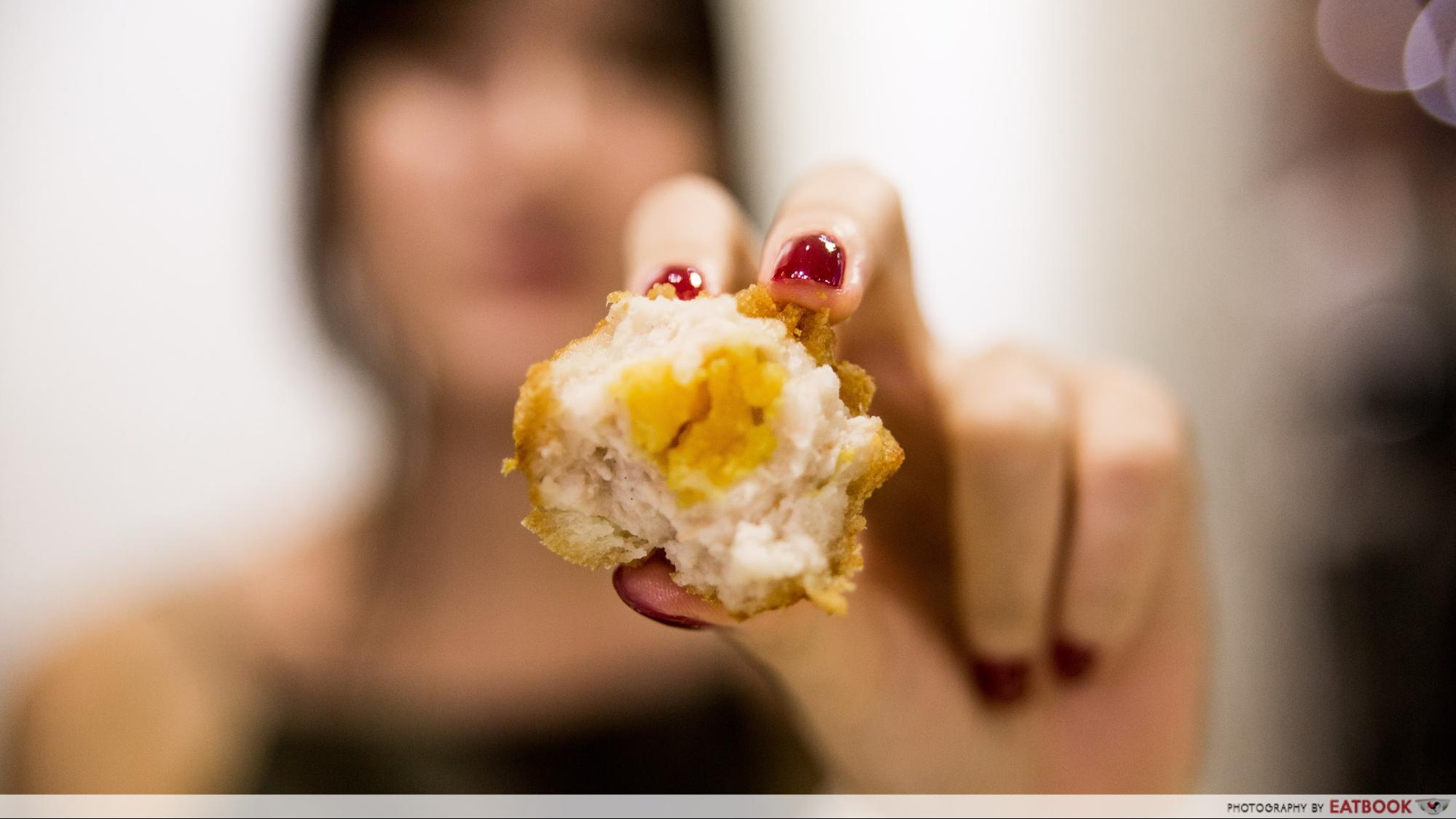 Initially, I was confused as to where the salted egg was in this dish, until I took a huge bite and found it in the centre. This lent a slight spiciness to the chewy prawn paste ball.
A la carte dishes at Yum Cha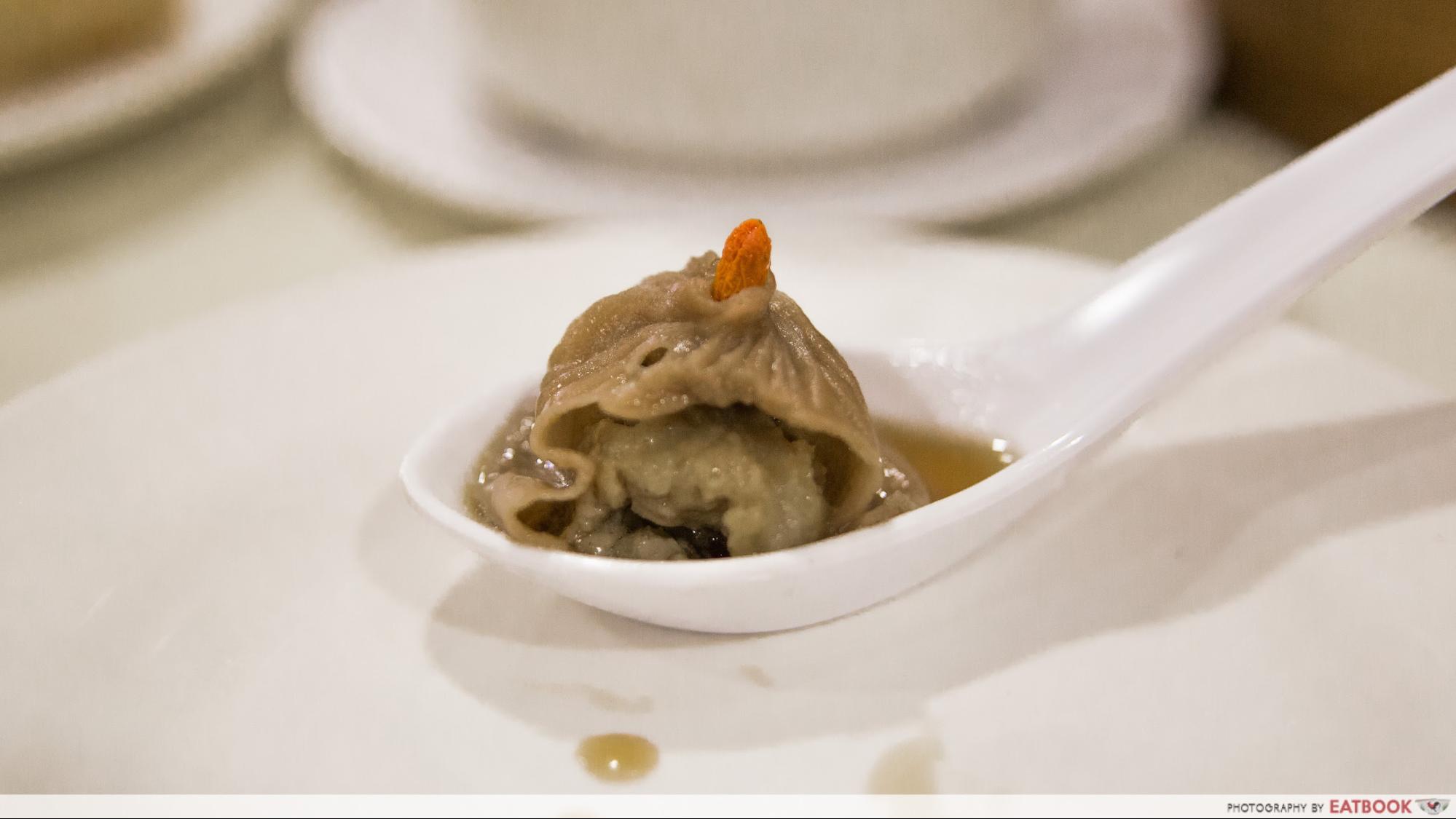 You'll also want to look out for their Bak Kut Teh Xiao Long Bao ($5.20++ for three pieces) from 29 July to 13 August. This is not part of the buffet, and was created to celebrate National Day. Similar to their regular XLB, this had an ample amount of juices and bore a strong herbal taste, which made for a very satisfying slurp. Fans of the lighter, peppery Teochew-style BKT might not enjoy this as much as I did.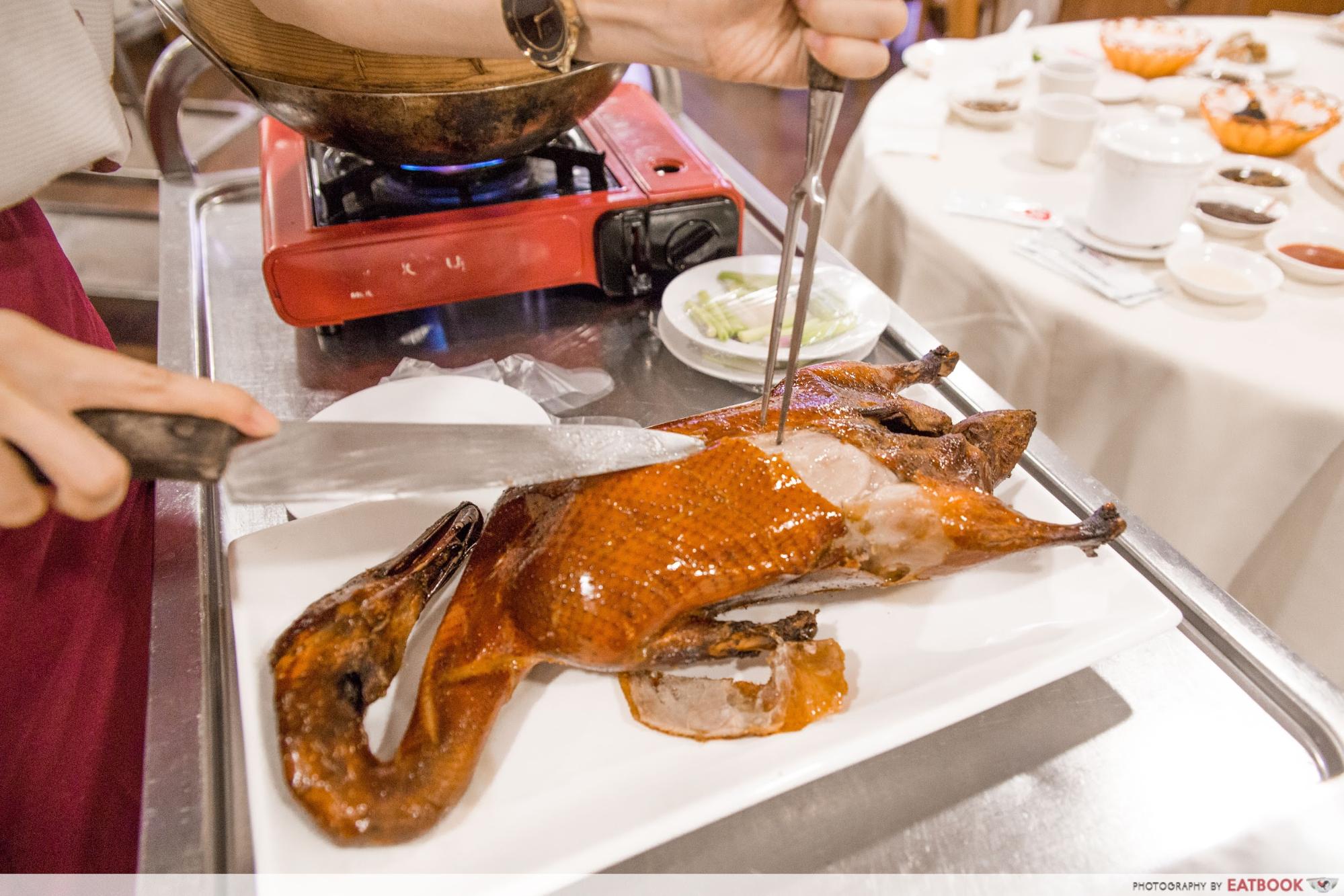 Besides dim sum, Yum Cha also serves dishes such as Peking Duck ($50++ for a whole duck). The skin was carved and sliced in front of us, and the smell of the roasted duck as well as the sound of constant crackling from the skin had us salivating.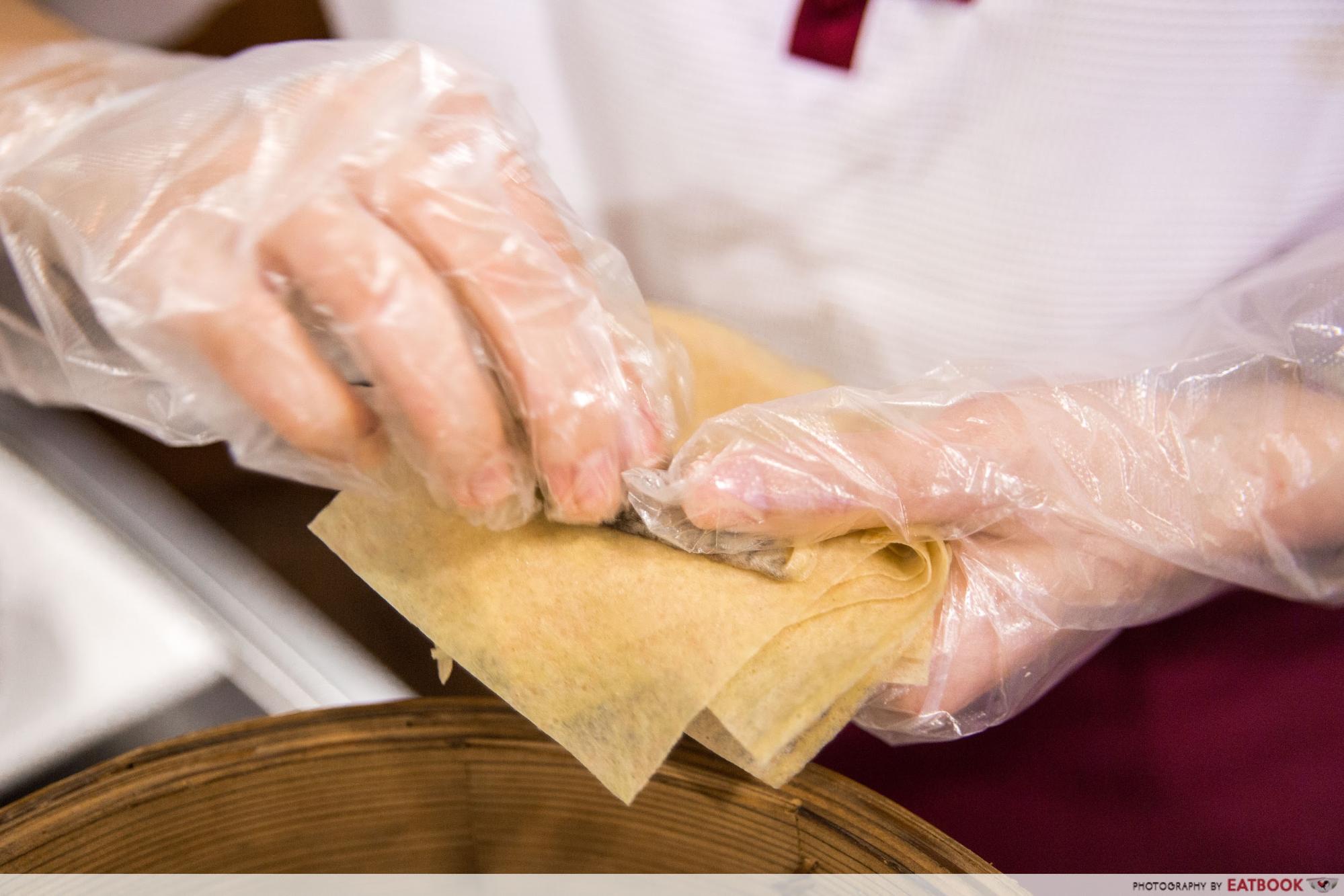 Once the duck skin was sliced into bite-sized pieces, it was wrapped into a roll along with a slice of spring onion. The result was a slightly sweet, crispy, and salty goodness all at once. The spring onions did, however, get overpowering after a while.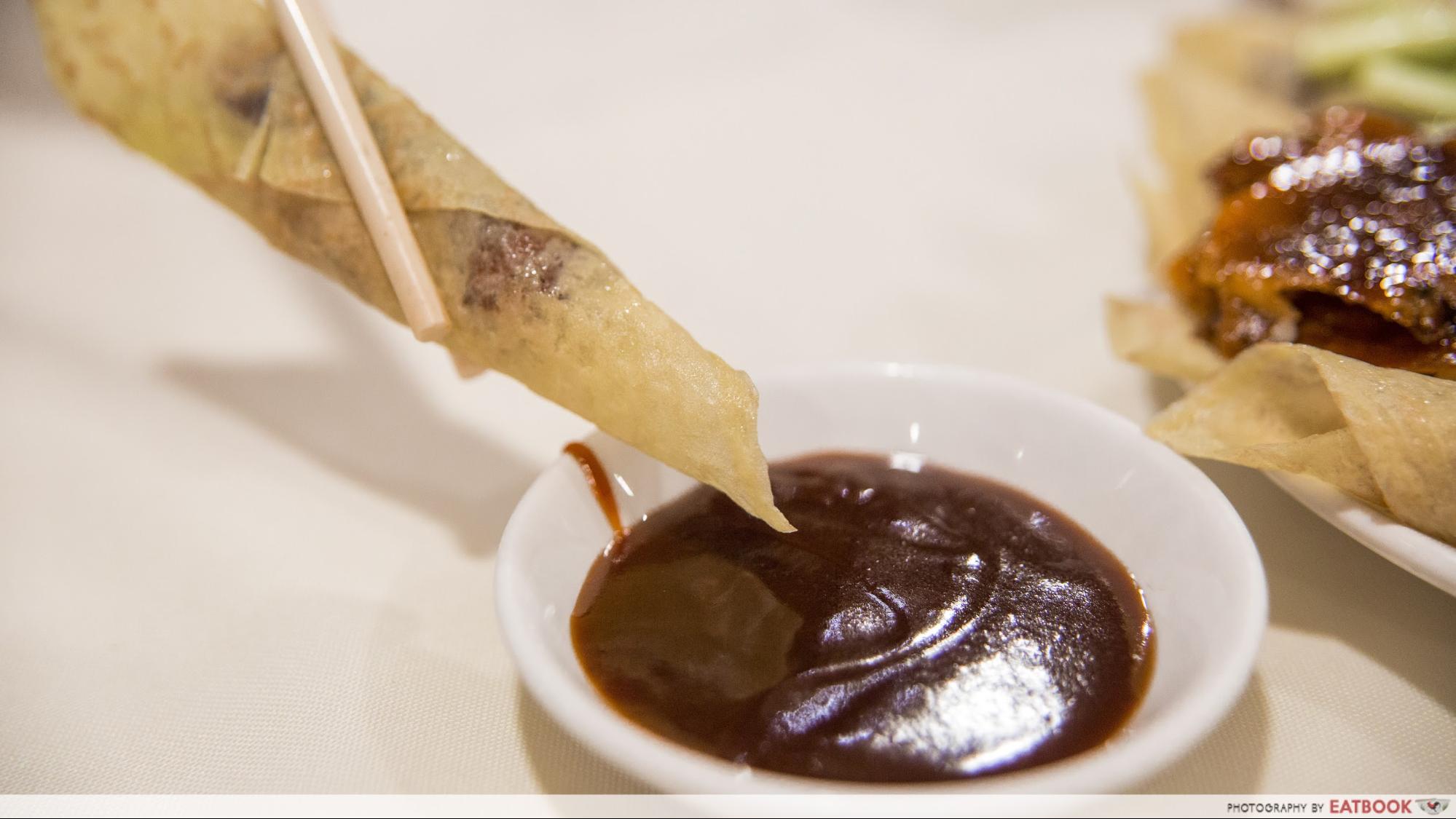 To complement the dish better, we dipped the rolls into hoisin sauce, which helped to mask the spring onions. We then had the choice to have our duck chopped up, or to have it fried with ee-fu noodles at an additional $10++.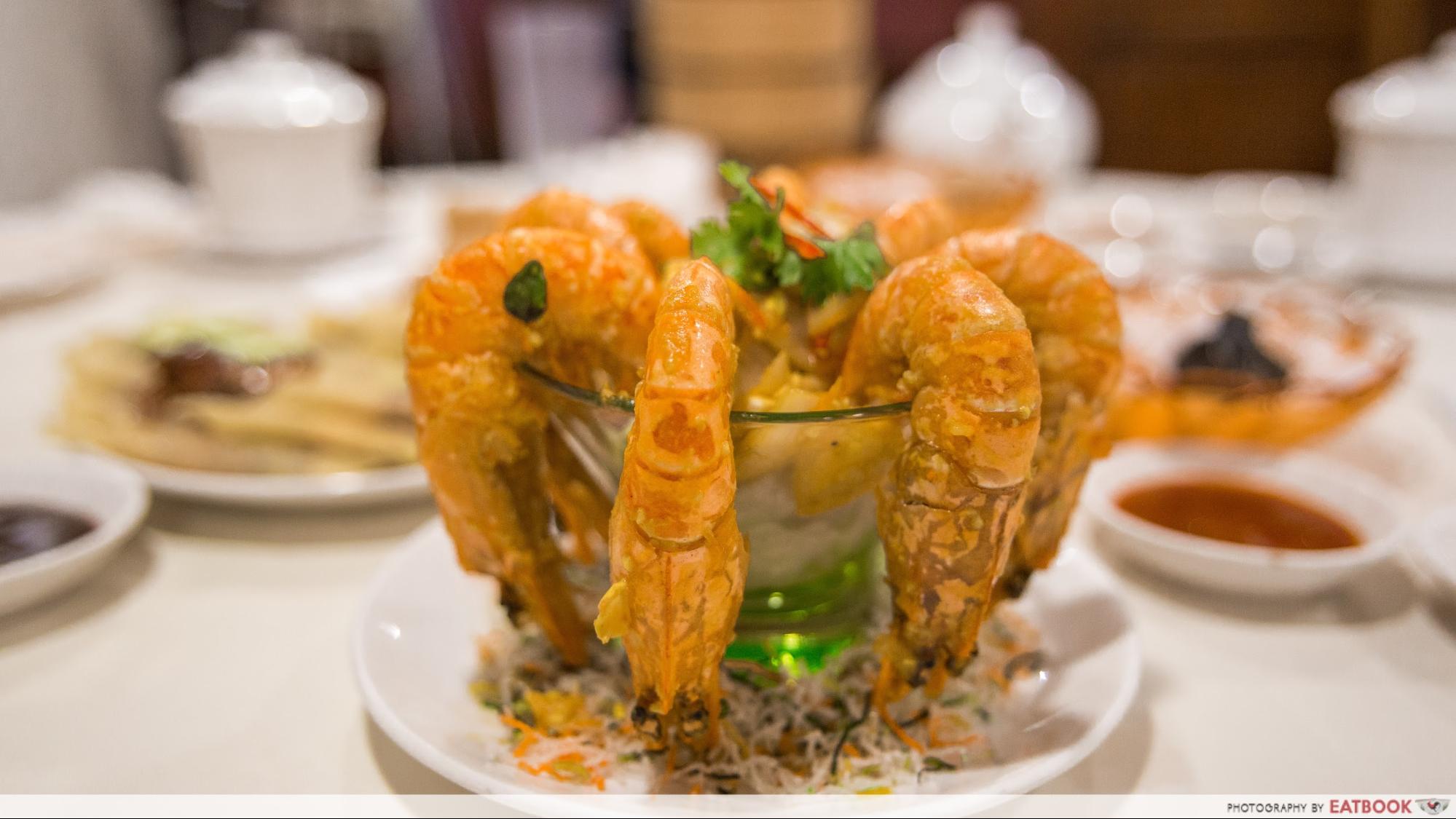 This photo doesn't really do this dish justice, because these Salted Egg Prawns ($22++) were ginormous. They were coated with a generous amount of salted egg yolk, and you're supposed to peel the shells off and toss them with the salad in the bowl. The shell has been fried to a crisp and it adds crunch, like a crouton would, to the dish.
Ambience at Yum Cha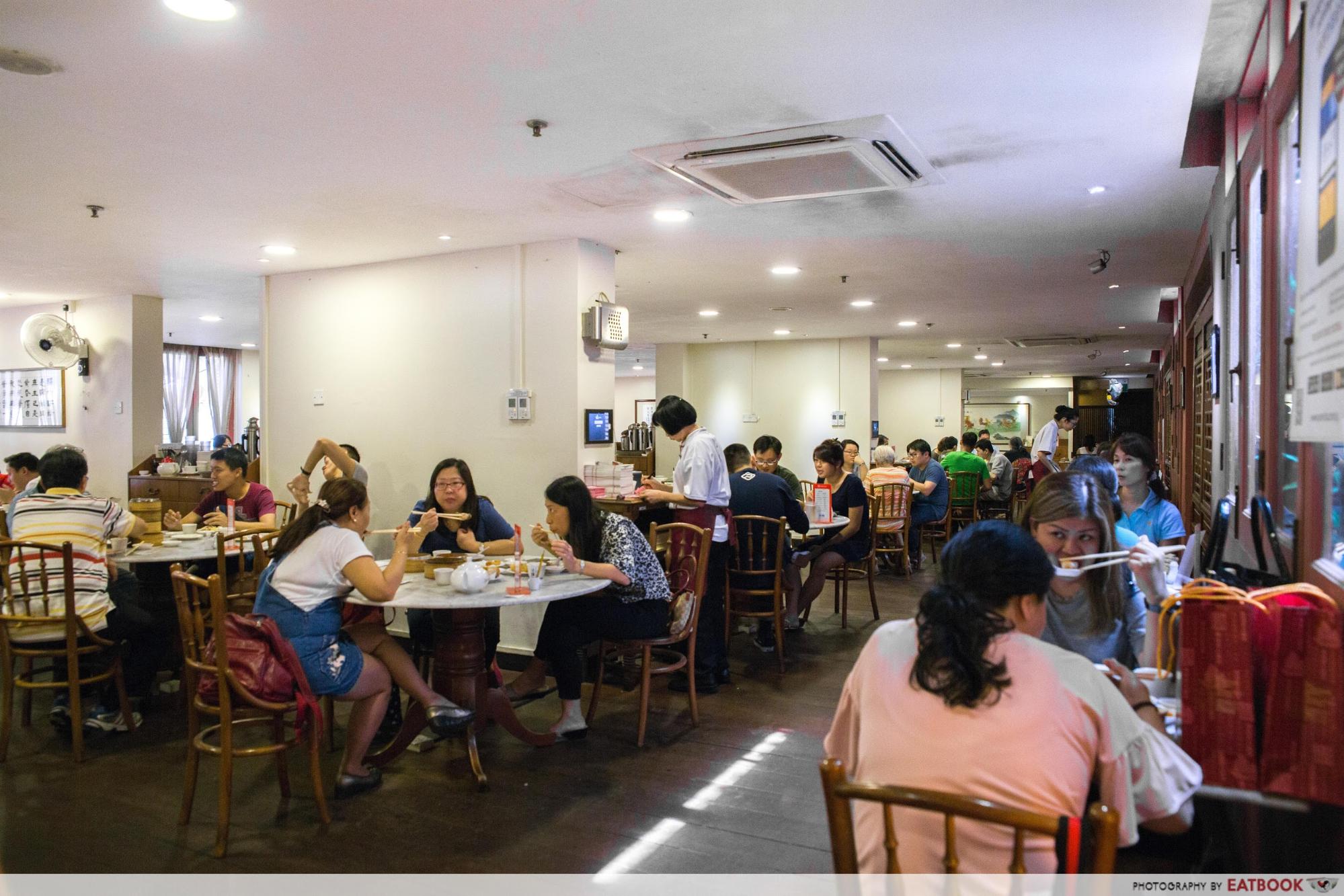 This air-conditioned, 300-seater restaurant has ample space to fit large crowds, which means your queuing time won't be that long during peak hours. They also provide chairs for people in the line, which I felt was a nice touch. Besides, it's located just five minutes away from Chinatown MRT Station.
The verdict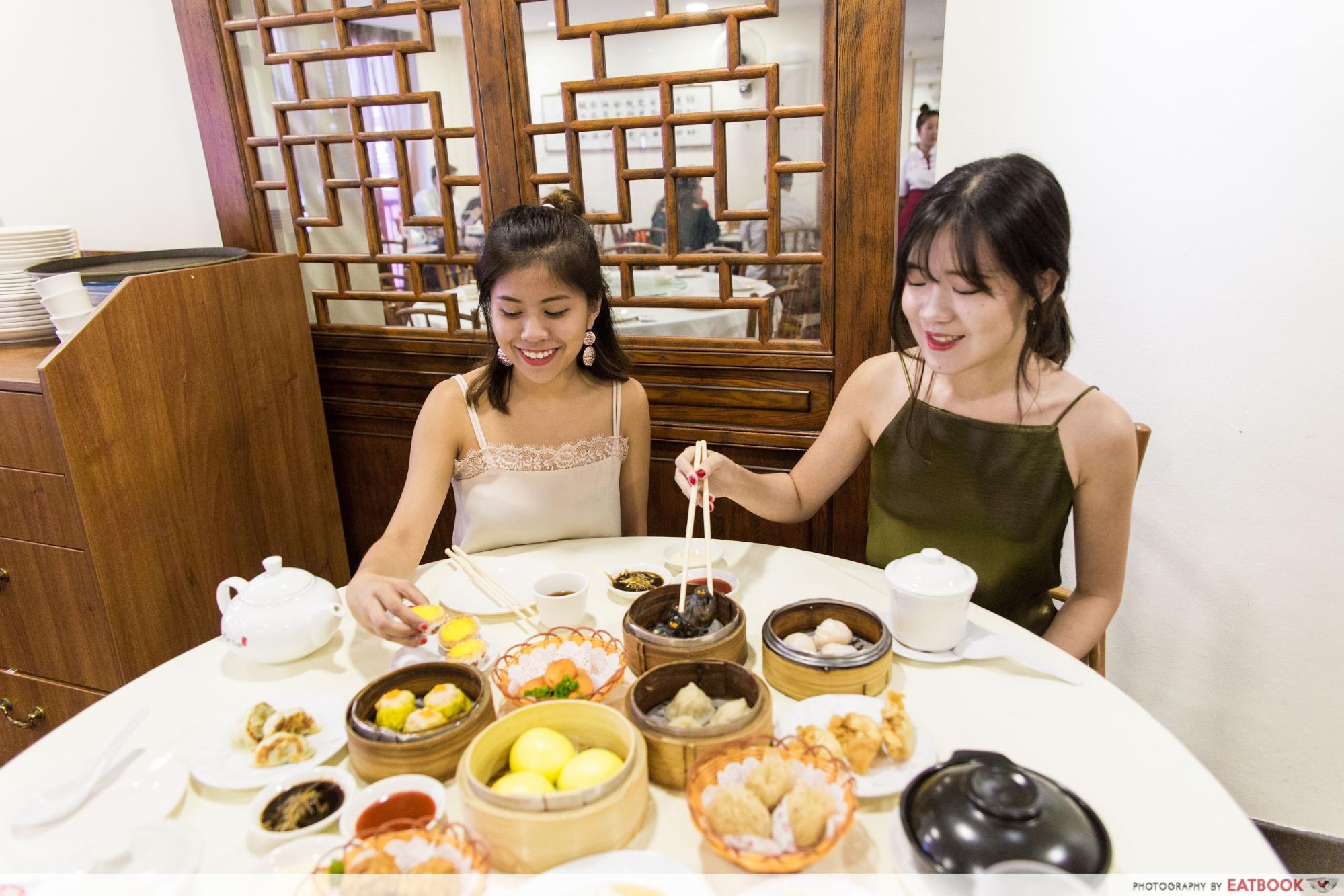 At $23.80++, you'll definitely get your money's worth at Yum Cha's dim sum buffet. There's a wide variety of dishes, and you'll get to try unique dim sum. They charge a la carte prices for food wastage, so don't go overboard and order the entire menu!
Address: 20 Trengganu Street, #02-01, Singapore 058479
Opening hours: Mon-Fri 10:30am to 10:30pm, Sat-Sun & PH 9am to 10.30pm
Weekday High Tea Buffet hours: Mon-Fri 3pm to 6pm (last order at 5:30pm)
Tel: 6372 1717
Website
Full list of outlets
Yum Cha is not a halal restaurant.
This post is brought to you by Yum Cha.
Summary
Pros
– Tasty dim sum
– Value for money
– Convenient location
Cons
– Some dishes were average
Recommended Dishes: Custard Bun with Salted Egg Yolk ($4.50++ for three pieces, a la carte), Baked Puff Pastry with Turnip ($3.80++ for three pieces, a la carte), Baked Mini Egg Tart ($3.20++ for three pieces, a la carte), Salted Egg Prawn Ball ($4.20++ for three pieces, a la carte)
Operating Hours:
Monday – Friday 10:30am to 10:30pm
Saturday – Sunday & PH 9am to 10:30pm
Tel:
6372 1717
Address: 20 Trengganu Street, #02-01, Singapore 058479