---
Guide to the best pizza in Singapore
---
We've previously covered some of the top pizza delivery services and wood-fired pizzas, and now, it's high time we compile a full list of the best pizza in Singapore. This round-up includes a good mix of halal options, handmade sourdough pizza at hawker stalls and many more. You'll find the pizza places categorised according to budget, so there's definitely something for everyone.
---
<$10++
---
1. ButterNut
---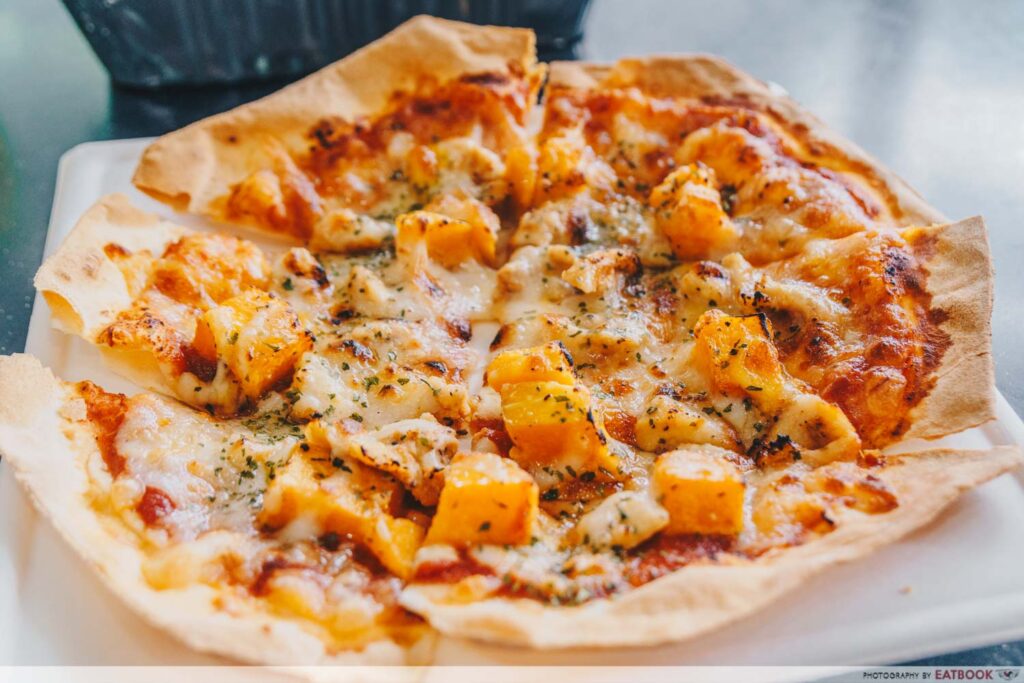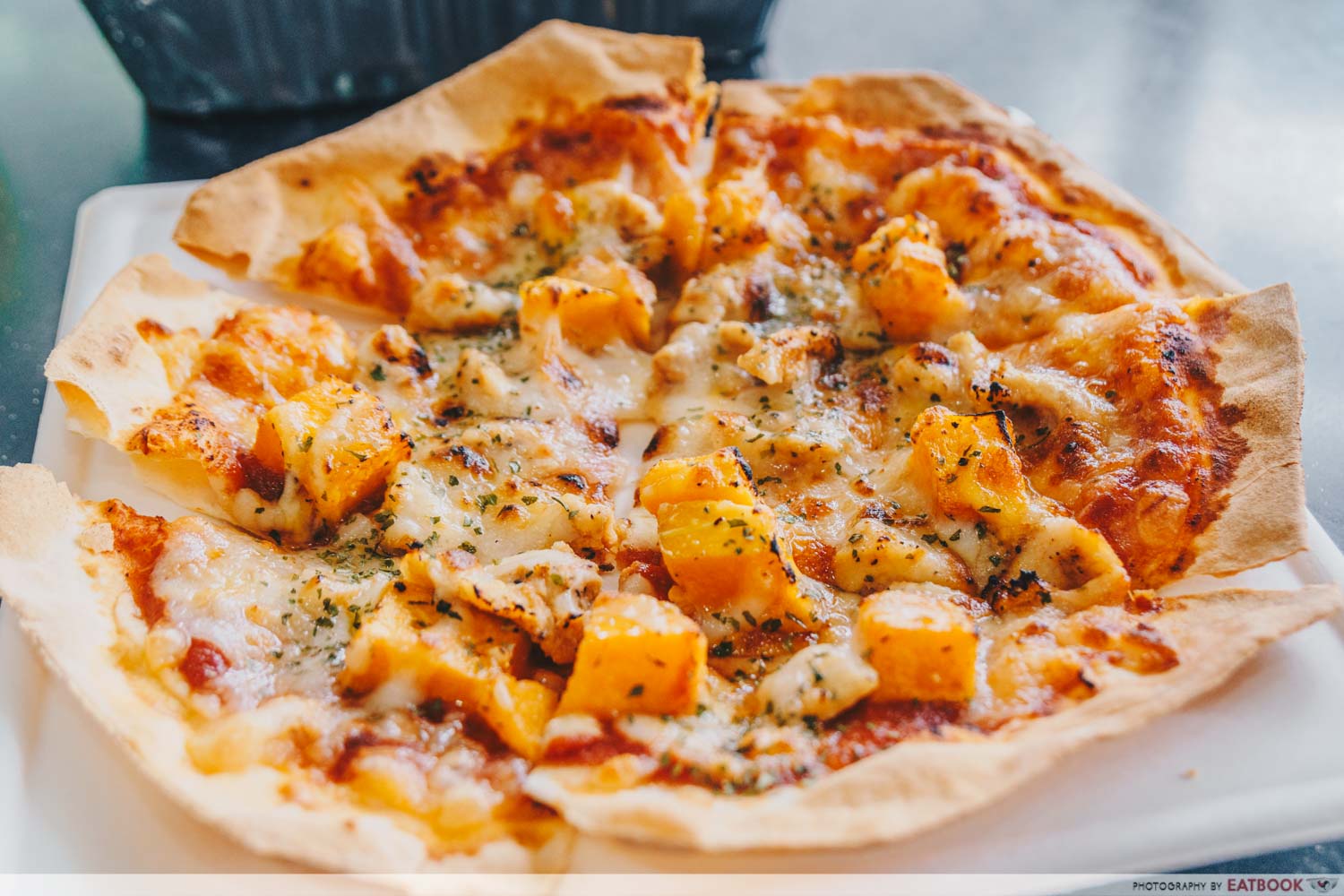 If you reside in the West, you may have come across ButterNut, a halal hawker stall dishing out thin-crust pizzas at wallet-friendly prices. The stall sits in Taman Jurong Market and Food Centre, which has a straight bus from Lakeside MRT Station.
These handmade pizzas are made to be super thin—each is less than 2mm in thickness—and they're priced from $8.50 for a full eight-inch pizza. They're said to be super light and crisp, so you don't get jelak. Tuck into their signature Butternut Chicken Pizza, comprising chicken, herbs, and sweet butternut squash chunks.
Read our ButterNut review.
Address: 3 Yung Sheng Road, #02-108, Singapore 618499
Opening hours: Tue-Thurs, Sun 11am to 2pm, 6pm to 9pm, Fri-Sat 11am to 2pm, 6pm to 10:30pm
Website
ButterNut is a halal-certified eatery.
---
2. 168 Neapolitan Style Pizza
---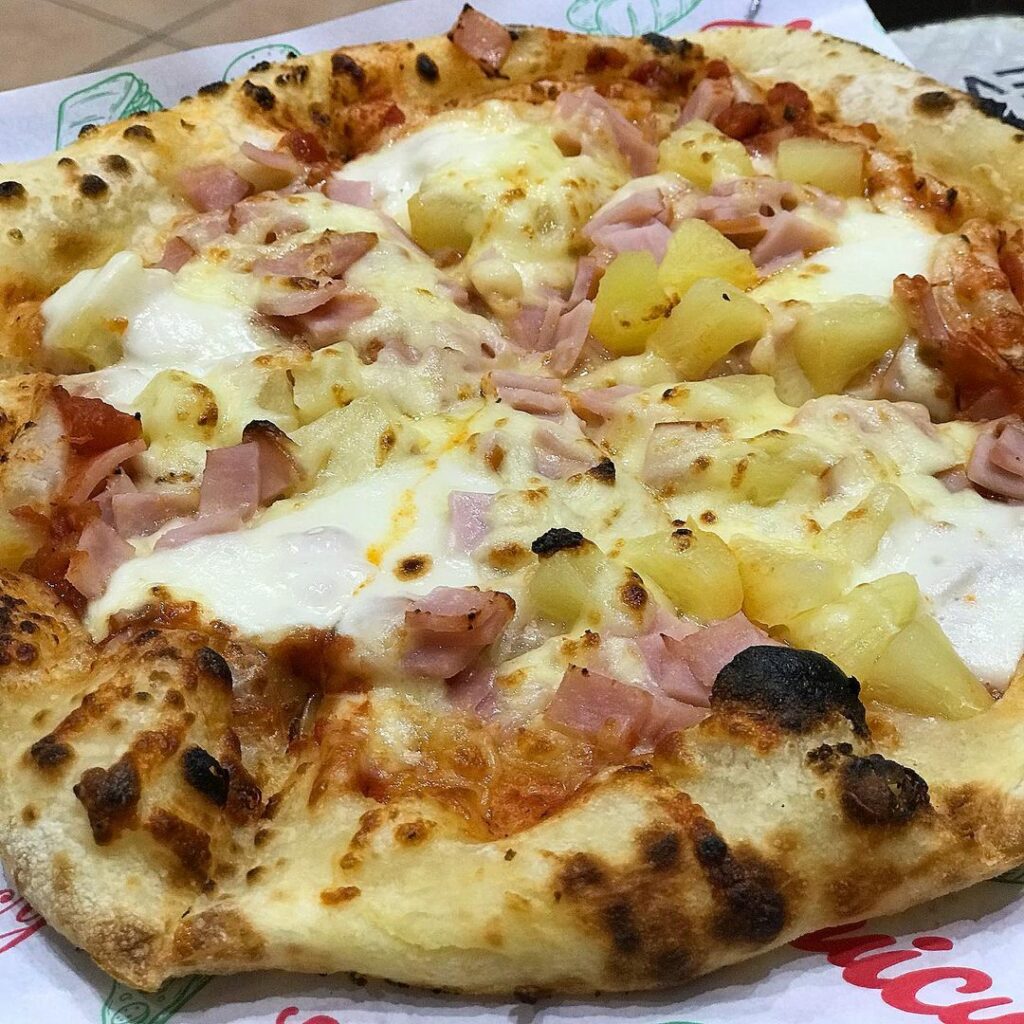 Image credit: @merrychristmasmrlawrence
Another hidden gem in Taman Jurong Market & Food Centre is 168 Neapolitan Style Pizza, which sells affordable yet legit hand-stretched pizzas in a hawker setting. Here you'll find their cheapest pie, the Cheese Pizza, going at just $7 for a nine- to 10-inch round. Other flavours include the Premium Cheese Pizza and Ham & Cheese Pizza, both priced at $10 each.
The Neapolitan-style pizzas here feature a thin base with puffy sides, made with a simple house-made tomato sauce. The pizza crust is said to be soft and chewy, thanks to the stall's three-day fermentation process. Do note that they're only open three evenings a week.
Address: 3 Yung Sheng Road, #03-168, Singapore 618499
Opening hours: Thurs-Sat 6pm to 9pm
Tel: 8824 0944
Website
168 Neapolitan Style Pizza is not a halal-certified eatery.
---
<$15++
---
3. Mr Kneady's
---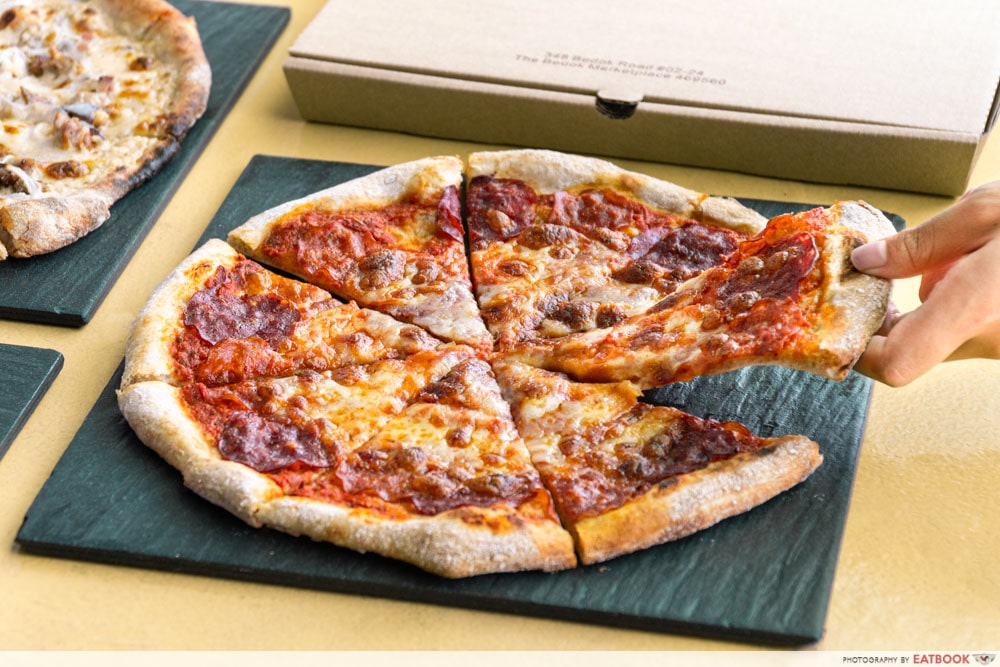 Mr Kneady's is another hawker stall that sells value-for-money sourdough pizzas, mostly priced under $15 for a 10- to 11-inch round. The Space Oddity ($13) is a must-try; this popular pie comes with pepperoni, salami, and mozzarella on a herbed tomato base. If you want something different, order the Remedy ($13) instead. This white sauce-based pizza stars a creamy garlic sauce with smoked chicken, red onions, and mozzarella.
The stall also sells sourdough loaves at affordable prices, so do check them out while you're there.
Read our Mr Kneady's review!
Address: 348 Bedok Road, #02-24, The Bedok Marketplace, Singapore 469560
Opening hours: Tue-Sun 11am to 8:30pm (or sold out)
Tel: 9815 5025
Website
Mr Kneady's is not a halal-certified eatery.
---
4. Choice Cuts Goods & Coffee
---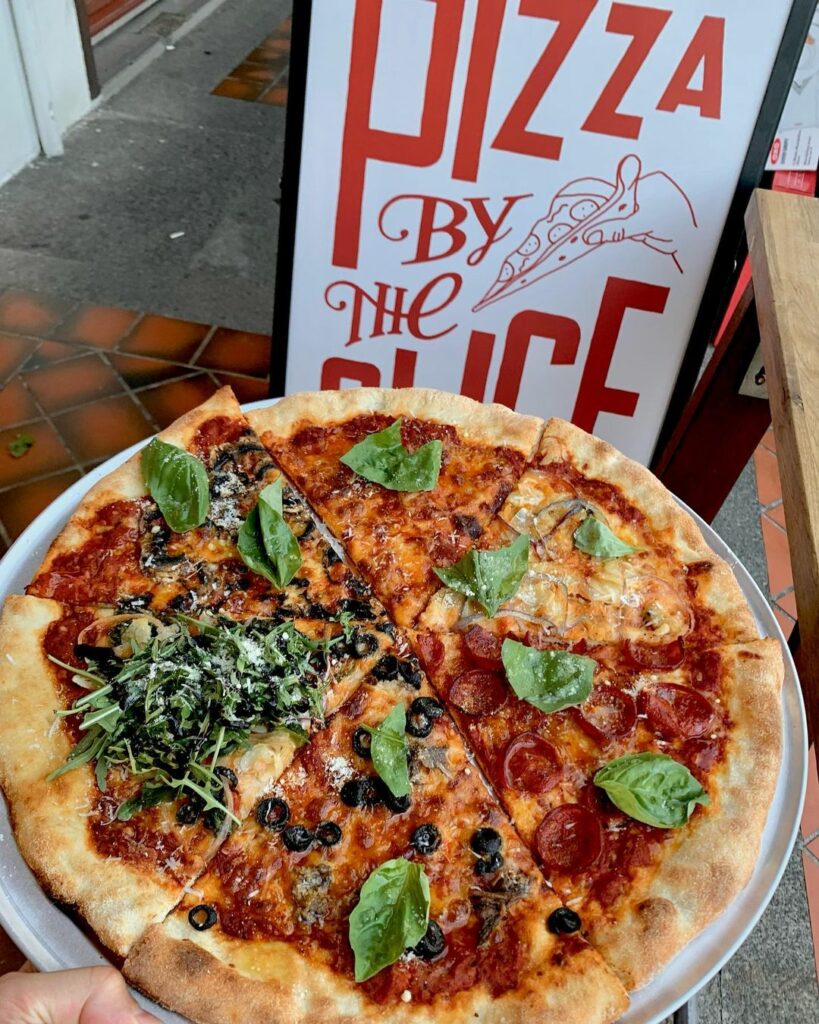 Image credit: @choicecutsgoods
Joo Chiat gem Choice Cuts Goods & Coffee serves NYC pizza by the slice, all under $15 and with a soda included. The OG Classic Cheese costs $8 a slice, but meat lovers can go with the Pepperoni Homie ($10) instead for something more satisfying. You can even zhng up your pie by adding burrata for $2, or a serving of Mike's Honey Honey with a top-up of $1.
These thin-crust pizzas are baked fresh on-site with Italian flour, house-made marinara, and other quality ingredients. The full 18-inch round will be made available for takeaway and delivery soon, so keep your eyes peeled on their IG for updates.
Website
Choice Cuts Goods & Coffee is not a halal-certified eatery.
---
<$20++
---
5. Shakey's Pizza
---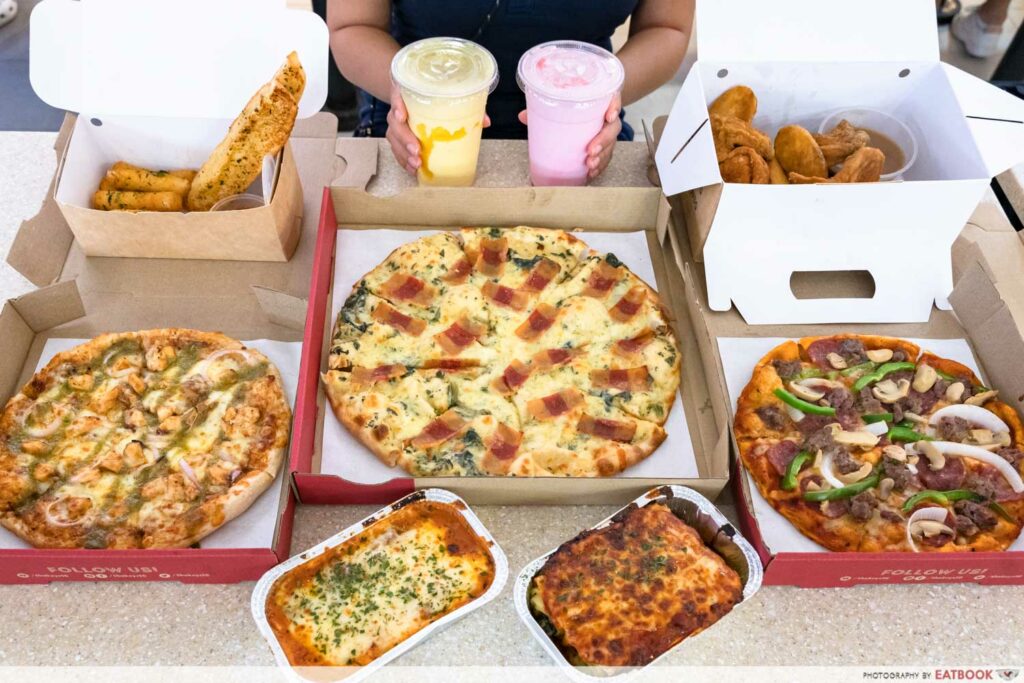 Famous Filipino pizza chain Shakey's Pizza is known for their thin-crust pizza, though you can also get a hand-tossed version that's slightly thicker if that's what you prefer. Choose from Regular (from $18), Large (from $26), and Party (from $32) sizes, in a variety of flavours such as Texas Chicken BBQ and Garlic N Cheese. During our visit, we tried their signature Manager's Choice pizza, featuring a house-made tomato sauce, and a medley of toppings: ham, beef, Italian sausage, capsicum, and onion.
Complete your meal with a side of Spinach Roll-Ups ($14.90), similar to a veggie lasagna with white sauce and cheese.
Read our Shakey's Pizza review!
Address: 304 Orchard Road, B1-38, Asian Food Mall, Lucky Plaza, Singapore 238863
Opening hours: Mon-Sat 10am to 9pm, Sun 9am to 9pm
Website
Shakey's Pizza is a halal-certified eatery.
---
6. Keenway Bread
---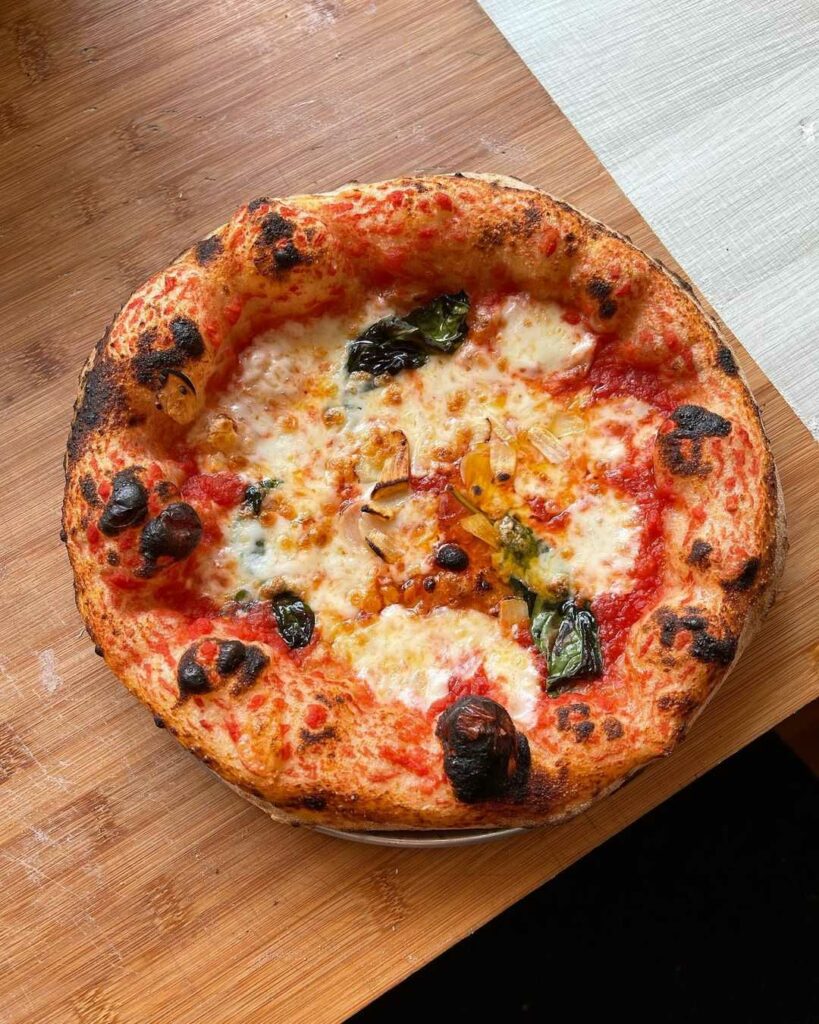 Image credit: @keenwaybread
Home-based business Keenway Bread specialises in all things pizza; here you'll find an extensive menu including 10-inch round pies, Detroit-style deep-pan pizza, and personal squares. Most of the round pizzas are sub-$20, with more affordable options such as Marinara ($15) and Margherita ($16). They also have unique flavour combinations including the Roni ($20), which stars hot spices, honey, and pork pepperoni, and the Regular ($18): marmite-infused cream with onion, garlic, and mozzarella.
If you're out to splurge, try their hefty deep-pan pizzas—each pie is two inches deep and weighs around 700g! Deep O & G ($36) combines funky gorgonzola with candied purple onion and a brick cheese blend.
Website
Keenway Bread is not a halal-certified eatery.
---
7. That's My Pizza
---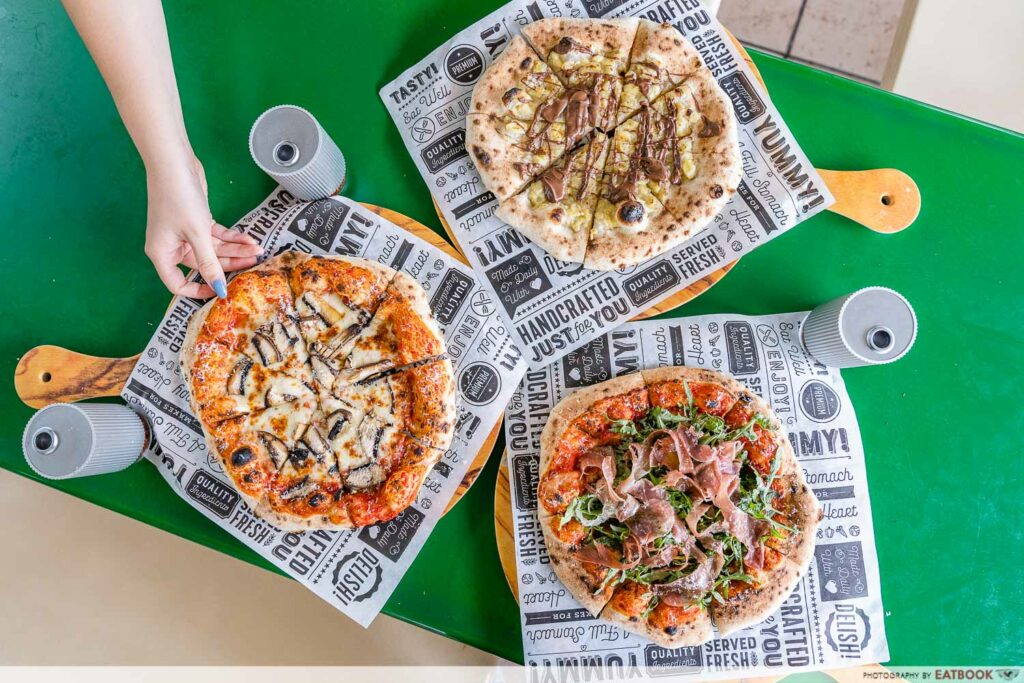 For gourmet pizzas in a hawker setting, head to That's My Pizza in Bukit Timah Food Centre. The pizza flavours rotate daily, with at least seven different combinations to choose from each day. You'll find classics such as Pepperoni ($17) and Hawaiian ($17), alongside fun fusion creations such as Curry Chicken ($18) and Japanese Chashu ($22). The pizza base is fermented for at least 48 hours, before it's hand-stretched and fired up in gas-powered stone ovens upon order.
Read our That's My Pizza review!
Address: 51 Upper Bukit Timah Road, #02-198, Singapore 588215
Opening hours: Wed-Sat 5pm to 8pm, Sun 4:30pm to 8pm
Tel: 9753 1577
Website
That's My Pizza is not a halal-certified eatery.
---
8. 800° Woodfired Kitchen
---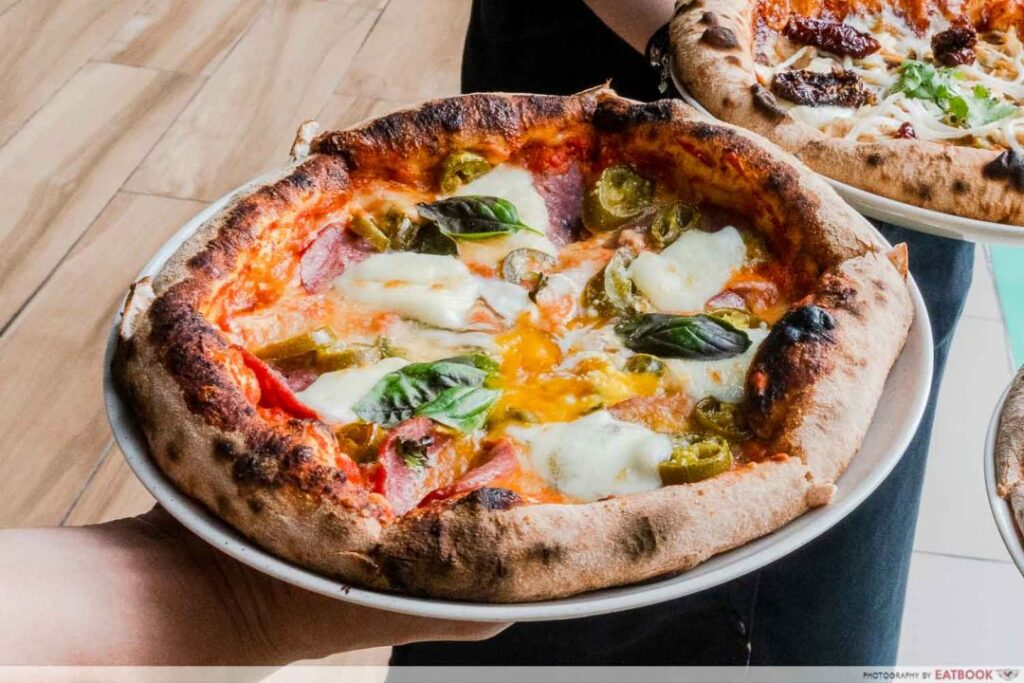 For halal-certified wood-fired pizza, visit 800° Woodfired Kitchen at KINEX Mall. Prices here are nett, and start at $14 for a 10-inch Veggie Lover pizza that combines mixed vegetables, mushrooms, and cherry tomatoes. The pies, which are available in a wide range of flavours, come in your choice of 10″ or 12″. Other popular flavours include BBQ Chicken ($16/$18), Spicy Meatball ($18/$30), and Tartufo ($22/$34): mushroom, parmesan, and arugula atop a mushroom truffle base.
The classic Neapolitan-style pizzas are said to be slightly crispy on the outside and soft on the inside, with a thin base and thicker crust.
Read our 800° Woodfired Kitchen review!
Address: 11 Tanjong Katong Road, #01-52/53, KINEX Mall, Singapore 437157
Opening hours: Mon-Fri 11am to 9pm, Sat-Sun 11:30am to 9:30pm
Website
800° Woodfired Pizza is in the process of applying for halal certification.
---
9. Chooby Pizza 
---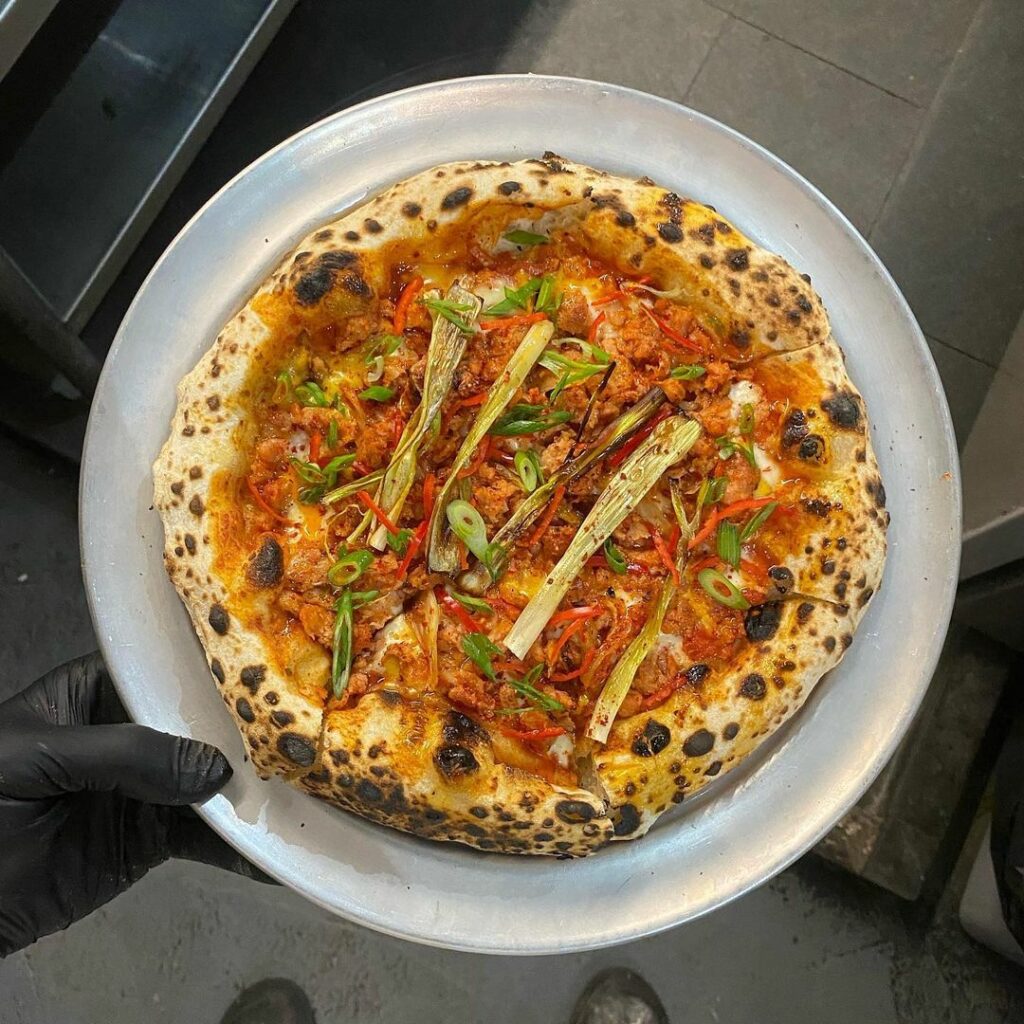 Image credit: @choobypizza
Another underrated spot is Chooby Pizza, which offers naturally-leavened Neapolitan pizzas on only three evenings a week: Wednesday, Thursday, and Friday. Pre-order slots open online every Monday at 12pm. Everything on the pizza front is priced under $20+, with the most expensive flavour being the Pepperoni ($19+), a cheesy and meaty pie with honey and chilli flakes. They also have a delicious-sounding Pulled Pork ($18.50) pizza that combines bulgogi pork shoulder with kimchi, pineapple, fig chutney, and Italian mozzarella. The pizza dough is fermented slowly, for at least 20 hours, with wild yeast. It's also made with high quality Italian flour, olive oil, and tomatoes.
Chooby Pizza is located in Old Hen, a popular cafe that's a seven-minute walk from Farrer Park MRT Station.
Address: 125 Owen Road, Singapore 218929
Opening hours: Wed-Fri 6pm to 10pm
Tel: 8923 9814
Website
Chooby Pizza is not a halal-certfied eatery.
---
<$30++
---
10. Common Man Night Shift
---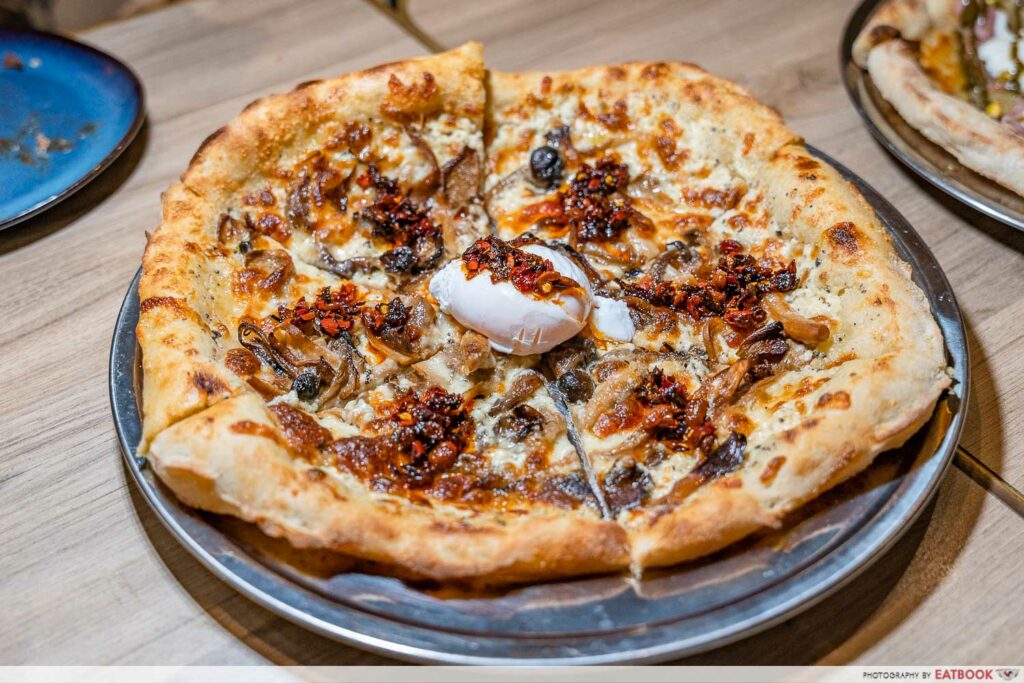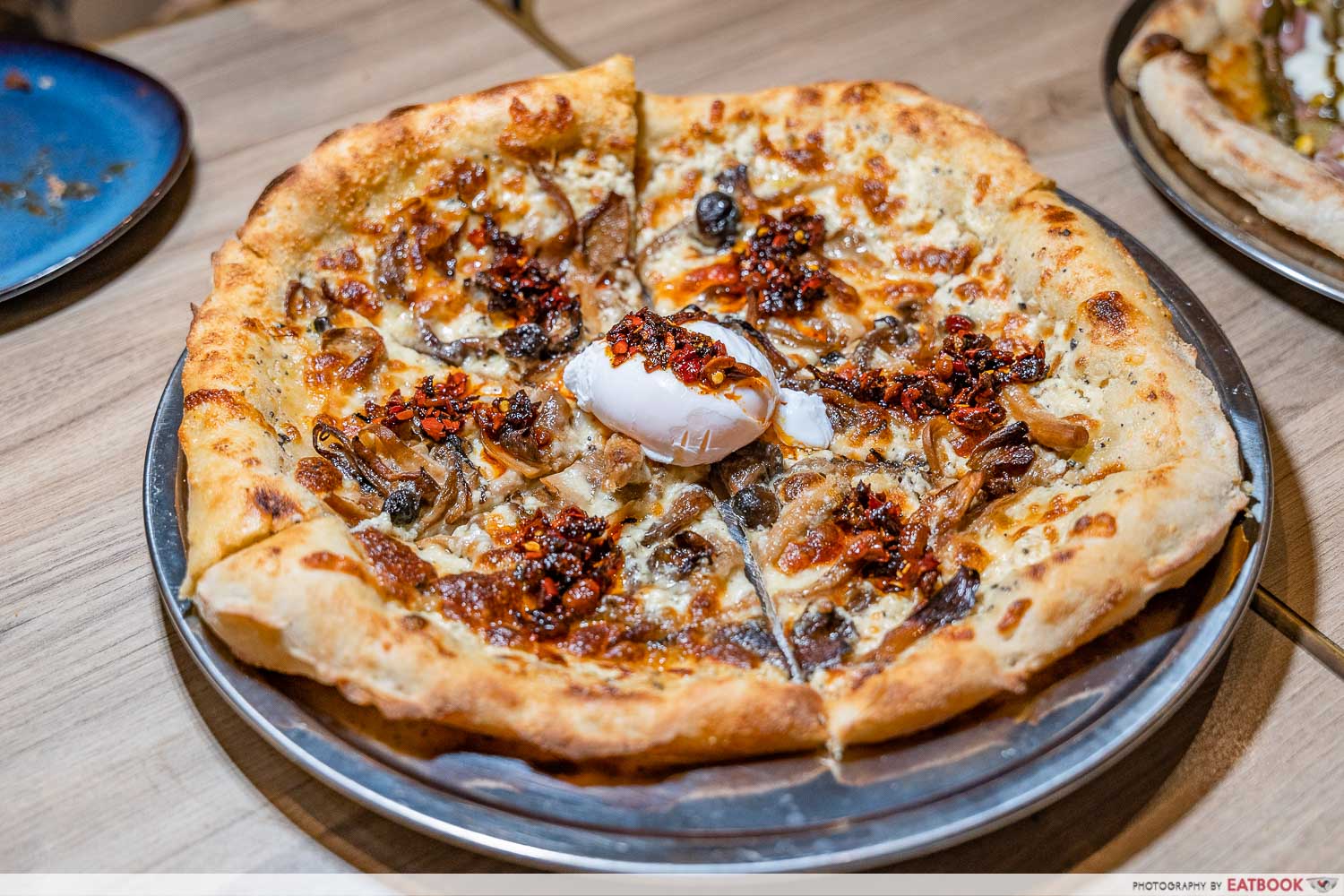 Common Man Night Shift offers a well-varied selection of sourdough pizzas made with an in-house starter. Get their new Umami Magic ($22++) pizza, a 12-inch vegetarian pie that comes with a mix of cheeses, mushrooms, and a poached egg, topped with chilli crisp, AKA lao gan ma. Otherwise, try their sweet-savoury pizza, Sweet Dreams of Stracciatella ($26++). This unique flavour meshes creamy and fragrant pistachio paste with savoury mortadella slices, mozzarella, and honey. Don't miss out on their extensive selection of natural wines, too!
Read our Common Man Night Shift review.
Address: 11-12 Stanley Street, Singapore 068730
Opening hours: Tue-Thurs 6pm to 10pm, Fri-Sat 6pm to 11pm
Tel: 6877 4855
Website
Common Man Night Shift is not a halal-certified eatery.
Common Man Night Shift Review: Handmade Cacio E Pepe Udon And Lao Gan Ma Pizza In Chinatown
---
11. Yeast Side
---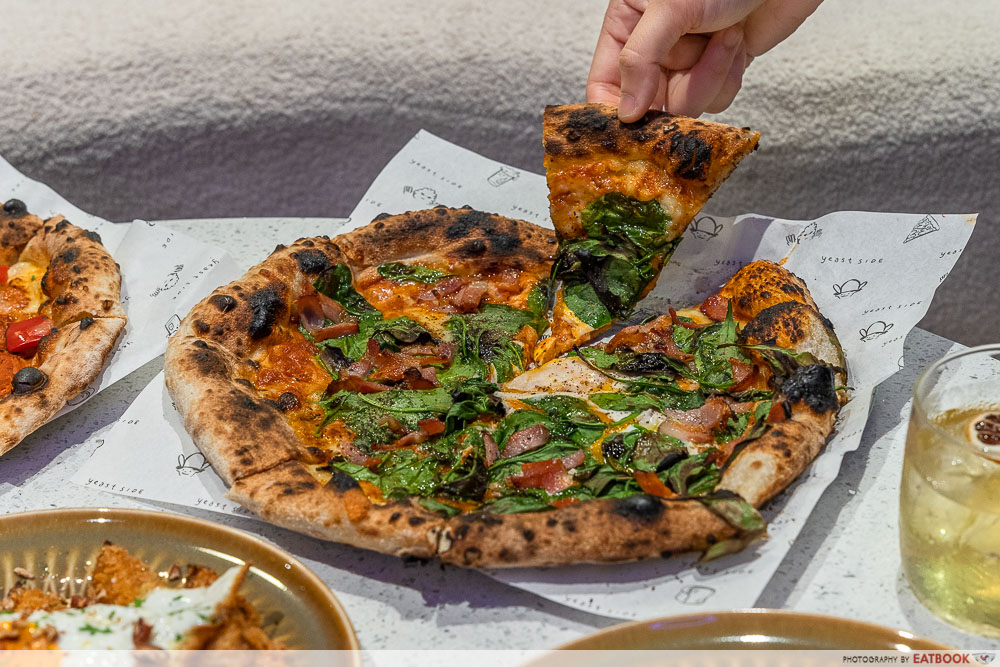 Homegrown pizza and craft beer spot Yeast Side has two outlets: King Albert Park and Farrer Park. Sourdough pizzas are available from 4pm onwards, with highlights such as Foursome with Honey ($21++), which stars blue cheese, and Bestside Breakfast ($22++), a brekkie-inspired pie with house-made tomato sauce, bacon, spinach, mozzarella, cheddar, and eggs.
They also serve brunch from 9am to 4pm, with mainstays such as Shakshuka ($16++) and Salmon Burrata Tartine ($18++).
Read our Yeast Side review!
Website | Full list of outlets
Yeast Side is not a halal-certified eatery.
Yeast Side Review: Fresh Sourdough Pizzas, Circle Croissants And More Near Farrer Park
---
---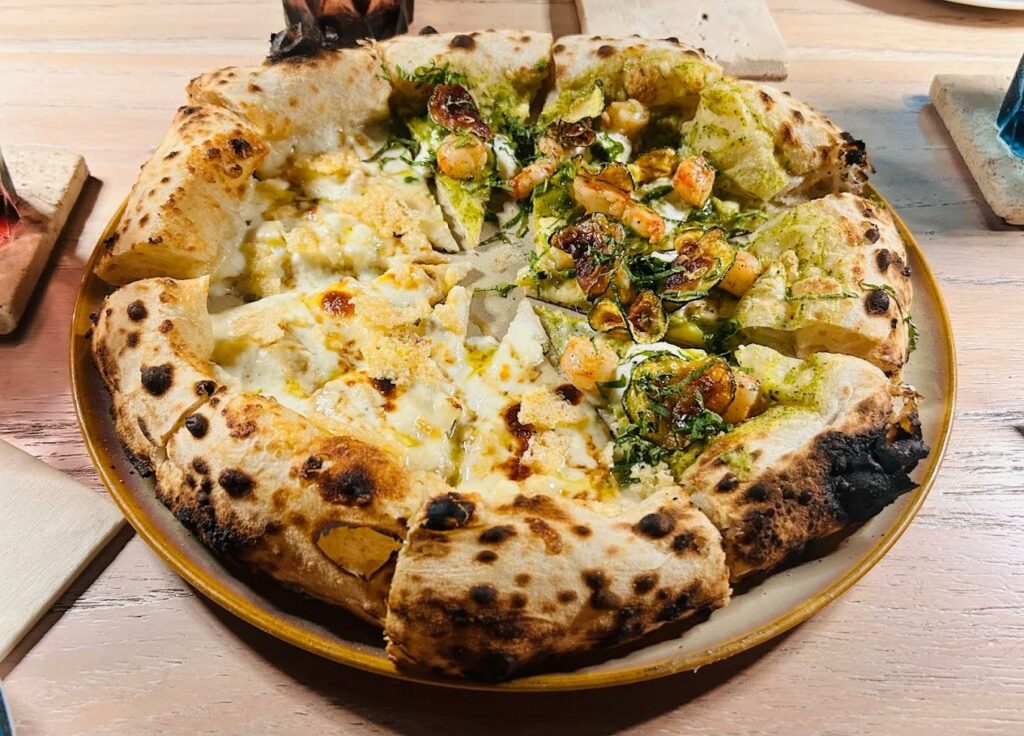 Image credit: Sabrina Teo
Here's a pro tip if you're headed to La Bottega Enoteca: visit for lunch from Friday to Sunday, or Sunday dinner, as that's when their pizzas are slightly cheaper! They offer pizzas done Newpolitan-style, which refers to the contemporary way of making Neopolitan pizza. The dough is made with Italian flours and fermented for a whopping total of 60 hours. Try their 1/2 Salame ($24++), a simple combination of house-cured sausage, mozzarella, and aged parmesan, atop an Italian tomato sauce.
The Joo Chiat restaurant has a stunning alfresco dining area that's reminiscent of an Italian street with its raw, exposed brick walls and unique tiled flooring. Make sure you book in advance if you want to snag a table there.
Address: 346 Joo Chiat Road, Singapore 427596
Opening hours: Mon-Thurs 6pm to 10:30pm, Fri-Sat 12pm to 2pm, 6pm to 11pm, Sun 11:15am to 4pm, 6pm to 8pm
Website
La Bottega Enoteca is not a halal-certified eatery.
---
13. PizzaExpress
---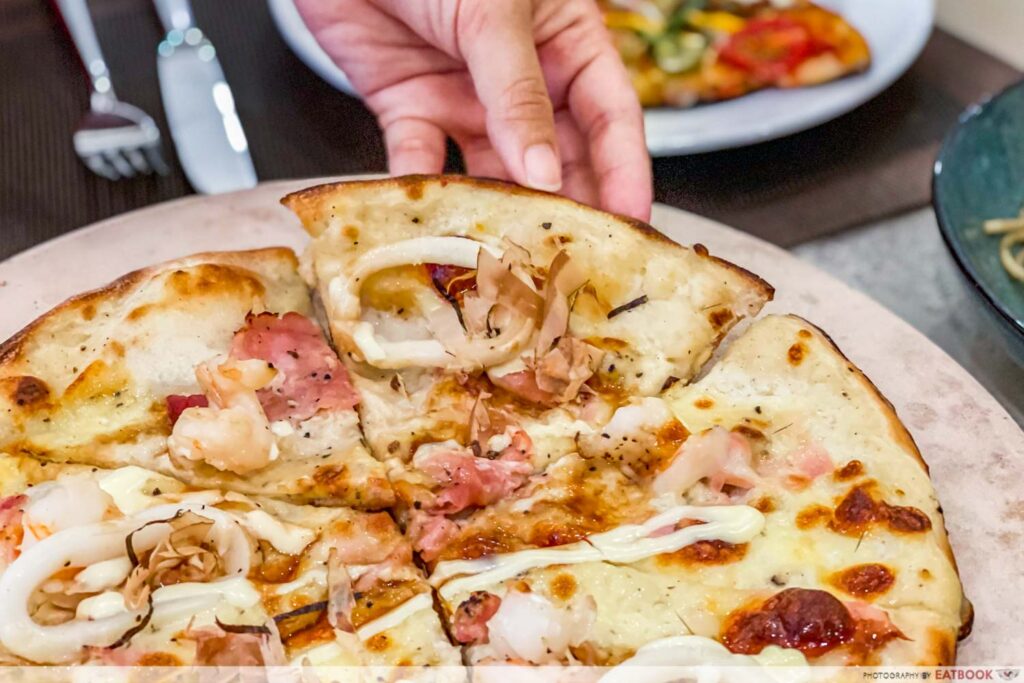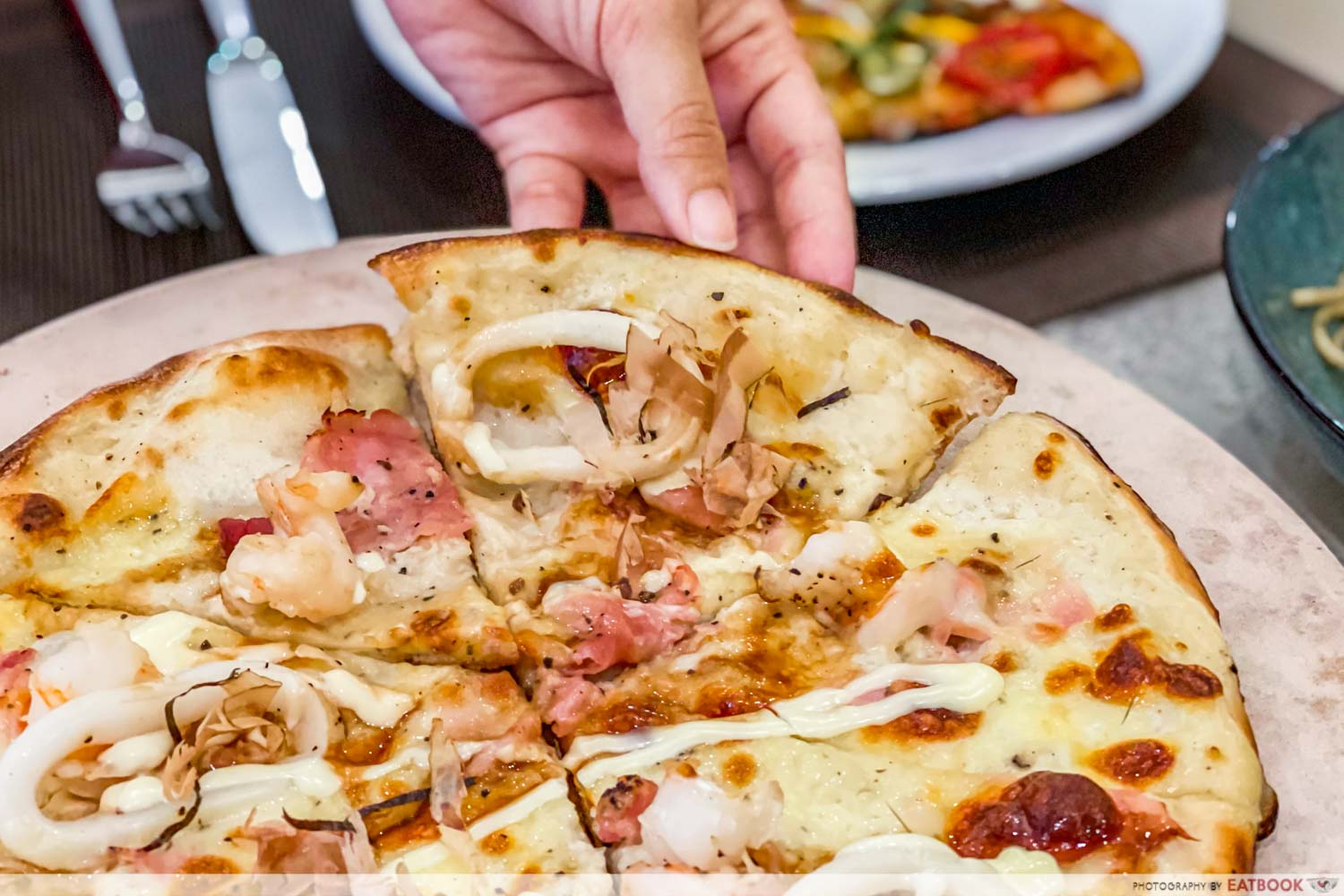 Popular pizza chain PizzaExpress has three dine-in outlets islandwide: Duo Galleria, Scotts Square, and Holland Village. They offer 14-inch Romana pizzas in a wide range of flavours, mostly under $30. Try the crowd-pleasing Carbonara ($29++) pizza, a riff on the classic creamy pasta dish, or share the Hawaii-Not ($28++), which comes with a white bechamel sauce, garlic oil, parmesan, ham, and pineapple chutney.
They also have 11-inch classic pizzas in mouthwatering flavours such as Hot Honey ($21++): Iberico sausage, pepperoni, and a drizzle of sweet honey.
Website | Full list of outlets
PizzaExpress is not a halal-certified eatery.
---
14. Wild Child Pizzette
---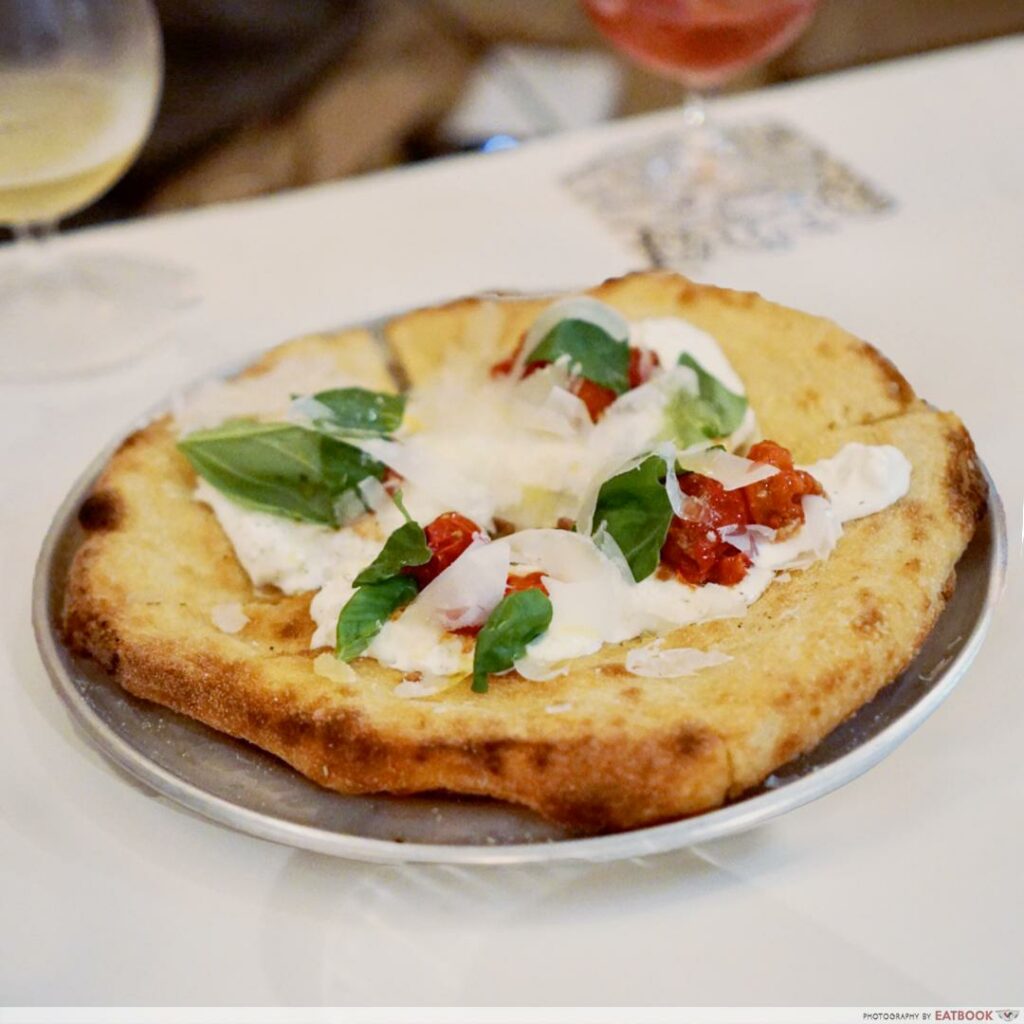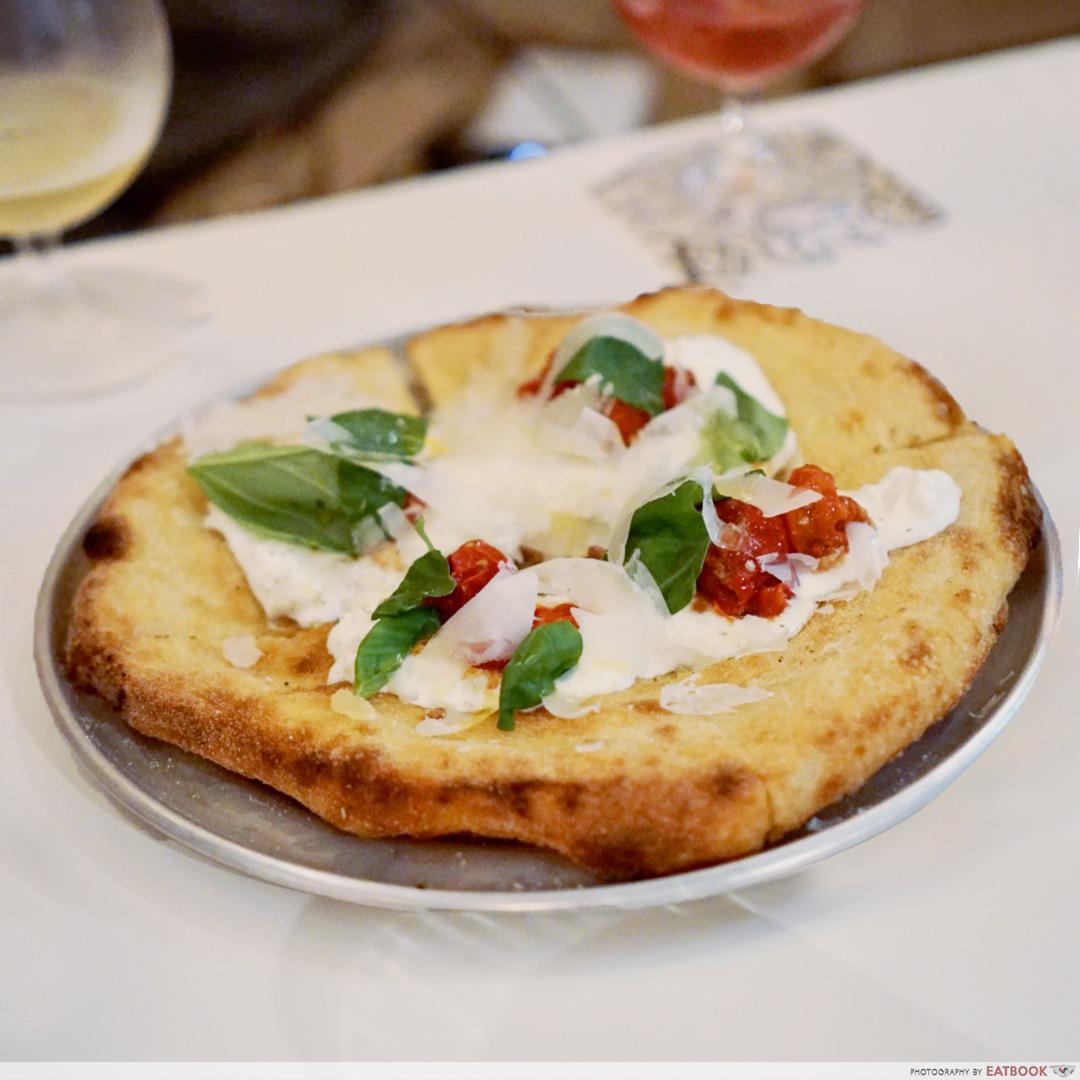 CBD pizza joint Wild Child Pizzette is probably most popular for their Crispy Fried Margherita ($27++), a unique pizza that's fried instead of baked, and paired with creamy stracciatella cheese, basil, aged parmesan, and semi-dried Italian plum tomatoes. Each pizza, or pizzette as it's known, is 10 inches in size and comes in four slices for easy sharing.  Other popular iterations include Tartufo ($25++)—a veggie-friendly pie with potato and truffle paste—and Verde ($24++), which stars house-made pesto and sausage meat.
Address: 50 Circular Road, Singapore 049405
Opening hours: Daily 12pm to 2:30pm, 6pm to 10:30pm
Tel: 6970 6592
Website
Wild Child Pizzette is not a halal-certified eatery.
---
<$50++
---
15. Lucali BYGB
---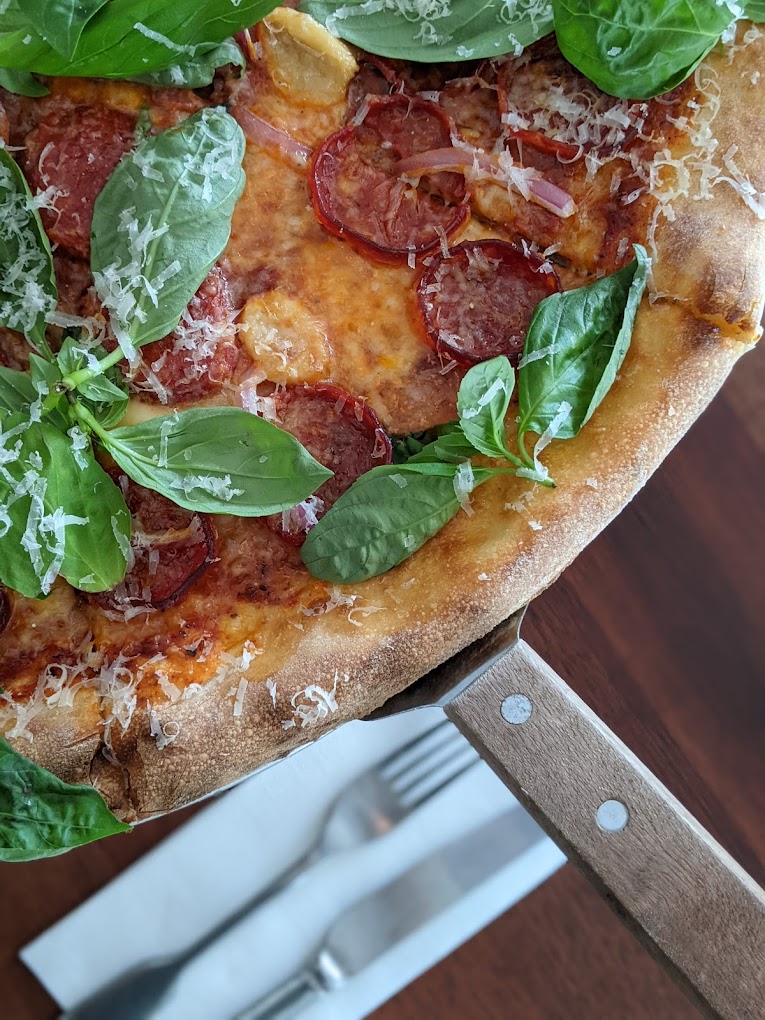 Image credit: Gabriel Gay
Founded by BYGB Hospitality and the man behind Brooklyn's famous restaurant Lucali, the namesake restaurant offers Super XL 18″ New York Pizzas that are great for sharing with the fam. The Classic ($42++), which features buffalo mozzarella, mozzarella, parmesan, and basil, also comes with garlic and your choice of one topping. They also have a Supreme ($52++) version that gets you three toppings instead of one. Topping options include pepperoni, sweet pepper, sausage, and mushroom.
Alternatively, try Lucali BYBG's Calzones, priced from $25 for a half portion.
Address: 66 Kampong Bugis, Level M, Singapore 338987
Opening hours: Wed-Fri 5pm to 11pm, Sat-Sun 12pm to 3pm, 5pm to 11pm
Tel: 8284 1325
Website
Lucali BYBG is not a halal-certified eatery.
---
16. Blue Label Pizza
---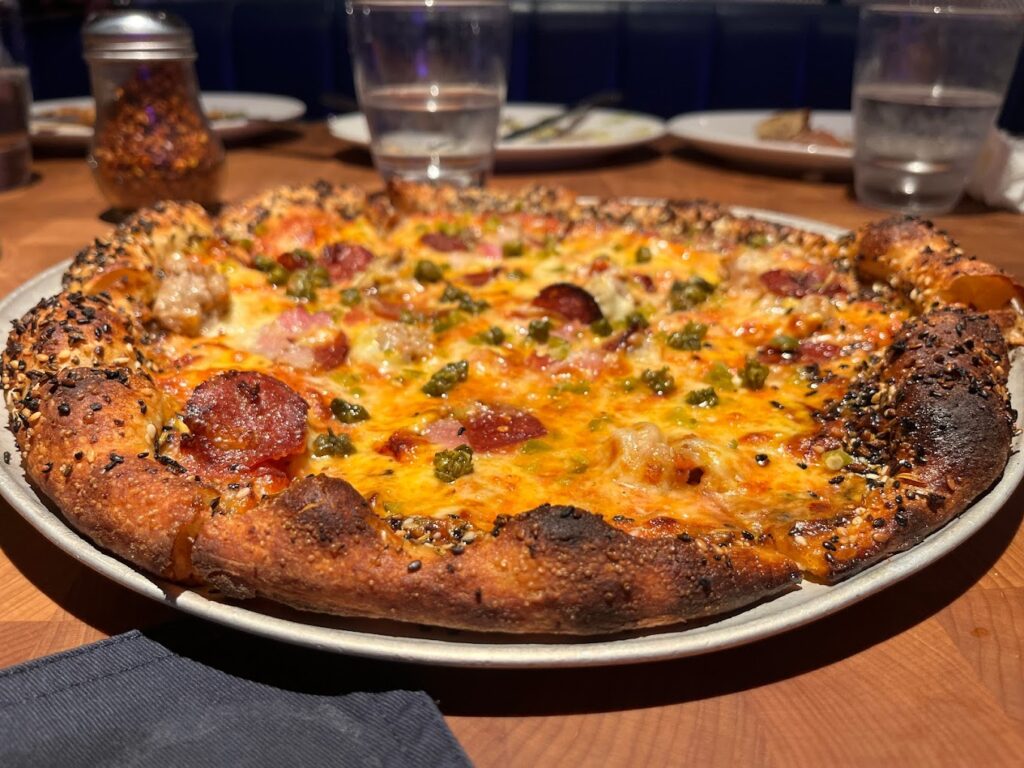 Image credit: Andy Lee
A pizza guide isn't complete without a mention of Blue Label Pizza & Wine, a famous pizza spot by American chef Travis Masiero, who also runs Luke's Oyster Bar. At both their Chinatown and Orchard outlets, you'll be treated to long-fermented, hand-stretched pizzas baked in stone ovens. Prices aren't exactly cheap here, but the pies are said to be generous in size, so you can share them among a part of two to three.
There are over 10 flavours to choose from, including interesting combinations such as  Summer in San Sebastian ($39++), which meshes chorizo ragu, Hokkaido octopus, French chilli, and creamy aioli. The Umami Bomb ($33++) is another winner; this comes with anchovy, goat cheese, shiitake, and spinach, on top of a cornmeal crust.
Blue Label offers a small range of sides and salads, too!
Website | Full list of outlets
Blue Label Pizza & Wine is not a halal-certified eatery.
---
Where to get good pizza in Singapore
---
The next time you're in the mood for a good pizza, keep this list of the best pizza places in Singapore to help you decide where to go!
If you're looking for more food sorted by budget, check out our guide to the best buffets in Singapore, including hotel buffets with unlimited seafood! Alternatively, we've got a roundup of the best seafood buffets on the island if that's something up your alley.
17 Best Buffets In Singapore For All Budgets, Including Hotel Buffets, Outdoor BBQ And More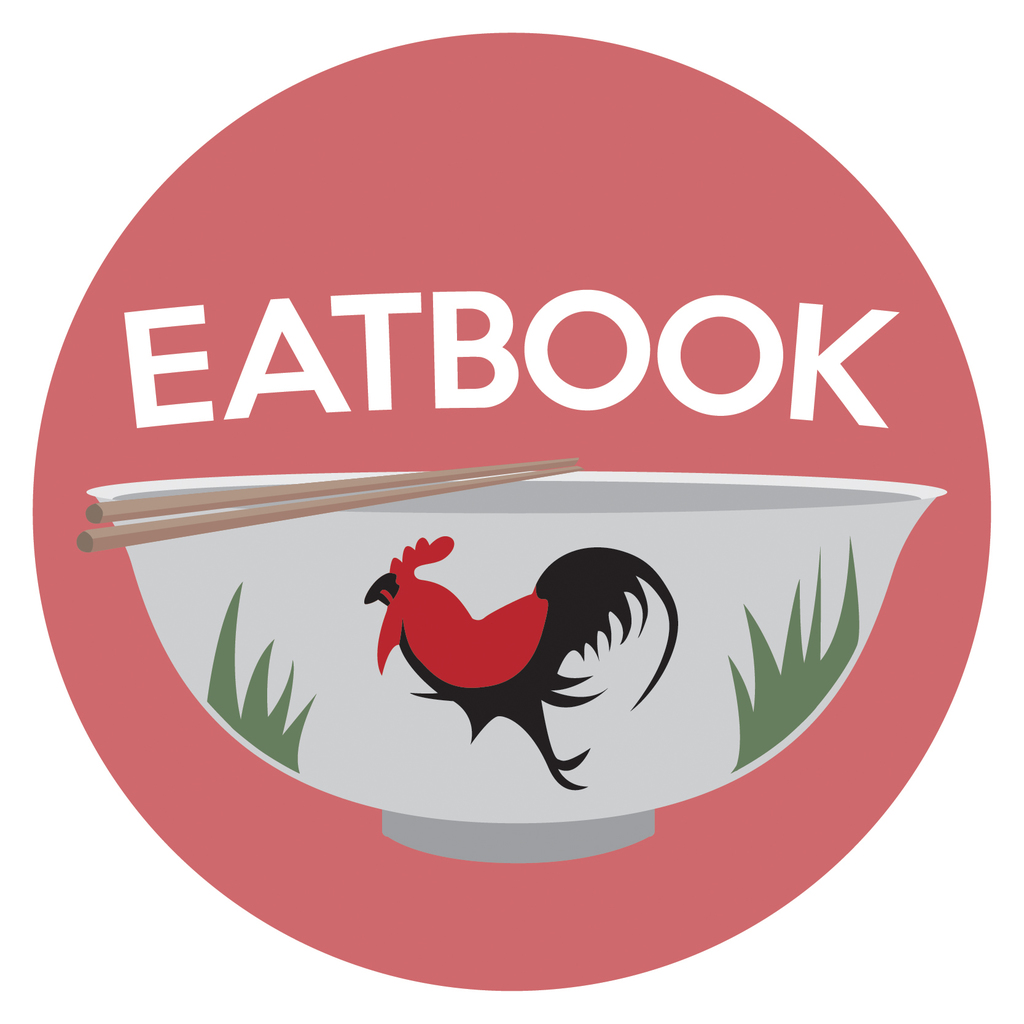 Drop us your email so you won't miss the latest news.