Famous Filipino Shakey's Pizza in Orchard
It's probably news to many of us that the Shakey's Pizza we know today at Lucky Plaza is not their first-ever outlet in Singapore. This is in fact the third time this popular pizza chain has opened here, after an initial four-year stint in 1980, and their second attempt in 1989.
The Far East shop has been in operation for quite some time now, but they're making it official this 27 September 2022! And in celebration of this, there's going to be a one-for-one promotion on all their pizzas for just three days: from 27 to 29 September! That's not all—they've also just received their halal certification!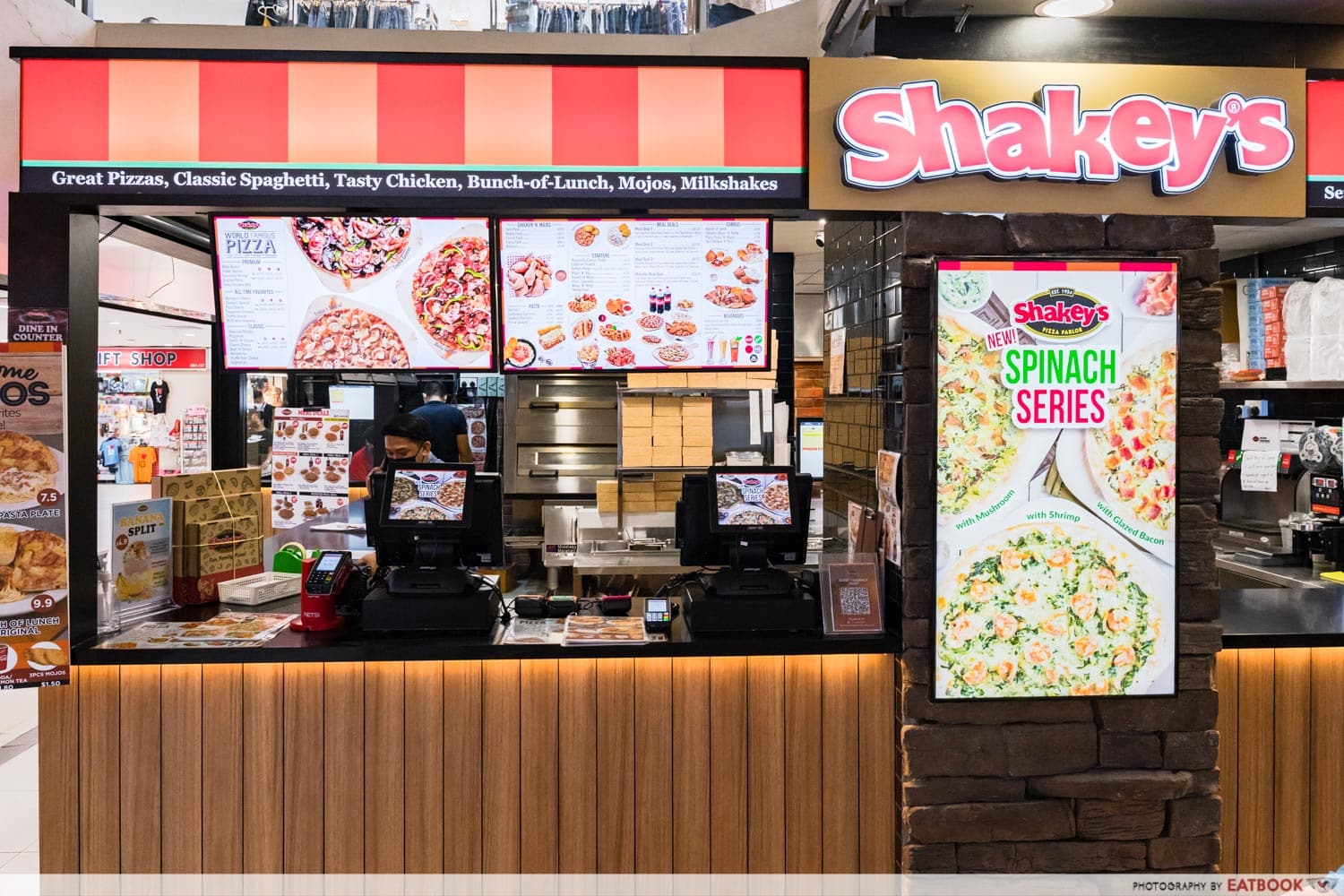 They may have been widely popularised in the Philippines, leading to the common misconception that Shakey's Pizza is a Filipino brand, but they were in fact first established in the United States, back in 1954. This is also when they claim to have invented their world-famous thin crust pizza—said to be based on a recipe from his childhood, during which he served as an interpreter between his Swedish mother and Italian housewives. 
Saporita Review: Halal Truffle Cheesewheel Pasta and Pizzas Below $20 at Esplanade
Food at Shakey's Pizza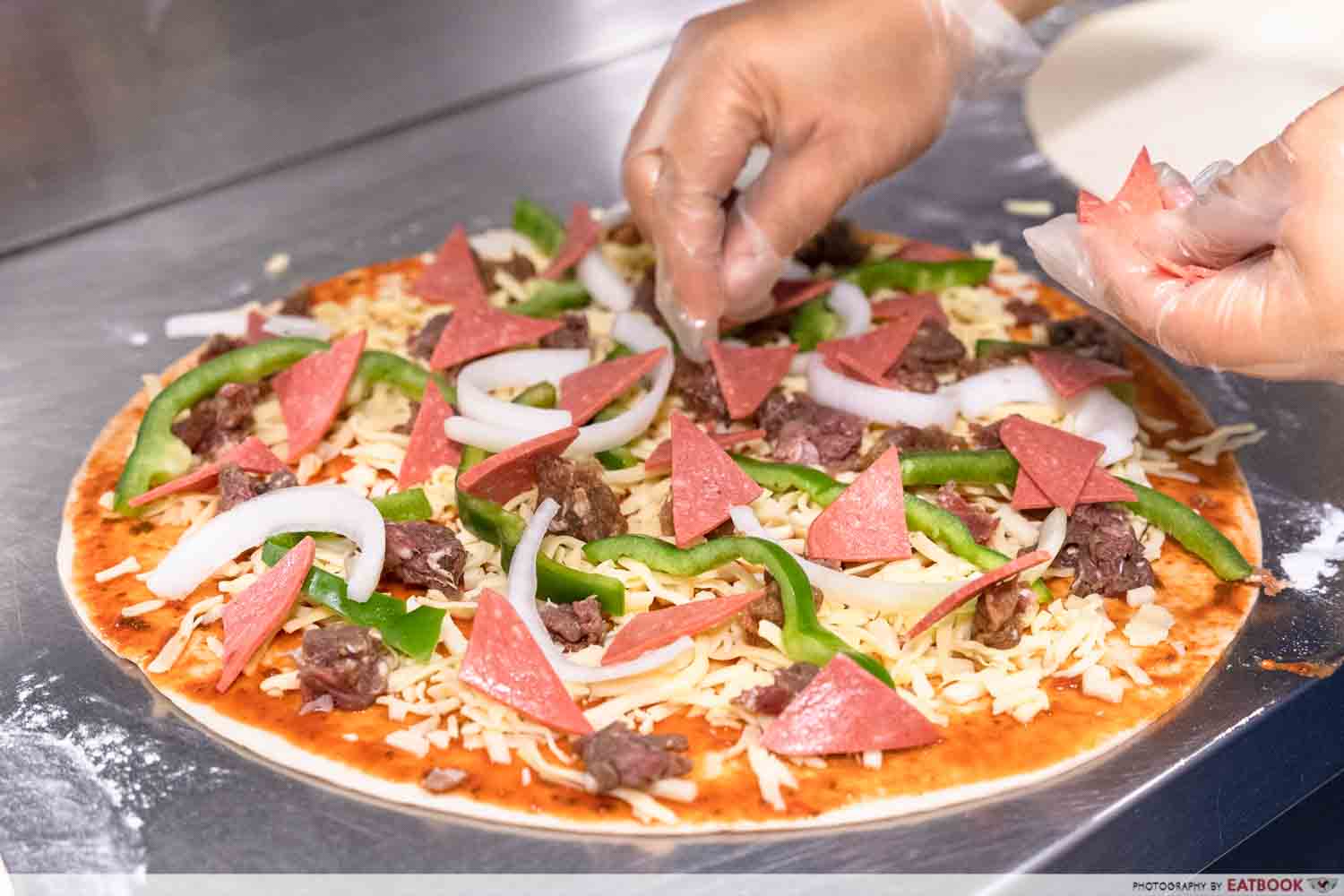 They're most famous for their thin-crust pizza, but you can also get a slightly thicker, hand-tossed crust at Shakey's Pizza. Each comes in three sizes: Regular (from $18), Large (from $26), and Party (from $32), with prices differing based on the crust and toppings chosen. Then, pick your toppings from one of the categories: Premium, All Time Favourites, and Classic. We went for Manager's Choice (from $20), which is meant to be the number one pizza here.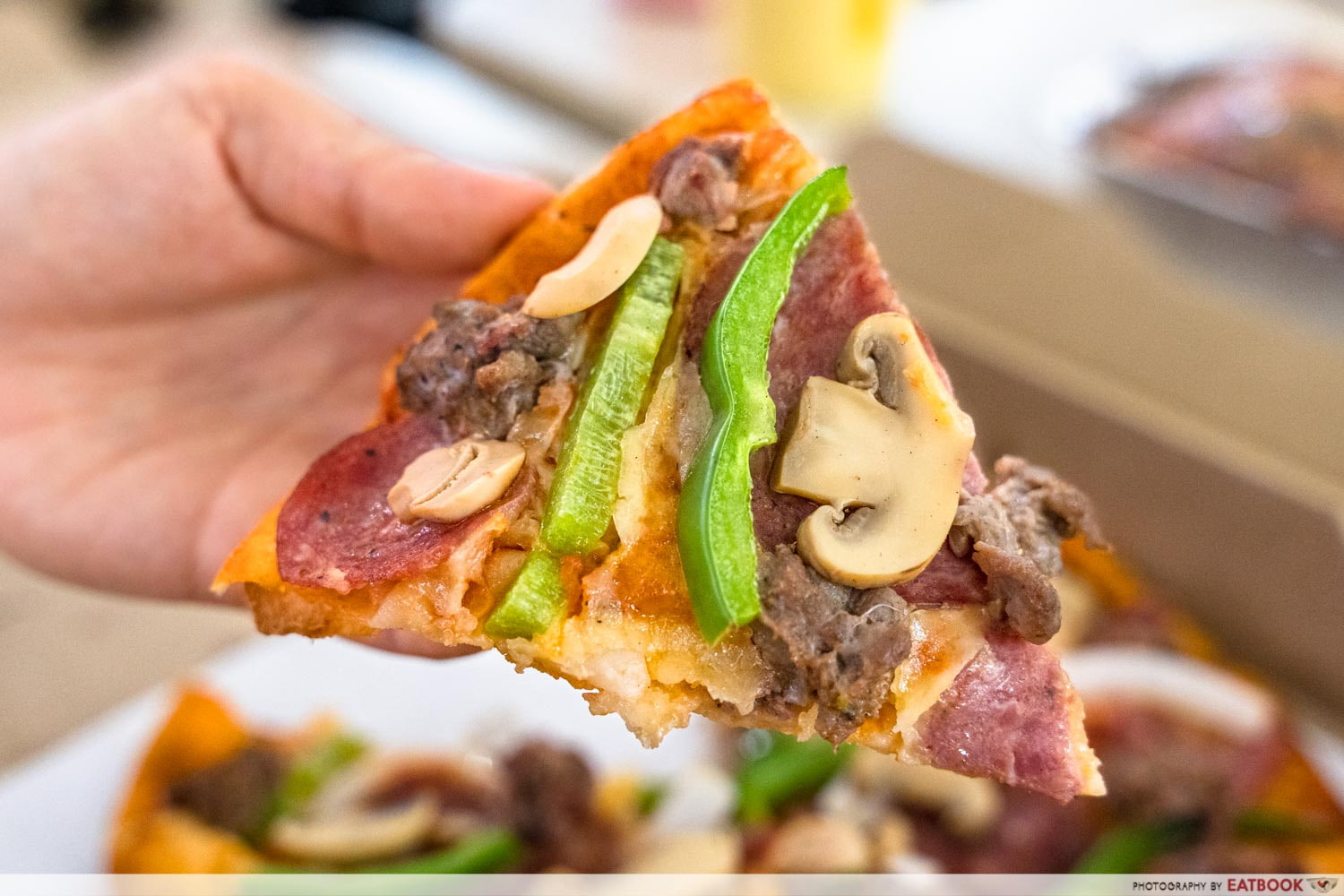 In this variation, the handmade crust is slathered with a house-made tomato sauce, then topped with ham, beef, Italian sausage, green bell peppers, and onions.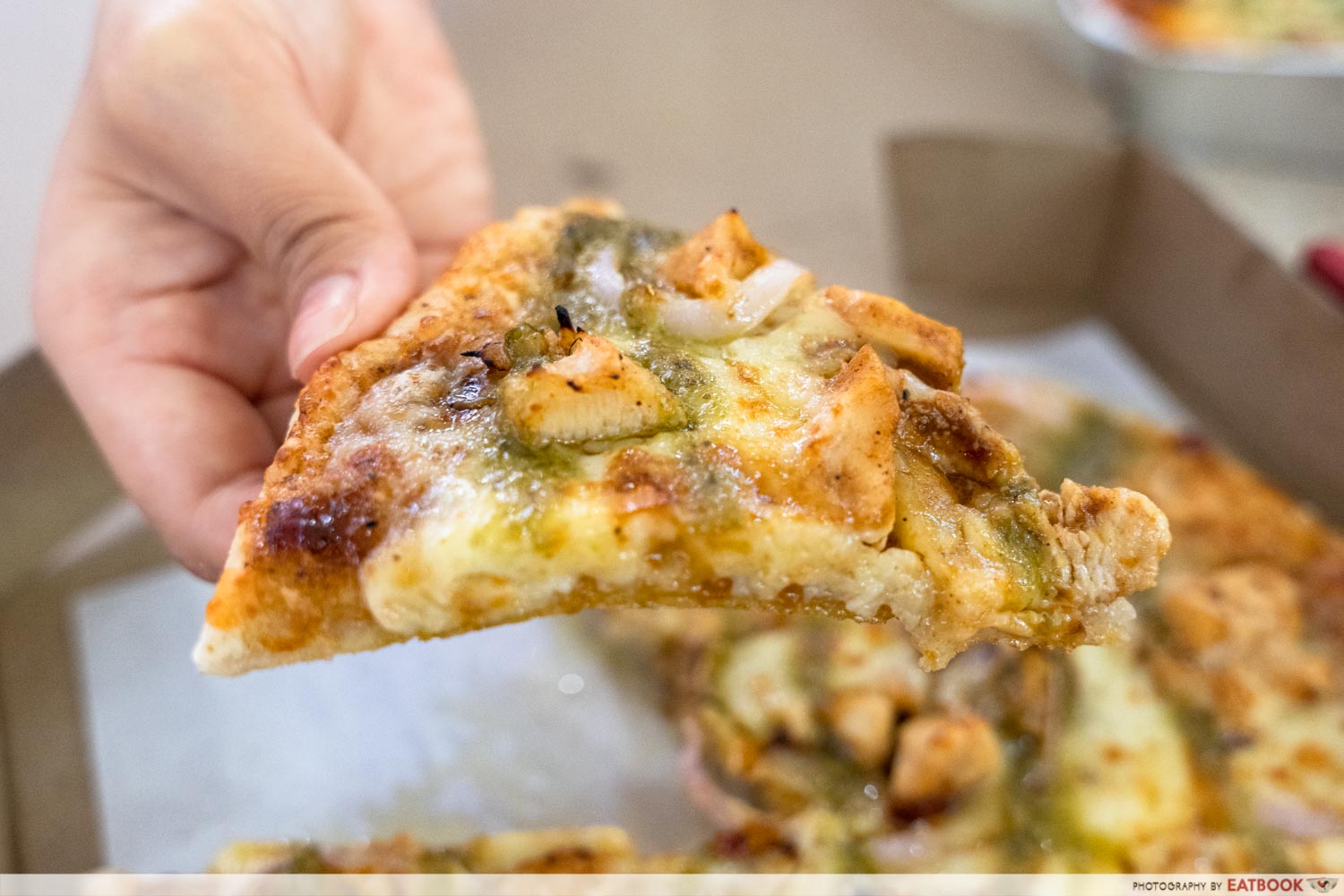 We also tried Texas Chicken BBQ (from $21), which I enjoyed best of the three pies we had. Spread on this crust was a smoky barbecue sauce, rings of red onion, BBQ-marinated chicken, cheddar, and a cilantro pesto that I especially liked. Don't let the thought of it being cilantro put you off—it doesn't taste raw nor green at all.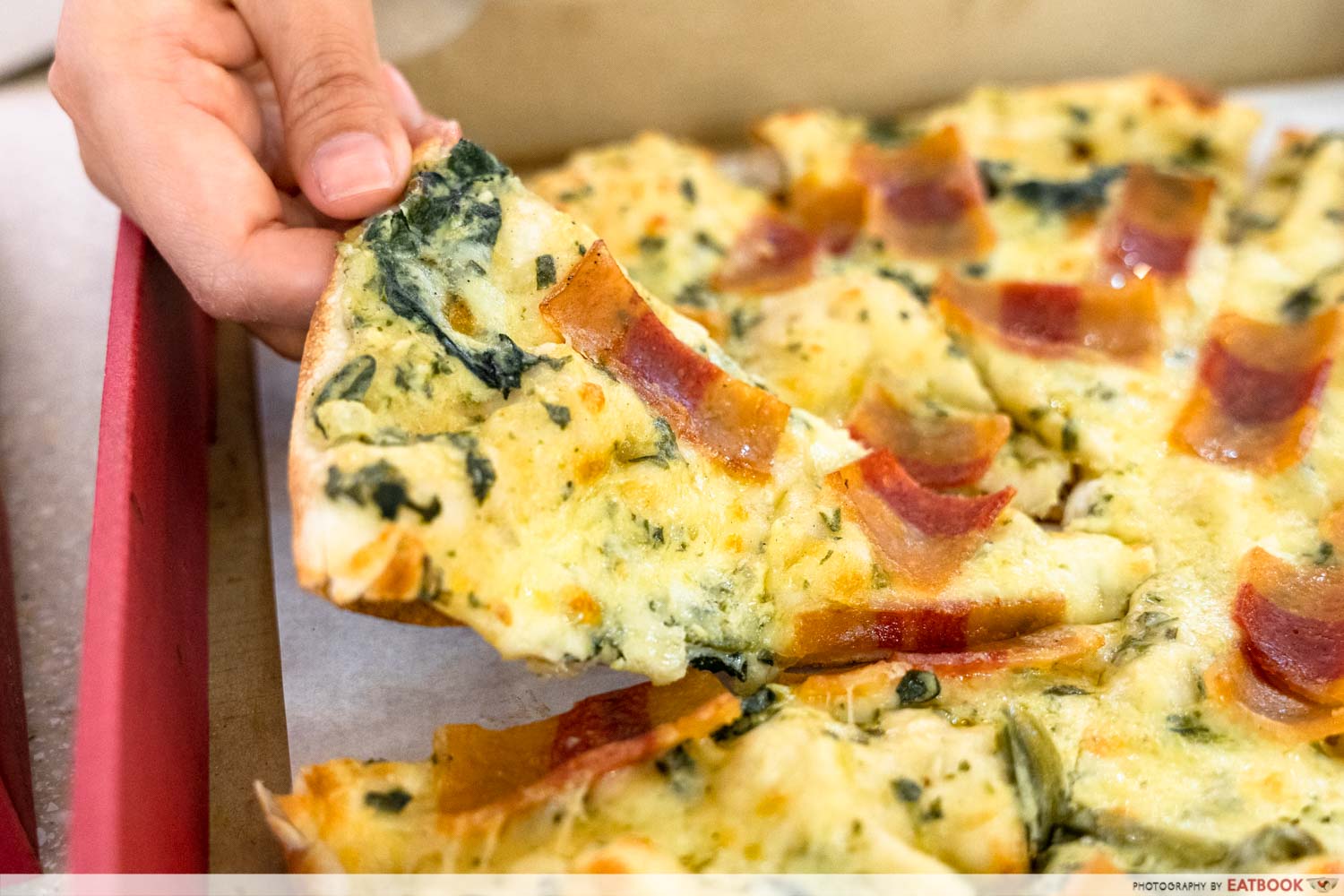 Newly introduced to the Shakey's Pizza menu in Singapore is their Spinach series, which features three pizzas and a pasta dish. Try them with the Spinach Bundle ($46), good for four to six, where you get to choose any large thin-crust spinach pizza, an order of Spinach Roll-Ups ($14.90), a Buddy Pack ($21.10) of 5pc Chicken 'N' Mojos, as well as a 1.5l bottle of Coke and Mozzarella Cheese Sticks ($7)!
Our choice of pizza was Spinach & Glazed Bacon (from $21.60)—creamy spinach accompanies slices of sweet-glazed turkey bacon, and a blend of cheeses. We found the slices of turkey bacon slightly dry and tough, though the sweetness was an interesting touch. You could also go for Spinach & Mushroom, or Spinach & Shrimp pizzas.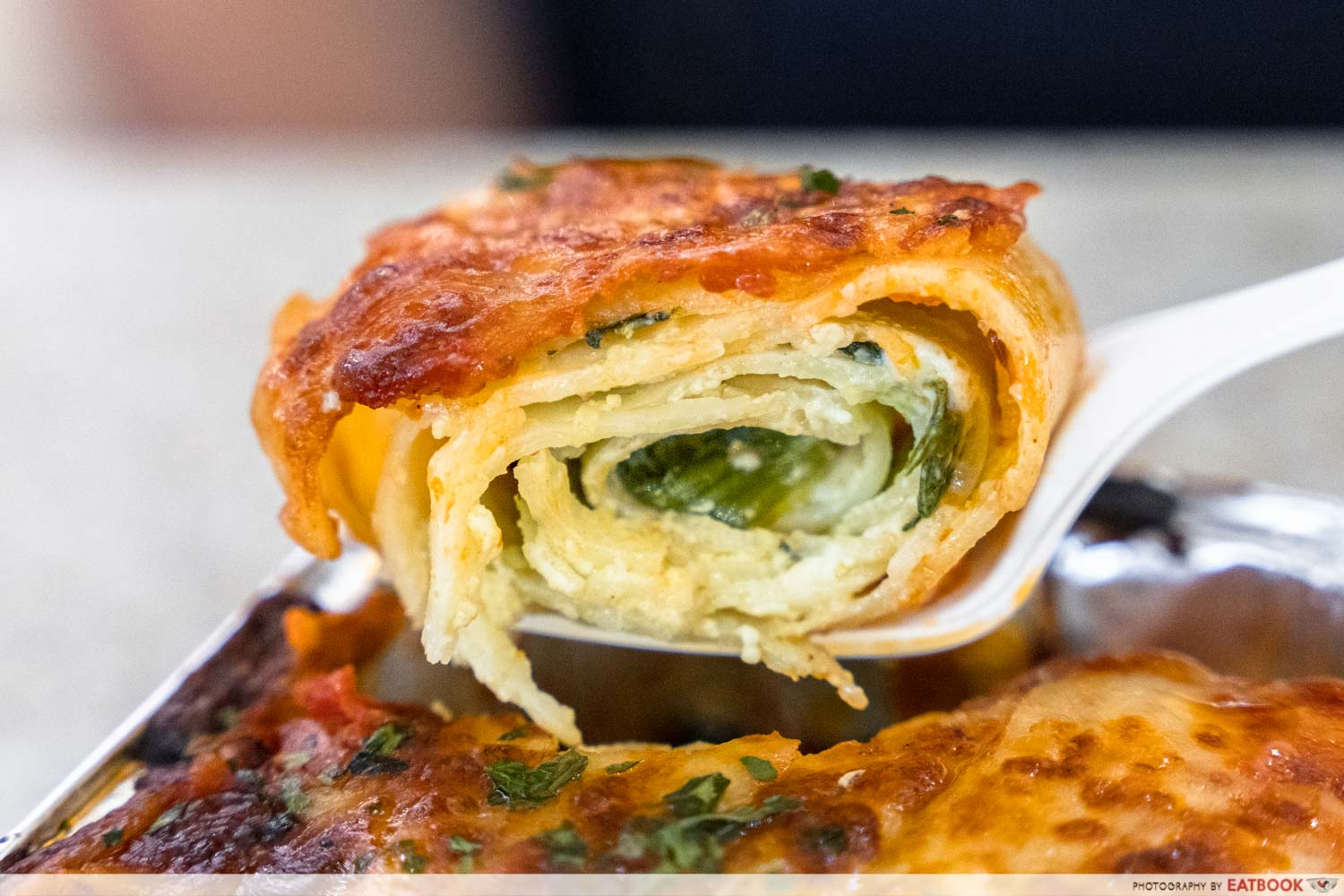 After the slices of turkey bacon, the Spinach Roll-Ups were delightfully tasty and well-prepared. Imagine a lasagna, except it features rolled-up pasta—slightly like chee cheong fun rolled with spinach, and has got no tomato sauce nor meat.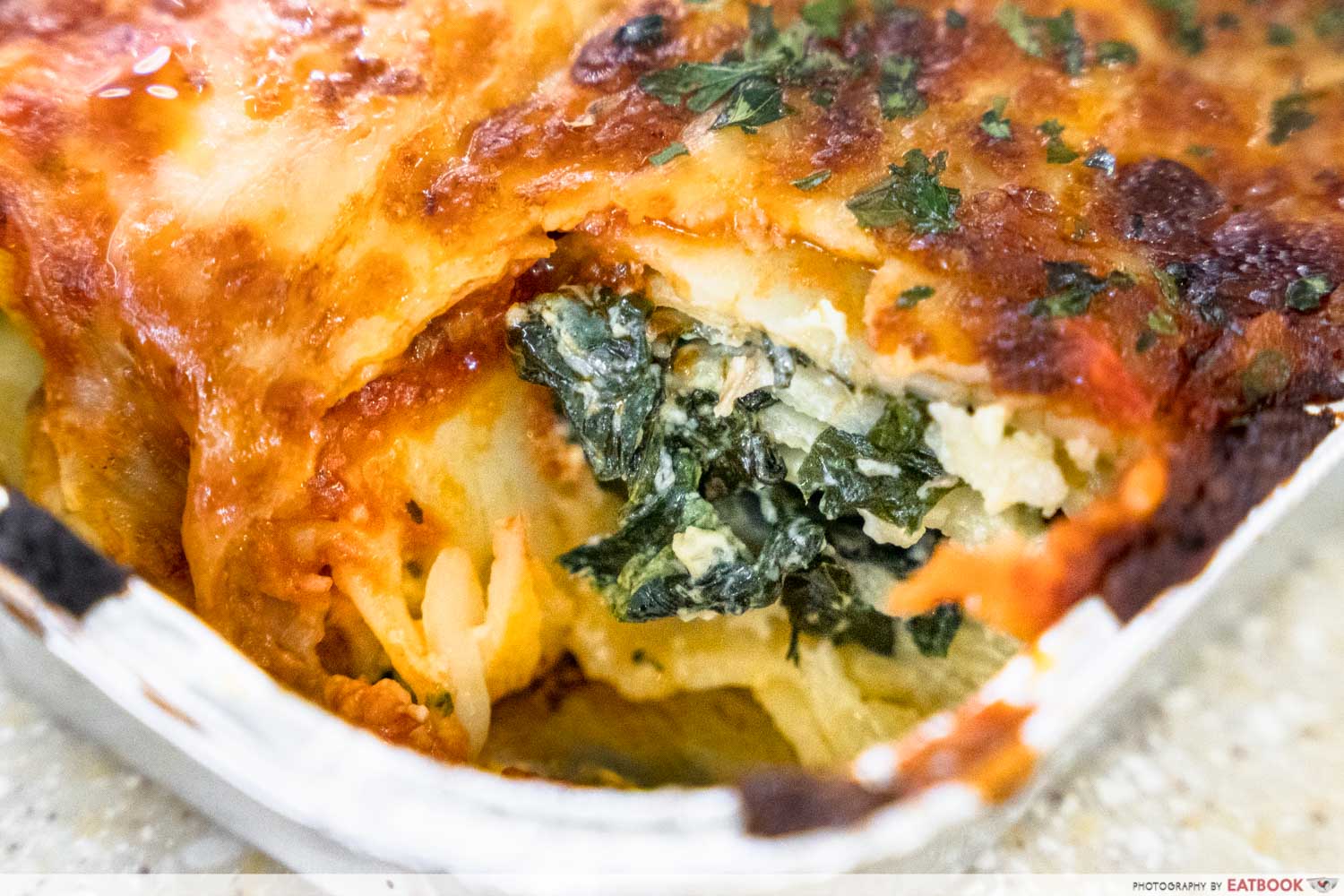 These rolls of spinach pasta are then stacked in a tin with white sauce, then layered with cheese and baked. It's hard not to like this, even if you're a non-veggie eater. What made this work for me was how the spinach was soft, but not wilted. Plus, where I'd thought the white sauce would render this jelak, it didn't turn out to be.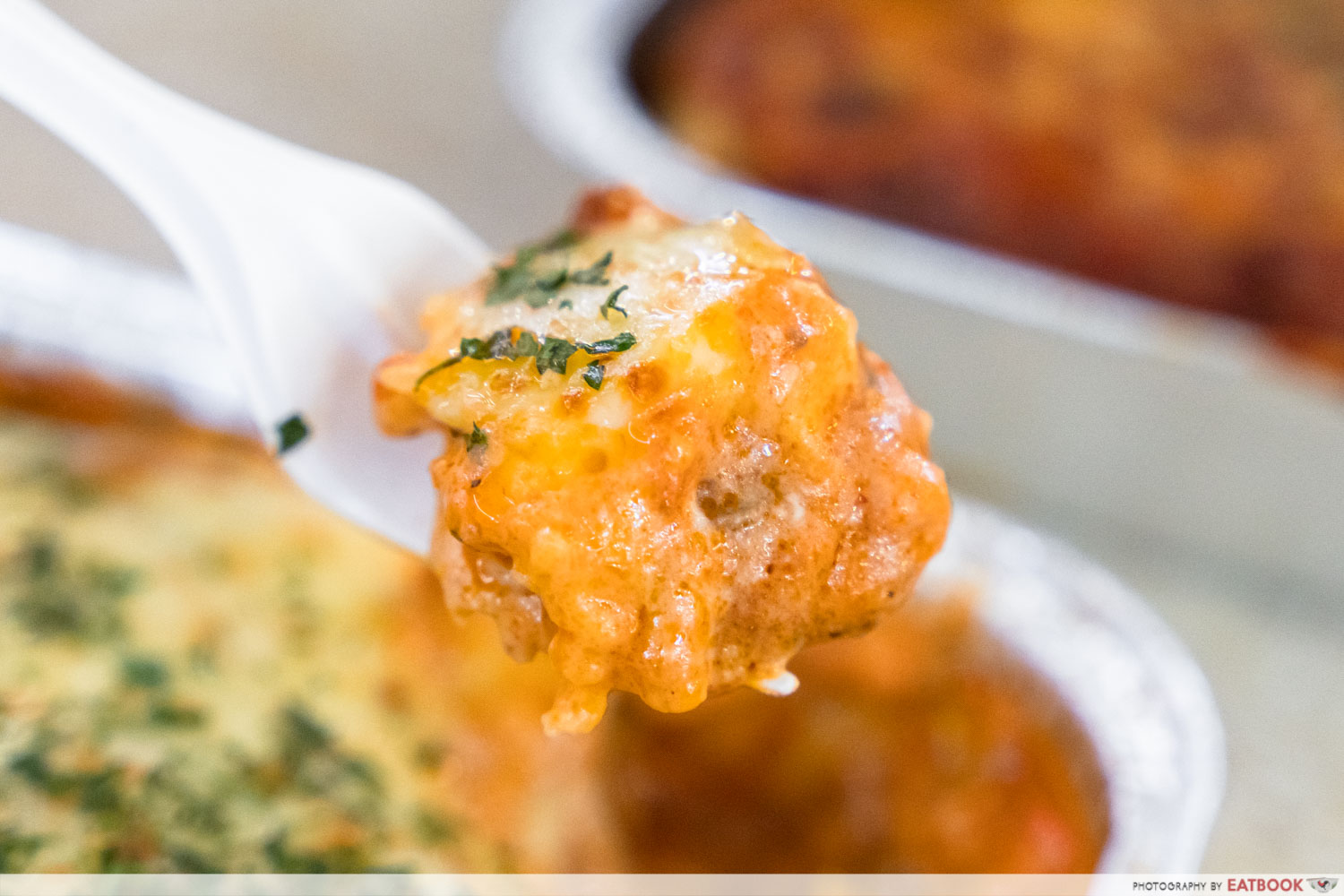 The Prima Lasagna (from $13.80) was also pretty tasty, with a moreish, hearty meat sauce and trio of cheeses: mozzarella, cheddar, and parmesan.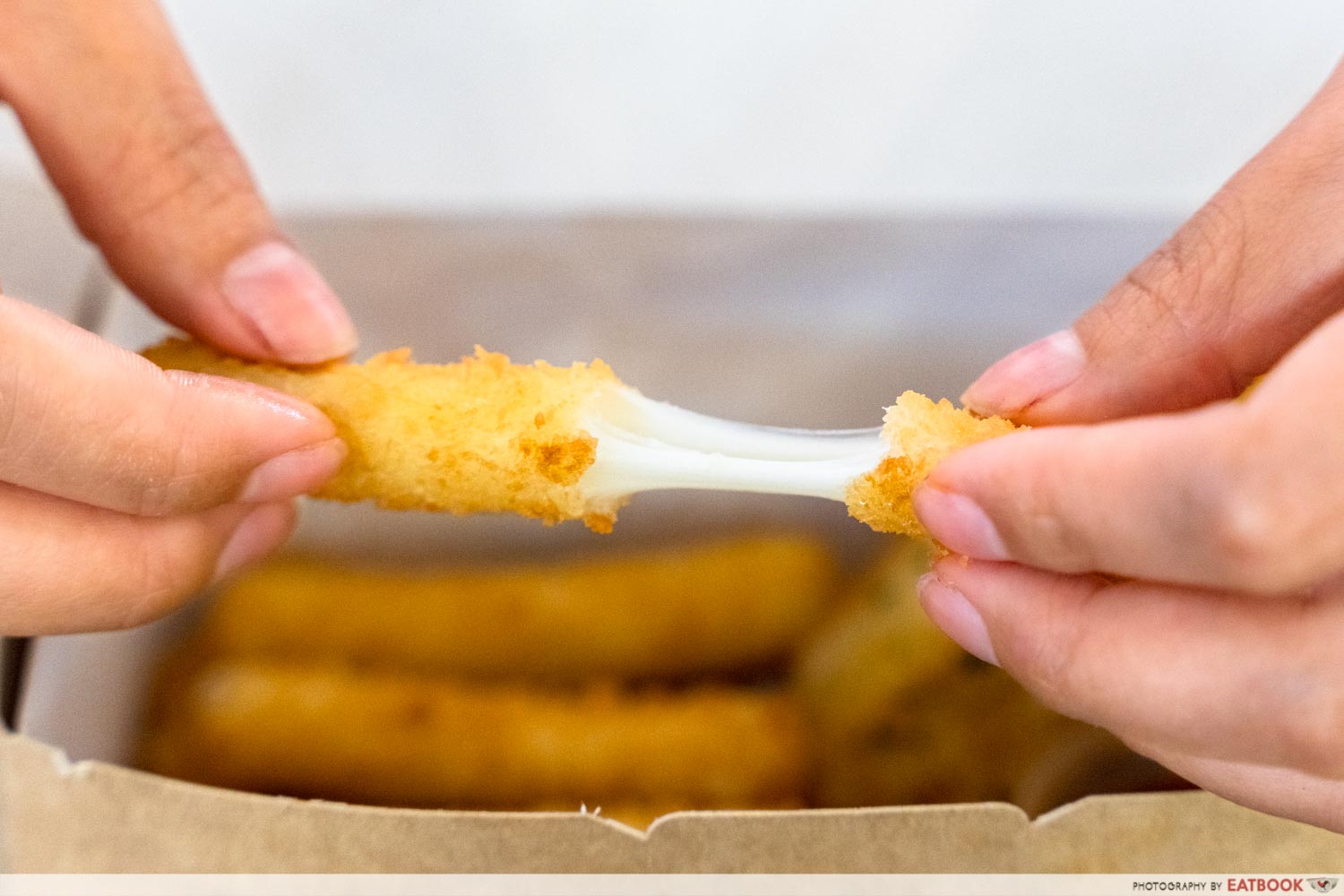 Then there's the crowd-pleasing Mozzarella Cheese Sticks that are deep-fried to order. Definitely dig into these before anything else, because they get stodgy and the cheese hardens as it cools. They're served with an appetising tomato dip, just in case you find the crusty, cheesy bites too much.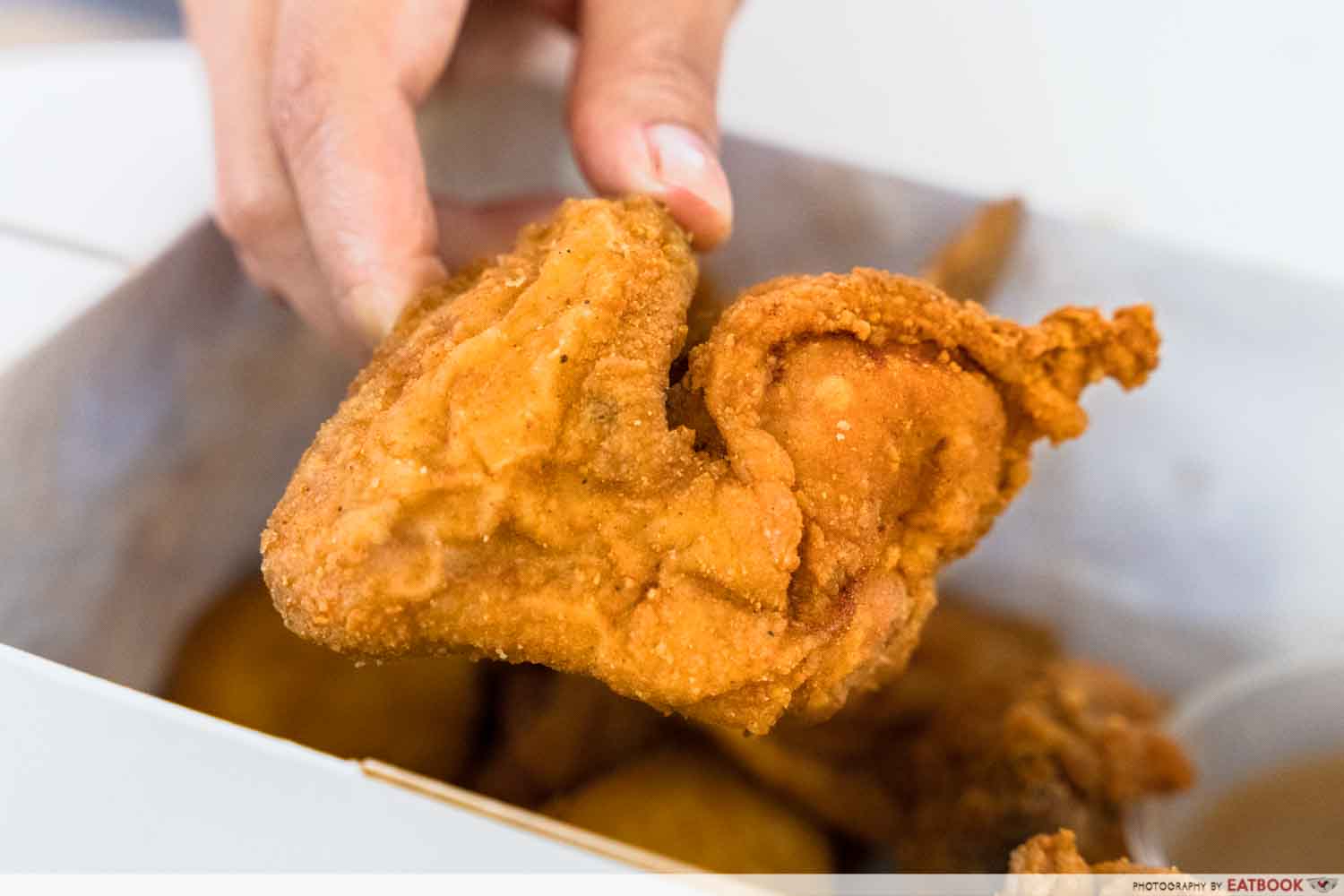 Of course, we couldn't come to Shakey's Pizza and not have their equally famous fried chicken. Marinated and hand-breaded according to their secret recipe, and accompanied with a tub of house-made brown sauce, there's no wonder parallels have been drawn between these and Jollibee. I wasn't able to make a side-by-side comparison on this occasion, but I'm happy to report the juicy fried chicken at Shakey's Pizza hits the spot.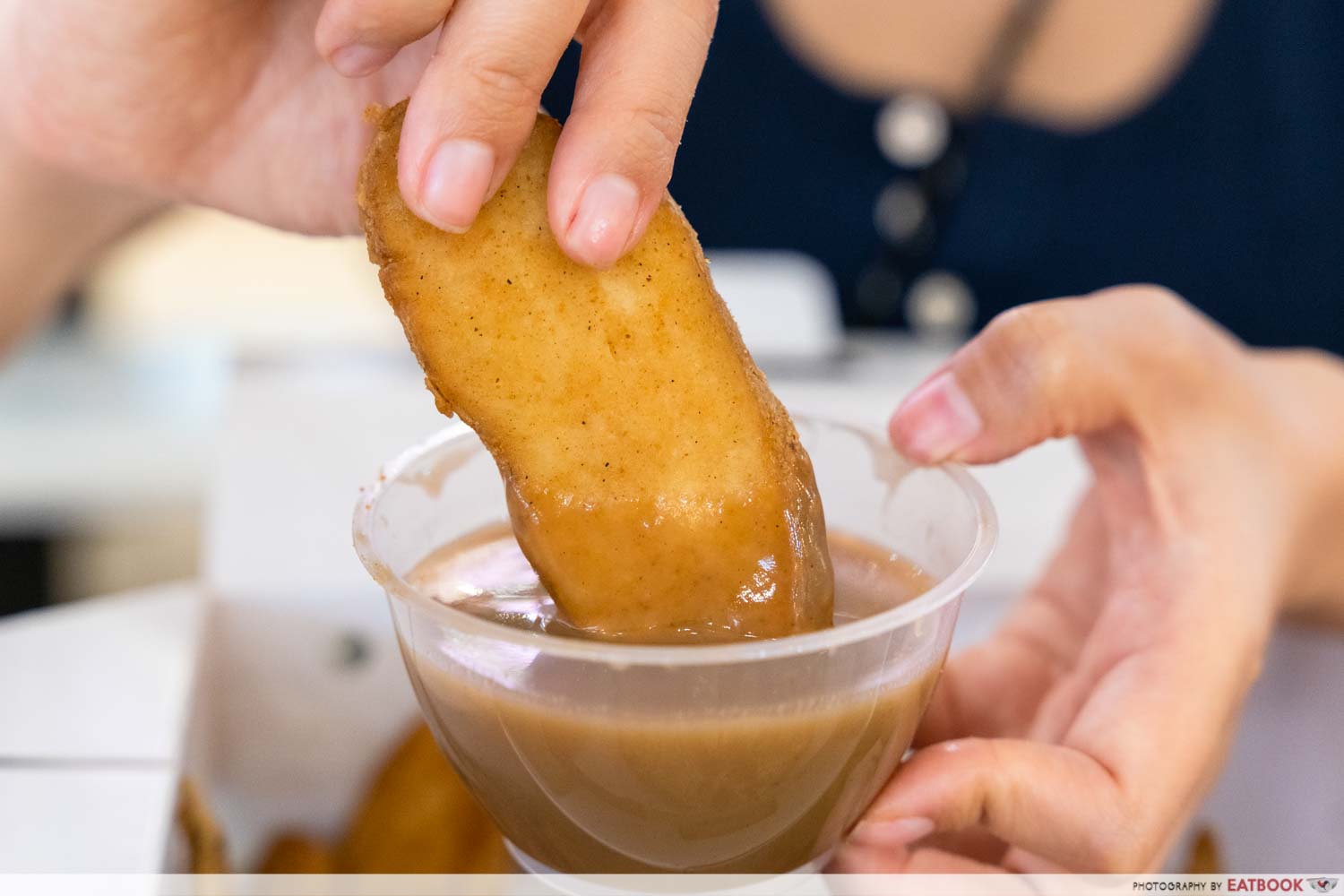 Where you get French fries or potato wedges at other fast food establishments, Shakey's Pizza serves Mojos, a term that they've trademarked for themselves. Have it anywhere else, and they'll be known as jojos, where potato wedges are coated in a batter to fried chicken, typically featuring paprika, onion powder and garlic powder.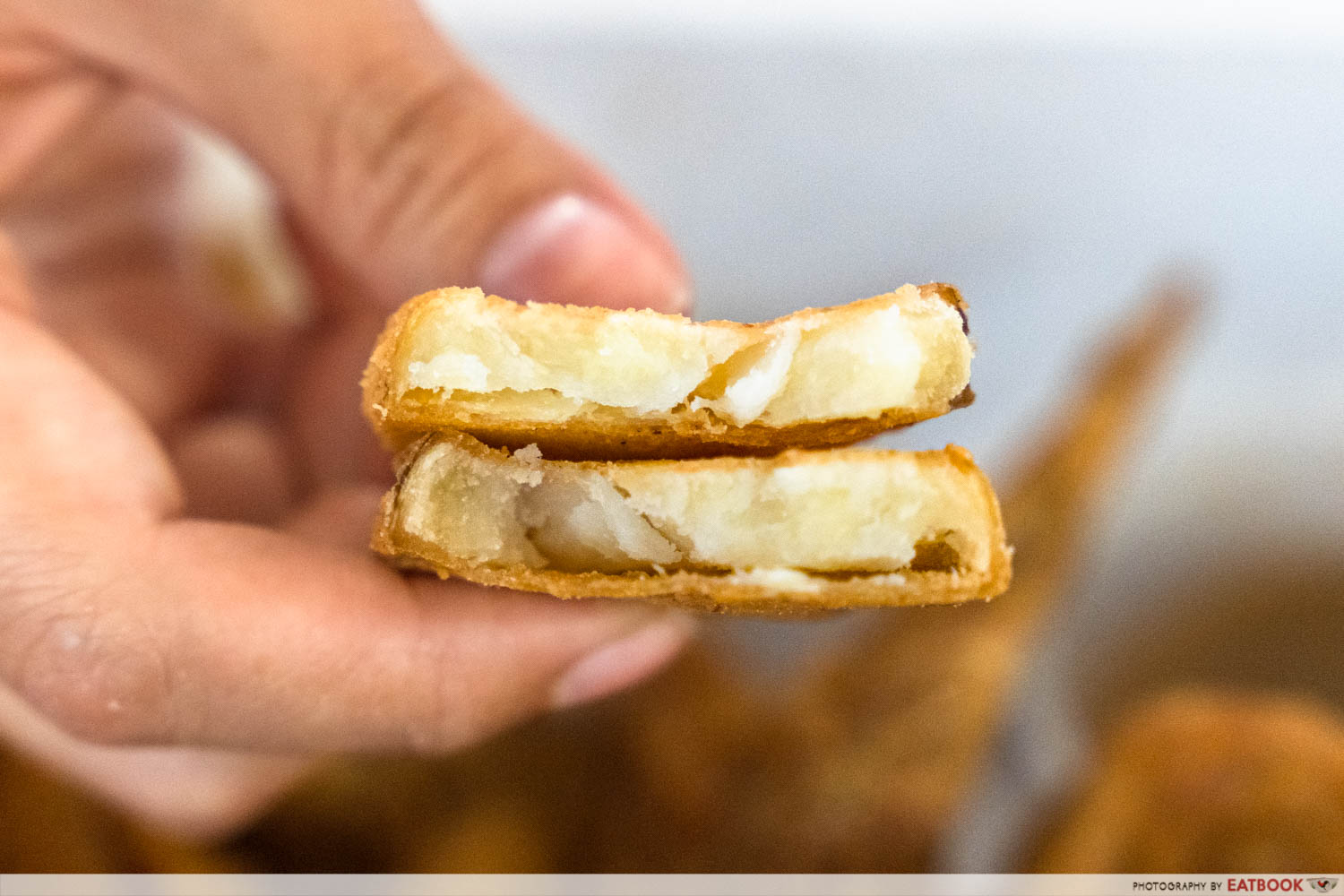 These unique potato fritters have a long, flat shape that comes from a potato being sliced lengthwise. It was the first time that I'd tried such an odd-looking potato fry, its appearance not sparking much hope for its flavour. That's where I was wrong: it was fluffy and smooth within, and sliced to just the right thickness that each mouthful was adequately flavourful from the batter.
If you still prefer French fries, they've got Skinny Fries ($7.50) too!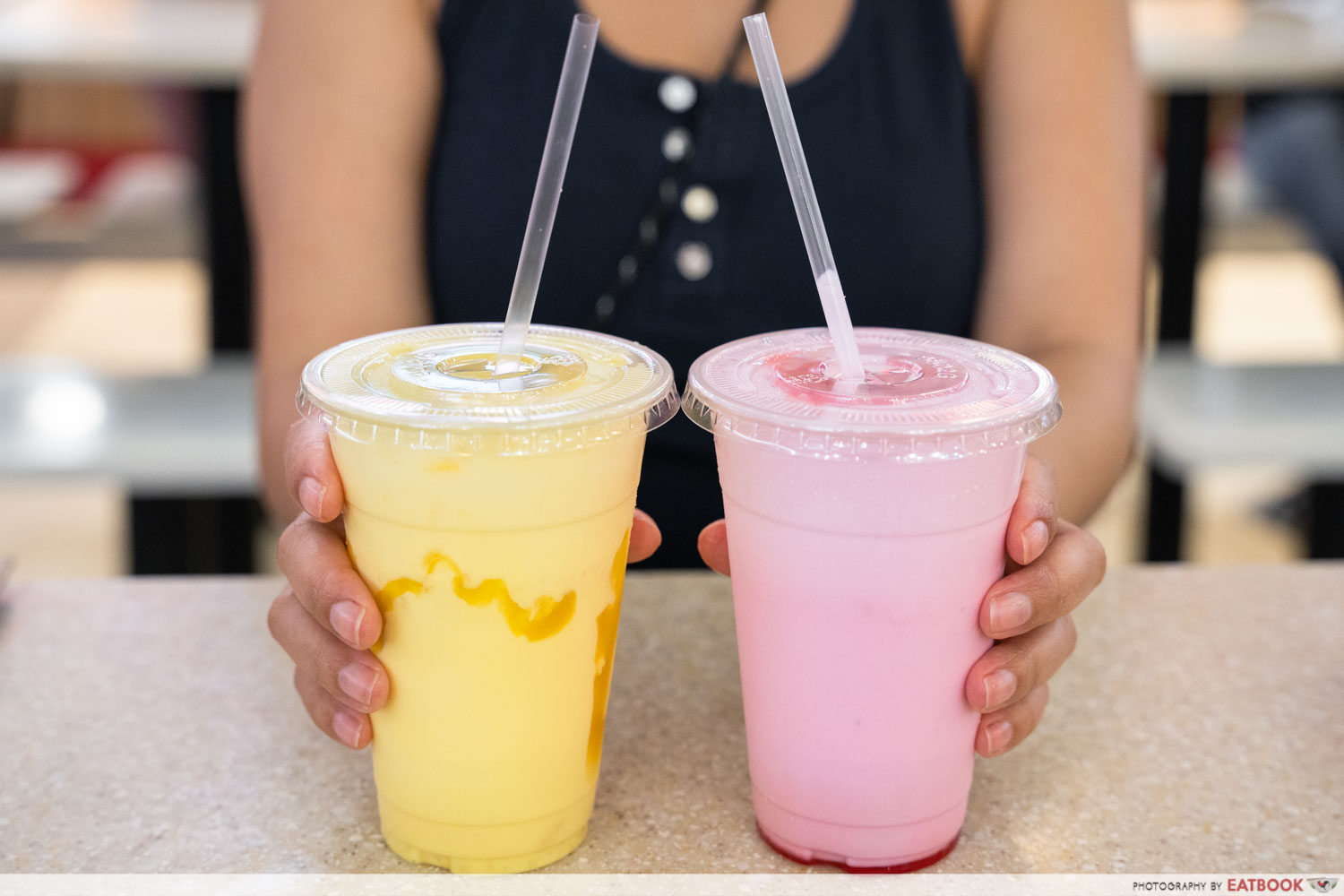 Since we were indulging, we ended the meal with a Mango Shake and Strawberry Shake, both priced at $6. Super creamy and rich, the pink version in particular reminded me of the strawberry milk packets we would drink as children.
My Favourite Cafe Review: Affordable And Tasty Yong Tau Foo At Orchard Road
Ambience at Shakey's Pizza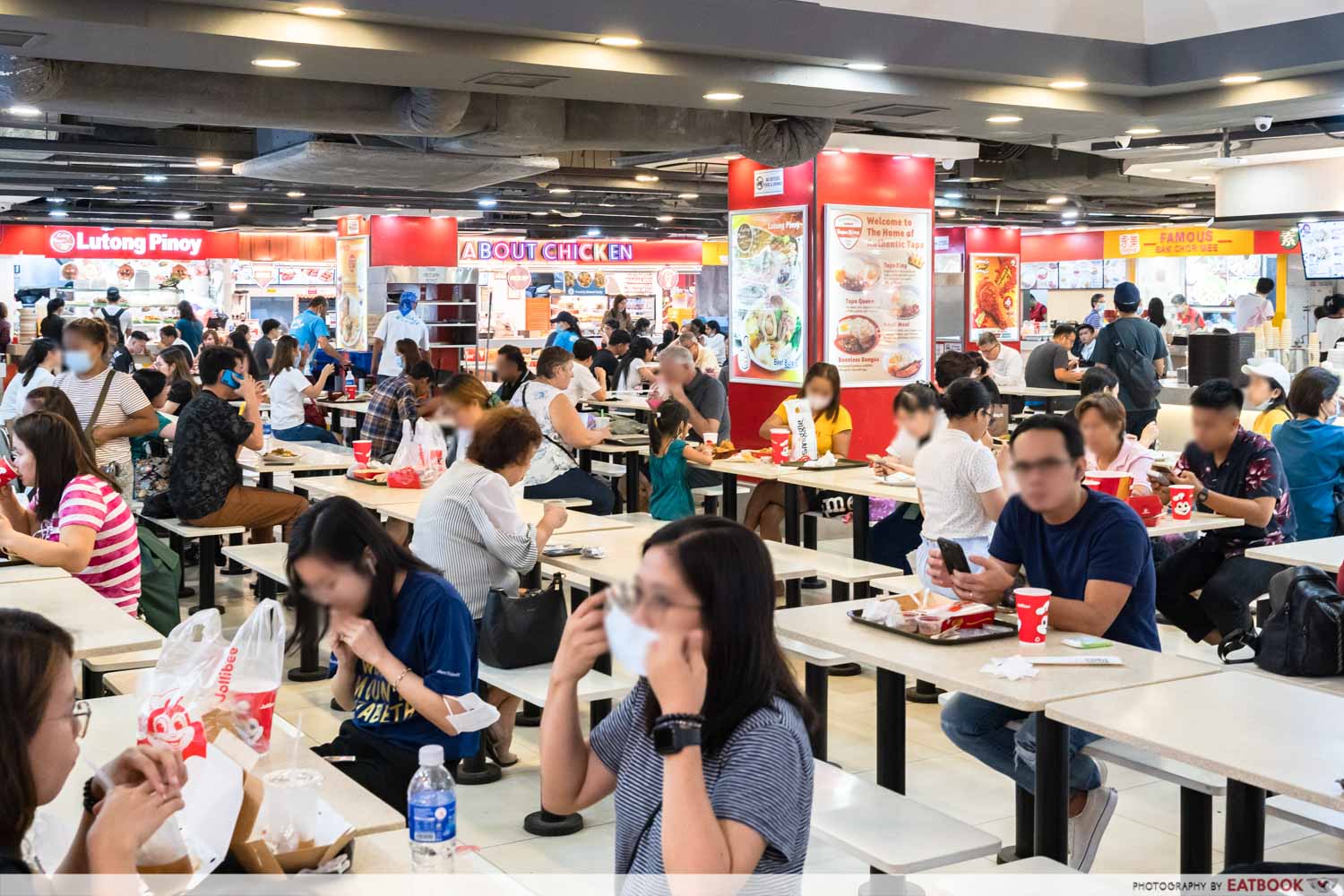 Shakey's Pizza is located in Asian Food Mall, the basement food court at Lucky Plaza, which I had never known about before this. Fun fact: there's a Jollibee here too! Despite being in the basement, a good part of the seating area is in an atrium that opens up to the upper floors of the mall, so it's unlikely that you'll feel claustrophobic even if it's crowded. The foodcourt is also brightly lit, clean, modern-looking, and fitted with strong air-conditioning—unlike the general impression people have of Lucky Plaza.
It was nicely empty before 11am, but rapidly filled up as lunch hour came, so you'll have to wait a bit longer for your food then. We hear that it also gets quite busy on weekends!
My Favourite Cafe Review: Affordable And Tasty Yong Tau Foo At Orchard Road
The verdict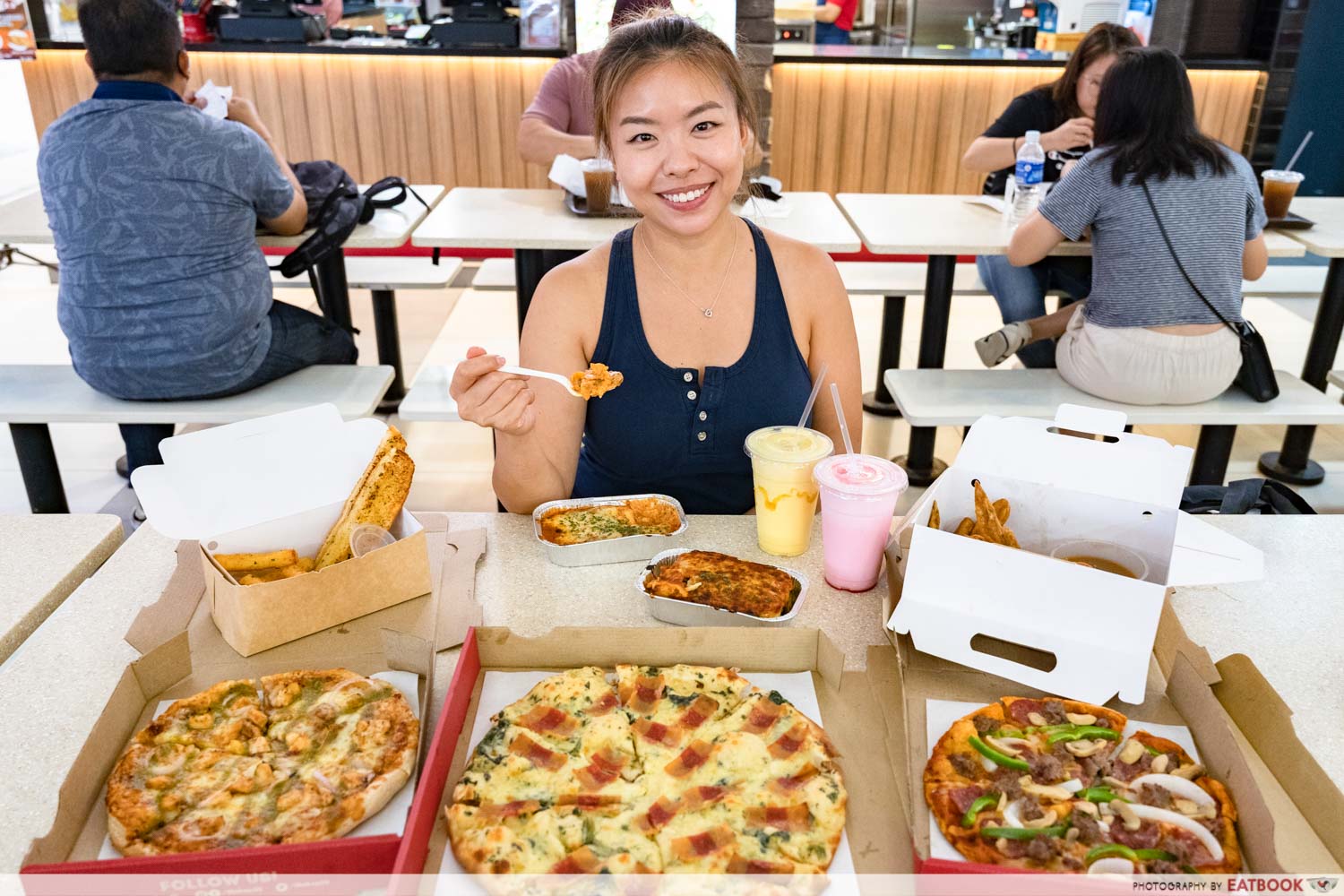 As far as fast food pizzas go, Shakey's Pizza is alright. I enjoyed the Texas BBQ Chicken pizza, but much preferred the baked pastas and fried chicken. The prices are pretty competitive too, especially for a joint in the middle of Orchard Road. We tried a fair spread of their offerings, and nothing much stood out in a negative way. They've also got bundle deals that make dining here more attractive too, especially if you've a group of diners who want both fried chicken and pizza.
In the same mall, there's also My Favourite Cafe, a popular yong tau foo stall that's famous for their mushrooms and fried meatballs. Otherwise, there's Ratio Bar Cafe + Gastrobar opposite at ION Orchard, for cafe fare at nett prices.
Address: 304 Orchard Road, B1-38, Asian Food Mall, Lucky Plaza, Singapore 238863
Opening hours: Daily 10am to 9pm
Website
Shakey's Pizza is a halal-certified eatery
RATIO Cafe Plus GastroBar Review: Cafe In Orchard With Laksa Linguine, Coconut Husk Cocktail And More
Photos taken by Hui Hui Lau.
This was a media tasting at Shakey's Pizza.
This article was originally written on 30 July 2021.
Shakey's Pizza Review: Famous Chicken 'N Mojos And Thin-Crust Pizzas Now In Singapore
Shakey's Pizza Review: Famous Chicken 'N Mojos And Thin-Crust Pizzas Now In Singapore -

7.5/10
Summary
Pros
– Lasagna was well-prepared
– Chicken 'N' Mojos were tasty
– Convenient, central location
Cons
– Sweet-glazed turkey bacon was dry and hard

Recommended dishes: Texas BBQ Chicken Thin-Crust Pizza (from $21), Chicken 'N' Mojos (from $13.50), Prima Lasagna (from $13.80)
Opening hours: Daily 10am to 9pm
Address: 304 Orchard Road, B1-38, Asian Food Mall, Lucky Plaza, Singapore 238863