My Favourite Cafe is here at Lucky Plaza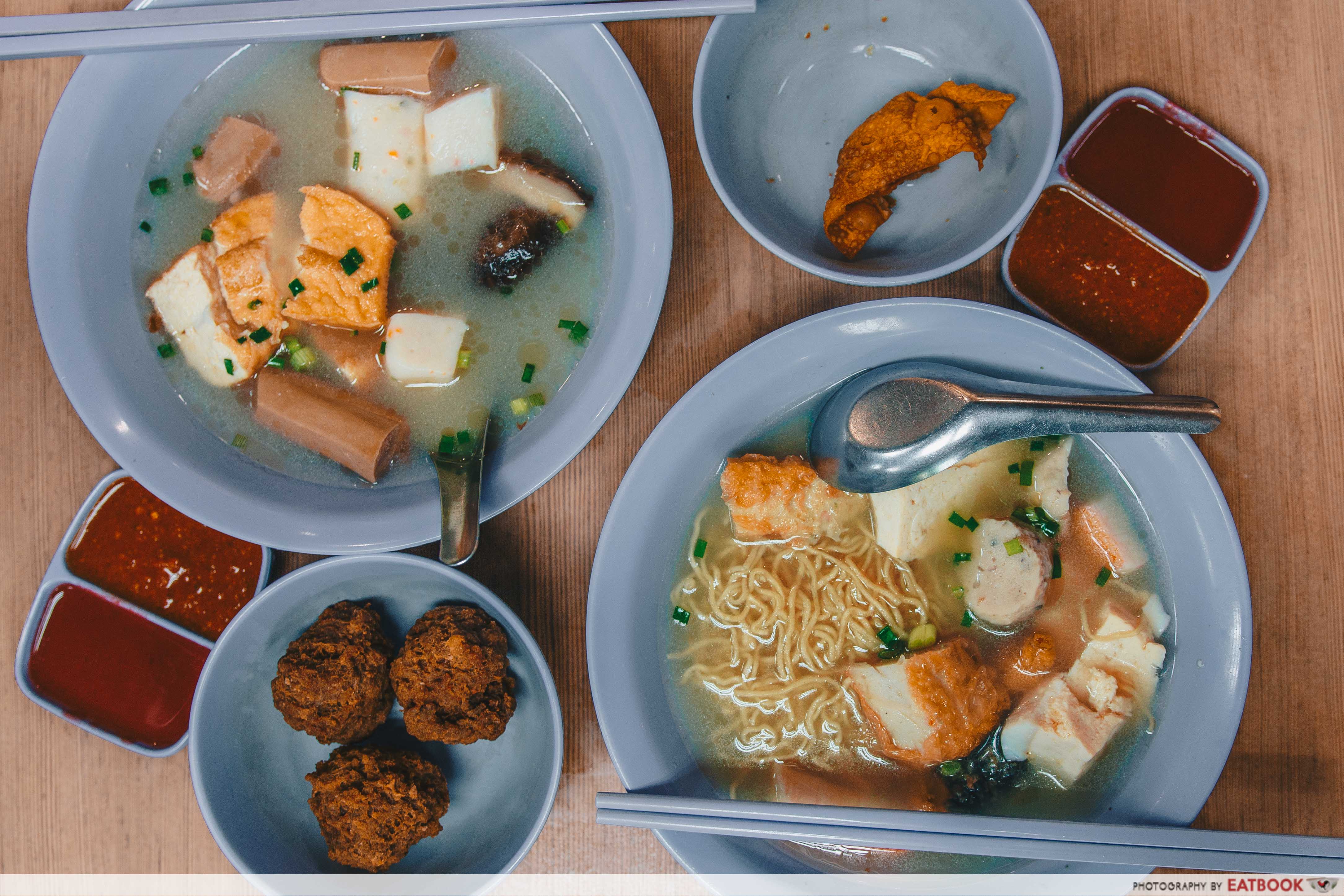 When I first heard of My Favourite Cafe from a colleague, I was shook. See, I drop by Lucky Plaza once every so often to visit a close friend, who has a family-owned electronics store there. But never once has she mentioned affordable yong tau foo on the sixth floor of the shopping mall! The money we spent on a restaurant for dinner the last time could've been saved, is all I'm sayin'…
Food at My Favourite Cafe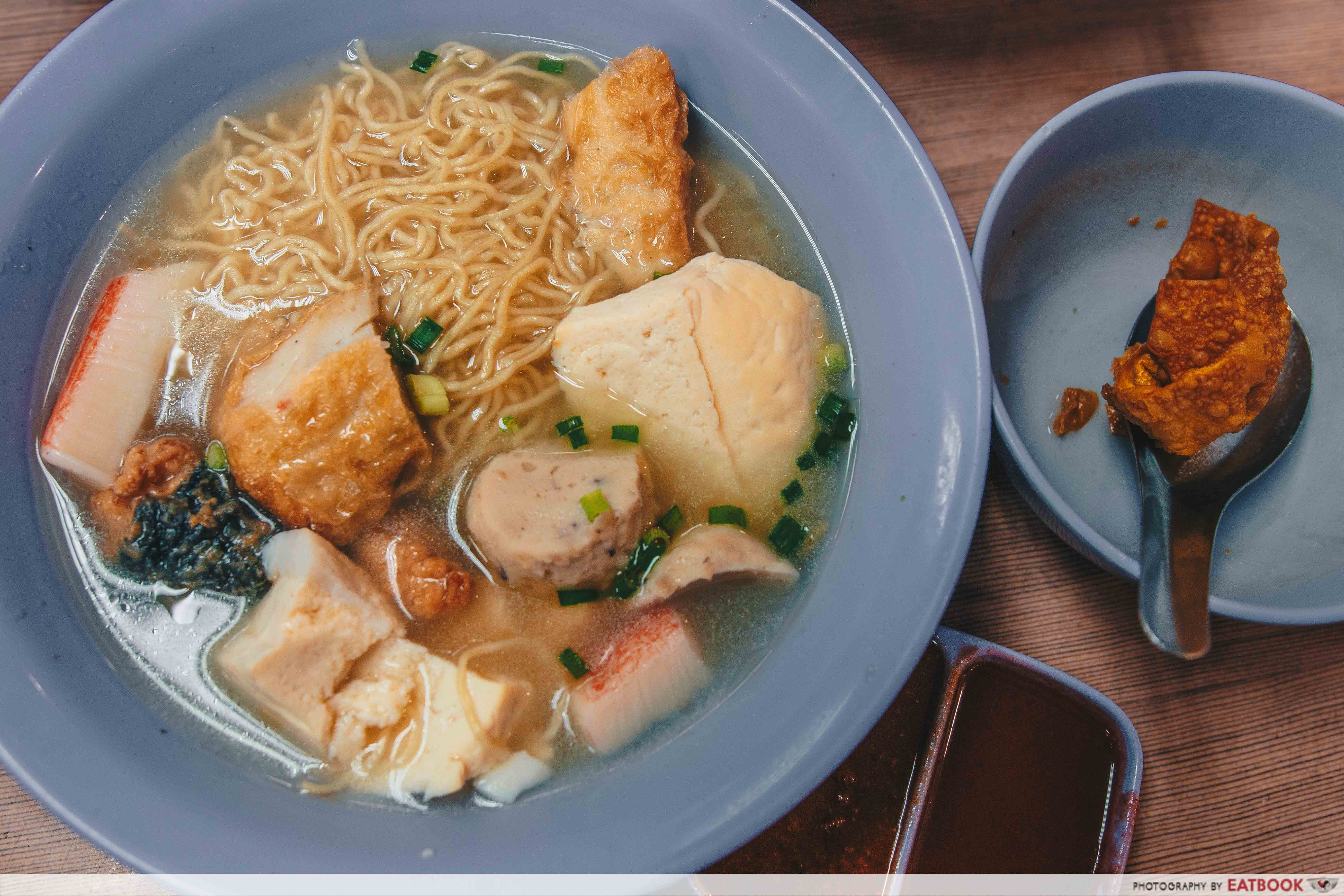 To our first bowl of Yong Tau Foo, we added six ingredients and picked mee kia as our noodle. This combo is fixed at $4.90. The first thing I noticed was how they separated the deep-fried ingredients in a small bowl at the side, to prevent them from softening in the soup. In this case, we'd ordered only one fried wonton, and even that had been separated for us. I couldn't help but find it a thoughtful measure.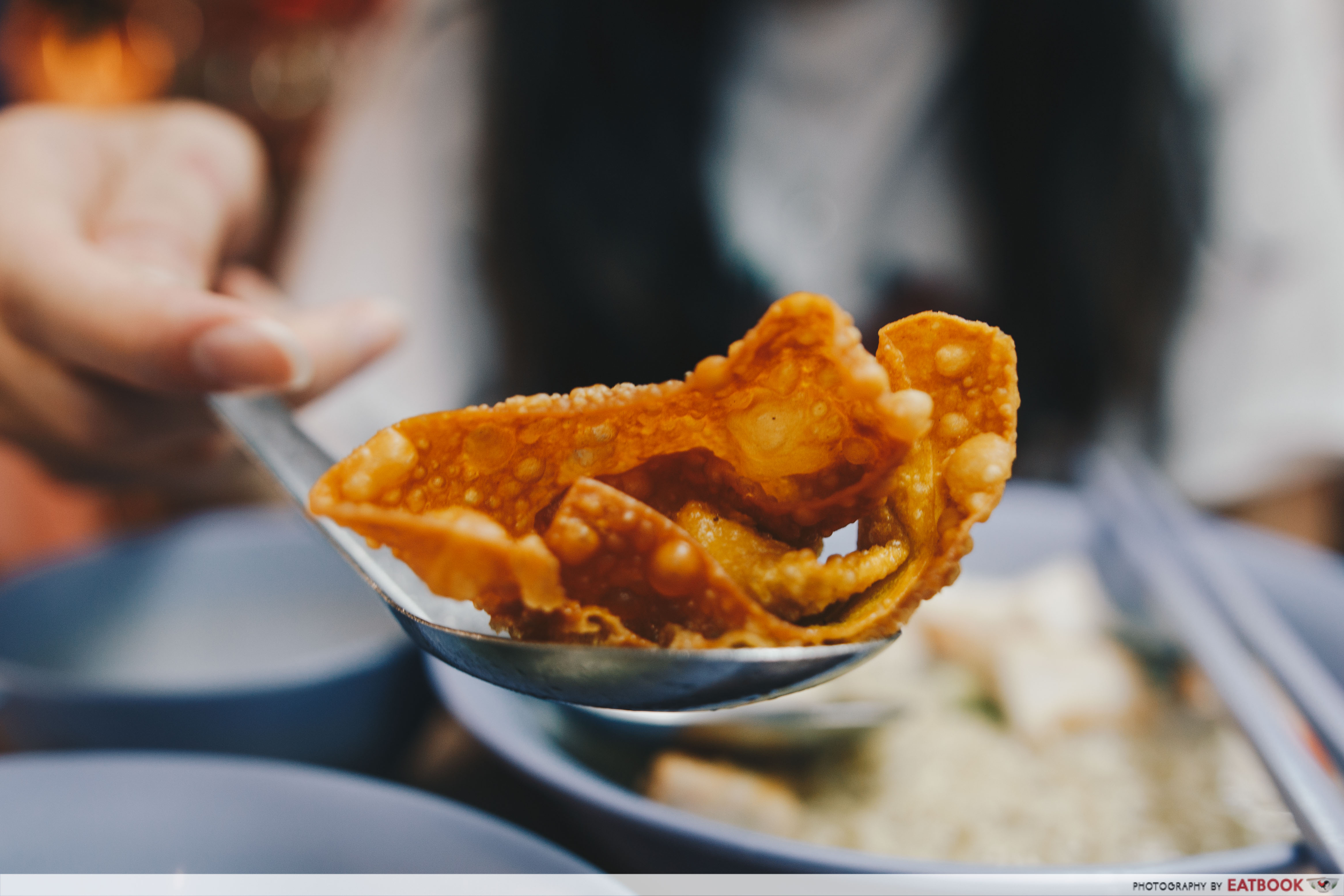 The wonton skin was super crisp and didn't taste floury, unlike wontons I'd tried in the past. However, the meat filling was bland and nearly non-existent.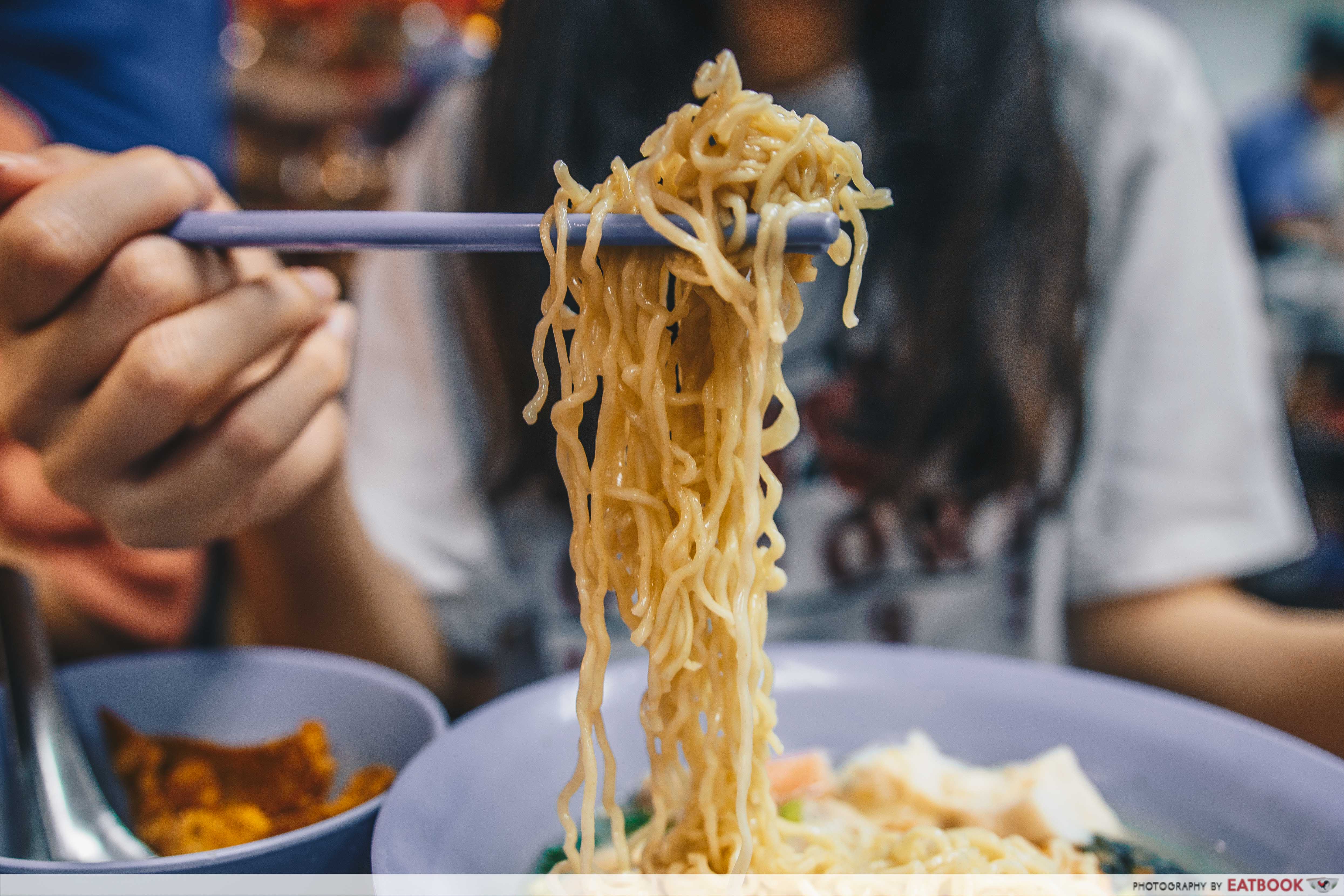 The mee kia was a nice addition to the dish. The eggy flavour in the springy noodles went well with the umami broth, which tasted wholesome and unlike another one of those MSG-filled soups. The fact that we hardly felt the urge to gulp down water throughout the meal could be a testament to that.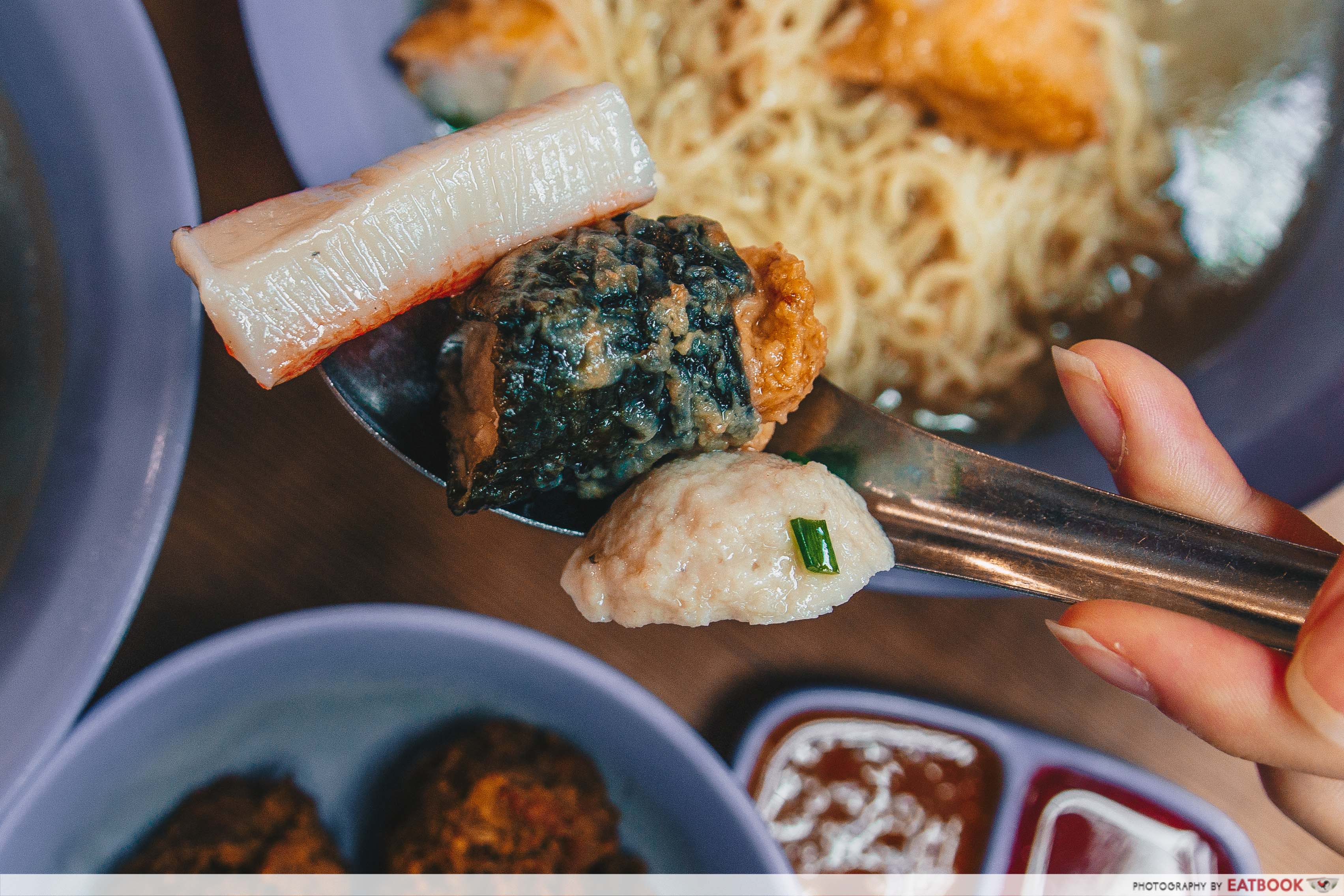 Here are just a couple of other run-of-the-mill ingredients that we also chose.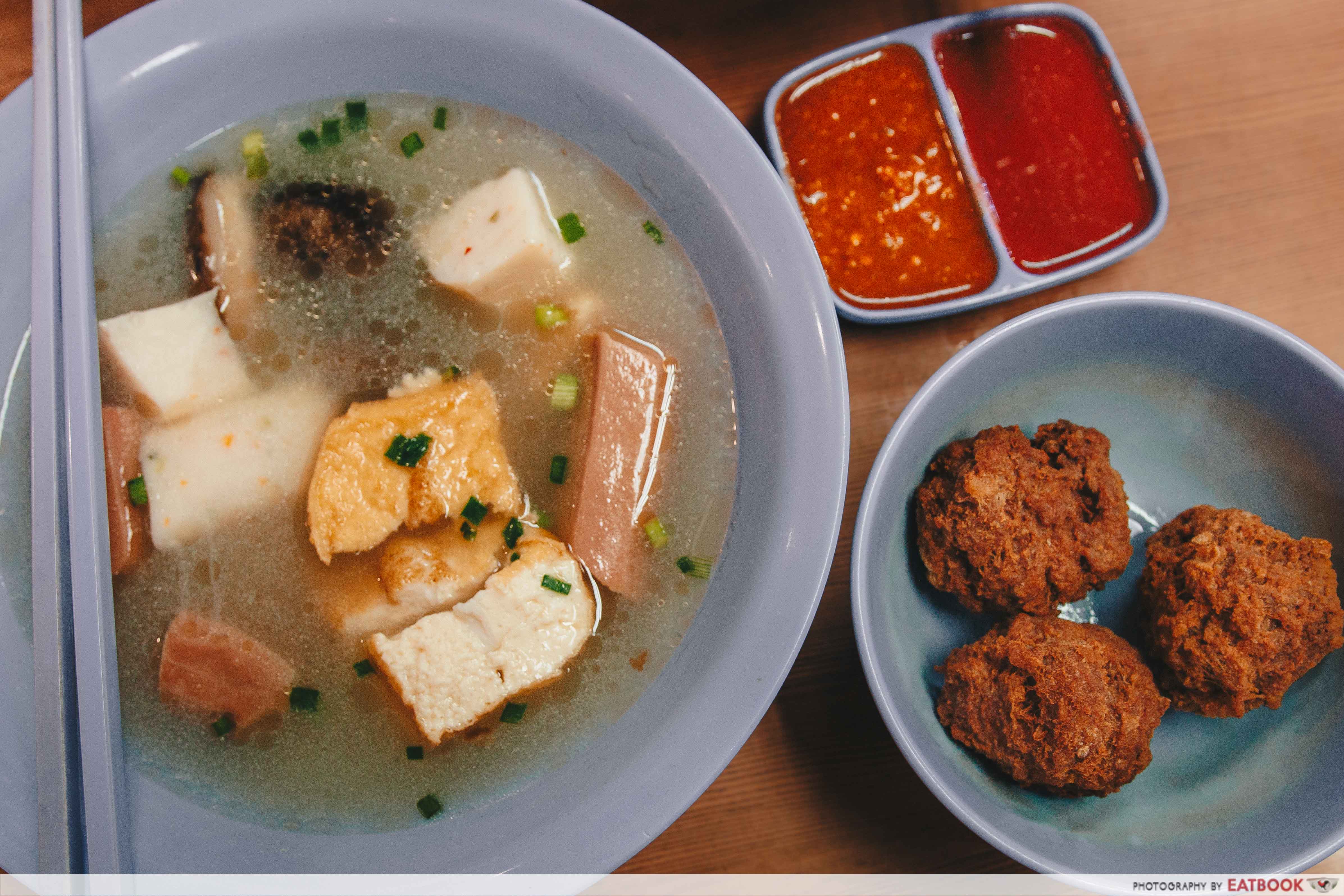 Next up was the second yong tau foo dish. This order got a little messed up. It was supposed to be dry, but due to some miscommunication with the staff, it was served with soup again. I'll get to the miscommunication part later, but firstly – the food!

The dish came with seven ingredients, also at the price of $4.90. A signboard at the storefront told us the pork meatballs and mushrooms are bestsellers at My Favourite Cafe, so of course, we made sure to pile up on the good stuff!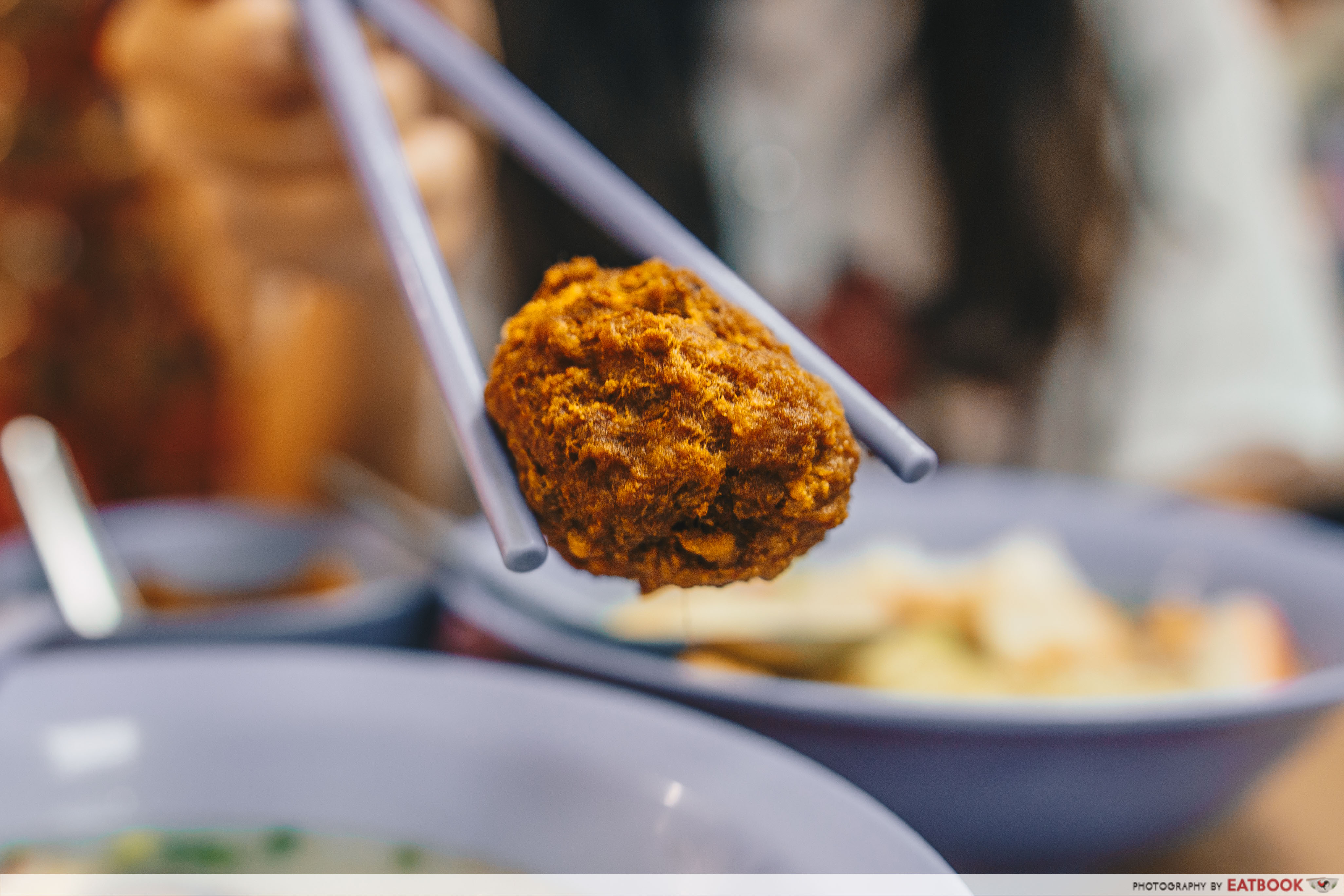 The exterior of the meatball was very crunchy and crispy. It tasted a little like the skin of Ikea's famous deep-fried chicken wings.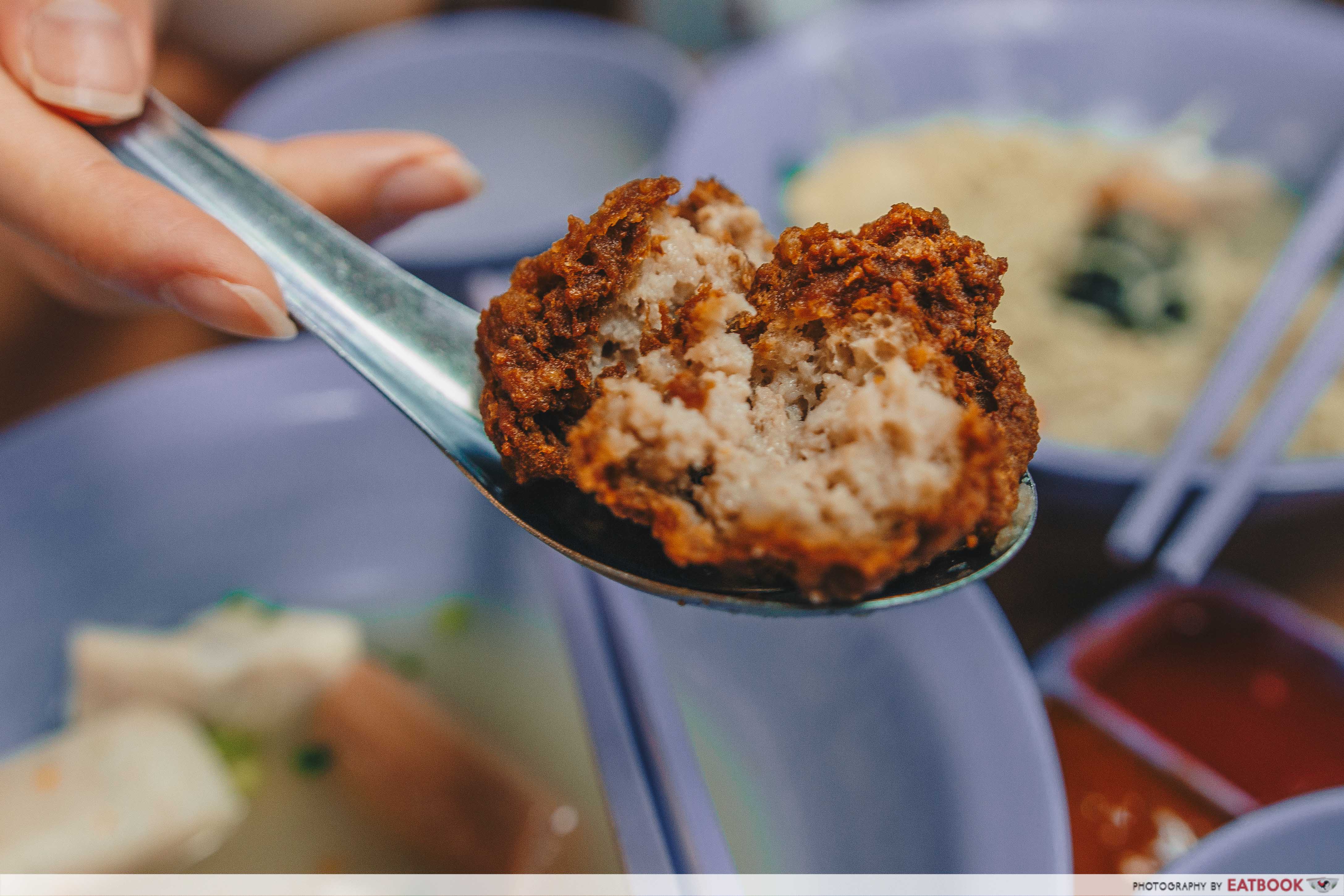 Biting down was pure bliss. I love how there were two textures – hard on the outside and tender on the inside. As I chewed, it felt like the meatball was melting slowly in my mouth. It was easy to see why their meatballs are so popular.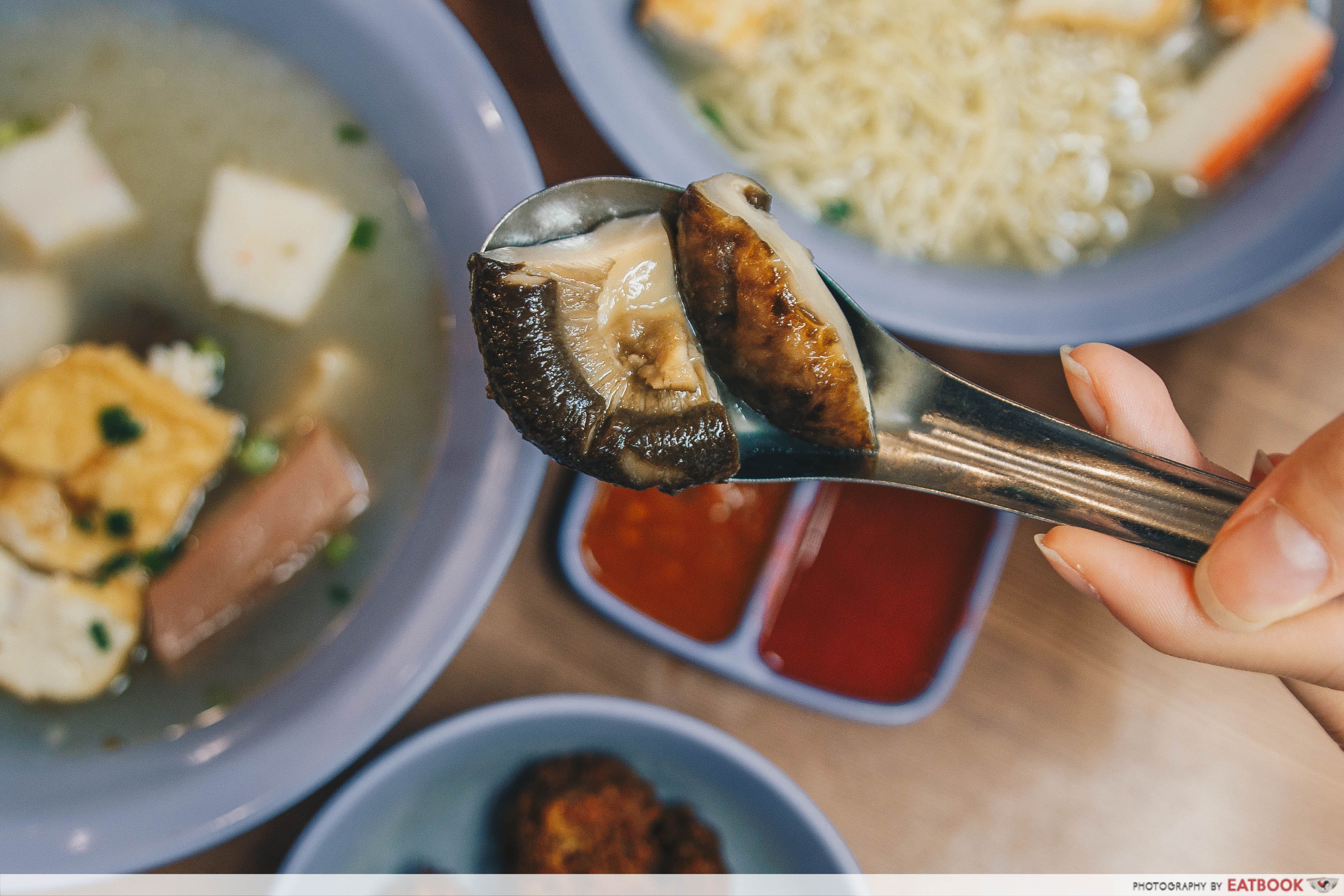 I was dying to find out why the store lists these mushrooms as a bestseller. Unsurprisingly, they were of excellent quality – soft and chewy, accompanied by an earthy aftertaste!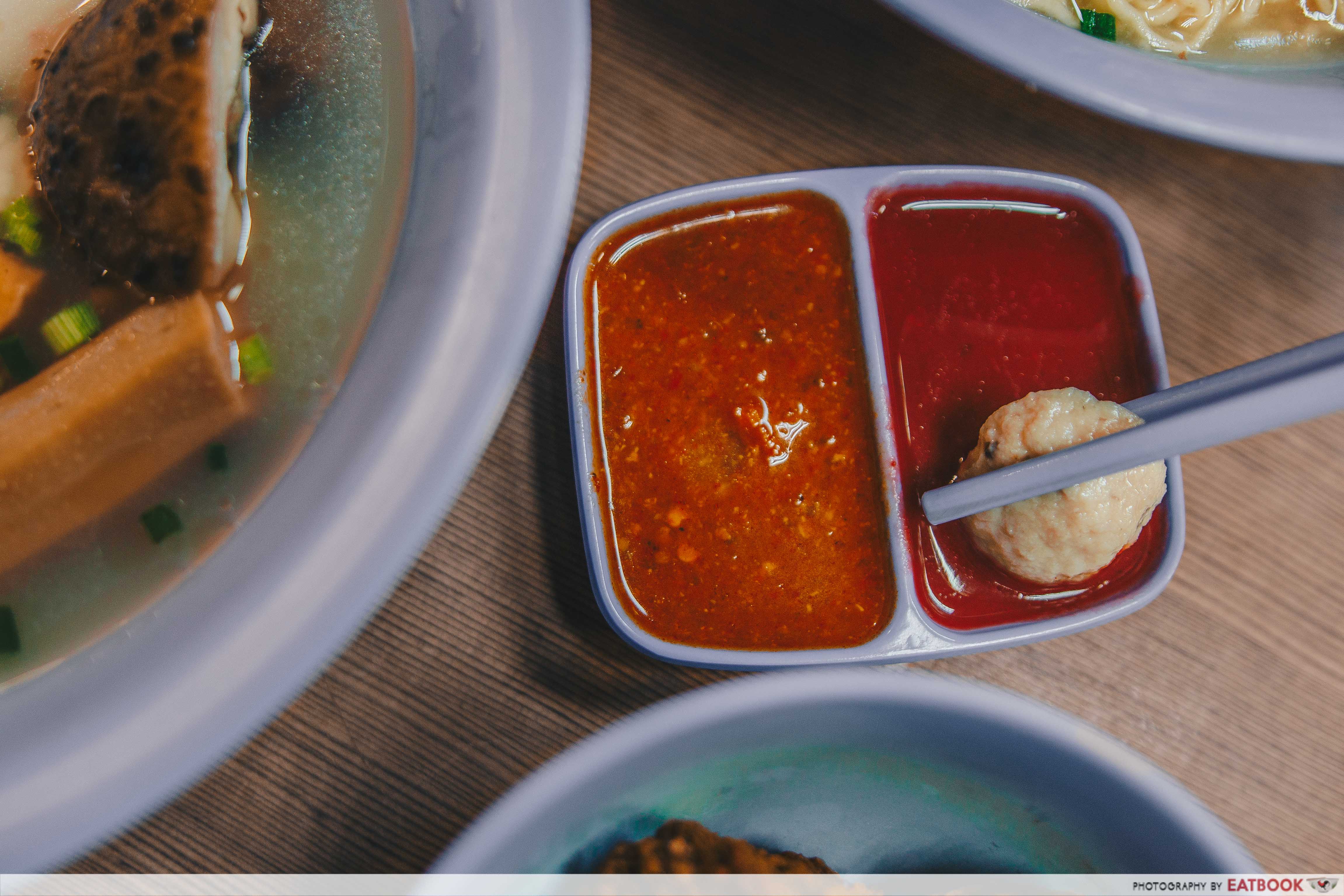 As we hadn't managed to try the dry version, we decided to just get the YTF sauce on the side, and it was pleasantly sweet and not too jelak. Meanwhile, the tangy chilli provided the food with a spicy kick.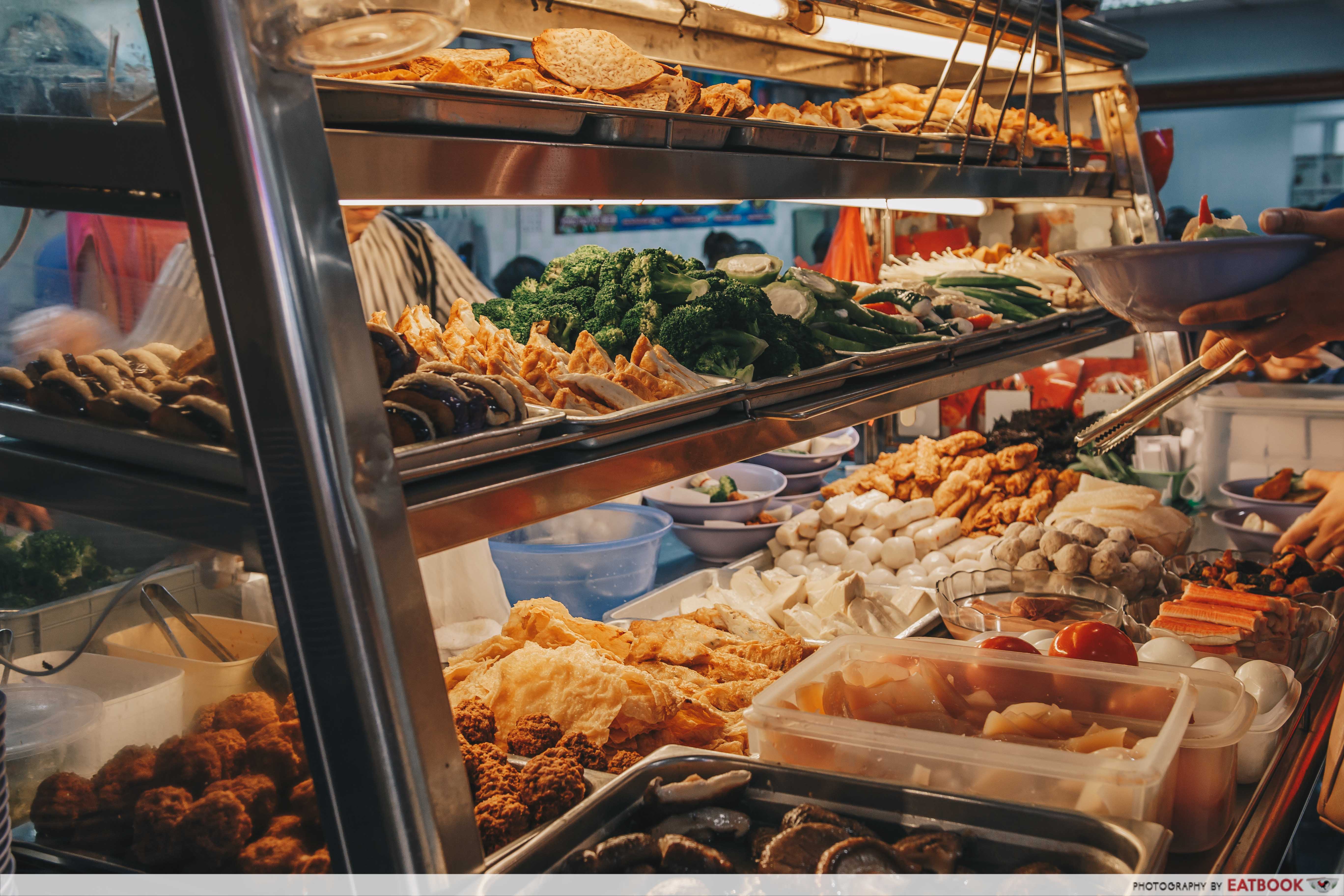 Apart from the ones we chose, here is a picture of the entire spread of ingredients available.
Ambience at My Favourite Cafe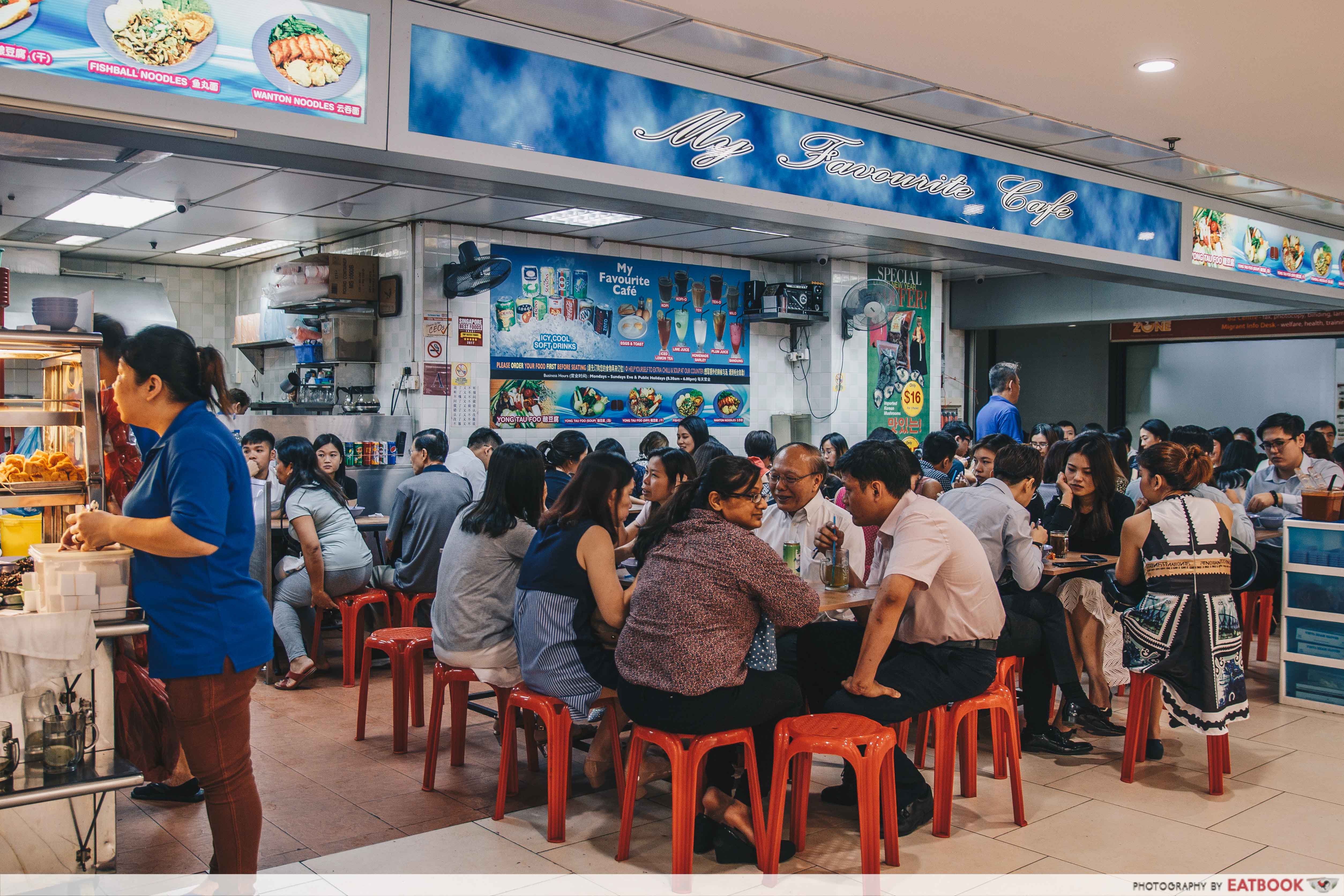 The sheer number of office workers queuing up during lunch hour was mind-blowing. Business was very good. Unfortunately, their service didn't match up to their popularity. The lady collecting my order nagged at me to hurry up in choosing my ingredients, and showed great impatience and irritability as I relayed my order to her, ultimately getting my order wrong. As I made my way to an empty table, I was yelled at to shift to the end of a crowded row of tables instead, causing many heads to swivel my way.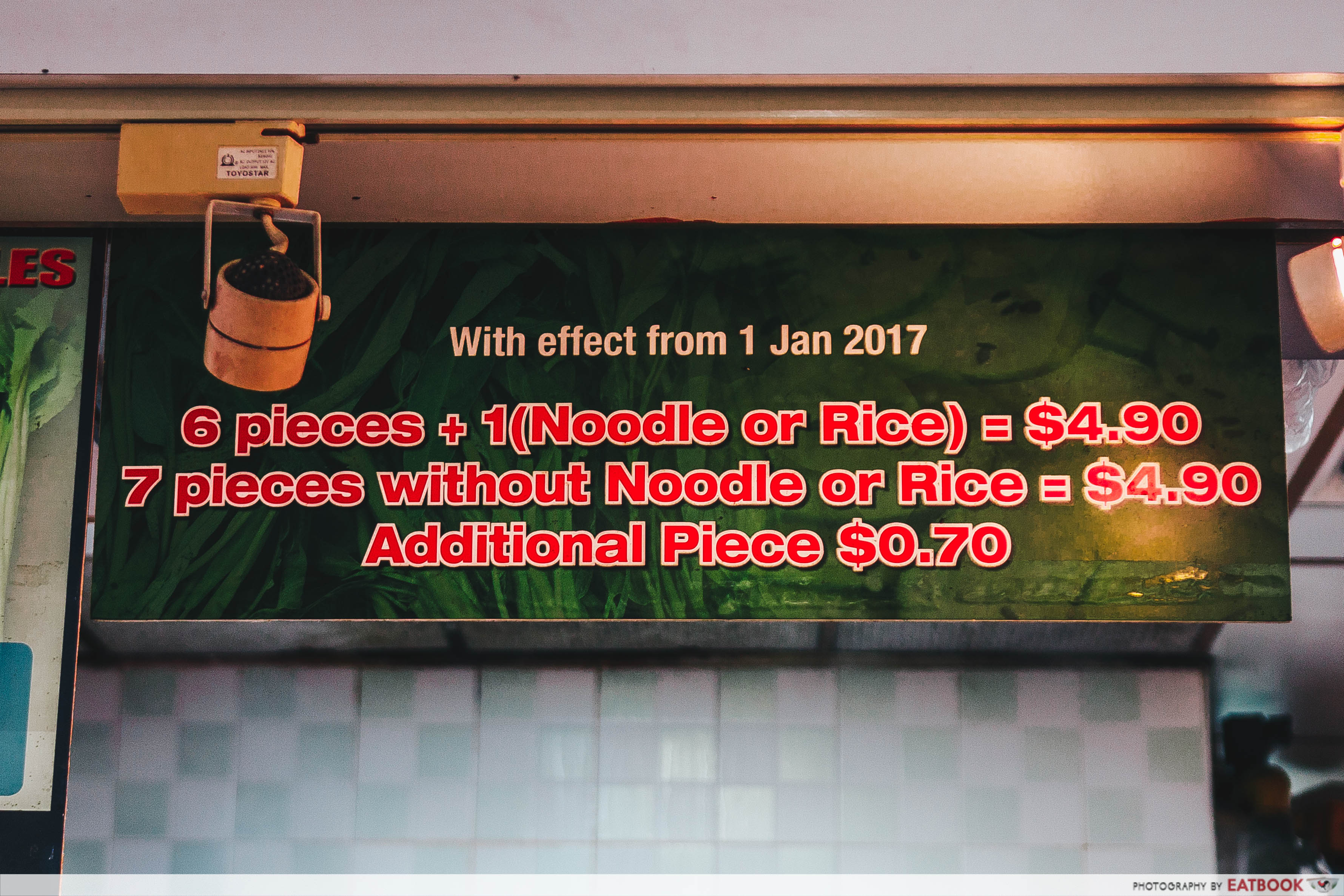 Putting that drama aside, here's a poster informing you of how to go about making payment.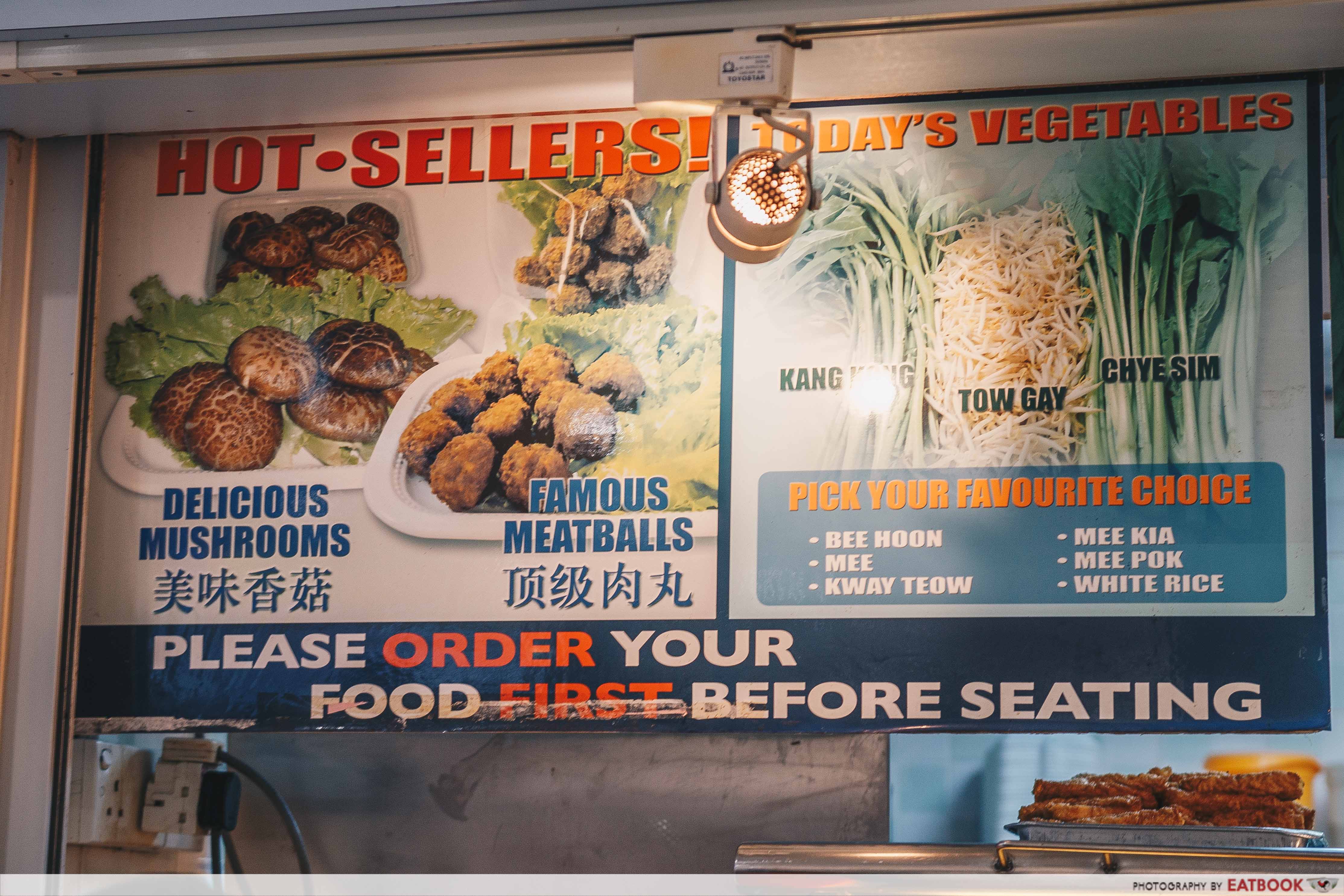 Here's another poster advising you on what to order.
The verdict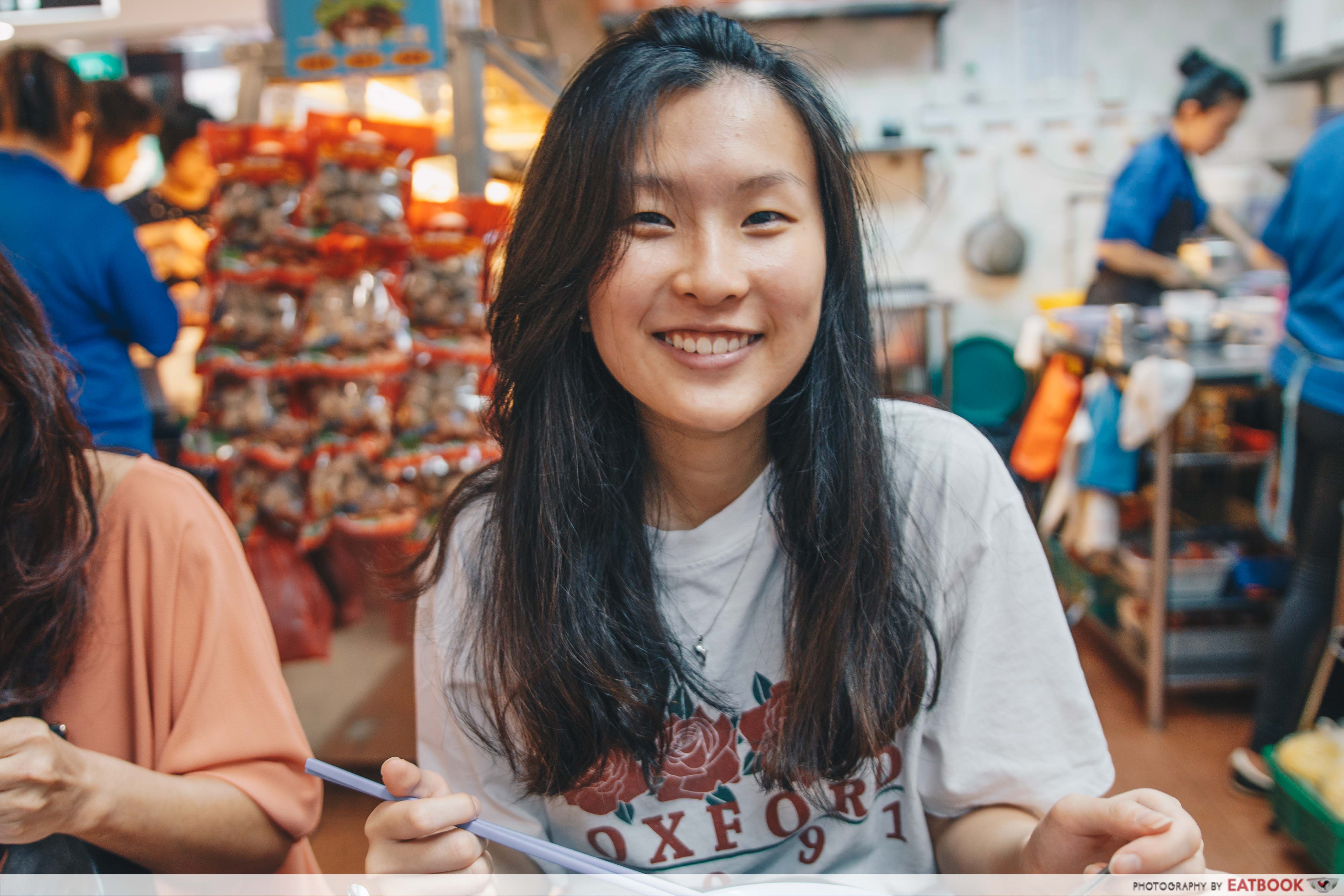 The food was good, but nothing very memorable. I'd only suggest coming here if you happen to be in town with little cash to spare. For more cheap and good yong tau foo, check out Fatty Aunt Yong Tau Foo, which offers bak chor mee yong tau foo! 

Address: 304 Orchard Road, #06-046, Lucky Plaza, Singapore 238863
Opening hours: Daily 8:30am to 6pm
Tel: 6734 6935

This is an independent review by Eatbook.sg.

Summary
Pros
-Affordable and tasty yong tau foo
Cons
-Rude staff
-Cramped seating and long queues during peak period
Recommended ingredients: Mushrooms and meatballs
Opening hours: Daily 8:30am to 6pm
Address: 304 Orchard Road, #06-046, Lucky Plaza, Singapore 238863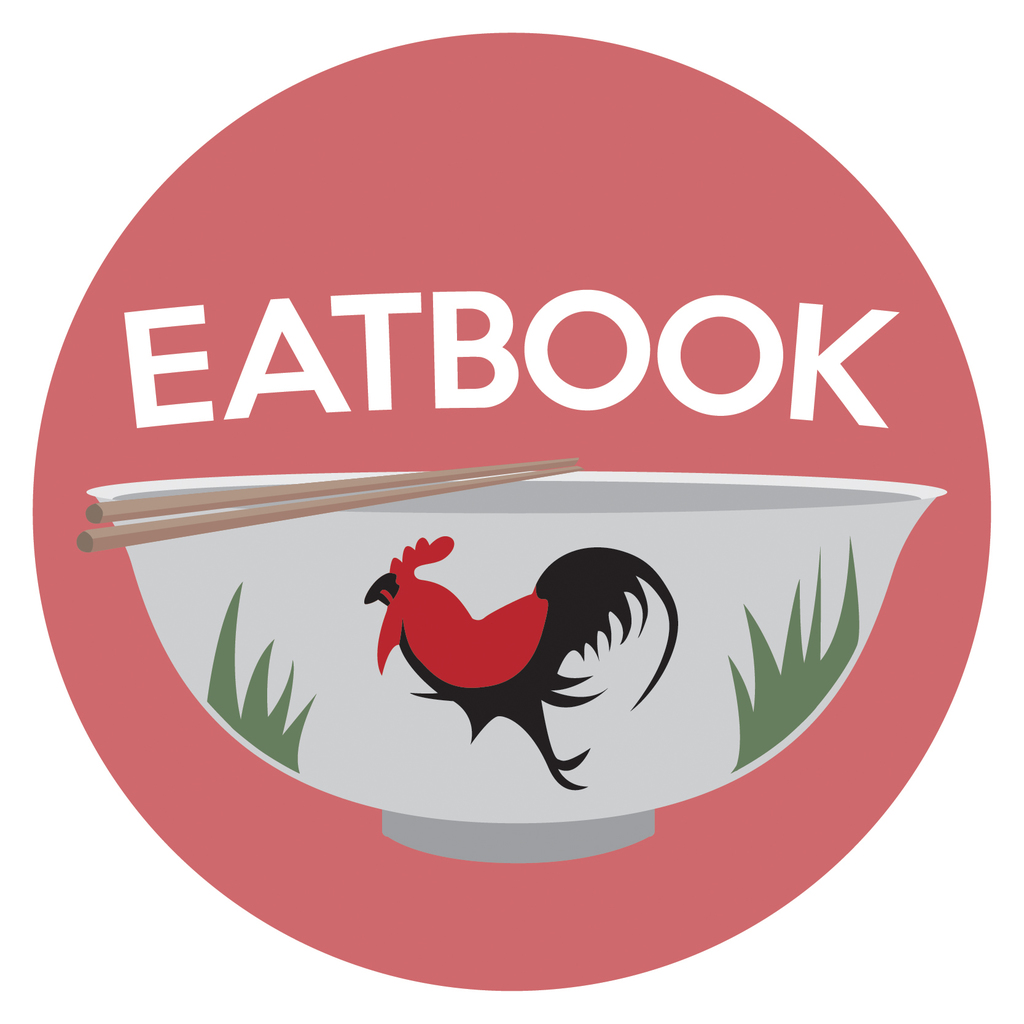 Drop us your email so you won't miss the latest news.