Fatty Aunt Yong Tau Foo offers a wide variety of choices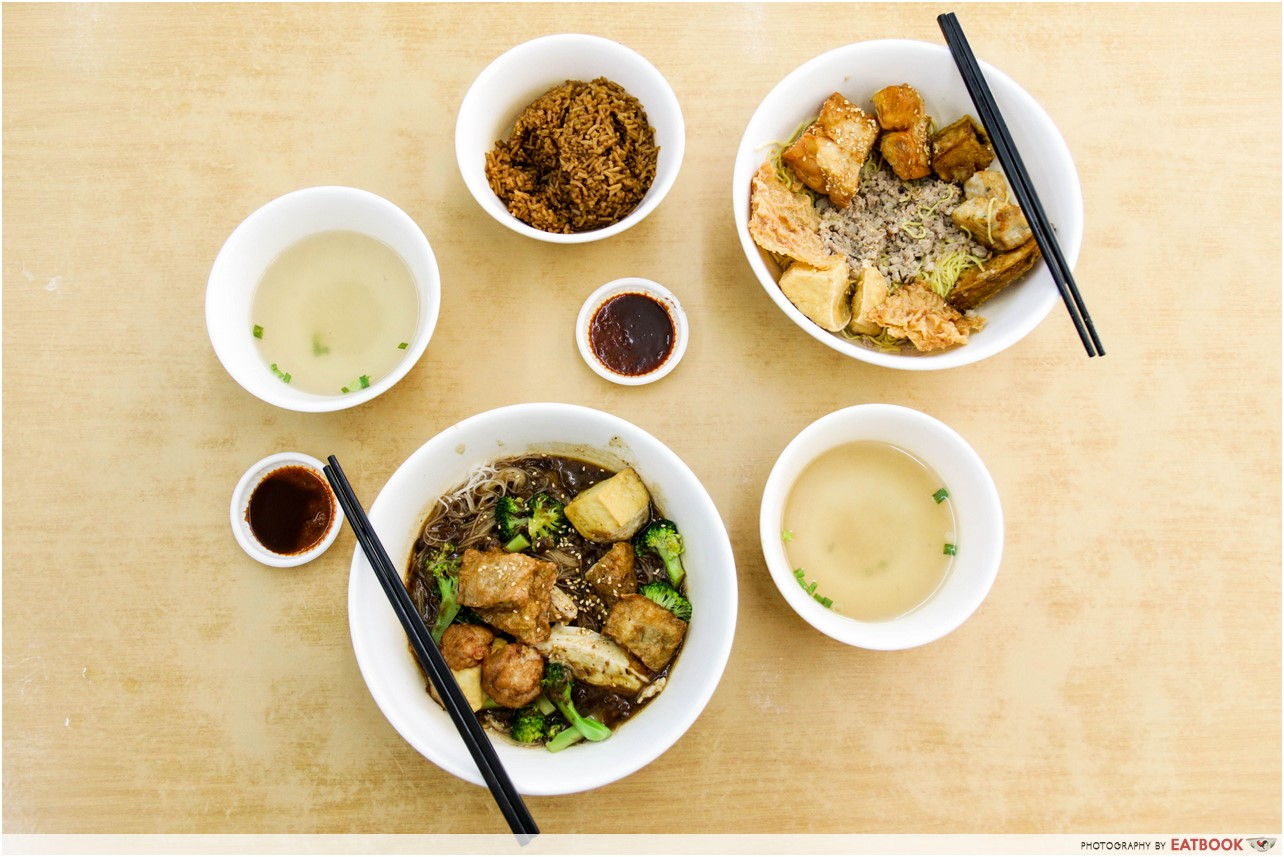 Born in a Hakka family, yong tau foo has always been the number one favourite food for my family and I. Feasting on the fish paste-stuffed goodness is an unsaid ritual whenever we visit our relatives in Malaysia but in Singapore, we hardly ever eat it. Unlike the fresh, tasty, and intensely flavoured ones at the street stalls in Malaysia, we find the ones in Singapore food courts bland and often lacking in variety.
Discovering Fatty Aunt Yong Tau Foo, however, changed my mind. After paying a visit to the stall, I have decided to make it a must to drag my family here to try the food.
Food at Fatty Aunt Yong Tau Foo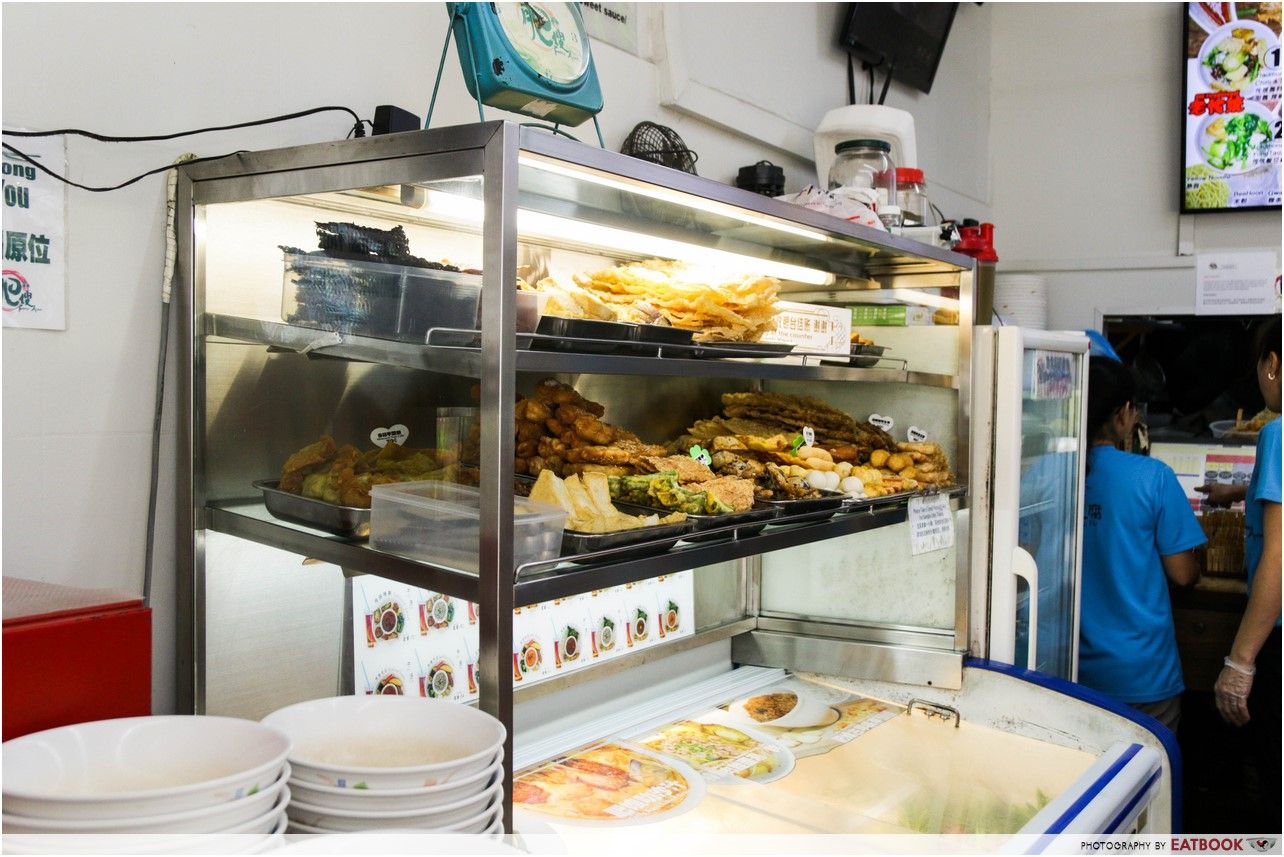 Like most YTF stalls you find in food courts, ordering at Fatty Aunt Yong Tau Foo is straightforward and mainly self-serviced. With their tongs, you can choose as many YTF pieces as you like and place them in a bowl before heading to the cashier where you choose the type of noodles you want, the way you want it prepared, and make payment.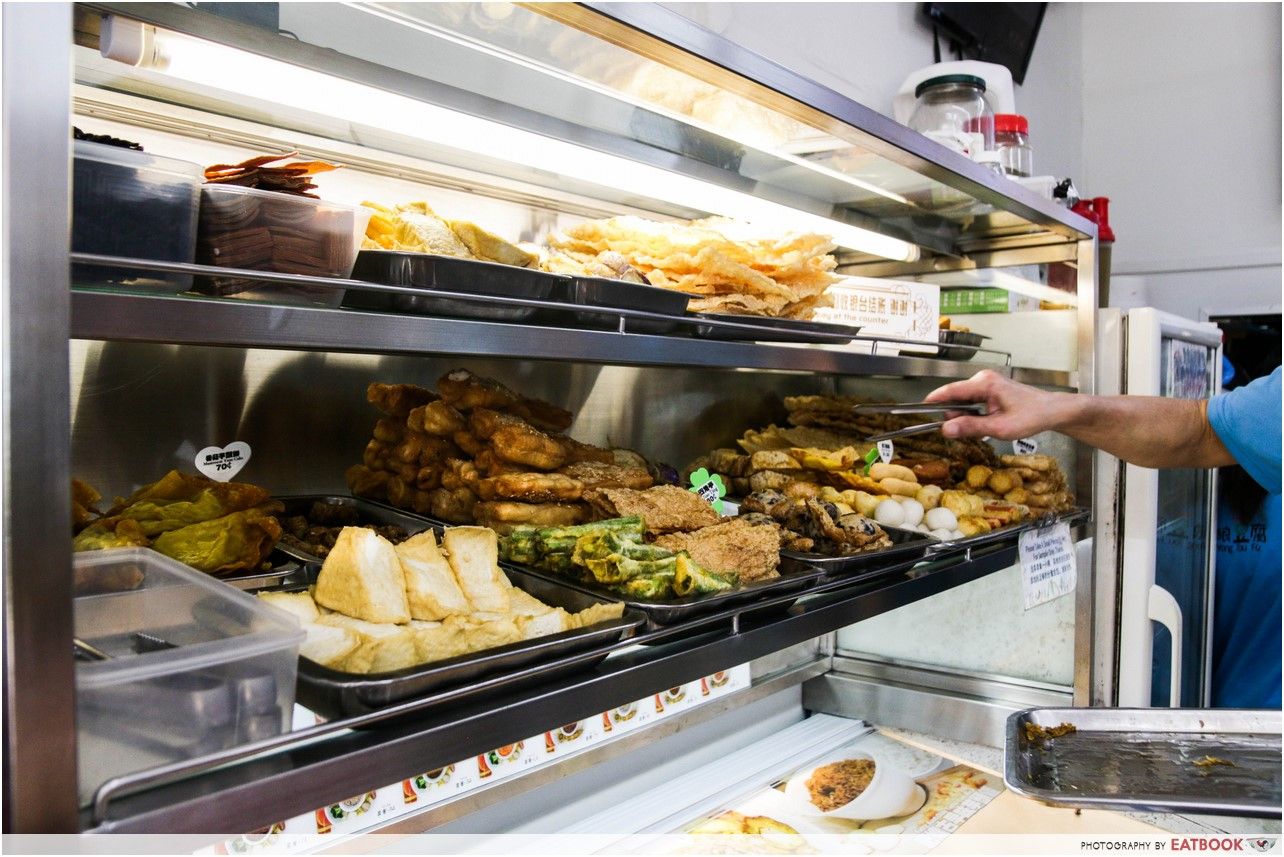 With over 50 different ingredients laid at the counter, most of the food items are priced at $0.50 per piece. Some of the fried and salted fish paste items are priced from $0.80 to $1.  
When I approached the food counter, the first thing that struck me was the aroma that came from the fried food displayed on the top shelves. Some of the fried items that stood out to me were fried pumpkin, fried you tiao, and their fried yam and mushroom ball. Vegetables and non-fried items were also kept fresh in a display fridge. Compared to most YTF stalls where all the items are left in room temperature, this received my nod of approval.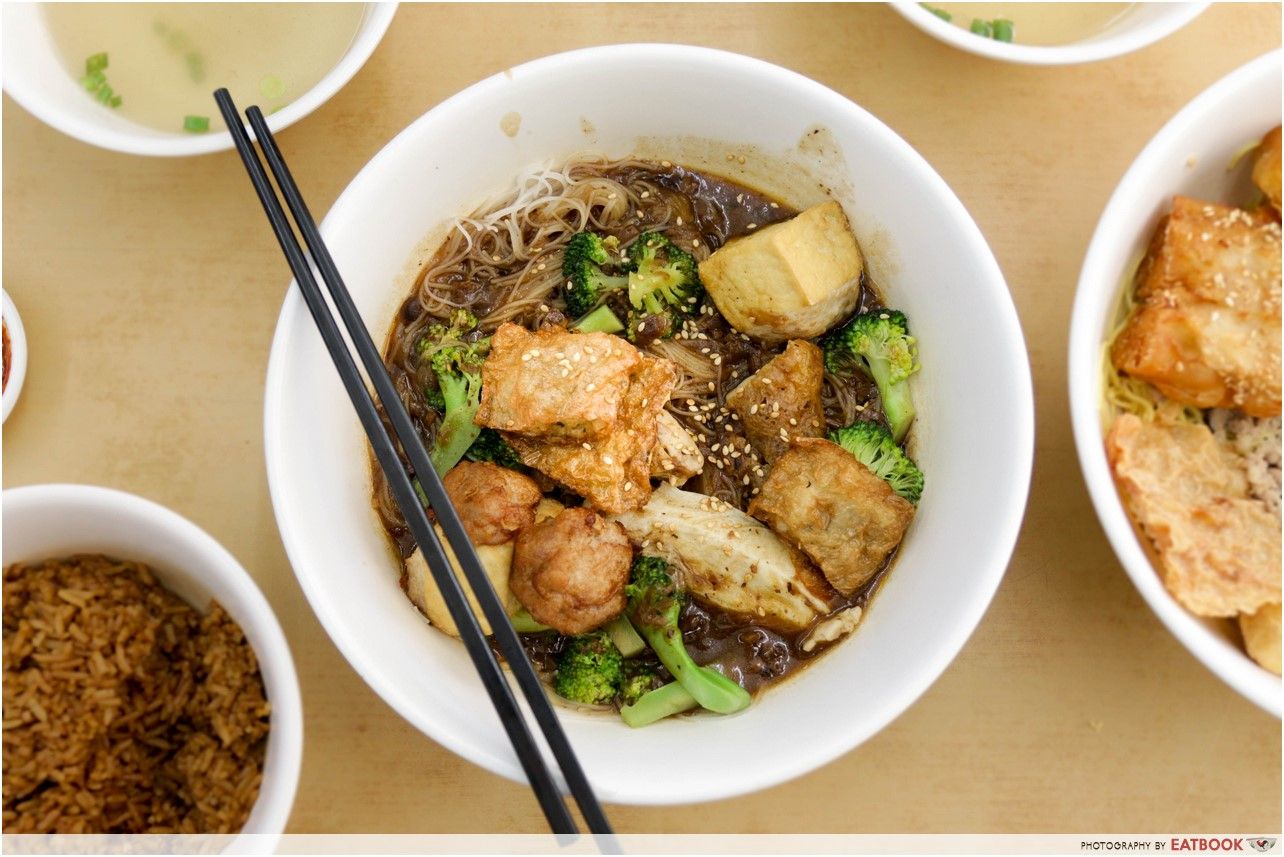 With the wide range of ingredients, 11 types of noodles, and four different ways to prepare the dish, choosing the "perfect combination" was tough. For the first bowl, we decided to have beehoon ($0.50) with bean sauce ($0.80), along with broccoli, meat ball, fried beancurd, fried salted fish ngoh hiang, and Teochew fish cake. The huge bowl of noodles came with a bowl of clear soup and cost $4.40 in total.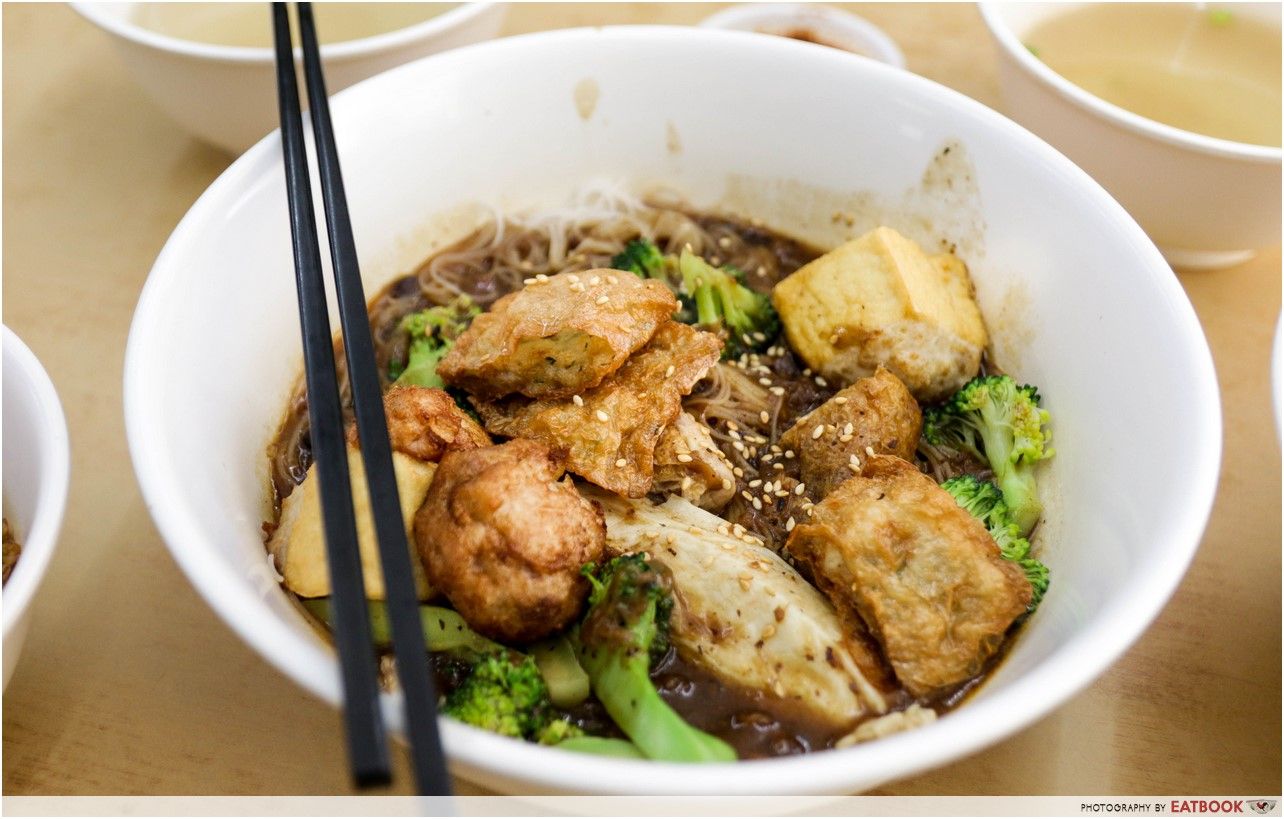 In less than five minutes after we placed our order, the food was served. The portions were big and each food item was cut into smaller pieces.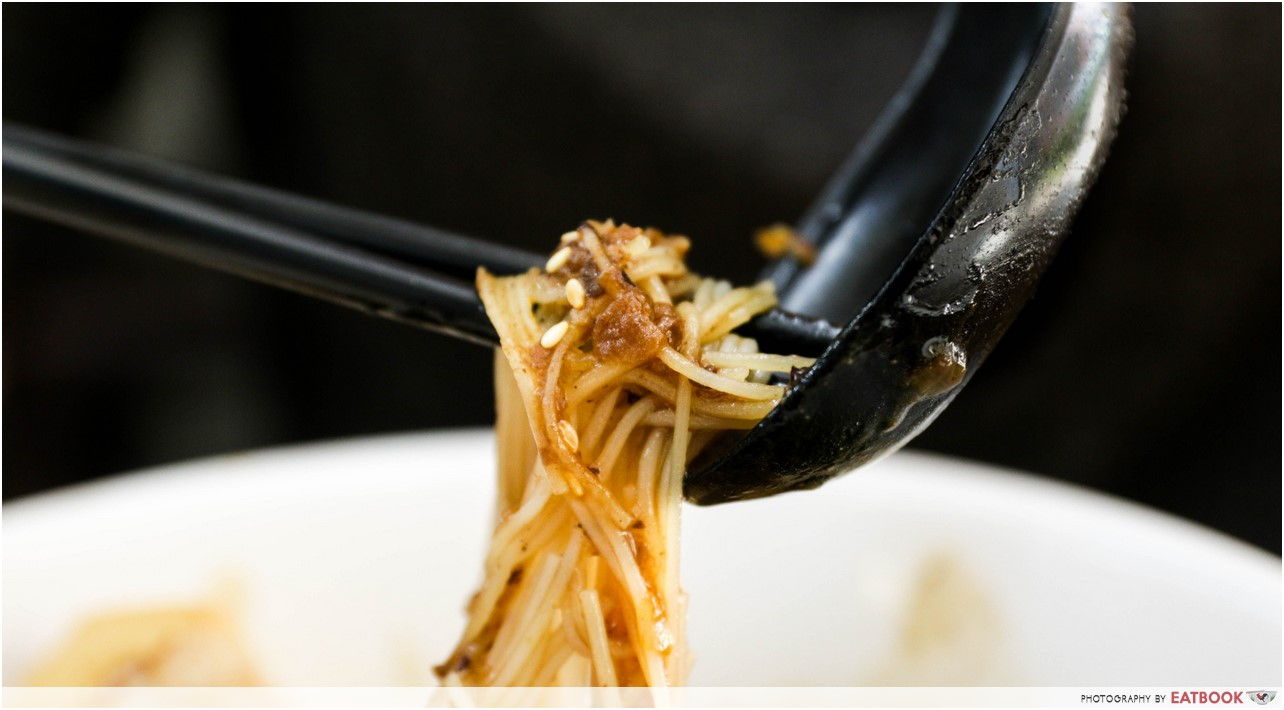 Not wanting the beehoon to become too soggy in the bean sauce, we quickly tried the noodles and were impressed. Though it is a simple dish, it was executed well. The beehoon was cooked to just the right softness, retaining its springiness, and at the same time, soft enough to soak up the sauce.
Although the beehoon was drenched in the bean sauce, it was not overwhelming on the palate. With bits of soybean found inside, I liked that the sauce was salty enough to make the beehoon tasty but still keeping the entire dish a generally light one. The noodles were also sprinkled with sesame seeds, giving the smooth noodles a subtle crunch and a nutty taste.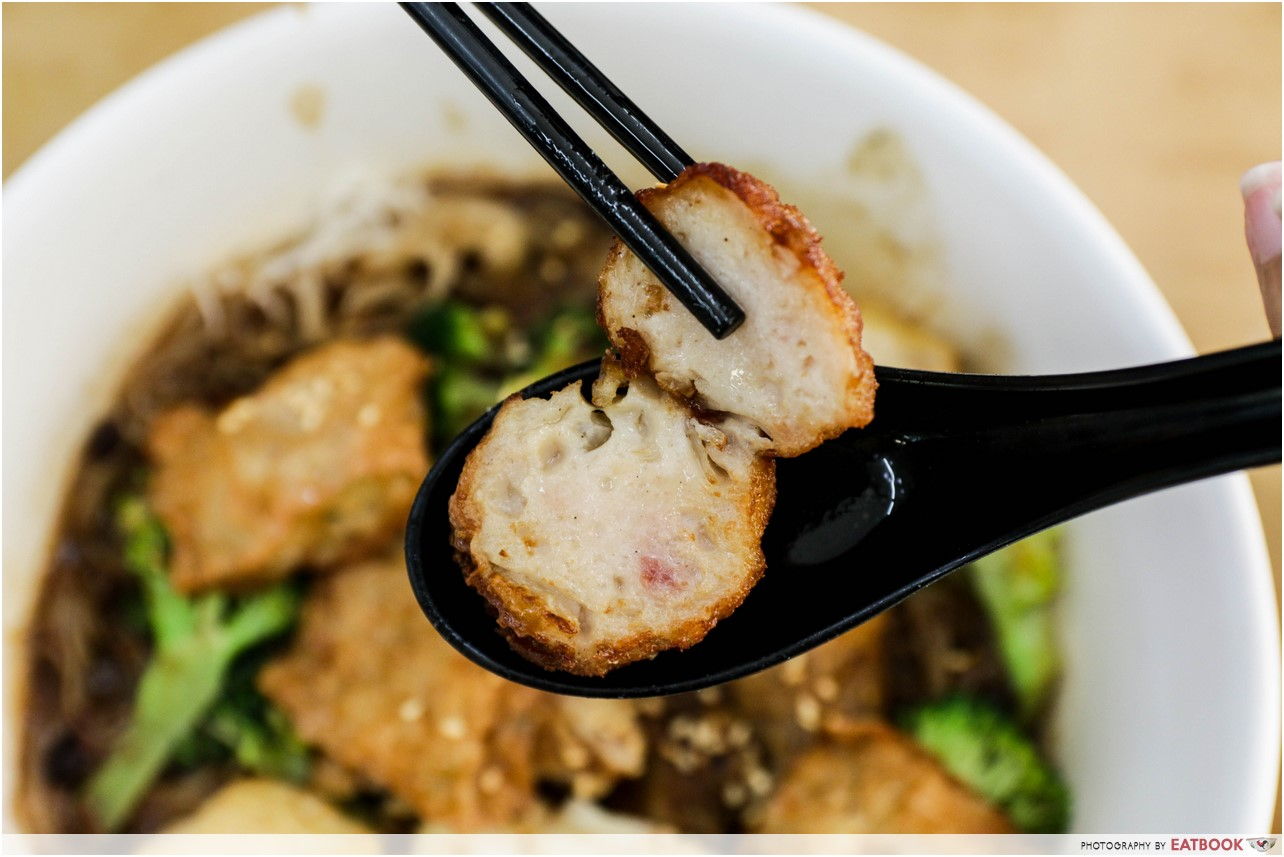 While they also offer the usual fish, squid, crab, and pork balls that can be found easily in supermarkets, we decided to go for their Homemade Meatball. Unlike the other meatballs, this one had a crispy exterior which was fried to a golden brown. Beneath the layer of batter is a combination of fish paste, pork, meat, and vegetables. This mixture of different ingredients gave a special texture to the meatball. While certain parts were soft and tender, the others were slightly chewy. As a whole, it was an interesting experience which I enjoyed very much!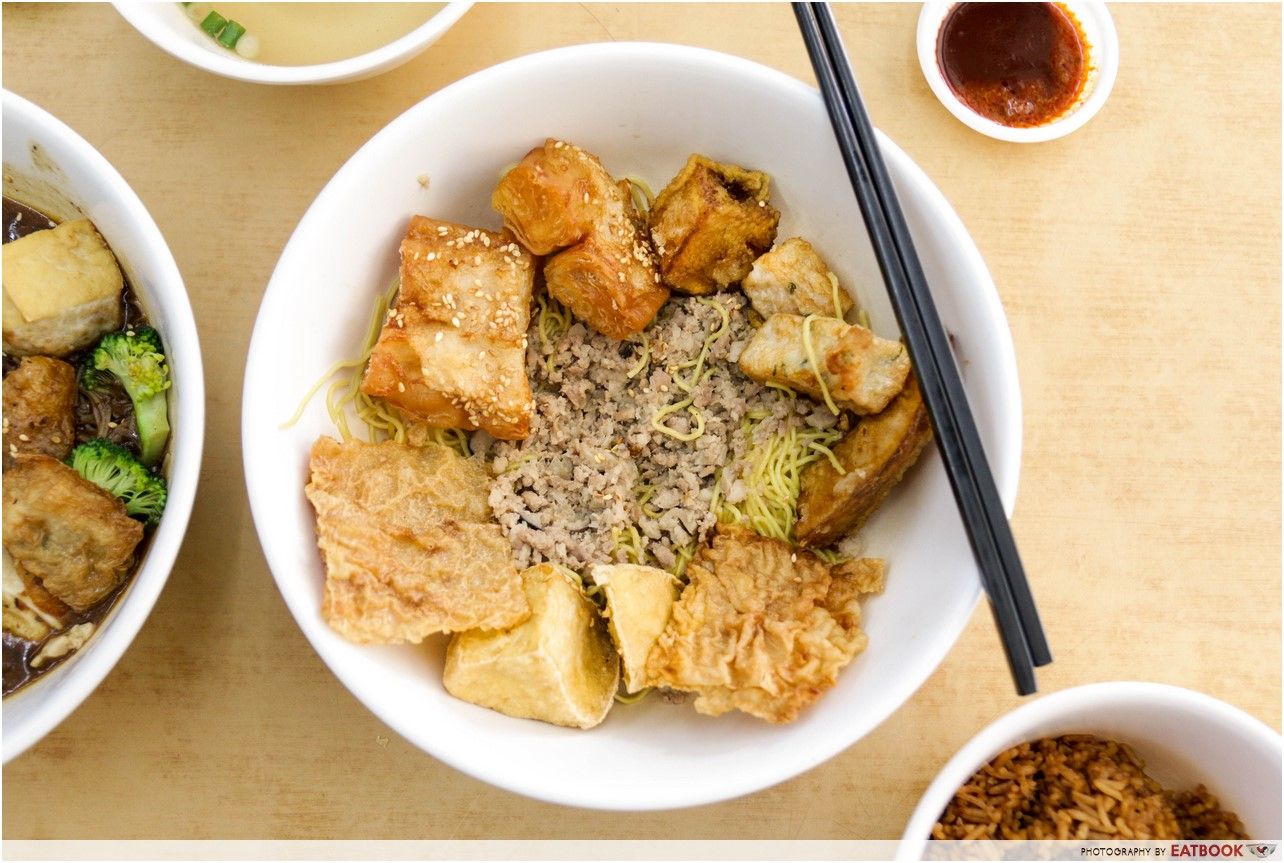 The second dish we chose was their dry Bak Chor Mee ($1) with fried you tiao, fried salted fish beancurd, fried pumpkin, and steamed bean skin.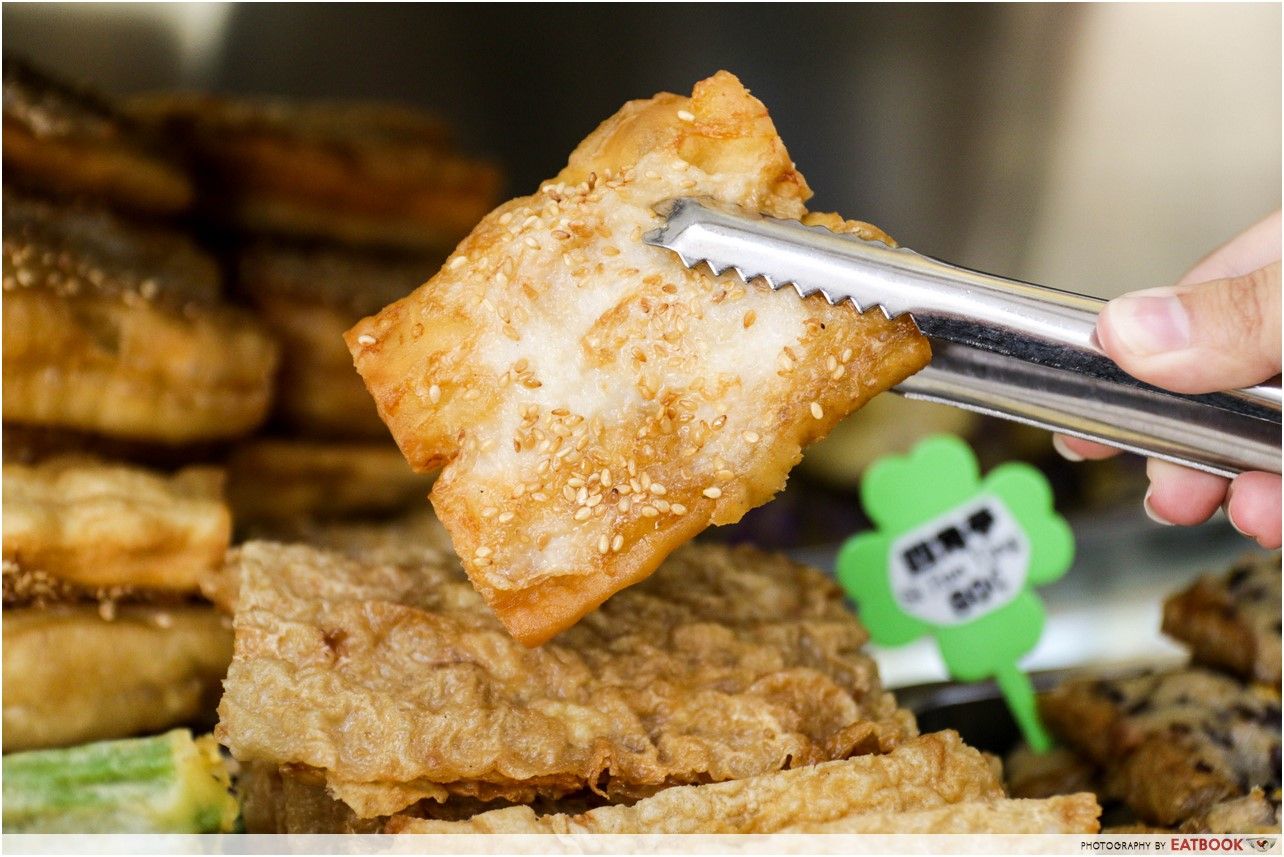 Of all the fried items we had, my favourite was their fried you tiao, which was fried dough fritters stuffed with fish paste. Fried to a light golden brown, the you tiao was nothing like the oily and chewy ones found in other places. At first bite, I was taken aback by the crispiness of the fried dough and its firmness went well with the soft fish paste. Although I could hardly taste the fish paste, the fried you tiao was overall tasty.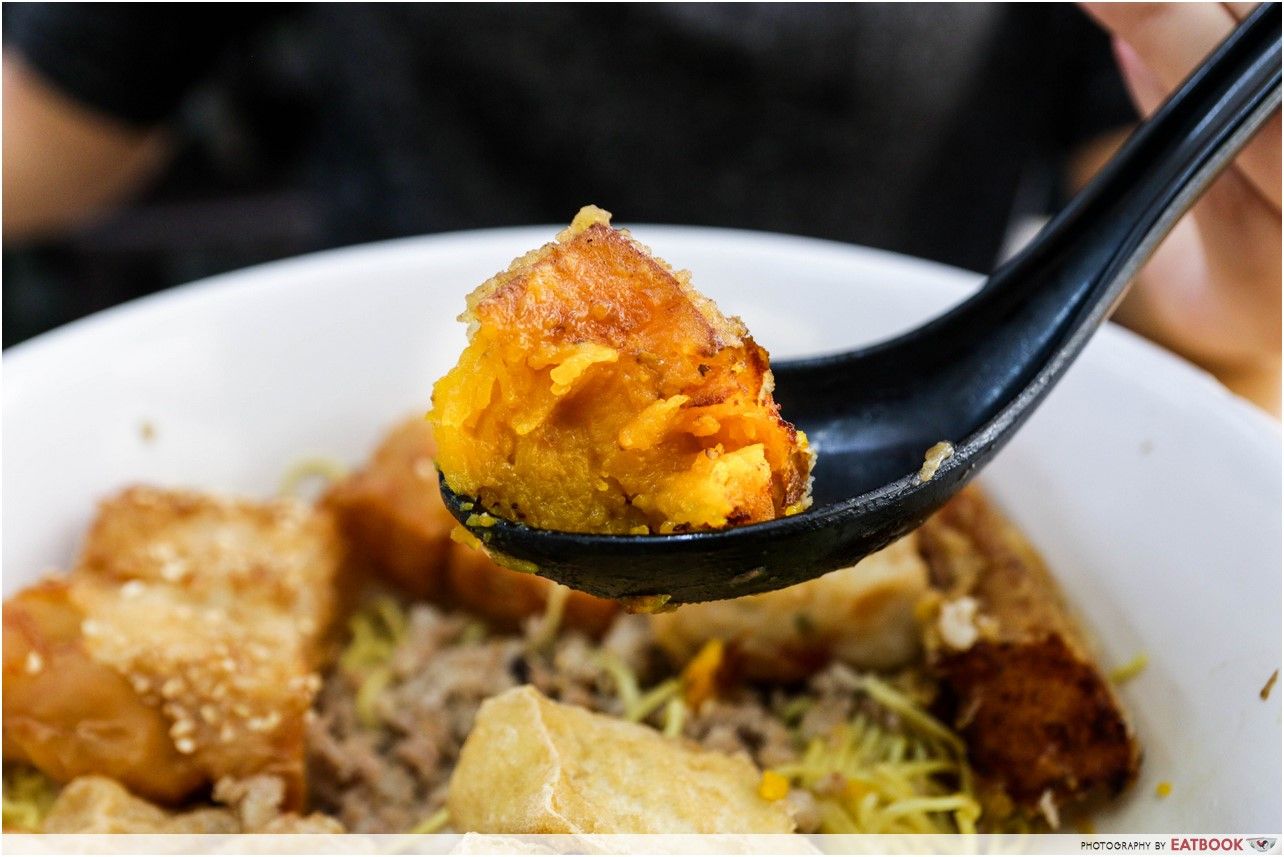 The fried pumpkin too, impressed me. Underneath the thick crispy batter, the orange pumpkin flesh was sweet and starchy. The sweetness and texture reminded me of Japanese pumpkins that I rarely find in supermarkets.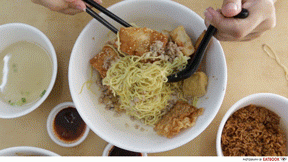 As for the bak chor mee, I was initially disappointed by how dry and bland the noodles looked. After digging in, I realised the noodles were surprisingly well-flavoured and, without having to mix the noodles much, the flavour of each bite was well-balanced. Slightly salty, the noodles also carried an odd tangy taste which reminded me of vinegar.
A plus point of the bak chor mee was also the generous amount of bak chor that covered the noodles. Slightly fatty, the minced meat added a nice texture to the dish but did not stand out in terms of taste.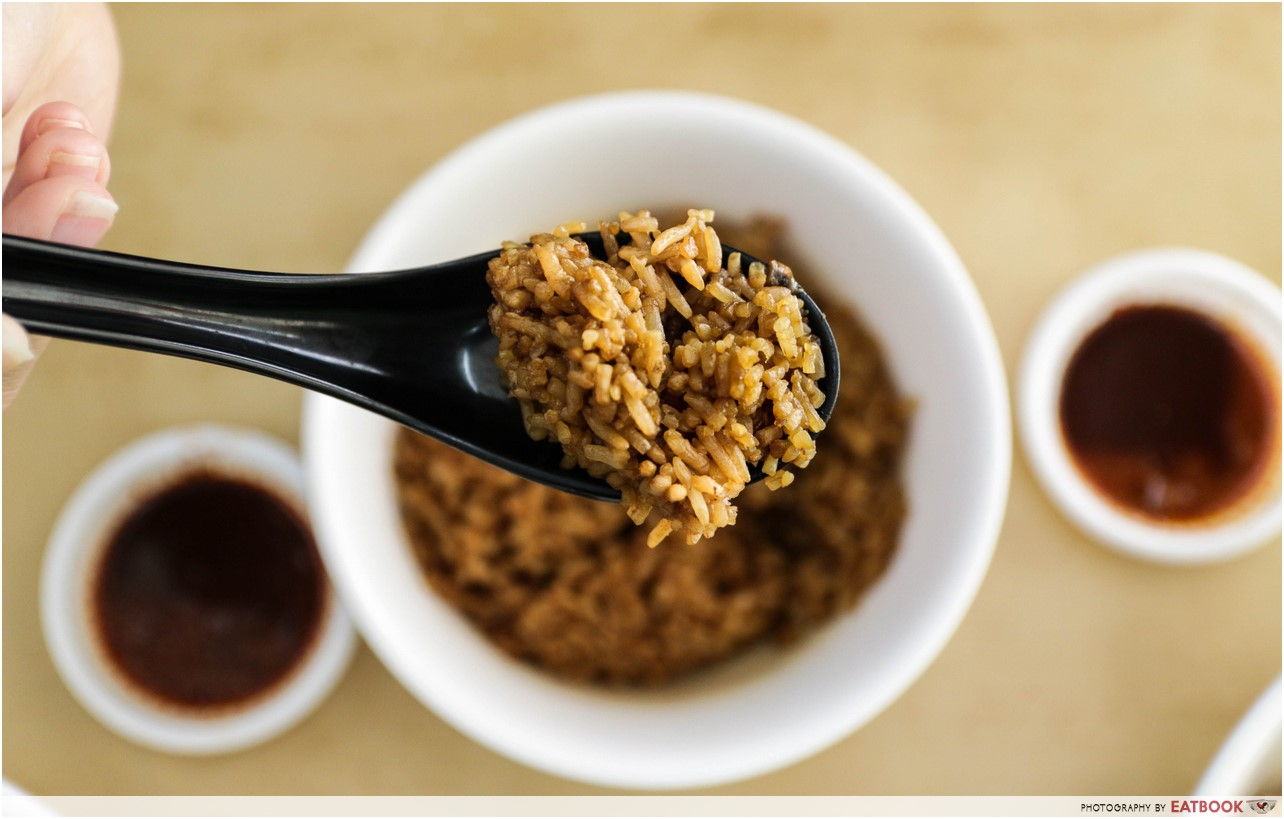 The only dish that I found disappointing was their Yam Rice ($0.50). As a lover of duck rice, I could not say no when I found that the shop sells my favourite yam rice. Expecting something savoury and moist, the rice turned out to be tasteless and dry, and was no different from ordinary white rice.
For those who prefer to have rice to go with your YTF, I would suggest giving the yam rice a miss and settle for white or brown rice instead!
Ambience at Fatty Aunt Yong Tau Foo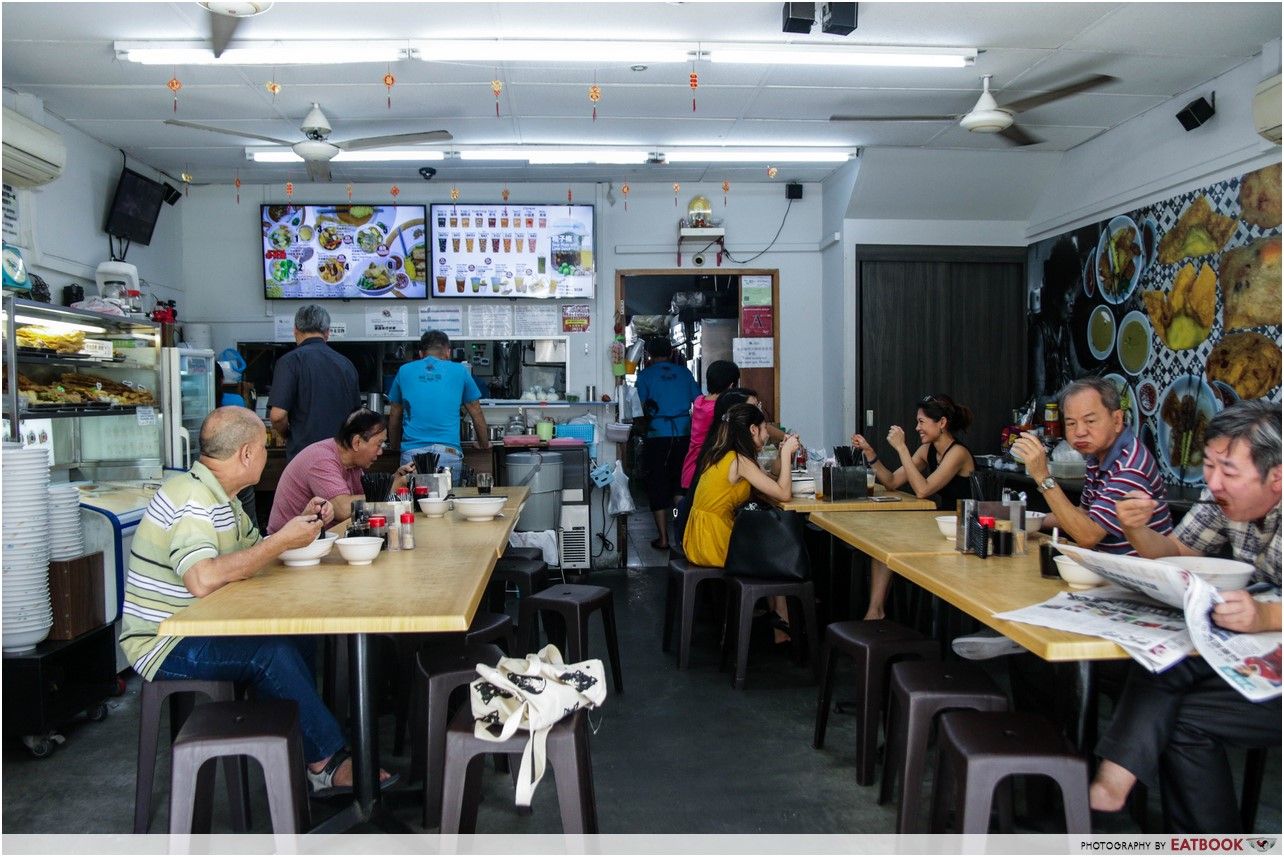 Found at the void deck of block 147 at Silat Avenue, Fatty Aunt Yong Tau Foo lies in a pretty obscure area but is hard to miss when you do make it to the block as it is the only eatery there. In the small interior, the stall has limited seats with just a few fans that did little to alleviate the pain of the afternoon heat.
Even slightly before the lunch hour, a queue was already starting to form and deliverers from several food delivery platforms were spotted rushing in and out to collect the packed food. From sharing tables with strangers to feeling the stress of finishing my food as quickly as possible to give my seat to the customers streaming in, the tiny eatery reminded me of the packed cafes in Hong Kong.
For those who are not keen of such an experience, I would recommend visiting the stall in the morning or even opting for takeaways that they serve in bento boxes.
The verdict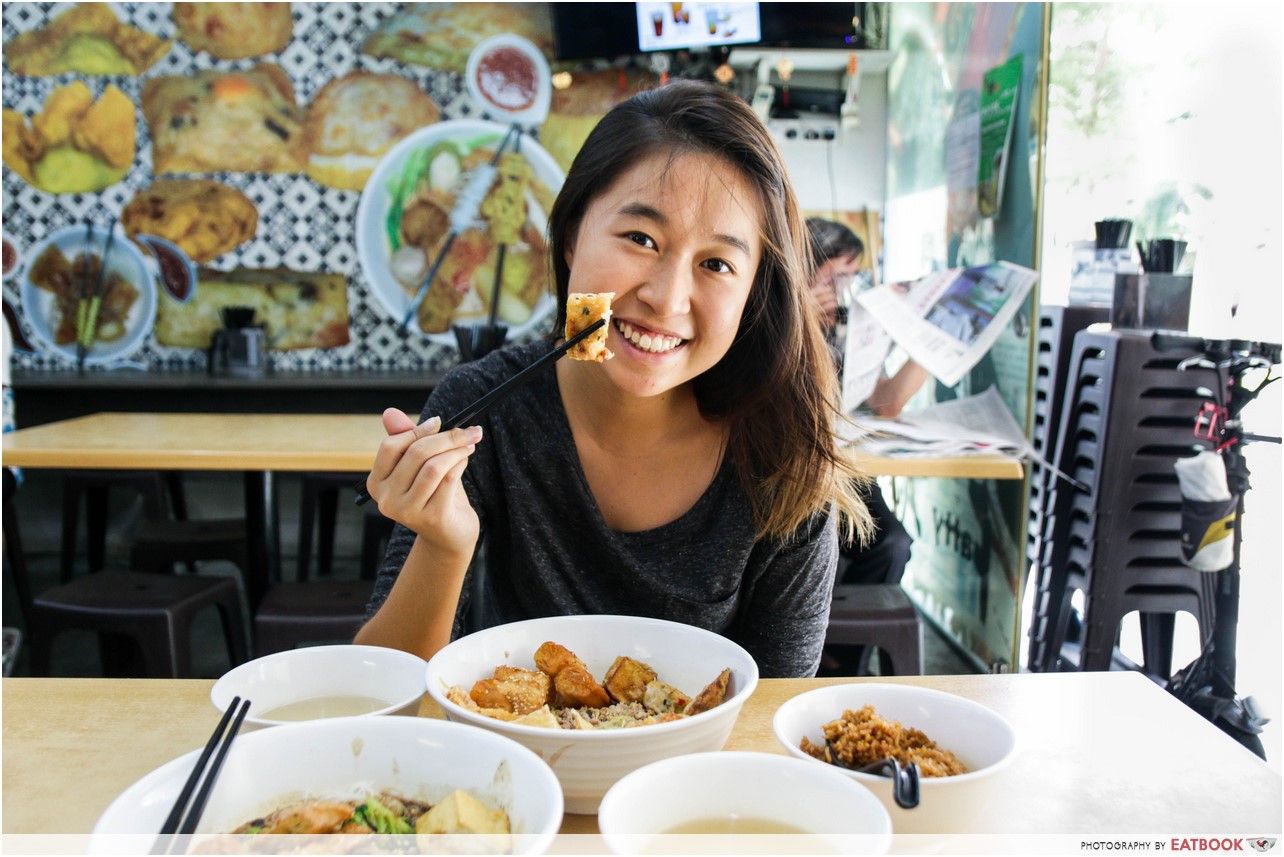 Besides the heat, I thoroughly enjoyed the experience at Fatty Aunt Yong Tau Foo. Although I can't say that the food they serve is cheap, the quality of the food makes every cent worth it. This is one stall that stands out to me not only because of their much wider variety of YTF, but because their food is a lot tastier and fresher than other stalls.
Having tried their bak chor mee and bean sauce noodles, I will definitely bring my parents back to try their other YTF pieces, as well as their laksa!
Address: 147 Silat Avenue, #01-26, Singapore 160147
Opening hours: Daily 9:30am to 8:30pm
Website
Fatty Aunt Yong Tau Foo is not a halal restaurant.
This is an independent review by Eatbook.sg.
Summary
Pros
– Fresh and delicious YTF
– Wide variety of YTF and noodle choices
– Affordable
– Friendly staff
Cons
– Uncomfortable setting
– Inconvenient location
Recommended Dishes: Fried pumpkin, Fried you tiao, Bean sauce beehoon
Operating Hours:
Daily 9:30am to 8:30pm
Address: 147 Silat Avenue, #01-26, Singapore 160147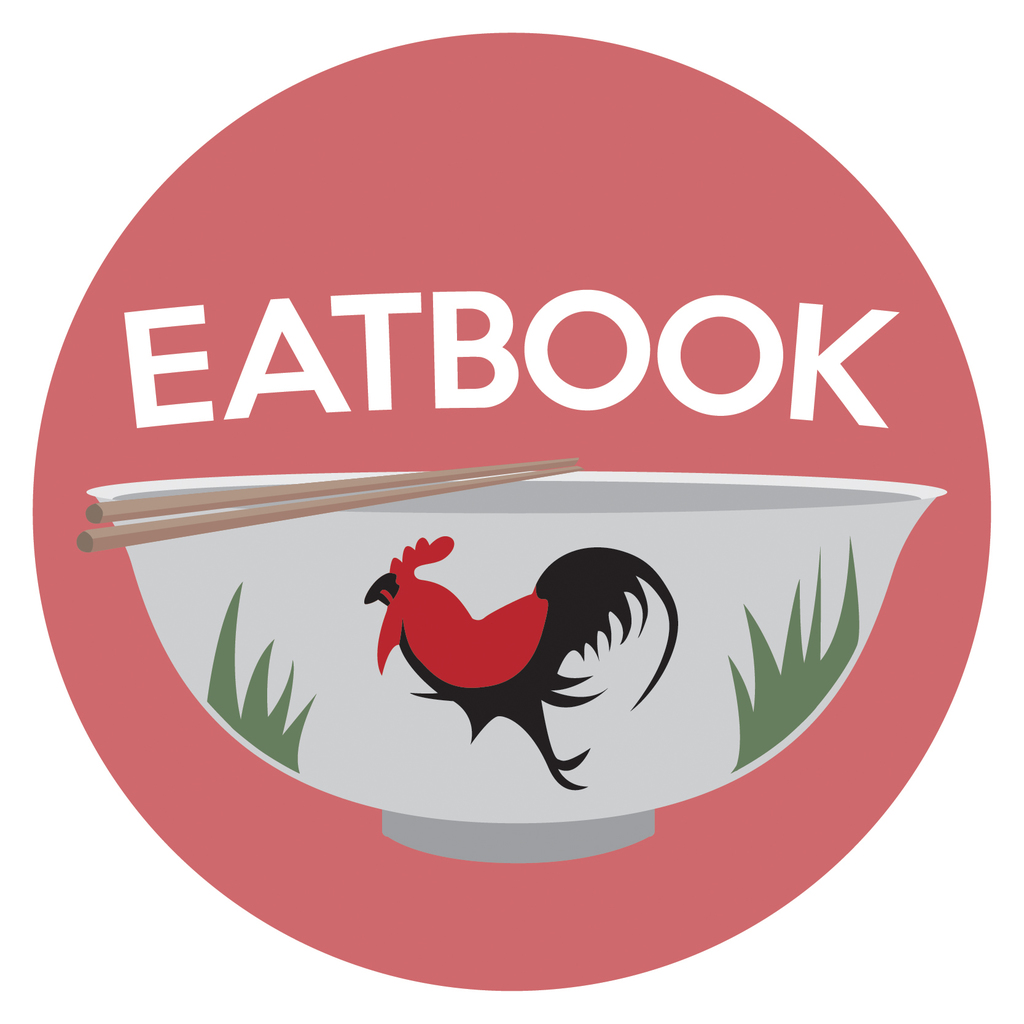 Drop us your email so you won't miss the latest news.