RATIO Cafe + GastroBar at ION Orchard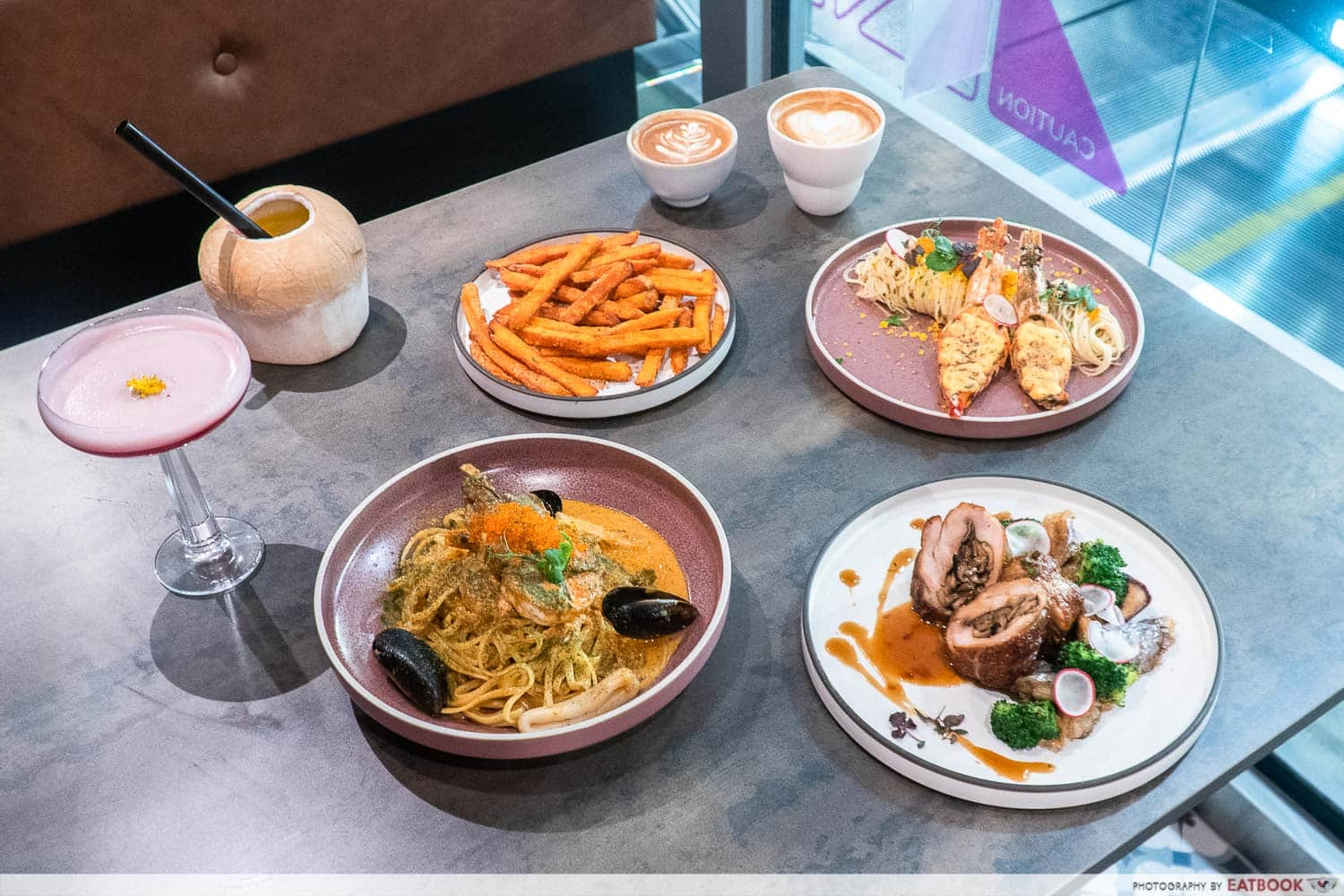 Opened by F&B automation startup ROSS Digital, RATIO Cafe + GastroBar has been making waves in town for its robot-made coffee. Apart from the wow factor of the coffee, the food also looks extraordinarily stunning.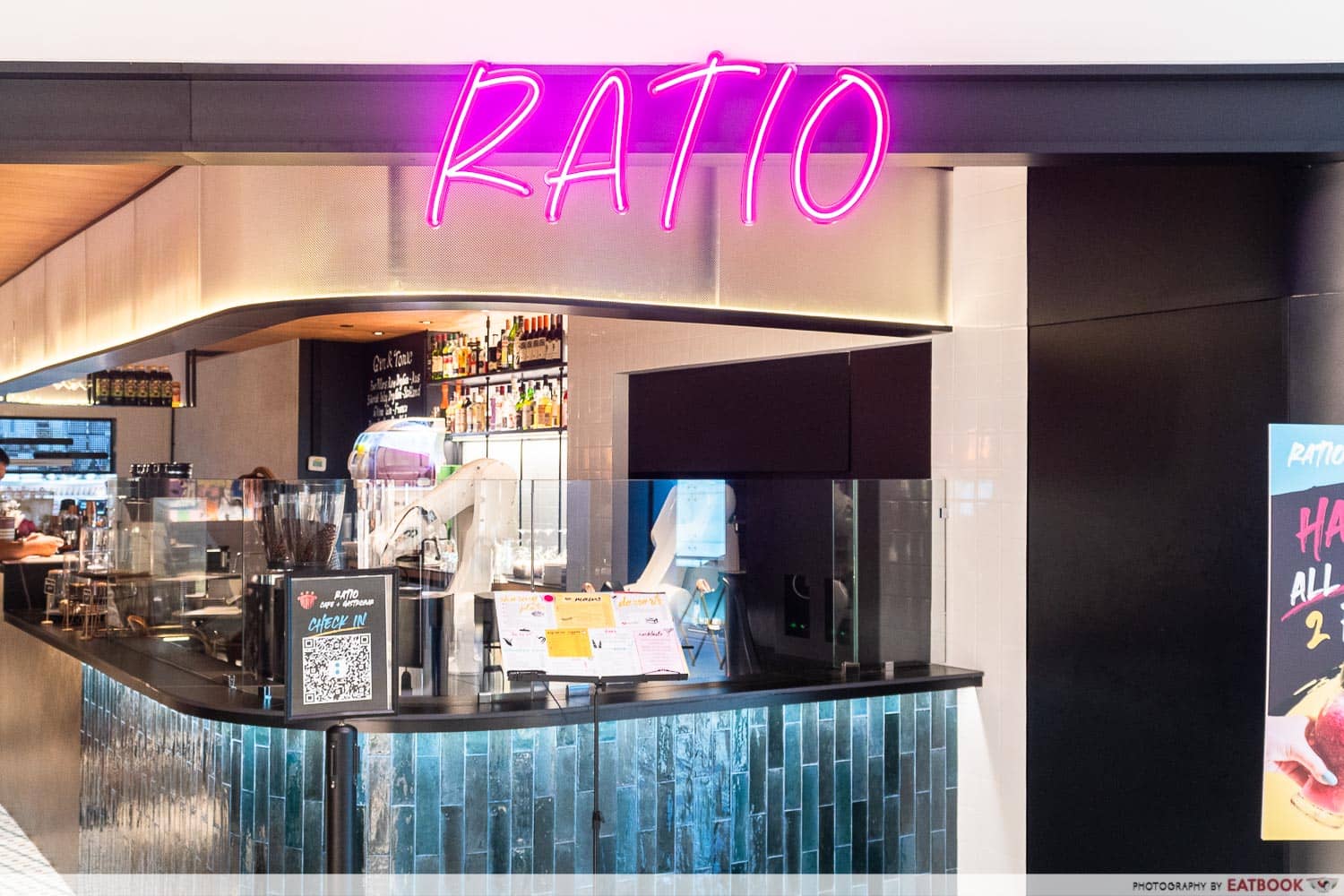 I don't usually frequent cafes, so when I was presented the opportunity to review RATIO Cafe + GastroBar in ION Orchard, I wasted no time in grabbing my colleague along.
Food at RATIO Cafe + GastroBar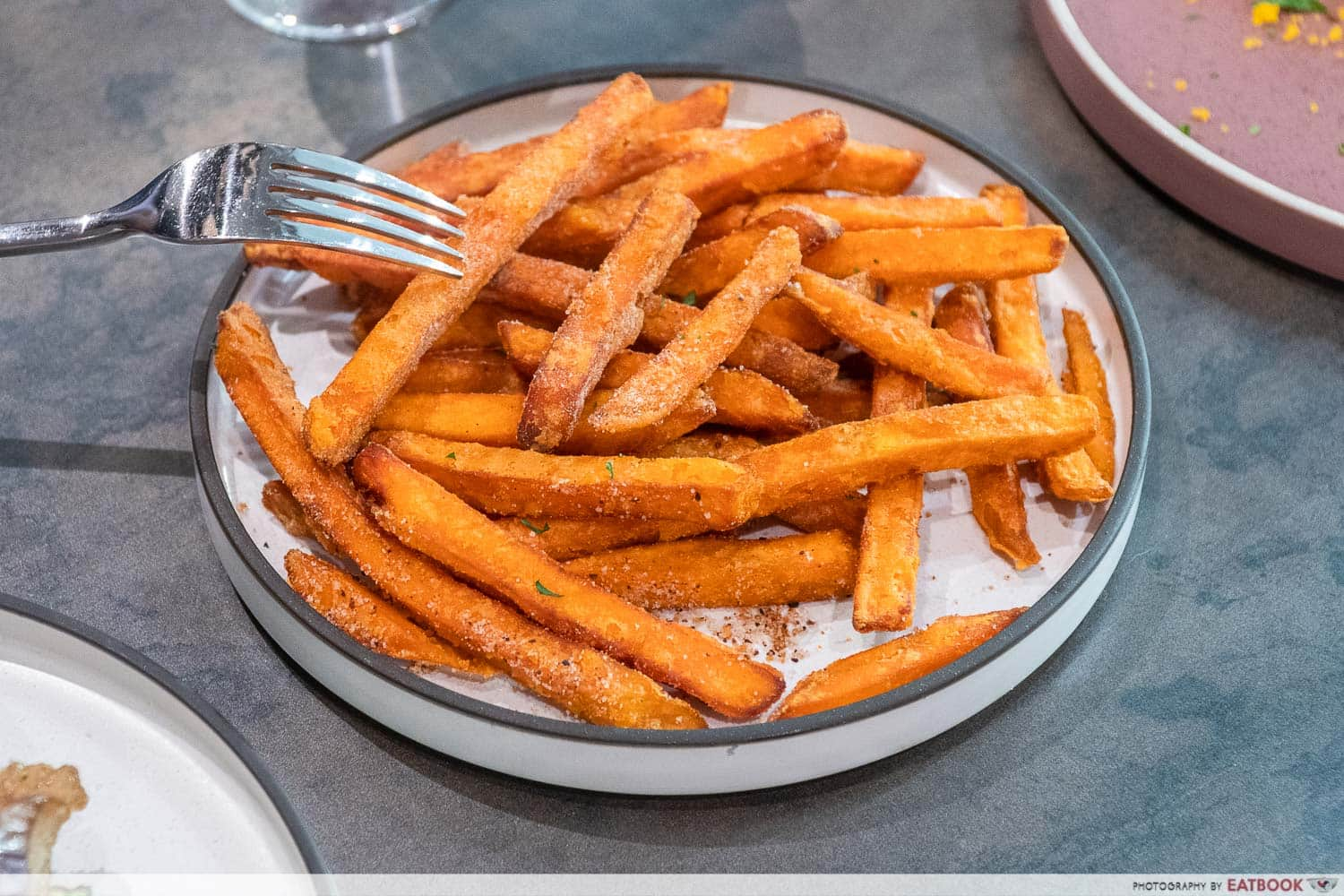 Sweet potato fries have been gaining popularity in recent times, so we decided to see how RATIO Cafe + GastroBar's Sweet Potato Fries with Sour Plum Powder ($9.90) fared. Coated in a copious amount of sour plum powder, the sweet potato fries were dangerously addictive. 
My colleague and I loved the savoury contrast the sour plum powder provided to the crispy and sweet fries. This dish makes for a great appetiser that's suitable for vegetarians.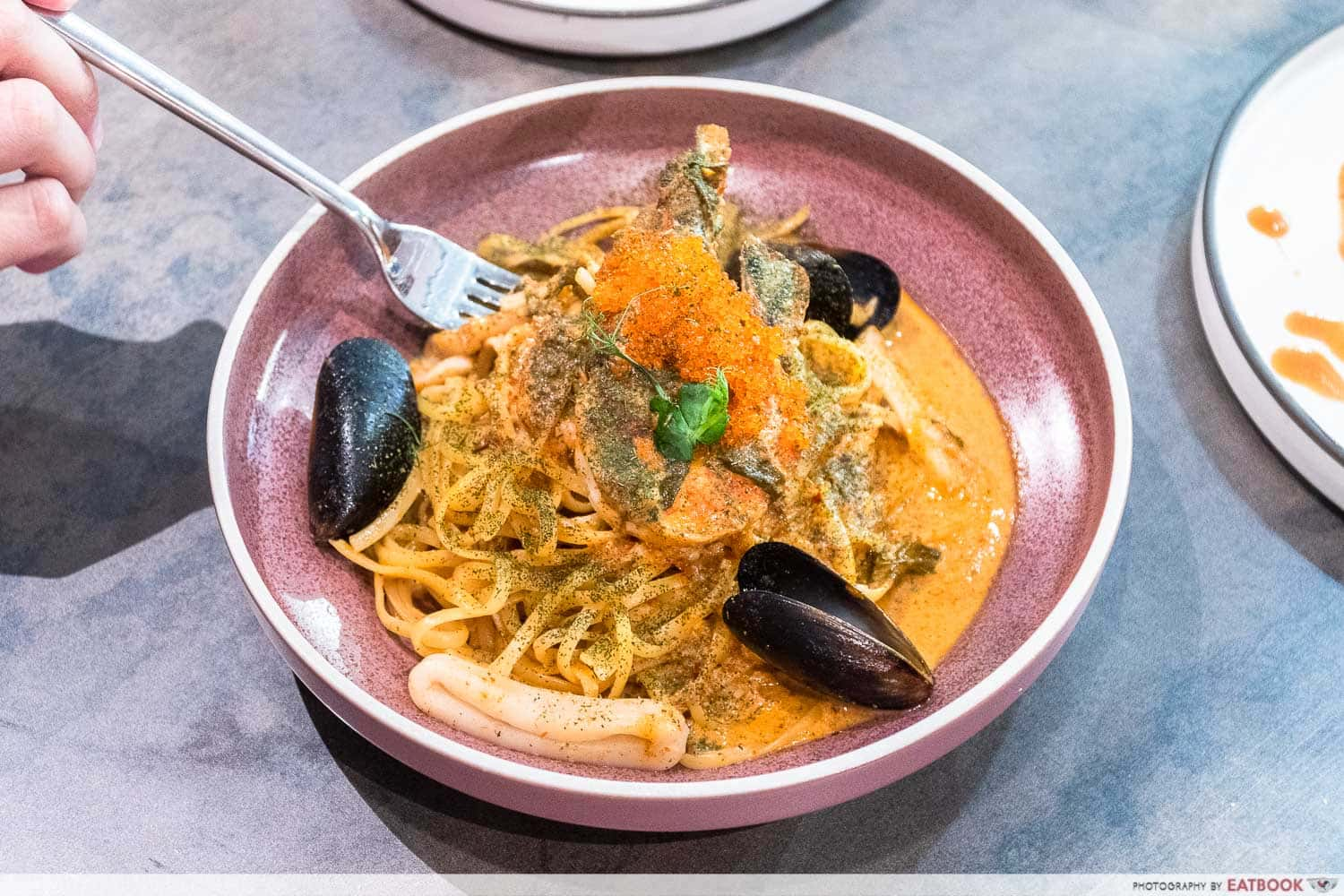 As I scanned through the main items on the menu, I was instantly drawn to the Seafood Laksa Cream Linguine ($26.90). I like my laksa to be spicy, creamy, and thick, so I had high expectations for this fusion dish. When the Seafood Laksa Cream Linguine was served, the fragrance of laksa leaf instantly hit my nose. 
The strands of linguine were particularly chewy—much like mee pok—and well-coated with the creamy laksa sauce. I would have preferred if the sauce was spicier, but this rendition was already miles ahead of other laksa pastas I've had.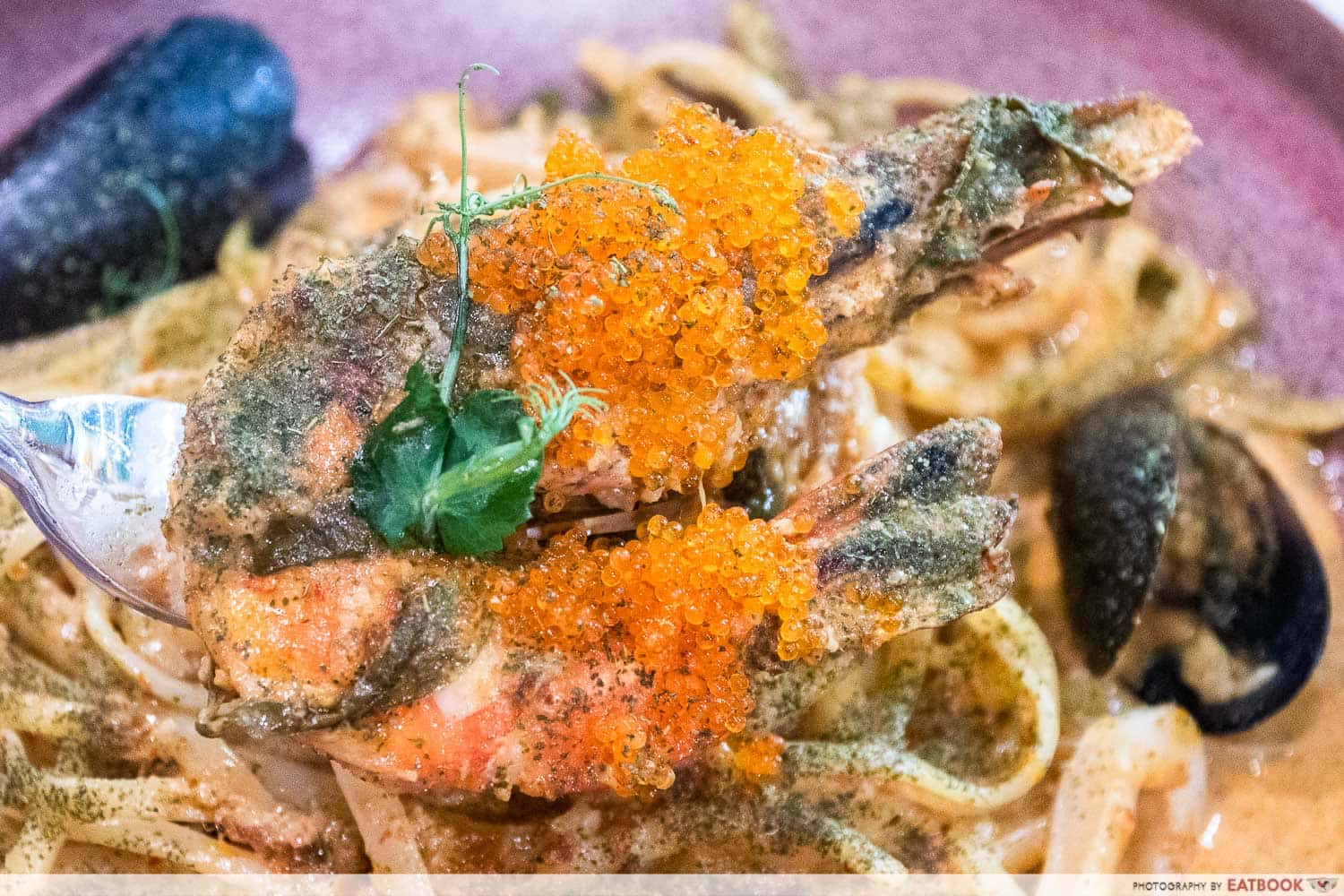 The Seafood Laksa Cream Linguine is the most expensive item on the menu. But for the premium you're paying, you get a whole tiger prawn, a generous amount of squid and mussels, and a dollop of tobiko. 
Apart from the mussels, which I felt were a little too mushy, all the seafood was fresh and added a sweetness to the dish. Needless to say, I was very impressed with the laksa pasta here at RATIO Cafe + GastroBar.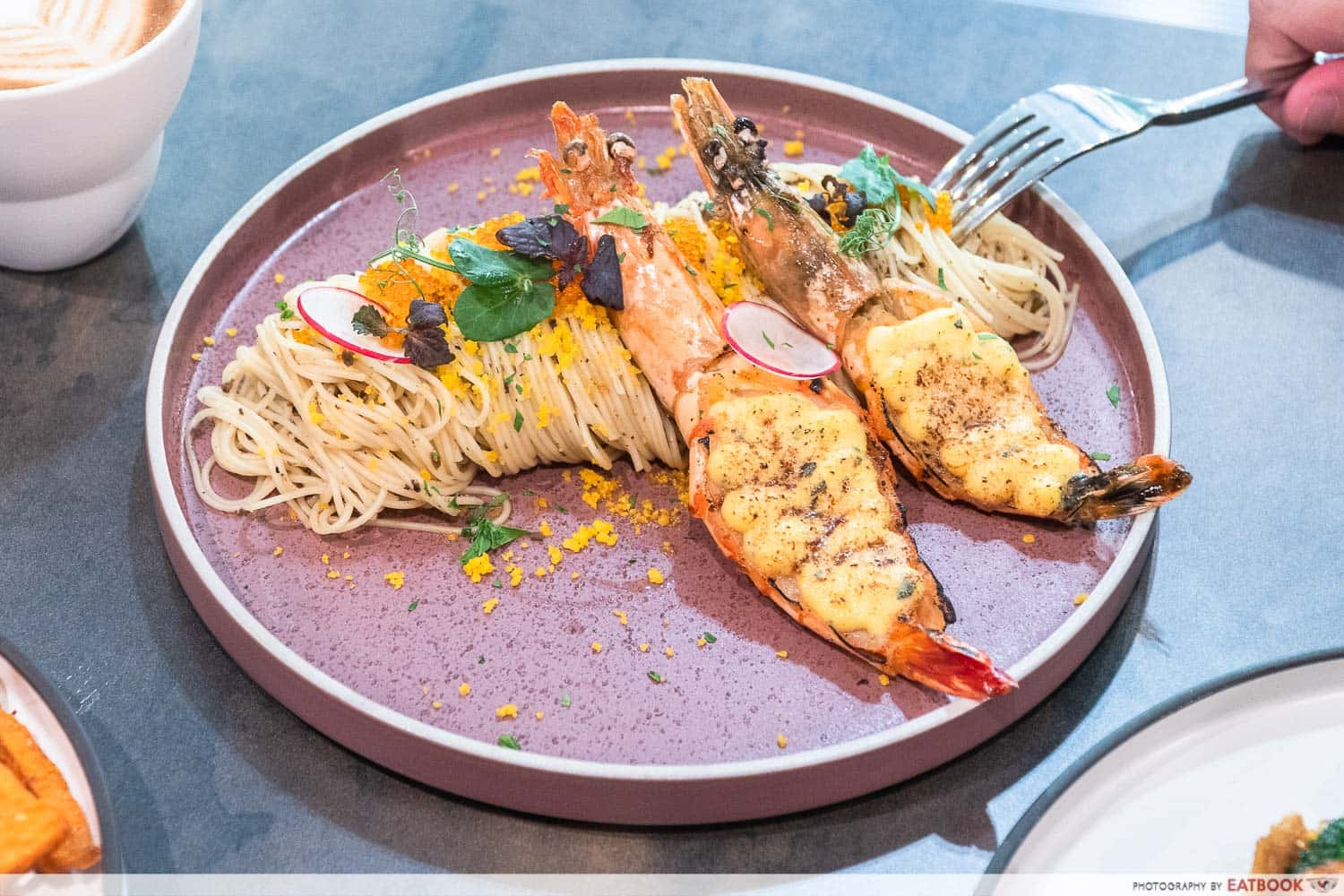 My colleague wanted to have the Truffled Angel Hair with Tiger Prawn ($24.90), so we ordered that too. The dish comes served with two large tiger prawns that are topped with a piquant herby emulsion. Cooked to a perfect al dente, the angel hair was also well-seasoned.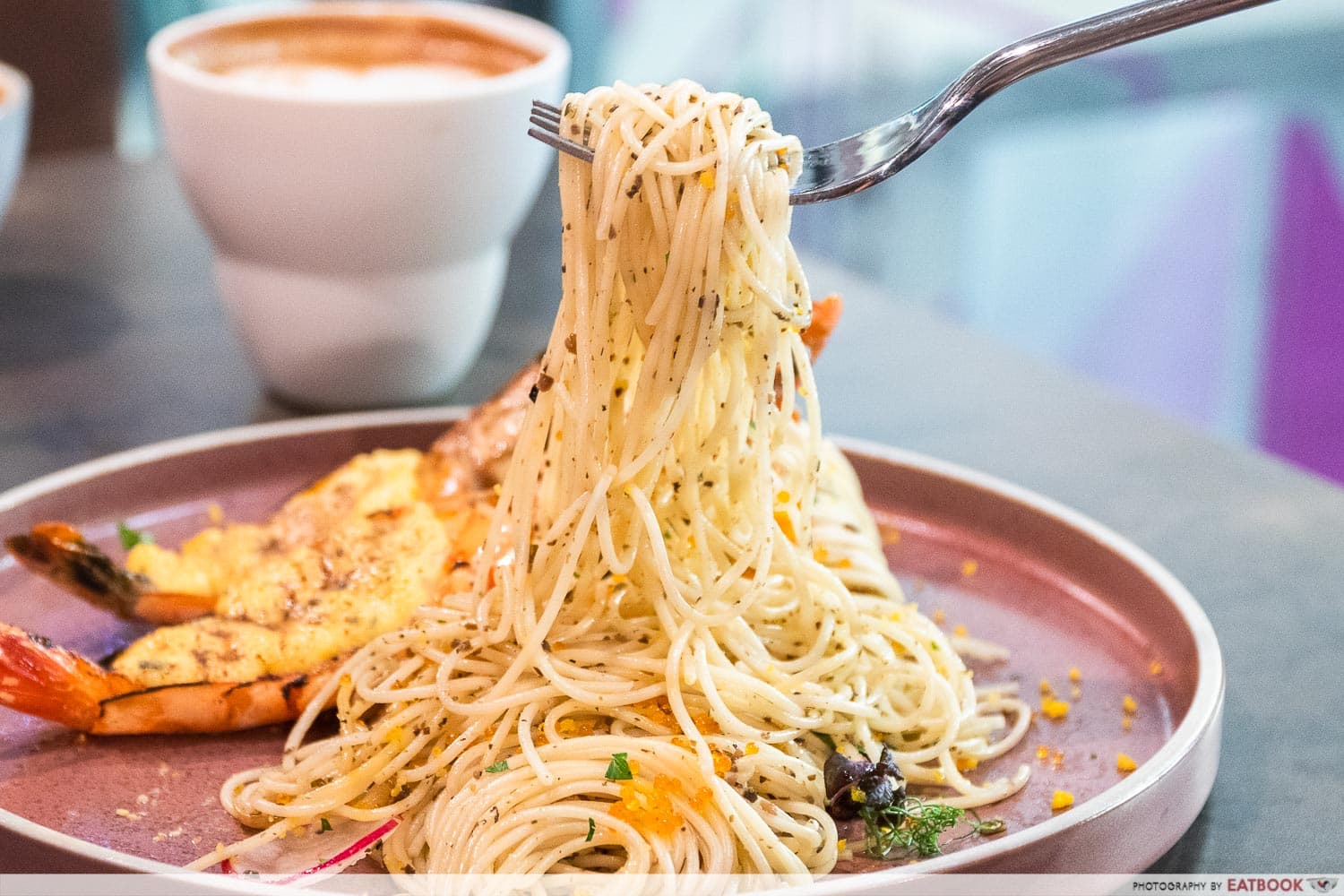 I usually find the addition of tobiko to pasta frivolous, but in this instance, the tobiko actually felt apt. Not only did it leave a chewiness, it further accentuated the umami profile of the dish. 
The truffle notes were also not too overpowering, which made my colleague continue wolfing it down.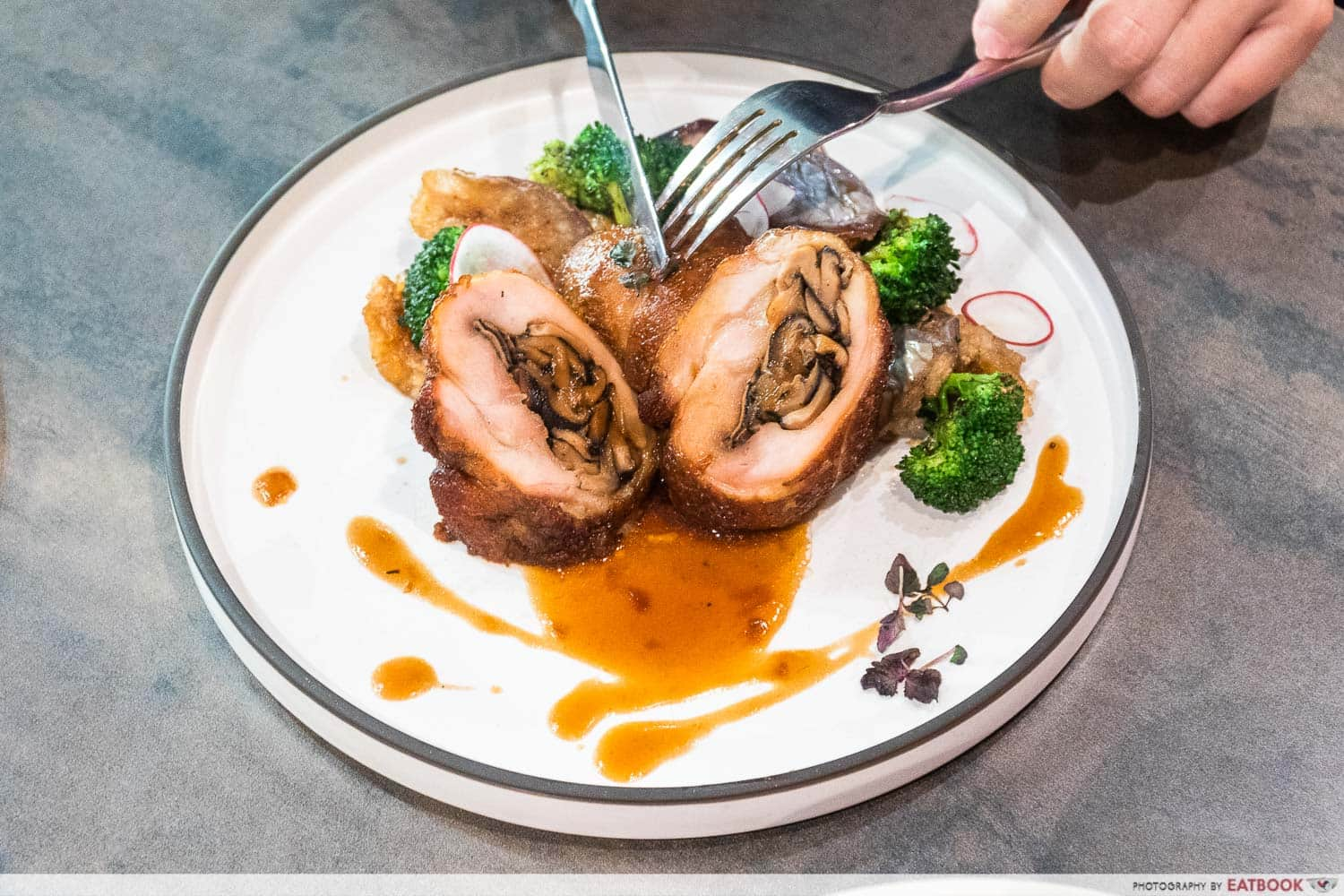 We also tasted the Stuffed Shitake Chicken Leg Roulade ($22.50), which was accompanied by sauteed eggplants and broccoli.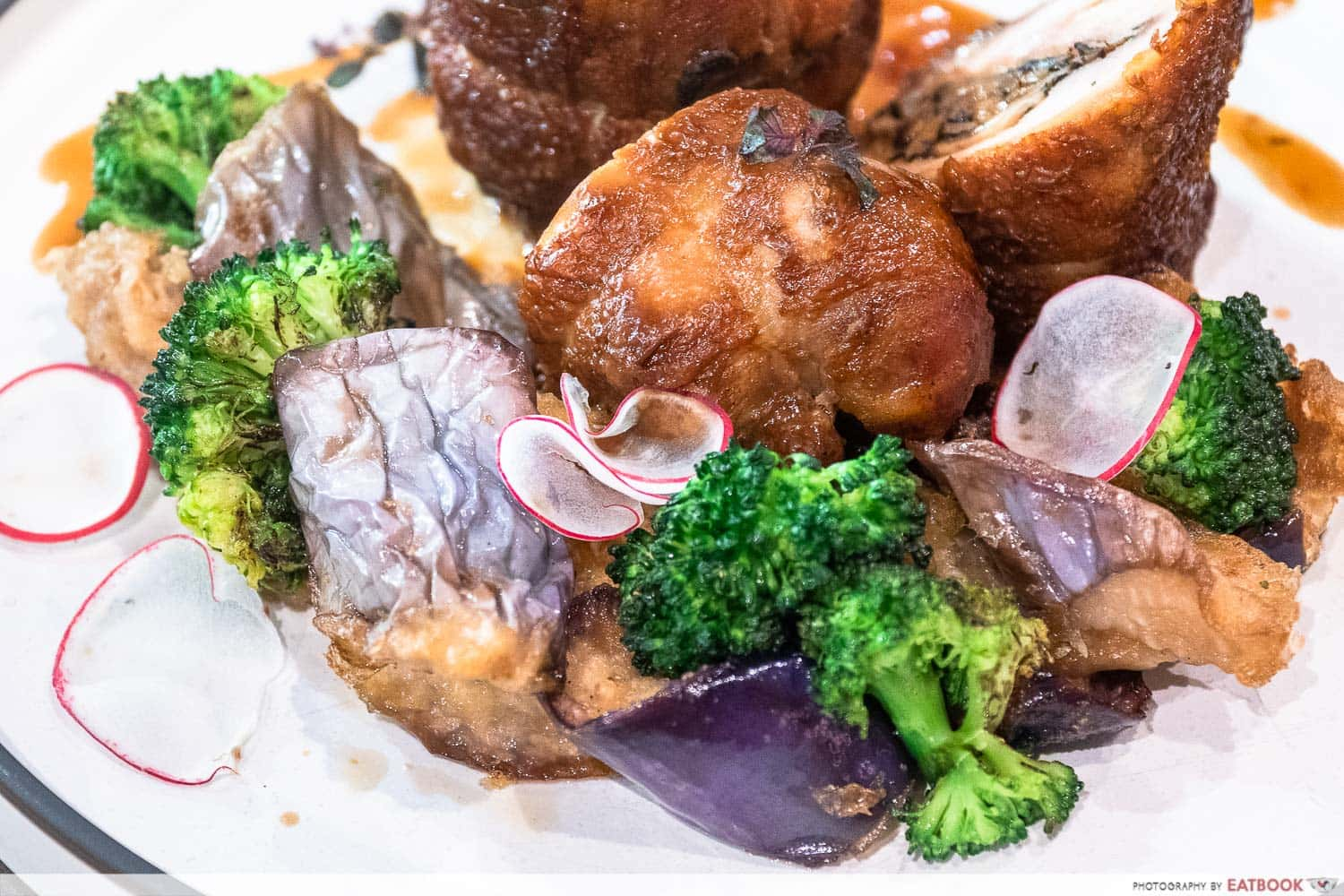 Made using chicken leg, the roulade was moist and tender. I loved the shiitake mushrooms, which carried a bright and inviting herby fragrance. The sauteed eggplants were also stellar, and gave a richness that tied the whole dish together. 
My only gripe with the Stuffed Shitake Chicken Leg Roulade was the sauce, which both my colleague and I found to be a tad salty.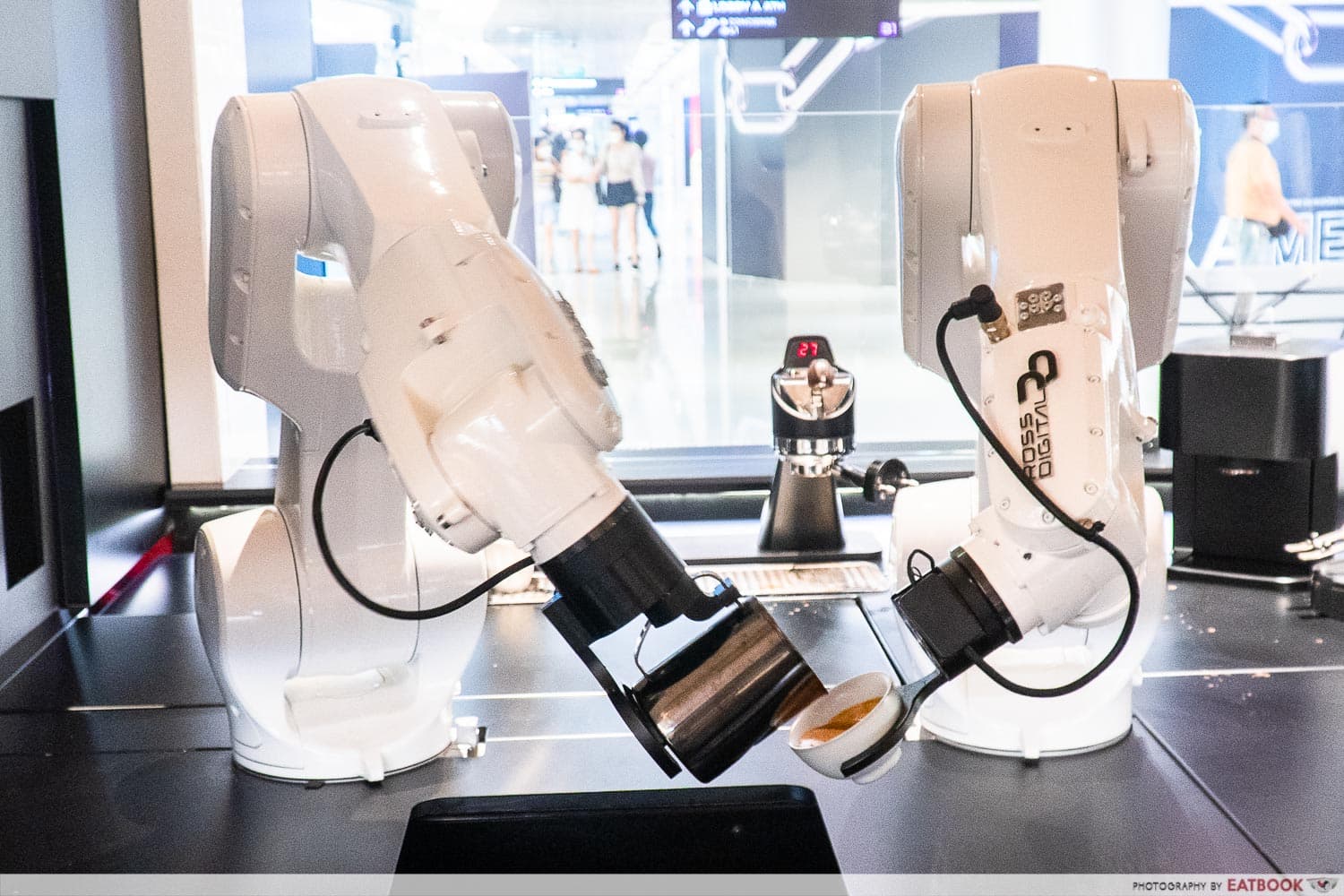 All of RATIO Cafe + GastroBar's coffee is prepared by their special robotic barista—The Super Manual, which appears as though it's come straight out of a sci-fi movie.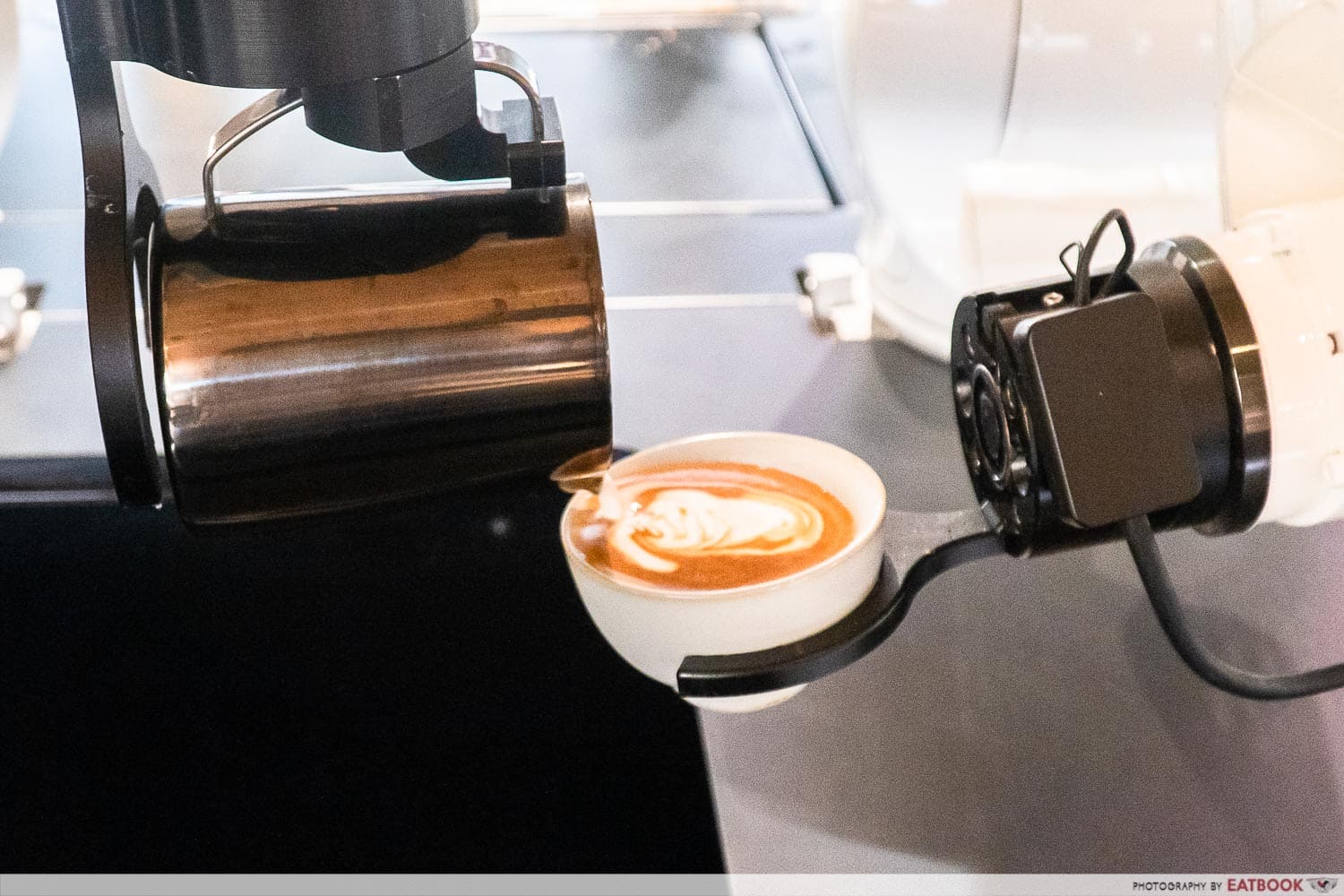 Skillfully calibrated by Tiong Hoe Specialty Coffee, each cup of joe is guaranteed to be delicious from espresso extraction to latte art. We tried the Piccolo Latte ($5) and Caffe Latte ($5.50)—both were delicious.
Given that we were at a gastrobar, it would be a sin not to drink on the job. With 10 different cocktails, each with a catchy name, we had our work cut out in choosing our drinks. We ultimately went with Once Upon A Time I(O)N Orchard ($18) and Life's a Beach ($18), which are the bar's signatures. 
The former is a gin-based cocktail with a pronounced floral nose that was created just for RATIO Cafe + GastroBar. Flavoured with a dash of rose syrup, the cocktail is brightened by the sour cherry gin and lemon juice.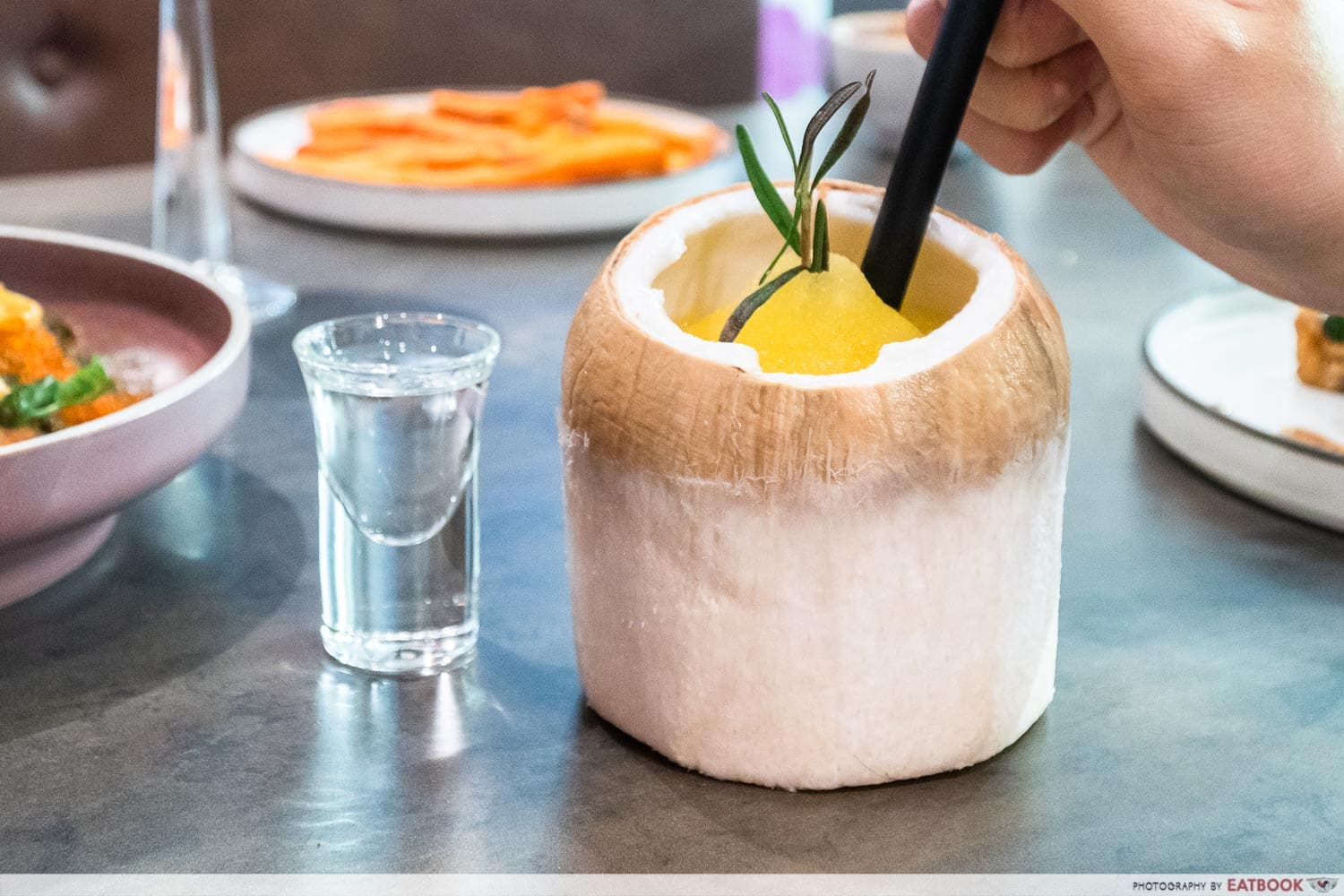 The drink that stole my heart though, was the cheekily-named Life's a Beach. It almost feels as though you've been transported to a tropical resort, with the cocktail being served inside a coconut. ]
Made with a base of mango and coconut water slushie, the drink is further perfumed by the addition of ginger flower. You can customise the amount of tequila you want in the cocktail: whether you want to keep it virgin, or to completely blow it away with five shots. 
Ambience at RATIO Cafe + GastroBar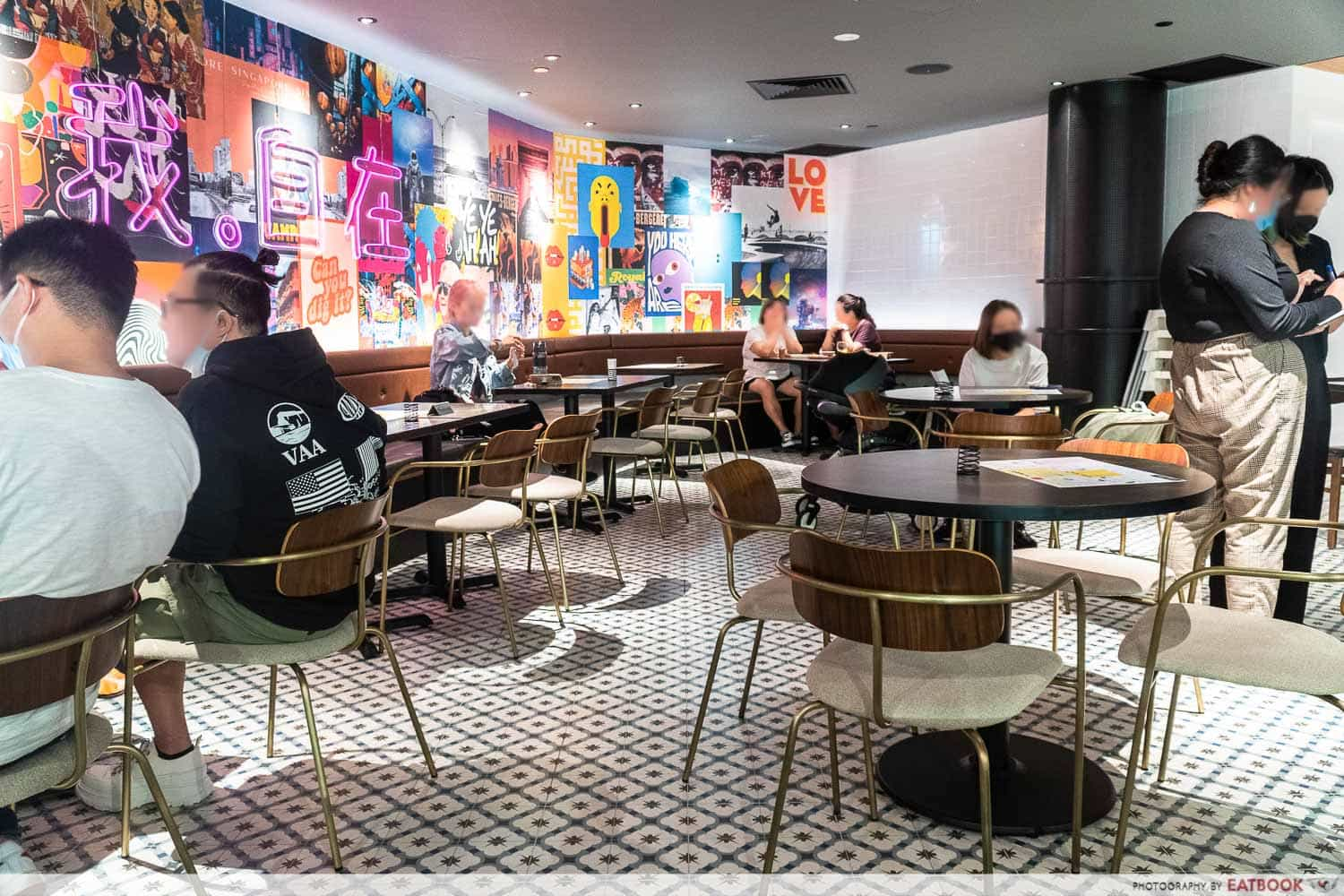 Replete with a mosaic-tiled floor, vintage-esque posters and a neon "我。自在" sign that roughly translates to "Me. Freedom", RATIO Cafe + GastroBar rocks a retro-futuristic theme. Whether you lounge in their comfortable booth seats or dine at the round tables, the cafe is sure to bring forth the partying vibes within you any time of the day.
After exiting Orchard MRT Station, simply head to Basement One of ION Orchard to locate the cafe. Although RATIO Cafe + GastroBar seats up to 80, it can be difficult to find an empty table during mealtimes due to its popularity.
The verdict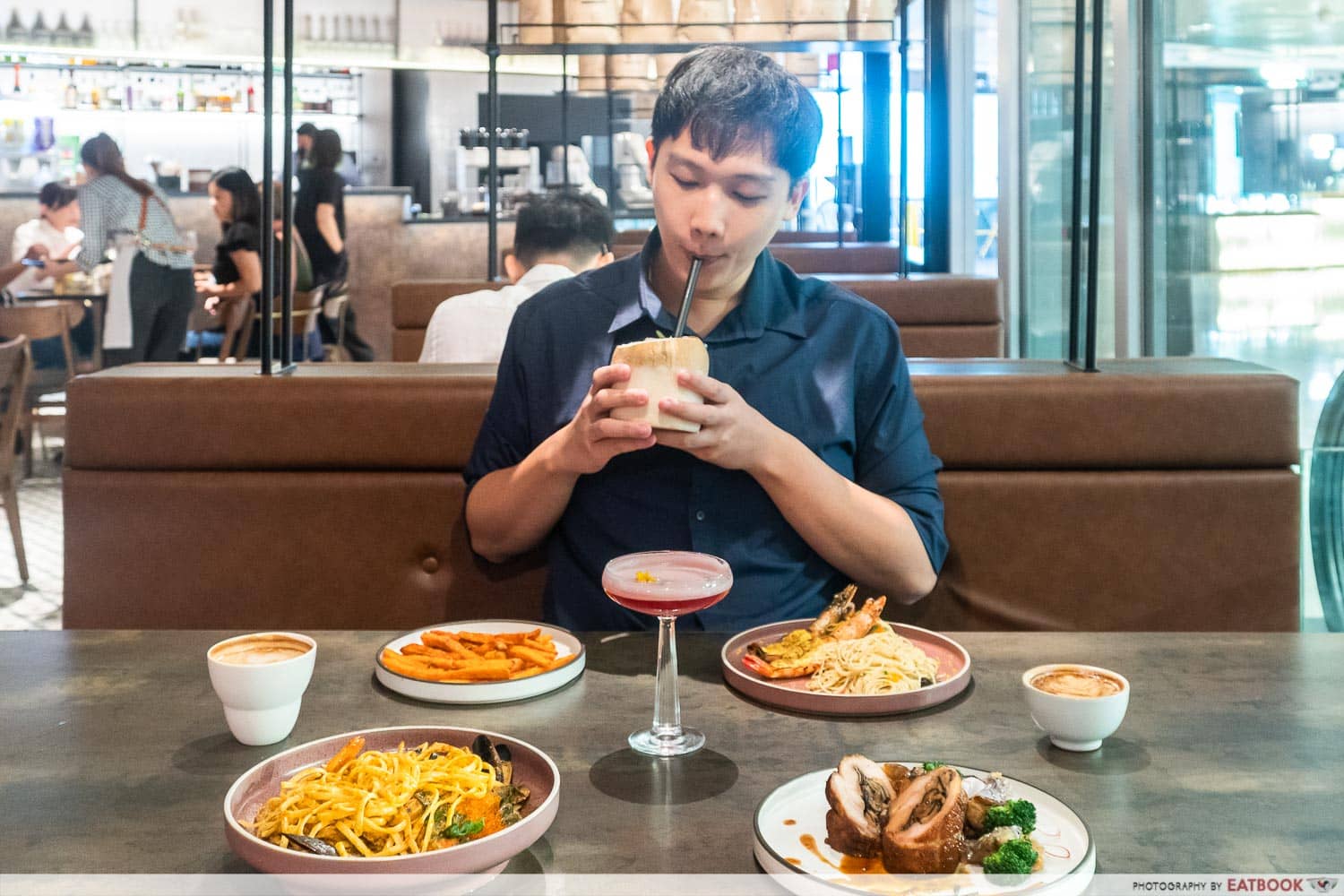 It's true that the items here at RATIO Cafe + GastroBar can be a tad pricey. But given its prime location in Orchard, the elevated price point is somewhat justified for date night. 
For what it's worth, the drinks and dishes are all plated beautifully to allow you to take the nicest photos for the 'gram. Those visiting the cafe for the first time should definitely try the Seafood Laksa Cream Linguine, while kicking back with a Life's a Beach. 
For more cafe recommendations with good coffee, and Instagram-worthy food, check out our listicles on the best cafes in the East and West.
Address: 2 Orchard Turn, #B1-12, ION Orchard, Singapore 238801
Opening hours: Daily 10am to 10pm
Website
RATIO Cafe + GastroBar is not a halal-certified eatery.
18 Cafes In The West For Breakfast And Hangouts—Affordable Rosti, Bagels And Waffles
Photos taken by Kong Zu Yi.
This was a media tasting at RATIO Cafe + GastroBar. 
RATIO Cafe Plus GastroBar Review: Cafe In Orchard With Laksa Linguine, Coconut Husk Cocktail And More
RATIO Cafe + GastroBar Review: Cafe In Orchard With Laksa Linguine, Coconut Husk Cocktail And More -

7.5/10
Summary
Pros
– Drinks were very aesthetically pleasing
– Dishes were delicious
– Nett prices
Cons
– Food and drinks are still a bit expensive 
Recommended dishes: Seafood Laksa Cream Linguine ($26.90), Stuffed Shiitake Chicken Leg Roulade ($22.50), Life's a Beach ($18)
Opening hours: Daily 10am to 10pm
Address: 2 Orchard Turn, #B1-12, ION Orchard, Singapore 238801