Saporita at Esplanade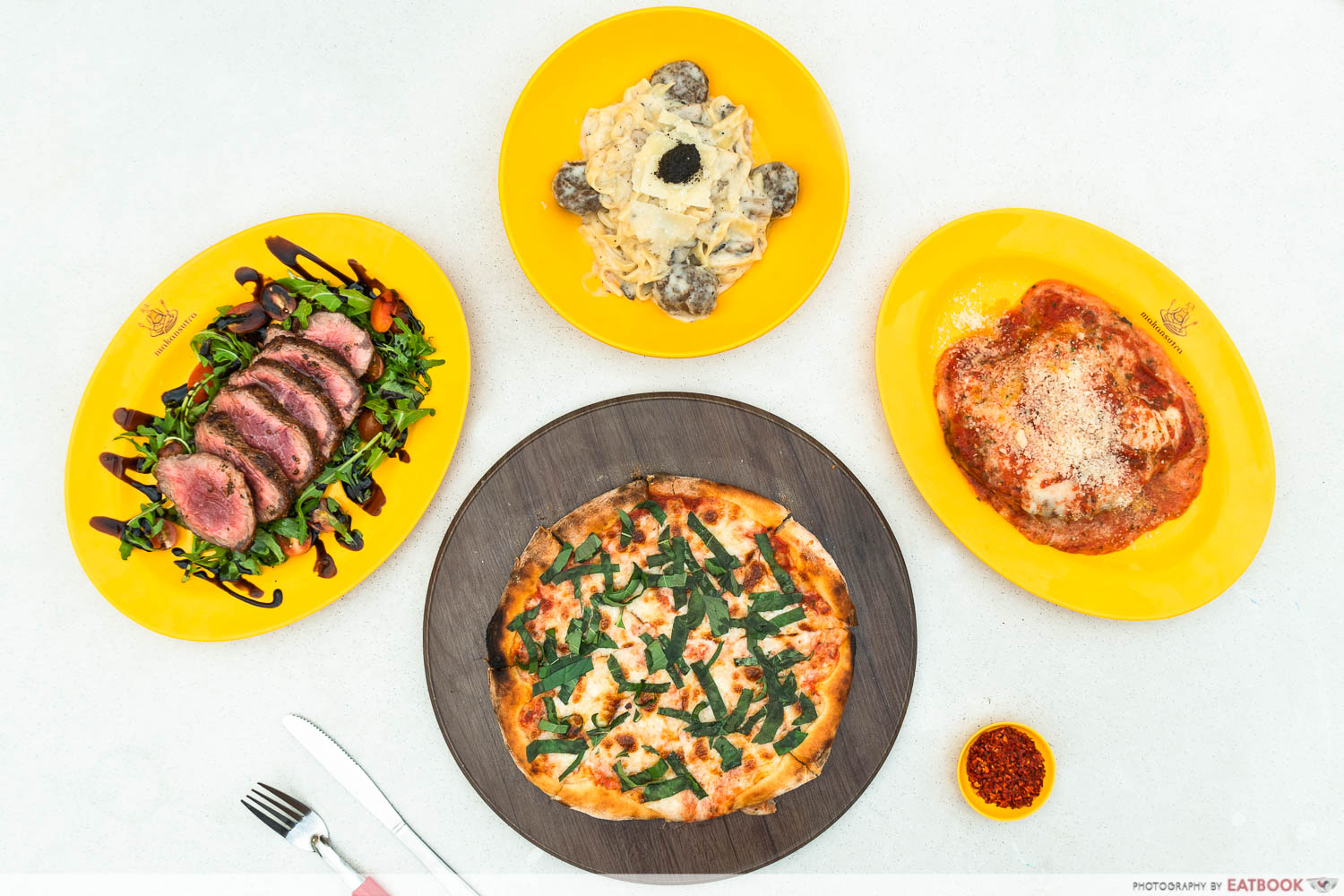 If you're as plugged into TikTok as I am, this won't be the first time you're hearing the name Saporita. After officially opening in late 2021, this hawker stall has been making the rounds on TikTok, and even Facebook, for its truffle pasta that's freshly cooked in a cheese wheel upon order. 
La Mensa Review: Pasta Restaurant With Legit Bolognese And Carbonara Under $15 At Tanjong Pagar
Food at Saporita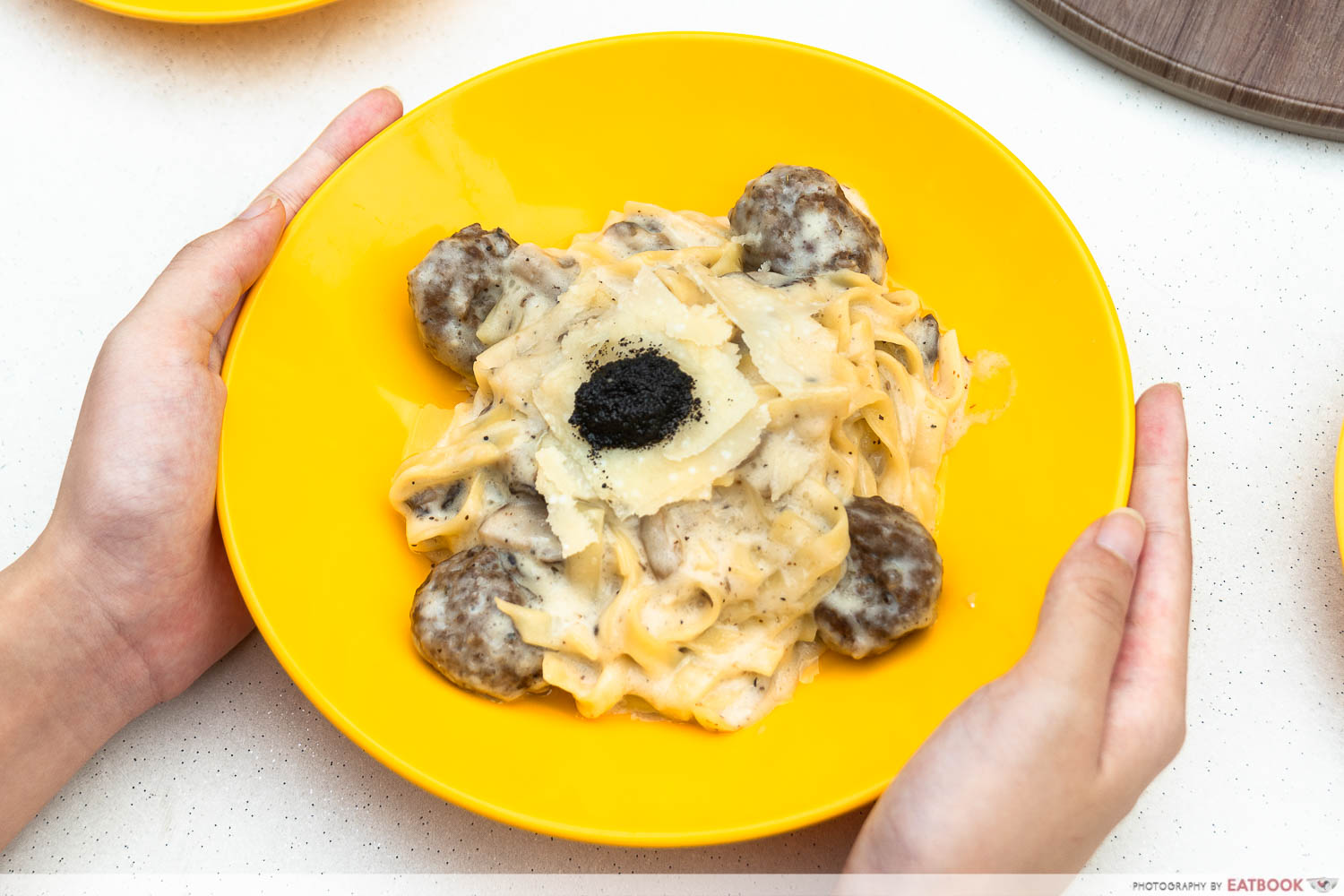 As mentioned earlier, Saporita's most popular item is their Truffle Cheesewheel Pasta ($14). Tagliatelle, white button mushrooms, and brown button mushrooms are first cooked in a bechamel sauce, before being tossed in a Grana Padano cheese wheel and drizzled with truffle oil to finish. 
Saporita's decision to use Grana Padano instead of its substitutes lies in its affordability. As a more inexpensive alternative to Parmigiano Reggiano, it still retains an authentic taste, thus making it the most logical choice for Saporita. 
Fun fact: On average, Saporita uses two 40kg wheels of Grana Padano a month!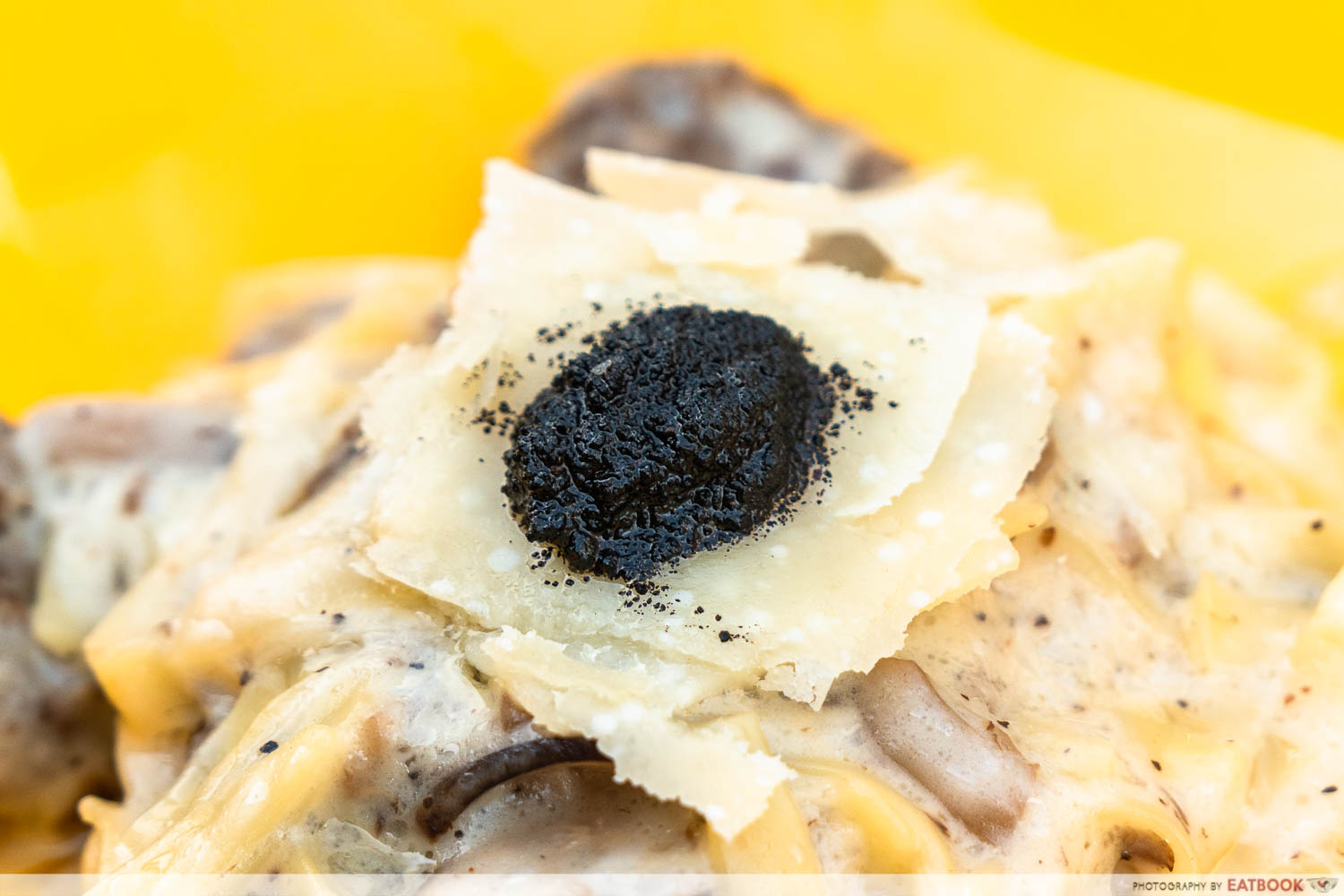 This pasta is further topped with shaved Grana Padano, as well as black truffle pate, before it lands on your plate.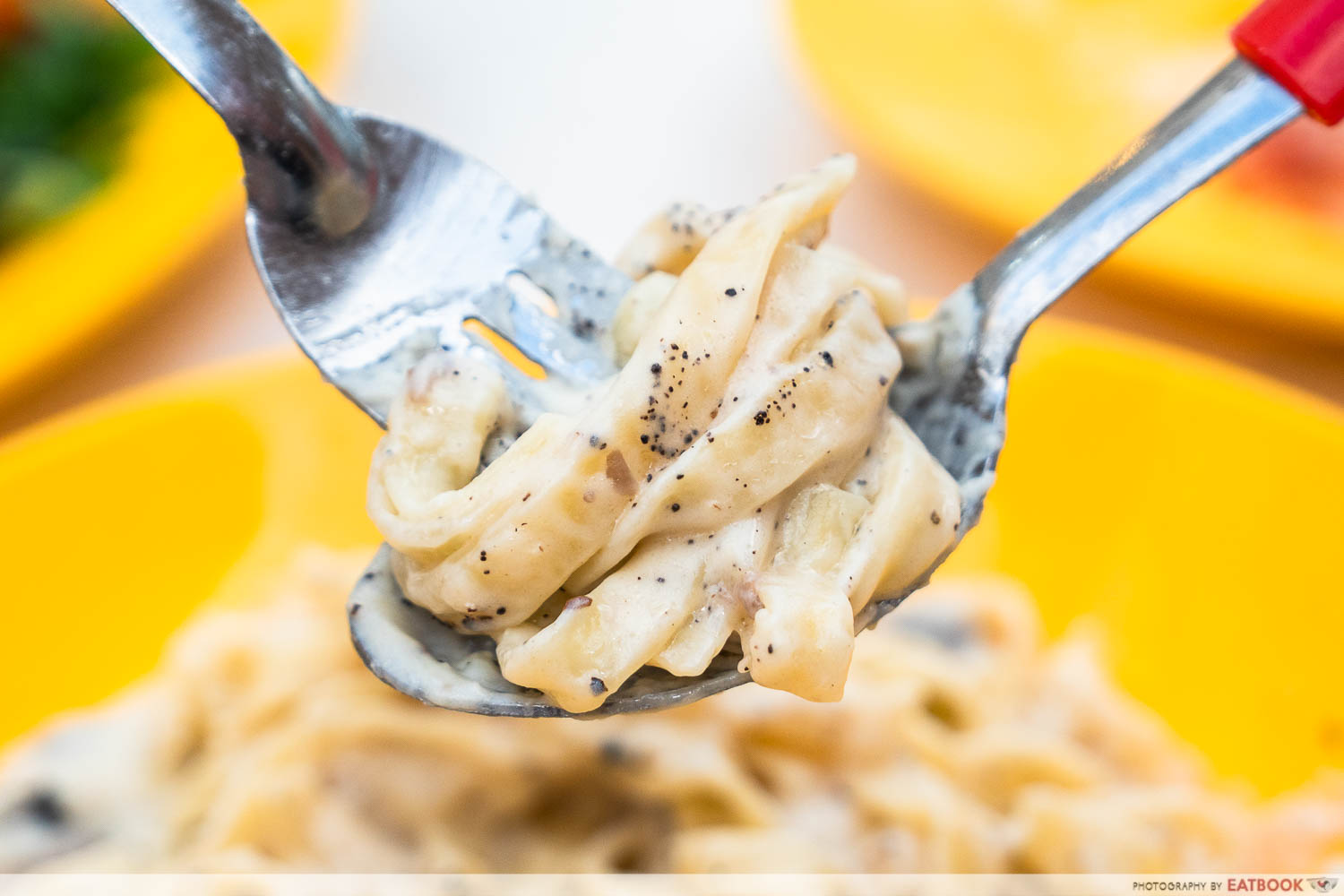 Initially, it was incredibly easy to slurp this pasta up. Its bechamel and cheese sauce was more than enough to satisfy a cream lover like me, and the strong truffle aroma and taste gave it an additional depth of flavour.
However, given the creamy and cheesy nature of this dish, the sauce congeals quite quickly, so you need to be extra fast if you want to enjoy it at its best.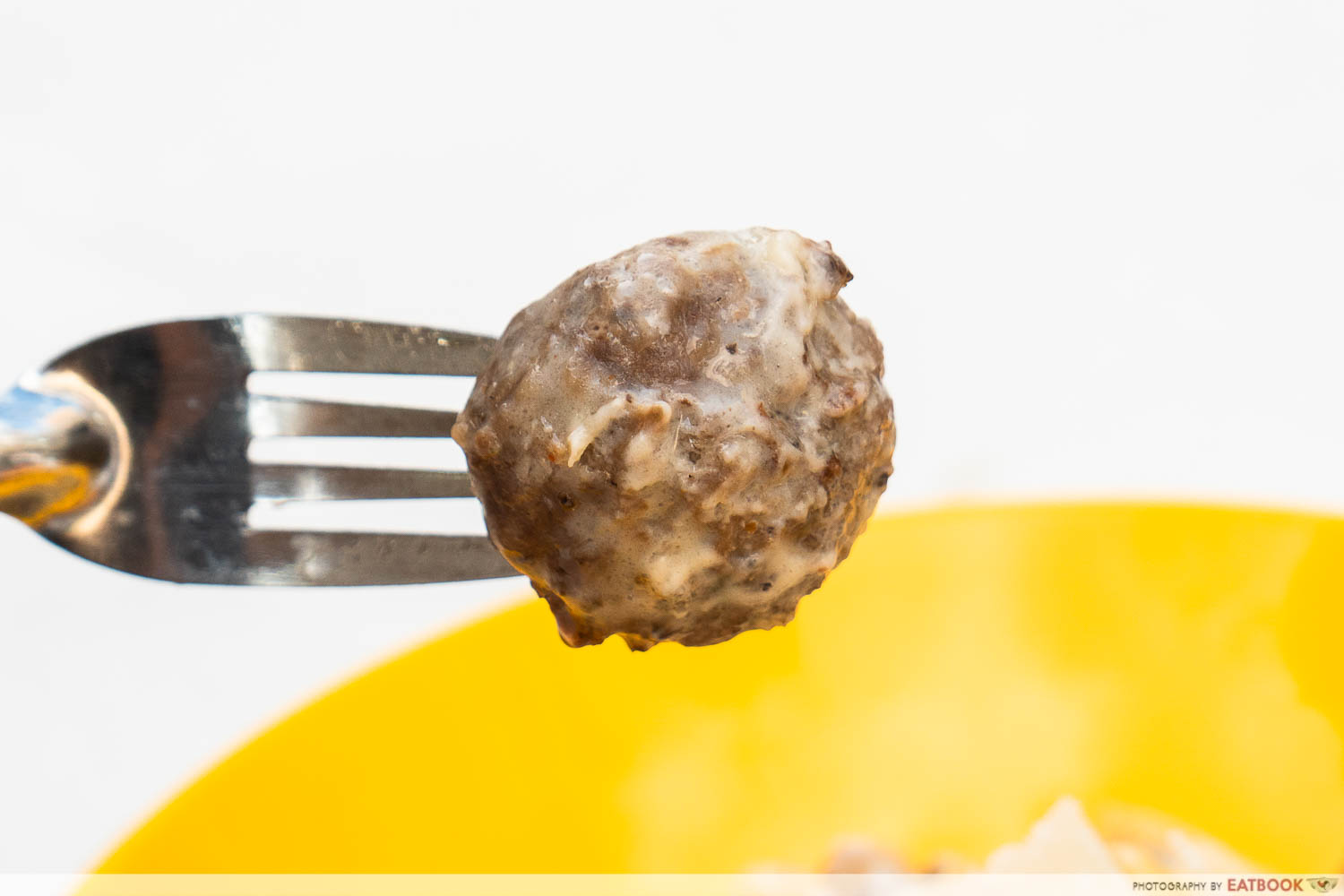 The owner also recommended we pair our pasta with Beef Meatballs for an additional $4, and I'm glad I heeded his advice. When the pasta bordered on becoming too jelak for my liking, a bite into the meatballs provided some contrast in flavour.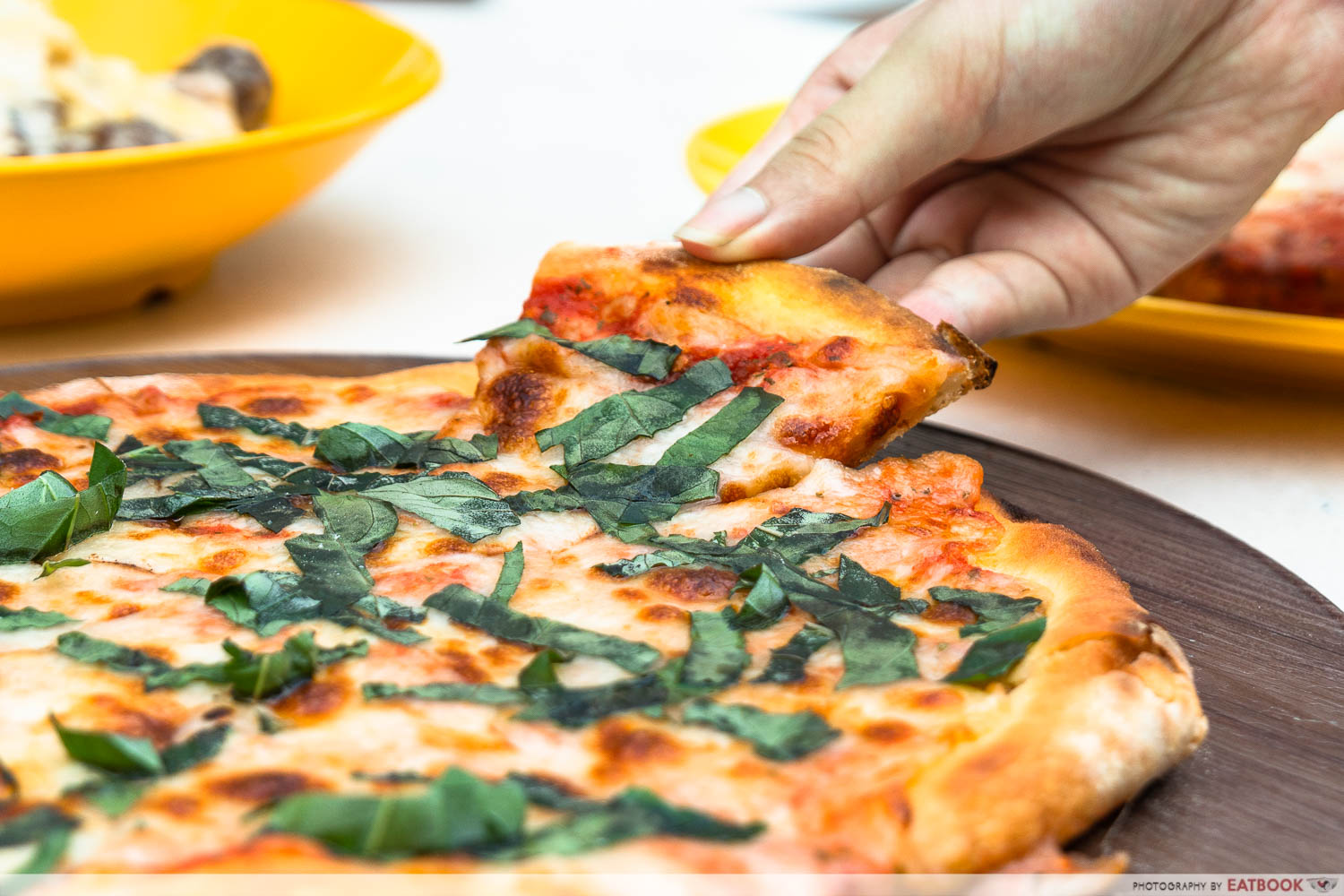 Saporita's 12-inch Margherita Pizza ($12) is one of the more affordable pies out there, with the nine-inch one priced only at $8. I especially like their pizza base, which was just thin enough to hold the weight of the ingredients, yet not too thick that it became too much to chew on.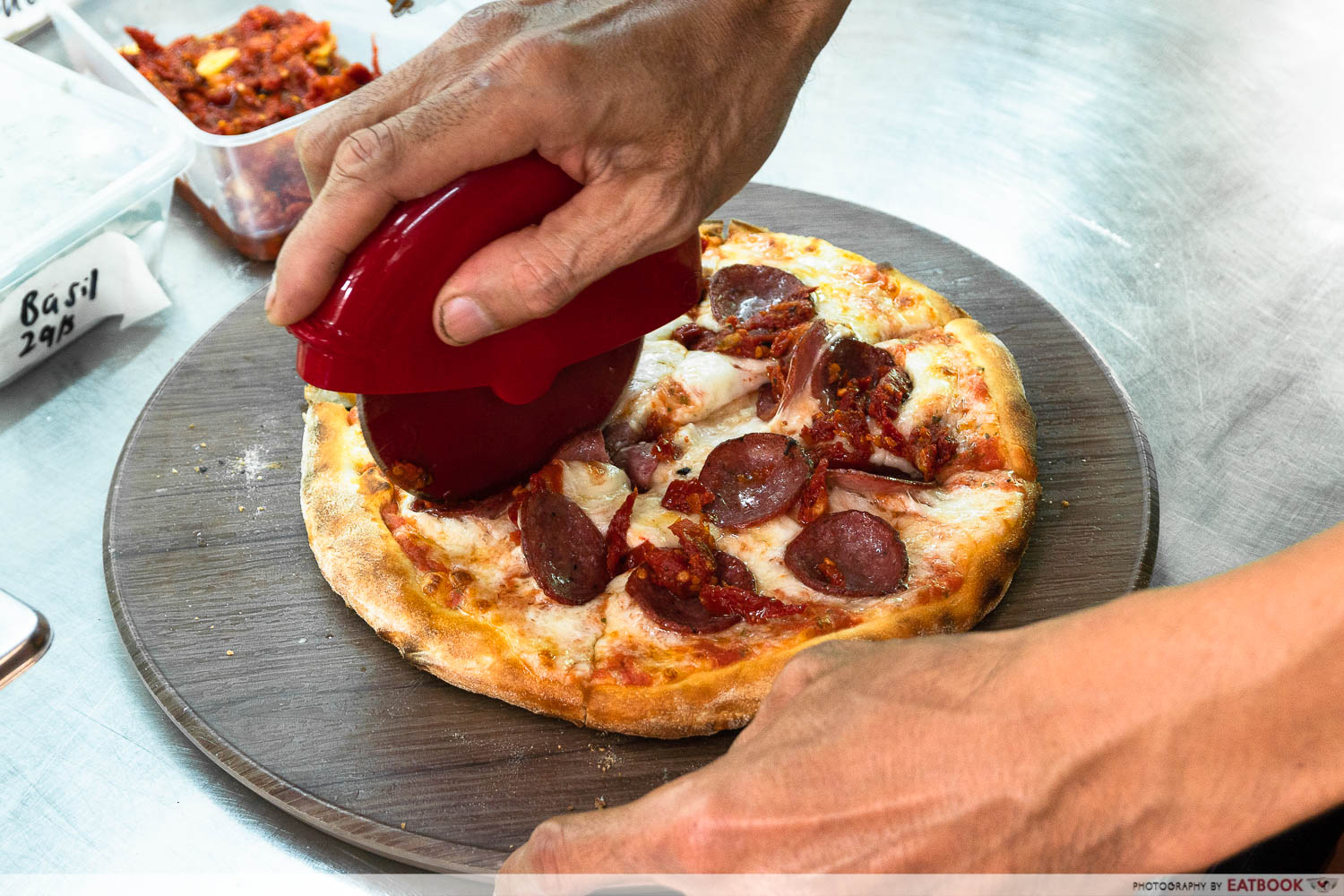 Saporita also offers the option of customising your pizza sauce and toppings. Besides the classic Pizza Pomodoro (from $8) sauce, you can also enjoy the creamy Bechamel (from $8) sauce and even a Basil Pesto (from $10) sauce, with toppings such as Sundried Tomatoes (from $2), Beef Pepperoni (from $4), and Vegan Meatballs (from $5).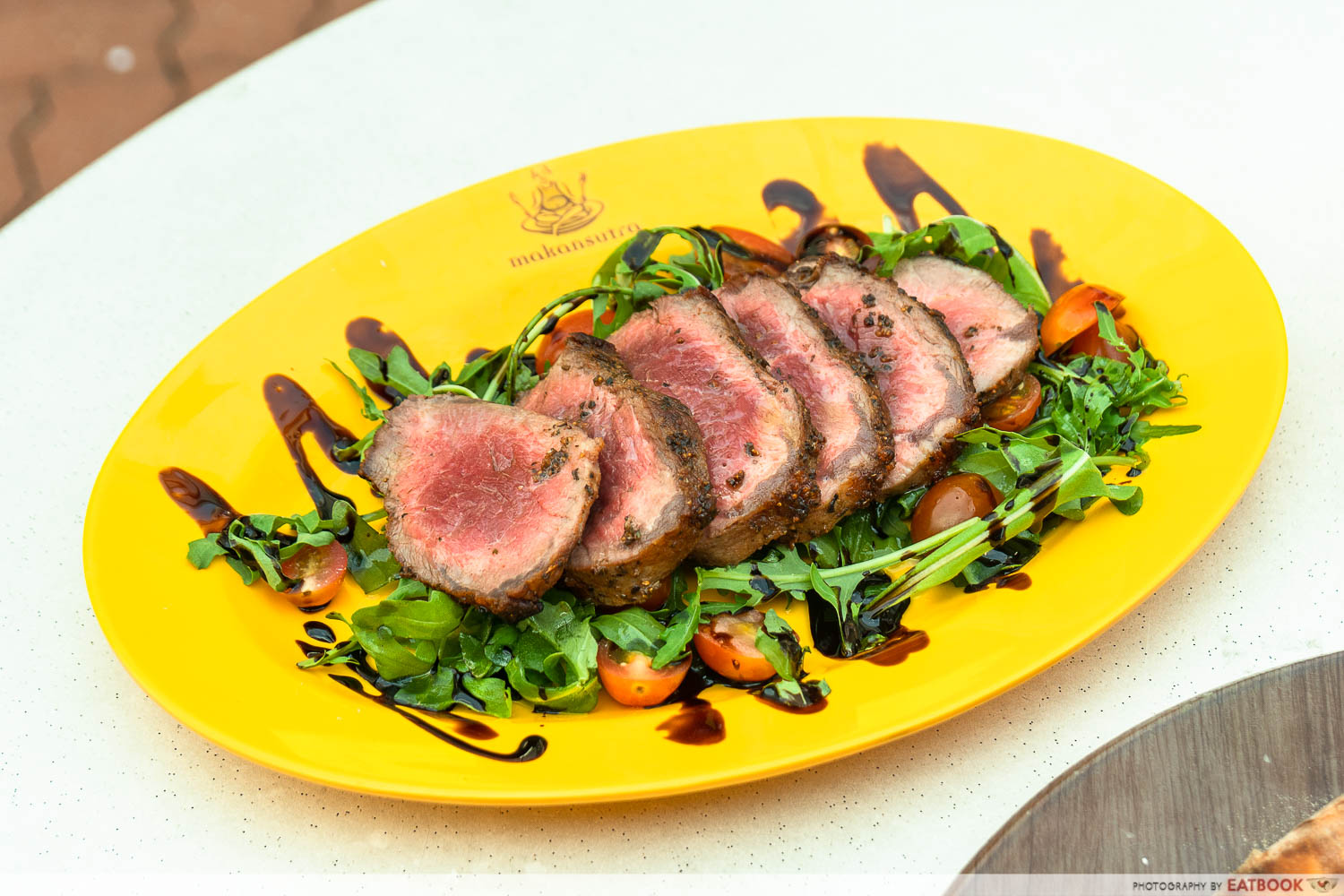 Another popular dish here is the Steak Tagliata ($16). A medium-rare ribeye lies on a bed of arugula, cherry tomatoes, with drizzles of balsamic vinegar. It's also plated just as the Italians do it.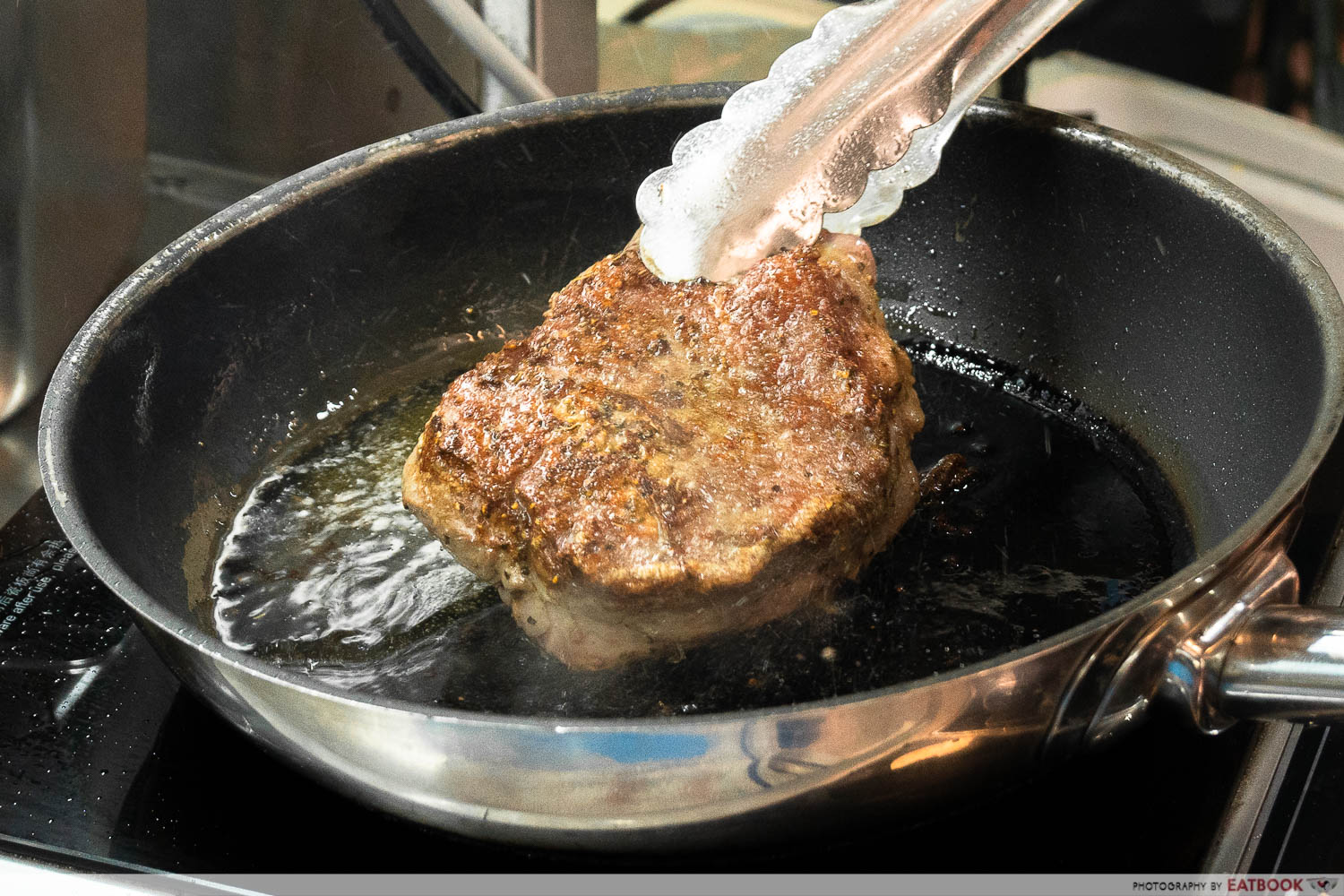 Keeping it traditional, Saporita generously seasons their steak with Cajun spices to give it that iconic crispy crust. Then, it is seared for a few short minutes and set aside to rest, before being sliced and served.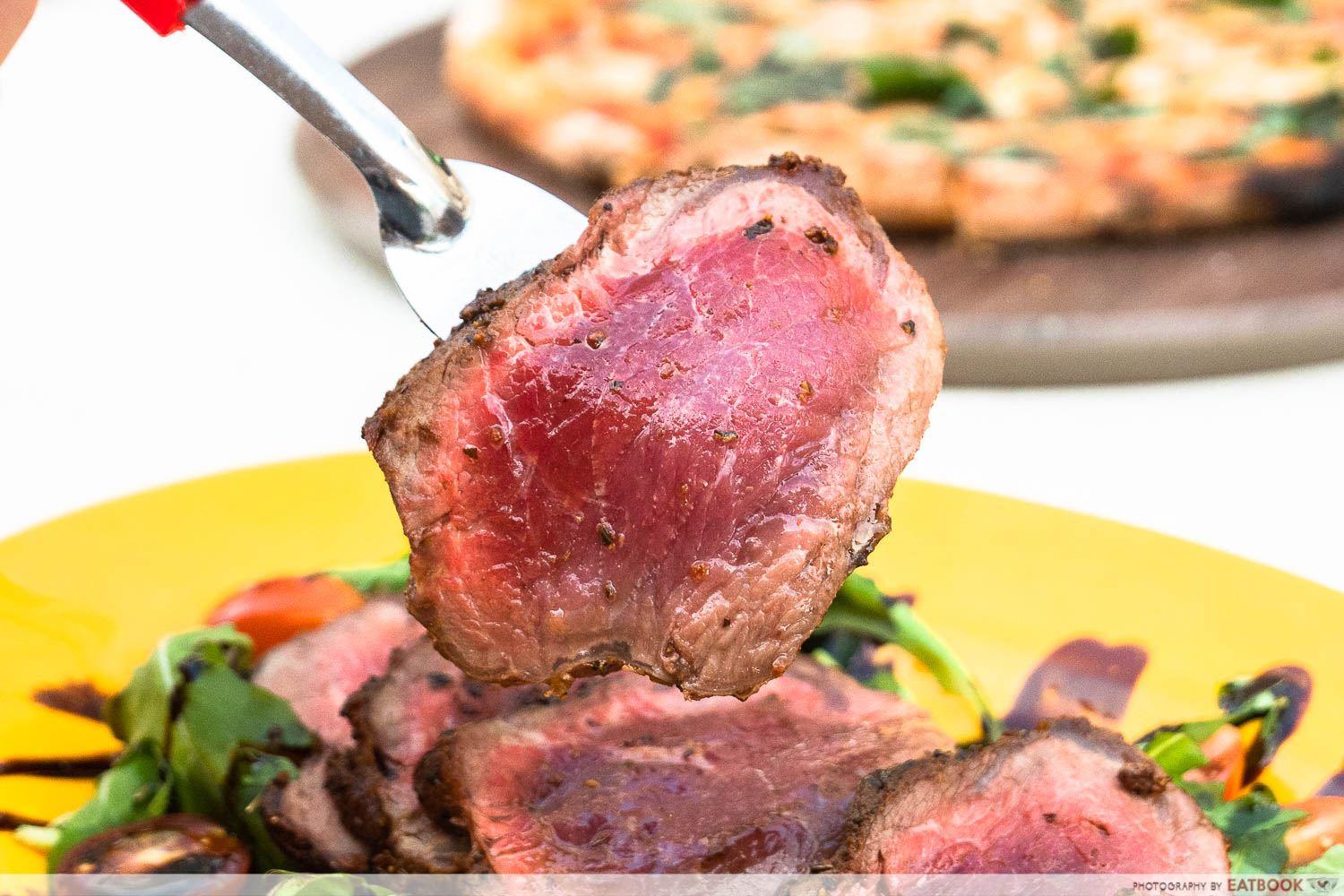 The end result of that process is a gorgeous deep red centre, with an undeniably crispy crust. However,  I found the meat too tough and chewy for me.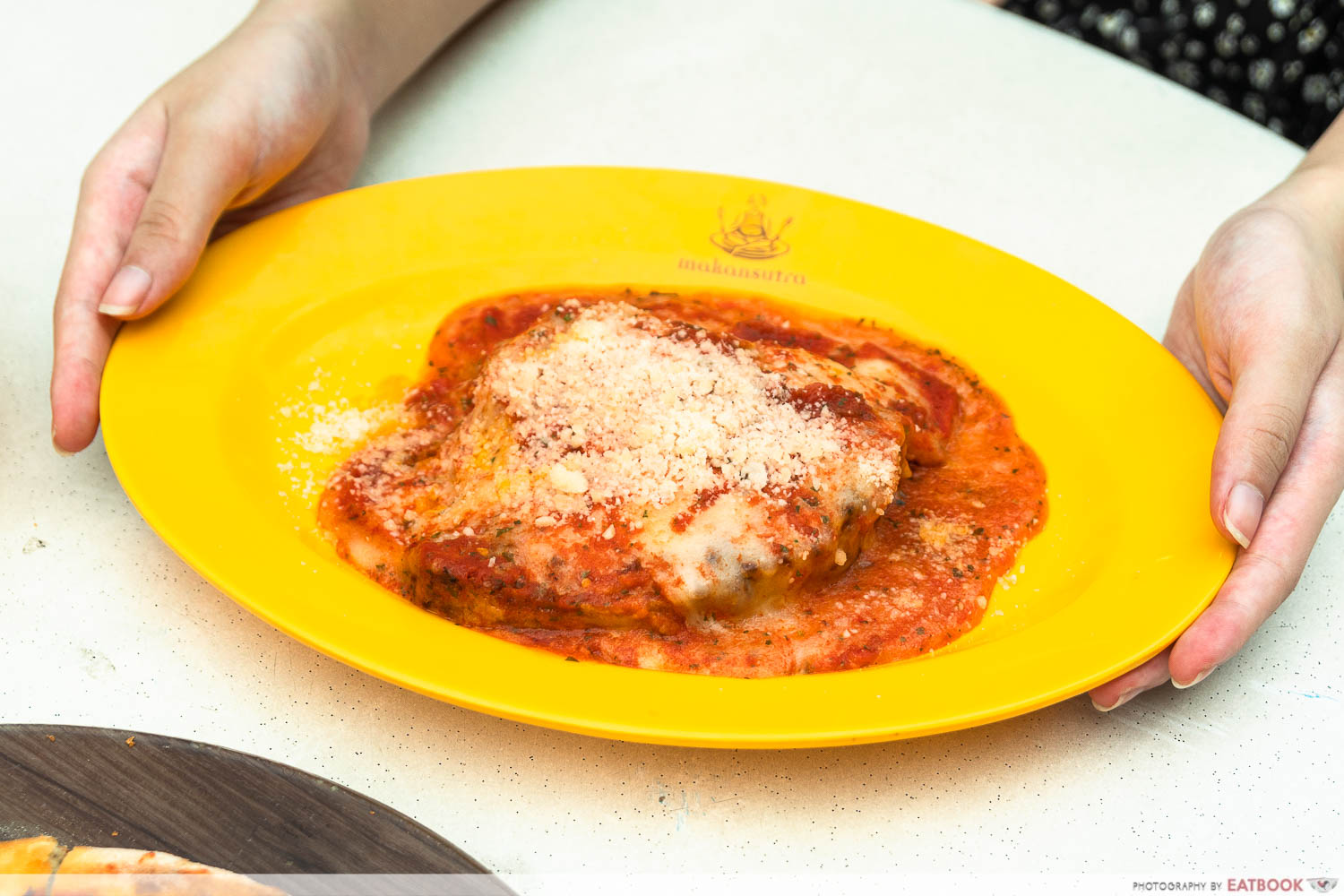 Lastly, we rounded off our meal here with their Lasagna ($12).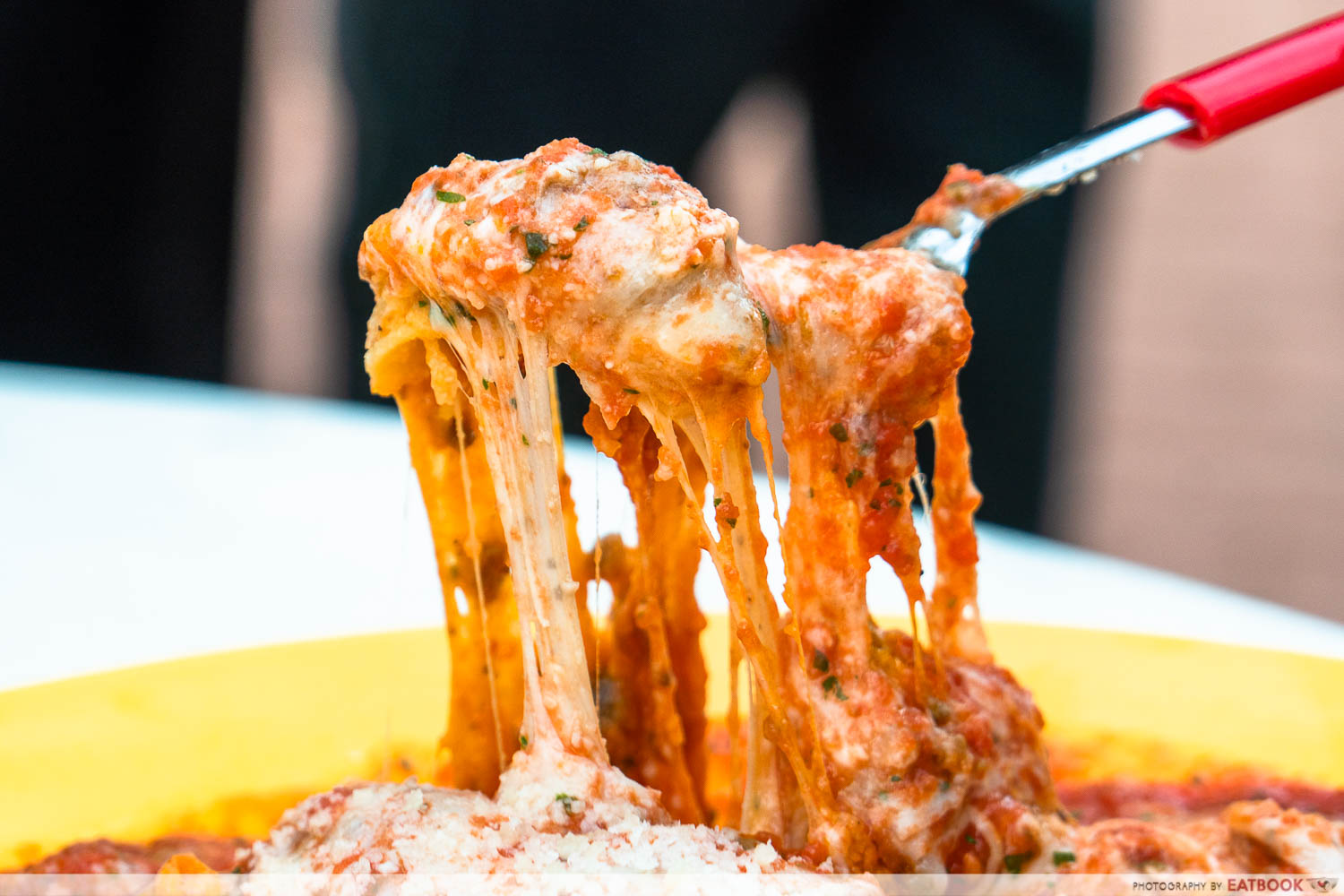 Its flavours are relatively simple, but by no means does that mean it isn't tasty. It's cheese galore, with heaps of mozzarella piled on top of, as well as between, the layers of lasagna sheets and house-made beef ragu.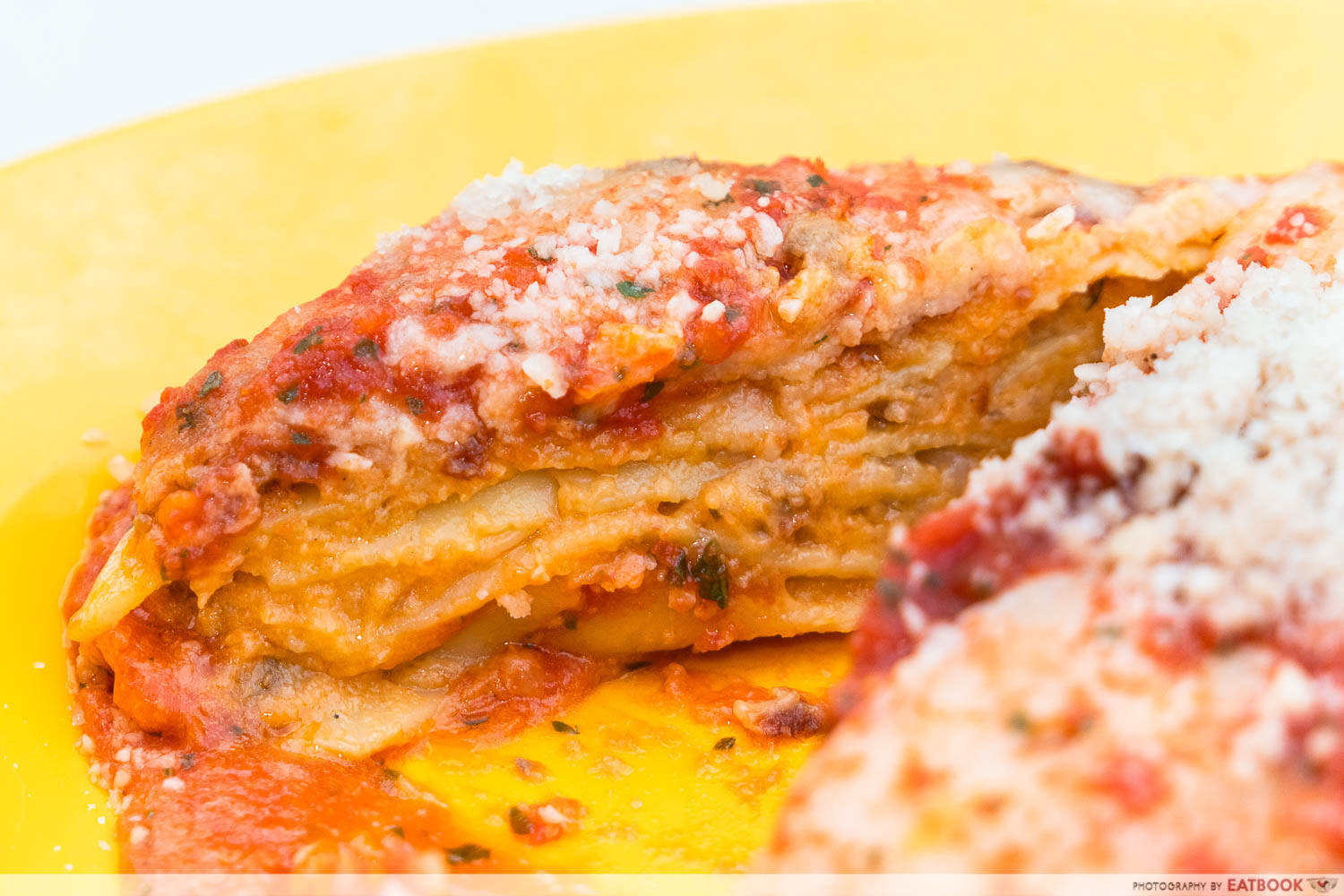 Some may find the copious amounts of cheese a bit overwhelming, but I personally felt that the lightness of the pomodoro sauce and beef ragu balanced it out, making this cheesy lasagna a simple but tasty dish. 
Ambience at Saporita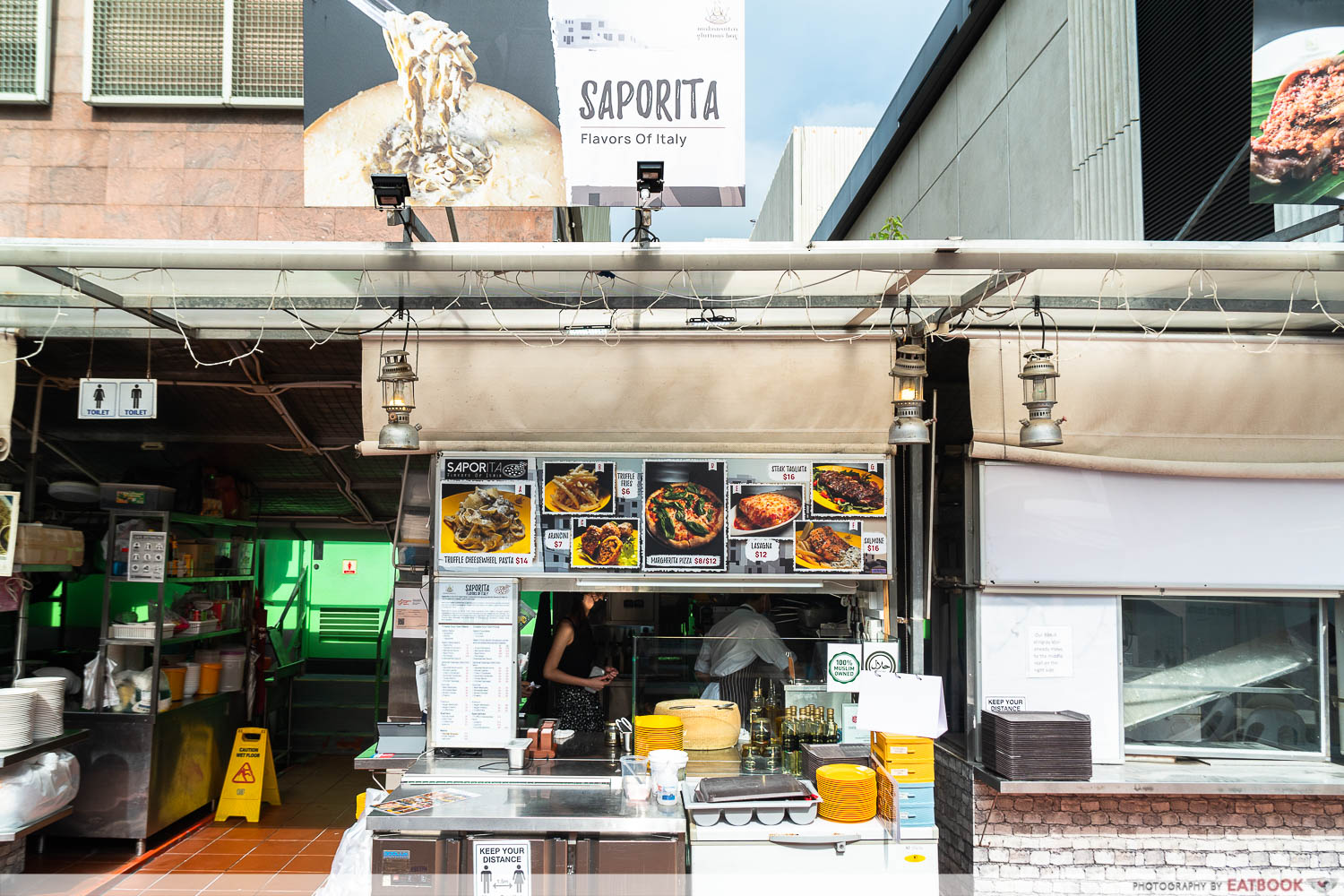 Saporita is one of the many stalls at Makansutra Glutton Bay, a five-minute walk from Esplanade MRT Station. Take a right turn after you exit Esplanade Mall, and Saporita is the last stall down the stretch.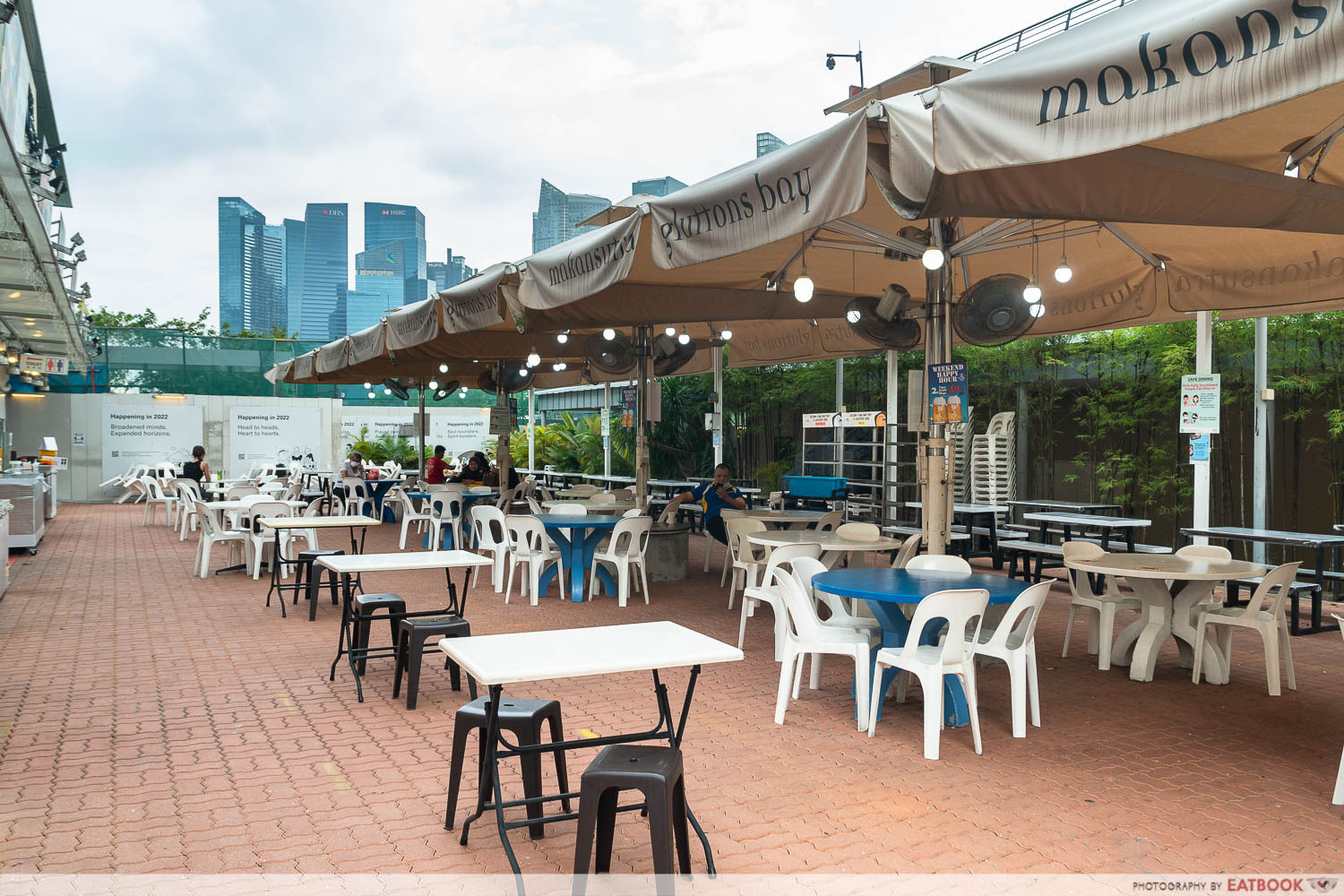 Even after the hype on social media has died down, it appears that Saporita is never uncrowded, as they continue to entertain a healthy number of diners every evening. 
If you're not particularly fond of queues, we would recommend visiting earlier in the evening, and then taking a walk down the Singapore River after and enjoying the cooling night breeze. 
The verdict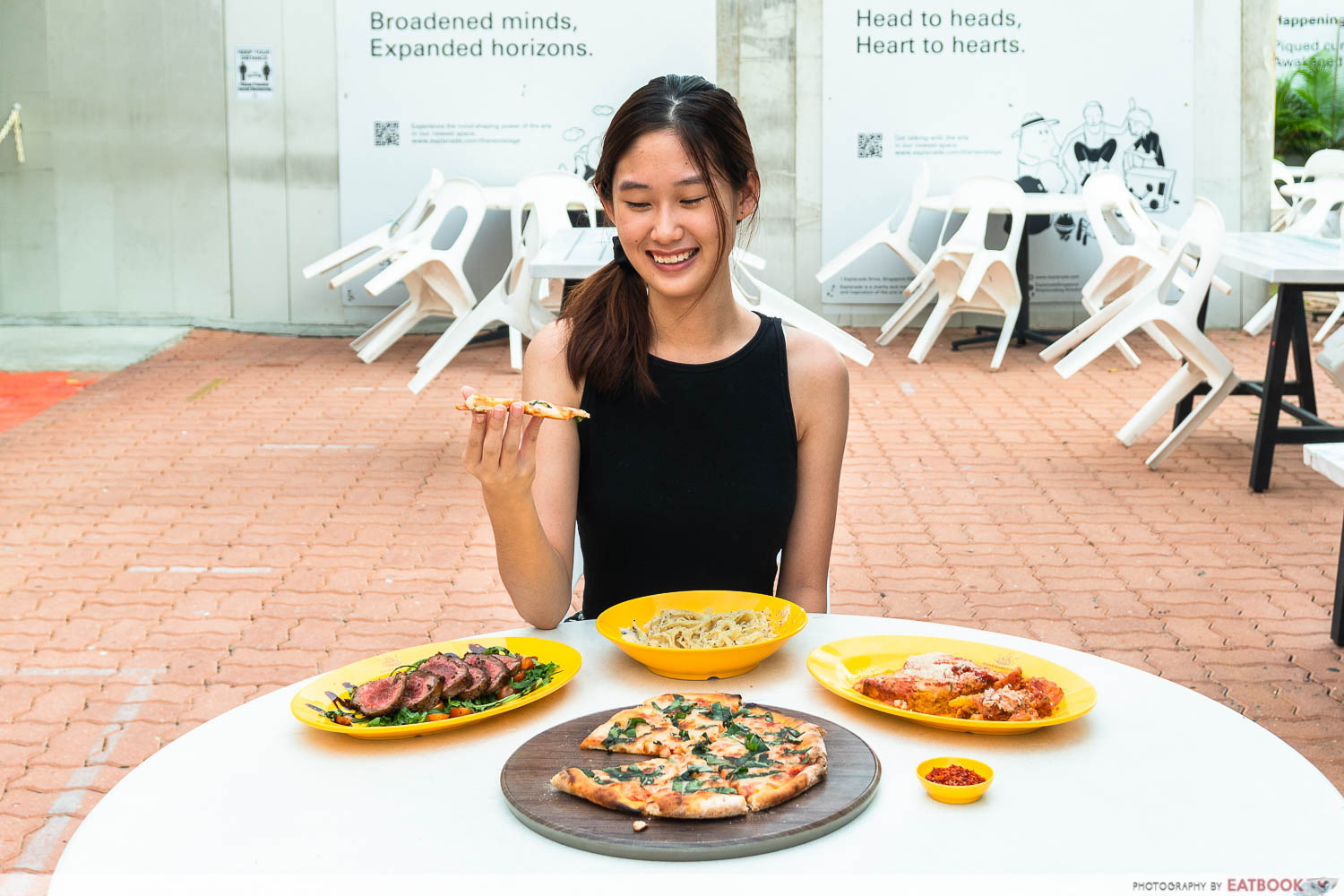 It's hard to find halal, yet authentic, Italian food━and for that, I applaud Saporita. Their location at Makansutra Glutton Bay makes it the perfect place to hang out with family and friends beneath the evening sky, and I know I'll be back when  I'm in the mood for Italian food without breaking the bank, or just all-around good vibes. 
For more halal Italian eats, check out our 800° Woodfired Kitchen review for halal pizzas at nett prices. Otherwise, check out our Fluff Bakery review for Horlicks cupcakes, maple cinnamon doughnuts, and more from this IG-famous halal bakery. 
Address: 8 Raffles Avenue, #01-15L, Makansutra Glutton Bay, Singapore 039802
Opening hours: Tue-Sun 4pm to 10pm
Tel: 8344 6372
Website
Saporita is a halal-certified eatery.
800° Woodfired Kitchen Review: New Muslim-Owned Pizza Cafe With Truffle Sauce Base At Nett Prices
Photos taken by Zadelin Wong.
This was a media tasting at Saporita.
Saporita Review: Halal Truffle Cheesewheel Pasta and Margherita Pizza Below $20 at Esplanade
Saporita Review: Halal Truffle Cheesewheel Pasta and Margherita Pizza Below $20 at Esplanade -

7.5/10
Summary
Pros
– Truffle Cheesewheel Pasta was rich and tasty
– Crust of Margherita Pizza was just nice
– Accessible location
Cons
– Steak Tagliata was chewy
Recommended dishes: Truffle Cheesewheel Pasta ($14), Margherita Pizza ($12) 
Opening hours: Tue-Sun 4pm to 10pm
Address: 8 Raffles Avenue, #01-15L, Makansutra Glutton Bay, Singapore 039802