La Mensa at Tanjong Pagar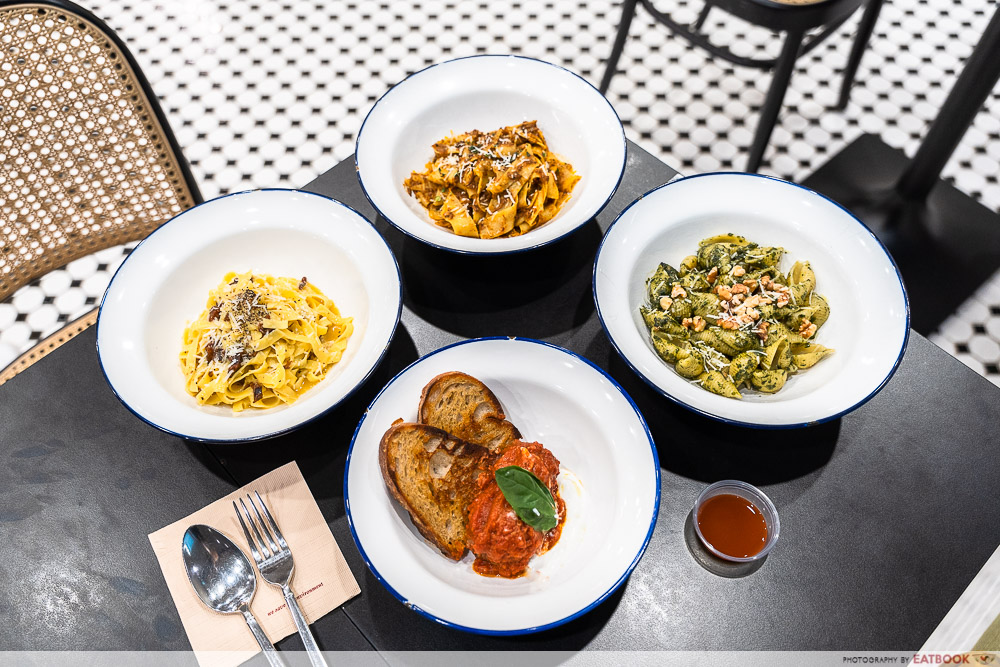 When I think of food in Tanjong Pagar, I think of trendy cafes such as Kreams and Roji Monster. Rarely have I considered the eats in the surrounding skyscrapers and buildings such as Guoco Tower, which is where La Mensa finds itself. 
With a menu almost solely comprising pasta with house-made sauces, this Italian pasta joint keeps its prices affordable, with nothing on the menu exceeding $15.
Kreams Krafthouse Review: Live Your K-Drama Fantasies At This Autumn-Themed Cafe Near Tanjong Pagar
Food at La Mensa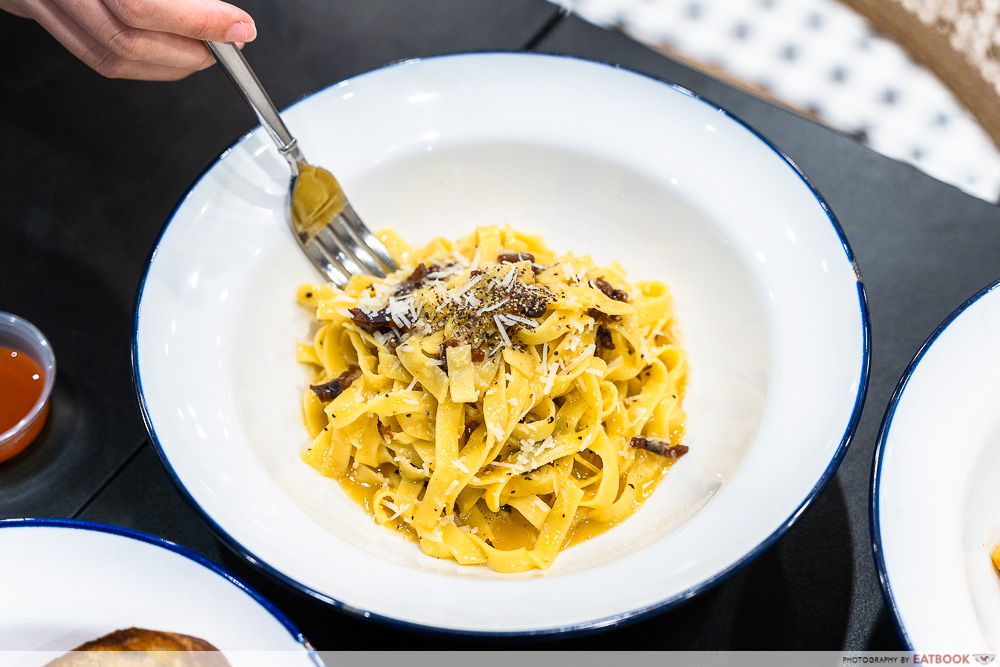 I was most interested to try the Carbonara ($13.50+) after catching wind about its traditional use of guanciale, AKA cured pork jowl, instead of the regular bacon or pancetta.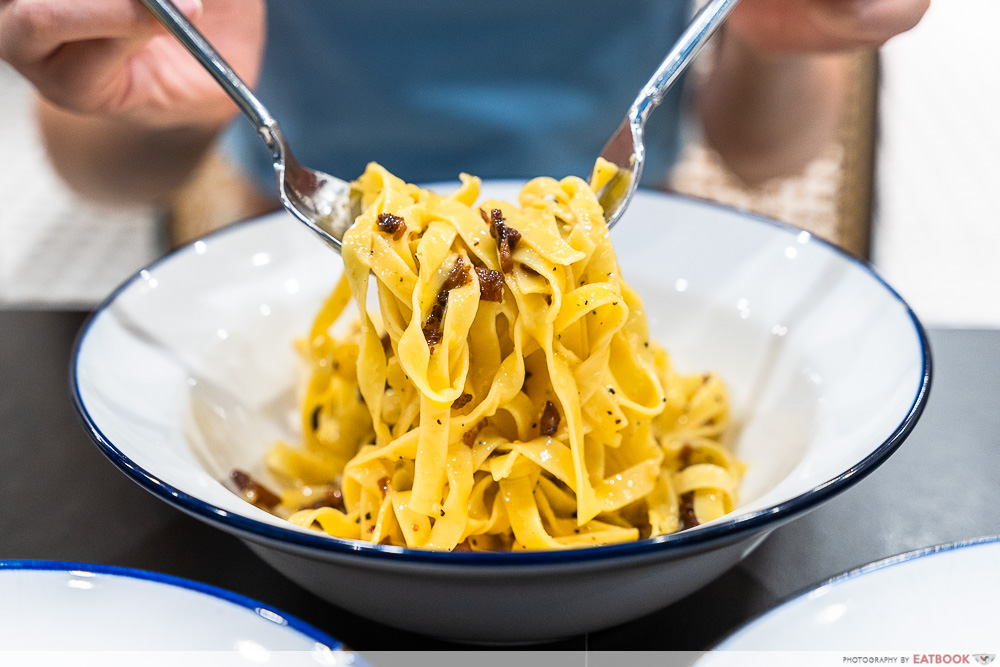 This dish will definitely please carbonara purists with its rich, savoury egg yolk sauce that isn't tarnished with any sort of milk or cream, coating each strand of tagliatelle. 
A huge plus point for me is that the carbonara sauce did not dry out, even throughout the duration of our shoot, allowing me and my colleague to enjoy it at maximum richness and creaminess even after we were done shooting.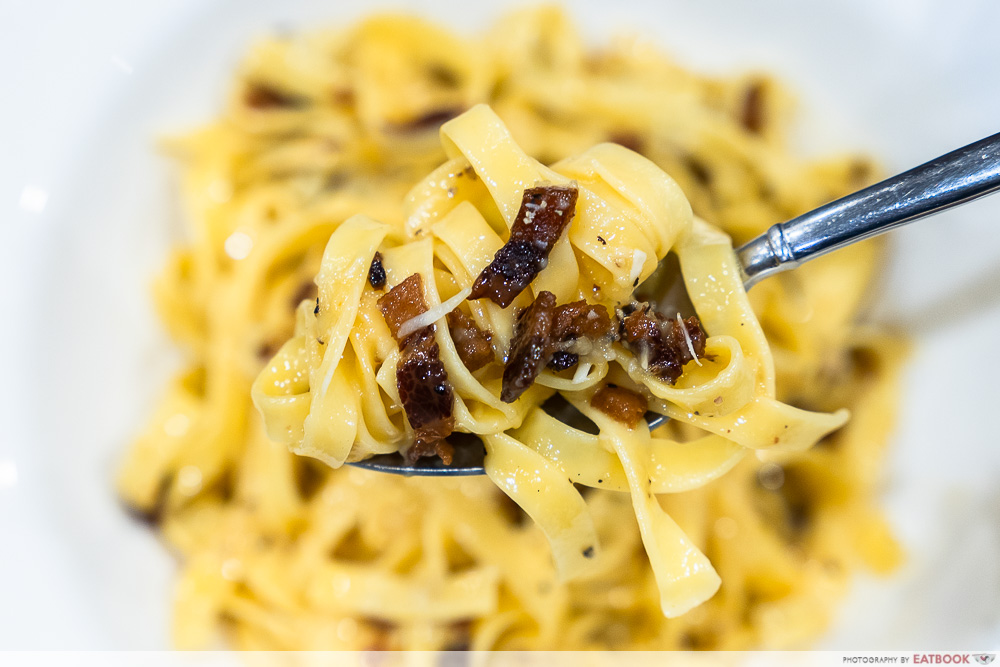 To my dismay, however, the bits of guanciale scattered throughout the pasta were too small to bring sufficient saltiness to the table. More of these pieces of pork jowl, cut slightly thicker, would've done just the trick for me.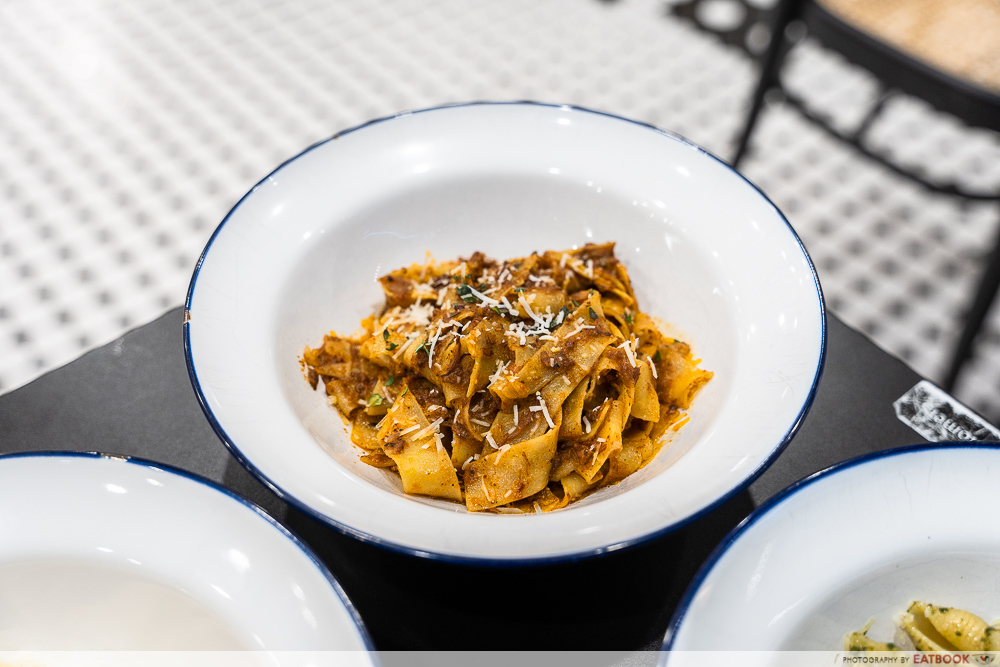 On the other hand, I definitely underestimated the Ragu Alla Bolognese ($15+), as this was the pasta that ended up impressing me the most.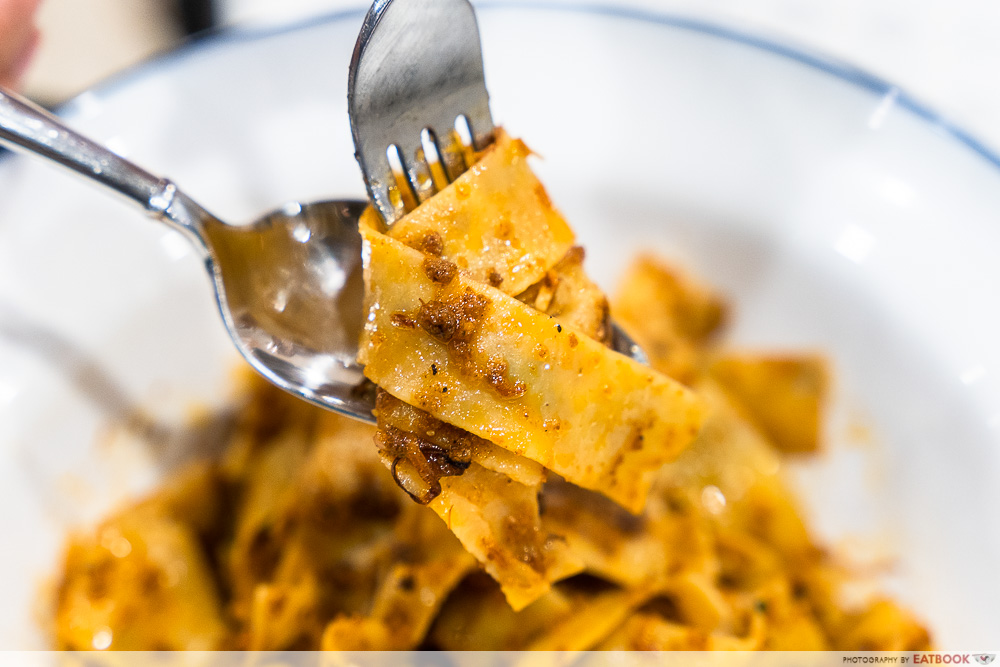 This dish's addictive taste can be attributed to the dash of red wine added, which brought extra richness. Furthermore, the way that the perfectly al dente pappardelle caught the pieces of beef made each bite extra infused with beefy flavours. 
My only qualm would be that it's a tad on the oilier side, evident from the residual oil on the plate after you've finished all of it, but it's not entirely noticeable while you're gobbling up its savoury goodness.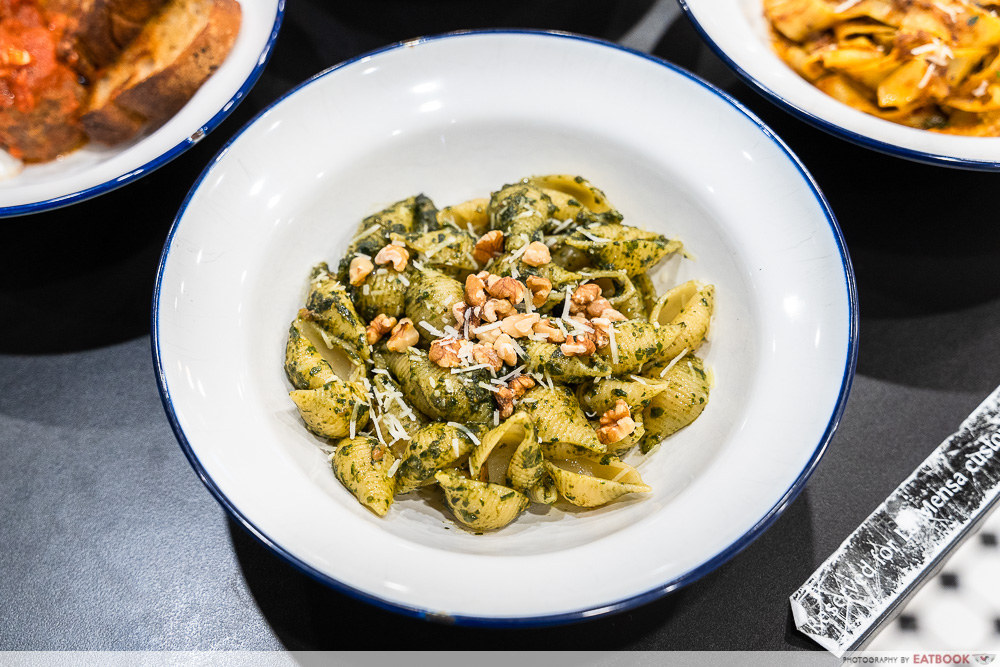 As a pesto fan, I had to try the Pesto Di Noce ($12+). This conchiglie pasta came tossed in a house-made basil pesto sauce, and then garnished with walnuts and grated pecorino cheese.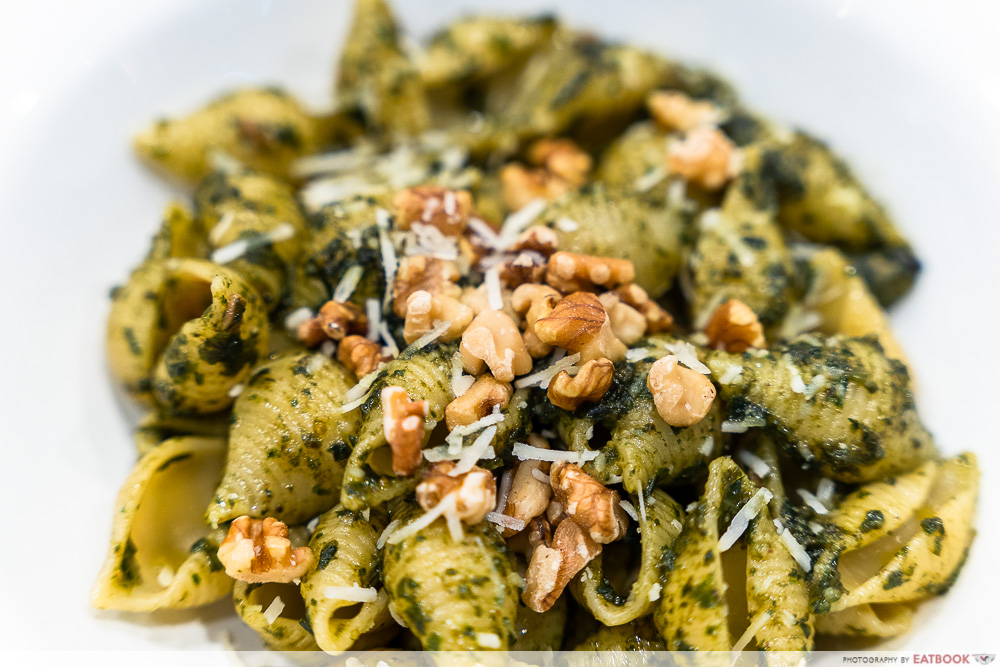 As expected, the basil pesto sauce was all kinds of herby and garlicky, with a touch of crunchiness from the bits of walnut. I liked that it was neither too wet nor too dry, allowing the conchiglie to catch the sauce in its ridges well.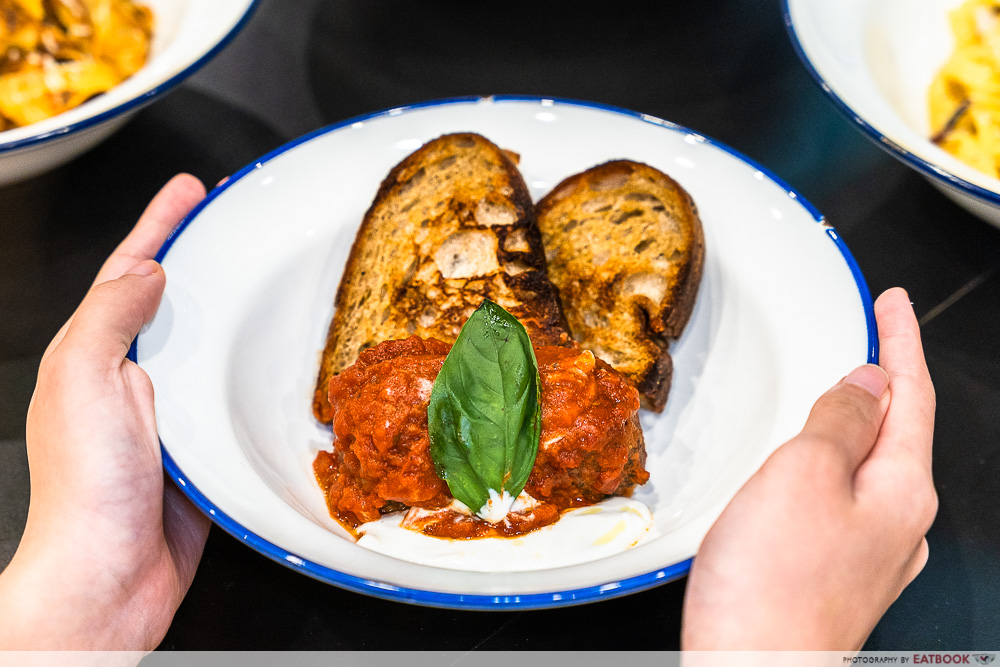 La Mensa has a good number of sides, and I felt that it would be unfair if I left without trying one of them. Hence, we ordered the Polpette ($12+), which translates to 'meatballs' in Italian.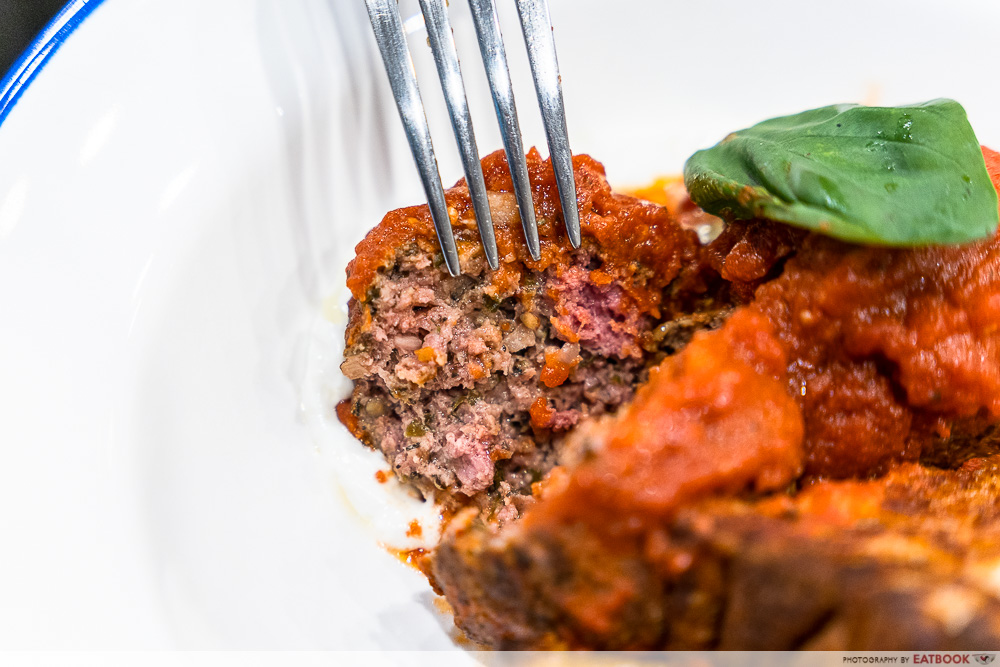 Upon being served, my eyes naturally gravitated towards the meatballs, focusing on their large size. Though only two sat on the plate, they were hefty enough to escape any complaints I might have had about the size of the portion. 
First impressions aside, the meatballs were tender and moist within, and their pinky doneness meant that they still retained their natural meaty flavours. I'm impressed that La Mensa was able to cook meatballs of this size so well.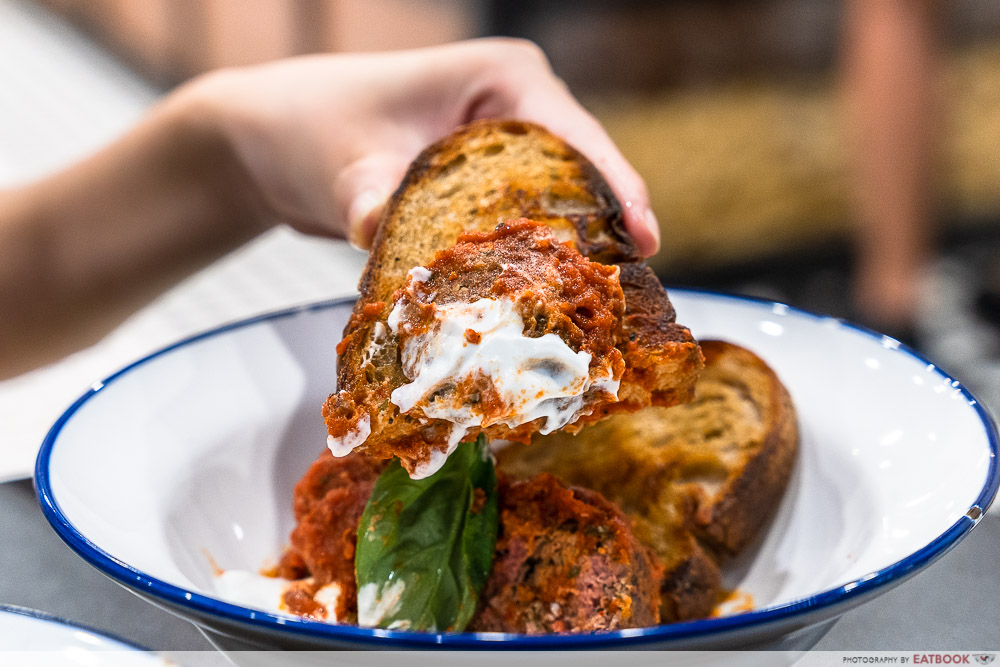 Spreading the dollop of whipped ricotta cheese that was spooned on the side onto the sourdough and meatballs added a light, almost buttery finish to balance the jam-packed flavours of the tomato sauce.

Nudedles Review: Ex-Joel Robuchon Chef Opens Hawker Stall With $8 Lobster Bisque Pasta And More
Ambience at La Mensa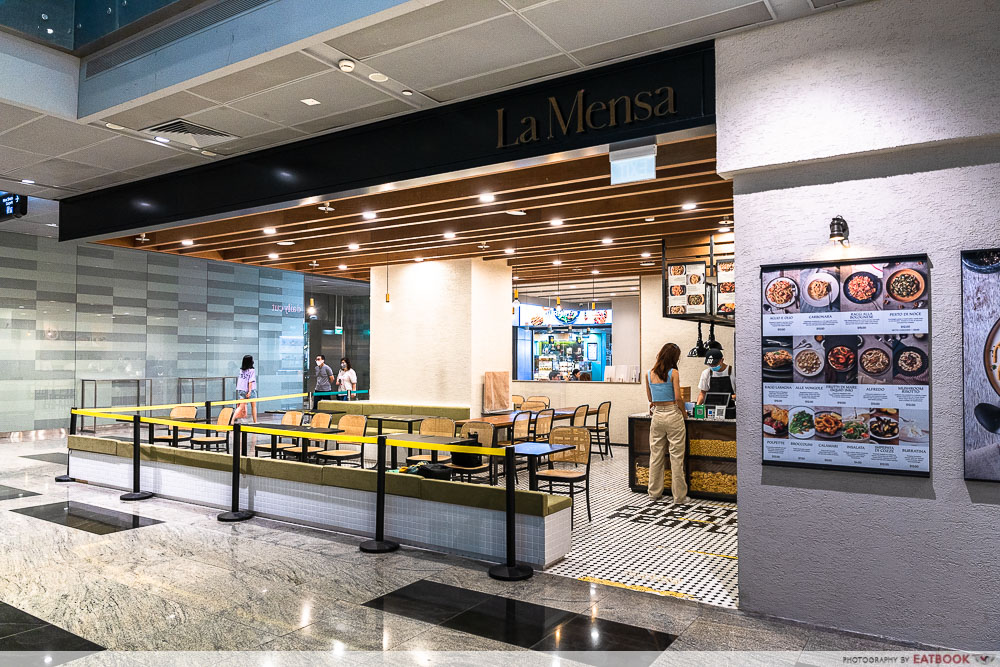 To get to La Mensa, you need not even exit Tanjong Pagar MRT Station, as the gantry opens directly into the basement of Guoco Tower. Simply enter the mall from there, and La Mensa can be found to your immediate left. Its location at the heart of CBD means that it gets extra crowded during lunch hour, so hurry if you want to get a seat in the store, which seats 30.
The verdict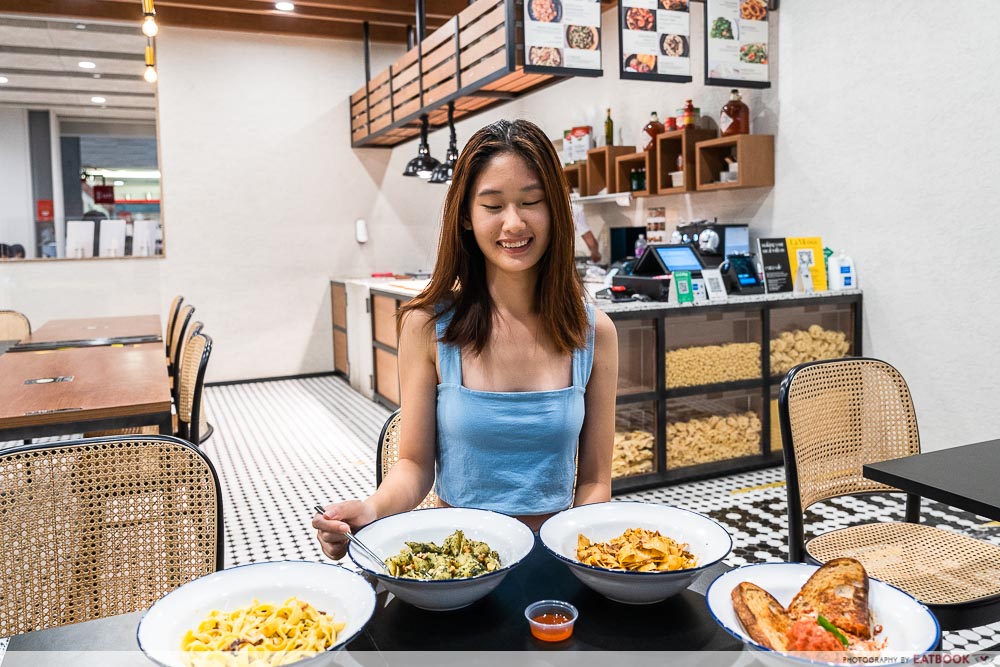 I'm usually quite sceptical about affordable pasta, but suffice to say La Mensa has far exceeded my expectations. Its dedication to remaining authentic to Italian cuisine, while also managing to remain relatively affordable for the quality of the fare, is impressive. The staff can most definitely expect me to return when I'm looking for a pasta fix. 
If you're looking for more affordable pasta, check out our Nudedles review for $8 lobster bisque pasta in Chinatown Food Complex. In the same area is Tangled, with freshly made pasta at $7.90. 
Address: 1 Wallich Street, #B2-15, Guoco Tower, Singapore 078881
Opening hours: Mon-Sat 11am to 9pm
Website
La Mensa is not a halal-certified eatery.
Tangled Review: Freshly Made Pasta From $7.90 In Chinatown, Including Truffle Mushroom And Black Pepper Crab
Photos taken by Chew Yi En.
This is an independent review by Eatbook.sg.
La Mensa Review: Pasta Restaurant With Legit Bolognese And Carbonara Under $15 At Tanjong Pagar
La Mensa Review: Pasta Restaurant With Legit Bolognese And Carbonara Under $15 At Tanjong Pagar -

8.5/10
Summary
Pros
– Super flavourful dishes
– Relatively central location
Cons
– Too little guanciale in the Carbonara
Recommended dishes: Carbonara ($13.50+), Ragu Alla Bolognese ($15+)
Opening hours: Mon-Sat 11am to 9pm
Address: 1 Wallich Street, #B2-15, Guoco Tower, Singapore 078881