Kream Krafthouse is a new Korean cafe in Maxwell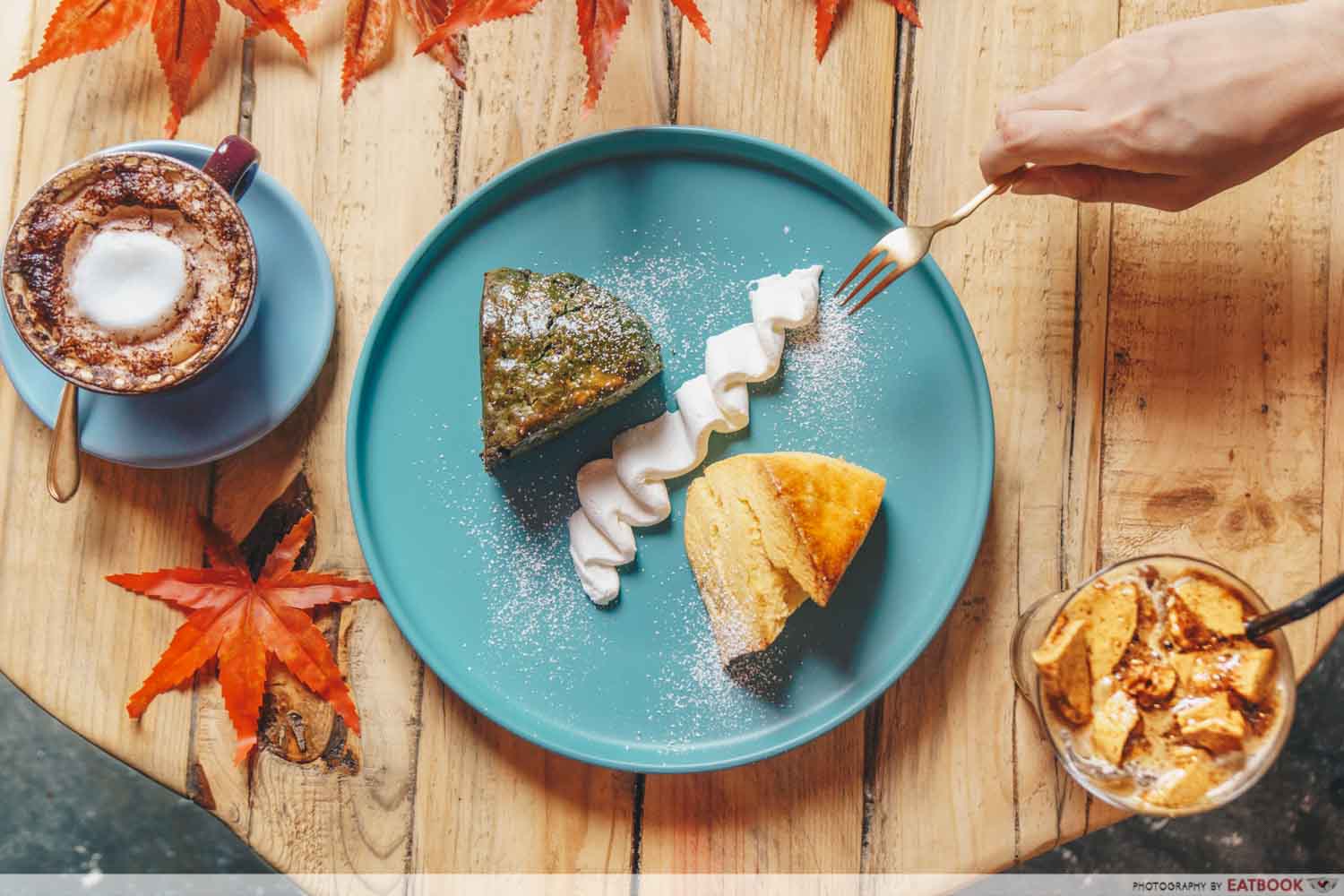 The K-drama craze has rewritten our notions of romance so live out your own love story at Kreams Krafthouse in Maxwell, while we are all grounded in Singapore for now.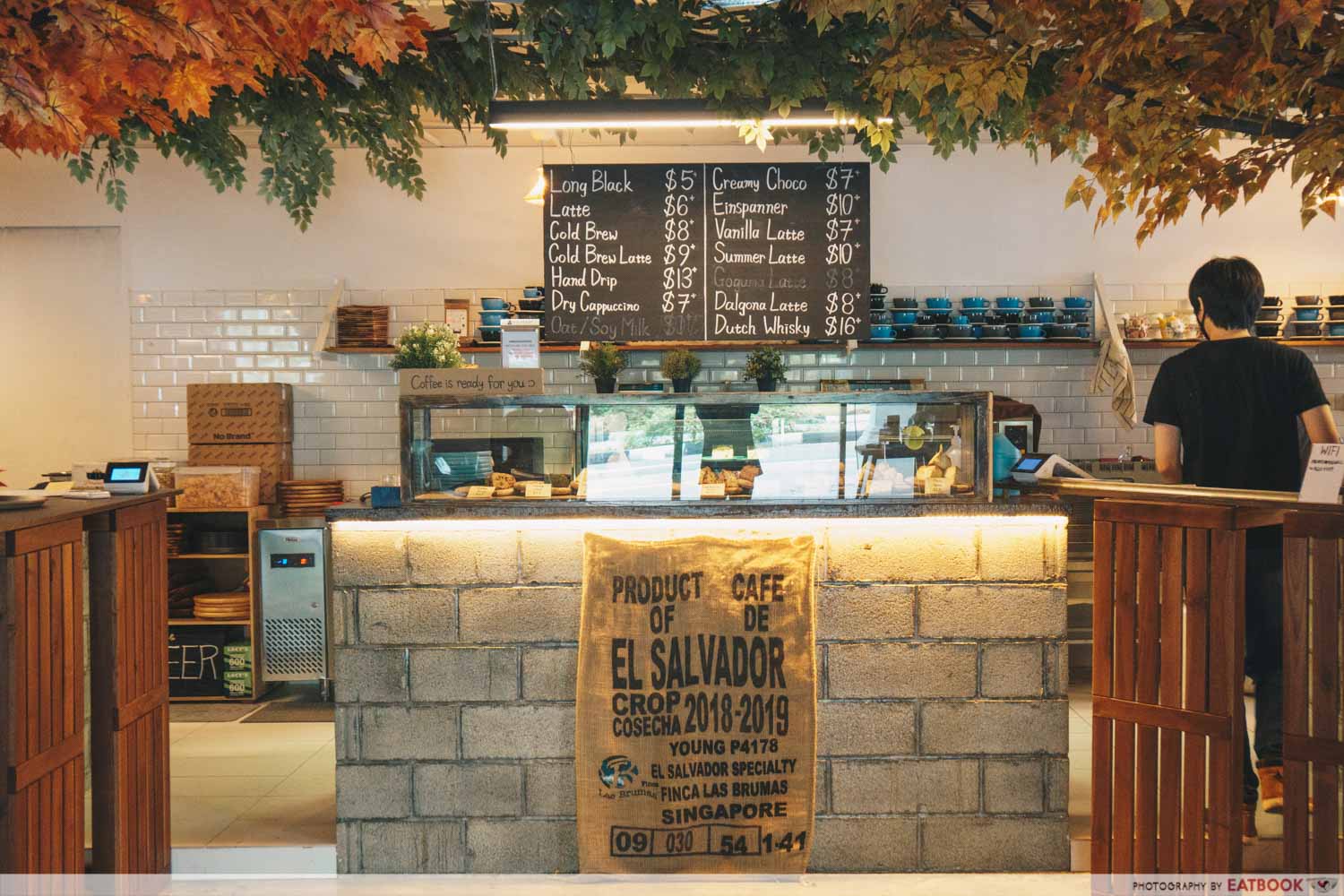 Recognised for a picturesque autumn canopy that spreads over their entire ceiling, this stunning cafe at Maxwell Road offers a range of coffee and photogenic baked treats, in particular, their selection of scones.
The food at Kreams Krafthouse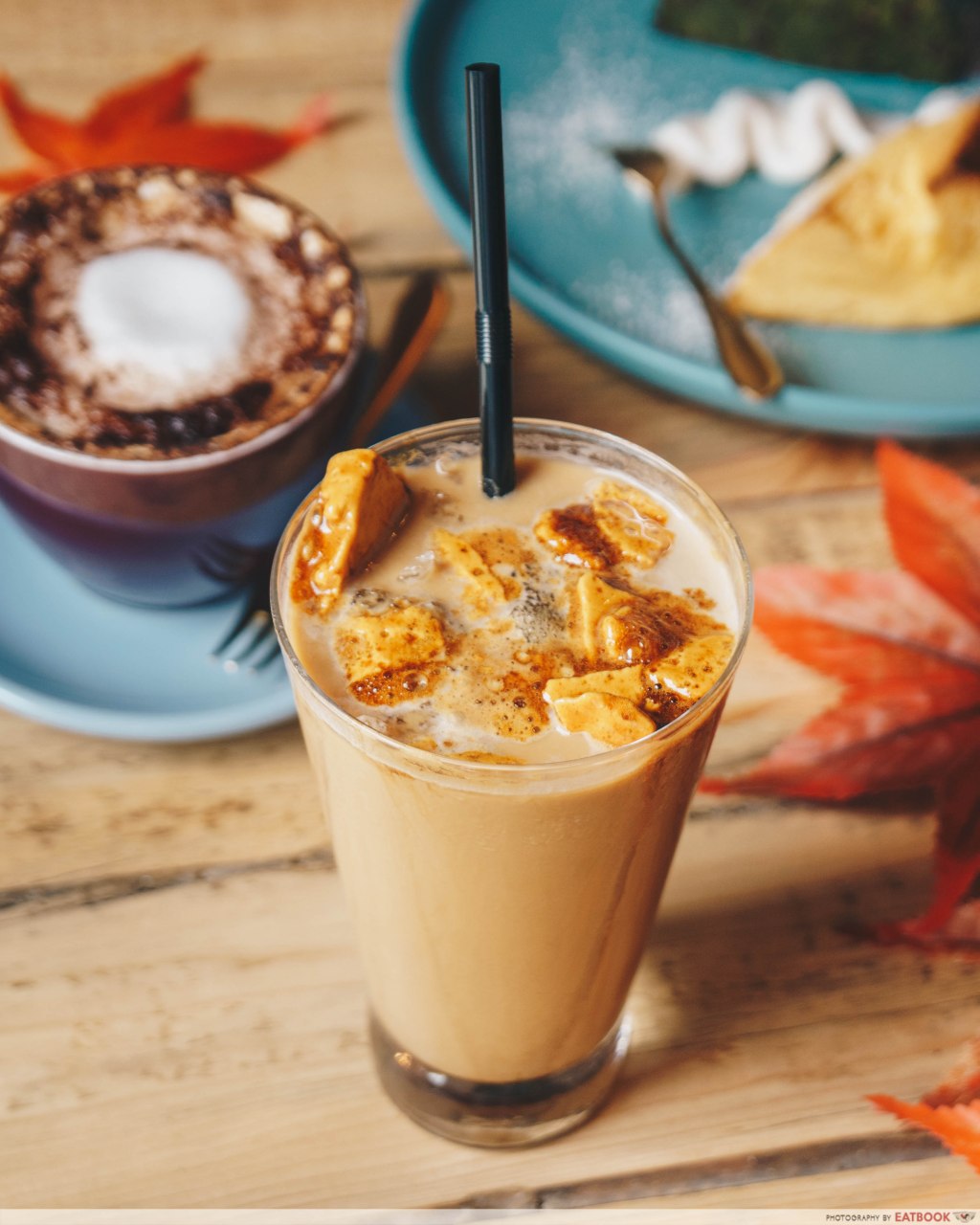 I'm sure many of us are familiar with the dalgona coffee craze that dominated social media platforms during the Circuit Breaker. If you missed it, the drink involves the intense whipping of instant coffee, sugar and hot water into a cloud-like, marshmallow topping, layered on cold milk. The name 'dalgona' actually originates from a Korean honeycomb candy, which the drink is reminiscent of.
The Dalgona Iced Latte ($8) at Kreams Krafthouse, nods to that by featuring chunks of actual dalgona candy, made with melted sugar and baking soda.
This is easily one of the better-tasting lattes I've tried, although it might be a little too sweet for some. The silky latte strikes the perfect balance of sweet and bitter, with the milk bringing out the aromatic coffee.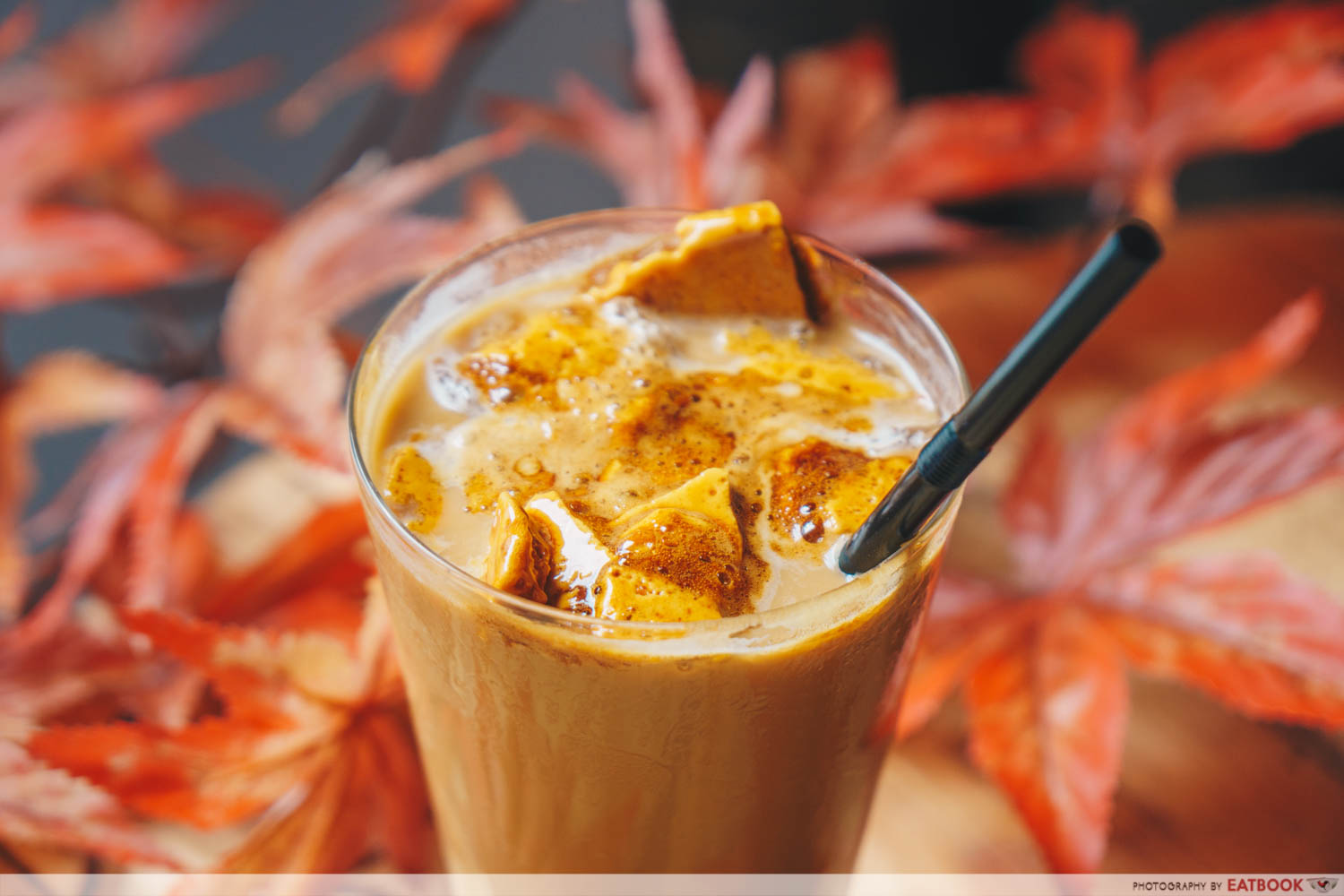 The crumbled dalgona candy topping was light and crisp, and tasted like caramel. It did lose its crispness once it was fully submerged in the beverage but even so, the semi-melted bits provided occasional bursts of sweetness as I sipped the drink.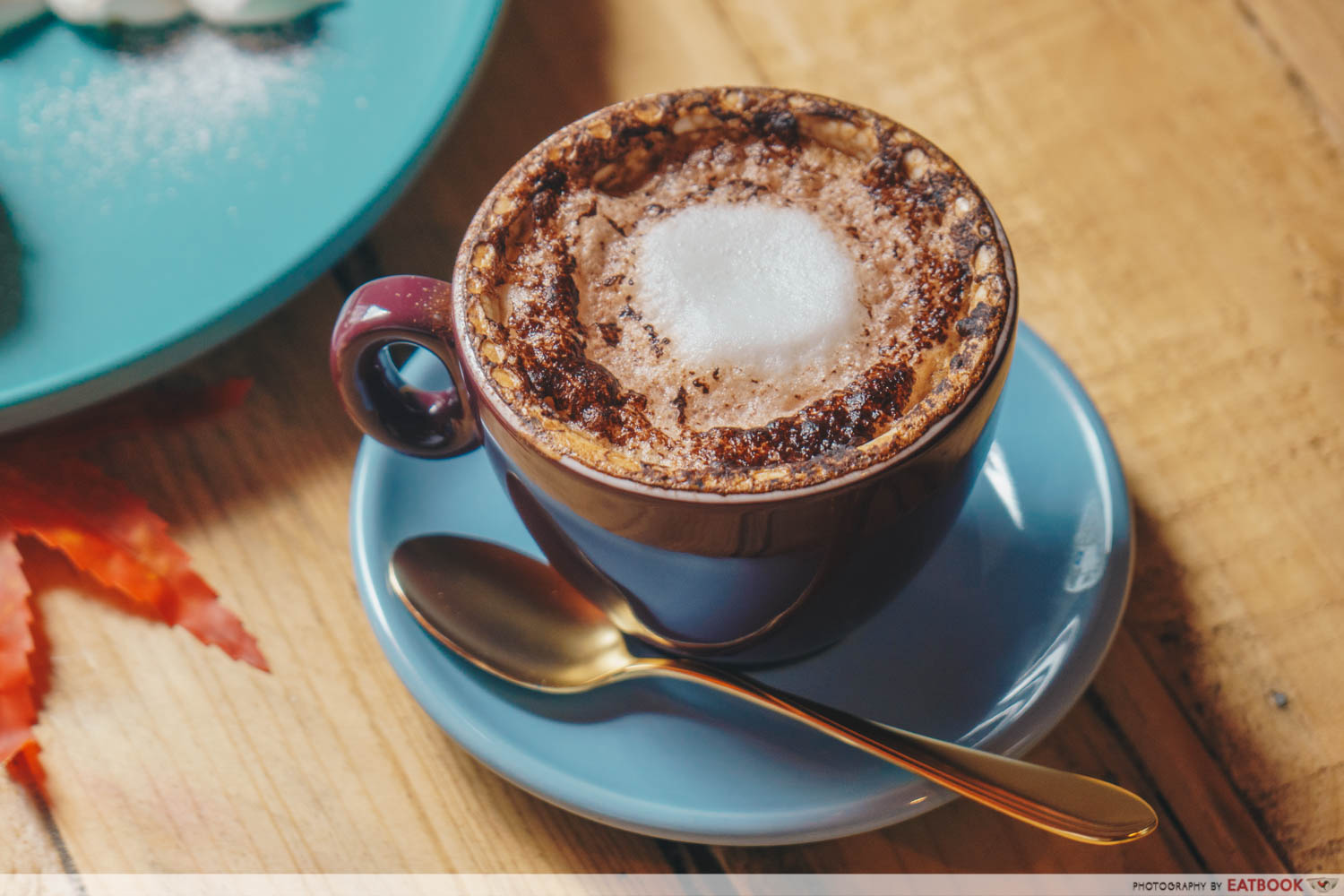 Kream's Dry Cappuccino ($7) caught my eye because of its puzzling name. The distinction between their 'dry' drink and a regular 'wet' cappuccino is that Kream's version is denser, less milky and has a thicker layer of foam. The sprinkling of Valrhona cocoa powder was a pleasant addition that gave the drink more depth.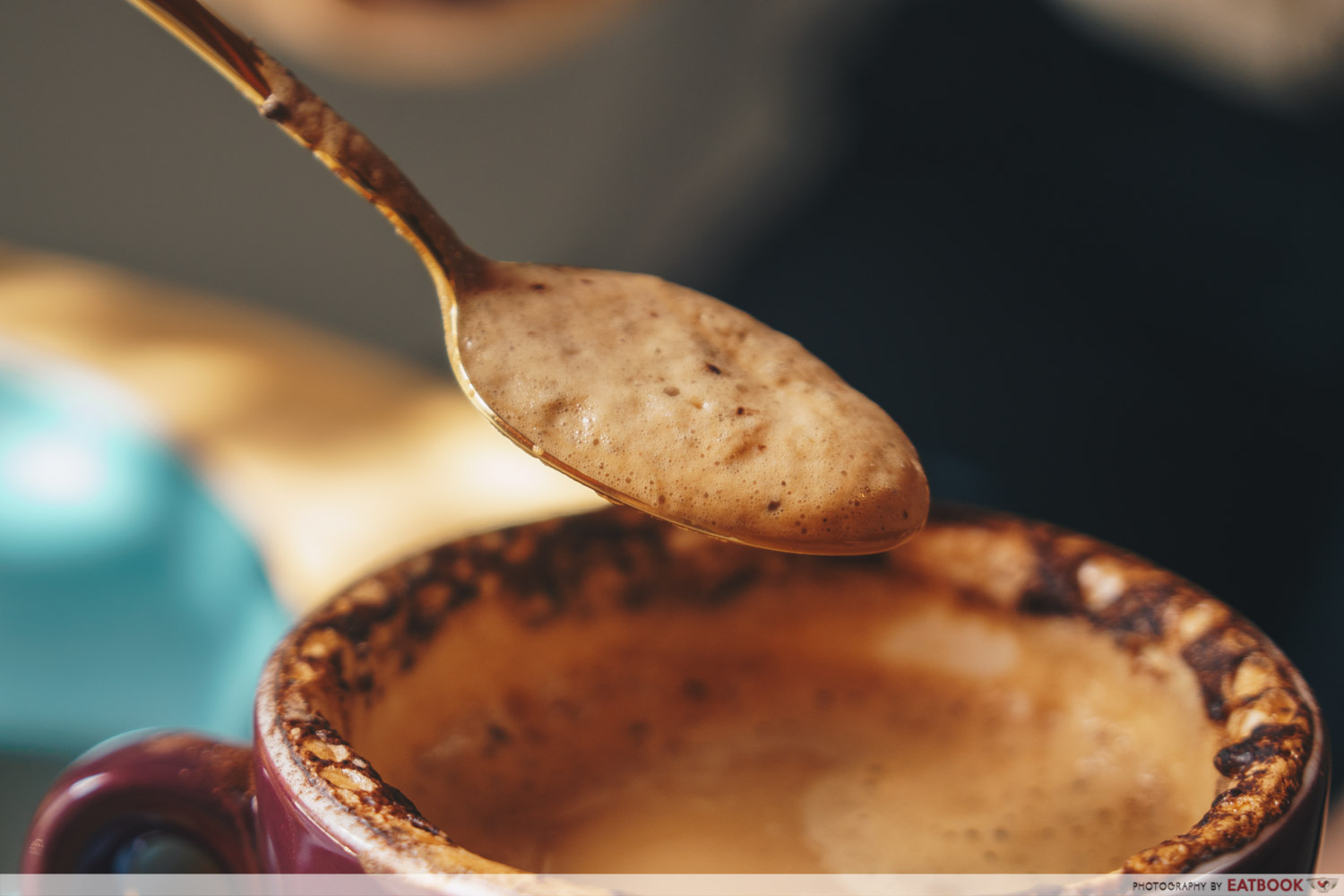 Because there is less milk in the Dry Cappuccino, the rich flavour of the espresso was distinct, giving it a punchy taste. If you're a fan of espresso or black coffee, you'd probably appreciate the bold flavours. However, I was unaccustomed to the intense beverage.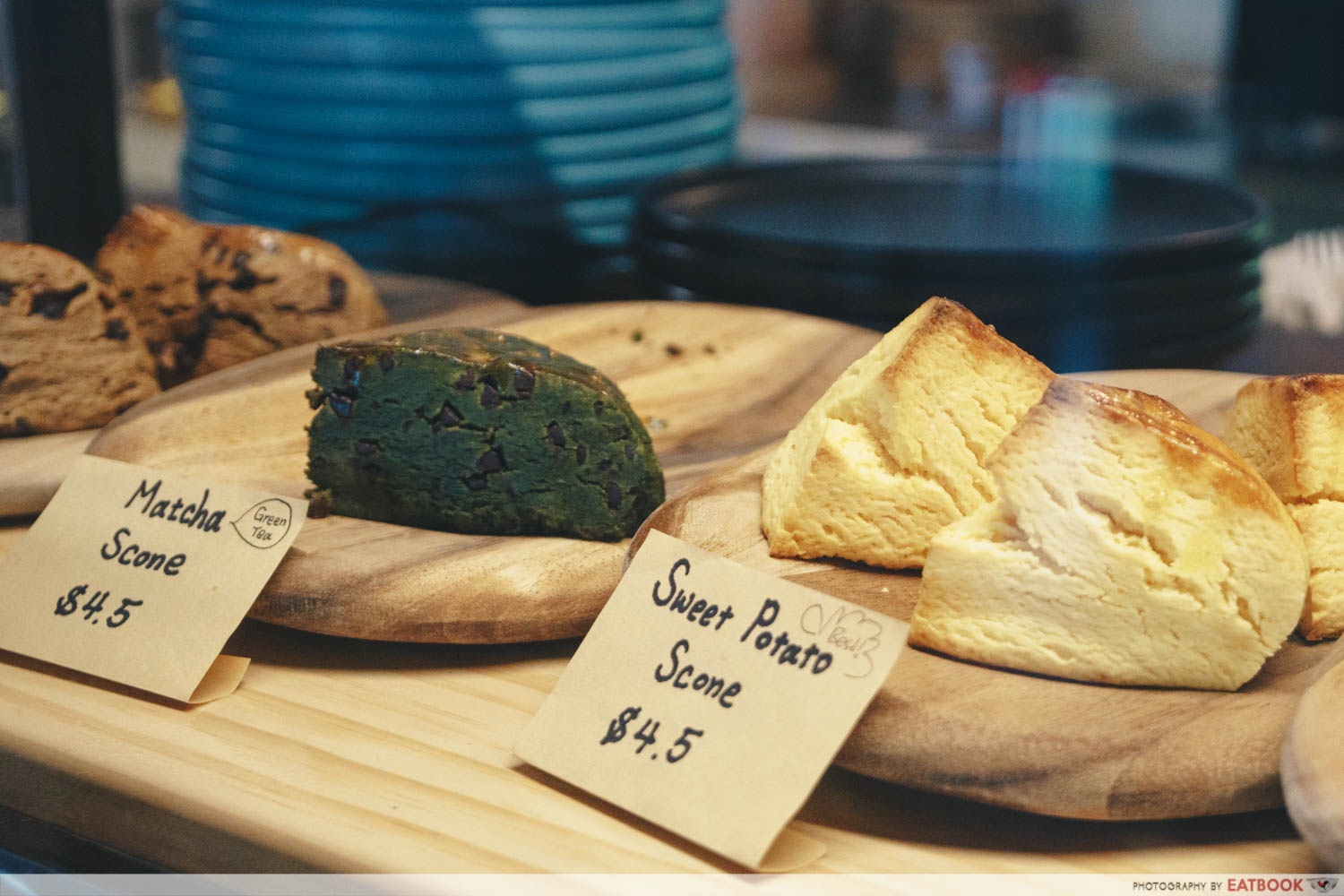 The assortment of scones is a signature offering at Kreams, and these are proudly displayed in the middle of the counter at the café. We went with their best-selling sweet potato and matcha scones. The array of choices also included interesting flavours like cranberry, dalgona, yuzu, chocolate and coffee.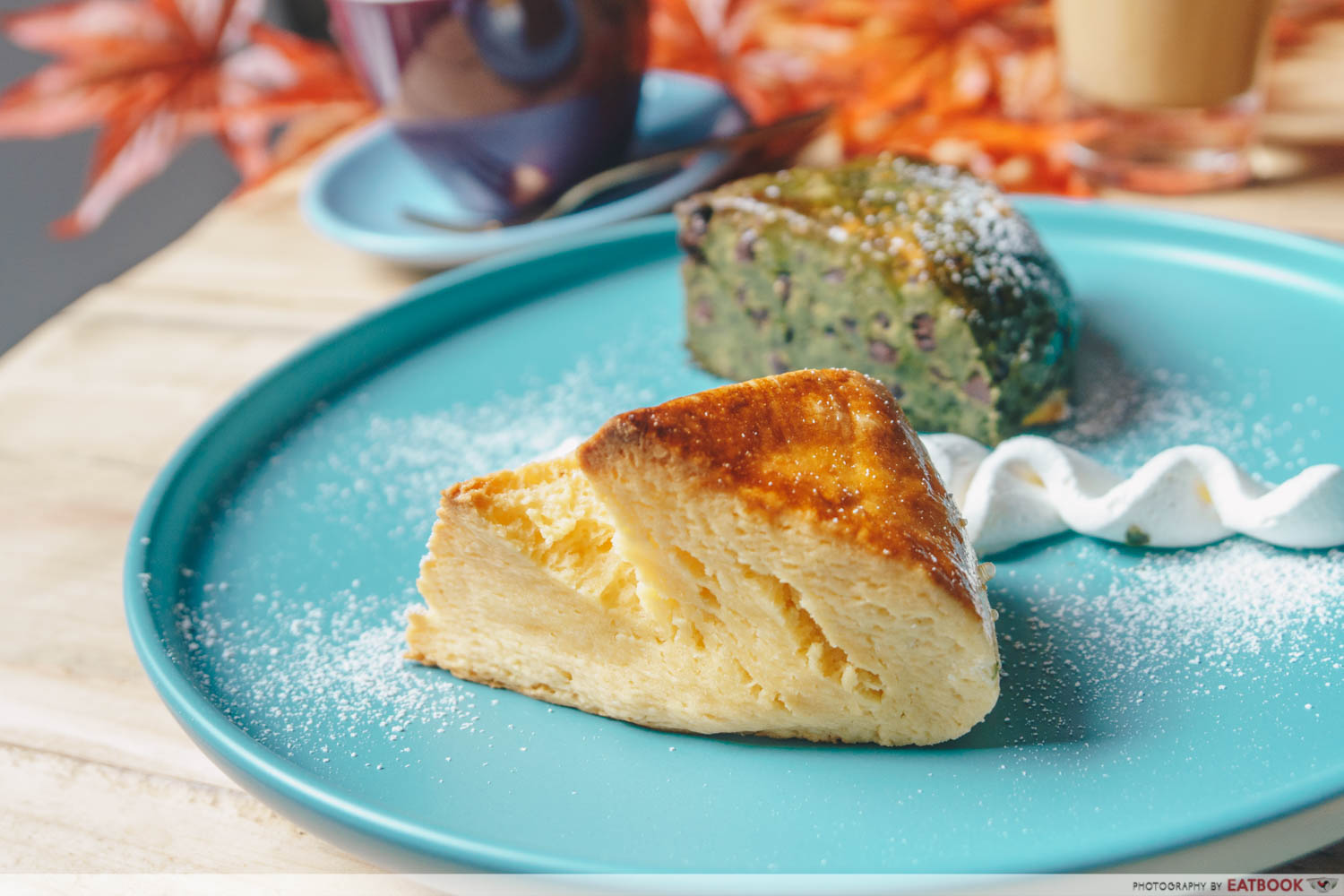 I was impressed with the minimal, yet artistic plating of the scones. The plate was lightly dusted with icing sugar, and whipped cream was piped in a wavy line that broke the monotony. While I wished they had provided clotted cream instead of whipped cream, the pretty plating scored them points.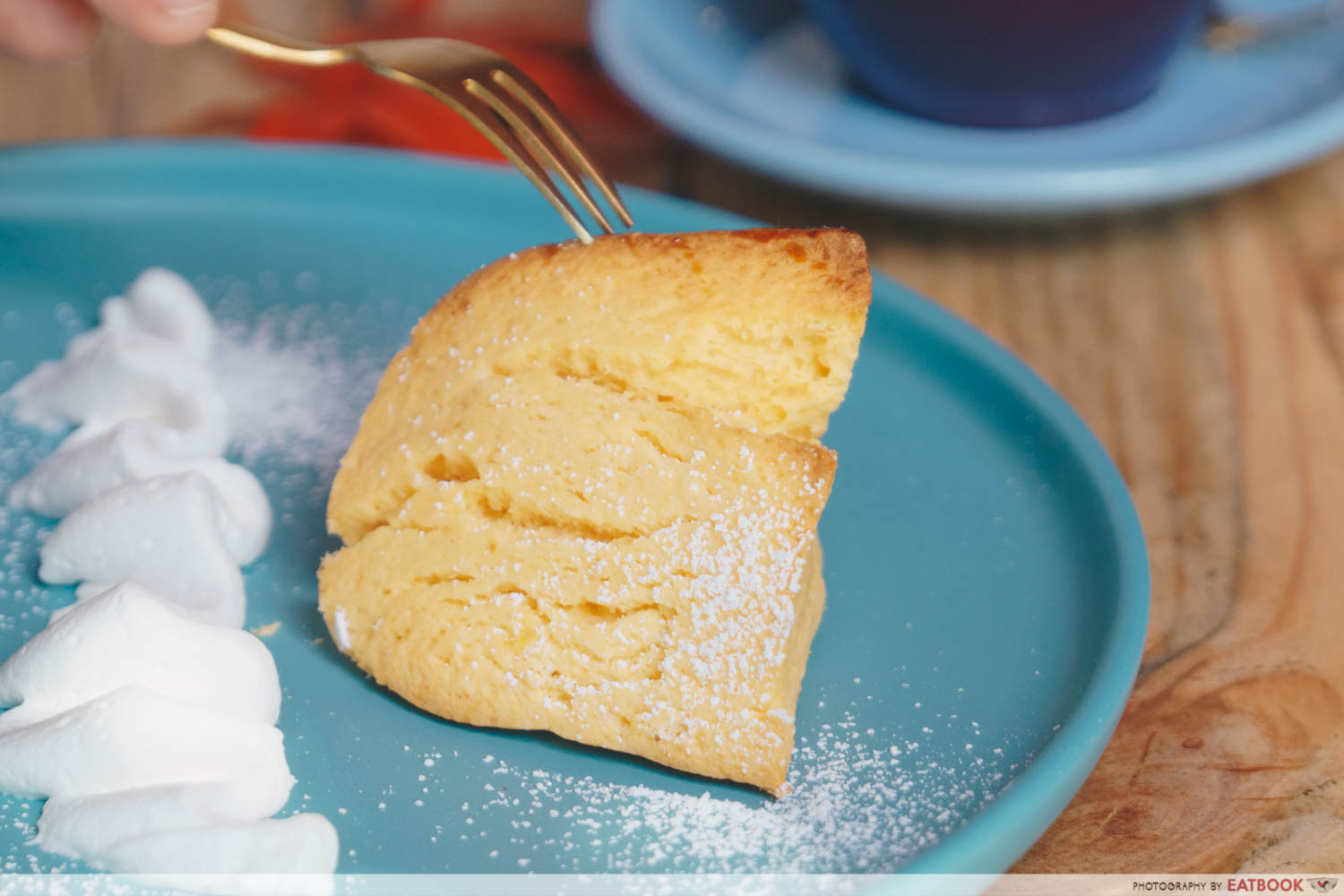 The Sweet Potato Scone ($4.50) was a well-executed and fragrant baked treat. It was crumbly but not too dry. The taste of sweet potato was not prominent, but it provided a mellow sweetness.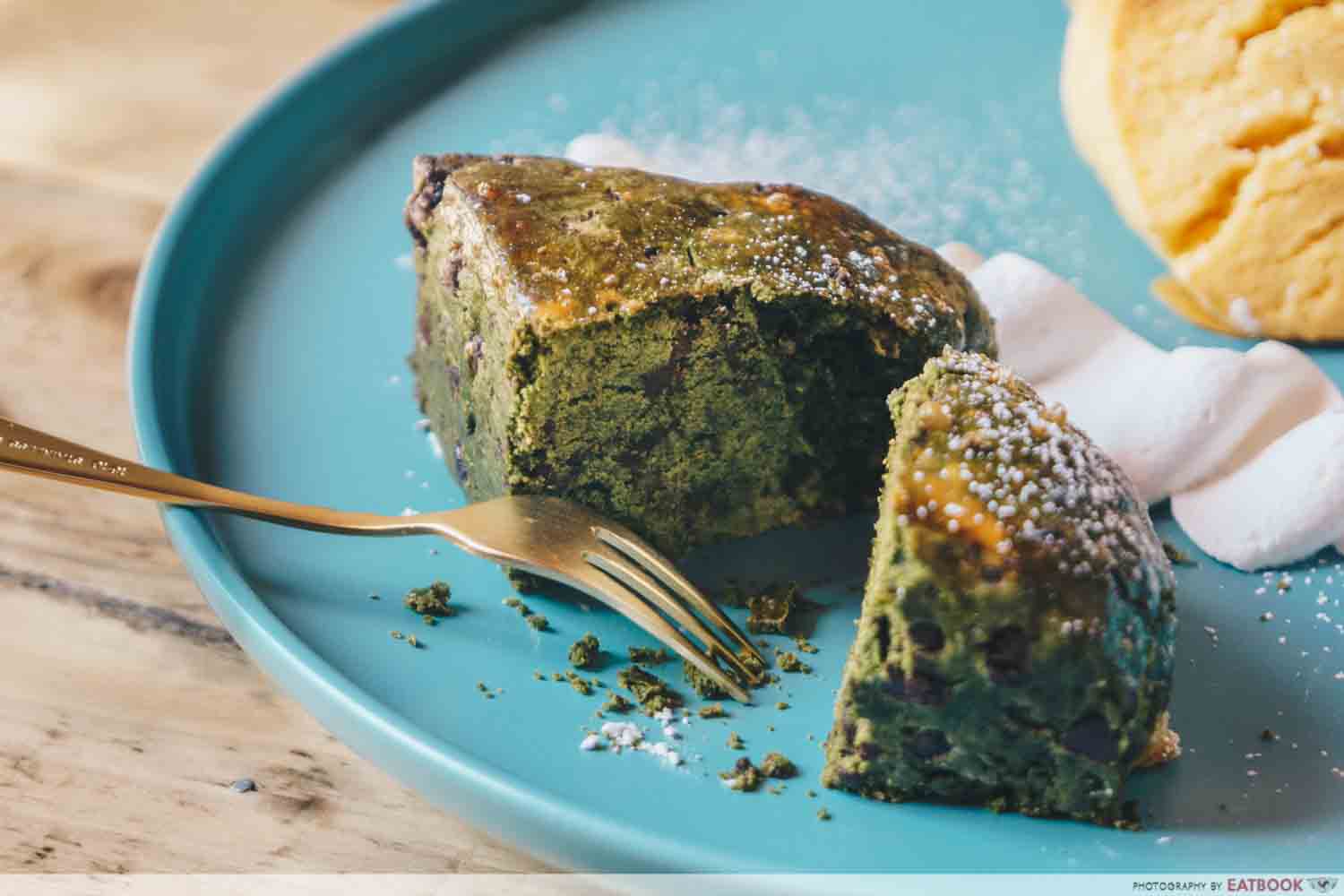 The Matcha Scone ($4.50) was significantly denser and more crumbly as compared to the sweet potato scone. The first taste that hit me was the cocoa flavour of the chocolate chips, followed by the slightly bitter taste of matcha. It was a bit too dry for my liking, and I would have preferred it to be sweeter and more moist.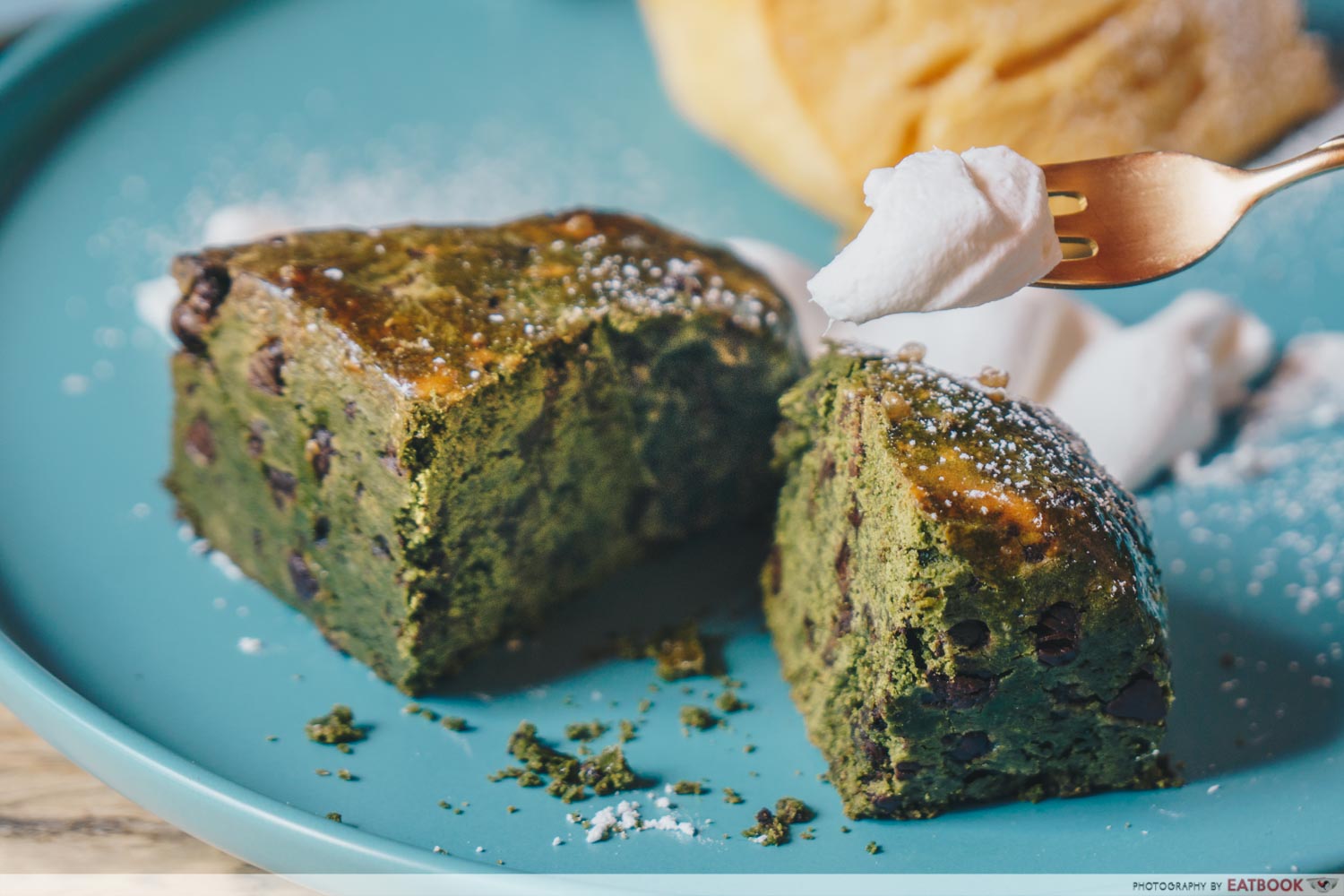 The whipped cream was a crucial element as it helped to compensate for the dry texture of the scones. It also added a different texture to each bite. 
The ambience at Kreams Krafthouse
Just a mere two-minute walk from Tanjong Pagar MRT, Kreams Krafthouse is located in the corner unit of a white colonial building. The large panels of windows along the walkway allow glimpses into the nature-inspired decor inside. It was almost paradoxical to walk into the building and be greeted with lush trees indoors.
I was immediately drawn to the foliage that spanned the cafe's entire ceiling. The interior was bedecked in autumnal shades of red, orange, yellow and brown, which made me feel like I had been transported to Korea during fall. The strategically-placed tree trunks around the space also added to the aesthetic. With such a gorgeous sight, it was hard to resist taking shots for my own social media feed.
It may be slightly challenging to find seats despite the ample space due to the crowd. However, the staff were very helpful in assisting us with our requests and managing the queue. It was definitely noisier due to the enclosed space. Nonetheless, it was still comfortable and we imagine that it would be a romantic setting for dates if you don't mind the noise.
The verdict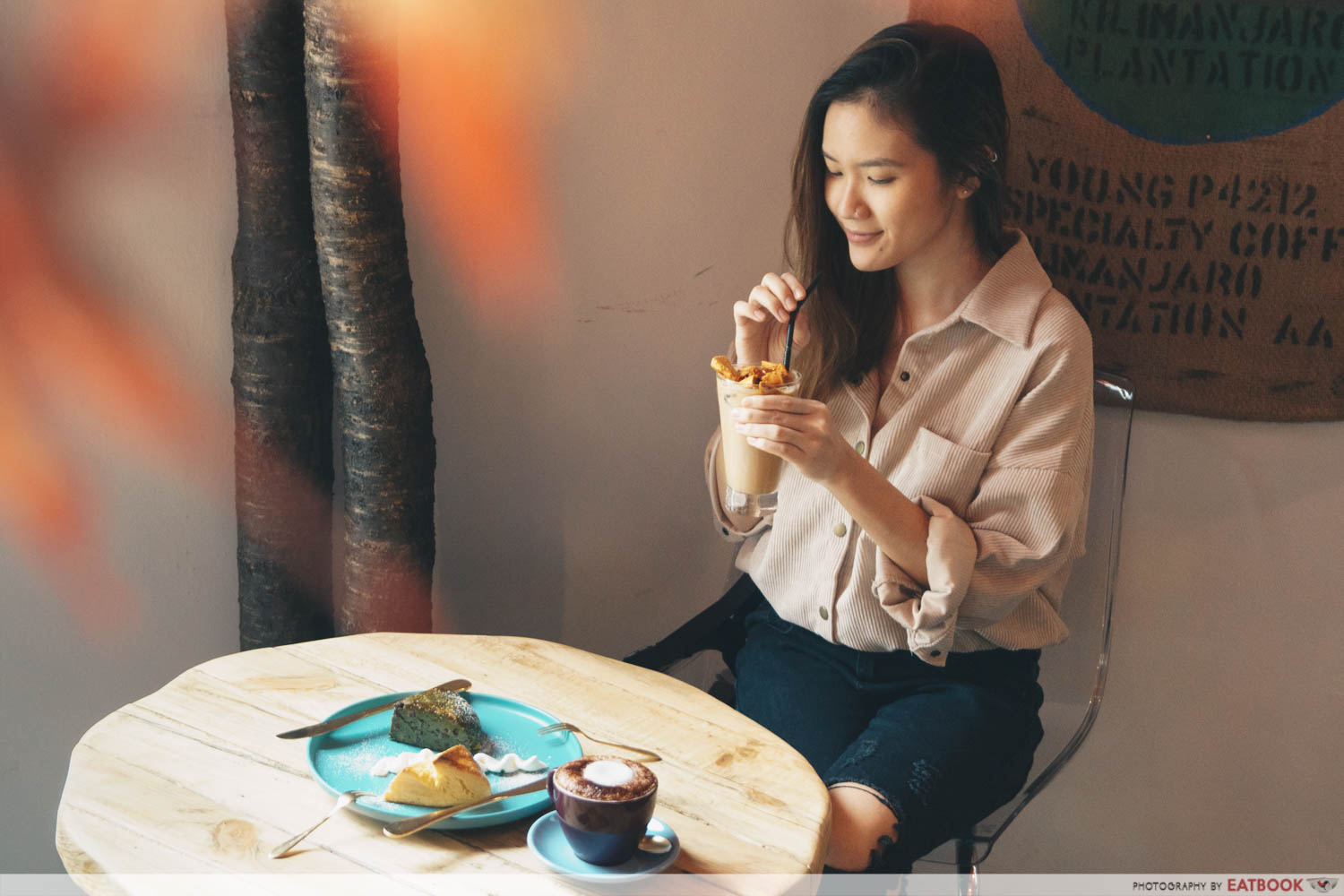 Kreams Krafthouse presents an opportunity to update your Instagram feed with its charming settings and unique fare. The autumnal experience was truly one-of-a-kind, and it would be a great place to bring your friends or to go on your next date. 
With regards to their offerings, both the beverages and the flavours of the scones are hit-or-miss in my opinion. I would order the Dalgona Latte and Sweet Potato Scone again if I were to go back there. 
9 Bukit Timah Cafes For Melbourne-Style Coffee And Legit Pastries
For more desserts and coffee, hop over to our list of Bukit Timah Cafes, known for their pastries and brews. Alternatively, check out our review on Lobsters & Ice Cream V2.0 that's also in the vicinity.
Lobsters & Ice Cream V2.0 Review: Affordable Truffle Lobster Rolls With Unique Ice-Cream Flavours At Tanjong Pagar
Address: 32 Maxwell Road, #01-07, Maxwell Chambers, Singapore 069115
Opening hours: Mon-Sat 9am to 10:30pm
Tel: 6226 2369
Website
Kreams Krafthouse is not a halal-certified cafe.
Photos taken by Muhammad Hafiq.
This is an independent review by Eatbook.sg.
Summary
Pros
– Unique and stunning ambience
– Delicious dalgona coffee
– IG-worthy fare
Cons
– Difficult to find seats
– Limited dessert offerings
– Scones can be a little dry
– Menu is a hit or miss
Recommended Dishes: Dalgona Latte ($8), Sweet Potato Scone ($4.50)
Opening hours: Mon-Sat 9am to 10:30pm
Address: 32 Maxwell Road, #01-07, Maxwell Chambers, Singapore 069115