Dalgona bandung drink for a touch of local flavour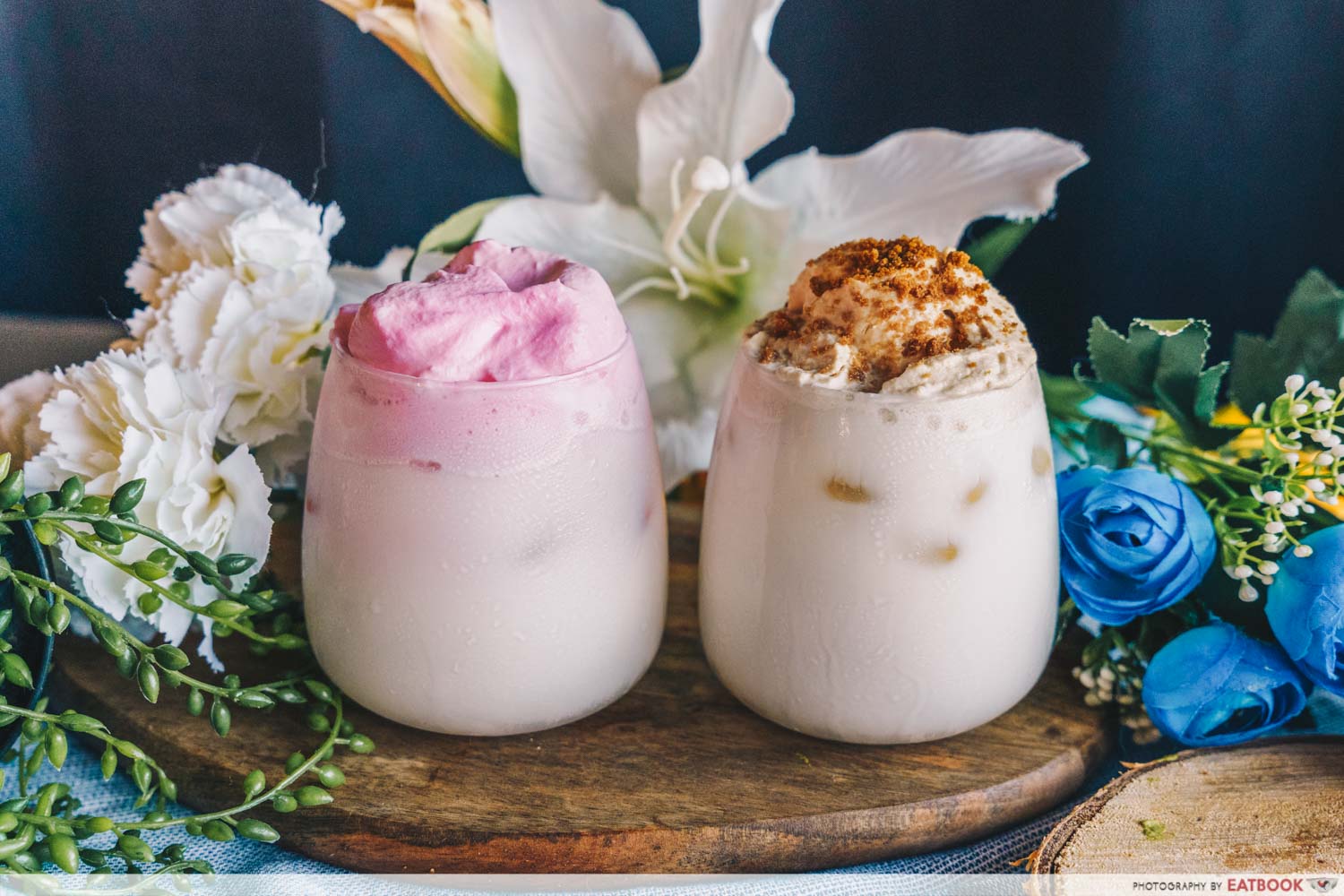 With everyone stuck at home during this Circuit Breaker period, DIY food trends and home recipes have been on the rise. Most prominently, the viral Dalgona coffee recipe that began in Korea has taken over Instagram, Twitter, and TikTok by storm, having all of us whisking like mad at home. No need to feel left out if you aren't a big coffee drinker, we've come up with some caffeine-free recipes, such as our Dalgona bandung and Dalgona Speculoos milk that'll achieve the same effect!
Dalgona Speculoos Milk Recipe: Non-Caffeinated Take On The Viral Korean Latte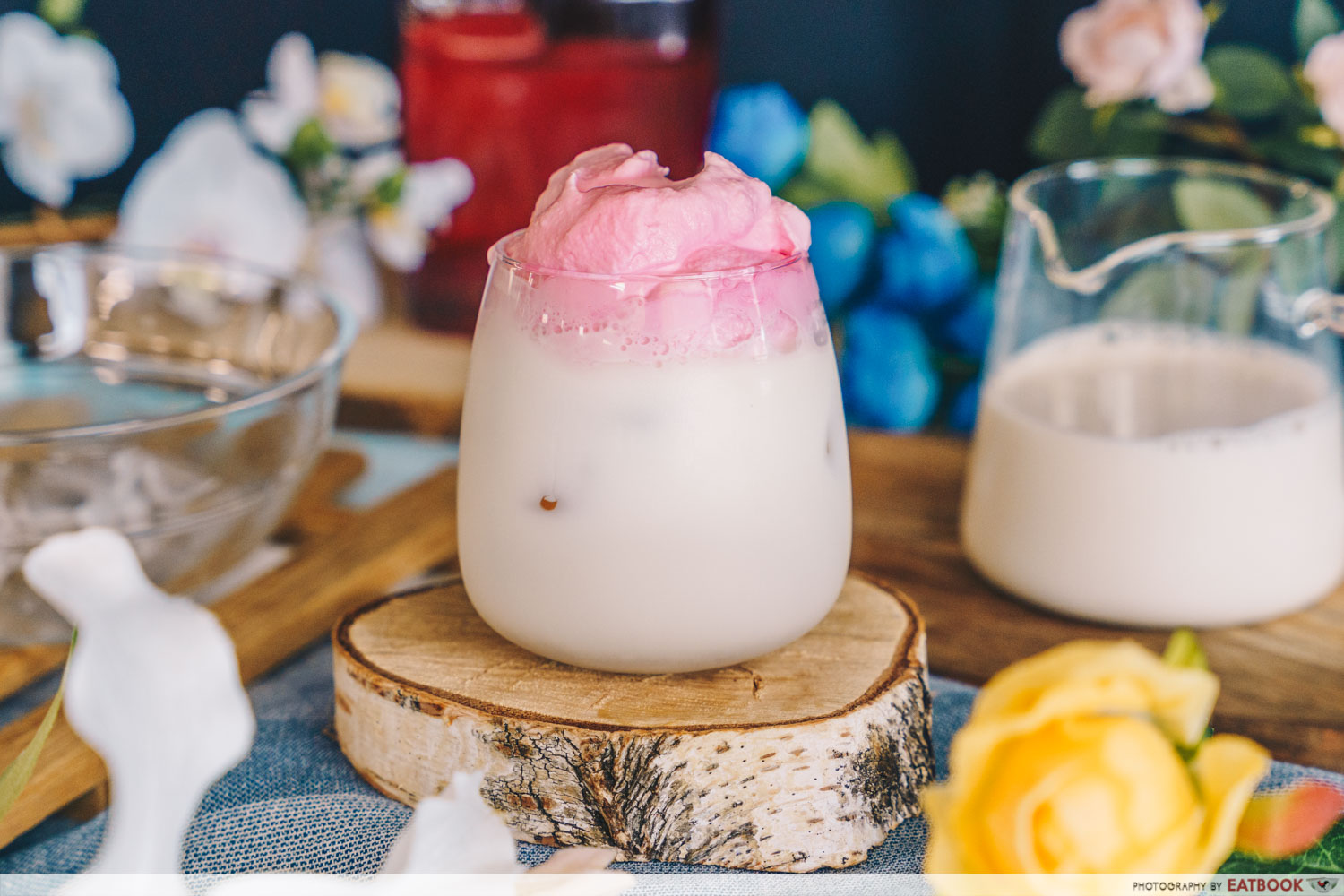 Though adapted from the classic Indian rose milk drink, this iconic pink beverage actually originated in Southeast Asia. The word 'bandung' translates to 'pairs' and refers to anything mixed from two ingredients. This popular hawker drink is traditionally made from evaporated or condensed milk and rose syrup, creating its iconic pastel pink shade. 
For our Dalgona bandung, we'll be staying true to the origins of the beverage, and using only two ingredients for its cloud-like pink topping: heavy whipping cream and rose syrup. If you're finding an excuse to use that bottle of rose cordial sitting in your cupboard, head to the bottom of this article for the full recipe!
---
The process
---
To achieve maximum volume in your whipped topping, a pro tip is to keep your ingredients and tools chilled before you start. Begin by placing a mixing bowl and whisk, or hand mixer attachment, into the freezer for a couple of minutes.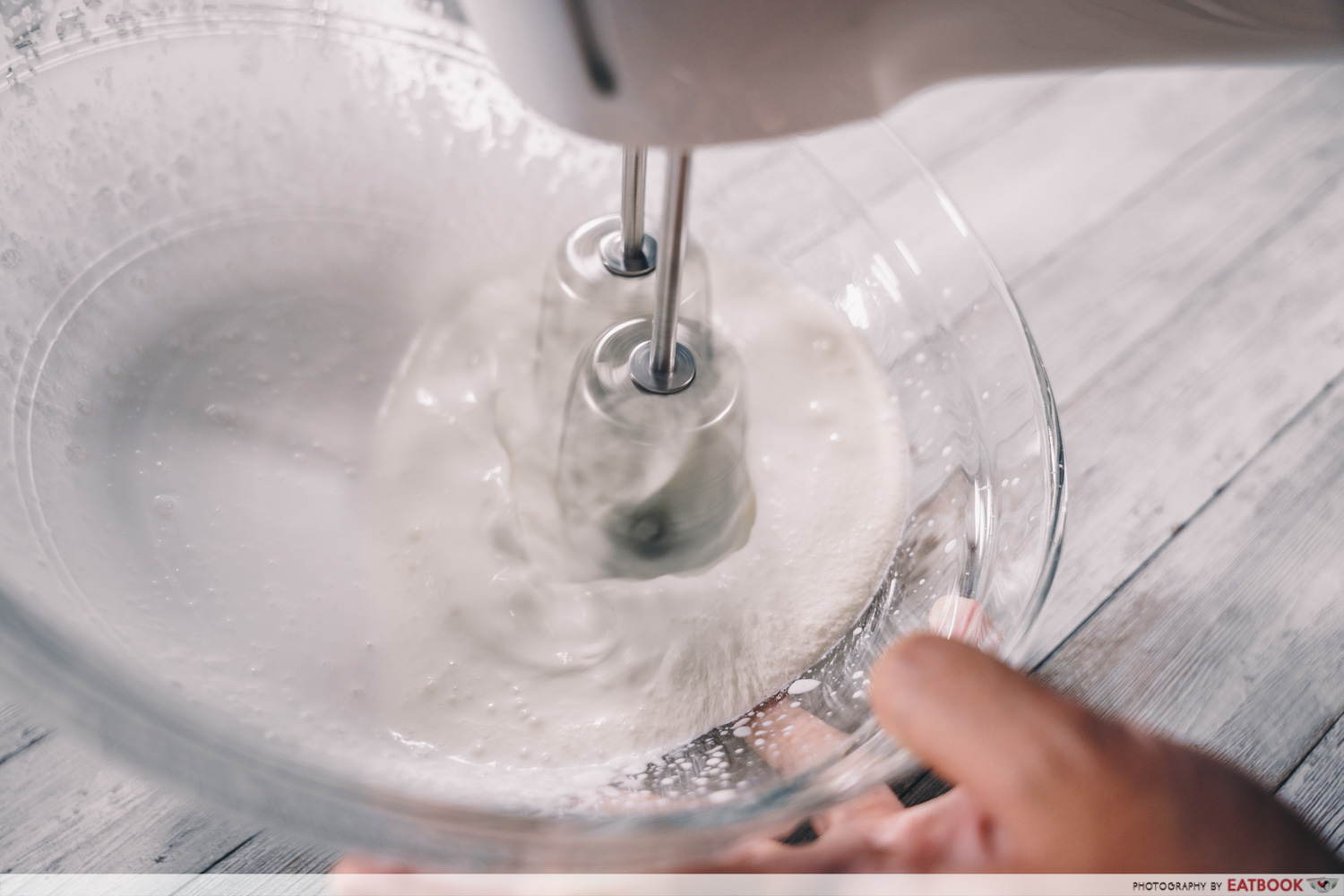 If you're using a hand mixer, start on low speed and gradually increase it to medium-high speed as the cream starts to thicken. Try to keep a stable hand while the machine is running as you could make a big mess if you're not careful enough! 
After about five minutes of continuous mixing, your cream should have increased in volume and hold moderately stiff peaks. To check if the cream is ready, turn off the machine and lightly run the mixer attachment or whisk across the cream. It should be able to leave track marks that hold.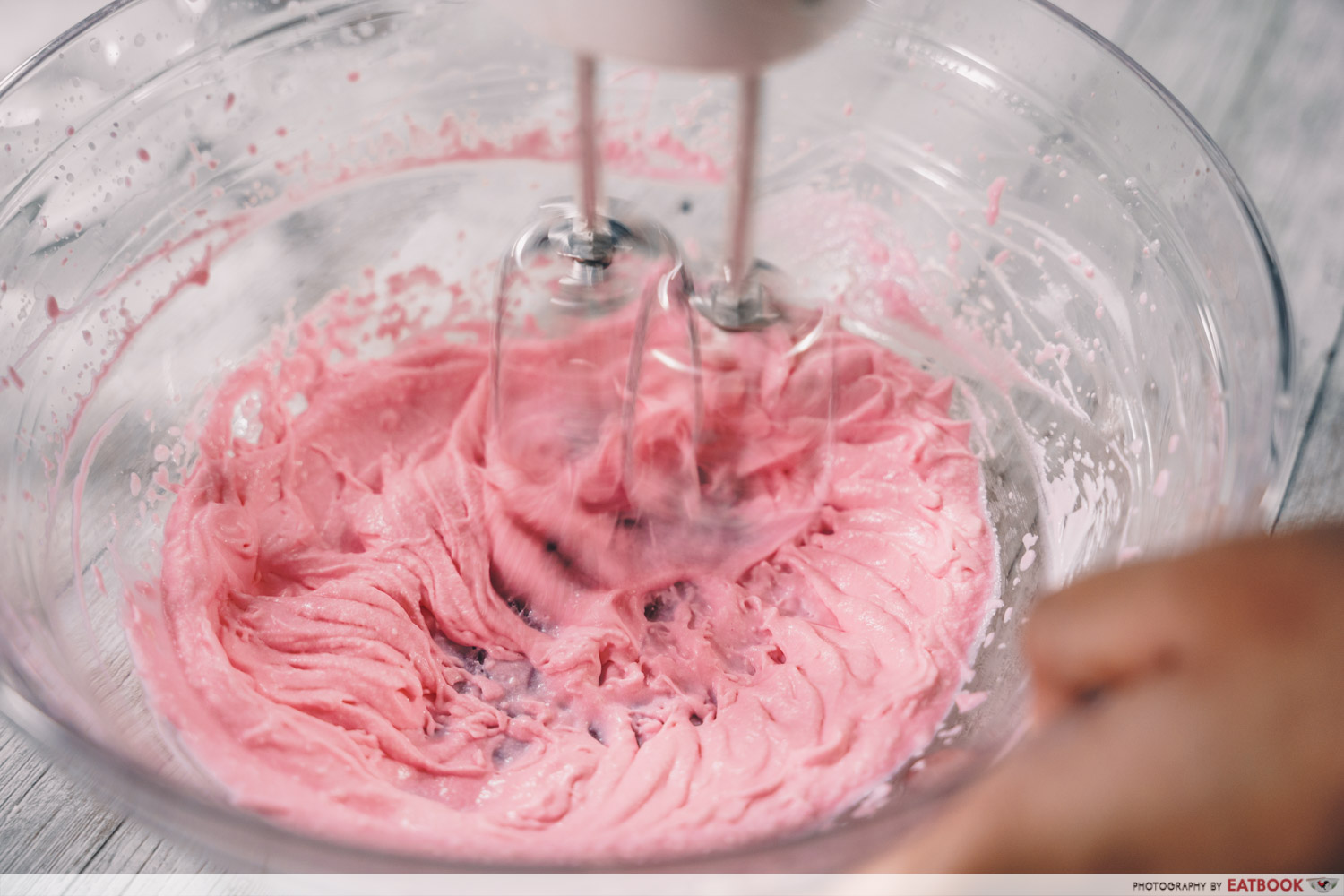 Add in the rose syrup and whisk it in for another minute or so till the syrup is well incorporated. You'll know that it's ready when the cream takes on an even shade of pink. If you prefer a more subtle rose fragrance, you can always reduce the amount of rose syrup you put in at this stage!
Scrape the bowl down as you go with a spoon or spatula so that the cream is whipped evenly all the way through.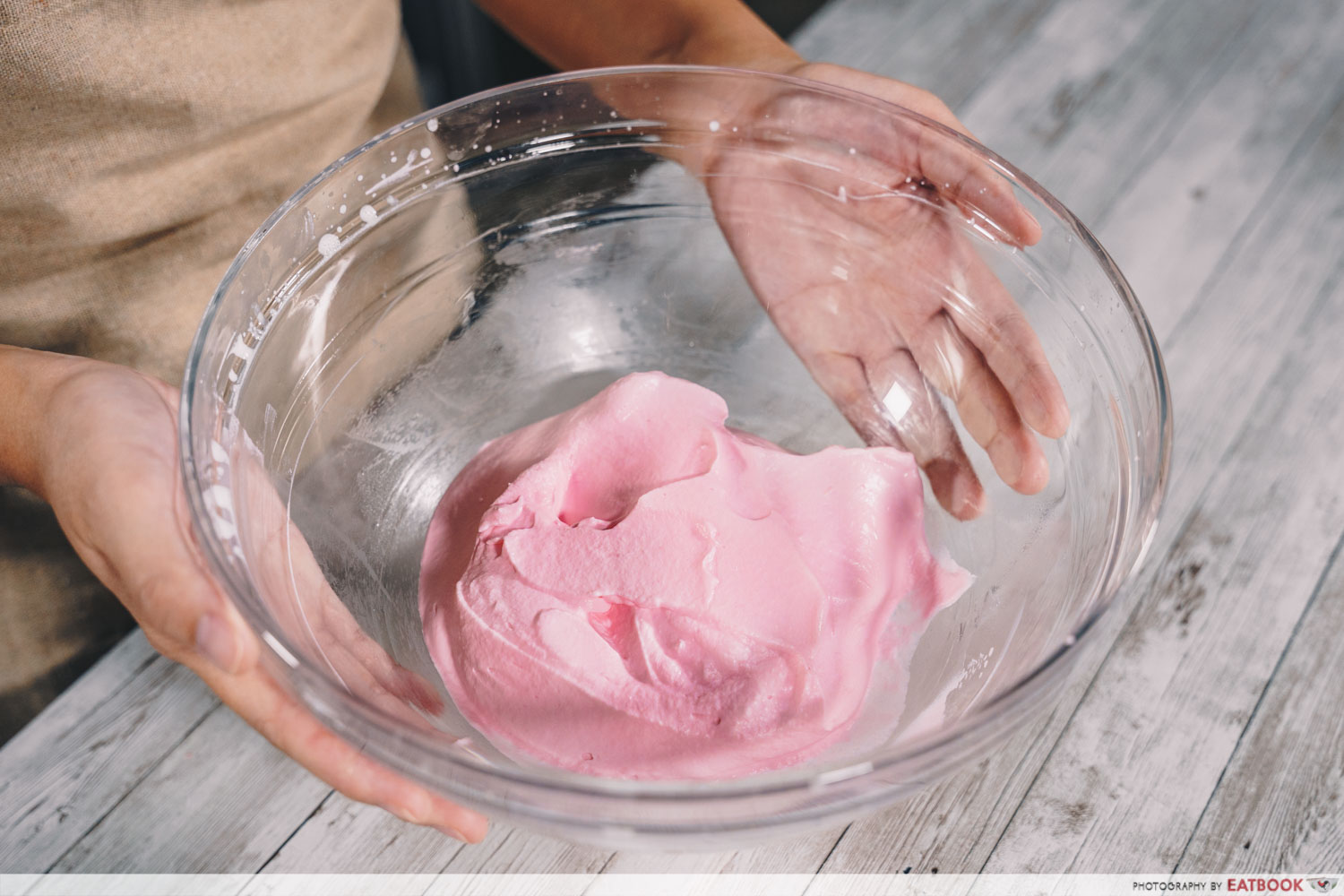 Stop whisking once the mixture takes on a slightly lighter shade of pink and looks extra airy. Be careful not to over whip your cream as heavy cream can sometimes curdle and turn grainy. Moderation is key!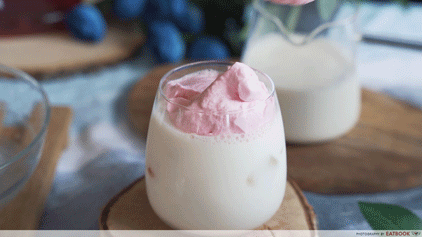 Fill a small glass with ice cubes, followed by milk, till about an inch under the rim. Top the cold milk with the pink Dalgona bandung fluff and take as many aesthetic IG stories as you wish.
Pro tip: decorate your picture-taking set before you do this last step. The fluffy whipped cream may start to sink into the milk if you take too long with your Instagramming!
---
Dalgona bandung recipe
---
Yield: Serves 1
Cooking time: 10 minutes
Ingredients:
1 cup heavy cream
2½ tablespoon rose syrup
Ice
Milk

Directions:
Pour cold heavy cream into a chilled bowl and whisk at low speed for one minute.

Gradually increase the speed to medium-high as the cream thickens and continue to whisk for around five minutes.

Add the rose syrup into the whipped cream and whisk again. Stop once the mixture has turned into a lighter shade of pink and looks very airy. 

Fill up the glass with ice and milk, and spoon the rose-flavoured whipped cream on top.

Decorate and serve your Dalgona bandung drink as you please.
If you're craving for more sweet treats that you can whip up at home, check out our Want Want Milk Ice Cream recipe or White Rabbit milkshake recipe, and stay tuned for more beginner-friendly creations that you can DIY at home!
White Rabbit Milkshake Recipe: Easy Steps With Four Ingredients For A Taste Of Childhood
Photos taken by John Lery Villanueva.