That's My Pizza has pizza in Beauty World
While pizza restaurants are aplenty in Singapore, it's not as common to see pizza served in a hawker centre. When I was tasked to review That's My Pizza—a hawker stall at Bukit Timah Food Centre specialising in hand-stretched pizza, I was excited. Aside from the fact that pizza is my favourite food of all time, the three-month-old hawker stall boasts an impressive five-star rating on Google Reviews, and for all those reasons, I had high expectations.
Food at That's My Pizza

The pizza flavours available here are rotated daily. During our visit, we spotted staple flavours with the likes of Pepperoni ($17) and Hawaiian ($17), among other unique pizzas such as Applewood Bacon ($18) and Japanese Chashu ($22).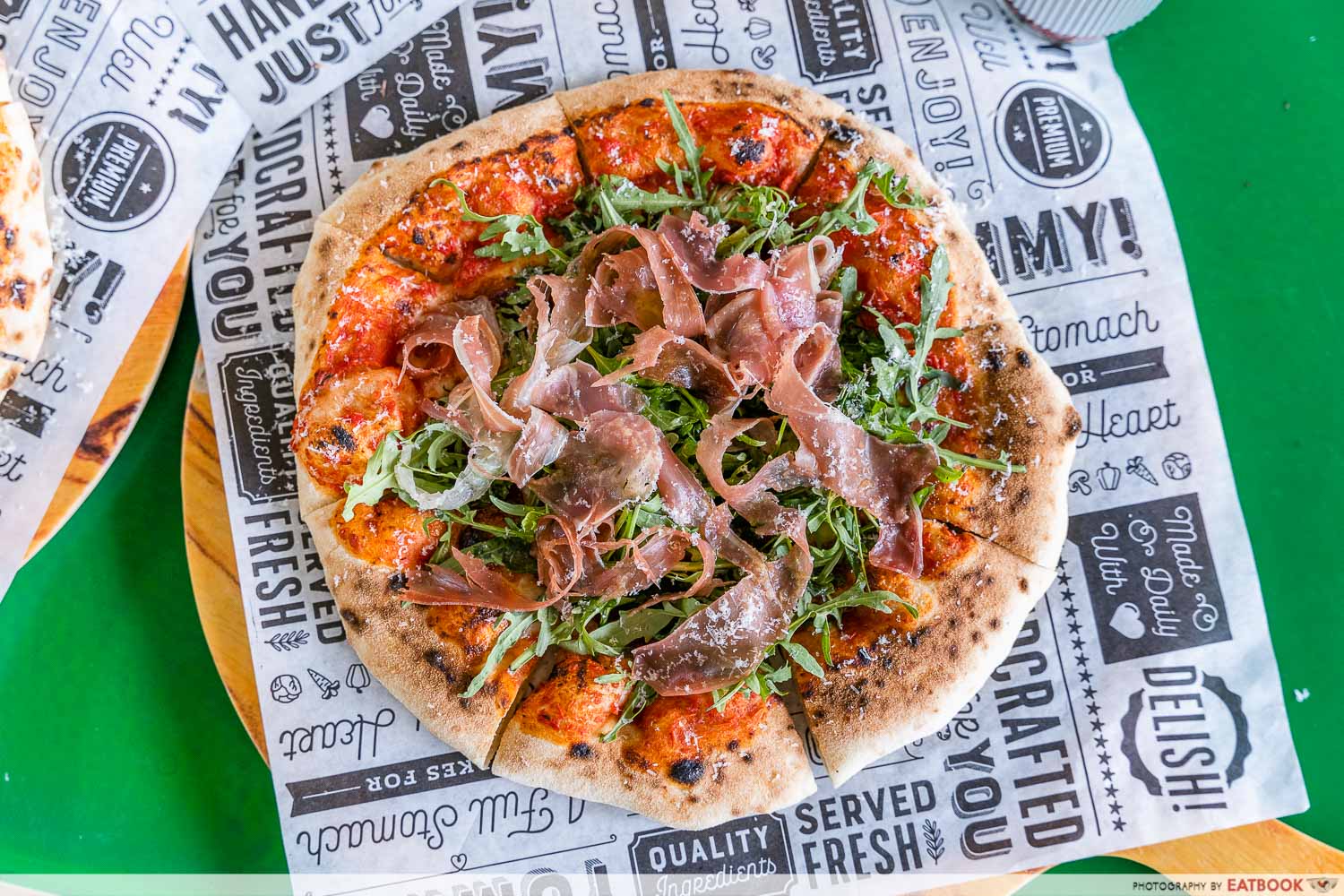 Owners Christina and Ailyn recommended the Parma Argula ($25), which, despite its higher price point, promised to wow with its "premium aged ham and flour from Italy". 
All of their 10-inch pizzas are freshly made upon order and are baked in gas-powered stone ovens, both affectionately named Abby and Charlotte. Only 45 portions of pizza dough are available each day.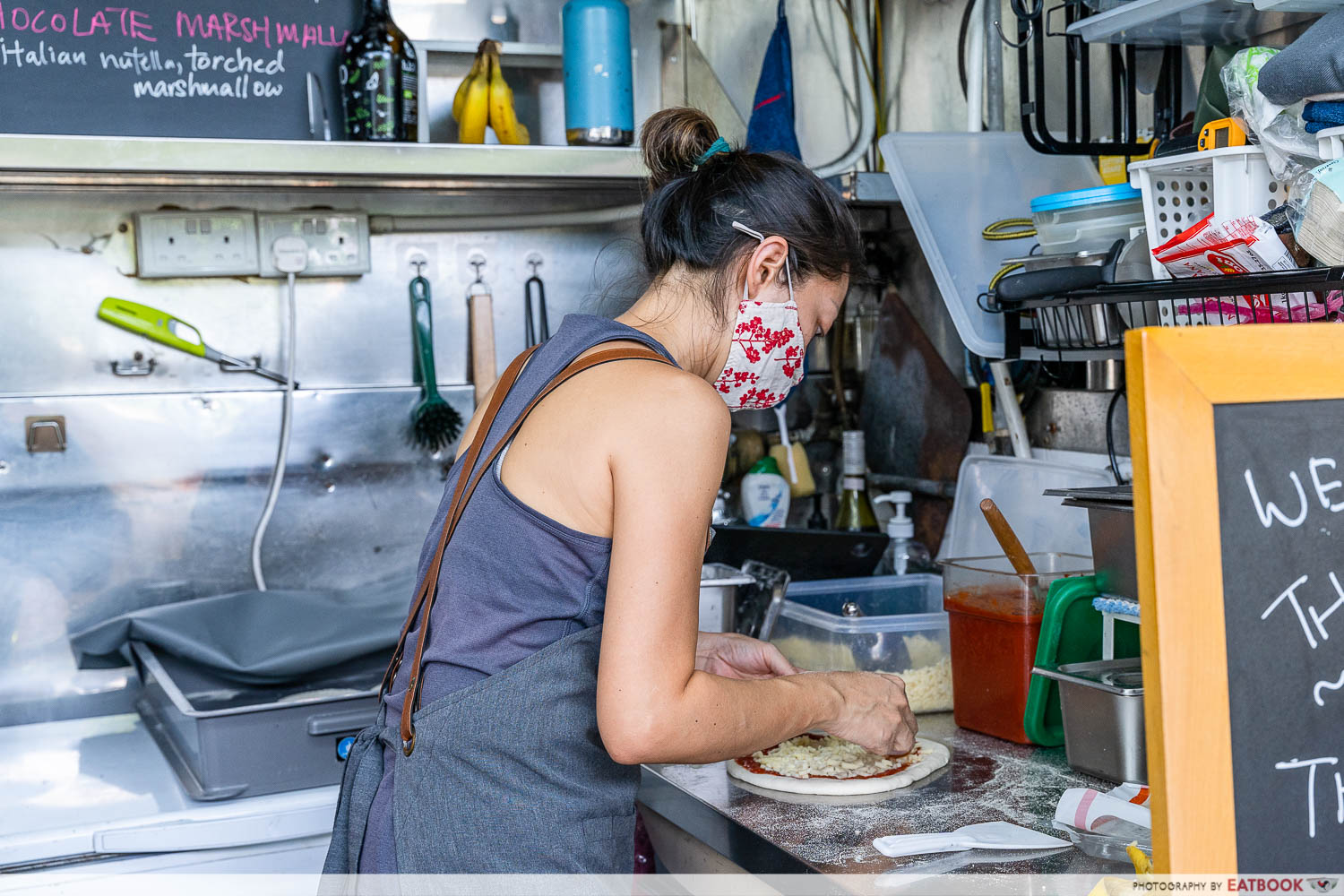 While waiting for our pizza, we asked Christina why she decided to enter the hawker scene. She shared with us her passion for food, and mentioned she often thought about starting her own business. When a stall became available for lease at Bukit Timah Food Centre, Christina jumped at the opportunity. "Although starting a business at my age is a big leap, I wanted to inspire the older generation to try new ventures," she shared.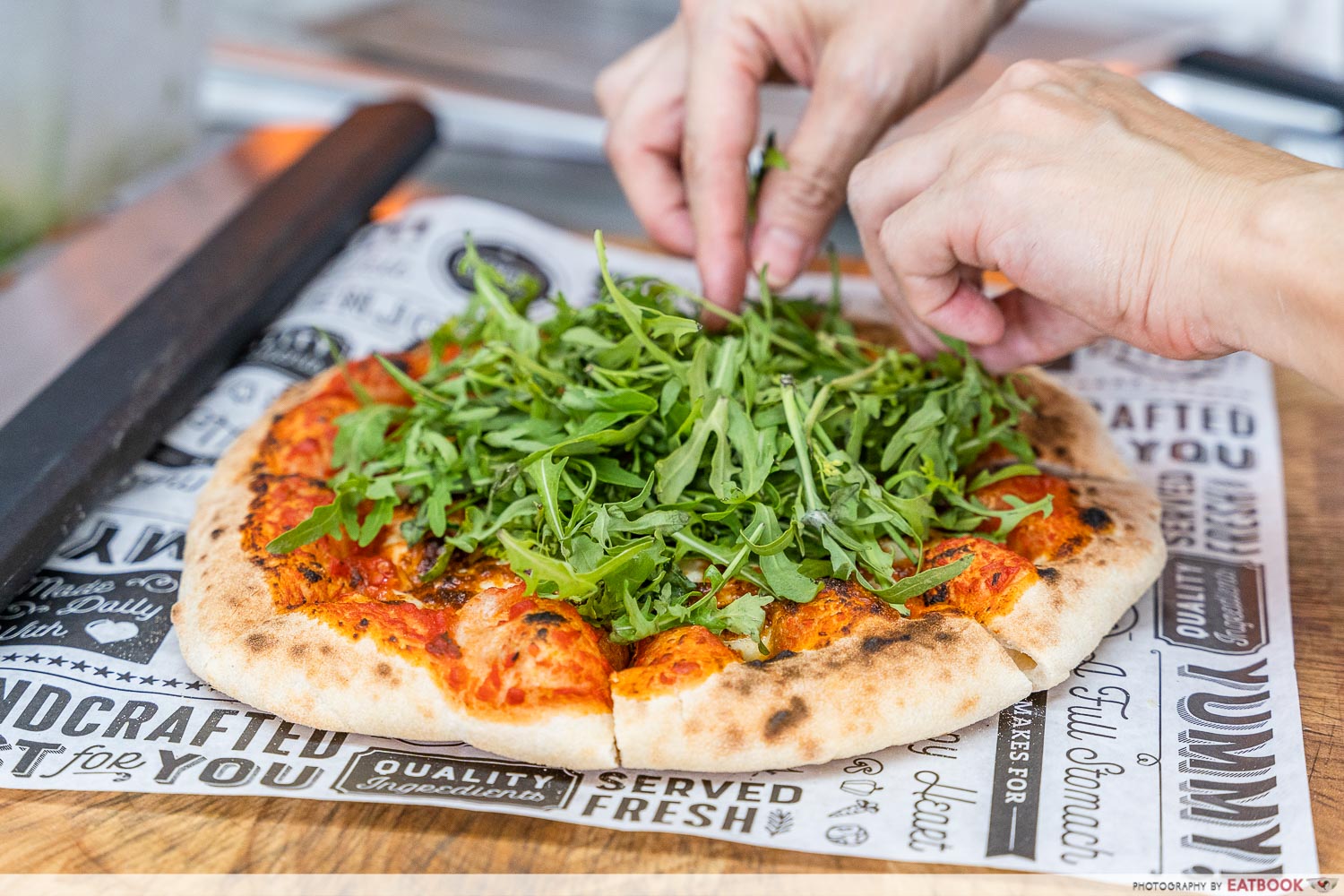 Our Parma Arugula pizza was ready in about five minutes, and came served on a wooden chopping board. I sunk my teeth into the dough, which was fluffy with a nice hint of smokiness. I liked how the dough was not too dense and offered a pleasant chew. According to Ailyn, the dough undergoes at least 48 hours of fermentation, resulting in its porous, palatable texture.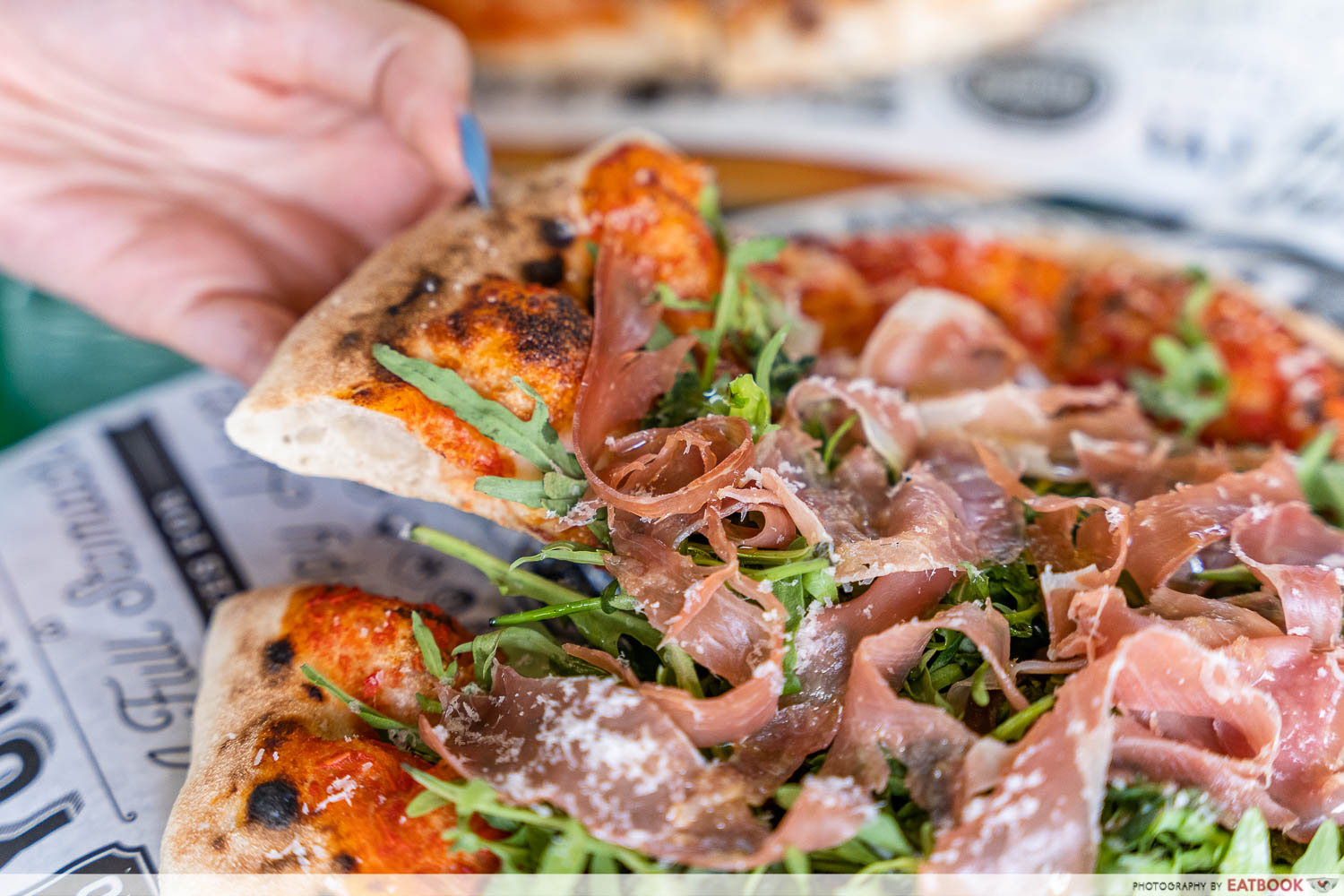 The pizza packed a punch despite being made with a few ingredients. I enjoyed the peppery taste of the rocket leaves and appreciated that the ham was not too salty. The shredded cheese added a nice umami touch to the pizza, and the drizzle of olive oil was just right—aromatic and slightly bitter without being overpowering.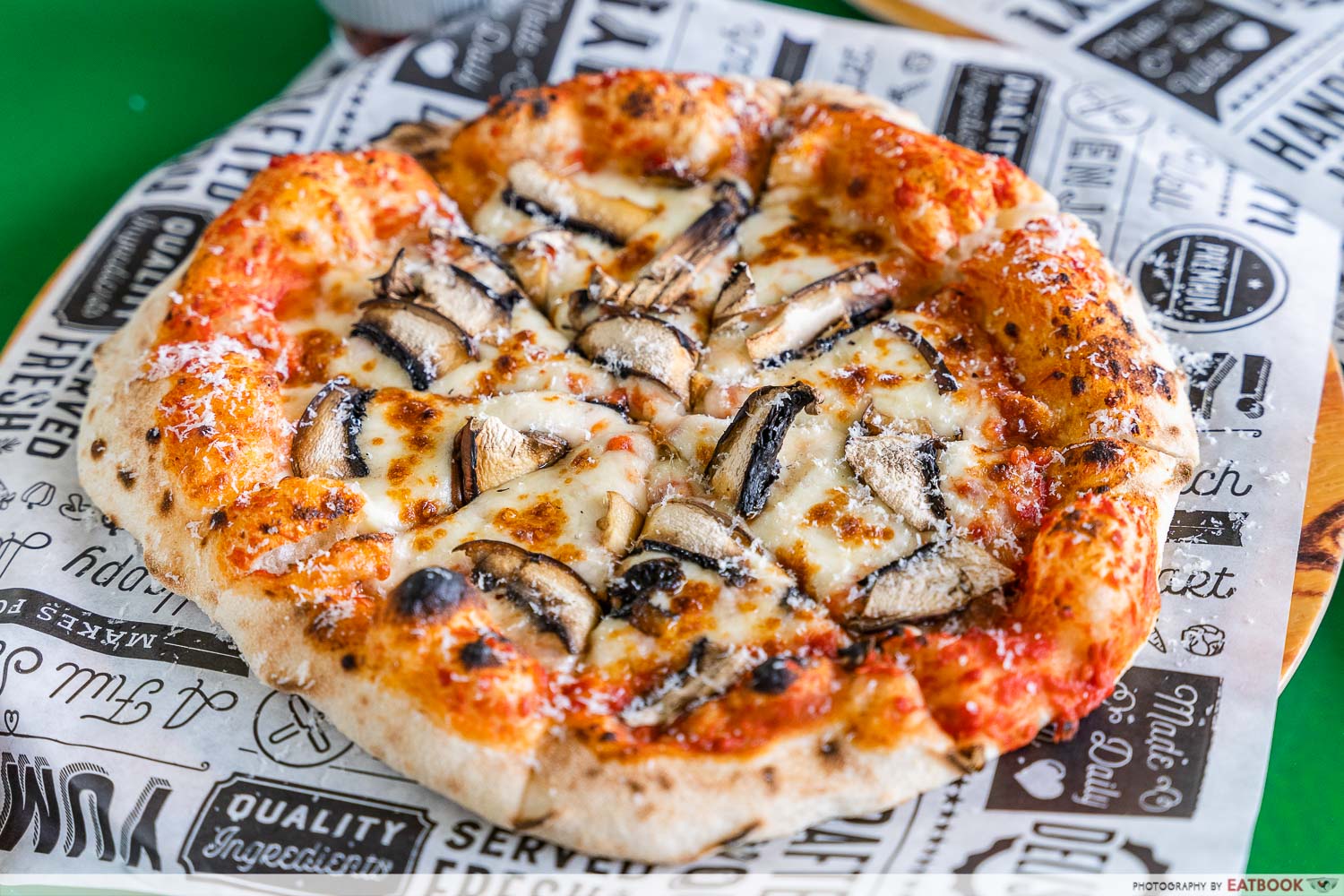 Next, we dug into the Portobello Mushroom ($16), sporting the same pizza base, generously topped with portobello mushroom slices and cheese. There's the option to top up $1.50 for a drizzle of truffle oil, if you'd like.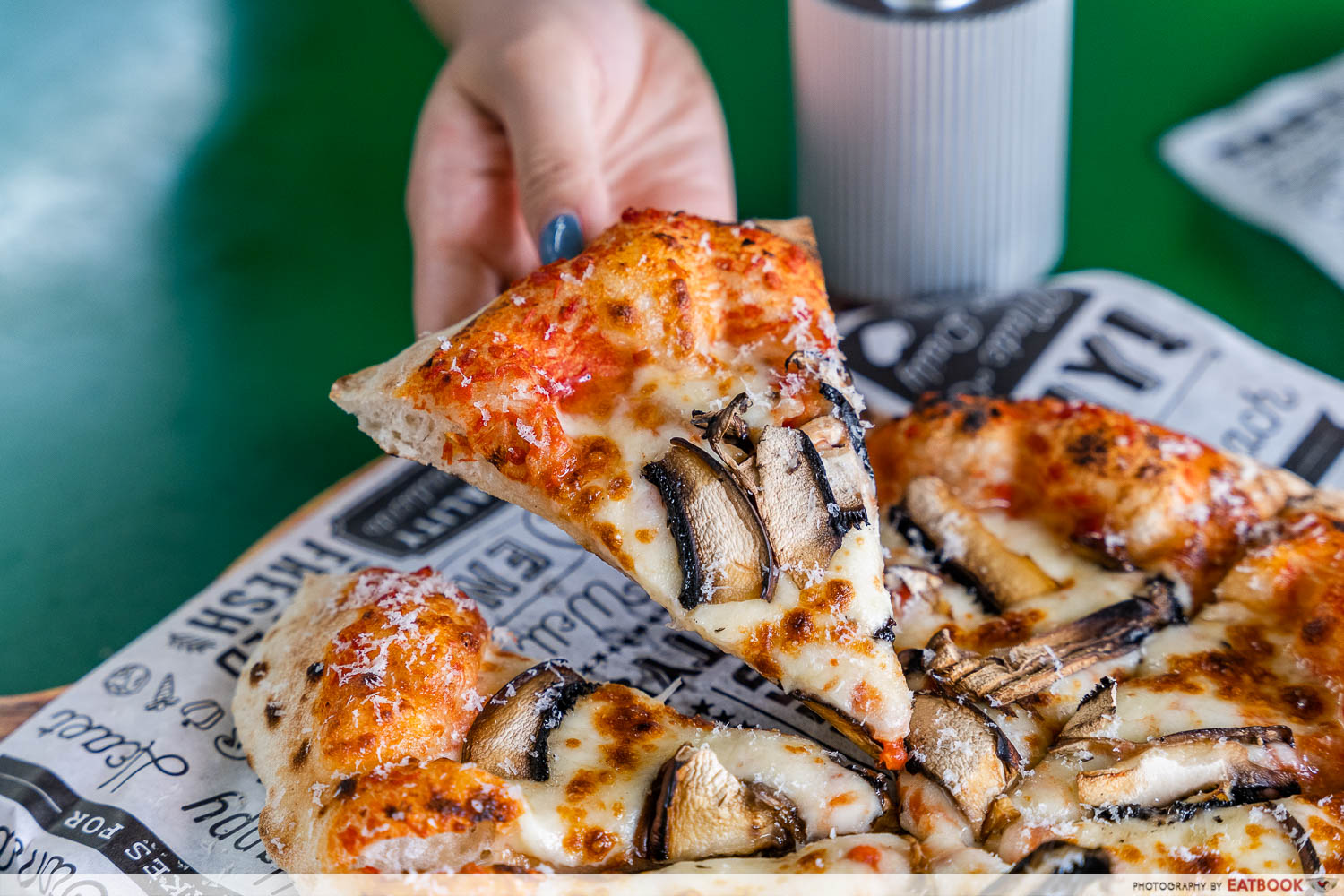 I could immediately taste the milkiness of the melted mozzarella, which offered a satisfying cheese pull with every bite. The portobello mushroom slices were lightly charred and had a smoky, earthy flavour that complemented the kiss of truffle oil. While I liked the addition of truffle oil, I would've preferred the flavour to be stronger as it was on the subtler side.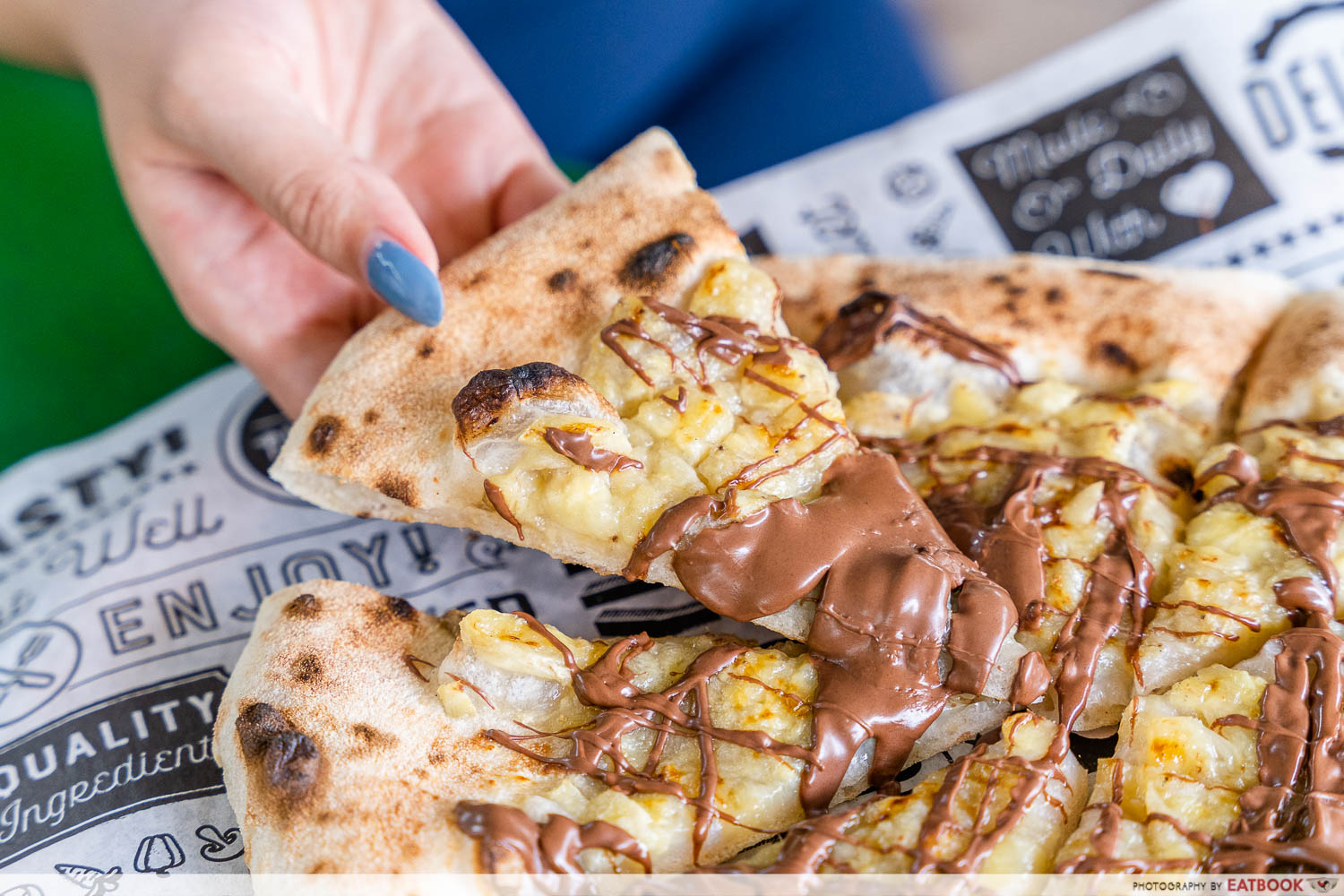 There's no need to go elsewhere for dessert as the stall serves sweet pizzas in flavours such as Chocolate Banana ($17) and Chocolate Marshmallow ($17). We opted for the banana version, drenched in a Nutella base and topped with sliced bananas. While initially skeptical about this pizza, I found myself enjoying the banana's sweetness and the Nutella's nutty flavour. The pizza also wasn't too sugary, which made it easy to savour.
Shakey's Pizza Review: Famous Filipino Fast Food Joint At Lucky Plaza
Ambience at That's My Pizza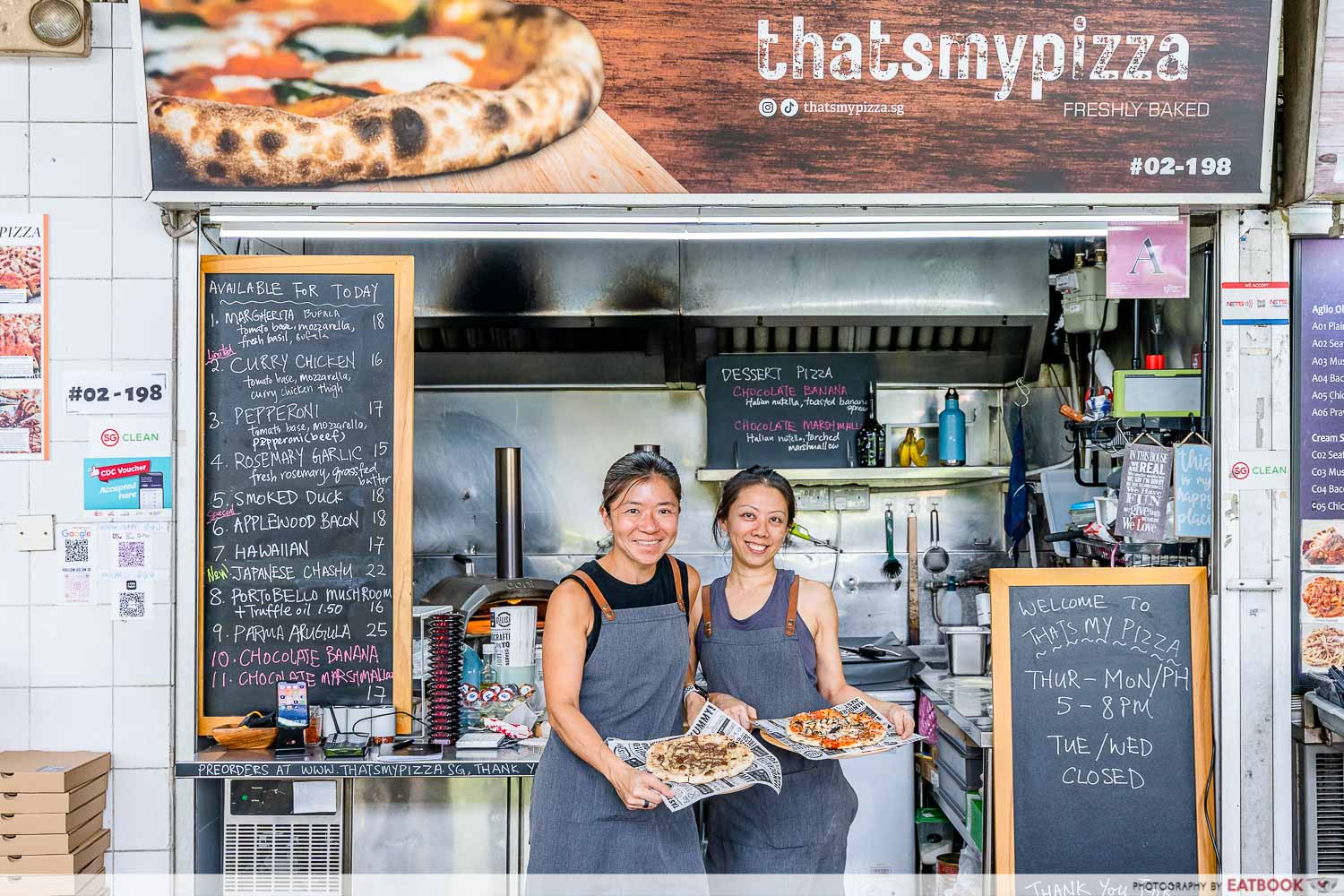 The eatery is located on the second level of Bukit Timah Food Centre, taking up the space previously occupied by the now-defunct Genesis Kitchen Grill & Pasta. The hawker centre is cool and well-ventilated, with ample seats for diners patronising any one of their 80 stalls. While the stall does not serve drinks, a drinks stall is open just a few units down, so you can grab a can of Coca-Cola or kopi to wash down your meal.
The stall is just a two-minute walk from Beauty World MRT Station.
The verdict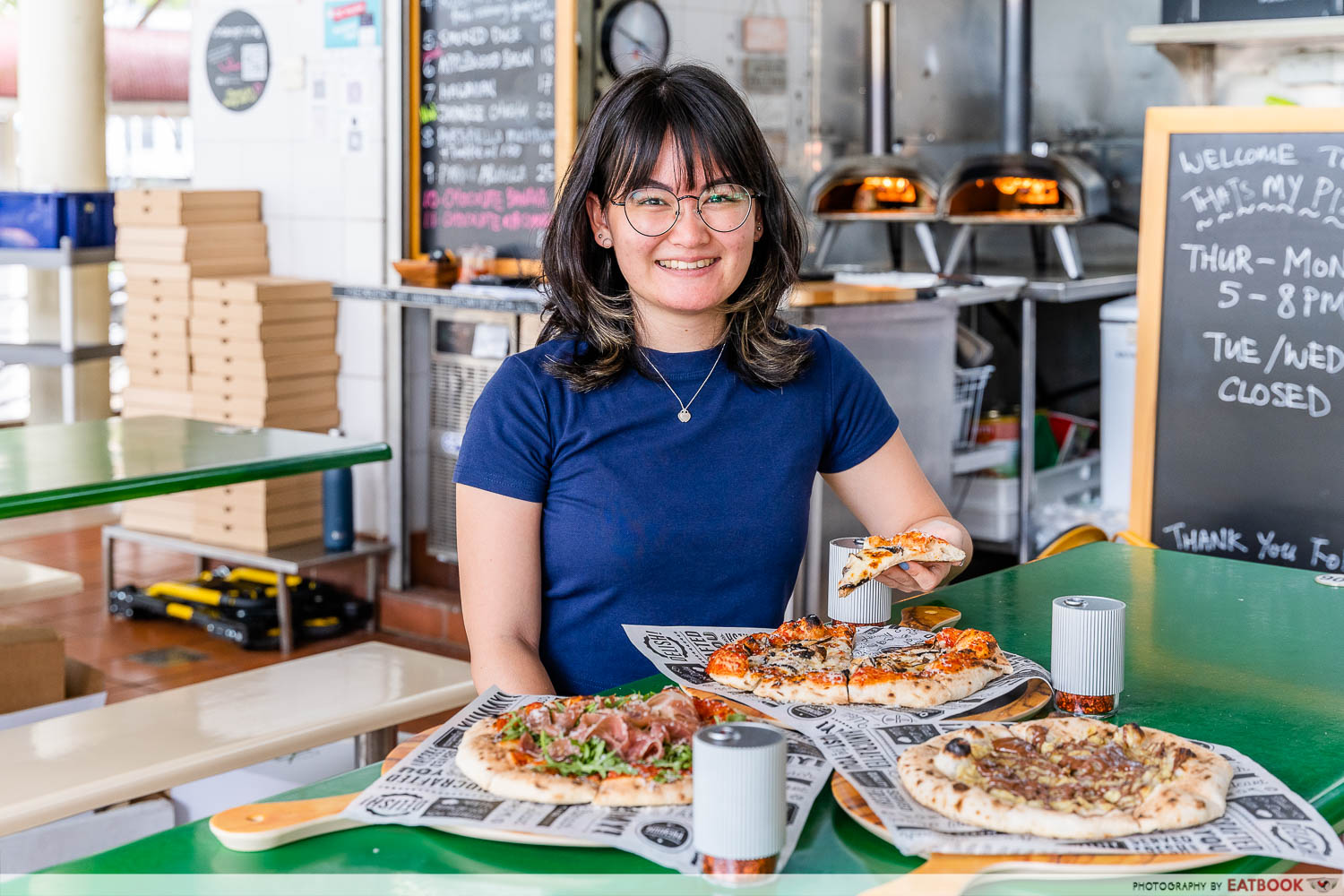 If you're a pizza fan, you'll love the ones at this hawker stall. Their pizzas were tasty and hearty, and while the prices may be on the steeper side for a hawker stall, I believe the quality of ingredients justified the price point. This will not be my last visit!
For more good food near the area, check out our 25 Botanic Gardens food places guide. If you're looking for other tasty sourdough pizza, read our Yeast Side review.
Address: 51 Upper Bukit Timah Road, #02-198, Singapore 588215
Opening hours: Sun-Mon 5pm to 8pm, Thurs-Fri 5pm to 8pm
Tel: 9753 1577
Website
That's My Pizza is not a halal-certified eatery.
25 Botanic Gardens Food To Fuel Up At After Exploring The UNESCO Site
Photos taken by John Lery Villanueva.
This was a media tasting at That's My Pizza.
That's My Pizza Review: Highly Raved Pizzas In Bukit Timah Food Centre
That's My Pizza Review: Highly Raved Pizzas In Bukit Timah Food Centre -

8.5/10
Summary
Pros
– Delicious savoury and sweet pizza
– Pizza is made fresh on the spot
– Near Beauty World MRT Station
Cons
– Price on the steeper side for hawker fare
– Open only four days a week from 5pm to 8pm
Recommended dishes: Parma Arugula ($25), Portobello Mushroom ($16), and Chocolate Banana ($17)

Opening hours: Sun-Mon 5pm to 8pm, Thurs-Fri 5pm to 8pm

Address: 51 Upper Bukit Timah Road, #02-198, Singapore 588215