De'Beer serves old school Chinese seafood and flaming chicken
Update: De' Beer has rebrand to De' Beer Garden at 262 Jurong East Street 24, #01-485, Singapore 600262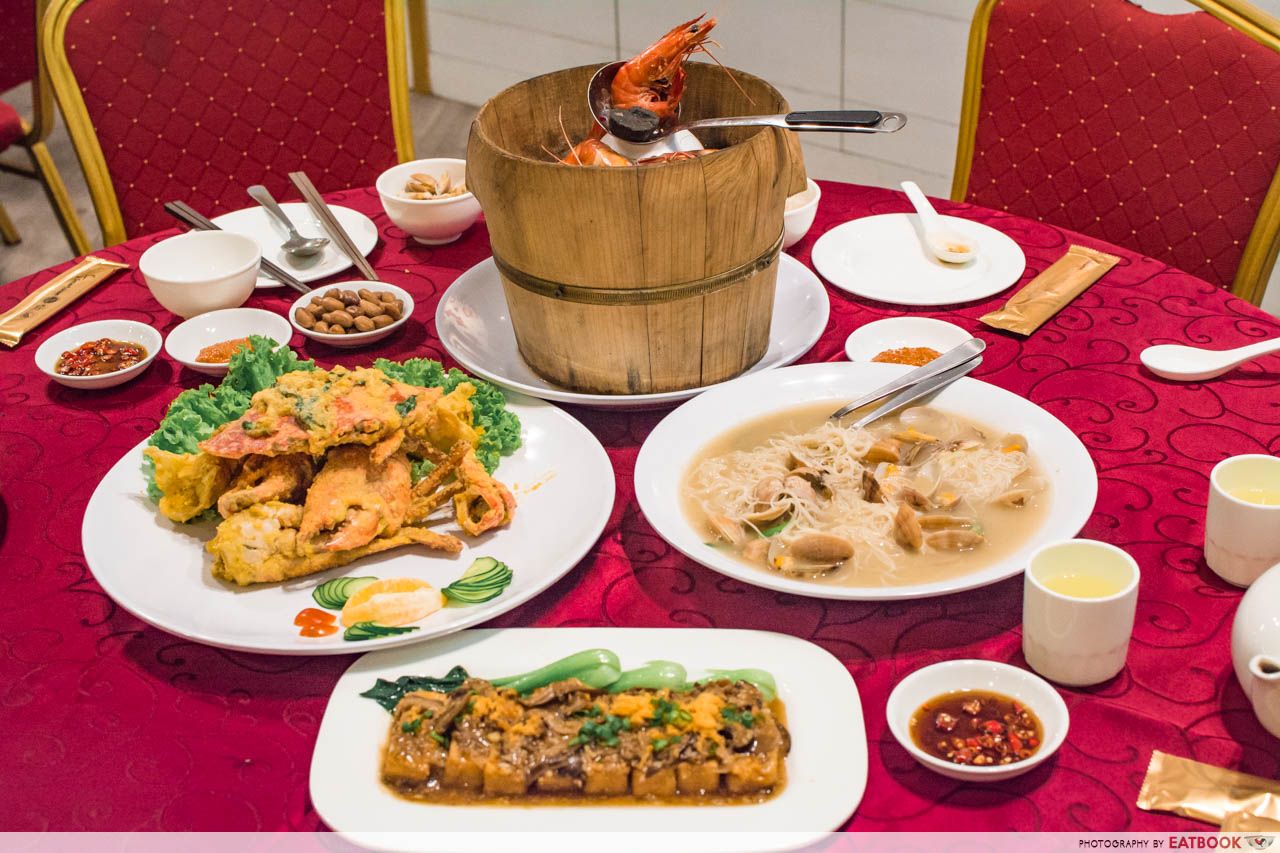 Classic standalone Chinese seafood restaurants are hard to find these days. You know, the ones that serve peanuts and have a glass turntable in the middle to move dishes around with. These days, seafood restaurants seem to exist as an afterthought on the first floor of major hotels.
But De'Beer Seafood Restaurant at Sunset Way is a massive throwback. With a starter of braised peanuts – a dish that only the most traditional of Chinese restaurants still serves – I found myself in flashbacks of reunion dinners from back when I was too short to reach the floor while sitting on an adult chair.
But there was something slightly different about this place. I knew they weren't all about prawns and clams. I heard murmurs about a chicken and fire. But first, we had to wade through their seafood dishes.
Food at De'Beer Seafood Restaurant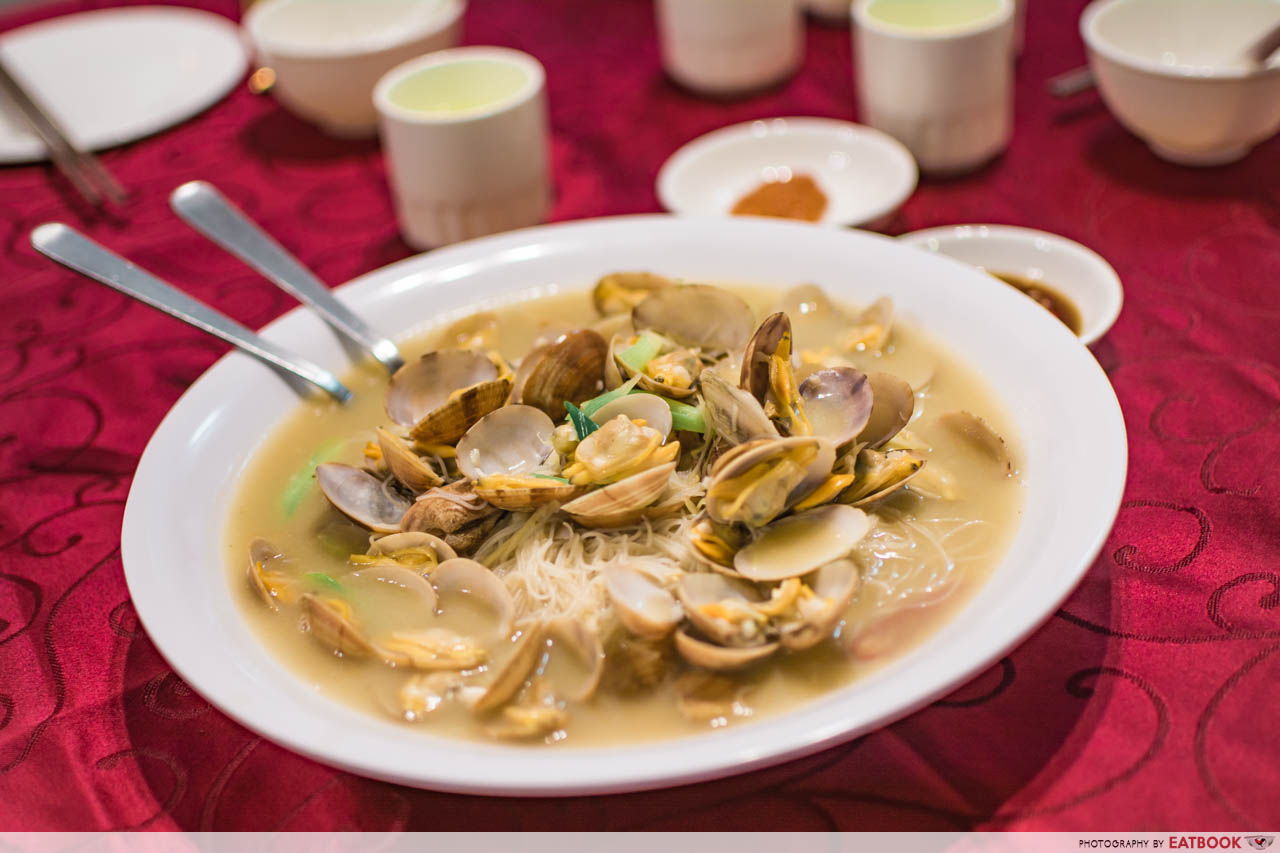 Like an Asian version of spaghetti vongole, the De'Beer Speciality Fried "La La" Bee Hoon ($18++ for 500g, $34++ for 1kg) was largely visually unappealing. After all, it was just plain bee hoon swimming in a pool of clam soup. But there was more in the cloudy broth than meets the eye.
Each spoonful was packed with a garlicky clammy sweetness, finished off with a slight heat of ginger. We didn't eat the dish immediately, but that meant our bee hoon was allowed to soak, making them slippery and even more flavourful than intended.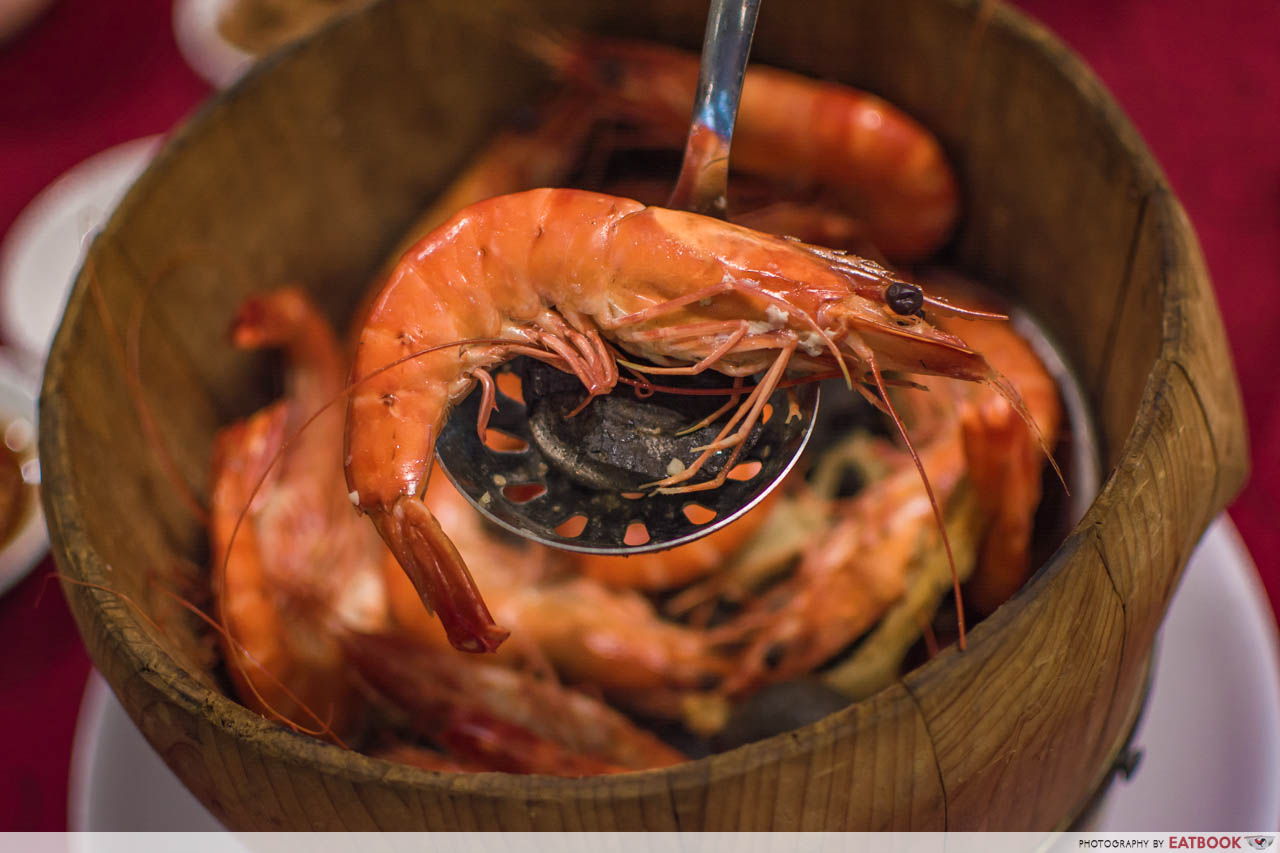 Presented in a cylindrical wooden bucket, Drunken Sauna Prawns ($30++ for 500g, $58++ for 1kg) might be mistaken for a rice container. You can't dig in immediately though, the waiter told us to wait for a minute before opening, and steam with the earthy aroma of Chinese herbs started wafting out.
Like in a sauna, the prawns were cooked beside heated stones and finished off with a splash of Chinese wine. The plump and fresh prawns came shell-on, which helped keep their shape and provided a very satisfying peeling experience.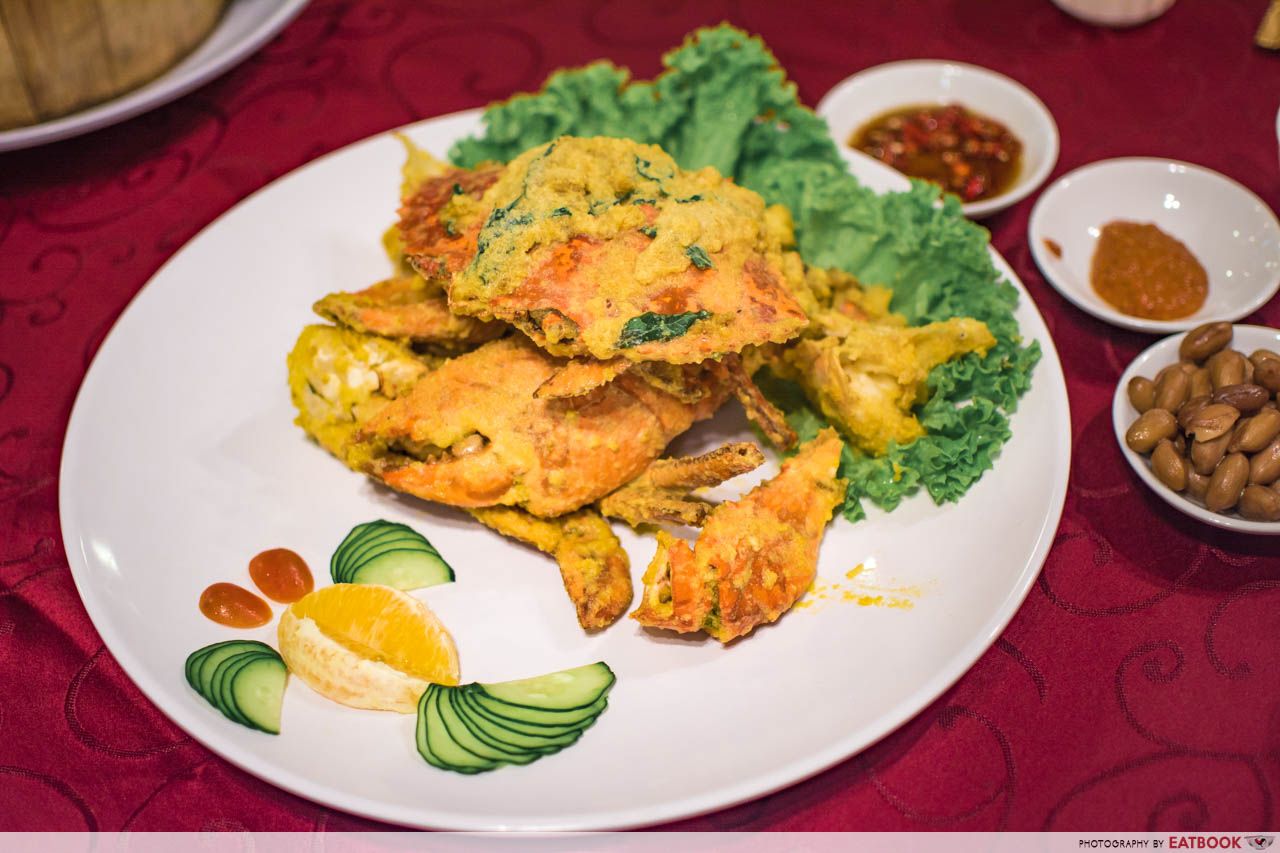 In mid-2016, we reached peak salted egg. After being restricted to cafes and occasional zi char stalls, the yellow sauce turned up at major fast food chains, effectively jumping the shark. But De'Beer's Salted Egg Crab with Crispy Cheese (seasonal price) might just resurrect this trend.
Unlike other versions of salted egg sauces, this sauce doesn't drip, and is more of a glaze over the flash-fried crab pieces. The grainy, salty, and slightly spicy sauce paired well with the sweet freshness of crab, but we wished there was more of that sauce for us to dip into. After all, there isn't much of a point in coating crab shell in sauce, no matter how good this sauce is. Strangely enough, there was no taste of cheese to be found.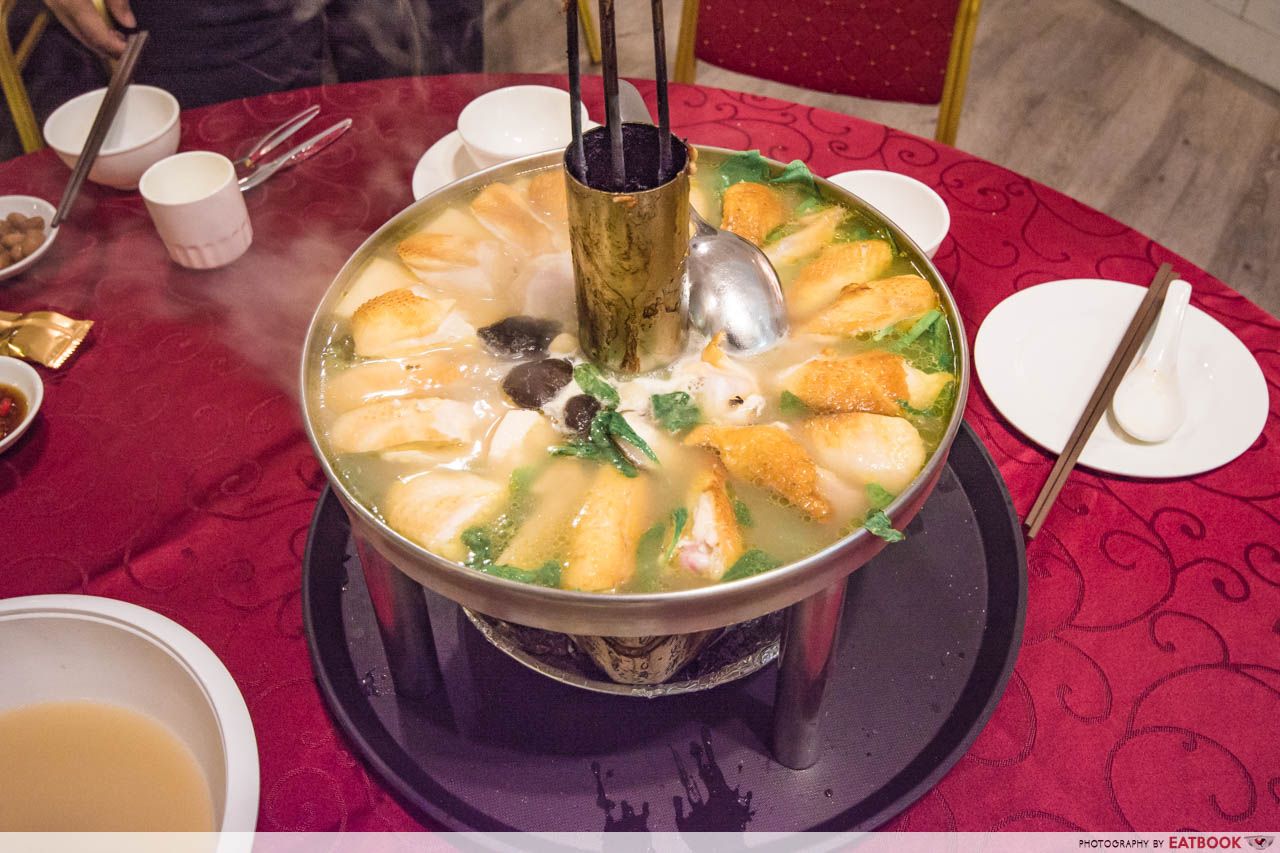 The final dish was just way too much. This steamboat-looking thing with chicken slices is its slightly less impressive final form. Its initial form is far more impressive: a whole chicken, standing in the middle of a seafood and vegetable broth, set on fire. Yes, set on fire.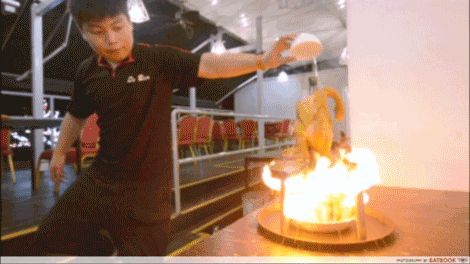 Unfortunately, the Flaming Chicken ($60++) looked better than it tastes. Ignited by rose wine, the broth ended up tasting like a salty, milkless version of bandung. It didn't work for me, but my colleagues Steph and John enjoyed it.
The chicken itself though, was of a different class. Carved into slices and placed all around, each piece of meat was uniformly oval and ridiculously tender all around – even the chicken breast! Coupled with a flavourful skin, this was the most well-cooked whole chicken I've ever tasted. However, because the dish is actually a shallow steamboat, the vegetables overcooked quickly, and turned bitter halfway through.
Ambience at De'Beer Seafood Restaurant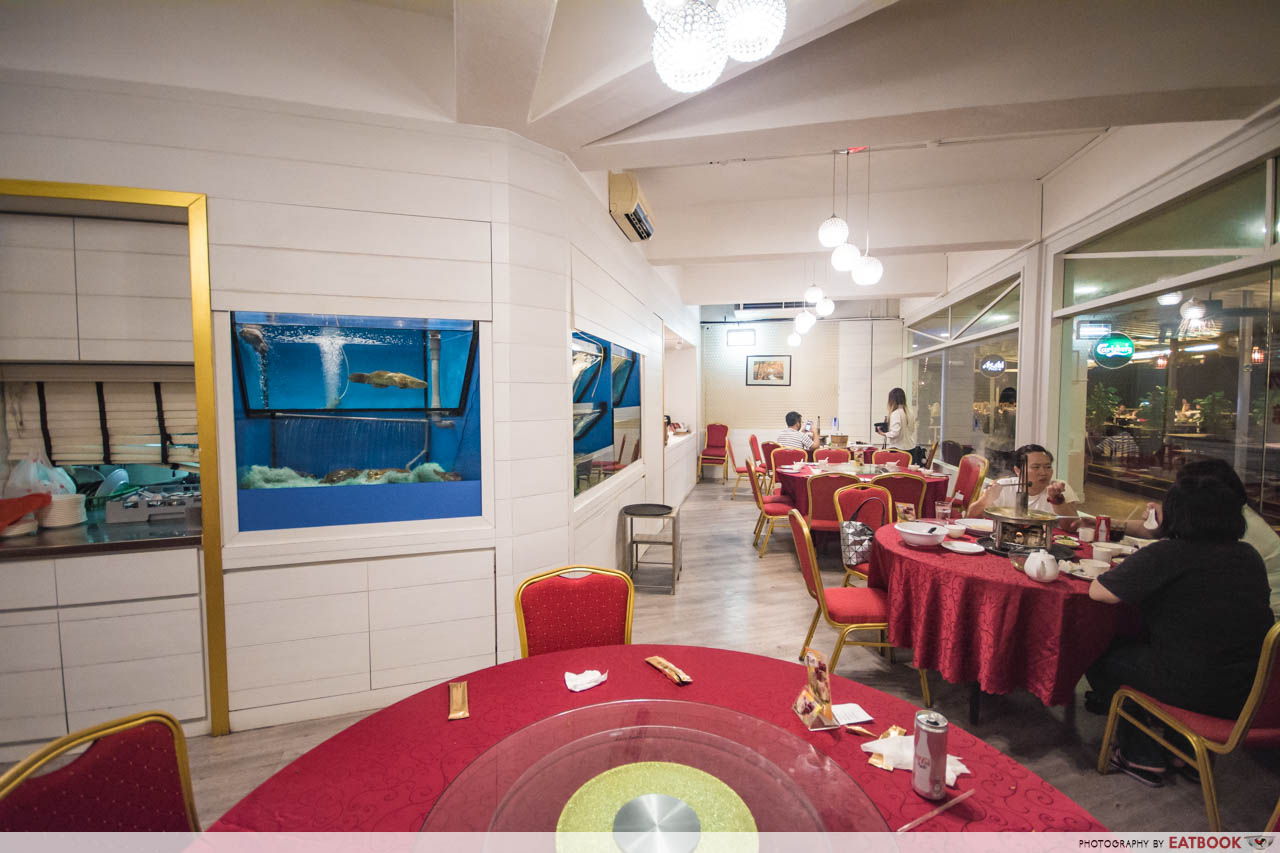 With heavy, metal-rimmed chairs, tables draped in gaudy maroon cloths, and a lazy Susan on some tables, this is a traditional Chinese restaurant stuck in the '80s my parents would love. Live seafood is displayed along the walls for you to choose the animals you will soon eat. There's also an outdoor area for those who prefer an alfresco experience.
While we were indoors however, there were flies that kept landing on the dishes. Having experienced meals on roadsides and over drains in other parts of Southeast Asia, I don't mind a little grime on my food, but that's probably not the impression they were going for. For bigger groups, a private room that fits two tables is available.
The verdict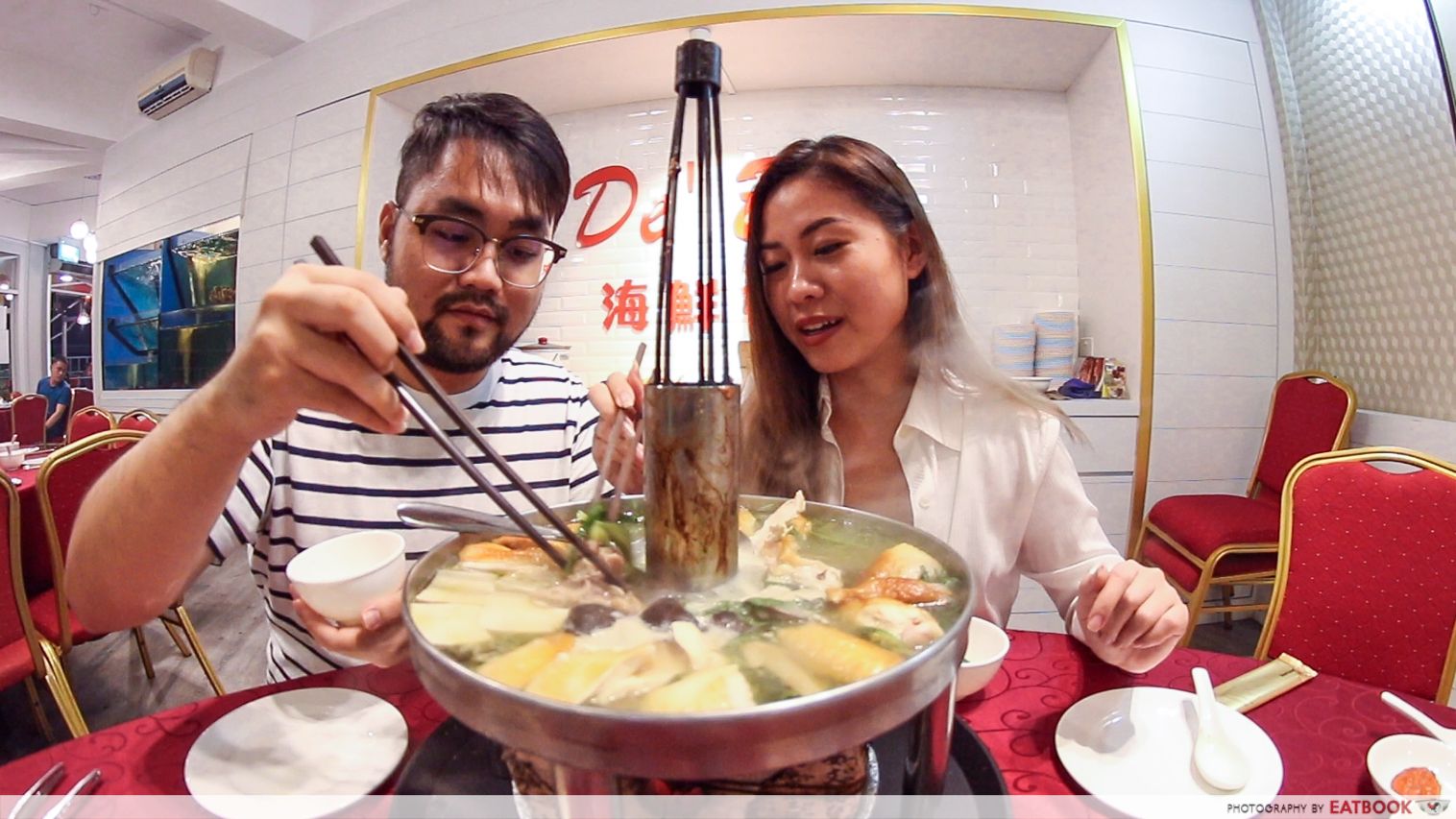 The food here is definitely good. Seafood is fresh and succulent, cooked with classic Chinese flavours. My parents and grandparents would enjoy this place. However, prices are steep – as is to be expected of a seafood restaurant – so I'd probably only visit for the occasional treat.
Address: 262 Jurong East Street 24, #01-485, Singapore 600262
Operating hours: Daily 11am to 3pm, 5:30pm to 11pm
Tel: 6464 1365
Website
This was a media tasting at De'Beer Seafood Restaurant.
Summary
Pros
– Fresh seafood
– Creative dish presentations
– Classic Chinese seafood flavours done well
Cons
– Pricey
Recommended Dishes: Salted Egg Crab with Crispy Cheese (seasonal price), De'Beer Speciality Fried "La La" Bee Hoon ($18 for 500g, $34 for 1kg)
Operating Hours:
Daily 11am to 3pm, 5:30pm to 11pm
Tel:
6464 1365
Address: 262 Jurong East Street 24, #01-485, Singapore 600262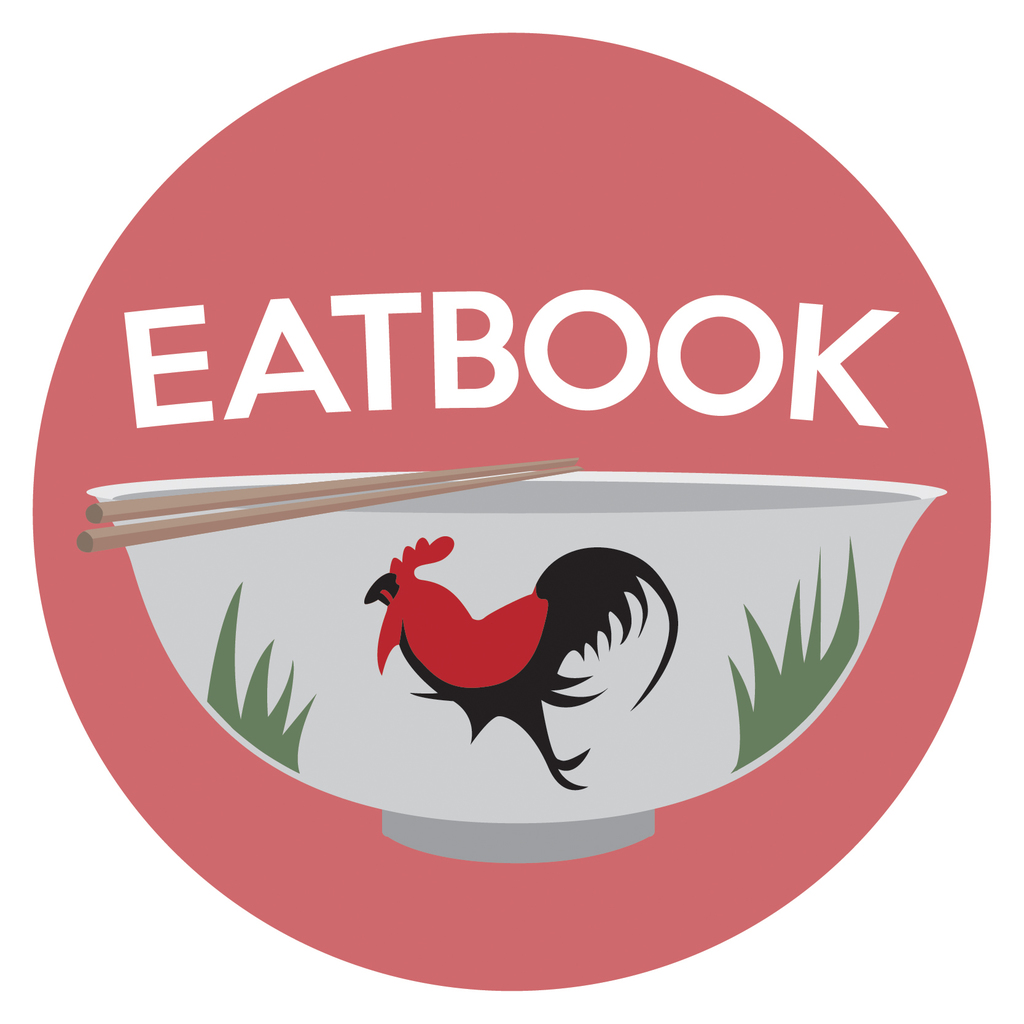 Drop us your email so you won't miss the latest news.