Chilli King Wanton Mee is the wonton mee for spicy food lovers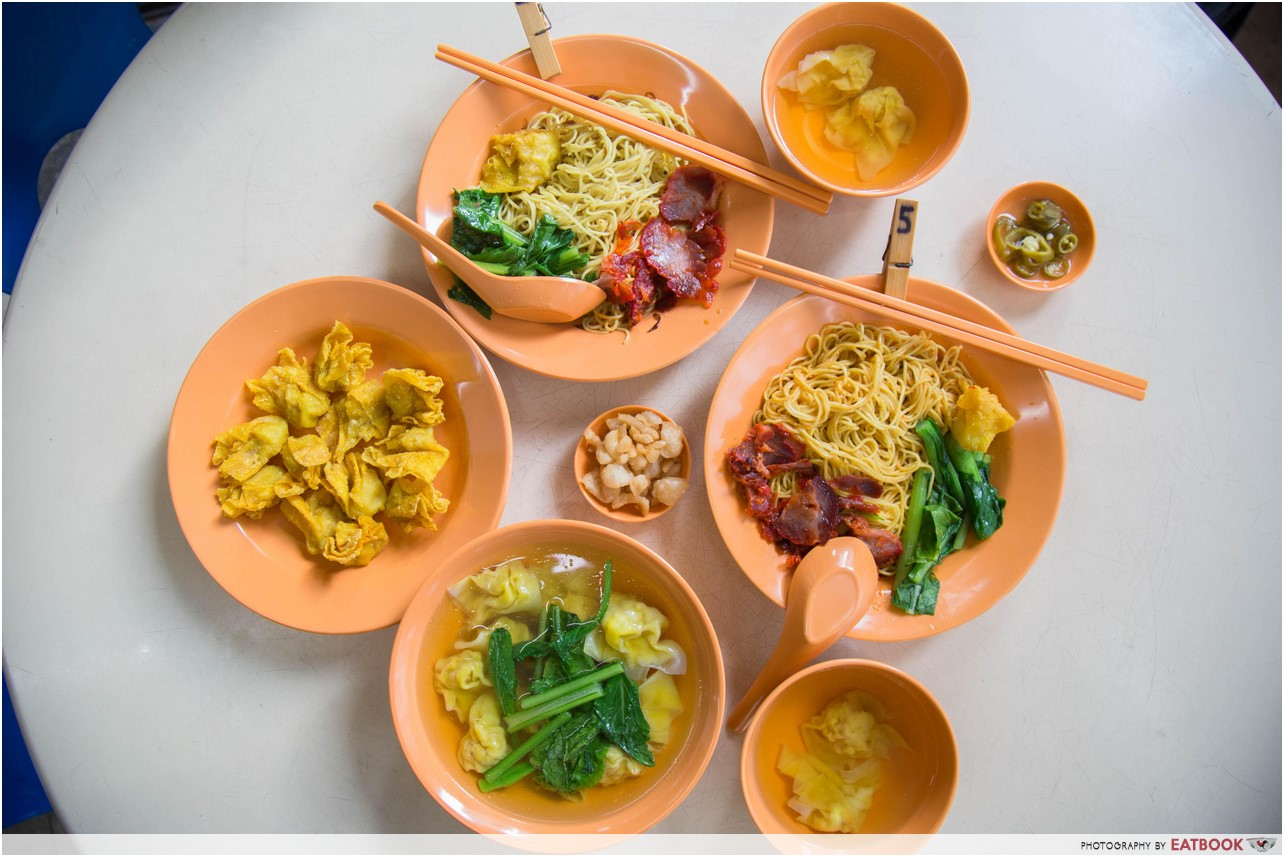 When I was younger, my ah ma would spend most of her time in the kitchen whipping up delicious food for the family. Every time she made a new dish, she'd always call me to the kitchen and shove a spoonful into my mouth, waiting for my nod of approval. On one occasion, I remember tasting the intense kick of soya sauce and fragrant sesame oil, followed by chewy noodles and sweet barbecued char siew. That was the moment she introduced her homemade wonton mee to me.
Ever since she passed away, I've been missing her wonton noodles dearly. I recently came across Chilli King Wanton Mee, and it reminded me of her cooking. If you're up for simple wonton noodles that come with a spicy kick, this might be for you!
Food at Chilli King Wanton Mee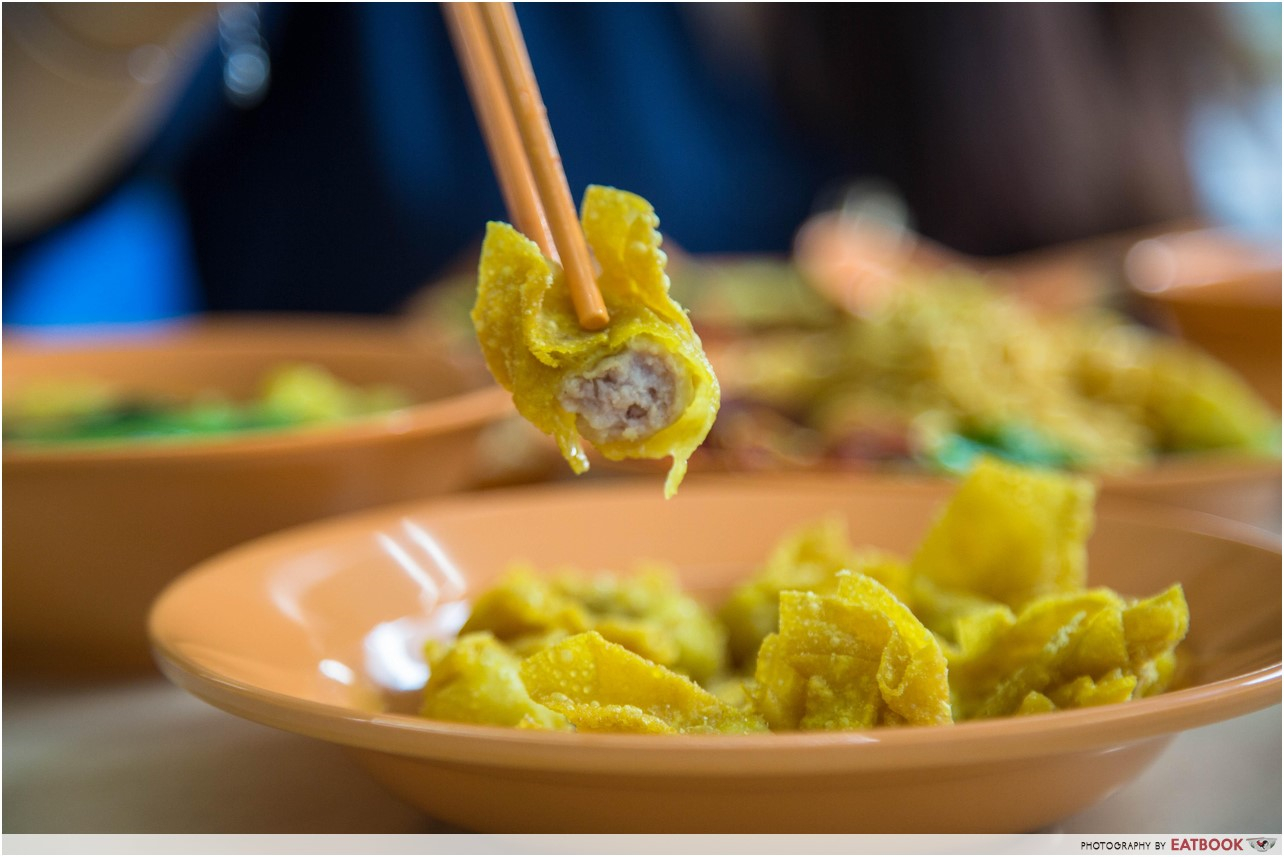 For starters, we opted for some Fried Wontons ($3.50 for 12 pieces). At first glance, it did not look like anything special, and I wasn't expecting much either.
My first bite was, however, enough to seal my love for these tiny fried dumplings. Like fireworks, each wonton created an explosion of flavours in my mouth. Not only was the minced pork seasoned well, it was also incredibly juicy and flavourful. For a moment I thought I was having a deep-fried xiao long bao. Don't judge a book by its cover, because even though this dish looks simple, it was anything but.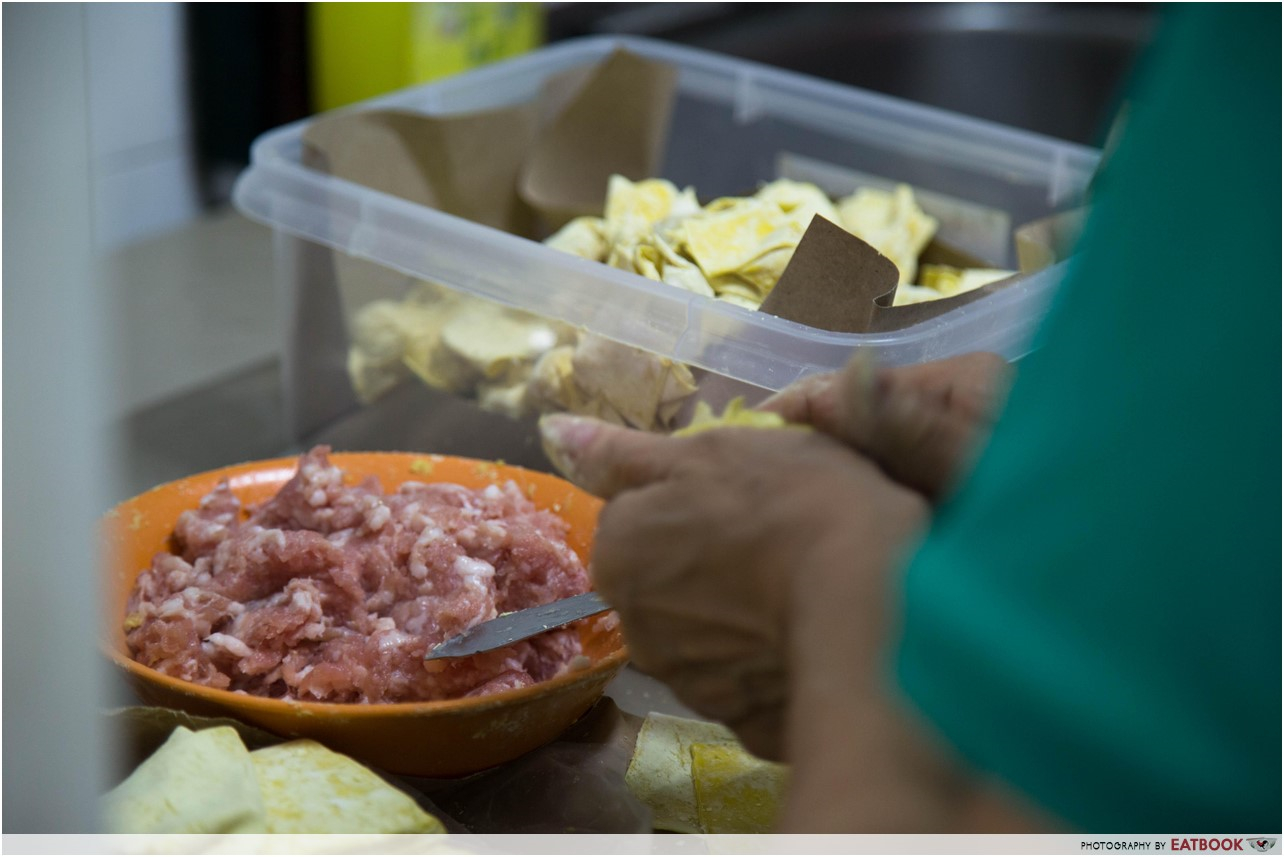 Every morning, minced meat is marinated with their secret seasoning and little else. The owner prefers to offer fresh and handmade dishes despite the lack of manpower. He's almost always at the stall alone, with bouts of solitude broken with the presence of an occasional part-timer.
On days you're lucky, the wonton skins here will be made from scratch. But on days he struggles with preparing the ingredients, he'll succumb to store-bought ones.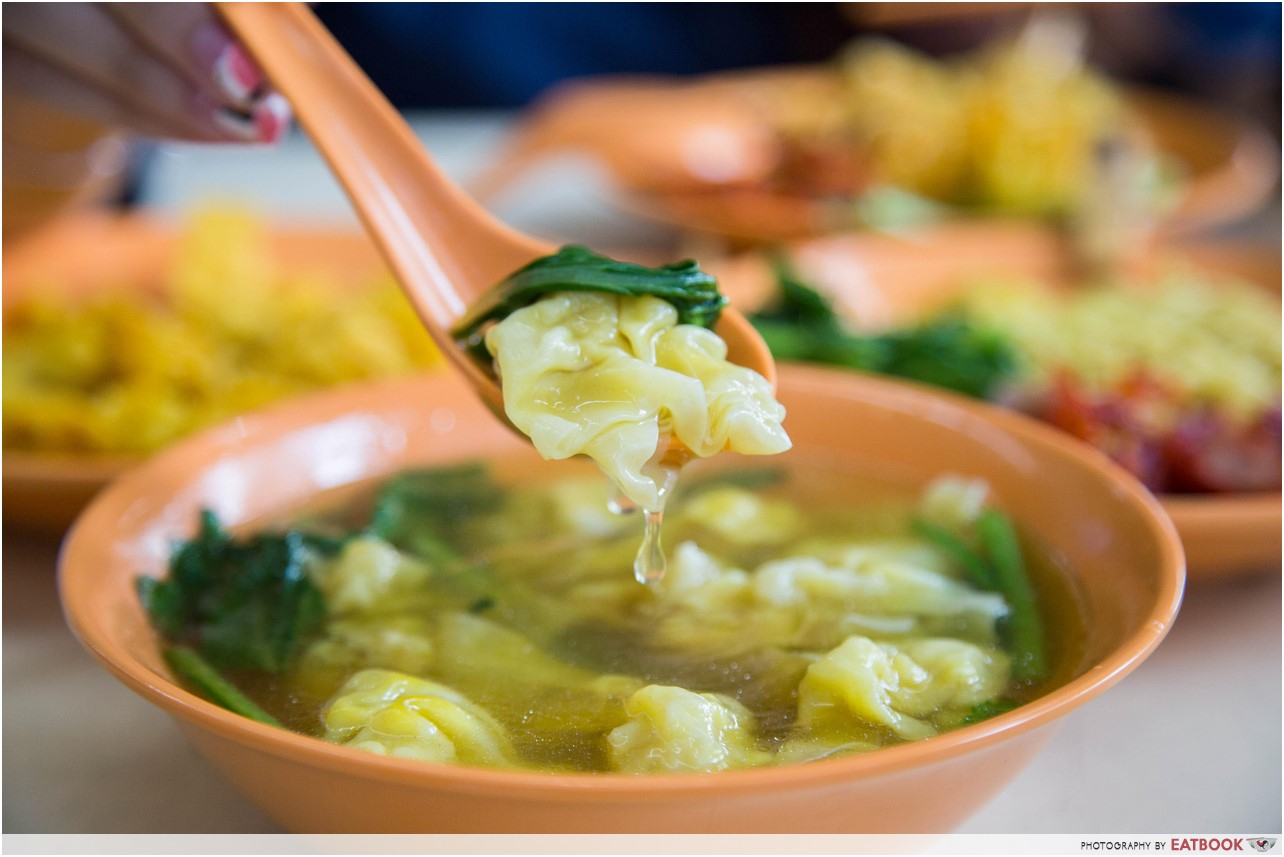 If you're the type who appreciates a good ol' bowl of hot wonton soup, you'd love the Soup Wontons ($3.50). Well-balanced, slippery, and comforting, this might just be my go-to on rainy days. The broth was rich, and had a subtle taste of kelp that reminded me of classic shoyu ramen broth. I almost licked the bowl clean.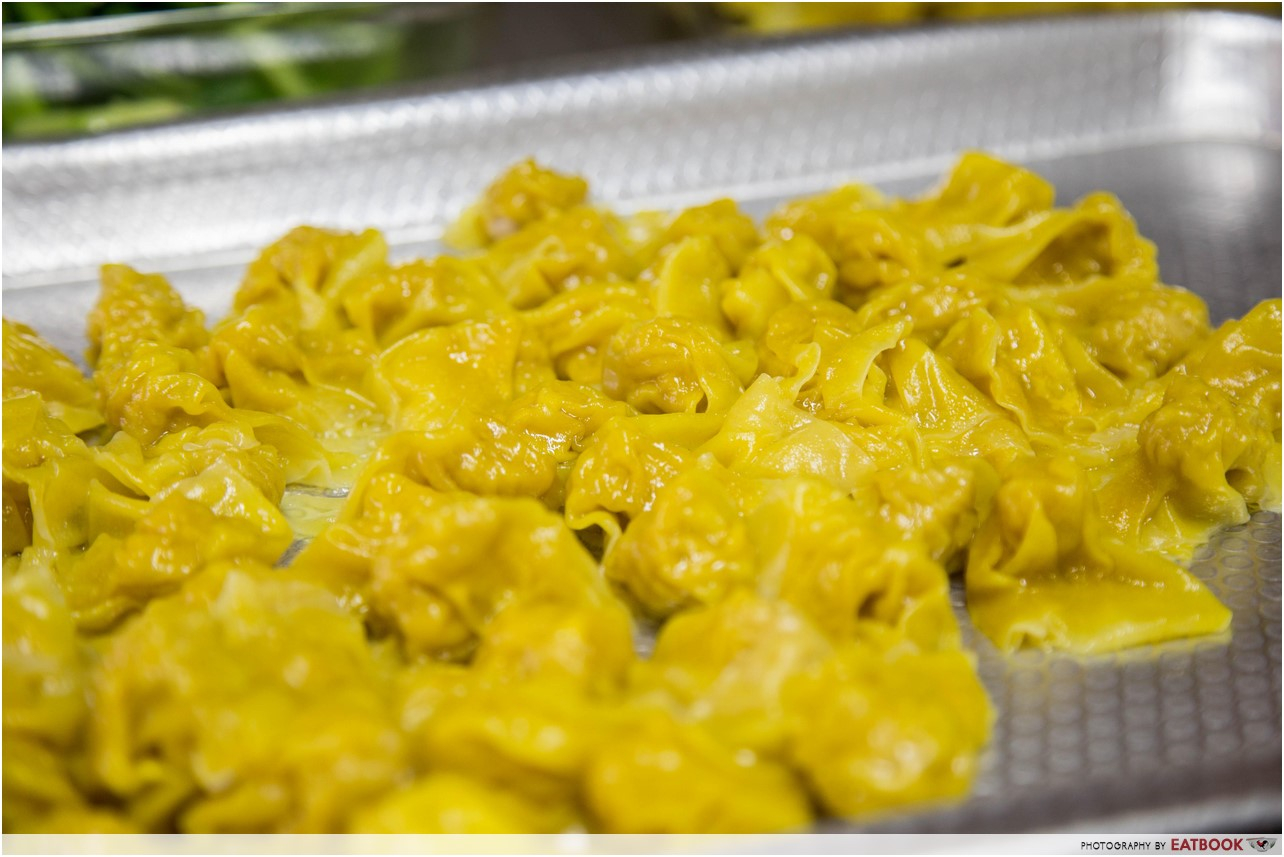 While the golden pockets were delicate and silky, I would have preferred the additional crunch of water chestnuts. They could also have been stuffed fuller, as they were smaller than the typical bite-sized ones I usually have.
Also, the wonton skin was disappointing. After several stirs of the soup, most started breaking apart. There was one point in the meal where my soup became minced meat and wonton skin soup, as the two had separated completely.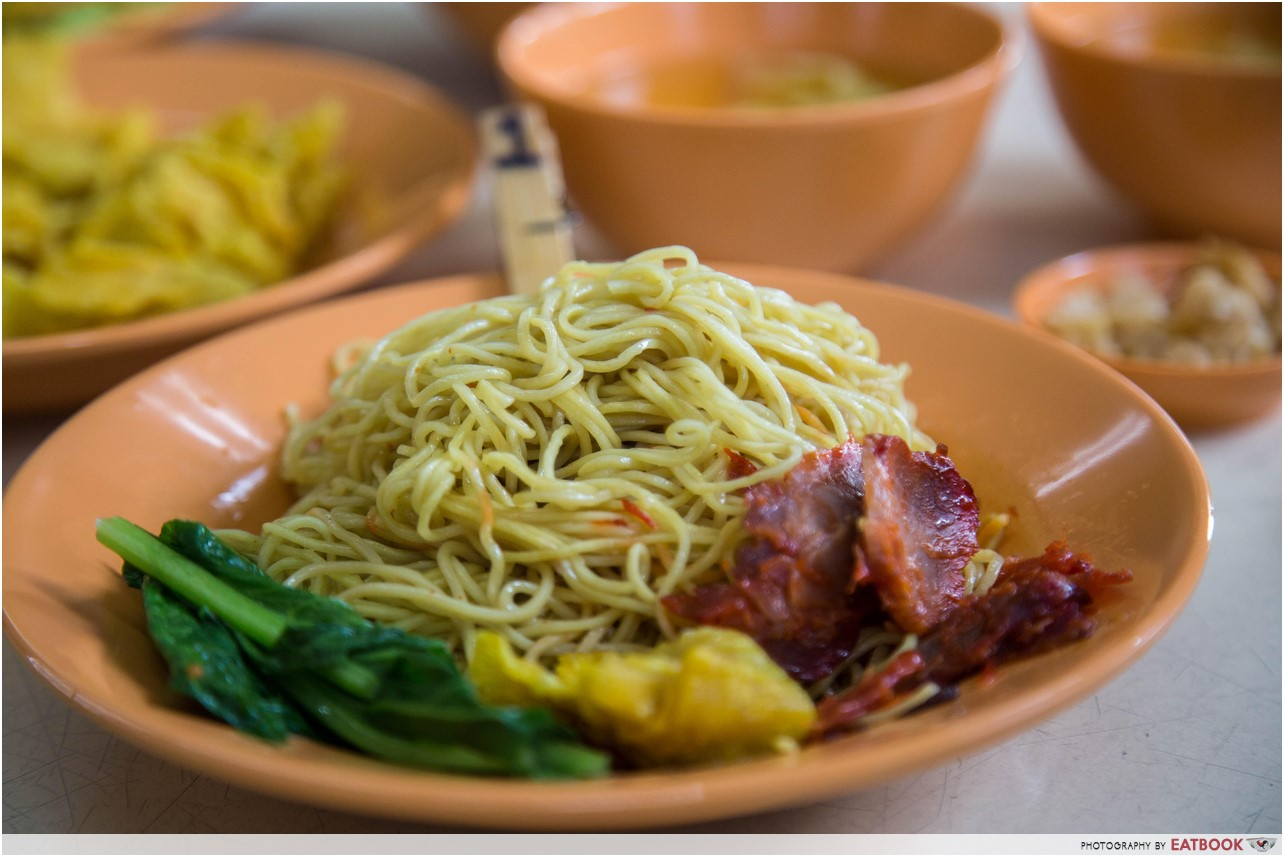 Time for the highlight of the meal. Chilli King Wanton Mee offers wonton noodles at five different spiciness levels. We got Tam Po Hiam ($3.50), which is level one, and directly translates to "slightly spicy" in Hokkien. When it arrived, I was quite underwhelmed by its appearance. Beside a mountain of yellow noodles, sat a few pieces of char siew, a fried wonton, and a few stalks of boiled vegetables.
To me, a good bowl of dry wonton noodles should be slathered in a glistening brown sauce and carry a strong aroma of soya sauce and sesame oil. Sadly, this was missing all those elements, and was lacklustre in both appearance and taste. It did not have the flavour punch that I was looking for, and was overall pretty average.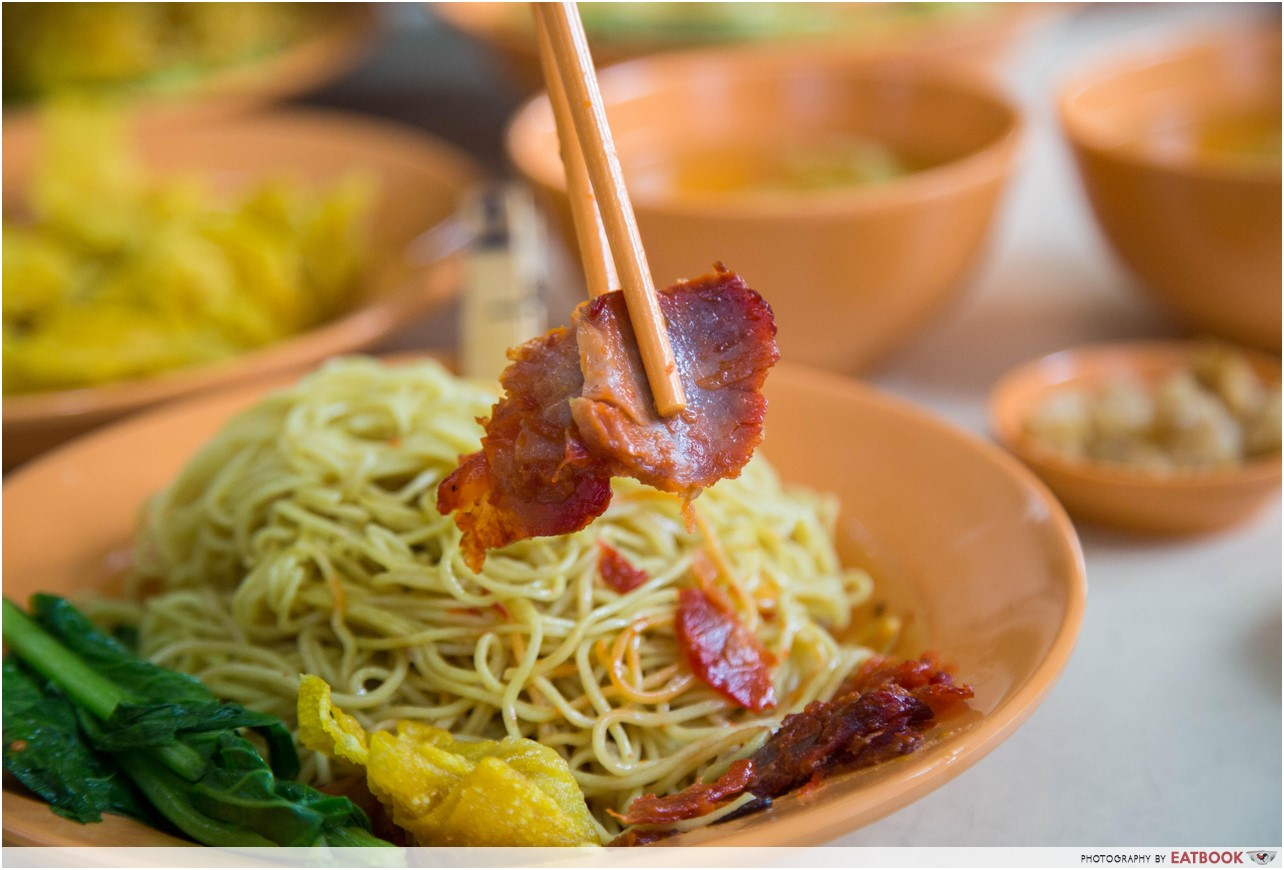 A tasty piece of char siew should be thick-cut, shining with a gorgeous layer of red, have a good fat-to-meat ratio, and be smoke-kissed with caramelised edges. Sadly, the char siew in this dish was anything but that. The char siew was sliced thinly and disintegrated in my mouth after a few bites. TLDR; it wasn't satisfying.
After the mediocre plate of noodles, I was hoping the spiciest level – Xiang Teh Hiam ($3.50), would bring justice to the owner's hard work. I came into this feeling more confident than usual, having developed a higher tolerance for spicy food, especially after downing a whole bowl of mala hot pot. The noodles weren't Ssamyang spicy noodles-level of redness, so I thought this level five dish would be a breeze.
I spoke too soon.
My first big mouthful was nothing but instant regret. The spiciness hit instantly, and all I could let out were pathetic heaves. I started sweating, my mind blanked out, and I had trouble hearing. Even though the spiciness was almost burning my insides, it was still surprisingly addictive!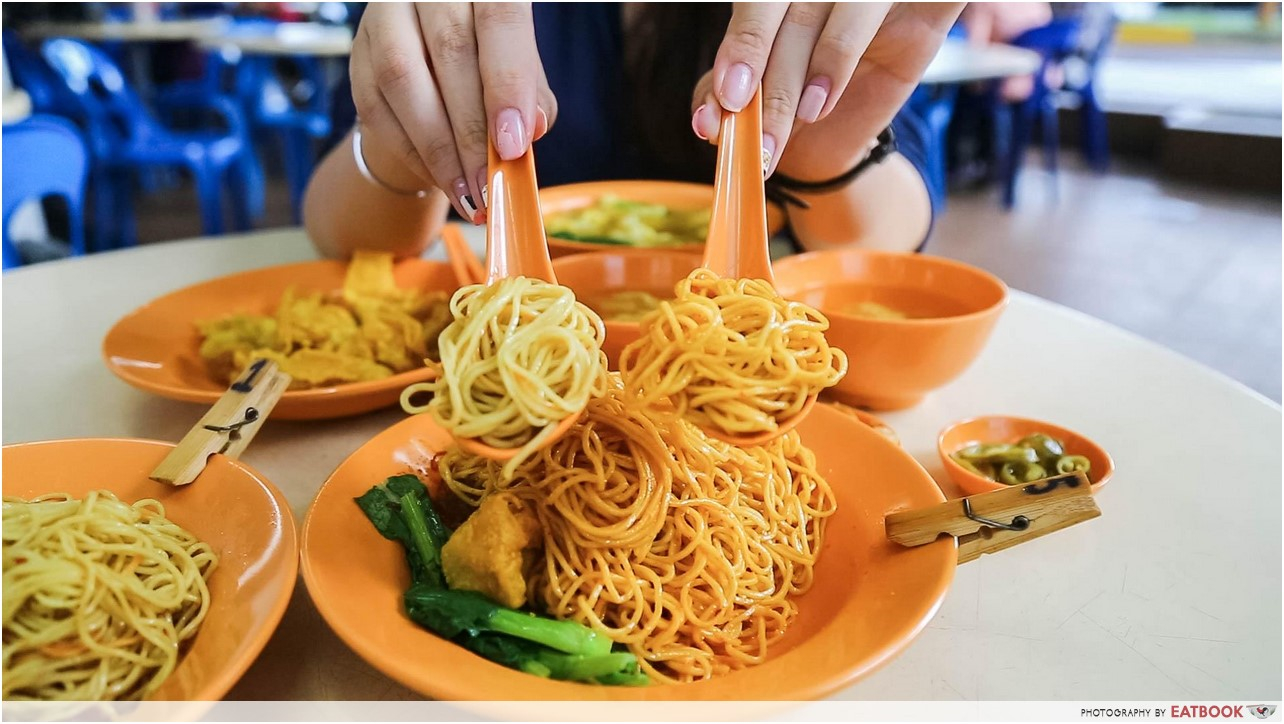 There's a significant difference in terms of colour for both noodles. Level five, pictured on the right, looks more menacing compared to level one.
Level five had plenty of chilli padi seeds latching onto the strands of noodles, so it's almost impossible to pick them out. As most of the chilli sauce sits on the bottom of the plate, give it a good toss before you dig in.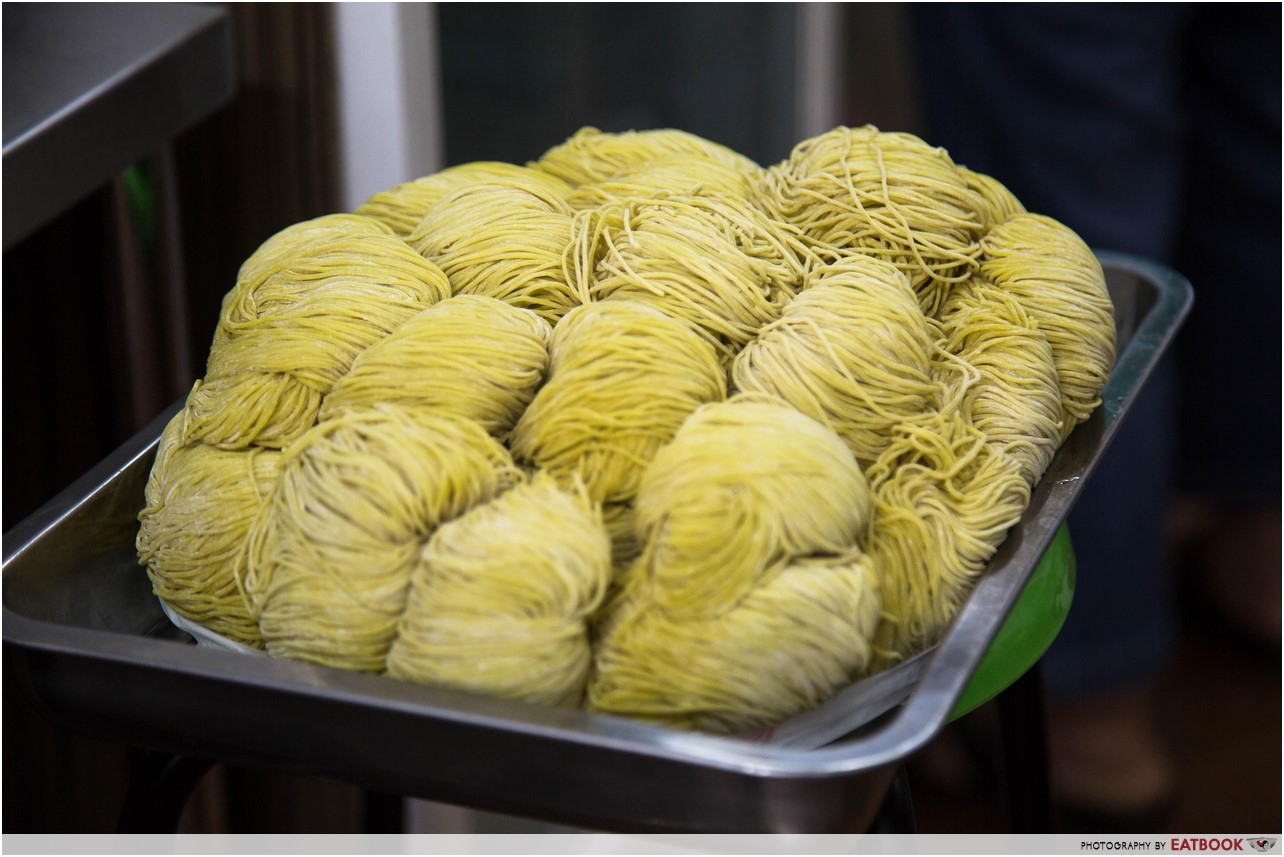 The handmade egg noodles are worth mentioning. The owner makes them fresh every morning. I was also told he spent a few weeks trying to perfect his noodles, and in order to achieve a texture that's firm to the bite, he cooks his noodles for exactly one minute. He also offers a free flow of fried pork lard to add that extra crunch to your noodles.
Ambience at Chilli King Wanton Mee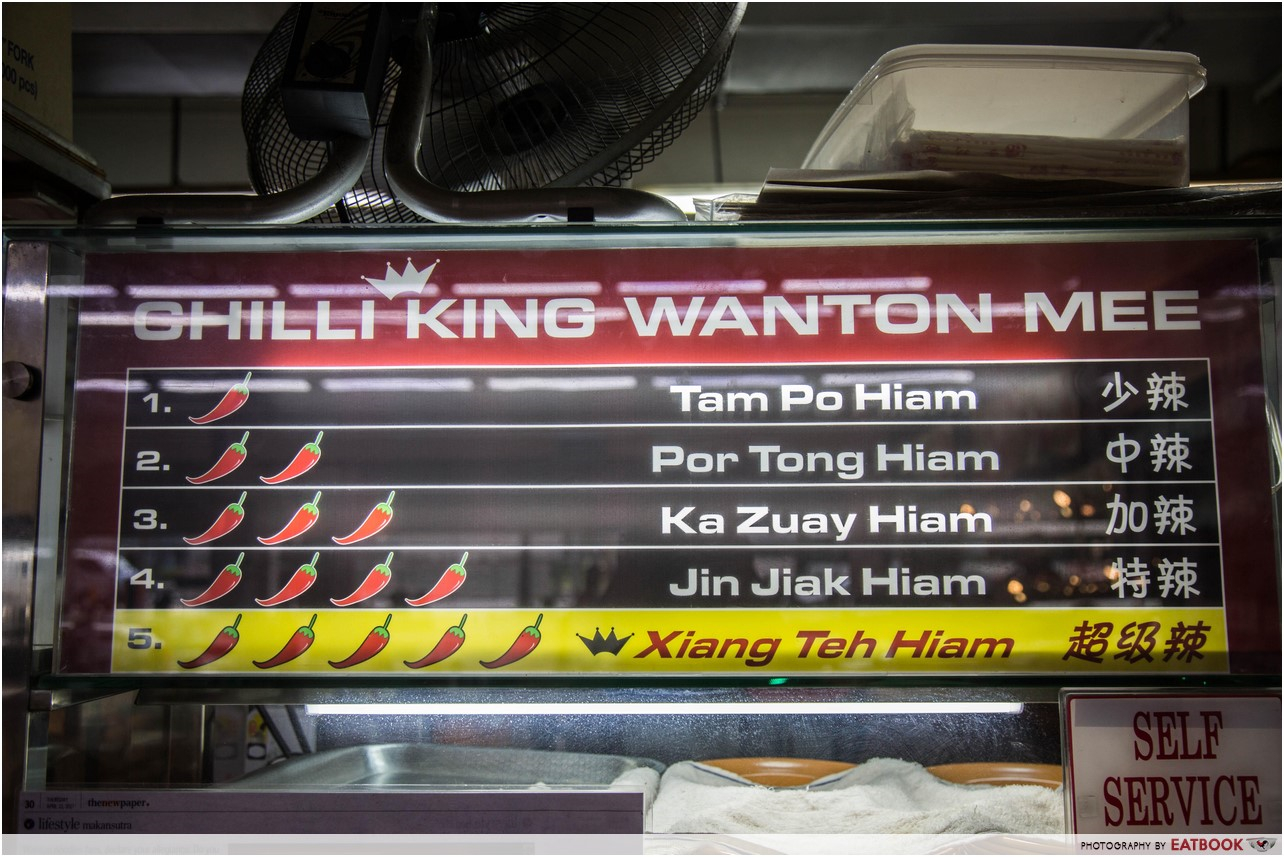 Chilli King Wanton Mee is located in a kopitiam called Chang Cheng Coffeeshop. Situated in a corner, the front of the stall is unassuming and you might miss it at first glance. It is a five-minute walk away from Kallang MRT Station.
As it is situated in a kopitiam, be prepared to sweat buckets, especially if you are opting for the Xiang Teh Hiam noodles. Remember to come armed with tissues!
The verdict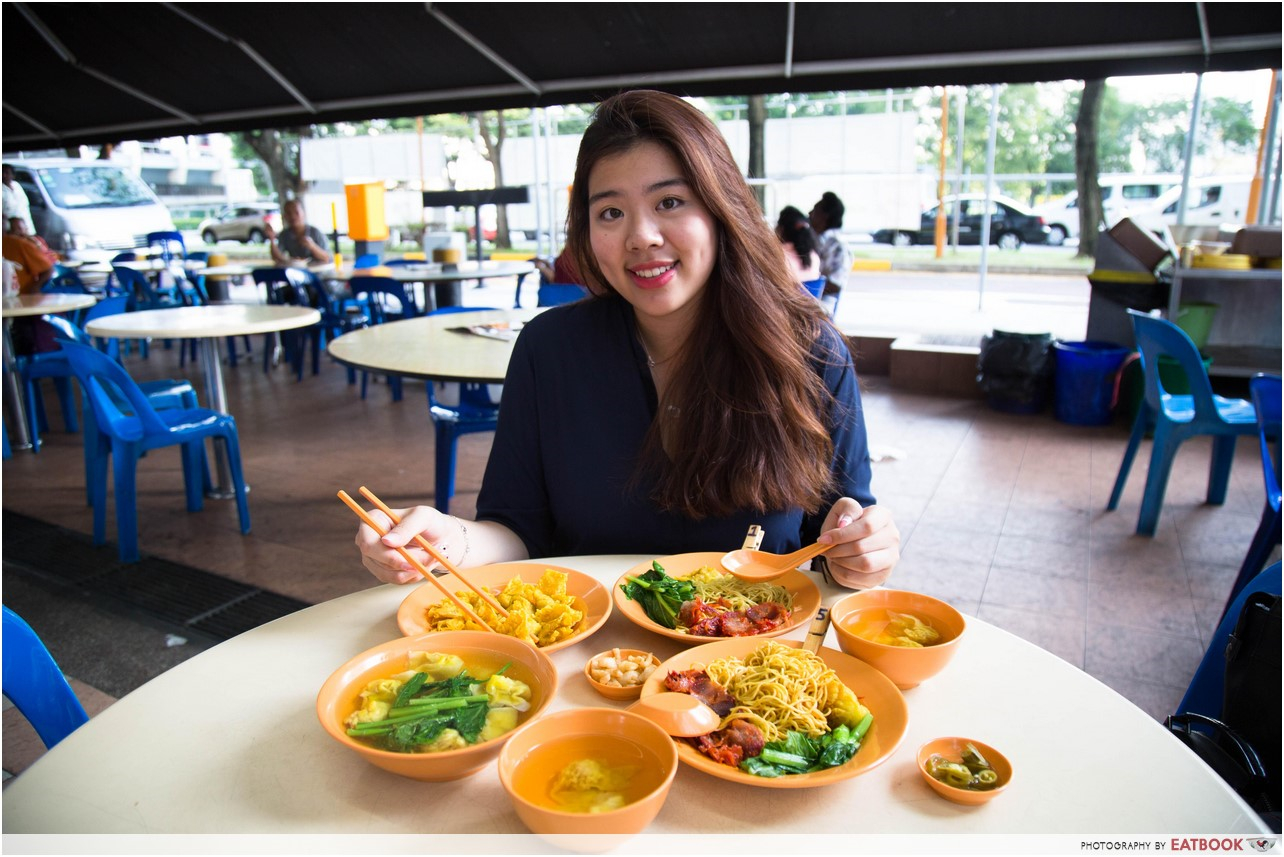 Overall, the wonton noodles were rather average. Their flavours were not bold enough, with the exception of the level five spiciness. Their dishes are better suited for people with a lighter palate. I probably would not make my way down just for the food, but if I were around the corner, I might just pop by again. Wonton mee lovers, check out these other char siew wonton mee places in Singapore!  
Address: Block 5 Upper Boon Keng Road, #01-22, Chang Cheng Coffeeshop, Singapore 380005
Opening hours: Wed-Mon 3pm to 10:30pm
Tel: 9489 4532
Chilli King Wanton Mee is not a halal eatery.
This is an independent review by Eatbook.sg.
Summary
Pros
– Affordable
– Convenient location
Cons
– Stuffy ambience
– Average food
Recommended Dishes: Xiang Teh Hiam ($3.50)
Operating Hours:
Wednesday to Monday 3pm to 10:30pm
Tel:
9489 4532
Address: Block 5 Upper Boon Keng Road, #01-22, Chang Cheng Coffeeshop, Singapore 380005