Chao Ting serves up Teochew pao fan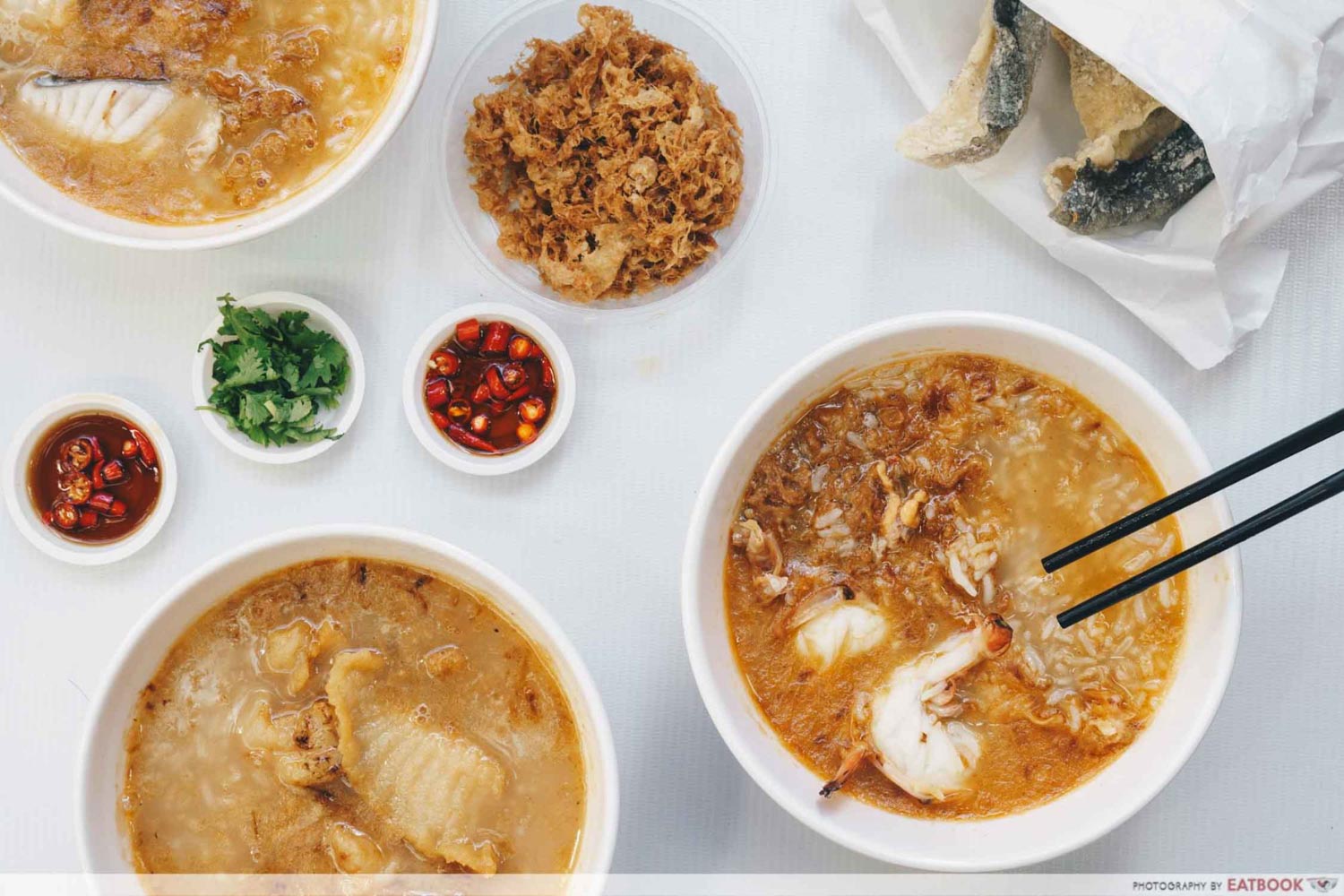 You are not alone if Pao fan (泡饭) doesn't ring any bells. In a world of gravity-defying ice-cream and jiggly souffle pancakes, this simple bowl of rice, drowned in a dull broth, hardly turns any heads.
Yet, in our parents and grandparents' time, it was sheer comfort. A piping warm soup to fill their bellies and wash away the day's worries. Today, it still is comfort food, waiting quietly to be discovered in hole-in-the-wall eateries, in fear of being forgotten.  Thankfully, JUMBO Seafood has taken a leap of faith with this underrated dish in their latest concept, Chao Ting. Specialising in Teochew pao fan, this sleek kiosk turns back the clock with their traditional and delicious soups.
Food at Chao Ting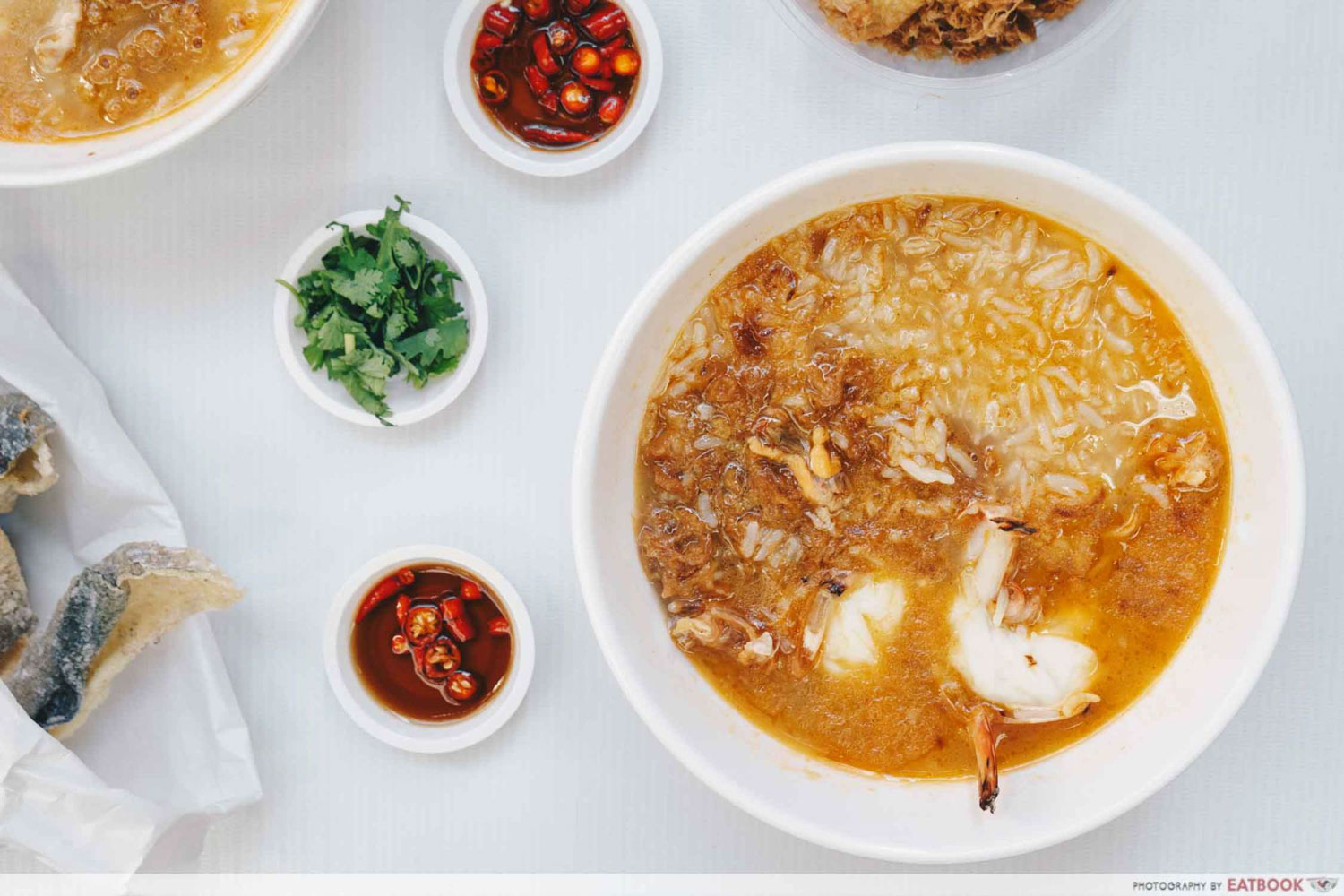 Chao Ting offers just three bowls on their menu: King Prawn 'Pao Fan' ($11), Sliced Fish 'Pao Fan' ($9), and Fried Fish 'Pao Fan' ($9). This lean selection may lack variety, but also shines the spotlight on their robust broth.
A lot of elbow grease goes to preparing this simple soup: prawn shells and a trio of fish, pork and chicken bones are patiently slow-cooked for over five hours to tease out their full essence.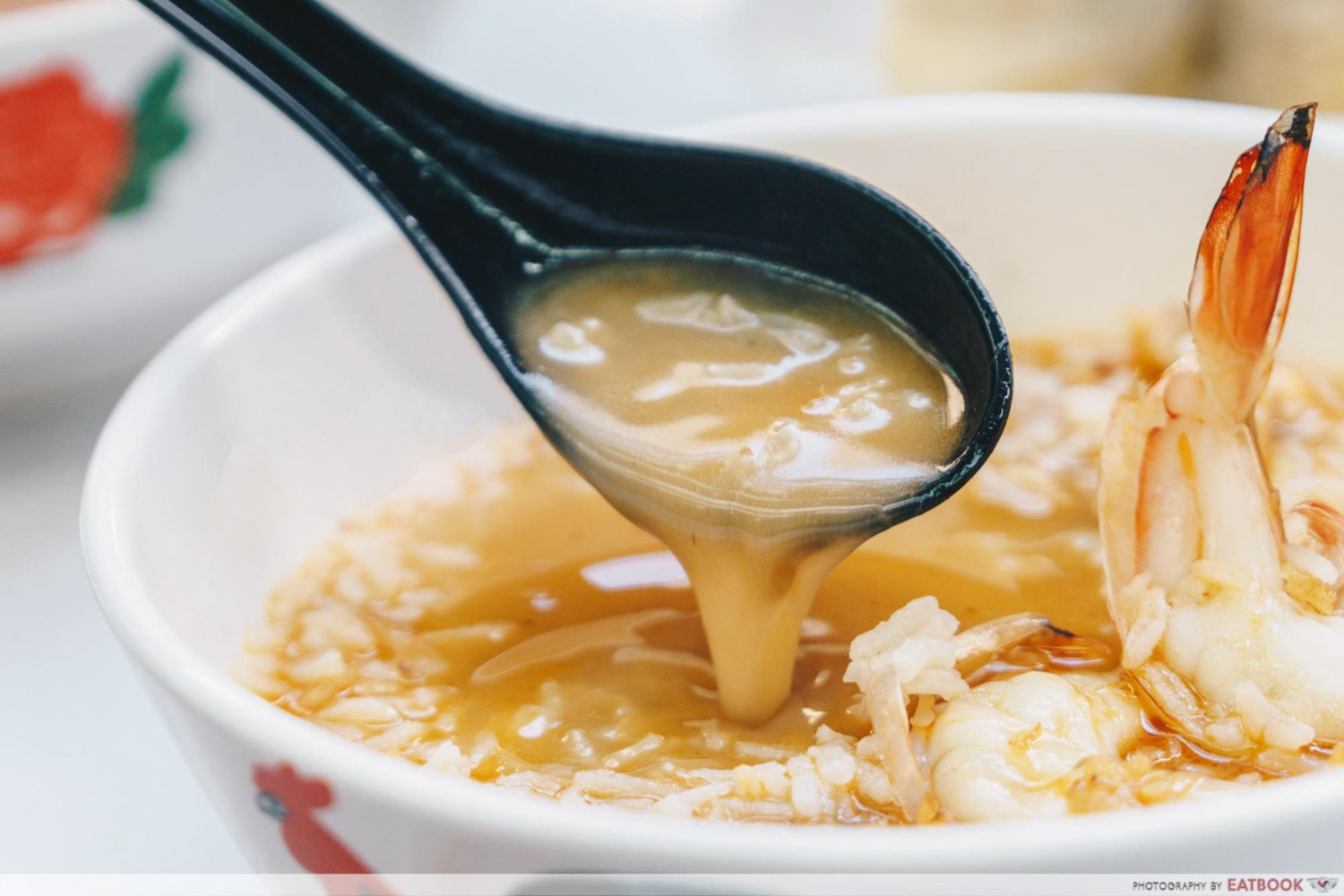 One sip of this orange-hued soup left me hooked, as an elegant symphony of rich notes danced across my palate. A forceful kick of umami started off this harmonious melody, before making room for a tonkotsu-esque creaminess. 
You expect this pairing of rich flavours to meld into an overwhelming crescendo of savouriness, but the reverse was true. Like a tightly contested tug-of-war, both elements held each other in check. As 'gao' (thick) as the soup was, I rarely found myself reaching for a glass of water. 
Seafood Pirates Review: $3 Oyster Omelette Rice And Seafood Ramen At Yishun Hawker Centre
This flavourful broth was the backbone of their paofan, infusing every nook and cranny of the rice with its savoury tang. It also enhanced the natural smoothness of the long-grained rice, such that every mouthful comfortably streamed down my throat.
Besides the rich soup, premium ingredients also distinguished their paofan from a typical bowl of Teochew porridge. Generous sprinkles of crispy rice and fried egg floss peppered the soup, zhng-ing up your usual carbs with an added layer of crunch.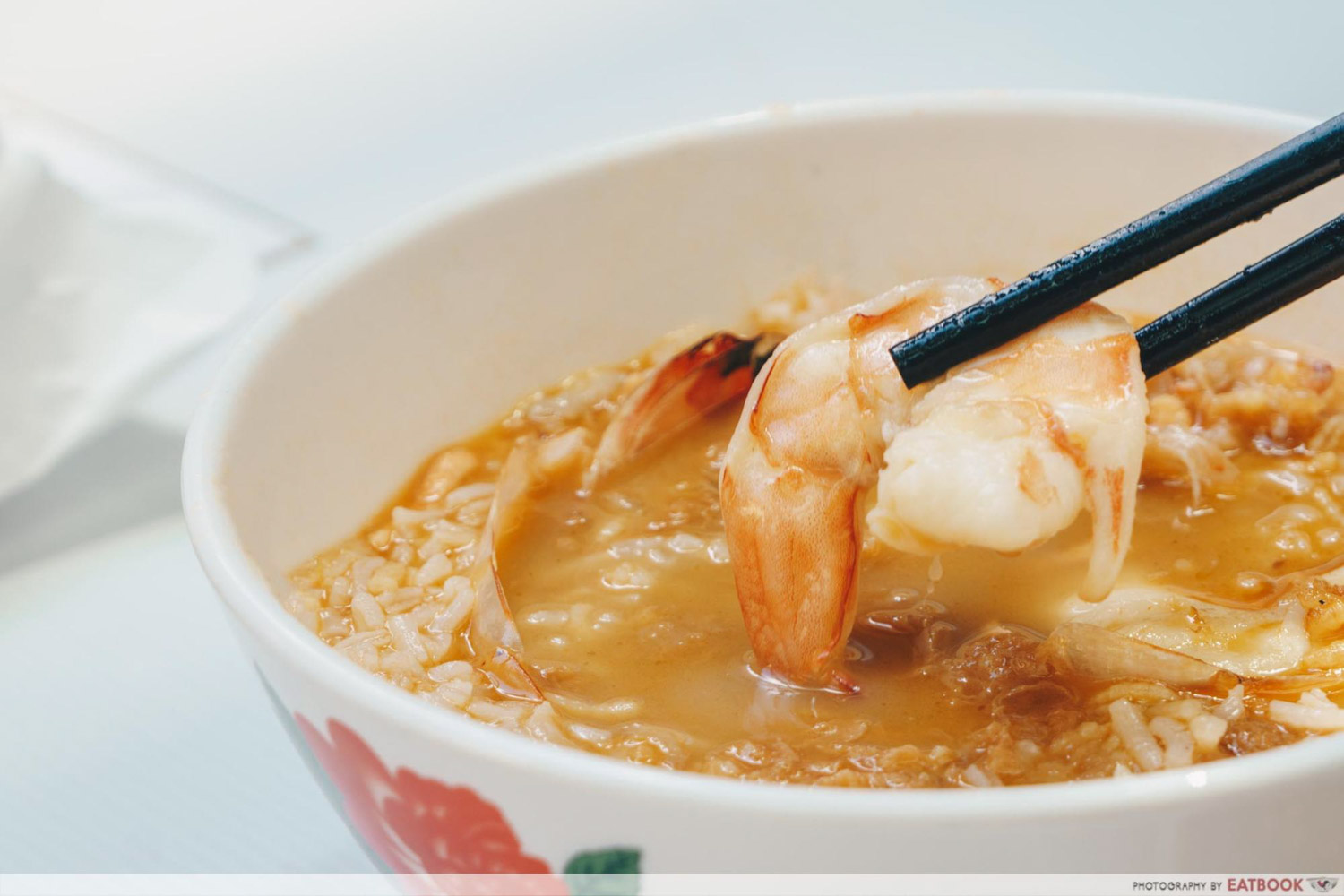 On the other hand, pricey as they were, their king prawns ticked all the right boxes with plump and juicy meat that effortlessly peeled off the shell. Brimming with crustacean sweetness, they provided a satisfying sequel to the full-bodied broth.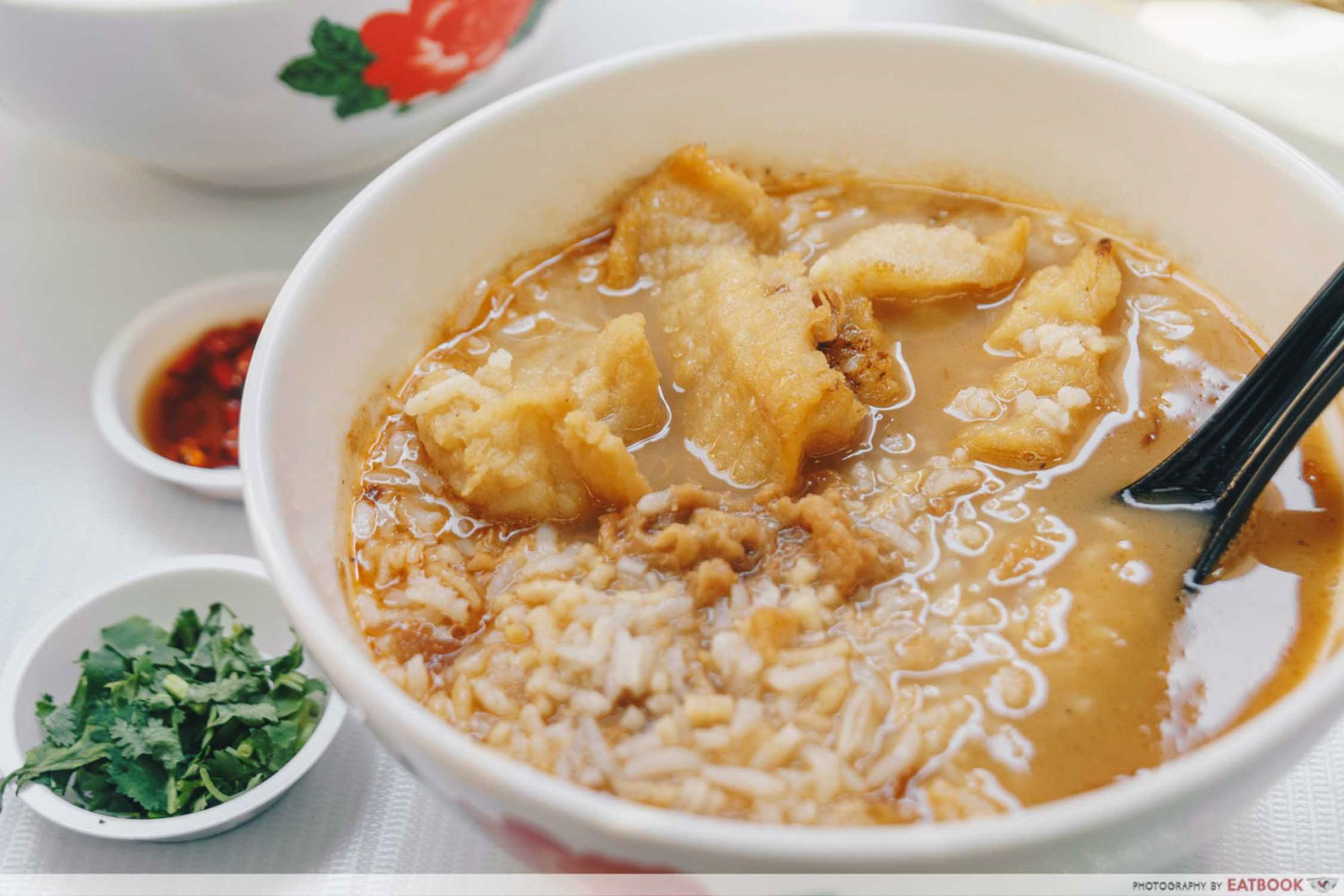 While first-timers might gravitate towards their King Prawn 'Pao Fan', regulars return for the Fried Fish 'Pao Fan'. Often sold out at Chao Ting, their Fried Fish 'Pao Fan' is the Goldilocks of fried dory—every aspect was just right.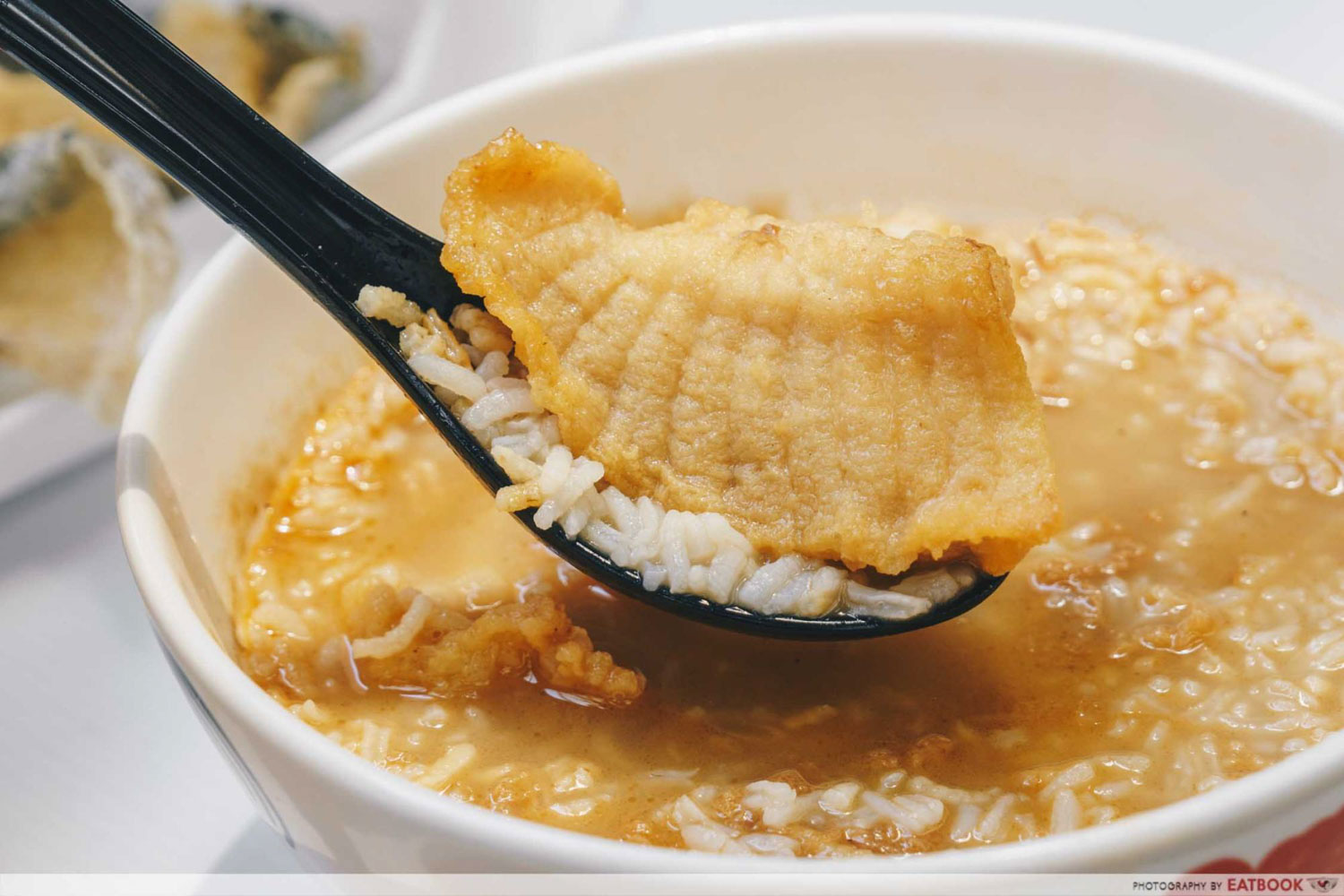 Most fish soup stalls disappoint with thin and shrivelled fillets, but these thick and plump chunks of dory left me impressed. A razor-thin crust preserved and contrasted superbly with the chewy and flaky meat, such that every bite afforded a beautiful play of textures.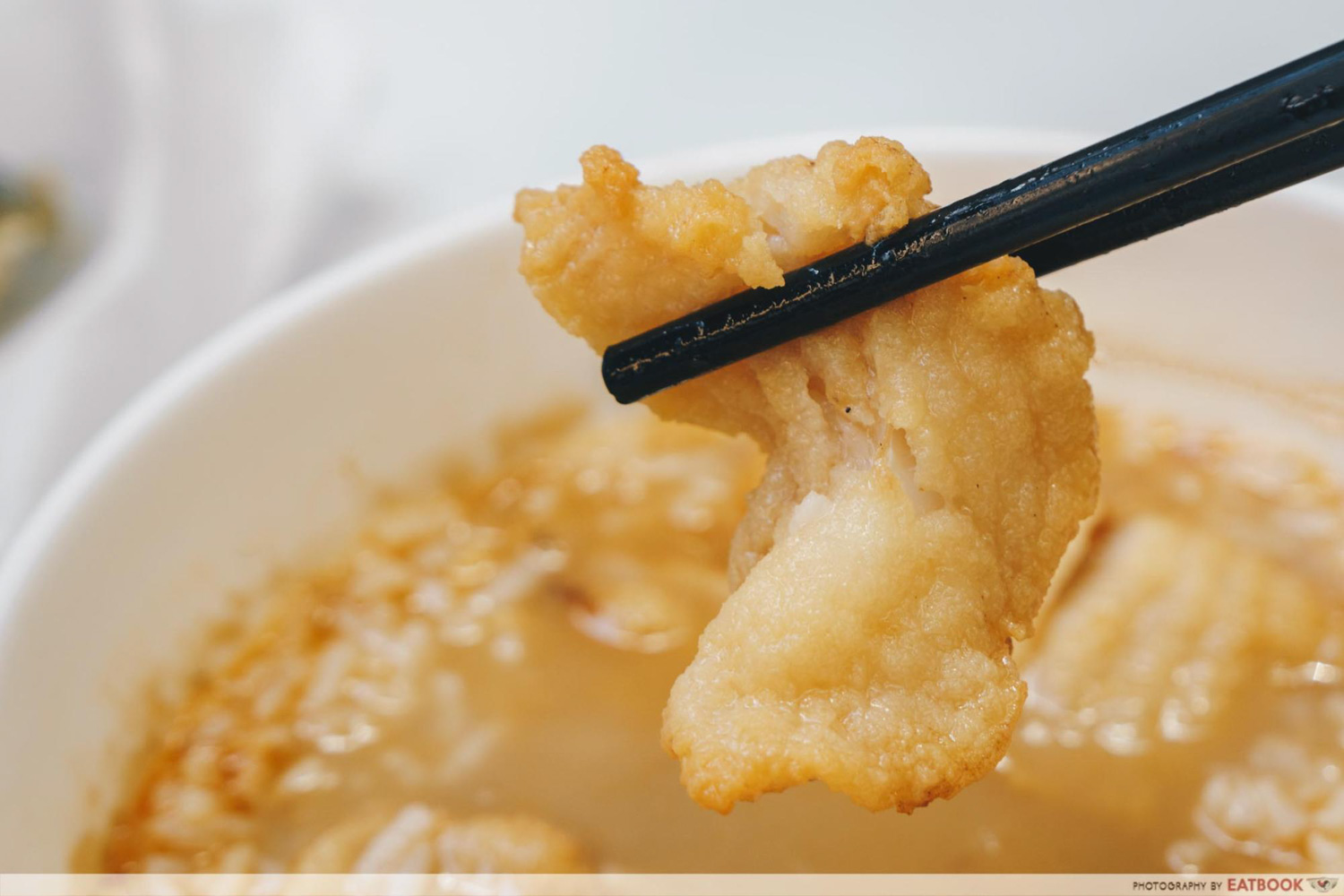 This light batter also allowed their fried fish to better soak up the broth. We could detect creamy seafood accents in the fish, supplying it with a bolder and rounder taste that went well with its sesame oil seasoning.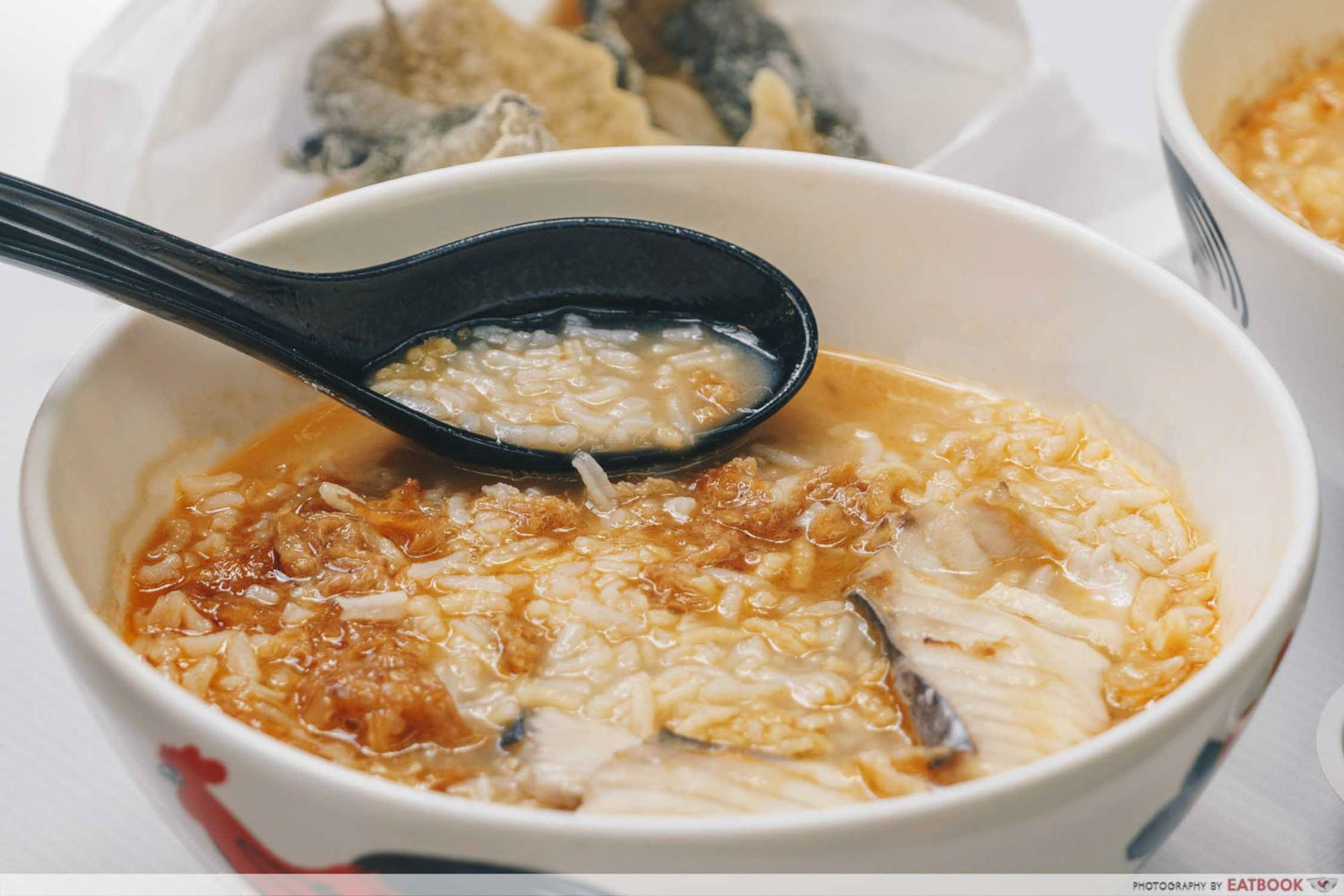 Having the Sliced Fish 'Pao Fan' after the Fried Fish 'Pao Fan' was like watching Spiderman: Far From Home after Avengers: Endgame—enjoyable yet underwhelming. 
Packing a natural oceanic richness, the batang (Spanish mackerel) slices resisted the broth's savoury injection. I found the meat lacking in flavour, especially when compared to their fried fish.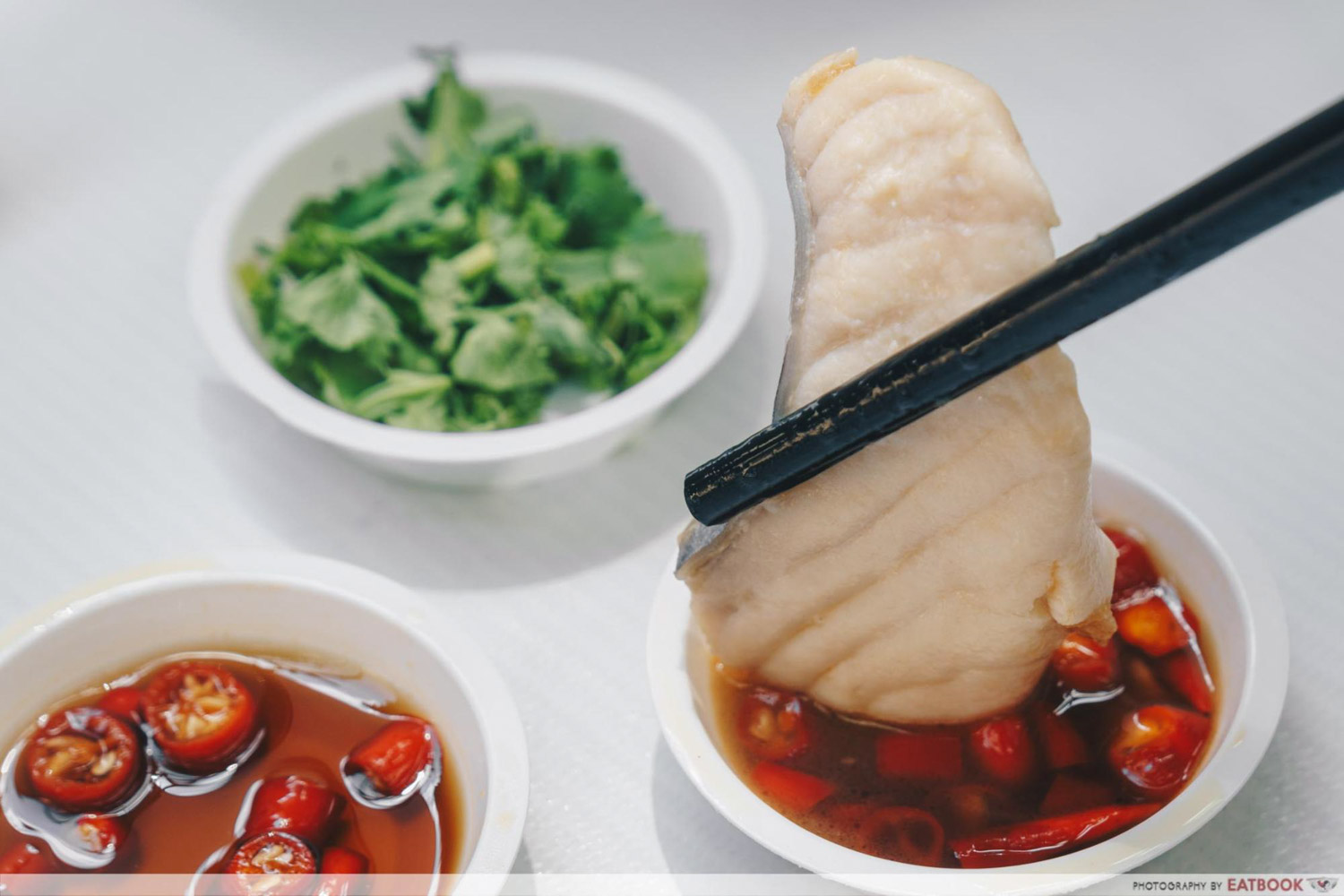 Thankfully, various condiments were available. We dunked the sliced mackerel into the chilli padi and soy sauce dip and relished the much-needed injection of spiciness.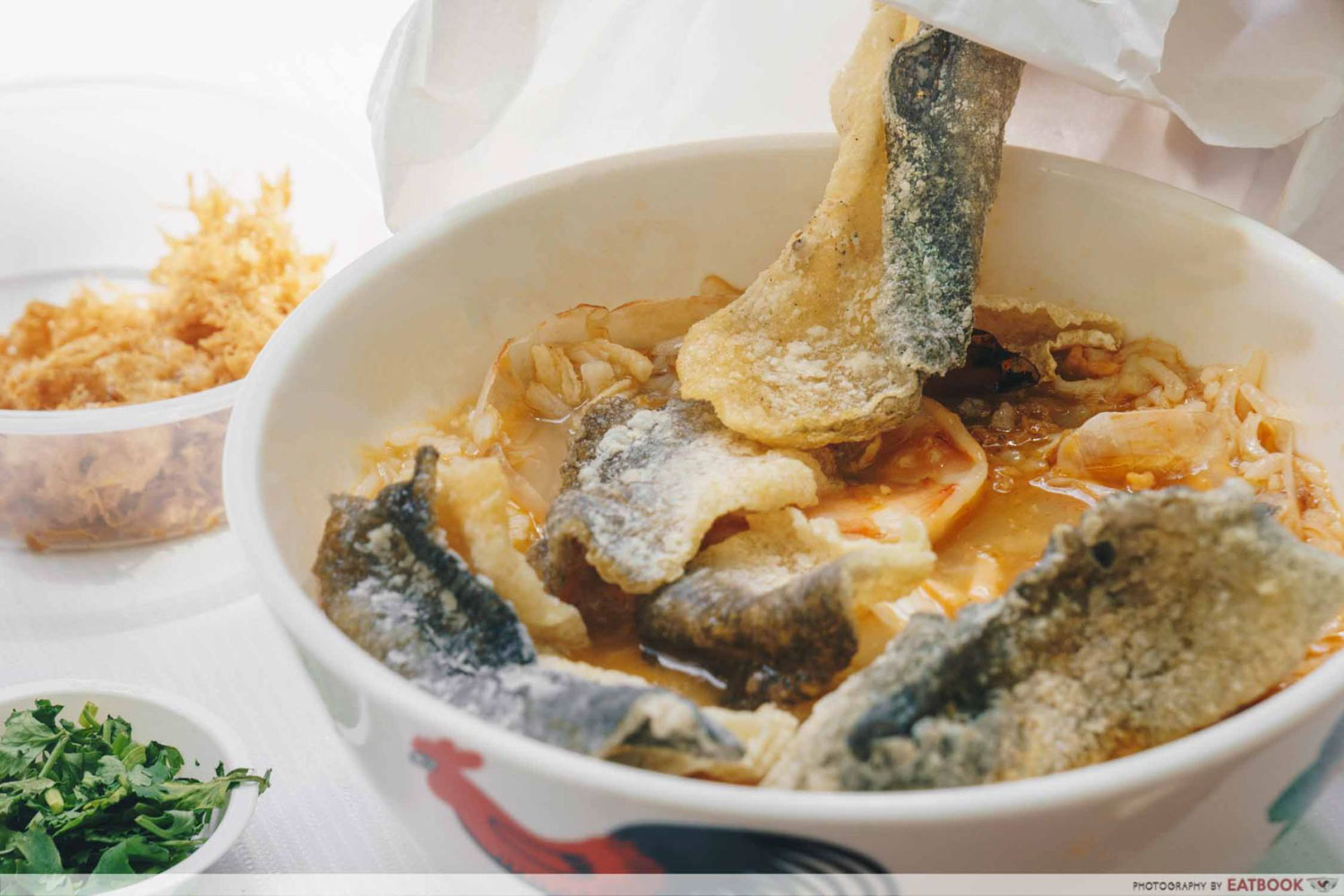 While these bowls of pao fan were satisfying on their own, I recommend topping them up with Fried Fish Skin ($3). Seasoned with a smattering of salt, these long and crispy strips bolstered the broth with their rich umami flavour.
Pro tip: briefly soak their fried fish skin in the soup to give them a more full-bodied taste. More importantly, it allows the fish skin to be slightly chewy on the inside, yet crisp on the outside.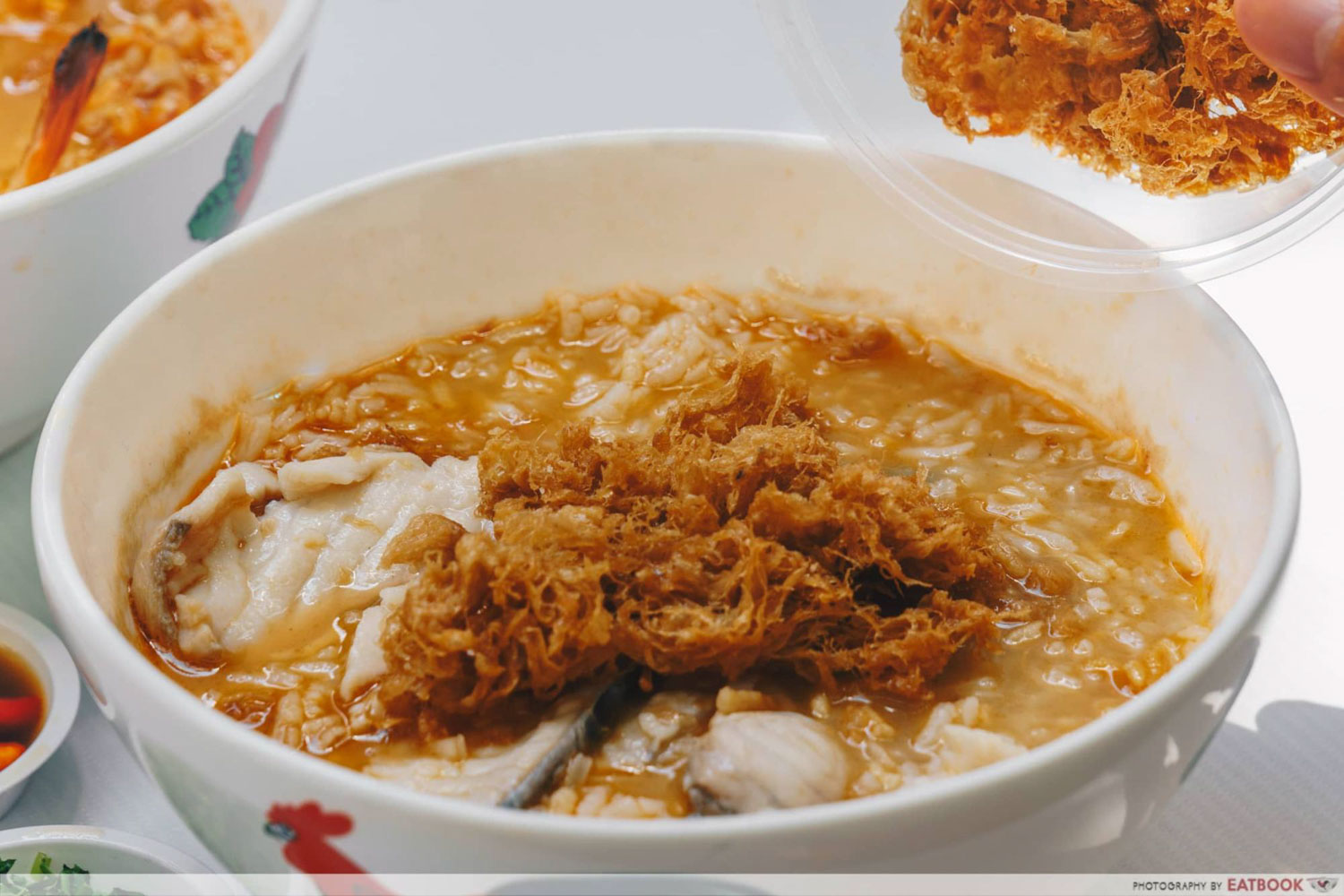 Their Fried Egg Floss ($1), however, was worth a miss. Though it complemented the pao fan with its airy and crisp texture, it was poorly drained of oil and left an oily aftertaste.
Ambience at Chao Ting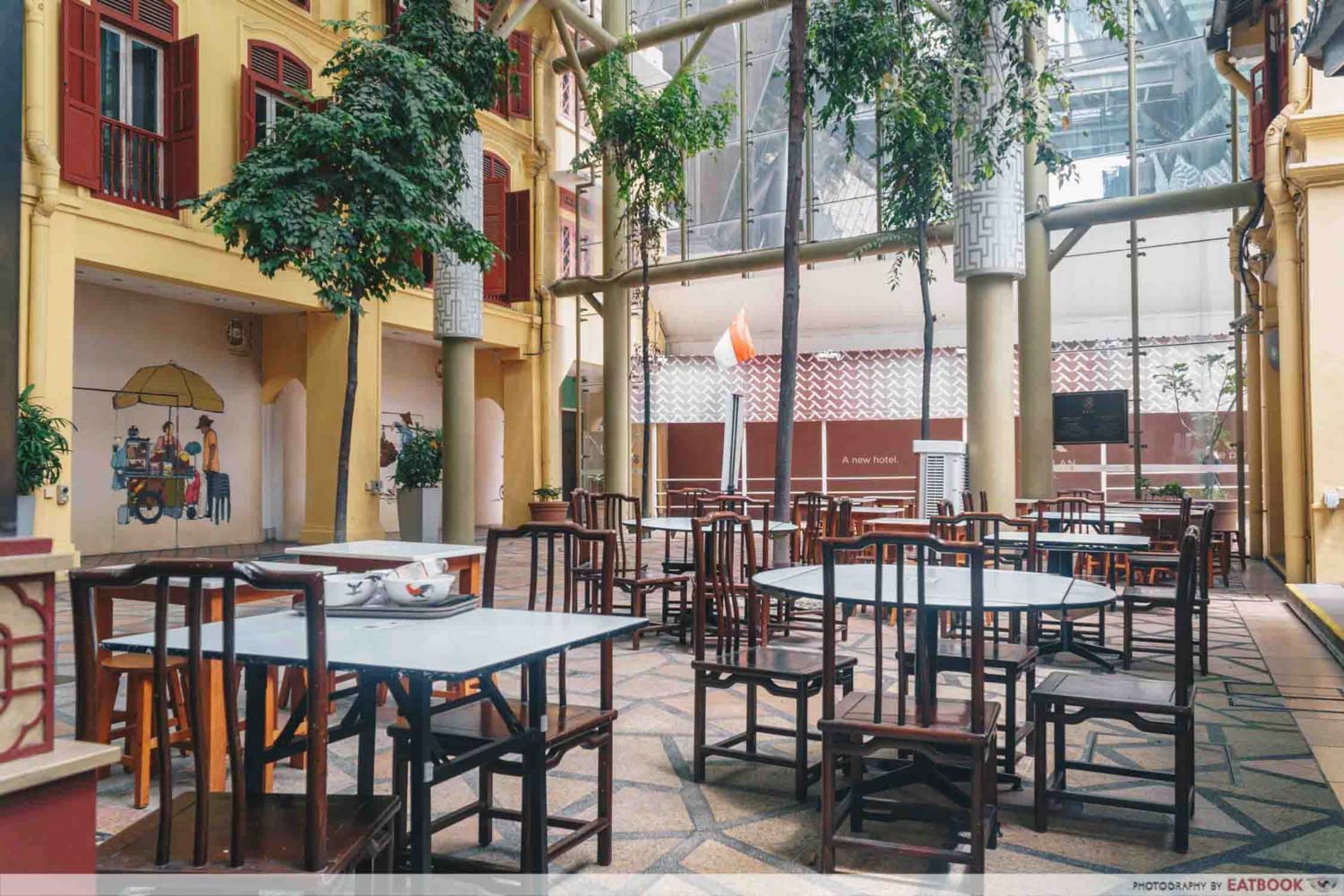 You'll probably spot Chao Ting as you comb through the rows of shops at Far East Square. Besides the elegant courtyard adjacent to it, snaking queues regularly beset this minimalist kiosk during lunch hours.
Thankfully, the line moves speedily along, keeping waiting time to a reasonable five to 10 minutes.
The only downside is their open-air setting. Although you can still catch the occasional breeze, you might find yourself wiping away your sweat in discomfort, as you savour the soupy dish. It's best to chope the seats that are closer to their portable air-conditioners.
The verdict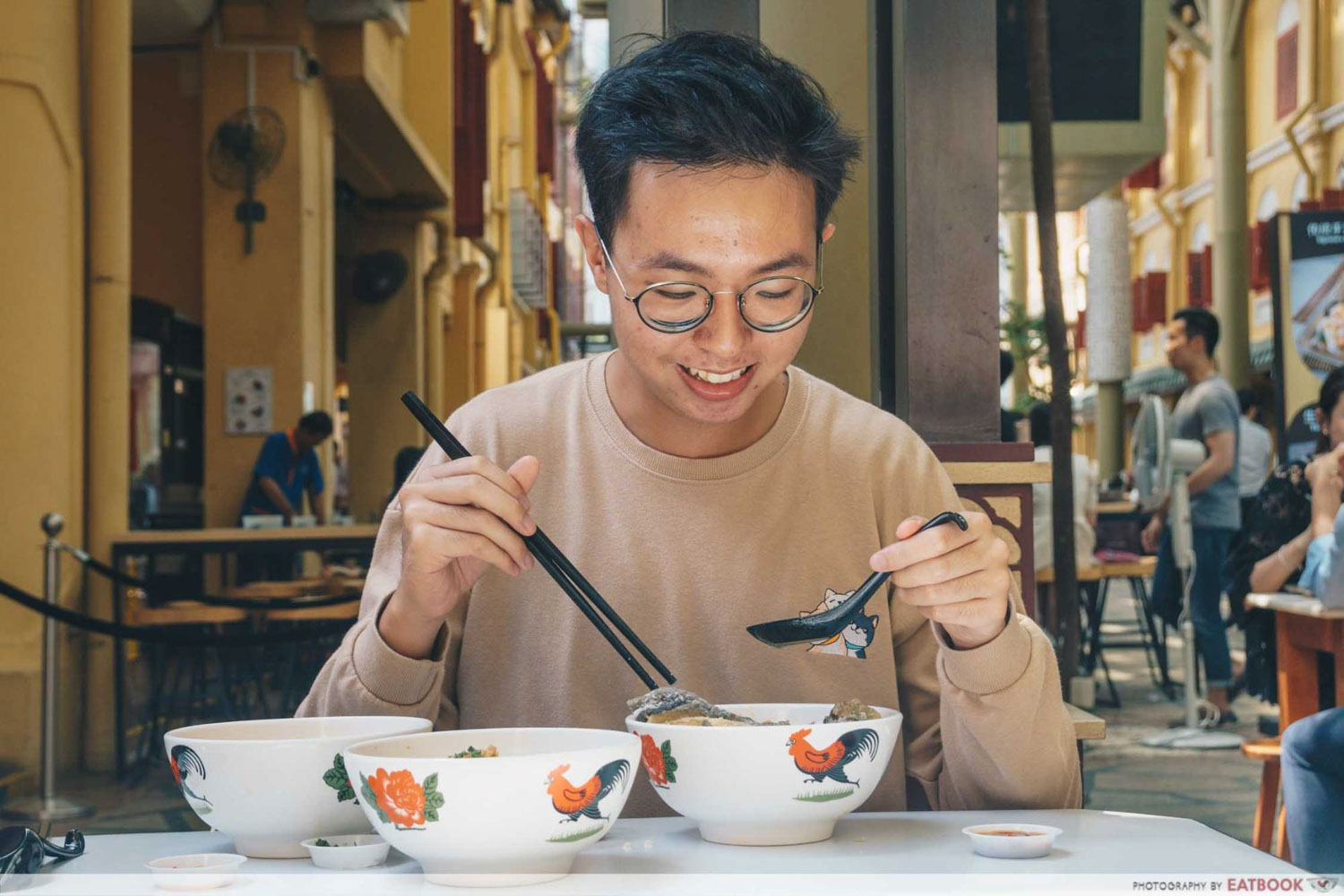 It's funny how new dishes are inspired by rediscovering the old dishes from before. While neat duck rice bentos may replace messy plates of duck rice, quirky zi char burgers may replace our usual plates of wok-fried meat, the essence of these dishes remains the same. 
Jin Ji Braised Duck: Second-gen Hawker Serves Bento-style Duck Rice In Chinatown
Unlike chicken rice or nasi lemak, pao fan is not an integral piece of our hawker food culture. However, we do believe the delicious bowls churned up by Chao Ting may very well transform pao fan into a classic Singaporean dish. 
Address: 132 Amoy Street, Far East Square, Singapore 049961
Opening hours: Mon-Fri 11:30am to 3pm
Website
Menu
Chao Ting is not a halal-certified eatery.
Photos taken by Reynard Lee.
This is an independent review by Eatbook.sg.
Summary
Pros
— Fresh seafood
— Robust broth
— Located in town
— Comforting and nostalgic taste
Cons
— Crowded during lunch hours
— Above-average prices
— Only open in the afternoon
Recommended Dishes: King Prawn 'Pao Fan' ($11), Fried Fish 'Pao Fan' ($9)
Opening hours: Mon-Fri 11:30am to 3pm
Address: 132 Amoy Street, Far East Square, Singapore 049961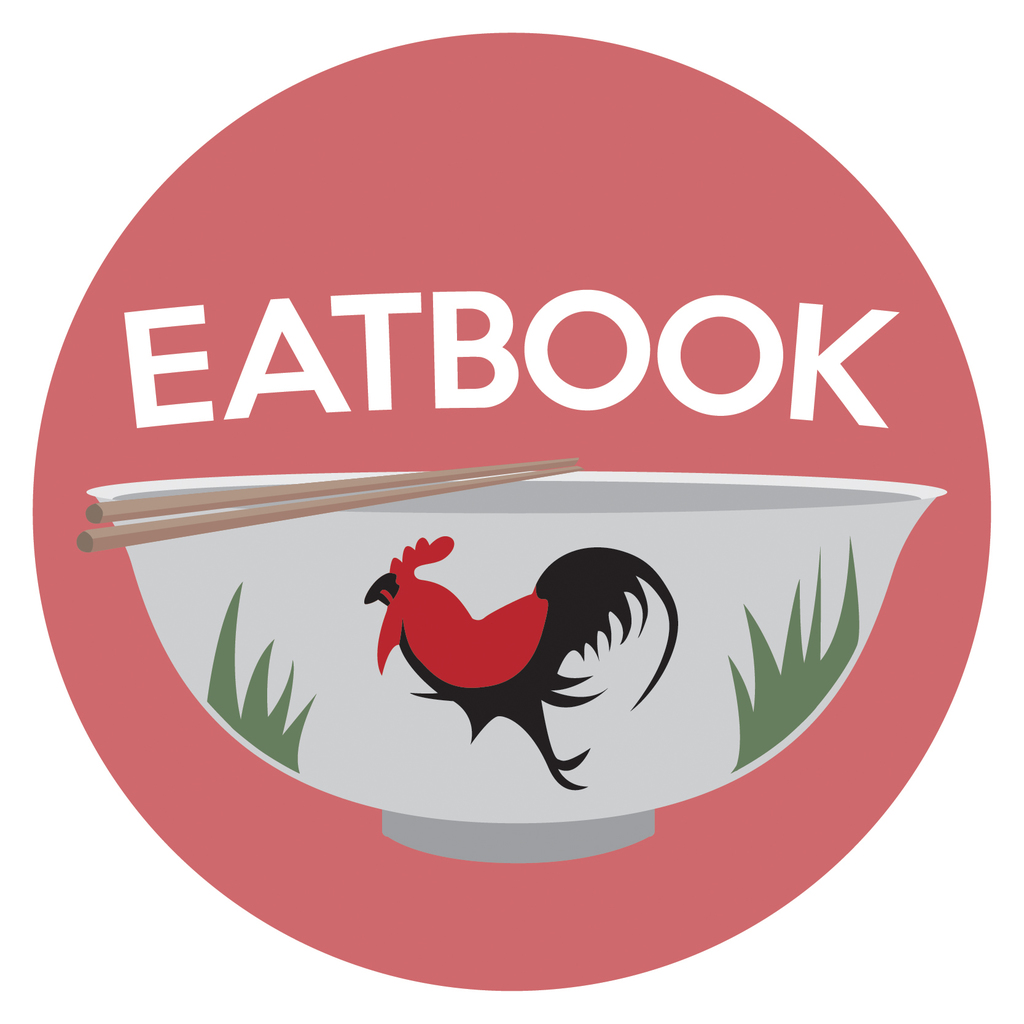 Drop us your email so you won't miss the latest news.