---
Mouth-watering pork chop fried rice
---
Besides xiao long bao, another must-order dish at Din Tai Fung is their pork chop fried rice. For times when you don't wanna deal with the long queues or you're a little tight on budget, you can check out this curated list of places to get your fill of this classic dish that will make you feel like you're right at Din Tai Fung.

---
1. Hao Lai Ke
---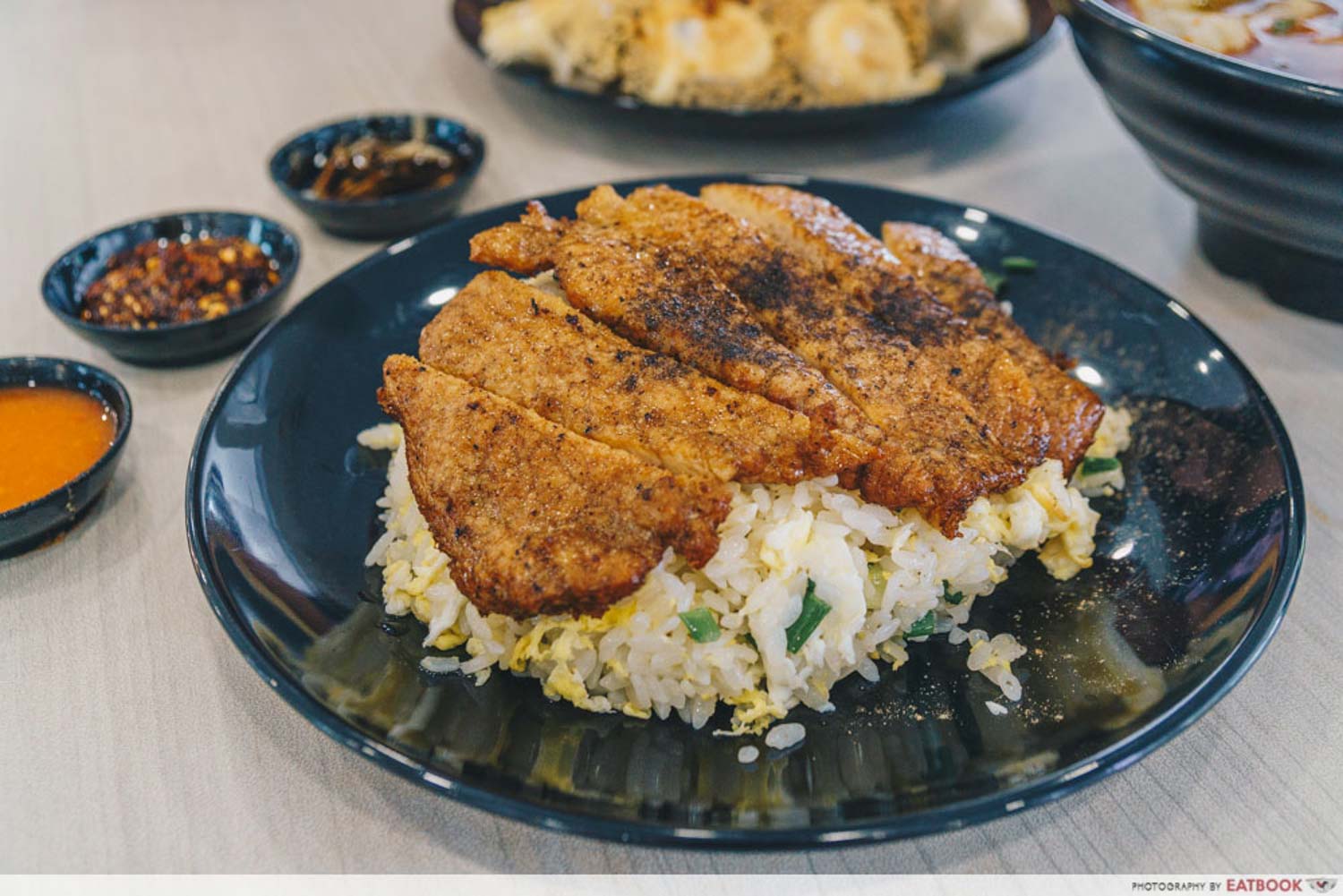 Don't underestimate this little hawker stall at Bedok. With a former Ding Tai Fung Chef running the kitchen, Hao Lai Ke draws in a crowd. We thought heading down on a weekday was a smart move, but boy were we wrong, as we still had to wait 30 minutes in line! Looking like an exact replica of the one at Din Tai Fung, this fried rice only sets you back $6. The use of short-grain rice gives it a familiar chewy texture. Although the pork chop is on the thin side, it still packs a punch with its peppery flavour.
Check out our full review of Hao Lai Ke.
Address: 204 Bedok North Street 1, #01-393, Singapore 460204
Opening hours: Daily 10:30am to 10pm
Tel: 9673 5517
Hao Lai Ke Review: Ex-Din Tai Fung Chef Opens A Hawker Stall Serving Pork Ribs Fried Rice
---
2. Feng Food
---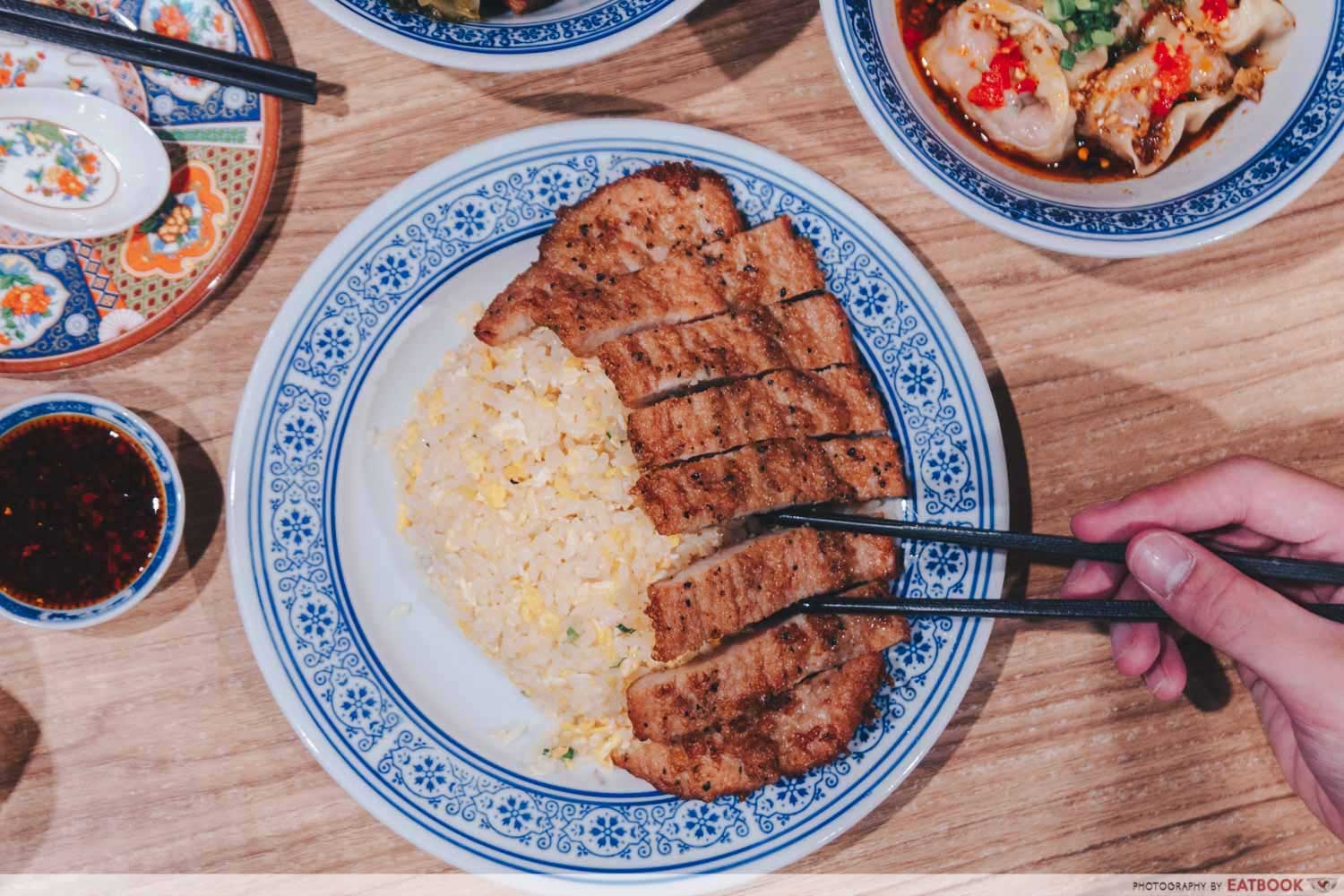 Another joint to rival DTF is Feng Food with their rendition of Fried Rice With Specialty Marinated Pork Chop ($11.80+). Hardly different from Din Tai Fung's presentation, the pork chop served at this cosy restaurant puts up a good fight with its texture and flavours. While their pork chop is well marinated with a balance between tender and meaty, a blind taste test reveals that the fried rice lacks wok hei. 
Check out our full review of Feng Food.
Address: 930 Yishun Avenue 2, #B1-156, Northpoint City, Singapore 769098
Opening hours: Daily 11am to 9:30pm
Tel: 6481 8556
Website 
Feng Food Review: Fried Rice Pork Chop And Chilli Oil Wanton At Yishun
---
3. Hao Wei Lai
---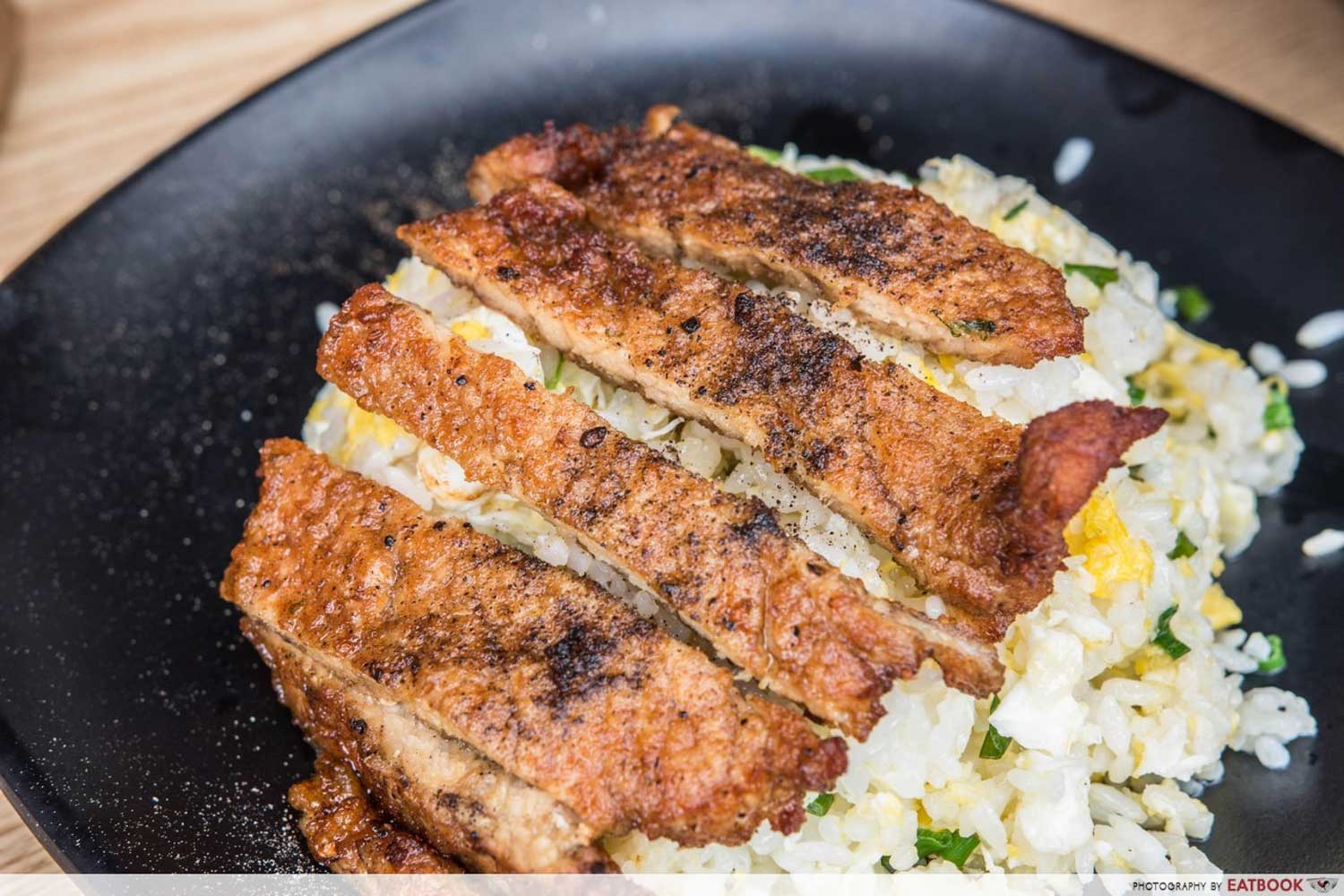 Hao Wei Lai at Bukit Merah provides a quick and fuss-free meal. It's all about self-service here, so you'll have to collect their piping hot Stir-Fried Rice With Pork Ribs ($5.80) from the counter. The aromatic fried rice and savoury pork chop go hand in hand to satisfy your pork chop fried rice cravings while being wallet-friendly. Do remember to withdraw money from the ATM as this eatery only accepts cash!
Check out our full review of Hao Wei Lai.
Address: 165 Bukit Merah Central, #01-3687, Bukit Merah Central, Singapore 150165
Opening hours: Daily 10am to 9pm
Website 
Hao Wei Lai Review: Cheap And Good Xiao Long Bao And Guo Tie At Bukit Merah
---
4. King Of Fried Rice
---
Image credit: @javernwk
Situated in the basement of Golden Mile Tower is King Of Fried Rice. This no-frills stall serves their Egg Fried Rice With Pork Cutlet at $6.50. Living up to the stall's name, the wok hei in their fried rice does not disappoint. The accompanying pork slices are tender and boast a peppery kick. Don't forget to add their house-made chilli oil, which packs a delectable mix of spicy and savoury flavours. They recently opened another stall in Sengkang too!
Address: 6001 Beach Road, #B1-56, Golden Mile Tower, Singapore 199589
Opening hours: Mon-Fri 11:30am to 8:30pm, Sat 12pm to 8:30pm
Tel: 9159 4902
Website
---
5. Typhoon Cafe
---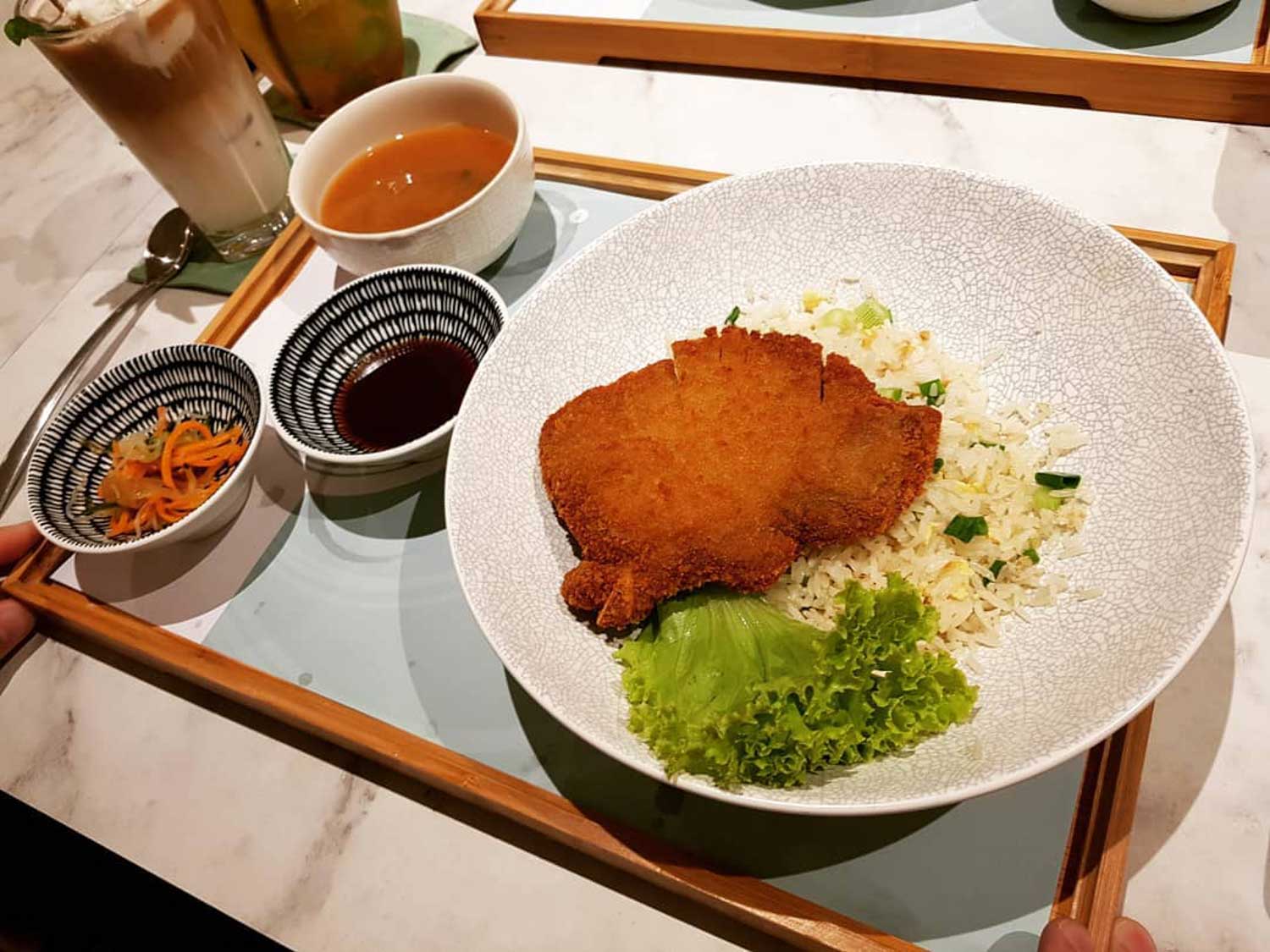 Image credit: @eyc0412
Typhoon Cafe at Plaza Singapura offers Taiwanese street food fare with popular dishes such as their Egg Fried Rice With Panko Canadian Pork Chop With Tonkatsu Sauce ($19.90++). This is the most expensive option on the list, but it's worth noting that Typhoon Cafe uses Canadian pork, a more premium cut. By incorporating panko to the meat, the pork chop has an added crunch. Give this a try if you like your fried cutlet extra crispy.
Address: 68 Orchard Road, #04-63/67, Plaza Singapura, Singapore 238839
Opening hours: Daily 11:30am to 10pm
Tel: 6884 5423
Website
---
6. Supreme Pork Chop Rice
---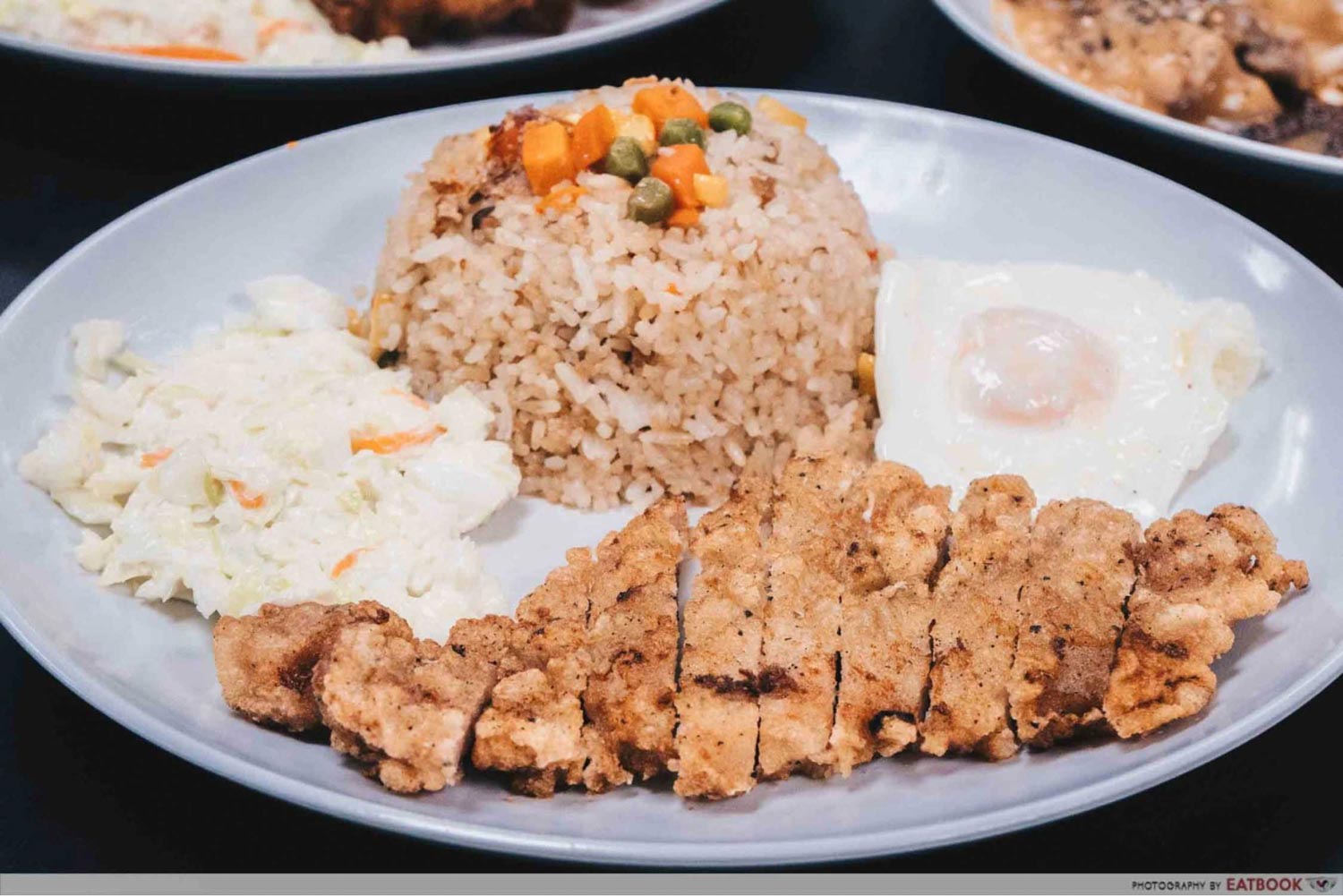 Supreme Pork Chop Rice serves Pork Chop Fried Rice ($5), where their cutlet is fried upon order. This simple plate of fried rice is the cheapest on our list, making it a great option for days when your budget is a lil' tighter. Though the fried rice is on the bland side, the tasty pork chop makes up for it. The crispy batter along with the five-spice powder seasoning results in a familiar taste akin to fried chicken cutlets you get at Taiwanese night markets. 
Check out our full review of Supreme Pork Chop Rice.
Address: 67 Beach Road, #B1-01, Bulkhaul House, Singapore 189688
Opening hours: Mon-Sat 9am to 8:30pm
Supreme Pork Chop Rice Review: Din Tai Fung-esque Pork Chop Fried Rice Under $5 At Bugis
---
7. Osaka Ohsho
---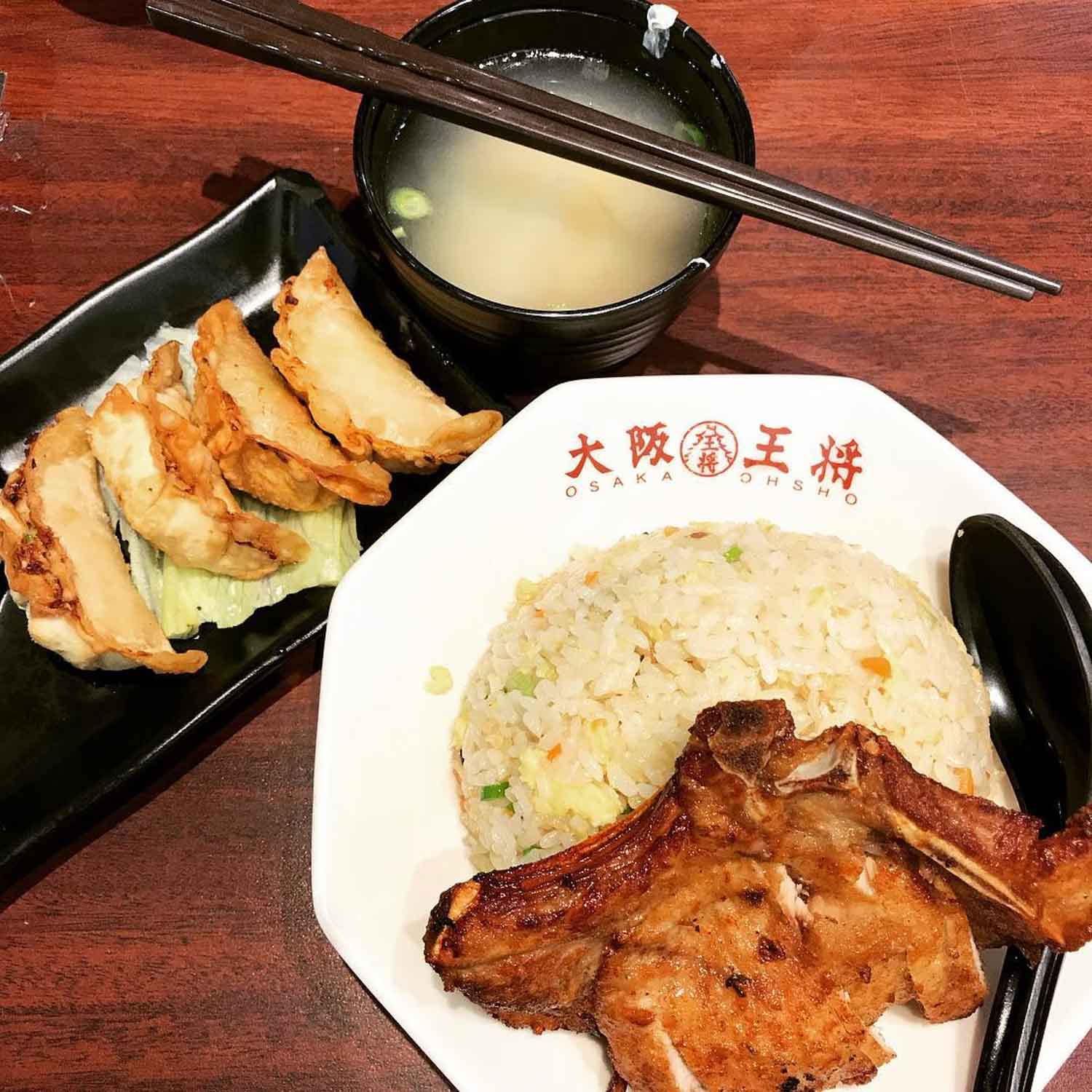 Image credit: @snowshimei
A Japanese contender on this list is Osaka Ohoso, with their Pork Chop Fried Rice Set Menu ($15.90++). Moving away from the typical Taiwanese style, this dish is served with gyoza and miso soup. Though the pork chop is deep fried, the meat is still tender as it easily falls off the bone. Instead of the usual chewy texture that I'm used to, the fried rice is a little more on the crunchy side.
Address: 252 North Bridge Road, #B1-44F, Raffles City Shopping Centre, Singapore 179103
Opening hours: Daily 11:30am to 9:30pm
Tel: 6338 5584
Website
---
Explore your pork chop fried rice options
---
With more eateries rivalling the OG pork chop fried rice at Din Tai Fung, it's easy to find a rendition that suits both your palate and bank account. As the common saying goes "You'll never know if you never try". The next time you find yourself craving for some fried rice, consider checking out one of these places on our list.
 If you are looking for more Taiwanese street food, check out our review of YEAH Taiwanese and Eat 3 Bowls.
This article was updated on 24 October 2020.
Eat 3 Bowls Review: Taiwanese Classroom-Themed Cafe And $4.50 Braised Pork Rice At Lavender