---
New restaurants to visit in December 2019
---
In the words of popular '80s band Europe, "It's the final countdown." 2019 is nearing its end. As we eagerly anticipate the arrival of a brand new decade, preparations are also underway for Christmas parties and EOY gatherings. For those who have pockets of time amidst all this chaos, be sure to check out these new restaurants in December 2019 for award-winning gelato, wagyu fried rice, and more. Who knows, you might end up finding a place to hold your Christmas parties. 
---
1. Gyumaru
---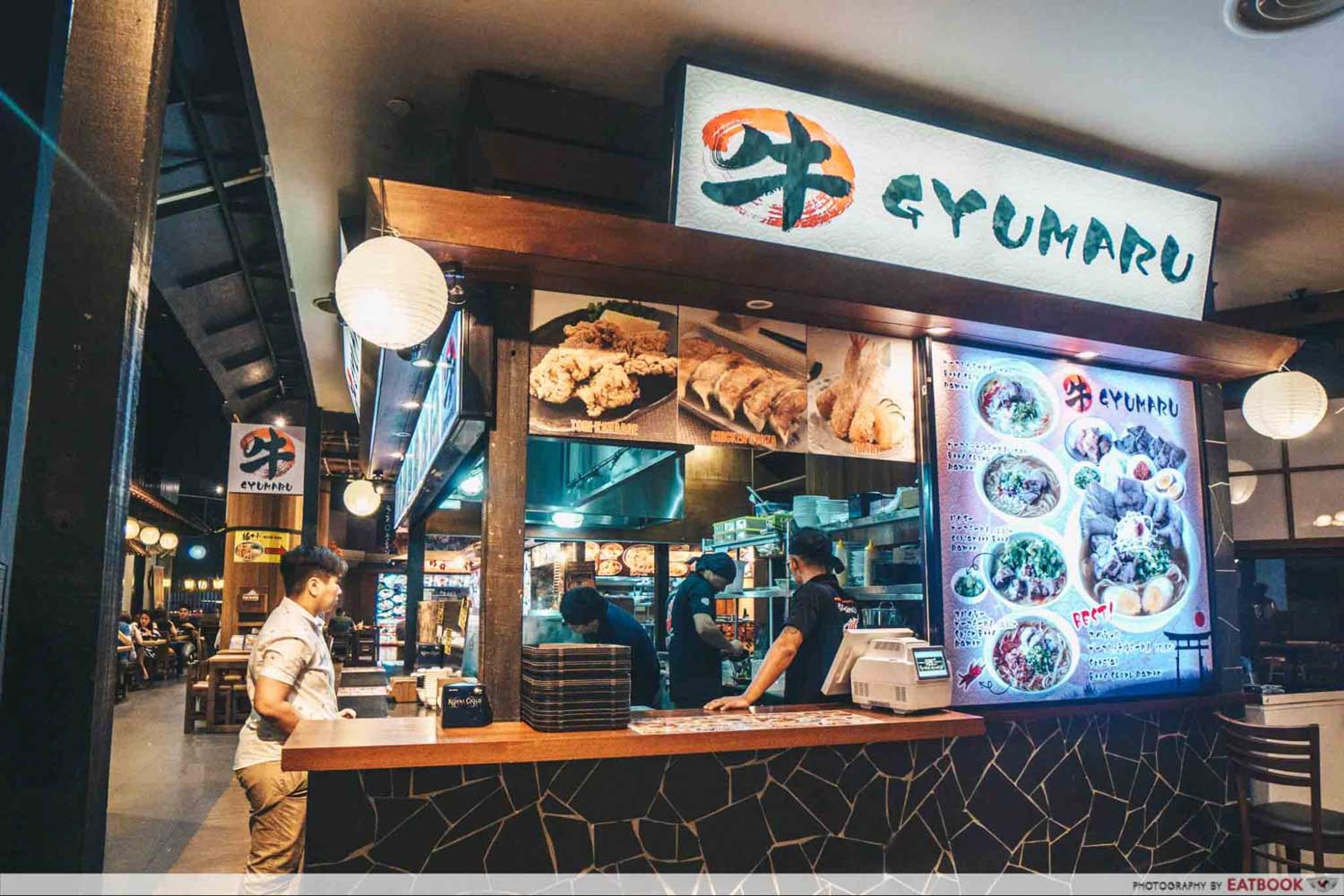 Currently in the midst of obtaining their halal certification, Gyumaru is the newest addition to Bugis+'s Ramen Champion. Soon, Muslims can indulge in their range of gyokotsu ramen (beef bone ramen). The broth here is prepared over two days and made with beef bone and oxtail. As a result, it packs a heavy umami punch.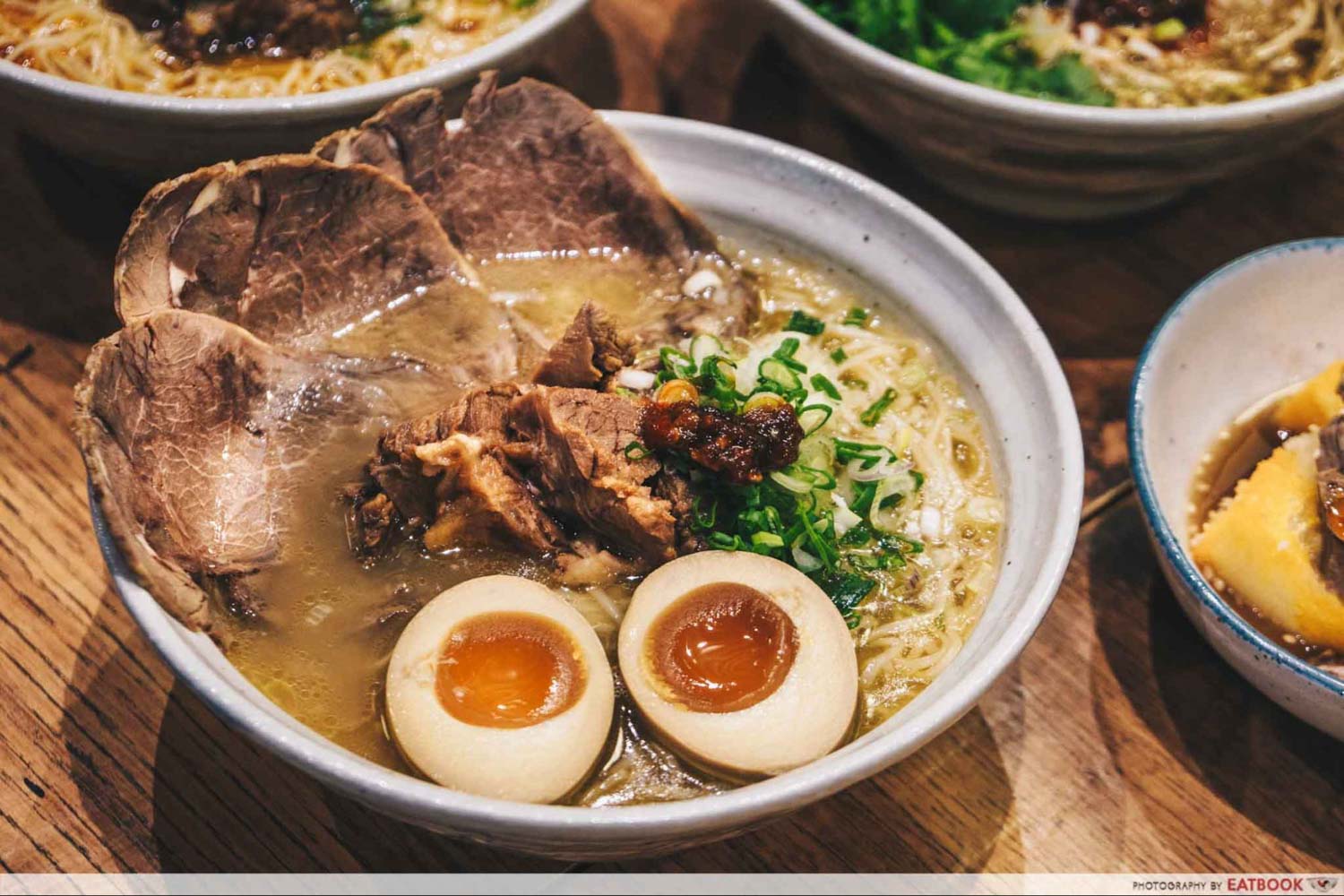 The ramen here come in shoyu, shio, and coriander variations, depending on your preference. That being said, we recommend hardcore beef lovers to get the King of Gyukotsu Shoyu Ramen ($17.80). The huge bowl is filled with loads of al dente noodles, and decorated with ribeye cubes and three thick slices of beef chashu—so you'll have plenty of beef to go with the noodles.
Address: 201 Victoria Street, #04-10, Bugis+, Singapore 188607
Opening hours: Mon-Fri 11am to 10:30pm, Sat-Sun 10:30am to 10:30pm
Tel: 6238 1011
Website
---
2. Kiwami Ramen
---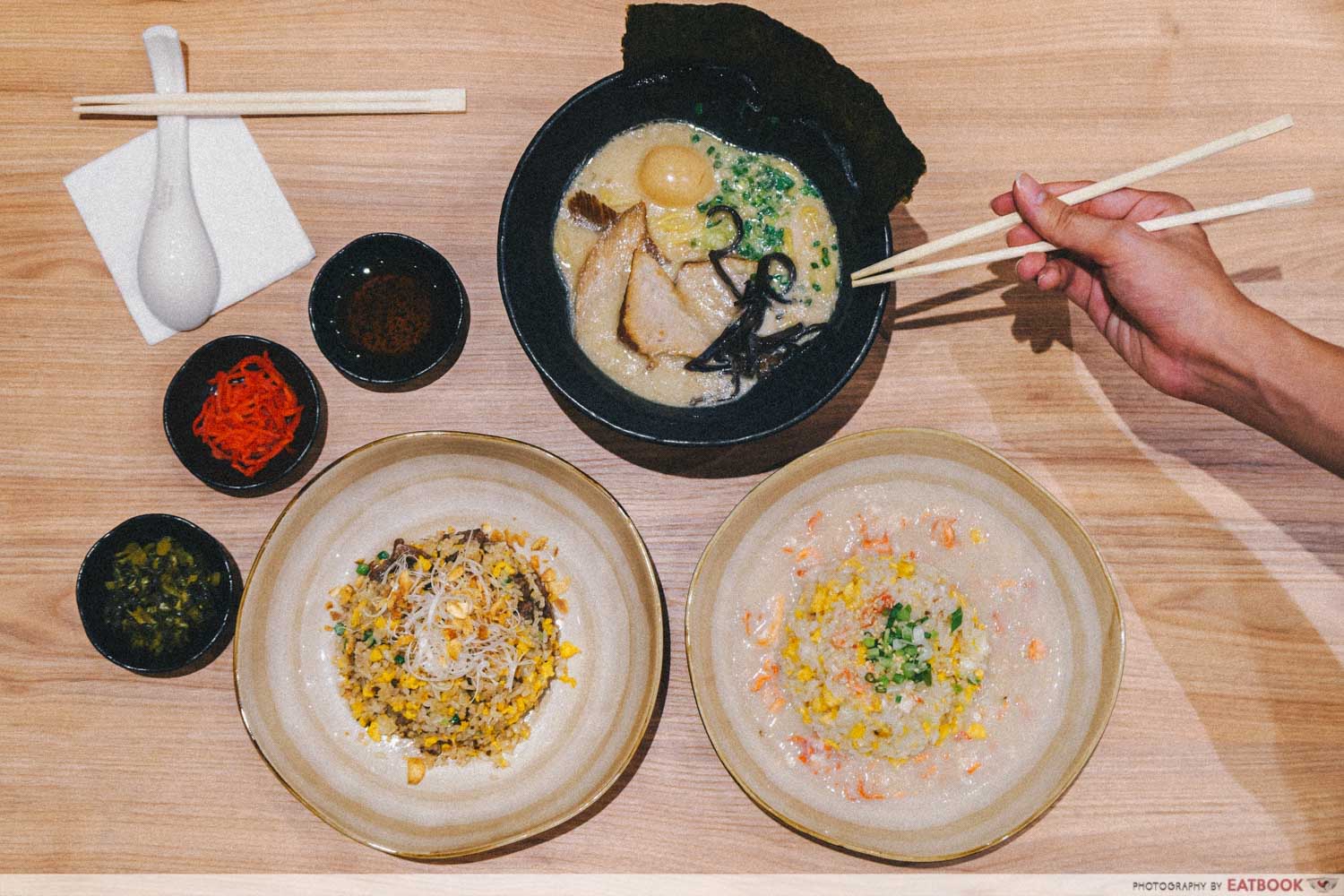 Located right outside Tanjong Pagar MRT Station, Kiwami puts a unique spin on Japanese food. Their biggest claim to fame is serving A5 Miyazaki wagyu beef—one of the top contenders for the world's most premium beef—at an affordable price. This affordability extends to their other dishes, so you can get a taste of wagyu and crab without breaking the bank.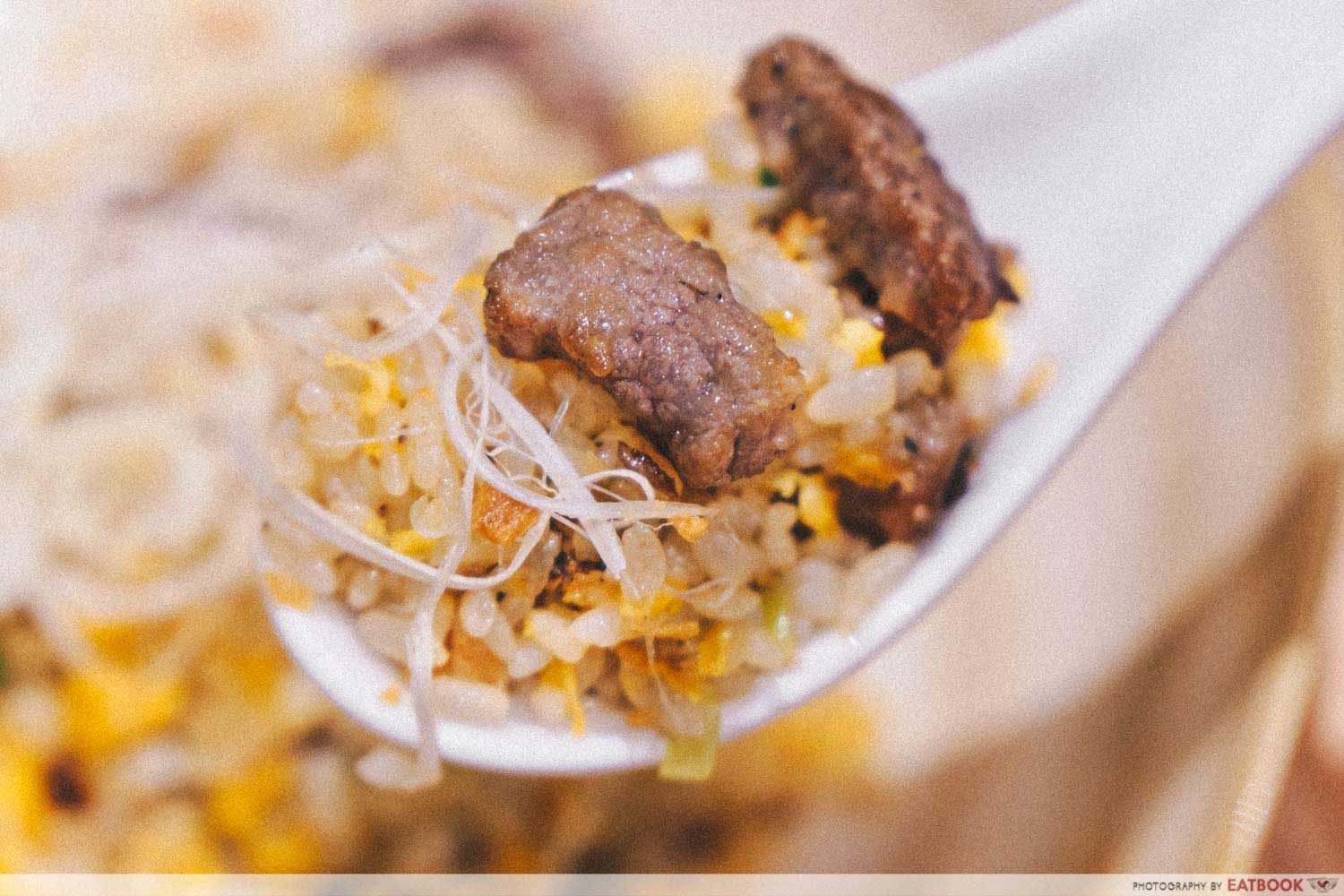 The Miyazaki Wagyu Garlic Fried Rice ($12.80++) is peppery and aromatic, with plenty of beef to spare. The rice is fried in a wok and charred lightly, adding some smokiness to each mouthful, while the juicy beef is marbled wonderfully. Some other dishes include their Premium Kiwami Tonkotsu Ramen ($12.80++), featuring tender pork cheek chashu, and the Hokkaido Snow Crab Fried Rice on Tonkotsu Gravy ($13.80++)— their unique invention.
Read more about Kiwami here!
Address: 1 Wallich Street, #B2-10, Guoco Tower, Singapore 078884
Opening hours: Daily 11am to 10pm
Tel: 6246 6630
Website
---
3. Shiokoji Tonkatsu Keisuke
---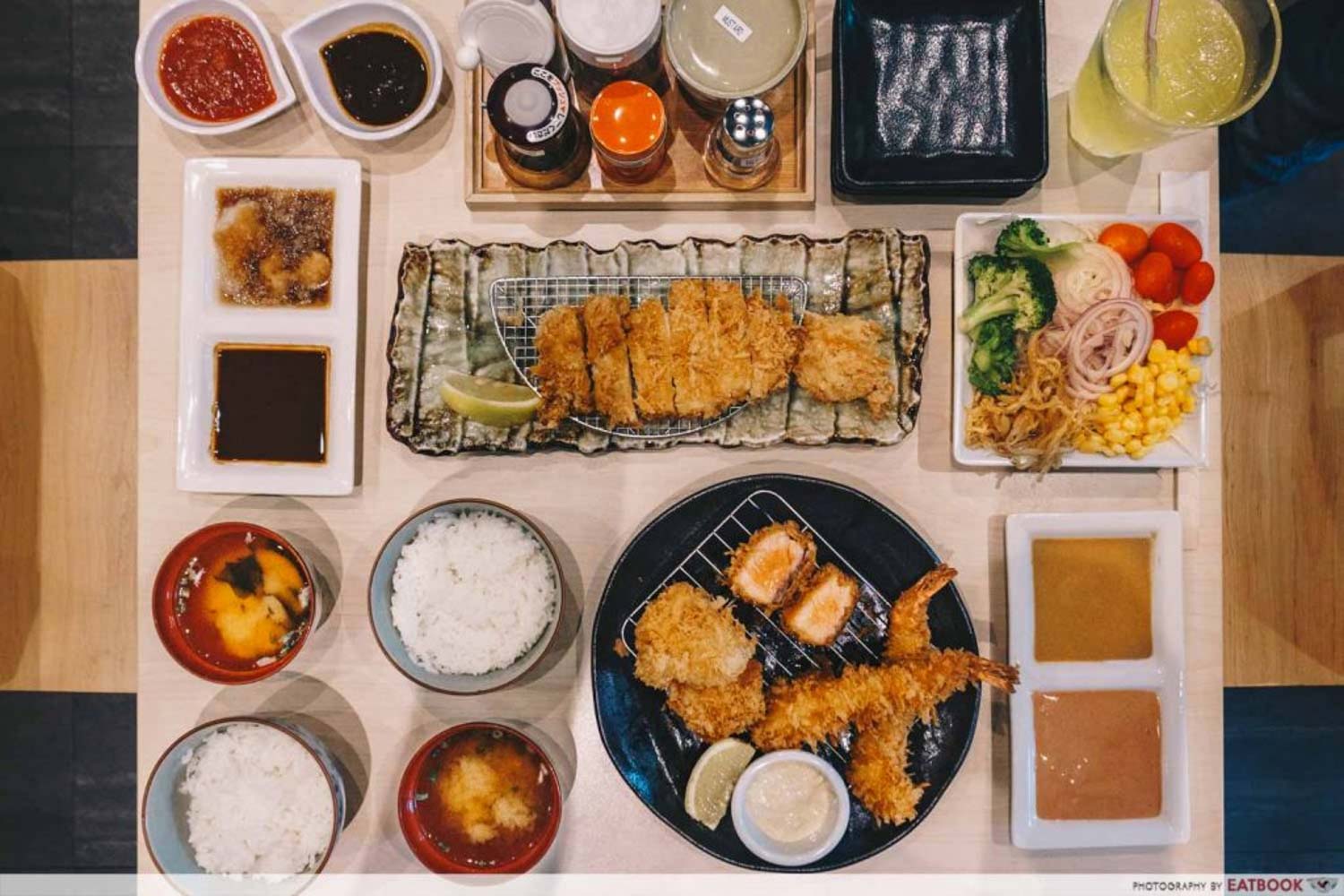 Keisuke Takeda has brought yet another new and exciting concept to Singapore. Located at Paya Lebar Square, Shiokoji Tonkatsu Keisuke is his latest restaurant and serves affordable tonkatsu that have been seasoned with shio koji. This rice mould is rich in enzymes and helps to bring out the umami flavours of these juicy pork cutlets while tenderising them.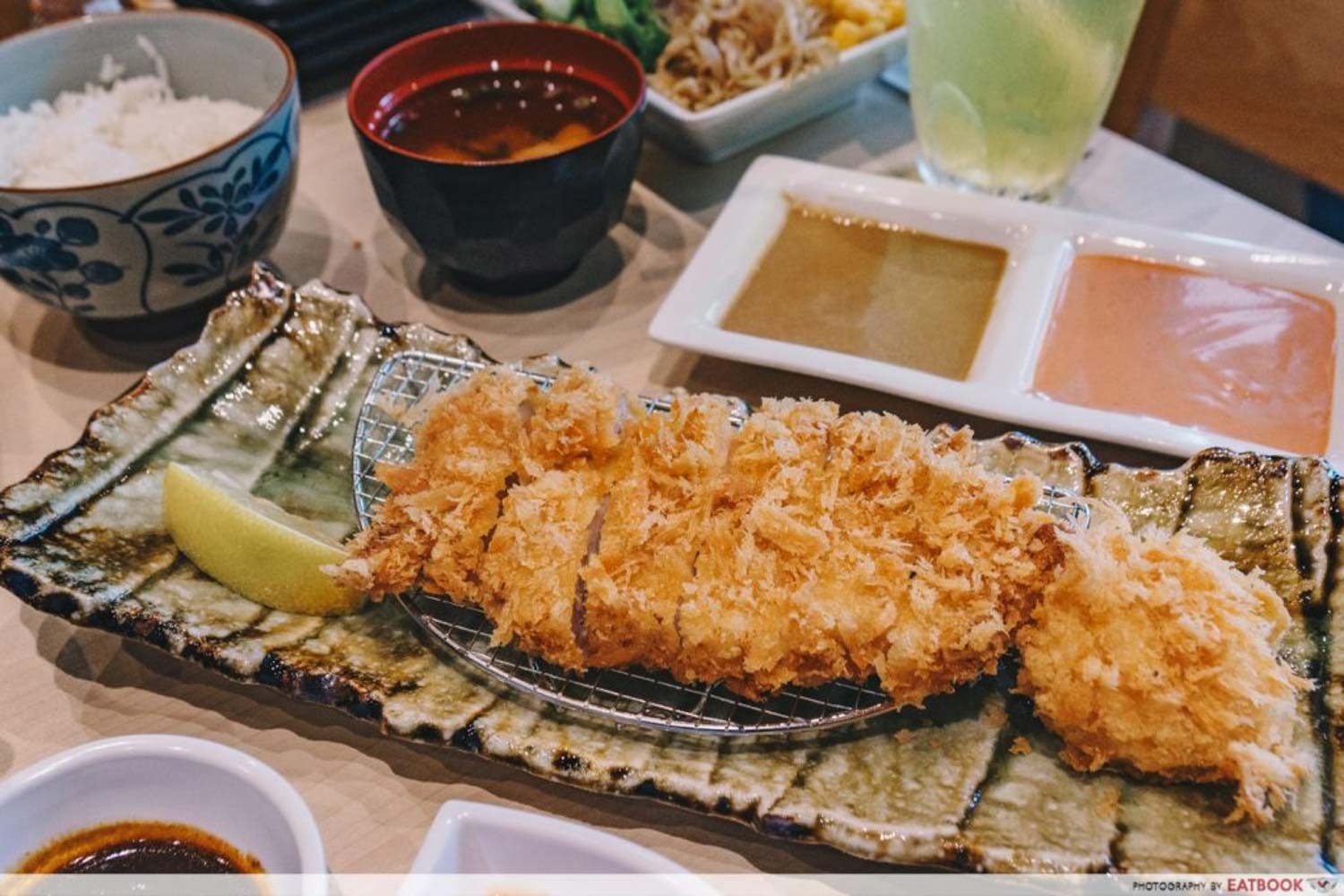 The signature Shiokoji Pork Loin Katsu Set 200g ($19.90++) ought to fill anyone up nicely. There are also over 12 sauces for diners to drench the juicy pork cutlets with. The set also allows unlimited servings of vegetables at the free-flow salad bar, which include shredded cabbage, broccoli, red onion slices, and Keisuke's signature bean sprouts.

Check out what we have to say about Shiokoji Tonkatsu Keisuke here!

Address: 60 Paya Lebar Road, #01-02/03, Paya Lebar Square, Singapore 409051
Opening hours: Daily 11:30am to 2:30pm, 5:30pm to 10pm
Tel: 6214 3345
Website
---
4. Two Cranes
---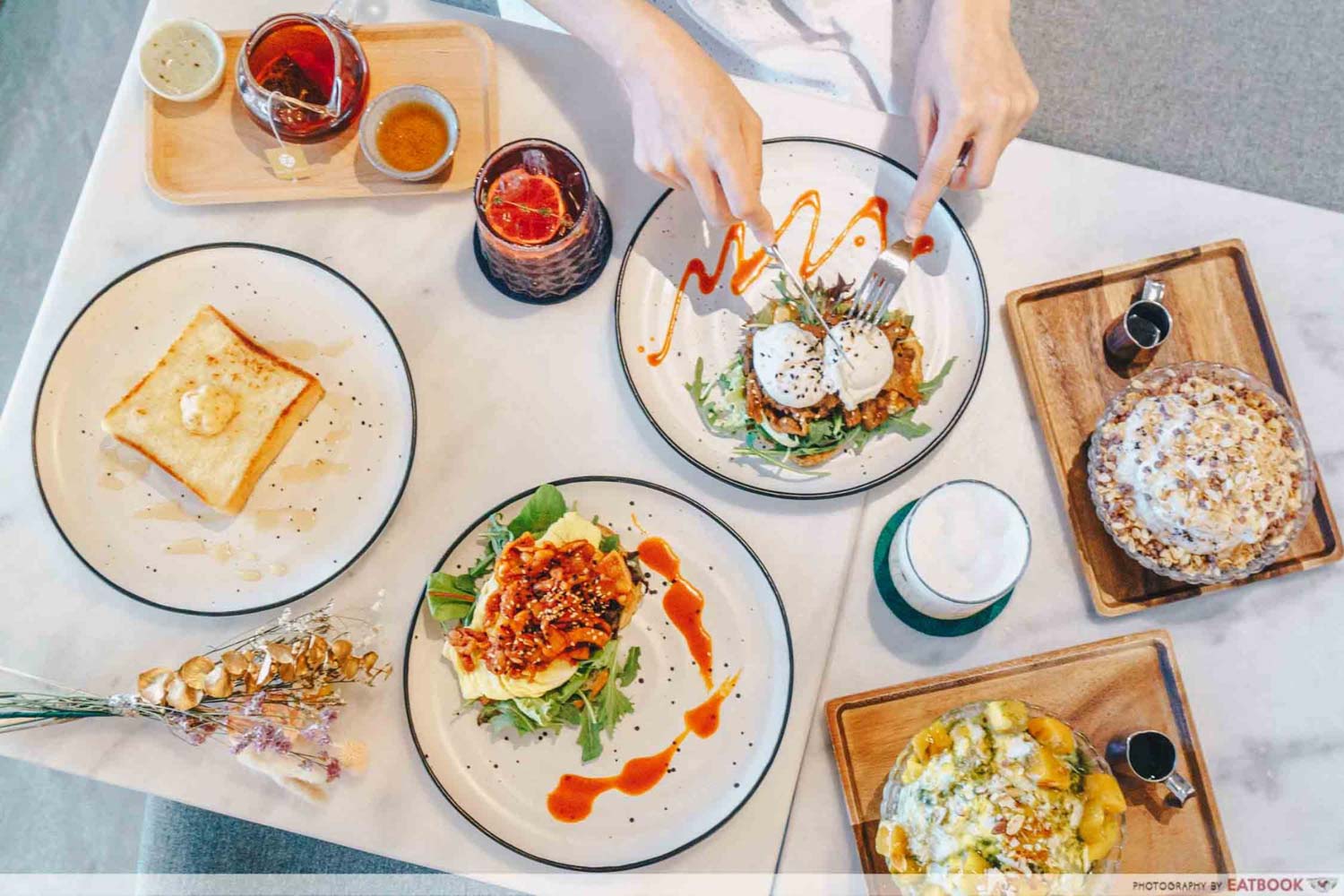 Tucked away in the heartlands of Hougang is Two Cranes, a new minimalist cafe serving Korean-fusion fare. Their simple menu offers classic savoury and sweet brunch dishes with an Asian twist. The 2 Cranes Boeuf Benedict ($15) is a refreshing take on eggs Benedict, featuring tender slices of Korean stewed beef. The sweetness of this succulent meat comes from adding fruits to the marinade.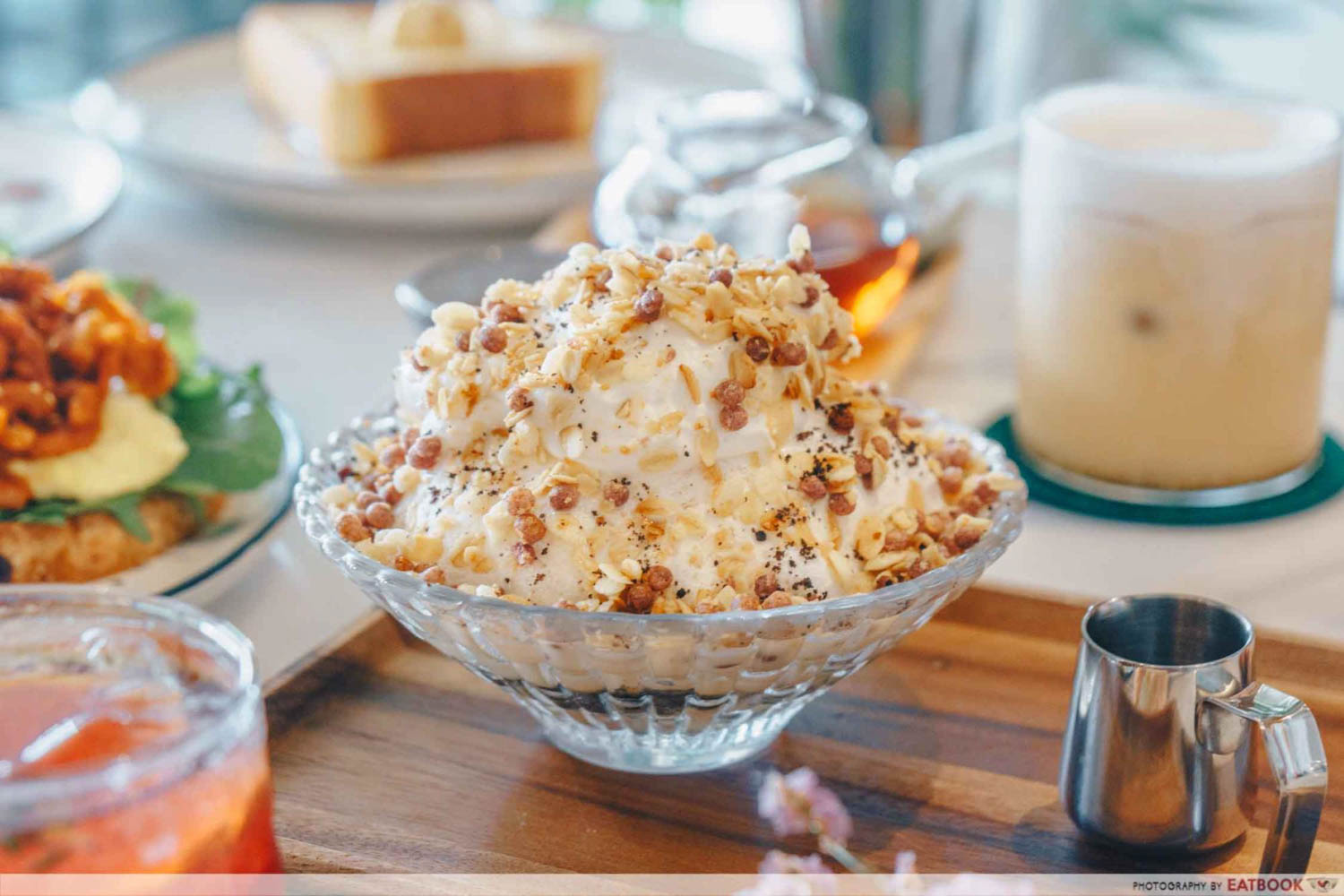 You can't visit this Korean cafe without trying out their house-made bingsu. Caffeine addicts can get their daily dose with Caramel Macchiato Bingsu ($13.50), which is generously decorated with coffee biscuits and coffee jelly made from their in-house blend. You can also try out the Yuzu Cold Brew Cream ($6), a popular item from their range of Wonda-Fu coffees. Their house blend cold brew is made overnight and topped with yuzu jam and fresh whipped cream.
Read more about Two Cranes here!
Address: 211 Hougang Street 21, #01-291, Singapore 530211
Opening hours: Wed-Mon 8:30am to 10pm
Website
---
5. Banh You, Banh Mi
---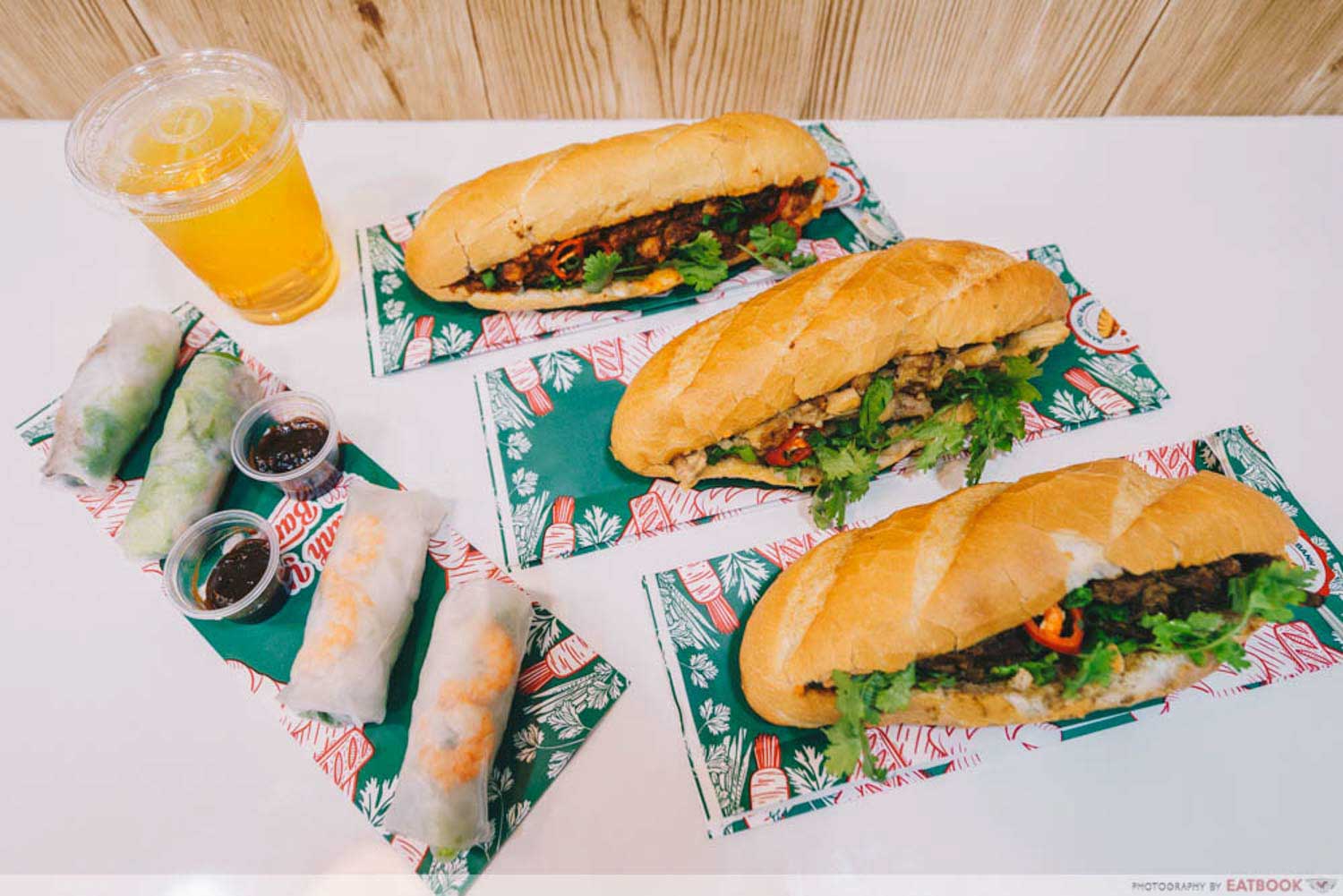 Attempts to fuse two cuisines tend to go south, but Banh You, Banh Mi! does a great job of mingling Vietnamese fare with local flavours. This sandwich joint at Suntec City packs toasty house-made baguettes with moreish fillings including Salted Egg Chicken ($7.50). With chicken chunks drenched in a thick savoury sauce, this flavourful sandwich satisfies salted-egg-yolk-obsessed Singaporeans.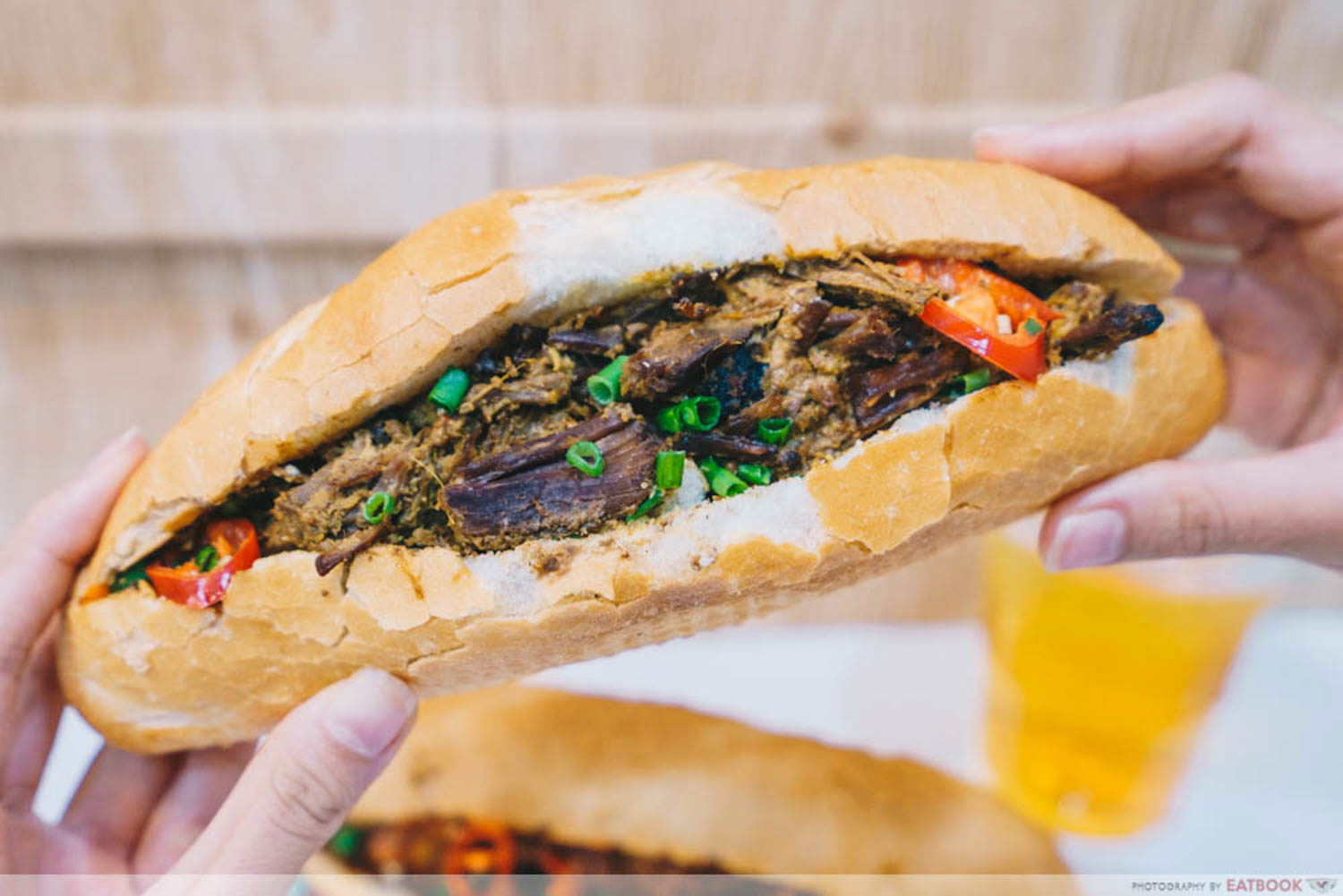 Another recognisable item on their lean menu is Rendang Beef ($7.50). The airy and crisp baguette gives way to lavish hunks of tender beef which are well seasoned with curry spices. If these stuffed sandwiches aren't filling enough, top up $2.40 for a drink and choice of chicken or shrimp spring rolls.
Read more about Banh You, Banh Mi! here.
Address: 3 Temasek Boulevard, #B1-144, North Wing, Suntec City, Singapore 038983
Opening hours: Daily 10am to 10pm
Tel: 9089 4655
Website 
---
6. Denzy Gelato
---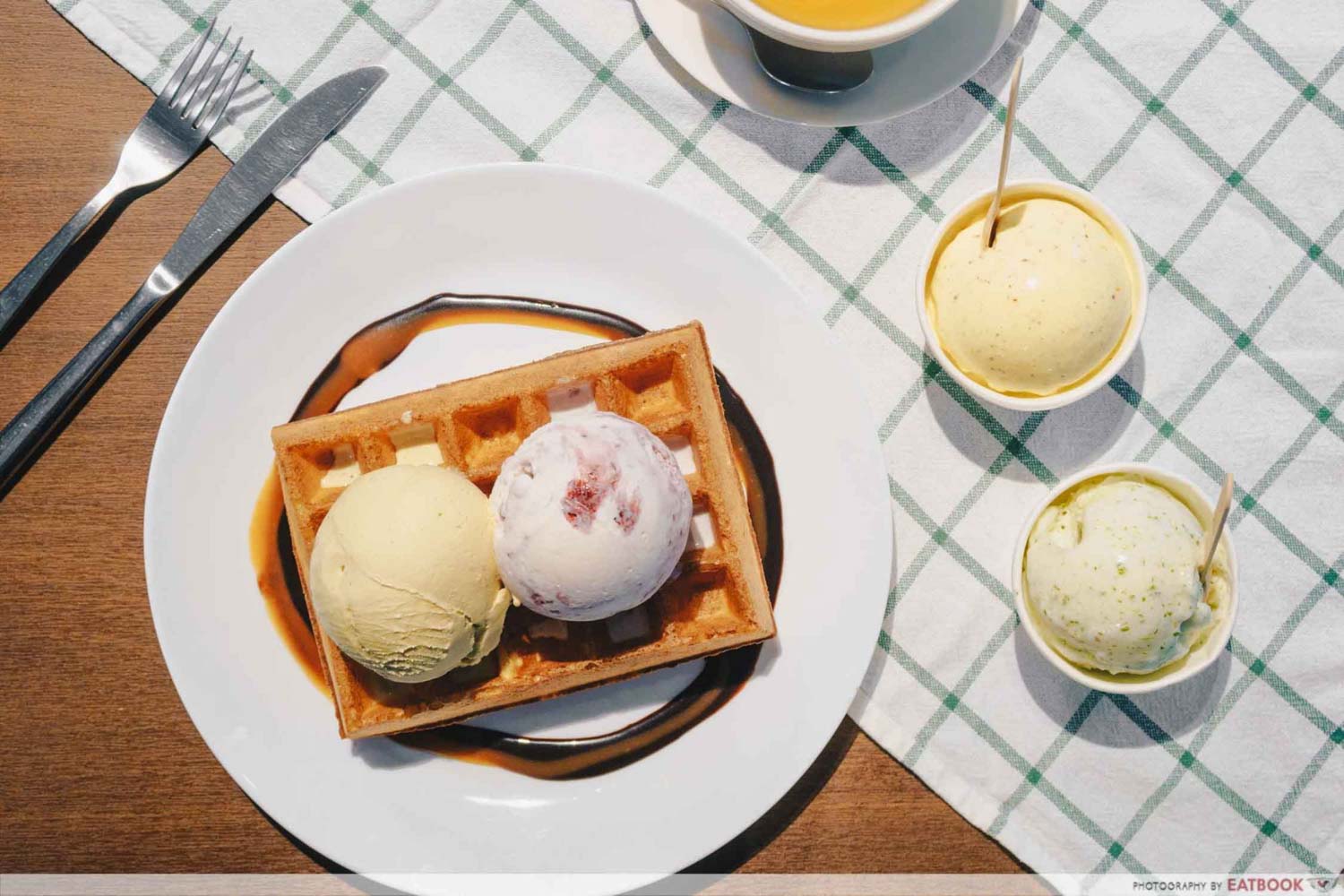 Denzy Gelato is a new gelateria serving tons of unique flavours including their Pear, Ginger, and Ginger Flower, which was awarded "Singapore's Best Gelato" at this year's Singapore Gelato Championship. The gelato has a heavy price tag, with a single scoop going at $3.60 and double scoop going at $6.40. Don't forget to factor in an additional $1 for premium flavours as well.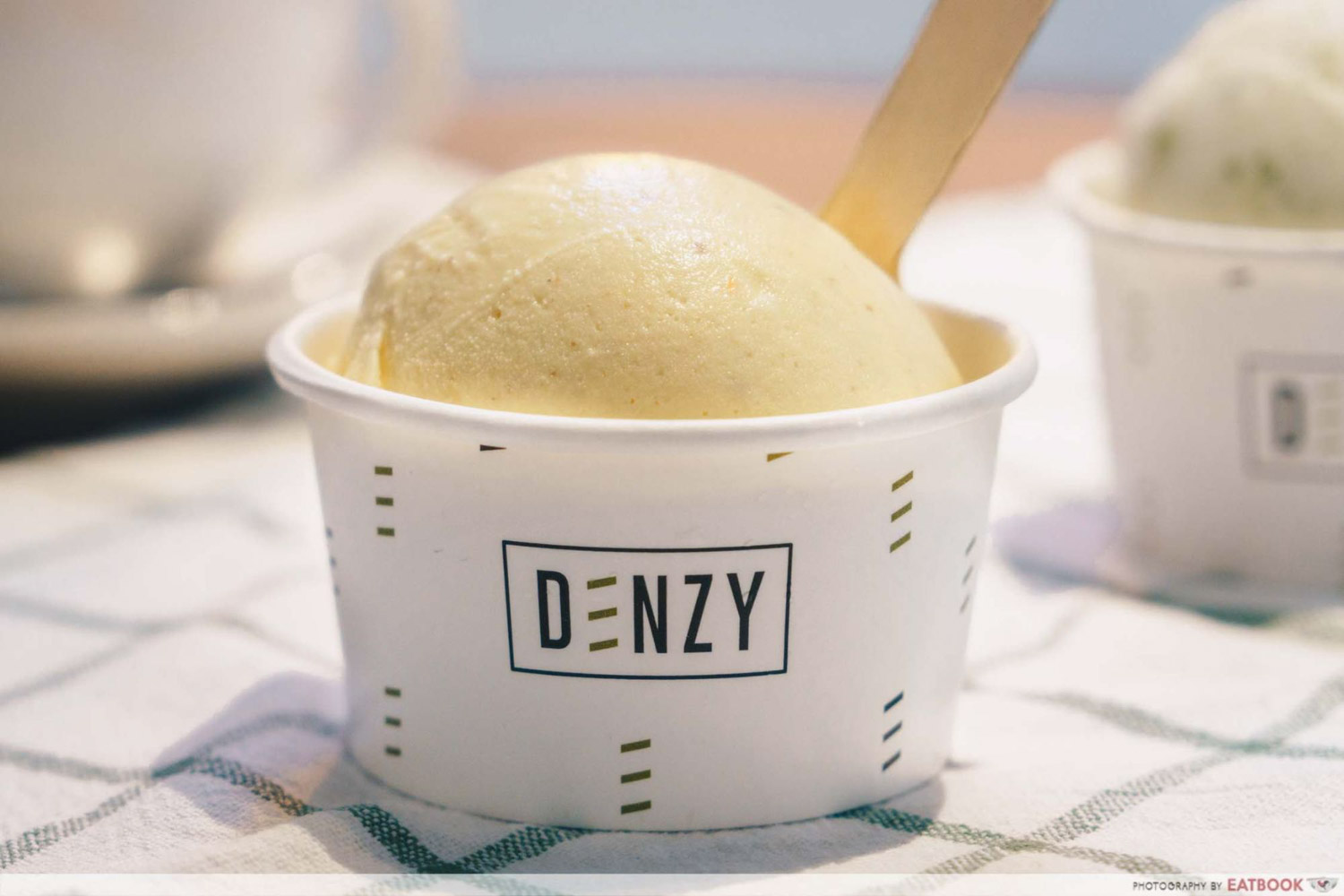 Get the most bang for your buck with the Persian Prince gelato, as it is redolent with flavour from almond milk and an ingredient more expensive than gold—saffron! The precious spice gives the sweet treat a golden hue, along with a light floral and earthy scent with every spoonful.
Check out our full review on Denzy Gelato!
Address: 506 Bishan Street 11, #01-404, Singapore 570506
Opening hours: Daily 11:30am to 10:30pm
Website
---
7. Kenny Rogers Roasters
---
Kenny Rogers Roasters staged a miraculous comeback this year, having been resurrected within months of closing down. Their brand new store at JEM is halal-certified which bodes well for Muslims who've always wanted to sink their teeth into these juicy chicken.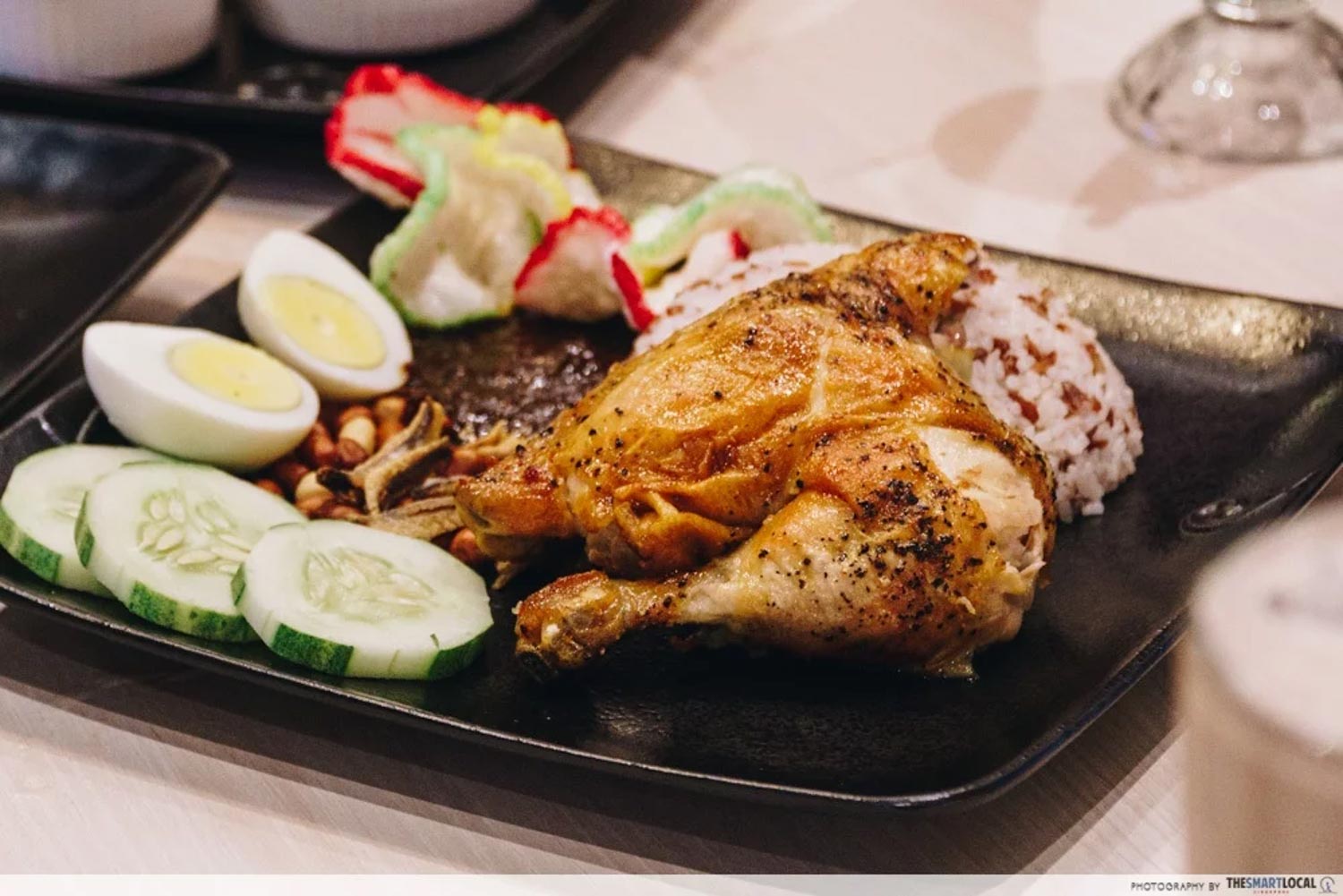 The store brings with it a revamped menu featuring classics and new items. Kenny's Nasi Lemak ($7.90) is a new spin on the evergreen dish—sporting succulent chicken, sweet sambal, and red rice that's cooked with virgin olive oil. The result is an explosion of savoury and rich flavours in your mouth that fills you up almost immediately.
Address: 50 Jurong Gateway Road, #B1-37/38, JEM, Singapore 608549
Opening hours: Daily 11am to 10pm
Website
---
8. The Feather Blade
---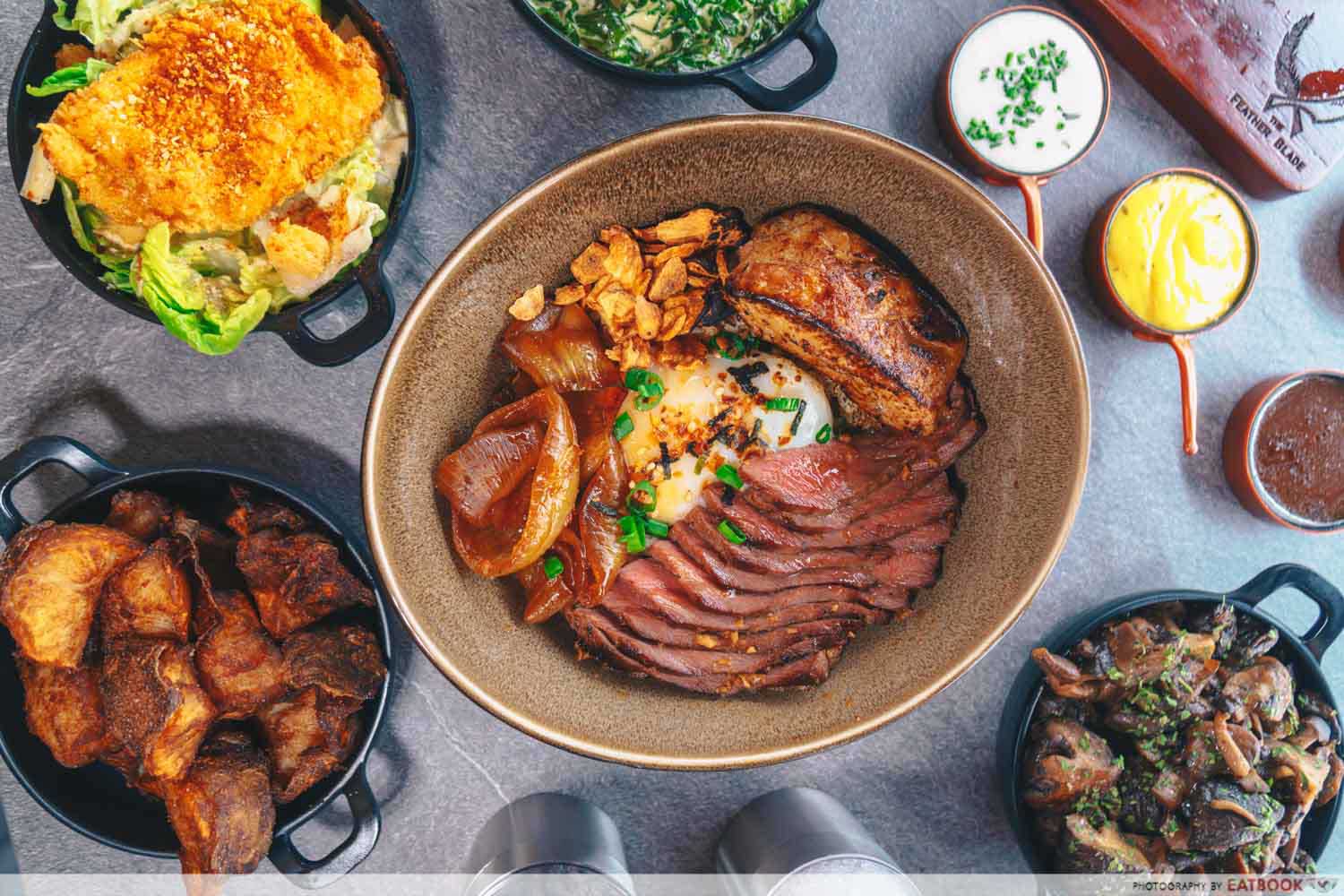 Since opening its doors at Club Street, The Feather Blade has become the residential steakhouse along the stretch of hipster joints. Their signature Feather Blade Steak ($21++) is so popular  that it made them extend their opening hours. Those working in the CBD can head down during lunchtime to get a bite of these tender and bold-flavoured beef slices.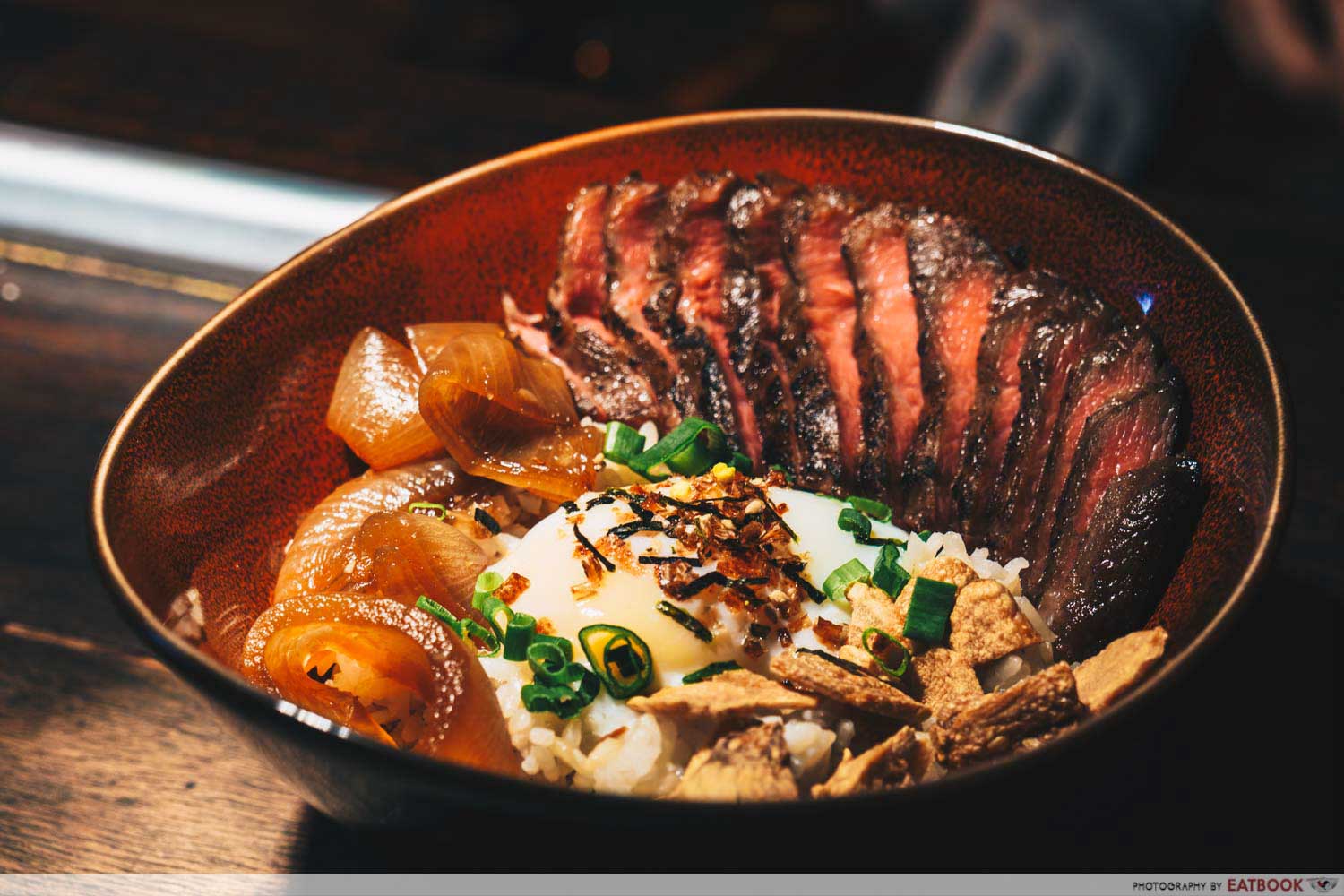 This piece of news is made even better as their lunch menu includes a brand new dish: Gyudon ($14++). This rice bowl features their iconic Feather Blade Steak with an in-house sukiyaki marinade. Mix the jiggly onsen egg and aromatic garlic chips for a burst of savoury flavours. If you're in the mood to treat yo' self, add on a luscious slab of French Foie Gras ($11++) or some fresh-tasting Hokkaido Scallops ($11++).
Address: 90 Club Street, Singapore 069458
Opening hours: Mon-Thur 11:30am to 2:30pm, 5:30pm to 11pm, Fri 11:30am to 2:30pm, 5:30pm to 11:30pm, Sat 5:30pm to 11:30pm
Website
---
9. Artichoke
---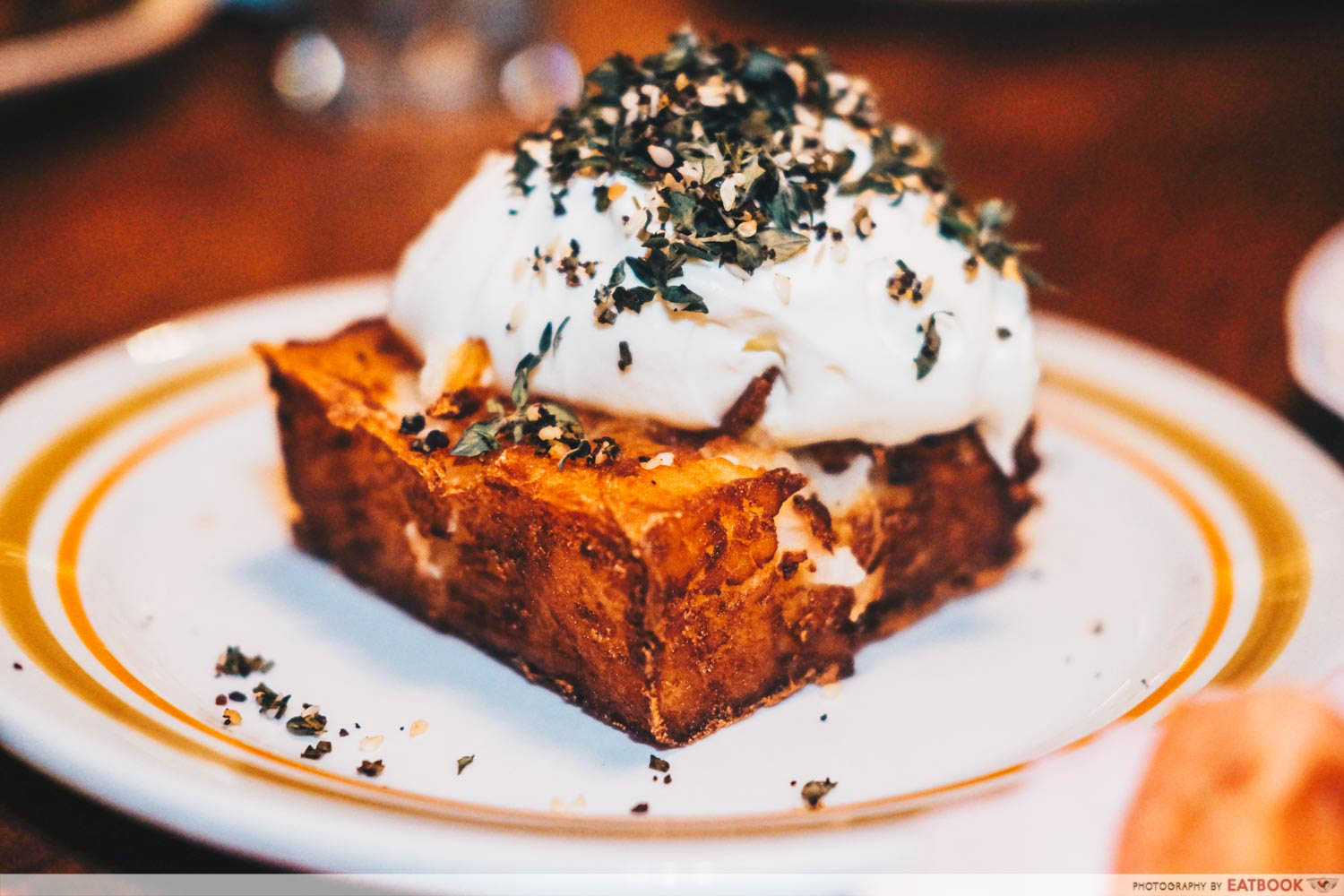 Artichoke is no stranger to anyone with an appreciation for fine food. Started by chef Bjorn Shen nine years ago, this hidden joint at Bugis looks more like someone's workspace than a restaurant. And that's a good thing because it's a reflection of how much time and hard work the team puts into the food here.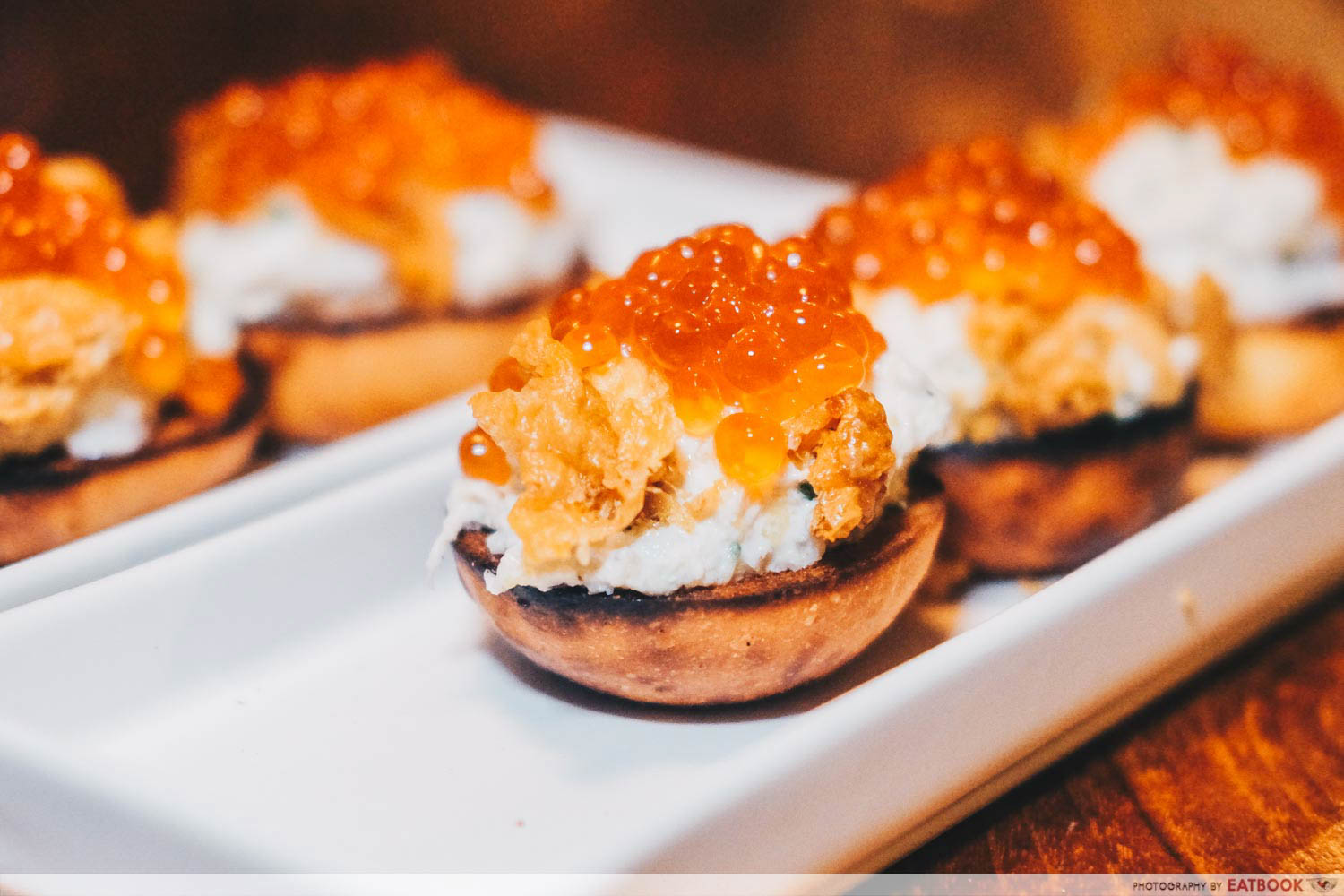 In the current menu, you'll find delicious new dishes such as Crab Toast ($16++), Housemade Hashbrown ($14++) and Cuttlefish Shawarma ($25++). Do yourself a favour by getting the Crab Toast, which has creamy blue swimmer crab salad, ikura, and deep-fried chicken skin sitting on toasted brioche. This tiny starter will be gone in two bites, but these will be two umami-packed mouthfuls that you'll remember fondly for a while. 
Address: 161 Middle Road, Singapore 188978
Opening hours: Tue-Fri 4pm to 9:45pm, Sat-Sun 11:30am to 2:45pm, 4pm to 9:45pm
Tel: 6336 6949
Website
---
10. Tenkaichi
---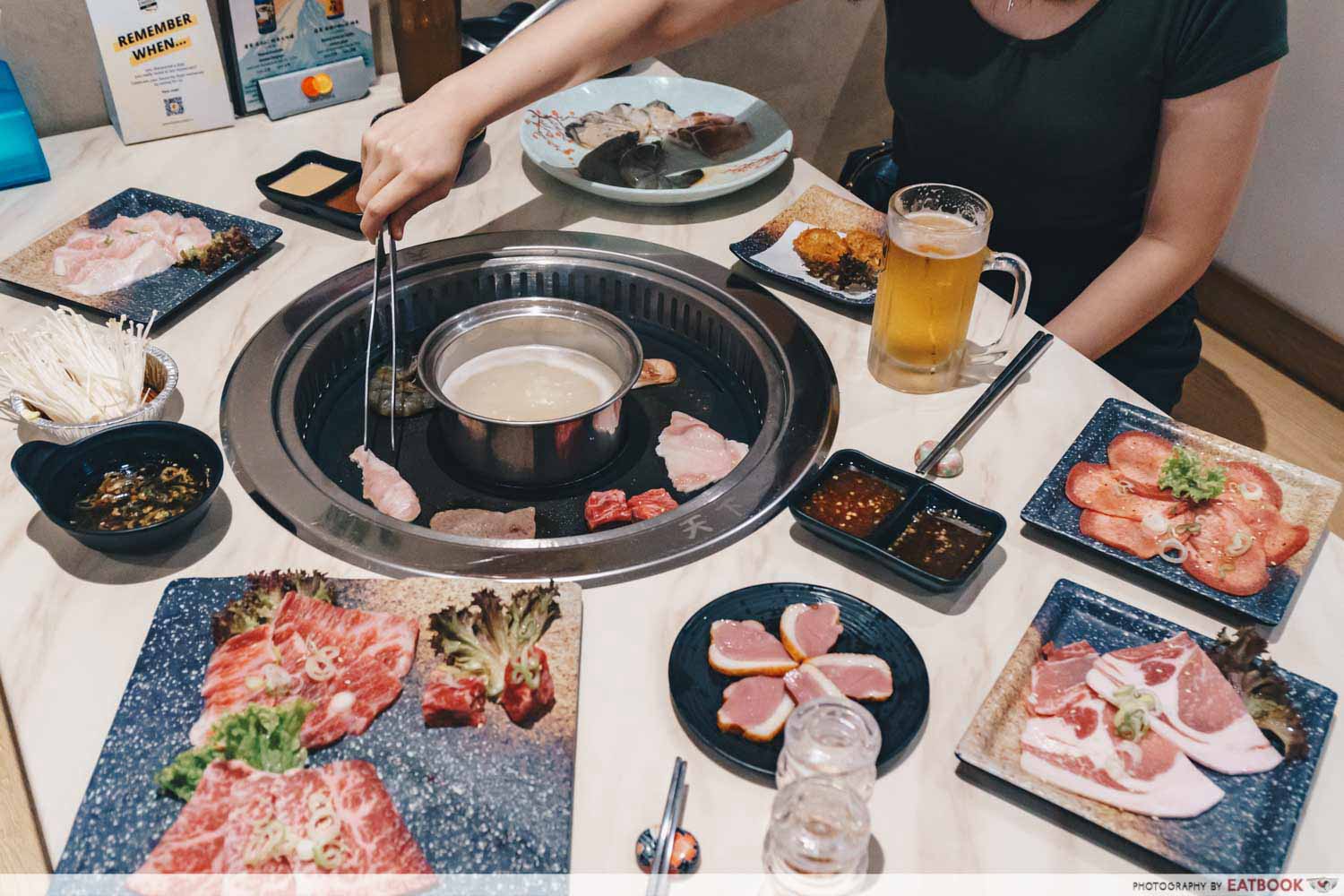 While Tenkaichi is already a familiar name to most buffet lovers, they have a new The Ultimate Buffet that's going to wow you even more. Available from now till 31 December 2019, this luxurious buffet comes with more than 50 free-flow items including wagyu beef, sashimi, Asahi beer, Ben & Jerry's ice-cream as well as soft drinks.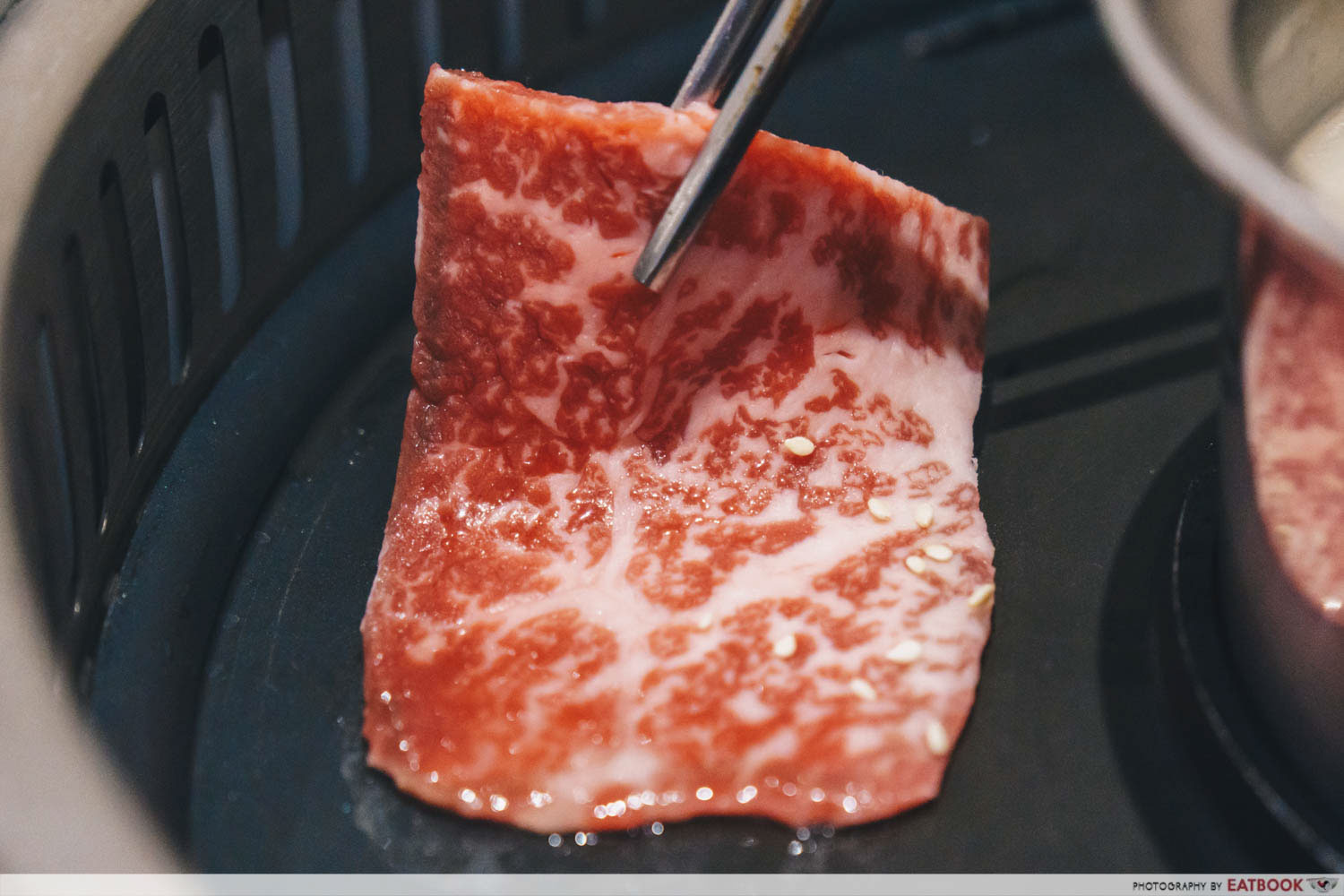 It's priced at $139.80++ every Monday to Thursday, and $149.80++ every Fri and weekends, but don't worry 'cause there's an ongoing 1-for-1 promotion. If you head down to the outlet at Cineleisure, you'll even get their shabu shabu add-on for free! The shabu shabu add-on gives you more ingredients such as white clams and bamboo clams.
Address: 8 Grange Road, #02-11, Cineleisure Orchard, Singapore 239695
Opening hours: Mon-Thur 12pm to 3pm, 5pm to 10pm, Fri 12pm to 3pm, 5pm to 11pm, Sat 12pm to 11pm, Sun 12pm to 10pm
Tel: 6365 8389
Website | Full list of outlets
---
Indulge at these new restaurants in December 2019
---
That wraps up the last edition of this year's new restaurants. Hopefully, these 12 listicles have helped you plan great makan sessions with your squad and fam'. However, hold on to your horses as we'll be revealing this year's Top 50 food places soon! These 50 places are all new entrants to the food scene, serving the likes of ostentatious desserts and value-for-money noodles.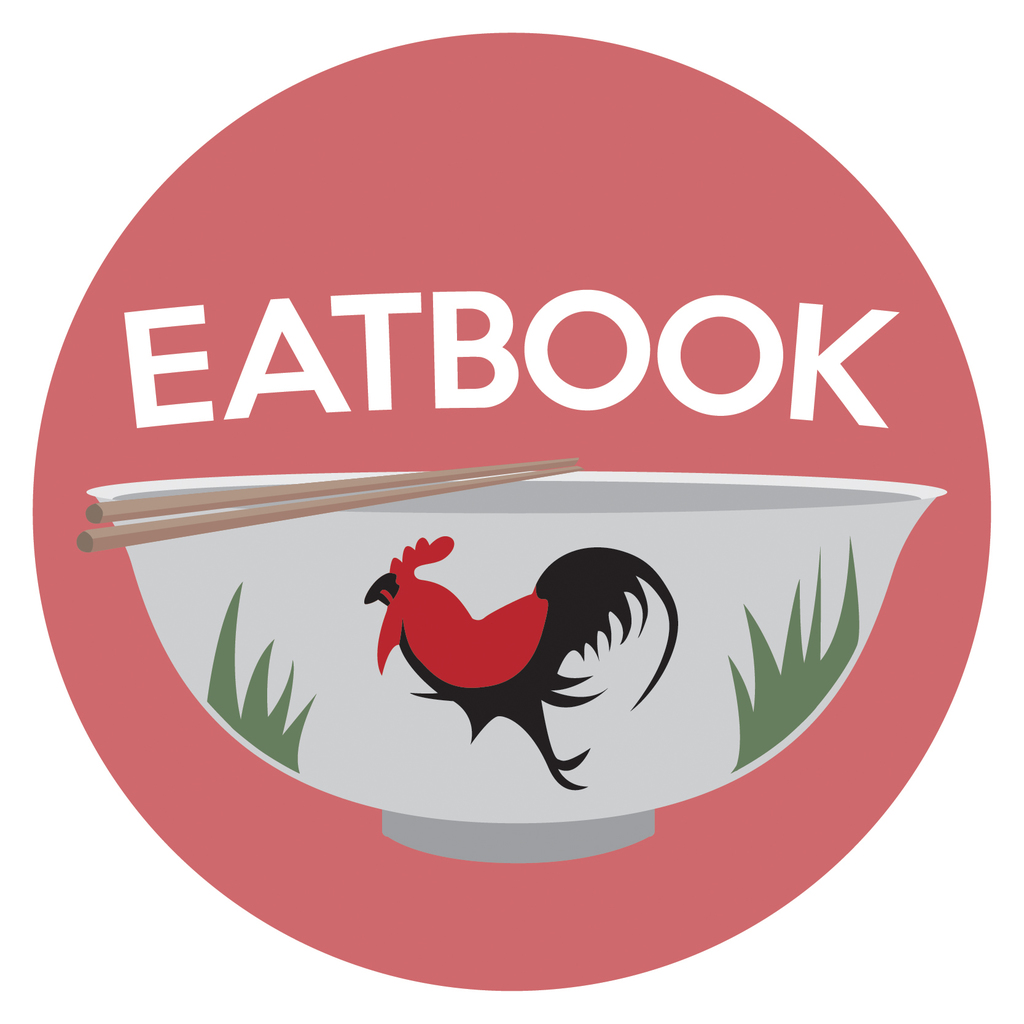 Drop us your email so you won't miss the latest news.