Kiwami at Tanjong Pagar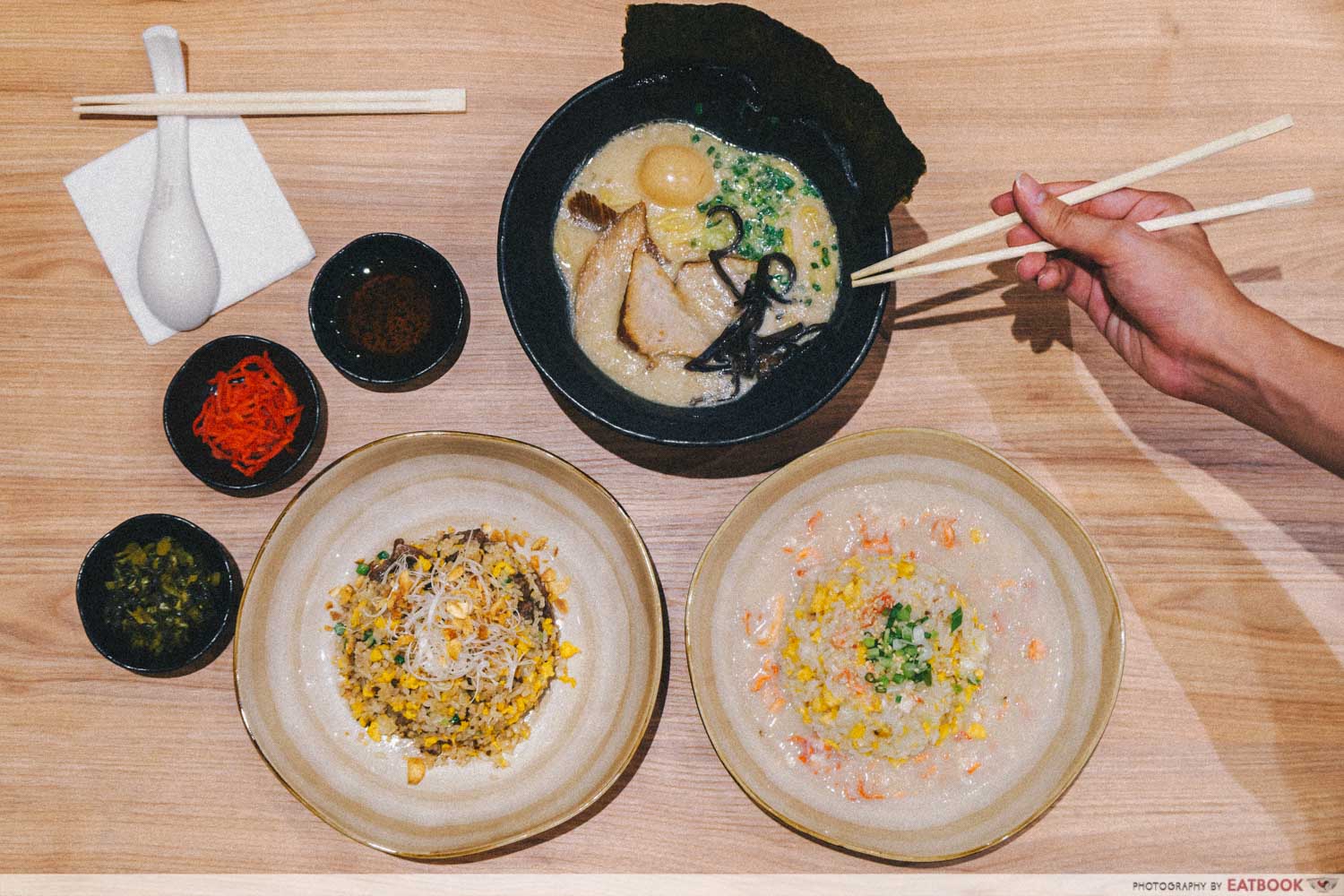 Kiwami ramen first caught my eye when they claimed to serve A5 Miyazaki wagyu beef. For those unacquainted with gourmet meat, Miyazaki beef is debatably the highest-tier of Japanese, competing regularly with Kobe, Matsusaka, and Omi beef for the title. Seeing it available on the cheap made us raise an eyebrow. The restaurant is opened by the same people behind Aburi En and has been flying under the radar so far. However, they seem to have a couple of dishes on its menu that caught my eye.
Dishes like Hokkaido Scallop Fried Rice ($14.80++) and Hokkaido Snow Crab Fried Rice on Tonkotsu Gravy ($13.80++) are not commonly found on the menus of Japanese restaurants in Singapore, and this newly-opened restaurant seems to offer it at affordable prices for seafood of that standard. It sounded like a pretty good deal, and perhaps too good to be true.
We knew we had to head down to Tanjong Pagar to try the dishes to dispel or confirm our doubts.
Food at Kiwami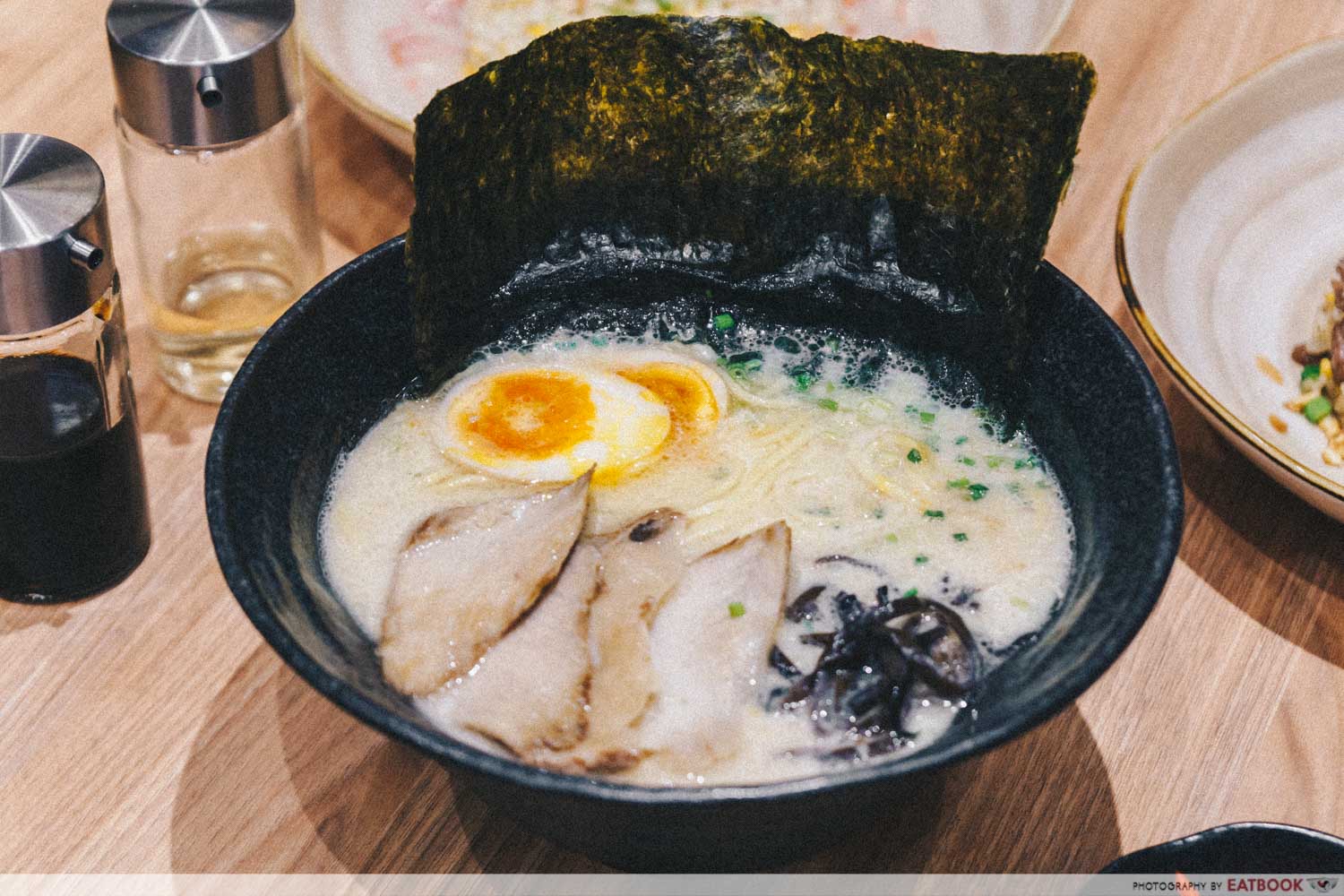 One of Kiwami's signatures is the Premium Kiwami Tonkotsu Ramen ($12.80++). I find it to be affordable, even though it's considered one of their more expensive items.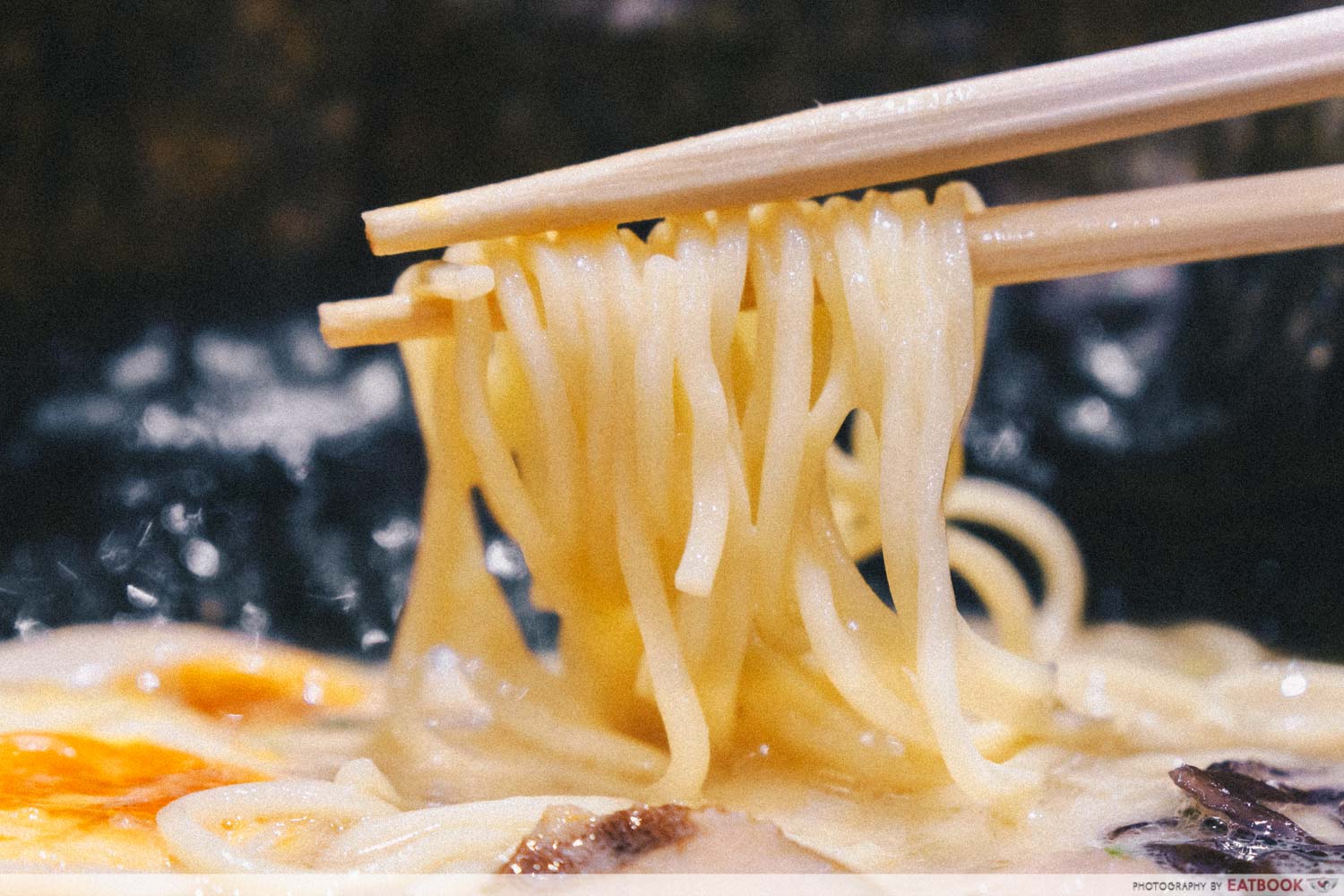 The soft ramen noodles are made from Hokkaido wheat and are an original recipe. They weren't too remarkable but did well in soaking up the rich broth. The portion was a little below average for its price, but I quickly discovered that the noodles weren't the star of the show.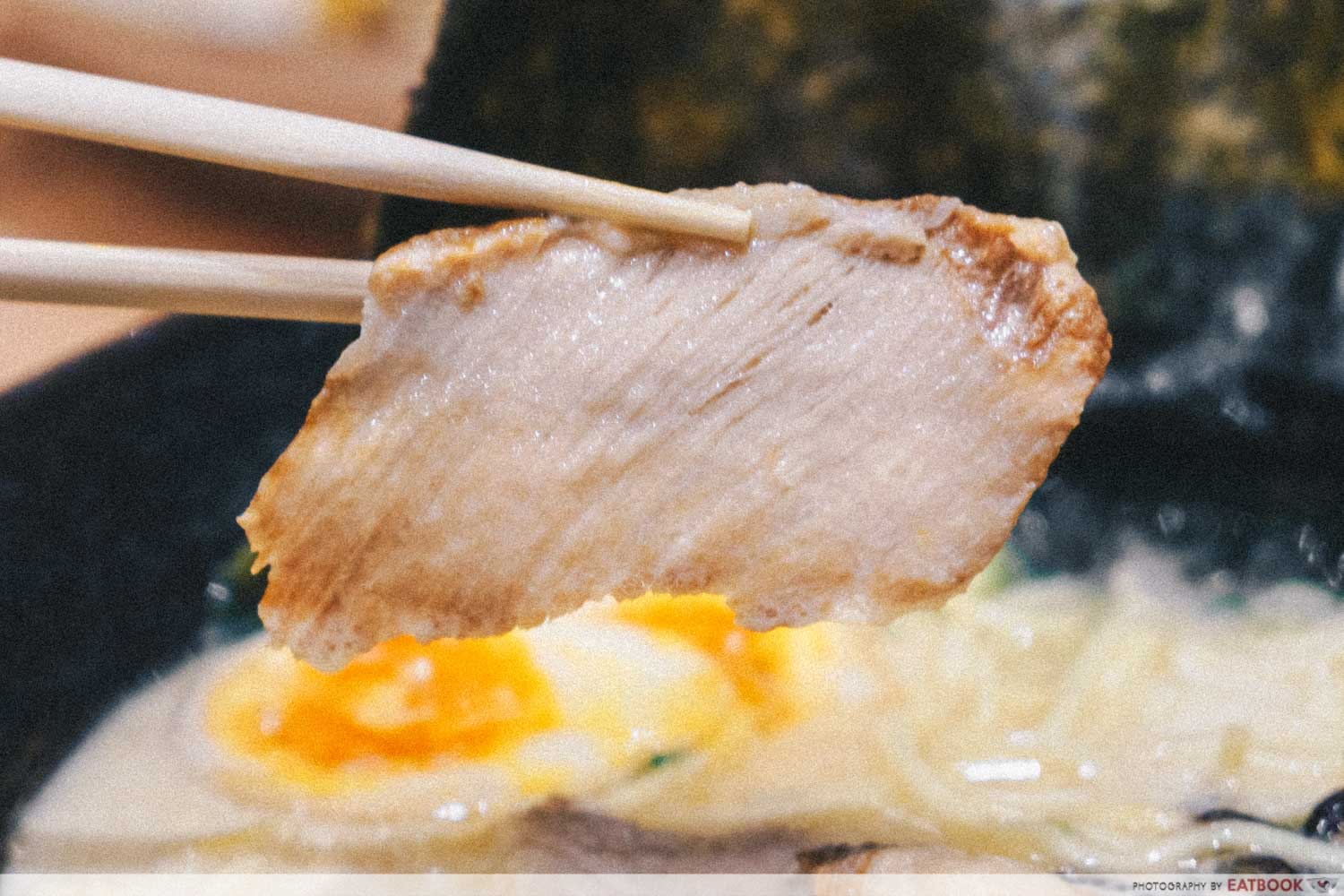 Enter the Toroniku—pork cheek. This slab of meat looked a little unimpressive to me on first sight. I was more used to the circular, swirled-up cut of pork belly. Compared to that, this pork cheek looked like a plain chunk of meat. Uniform, boring, with no bright colours or elaborate patterns.
Oh, how wrong I was. As soon as I bit into it, I realised how delectable the meat was. The well-marbled meat was perfectly balanced between fatty and lean meat, with both textures coming in alternating strips.
This was my absolute favourite component of the dish. It helped to add a massive shift in texture to the otherwise uniform noodles. Pork belly couldn't come close to the sheer tenderness of it. I'm a bit reluctant to turn my back on one of my old ramen favourites, but I'm definitely going to look for pork cheek chashu the next time I opt for ramen.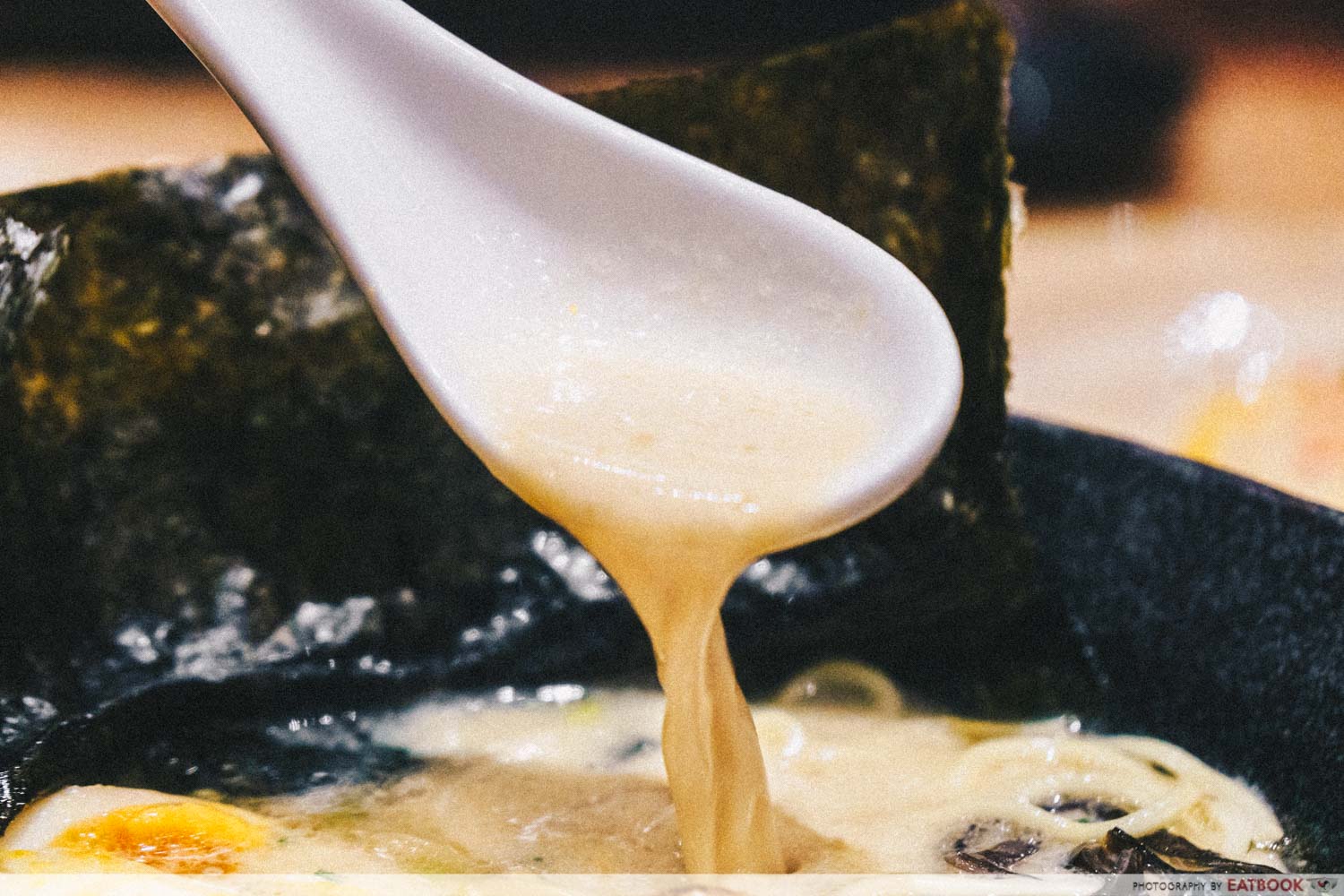 The broth, although thick and cloudy, wasn't as rich and flavourful as I expected. The creamy broth was chock-full of collagen and savoury flavours from the pork bone. A little bit of vinegar helped to zhng up the flavour significantly, giving it a sharper, sour-sweet taste that made up for the lack of salty kick.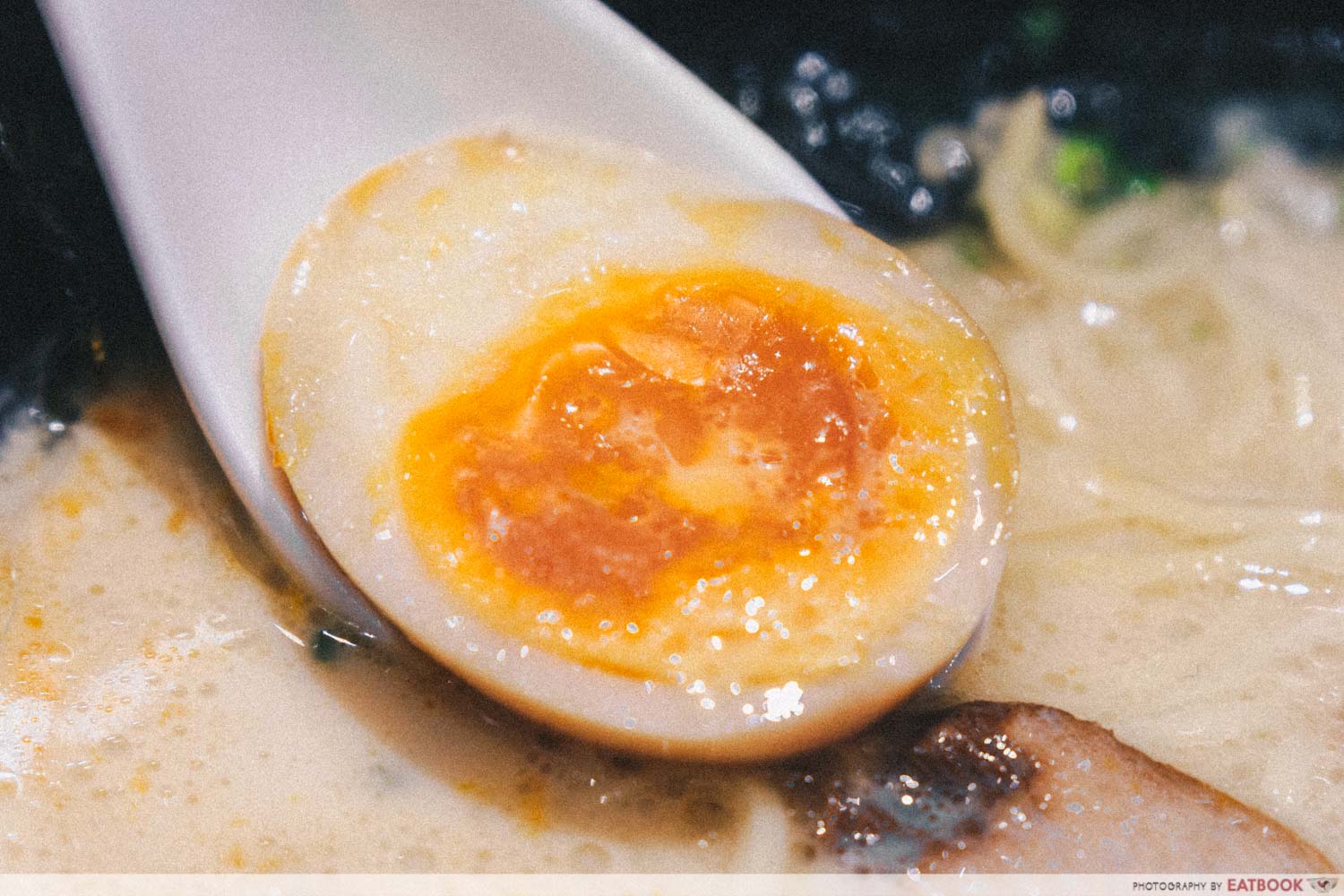 The Okinawa Egg cost $2++ more, which I thought was a little pricey. The yolk was a vivid orange. Like most of the ingredients, the eggs were sourced from Japan. Notable for their colour, Okinawan chickens have a reputation for producing rich, luxurious eggs.
The egg itself was soft and the whites were still runny. I could slurp up the entire thing in one mouthful without even needing to chew. The creamy egg coated the mouthful of noodles with its smooth texture, and I felt the thick yolk spread across my taste buds.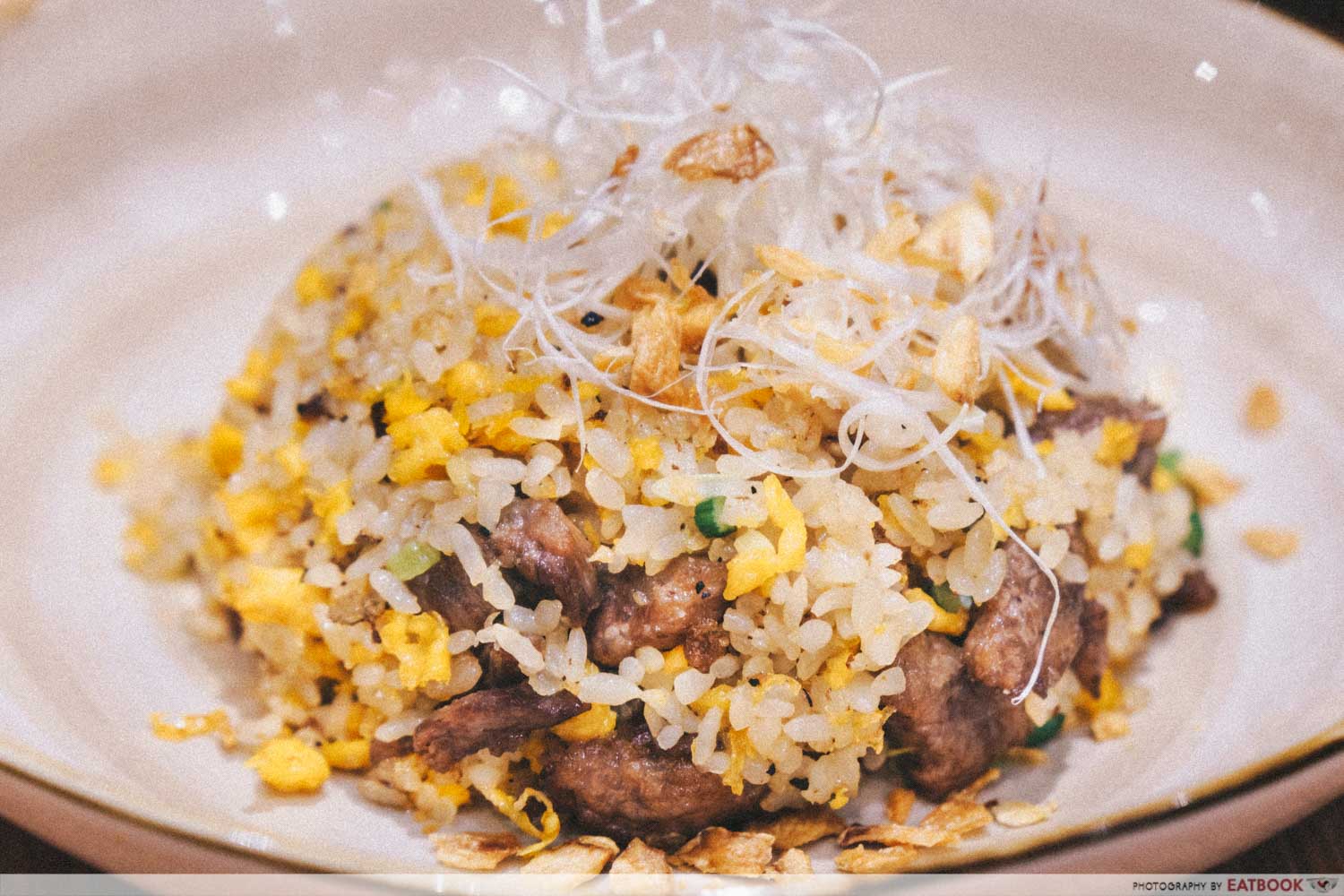 The Miyazaki Wagyu Garlic Fried Rice ($12.80++) was the main thing that drew me in. It's normal to feel suspicious about $13 A5 Miyazaki wagyu, so I tried to keep my expectations low when I ordered this dish. The plate was pretty sizable, and the portion of wagyu beef was immediately visible. It came with chunks of bright garlic and a fresh garnishing of shredded spring onion.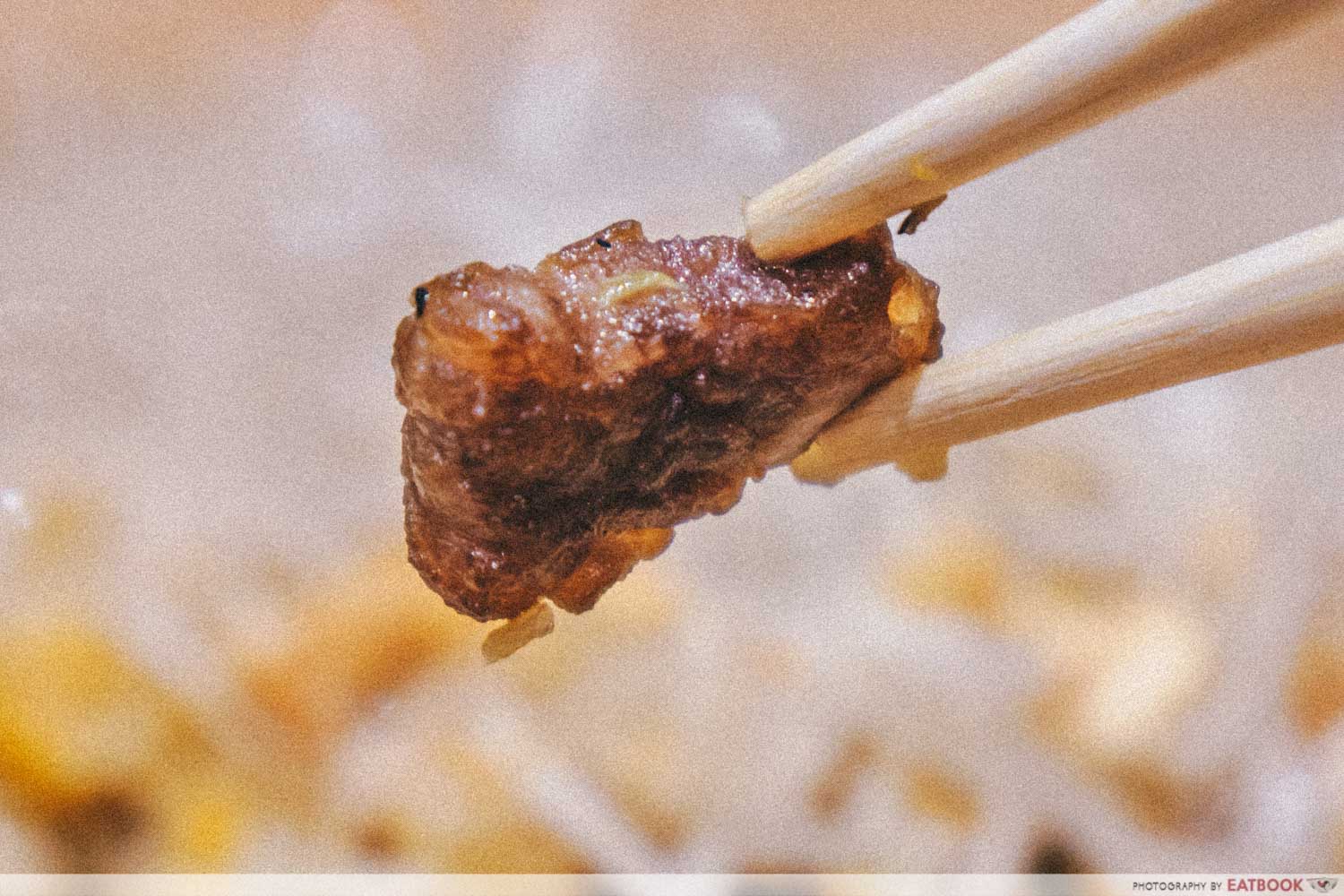 The moment of truth came when I popped a piece in my mouth. From the soft, tender texture and the immediate explosion of marbled fats and juice, I could tell it was genuine wagyu. Even after being cooked, an up-close inspection revealed the streaks of fat that were visibly running through the meat.
On the exterior, some pieces were slightly dry and overcooked. But once I bit into it, it was completely fine. There were still plenty of redeeming factors, like the big portion it came with, and the taste of the rice itself.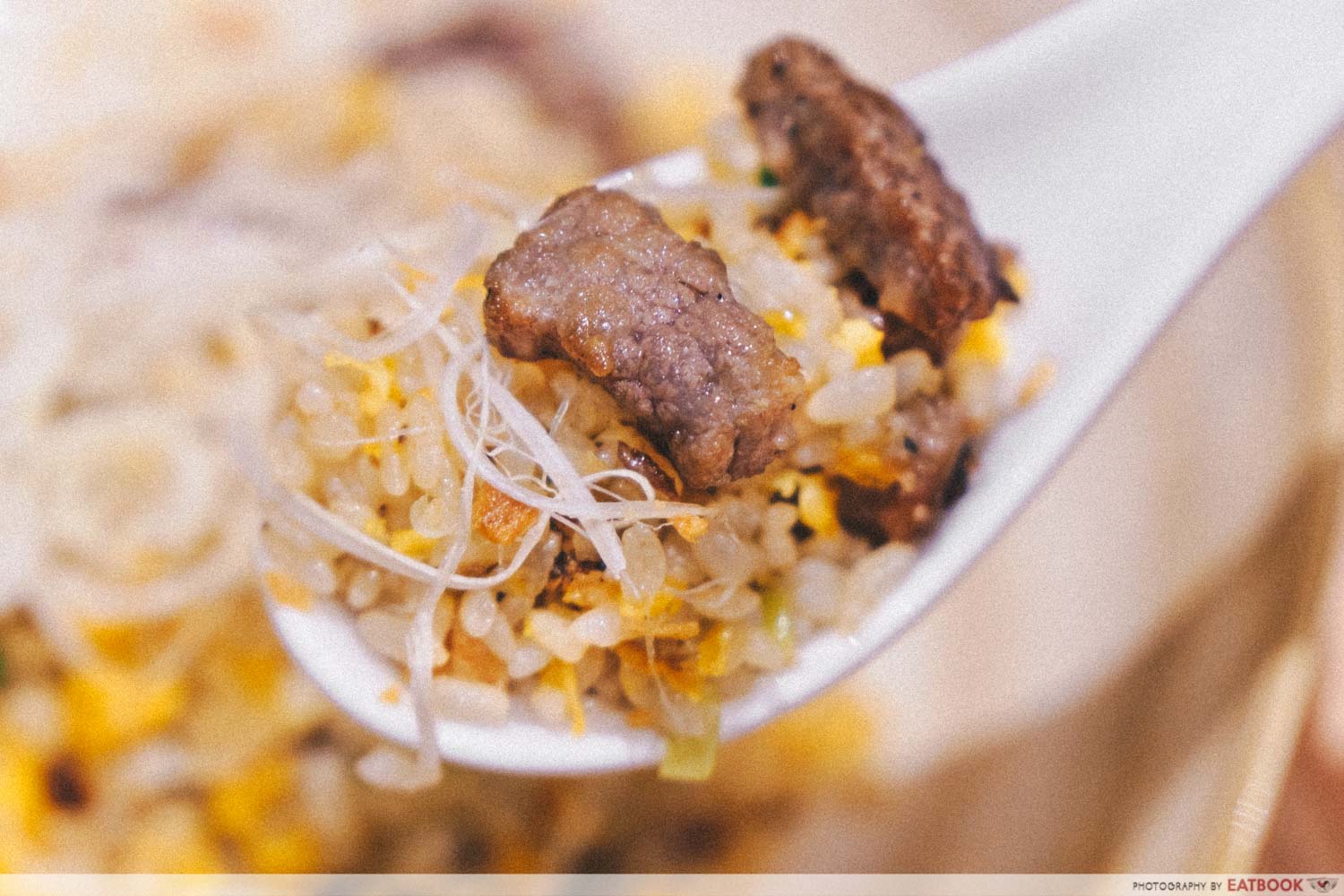 The garlic fried rice had a distinct wok hei fragrance, with smoky notes and a peppery taste. Aromatic garlic gave the rice another level of flavour, and every few mouthfuls had a burst of rich savouriness in the form of wagyu that was balanced out by the rice. There was enough meat for you to eat every spoonful with a little bit of beef, and not run out. The shredded spring onion gave a sharp kick of flavour every so often.
Once the dish was polished off, we sat back in satisfaction. It was completely worth it for its price.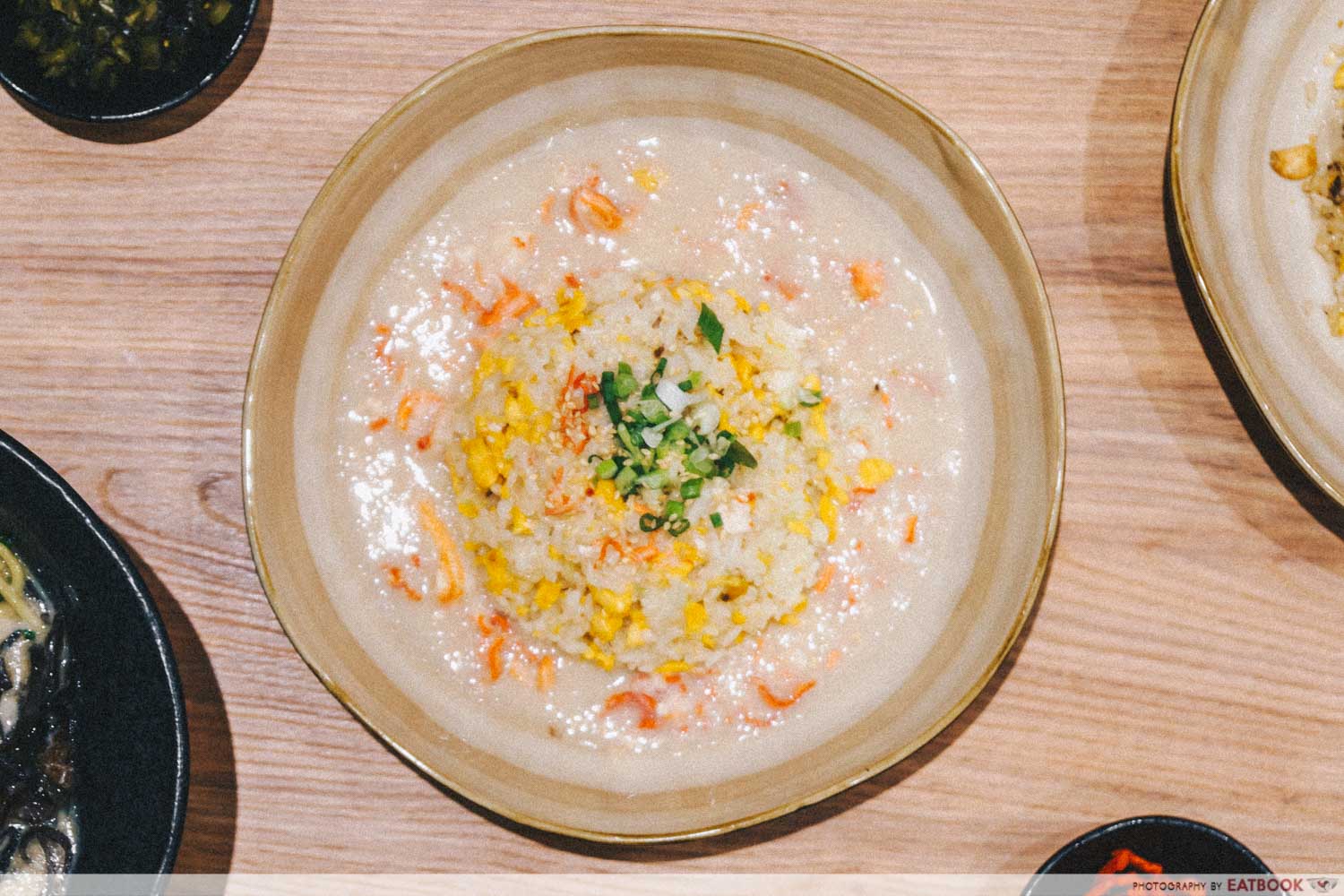 The last dish we got was the Hokkaido Snow Crab Fried Rice on Tonkotsu Gravy ($13.80++). It was presented impressively, with splashes of pinkish-red crab meat peeking out through the thick gravy.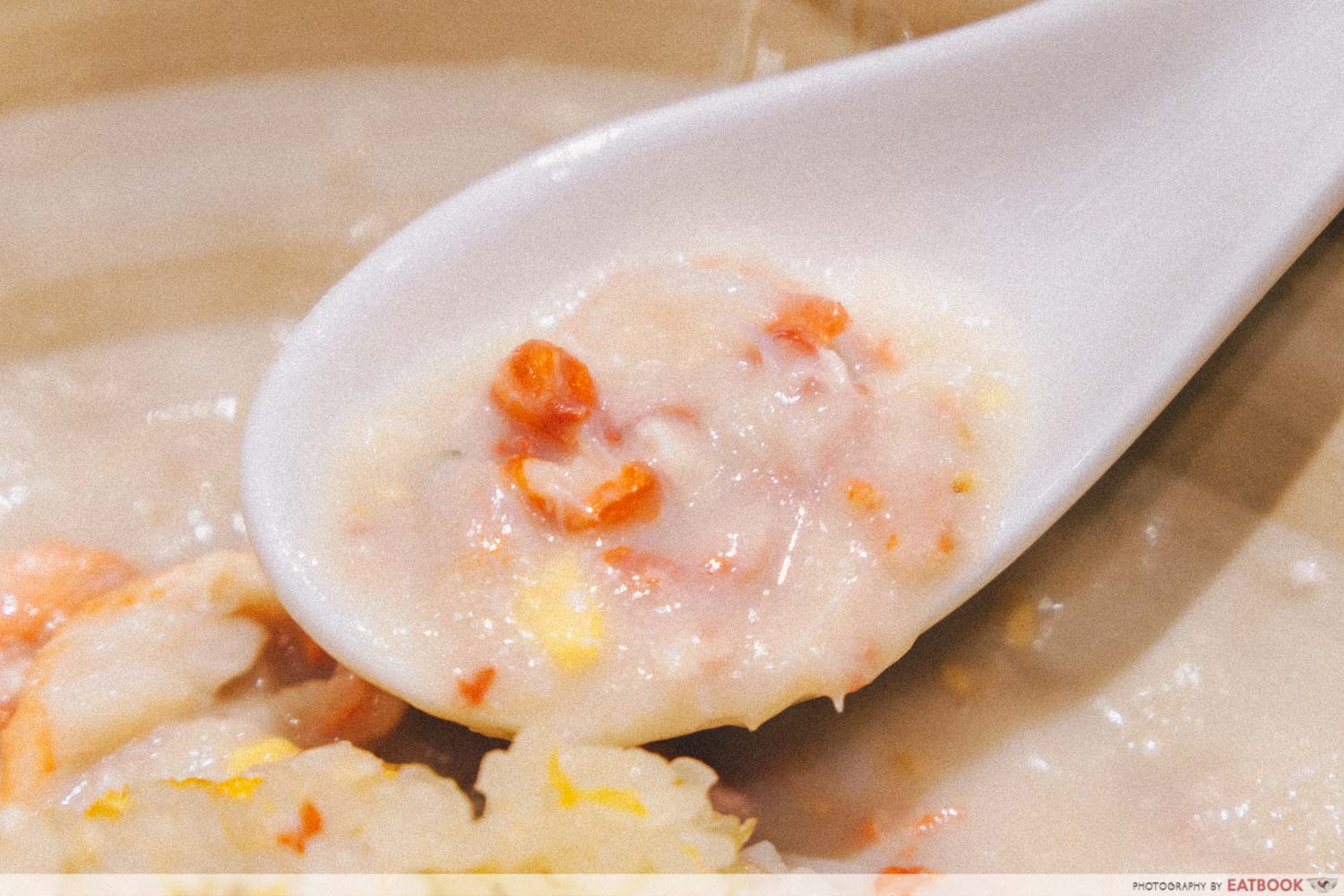 The mention of 'tonkotsu gravy' caught my eye when I was looking over the menu. I assumed it was a typo of tonkatsu, but the picture certainly didn't look brown. True enough, the dish was delivered in a pool of white tonkotsu gravy.
I've never tried sauce made from tonkotsu before, and only knew it as a soup base. In fact, I had never even heard of its existence. It seemed to be a new invention by Kiwami.
The gravy was milder than the pork bone broth of the ramen, despite being made of the same thing. It was creamy, thick, and slightly savoury.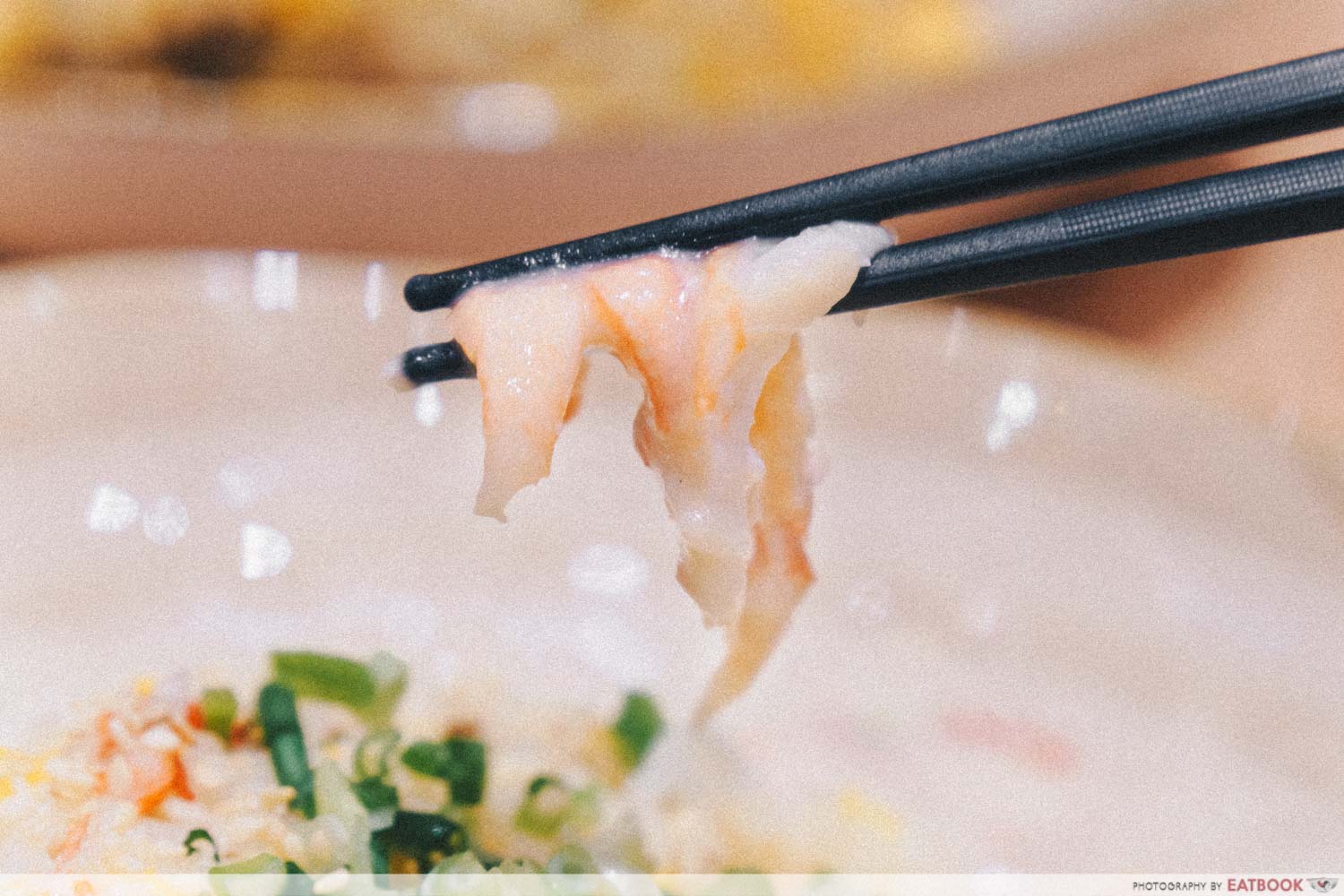 The crab was soft, juicy, and tender, with delicate seafood notes. Some pieces were slightly overcooked and lost a bit of taste, but most of the little chunks were light and sweet. There was plenty of it to go around.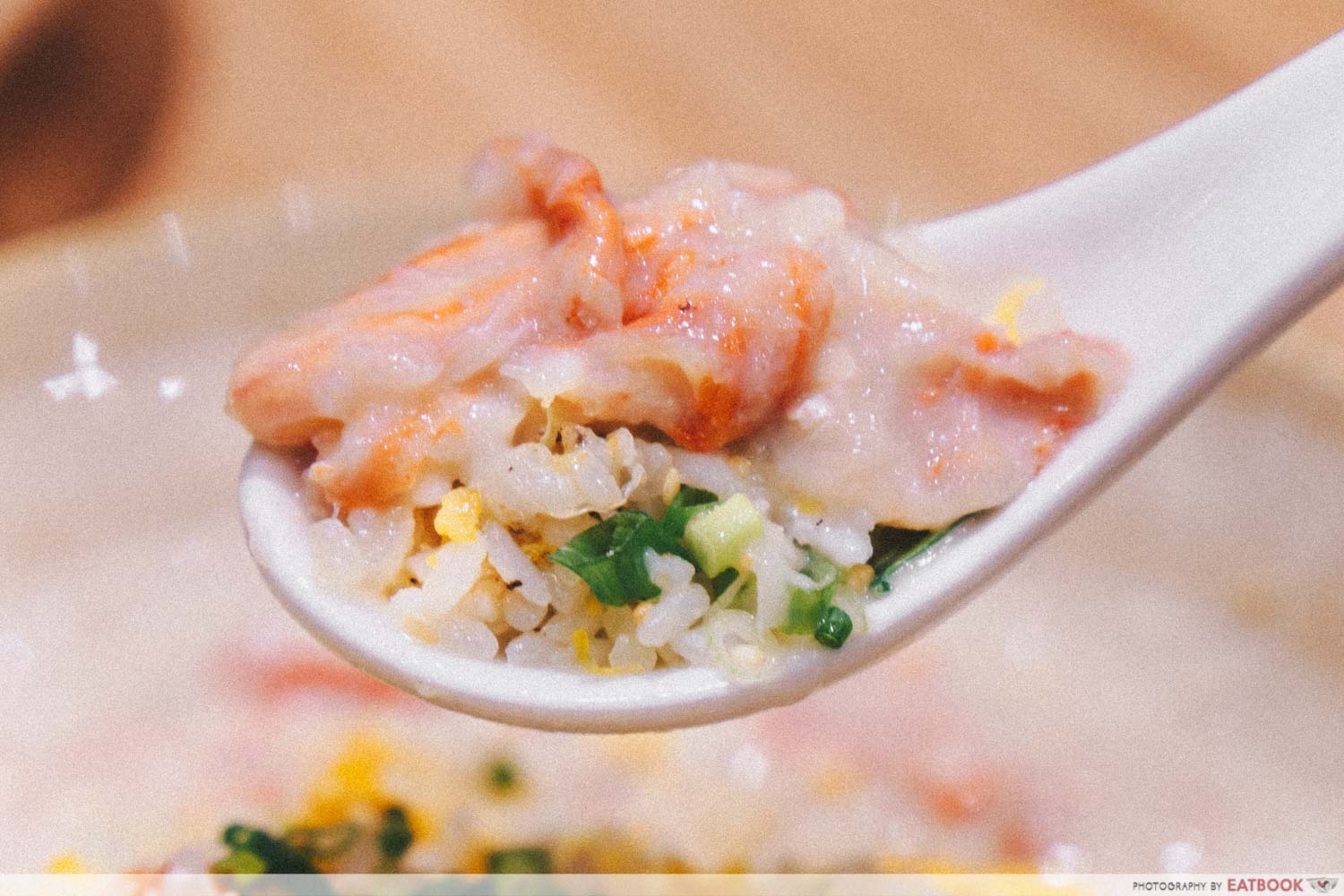 As for the rice, it was weaker in taste than the wagyu fried rice. It made sense to me, considering the crab had milder flavours as compared to the rich and marbled beef. The rice wasn't as smoky, and the gentle flavours of the tonkotsu gravy didn't overshadow the crab. Combining the rice and gravy almost felt like eating congee, or a thick porridge that was boosted by briny hints of crab.
Overall, I was wowed by the wagyu beef and its quality. But even more surprising to me was how much I enjoyed the chashu. Considering how equally delicious it was, I'd put the slices of pork cheek on the same pedestal as the beef that we tried. The crab rice was overshadowed by its stronger siblings but was still a novel concept and provided a decent meal.
Ambience at Kiwami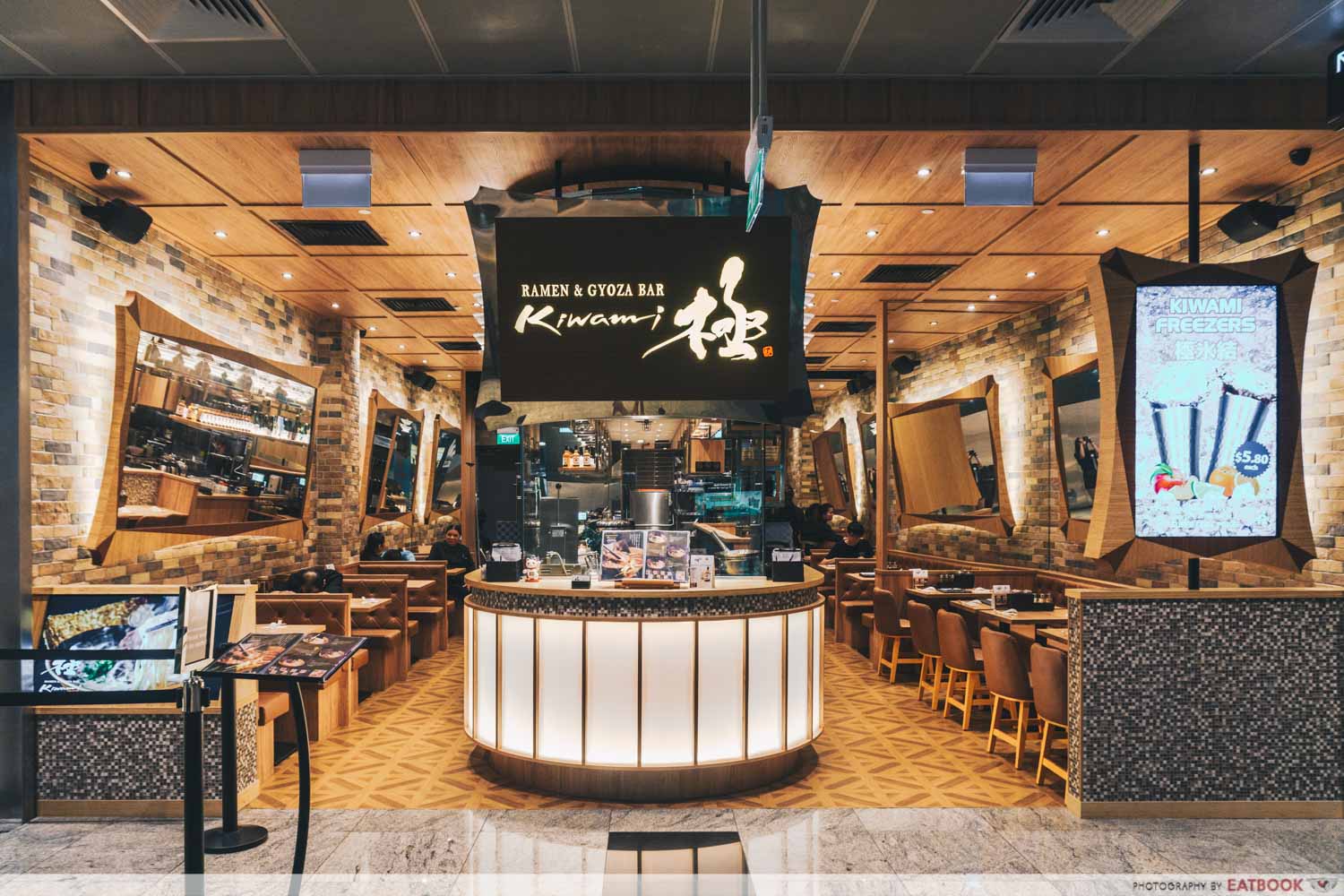 Kiwami is immediately within sight of Tanjong Pagar MRT Station's exit. You'll hardly need to walk at all to get there. The restaurant has a wide, open, rustic vibe to it. Huge mirrors line the walls, and it's a cosy place to sit down in a group. You can look into the kitchen and sit along the counter for a better view of your food being cooked. The recently-opened ramen and gyoza bar sits in the basement of Guoco tower, which is the tallest skyscraper in all of Singapore.
The verdict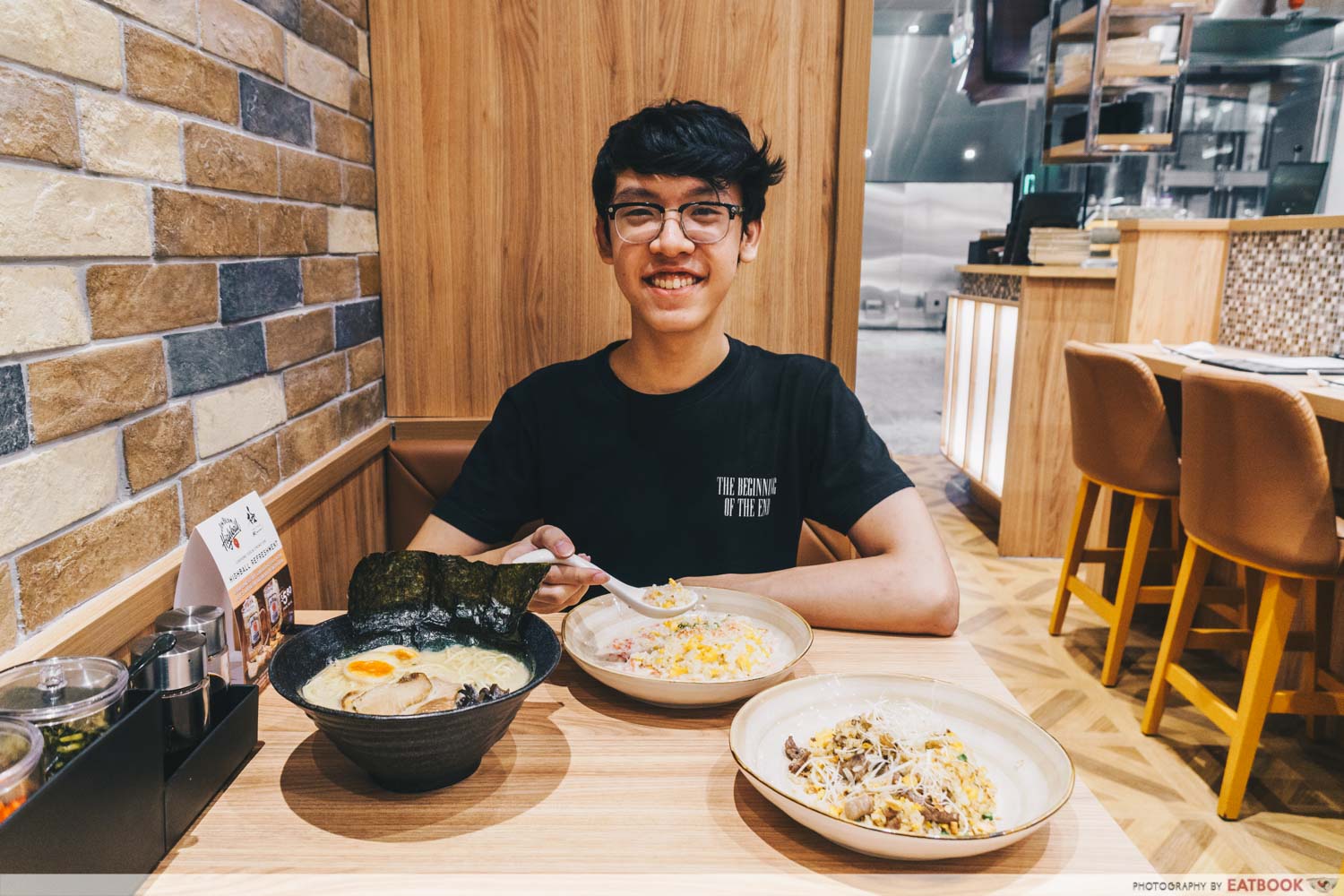 Kiwami didn't disappoint. The fledgeling restaurant impressed me with the variety of high quality yet perfectly affordable dishes. I don't get the chance to eat wagyu often, so it brightened my afternoon when I got to enjoy the rich meat at a low price. I also walked away with a new ramen favourite and a newfound appreciation for pork cheek.
People working in the area might want to pop on down for a quick, filling lunch. This Japanese restaurant is proof that wagyu beef doesn't have to make you go broke for the rest of the month.
If you're looking for another unique spin on Japanese food, visit Seizan Uni Ramen for ramen made with creamy sea urchin broth!
Address: 1 Wallich Street, #B2-10, Guoco Tower, Singapore 078884
Opening hours: Daily 11am to 10pm
Tel: 6246 6630
Website
Kiwami is not a halal-certified eatery.
Photos taken by Cindy Yong.
This is an independent review by Eatbook.sg.
Summary
Pros
– Affordable and high-quality ingredients
– Has real wagyu beef
– Incredibly tender chashu
– Convenient location and good ambience.
Cons
– Broth could have been a bit more flavourful
– Some parts of the wagyu were overcooked
– A few pieces of crab were a bit dry
Recommended dishes: Miyazaki Wagyu Garlic Fried Rice ($12.80), Premium KIWAMI Tonkotsu Ramen ($12.80)
Opening hours: Daily 11am to 10pm
Address: 1 Wallich Street, #B2-10, Guoco Tower, Singapore 078884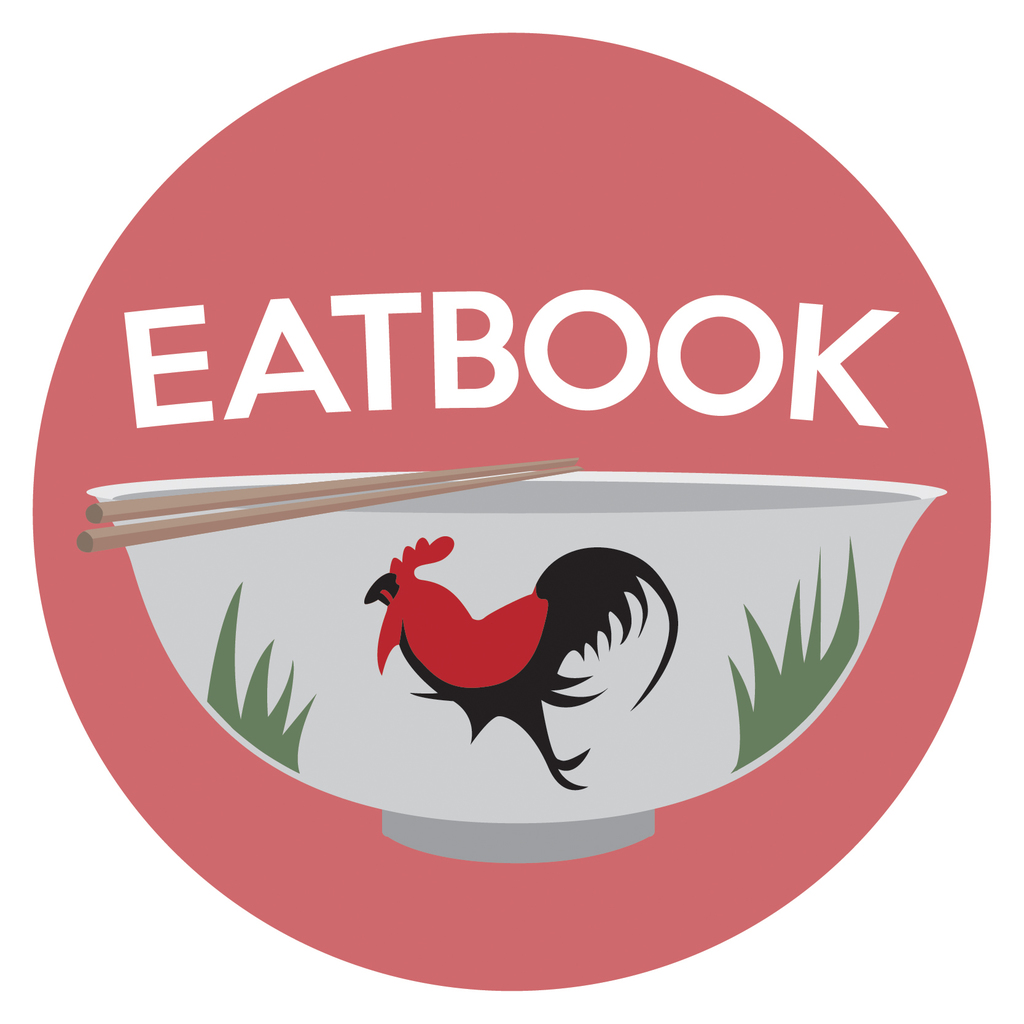 Drop us your email so you won't miss the latest news.