Big Mouth Eat sells Taiwanese food at Havelock 2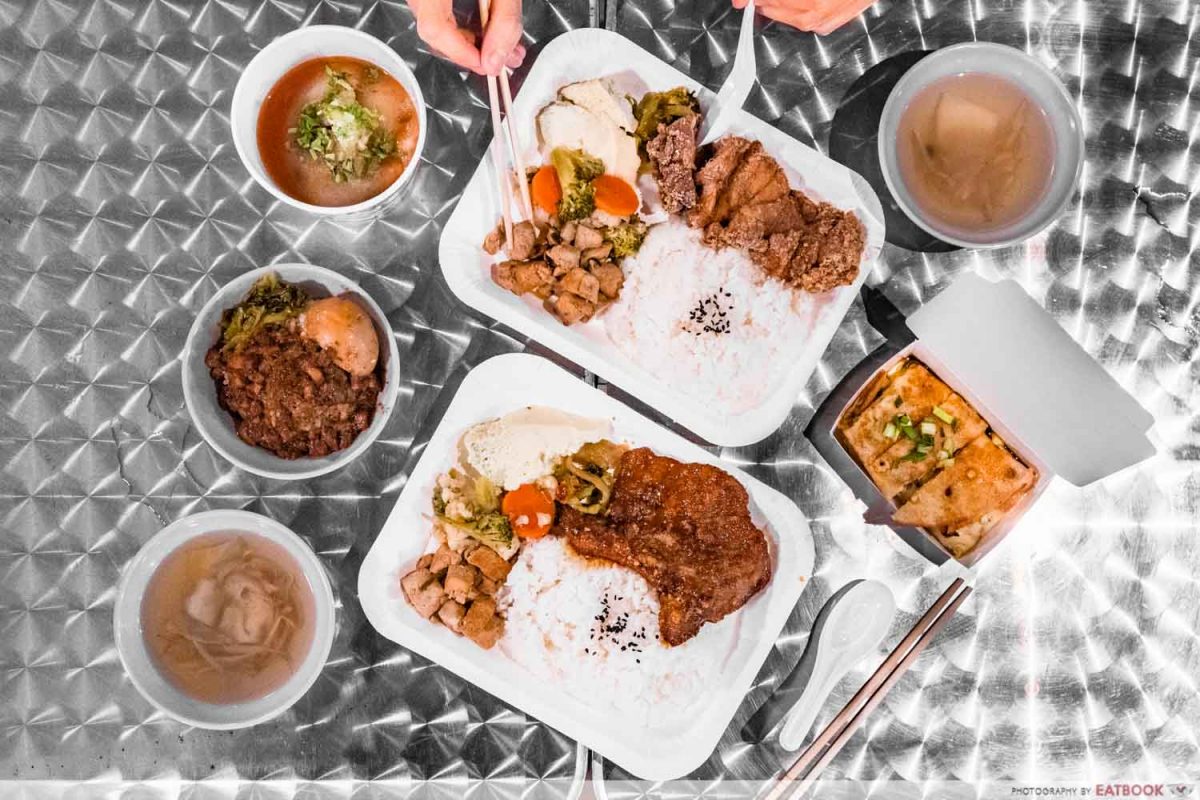 Growing up, I've been constantly told off by my elders for having a "big mouth", mainly because I talk way too much for my own good. Luckily for them, I eventually found more excitement in using my mouth to eat instead. Another recent obsession of mine happens to be Taiwanese cuisine, and I'm glad to have found Big Mouth Eat around Clarke Quay.
Essentially, they specialise in reasonably priced Taiwanese bento sets and street snacks, catering mostly to the office crowd and families that stay around the area. A sucker for practically all kinds of street food, I jumped at the opportunity to savour this former successful home business' delights, together with a dining companion.
Don't worry, even with the new restrictions set in place, their food is still available for physical take-away or through delivery services such as GrabFood, Deliveroo, and HungryPanda.
12 Taiwanese Food Places In Singapore Serving Lu Rou Fan, XXL Mee Sua And More
Food at Big Mouth Eat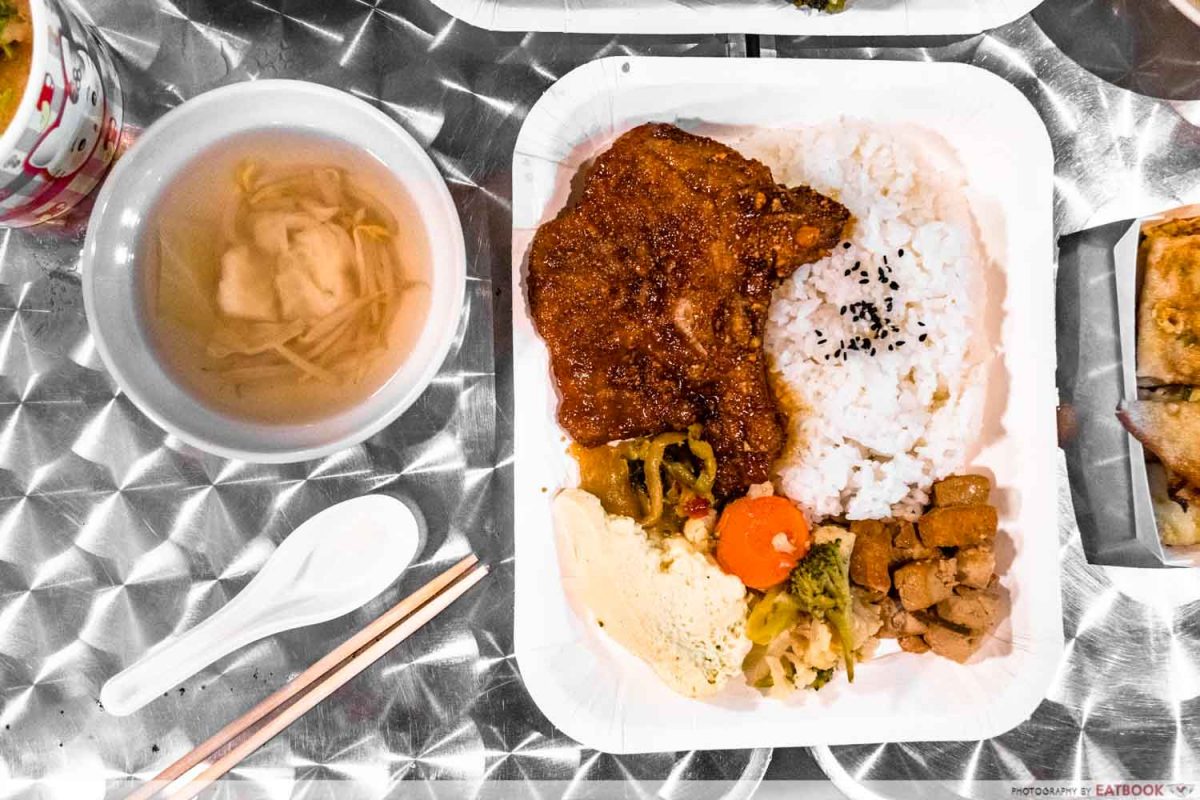 Reminiscing about those railway bento boxes in Taipei, the Pork Chop Bento ($8.90) gave me such pleasant flashbacks, especially with how similar their version looked to the real deal. 
The pork chop was drenched in a tantalising sweet-savoury marinade and served on a bed of white rice, with pickled greens and a side of their cooked vegetable selection of the day. It's also served with a bowl of a light, slightly peppery soup to go along with.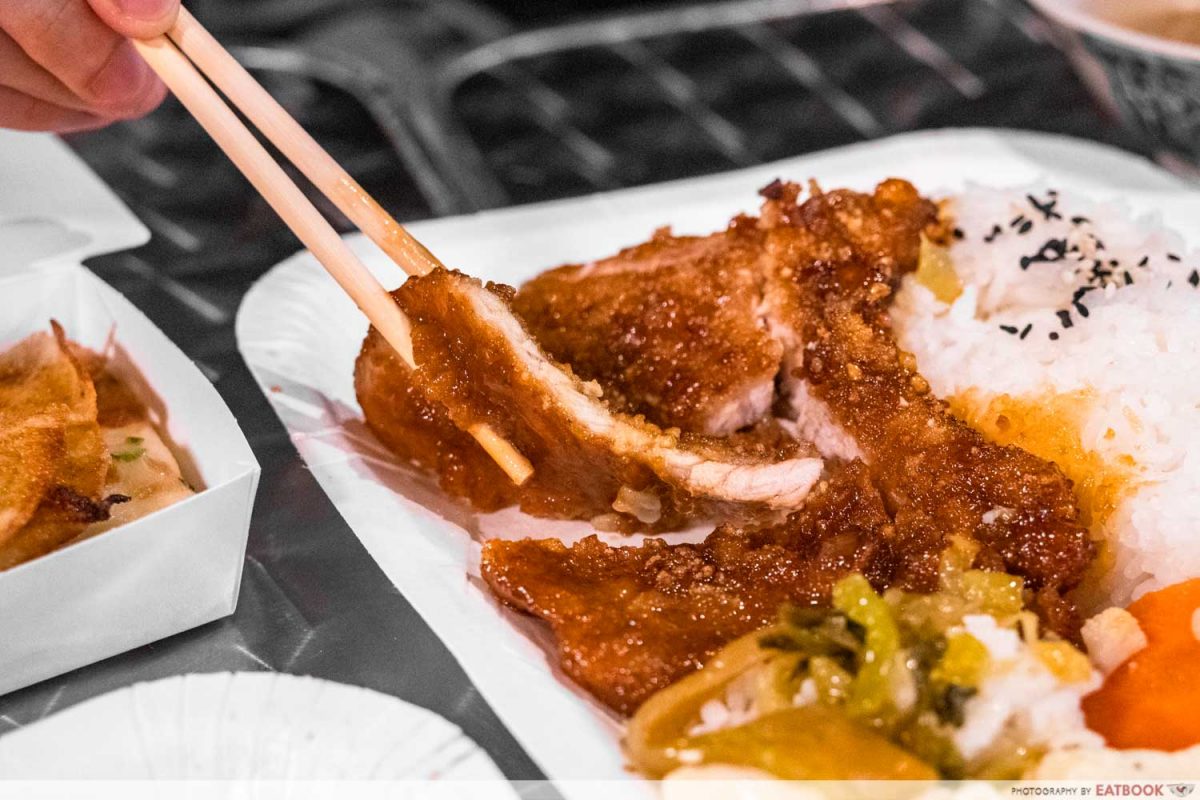 The well-marinated pork chop was succulent to the bite and not overly oily, soaking up the sauce nicely. My only gripe with the pork was that it dried up a little too fast, causing the meat to become quite rubbery. So, I'd suggest you chop-chop and have your pork immediately right when it arrives.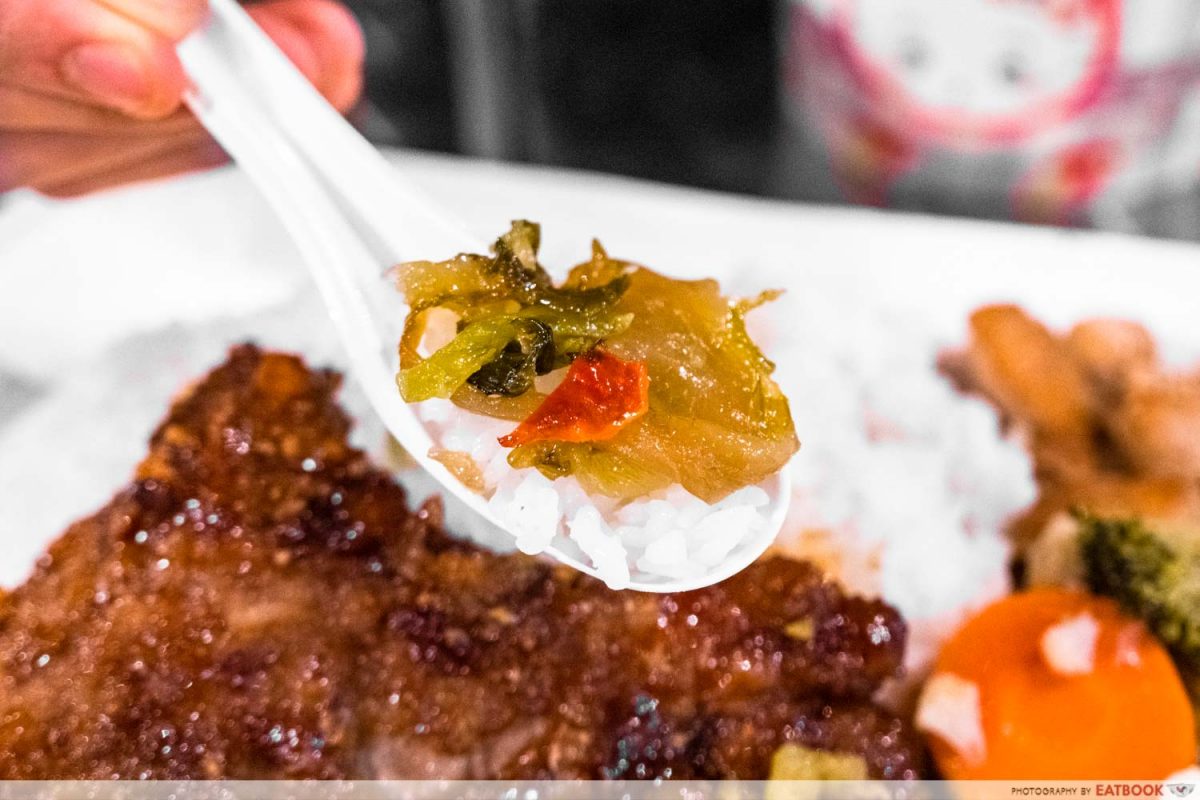 When eaten together with the rice and meat, the pickled greens were a delightful addition, as they introduced sourness and saltiness that greatly enhanced the flavour of each mouthful.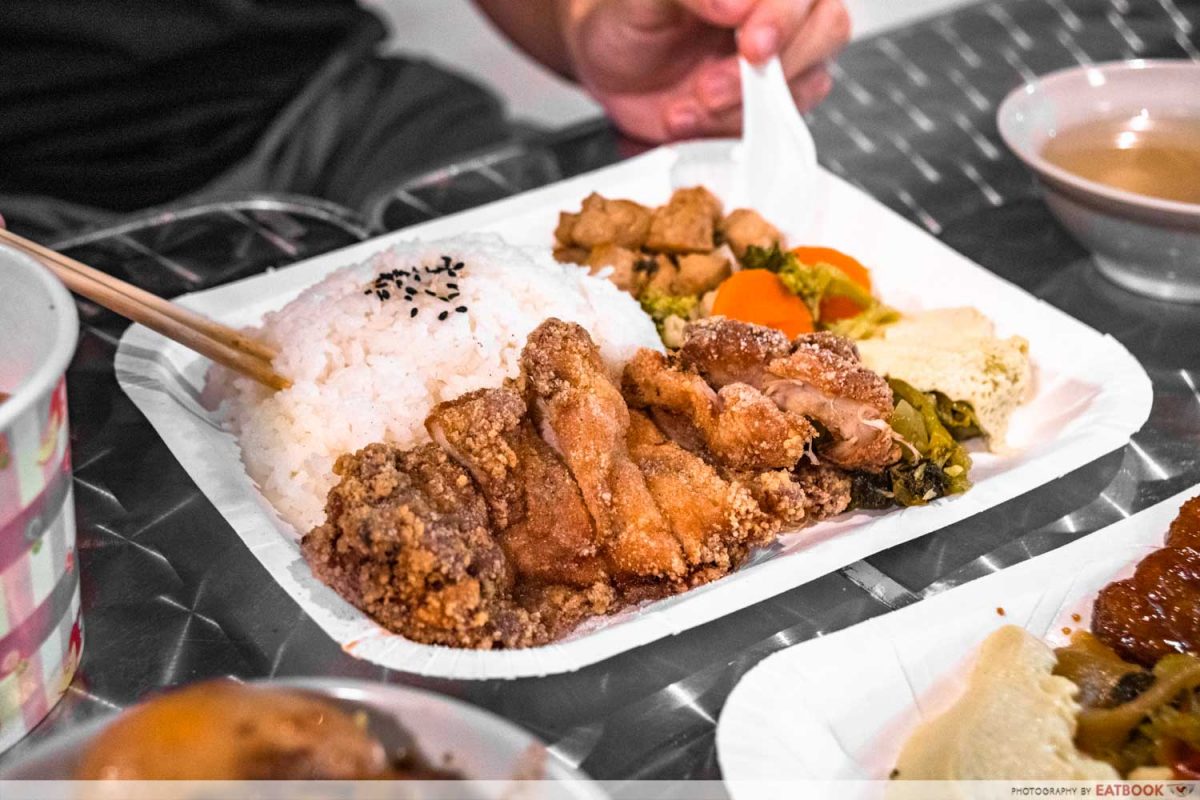 If you prefer some of that finger lickin' goodness instead, go for the Fried Chicken Cutlet Bento ($8.90) instead. Instead of the pork chop, you're treated to a crispy and juicy delight that's well-seasoned and flavoursome.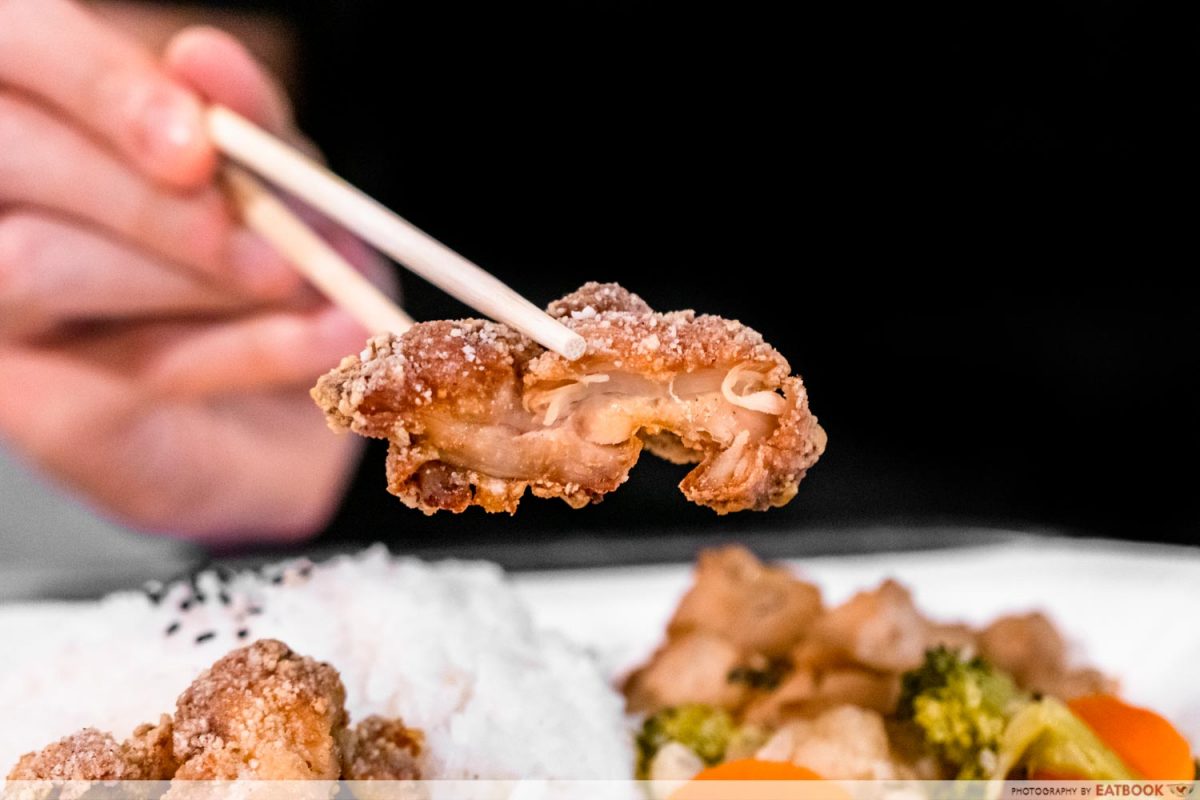 Though retaining some of its crispiness even after a while of taking photos, I felt that they were a bit stingy with the chicken for its price, with an overwhelming skin to meat ratio, hence I was quite disappointed. Perhaps the presence of a dipping sauce of some sort would have spiced up the experience more, making the flavour profile of the dish more diverse.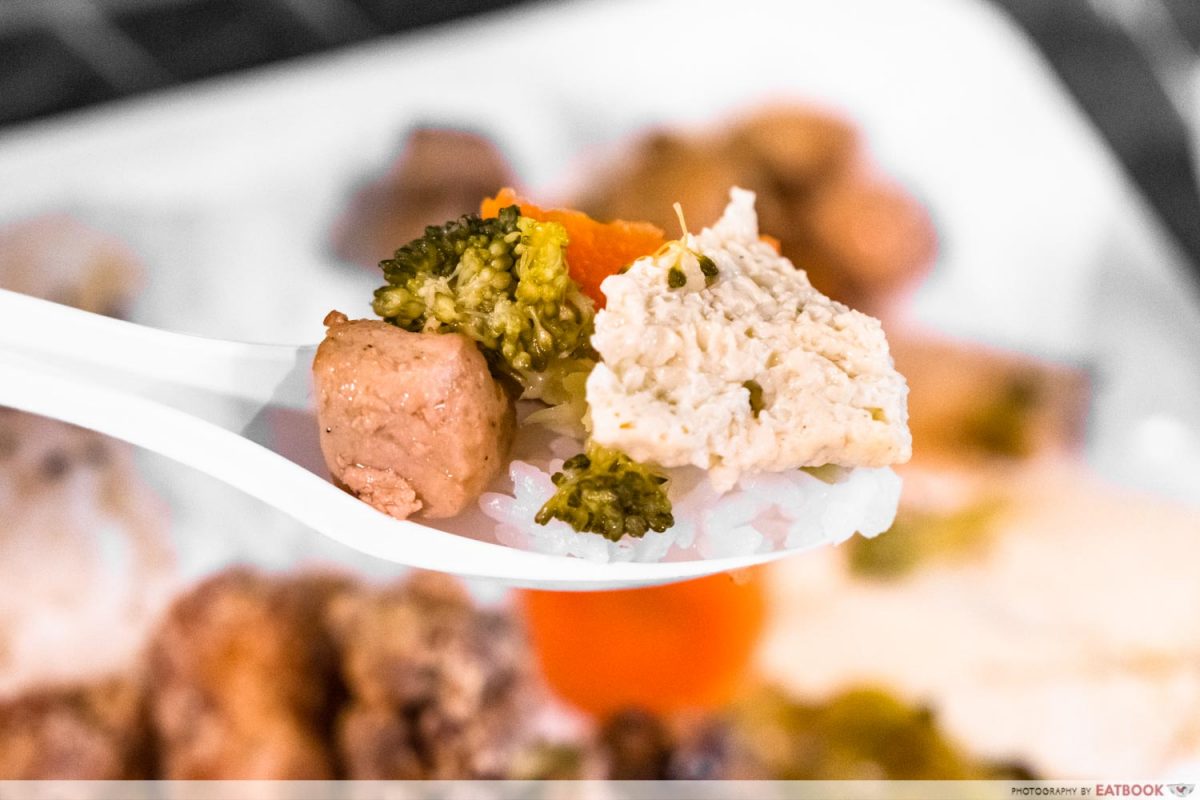 For both sets, the sides of the day were steamed egg, mixed broccoli, cauliflower, carrots, and tofu cubes. Safe to say, they were decent accompaniments to the bento set too. FYI, their choice of sides and soup changes everyday, so don't ever worry about getting too bored of their sets.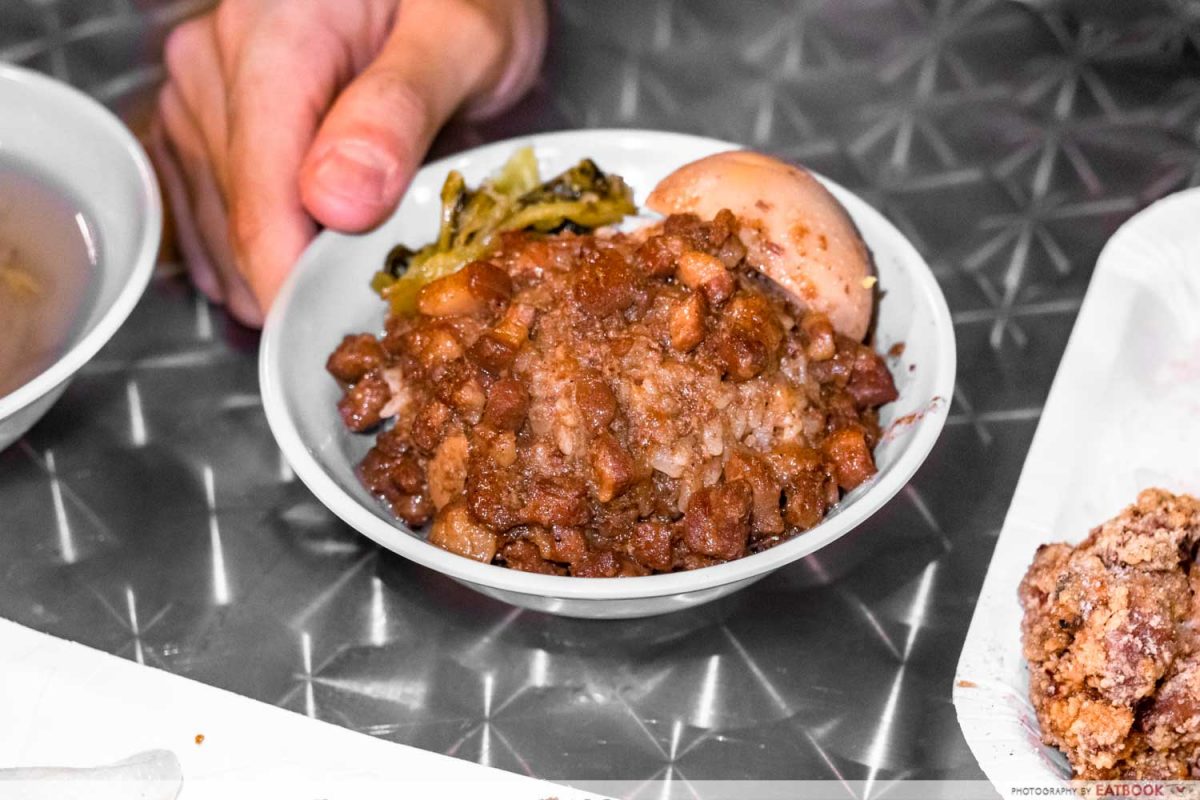 A staple for most of us at most Taiwanese eateries would be the Braised Pork Belly Rice ($4.90) or more affectionately known as lu rou fan. It was very well-suited for those with smaller appetites, as its portion size is rather tiny.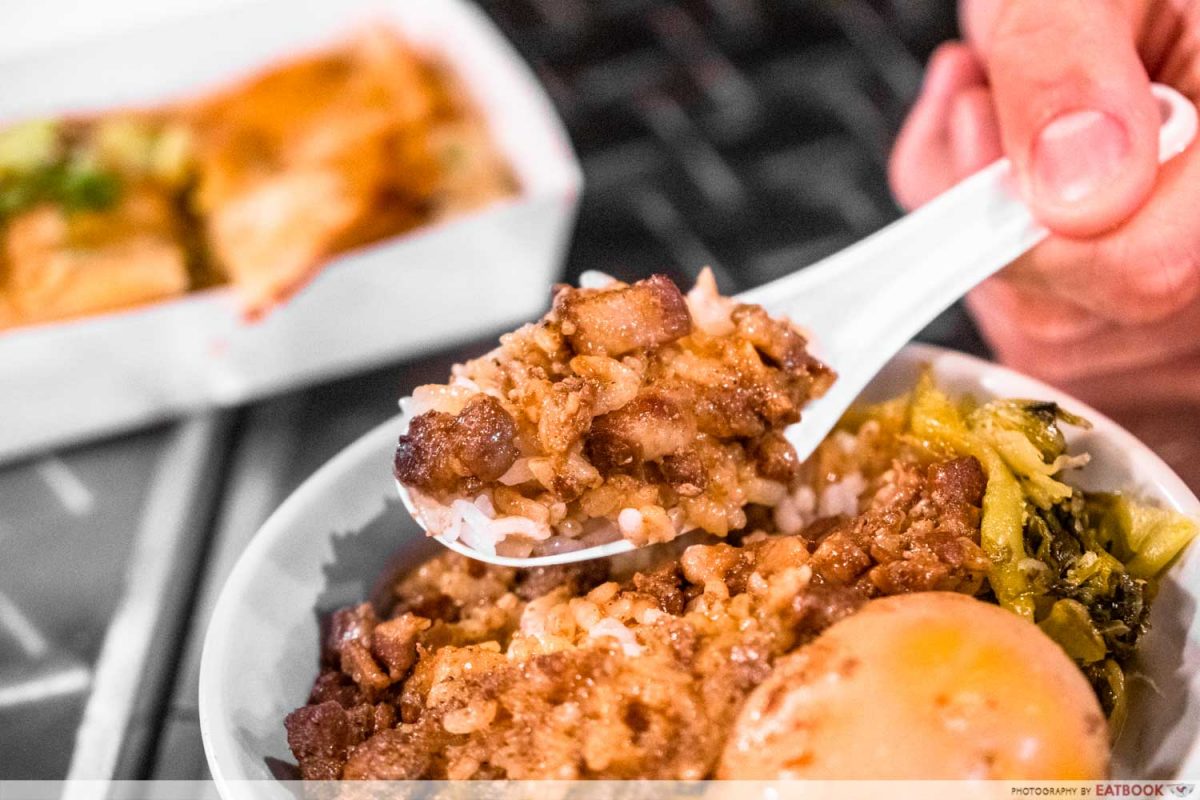 To be very honest, it didn't have any standout ingredients, so I was able to fully focus on the integral elements of the dish, such as the braised pork belly and egg. Unfortunately, the pork belly wasn't as tasty as I'd expected it to be, and it had an overwhelming saltiness. 
Once again, the pickled vegetables carried an otherwise pretty tasteless and mediocre lu rou fan experience for me.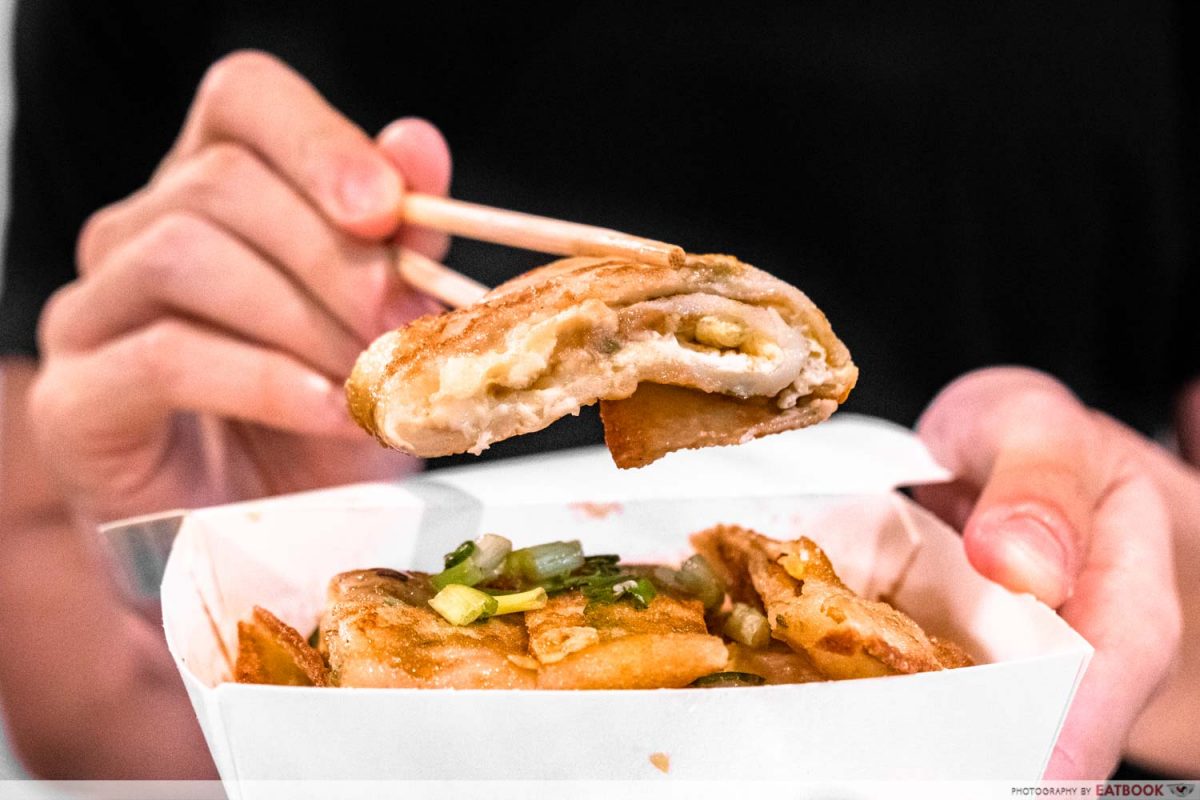 Still feeling peckish, I decided to fatten myself up even more by going for the Taiwanese Cheese Egg Crepe Pancake ($6.90), which turned out to be my favourite pick of the lot. A thin egg pancake is wrapped around gooey melted cheese, with a generous amount of sweet sauce lathered over it.
The egg crepes are slightly crispy on the outside, but are soft on the inside, going well with the rich melted cheese. The sauce does have notes of savouriness in it, though its sugariness can be quite overpowering,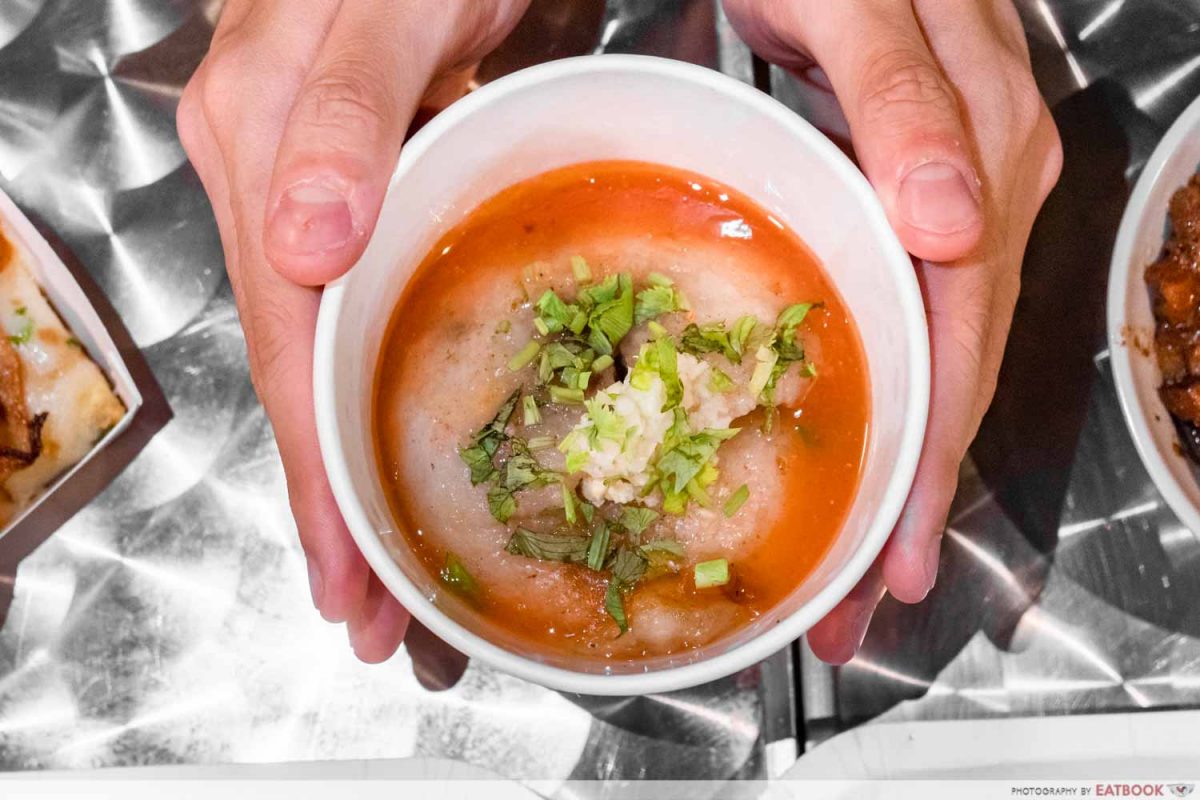 I also got to try the Taiwanese Style Meatball ($5.90), a delicacy that isn't readily available here. Looking more like a larger version of soon kueh, the external layer of the meatball is a mixture of sweet potato starch and rice flour, while the interior consists of fillings like pork and bamboo shoots. It's further garnished with ginger and cilantro for good measure too.
20 Korean Fried Chicken Delivery Services During This Stay-Home Period
Ambience at Big Mouth Eat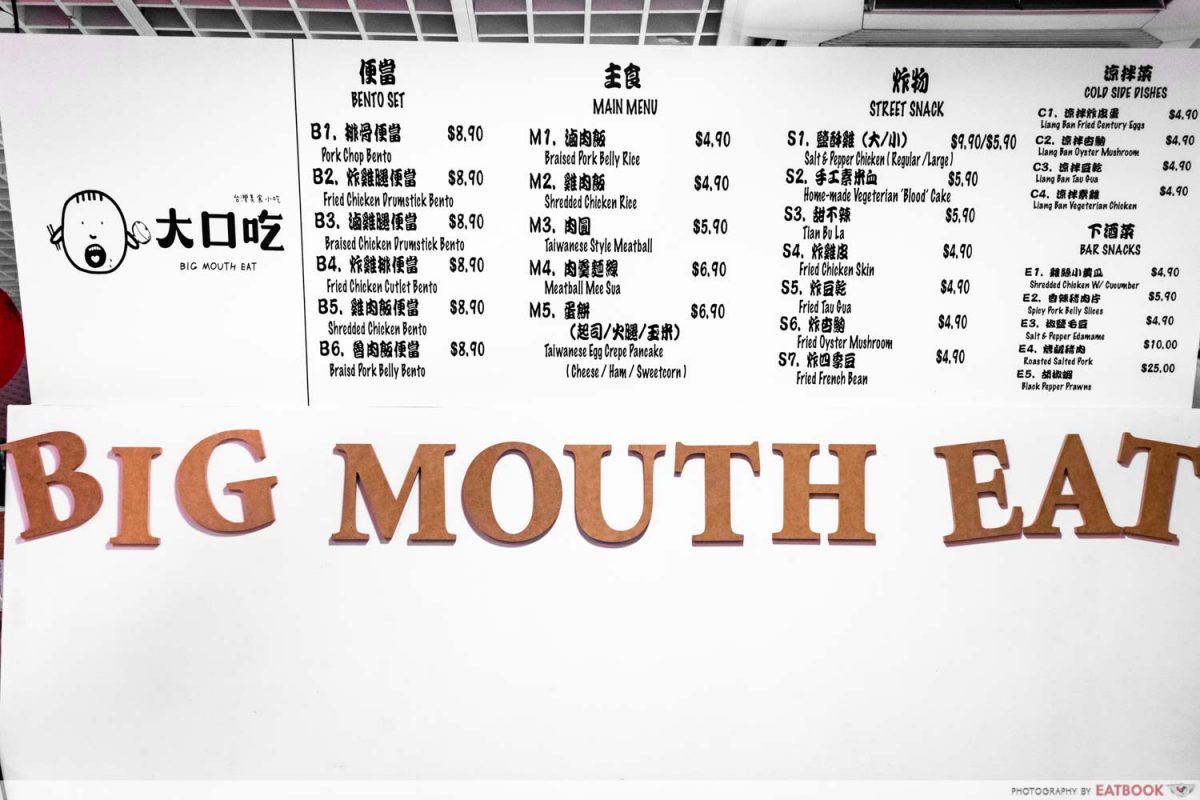 Situated in the Havelock 2 mall, Big Mouth Eat is a treat for office workers around the area, who flock to the stall during lunch times to get their Taiwanese food fix. A five-minute walk from Clarke Quay MRT Station, its convenient location alone can be its selling point.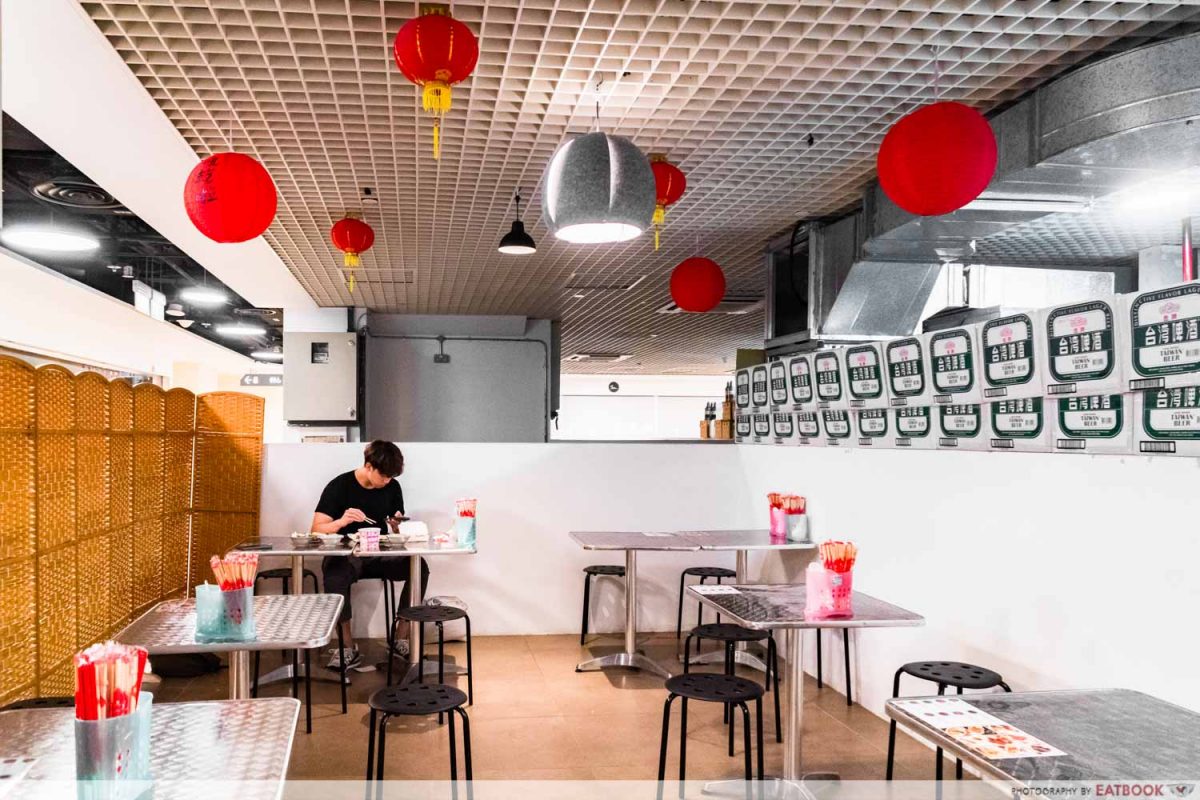 They include dine-in options over here, though their seating reminds me more of a Taiwan roadside eatery more than anything. Though dimly-lit, the stall exudes a cosy vibe, with chill Mandopop music playing in the background and evenly spaced out seats.
The verdict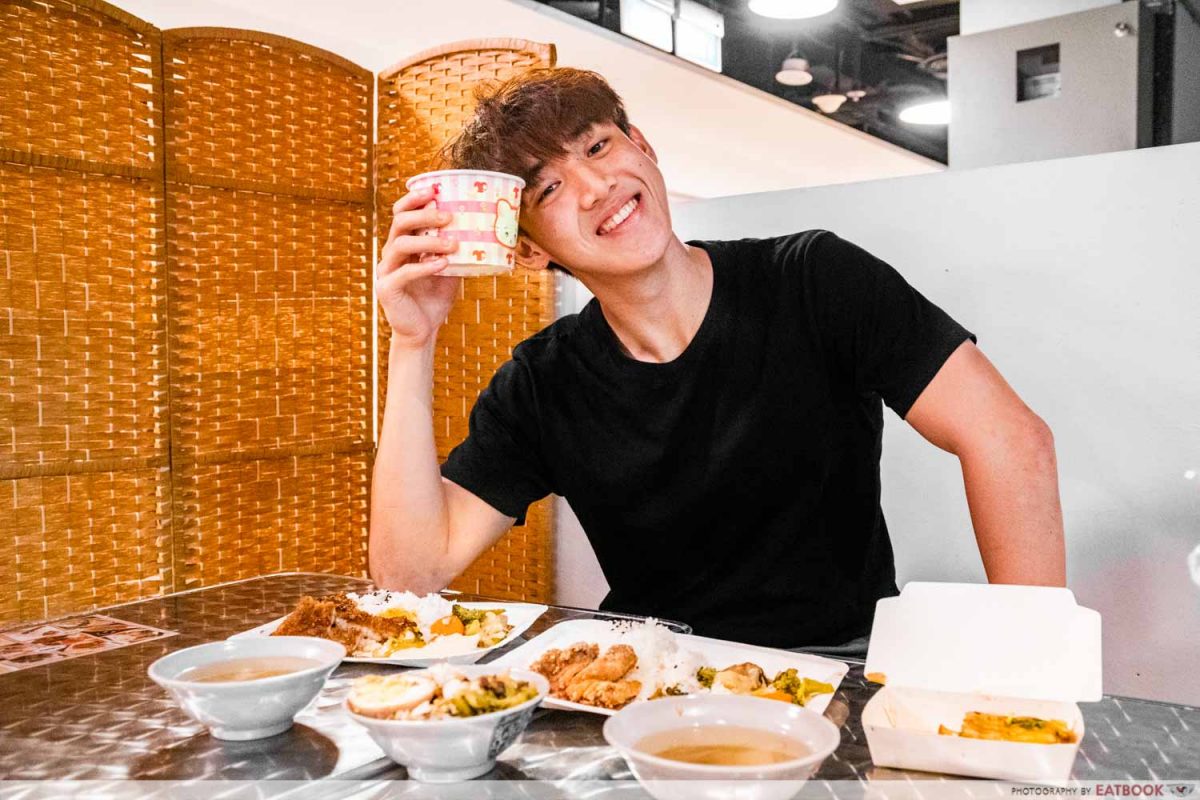 For a rather authentic, no-frills Taiwanese food option, go for Big Mouth Eat, especially considering how accessible it is. Their bento sets are value for money, tasty, and have variety, with the Pork Chop Bento being a potential crowd favourite. Though their lu rou fan was pretty underwhelming, I'd say give their other menu items a go, as most of their dishes are hearty and are reminiscent of the Taiwanese goodness we don't have access to right now.
For more places with dishes to transport you abroad, check out our Haengbok Cakeyo review for a new Korean bakery in the Outram Park neighbourhood with fat macarons and chewy Korean cookies. There is also our guide to Korean cafes that will transport you to Seoul, all of which have takeaway fare.
Address: 2 Havelock Road, #B1-22, Havelock 2, Singapore 059763
Opening hours: Daily 11am to 9pm
Tel: 8223 9115
Website
Big Mouth Eat is not a halal-certified eatery
Haengbok Cakeyo Review: New Korean Bakery For Thick Cookies, Bento Chiffon Cakes, And Fat Macarons
Photos taken by Chew Yi En.
This is an independent review by Eatbook.sg.
Big Mouth Eat Review: Affordable Taiwanese Bento Sets, Lu Rou Fan And Street Snacks At Clarke Quay
Summary
Pros
– Bento sets are affordable and hearty
– Egg crepe pancakes go well with the sweet sauce
Cons
– Braised Pork Belly Rice was rather dry and bland
– The pork chop can dry up and harden pretty fast
Recommended dishes: Pork Chop Bento ($8.90), Taiwanese Cheese Egg Crepe Pancake ($6.90)
Opening hours: Daily 11am to 9pm
Address: 2 Havelock Road, #B1-22, Havelock 2, Singapore 059763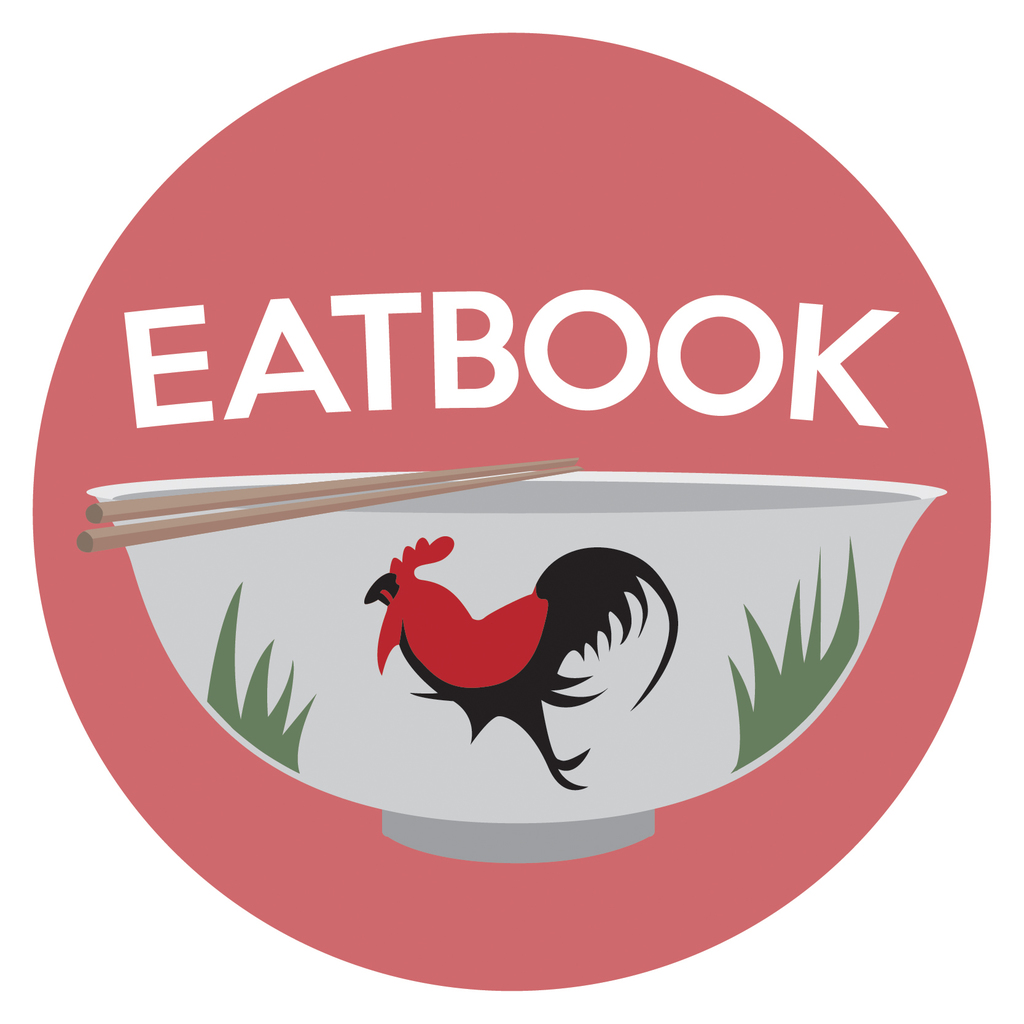 Drop us your email so you won't miss the latest news.