Half the price at Hao Lai Ke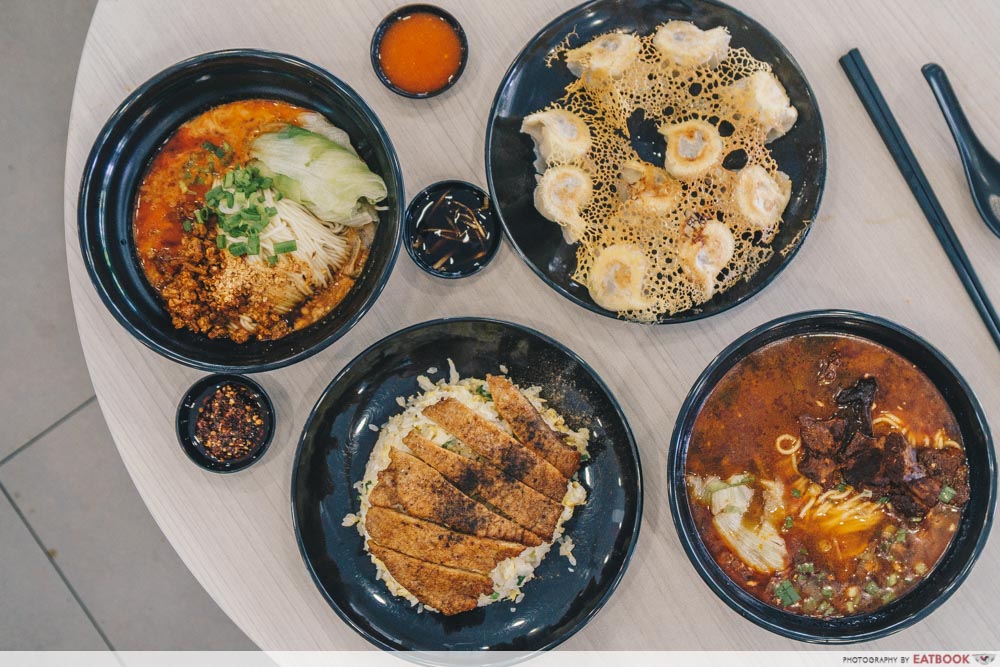 Community is important. And we thank the reader-turn-informant who slid into our Facebook DM with a picture of Hao Lai Ke's brochure. I knew I had to check it out for myself, as the food looked strikingly similar to what was served at Din Tai Fung.
Food at Hao Lai Ke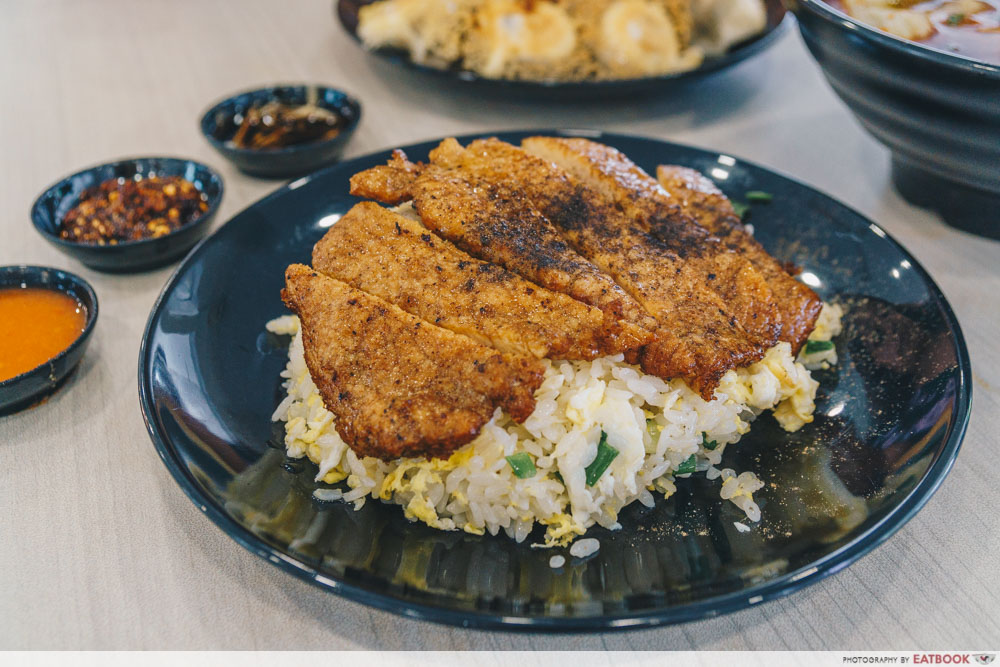 Similar to when I'm at Din Tai Fung, the Pork Ribs Fried Rice is the first thing I would order. A plate at Hao Lai Ke sets you back only $6 nett.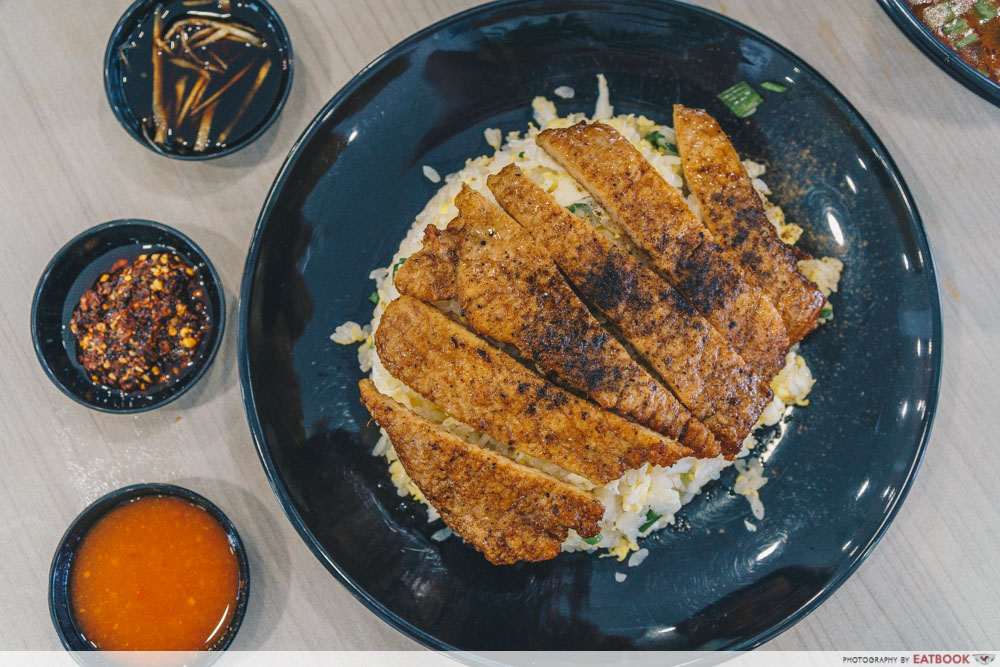 If you placed the same dish from both stores in front of me, I wouldn't be able to tell the difference. From the size of the pork chop to the shape of the rice grains, the plate before us looked exactly like the one from Din Tai Fung.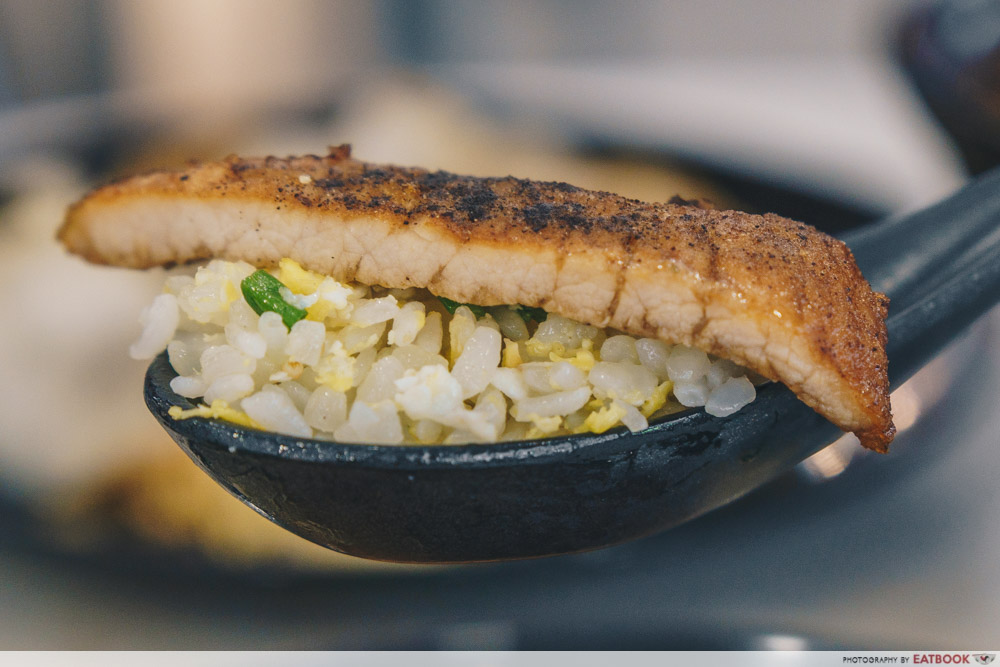 The only tell-tale difference – upon closer inspection – is that the pork chop here is relatively thinner. Taste and texture wise, everything was on point. Your first bite into a slice of pork is full of umami goodness. It's robustly seasoned then fried, before being lightly seasoned again with extra black pepper for a kick of heat at the back of the throat.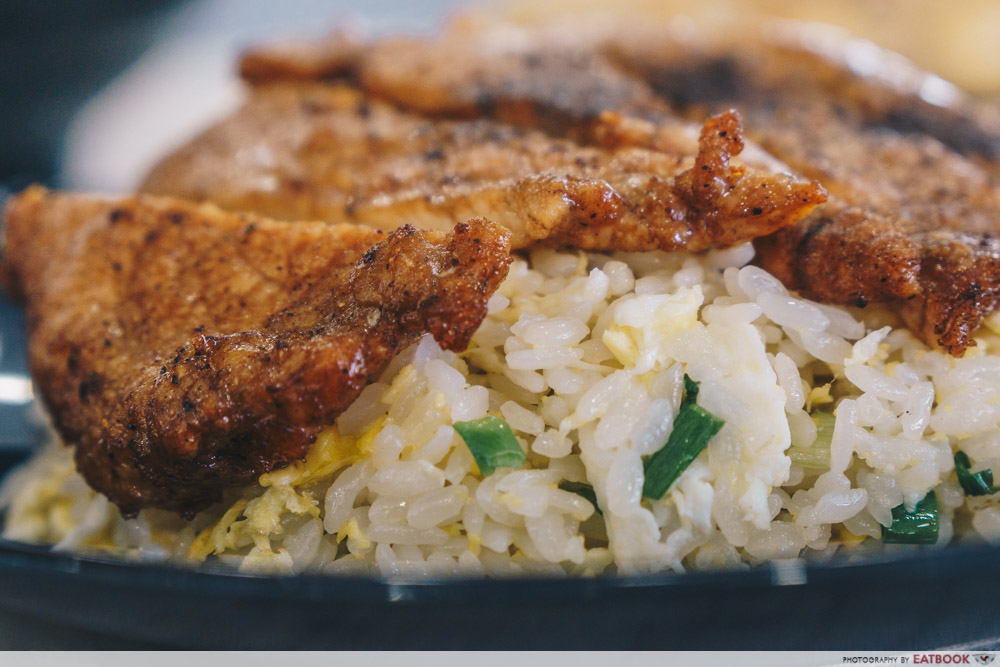 I love how short grain rice is used. These fat pearls of rice have a stickier texture when cooked, giving each spoonful a better mouthfeel. When fried with egg bits and chopped spring onion, it is a killer combo to my Chinese soul.
Supreme Ramen Xiao Long Bao Review: Hawker La Mian and Dumplings By An Ex-Crystal Jade Chef
The fried rice with pork chop is one of Din Tai Fung's most emblematic dishes. The success of the chef-owner's ability to recreate the dish, within the constraints of his humble business venture, only promised more good food to come.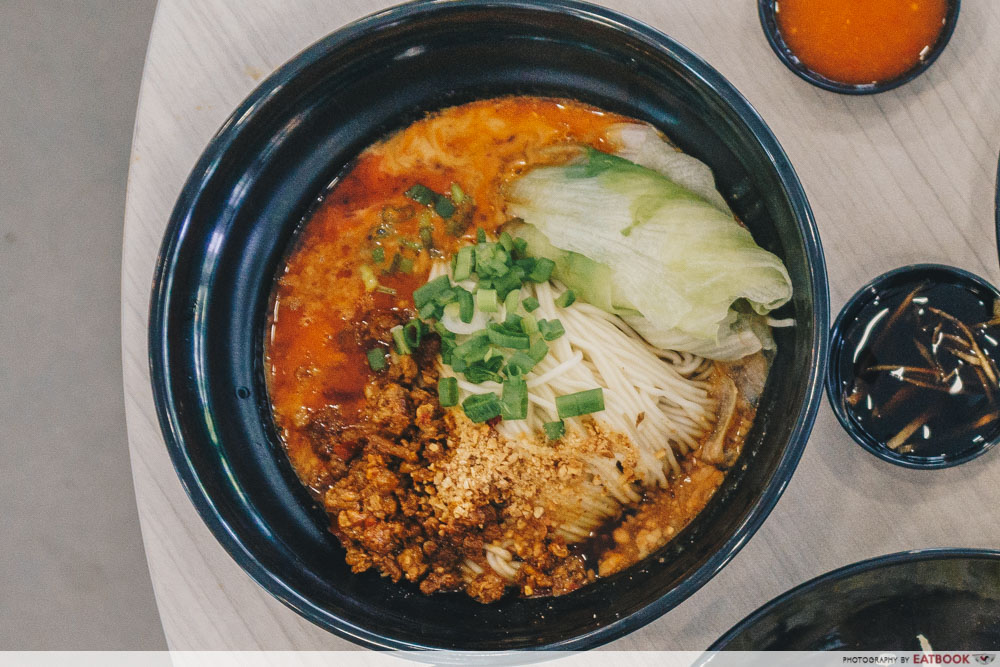 Dan Dan Noodle ($4.50) is prized as Hao Lai Ke's signature dish, marked by a thumbs up on the menu. It comes with a colourful splash of orange chilli oil, powdered peanuts, poached cabbage, and generous servings of minced meat and noodles; easily surpassing Din Tai Fung's Dan Dan Mian in terms of presentation, toppings, and portion.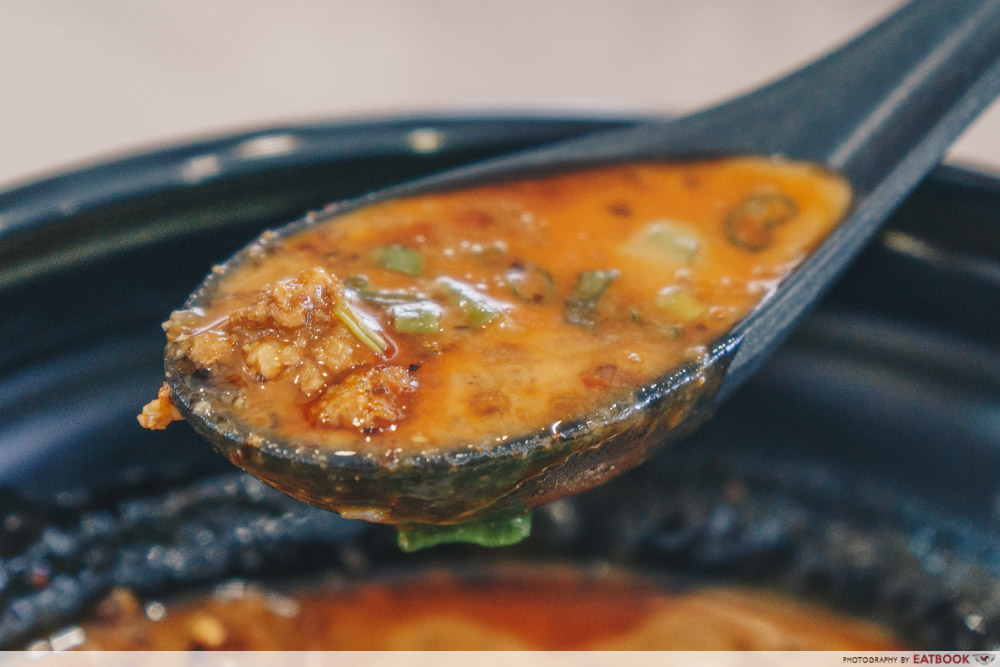 The smell and colour of the gravy got me drooling at first sight. They definitely did not skimp on the peanut sauce, giving the mountain of la mian a good drench.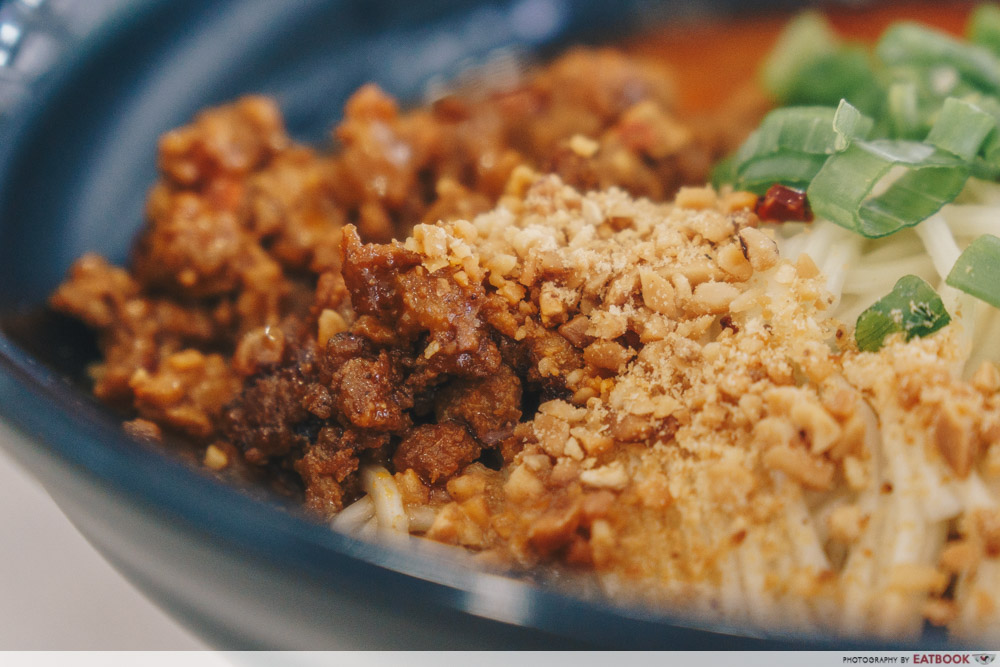 The sauce boasts an aromatic nuttiness, with a porky flavour from the braised minced meat taking a back seat. Those who can't take spice might want to give the Dan Dan noodle a pass, as the douse of chilli oil gives quite a spicy kick.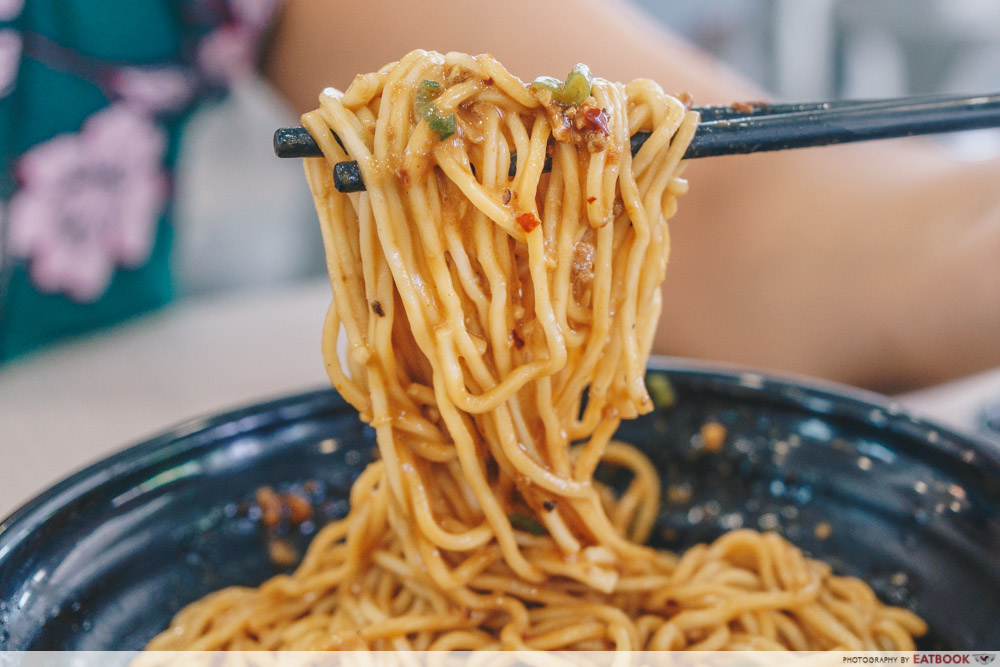 Make sure to give the bowl a good mix to evenly coat every strand of noodles with the mouth-watering sauce.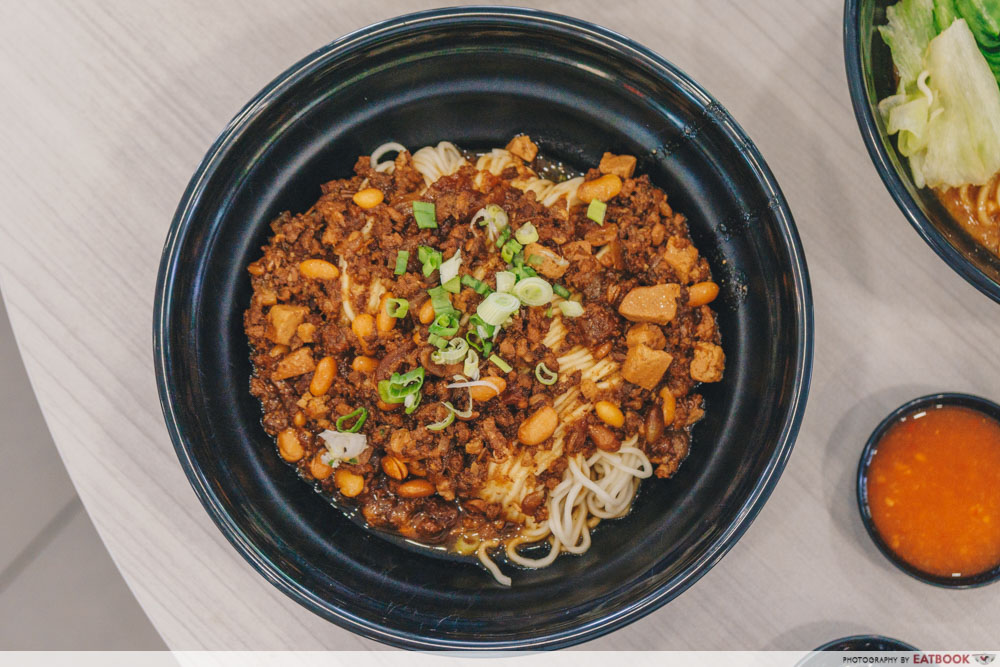 Another noodle dish worth a try is their Bean Paste Minced Noodle ($4.20). Better known as zha jiang mian, this dish features a bed of la mian with a heavy-handed ladle of meat gravy atop.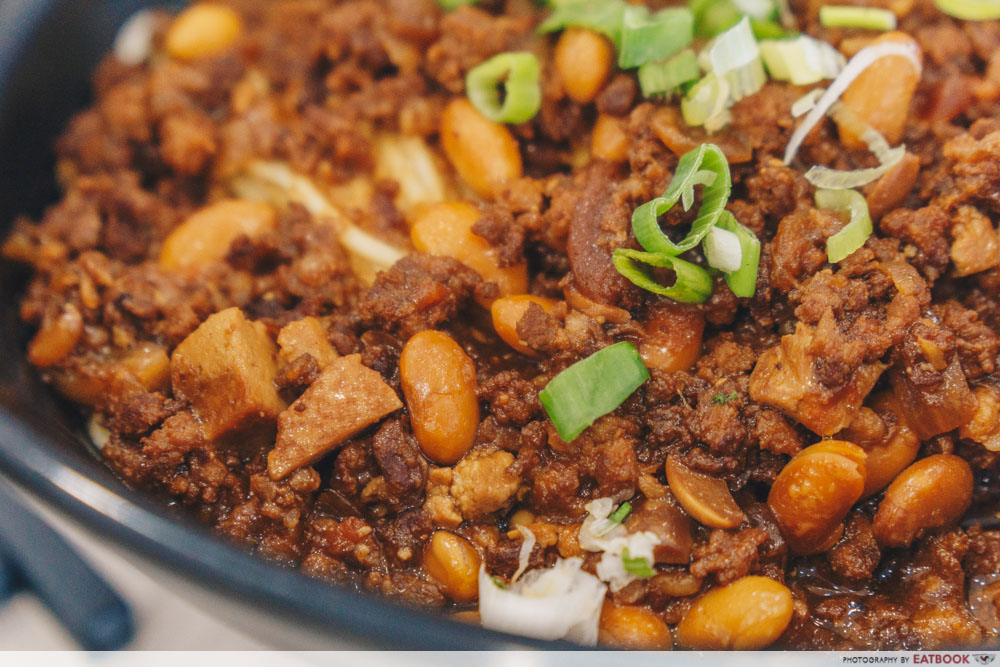 Many places serve a thick zha jiang sauce by adding a pinch of cornflour. In my opinion, the thick and gooey liquid doesn't sit well on the la mian. Like the one offered here, I prefer a sauce with an overload of ingredients, simmered down naturally to a thick consistency.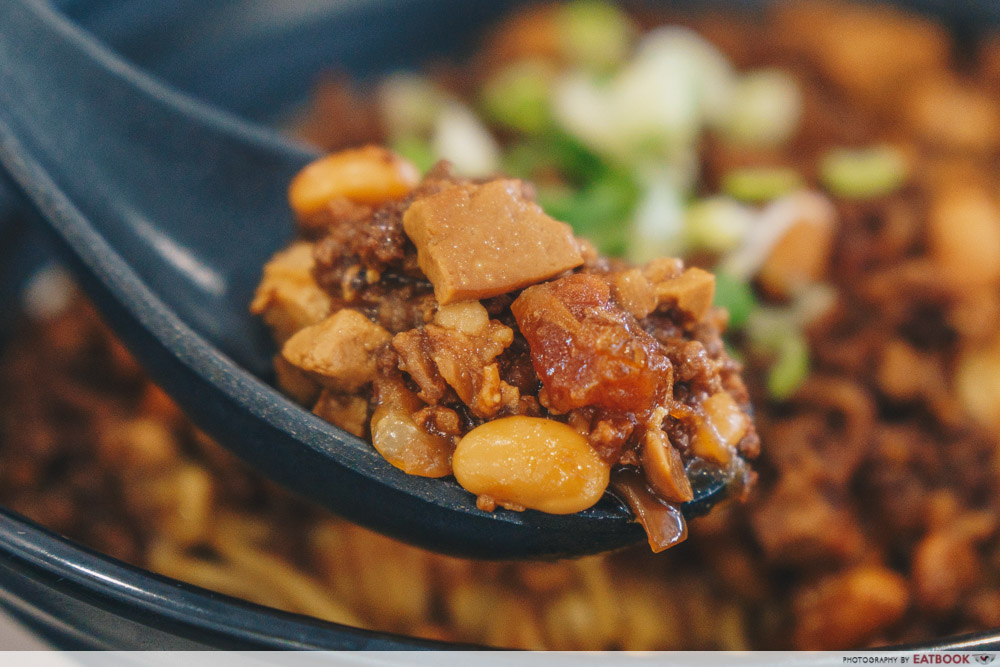 A scoop of the sauce gets you a bit of everything in the mix. There's crunch from the soybean; flavour from the tofu and meat; and sweetness from diced radish, which was stewed till soft. Mop up the intensely flavoured sauce with a spoonful of la mian for a satisfying meal.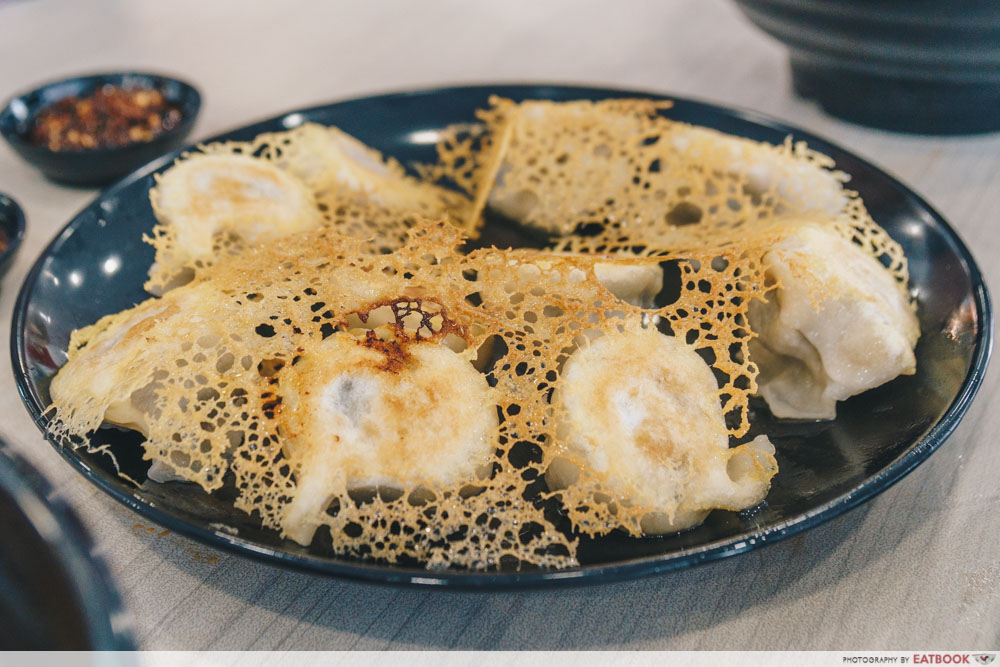 To my dismay, Hao Lai Ke doesn't have xiao long bao in their menu. If, like me, you want to satisfy your XLB cravings, order a plate of Fried Dumplings. You will get 10 dumplings for $5, giving you a good bang for your buck.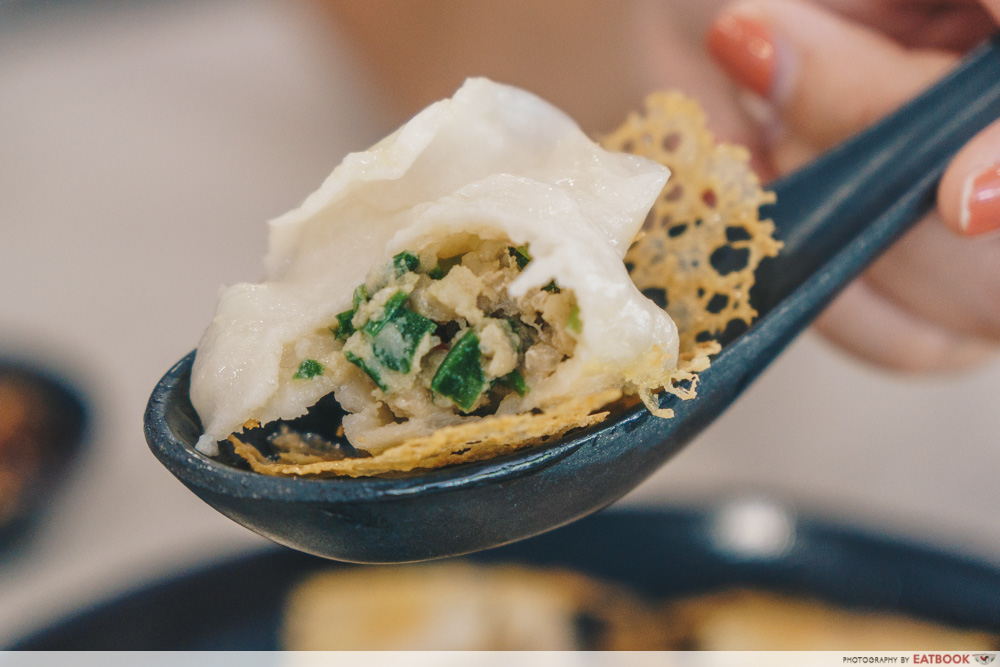 The lattice pattern sadly gave little crunch, as compared to the one I had at Hao Wei Lai. The dumpling skin was slightly thick, masking the filling with the taste of flour. I suggest sticking to the noodle and rice mains at Hao Lai Ke instead.
Hao Wei Lai Review: Cheap And Good Xiao Long Bao And Guo Tie At Bukit Merah
Ambience at Hao Lai Ke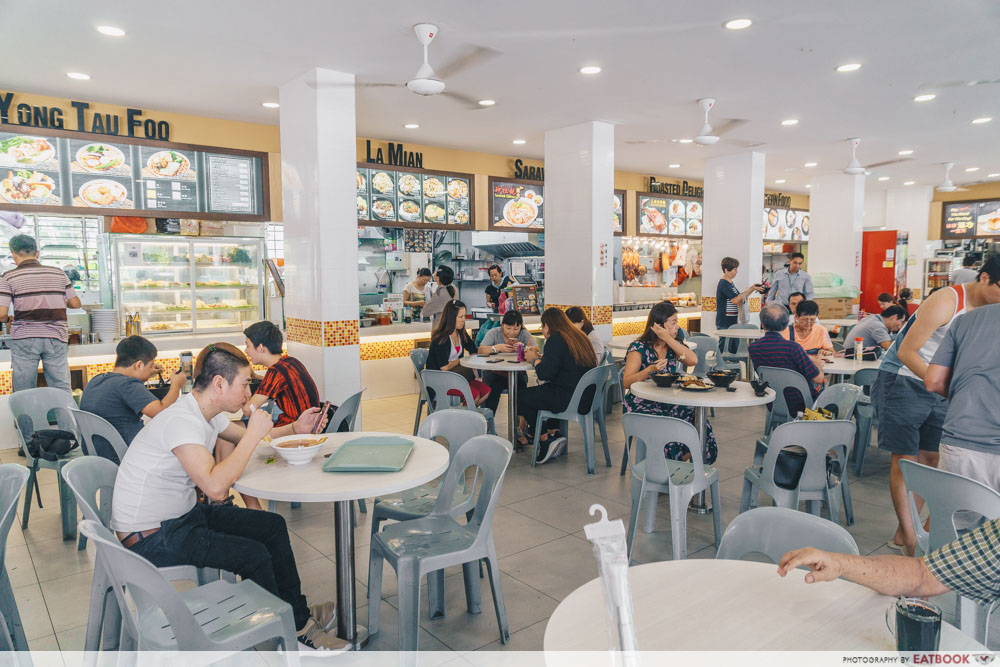 I have never actually explored this part of Singapore before, but finding Hao Lai Ke was a breeze with the help of Google Maps. Located just a stone's throw away from Bedok MRT station, the stall is tucked in a food court which looks relatively new and well-maintained.
The verdict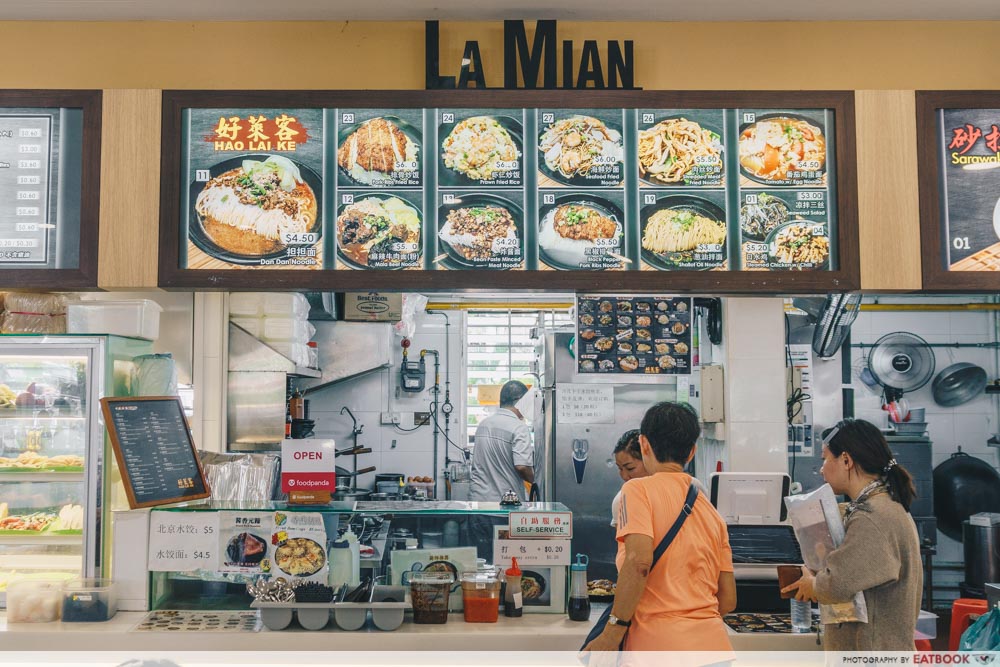 I have to say I was impressed. The food might look and taste similar to what is served at Din Tai Fung, but it also has its own rustic flair. Every dish came in generous portions. The prices were very reasonable, making it easy to over order because of its value for money.
Address: 204 Bedok North Street 1, #01-393, Singapore 460204
Opening hours: Daily 11am to 9pm
Tel: 9673 5517
Hao Lai Ke is not a halal eatery.
Photos taken by Ho Jing Yi.
This is an independent review by Eatbook.sg.
Summary
Pros
– Extensive menu
– Generous portions
– Value for money
– Convenient location
Cons
– Hard to find seats during mealtimes
Recommended Dishes: Pork Ribs Fried Rice ($6), Dan Dan Noodle ($4.50)
Opening hours: Daily 10.30am to 10pm
Address: 204 Bedok North Street 1, #01-393, Singapore 460204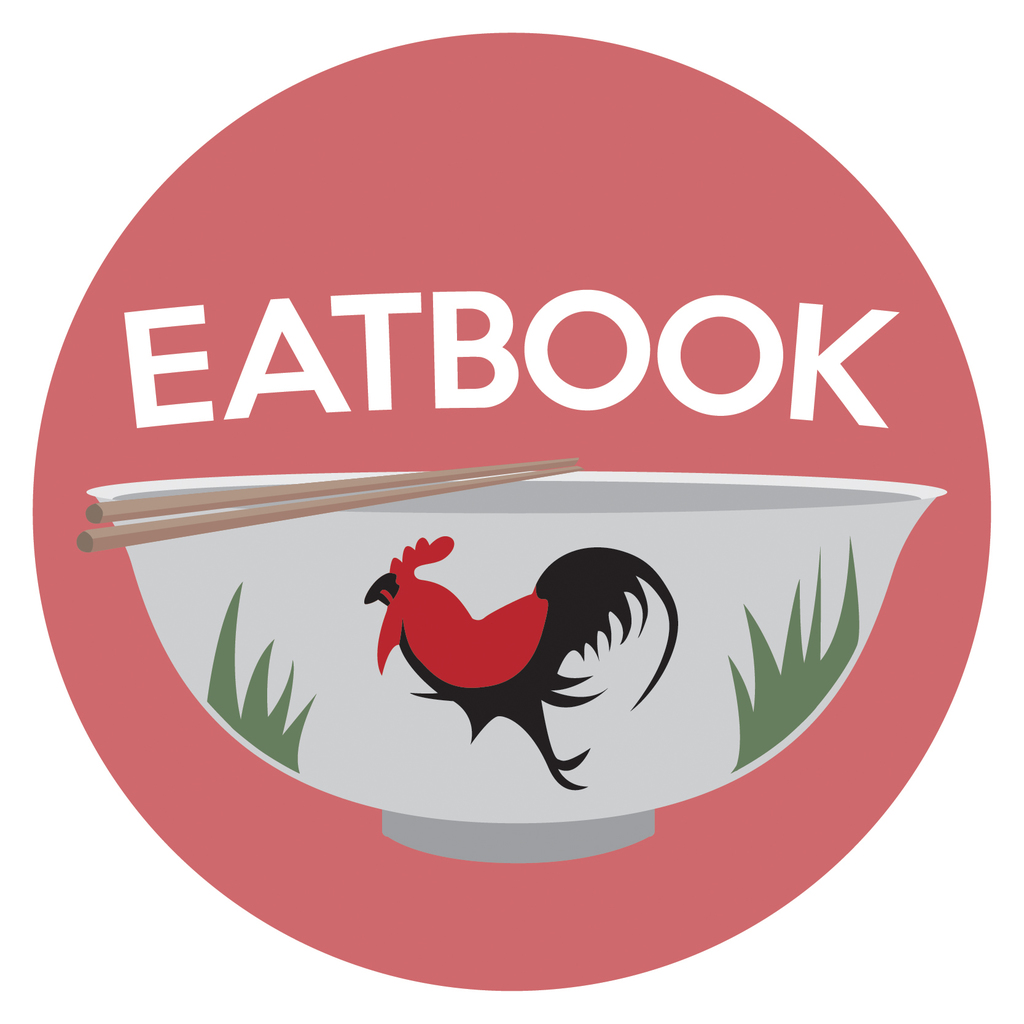 Drop us your email so you won't miss the latest news.