Rong Xing La Mian Xiao Long Bao has $0.60 dumplings in Redhill
I've often been bitten by my decision to order dumplings at hawker stalls, finding myself disappointed by thick, floury skins and overly porky-tasting fillings. On a visit to Redhill Food Centre recently, however, I discovered Rong Xing La Mian Xiao Long Bao, which is popular for their $0.60 dumplings and spread of noodle dishes—and concluded that all is not lost.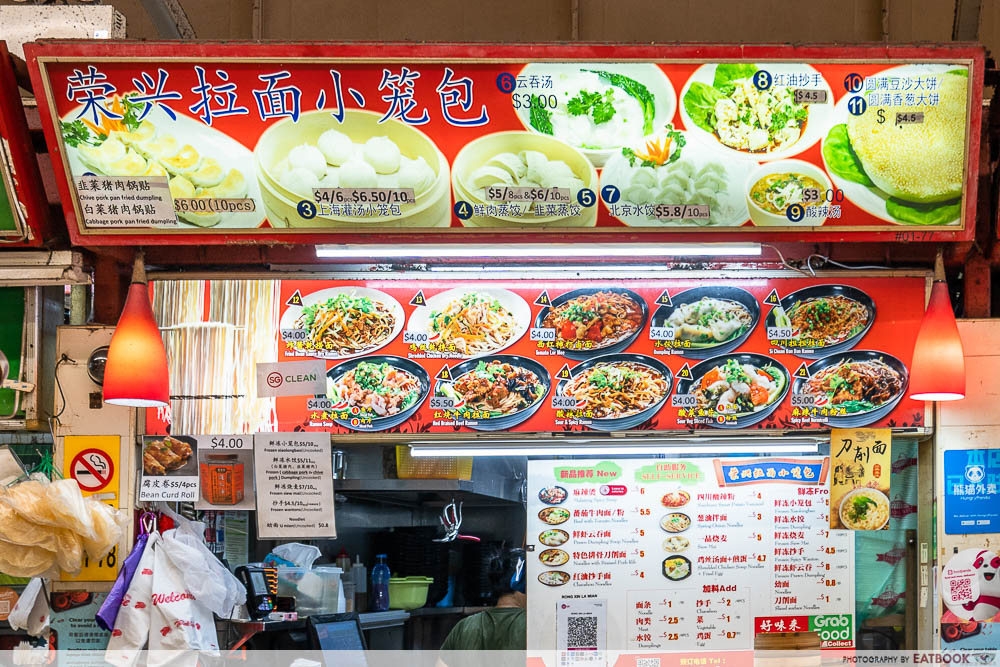 There is quite an extensive menu at the stall, which operates from 9:30am every day, so if dumplings for breakfast is your jam, this one's for you. While the noodles and dough are not made on the premises, the dumplings and xiao long bao are wrapped here.
Tian Jin Fong Kee Review: Popular Handmade Dumplings With A 74-Year History
Food at Rong Xing La Mian Xiao Long Bao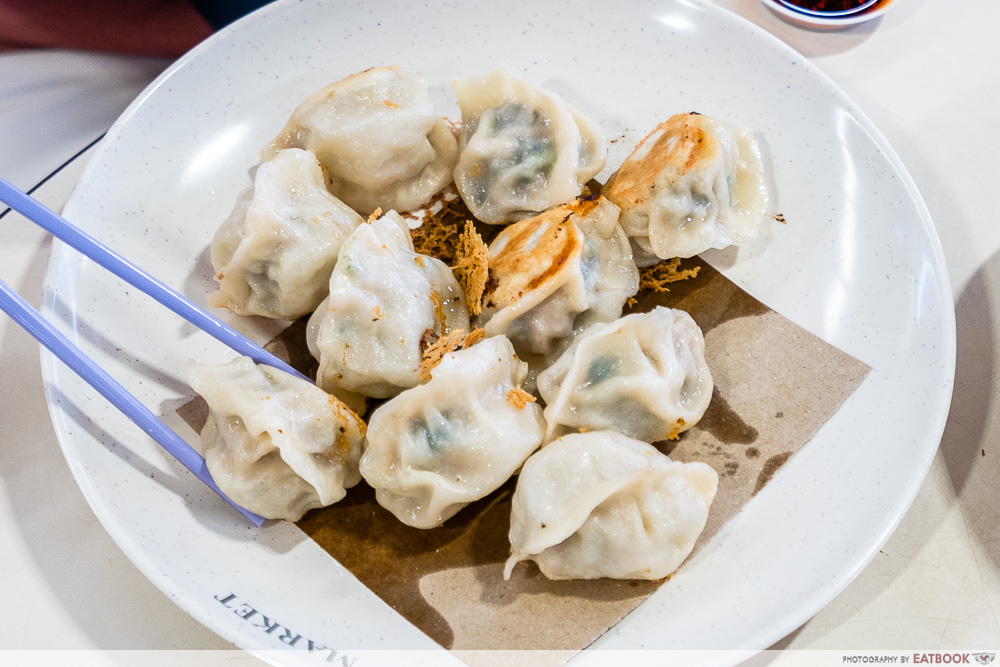 We started with their Chive Pork Pan Fried Dumpling ($6 for 10), which came piping hot. There's also a Cabbage Pork version, which I would love to come back on a separate occasion for.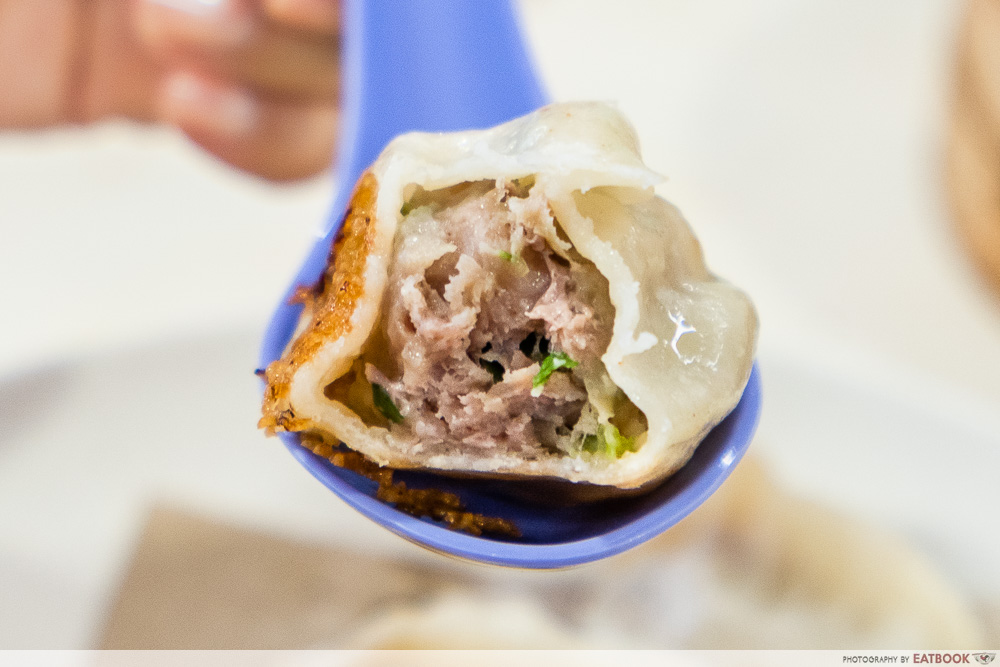 It was a pity that biting into this didn't reveal any scalding zhup within, but the skin of this guo tie was quite pleasantly thin, with a chunky lot of tasty chive-pork filling.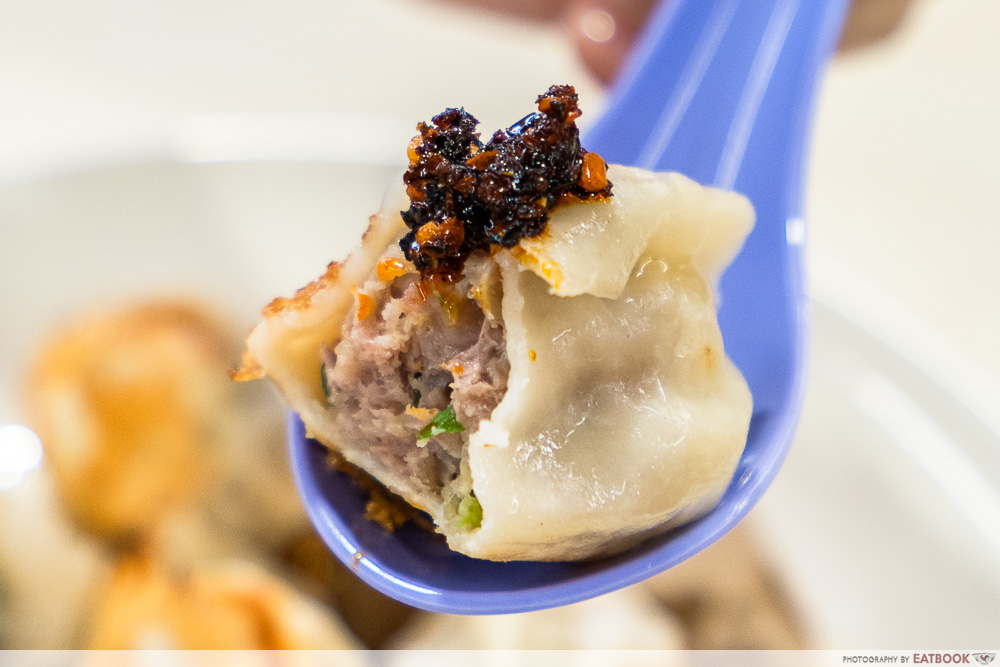 Pair it with some of their house-made chilli, and buy yourself some to bring home at just $4 a bottle. If you find that too much of the pork filling is too jelak, the spice, plus vinegar, does cut through it.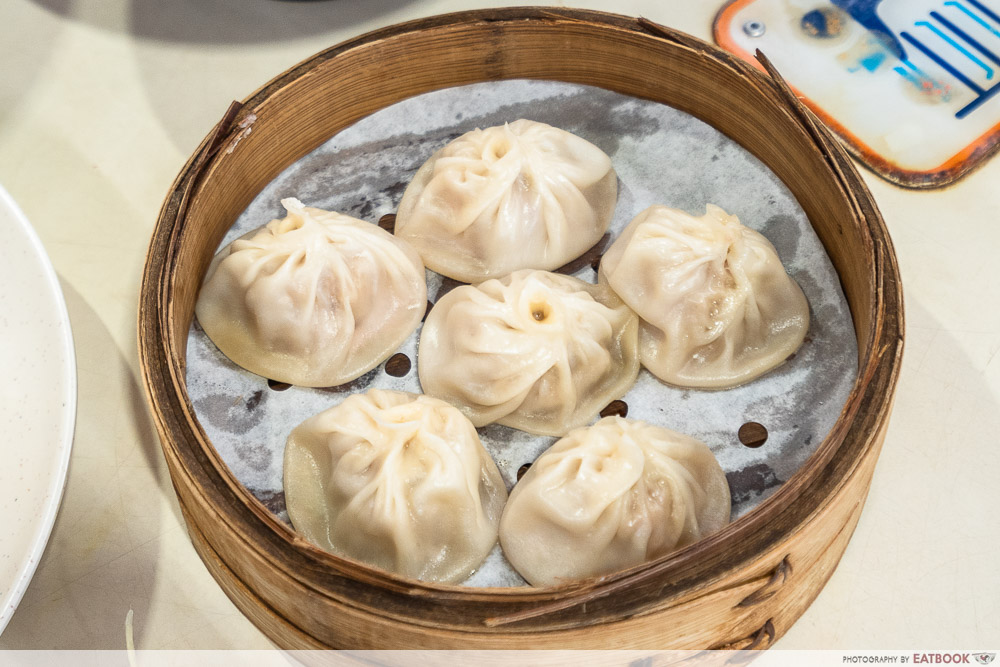 We also ordered a basket of Xiao Long Bao ($4 for six), which works out to $0.67 a dumpling. If you order a basket of 10, that goes for $6.50, or just marginally cheaper a piece.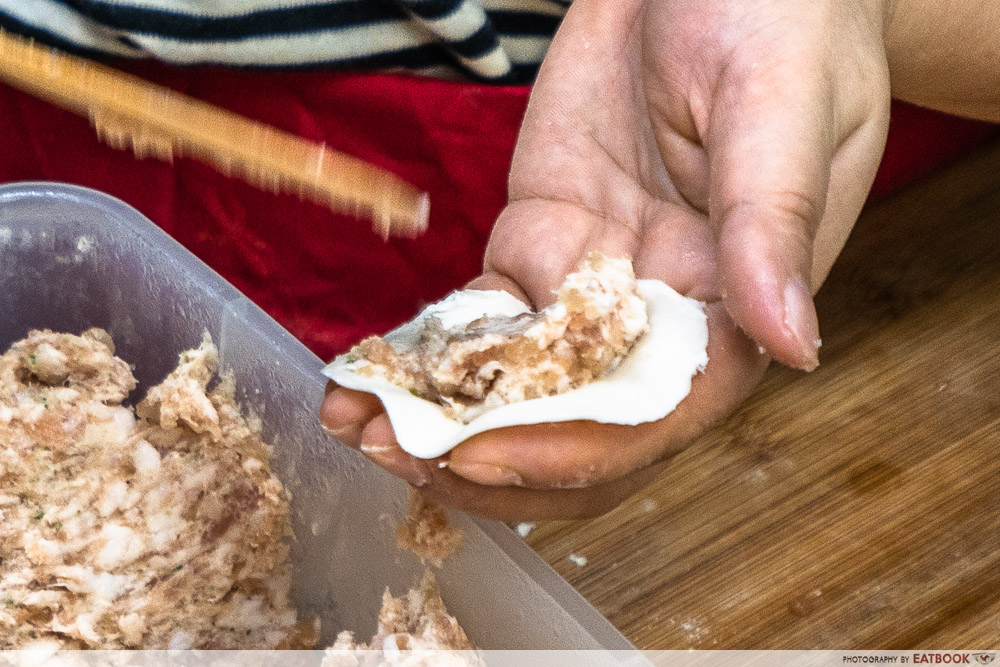 Each dumpling is wrapped by hand at the stall, and generously stuffed.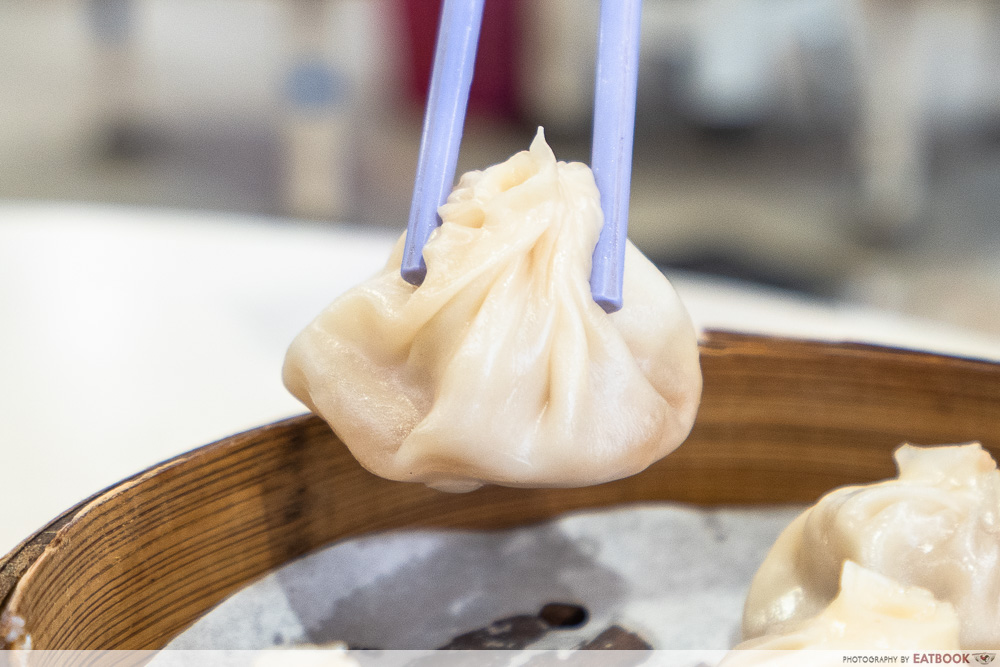 Don't come expecting translucent, paper-thin skins—these are a little more rustic than the restaurant-quality types. But the xiao long bao skins are sufficiently delicate that you can see the soup they hold.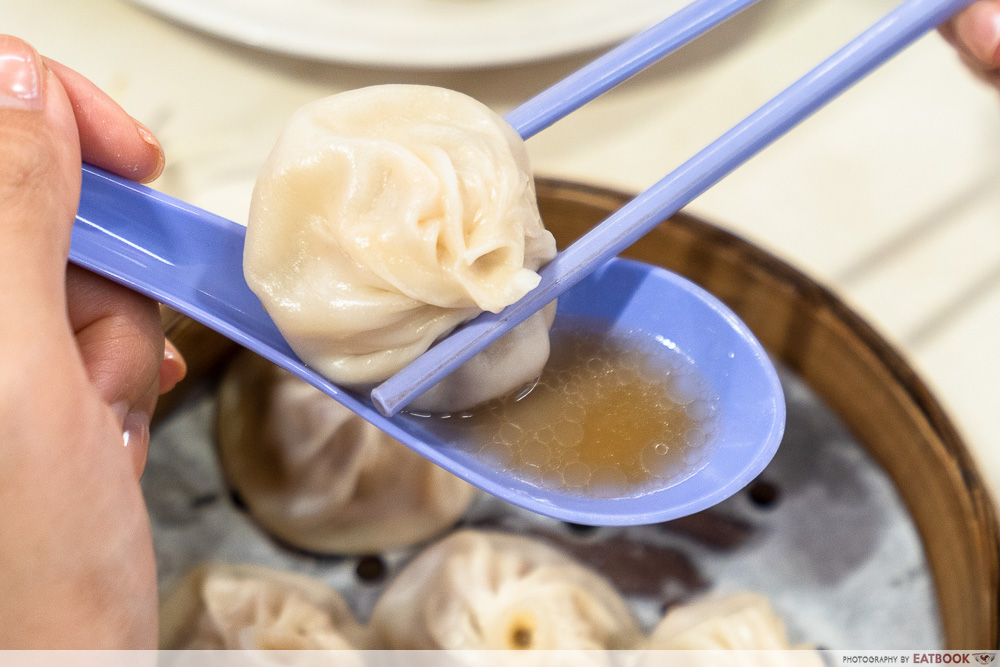 I broke a hole in one just to check, and true enough, a small flood of soup spilled out.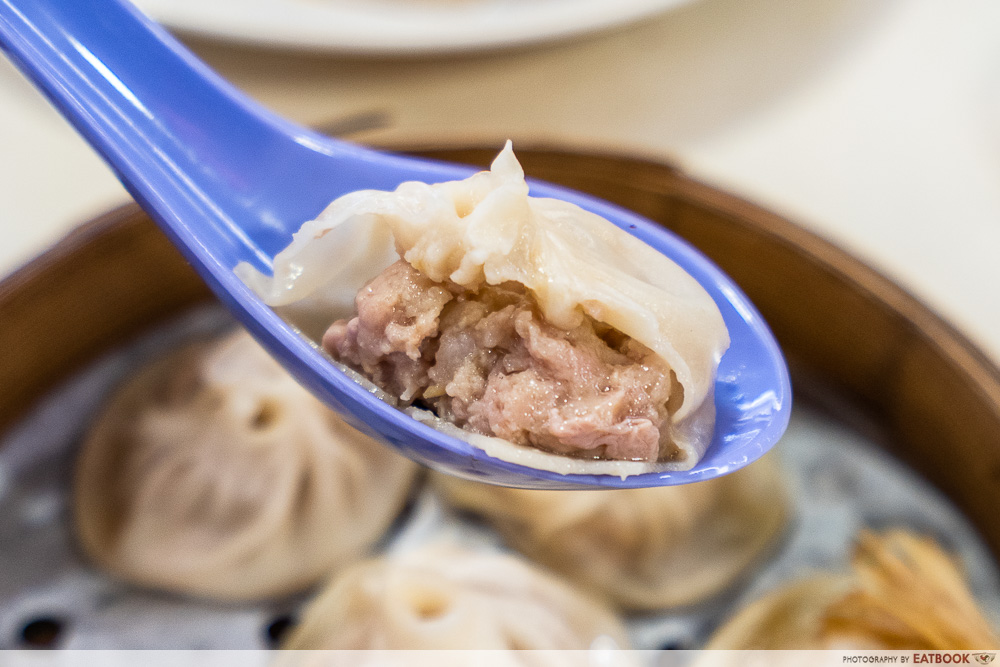 As with the guo tie, we found the pork filling well seasoned. I had a slight gripe with the tip of the xiao long bao being too thick, but at $0.67 a dumpling, I'm not going to complain.
For the ultimate experience, stack your xiao long bao with vinegared ginger and pop it all into your mouth.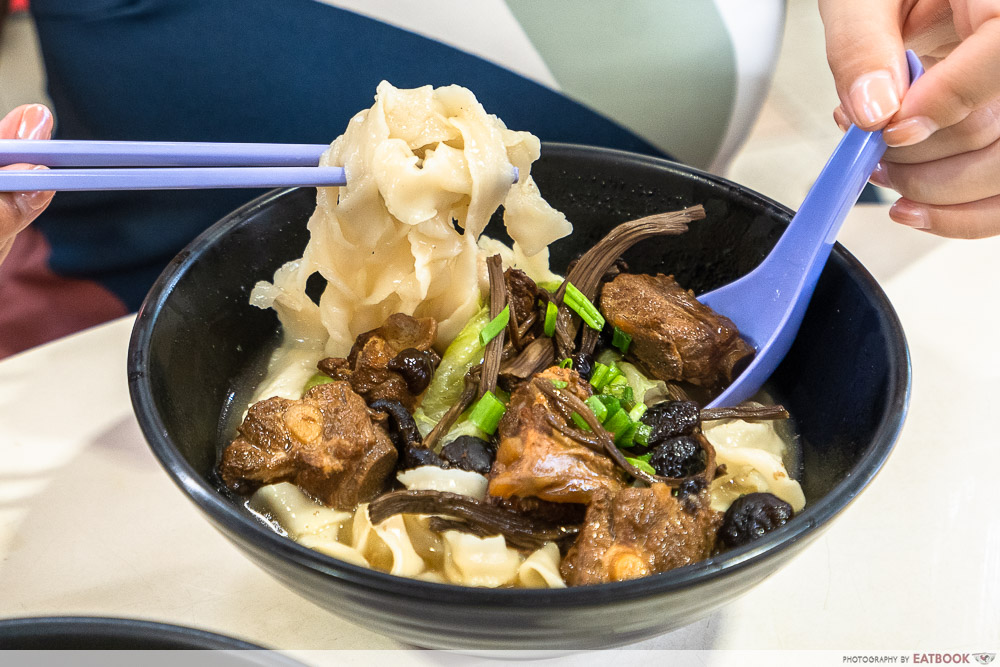 Of the 18 noodle dishes on their menu, the Noodles with Braised Pork Rib ($5) caught my eye, not least because its Chinese name read 特色排骨刀削面 (tè sè pái gǔ dāo xiāo miàn), or Special Pork Rib Noodles.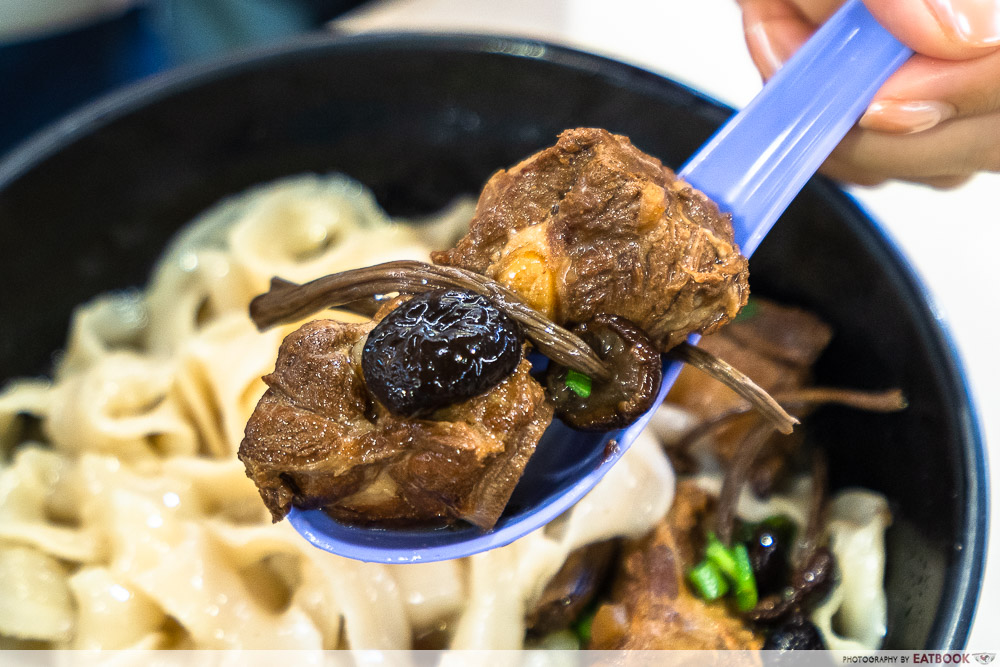 When it was served, I was surprised by the herbaceous scent that wafted off this bowl. Apart from large pieces of tender, pull-apart pork, we also found long-stemmed dried mushrooms, which had an earthy, pleasant sort of woody flavour.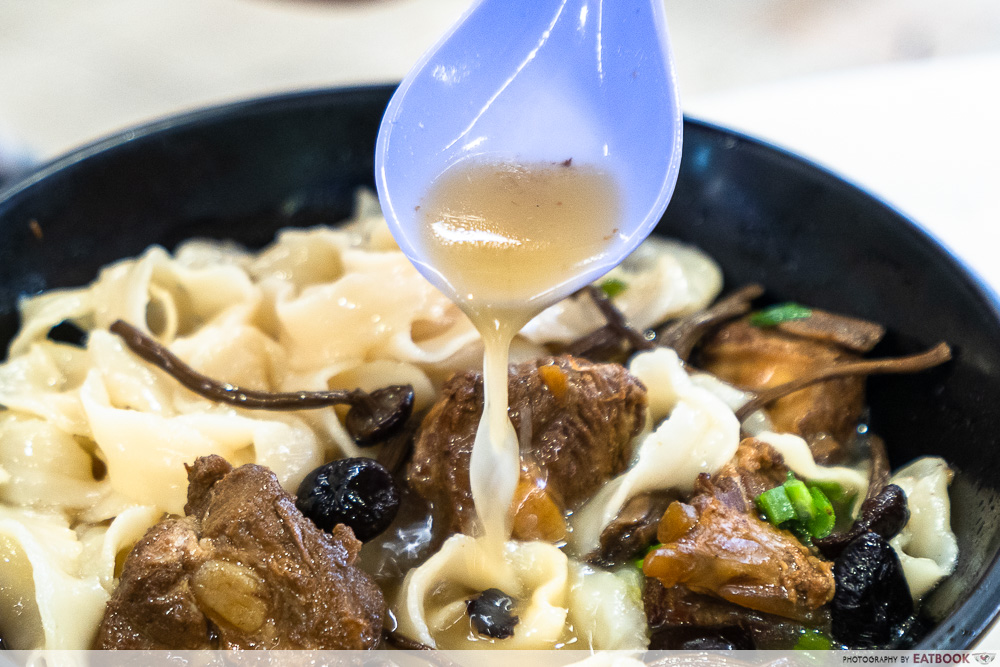 The soup tasted just as good as it smelled, though you might note that my colleagues and I aren't averse to herby tastes. We found it moreish and addictive, nicely balanced with the savoury braised pork.
I had initially thought that the broth would not be able to cling to the thick, knife-cut noodles. I was wrong—in fact, the noodles still had a nice bite even after they'd sat in the soup, and were even tastier.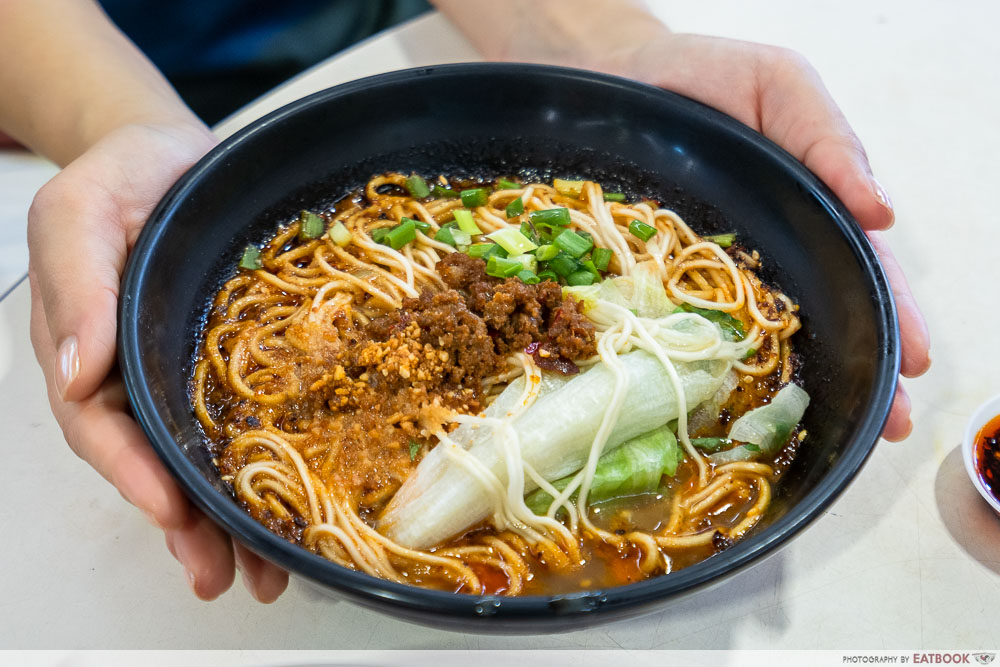 Rounding off our meal here was Si Chuan Dan Dan Ramen ($4.50), which is pretty cheap for such a large bowl of noodles.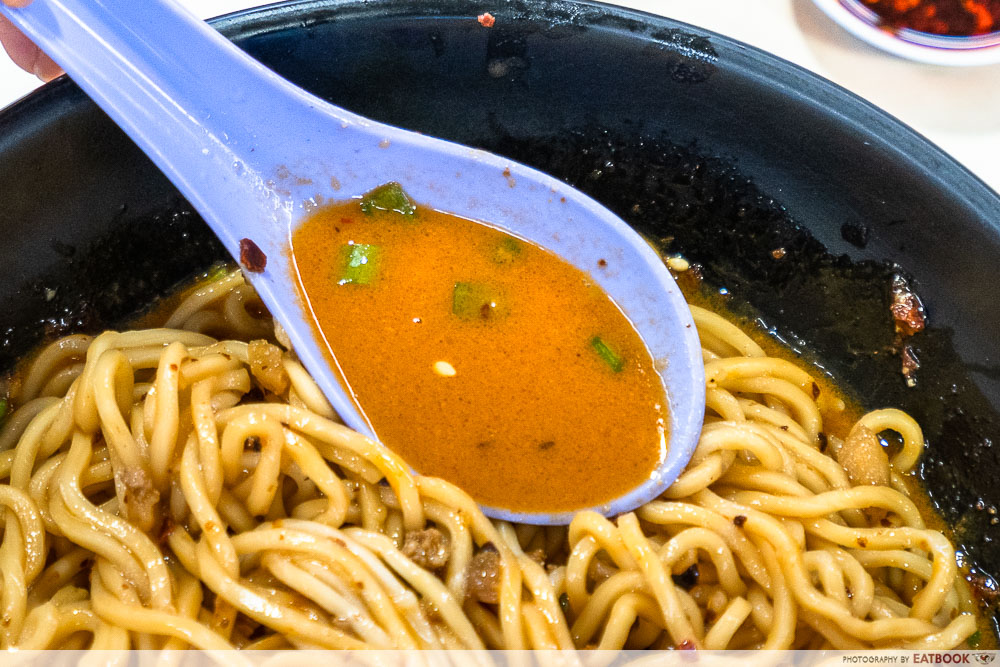 While it looked fiery, the dan dan mian broth wasn't too spicy. It wasn't viscous and thick either, though you could still taste the peanut in this.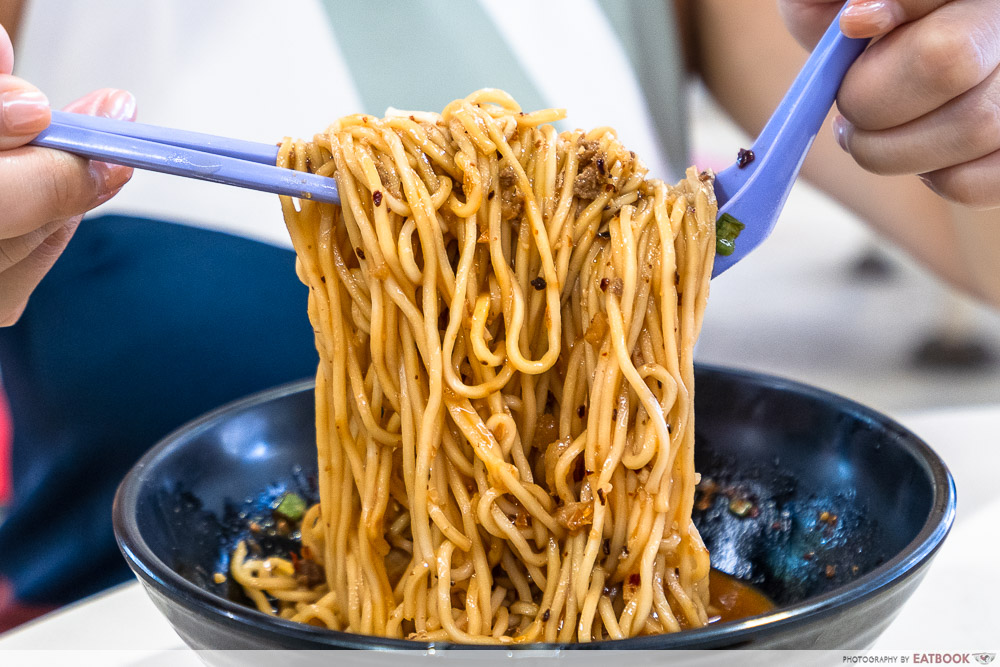 As with most dan dan mian, it's topped with some minced meat. Since these noodles are much thinner than the dao xiao mian, it's advisable to eat them with more haste, or they will get soggy.
Xin Peng La Mian Xiao Long Bao Review: $4.50 Handmade XLB, Chilli Oil Wonton And More In Clementi
Ambience at Rong Xing La Mian Xiao Long Bao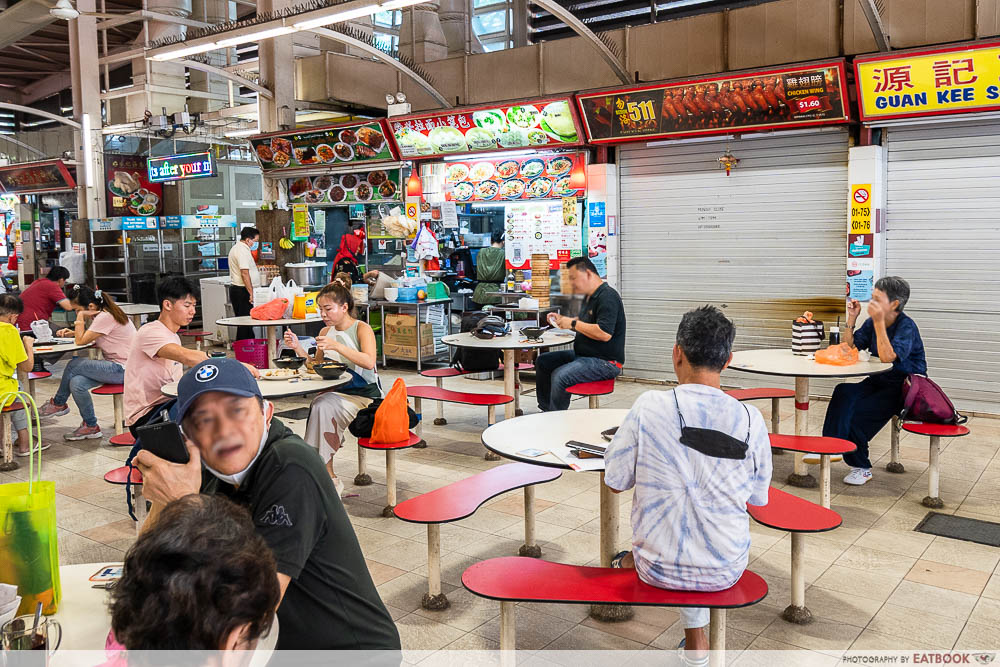 Rong Xing La Mian Xiao Long Bao is located in Redhill Food Centre, which is just four minutes away from Redhill MRT Station. The stall is located in one of the central aisles here, but the space is well-ventilated so you won't feel stuffy while dining. Even though we were there pretty early in the day, it was quite bustling with activity and many tables were taken. Consider sharing a table, or getting your meal to go!
The verdict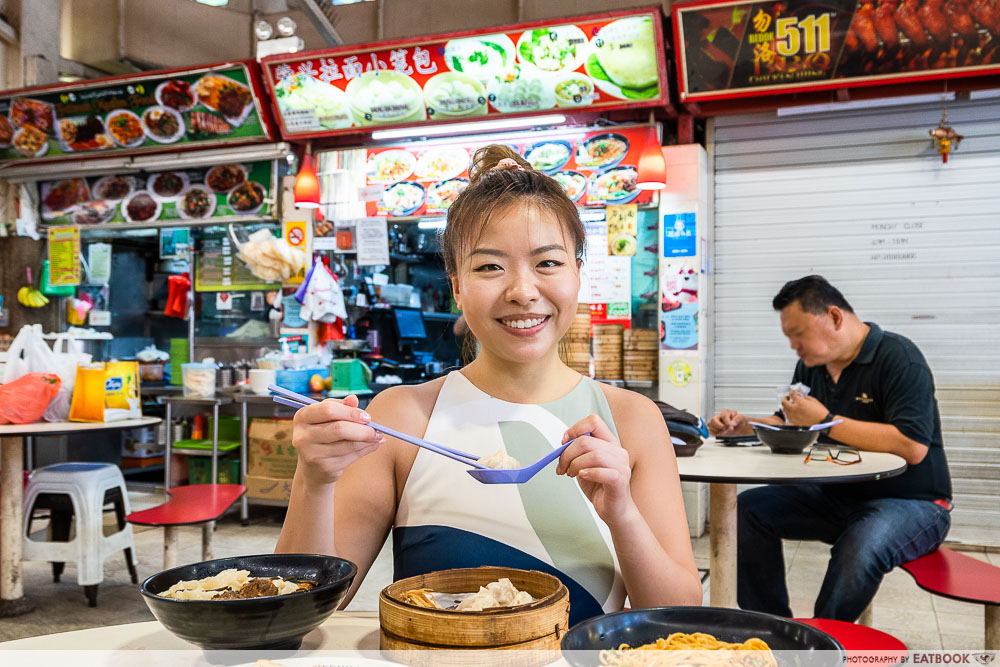 For what it is, Rong Xing Xiao Long Bao is definitely worth heading to for their dumplings and noodles. My colleague, who is moving to the area soon, even bookmarked the stall for her future meals. And honestly, the price point of the guo tie and xiao long bao makes it hard to resist, especially if you're the sort who eats 20 dumplings a meal.
Also at Redhill Food Centre is Redhill Pork Porridge, which only serves one dish for three hours each day! For more dumplings, consider Abundance, which is just down the road, and serves Din Tai Fung-style Taiwanese grub.
Address: 85 Redhill Lane, #01-77, Redhill Food Centre, Singapore 150085
Opening hours: Daily 9:30am to 9pm
Rong Xing La Mian Xiao Long Bao is not a halal-certified eatery
Photos taken by Chew Yi En.
This was an independent review by Eatbook.
Redhill Pork Porridge Review: $3.50 Hainanese Pork Porridge With Long Queues Daily
Rong Xing La Mian Xiao Long Bao Review: Guo Tie, XLB And Dandan Mian From $0.60 In Redhill
Rong Xing La Mian Xiao Long Bao Review: Guo Tie, XLB And Dandan Mian From $0.60 In Redhill -

8/10
Summary
Pros
– Big hearty portions with low prices
– Tasty food
Cons
– Tip of XLB was too doughy
– Guo tie had no soup inside
Recommended dishes: Pan Fried Dumplings ($6), Xiao Long Bao ($4/$6.50), Noodles with Braised Pork Ribs ($5)
Opening hours: Daily 9:30am to 9pm
Address: 85 Redhill Lane, #01-77, Redhill Food Centre, Singapore 150085