Fudo serves up fusion Wafu pasta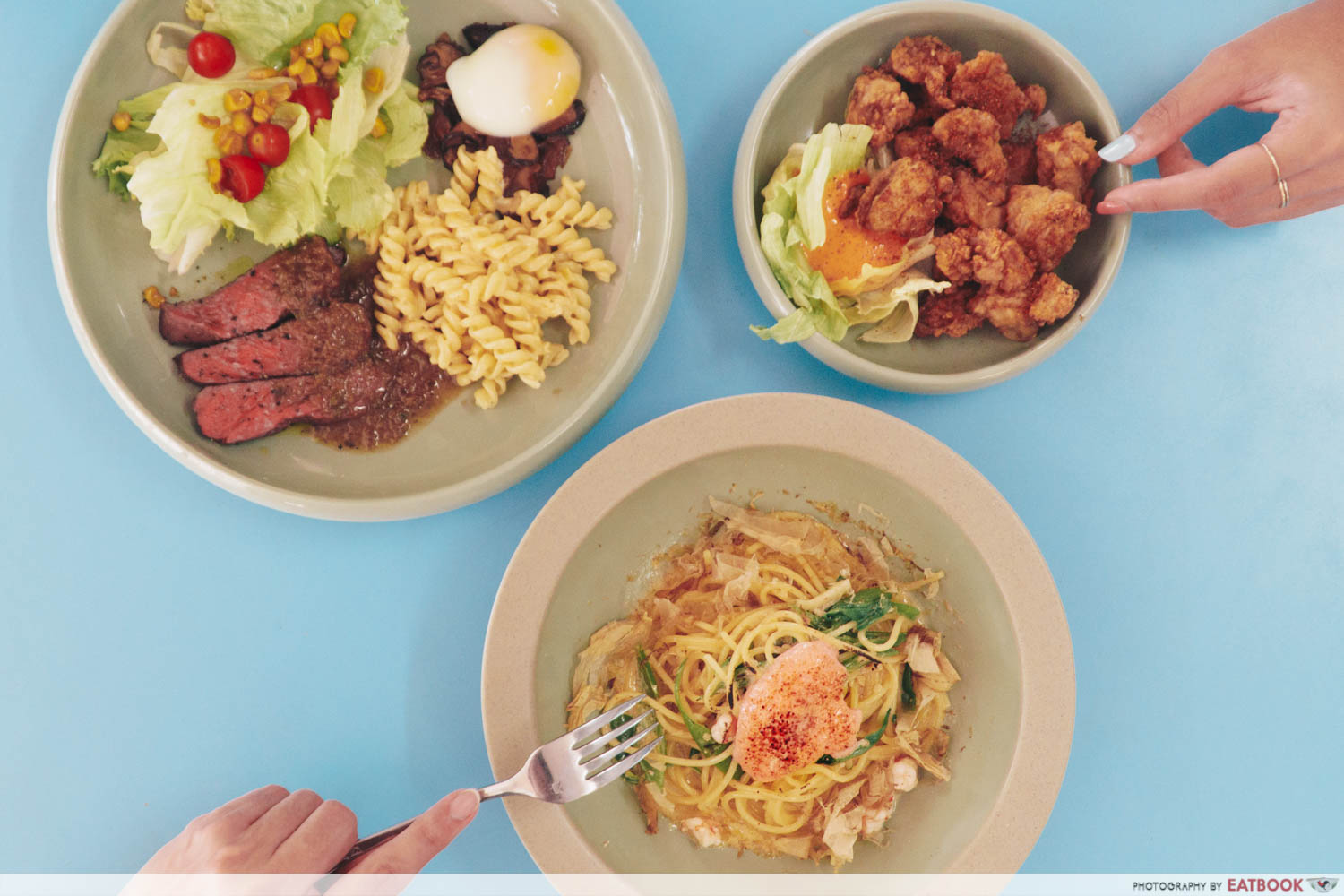 While both Western and Japanese concepts are common in hawker centres, it's not every day you see a dynamic combination of both. Fudo is a two-month-old stall that recently set up shop at Golden Mile Food Centre. The hawker stall drew my attention when I saw that it had Japanese and Western fusion pasta dishes like Prawn Miso Angel Hair ($6) and Spicy Mentaiko Spaghetti ($7).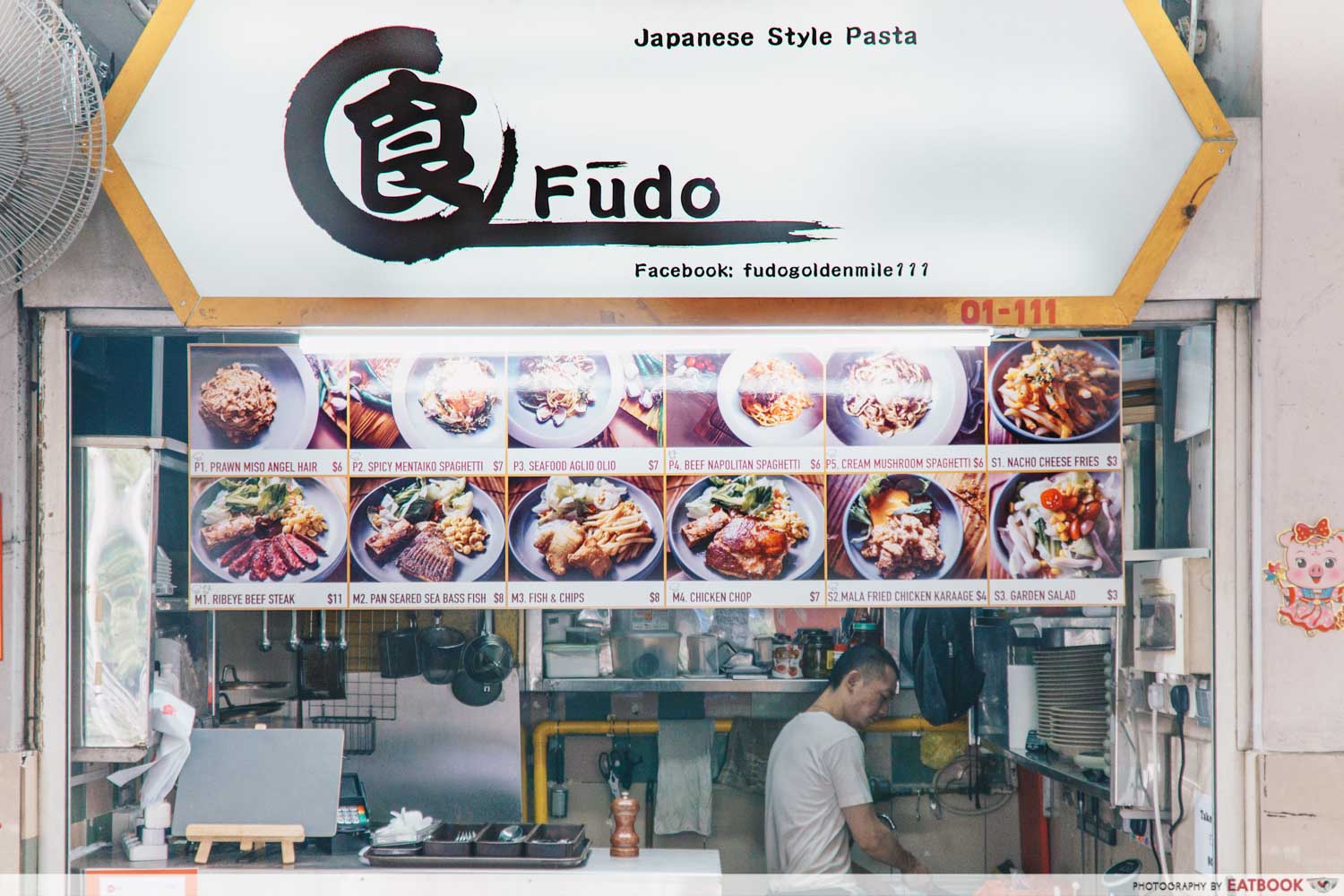 The combo of Japanese cooking and Italian pasta is known as 'Wafu', and is something I've always been intrigued by. There's a very different vibe to Japanese pasta when compared to something you'd find in an Italian trattoria.
Wafu uses the best of Japanese ingredients, which usually include seafood considered exotic to Western chefs. Common items used are mentaiko, miso, dashi stock, nori seaweed, and other components that you automatically associate with Japanese cooking. This leads to dishes that are typically brimming with umami flavours and creamy richness. 
Food at Fudo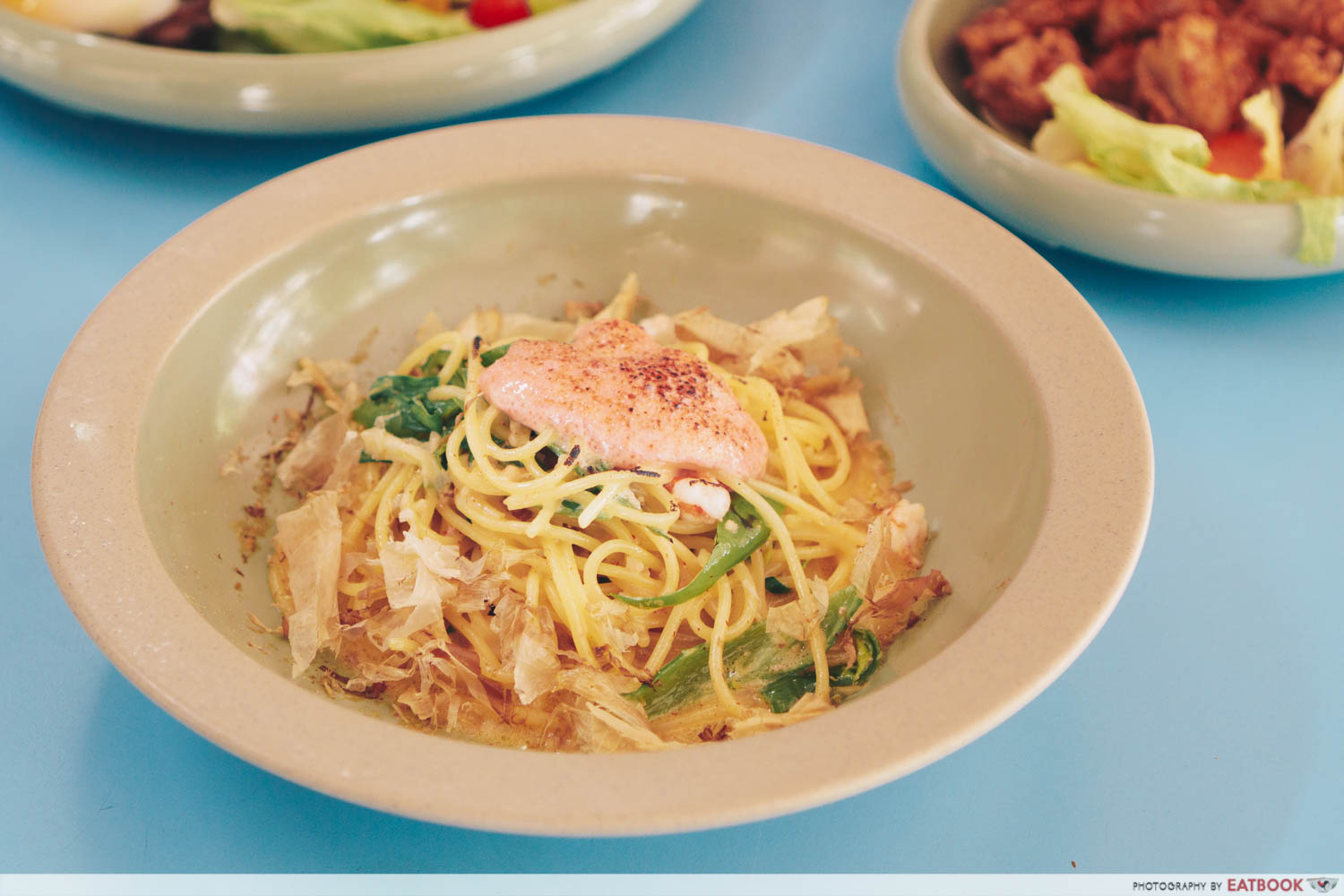 We got the Spicy Mentaiko Spaghetti ($7) first. It came with an impressive scoop of mentaiko, sliced green chilli, bonito flakes, and prawn chunks. Apart from being used as a topping, mentaiko was added into the stock and tossed with the spaghetti to give the pasta a boost of umami flavour.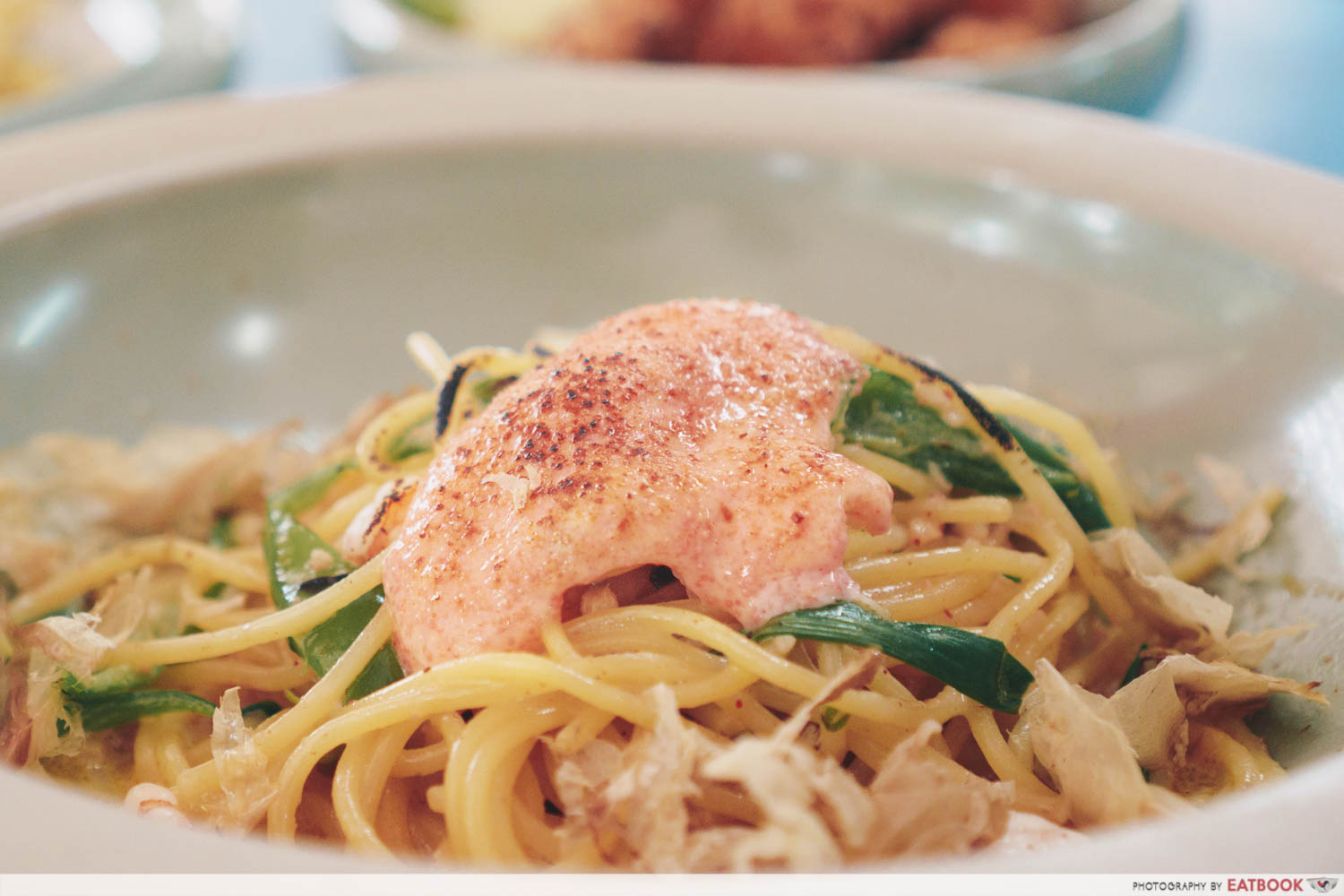 A moment before it was served, the dollop of mentaiko was lightly seared with a blowtorch. This gave a layer of smokiness to the creamy and savoury roe. There was a rather generous portion of the pale pink topping, and mixing it throughout the spaghetti coated each strand with thick and robust flavours. The chilli wasn't spicy, and added a bit of crunchy texture to the noodles.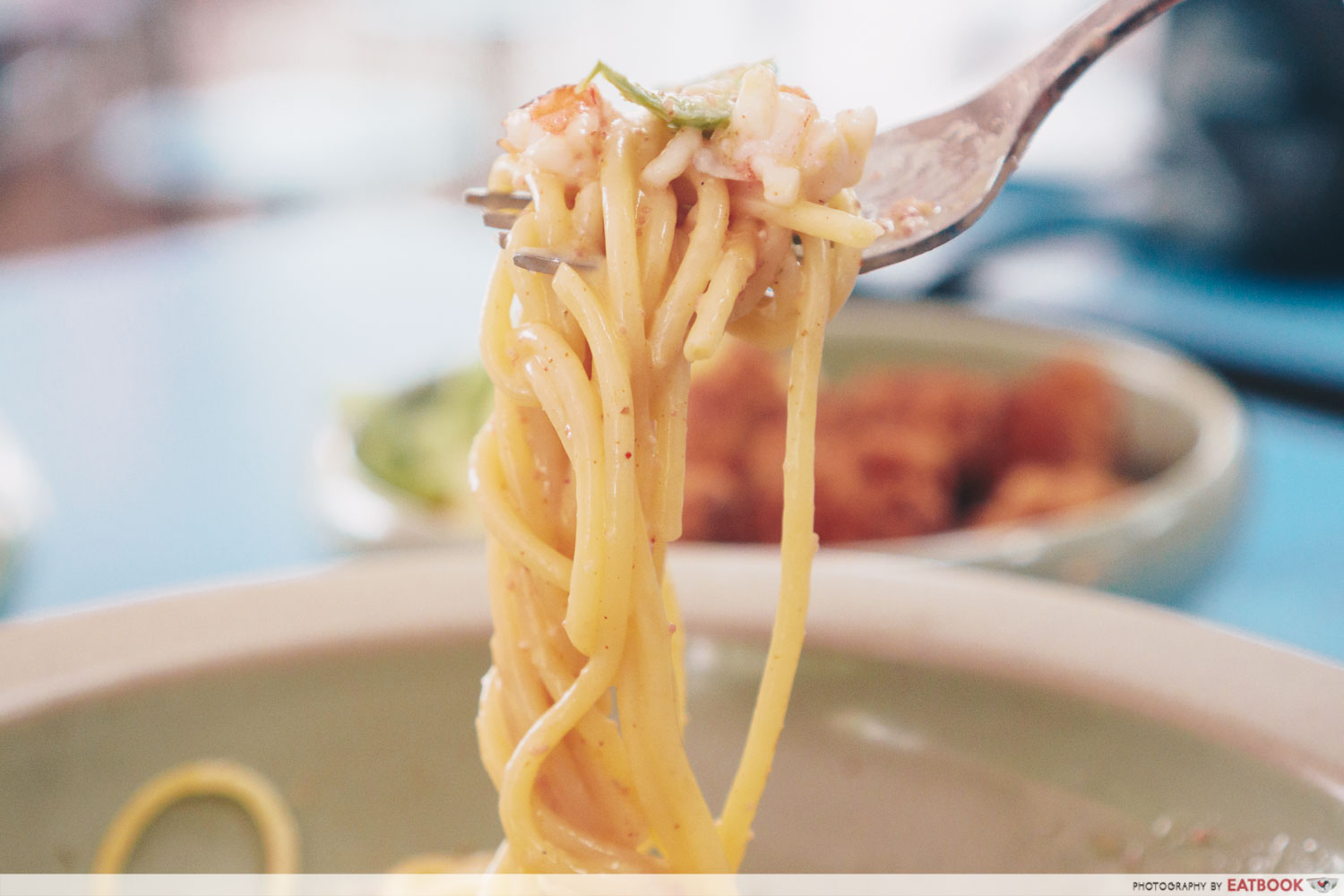 The pasta was cooked till al dente, with the flavourful sauce coating it evenly. I enjoyed the pasta quite a lot, and it was rather addictive. The portion size wasn't bad either. I got mouthful after mouthful of delicious savoury flavours and silky mentaiko texture.
A single prawn was cut into tiny chunks and scattered throughout the pasta. Overall, not a lot of meat or substantial ingredients in this.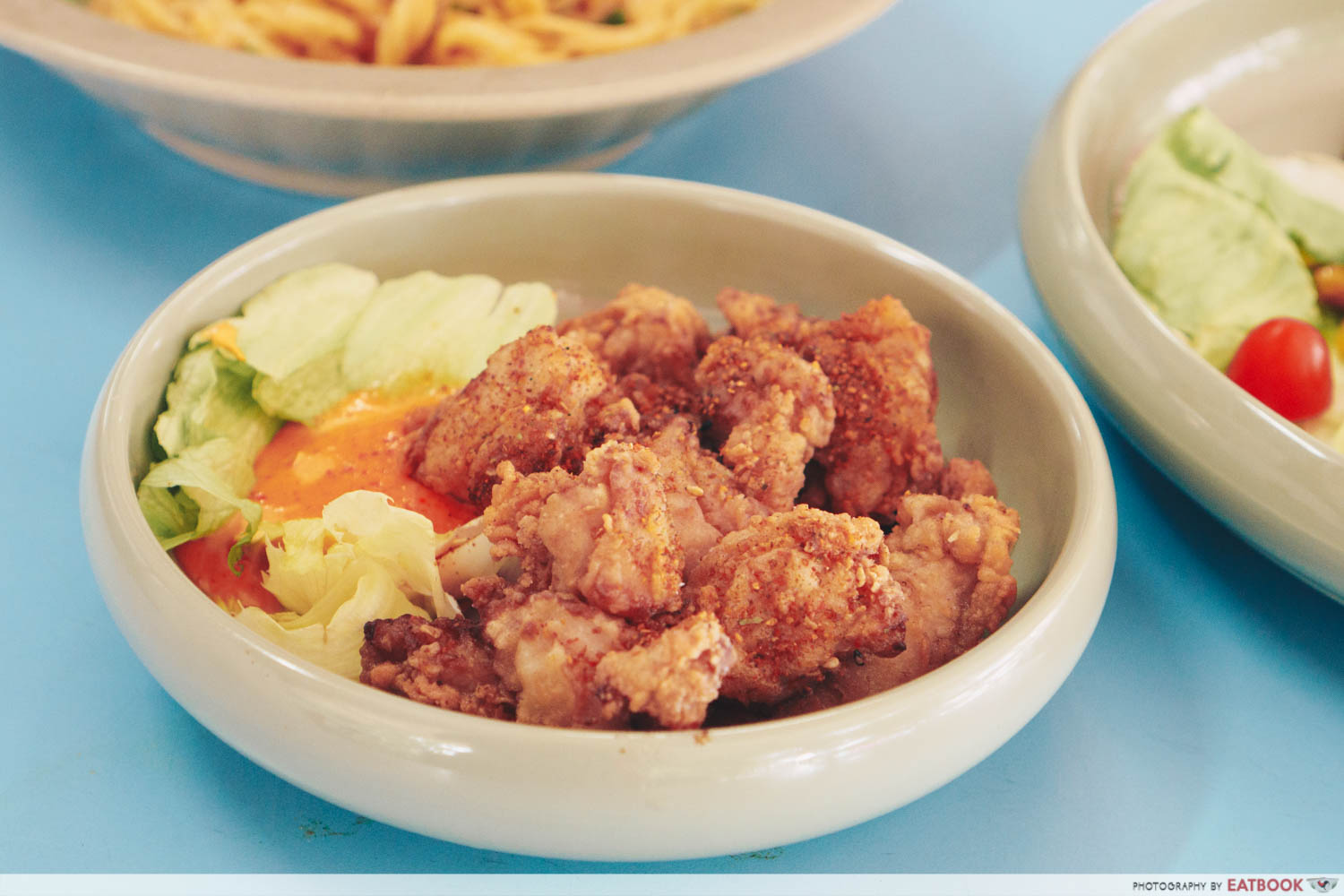 I really liked the Mala Fried Chicken Karaage ($4). The fried chicken chunks were cut up from a chicken thigh instead of being pre-frozen. We watched the process take place, and were glad to see that there was a ton of meat beneath the crispy layer of batter.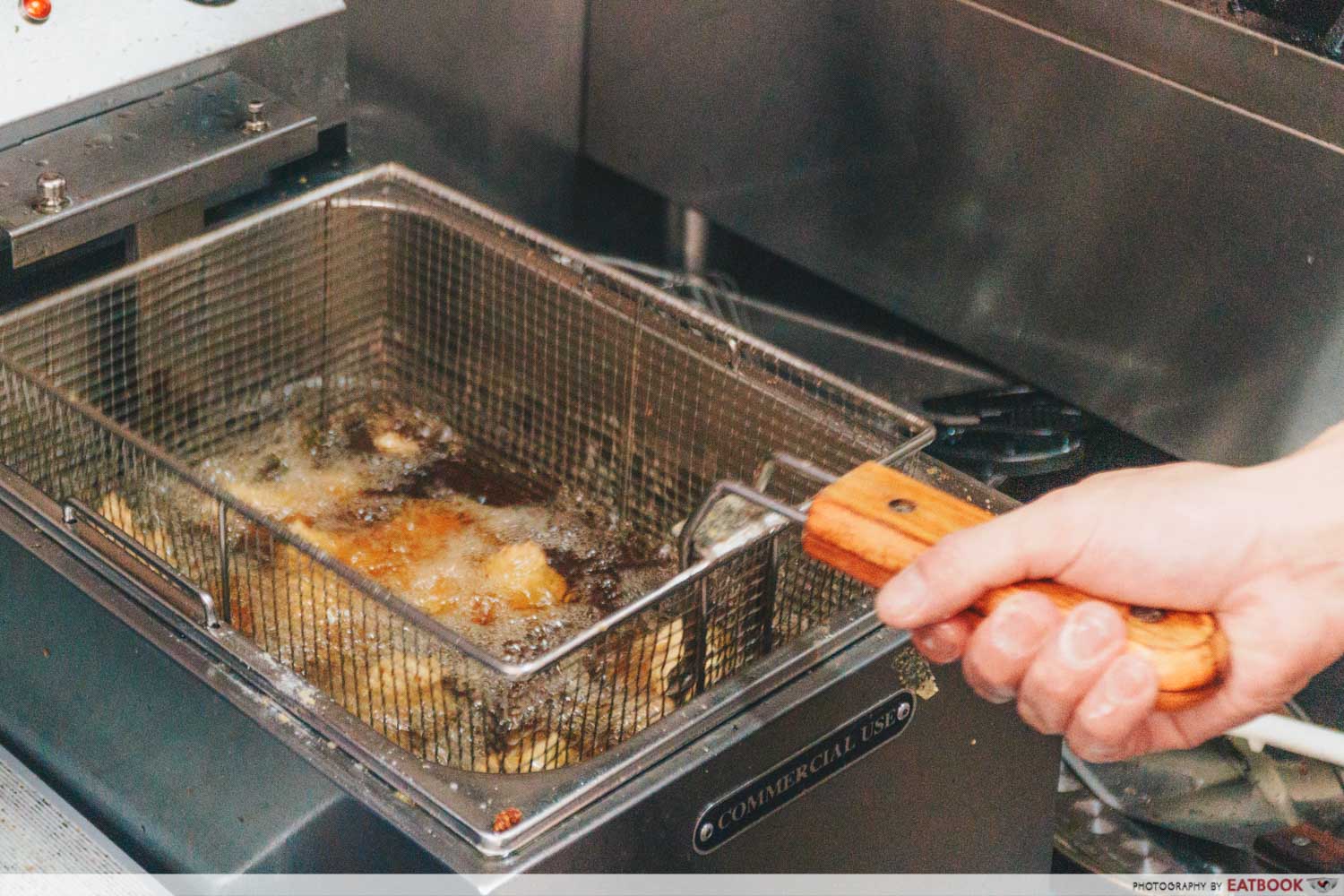 It was coated in batter and deep-fried to golden brown, before getting tossed into a bright red mala spice mix. It had a side of fermented chilli mayo, and a serving of refreshing salad to provide a respite from the spice. 
Unfortunately, when eaten without the sauce, the mala spice that gave this dish its name wasn't very distinctive. It was nothing more than a slight peppery tinge, with no mala spice taste or a signature numbing sensation. I'd recommend dipping it in the spicy chilli mayo. The mayo held a sharp spice and was slightly sour. The rich sauce clung to a layer of crispy batter and enhanced the meat's flavour.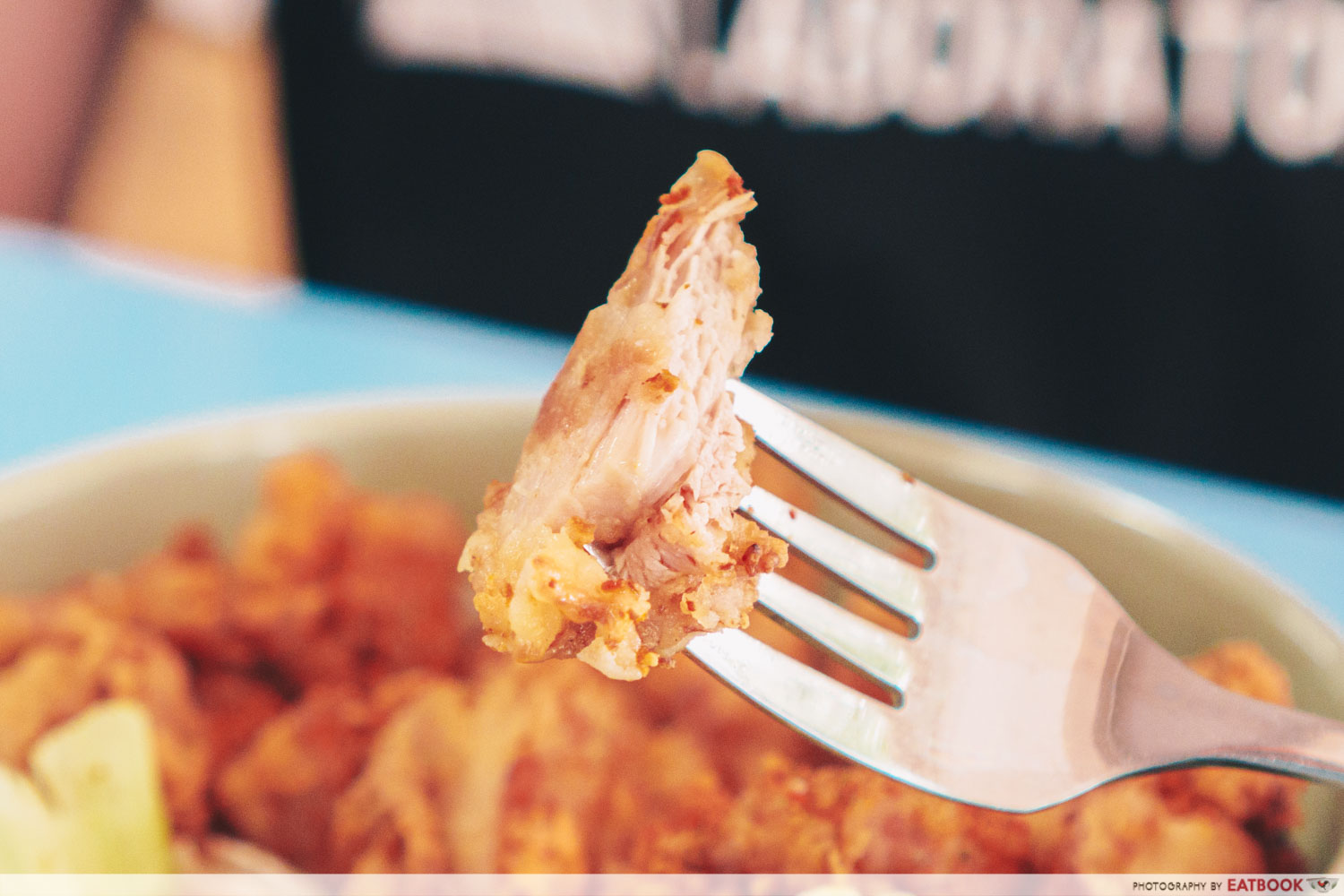 Each piece of karaage was thick and meaty, and we definitely felt like we were getting our money's worth. The savoury nuggets were satisfying and tender, with the batter giving a slight crunch. There was a perfect ratio of batter to meat, and all of us unanimously agreed that this was our favourite dish.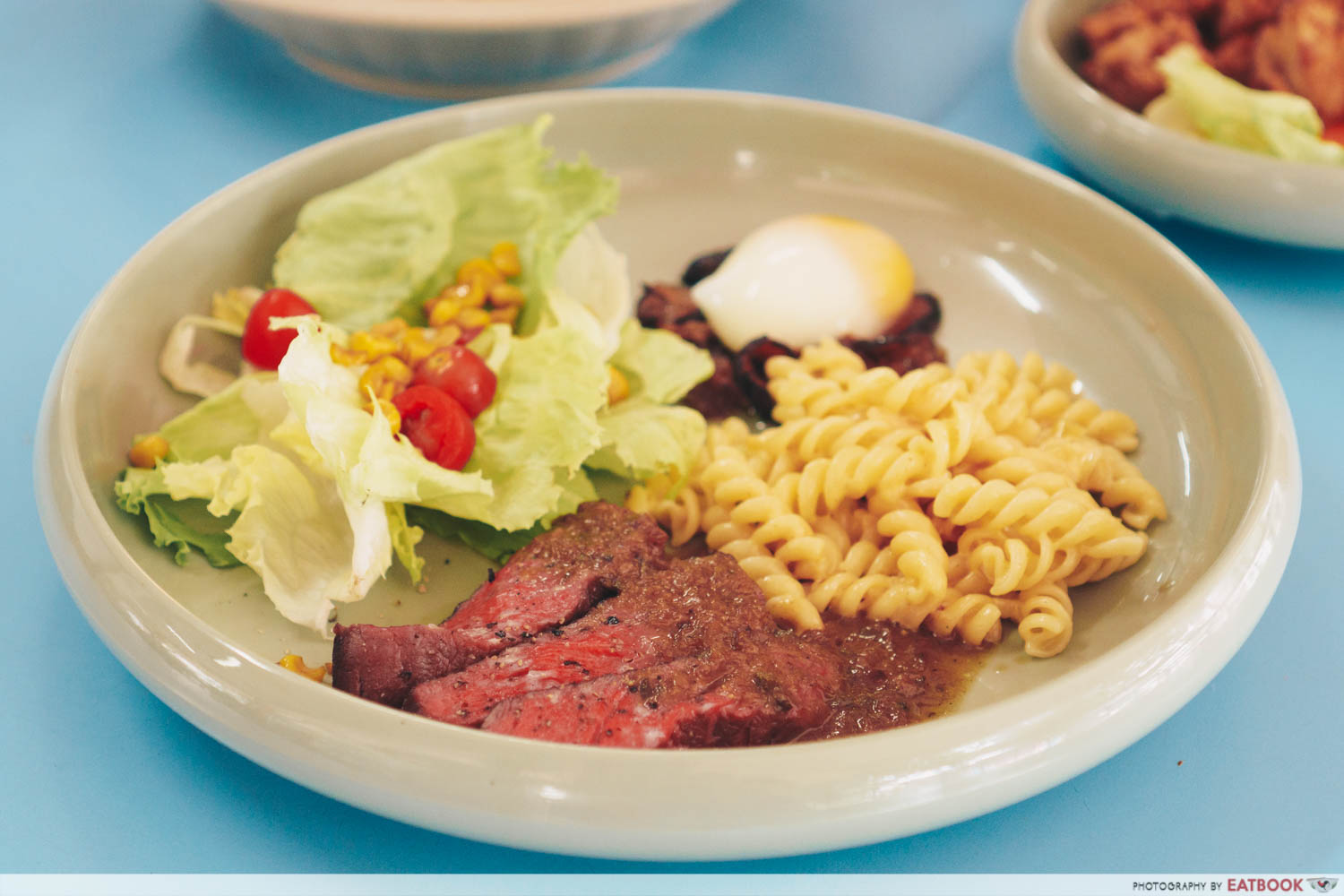 I'll say it outright: it's probably best to give the steak a miss. 
The Ribeye Beef Steak ($11) is far too expensive for the portion size. There are 110 grams of steak, even though pictures on their Facebook page display a lot more meat— or at least, a cut that's spread out to seem larger. Three tiny pieces aren't worth $11. 
The pasta and kaarage cost as much as the steak, and made a far more satisfying meal.
It came with a side of mac and cheese, a crunchy salad, a runny onsen egg, and juicy sauteed mushrooms. The sides vary and are swapped out at times.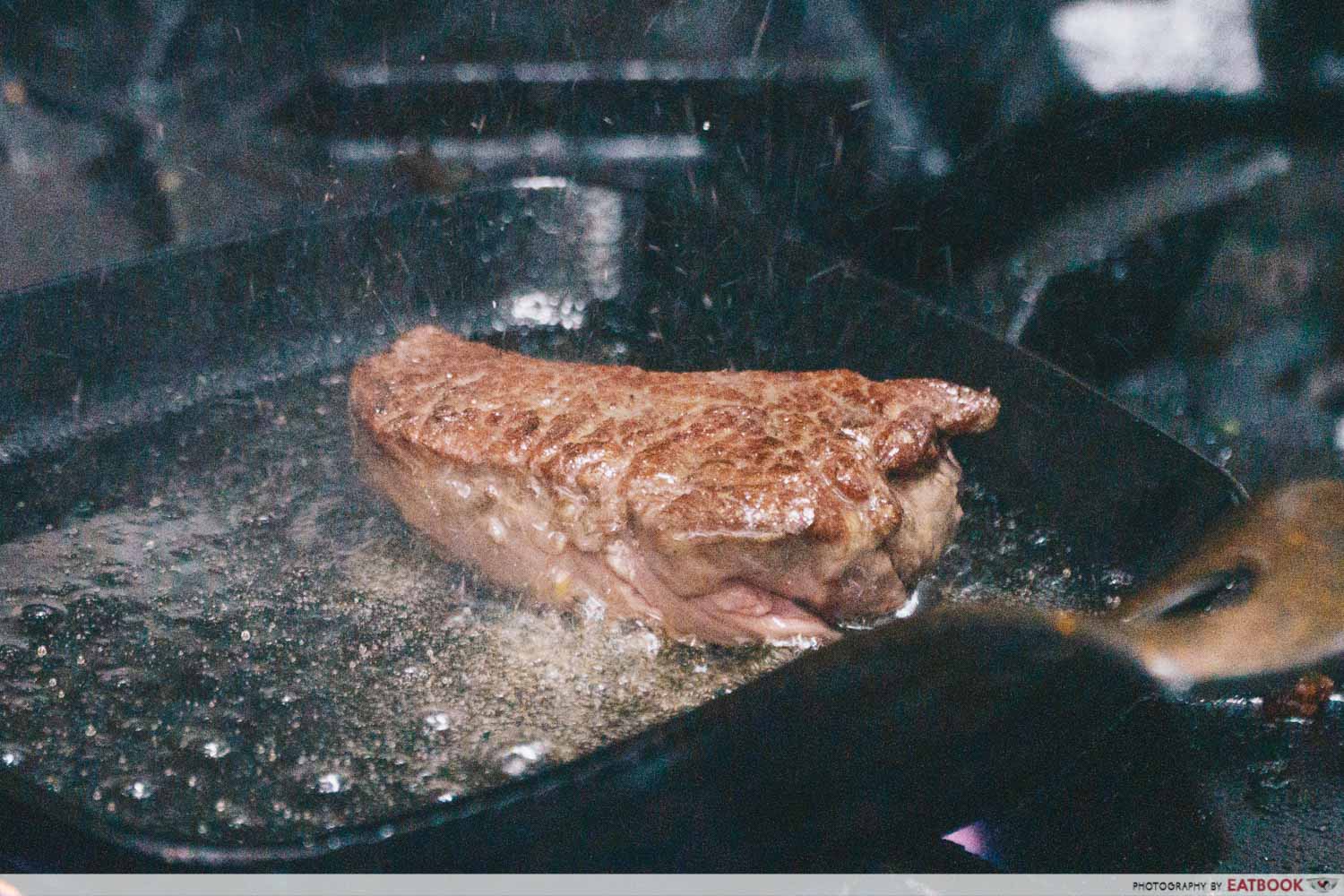 That said, the actual taste of the meat wasn't an issue. The steak was sous vide until medium-rare, before being pan-seared for a caramelised finish.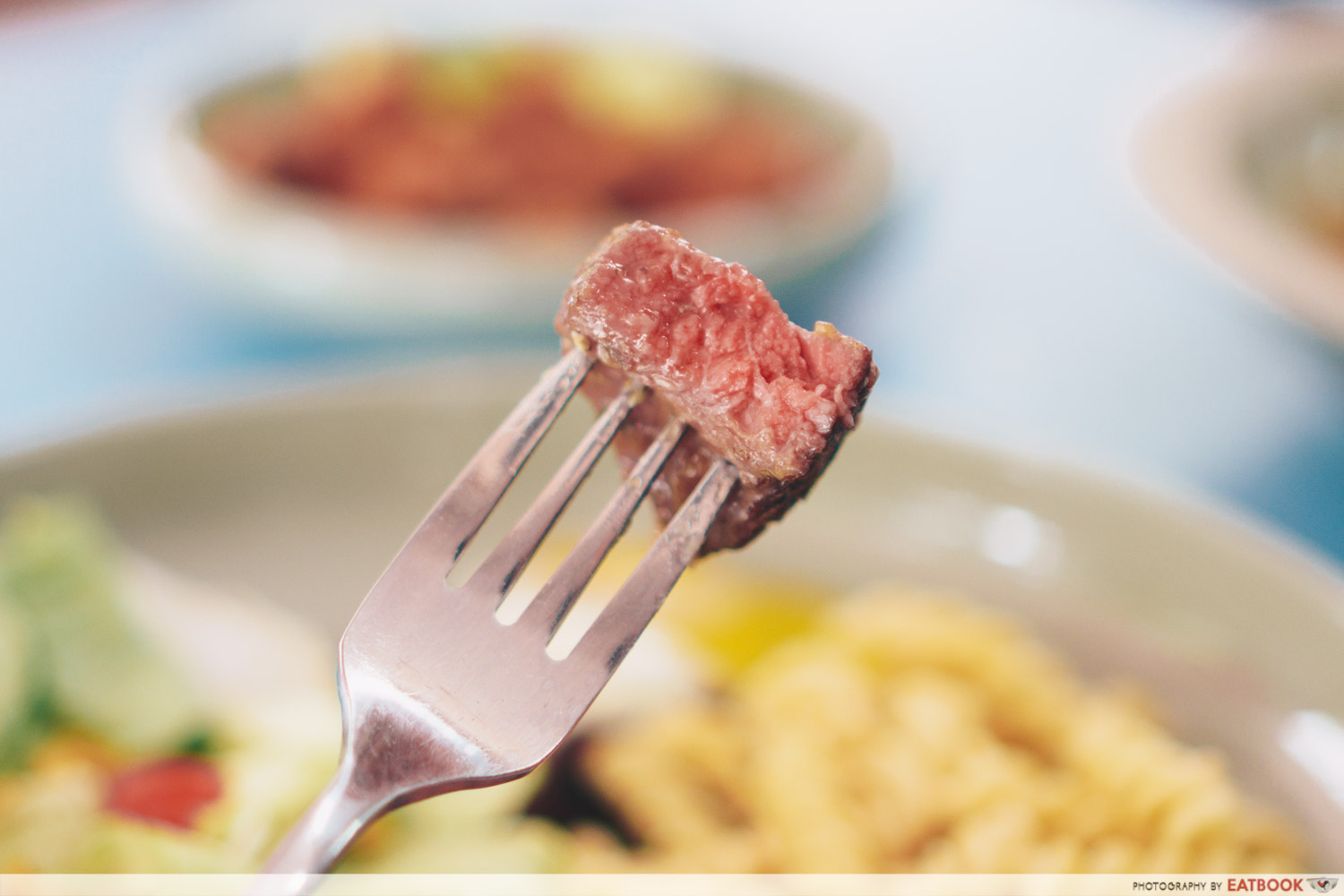 The juicy meat was seasoned well and had a savoury flavour. It was quite tender, and the sauce gave it a peppery kick. 
I thought that the meat was good, but throughout the meal, there was a nagging thought that this plate cost $11. It ran out all too fast, since there were only three pieces of sliced beef. 
To be certain that it wasn't just a mixup, I spoke with the owner who mentioned that the default serving size was 110g. 
Ambience at Fudo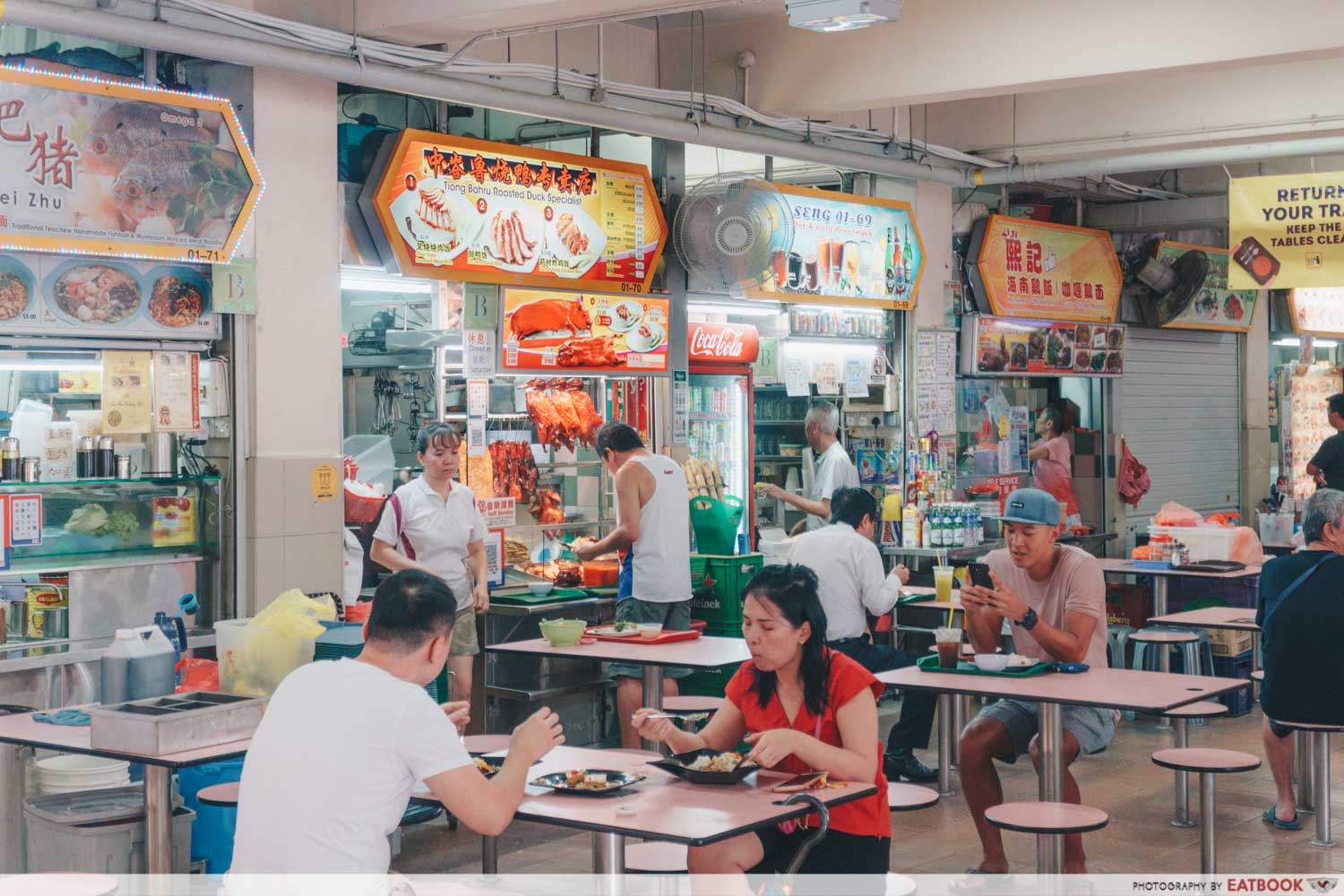 Fudo is tucked away in Golden Mile Food Centre, which has a ton of great food options and hidden gems. Right nearby is Golden Mile Complex, where you can get affordable Thai food. The nearest MRT Station is Nicoll Highway, and Fudo is a five-minute walk away from it. 
The hawker centre is cooling and windy. Although we went on a hot day, we were completely shaded once inside.
The verdict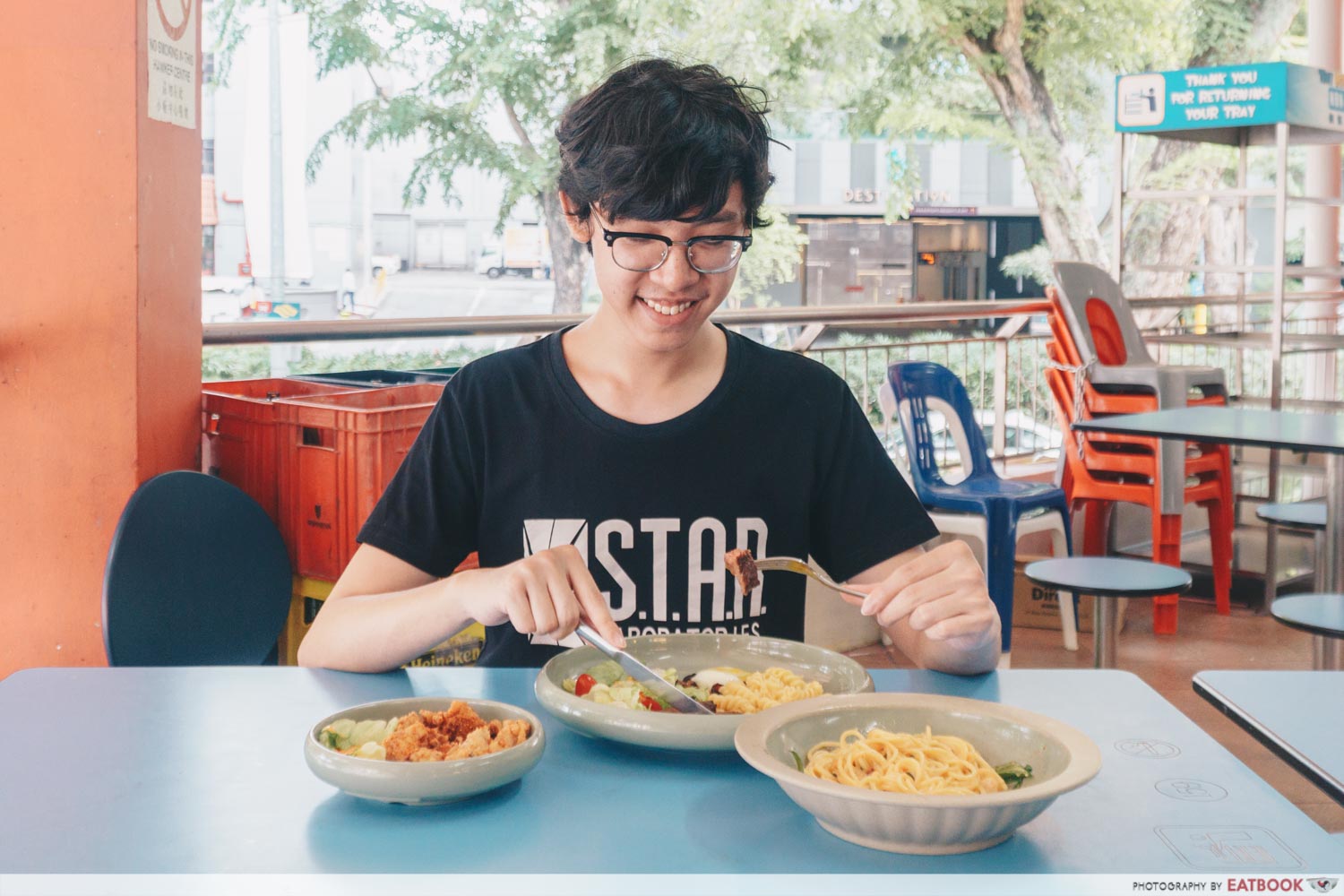 Apart from my dissatisfaction with the steak, the rest of the meal wasn't bad at all. I liked the pasta, and I absolutely loved the chicken. My colleagues and I couldn't get enough of it. If you're in the area, I'd say that it's worth checking out some of Fudo's other pasta dishes. The Cream Mushroom Spaghetti ($6) is another one of their popular dishes, so maybe give that a go. 
Check out our review of Botany, which has more Wafu dishes such as uni spaghetti. If you're looking for some traditional Japanese food, check out some Japanese restaurants with great discounts! 
Address: 505 Beach Road, #01-111, Golden Mile Food Centre, Singapore 199583
Opening hours: Daily 11am to 8pm
Website
Photos taken by Theodore Ang.
This is an independent review by Eatbook.sg.
Fudo Review: Japanese-Western Food Such As Spicy Mentaiko Pasta At Golden Mile
Summary
Pros
– Flavourful pasta
– Wide range of afforable options
– Great chicken karaage
Cons
– Overpriced steak with small portions
Recommended dishes: Spicy Mentaiko Spaghetti ($7), Mala Fried Chicken Karaage ($4)
Opening hours: Daily 11am to 8pm
Address: 505 Beach Road, #01-111, Golden Mile Food Centre, Singapore 199583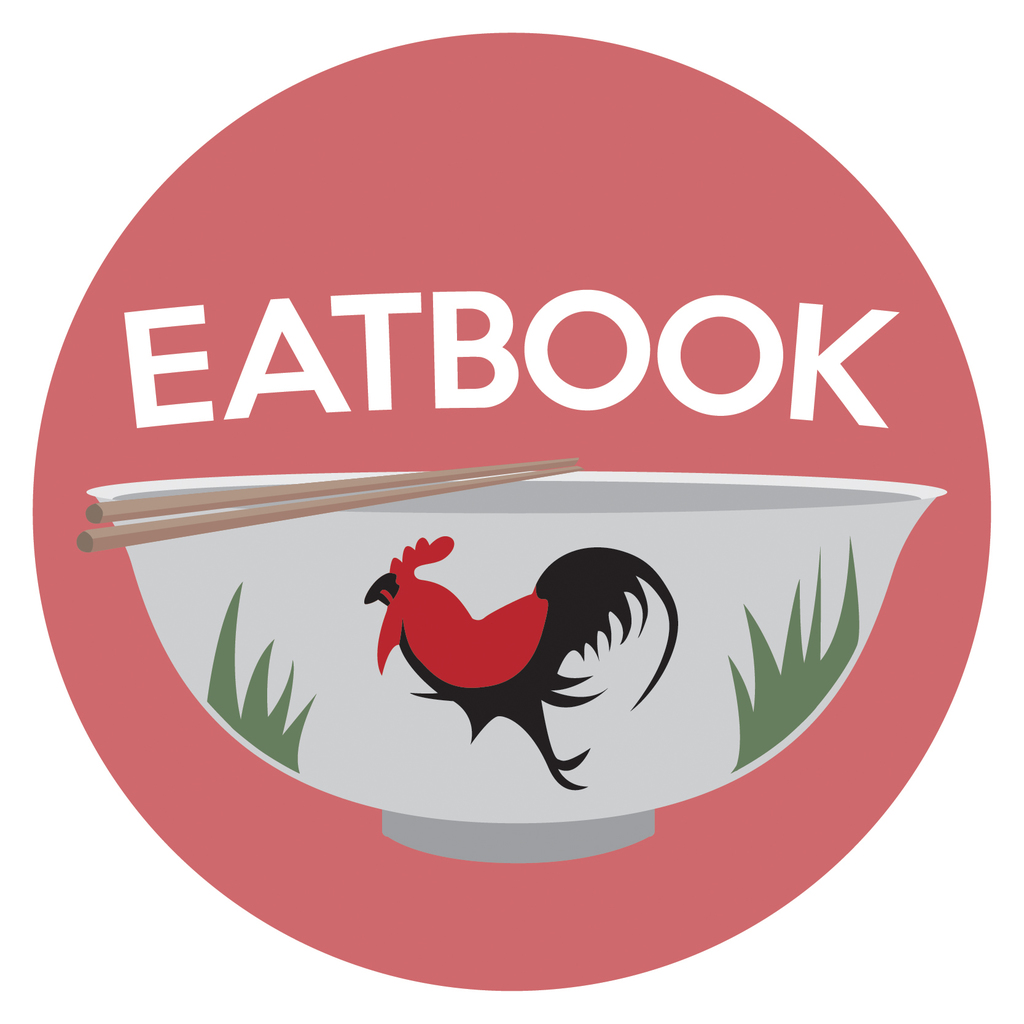 Drop us your email so you won't miss the latest news.