---
Save up to 50% off
at these Japanese restaurants
---
It's the most wonderful time of the year, not just 'cause sleigh bells are ringing, but year-end sales are finally here! After hustling through 2019, it's time to give you and your belly some much-needed TLC. There's no better way to treat yo'self than with ChopeDeals Year End Sale! 
Fast fingers are needed to snag up these deals which will be released at midnight on 5 December 2019. With over 200 exclusive dining deals from 1-for-1 promos to cash vouchers, bargain hunters are gonna be pleased. Don't worry if you feel lost in this sea of options, 'cause we've nailed down 10 Japanese restaurants with up to 50% off to get the ball of bargains rolling.
---
1. Chi Kinjo
---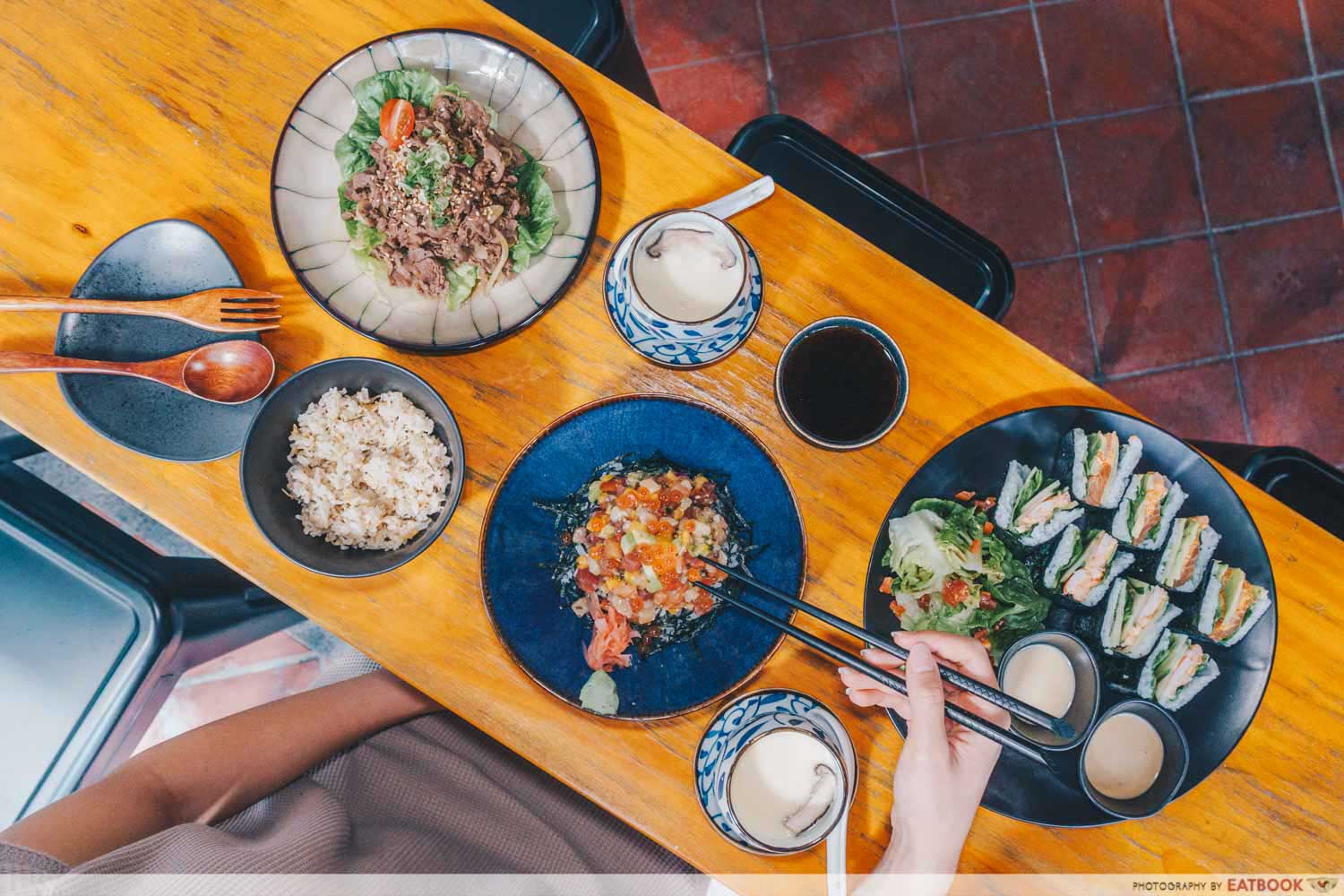 Japanese fusion is the name of the game at Chi Kinjo. This compact and chic mod-sushi joint provides a respite for CBD workers with their reasonably priced lunchtime meals. The most affordable option here, the Simple Set Lunch ($18++), includes silky chawanmushi and a choice of main from their lean menu of rice bowls and sushi sandwiches. Their citrusy and savoury Chirashi Don has a fruity twist of mangoes and tomatoes alongside the usual assortment of marinated sashimi. 
Whether you're here for lunch or dinner, ChopeDeals makes your meal worthwhile with their $26.50 for $50 and $53 for $100 cash vouchers. With almost 50% off, get playful with their Sushi Sandwich and choose from flavours such as the piquant Asian Prawn Cocktail and rich Sake Sunrise.
Address: 29 Stanley Street, #01-01, Singapore 068738
Opening hours: Mon-Fri 11:30am to 2:30pm, 5pm to 12am, Sat 7pm to 12am, Closed on Public Holidays
Get a $26.50 for $50 or $53 for $100 cash voucher at Chi Kinjo
---
2. Don & Tori
---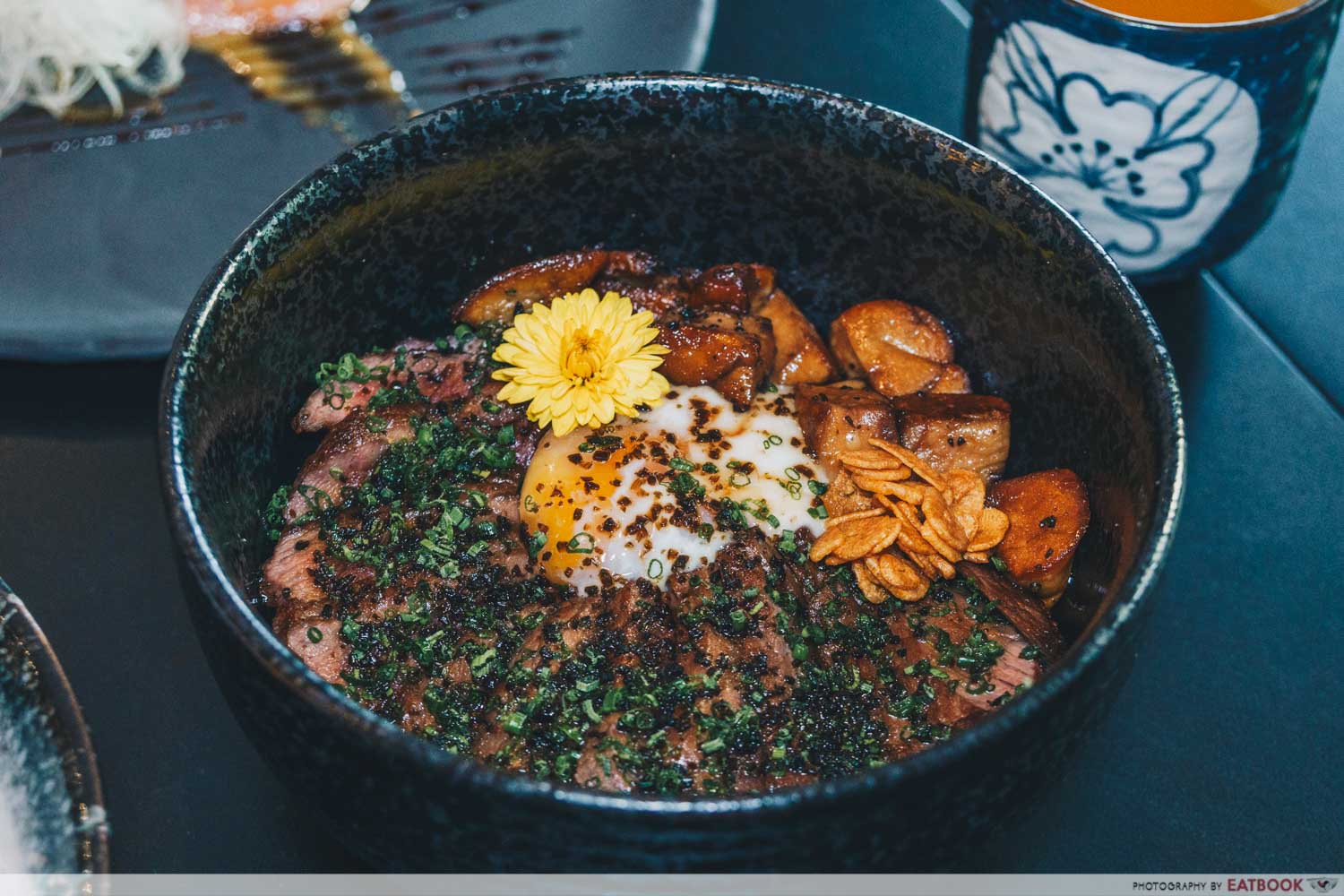 Swanky Don & Tori is the place to be for impressing both a date and client. Their classy vibe trickles down to the updated menu with hearty dishes such as Mini Truffle Wagyu Foie Gras Don ($20++) to load up on. You'll have a whiff of this aromatic rice bowl before seeing it. Seared slices of beef are spread across a bed of rice and topped with thick chunks of foie gras and earthy shavings of black truffle.
With ChopeDeals' $30 for $50 cash voucher, you can easily check out Don & Tori's range of premium dishes including Aburi Toro ($20++), which features torched slices of fatty tuna topped with a dollop of caviar. The fat marbling results in a rich melt-in-your-mouth experience.
Address: 74 Tras Street, Singapore 079013
Opening hours: Mon-Sat 12pm to 3pm, 6pm to 10:30pm
Get a $30 for $50 cash voucher at Don & Tori 
---
3. Waa Cow! (Raffles Xchange)
---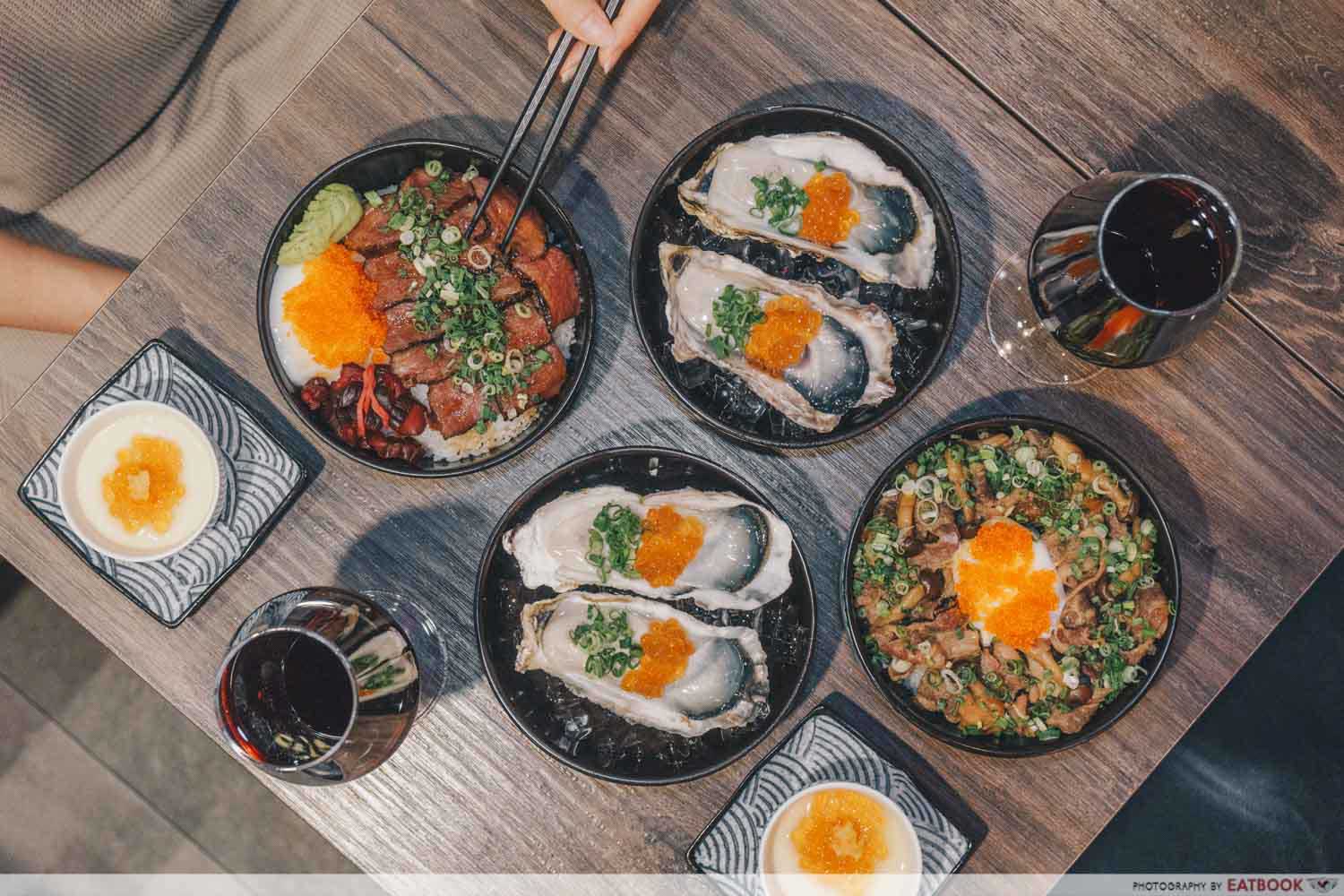 From their humble beginnings at NUS, Waa Cow! has since expanded to the CBD with a cosy outlet at Raffles Xchange. Their flame-torched beef bowls led to them gaining popularity amongst uni students and office workers. The classic Signature Wagyu Beef Bowl features charred slices of highly-marbled wagyu beef that adds to the bold beefy flavour profile. On the other hand, their Wagyu Sukiyaki Gyudon offers a harmonious mix of sweet and savoury notes.
Grab your bae and get fancy with their 4-Course Set Menu which is now 50% off on ChopeDeals. At just $69.90 nett for two people, you'll be treated to juicy Hokkaido Oysters, silky Yuzu Ikura Chawanmushi, along with the two beef bowls mentioned above. For non-beef eaters, there's the option to swap out the signature bowl with a luxurious Mentaiko Salmon Medium Rare. This set menu also comes with a pair of premium red wine or craft soda! 
Address: 5 Raffles Place, #B1-63, Raffles Xchange, Singapore 048618
Opening hours: Mon-Fri 11:30am to 3pm, 5:30pm to 8:30pm, Sat 12pm to 2:30pm
Get a 4-Course Set Menu at Waa Cow! 
---
4. RIZU Modern Japanese Cuisine
---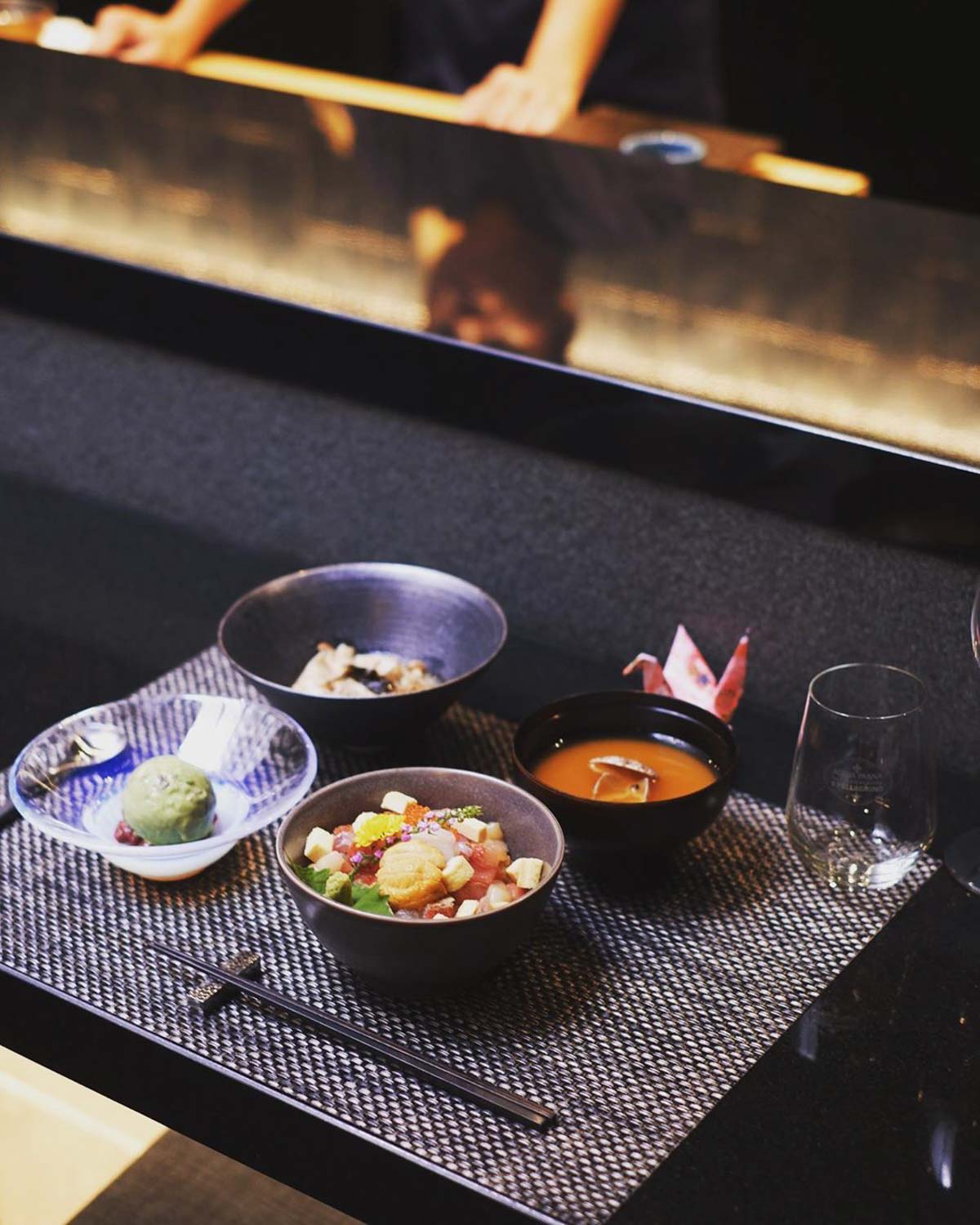 Image credit: @rizusg
RIZU Modern Japanese Cuisine is situated along the tranquil stretch of Duxton Road. The name points to its deviation from traditional sushi restaurants, where savoury Lobster Bisque Soup replaces umami miso soup. Guests have to trust Chef Noboru Shimohigashi's detailed curation of dishes in his omakase sets which feature imported seafood. You know it can't get any fresher when the lobster is still moving on your dining plate.
Freshen up your lunch routine with ChopeDeals' 1-for-1 Four-Course Lunch Omakase. Priced at $80 nett for two people, this fancy set offers value for money, with premium ingredients such as wagyu beef brisket and Zuwai snow crab. Do note that these tasty items are subject to the chef's discretion, as the omakase menu changes daily.
Address: 39 Duxton Hill, Singapore 089617
Opening hours: Tue-Sat 12pm to 2:30pm, 6:30pm to 10:30pm
Get a 1-for-1 4-Course Lunch Omakase at RIZU Modern Japanese Cuisine 
---
5. Hana Restaurant
---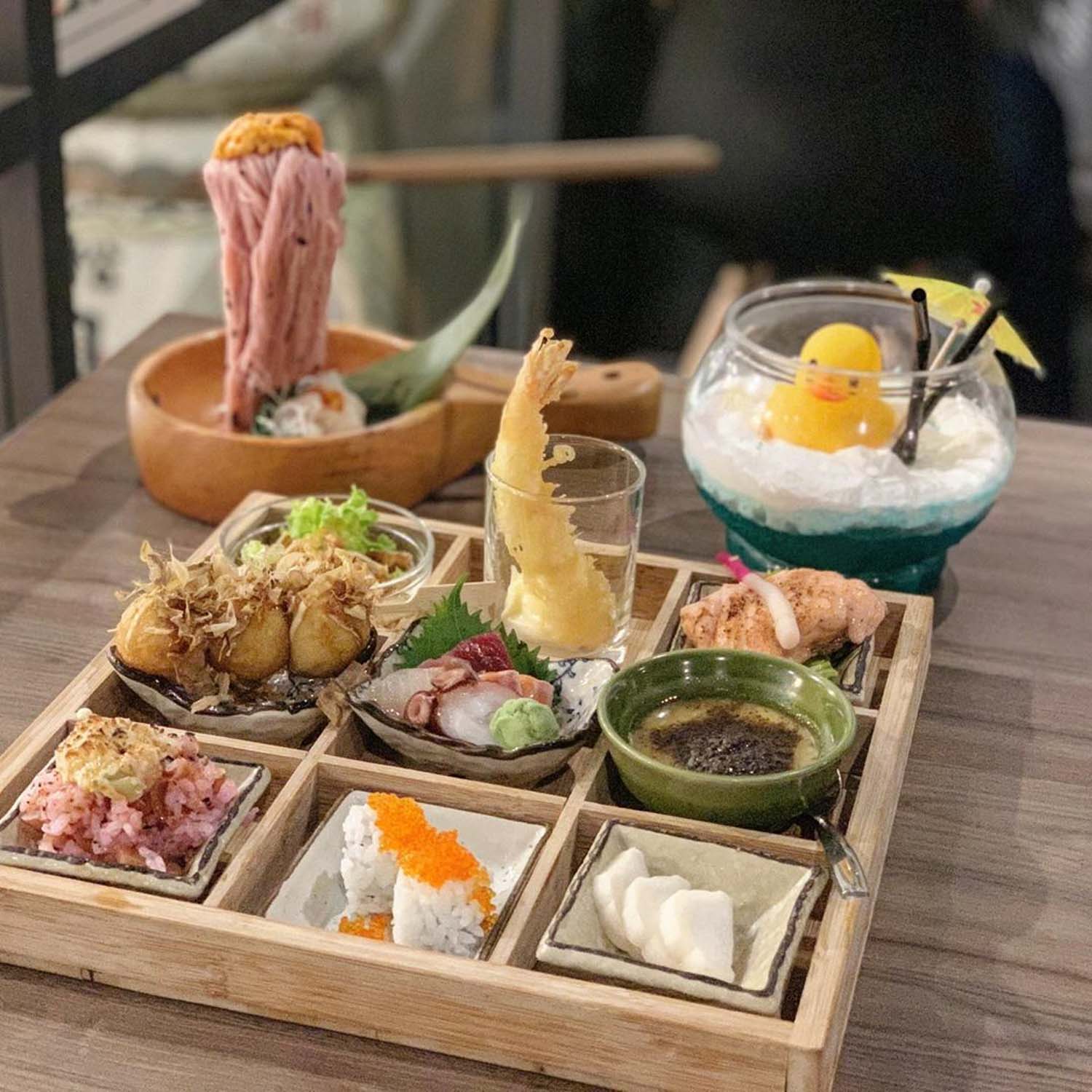 Image credit: @quin_tang
Just like how Aladdin showed Jasmine a whole new world on his magical carpet, Hana Restaurant dazzled us with their Instagrammable dishes. After creating a buzz with their Flying Cha Soba ($16+), they went along with more creative concepts such as the overflowing Lobster Nissin Tom Yum Noodles ($22+). These typical instant noodles are jazzed up with house-made tom yum sauce and a huge lobster claw.
Besides these experimental dishes, Hana Restaurant also offers typical Japanese fare with its grid bento boxes. Now, you can try this out with ChopeDeals which scores you a 3×3 Omakase Set along with a soup and drink at just $19.90 nett. You'll get a little bit of everything with their assortment of sashimi and cooked items such as crunchy tempura and creamy seared salmon.
Address: 583 Orchard Road, #01-17, The Forum Shopping Mall, Singapore 238884
Opening hours: Daily 12pm to 2:30pm, 6pm to 9:30pm
Get a 3×3 Omakase Set at Hana Restaurant  
---
6. Niku Katsumata
---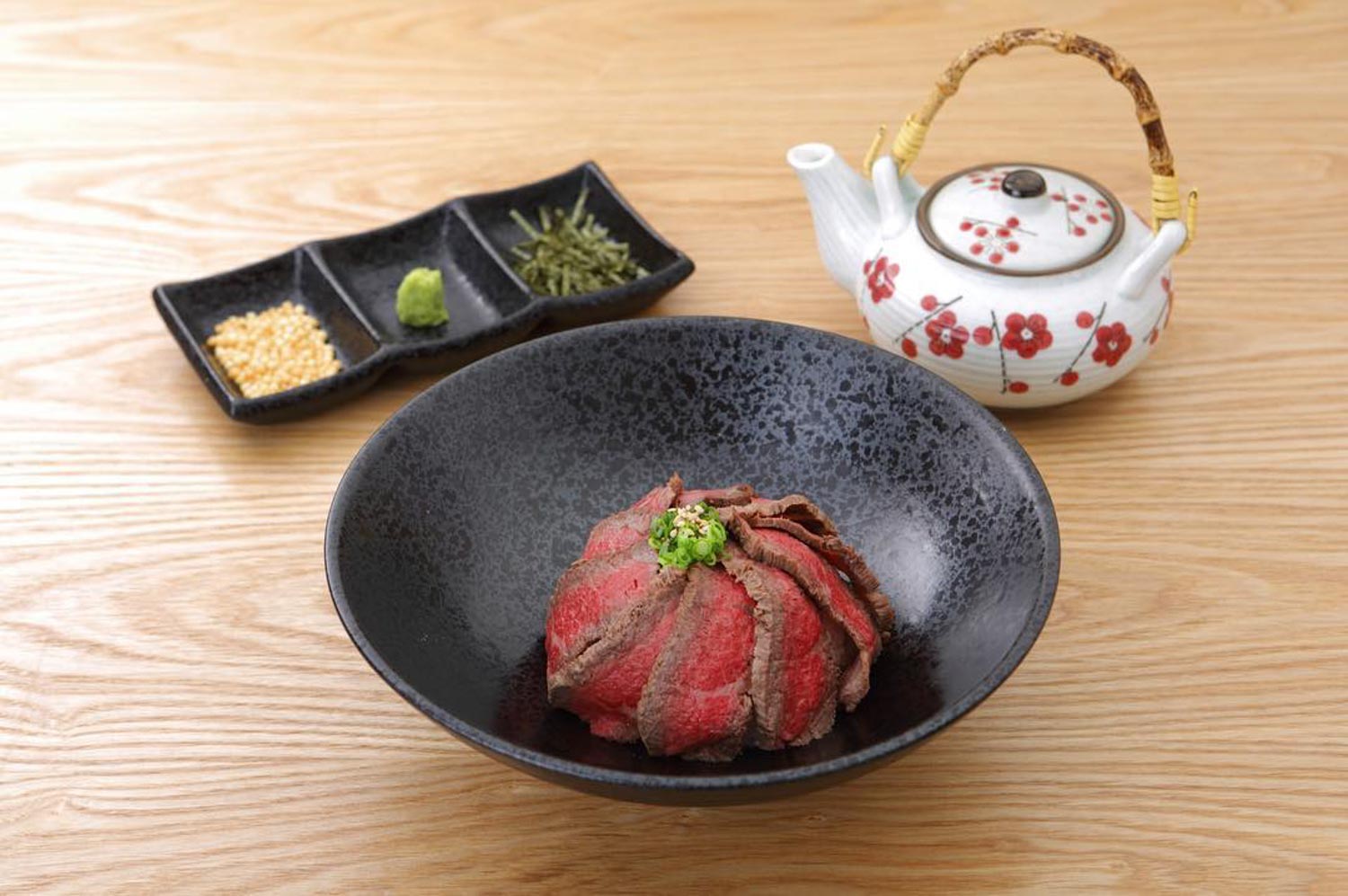 Image credit: @nikukatsumata
You should definitely add Niku Katsumata to your go-to list for satisfying meat cravings. With only one other outlet in Tokyo, this underrated beef house means serious business when it comes to their various cuts of wagyu beef. Adventurous foodies can try the succulent Kagoshima Wagyu Beef Sashimi ($22++). If you prefer having food above room temperature, get the A4 Wagyu Donburi with Bonito Broth ($38++) for a bold beefy taste of their signature cut.
Feasting on beef won't be a pricey affair with ChopeDeals' cash vouchers which score you a 30% discount. Choose the $34 for $50 voucher or go all out with their $68 for $100 option.
Address: 47 Duxton Road, Singapore 089511
Opening hours: Mon-Fri 12pm to 2pm, 5:30pm to 11pm, Sat-Sun 5:30pm to 11pm
Get a $34 for $50 or $68 for $100 cash voucher at Niku Katsumata  
---
7. Nanami Izakaya
---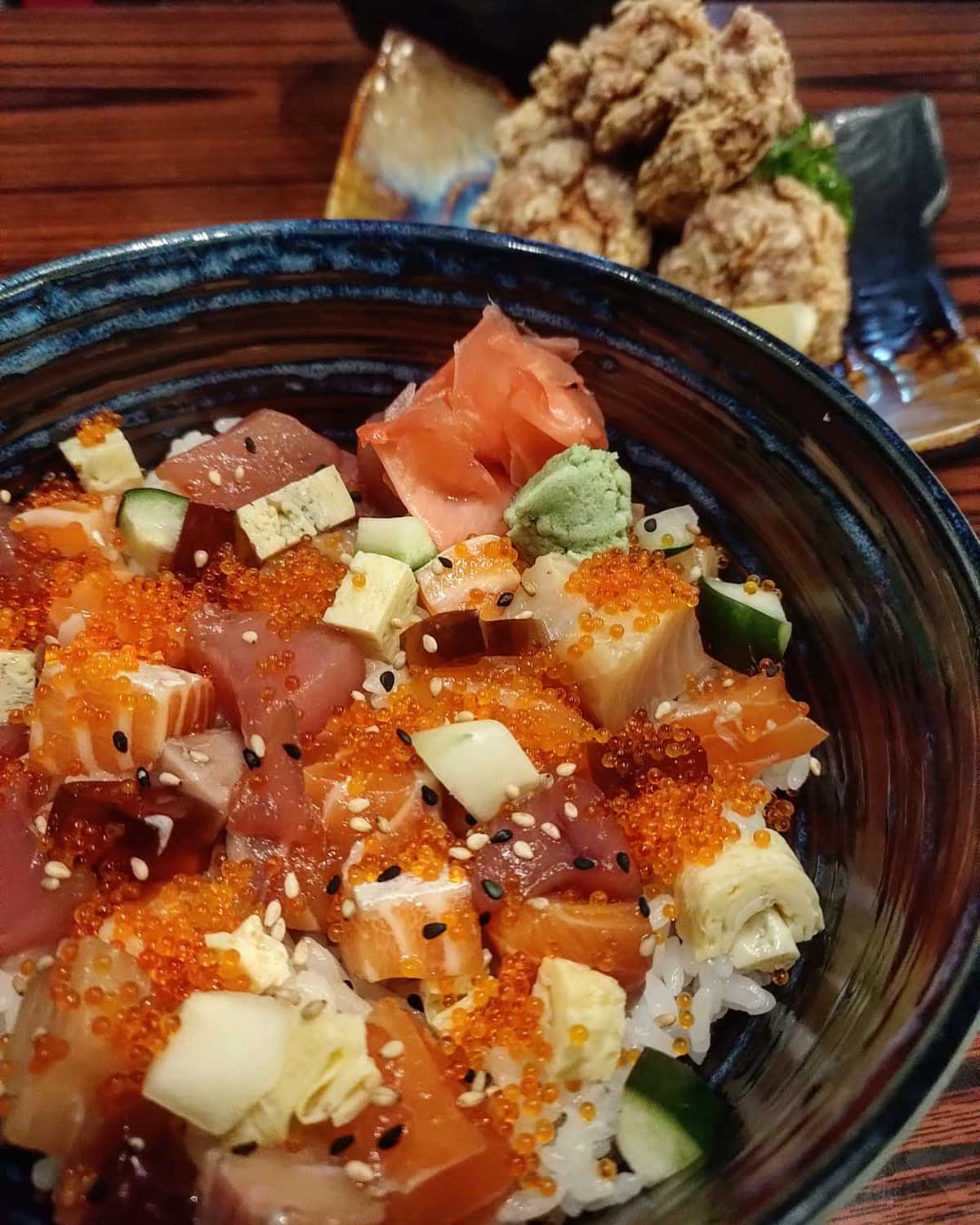 Image credit: @snapeatlife
Tucked away at Tanjong Pagar is Nanami Izakaya, a quaint eatery with an intimate setting that's perfect for date night. Do make a reservation in advance, as they've only got 20 seats to go around. Their thick and crunchy Chicken Karaage ($7++) pairs well with an ice-cold pint of beer. Those who want a healthier choice can get the Salmon Salad ($15++) which is drizzled with a sharp-tasting house-made wasabi dressing.
Fill up on some hearty don such as Salmon Don and Barachirashi Don which are going at 1-for-1 with ChopeDeals. For $18.80 nett, you'll score two don along with two drinks.
Address: 8 Enggor Street, #01-04, Singapore 079718
Opening hours: Mon-Sat 12pm to 3pm, 5pm to 10pm  
Get a 1-for-1 Don Set at Nanami Izakaya
---
8. Mizuya
---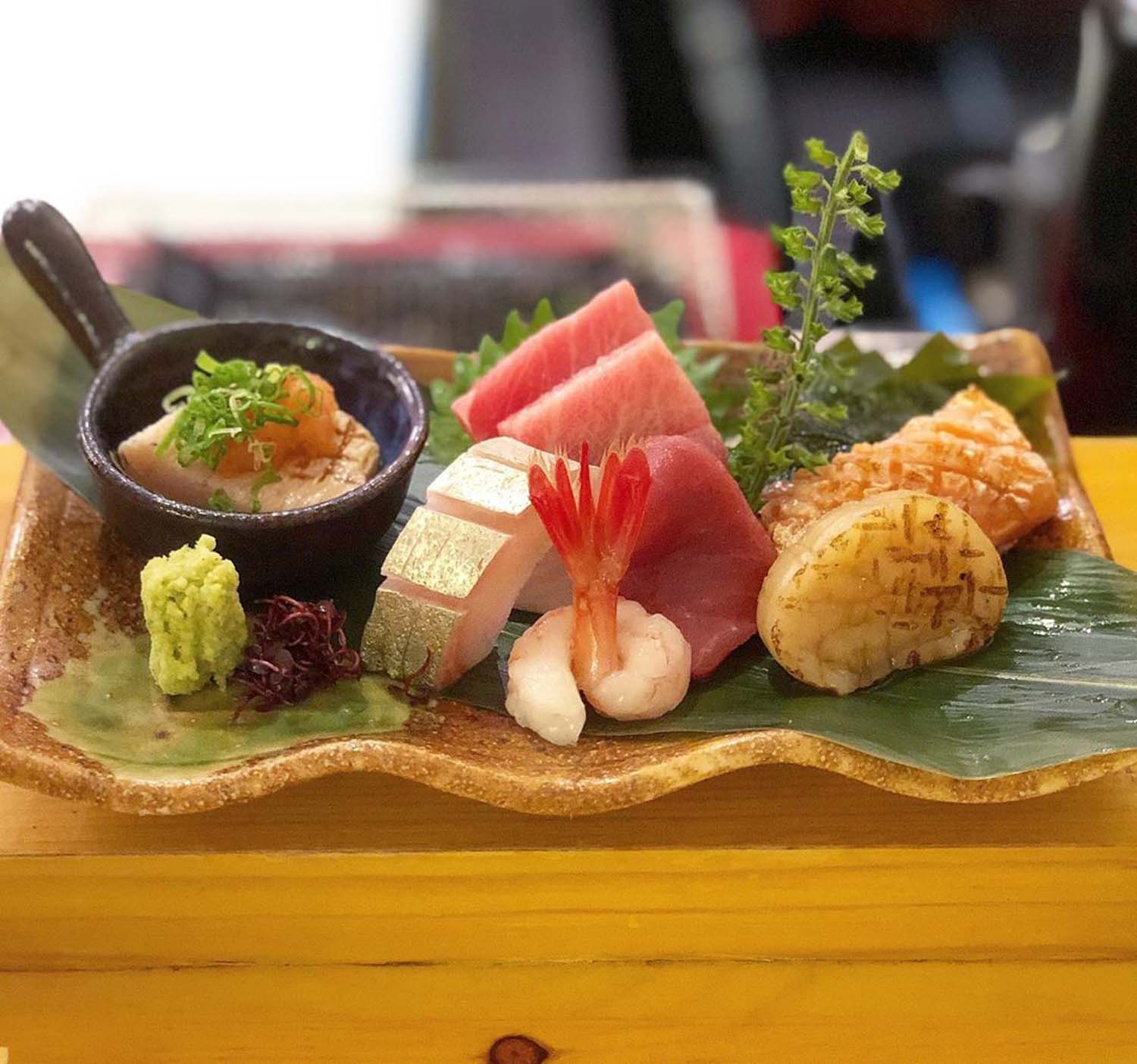 Image credit: @occasionally_hungry
Formerly known as Southpaw Bar & Sushi, Mizuya revamps with a kicky look and an updated menu offering omakase sets. Trust the head chef as he brings you through each dish in the 10-Course Omakase Set. The set includes two appetisers, assorted sashimi, five pieces of sushi, a maki roll, udon, and a house-made dessert.
Omakase is known to be on the pricier side, but you can now make your money's worth with ChopeDeals' 20% discount on Mizuya's 10-Course Omakase Set. Instead of triple digits, this satisfying meal will only set you back $98 nett.
Address: 11 Cavan Road, #01-04, Cavan Suites, Singapore 209848
Opening hours: Mon-Fri 12pm to 2:30pm, 6pm to 11pm, Sat 6pm to 11pm
Get 10-Course Omakase Set at Mizuya 
---
9. Amazing Hokkaido
---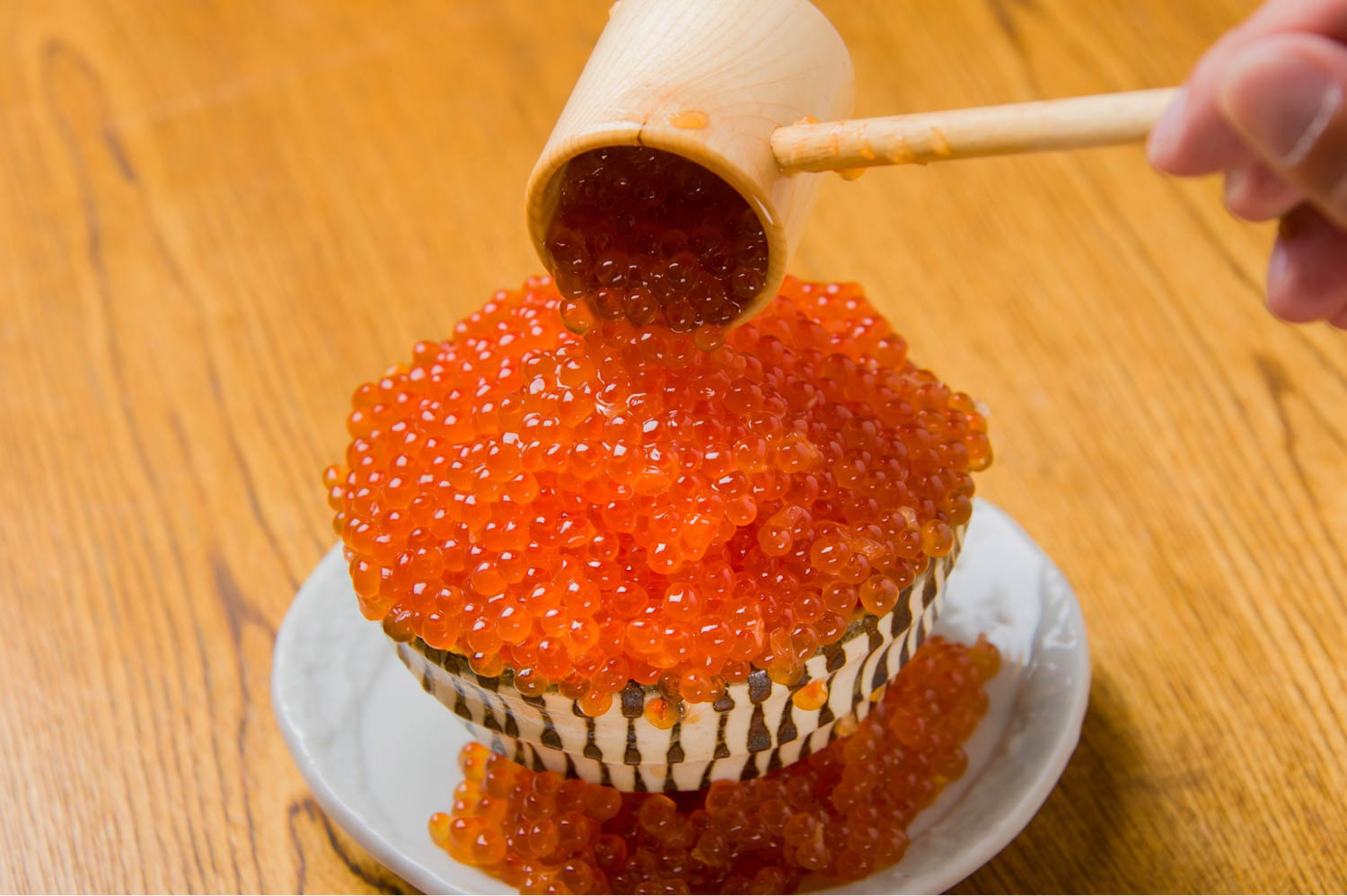 Image credit: Amazing Hokkaido's Facebook page
We are all attracted to Japanese food just like how bees are attracted to flowers. So it came as no surprise that Amazing Hokkaido was popping on Instagram with their Bursting Salmon Roe Rice Bowl ($39++). You know you're getting the real deal when this lively izakaya imports produce from Hokkaido and their patrons are mainly Japanese.
Have a blast at Amazing Hokkaido with ChopeDeals' 1-for-1 Aburi Salmon Roll Sushi ($19.90 nett). This shaves 72% off the usual price, which is actually $70.39! The natural sweetness from this fish is complemented by the smoky hints from the torched portions.
Address: 30 Robertson Quay, #01-16, Singapore 238251
Opening hours: Daily 5:30pm to 11pm
Get a 1-for-1 Aburi Salmon Roll Sushi at Amazing Hokkaido 
---
10. Menya Kokoro
---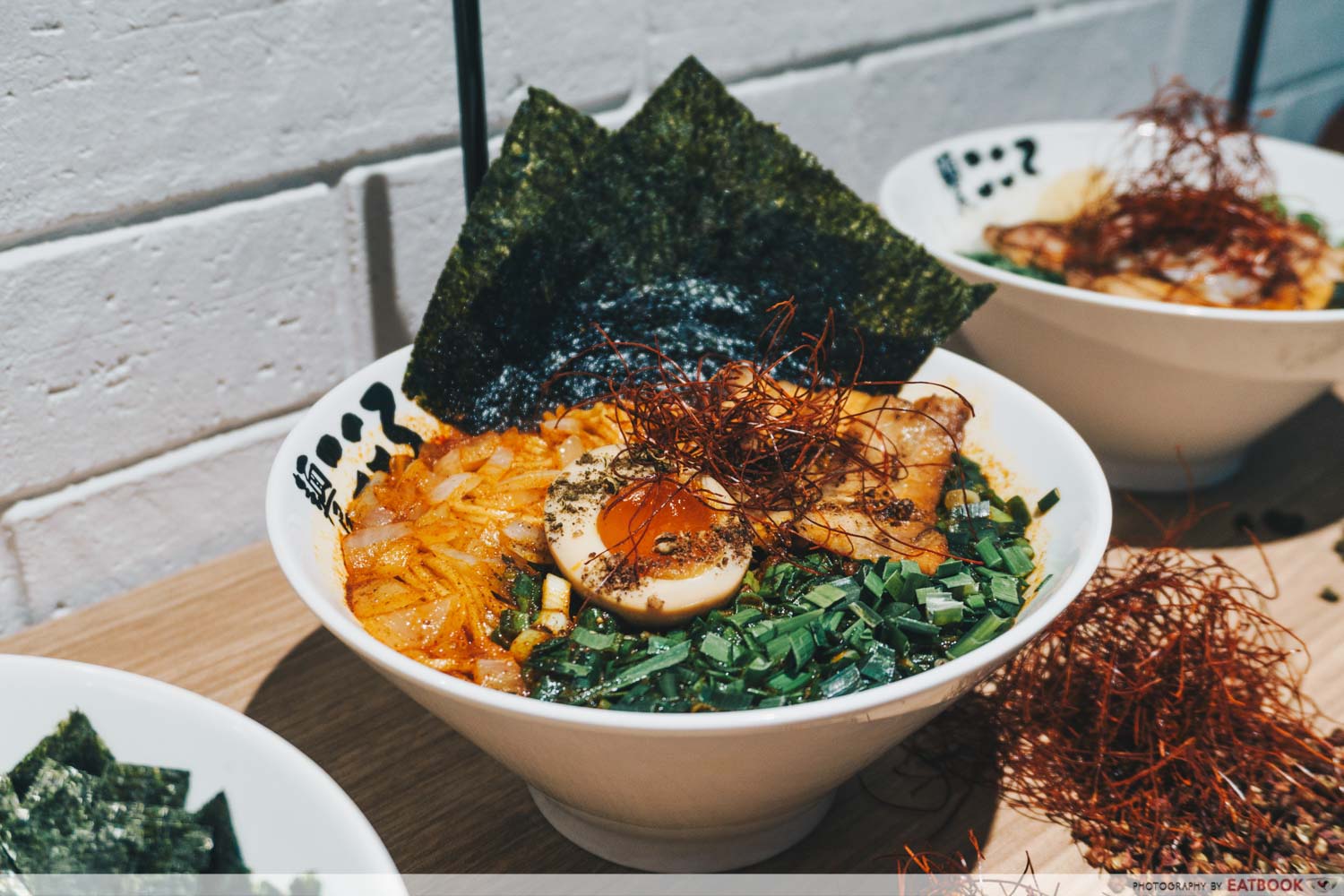 If you're bored of soupy ramen, then check out Menya Kokoro's range of mazesoba. Instead of the thick and rich broth that we're used to, their Mega Tokyo Mazesoba ($12.80++) is served dry with minced meat sauce. There are also soupy options such as Kokoro Tantanmen ($13.80++/$15.80++) which features a fragrant broth made with pork bones.
No matter if you dine at Menya Kokoro's Suntec, 100AM or Plaza Singapura outlets, you can enjoy 1-for-1 Signature Mains at $13.80 nett with ChopeDeals. Besides the Mega Tokyo Mazesoba and Kokoro Tantanmen, the offer includes Double Cheese Mazesoba, Spicy Mazesoba, and Black Garlic Ramen.
Address: 68 Orchard Road, #B2-53, Plaza Singapura, Singapore 238839
Opening hours: Mon-Fri 11am to 3pm, 5:30pm to 9:30pm, Sat-Sun 11am to 9:30pm
Get 1-for-1 Signature Mains at Menya Kokoro
---
Score
affordable
food with
ChopeDeals Year End Sale
---
Bargain hunters, mark down this one-day sale in your calendar. Besides the above-listed dining deals, there are also timed flash deals as low as $1! Make sure your WiFi connection is strong, so that you can quickly snag up these value-for-money deals and end the year with a bang.
If you're a first-time user to ChopeDeals, here's how to purchase and use your deal:
Receive your voucher through email or view it on the app.

Inform the staff that you will be using the voucher before ordering.

Present the voucher during payment.
Fully utilise these deals by reading the fine print, and don't forget to take note of the various timings.
This post is brought to you by ChopeDeals.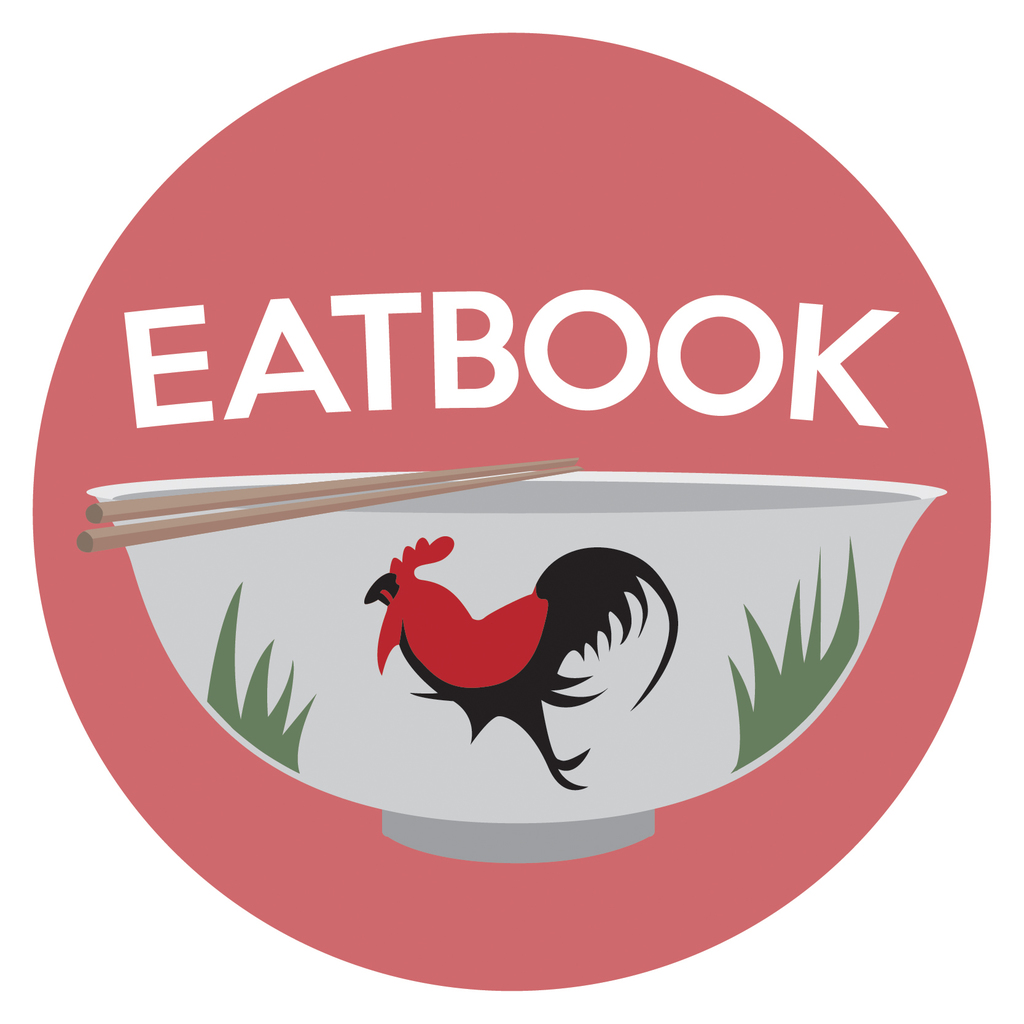 Drop us your email so you won't miss the latest news.