---
Affordable Japanese buffets in Singapore
---
As someone who loves buffets and Japanese food, finding a spread that extends beyond standard sushi fare can be a challenge. Those restaurants exist, but be prepared to shell out close to triple digits if you wanna nom on the likes of Wagyu beef, yakitori and sashimi.
With ChopeDeals, you can finally say "Itadakimasu" to legit Japanese nosh, as they have a slew of promos that'll make your wallet go "Arigatou". From 1-for-1 buffets to crazy affordable yakiniku, here are seven Japanese buffets to get your fill of Nippon food.
---
1. Shin Minori Japanese Restaurant
---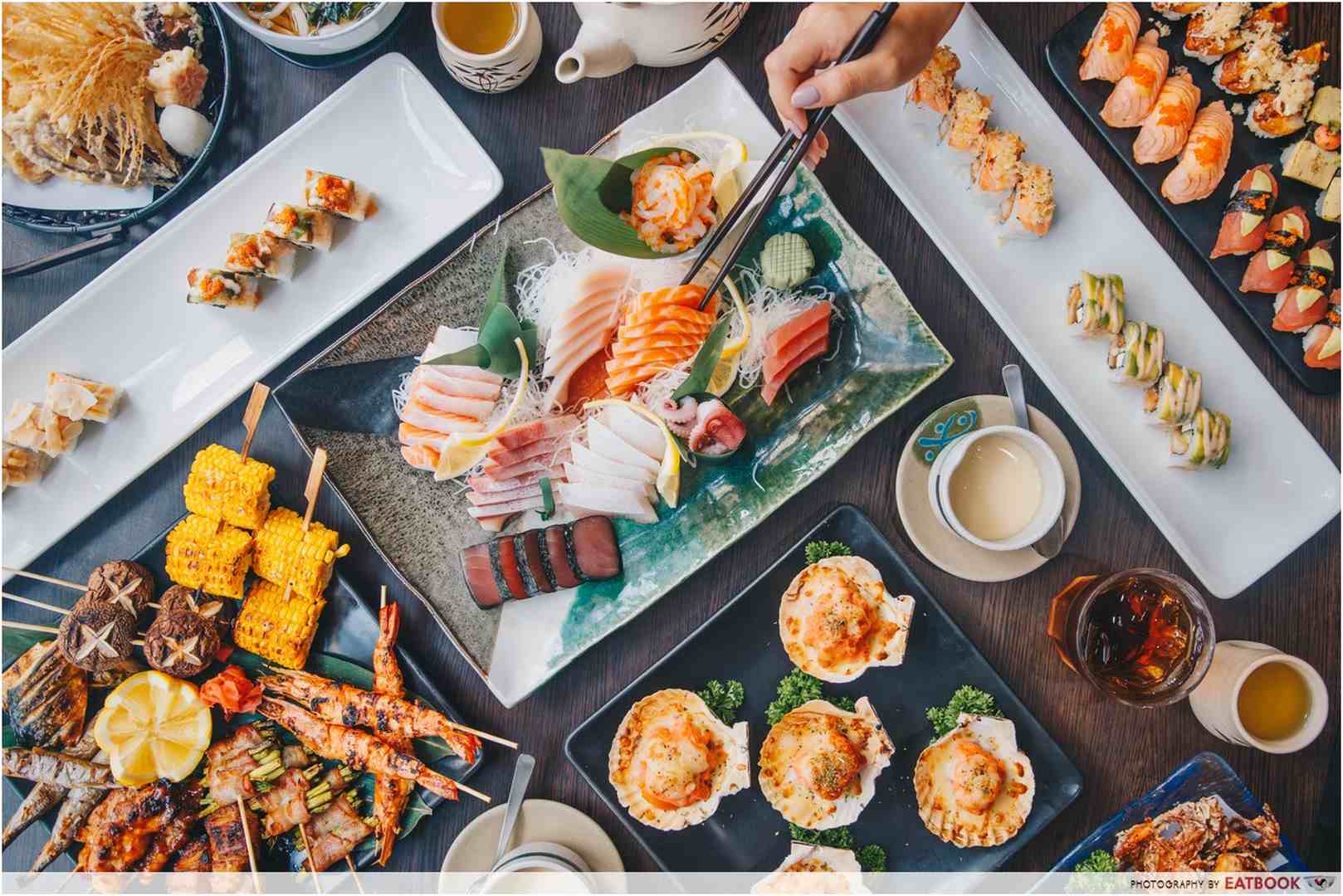 If you're too lazy to constantly get up and grab your food, Shin Minori Japanese Restaurant's a la carte buffet will strike your fancy. You'll be able to pace yourself as you dig into their hefty spread of sashimi, teppanyaki, maki and more. They even have a creamy Mentai Spaghetti that's topped with loads of cod roe.
Admittedly, it's gonna be hard to conquer the menu solo. That's why ChopeDeals' 1-for-1 Omizu Weekday Lunch Buffet ($58.73 for two diners) deal lets you bring along a friend to share the joy. That means each person only needs to fork out less than $30 nett for a go at over 160 menu items!
Address: 81 Clemenceau Avenue, #03-15/16, UE Square, Singapore 239917
Buffet hours: Mon-Fri 11:30am to 2:30pm
---
2. Tenkaichi Japanese BBQ Restaurant
---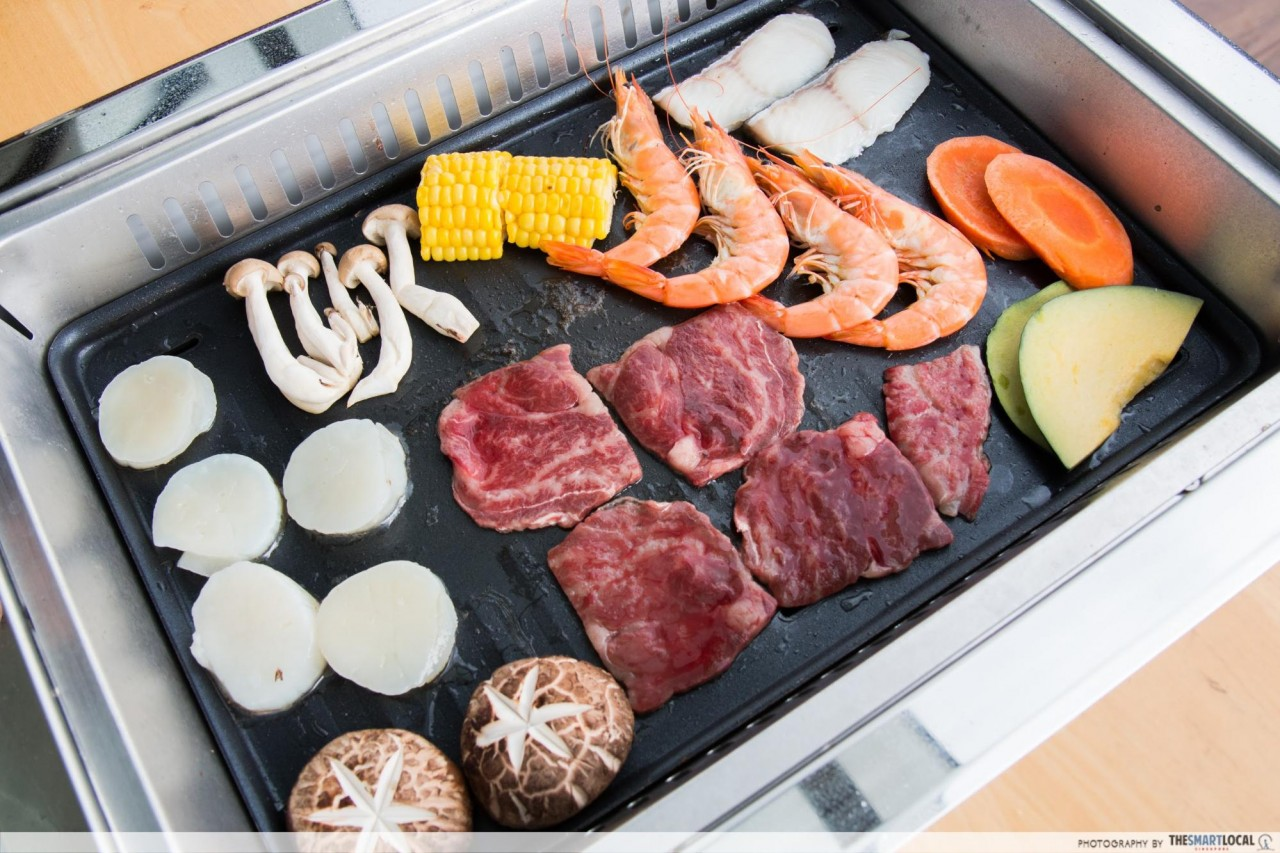 Tucked in a quiet corner of Marina Square, Tenkaichi Japanese BBQ Restaurant has been dubbed the most value-for-money Wagyu beef joint in Singapore. Their premium buffet comprises loads of Wagyu dishes like beef tongue, sashimi and short rib. Even their more affordable deluxe buffet doesn't skimp on options, boasting items like pork belly, Norwegian salmon and pork collar.
The restaurant will be offering 1-for-1 deals on both buffets, all day every day! As such, you can indulge in the deluxe buffet from just $41.60. Wagyu lovers who are interested in the premium buffet will only need to pay $73.70 – a steal given the high-quality options. To sweeten the deal, both deals include free-flow drinks and Ben & Jerry's ice-cream!
Address: 6 Raffles Boulevard, #03-129, Marina Square, Singapore 039594
Buffet hours: Mon-Fri 11:30am to 2:30pm, 5:30pm to 10pm Sat-Sun 11:30am to 10pm
---
3. Irodori Japanese Restaurant
---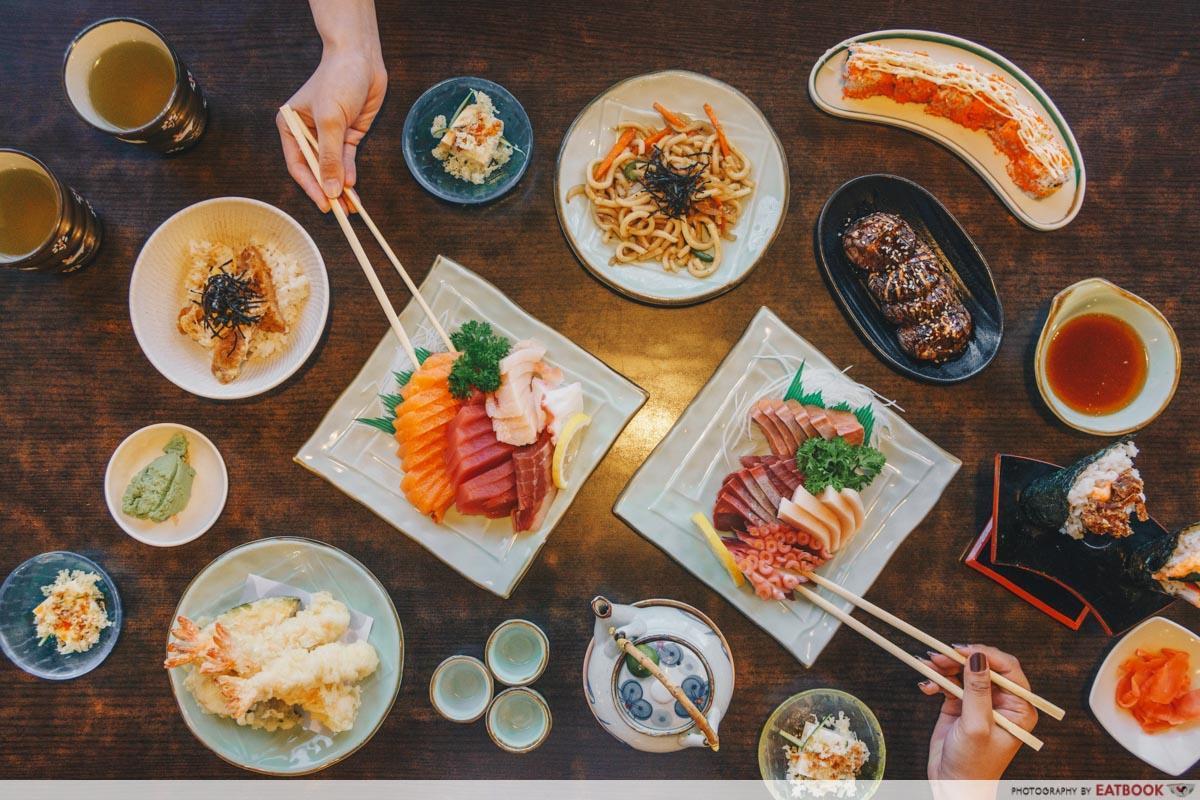 Irodori Japanese Restaurant utilises seafood and ingredients from all over the world – including Europe, and it shows in their piping hot food and thick sashimi. They've consistently been praised for the freshness of their food, which includes unique creations like bacon-wrapped maki and onion tempura.
Get 30% off the buffet on ChopeDeals to enjoy their lunch buffet at just $31.97. The buffet runs from 11:30am to 2:30pm daily, so maximise those three hours and munch on their entire spread.
Address: 382 Havelock Road, #03-00, Four Points by Sheraton Singapore, Riverview, Singapore 169629
Buffet hours: Daily 11:30am to 2:30pm
---
4. Triple Three Restaurant
---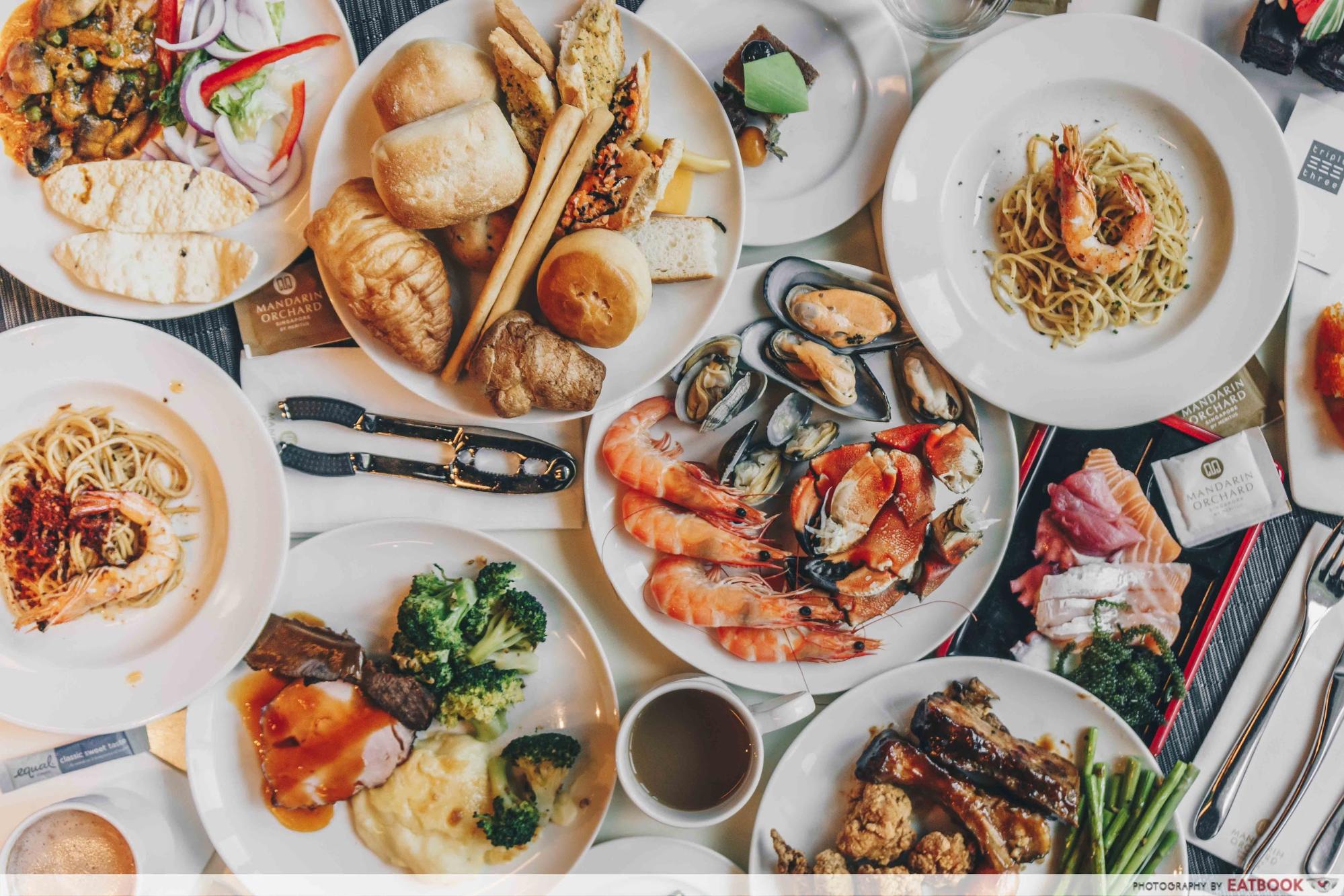 Unlike the other restaurants on this list, Triple Three Restaurant doesn't stop at just Japanese food. Peruse their menu and you'll find daily themed dinners, including Foie Gras Tuesdays and Lobster Weekends, in addition to Japanese fare like Kagoshima Wagyu Beef and Lobster Mentaiyaki.
To match their slew of food, Triple Three also has an equally impressive selection of promos on ChopeDeals. Enjoy 1-for-1 on their lunch buffets (from $45.91 ), or if you're looking for a post-work hangout, their dinner buffet lets the second diner enjoy 50% off, meaning each diner will only need to pay $77.68!
Address: 333 Orchard Road, Level 5, Mandarin Orchard Singapore, Singapore 238867
Buffet hours: Daily 12pm to 2:30pm, 6:30pm to 10pm
---
5. ROCKU Yakiniku
---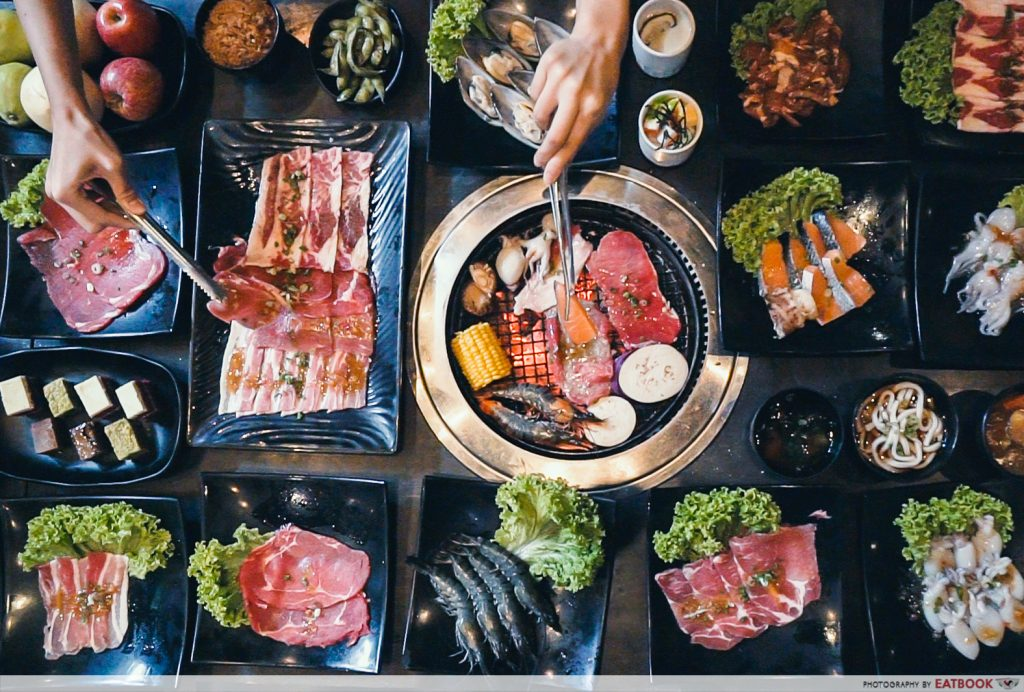 ROCKU Yakiniku is the place to be if you're a hardcore meat lover. Designed as a graffiti-laced garage, the restaurant serves high-quality meat dishes against J-Pop tunes, making it the perfect place for a casual get-together. You can expect cuts like Wagyu brisket, Australian sirloin and short ribs – all air flown from around the world for freshness.
The best part of it all is that with ChopeDeals, you only need to pay $28 for their All-Day ROCKU Yakiniku Buffet, which comprises multiple beef cuts, seafood and sides!
Address: 201 Victoria Street, #04-06, Bugis+, Singapore 188067
Buffet hours: Daily 4pm to 8:30pm
---
6. Suki-Ya
---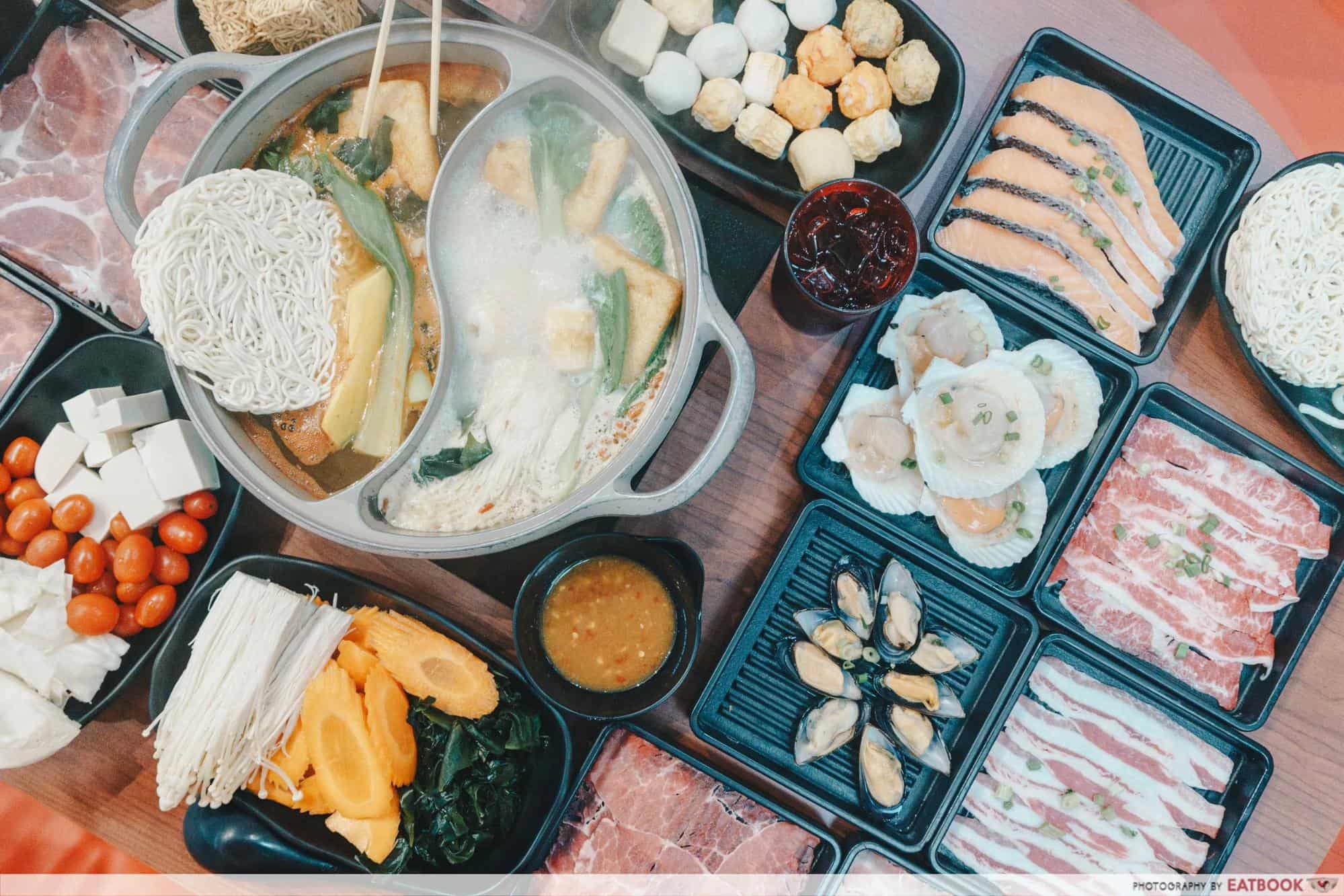 Mention Suki-Ya and most people will think about their affordable shabu shabu and unique-yet-tasty broth. Choose from five soup bases to dip your meat in, including the rich Butaniku and light Tonyu Miso that's also a healthy option. Aside from thinly sliced meat, there's also a lineup of veggies and fish balls to fill your hot pot with.
Now, you can get 25% off their All-You-Can-Eat Dinner Buffet with ChopeDeals, meaning gorging there will only set you back $21.98!
Address: 201 Victoria Street, #04-14/15, Bugis+, Singapore 188067
Buffet hours: Daily 4pm to 8:30pm
---
7. Tajimaya Yakiniku
---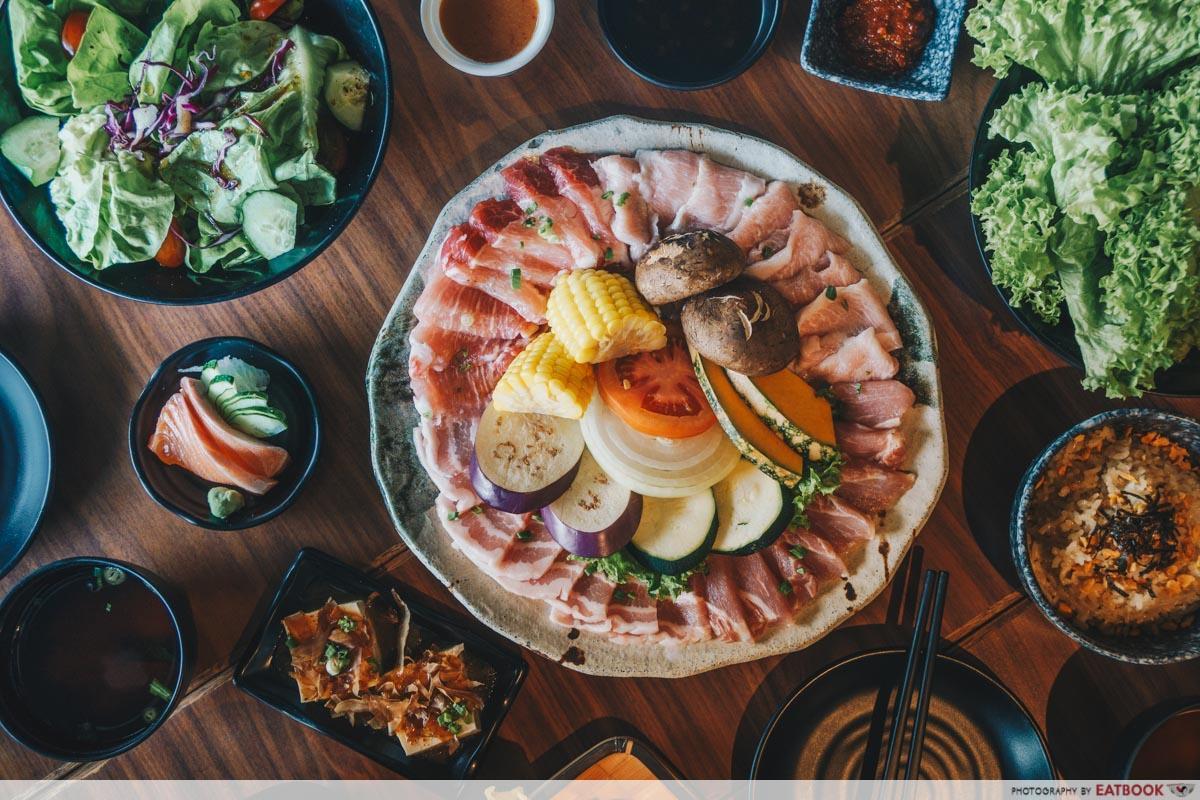 Japanese charcoal-grill buffet Tajimaya Yakiniku offers thick slices of premium meat such as Miyazaki, Angus and Wagyu beef, which makes it a convenient one-stop location to sample the different cuts. To up the luxe, they even have Iberico pork belly and ox tongue!
ChopeDeals is offering 10% off their Tajimaya Wagyu Beef Buffet (from $52.86), which also grants you access to all sorts of sashimi and even takoyaki!
Address: 1 Harbourfront Walk, #01-102/103, VivoCity Singapore 098585
Buffet hours: Mon-Fri 12pm to 2pm, 6pm to 9pm, Sat-Sun 11:30am to 3pm, 6pm to 9pm
---
Nab these promos with ChopeDeals
---
Eating at Japanese buffets doesn't have to be a wallet-busting affair, thanks to ChopeDeals. The site has a slew of dining deals that can be used at over 600 restaurants. This includes cash vouchers to offset your bills after GST and service charge, as well as set meals under $20. So even if you're not into Japanese food, you can save your cash at other places, from atas restaurants like House of MU to quick service joints like Ministry of Burgers.
The best part of it all is that it's non-subscription based, so you can enjoy all these deals whenever you want with no strings attached!
Redeeming the vouchers is easy. All you have to do is:

Receive your voucher via email or view it on the app.

Inform the staff that you'll be using your voucher before ordering.

Present your voucher during payment.
Remember that for some restaurants, you'll need to make a reservation at the restaurant via Chope before dining there. So remember to check the terms and conditions of the vouchers!
We recommend downloading the app on your phone for a fuss-free experience – you will never have to scroll through your mailbox to find the voucher!
This post is brought to you by ChopeDeals.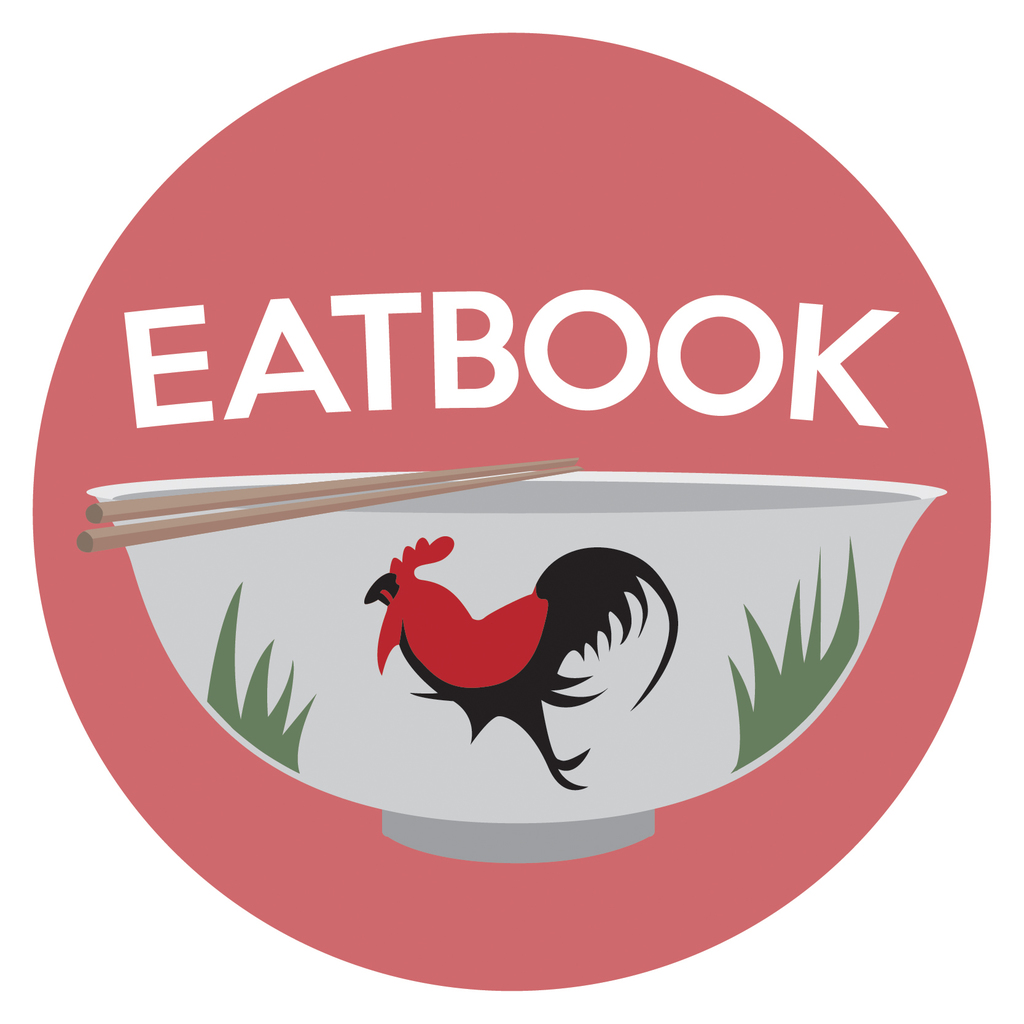 Drop us your email so you won't miss the latest news.