No. 1 Western Food in Commonwealth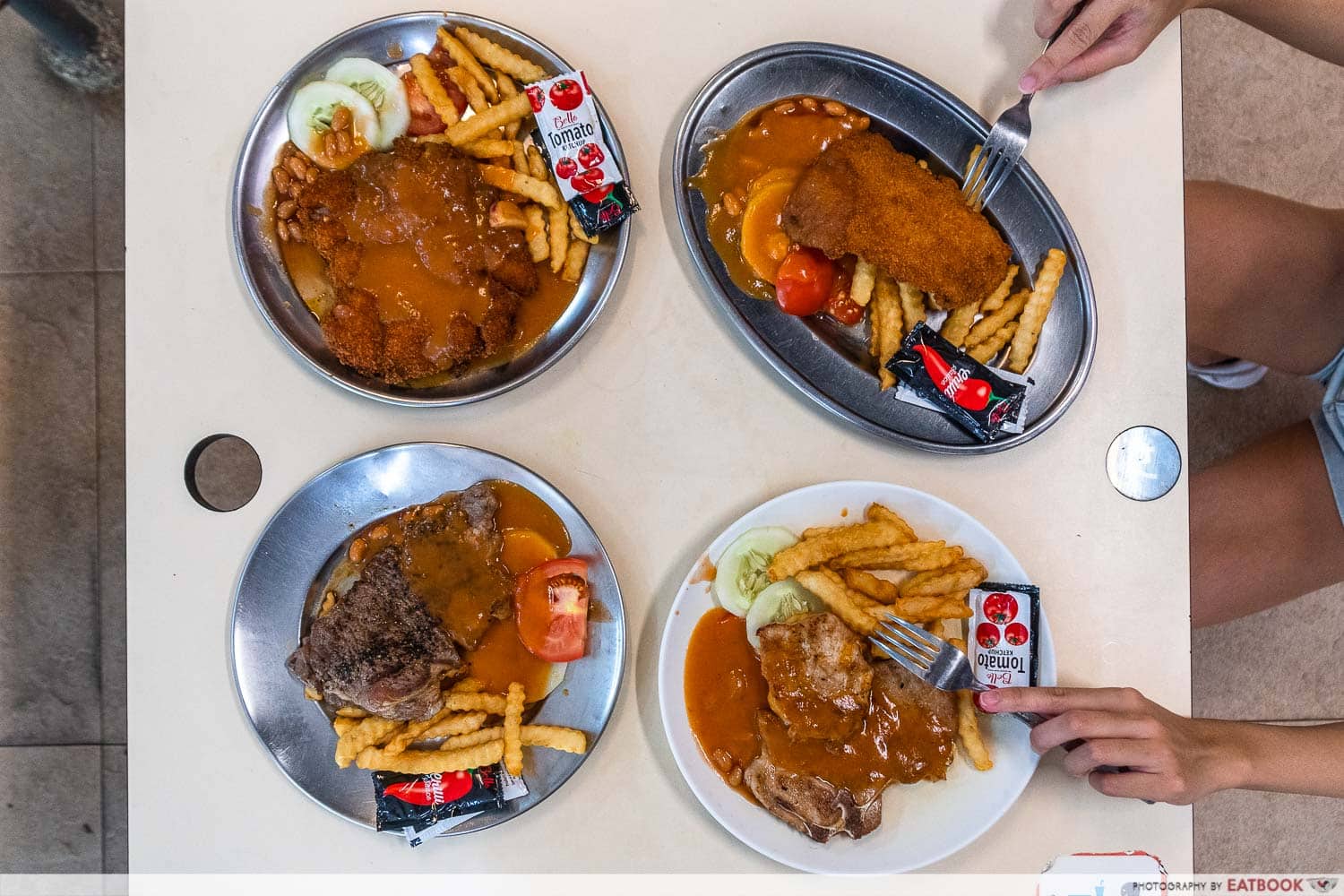 I came to hear about No.1 Western Food as my colleague was raving about this old-school hawker located in Commonwealth, serving delicious yet affordable Western delights. Curious to find out if it was worth a trip to the west, I was excited to head down to No.1 Western Food for their famous chicken cutlet, beef steak and more. 
9 Old-School Western Food Stalls In Singapore For XXL Chicken Cutlet And Fish And Chips From $6
Food at No.1 Western Food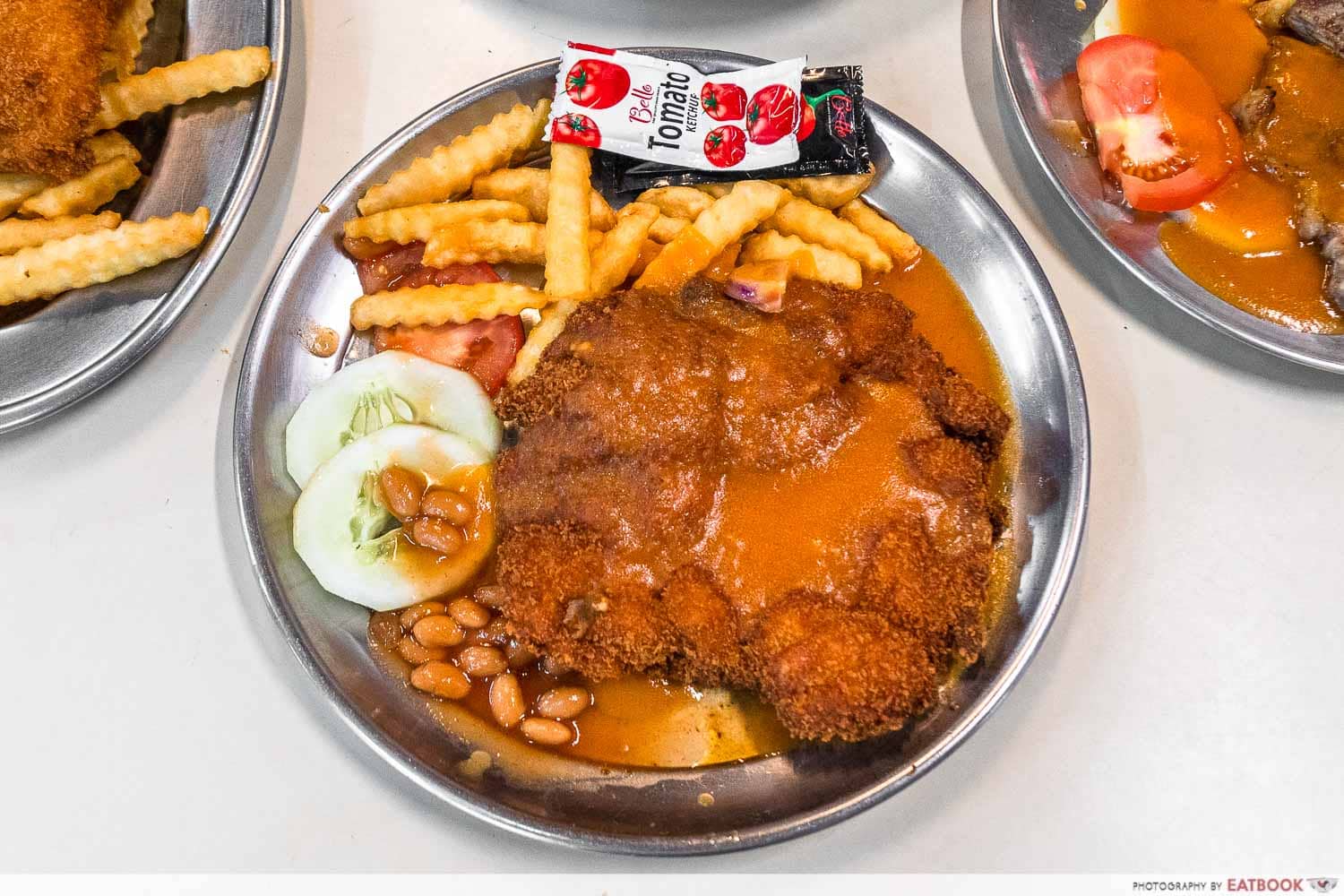 Starting off with the most popular item here, I went straight for the Chicken Cutlet ($5). Filling up almost half the plate, the size of the golden-brown cutlet was quite impressive. 
All meats are served with a side of thick-cut french fries, baked beans, and slices of fresh cucumber and tomatoes. They also slather all their dishes in their signature orangey tomato-based sauce. New batches of fries are released frequently, almost guaranteeing that you get hot piping fries that are crispy on the outside and moist on the inside.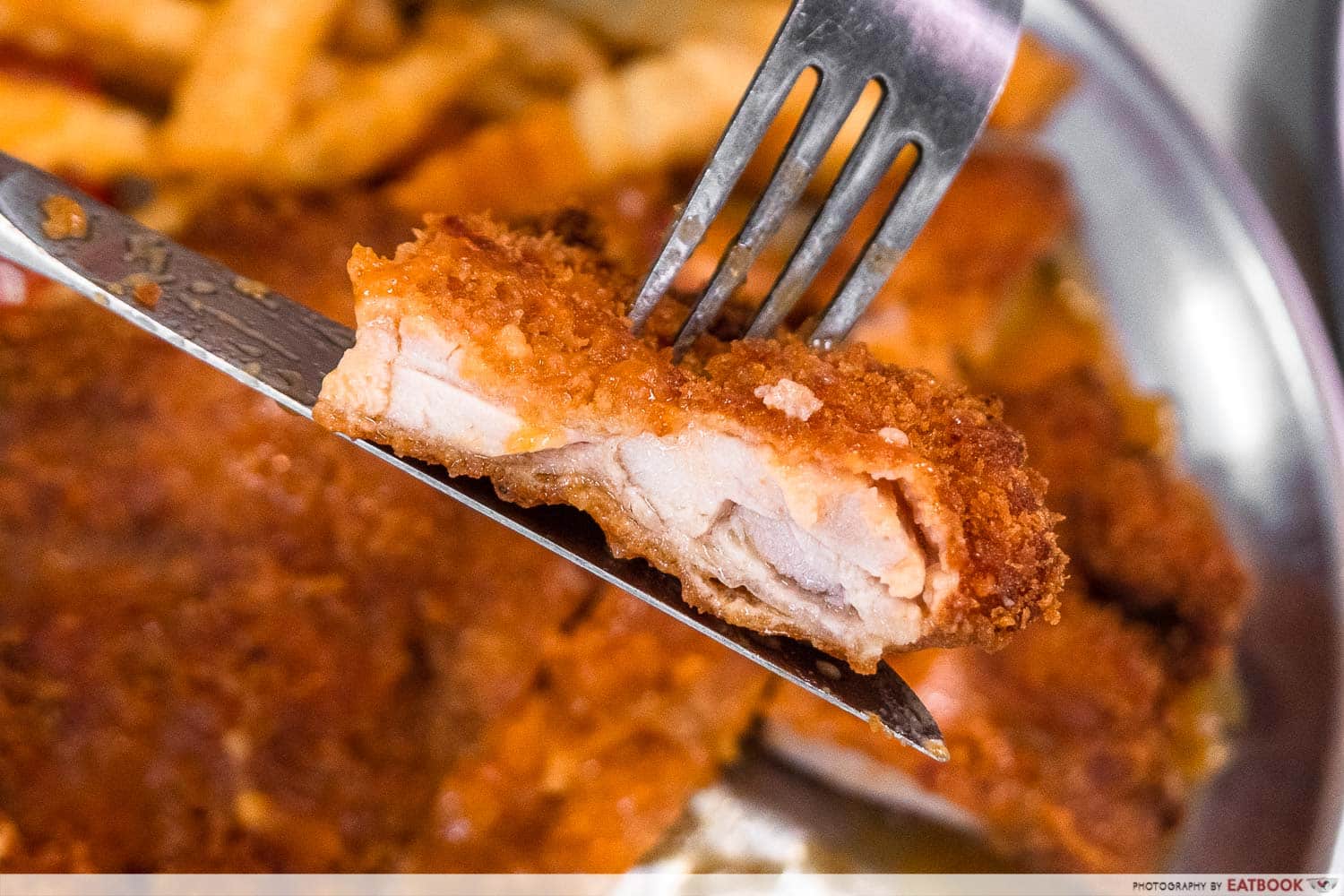 As testimony to its tenderness, I had no problem slicing through the chicken cutlet. The crispy panko batter was crunchy, providing a stark contrast against the moist chicken within. The sweet-tangy tomato-based sauce was not too overpowering, and made a suitable pairing alongside the well-fried chicken. It reminded me of watered down tomato ketchup, evoking a more pronounced sugary mouthful.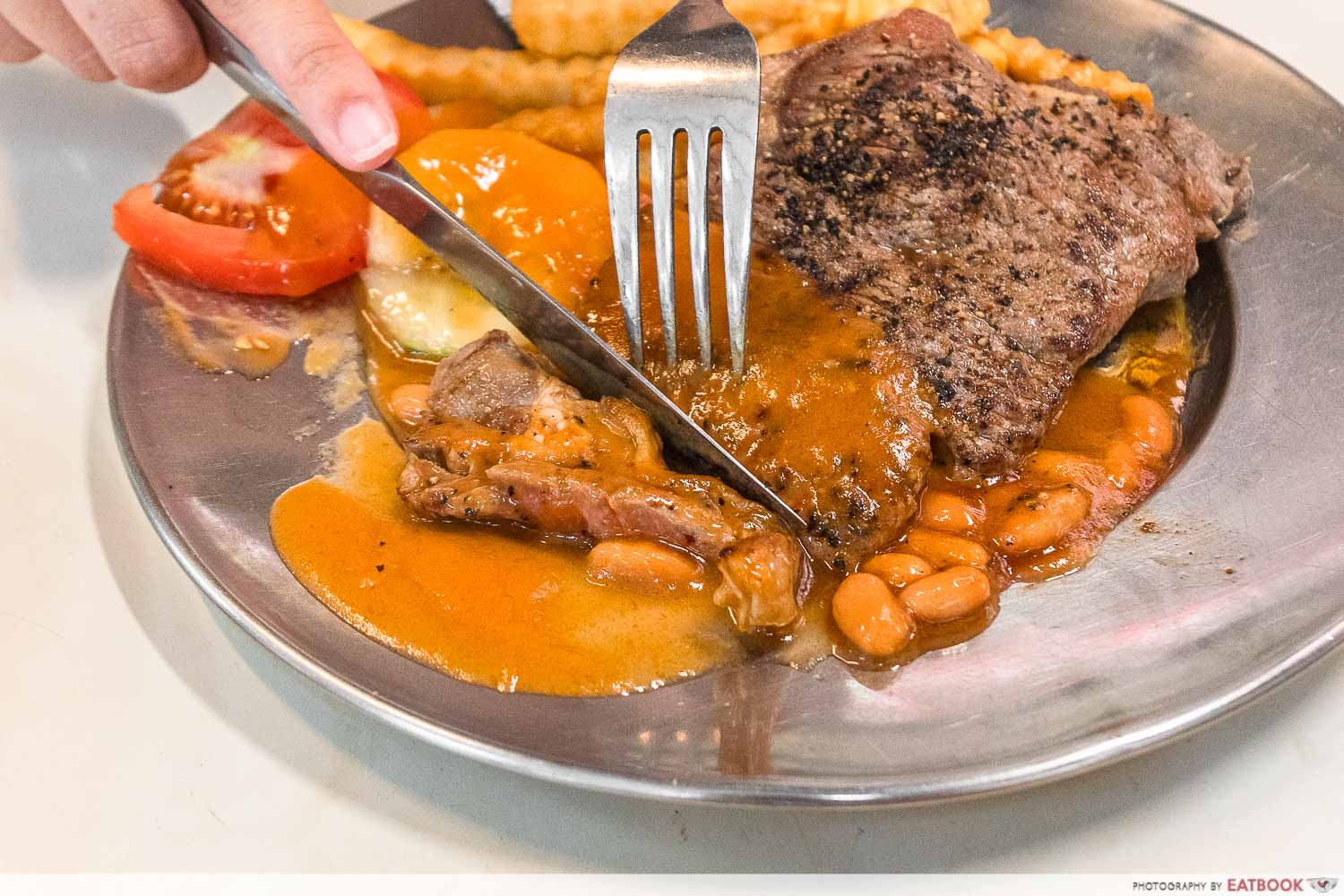 On the other hand, the Beef Steak ($6) was surprisingly hard to cut through, and at first glance, looked rather dry. Although evidently cooked to medium well, the meat was definitely more rubbery than tender.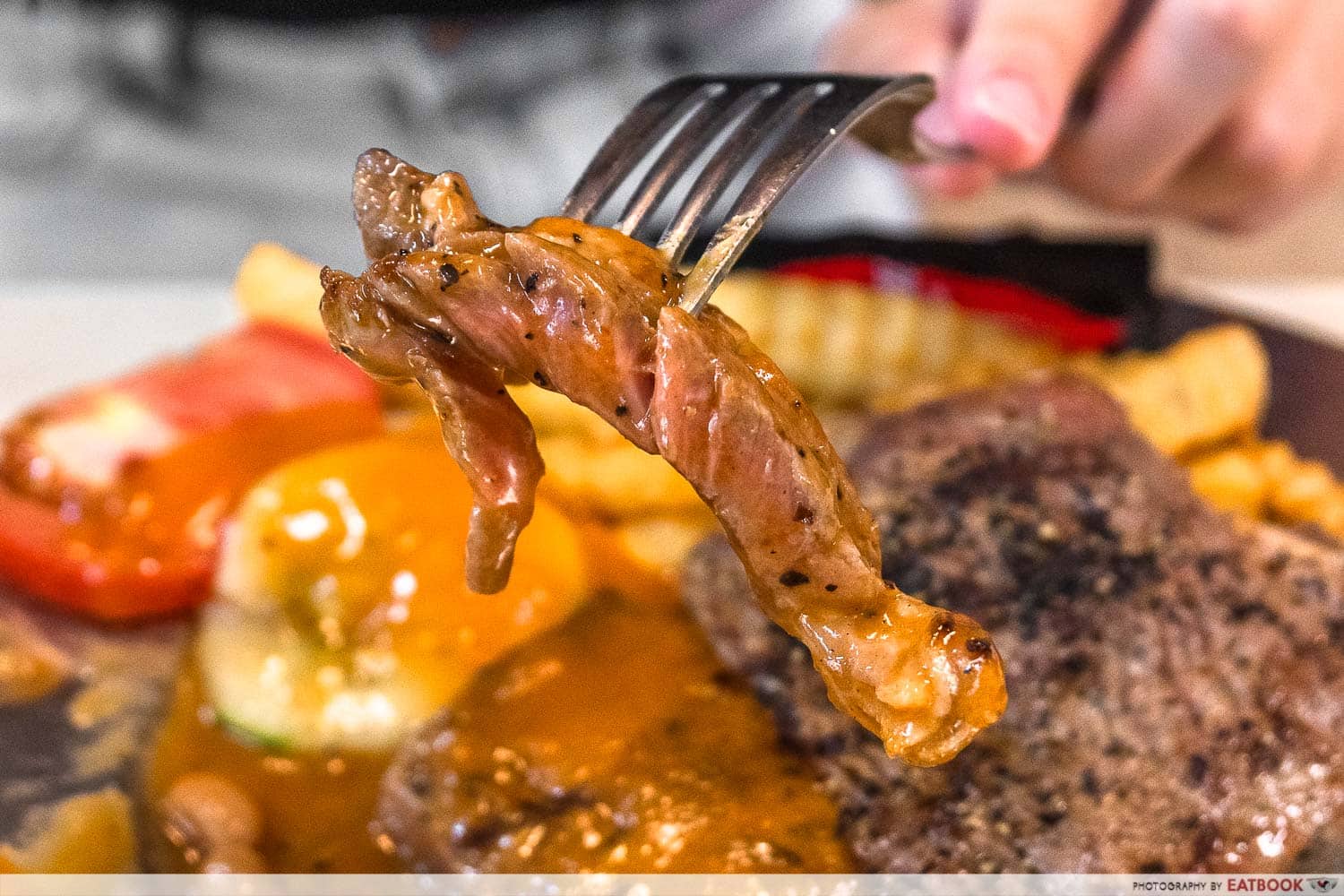 Biting into the steak was actually a more positive experience than expected, contrary to the tough time I had cutting through the meat. Although the texture leaned towards the chewier side, the steak was thoroughly seasoned with salt and pepper, providing a savoury mouthful with every bite.
I would still have preferred it to be more tender, but I can't really complain as this steak is offered at such a low price point.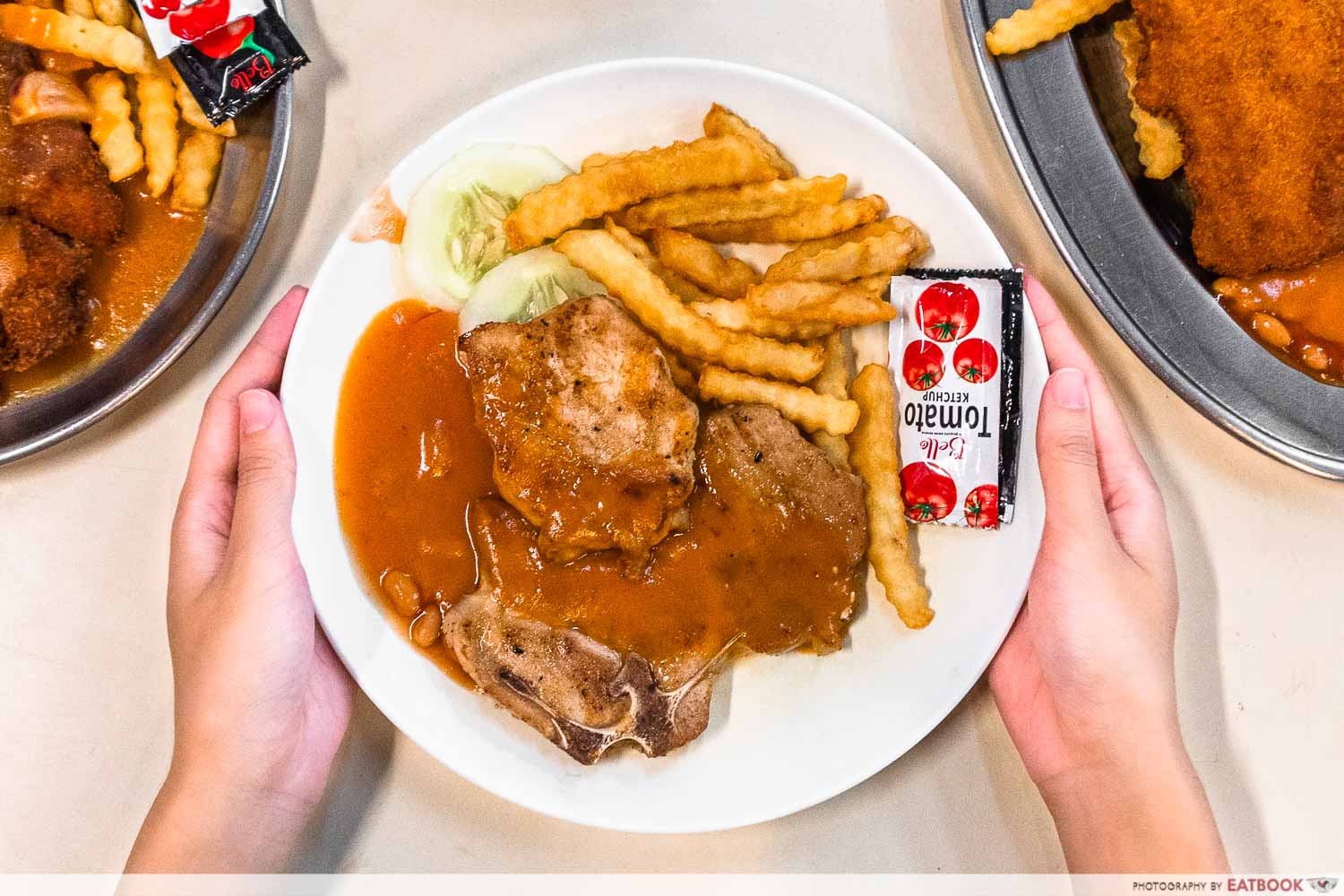 The Pork Chop ($5) came in a generous portion with two large slabs of meat, pale with bits of char. Once again, I was truly wowed by the portion size in comparison to the price of this dish.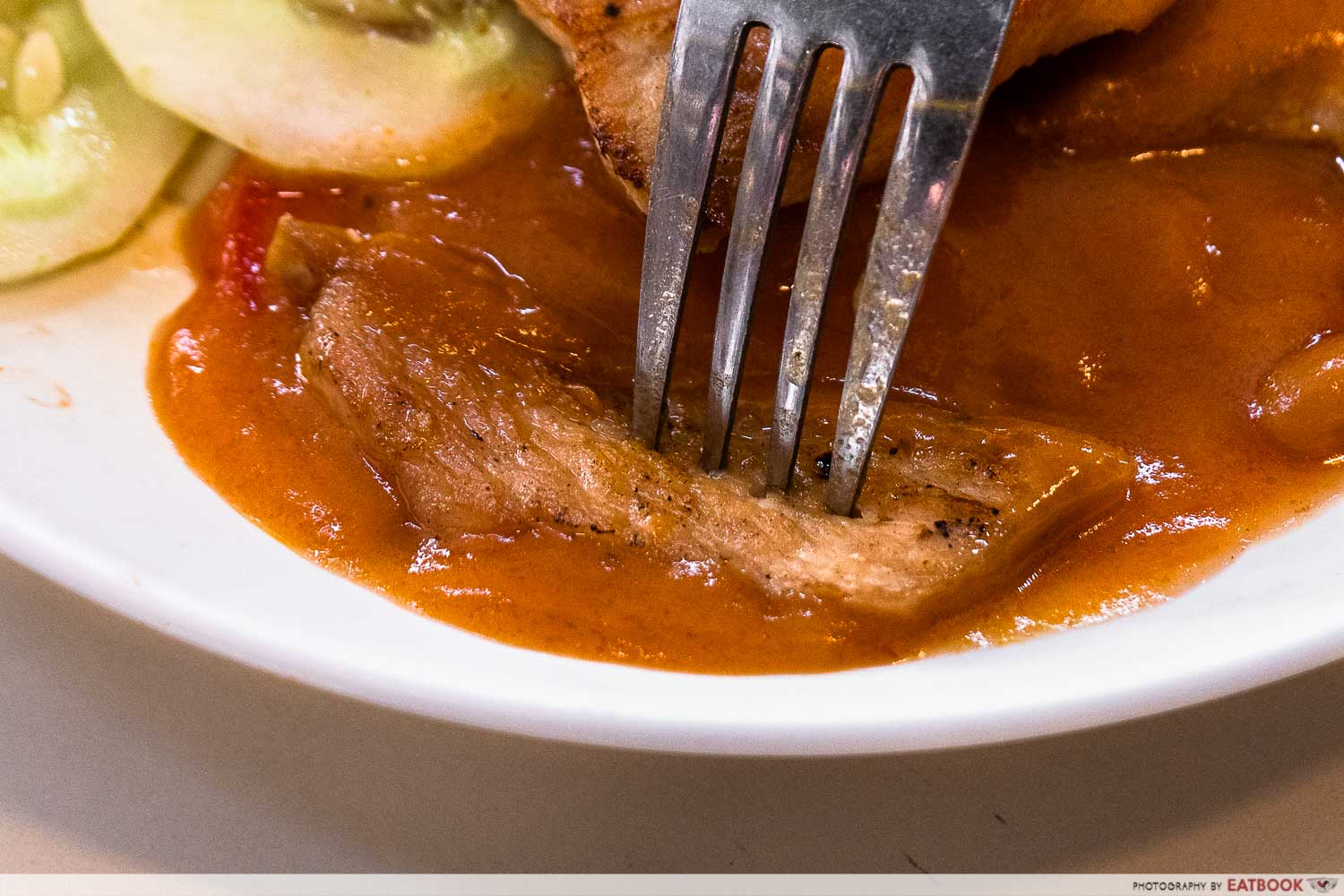 Similar to the beef, the pork was also too dry for my liking, and was slightly underseasoned. Dipping it into the sauce was its saving grace, giving it an additional boost of flavour, making it more palatable.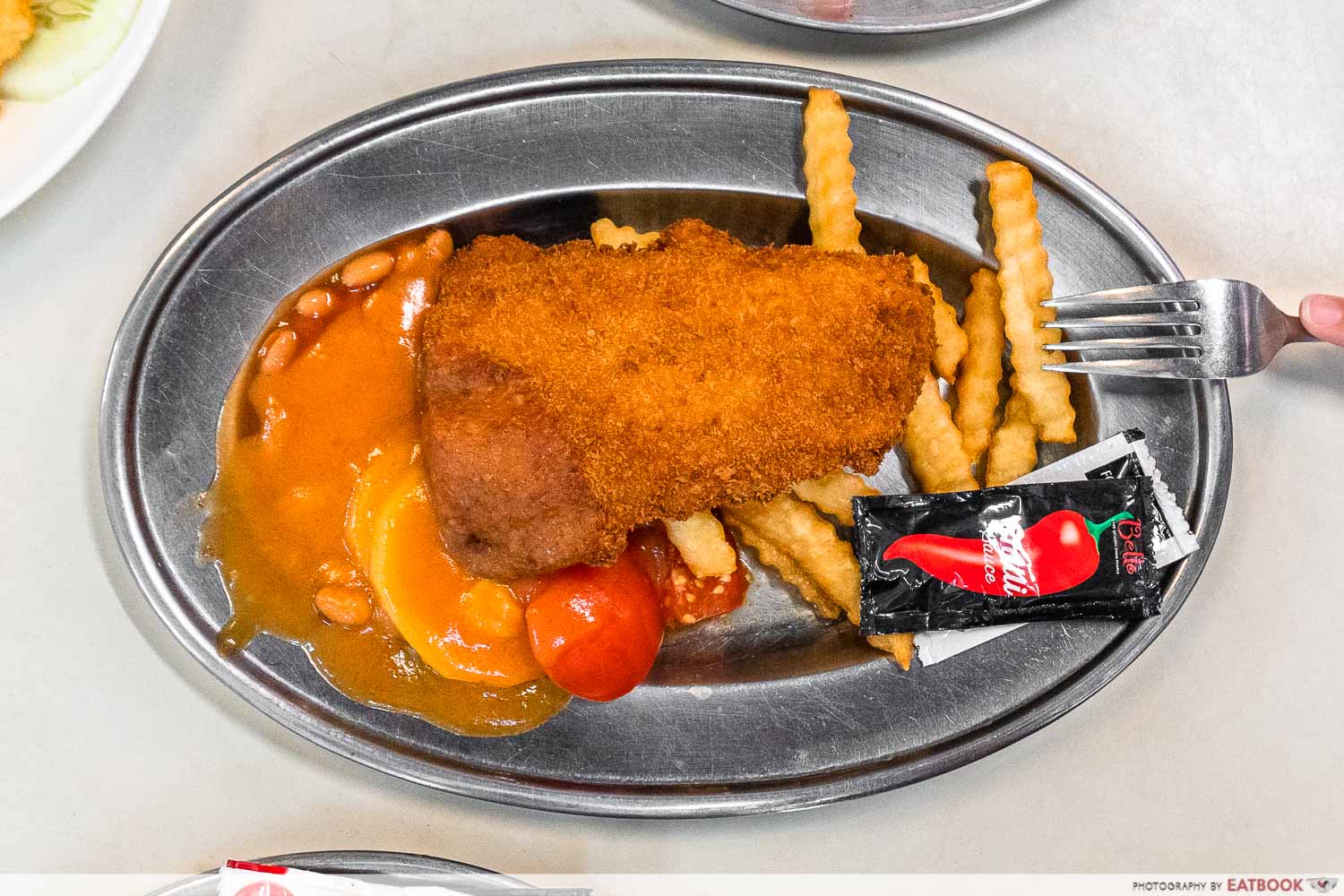 Finally, we went for the Fish and Chips ($5), which is my go-to order when I visit Western restaurants. The deep-fried batter looked extra promising, with its golden colouration. According to the owner, they use classic dory fish in their fish and chips.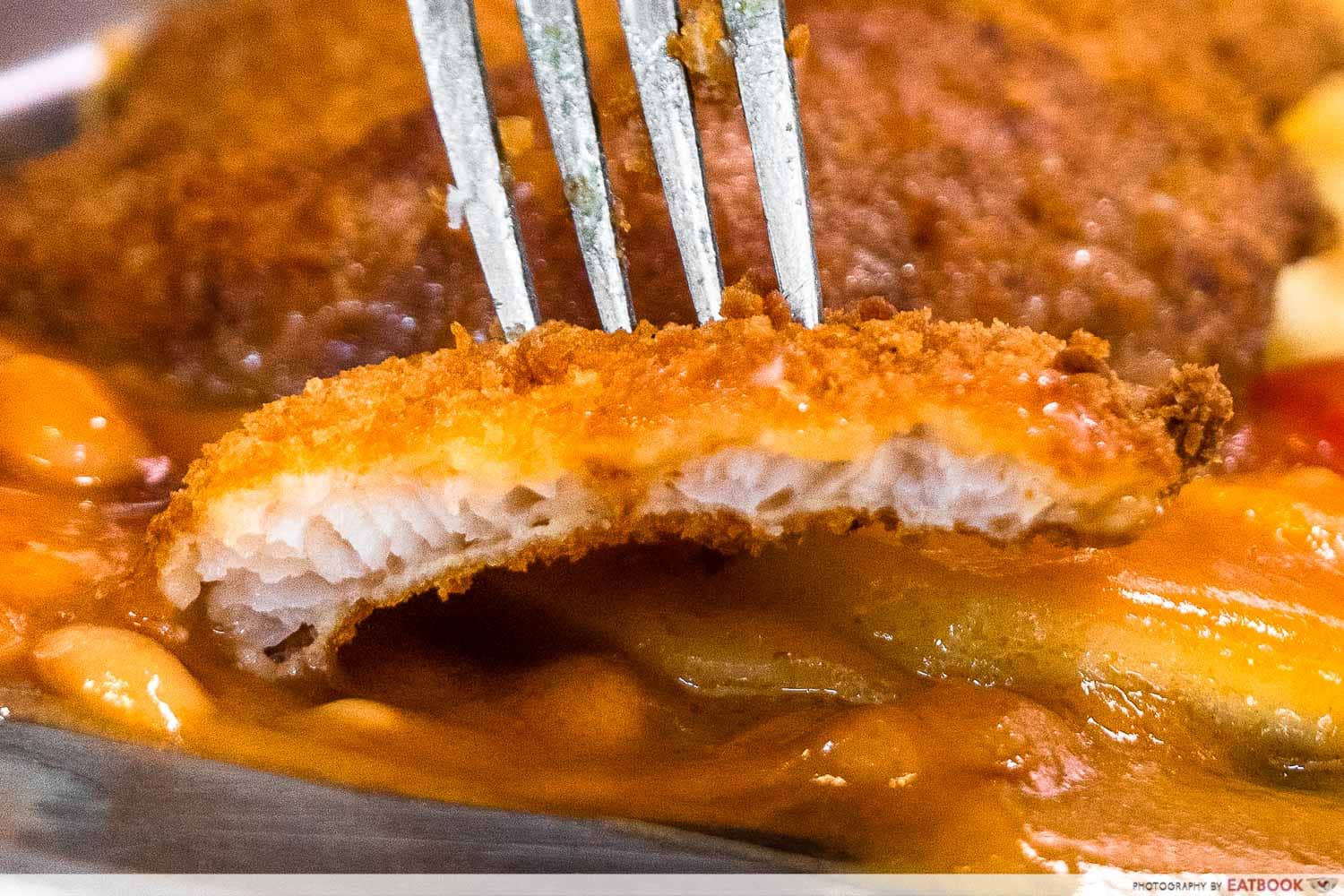 Cutting into the fried dory fish was a total breeze, and the white meat had a flakey tender texture. With a melt-in-your-mouth consistency, this dish comes in second on my list after the chicken cutlet. 
It was a little too thin in my opinion, as I was hoping for a more substantial mouthful. I recommend going for their fish & chips if you're looking for something lighter. 
Ambience at No.1 Western Food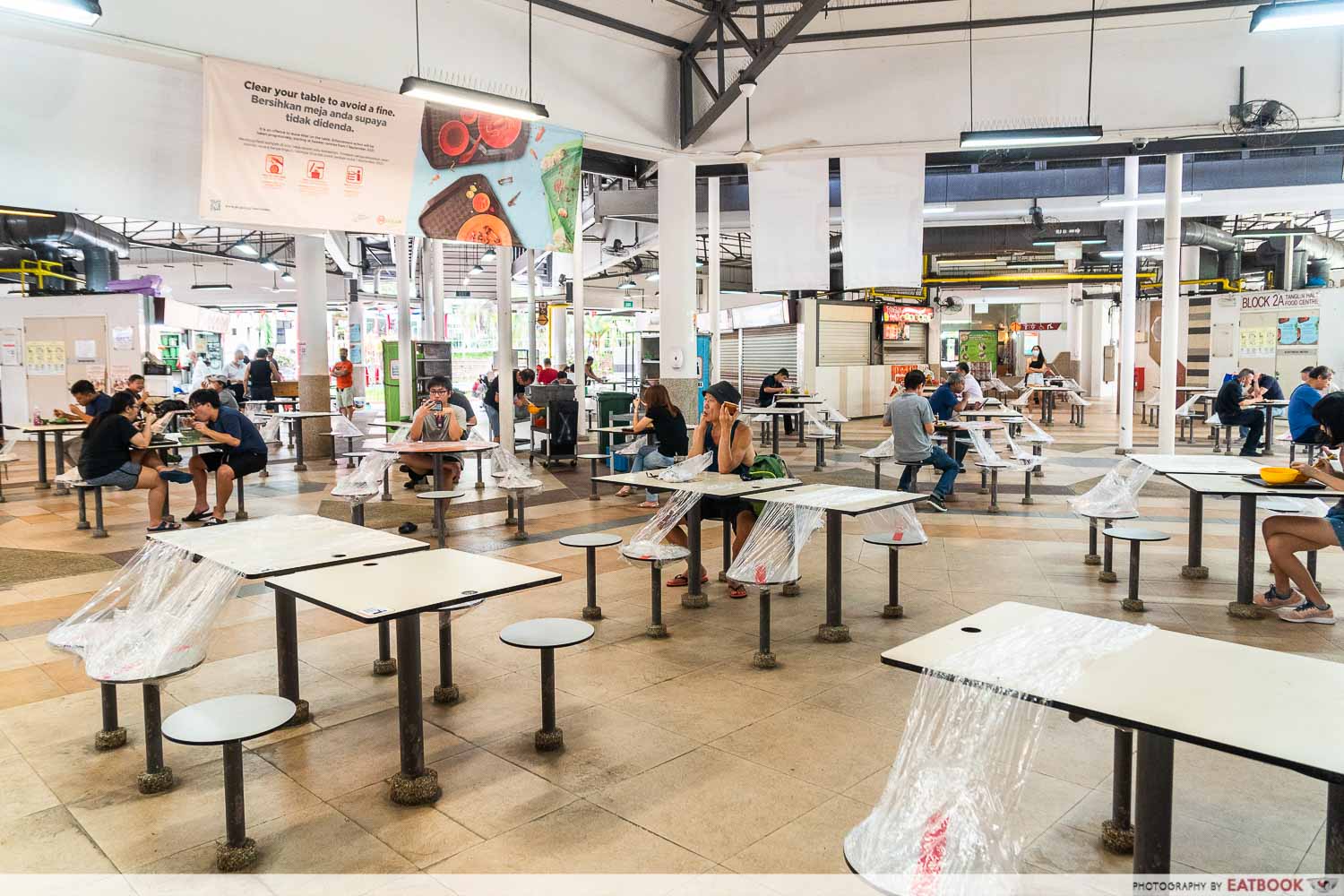 Situated in Tanglin Halt Food Centre, this place is a convenient 10 minutes walk away from Commonwealth MRT Station. Sadly, the market and food centre will be demolished in 2024, so you are advised to hurry down while you still can. With a history of over 20 years, many stalls will be missed, particularly by those who reside in this area of Singapore. 
Verdict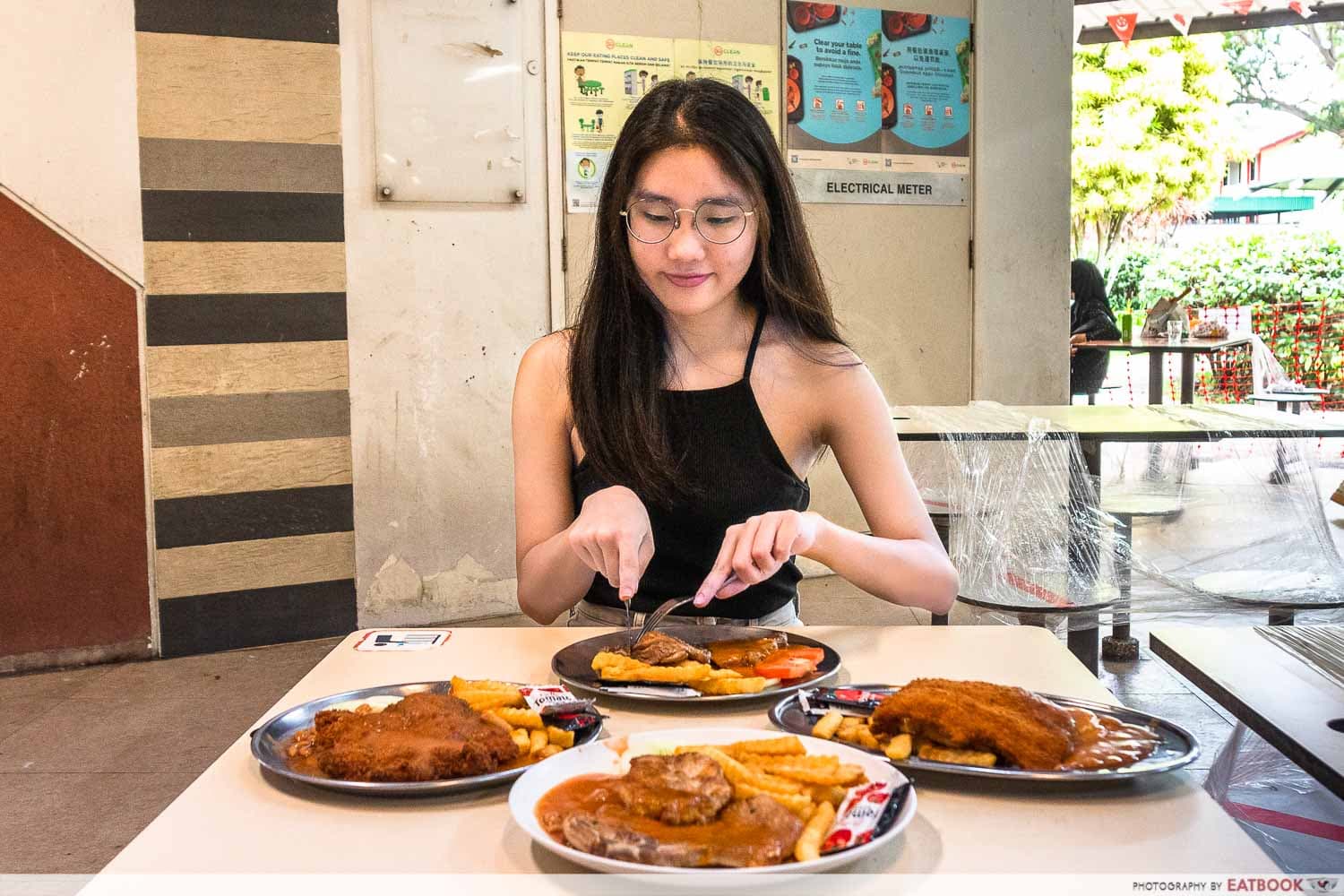 Although No.1 Western Food attracted me with their affordable pricing, there were overall more hits than misses. Having said that, I would still pay a visit if I happen to be around the area, but would not make a trip down just to have the food here. 
If you happen to visit Tanglin Halt Food Centre, I highly recommend giving the chicken cutlet or fish and chips a go. The owners are also very warm and friendly, which is always a plus!
Hock Ann Confectionery Review: 35 Year-Old Bakery With Old-School Kaya Cake And $0.60 Custard Puff
For more food in the area, check out our Old Village review, for flavourful KL pork noodles from just $2.50 a bowl! If not, there is also our Hock Ann Confectionary review, with old-school kaya cakes, and $0.60 custard puffs.
Address: 1A Commonwealth Drive, #01-13, Singapore 140001
Opening hours: Thurs-Mon 11am to 4pm
No.1 Western Food is not a halal-certified eatery.
Photos taken by Lim Yu Hui.
This was an independent review by Eatbook.sg.
No.1 Western Food Review: Old-School Western Food Store Has Chicken Cutlet, Beef Steak And More, All Under $10
No.1 Western Food Review: Old-School Western Food Store Has Chicken Cutlet, Beef Steak And More, All Under $10 -

6.5/10
Summary
Pros
– Prices are very affordable
– Big portions
– Chicken cutlet was juicy
– Fish and chips had a melt-in-your-mouth texture
Cons
– The pork chop was dry
– The beef steak was too chewy
Recommended dishes: Chicken Cutlet ($5), Fish and Chips ($5)
Opening hours: Thurs-Mon 11am to 4pm 
Address: 1A Commonwealth Drive, #01-13, Singapore 140001