Hock Ann Confectionery at Tanglin Halt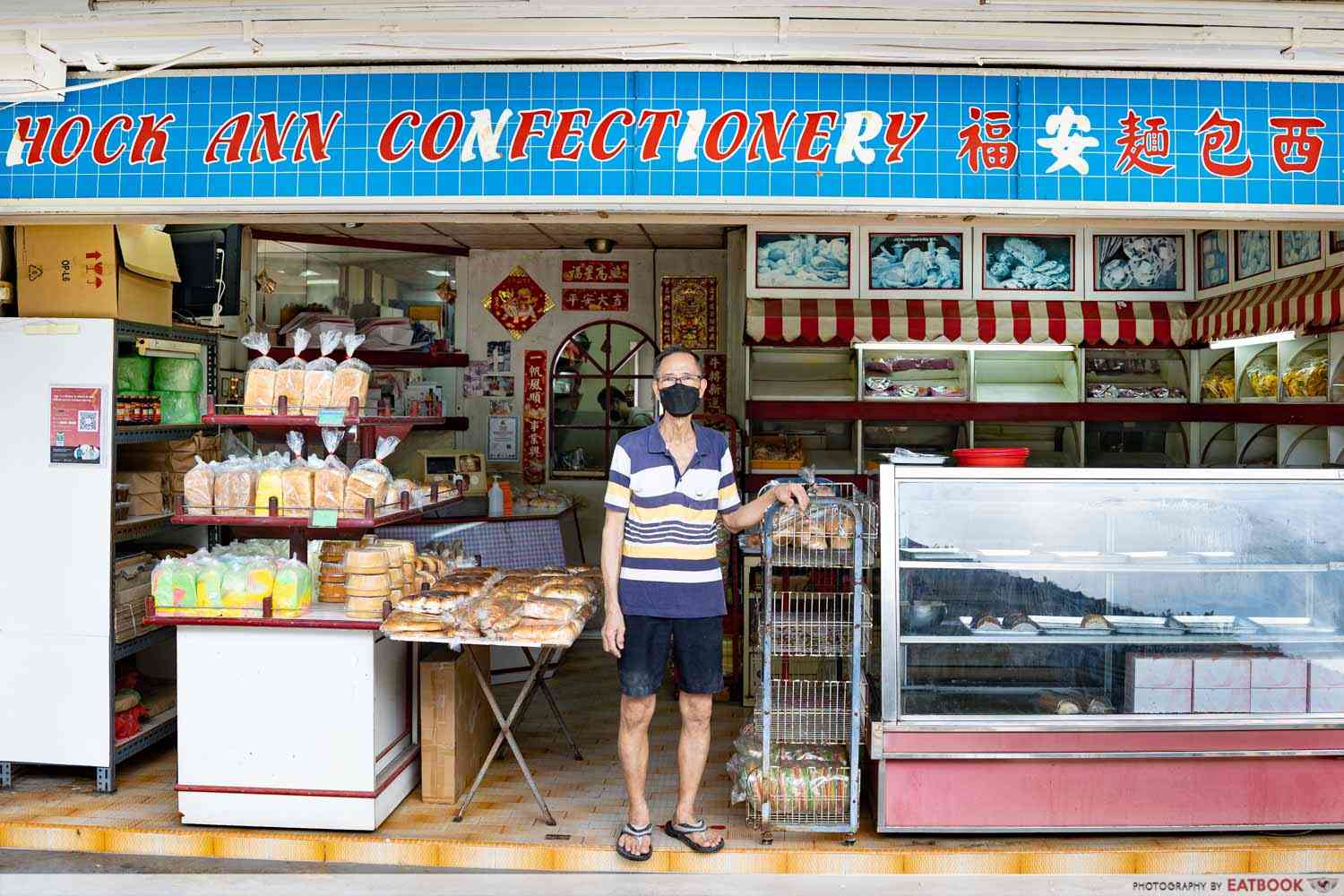 It's not every day that you chance upon a traditional bakery that has withstood the test of time—35 years, to be exact. The first time I stumbled upon Hock Ann Confectionery was when I was running errands in the neighbourhood; it was as if I was brought back to my younger, carefree days of running to the nearby bakery to grab a loaf for next morning's breakfast.
Sitting along a row of shophouses at the heart of the bustling Tanglin Halt, it's clear that Hock Ann Confectionery is a well-loved member of the estate. Started by Uncle Lee in 1986, the bakery has not moved a spot since then—hence the throwback setup and baking station.
Update: As Uncle Lee does not have proprietary rights to the business, he will be opening his own bakery at a new space in Bugis by December, and the moving process will take place from 1 to 30 November 2021. As of now, Hock Ann Confectionery will continue to operate in Tanglin Halt until further notice. Prices and details are subject to changes, and we'll be updating this review in time to come when we have more information.
16 Traditional Bakeries In Singapore For Old-School Banana Pie, Orh Nee Tarts And More
Food at Hock Ann Confectionery
The family-run bakery specialises in old-school bakes, some of which I've never come across. We're talking fresh-out-of-the-oven custard puffs, cloud-like chiffon cakes, and two preorder-only cakes that have been taking social media by storm: a peanut-coated vanilla cake, and a silky kaya cake that rivals Bengawan Solo.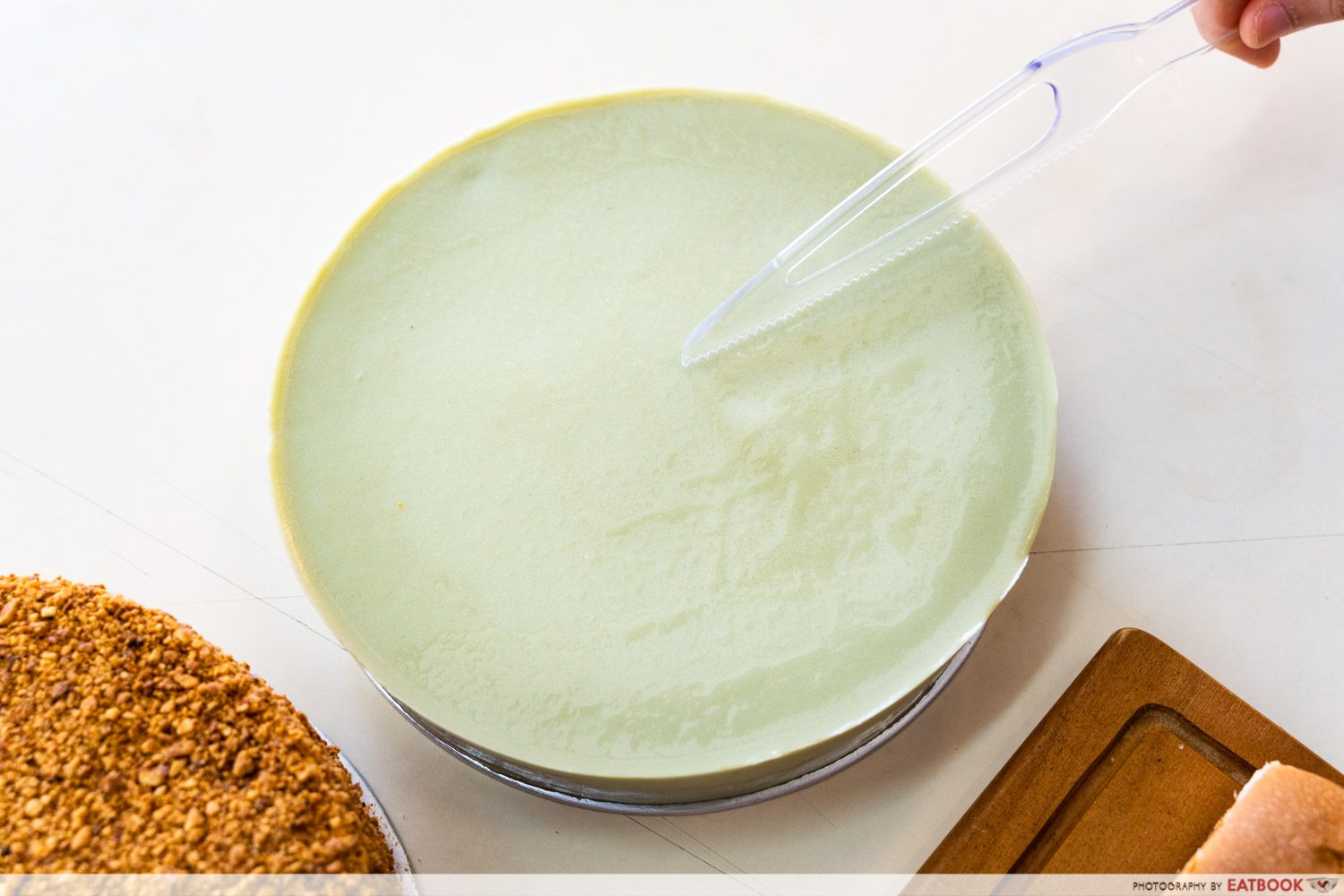 First up is the unassuming Kaya Cake ($28), a pale green eight-inch round of pandan chiffon cake layers sandwiched by silky-smooth pandan kaya custard. During my visit, Uncle Lee's son Tristan mentioned that they make their own kaya from scratch, which makes this cake stand out from its counterparts.
Light and fluffy with a distinct pandan fragrance, the cake complemented the melt-in-the-mouth custard, which thankfully, wasn't too sweet. They're only sold whole and are made to order on the morning of collection or delivery, so they're absolutely fresh.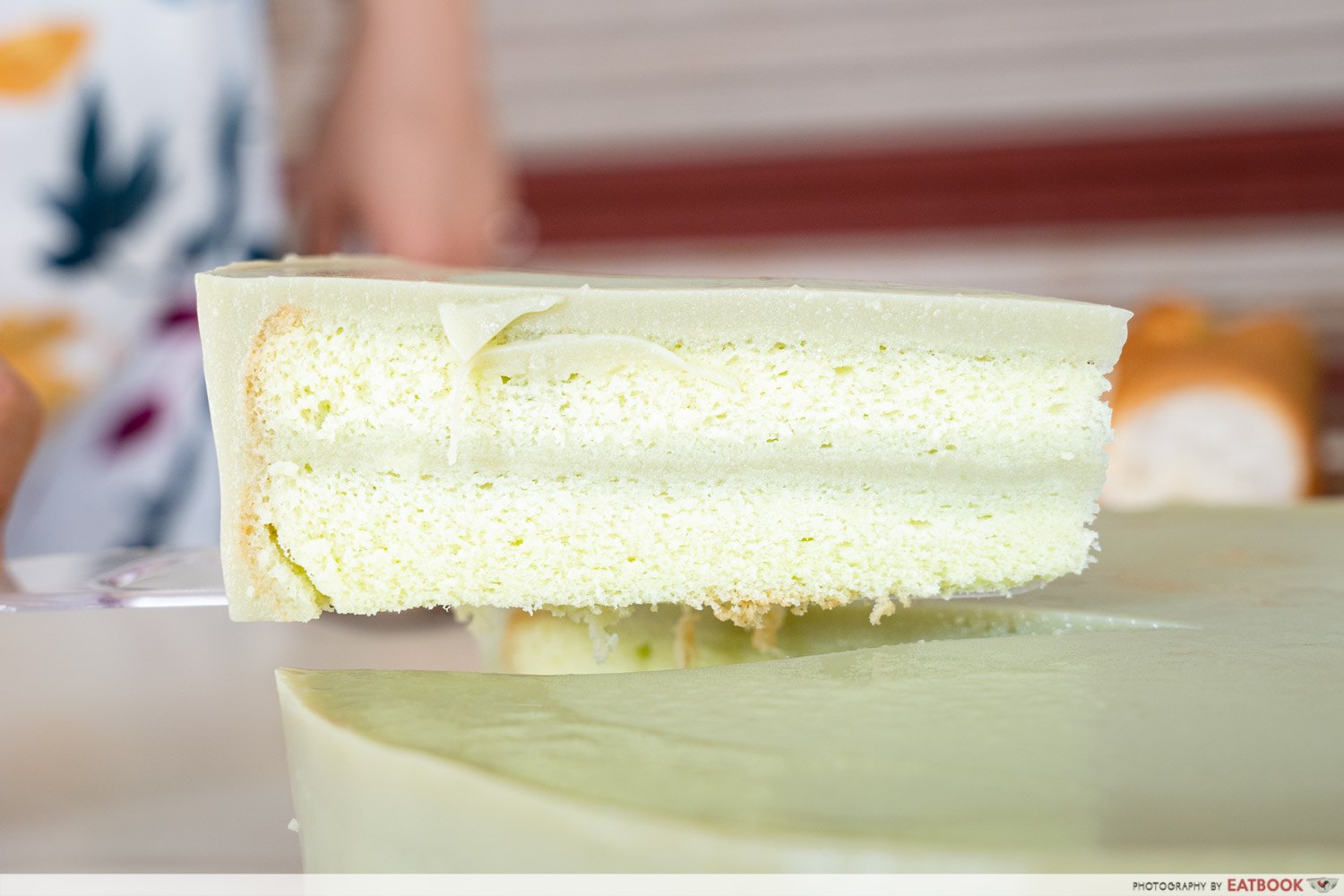 One bite was enough for me to rank this as my favourite kaya cake of all time. And if you're wondering how it compares to Bengawan's version, I'd say this wins my vote, without a doubt. It's less sweet, which makes it even more palatable—I easily finished a quarter of the cake in one sitting—and the texture of the custard was spot-on, without that overly gelatinous quality commonly found in commercial bakes.
It's also worth noting that this cake is best enjoyed chilled, straight from the fridge, as the soft custard melted rather quickly during our sweltering afternoon shoot.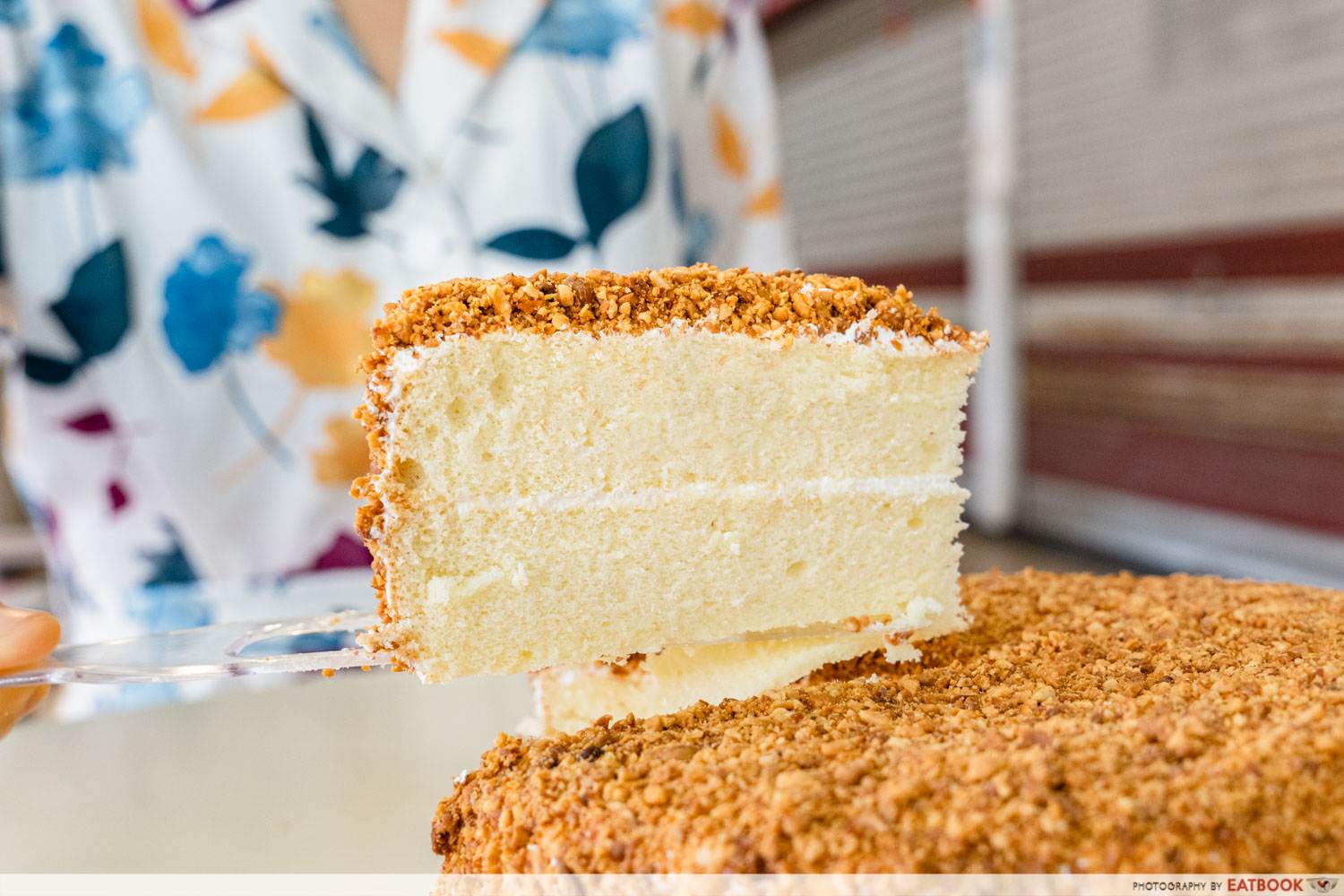 Another must-try is the Peanut Vanilla Cake ($20), available as a whole eight-inch round cake. Freshly roasted ground peanuts are prepared every morning, and are gently pressed onto each cake. Tristan helps with the assembly of these cakes in the morning, right before customers and delivery partners pick them up.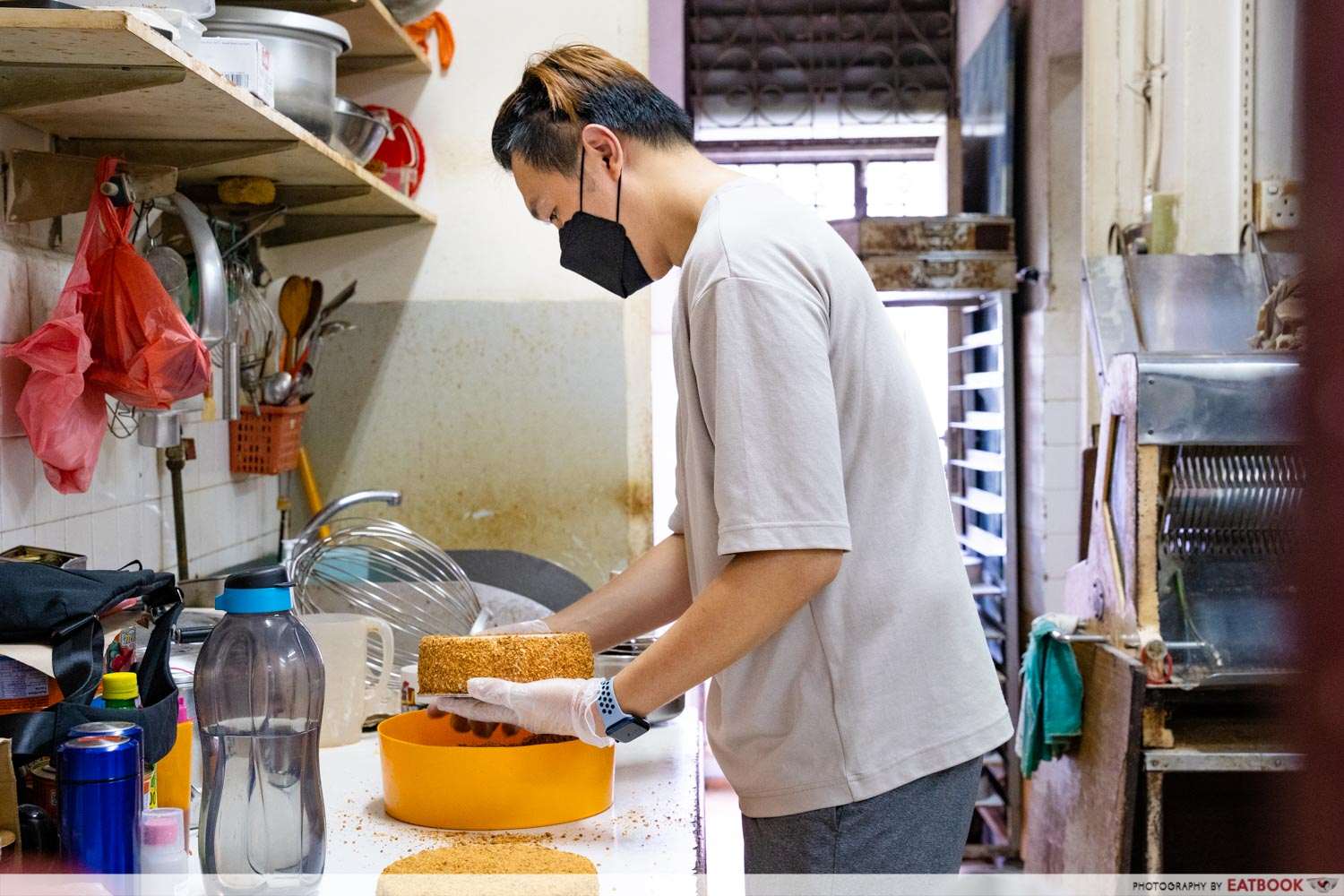 The simple vanilla sponge and buttercream were light in taste, making the perfect base for the star of the show—the generous coating of nutty goodness. If you're a big fan of peanut desserts, make it your mission to get your hands on this cake.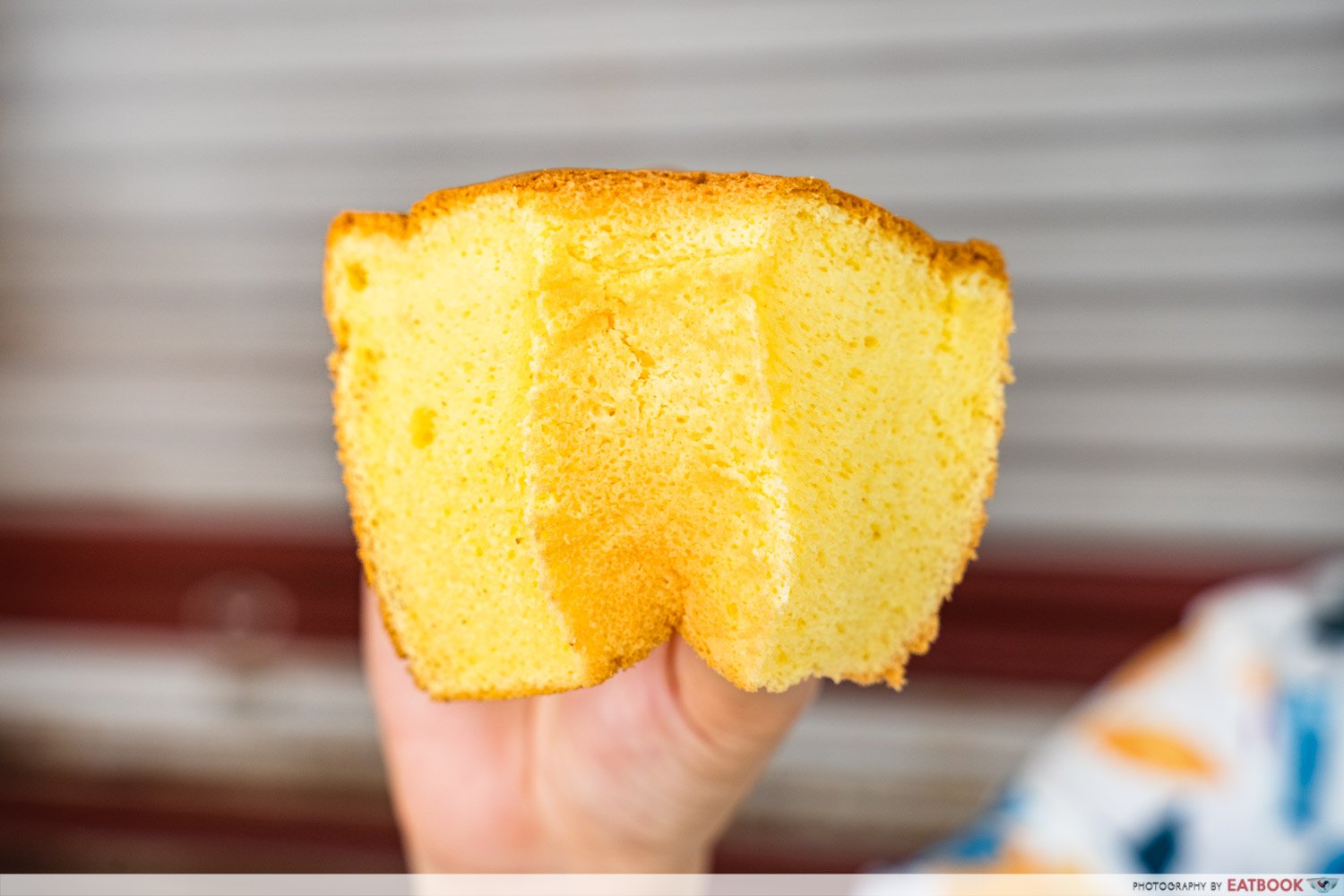 Fans of fluffy, old-school cakes will enjoy the Orange Chiffon ($4), perfumed with a light orange scent that wasn't overpowering. While this was faultlessly easy to eat, I was keener on the Sugar Donut ($1.20), which we quickly devoured in minutes. Call me a purist, but I think doughnuts should all be done this way—simple and fuss-free, without all the fanciful works of newfangled variants.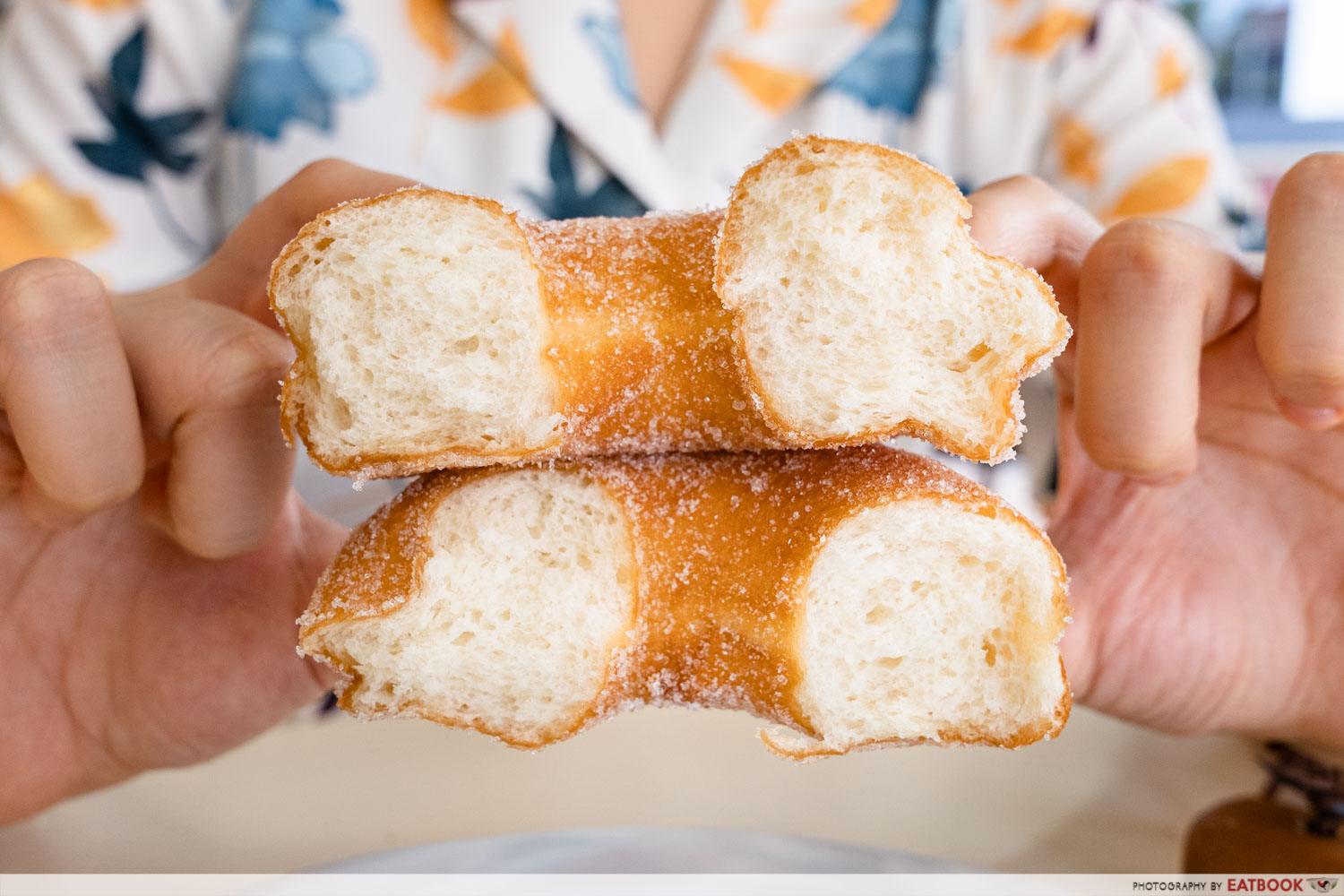 Perhaps we got a good batch, but this doughnut had the perfect balance of soft and chewy, boasting a natural sweetness from the yeast, combined with just the right amount of crunchy sugar bits dotted across the not-too-greasy surface.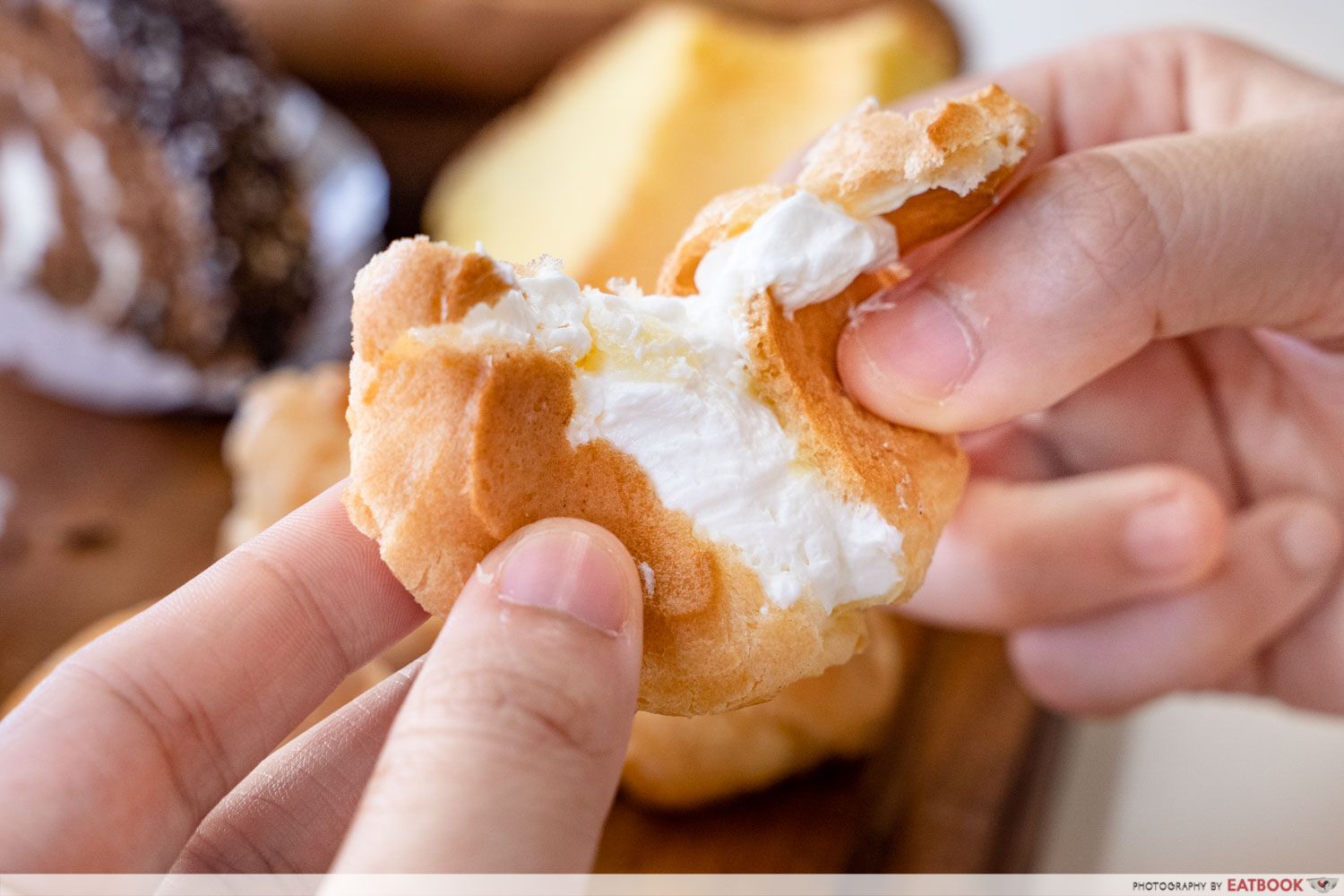 For a taste of nostalgia without breaking the bank, go for the Custard Puff ($0.60). The choux pastries are baked fresh each morning by Uncle Lee, and piped with a fluffy buttercream that has an almost salty note. The puff itself was pleasantly airy, but I found myself wishing that the cream was a little sweeter and more flavourful.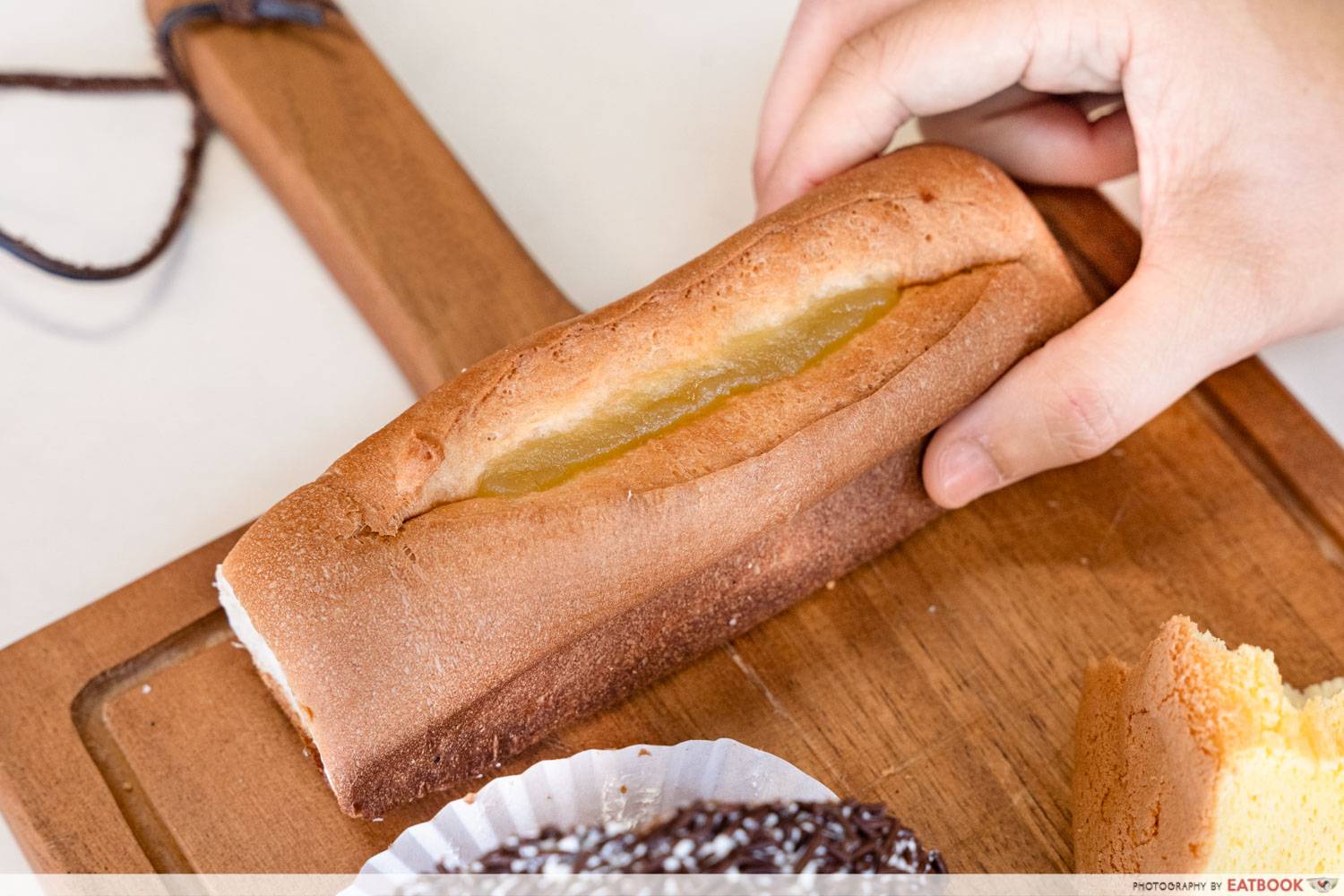 Another classic treat is the Kaya Bread ($2.50), available in a pack of six. These elongated buns were a blast from the past; they were pillowy on the inside, with a slightly chewy crust. The bread also features their signature pandan kaya, though I wish it was more than just a mere slather on top.
Ambience at Hock Ann Confectionery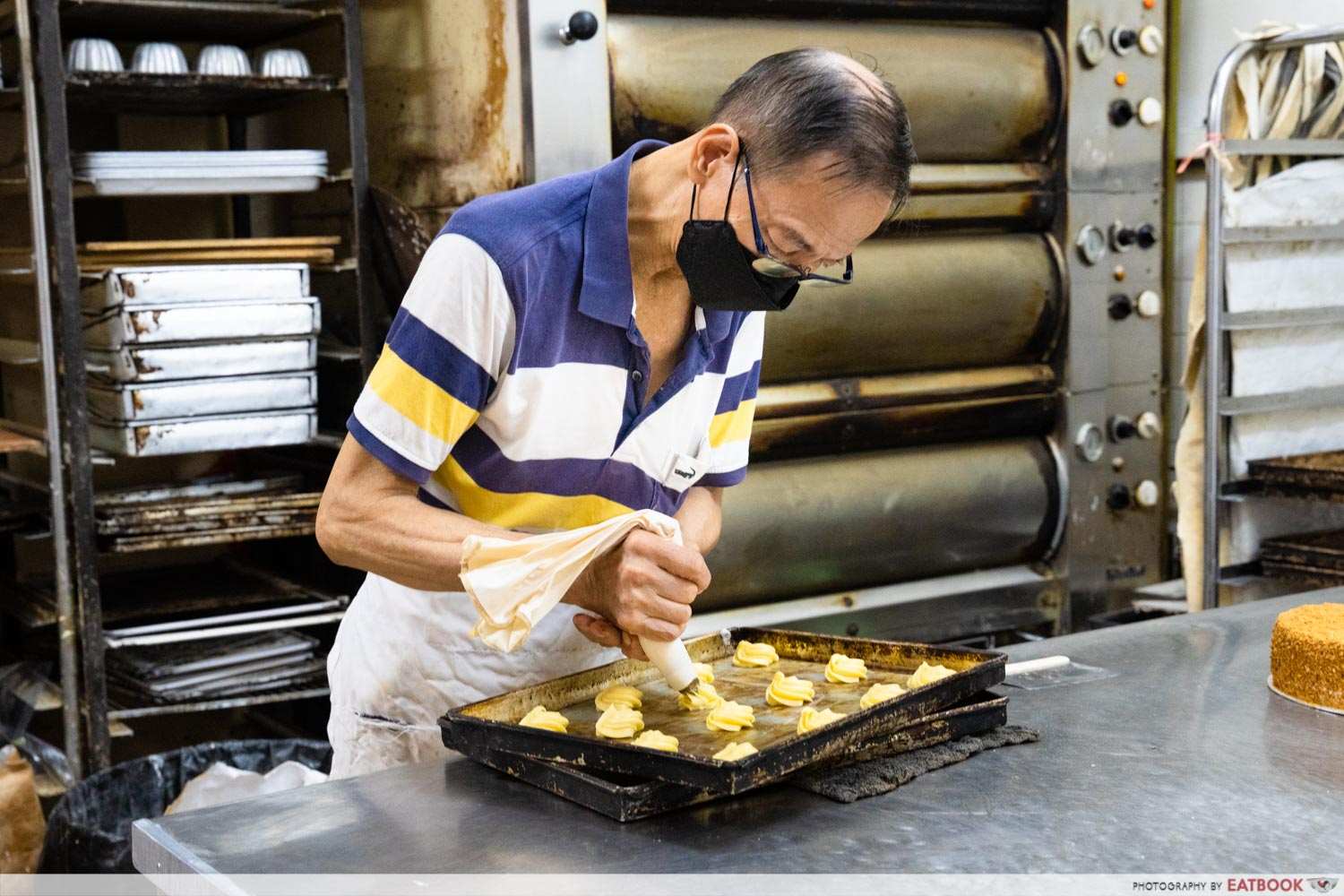 Hock Ann Confectionery is currently located at Tanglin Halt, which is an easy seven-minute walk from Commonwealth MRT Station. If you want to fill up on a proper meal before popping by, the renowned Tanglin Halt Food Centre is right opposite.
From 1 to 30 November, Uncle Lee will be shifting to a new space near Bugis. The new bakery is set to open in December 2021, but meanwhile, you can keep your eyes peeled at their Instagram page for updates on their moving process and opening hours. In the meantime, Hock Ann Confectionery will continue to operate at Tanglin Halt.
Uncle Lee's new menu and prices are yet to be confirmed at the moment, but we heard wind that you can expect to see a wider range of nostalgic bakes reminiscent of the good ol' days.
The verdict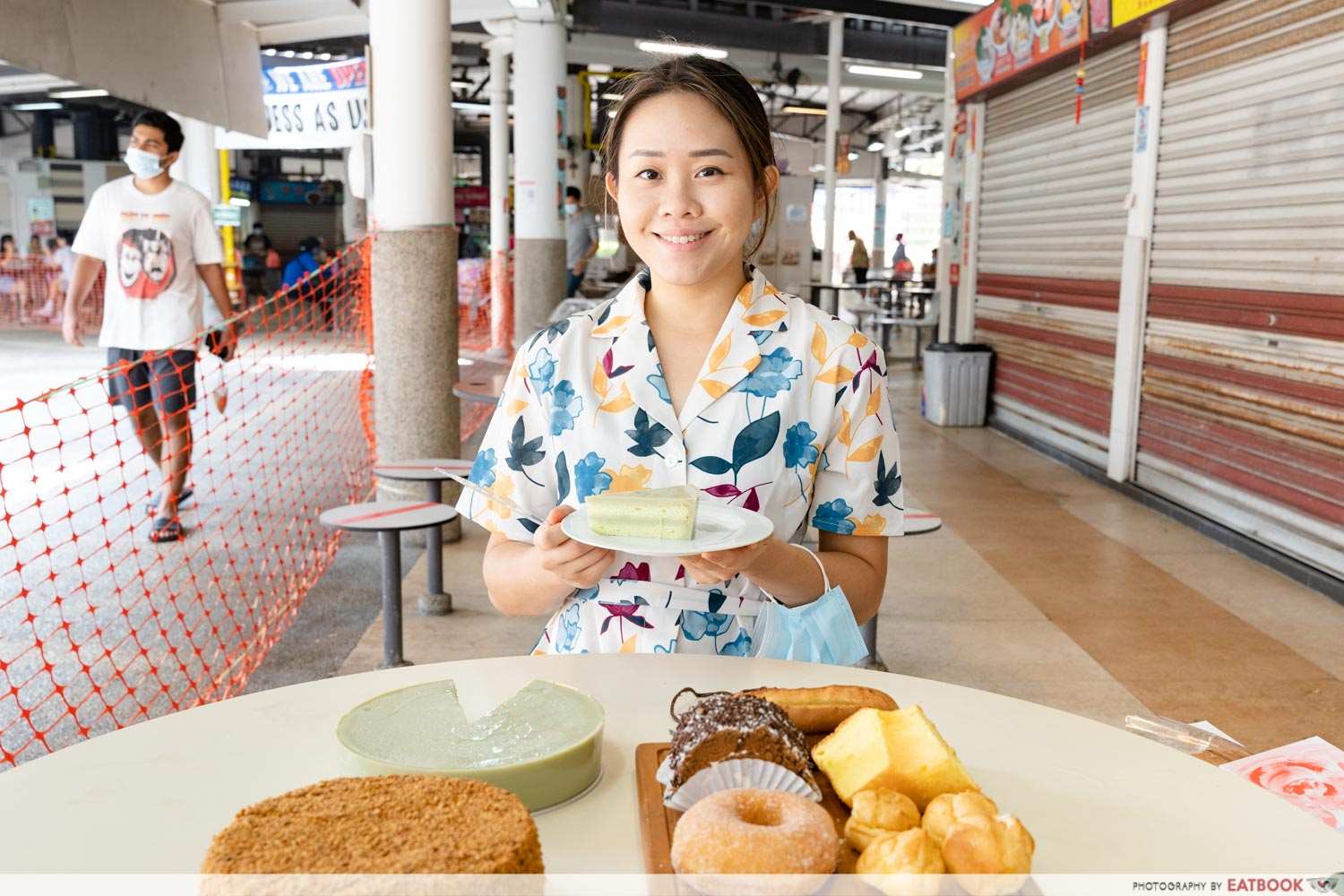 One peek at Hock Ann Confectionery's baking station, and it's clear that nothing much has changed at the bakery in the past 35 years. It's amazing that Uncle Lee has managed to preserve the authenticity of his work through time-tested methods of baking, while maintaining the quality and appeal of his bakes over the years.
I'd definitely make multiple trips down to visit the bakery and soak in the nostalgic vibes, before Uncle Lee moves to a new location in December.
If you're looking for more old-school bakes, check out our Lau Chong Kee review for custard buns in Chinatown. Alternatively, if you're in Tanglin Halt, read our Old Village review for KL-style pork noodles.
Address: 46-3 Commonwealth Drive, #01-392, Singapore 140463
Tel: 9386 0412 (WhatsApp only)
Opening hours: Sun-Fri 9am to 8pm (TBC as they tend to sell out early)
Website
Hock Ann Confectionery is not a halal-certified eatery
Lau Chong Kee Mini Review: Old-School Bakery With Custard Buns, Char Siew Su and More From $1
Photos taken by Melvin Mak.
This was an independent review by Eatbook.sg
Hock Ann Confectionery Review: 35 Year-Old Bakery With Old-School Kaya Cake And $0.60 Custard Puff
Hock Ann Confectionery Review: 35 Year-Old Bakery With Old-School Kaya Cake And $0.60 Custard Puff -

8/10
Summary
Pros
– Affordable prices
– Nostalgic taste
– Kaya, and Peanut Vanilla Cakes were delicious
Cons
– Custard puffs were lacklustre
– Sells out fast
Recommended dishes:  Kaya Cake ($28), Peanut Vanilla Cake ($20), Sugar Donut ($1.20)
Opening hours: Sun-Fri 9am to 8pm (TBC as they tend to sell out early)
Address: 46-3 Commonwealth Drive, #01-392, Singapore 140463