Wow Wow West at Bukit Merah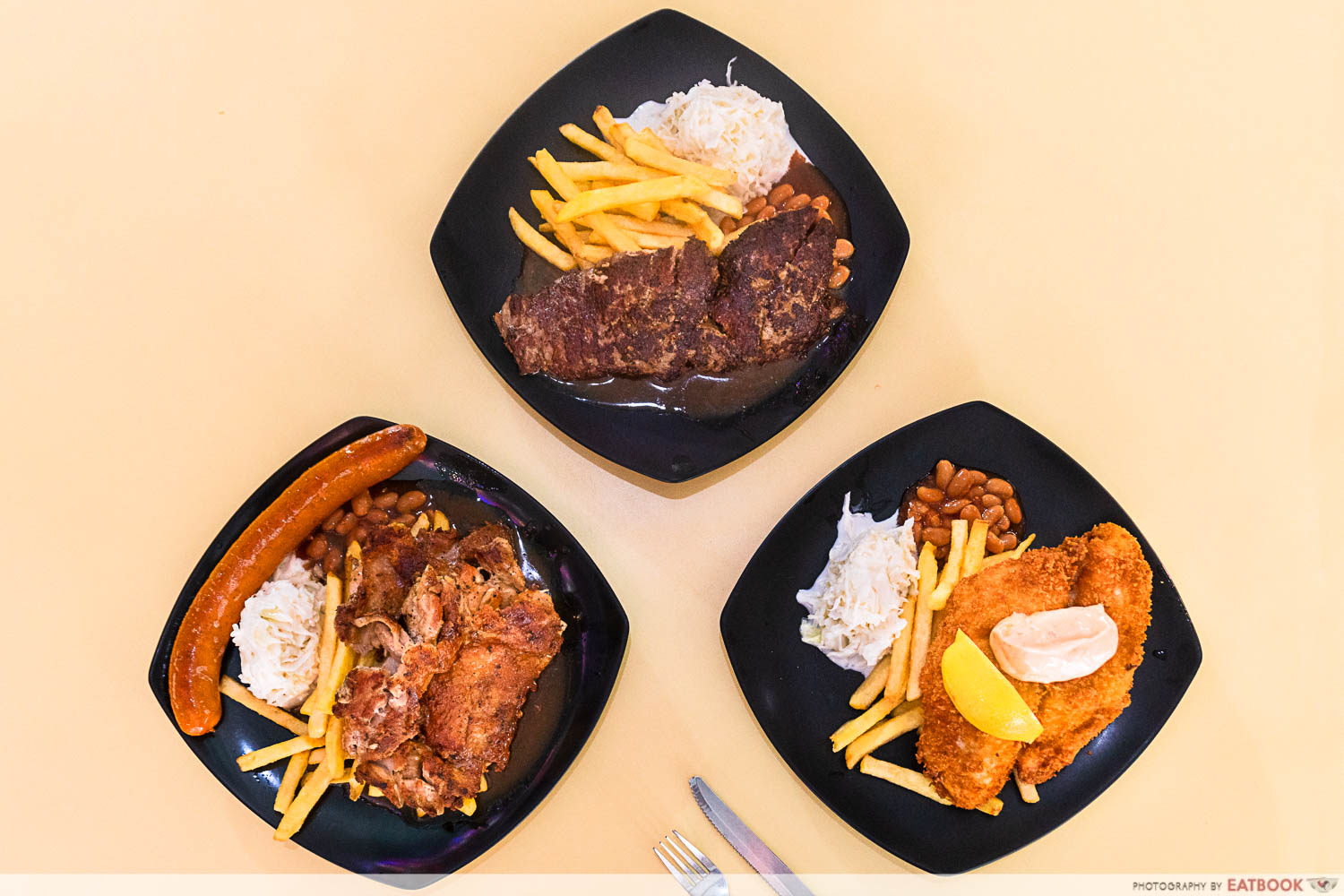 Western stalls at hawker centres are a 'hit-or-miss' situation for me. Rarely do I find myself satisfied with the typically cheaper renditions of spaghetti, chicken chop, and the like. I tried not to get my hopes up for Wow Wow West, despite the stellar reviews. I soon realised that even if I did go in with high expectations, Wow Wow West would have been able to meet them. 
Burgerprek Review: Western-Indonesian Fusion Stall Opens Till 3:30AM, Serves Burgers Topped With Sambal
Food at Wow Wow West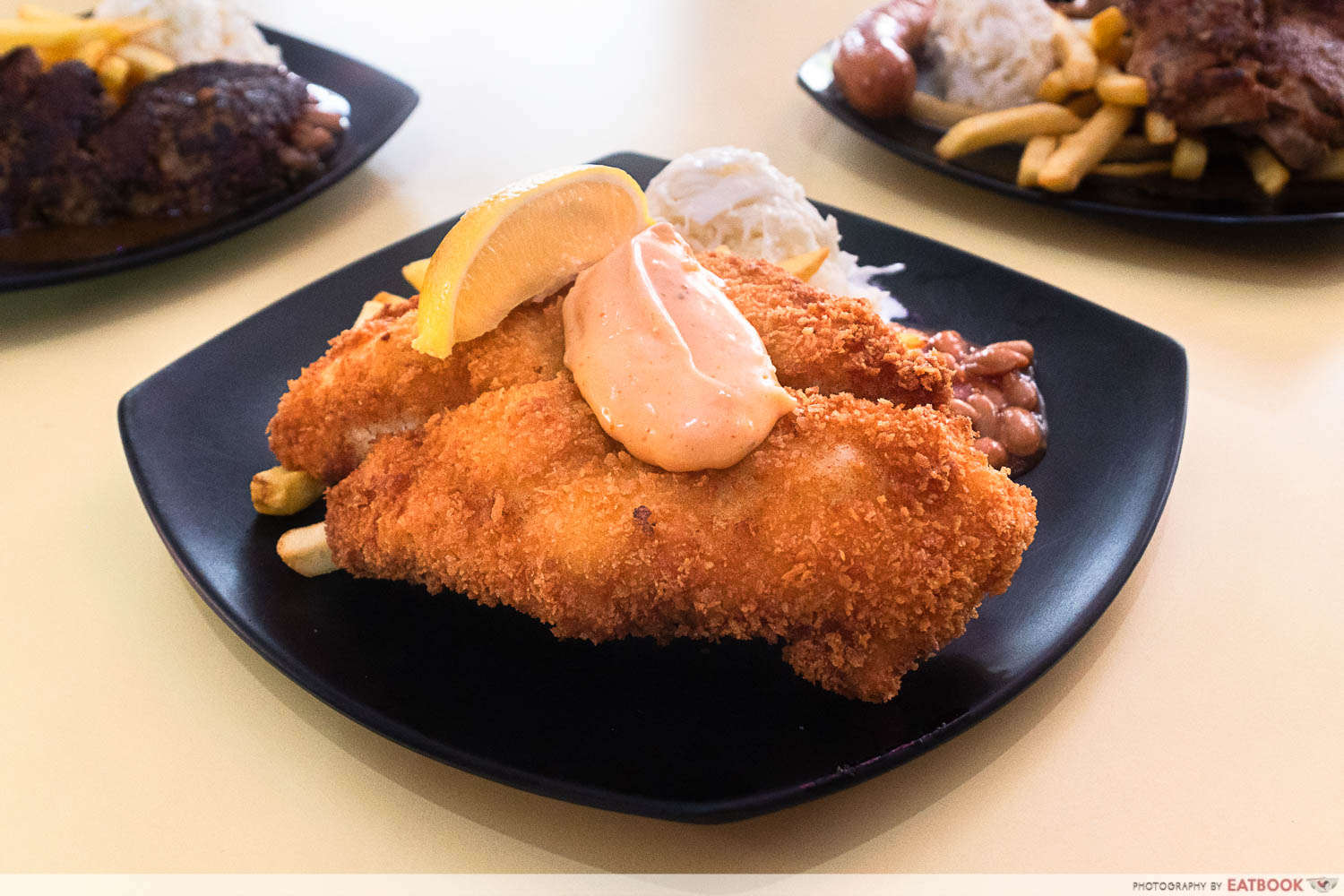 We started off our lunch with their best-selling Fish and Chips ($8). My first reaction was one of astonishment. Even after having read multiple reviews with photos attached, nothing could have prepared me for the sheer size and portion of the fish cutlet. As a reference, it was bigger and thicker than my entire hand!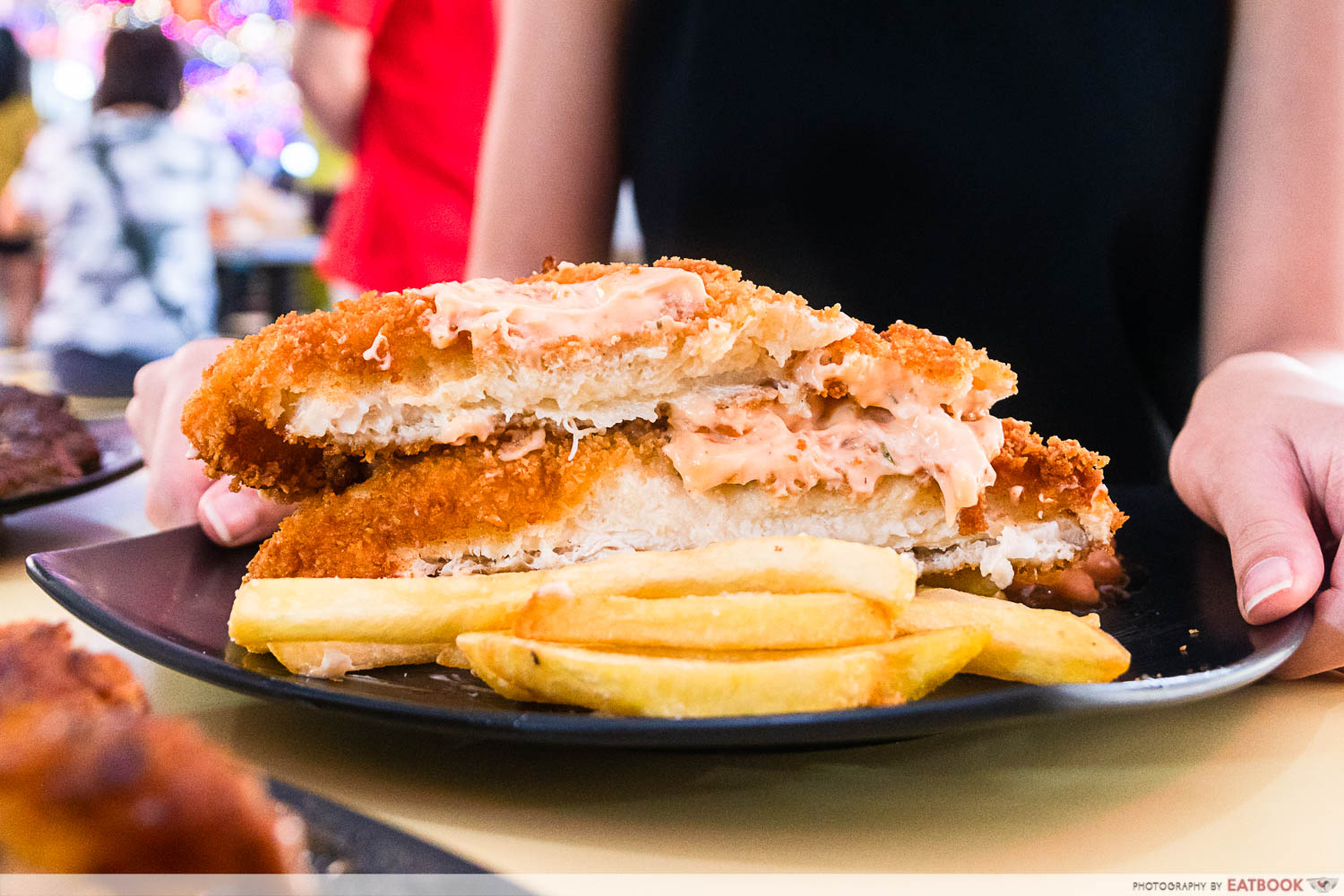 It had crispy batter on the outside with beautiful, flaky fish on the inside, and each bite rewarded me with an onomatopoeic 'crunch' and moist meat. 
I noted that the batter did not separate from the fish meat and fell apart easily, allowing the fish cutlet to have a nice, firm bite.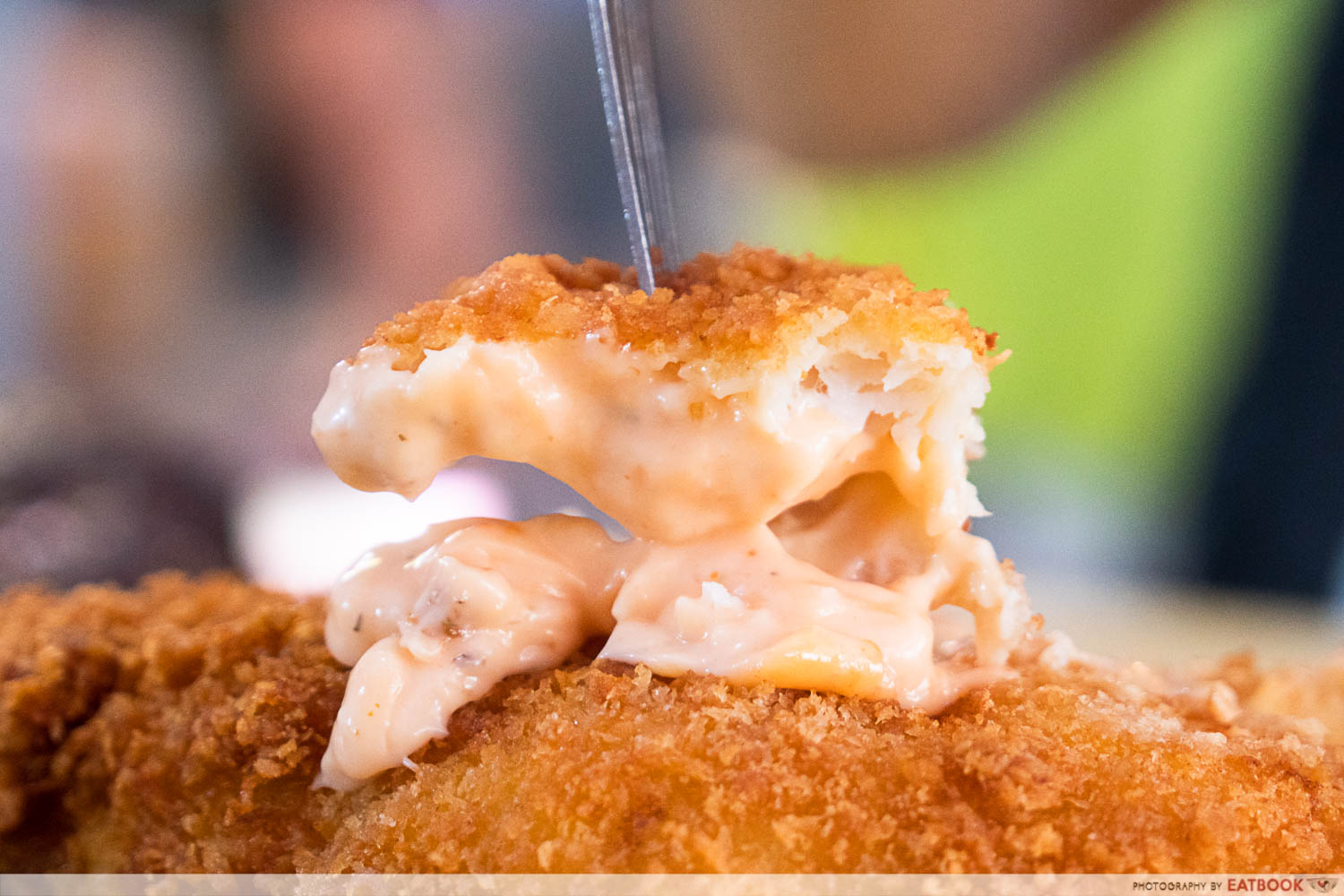 The sauce on top proved to work well with the crispy fish cutlet. A mix of chilli and tartar sauce, it provided a sweet and tangy kick, different from the regular fare of just tartar sauce only. My sole qualm is that I wish there had been more, as the amount of sauce given was disproportionately inadequate for the large cutlet.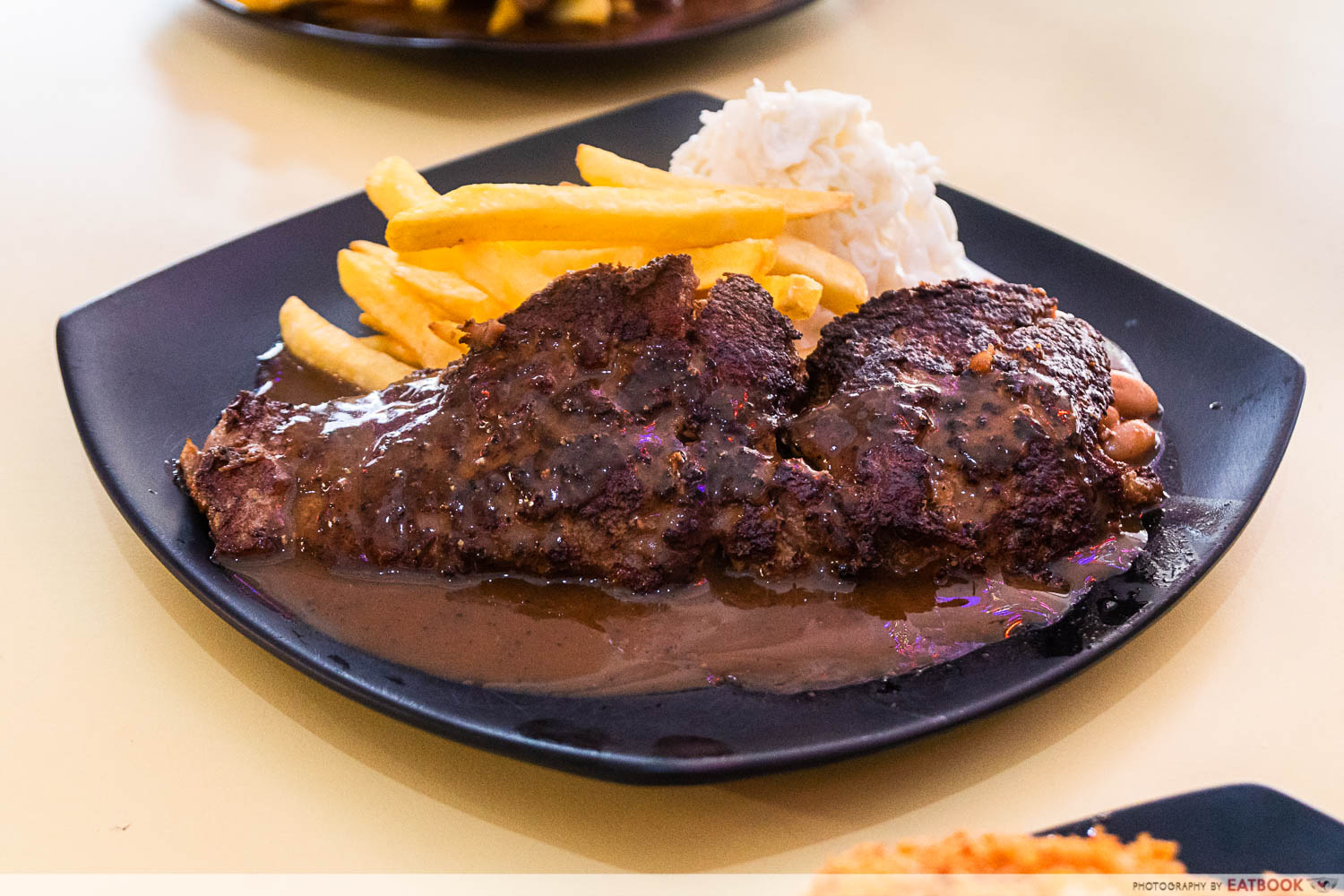 Next, we tried their Beef Steak ($9). I must say, I was surprised when the cashier asked me how I preferred my steak, as I have not encountered other hawker stalls that do this, besides Wow Wow West.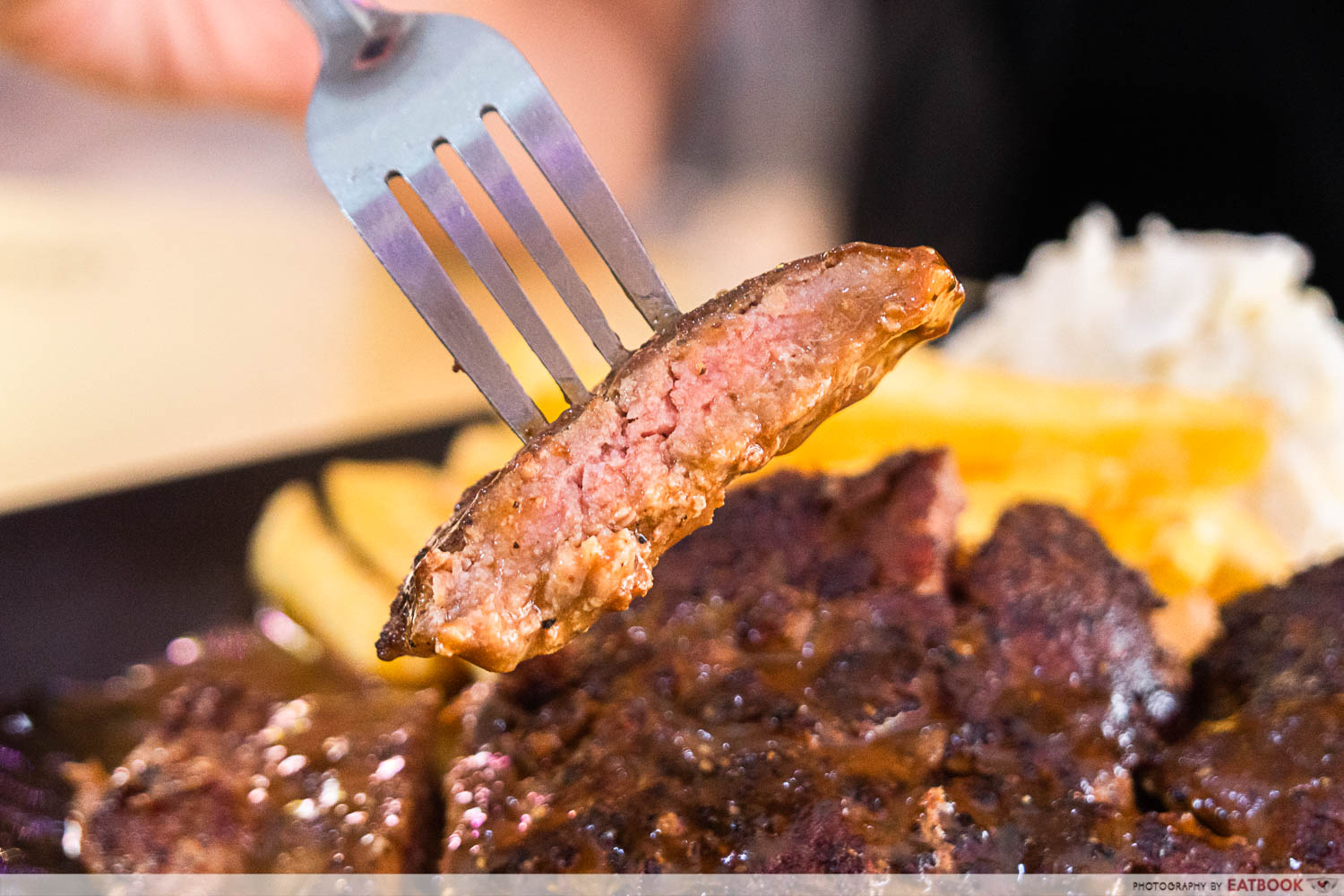 Steaks are quite hard to nail in the hawker centre environment, due to the fast pace of manning a stall and managing multiple orders and dishes at once. Thus, I must commend Wow Wow West for their effort. 
Though the steak wasn't exactly cooked to medium as I ordered—and thus was a tad bit too tough and chewy for my liking—it still displayed the crucial pink cross-section. Its saving grace was definitely the gravy, which aided in adding enough punches of flavour.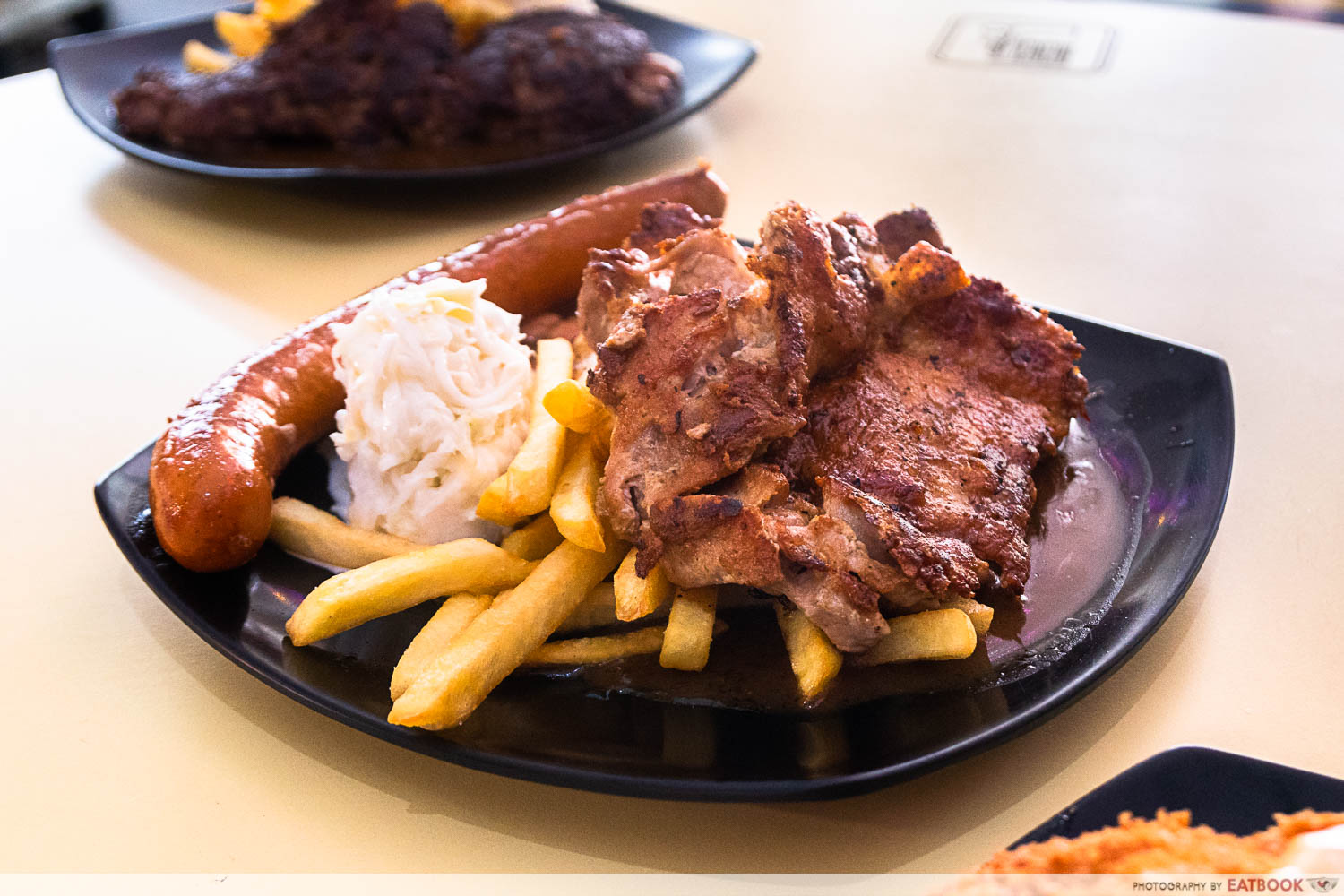 We finished off our meal with their Chicken Chop ($7), accompanied by a Pork Cheese Sausage which was an additional $3.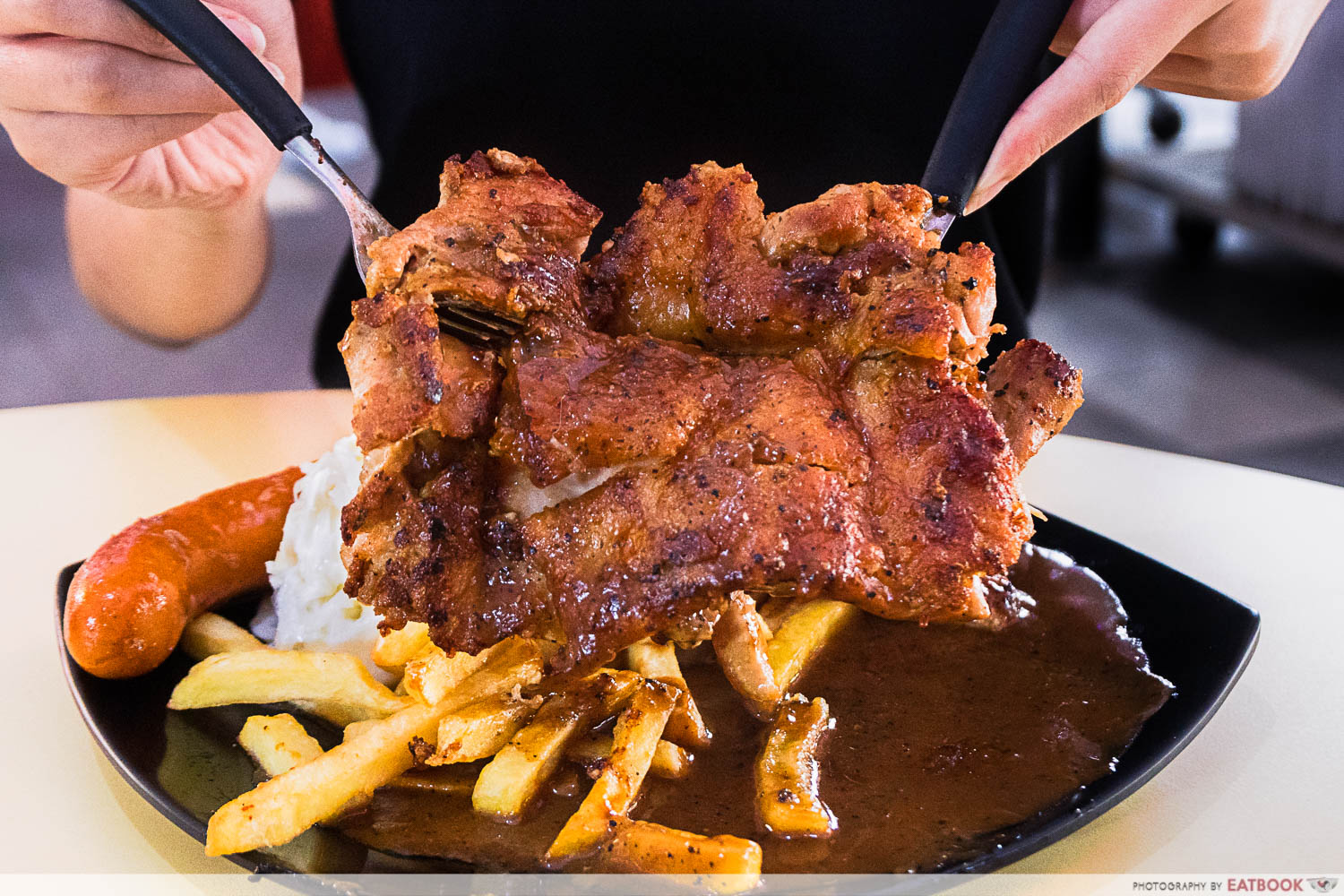 The size of the chicken chop confirmed for us that Wow Wow West consistently does not skimp on its portions. Thankfully, the size did not lead to uneven cooking, as the entire piece was sufficiently tender and moist. 
Even without the gravy to aid in enhancing the flavour, the chicken chop was tasty enough to hold its own with its savoury flavour.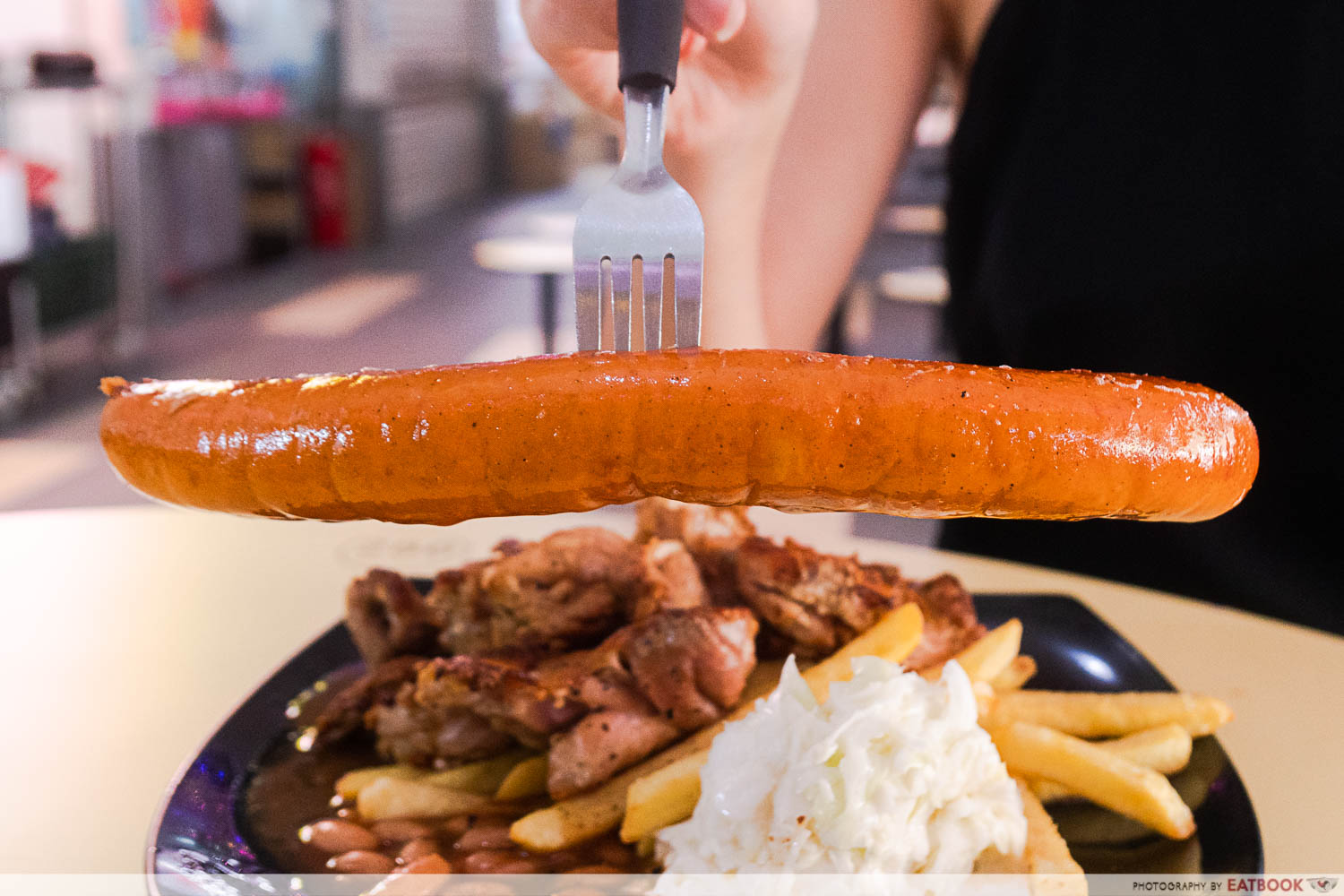 I am not exactly sure where Wow Wow West sources their sausages from, but its length is definitely incomparable to many restaurants and stalls.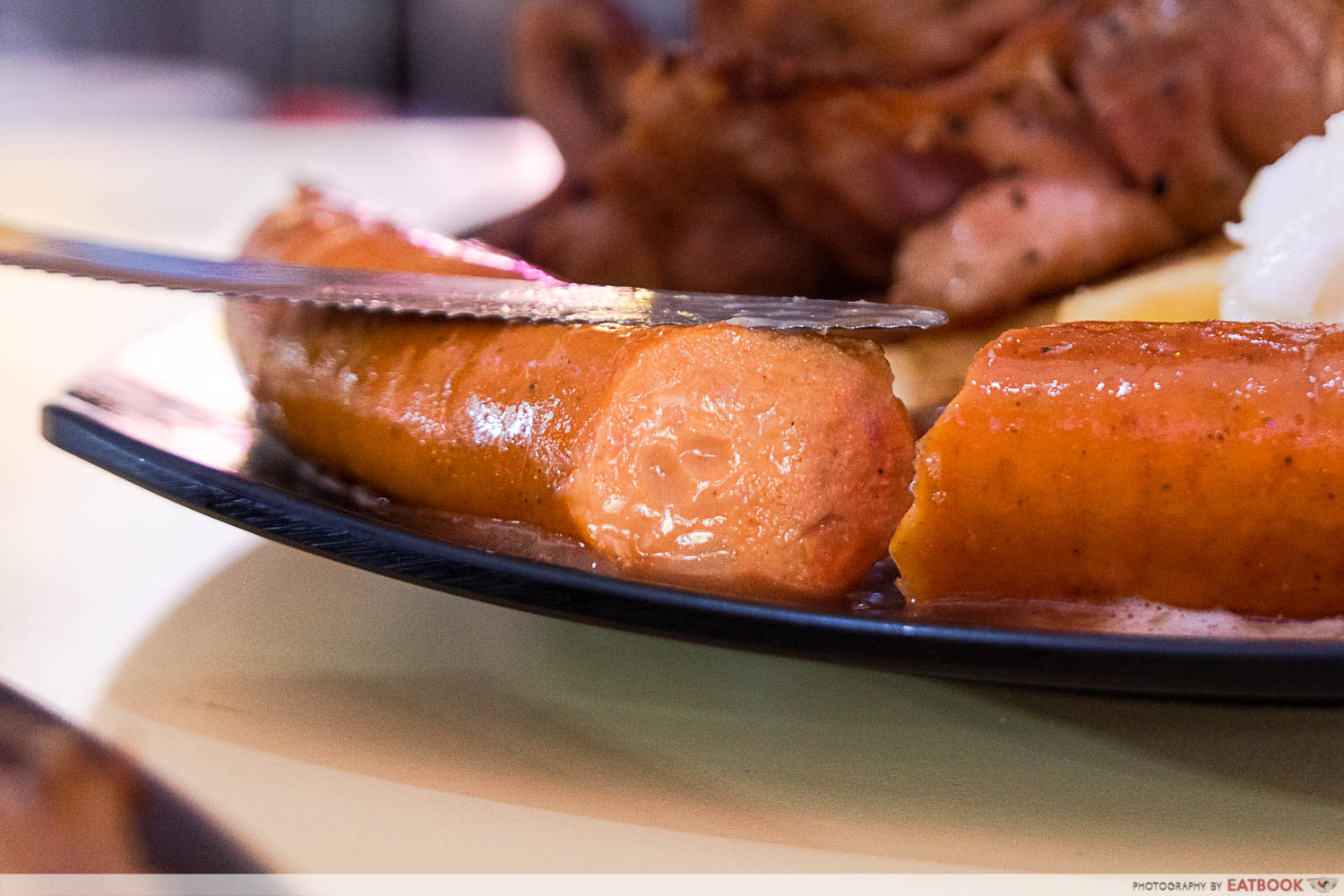 However, if you hadn't told me this was supposed to be a cheese sausage, I wouldn't be able to tell. The cheese was lacking the ooze I was looking for, but thankfully the rest of the sausage was salty enough to carry it through. In addition, there was none of that unbearable and unbitable sausage casing, so this gains a huge plus point from me.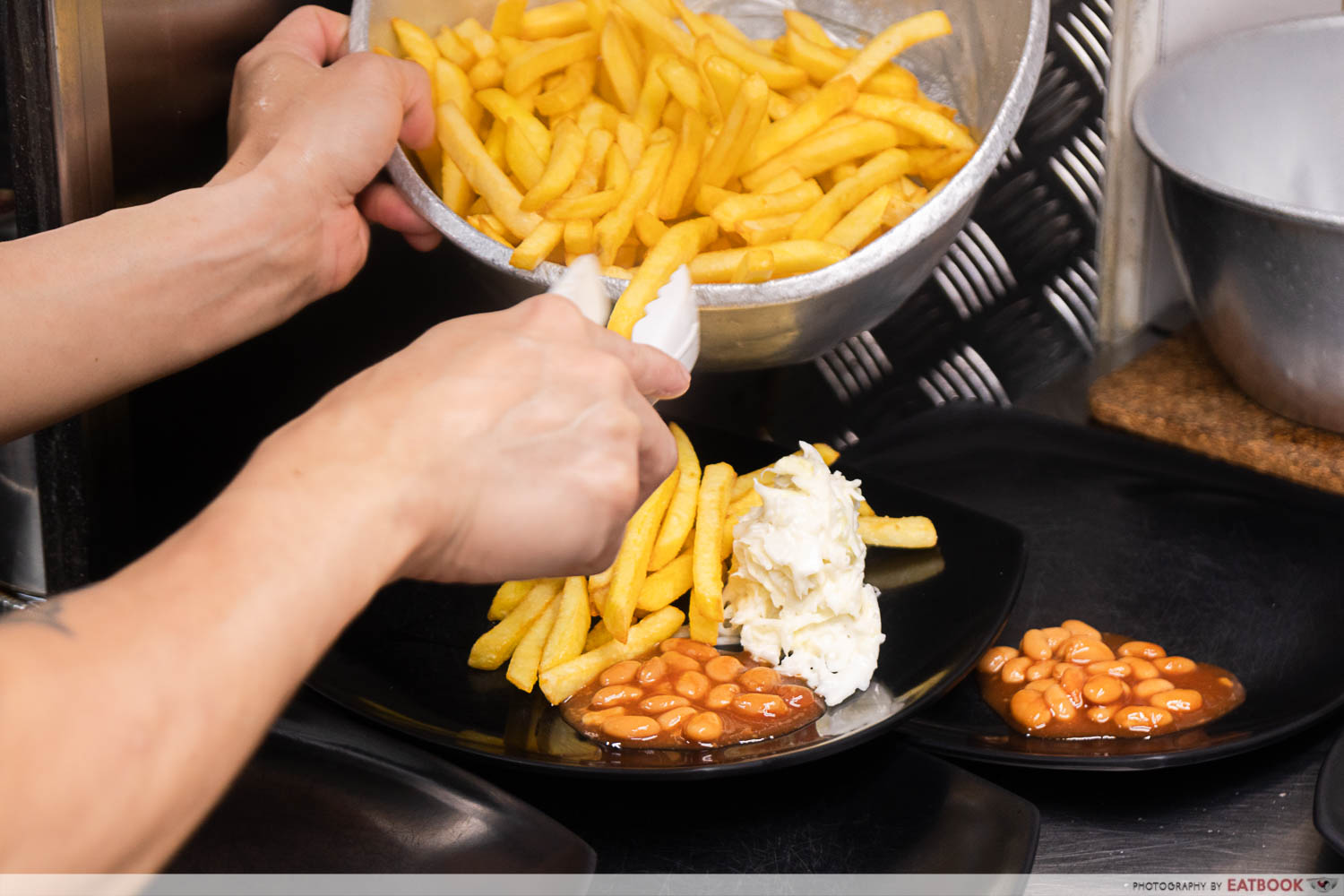 Each plate is served with a large serving of French fries, coleslaw, and baked beans. Though there was nothing entirely spectacular or out of the ordinary with these sides, I love the effort put in to ensure that none of their customers leaves with anything close to an empty stomach. If I had to pick a favourite, it would be the thick-cut fries, which were delightfully salted and so addictive.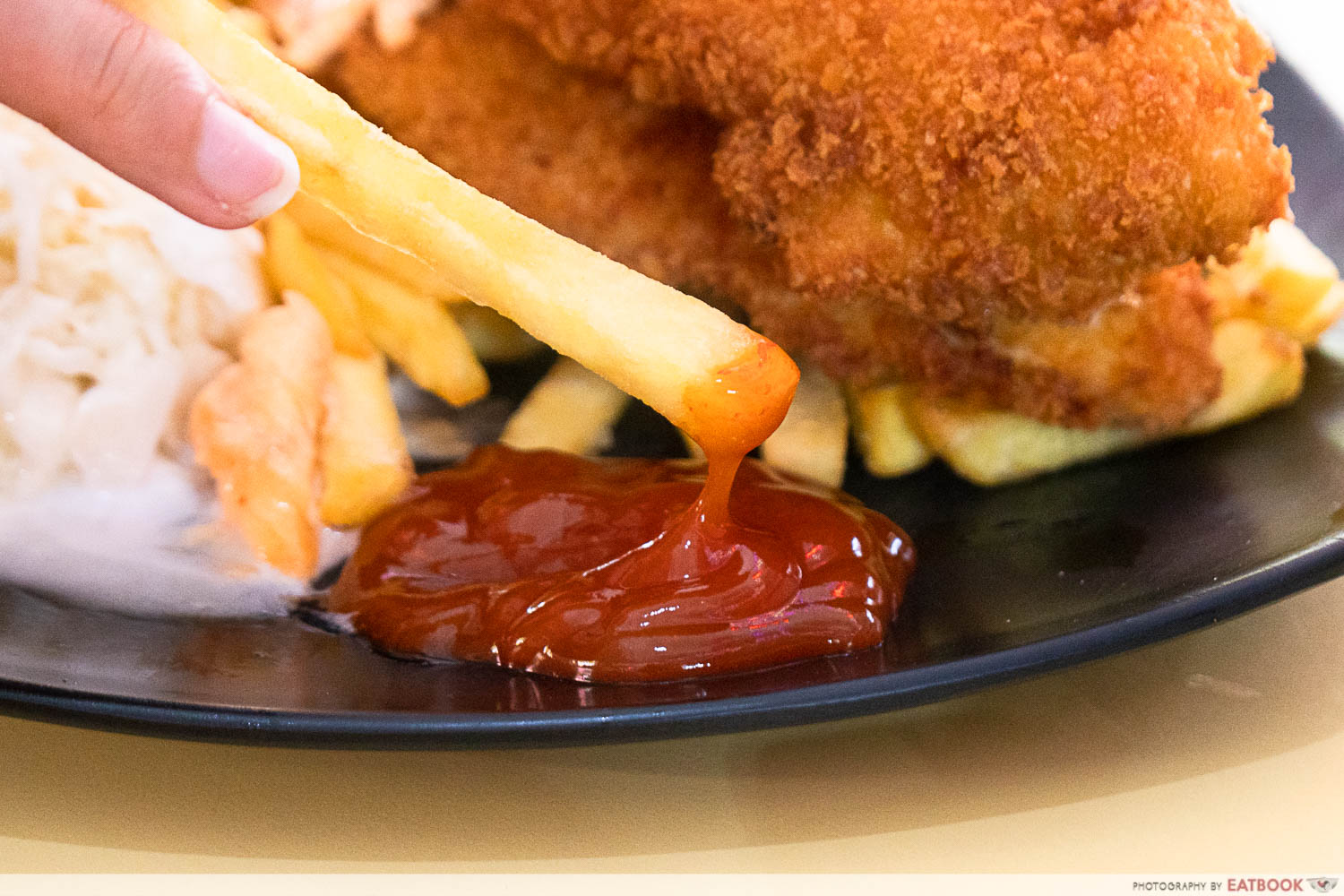 The massive portions are the biggest pull factor for Wow Wow West. Multiple times did people pass by and inquire about where we bought our food.
No.1 Western Food Review: Old-School Western Food Store Has Chicken Cutlet, Beef Steak And More, All Under $10
Ambience at Wow Wow West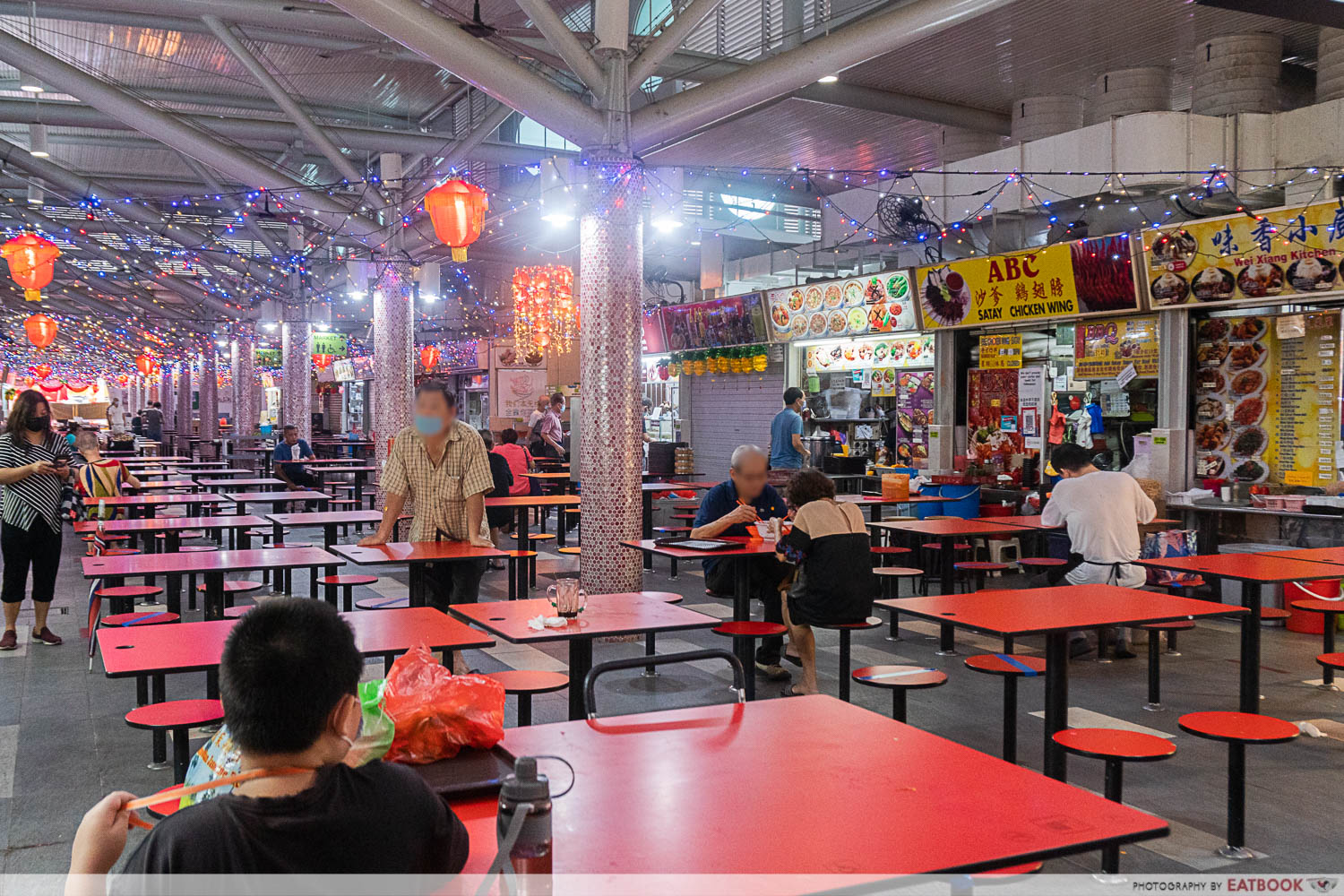 Having arrived before they opened, we had the pleasure of watching Wow Wow West as they began their day of operations. Watching them do so was akin to observing a well-oiled machine, it's clear that the team has ample experience in each of their roles, and are able to work with each other with no hiccups. 
Furthermore, I was pleasantly surprised when I realised that for the entirety of the time we spent shooting at Wow Wow West, I wasn't perspiring at all. The numerous fans and constant oscillation was enough to keep my and my colleague's complaints about the Singapore heat at bay. 
The verdict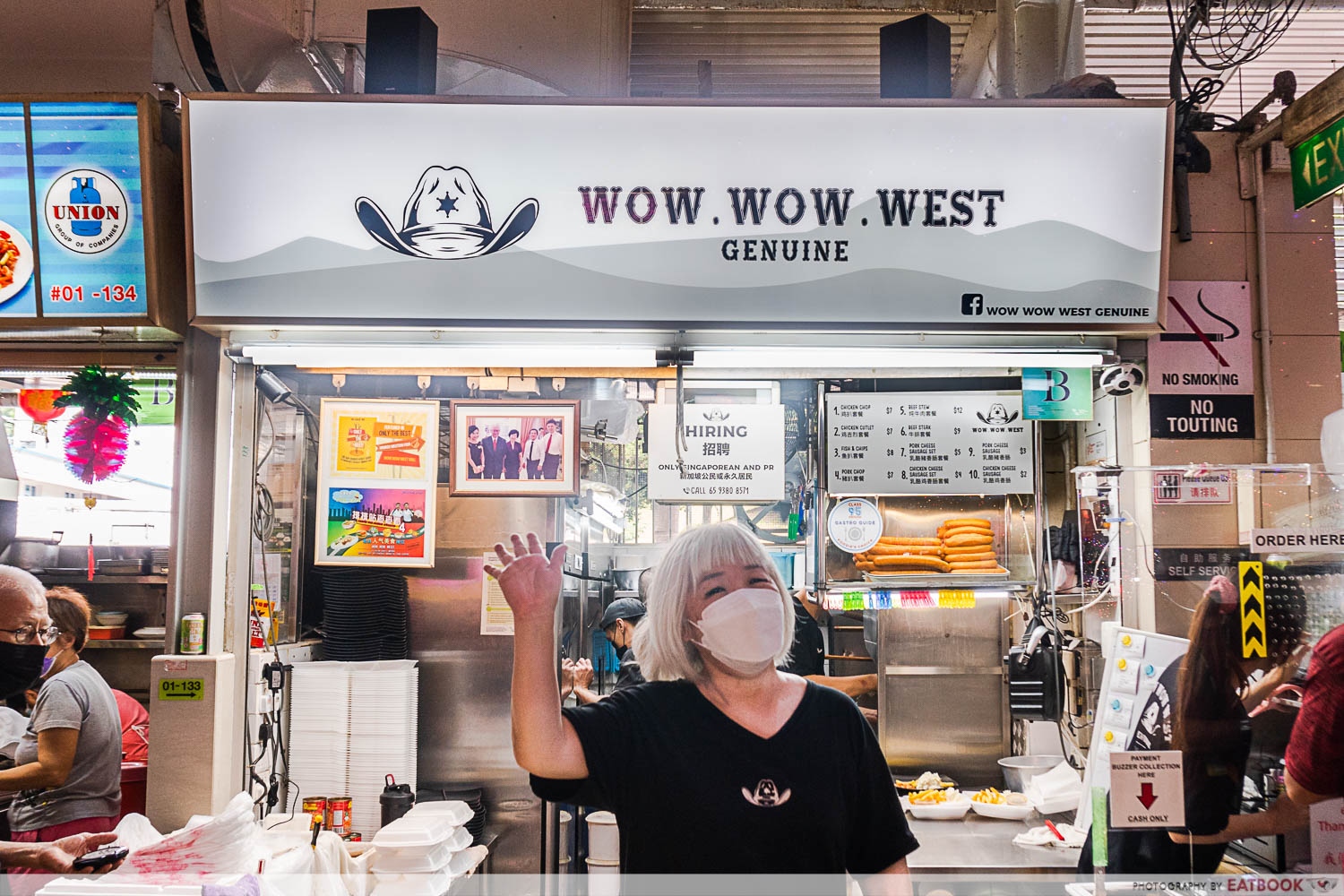 After talking to the auntie for a bit, I found out that they had moved to ABC Brickworks in 2007, after starting out first as a canteen stall in Raffles Institution. The name 'Wow Wow West' was coined by the students, and they decided to keep it as an ode to their loyal students. Till today, these ex-students still visit her stall, and it heartens her to see them all grown up, working, and married with families.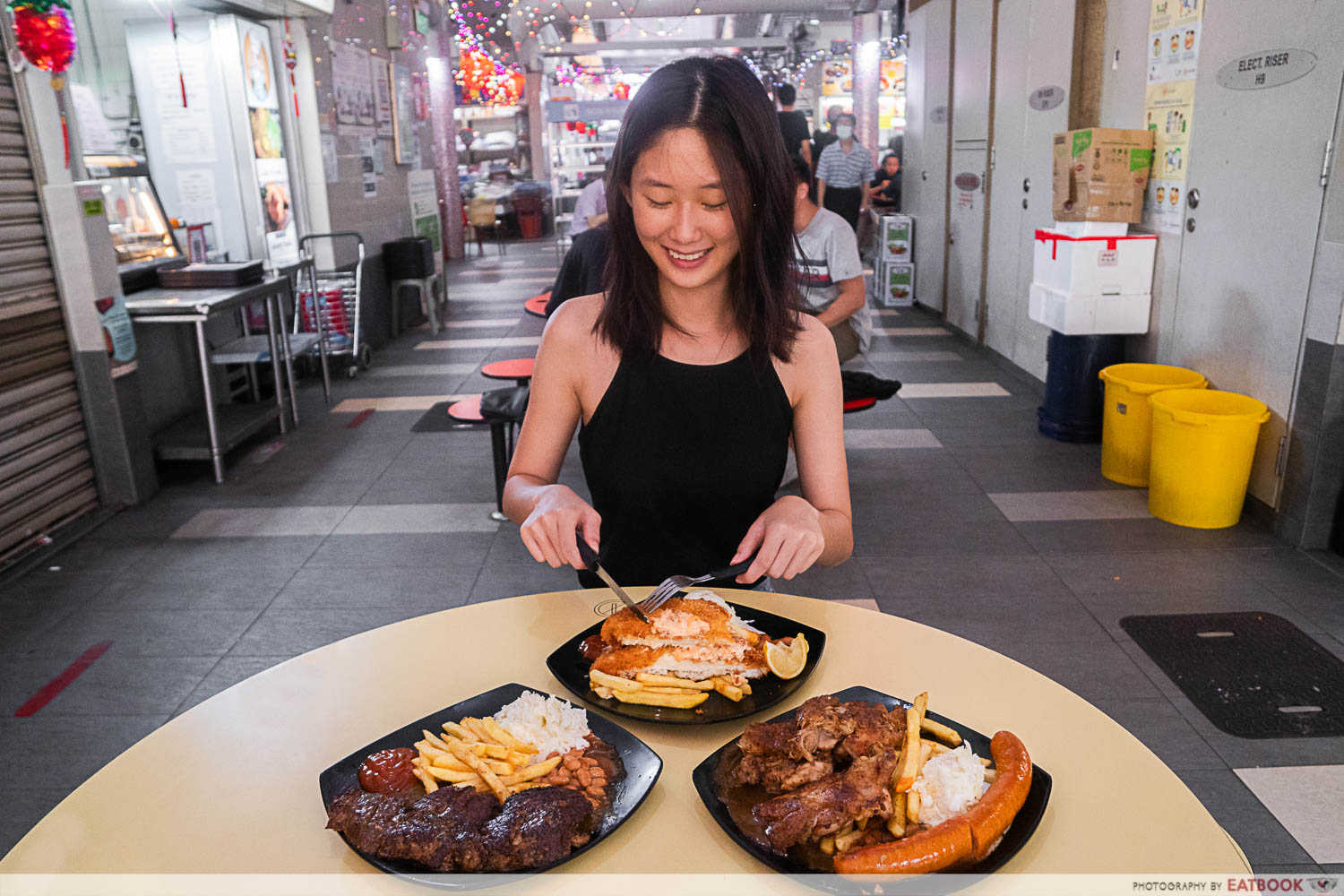 Wow Wow West definitely ticked all the boxes for me. Not only was the servings of classic Western food delicious, but they were also priced affordably, especially considering the portions. Given the relatively accessible location, I can see myself making a return visit back here again.
If you're looking for more cheap Western food, check out our Nom Nom Monster review for another Western hawker stall with eats under $10. 
Nom Nom Monster Review: Western Food Stall Has Fried Chicken Brunch, Collagen Broth Pasta And More In Chai Chee
Address: 6 Jalan Bukit Merah, #01-133, ABC Brickworks Food Centre, Singapore 150006
Opening hours: Tue-Sat 10.30am to 2.30pm, 4.30pm to 8pm
Tel: 9380 8571
Website
Wow Wow West is not a halal-certified eatery.
Photos taken by Zadelin Wong.
This is an independent review by Eatbook.sg.
Wow Wow West Review: Western Hawker Stall With Massive Portions Below $10 At Bukit Merah
Wow Wow West Review: Western Hawker Stall With Massive Portions Below $10 At Bukit Merah -

8/10
Summary
Pros
– Super value-for-money
– Crispy fish cutlet and delicious sauce
Cons
– Beef steak was a bit tough for my liking 
Recommended dishes: Fish and Chips ($8)
Opening hours: Tue-Sat 10.30am to 2pm, 4.30pm to 8pm 
Address: 6 Jalan Bukit Merah, #01-133, ABC Brickworks Food Centre, Singapore 150006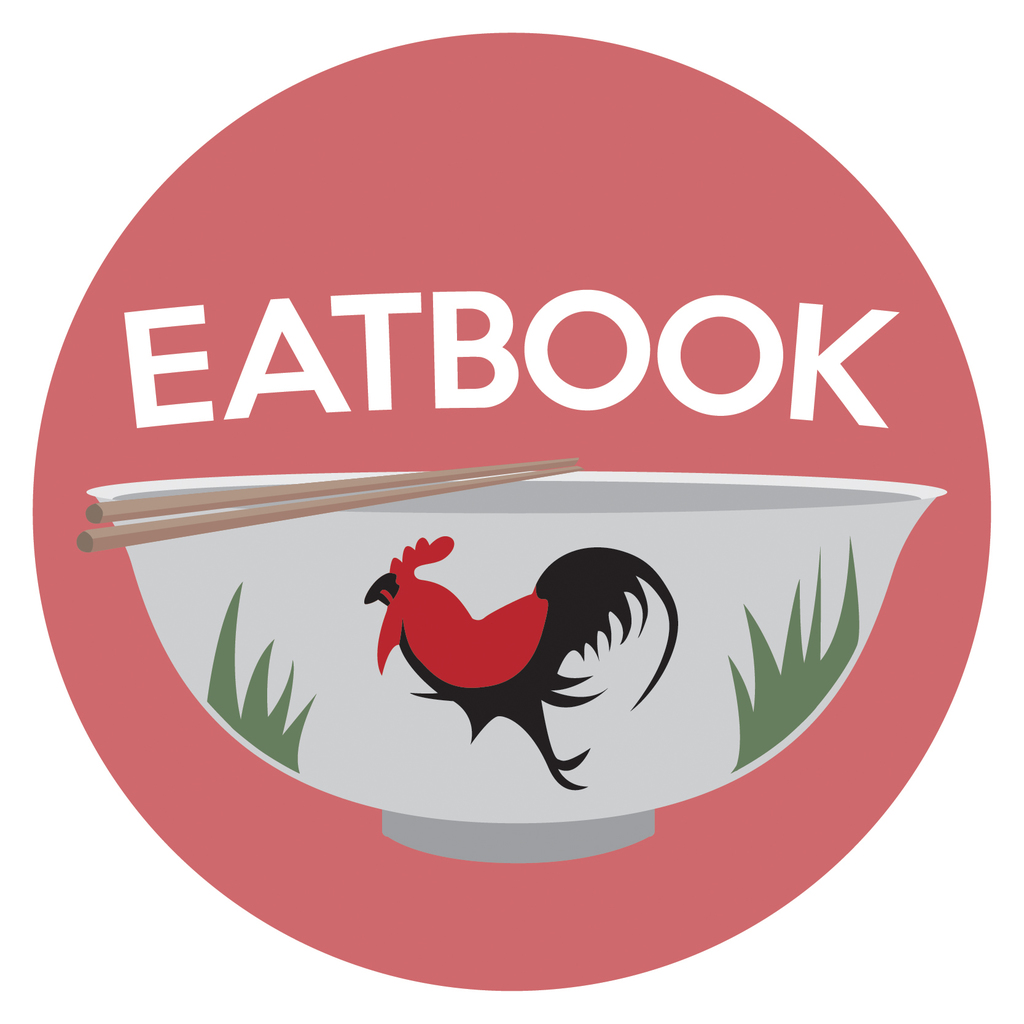 Drop us your email so you won't miss the latest news.