Burgerprek in Woodlands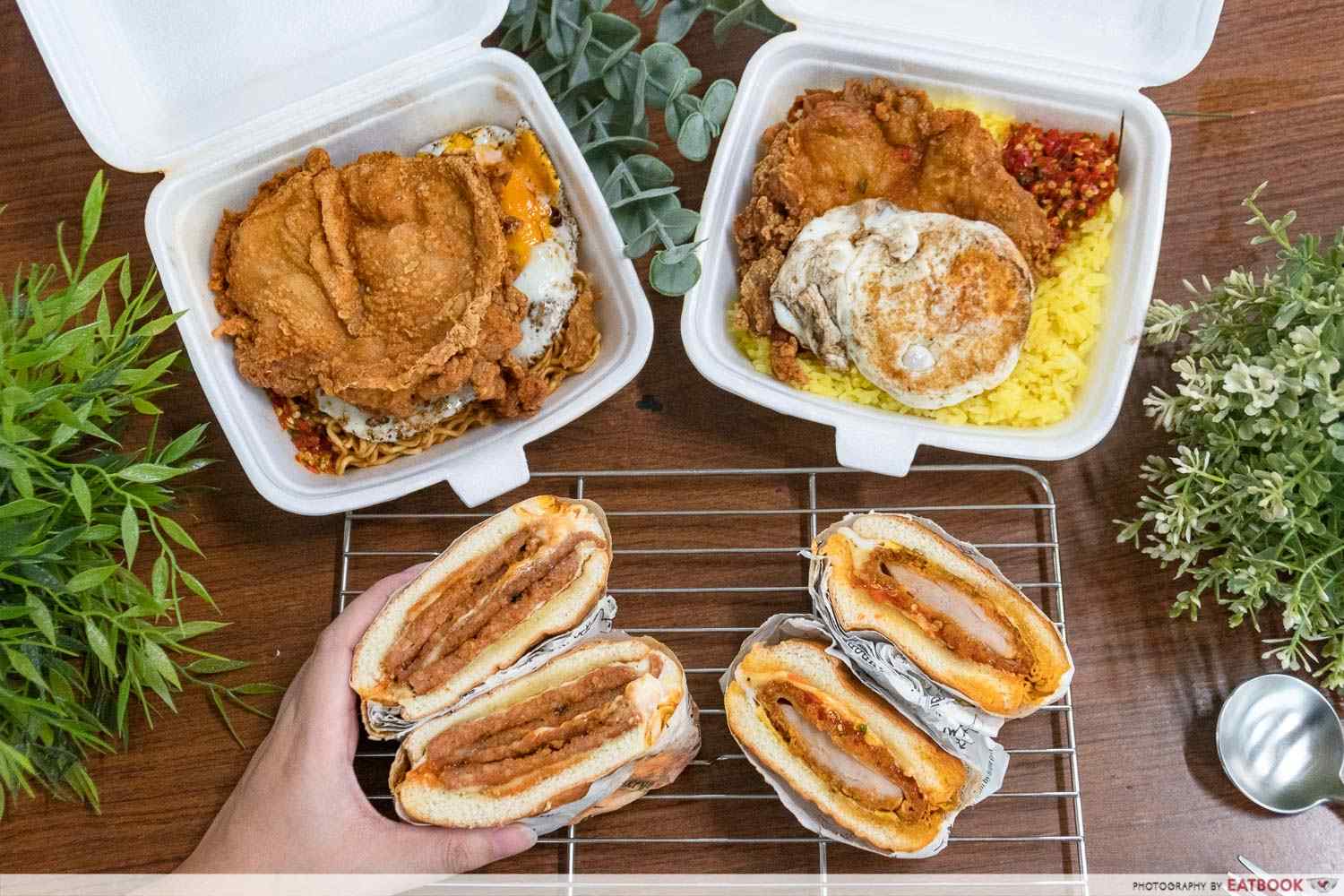 With the Thomson-East Coast line, revamped malls, and new office buildings, more upgrades are appearing around the North, including an increase in food choices. Thanks to this, my colleague and I stumbled upon this hidden Western-Indonesian fusion stall located in Woodlands, starring popular burgers topped with a signature geprek sambal sauce. Burgerprek, formerly known as Burger Geprek, is a Muslim-owned stall that features a Western menu with an Indonesian twist. This stall is perfect for anyone looking for a supper fix as it opens till 3:30am.
Rise & Rice Grill Kitchen Review: Value-For-Money Western Food From $5.50 At Woodlands
Food at Burgerprek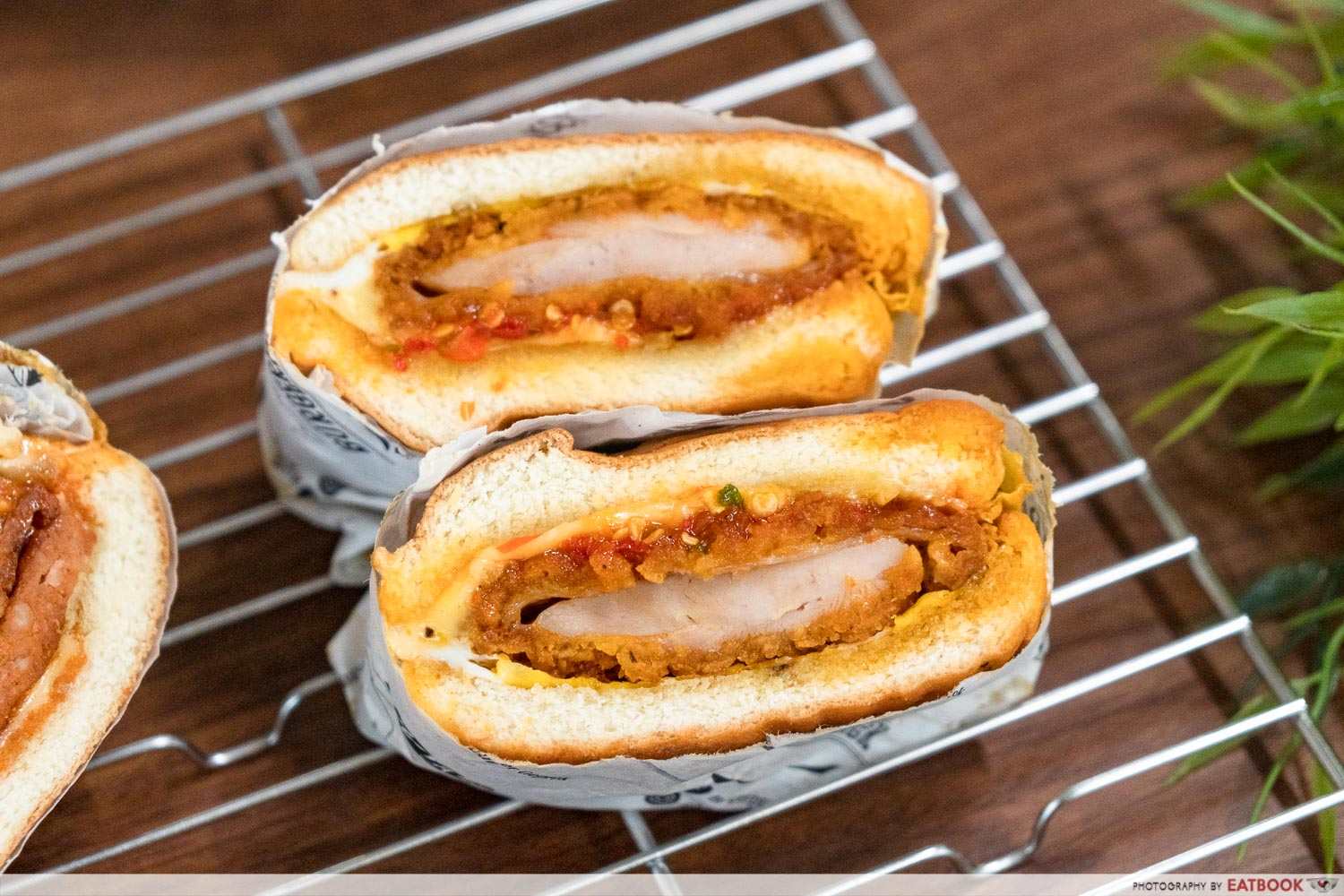 We ordered their best-seller, the Burger Geprek ($6). On first impression, it was a little underwhelming but looks can be deceiving. A big, chunky chicken patty came sandwiched between two buttery buns, topped with their geprek sauce, which is a type of sambal.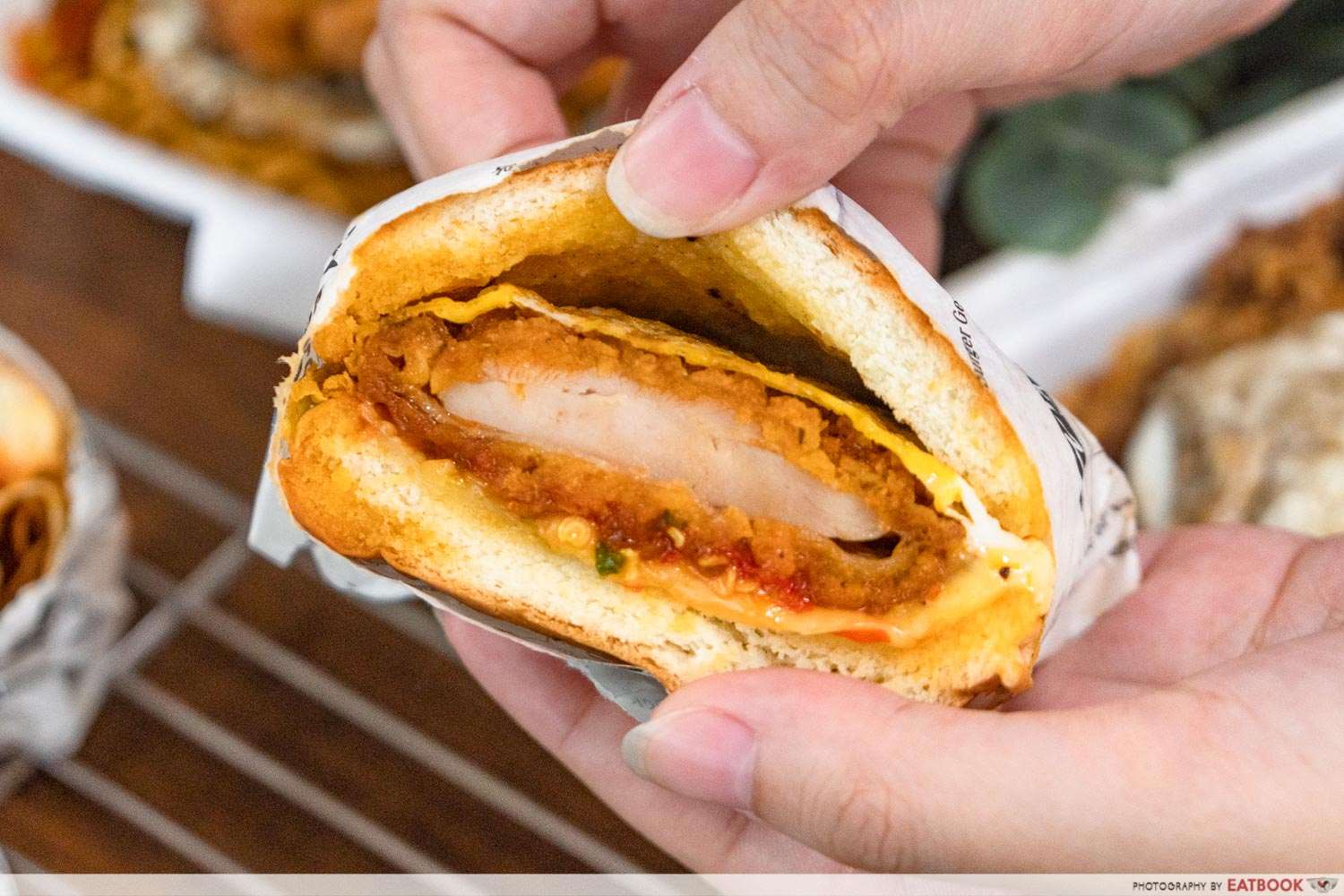 The spiciness of the sambal cuts through the greasiness of the chicken cutlet, and goes well with the buttery buns. I can tell why it is one of their best-selling items—the sambal sauce really packs a punch. You can even get additional geprek sauce for $1.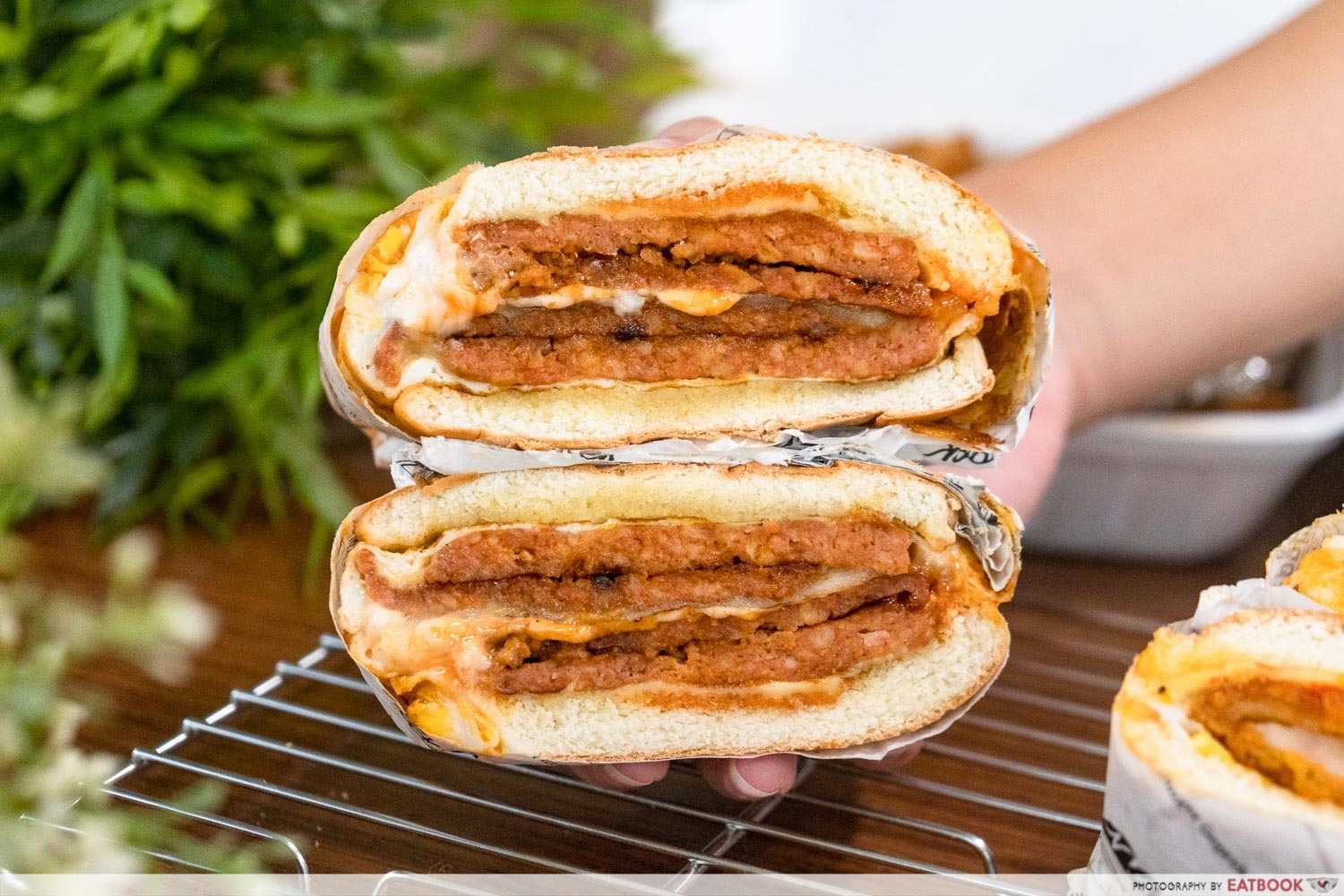 Next, we ordered the Cheezilla ($9). This burger comes in two patties with torched cheese oozing out from the side. For the patty, you can either go with a beef or chicken patty, so for us, we've decided to go with beef. The smokiness of the beef paired well with the greasiness of the cheese.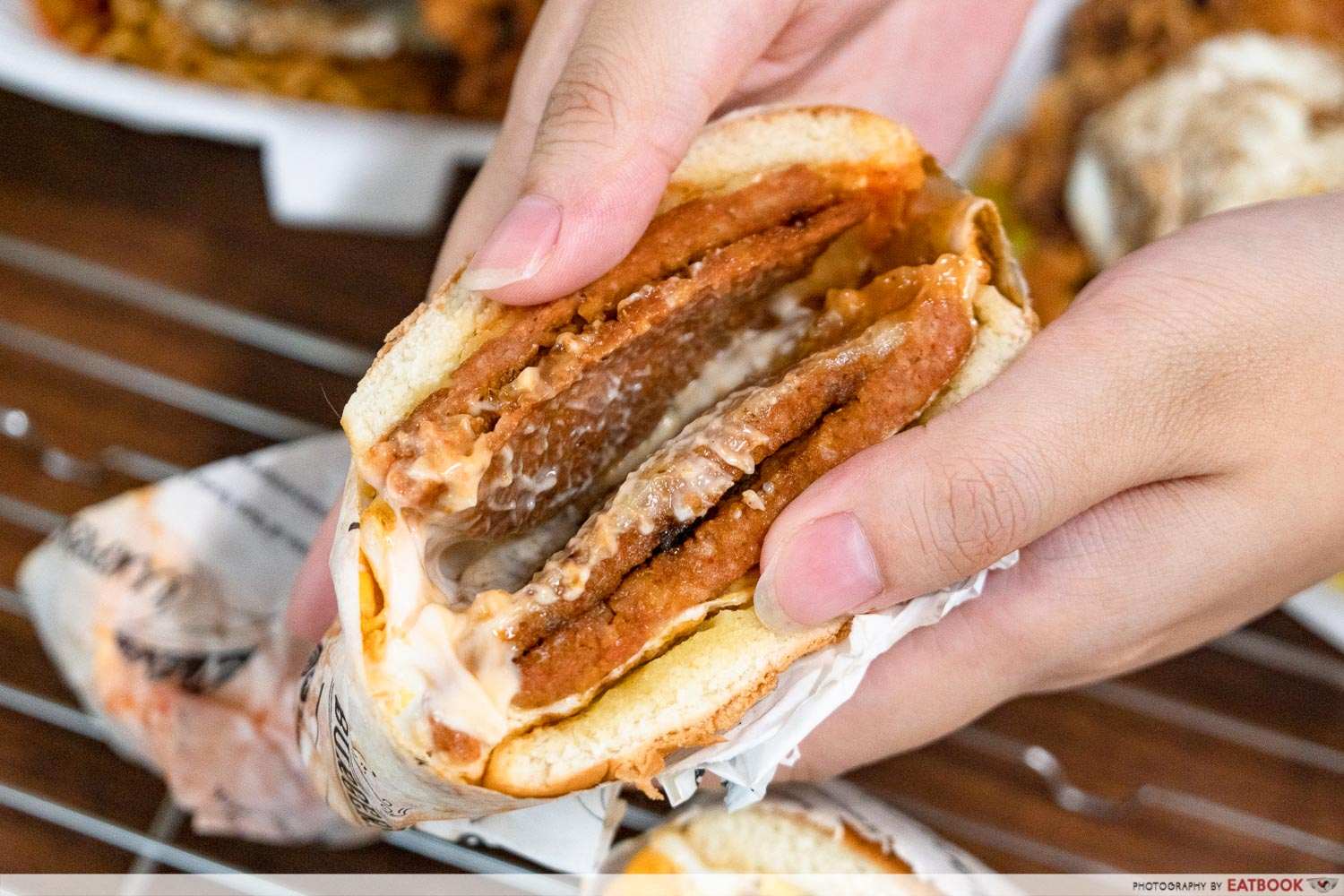 Even so, I would much rather opt for their Cheezilla Geprek for an additional $1 to have their geprek sauce add a kick to this burger.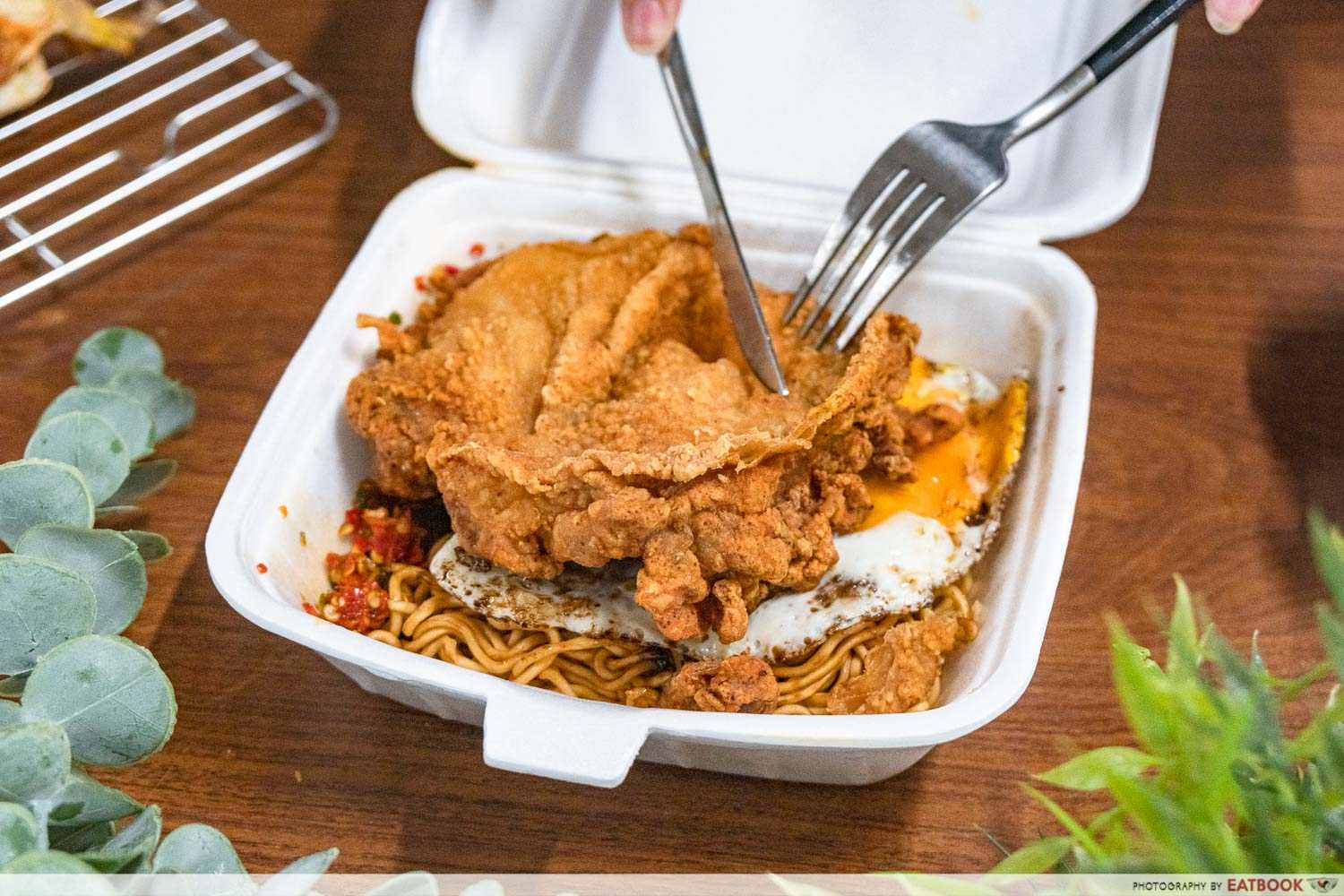 We had to order the classic—Indomie Geprek ($6.50). Iconic Indomie noodles are paired with a chicken cutlet and their sambal sauce. The chicken was moist and really complements the sambal sauce, but the only disappointment was the noodles.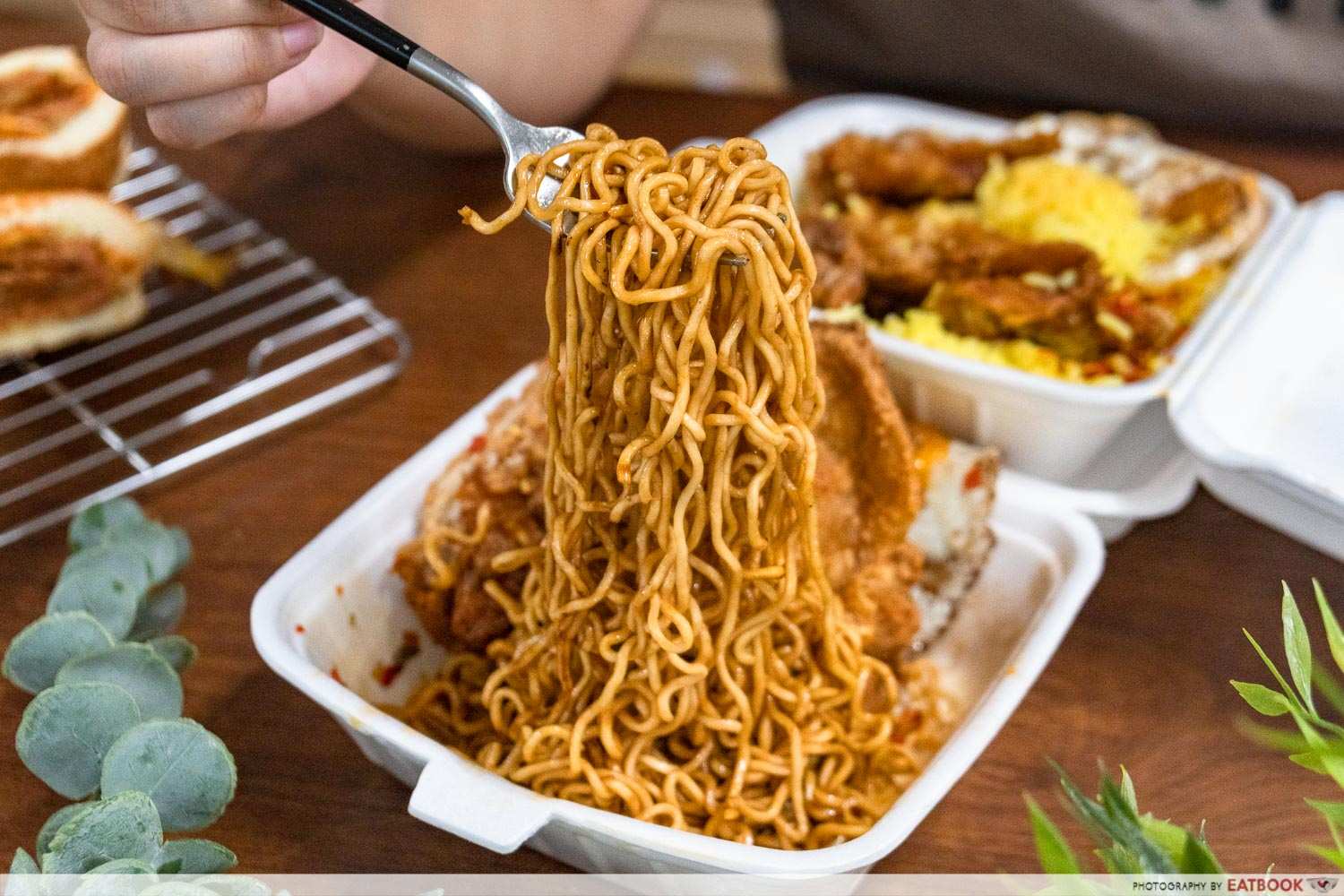 The noodles were plain and did not have the strong Indomie seasoning I was used to. Even so, they did give a generous serving of the geprek sauce, and the greasiness of the cutlet made a good pairing with the noodles.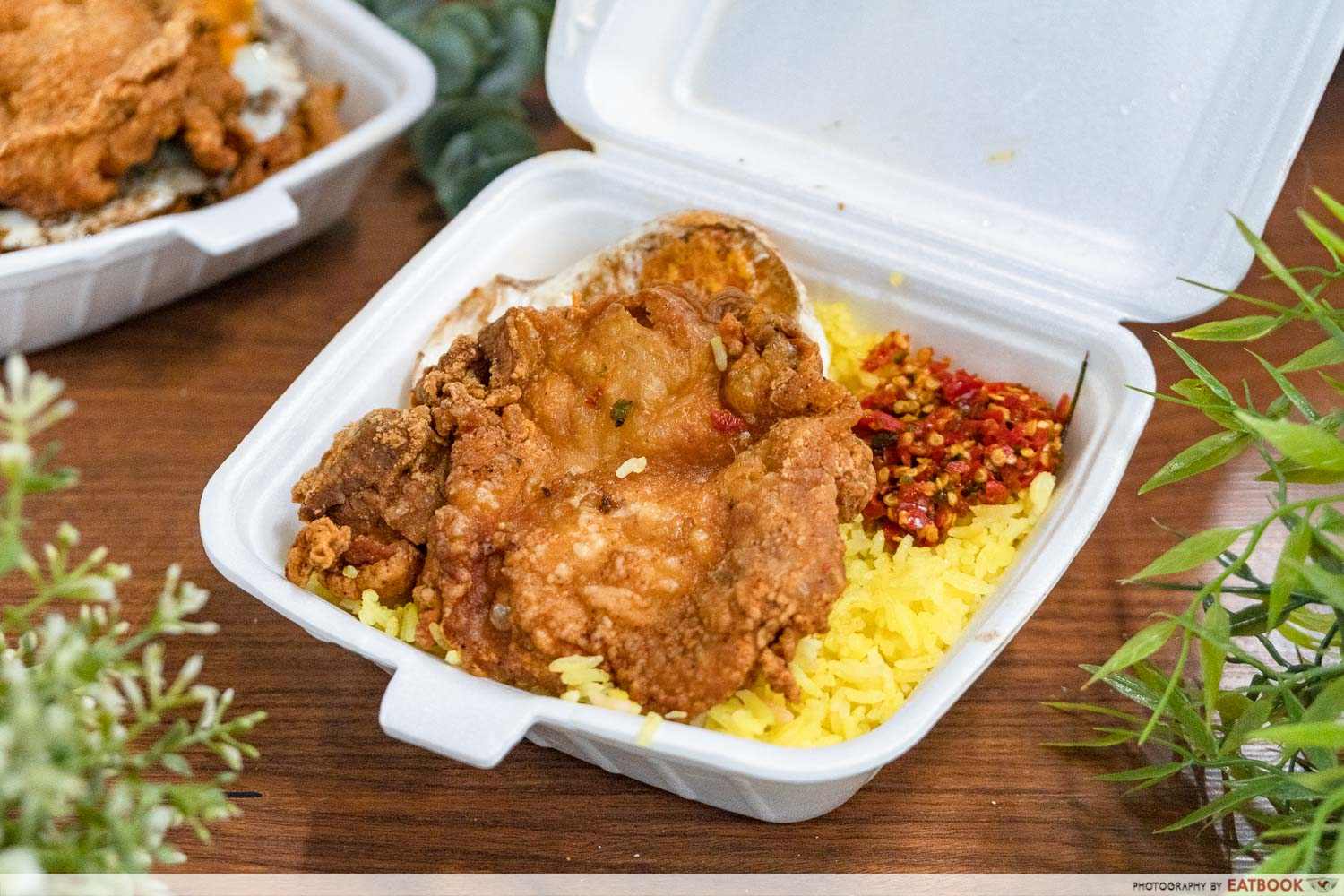 We decided to choose another main: the Butter Rice Geprek ($6.50). Surprisingly, the taste of the rice was much closer to chicken rice as opposed to butter rice.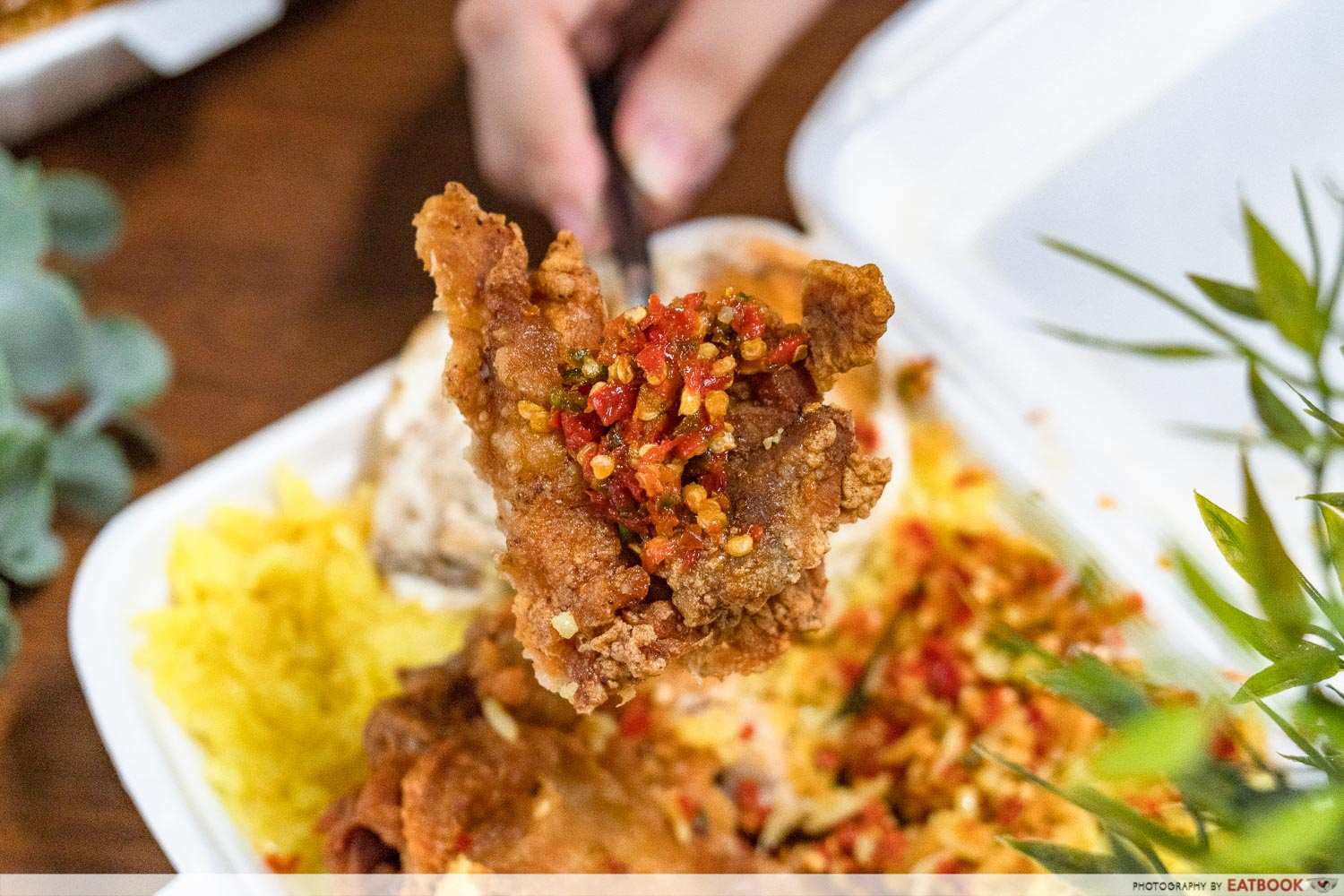 The rice with the cutlet, and the geprek sauce, worked well together and I found myself going back for another serving. The chicken was rather dry, but the fragrance of the rice and portion size compensated for it. 
13 Hawker Burgers Delivery Spots To Fix Your Cravings During This Stay-Home Period
Ambience at Burger Geprek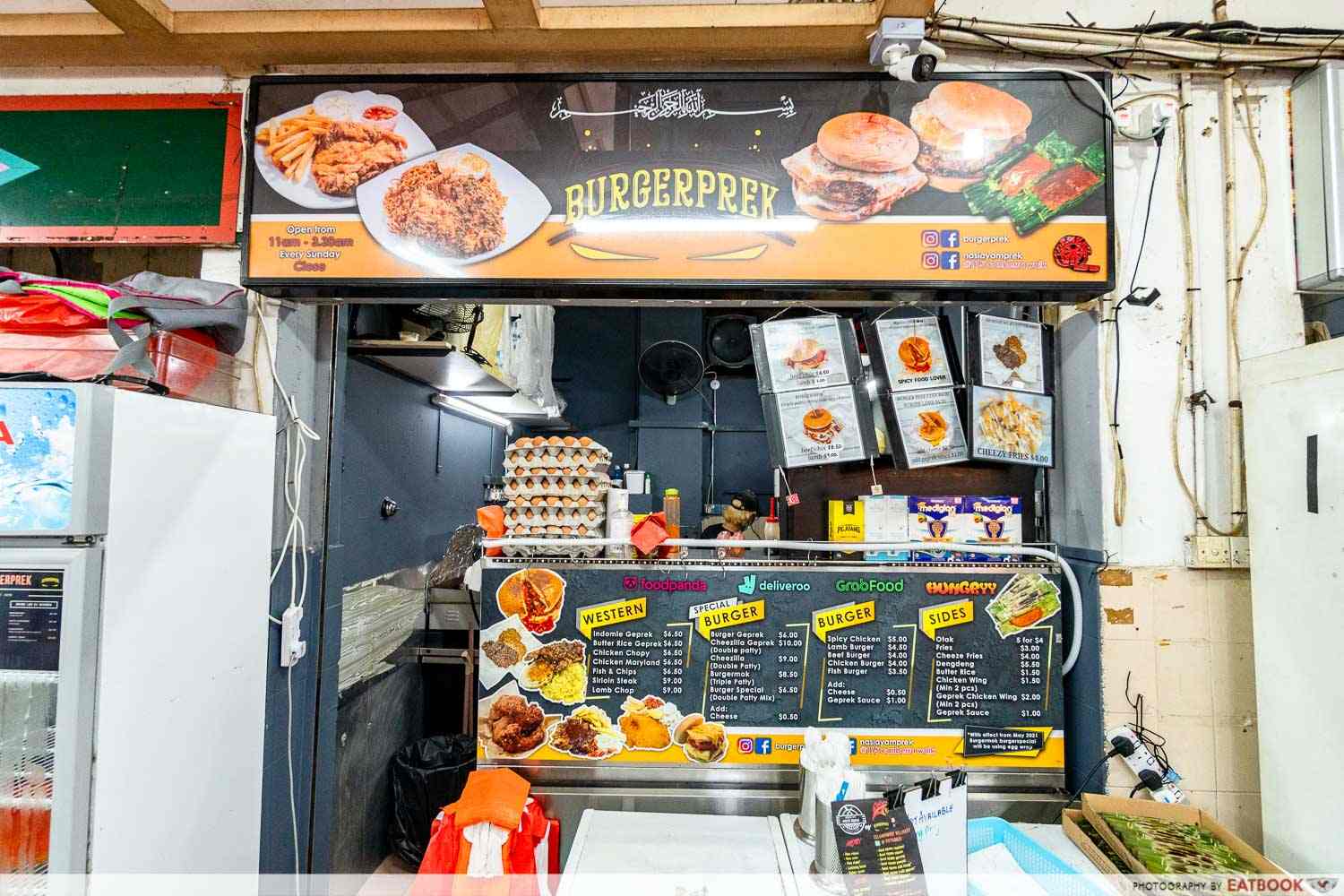 Burgerprek is located in Woodlands North Plaza, which is closest to Woodlands MRT Station. The walking distance averages about 12 to 13 minutes, but you can also take bus 911 from the interchange, a short three- to four-minute ride.  
Burger Geprek is more like a takeaway kiosk located within a wet market, instead of a dine-in eatery. As it's hidden inside, it was difficult to locate the shop and we almost missed it while searching through the maze of wet market stalls. 
When my colleague and I arrived at the location, we were told that they weren't going to open until 1:30pm, so we had to wait for about an hour. If you're visiting the stall, I would suggest coming around mid to late afternoon.
Happy Geprek Review: Ayam Geprek And Indomie With Customisable Sambal In Orchard
The verdict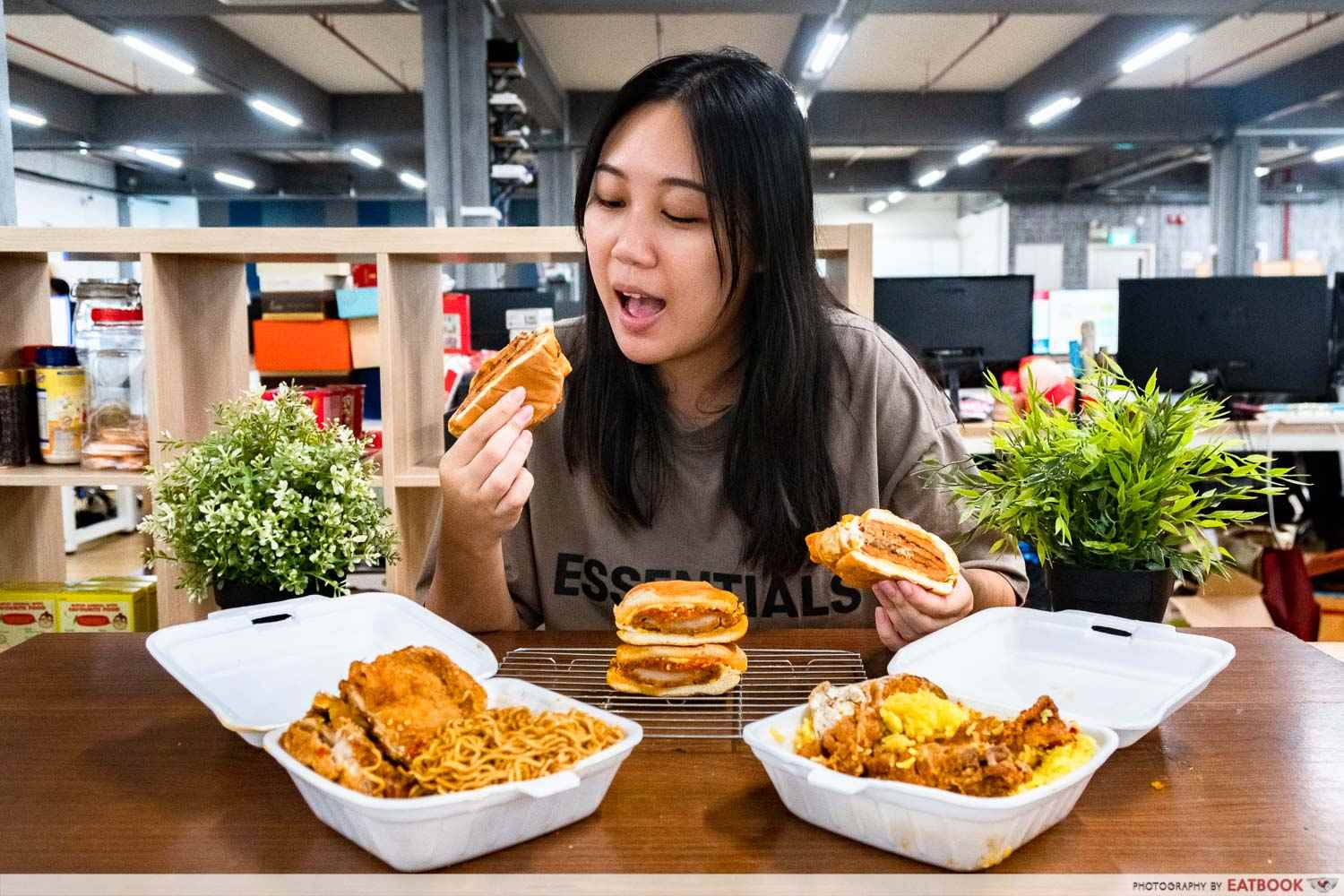 If you can take the heat and you're into spicy food, I would recommend coming down to try their dishes with the geprek sauce. I highly recommend going for the burgers instead of the mains. However, the prices are rather steep, but for the chunkiness of the meat and generous serving of sambal, it's worth giving them a try if you're around the area. 
For more food recommendations around Woodlands, check out our Woodlands food guide. Alternatively, read our Burgs by Project Warung review for burgers under $12!
Address: 883 Woodlands Street 82, Singapore 730883
Opening hours: Mon-Sat 11am to 3:30am
Tel: 8874 6631
Website
Burgerprek is a halal-certified eatery.
13 Woodlands Food Gems Including $1.30 Dim Sum, Scallop XLB, And A Fried Chicken Cafe
Photos taken by John Lery Villanueva.
This is an independent review by Eatbook.sg.
Burgerprek Review: Western-Indonesian Fusion Stall Opens Till 3:30am, Serves Burgers Topped With Sambal
Burgerprek Review: Western-Indonesian Fusion Stall Open Till 3.30am In Woodlands, Serves Burgers Topped With Geprek Sauce -

7/10
Summary
Pros
– Burger patties were succulent and chunky
– Geprek sauce was spicy and addictive
Cons
– Prices were slightly steep
– Inconvenient location
Recommended dishes: Burger Geprek ($6), Butter Rice Geprek ($6.50)
Opening hours: Mon-Sat 11am to 3:30am
Address: 883 Woodlands Street 82, Singapore 730883