Roger's Kitchen offers big portions and original food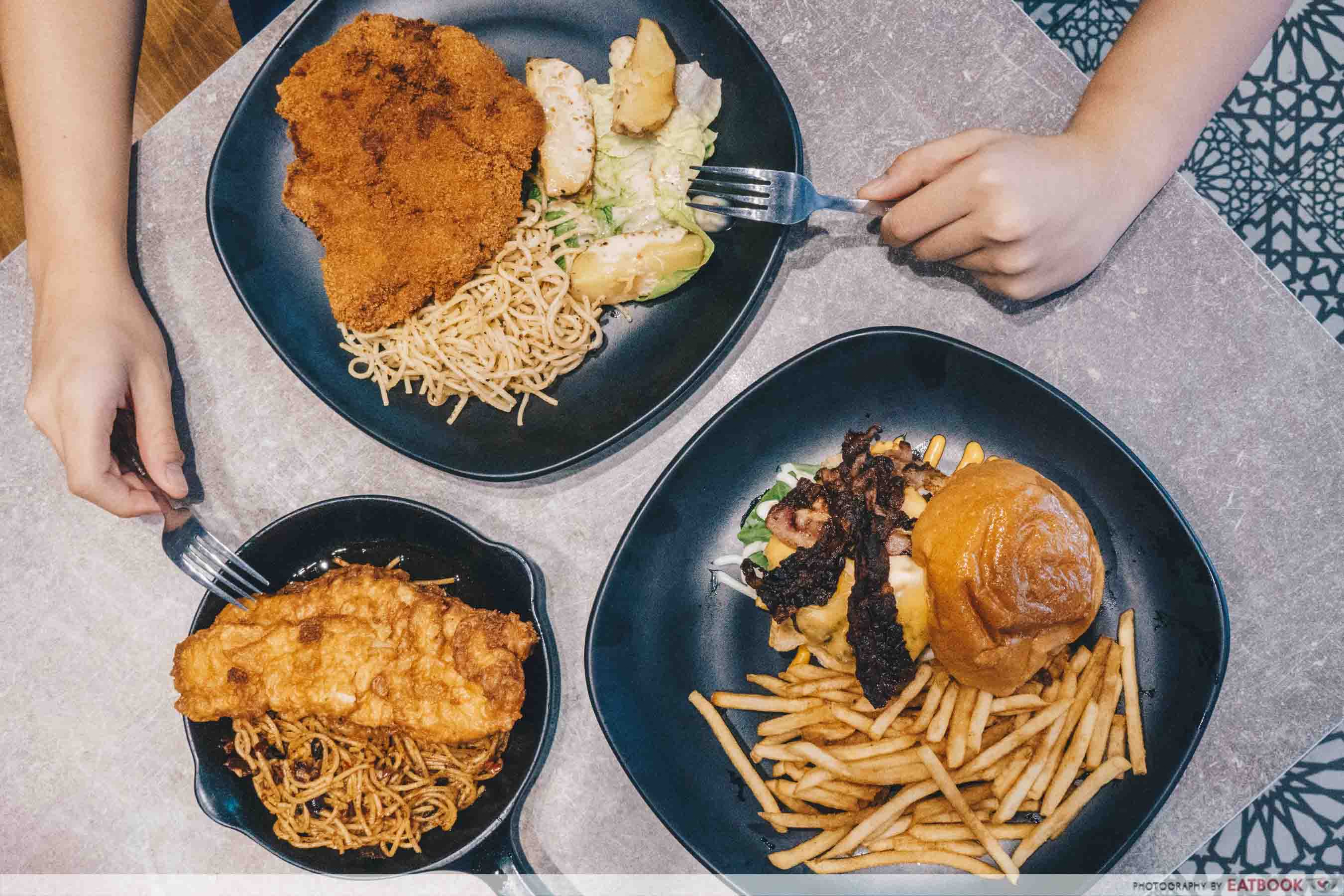 Tucked in a corner of Sembawang MRT's NTUC Foodfare, Roger's Kitchen is an unassuming stall serving innovative renditions of Western dishes. Offering generous portions and dishes that incorporate everything from ma la to salted egg, this food court stall adds fusion flair to Sembawang's food scene.
Food at Roger's Kitchen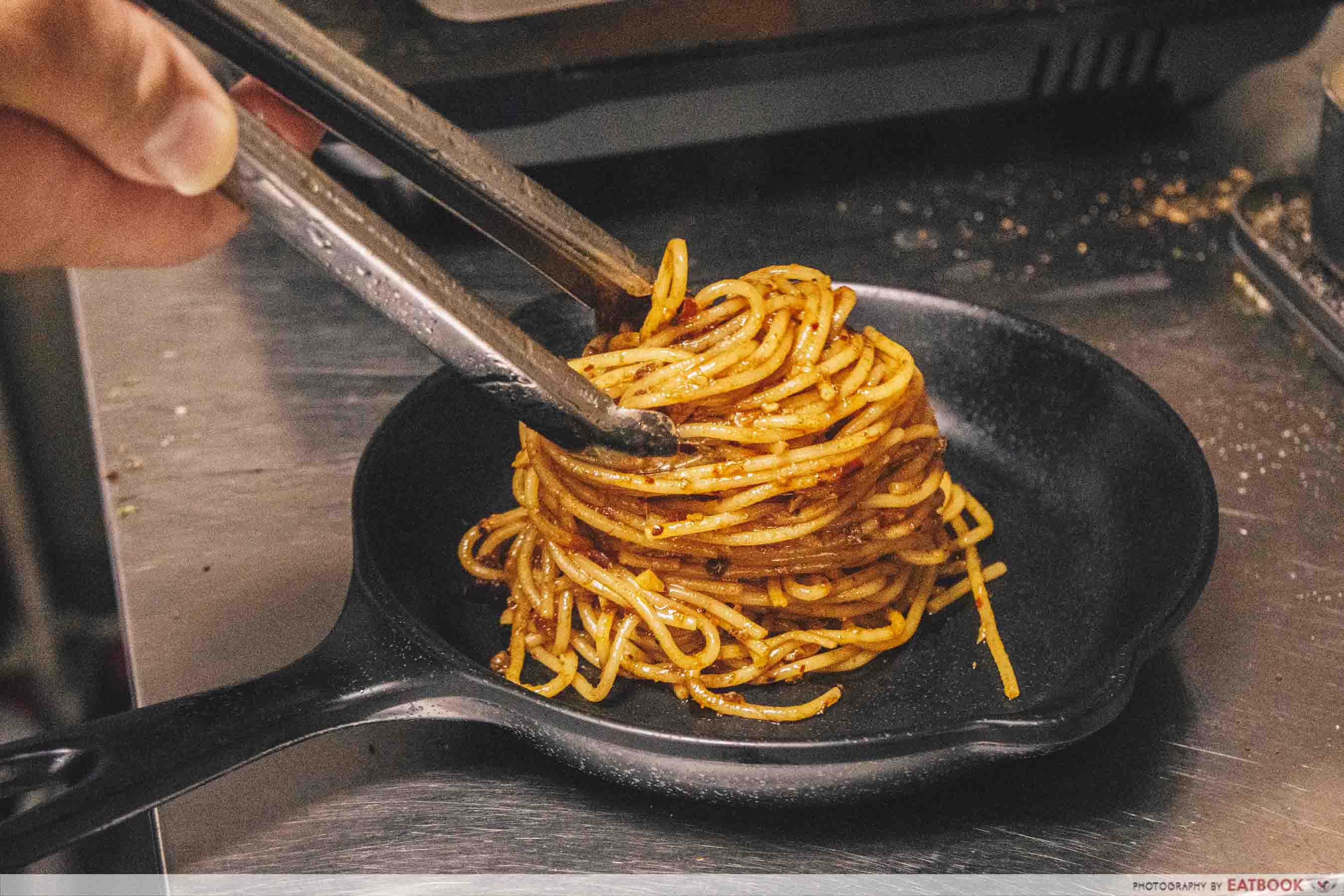 In the past couple of years, ma la xiang guo has become all the rage in Singapore, with office workers and students alike clamouring for the fiery dish during lunchtime. This fusion stall jumps on the bandwagon with a Ma La Pasta ($7.50).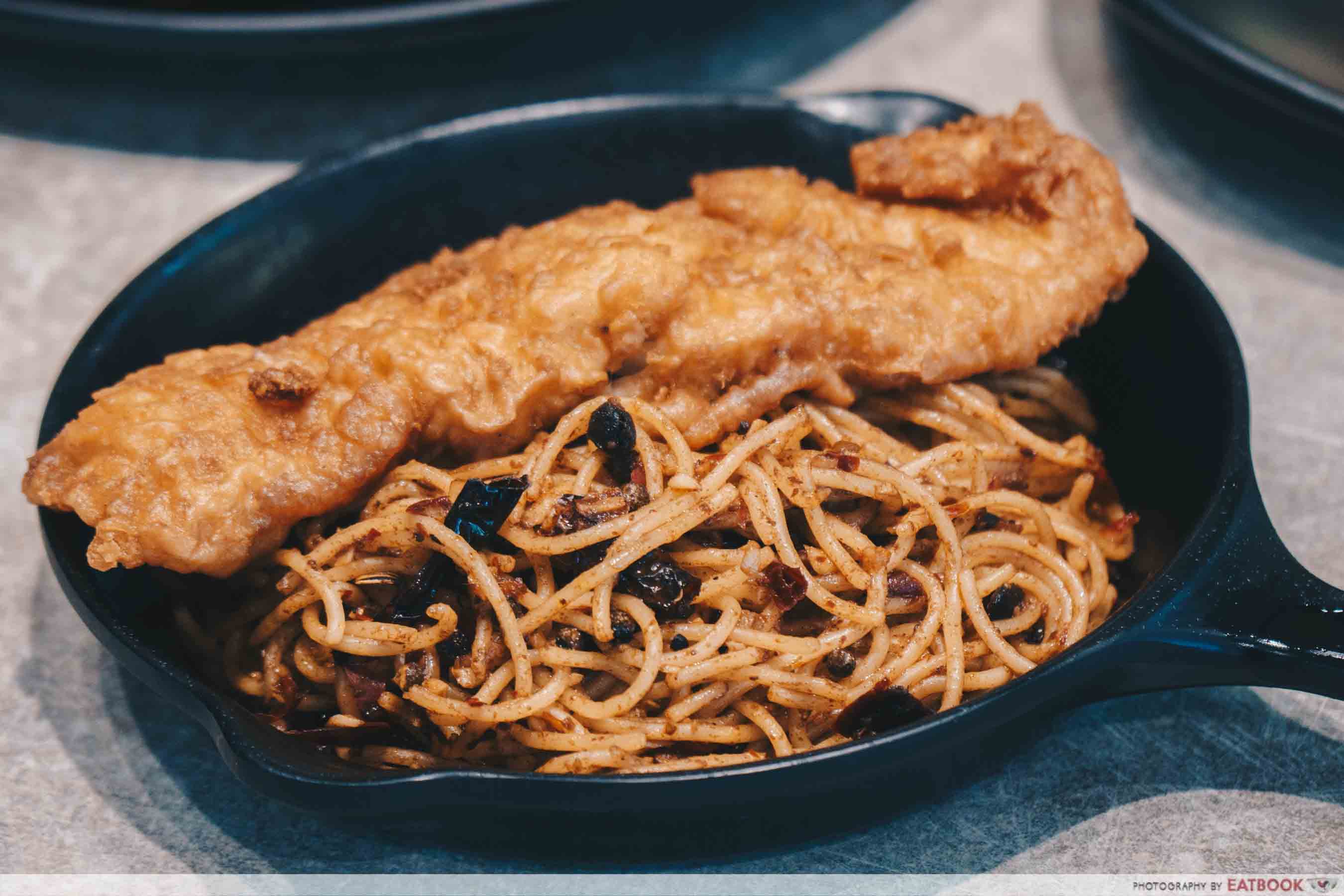 While this usually comes with a fried chicken cutlet, we swapped it out for Beer Battered Fish at no extra cost to explore what options were available for seafood lovers.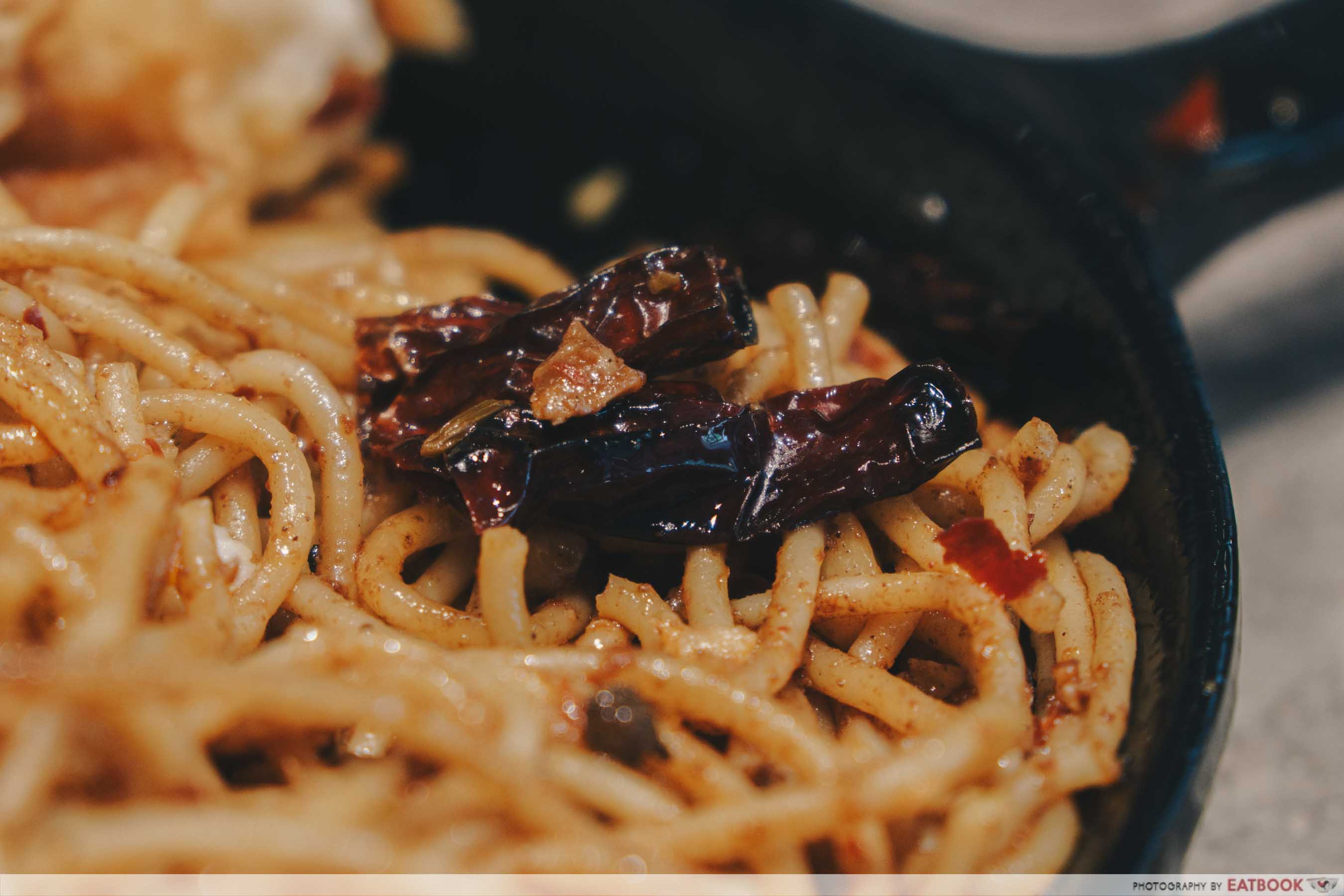 What struck us first was the diverse lineup of spices in the pasta. Just poking around the noodles, I spotted minced garlic, Sichuan peppers, dried chilli, chilli flakes, fermented soybeans and cumin seeds, all boding for a supremely flavourful noodle dish.
Yet, it didn't carry that potent smell of Sichuan pepper that ma la xiang guo veterans are well acquainted with.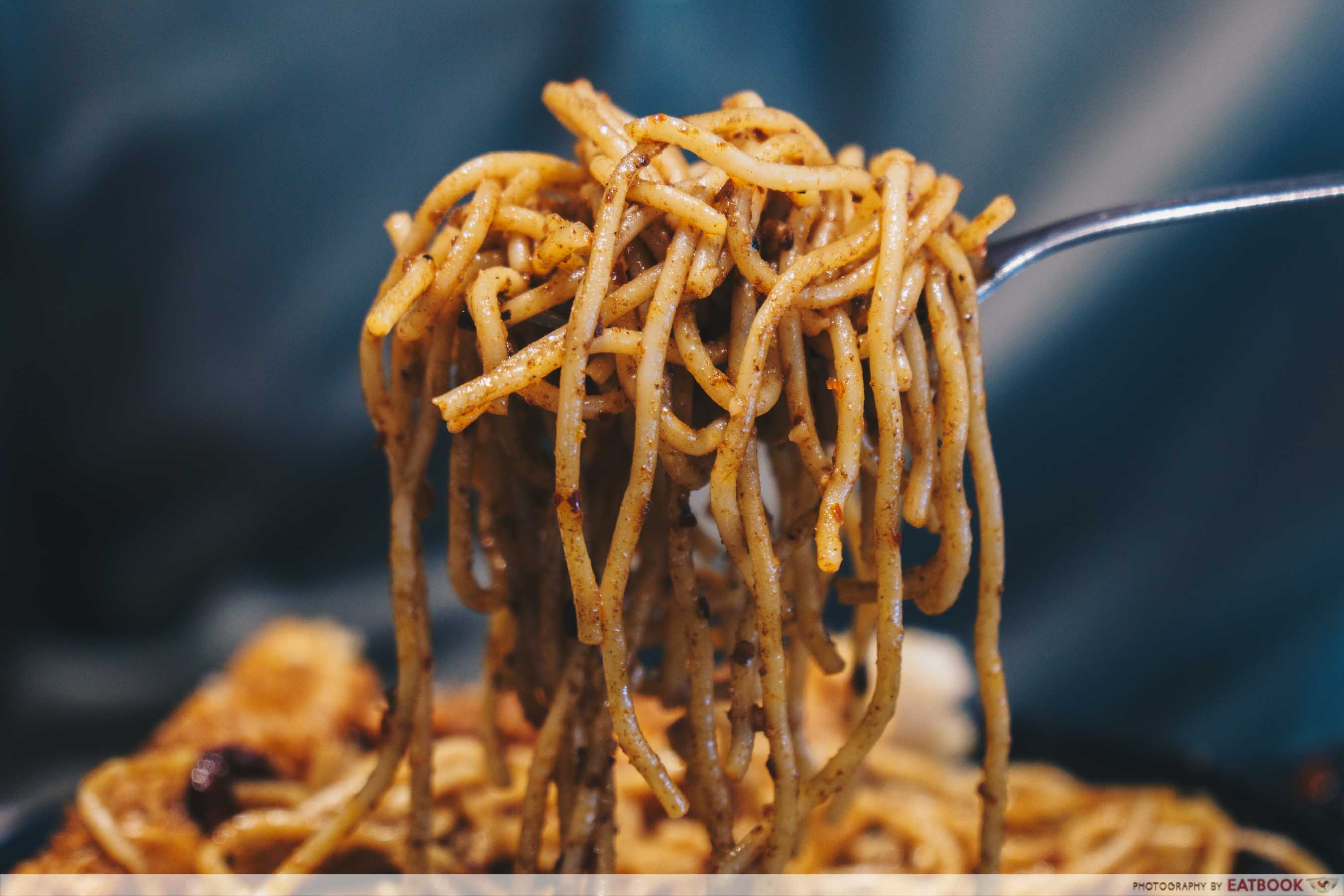 Digging in, a wave of heat smacked our palates immediately. Clearly, the combined force of dried chilli, chilli flakes and Sichuan peppers was pretty effective.
Don't worry if you aren't a spice master, you can always request for xiao la, or less spicy. Despite not having that signature ma la fragrance, the tongue-numbing ma sensation was strong, making us reach for our drinks.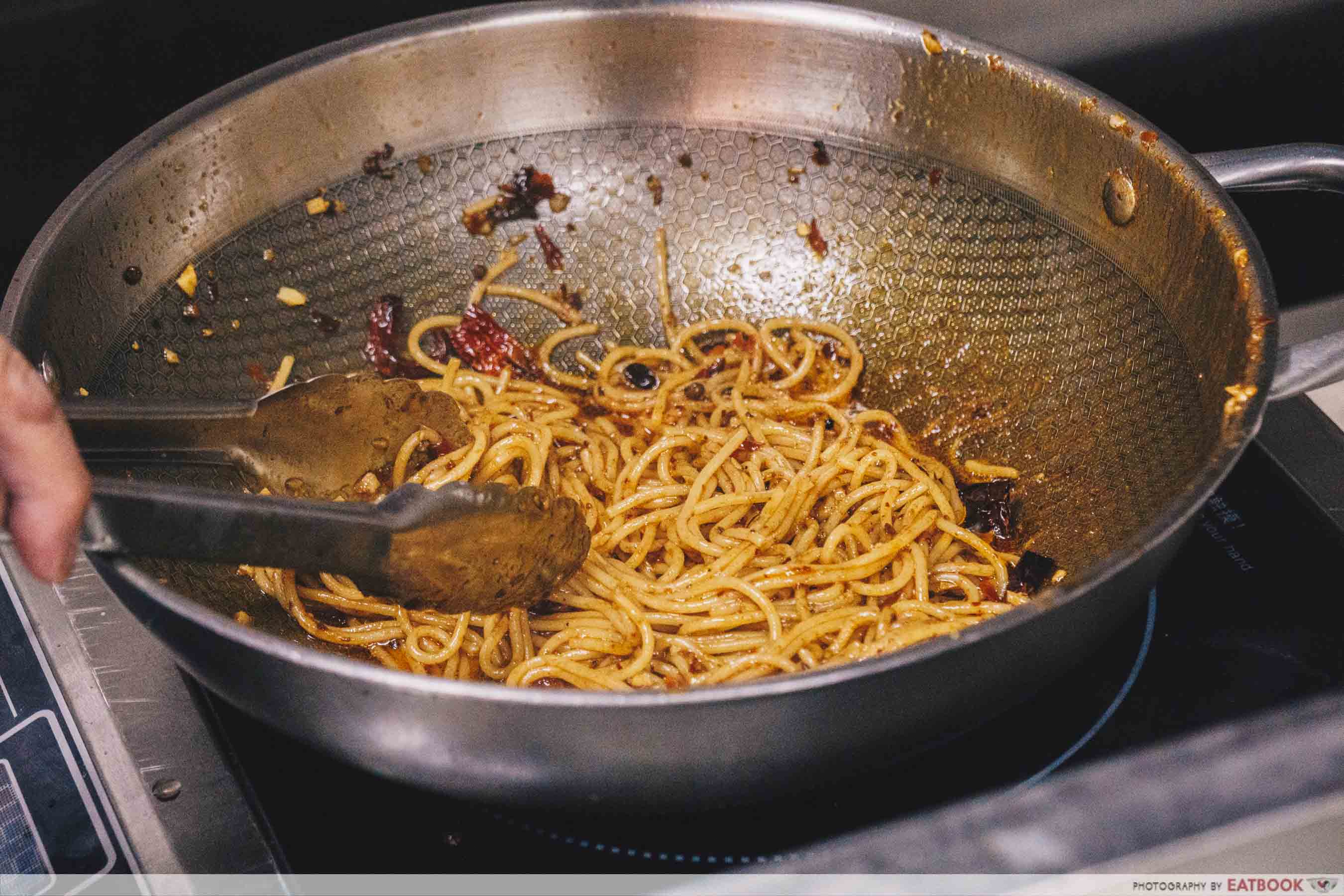 Behind that, the fermented beans gave a really nice umami flavour, accompanied by a zing of garlic. The moreish spice blend had us going for another forkful again and again, panting each time from the burn delivered from the spice-immersed noodles. That said, don't expect the same flavours you'd get in a regular ma la xiang guo.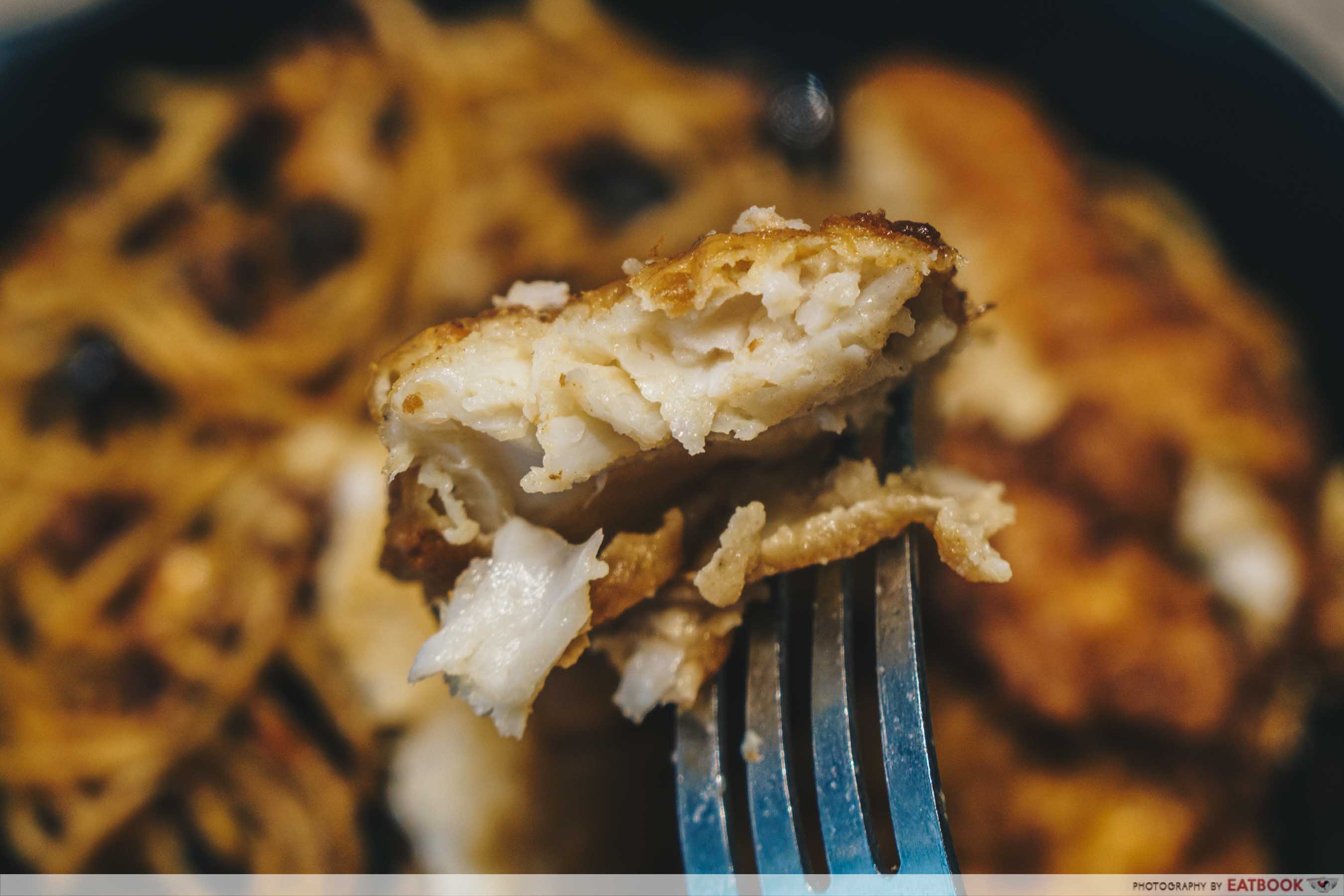 Compared with the pasta, the beer-battered fish was a disappointment. The batter was soggy and lacked that satisfying light crunch, which is possibly due to the ma la oil. 
While the meat was decent, soft and buttery, we wished the batter was seasoned as well, rather than tasting solely of flour.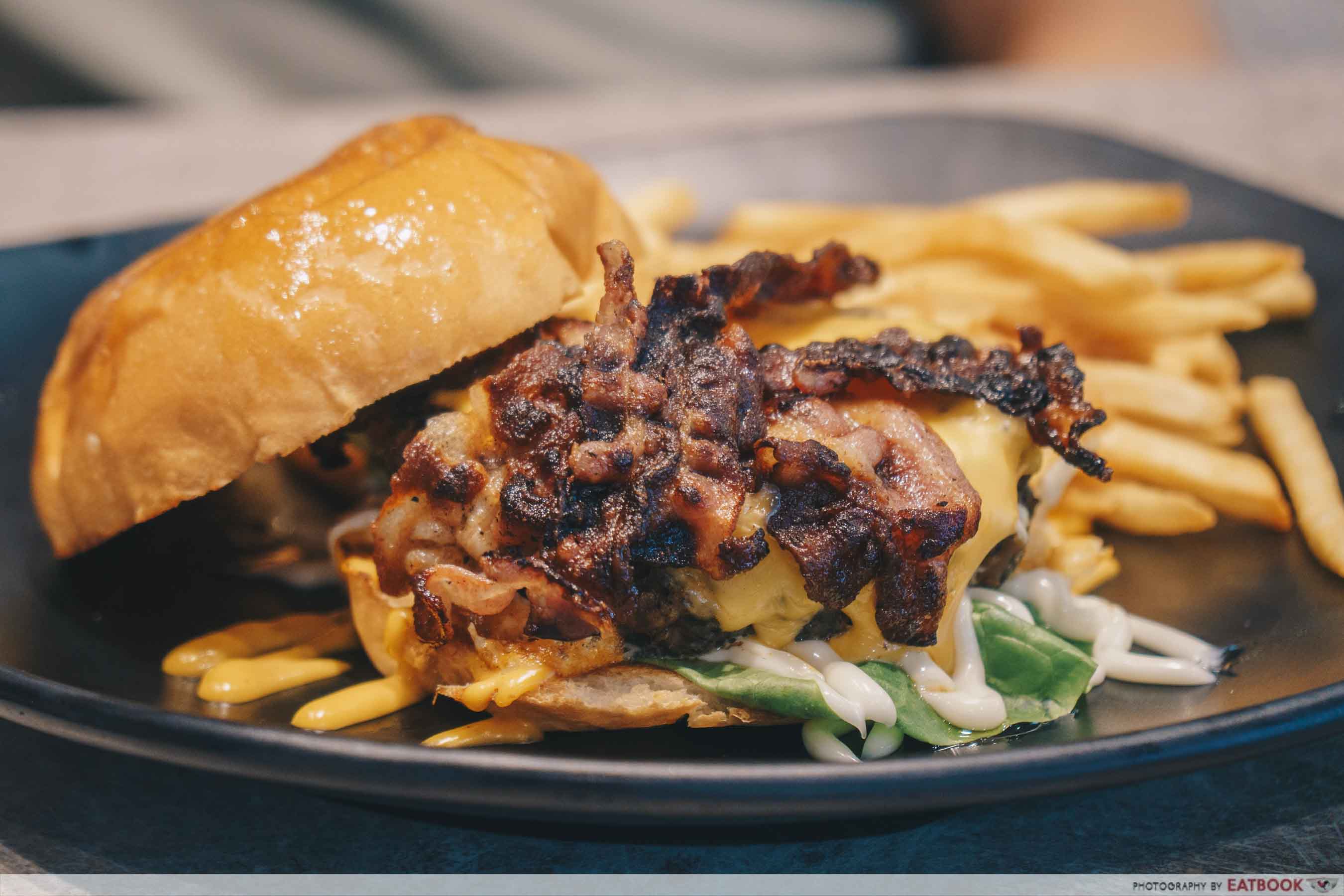 The Wagyu Lava Egg Beef Burger ($11.90) was a real attention-grabber. It's pretty difficult not to get excited about molten yellow yolk streaming out of a burger patty. As it came, we were impressed by the gleaming, toasted buns that adorned the burger, together with a strong spiced scent wafting from the patty.
It's then crowned with strips of bacon, which came charred and black rather than in its usual deep red bak kwa-esque hue.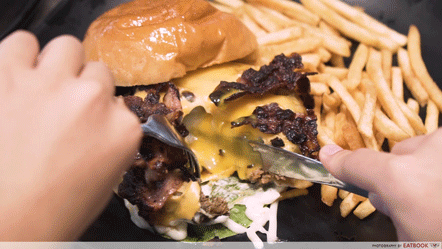 Then came the moment of truth. Faithful to its moniker, egg yolk spewed out on the plate as we sliced into the patty, similar to lava running down an active volcano. Honestly, I'm not one for gimmicks when it comes to food, but I was pretty enthralled by this.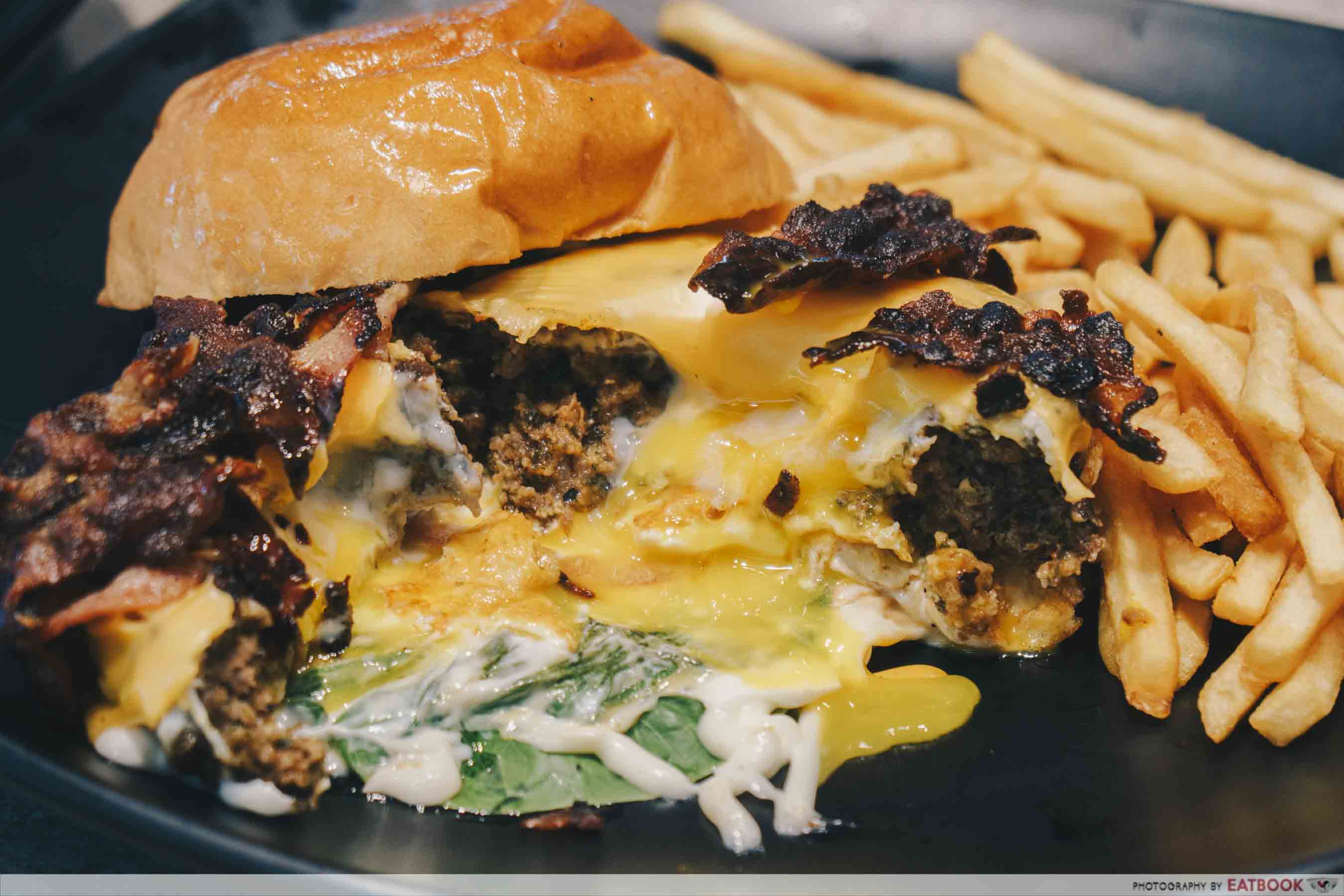 This is certainly a knife-and-fork burger, as gooey egg yolk coats every surface once you break it apart. There's a lot of moving parts here with melted cheese, nacho cheese, mayonnaise, bacon, fried egg, lettuce and tomato also sandwiched between the buns.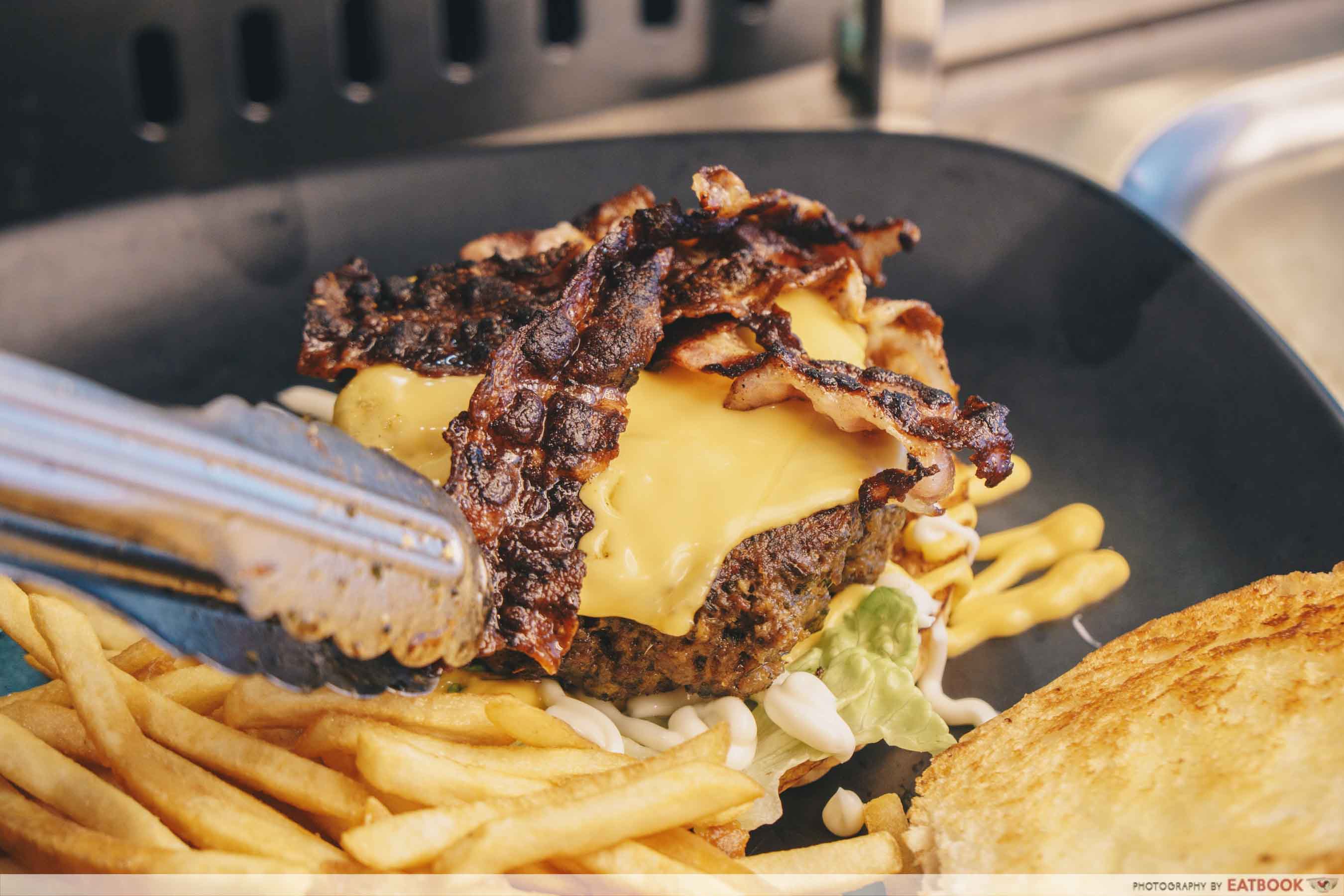 Together, it was a good composition, with creaminess from the egg yolk, cheese and mayonnaise, and a fresh pop from the tomato counteracting  the burger's saltiness. An acidic or sour element would have been a welcome addition though.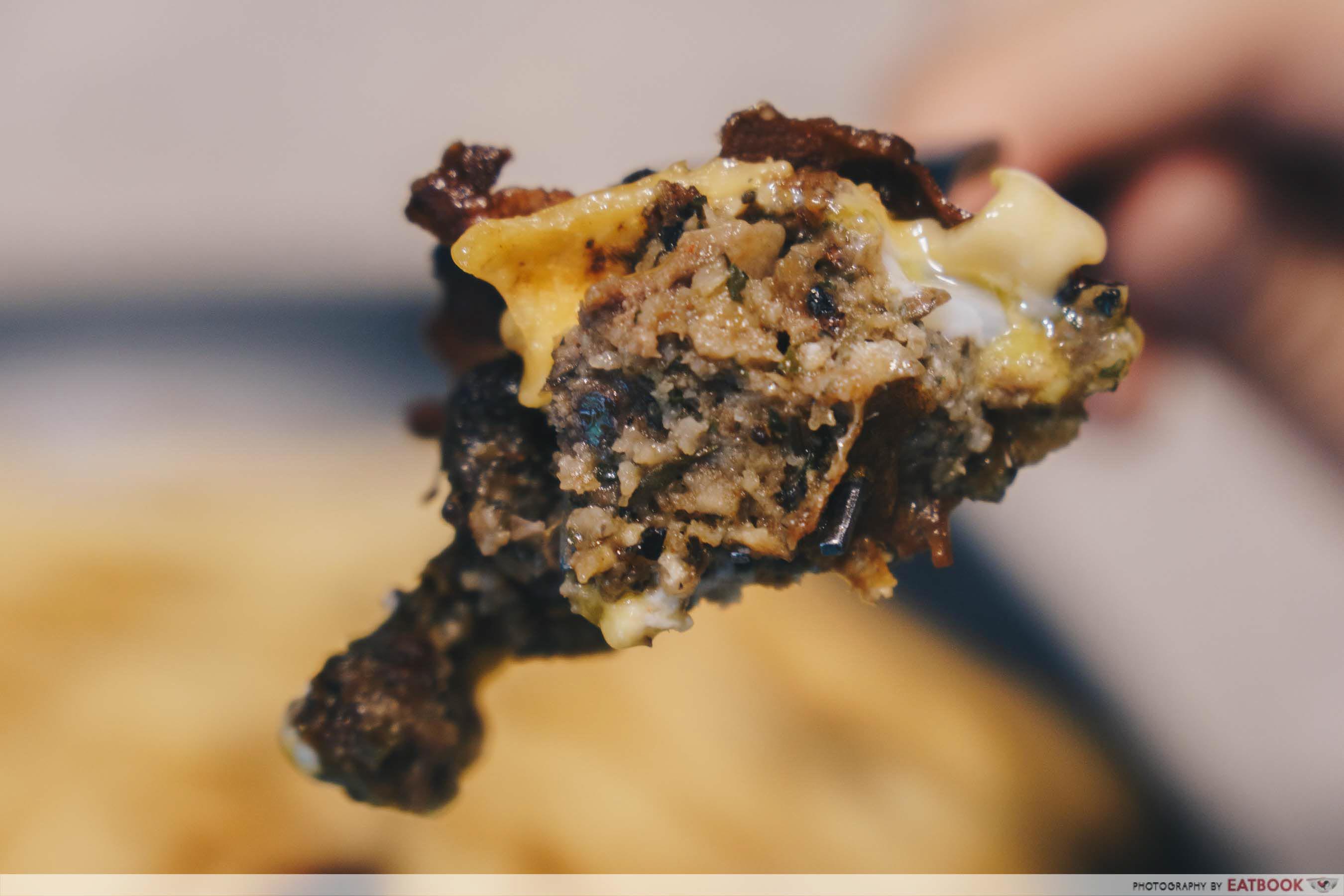 Problems came when we ate the patty by itself. It was over-seasoned, with salt, cumin and thyme masking the beef's natural flavour. Somehow, it tasted like a salty kebab rather than a burger patty. Quality meat like wagyu should be seasoned simply and allowed to shine, rather than having its character hidden.
The meat was grounded too finely as well, robbing it of the juicy bite we covet in a good patty.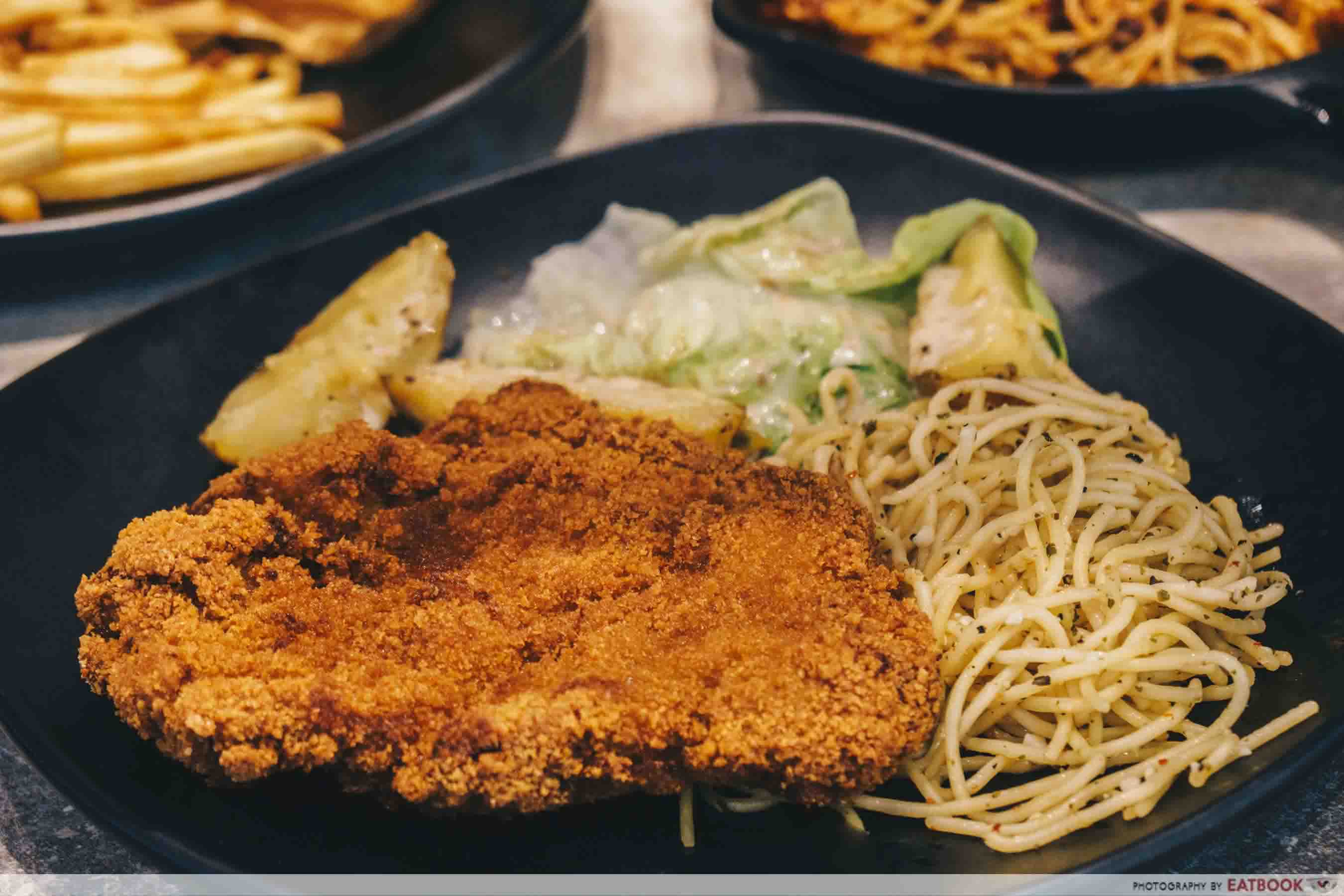 For $7.20, the Jumbo Chicken Chop was certainly value for money. Large enough to cover my face, it came with a side of potato salad and aglio olio. It could satisfy two people with average appetites for lunch.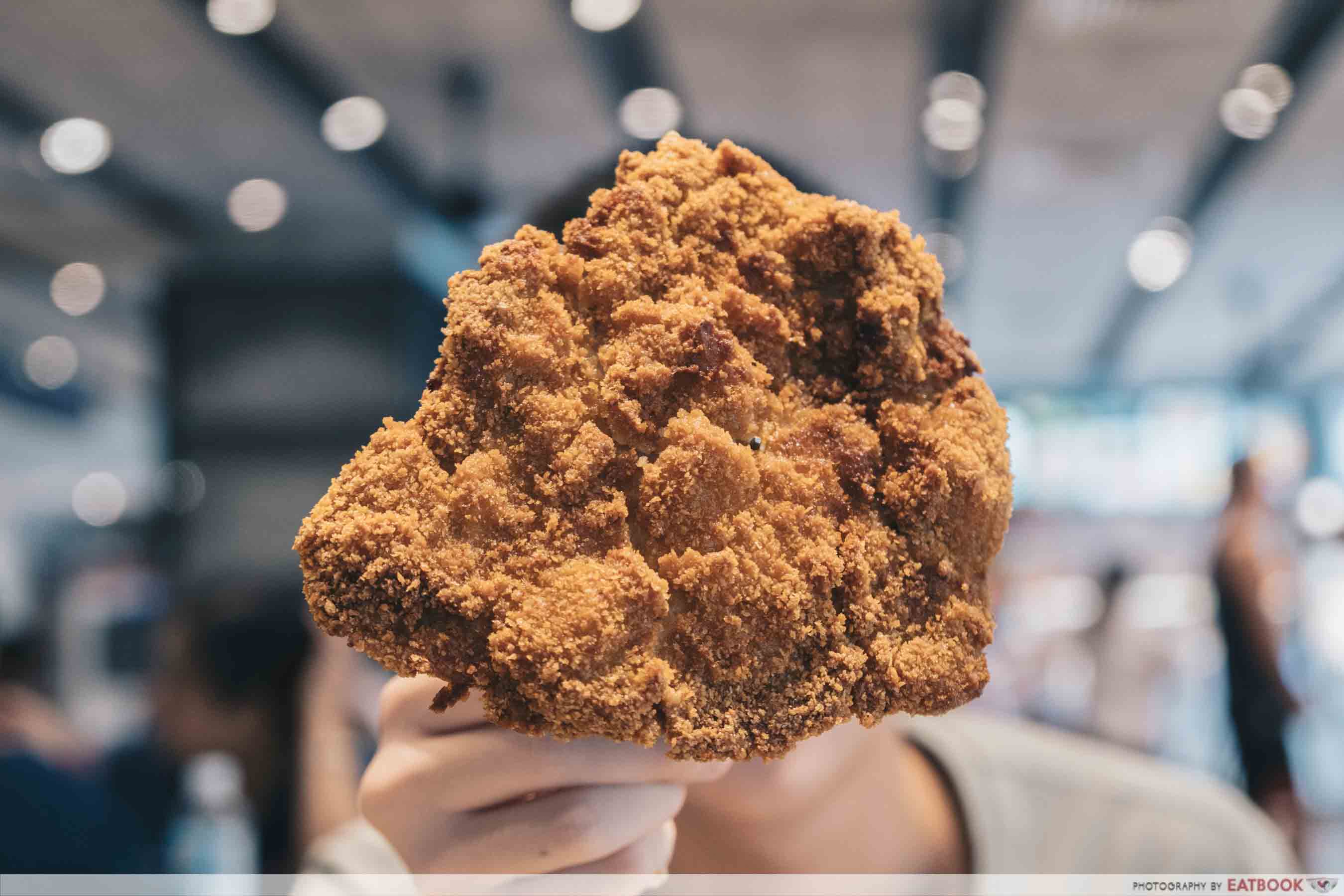 Our knife cut through the chicken relatively easily, signalling tender meat. While that was the case, it was nothing remarkable in terms of flavour – similar to standard Western hawker stall cutlets.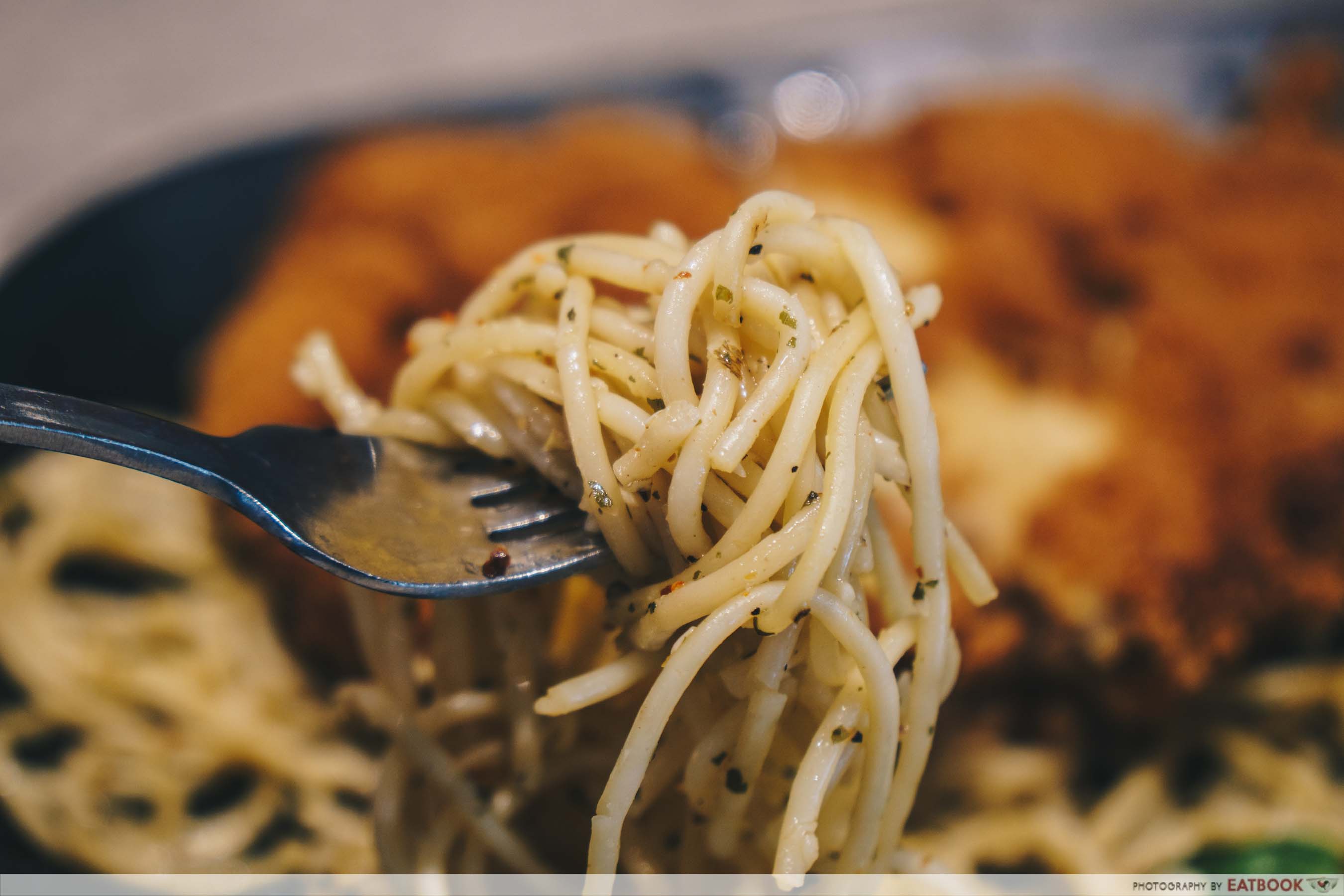 These impressions extended to the pasta as well. Garlicky and sufficiently oily, it was just like any other pasta. Perhaps adding a robust gravy would have provided moisture and integrated its different components better.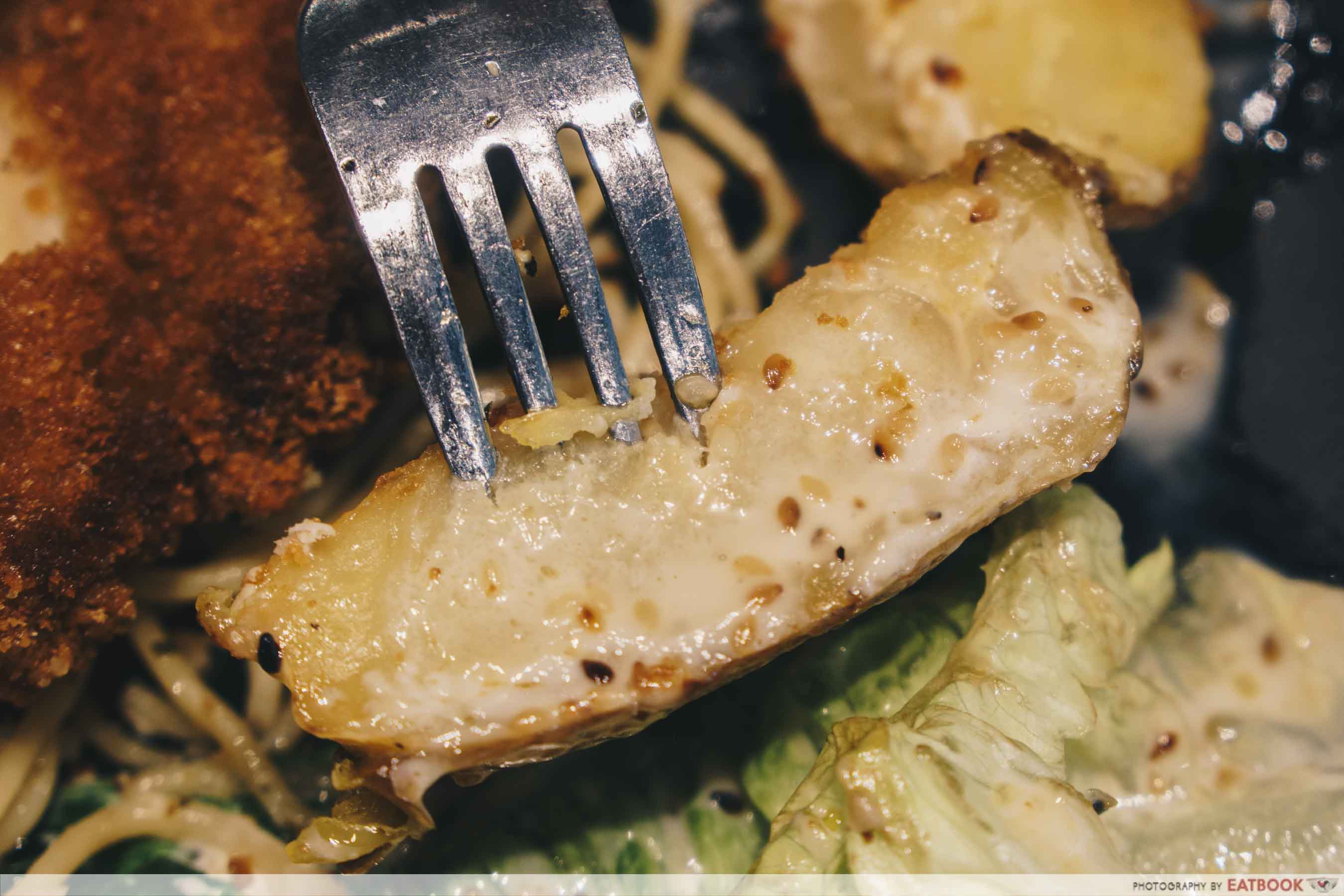 We enjoyed the potato salad though. The potatoes were soft without being mushy, and we liked that its skins were left on, as they provided a subtle sweetness and contrasting texture. It combined well with the sweet and creamy sesame dressing. We just wished there was more of it.
Ambience at Roger's Kitchen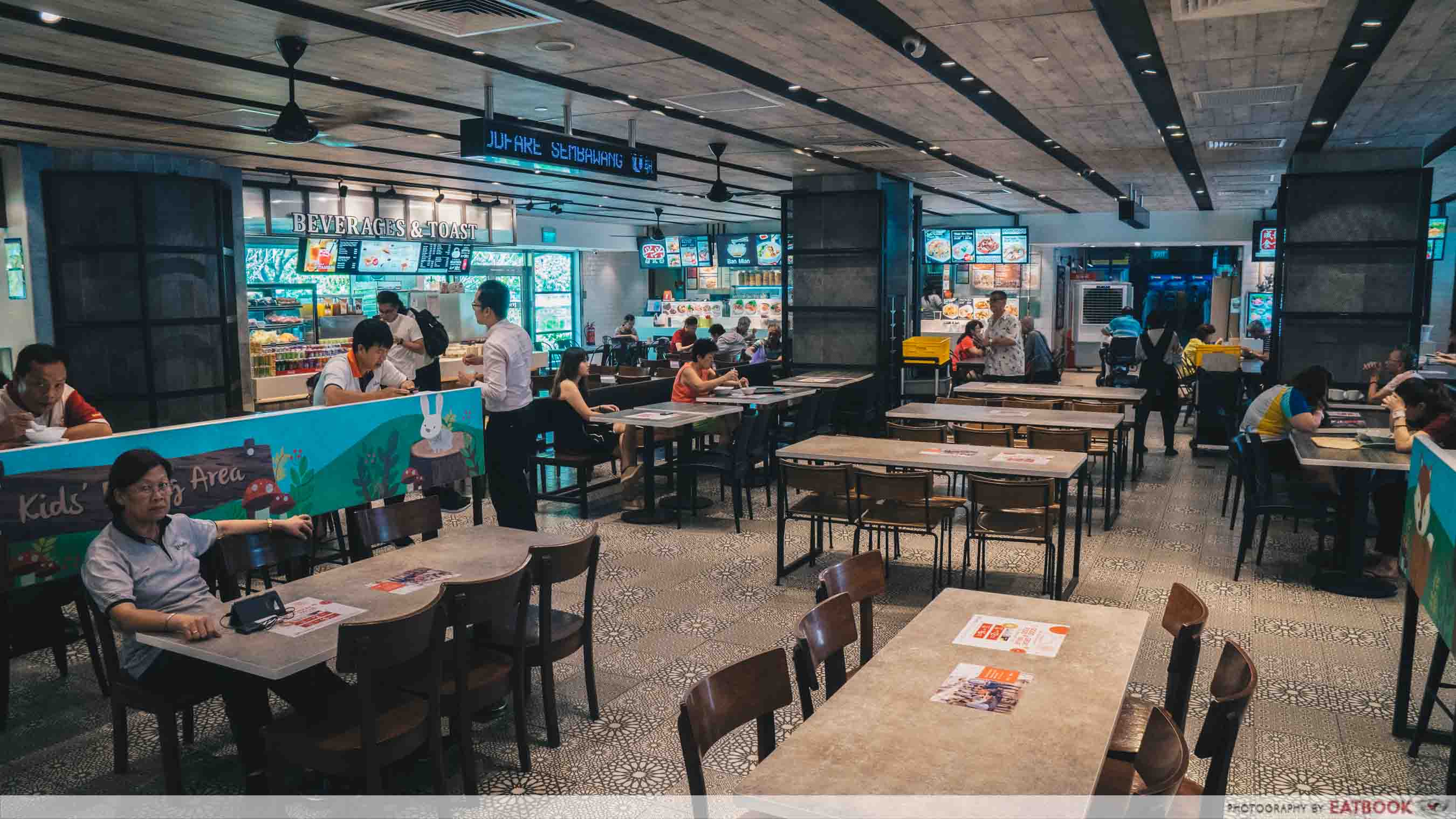 Conveniently situated at Sembawang MRT, this is a nice spot for commuters looking to stop for a meal. It's part of NTUC Foodfare, which is well lit with a sleek gunmetal colour scheme and clean tables, making dining here a pleasant experience.
The best part is that it's comfortably air-conditioned, perfect for taking refuge in the current searing heatwave.
The verdict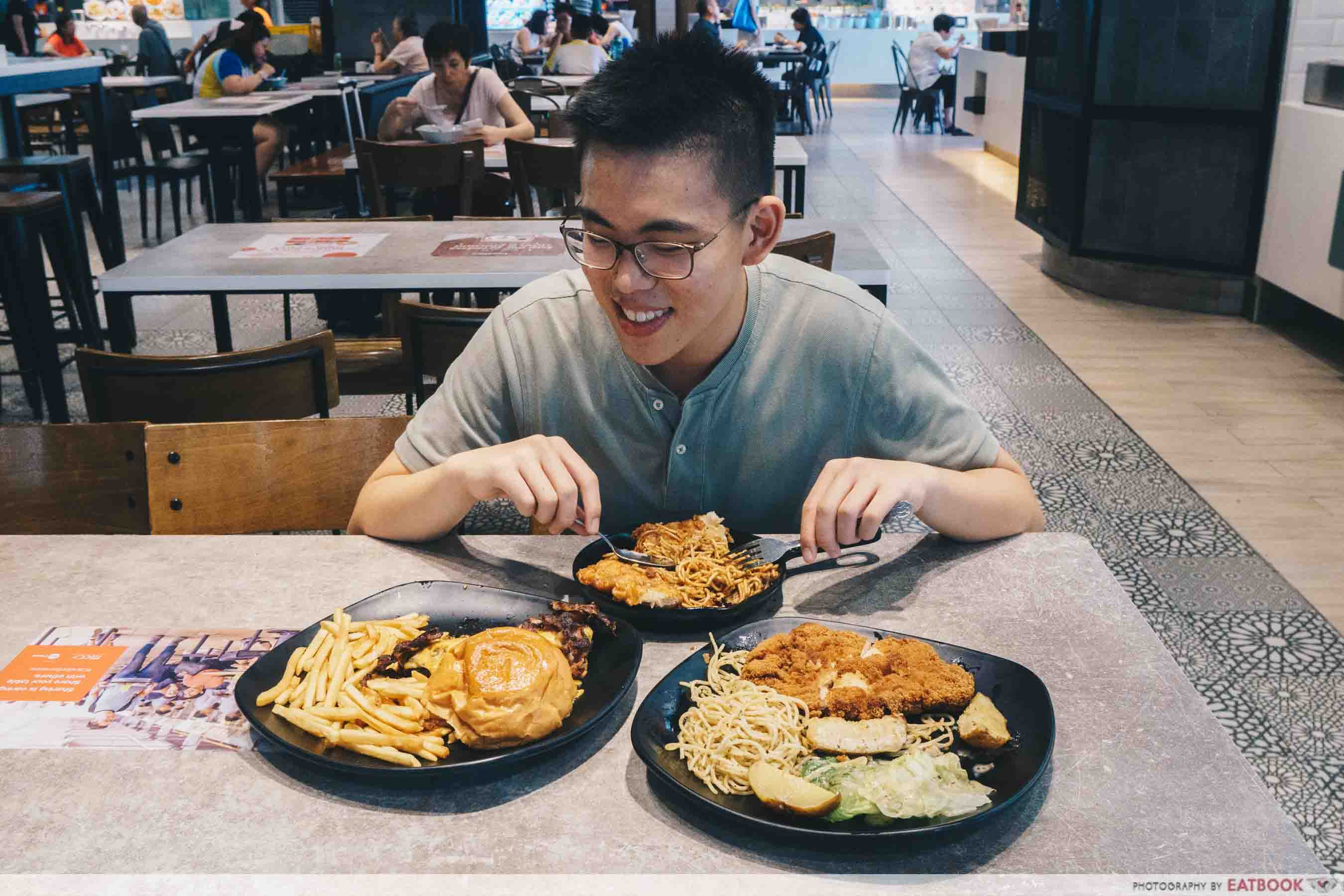 Roger's Kitchen has to be lauded for its creative fusion concepts. A wagyu burger with egg yolk spilling out of it isn't exactly standard fare at a food court. However, their recipes need to be fine-tuned to bring the most out of these novel ideas.
While $11.90 for a wagyu burger is objectively cheap, it isn't cheap for food court grub. Food courts usually cater to people who want a quick and affordable meal, so we're doubtful if Foodfare patrons will stump up extra for these dishes.
There's good food aplenty in Sembawang, so check out our guide to Sembawang Hills Food Centre for more. If you can't get enough of wagyu at affordable prices, head over to our article on 10 affordable wagyu beef places.
10 Affordable Wagyu Beef Places To Get Your Wagyu Fix From $14 Nett
Address: 11 Canberra Road, Sembawang MRT, Singapore 759775
Opening hours: Daily 11am to 10pm
Tel: 8668 9494
Website
Photos taken by Rae Fung.
This is an independent review by Eatbook.
Summary
Pros
– Explosive ma la pasta
– Convenient location
– Generous portions
Cons
– Seasoning of meats can be improved
– A bit pricey for food court food
Recommended dishes: Ma La Pasta ($7.50)
Opening hours: Daily 11am to 10pm
Address: 11 Canberra Road, Sembawang MRT, Singapore 759775