BurGrill Western Food at Hong Lim Food Centre
Update (11/4/22): BurGrill Western Food is ending operations at Hong Lim Market and Food Centre on 27 April 2022, and is hoping to move to a new location.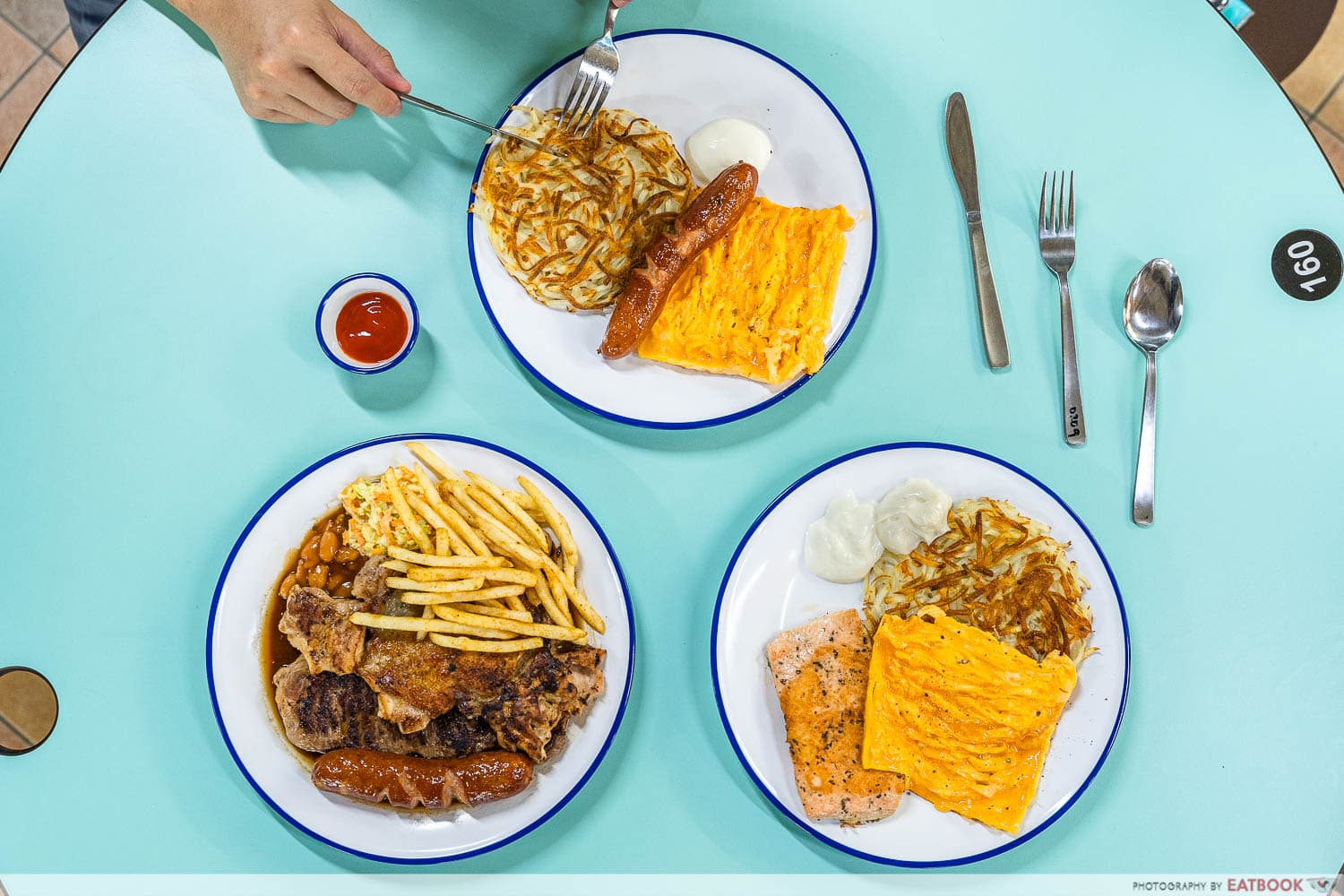 Rosti is a Swiss dish not commonly found in hawker centres. Thus, that was what siblings Algin, Milton, and Cara Tan gravitated toward when they decided to set up their own stall in 2021. Although SHATEC-trained Milton helped get BurGrill Western Food running at the start, the day-to-day business is now largely left to Algin and Cara—the brother mans the grill, while the sister is in charge of the cash register and miscellaneous kitchen duties.
Food at BurGrill Western Food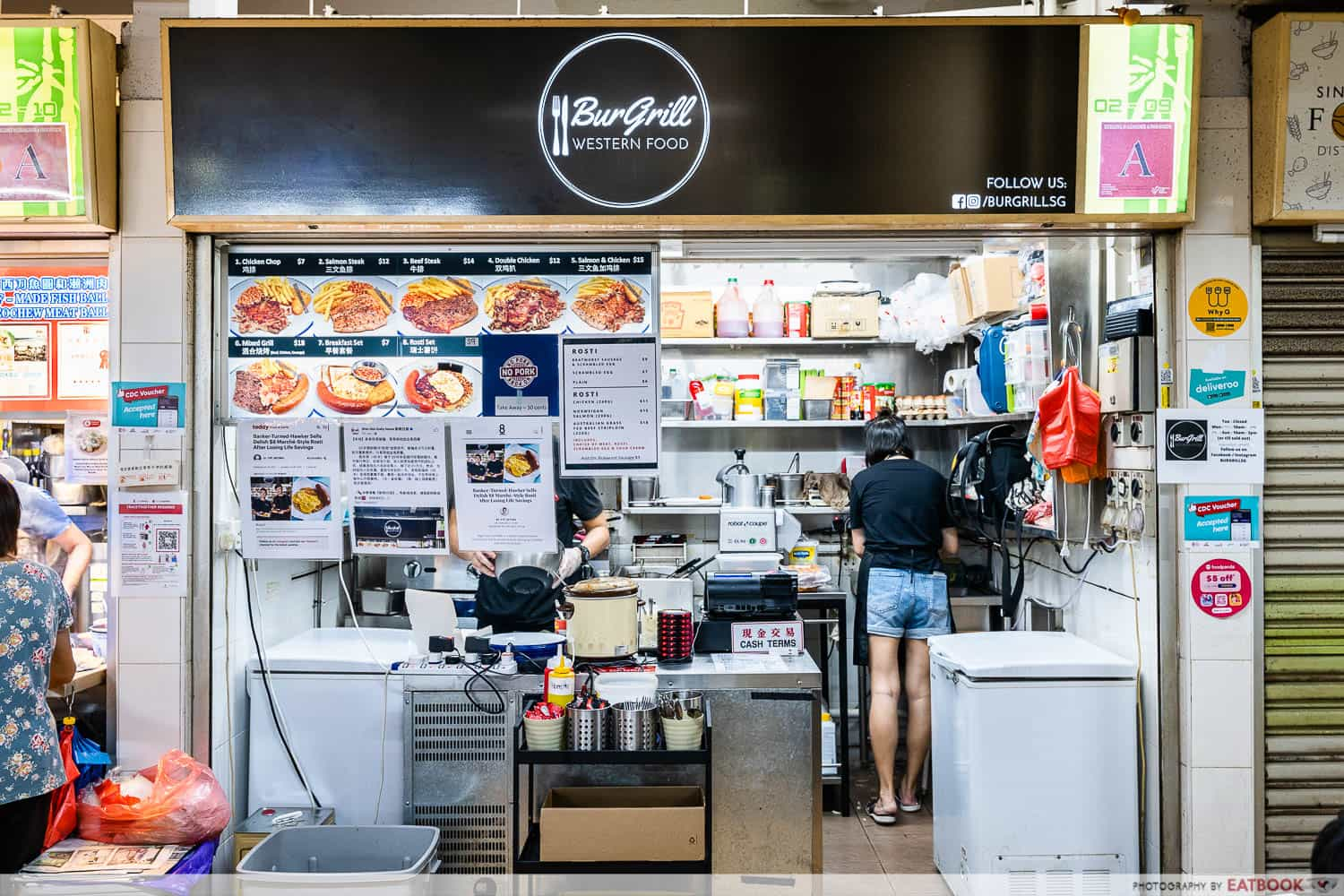 As with most Western food stalls, the menu at BurGrill Western Food is quite standard with a choice of five different proteins—chicken chop, steak, salmon, sausage, and fish fillet. Diners can choose to pair their choice of meat with either rosti or fries.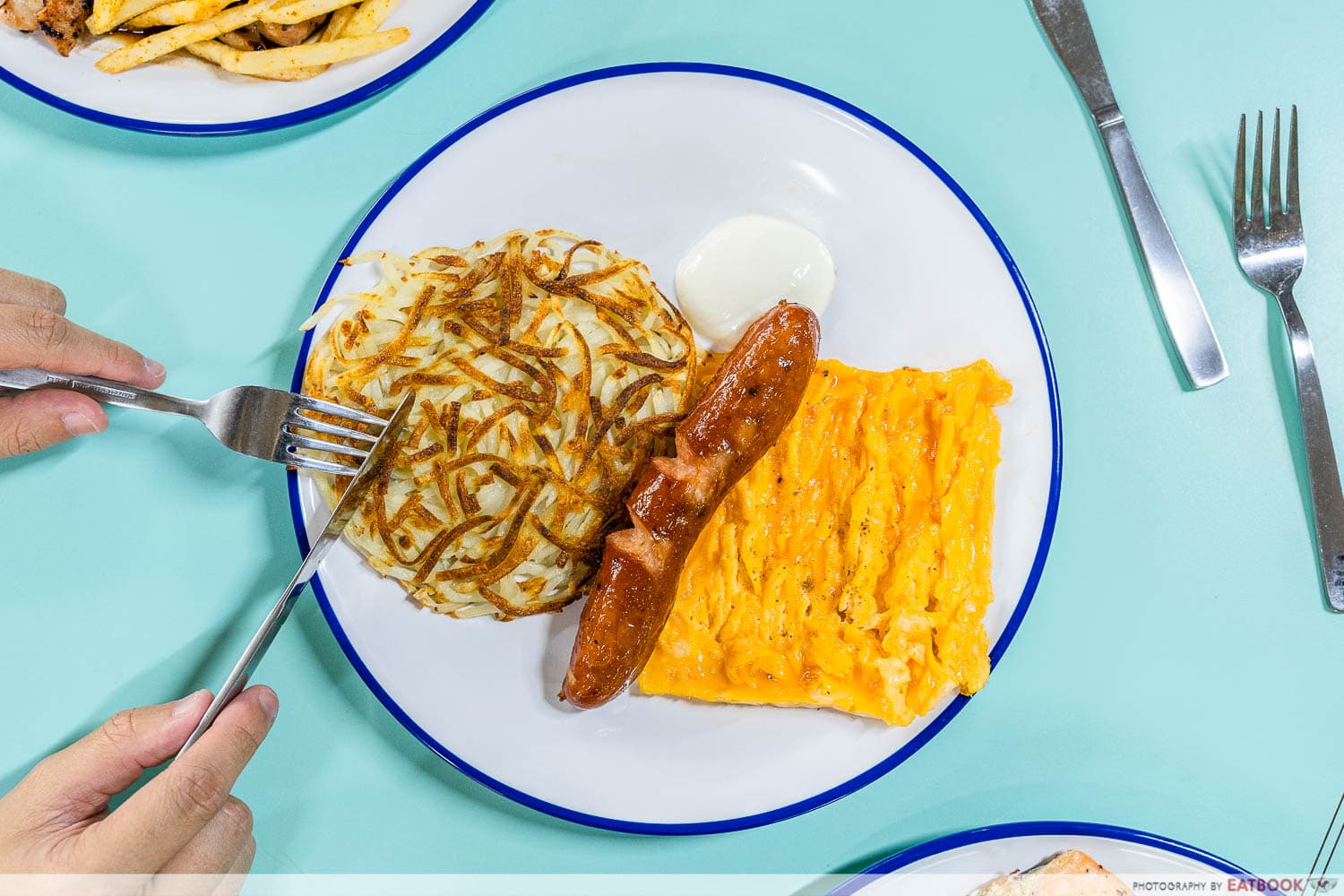 We were here to try their rosti, so we started our brunch with the Rosti Set ($9). It came with a grilled chicken bratwurst, sour cream, and scrambled eggs. At first glance, the plate looked quite stunning. The rosti itself sported a nicely browned exterior, and the scrambled eggs appeared runny.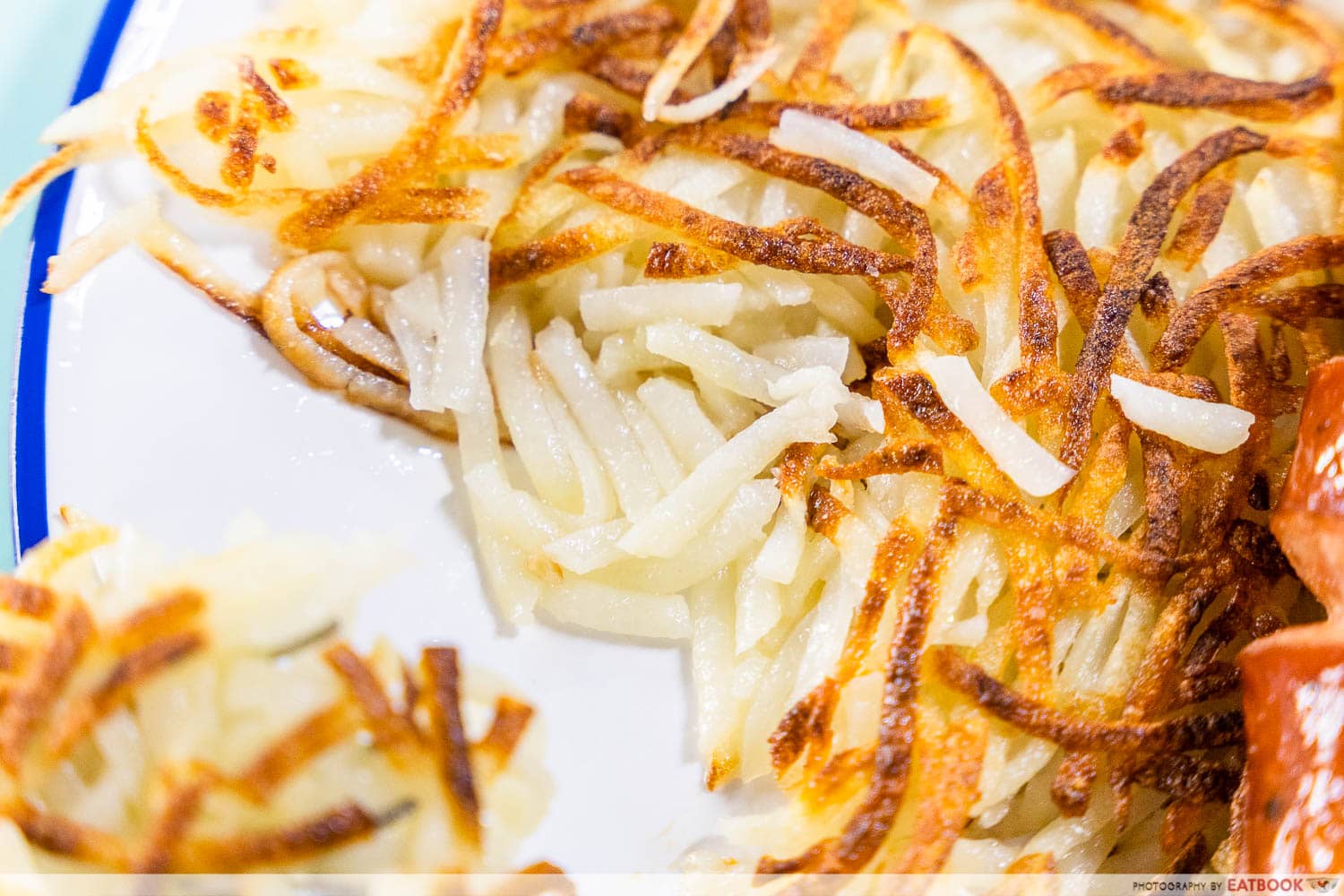 Made from USA Russet potatoes, I expected the rosti to be crispy. However, tucking into it revealed a soft interior that was thoroughly seasoned with salt and pepper. Personally, I prefer my rosti to be crispy throughout, though others might appreciate the contrast that a soft and fluffy interior brings.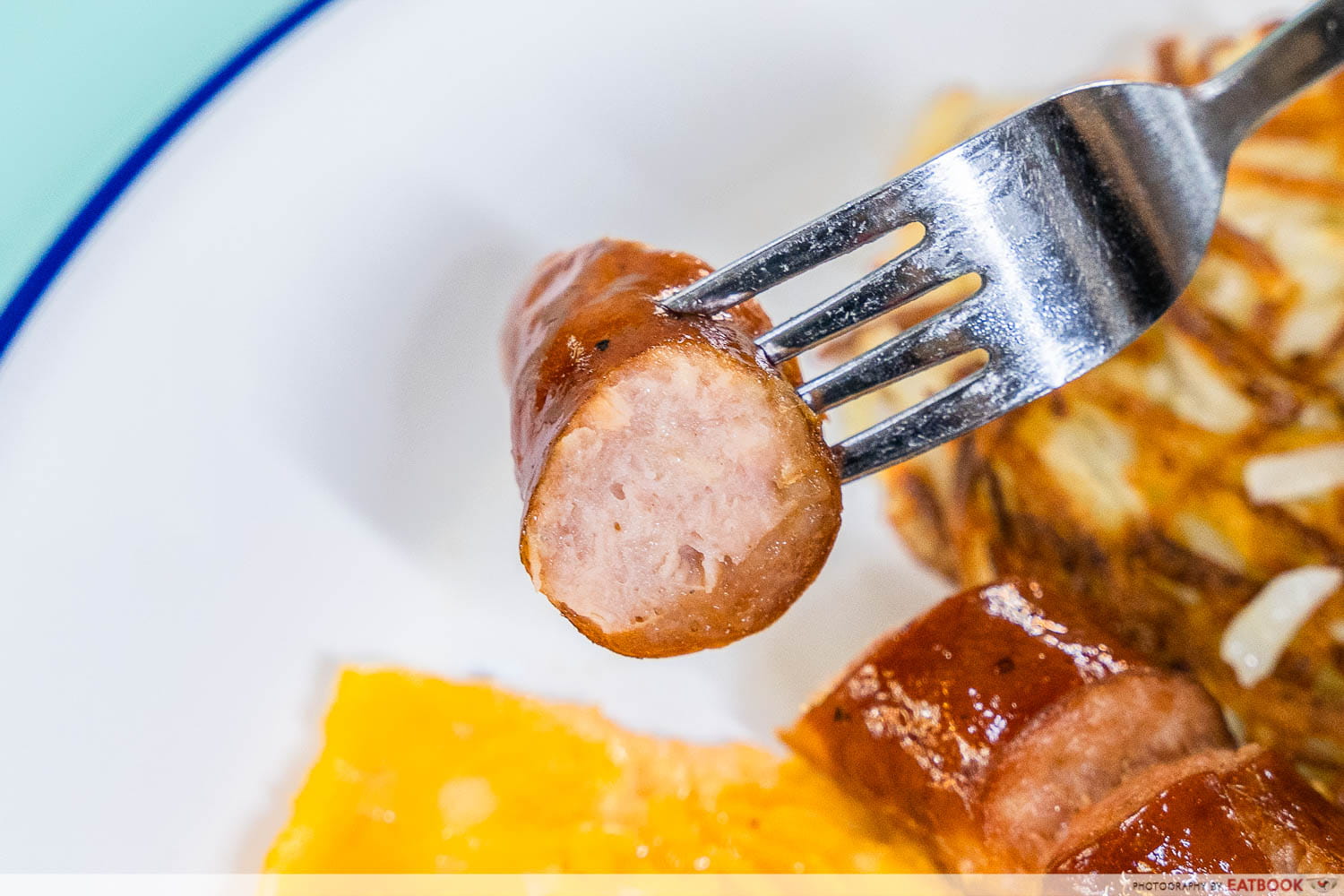 Although BurGrill Western Food is not halal-certified, the stall does not use lard or any pork. Instead, the bratwurst sausage is made from chicken, and sourced from a local producer. Frankly speaking—pun intended—I would not have realised that it was a chicken sausage if Algin had not told me so. Deliciously salty with a light smokiness, the savouriness of the sausage complemented the rosti really well.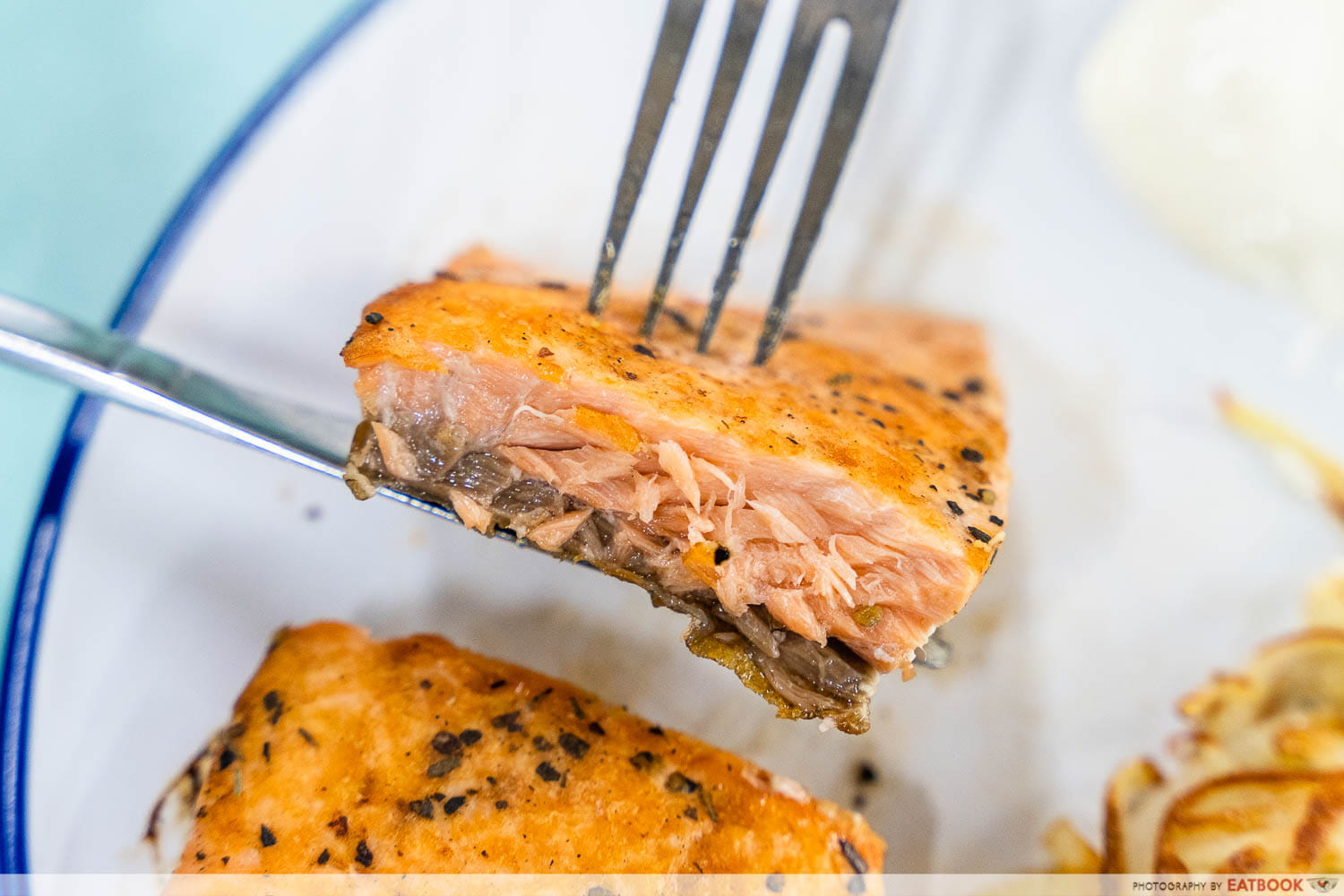 Apart from the Rosti Set, we also ordered the Rosti with Norwegian Salmon ($15), which came with an additional dollop of tartar sauce. The fish was generously seasoned with black pepper, and cooked just right: that is, just a touch under.
The tartar sauce also lent some tanginess to the salmon, which made it even more appetising. I only wish that the salmon had been served skin-side up, so that the crispiness of the skin could have been retained.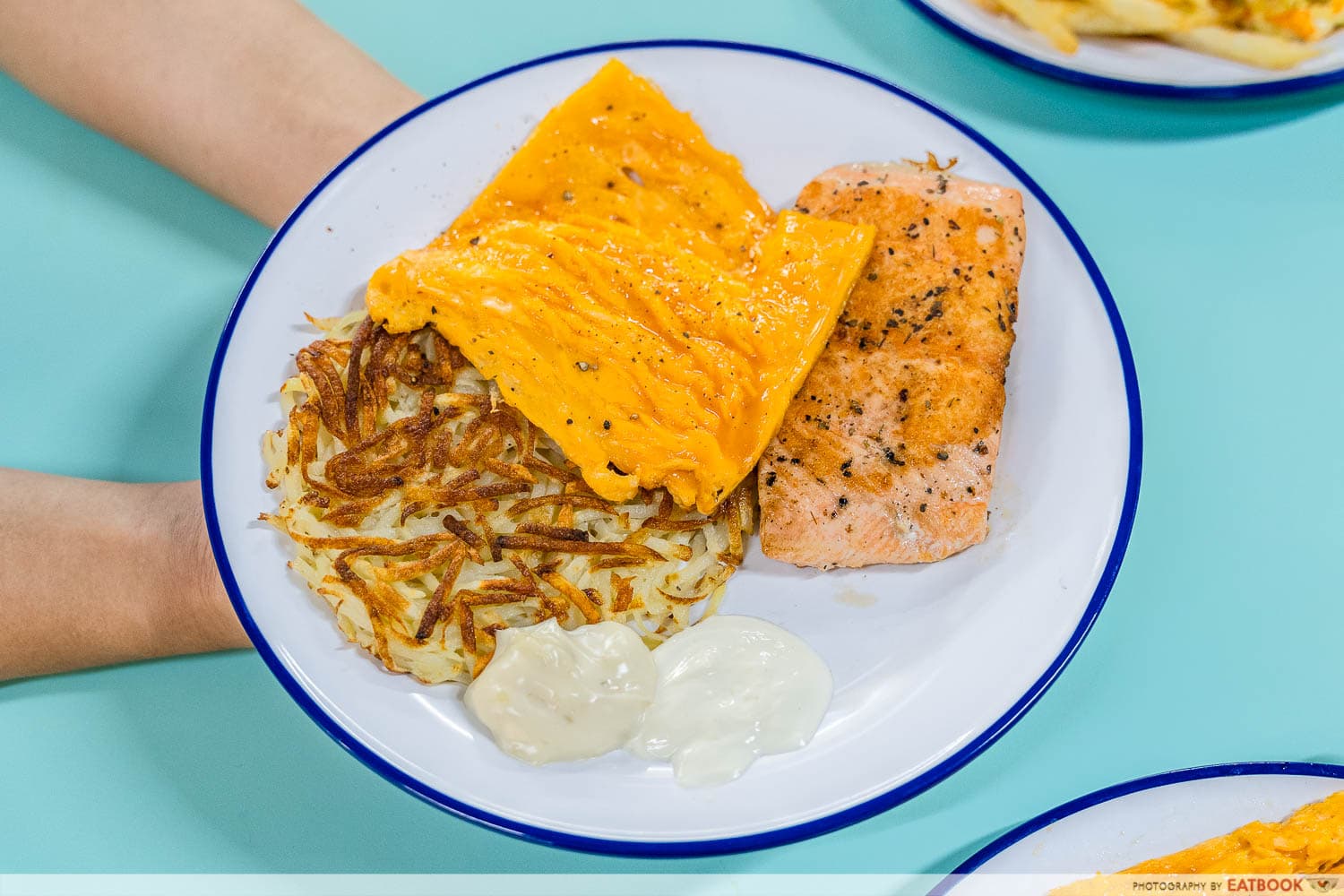 The star of the dish, however, was the scrambled eggs. Algin cooks the eggs over the grill in a square mould, which explains its peculiar shape. Cooked to perfection, the scrambled eggs were well-seasoned and had a runny and creamy texture. 
In spite of the rising cost of oil and ingredients, BurGrill Western Food has done its best to keep prices as low as they can. Despite sacrificing profit margins, Algin and Cara hope to keep their dishes affordable for the masses. With the cost of eggs rising to $7.50 for a tray of 30, however, the siblings have had no other option but to also adjust the price for their Scrambled Egg upwards to $2.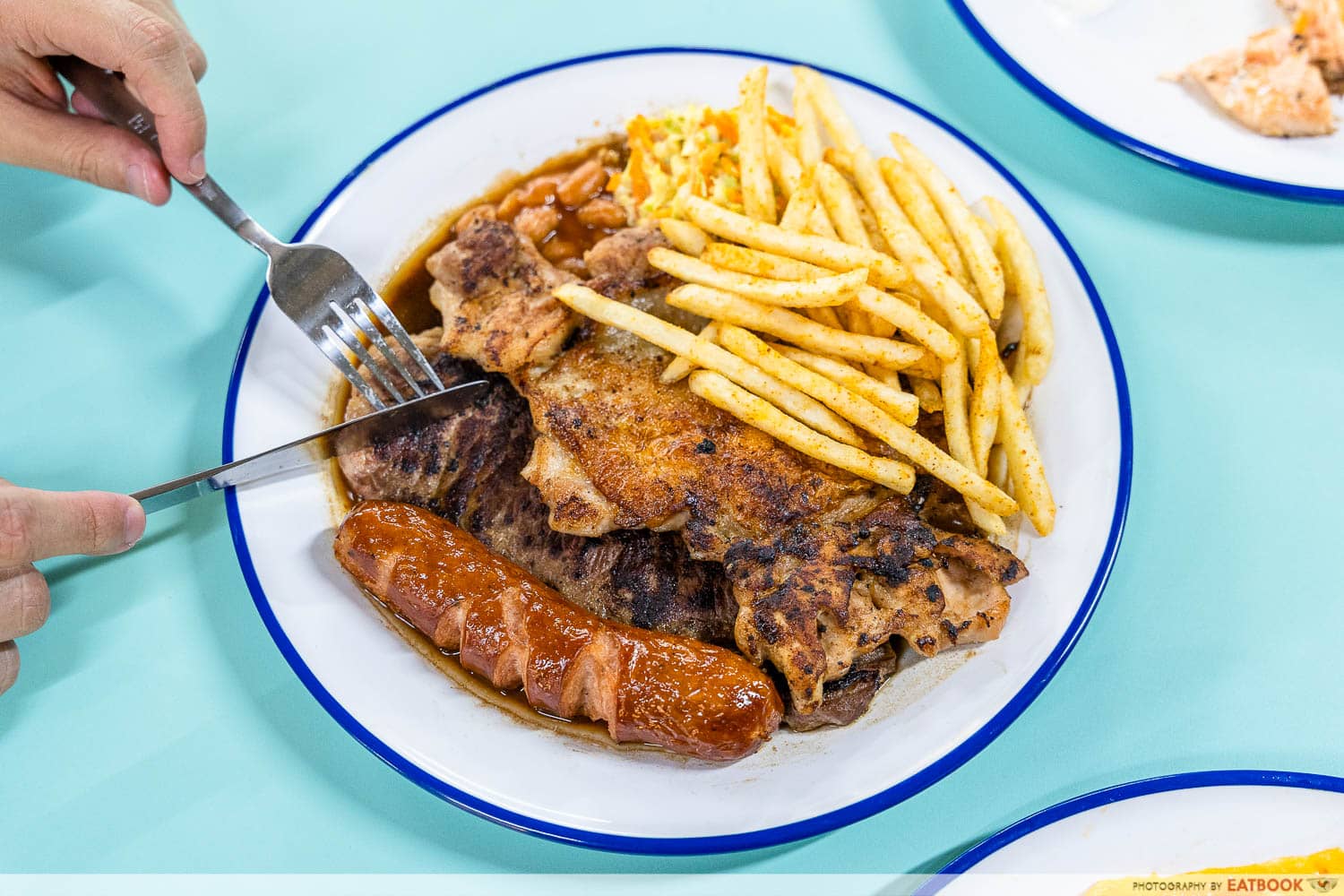 Finally, we had the Mixed Grill Set ($18) to round off our meal. If you're having this on your own, the dish can certainly be quite hefty. Not only do you get a generously-sized grilled chicken chop, chicken bratwurst sausage, and steak, you also get a side of shoestring fries, baked beans and coleslaw. Looking at the heap of food, I decided to tackle the chicken chop first.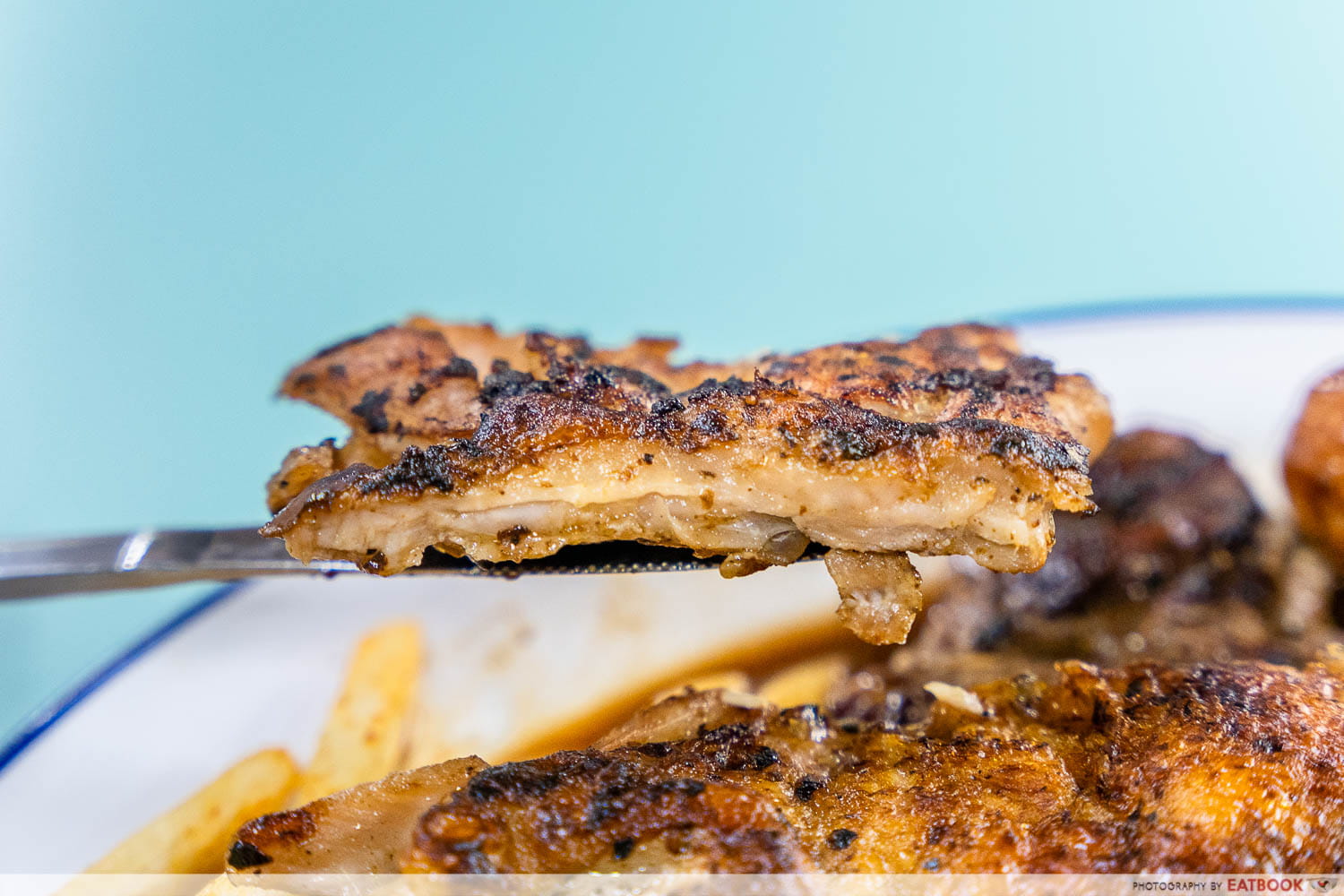 The chicken chop had a distinct smokiness and was doused in their house-made brown sauce. The meat was also tender and juicy, with a great char on the skin.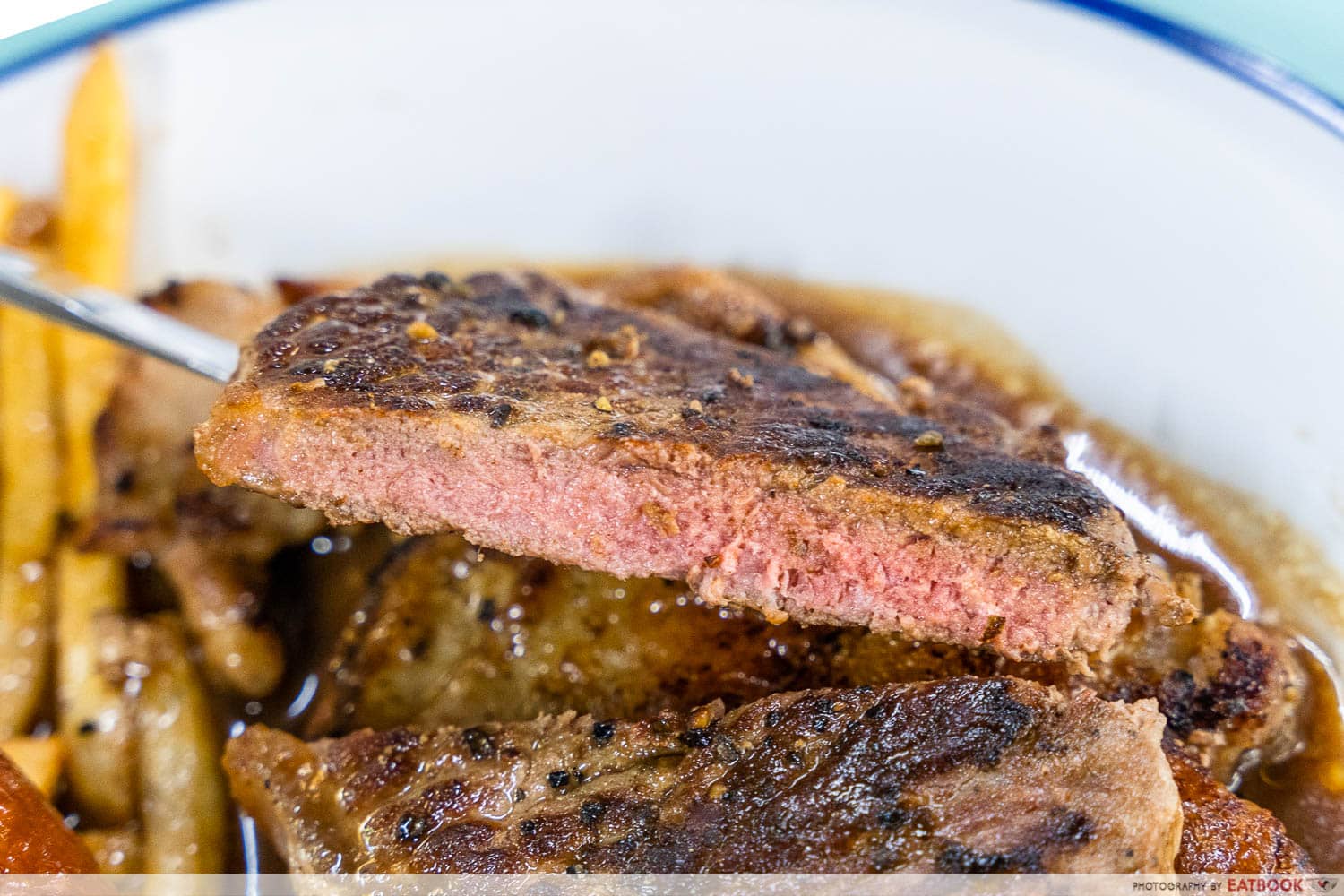 Moving on to the steak, Algin shared that it was grass-fed Australian beef, which has lower levels of saturated fat compared to grain-fed beef. Cooked to medium doneness, the steak had a nice beefy fragrance to it and paired nicely with the savoury gravy. 
Personally, I still found the steak to be a tad too cooked for my liking━perhaps you could let them know your preference when you place your order.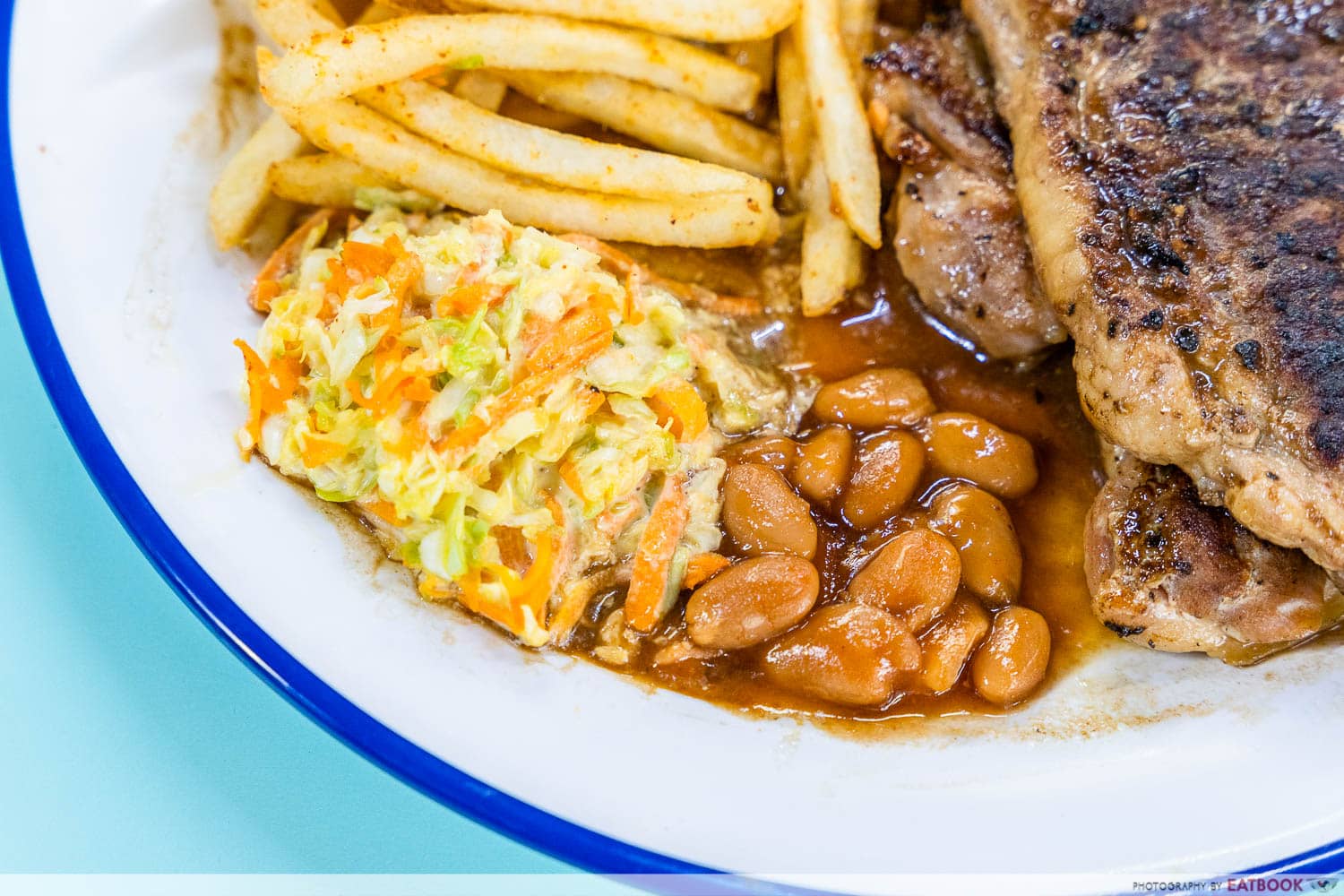 BurGrill Western Food makes their own coleslaw here, with shredded carrots, cabbage, and onions. I especially like coleslaw, so I appreciated the sweetness, creaminess, and crunchiness it brought to the Mixed Grill Set.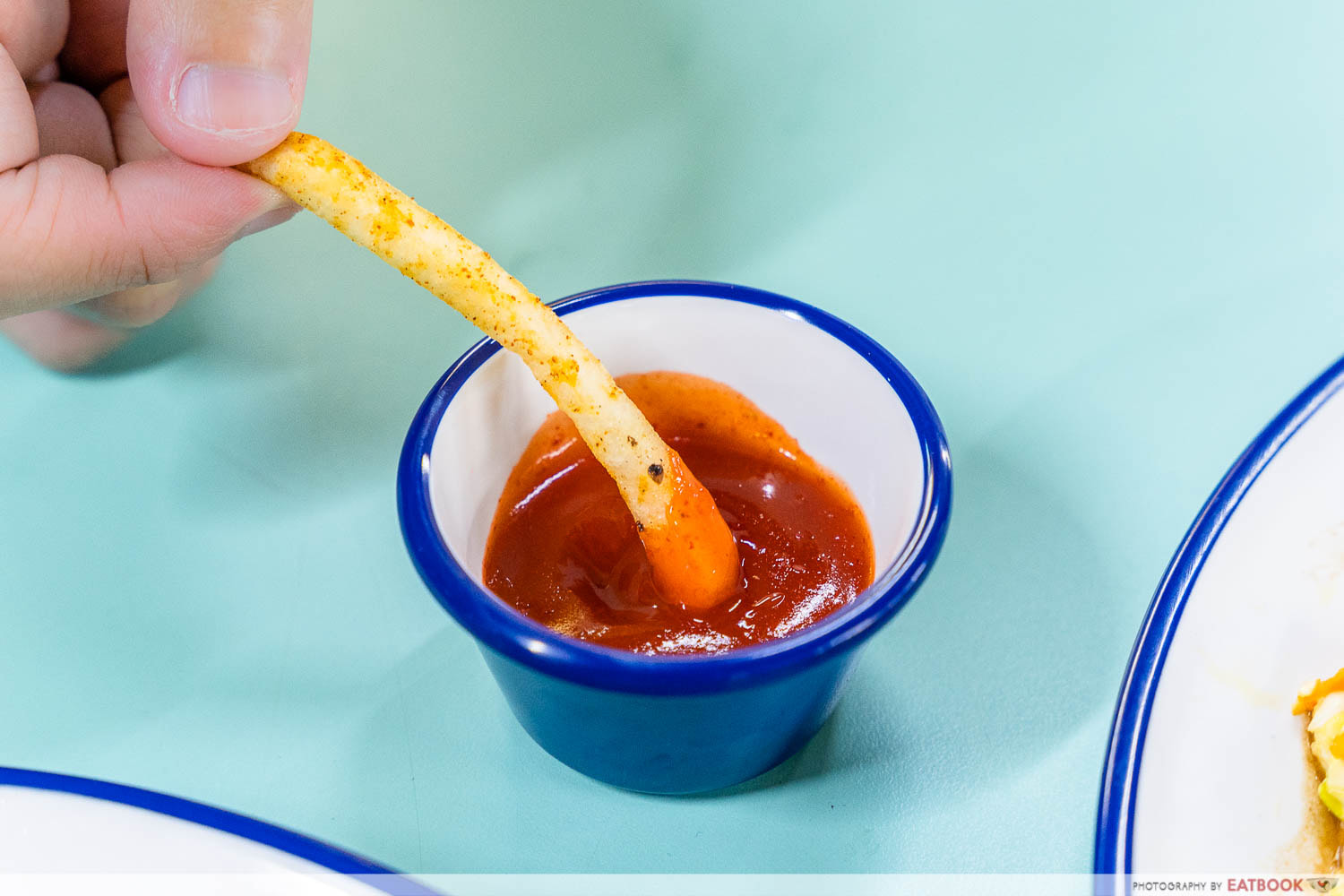 If you'd rather not have their rosti, you have the option of going for their shoestring fries. Crispy on the outside and fluffy inside, the fries were salted well and had a tinge of spice. 
Everything at BurGrill Western Food is served on enamel plates, the bright white, and cobalt blue edges of which provide a striking contrast to the items on them. 
Ambience at BurGrill Western Food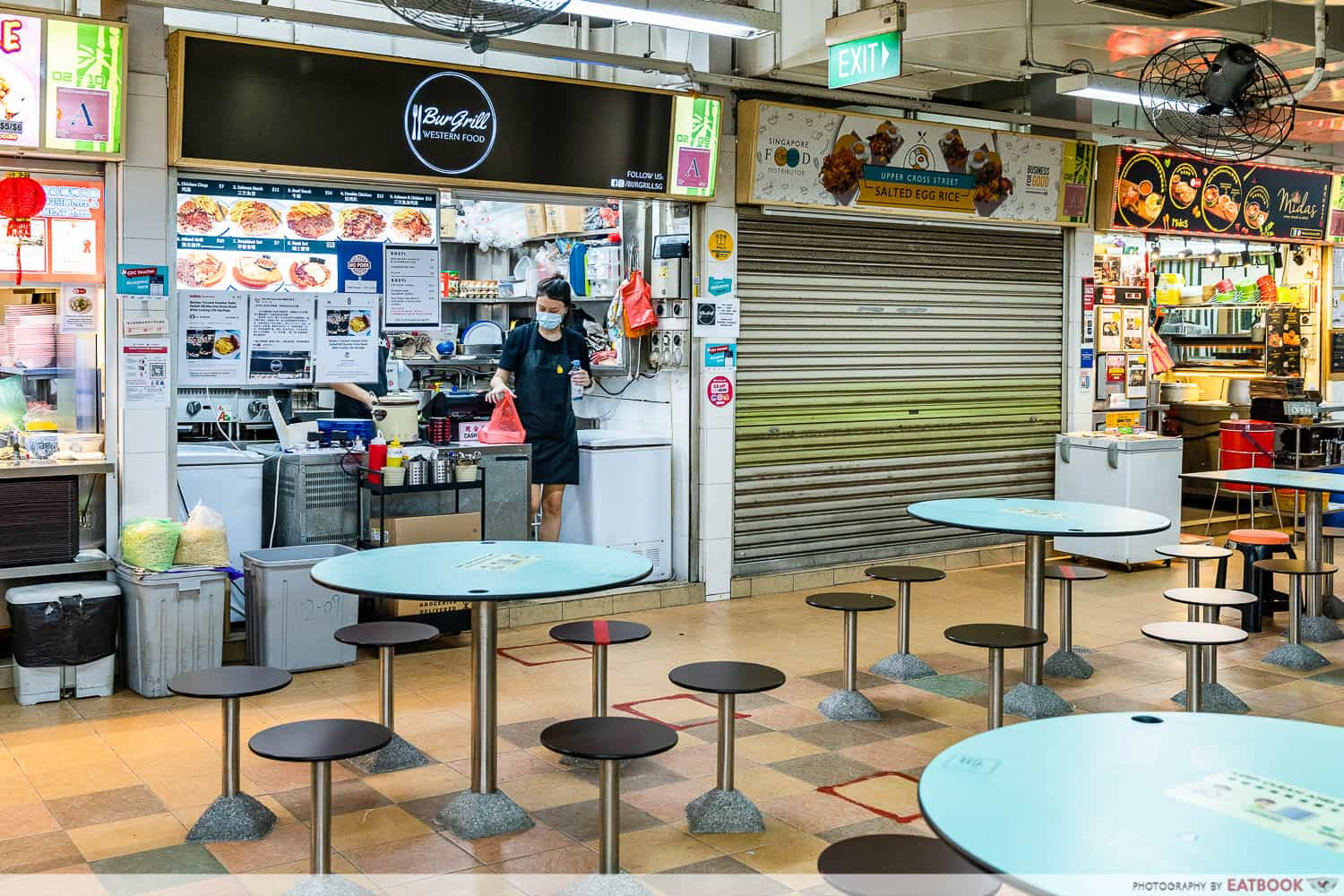 Conveniently situated between Clarke Quay MRT Station and Chinatown MRT Station, BurGrill Western Food can be found on the second floor of Hong Lim Market and Food Centre. With office workers starting to return to the CBD in full force, the hawker centre can get insanely packed during lunchtime.
Unfortunately, this high footfall means that it can feel quite stuffy and noisy here. Fans are rather limited, but empty tables are an even rarer sight━a welcome one for the hawkers. It's probably best to visit the stall around the time it opens at 10am. 
We waited for about 15 minutes for our food to be prepared, which I found to be quite reasonable. You'll also be given a buzzer, so you can find a table to chope while waiting for your food. 
The verdict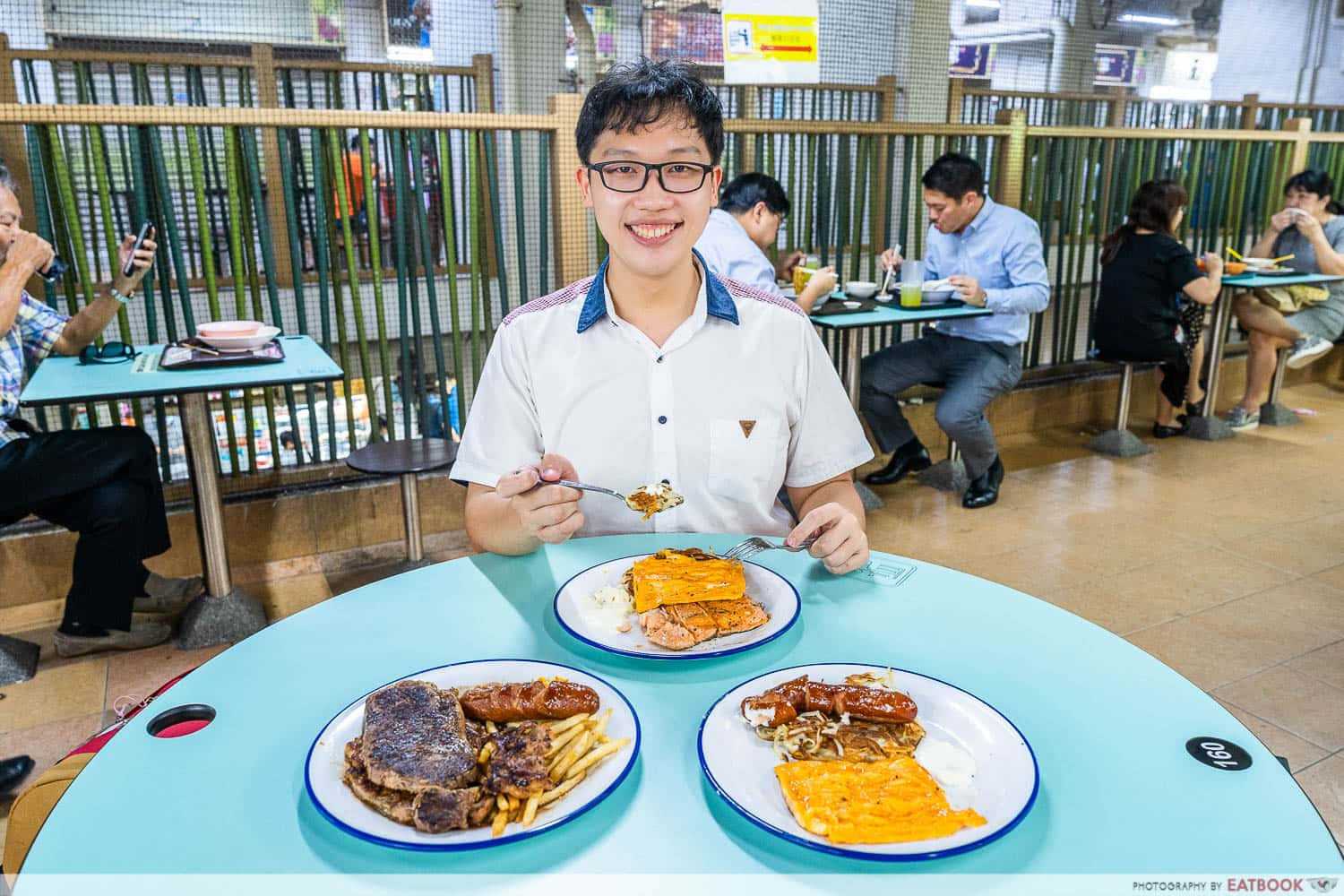 BurGrill Western Food offers a commendable experience for those looking for a rosti that won't break the bank. While I would have preferred if the rosti was crispier throughout, I liked how well-seasoned the potato and the proteins were. Family-run businesses also have a special place in my heart, so I can see myself ordering the basic rosti set again for a simple brunch if I were in the area.
There are many great food options at Hong Lim Market and Food Centre. While you're there, check out Eddy's No.1 for a value-for-money duck confit or The Noodle Memories! The latter is a new stall selling KL-style dry and soup pan mee.
Address: 531A Upper Cross Street, #02-09, Hong Lim Market and Food Centre, Singapore 051531
Opening hours: Mon, Wed-Thurs 10am to 4pm, Fri-Sun 10am to 3pm
Website
BurGrill Western Food is not a halal-certified eatery but uses no pork or lard.
The Noodle Memories Review: Legit KL-Style Chilli Pan Mee By Young Hawkers In Chinatown
Photos taken by Tan Zi Hui.
This was an independent review by Eatbook.sg
BurGrill Western Food Review: Rosti Sets With Delicious Scrambled Eggs From $7 By Ex-Banker In Chinatown
BurGrill Western Food Review: Rosti Sets With Delicious Scrambled Eggs From $7 By Ex-Banker In Chinatown -

7/10
Summary
Pros
– Salmon was fresh
– Chicken chop had a nice char
Cons
– Rosti could have been crispier
Recommended dishes: Rosti with Norwegian Salmon ($15), Mixed Grill Set ($18)
Opening hours: Mon, Wed-Thurs 10am to 4pm, Fri-Sun 10am to 3pm
Address: 531A Upper Cross Street, #02-09, Hong Lim Market & Food Centre, Singapore 051531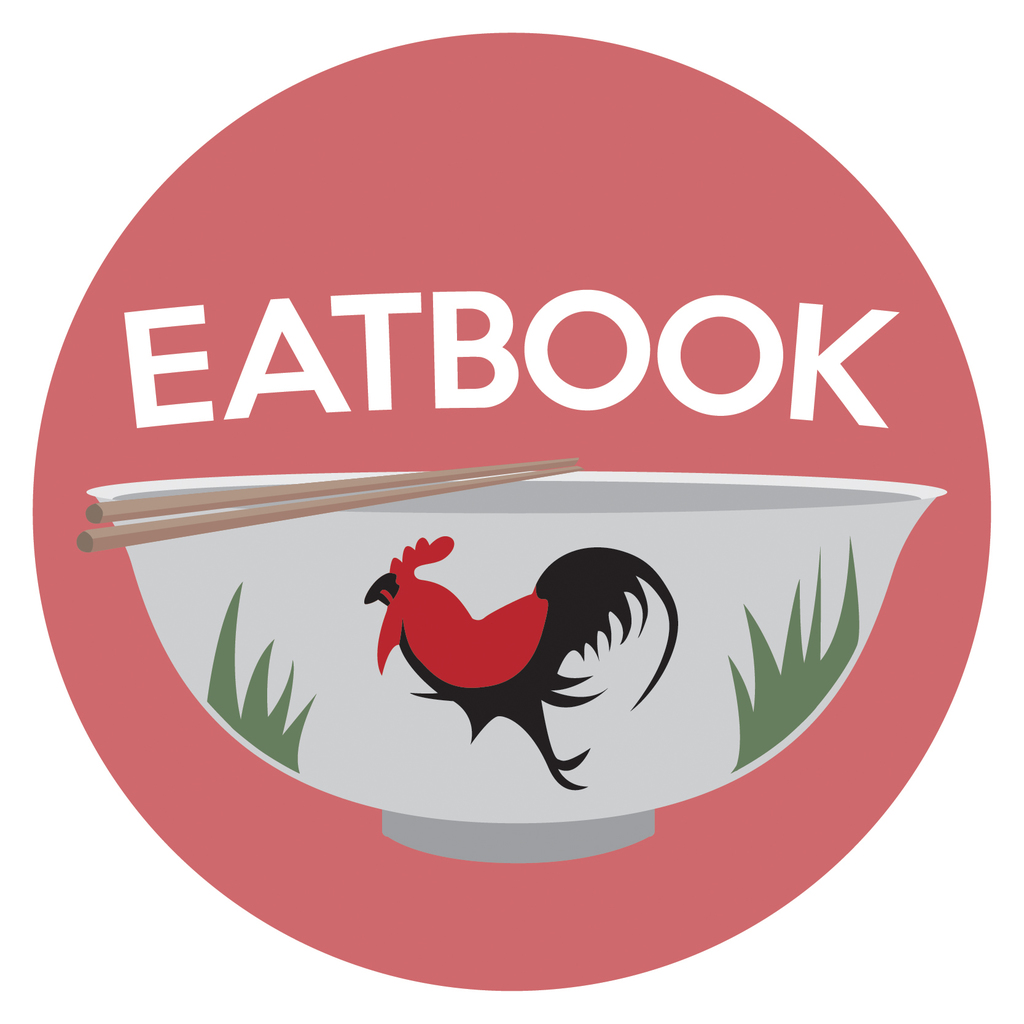 Drop us your email so you won't miss the latest news.