Niu Dian Beef Noodles from Taiwan in Balestier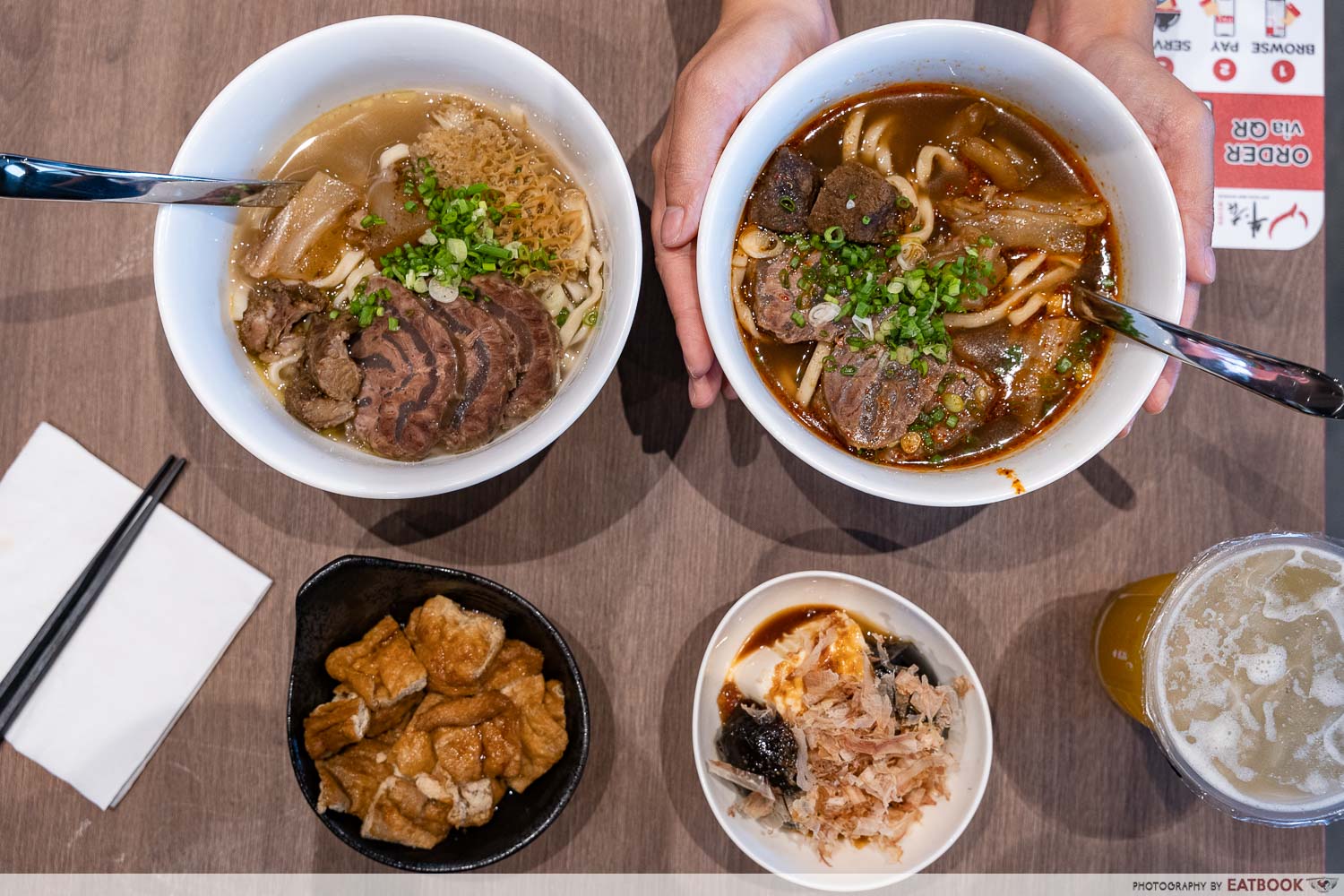 If you've ever been to Taiwan, you'll know that the Taiwanese love their beef noodles. They love it so much, there is an annual beef noodle festival in Taipei, where chefs and restaurants battle it out for the flex of having the best beef noodles in the country. Luckily for us, one of these can now be found in Singapore, when Niu Dian Beef Noodles opens in VIIO @ Balestier on 13 February 2023.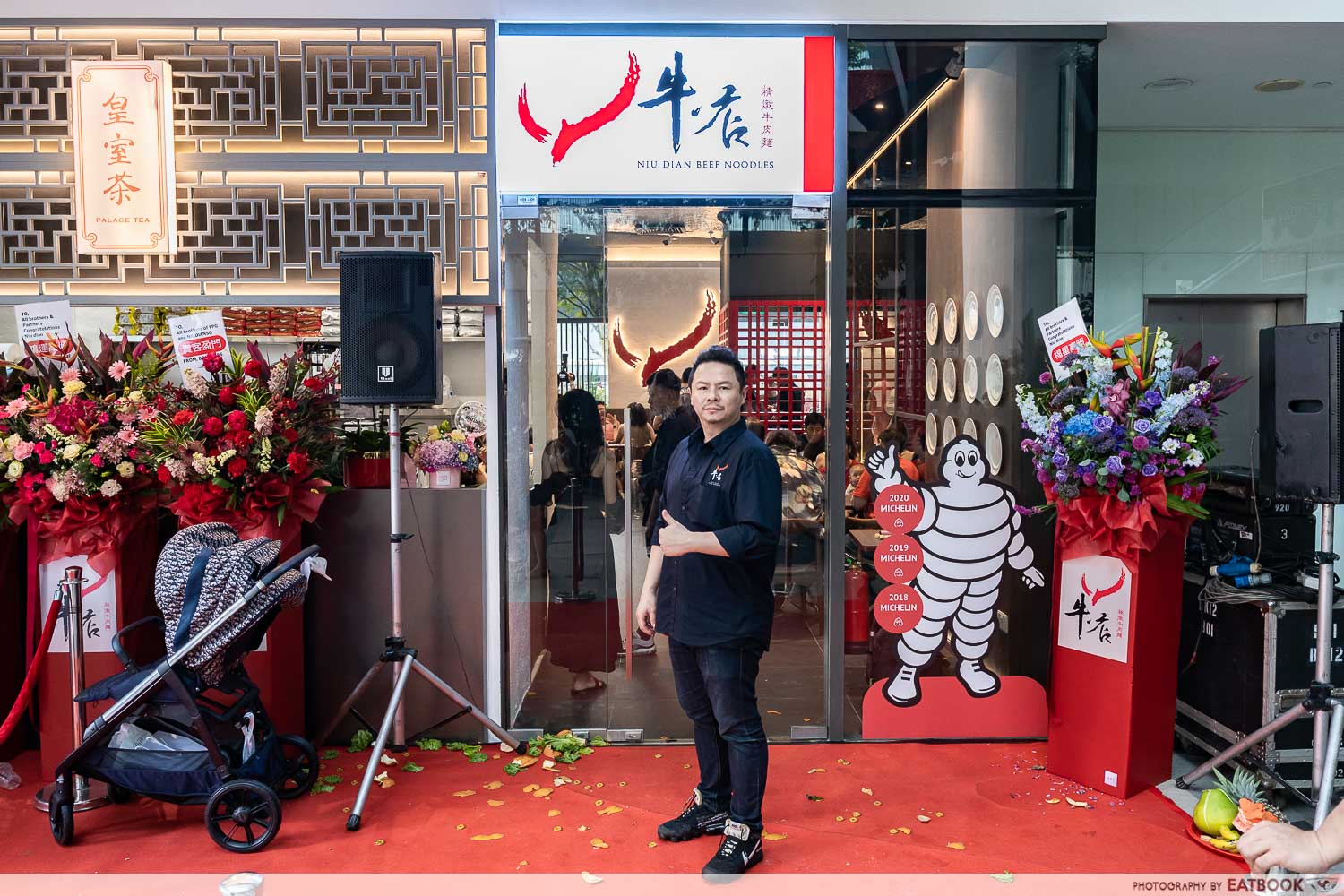 Niu Dian started out as a humble eatery in Taipei's Ximending district, aiming to share the nostalgic taste of Taiwanese beef noodles that chef Lin Chun Yin remembered from his childhood. 18 years and three consecutive Michelin Bib Gourmand listings later, the classy new restaurant in Balestier is Niu Dian's first store outside of Taiwan, with Chef Lin personally training the team here.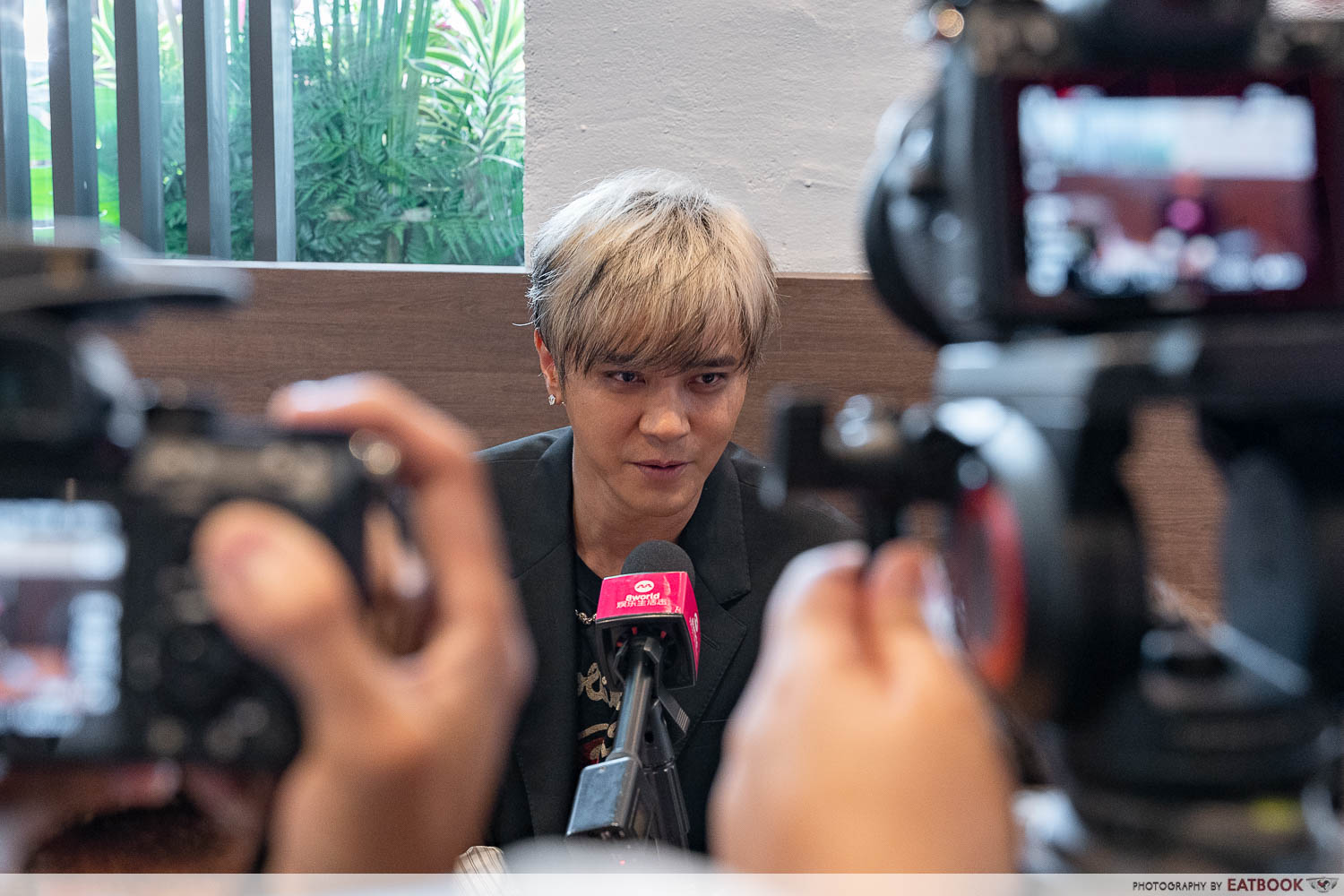 If the Michelin recognition isn't attractive enough, you'd perhaps like to know that Taiwanese singer Show Luo, AKA 罗志祥 (Luó Zhì Xiáng) is Niu Dian's brand ambassador! 
Food at Niu Dian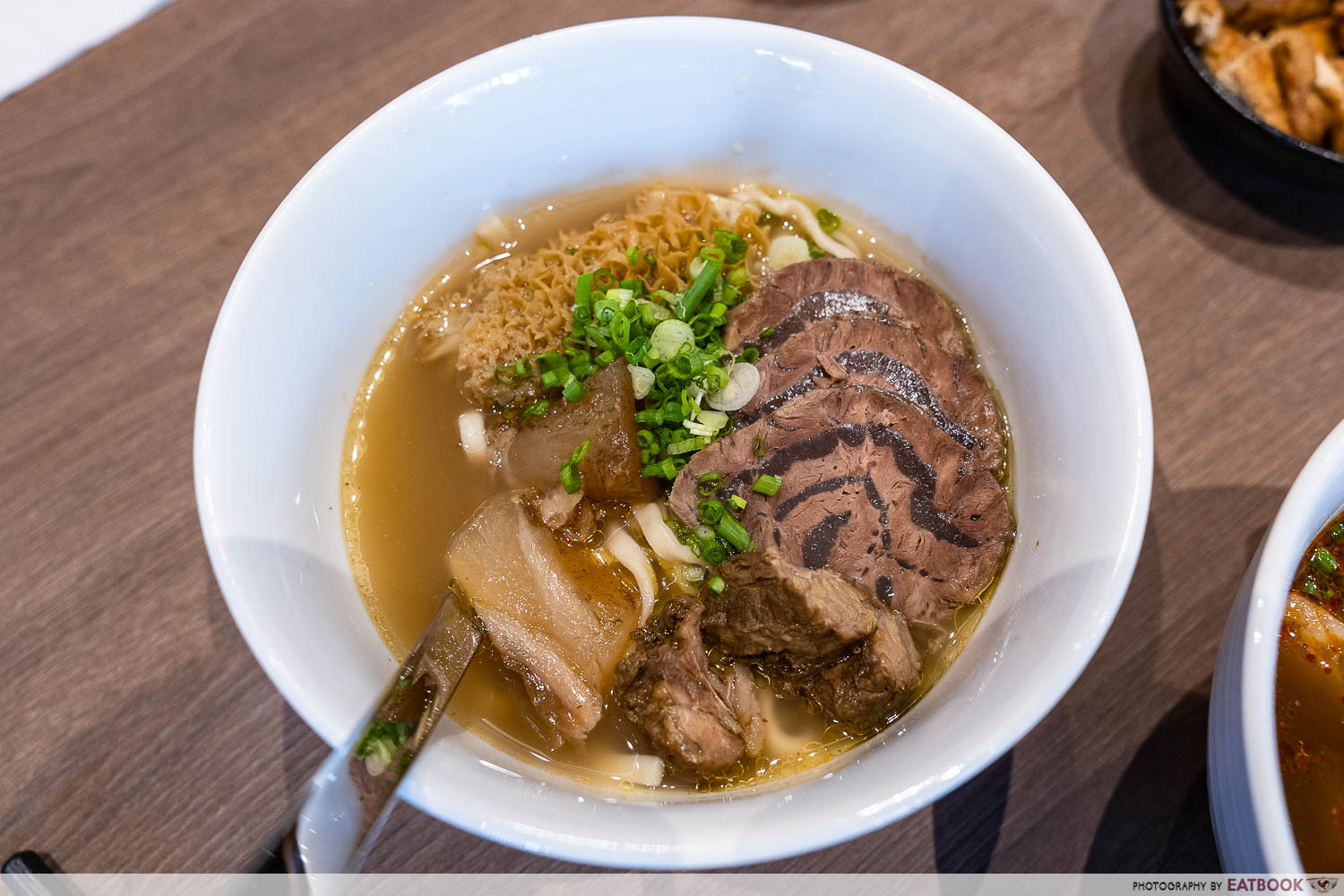 Start with Niu Dian's signature Combination Specialty Beef Noodles ($19.90++), which you can choose to have with their Original or Braised broth.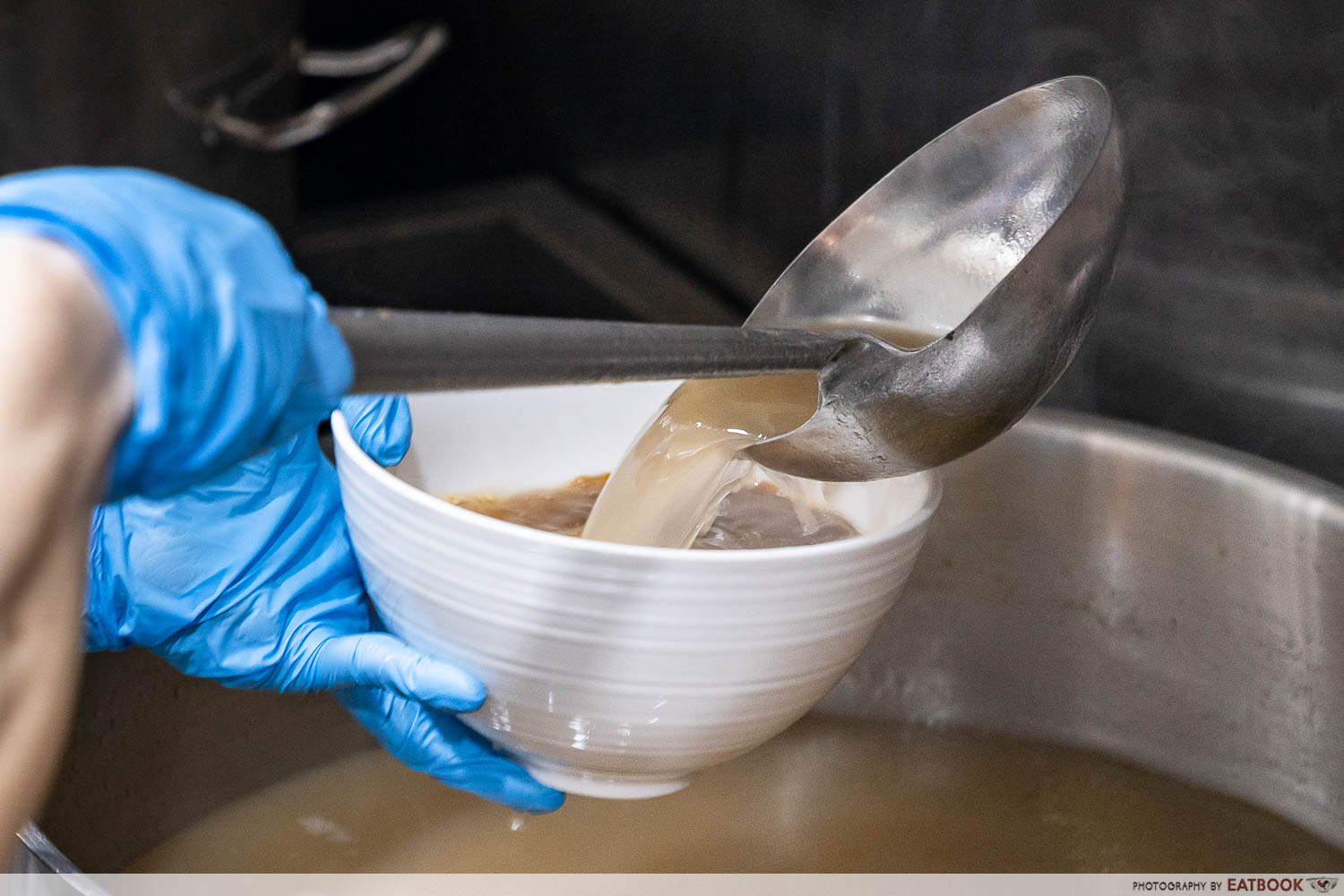 Like at some ramen joints, you get to choose if you'd like the broth lighter, richer, or as is. You can also opt to have no scallions—hooray—and how soft the noodles should be.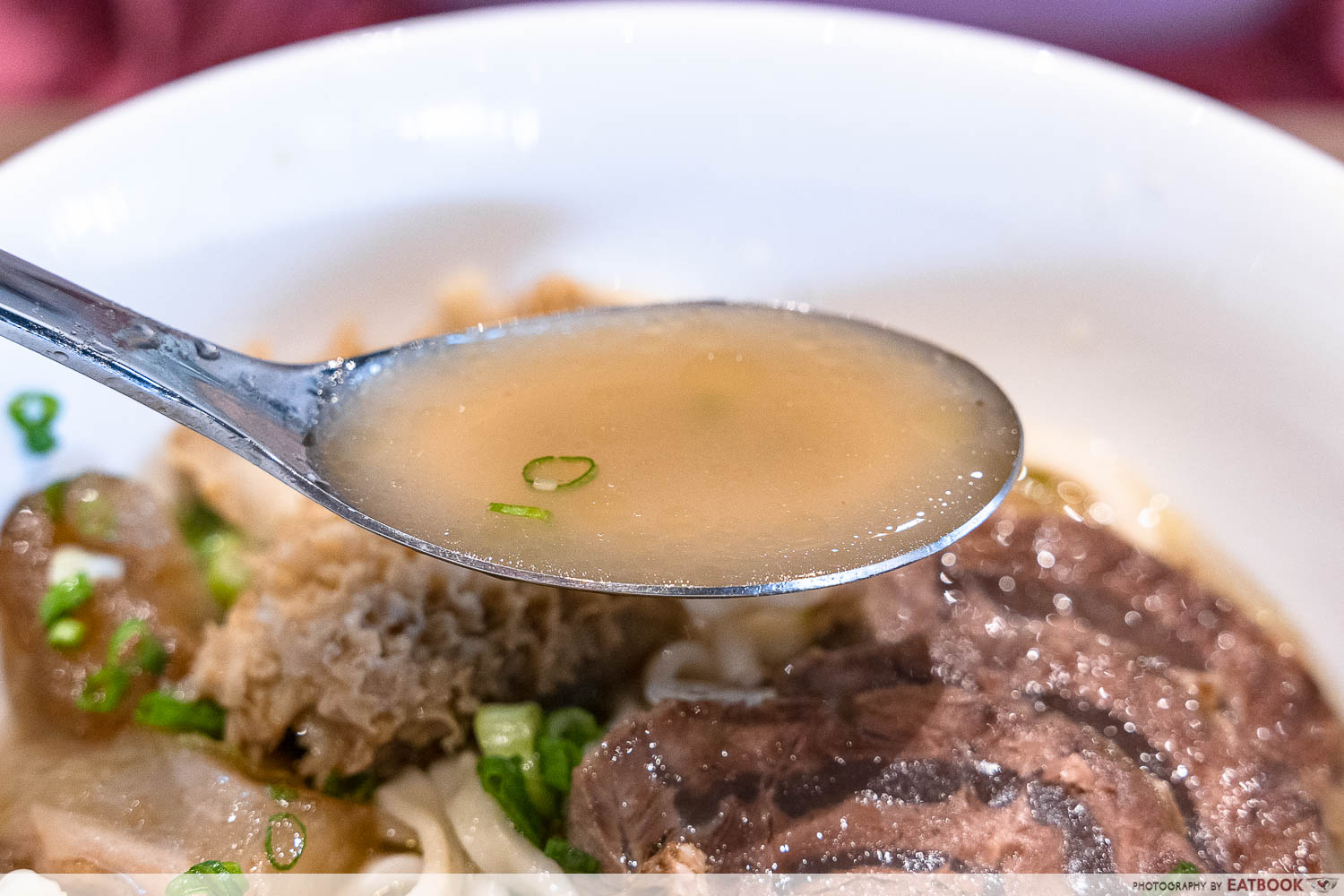 We opted for the original broth here, and were impressed by how the deceptively clear soup was richly flavoured, without tasting gamey. My benchmark for clear beef soup is Kau Kee Restaurant in Hong Kong; in comparison Niu Dian's version was cleaner-tasting, less salty, and much less greasy.
You should have a taste of the soup the moment it's served: steaming hot, it's much more satisfying. Simmered for 24 hours with beef bones and short ribs, we were told that more than 100kg of these only produce enough soup for 250 bowls.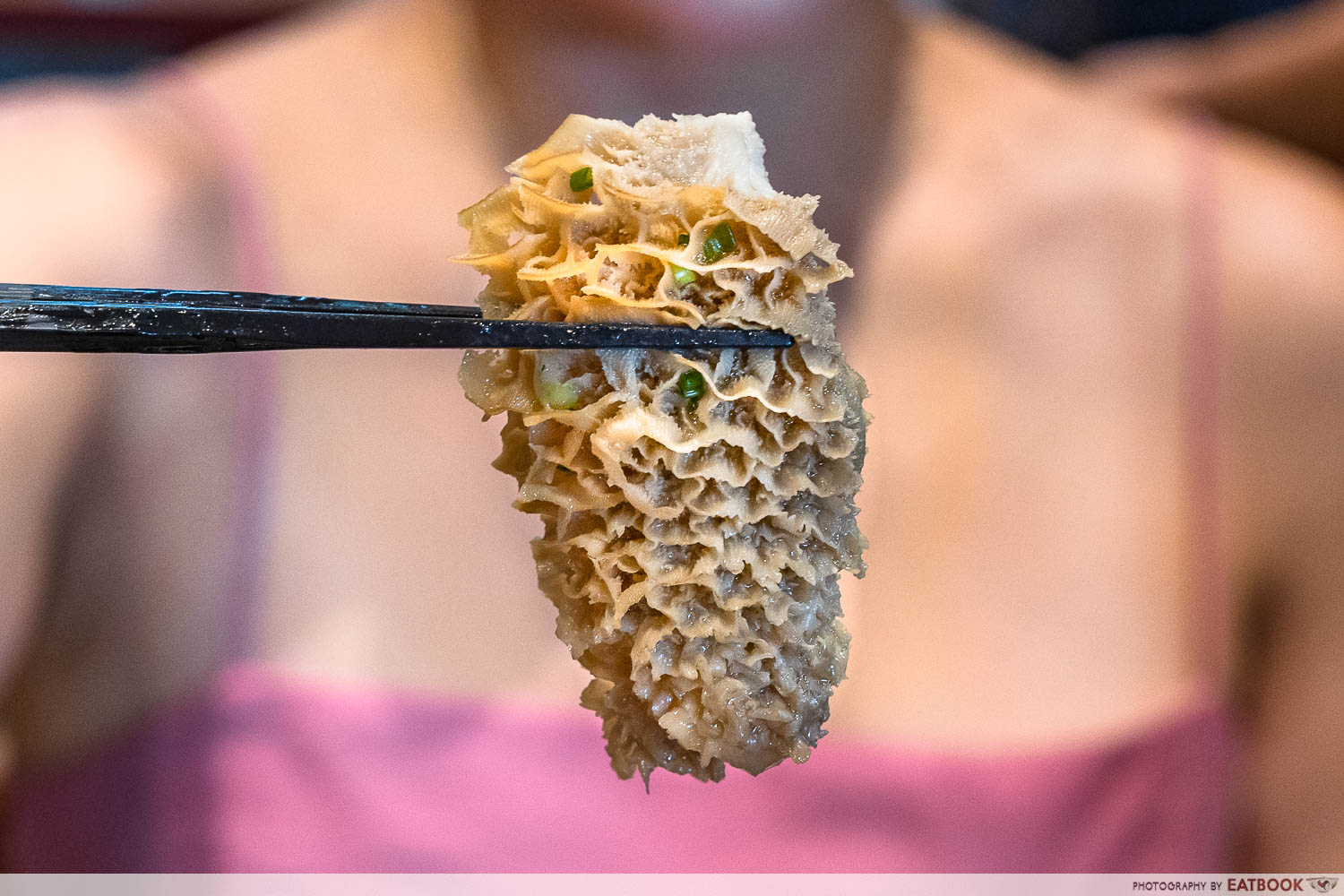 This bowl comes with boneless rib cut, tendons, tripe, and golden coin, with its characteristic veins of tendon running through the meat. All of these were well prepared—even the tripe, coming from a person who doesn't eat innards. Our favourite was the boneless rib cut, which was exceptionally tasty.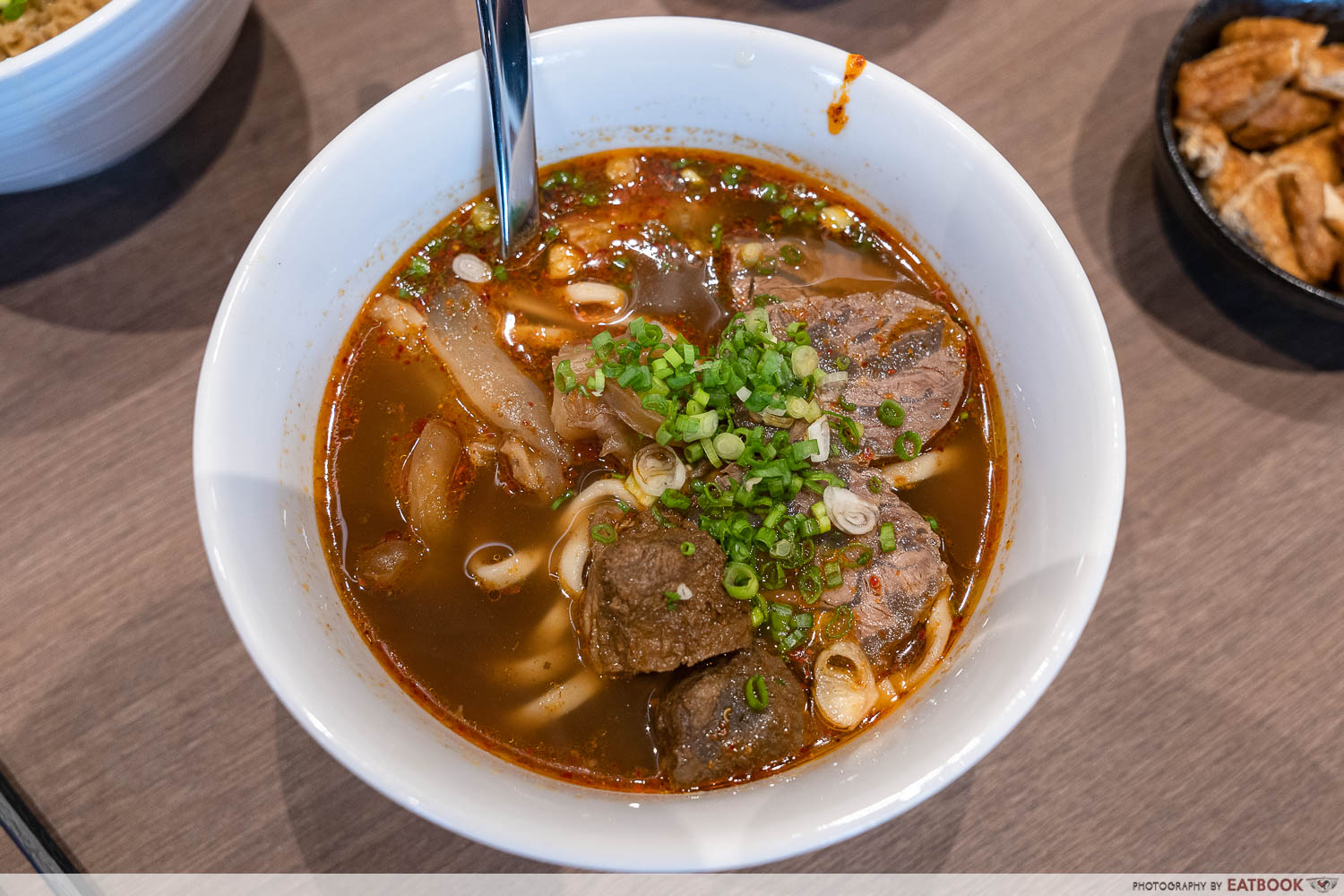 We also ordered a bowl of Trio Specialty Beef Noodles ($18.90++) with the braised soup. Here, the beef-based, lightly spicy 红烧 (hóng shāo) broth fell slightly short of our expectations.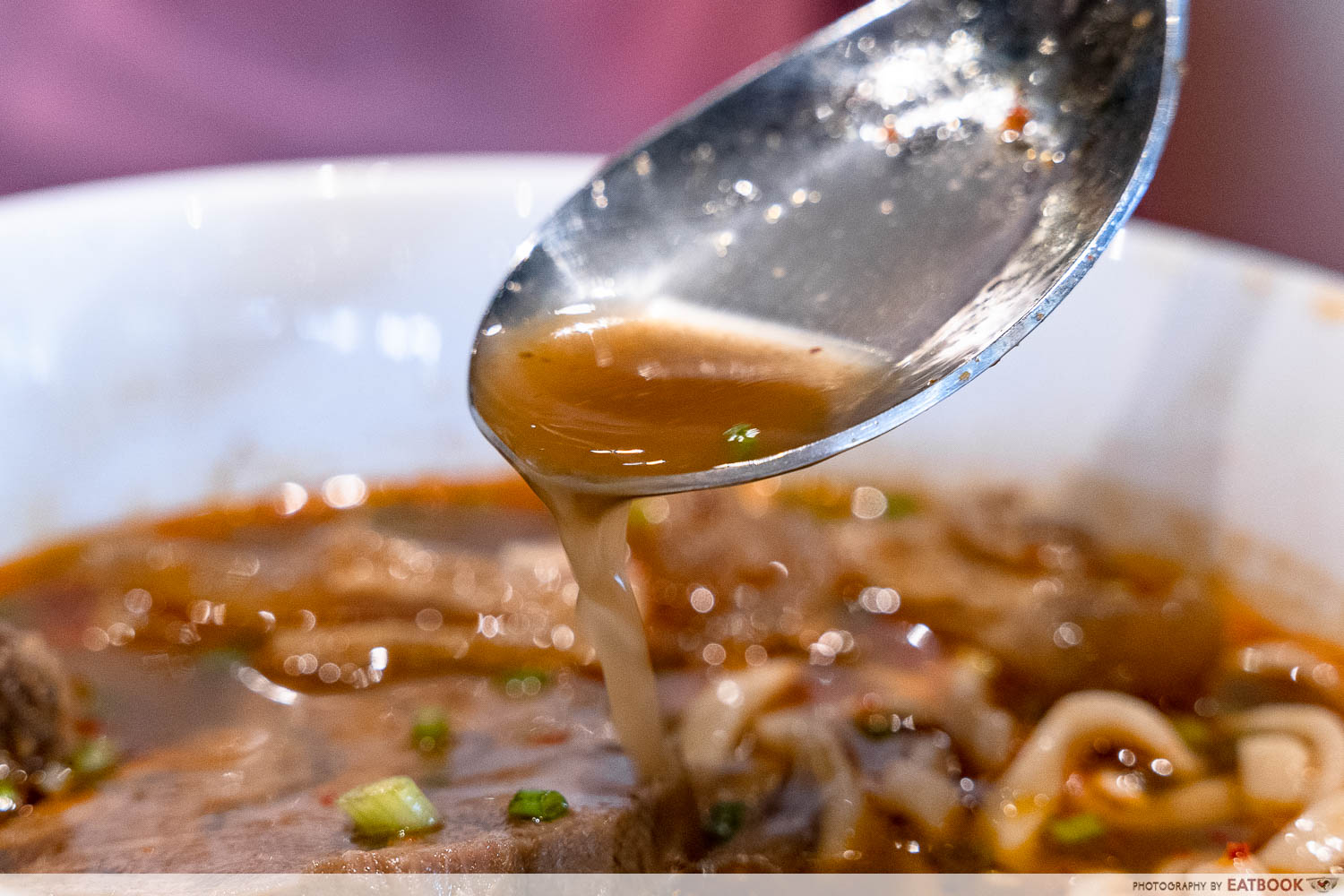 My dining companions felt it was too spicy, and we all thought that this soup was not as well-balanced as we would have liked—one commented that it needed a touch of sweetness. I wanted a broth that was rich and savoury, but it was on the thinner side, and slightly flat in flavour.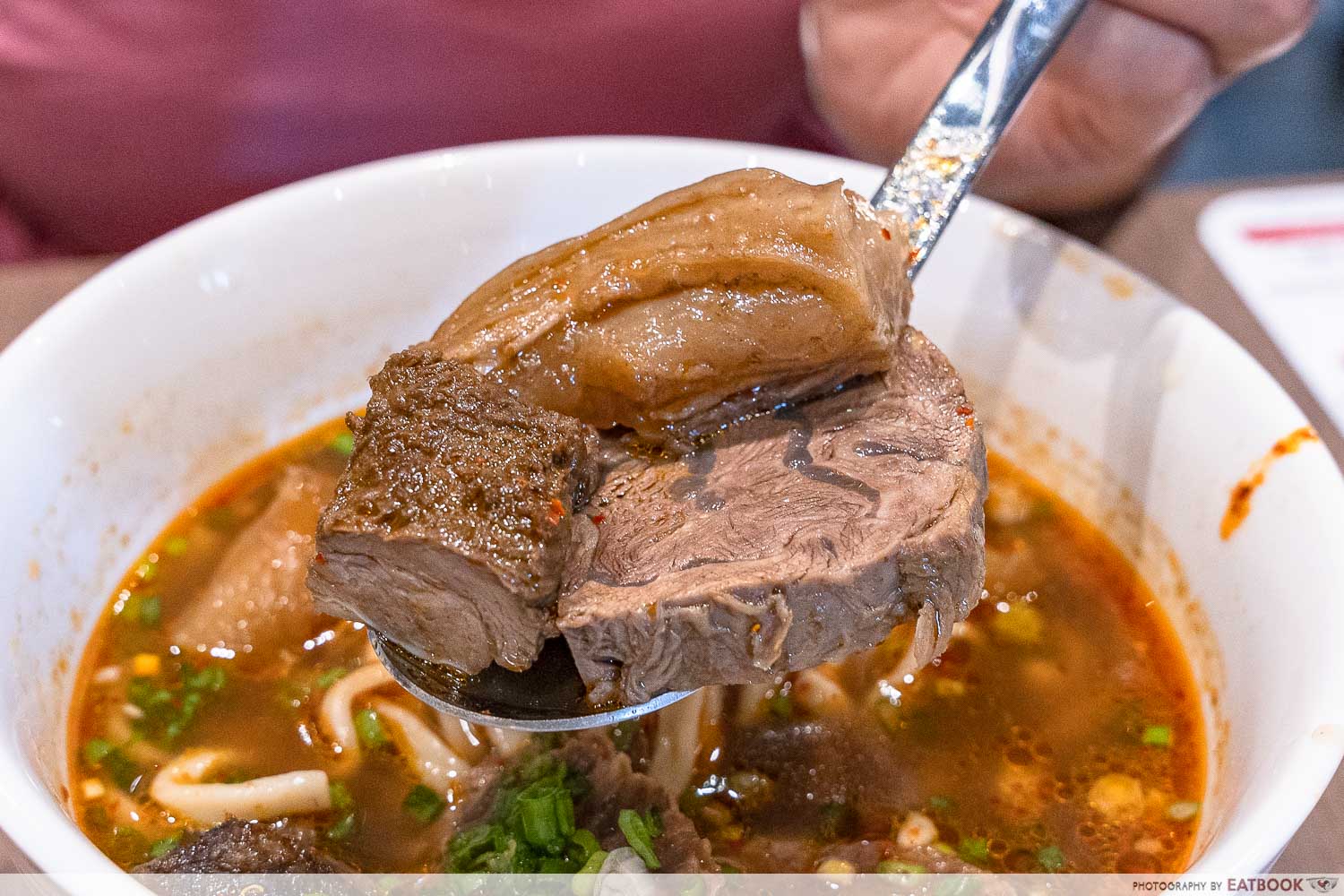 On the ingredients front, it's exactly the same as the Combination Specialty Beef Noodles, except without the tripe. Chef Lin later gave us a dollop of their house-made chilli oil to go with the beef, so that's an option if you love your spice.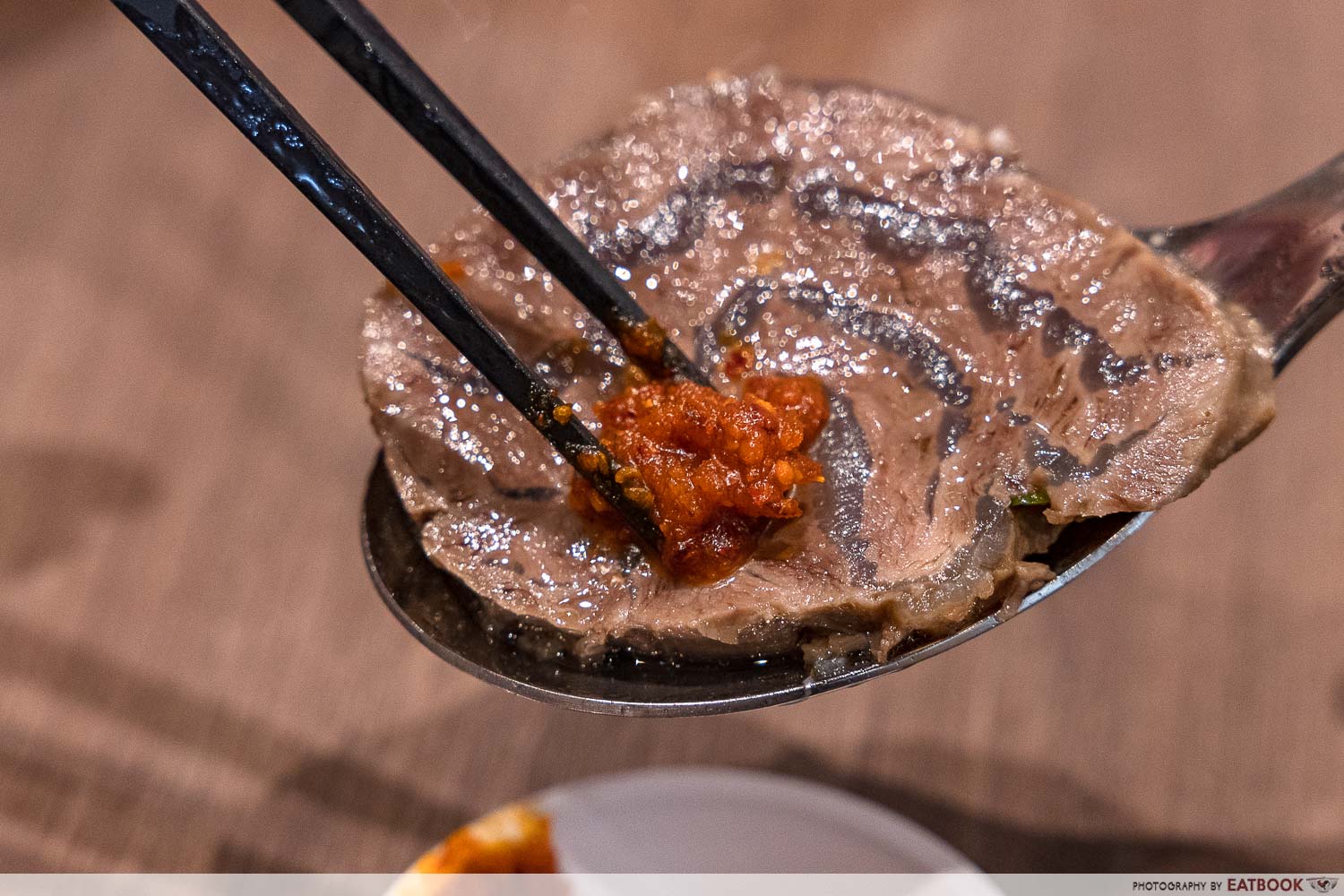 This chilli oil, he told us, is fried with beef marrow oil, and the difference is discernable, in the same way that lard-fried char kway teow hits different than vegetable oil-fried char kway teow. Another ingredient in this dip is Sichuan peppers, though it's a pleasantly mild hint, unlike an actual mala sauce. You could also add this to the original broth for a change of flavour!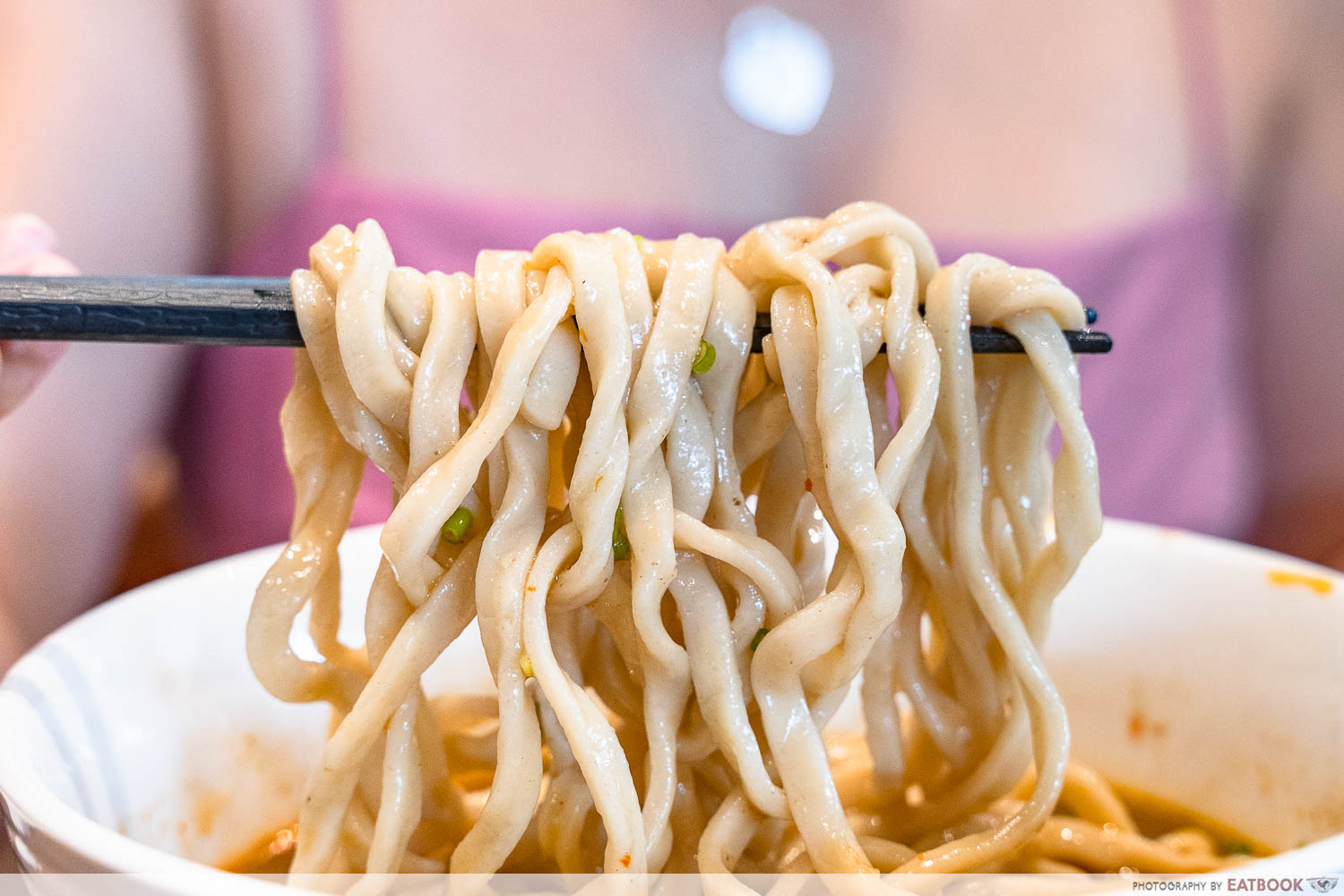 All the noodles served here are of the same, udon-like, handmade variety. We were told they're a custom order from a local factory, but other sources cite it as being specially imported. Either way, we had these cooked to the recommended doneness, and they held their bite even after sitting in the soup till it had cooled.
I also appreciated how they didn't taste floury, nor feel overly starchy. If there was an option for a thinner noodle, that would have been perfect too, since there are days when you just don't feel like chunky noods.
Unfortunately, we were not able to try their range of Premium Braised Beef Noodles, where the Premium Braised Combination Beef Noodles ($28.90++) sees noodles served in a bowl of consomme, with a little pan of braised beef in gravy on the side. There's also a series of dry noodles, including Black Sesame Sauce Noodles ($11.90++).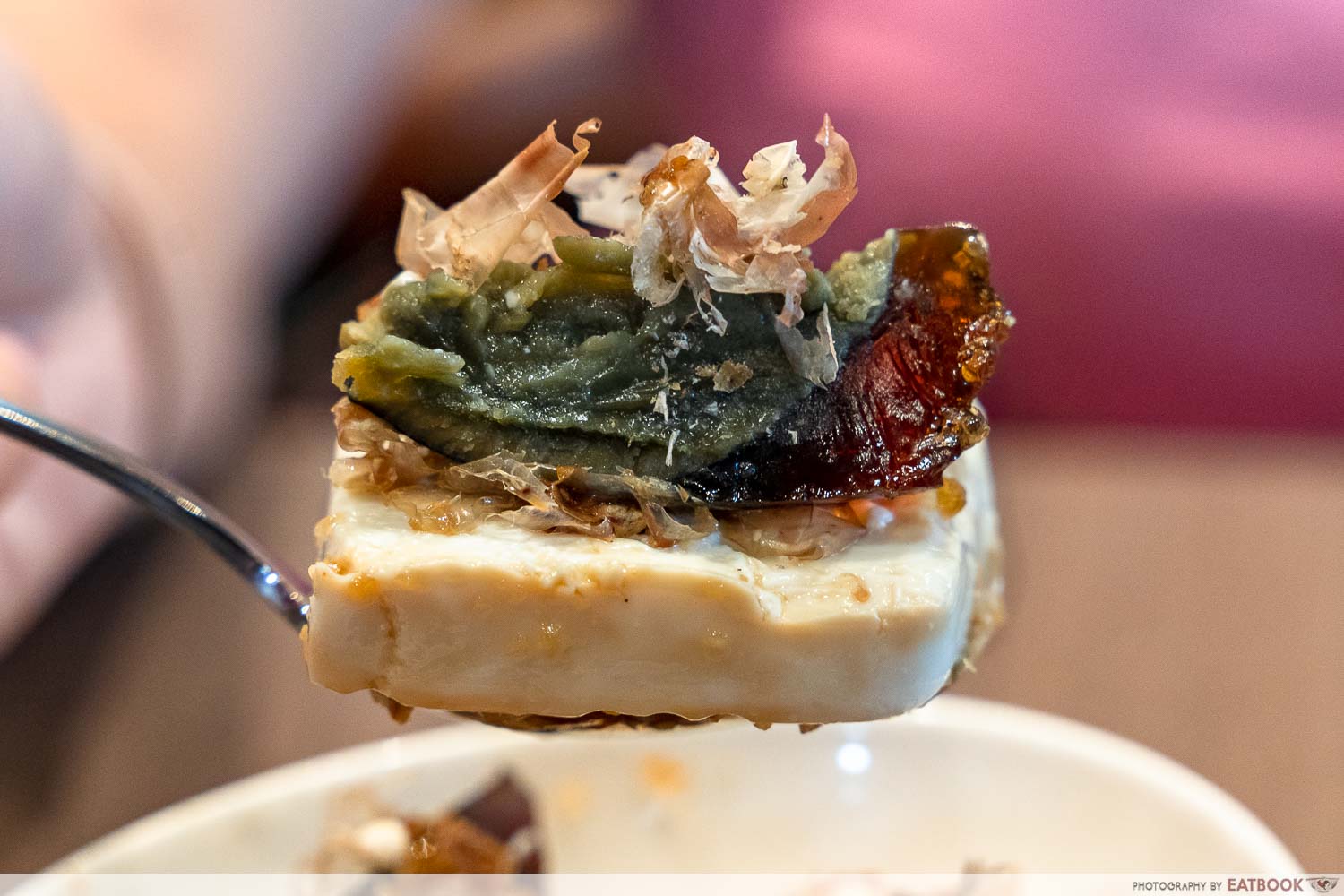 To go along with your noodles, you can order extra portions of Braised Beef ($6.90++), Braised Beancurd ($3.90++), or their signature Cold Century Egg Tofu with Bonito Flakes ($5.90++), dressed in a sweet-savoury sauce.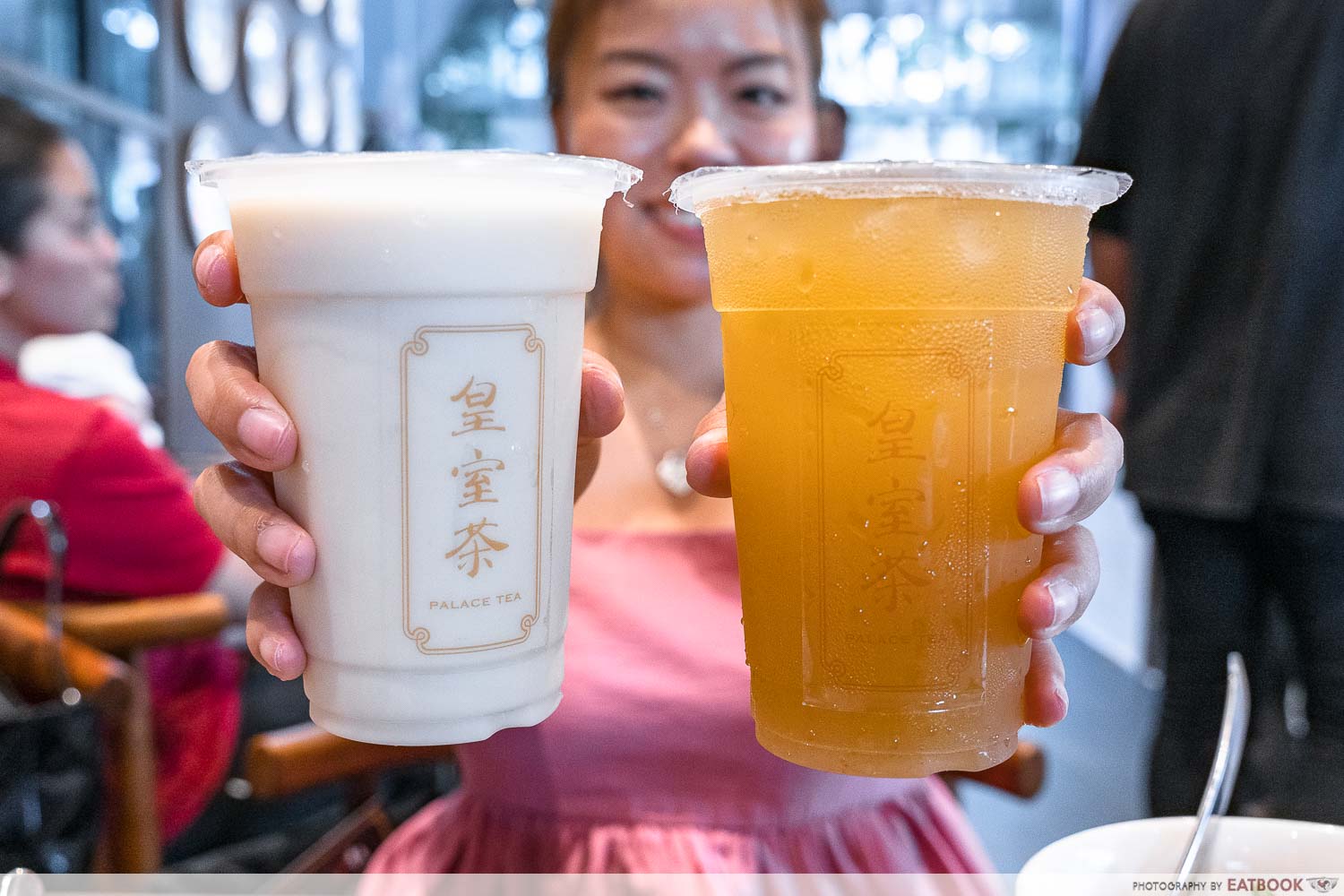 Complete your meal with bubble tea from local brand Palace Tea: we tried the Chrysanthemum Milk Tea ($4.80++) and Lime & Sour Plum Green Tea with Aiyu Jelly ($5.70++).
Abundance Opens In Jalan Besar, The Popular Taiwanese Cafe's Second Location
Ambience at Niu Dian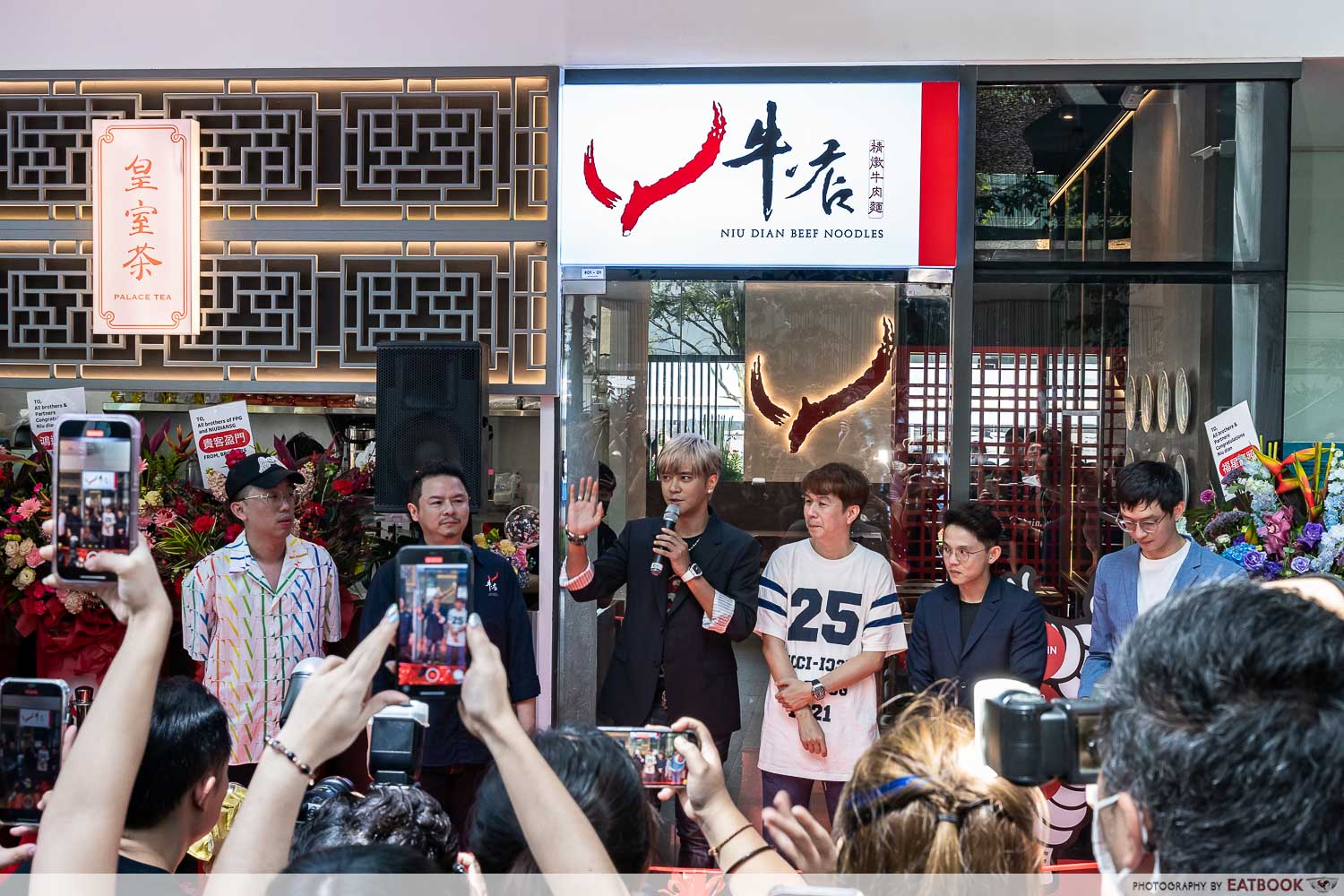 Niu Dian is a 19-minute walk, or 14-minute bus ride from Toa Payoh MRT Station. If you're coming from Newton MRT Station, it's 16 minutes away by bus.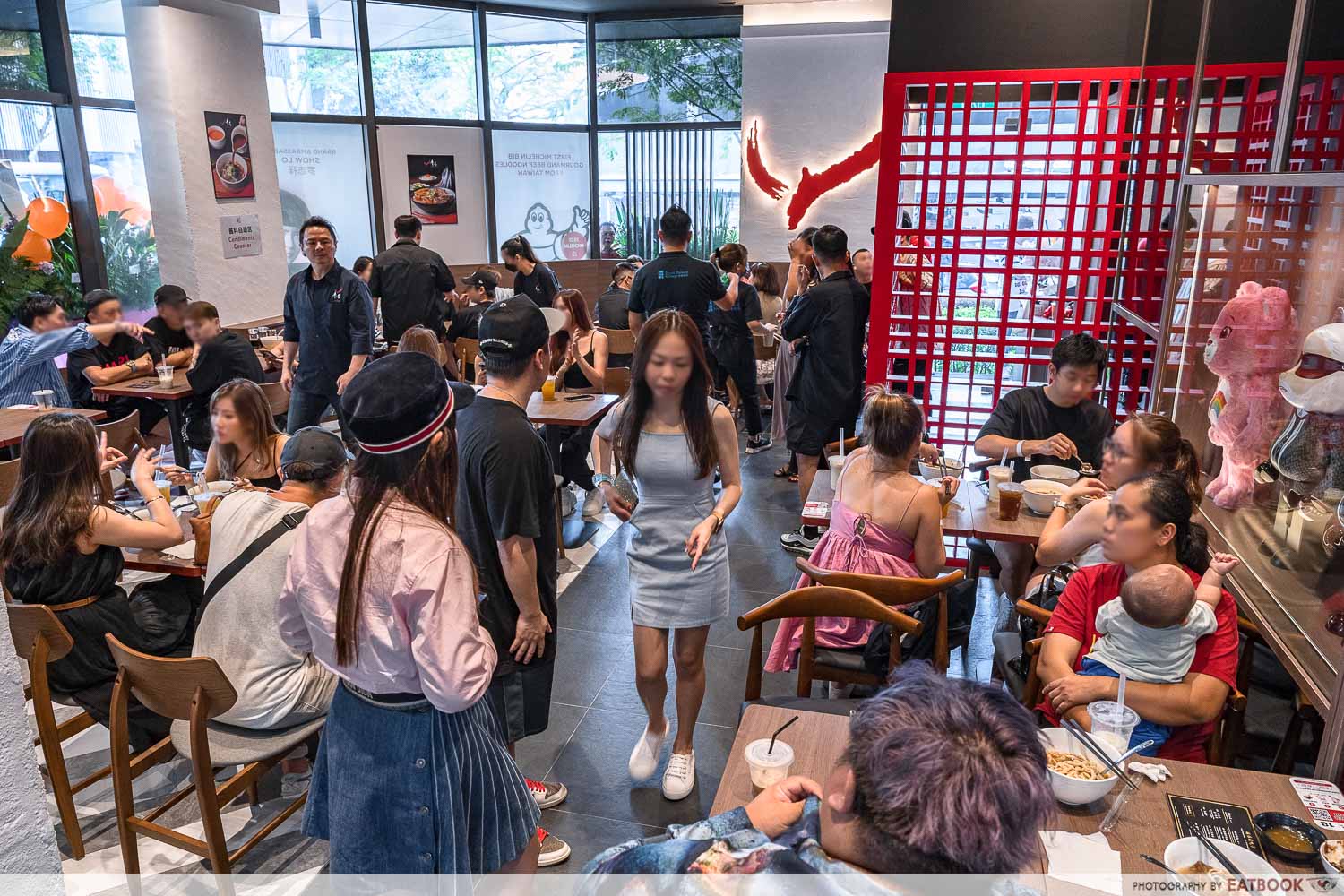 Either way, it's not the most convenient to get to. The eatery on the first floor of the Balestier mall houses 55 seats, and is air-conditioned so you can enjoy your beef noodles in relative comfort after the long trek here.
The verdict
I have to say that I had expected more from the braised beef soup, especially since it's a Taiwan speciality. If they had opened in a more easily accessible part of town, I'd probably return more often for Niu Dian's beef noodles in their original broth, so I'm hoping they do expand to other locations down the line. I'm also intrigued by the Black Sesame Noodles, and would like to give their other noodle dishes a try too.
Check out our guide to Taiwanese food in Singapore if you can't make it on a plane there. Close by to Niu Dian, and serving Taiwanese eats as well, is Abundance!
Address: 520 Balestier Road, #01-01/02, VIIO @ Balestier, Singapore 329853
Opening hours: Sun-Thurs 11am to 9.30pm, Fri-Sat 11am to 10pm
Website
Niu Dian Beef Noodles Singapore is not a halal-certified eatery. 
12 Taiwanese Food Places In Singapore Serving Lu Rou Fan, XXL Mee Sua And More
Photos taken by Jasper Juay.
This was a media tasting at Niu Dian.
Niu Dian Review: Show Luo-Endorsed Beef Noodles From Taiwan Now In Singapore
Niu Dian Review: Show Luo-Endorsed Beef Noodles From Taiwan Now In Singapore -

7.5/10
Summary
Pros
– Beef and tripe were well-prepared
– Original broth was rich and tasty
Cons
– Braised soup was underwhelming
– Not conveniently located
Recommended dishes: Trio Specialty Beef Noodles ($18.90++), Original broth
Opening hours: Sun-Thurs 11am to 9.30pm, Fri-Sat 11am to 10pm
Address: 520 Balestier Road, #01-01/02, VIIO @ Balestier, Singapore 329853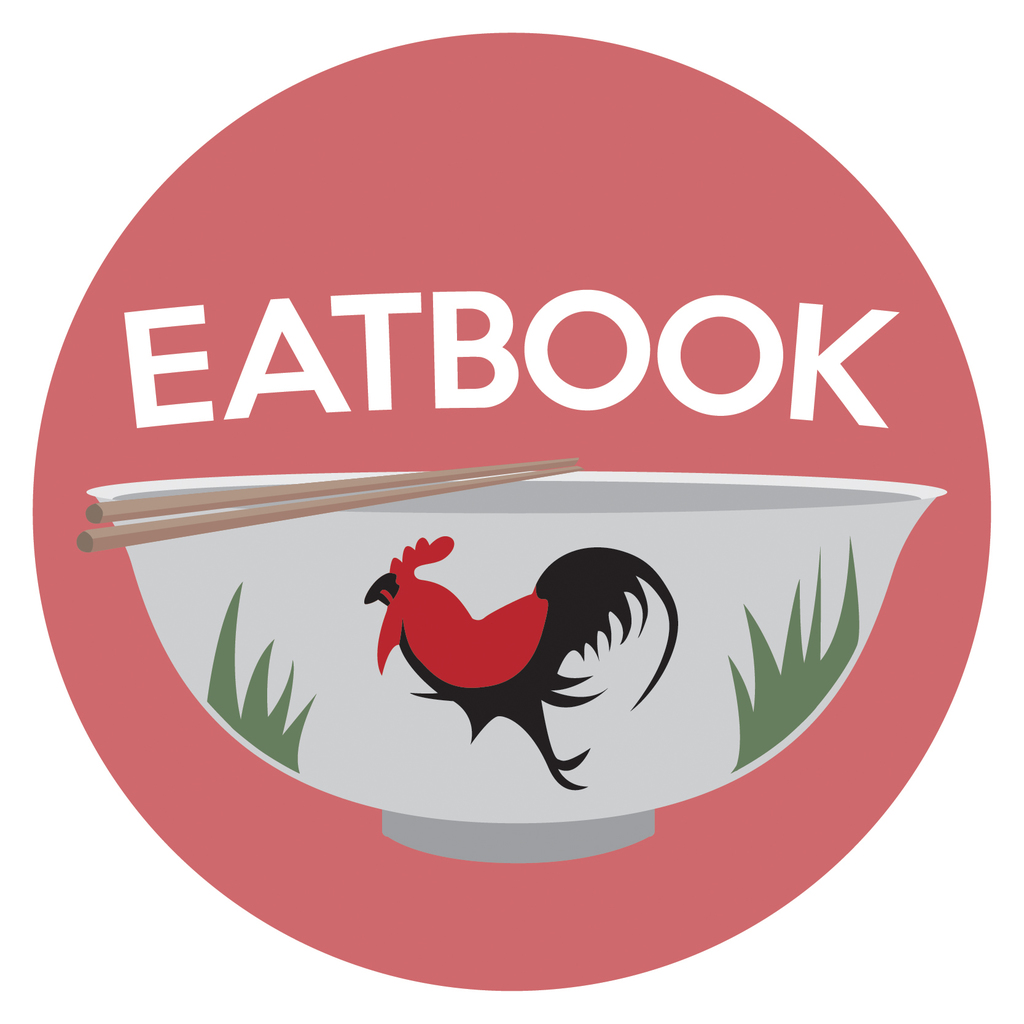 Drop us your email so you won't miss the latest news.