Kanada-Ya Tonkotsu Ramen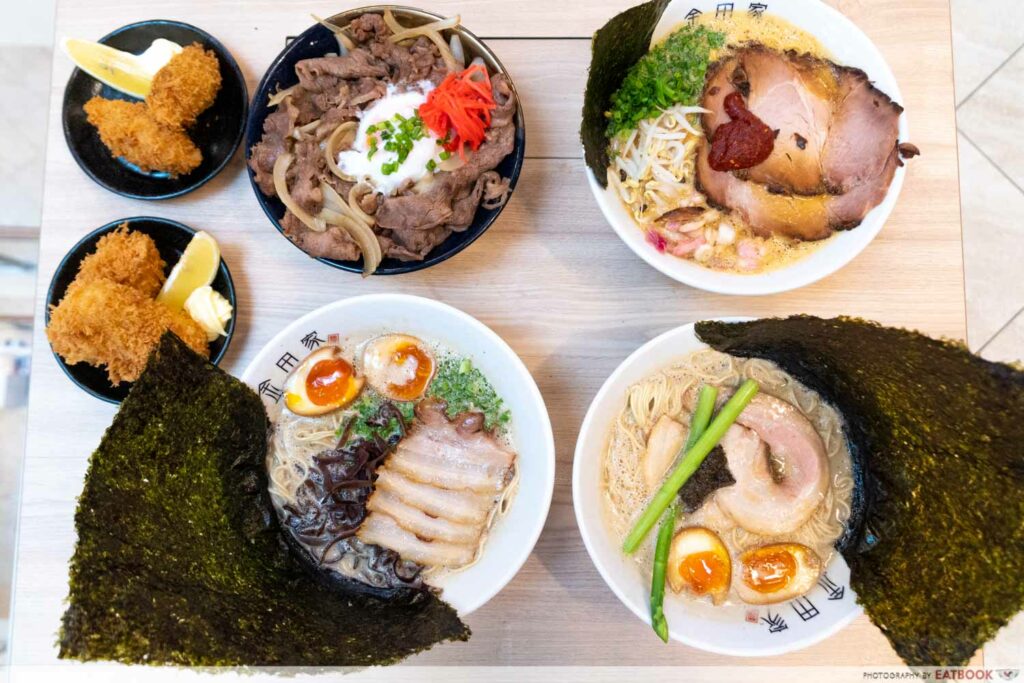 New ramen restaurants are constantly popping up in Singapore, and this year has been no different. We've seen the introduction of Afuri Ramen and Seizan Uni Ramen to name a few. The latest restaurant to join the list is Kanada-Ya.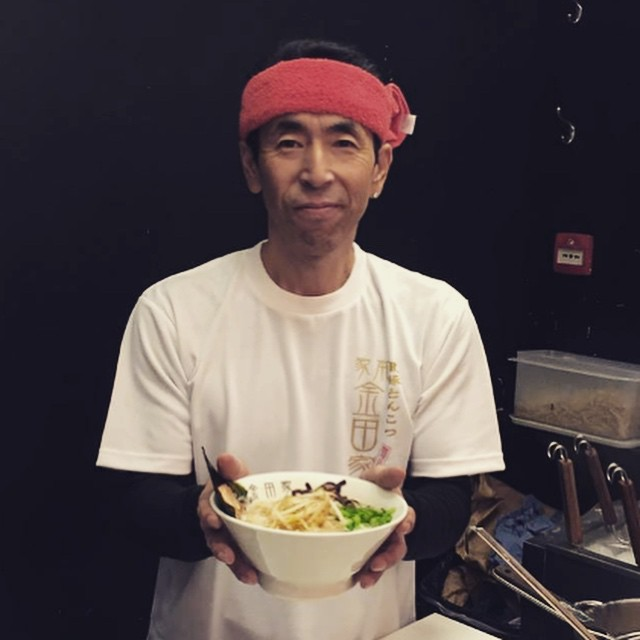 Image credit: Kanada-Ya London's Facebook page
The store started out in 2008 by Chef Kanada, who was a professional Keirin racer. This exhilarating sport involves riding around a track in brake-free bicycles at breath-taking speeds. Kanada suffered over 100 injuries over the years and finally called time on his career after an injury to his shoulder. 
He decided to open a ramen store in Fukuoka, the birthplace of tonkotsu ramen, due to his love for the Japanese noodles. Initially, the store received a lukewarm reception and was on the verge of closing down. 
Not willing to throw in the towel, the self-taught chef came up with a pork bone broth recipe that uses a new mix of ingredients and a meticulous 18-hour boiling process. The new recipe was a roaring success, and Kanada-Ya was quickly recognised by many as one of the best ramen in Fukuoka prefecture.
Word got out about their tasty ramen, and the store soon expanded to London, Barcelona, and Hong Kong. Singapore is its fifth country, and we paid their swanky new outlet at Paya Lebar Quarter Mall a visit during a media preview.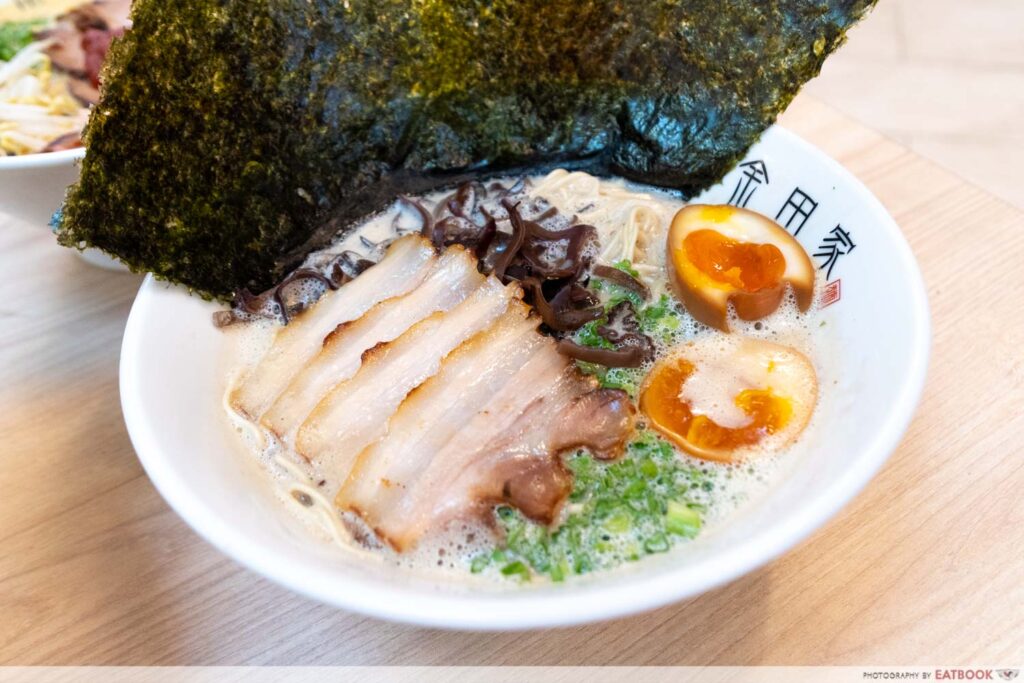 The Kotteri Tonkotsu Ramen Special ($18.90++) is the restaurant's take on legit Hakata-style ramen. Made with the store's signature 18-hour pork bone broth, this classic bowl of ramen also comes with belly chashu, wood ear fungus, spring onions, and a small nori sheet. 
We upgraded our bowl to Special, and got a ramen egg, another slice of chashu, and a giant sheet of nori. The basic set would set you back $14.90++.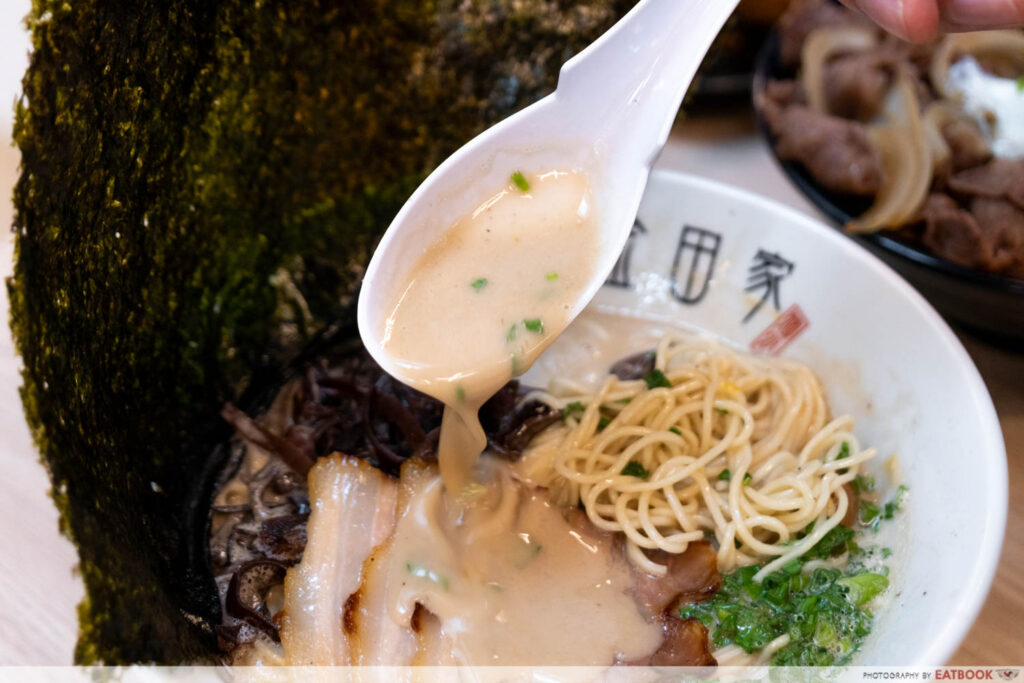 There are only a few players in Singapore that are capable of whipping up a mean tonkotsu broth. After a sip here, Kanada-Ya looks set to be the new leader. 
The piping hot soup packs in an incredible lip-smacking creamy mouthfeel that's fortified by a strong and heavy body. It wasn't overly oily, but had the right amount of fattiness that made me want to slurp everything up.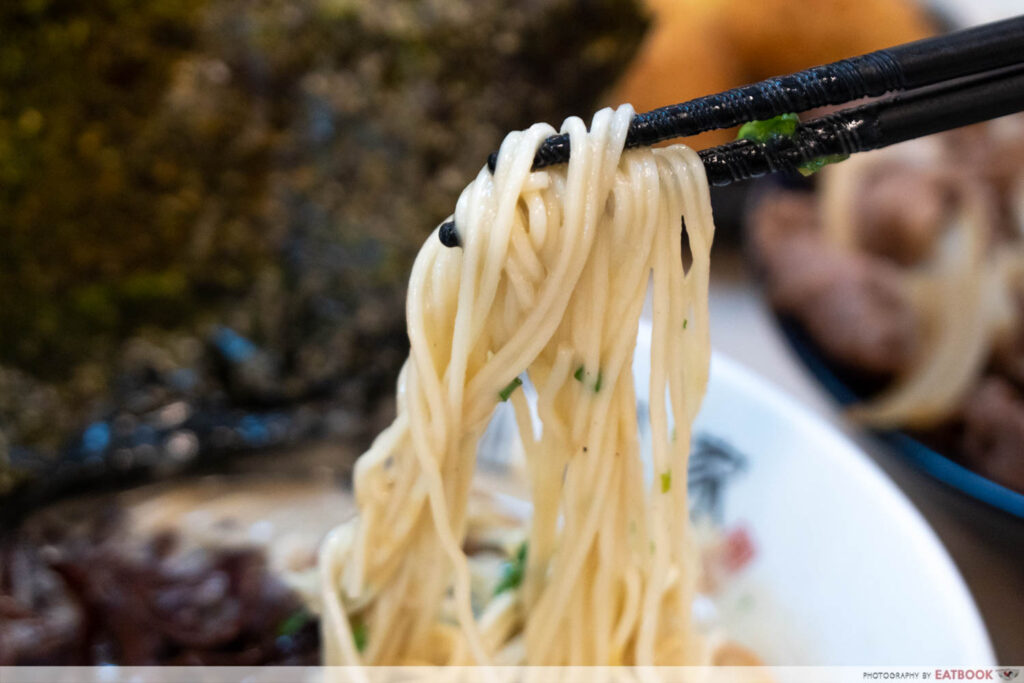 You can get the noodles cooked to your desired specification. Besides being springy and having a good chew to them, the thin noodles also had a pleasant egg flavour that made them incredibly tasty.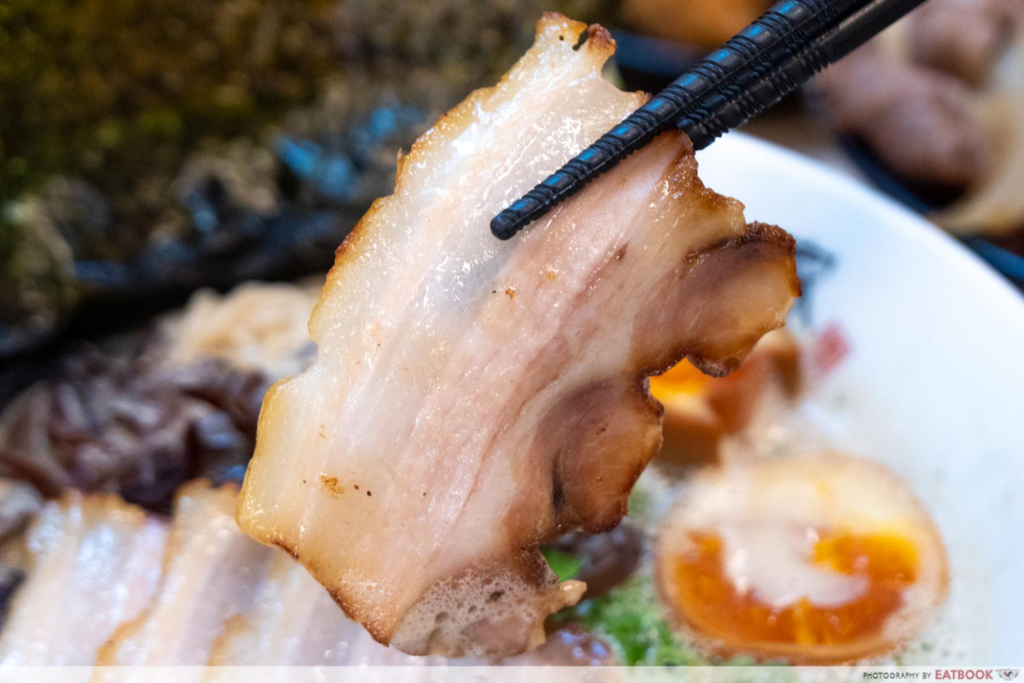 The belly chashu slices were well marinated and packed hints of ginger. Although they were sliced a little too thin for my liking, they came with succulent bits of fats that melted right in my mouth.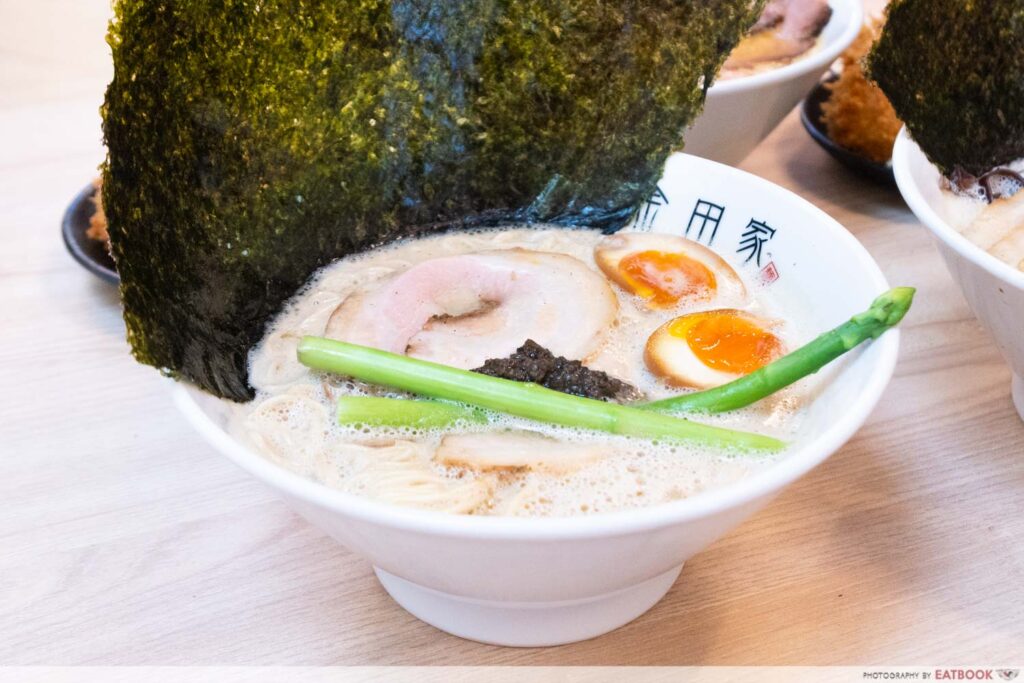 A dish brought over from their London outlet, the Truffle Ramen Special ($26.90++) is limited to just 20 bowls a day. 
It features the same tonkotsu soup base, but this time with black truffle oil, truffle jelly, and pork belly slices that are marinated with truffle. The basic serving is going for $22.90++, and takes away the additional ramen egg and giant nori sheet.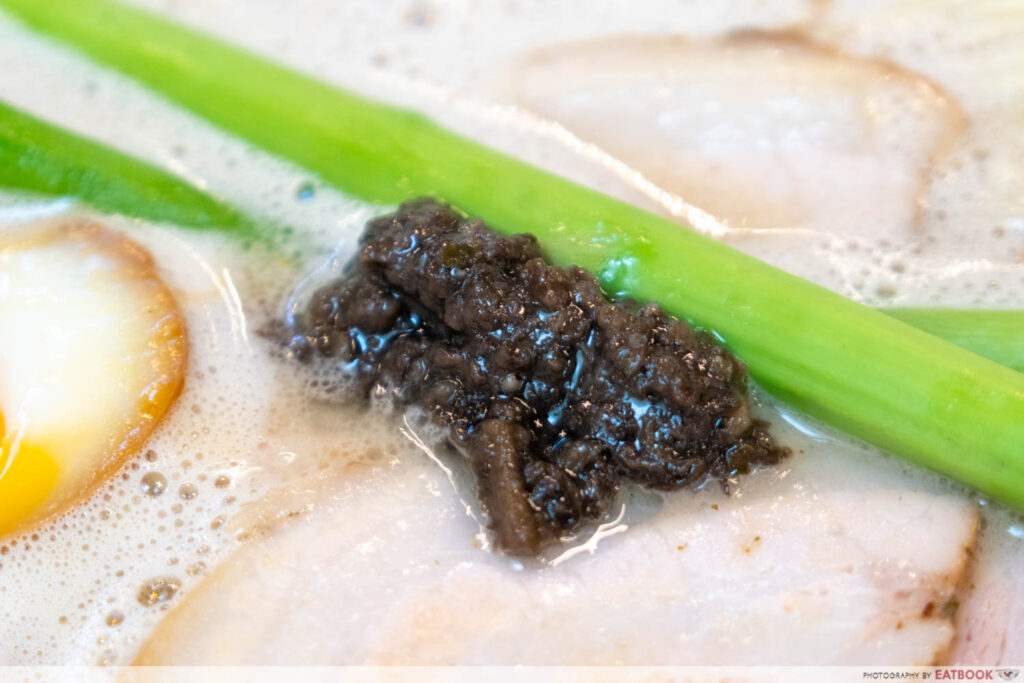 The small pile of truffle jelly might look innocent at first sight, but give it a thorough mix and you'll be greeted with a whole world of exciting and powerful flavours. The jelly seems to perfume the broth with lush umami flavours that made me think I was drinking a cream of truffle soup. 
I reckon that those who visit in the evening will be sorely disappointed to find this special bowl of noodles to be sold out.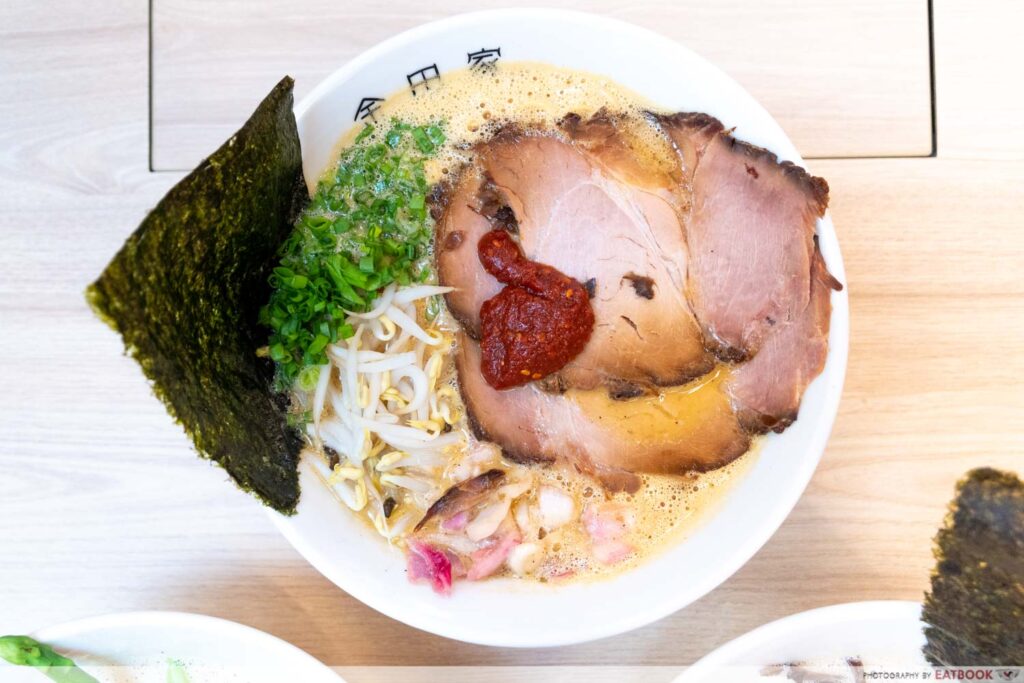 Another dish from abroad, this time from the Hong Kong Kanada-Ya outlet, the Spicy Yuzu Ramen Basic ($16.90++) is topped with a yuzu chilli paste that gave the broth a refreshing tart and spicy profile.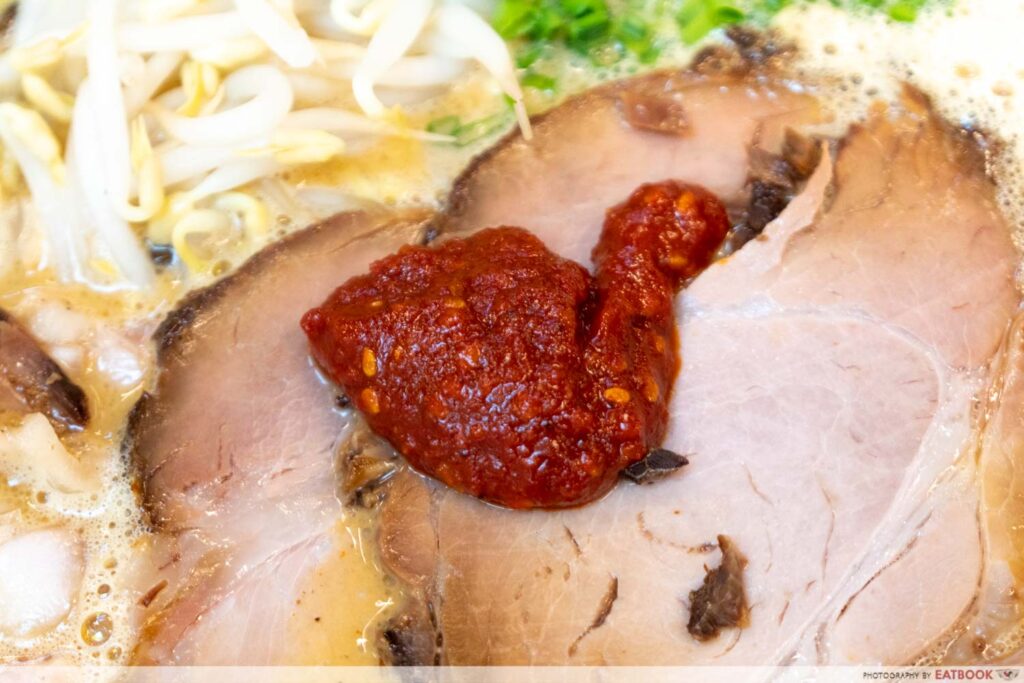 This dish was the clear favourite of my dining companion, who felt that the other bowls were a little too rich for his liking. I can see why it's his favourite though. The yuzu chilli paste gave a nice tinge of spiciness that fitted right in for spice lovers like him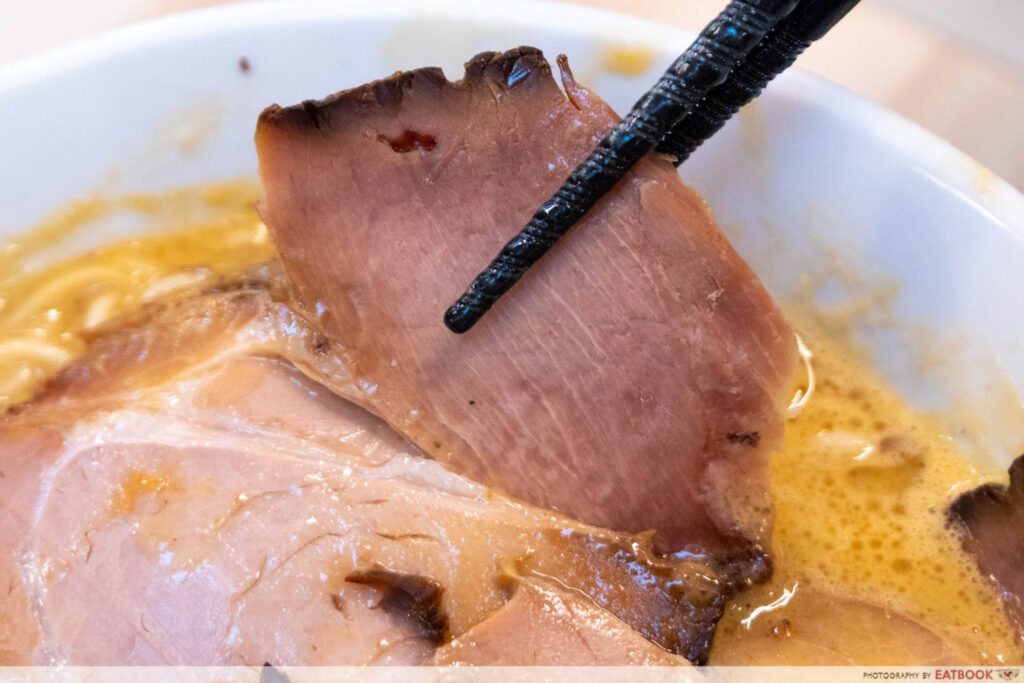 Instead of pork belly, two huge pieces of pork collar chashu can be found here. It's a much leaner cut as compared to the pork belly, and you'll have to tear it apart with your chopsticks. It still packed loads of flavour, and also had a bit of sweetness that nicely complemented the slightly tart broth. 
The portions are quite generous, and I reckon that those with smaller bellies might struggle to finish the ramen.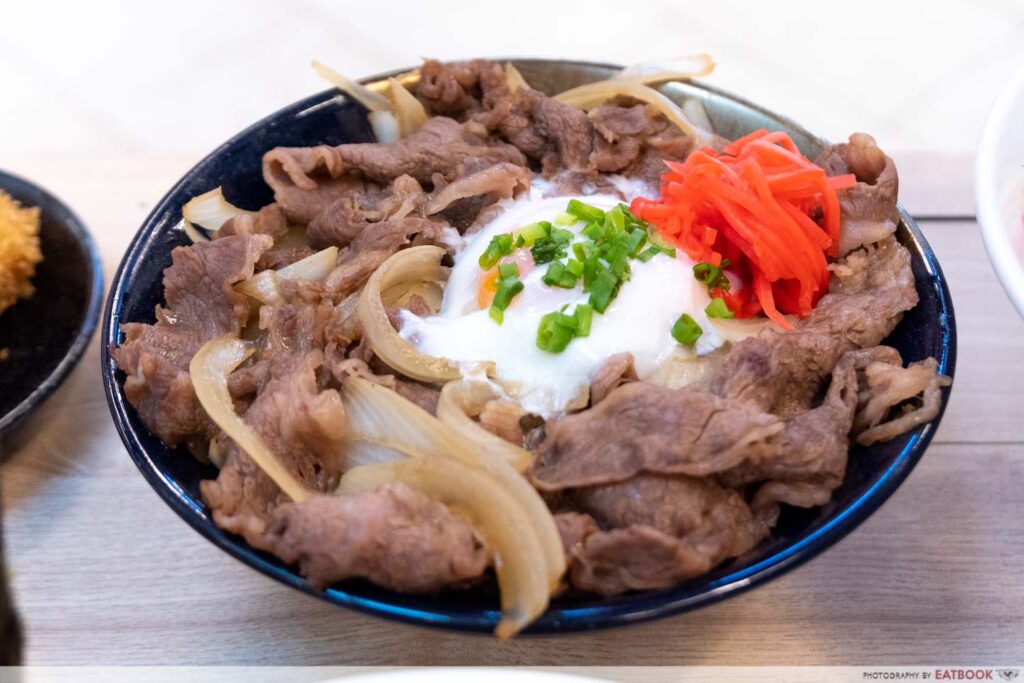 Aside from ramen, rice bowls are also available. We got a chance to try the Gyu Don ($14.90++), which features slices of beef and onions that are simmered in a mildly sweet sauce.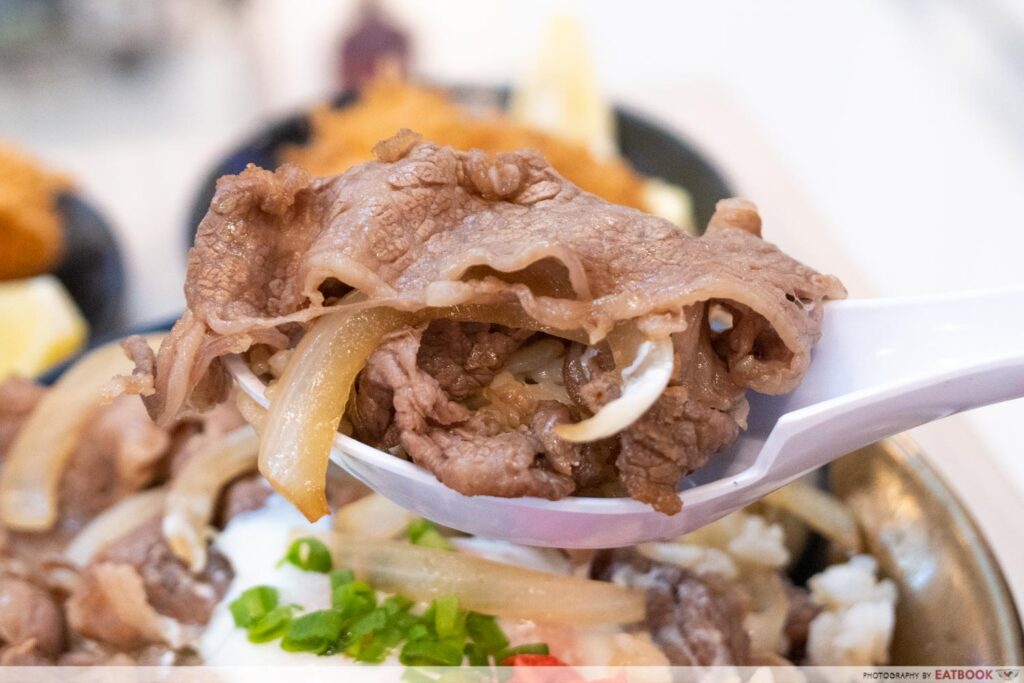 We were a little blown away by the portions of the noodles, and were similarly impressed with the number of beef slices that can be found inside. The beef slices came with nice strips of fat that went well with the runny onsen egg.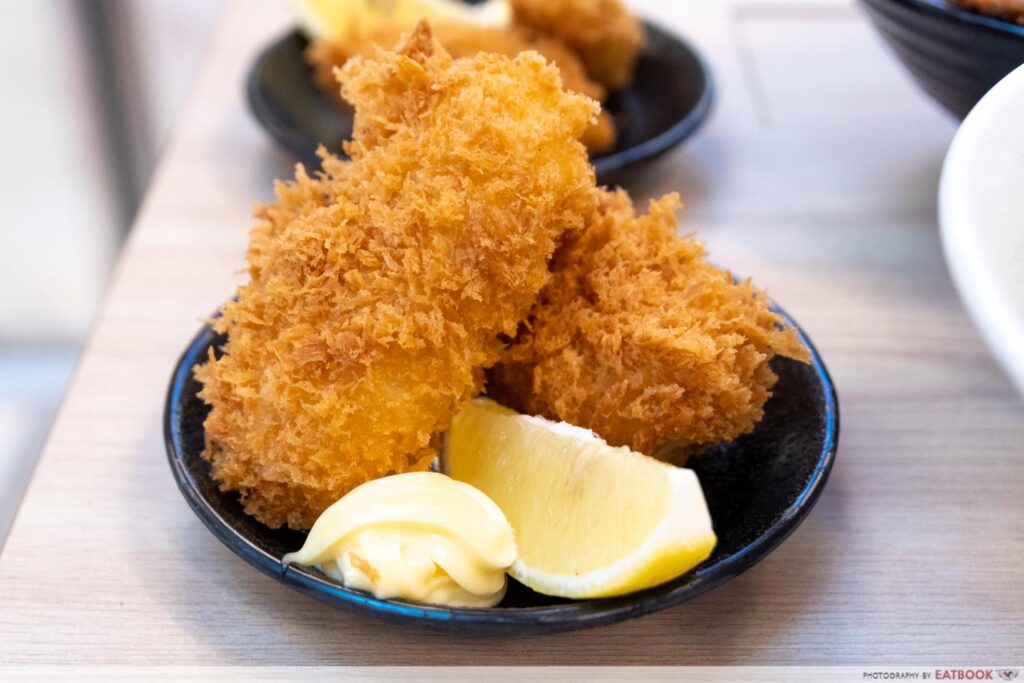 Six side dishes are available and we got to try two of them. The Crab Cream Korokke ($9.90++) features mashed potatoes and crab meat cream that are coated in a light and crispy batter. It went well when dipped with the Japanese mayonnaise that accompanied it, and was quite a filling treat.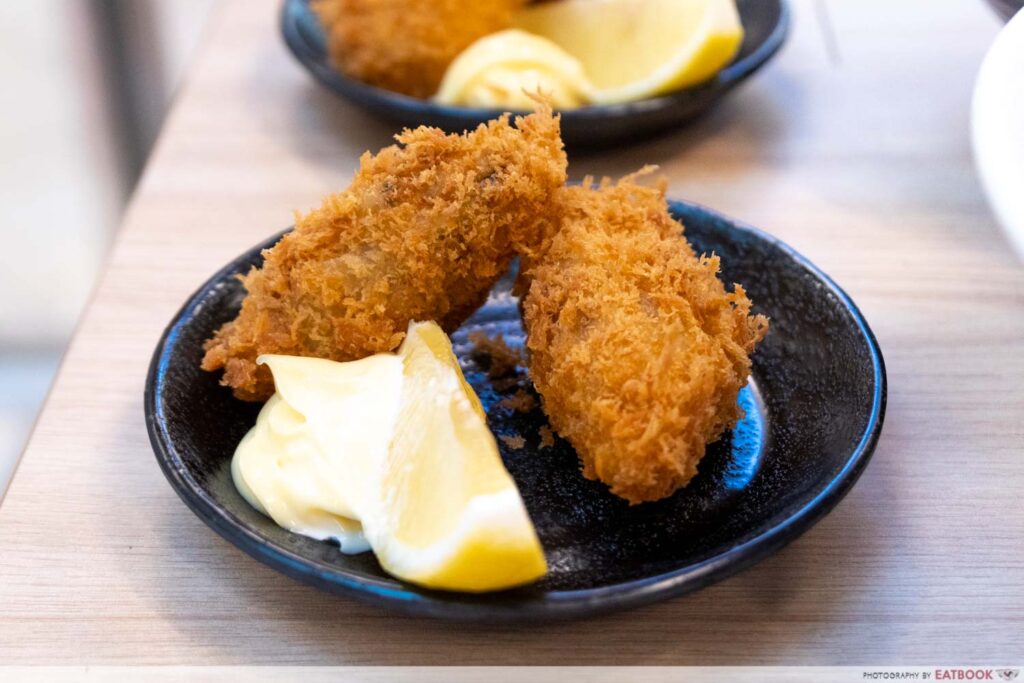 The Oyster Age ($8.90++) features two pieces of Japanese oysters that are coated in a light panko batter and deep-fried whole.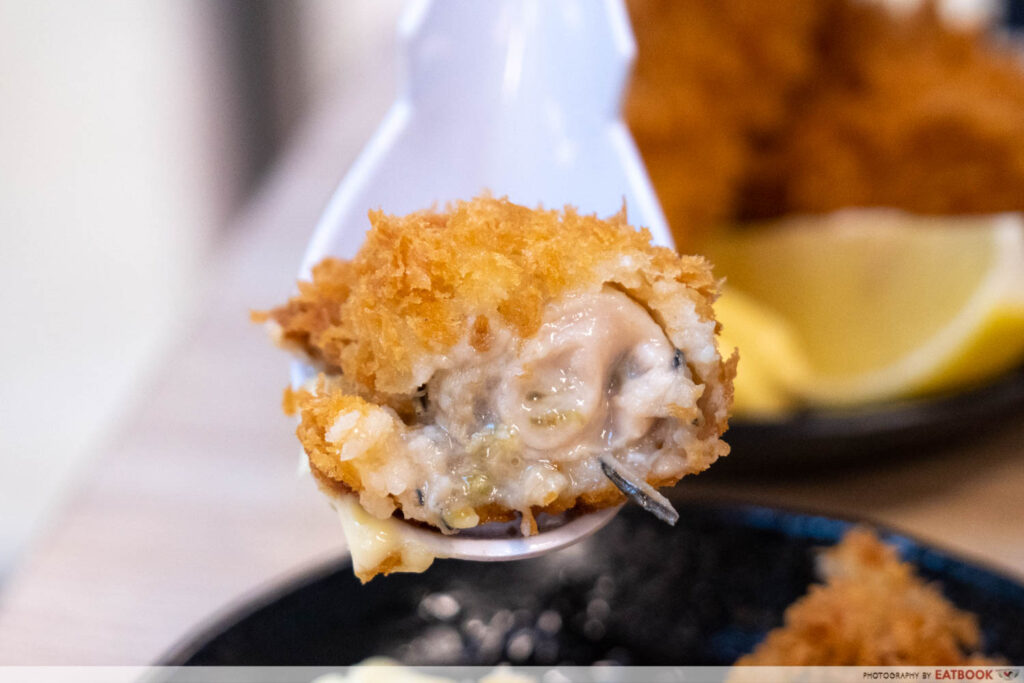 The oysters were expertly fried and had a juicy interior that wasn't dried out in the cooking process.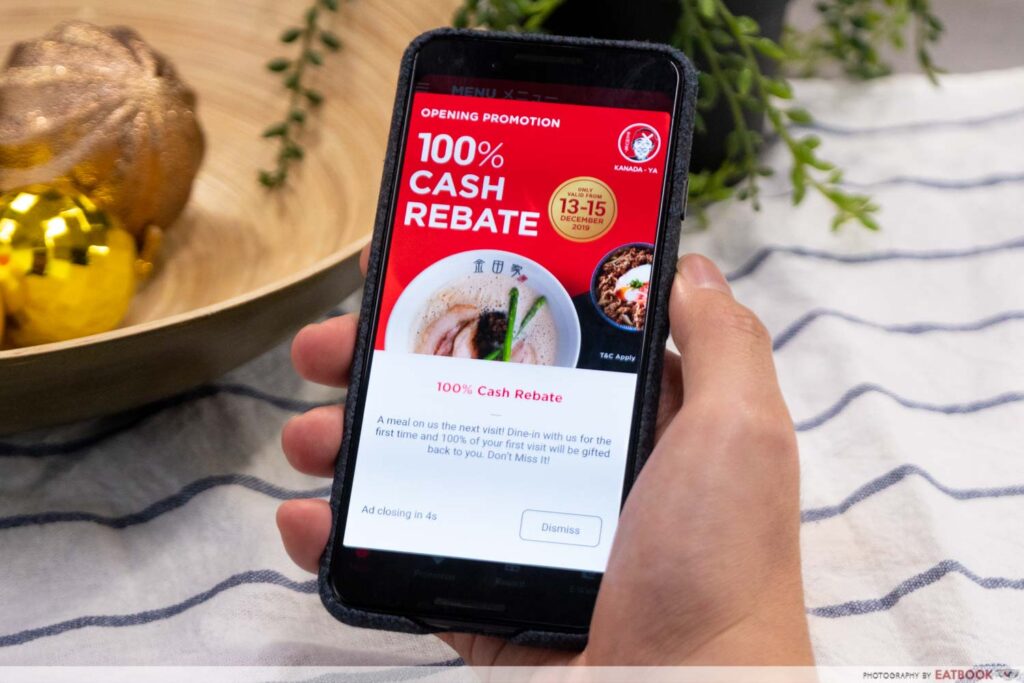 From 13 to 15 December 2019, Kanada-Ya will be offering a 100% cash rebate on the dishes you ordered when you pay for your meal using the Kanada-Ya app. This means that your next meal here is literally free if you order the same thing! The app also allows you to earn loyalty stamps, giving access to free dishes and rewards. Download the app on Google Playstore or Apple App Store! 
Address: 10 Paya Lebar Road, #03-30, Paya Lebar Quarter Mall, Singapore 409057
Opening hours: Daily 11am to 10pm
Website
Photos taken by Ian Teoh.
This post is brought to you by Kanada-Ya.